---
Spice up your fries life
---
Just when you thought truffle oil was the best thing that could ever happen to french fries, restaurants and cafes start topping theirs with kimchi, marshmallows and even sambal! Take a break from good ol' truffle fries and try our top 10 picks for one-of-a-kind fries that could give truffle fries a run for its money.
---
1. Chilli Crab Fries
---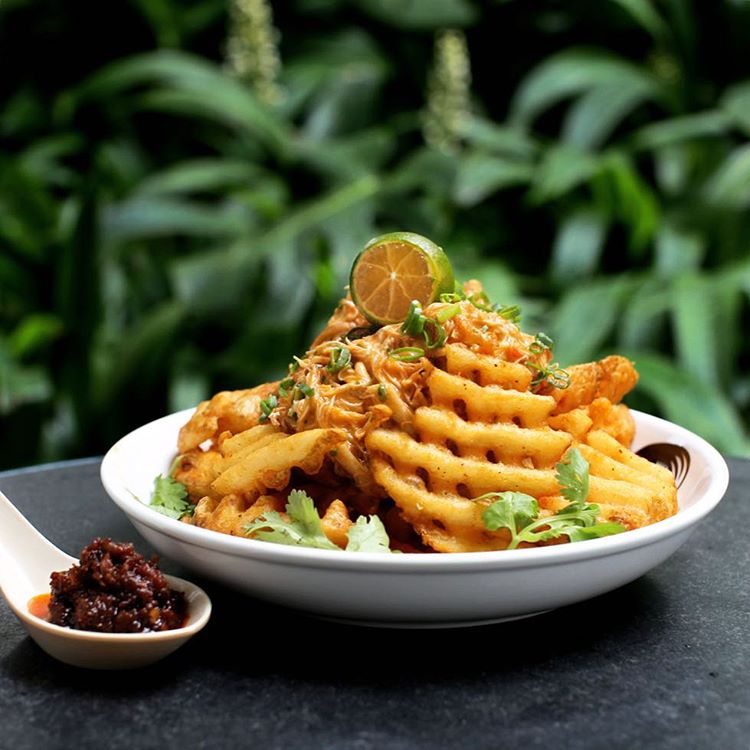 Source
Loof's recent additions to their menu includes a new and improved Chilli Crab Fries ($15++) that comes with a heap of chunky homemade chilli crab dip and crispy waffle-cut fries for optimal scooping. Pair this with an ice cold beer for an excellent ending to a hectic work week.
Address: 331 North Bridge Road, #03-07, Odeon Towers Extension Rooftop, Singapore 188720
Opening hours: Mon-Thur 5pm to 1am, Fri-Sat 5pm to 2am
Tel: 9773 9304
Menu
---
2.Char Siew Chilli Fries
---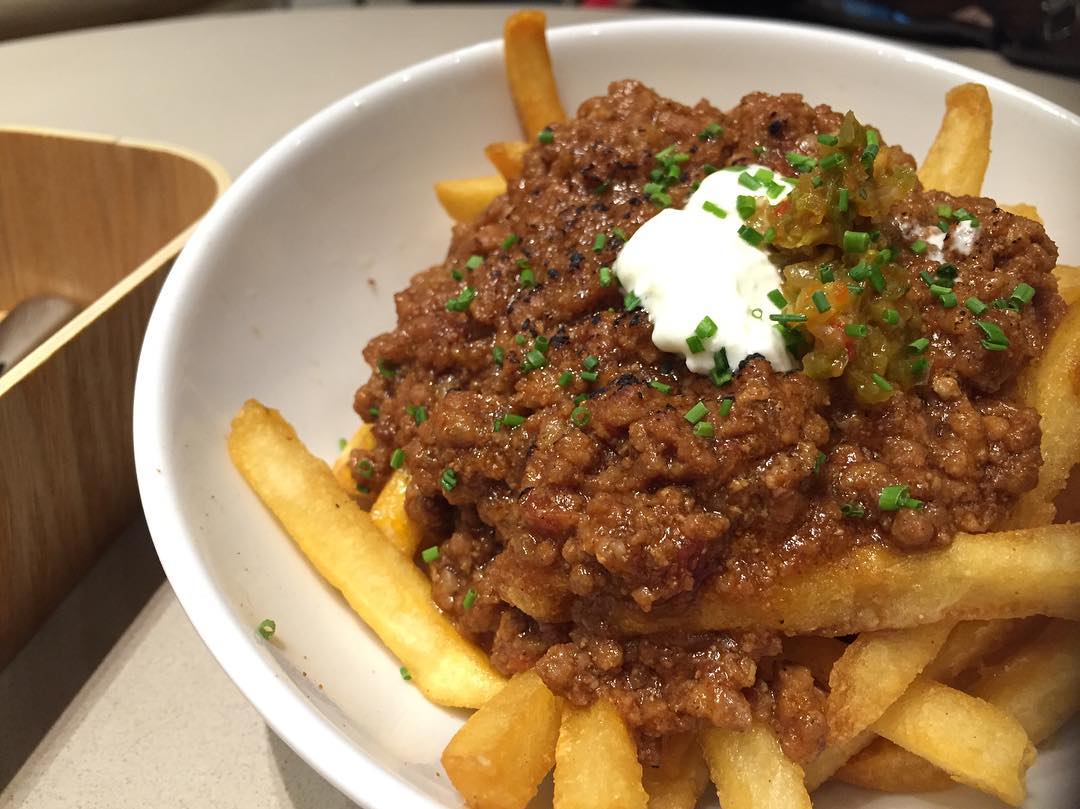 Source
Known for their Mod-Sin cuisine, Redpan ups their fries game by smothering it with a rich char siew ragout. Char Siew Chilli Fries ($7++) comes with a generous portion of chunky char siew chilli, sour cream and a refreshing jalapeno salsa to cut the richness. The char siew chilli is similar to a traditional beef chilli, but the familiar sweetness and smokiness of char siew gives it a much-welcomed local touch.
Address: 6 Raffles Boulevard, #02-03/04, Marina Square, Singapore 039594
Opening hours: Mon-Sun 11am to 10pm
Tel: 6255 5850
Menu
Read our full review here.
---
3. S'mores Fries
---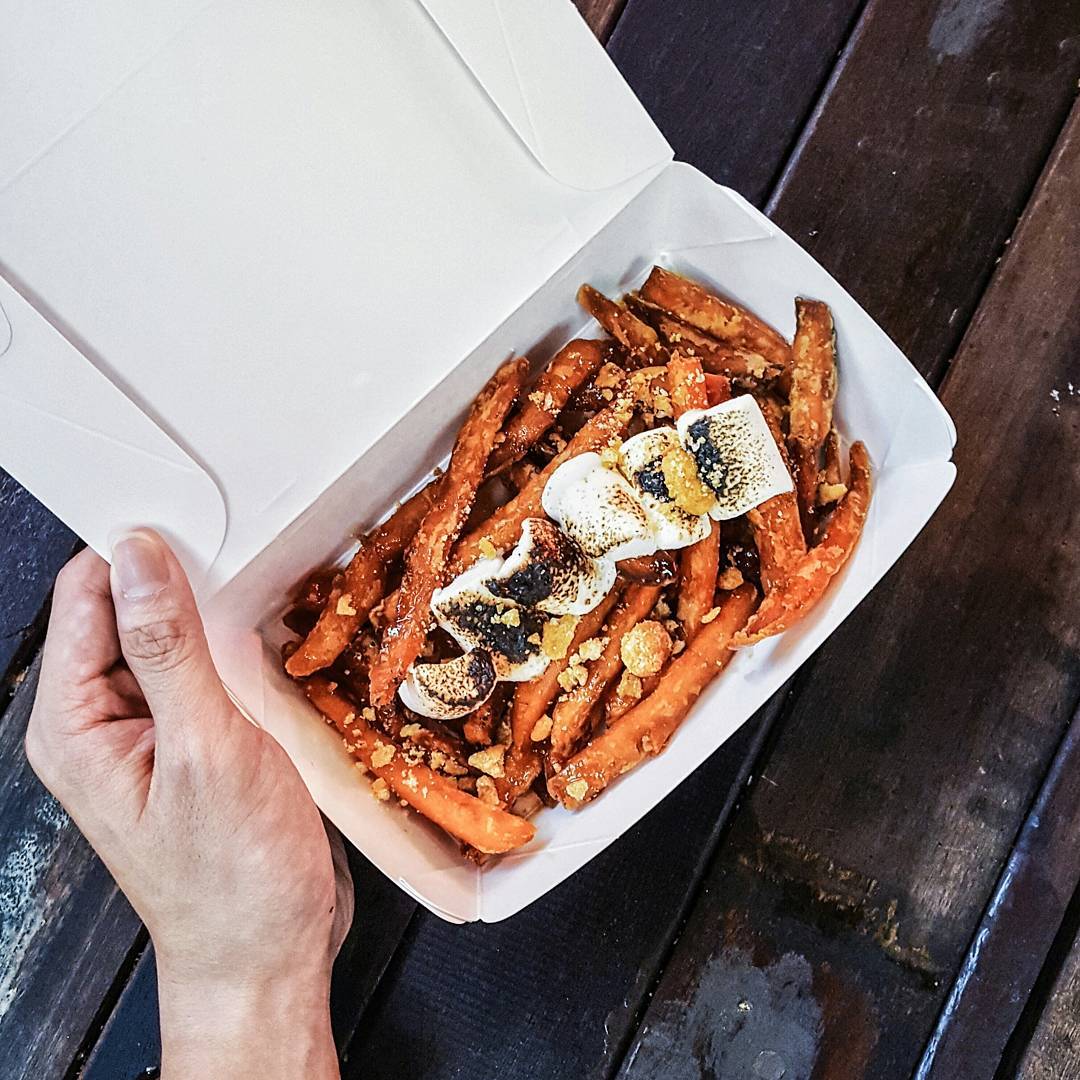 Source
The combination of sweet and savoury never disappoints. Wolf Burgers' S'mores Fries ($8) is made with crispy sweet potato fries, drizzled with honey, sprinkled with crunchy cereal bits for added flavour and texture, before finally being topped with marshmallows torched to ooey-gooey perfection. This almost passes for a dessert but hey, we're not complaining.
Address: 3 Temasek Boulevard, #01-455, Pasarbella, Suntec City North Wing, Singapore 038983
Opening hours: Mon-Sun 12pm to 9:30pm
Tel: 9820 4564
---
4. Kimchi Carnitas Fries
---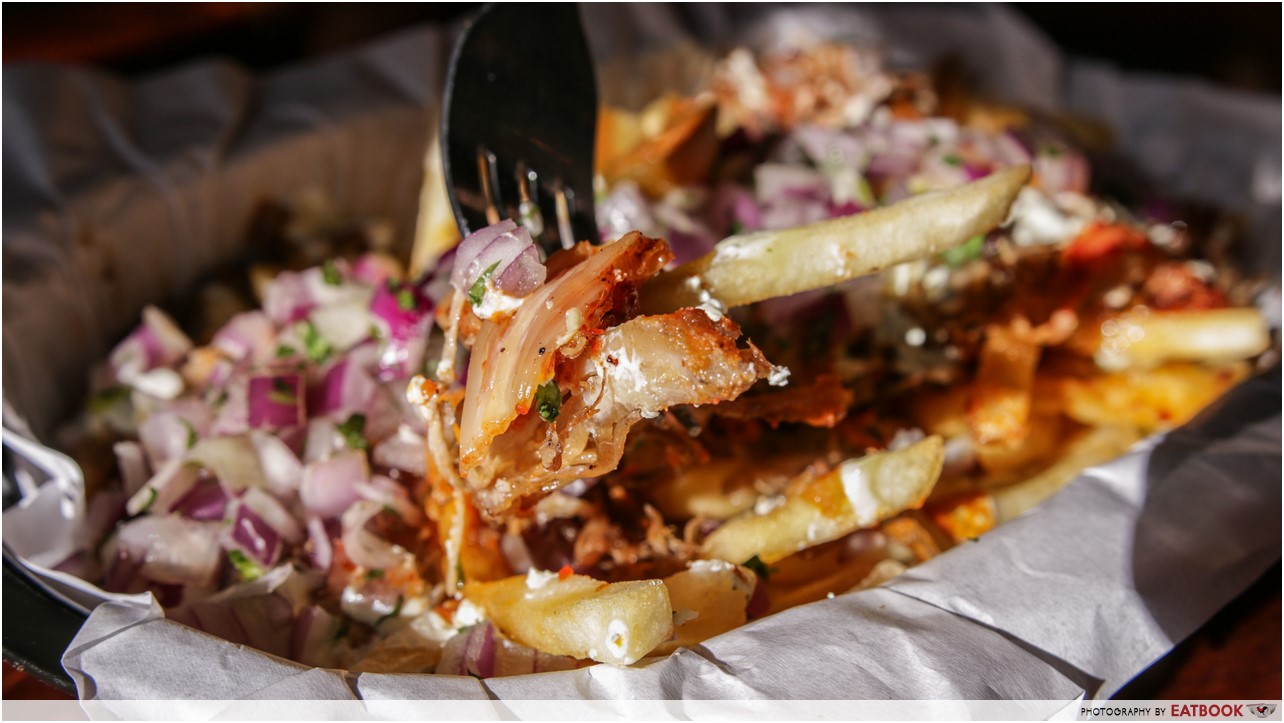 Pass on the usual K-BBQ and head for some Ko-Mex (Korean-Mexican) cuisine at Vatos Urban Tacos. Kimchi Carnitas Fries ($18++) piles on the flavour with a huge serving of spiced shoestring fries, pulled pork and sauteed kimchi, all held together by melted cheese. This plate of indulgence is then topped with diced red onions and sour cream for freshness, and their special Vatos hot sauce for a good kick. So sinful, but so good.
Address: 36 Beach Road, #01-03, South Beach Quarter, Singapore 189766
Opening hours: Sun-Thur 12pm to 11pm, Fri-Sat 12pm to 12am
Tel: 6385 6010
Read our full review here.
---
5. Poutine "Eh" 
---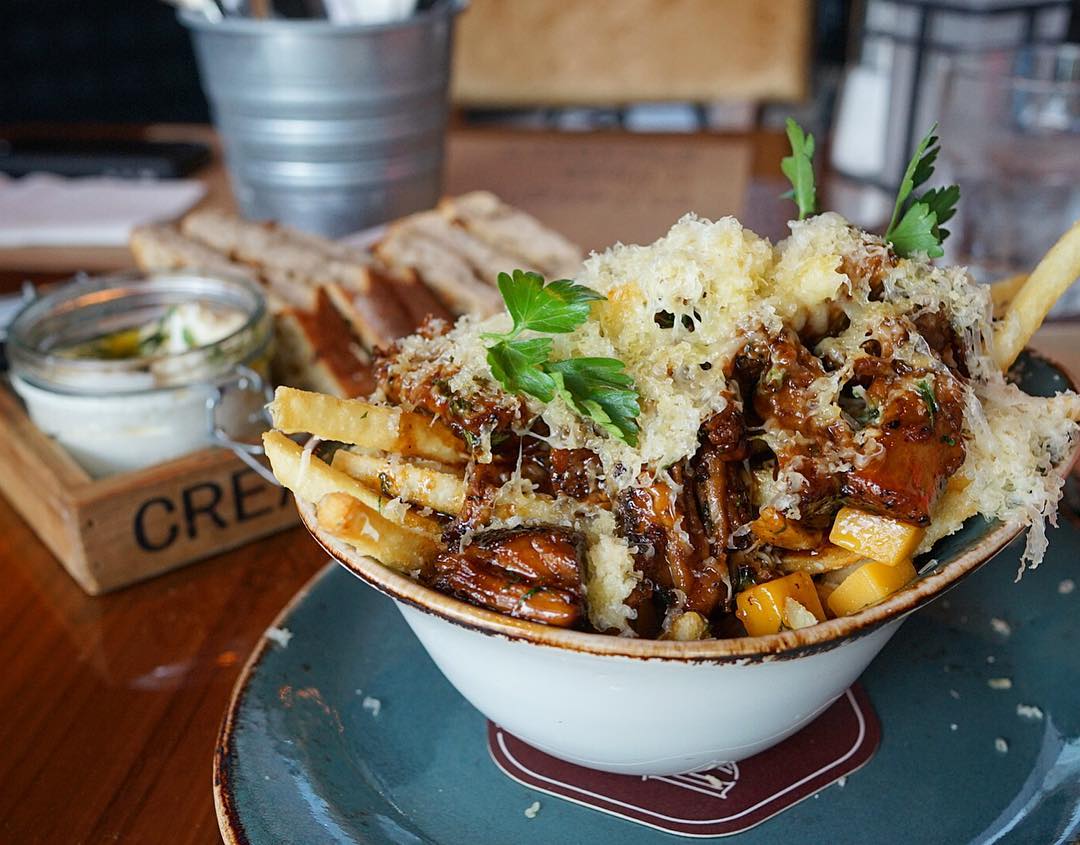 Source
Cook & Brew's Poutine "Eh" ($16++) is a more atas and Insta-worthy version of the Canadian classic. Topped with cheese curds, tender pulled pork, and covered with copious amounts of parmesan and gravy made from fruity Magners Irish Cider, this one's a feast for both the eyes and belly.
Address: 12 Marina View, Level 33, The Westin Singapore, Asia Square Tower 2, Singapore 018961
Opening hours: Mon-Thur 11am to 12am, Fri 11am to 1am, Sat 5pm to 12am
Tel: 6922 6948
Menu
---
6. Wham! Fries
---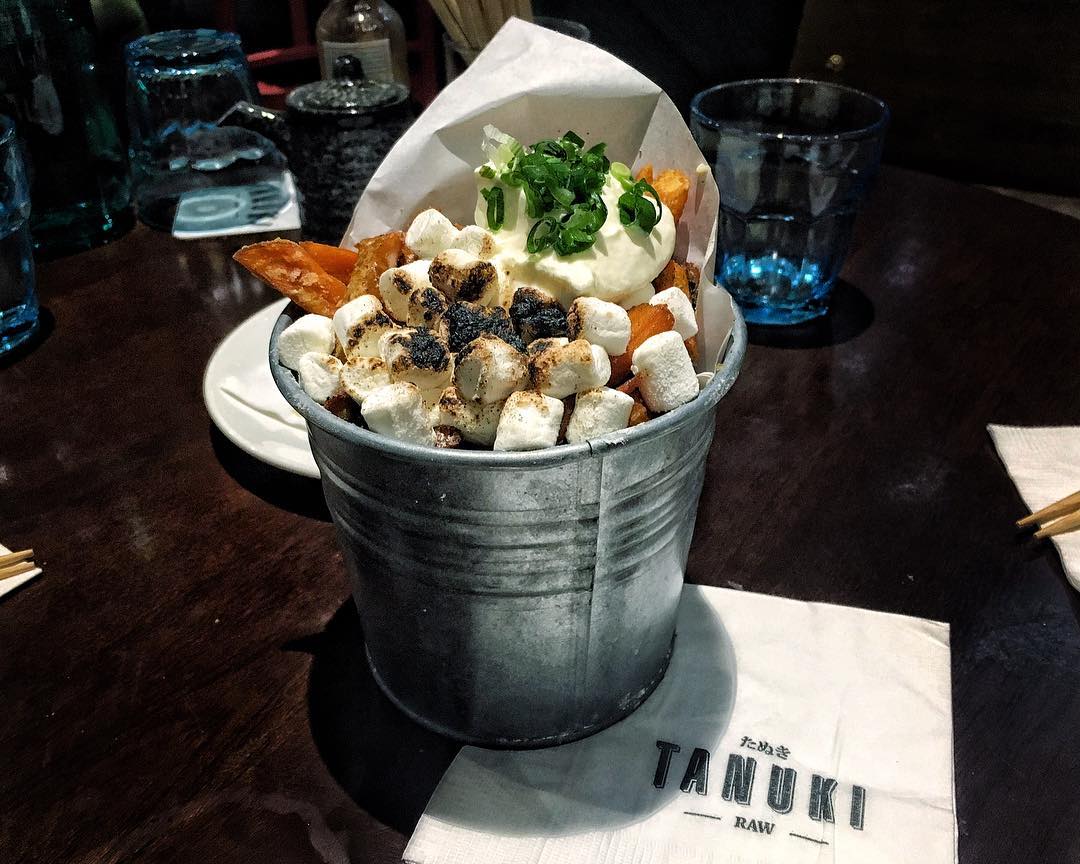 Source
If you thought you could stick to your diet with a healthy chirashi bowl at Tanuki Raw, think again, because their Wham! Fries ($11.90++) will blow you away. The sweet potato fries are always served hot and crispy, and perfectly seasoned with their secret spice blend. But that's not all, 'cause they pile on melted gruyere and mozzarella cheese, sour cream and perfectly-torched mini marshmallows on top of everything – time to say bye to your healthy diet.
Address: 181 Orchard Road, #04-01, Orchard Central, Singapore 238896
Opening hours: Mon-Sun 11am to 10:30pm
Tel: 6636 5949
Menu
Click here for their Kapok outlet address and info.
---
7. Shambal Fries
---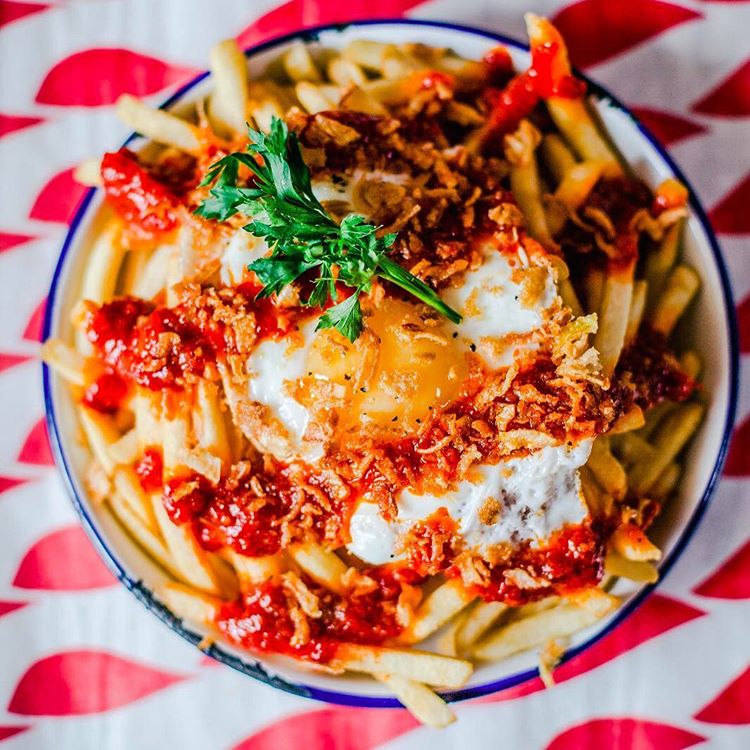 Source
While nothing can beat your favourite nasi lemak stall's sambal chilli, popular London burger chain MEATliquor attempts to appeal to the local crowd with Shambal Fries ($10++). The huge plate of fries is doused in a homemade sweet and spicy sambal sauce, before being topped with a sunny side up and a generous sprinkling of deep fried shallots. Although nowhere near as spicy as traditional sambal, it's every bit as yummy.
Address: 99 Duxton Road, Singapore 089543
Opening hours: Sun-Thur 11:30am to 11pm, Fri-Sat 11:30am to 1am
Tel: 6221 5343
---
8. Pumpkin Hazelnut Fries
---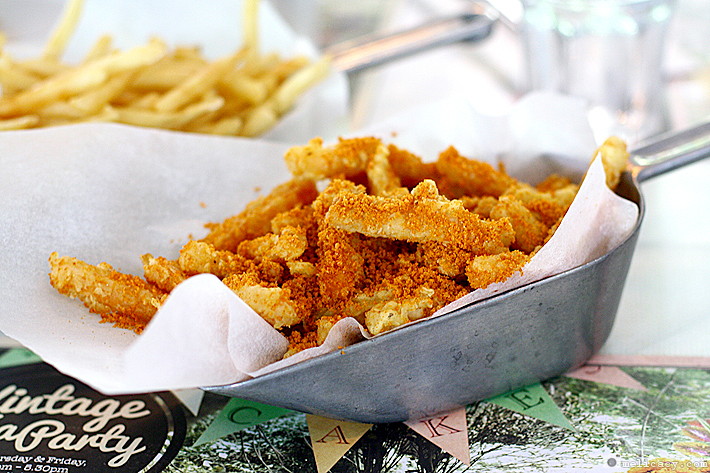 Source
House is home to a variety of unusual fries, and a must-try that can't be found anywhere else is Pumpkin Hazelnut Fries ($12++). The straw-cut pumpkin fries may be a little on the soft side but the ground hazelnut coating gives it a contrasting crunch as well as some heat from paprika and chilli powder. If pumpkin isn't your thing, try Truffle Taro Fries ($9++) or Curry Mustard Fries ($9++).
Address: 8D Dempsey Road, Singapore 249672
Opening hours: Mon-Thur 12pm to 11pm, Fri 12pm to 12am, Sat 11am to 4pm, 6pm to 12am, Sun 9am to 4pm, 6pm to 11pm
Tel: 6475 7787
Menu
---
9. Tom Yum Fries
---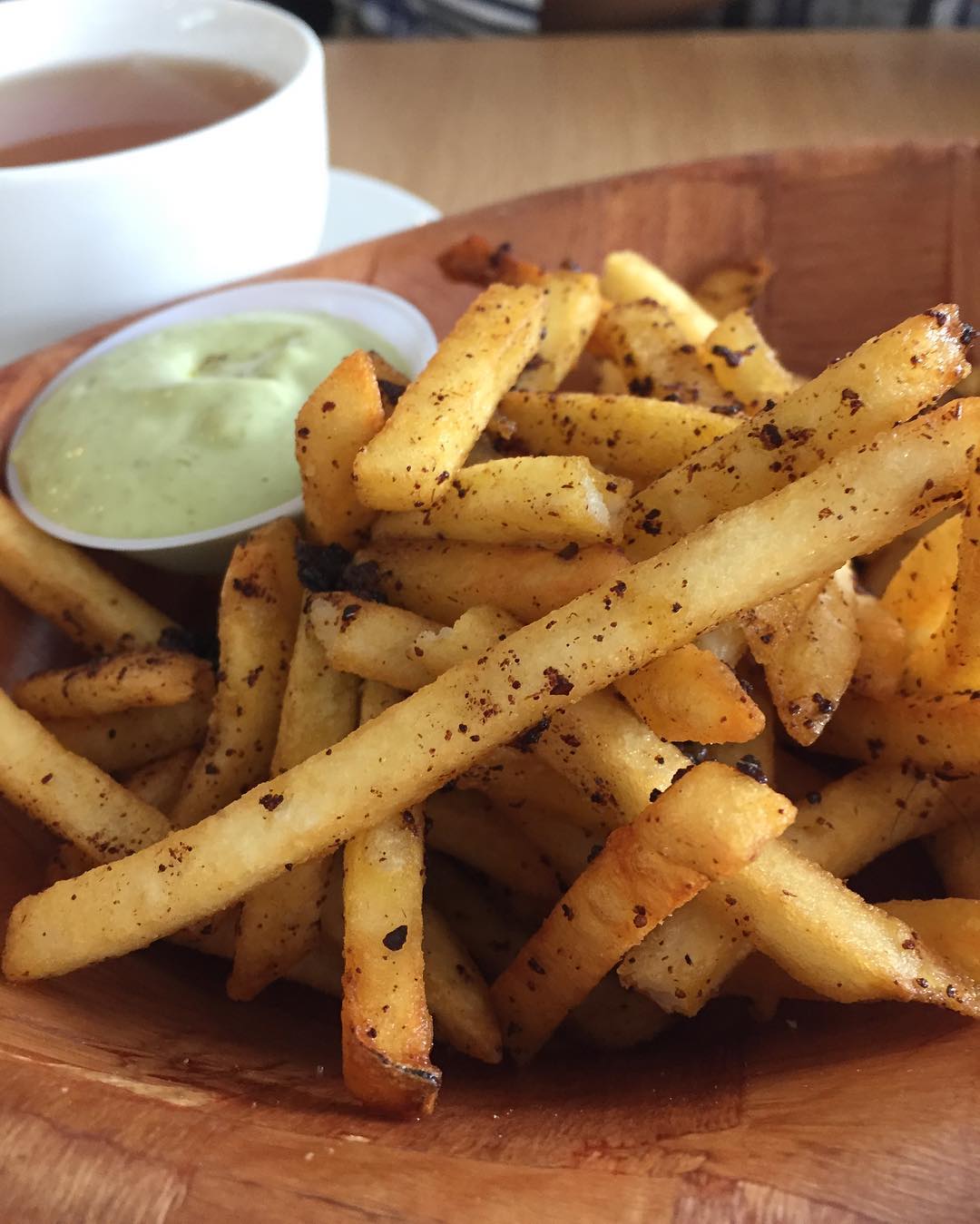 Source
In contrast to the other beastly fries on this list, Arbite's Tom Yum Fries ($7++) may seem a little boring. But dismiss it, because this unassuming plate of fries definitely packs a punch. Fried and tossed in a mix of Thai herbs and spices, these carry a sharp and tangy aroma just like a bowl of tom yum goong, and the creamy basil aioli dip makes a perfect complement. If you're a salted egg yolk groupie, their popular Salted Egg Yolk Fries ($8++) will not disappoint as well.
Address: 66A Serangoon Garden Way, Singapore 555962
Opening hours: Mon-Fri 11:30am to 3pm, 6pm to 10:30pm, Sat 9am to 10:30pm, Sun 9am to 10pm, PH 11am to 10pm
Tel: 6287 0430
Menu
---
10. Bulgogi Fries
---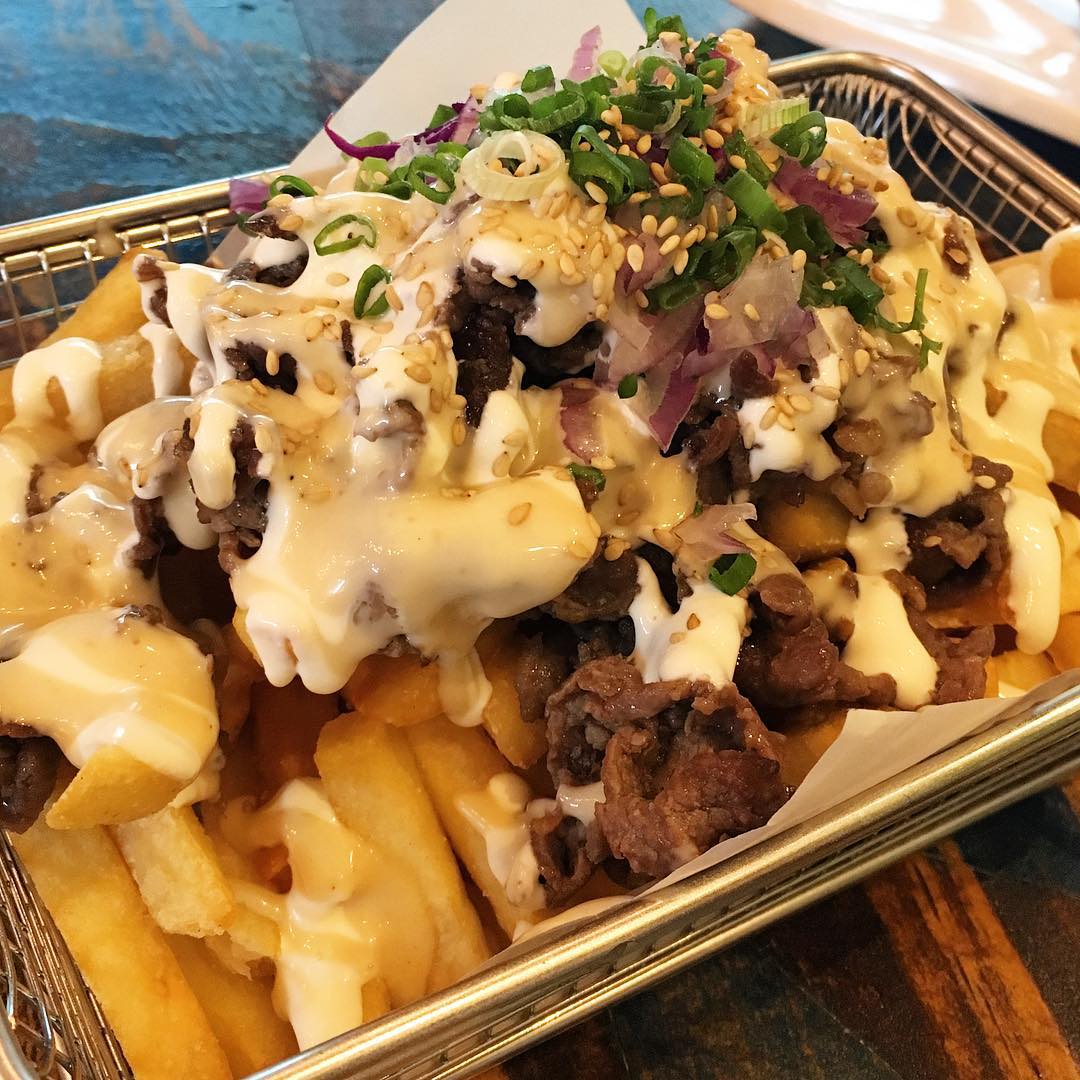 Source
Next time you're at Chicken Up satisfying your korean fried chicken cravings, go all out and order their popular Bulgogi Fries ($18++) that features a good dose of tender marinated beef bulgogi, mayo, cheese sauce and chopped red onions. It's a little on the pricey side but portions are huge so it's great for sharing. #noragrets
Address: 176 Orchard Road, #01-331, Centrepoint, Singapore 238843
Opening hours: Mon-Sun 11am to 11pm
Tel: 6635 2651
Click here for other outlet addresses and info.
---
Fries game strong
---
With OTT trends like freakshakes and freakcakes taking over the food scene, it's time to ditch regular fries for these way more interesting combinations. Let us know if you have any lobangs for more crazy unusual fries!