Ko-Mex food with maximum flavour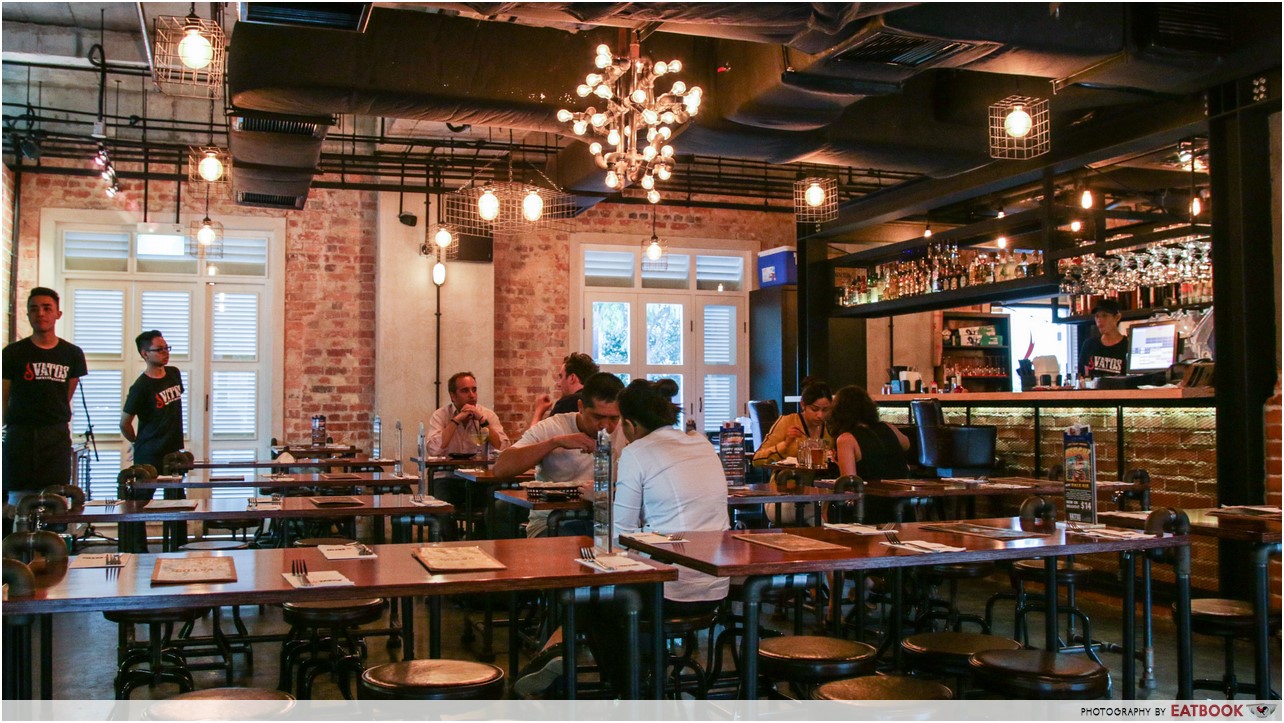 Throughout my summer exchange in Korea earlier this year, I spent a lot of time travelling in and out of Seoul to try all sorts of Korean food. Korean-Mexican, or Ko-Mex, chain Vatos Urban Tacos was on my list of must-tries, but I missed the chance to pop by due to the lack of time. So when I heard they've got an outlet in Singapore, you can bet I was ready for a major #throwback to my Seoul-food days – hands up if you got my pun.
Sides at Vatos Urban Tacos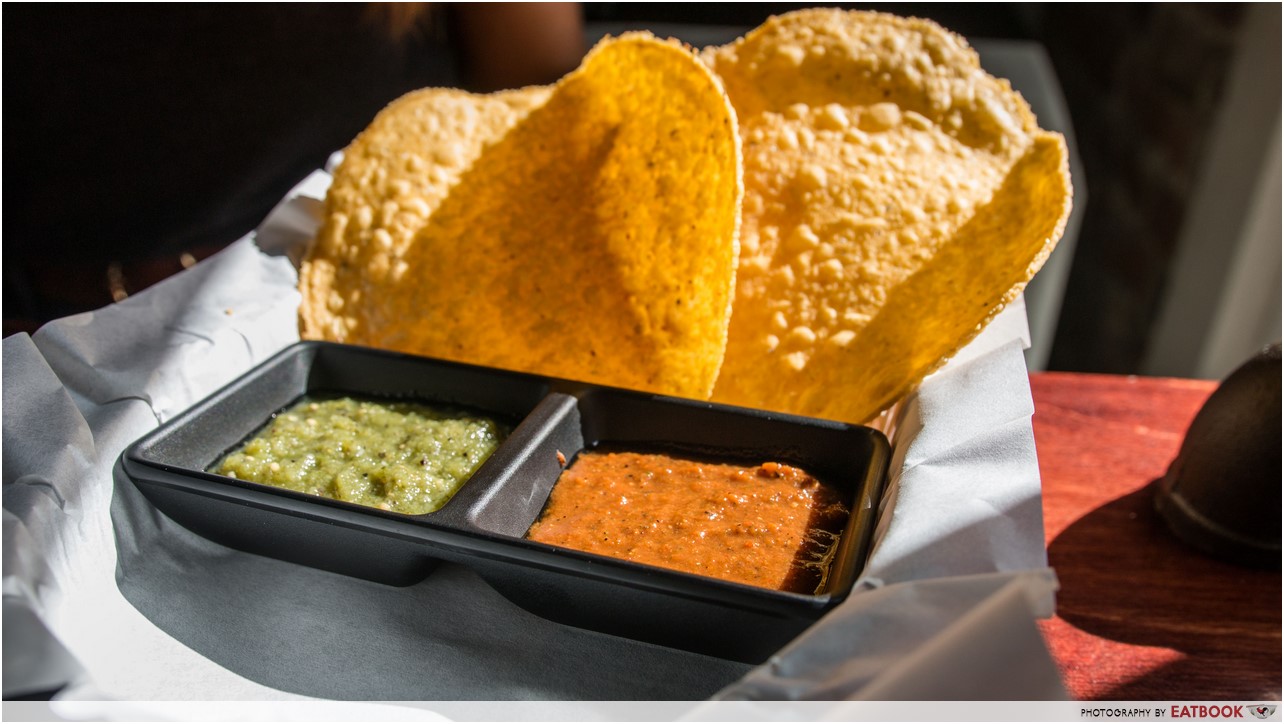 Some think the hardest part of eating out is choosing what to order, but for me, it's the part that comes after – waiting for food. So my hangry soul was very happy when complimentary corn chips were served to us right after ordering. What's more, these chips were as big as my face!
They came with 2 types of fresh salsa, and the spicy one tasted a little like sambal belacan with a tomato base. The other non-spicy salsa had a hint of mint in it and was really refreshing on the palate.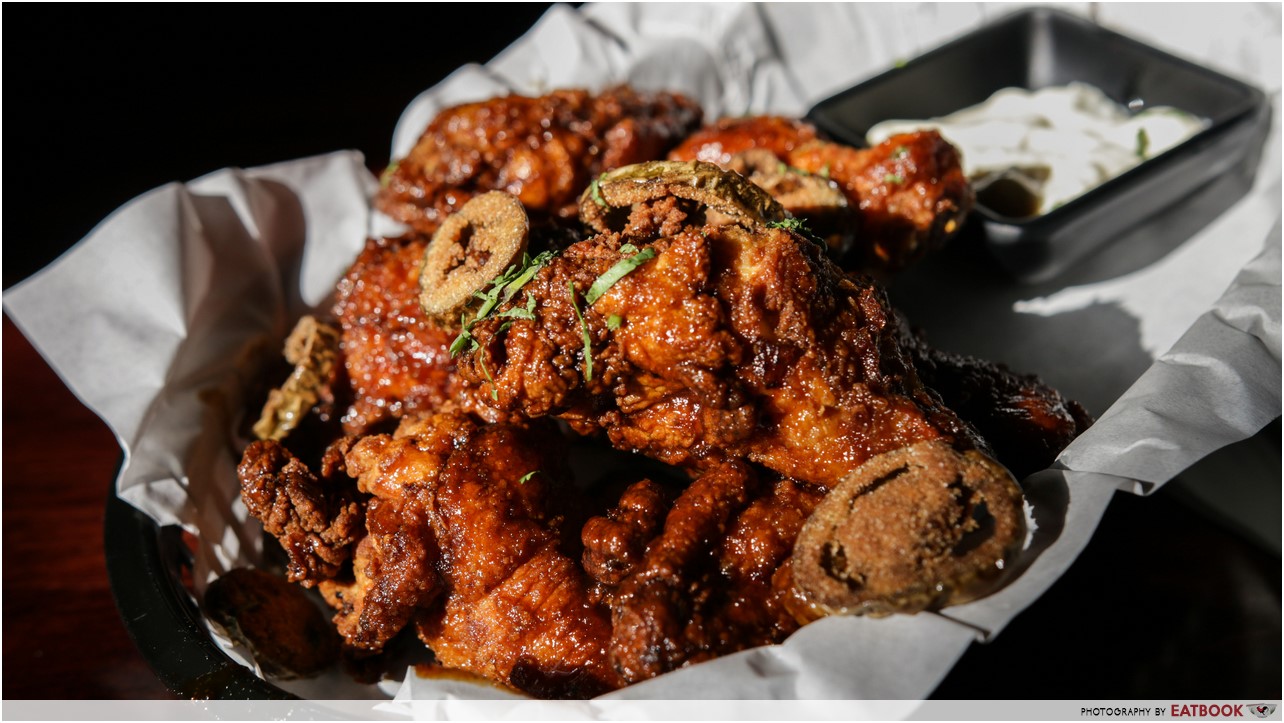 Tequila is one of my favourite liquors and I was thrilled to get their signature Honey Tequila Chicken Wings ($18++). Unfortunately, I was a little disappointed because there wasn't anything incredibly unique about its taste. 
That being said, these wings were delicious. Each wing had a good blend of sweetness and spiciness, and the meat underneath the thick crispy skin was moist and tender.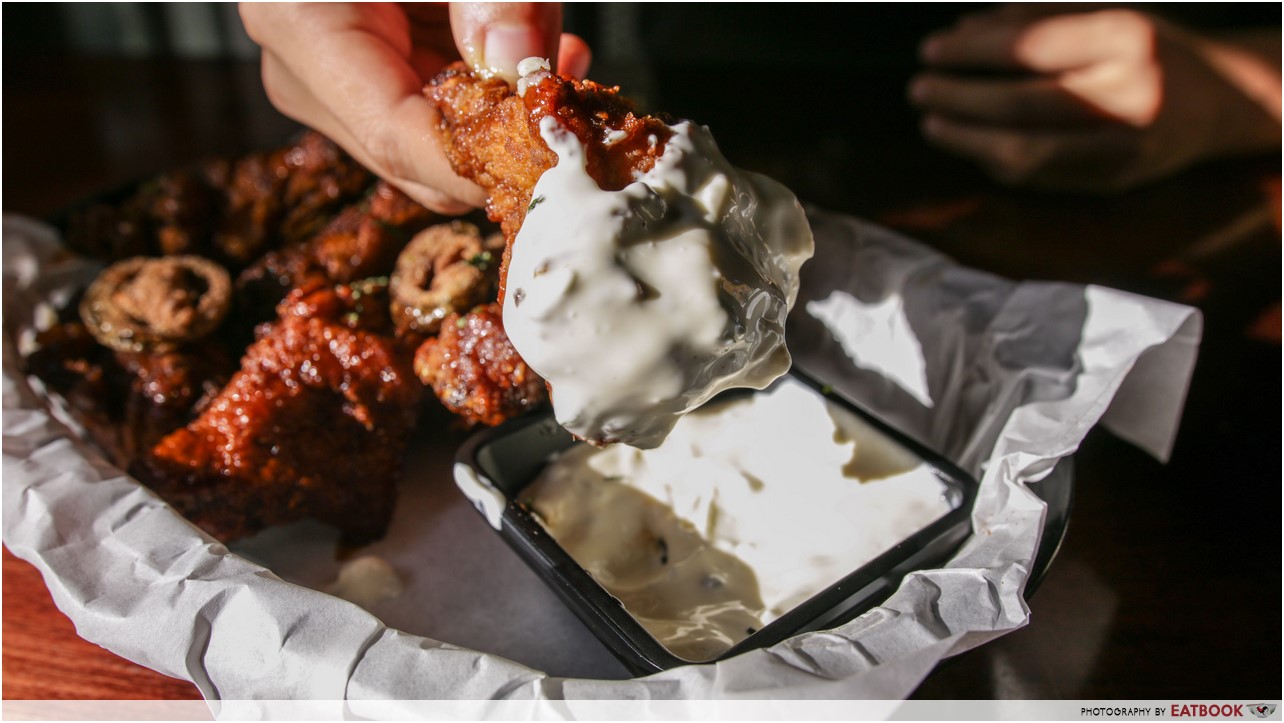 Don't be intimidated by the Mexican blue cheese dip served with it because it is lighter than it looks. It complemented the wings by making their robust flavour less jelak.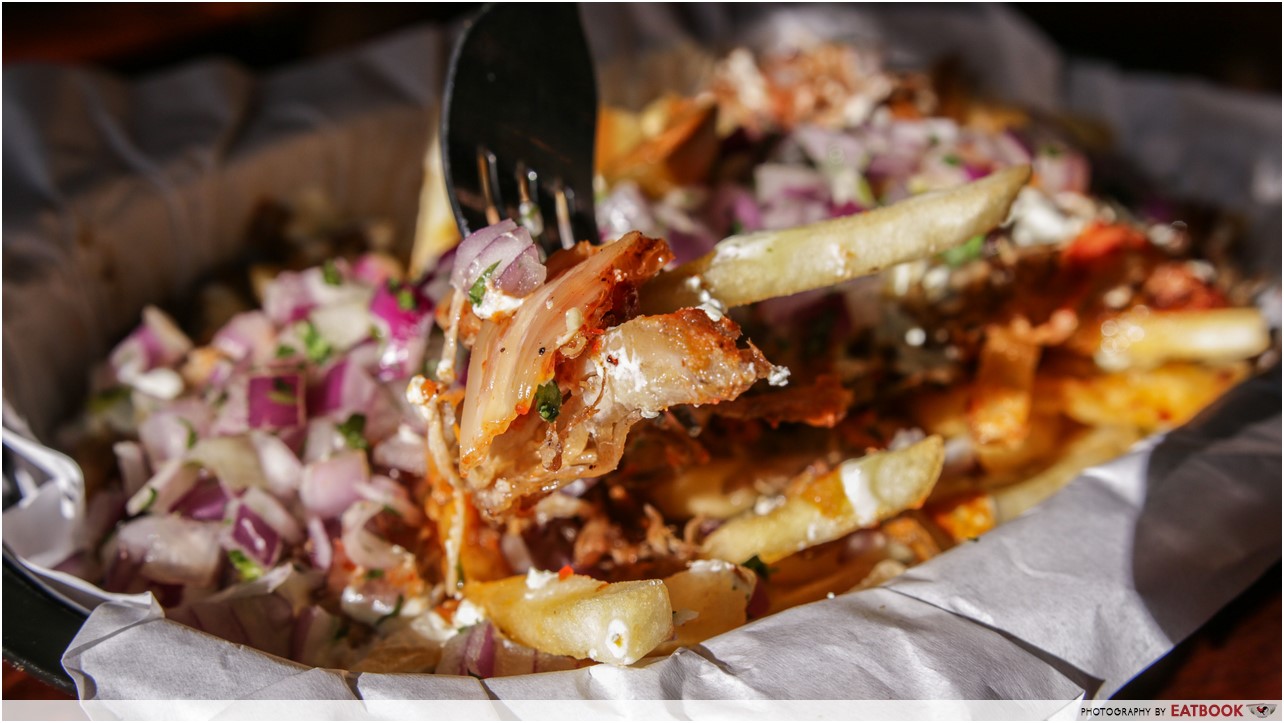 Nothing says Ko-Mex like this giant basket of Kimchi Carnitas Fries ($18++). Piping hot fries are covered with braised carnitas pulled pork, sautéed kimchi, melted cheese, sour cream and their special hot sauce. If this combination of sinful goodness doesn't catch your attention, I don't know what will.
The fries carried a smoky flavour from the pulled pork and a great kick of spice from the kimchi and hot sauce. And right after my tongue was hit by the spice, the sour cream and melted cheese worked to neutralise the heat. In short, using the word "flavourful" to describe this would be a total understatement.
The only downside was the texture of the pulled pork, as it wasn't as soft as I would like braised pulled pork to be. Nonetheless, the piquant kimchi and signature Vatos hot sauce got me stuffing my already full tummy with these.
Tacos at Vatos Urban Tacos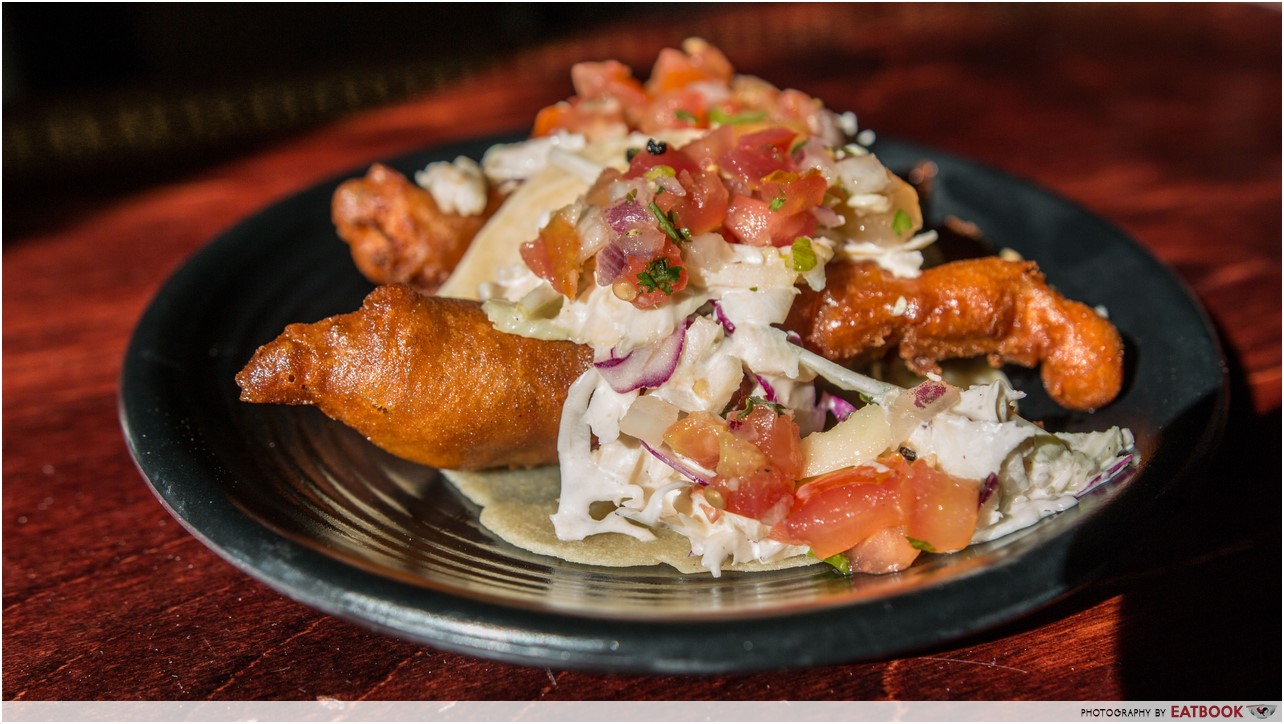 When it comes to signature dishes in Mexican cuisine, tacos are a must. We ordered Baja Fish tacos ($11++ for 2 tacos, $15++ for 3 tacos), which are made of tempura beer battered fish, spicy chipotle mayo and pico de gallo – or tomato salsa – apple coleslaw. I have never been a fan of coleslaw but the one in this taco was incredibly refreshing. It made the whole taco taste less oily and is definitely one of the highlights of this dish.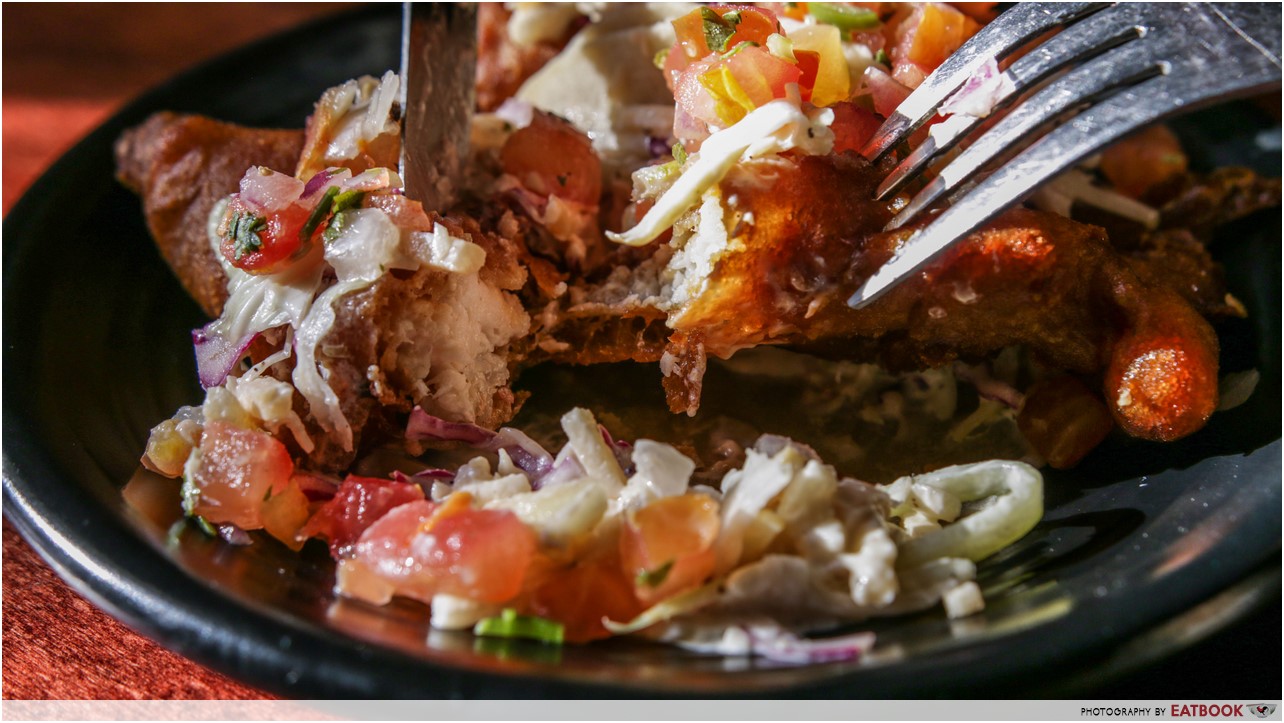 The soft taco shell enhanced the crispiness of the beer battered fish. Crisp on the outside and super soft within, the fish had a unique and delightful aftertaste that kept me going for more.
The Verdict
What I like most about Vatos Urban Tacos was how they balanced the complex and unique flavours of Mexican and Korean cuisine. The contemporary industrial setting made up of dimmed lights and pipe-legged tables created a laid-back ambience perfect for a catch-up sesh with friends. I strongly recommend coming here in a group just so you can order and share a variety of tacos. Don't forget to get Kimchi Carnitas Fries as well – you won't regret it!
This is an independent review with all expenses borne by Eatbook.sg.
Summary
Pros
– Attentive service
– Laid back ambience
– Unique dishes
Cons
– Expensive
Recommended Dish: Baja Fish tacos ($11++ for 2 tacos), Kimchi Carnitas Fries ($18++)
Operating Hours:
Sunday – Thursday 12pm to 11pm
Friday – Saturday 12pm to 12am
Address: 36 Beach Road, South Beach Quarter, Singapore 189766