About Redpan: East Meets West
This was an undercover review with expenses covered by Eatbook.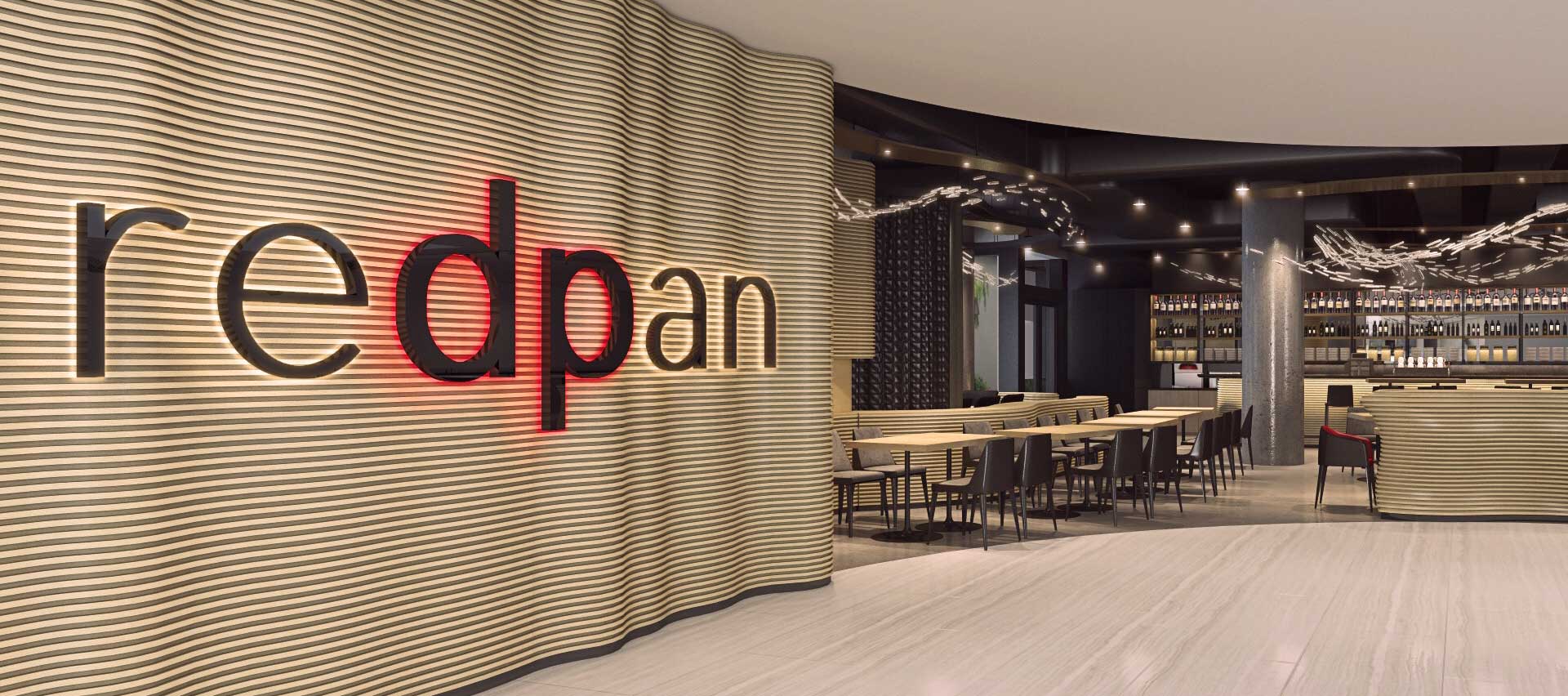 Redpan is one of the newest casual Asian-fusion restaurants on the block. A collaboration between DP Architects and GRUB, this sleek, casual-chic restaurant at Marina Square boasts a menu of modern dishes infused with creative local twists.
I have heard many rave reviews on Redpan; about their delicious yet affordable interpretations of modern Western classics. The menu was incredibly intriguing as well; incorporating familiar Singaporean flavors, like hae bi hiam and milo, into their mains and desserts.
With most of their mains priced around $15 and below, as well as their relatively central location, Redpan is a promising new lunchtime haunt for modern Singaporean food at pocket-friendly prices. I made a trip down on a Sunday afternoon to see for myself if the hype was truly justified.
The Mains
"Lup Cheong" Macaroni and Cheese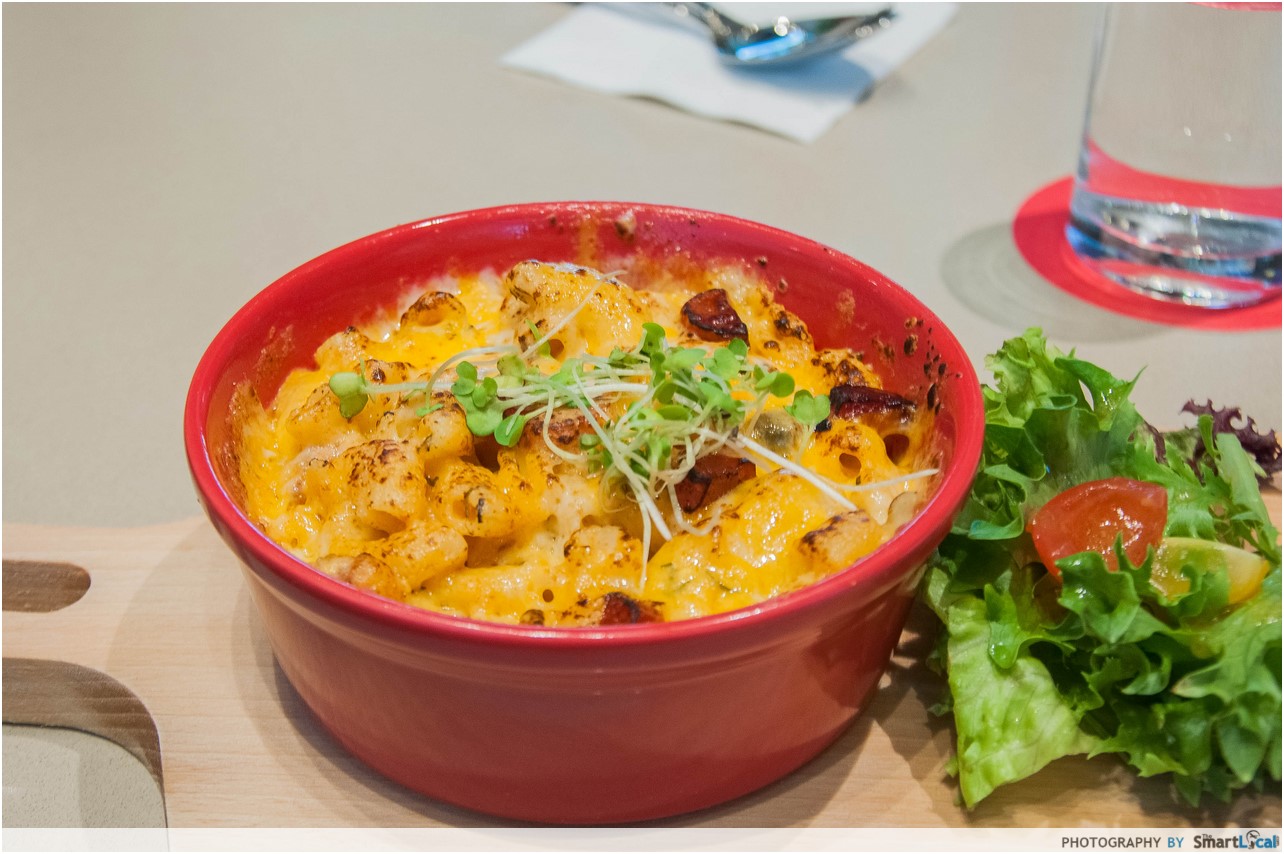 This is far from your ordinary Mac & Cheese. Redpan's take on this comforting classic dish evoked memories of the delicious red-hued Chinese sausages that were a staple of my family's Penang lor bak (crispy meat fritters) feasts.
The combination of cheesey macaroni and sweet-salty lup cheong worked out surprisingly well. The smoky chunks of fatty Chinese sausage added an addictive sweetness to the creamy mac & cheese. 
The sauce itself on the other hand, could be refined. It had a one-dimensionality that reminded me of the cheap mac & cheese sides from Western food stalls in coffee shops.
Rating: 6.5 / 10
Prawn and "Hae Bi Hiam" Tagliatelle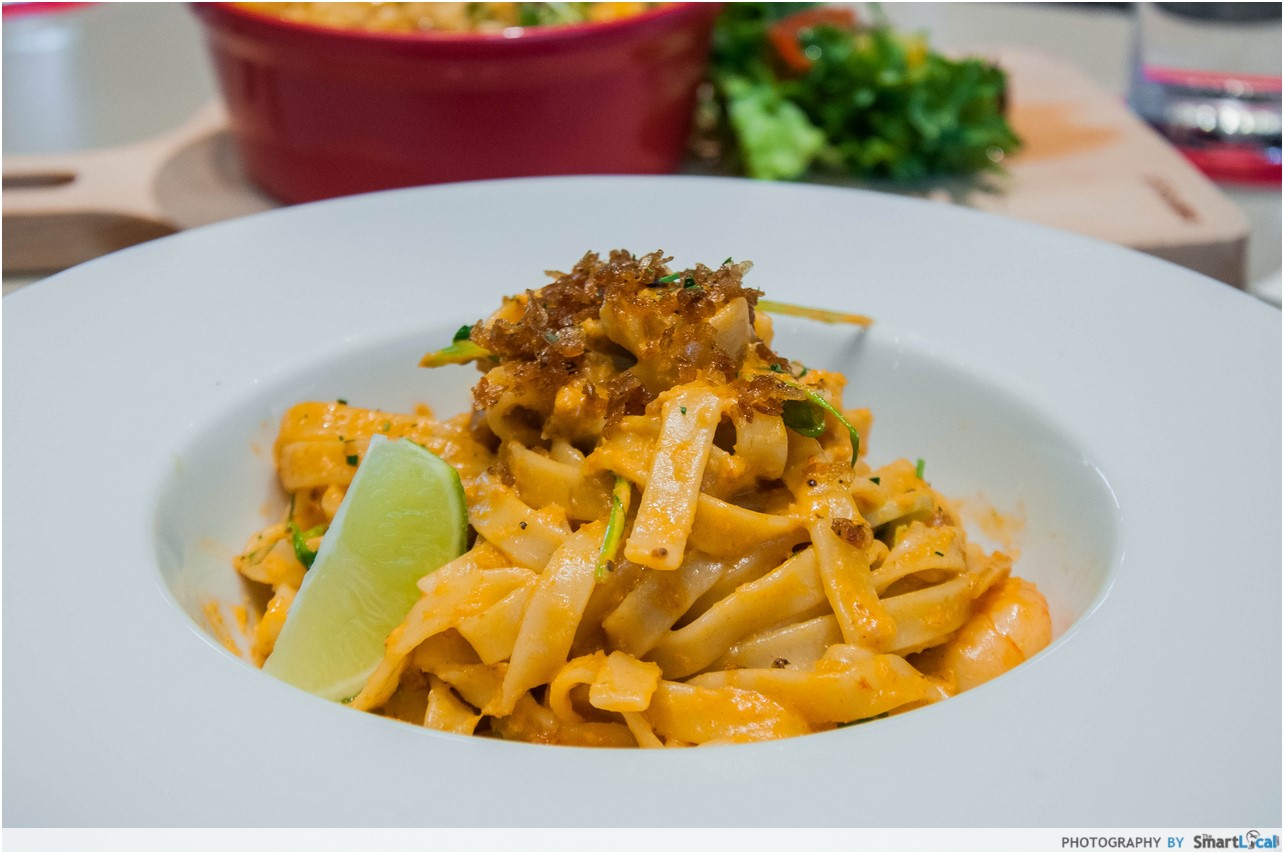 Hae bi hiam pasta isn't a new dish in Singapore. Relish by Wild Rocket was one of the first restaurants to offer with this spicy-umami combination, and I've come across several other renditions of this pasta as well.
Redpan's Prawn and Hae Bi Hiam Tagliatelle ($17) was tossed in a spice-studded saffron-coloured sauce, and crowned with tender sauteed shrimp and a heap of crispy hae bi. The mildly spicy sauce was quite unlike the other versions of hae bi hiam pasta that I've tried; it was more "dry", with a distinct flavor from aromatic curry leaves and baby shrimp sambal. Be sure to toss the pasta evenly, to get an even distribution of crunchy sakura ebi in each bite.
However, the dish was lacking a certain oomph. I didn't feel like the pasta was particularly outstanding compared to other Asian-fusion pasta dishes I've had in the past. Another gripe was that the amount of seafood in the dish could have been more generous, with only 5 small pieces of shrimp hidden in the pasta.
Rating: 6/10
The Desserts
Gooey Banana Donuts "Milo Dinosaur"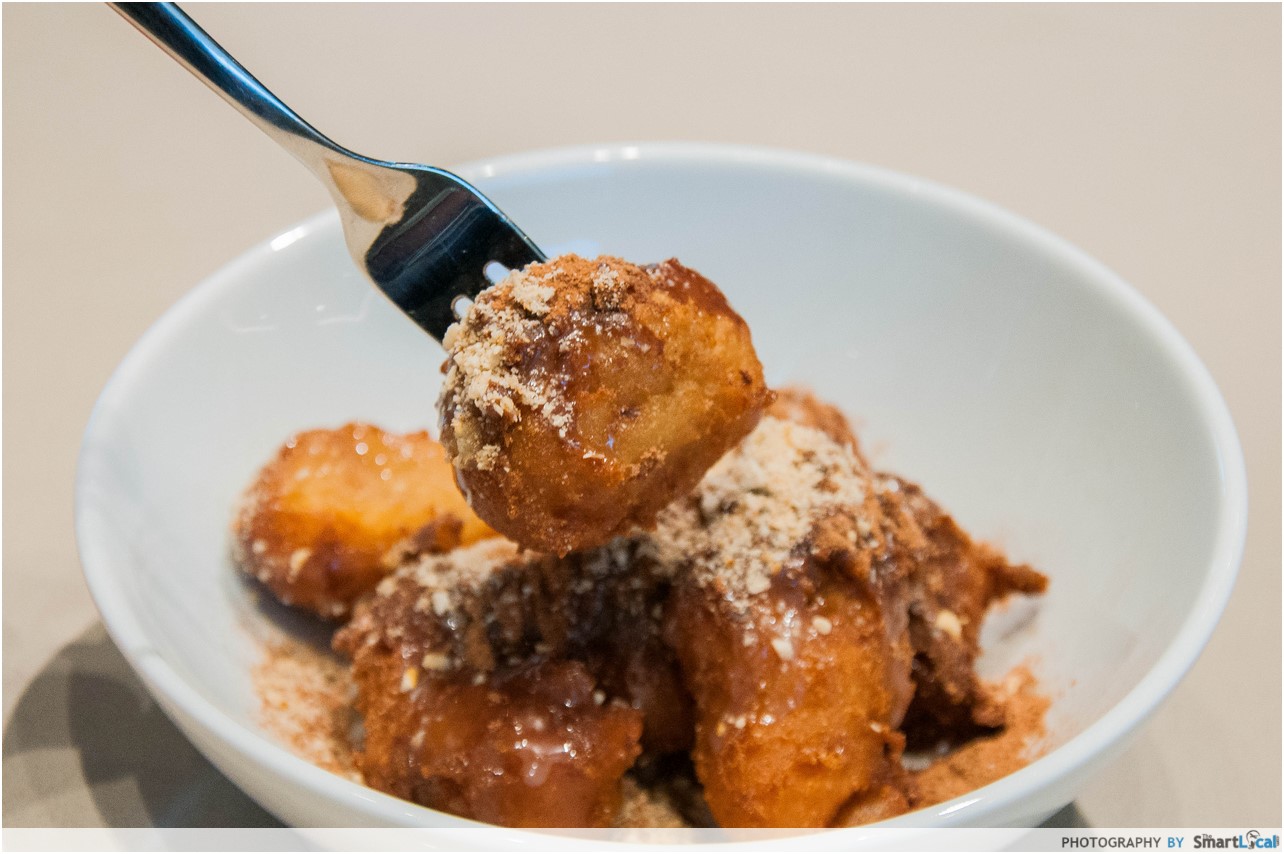 A combination of two nostalgic favorites, Redpan's Gooey Banana Donuts "Milo Dinosaur" ($7) is a sweet marriage between goreng pisang (fried banana fritters), and everyone's favorite chocolate malt drink. Topped with a generous heap of crumbly milo powder, this mound of piping hot banana fritters smelt heavenly.
Each hot, golden-brown sphere was crispy and craggly on the outside, with a tender, fragrant interior studded with banana chunks. The use of Milo added a yummy malty sweetness that rounded off the dessert nicely. Think of that "sticky" sensation from when you eat Milo powder with a spoon.
Although these fragrant donuts were more dense than gooey, I enjoyed how their soft, chewy texture contrasted with the uneven, crunchy exterior. However, the interior could definitely have been more moist, and the decadent fritters can get rather jelat after a couple of bites.
This would have been magnificent topped with a creamy scoop of vanilla, or maybe even milo ice cream.
Rating: 7/10
Matcha Soft Roll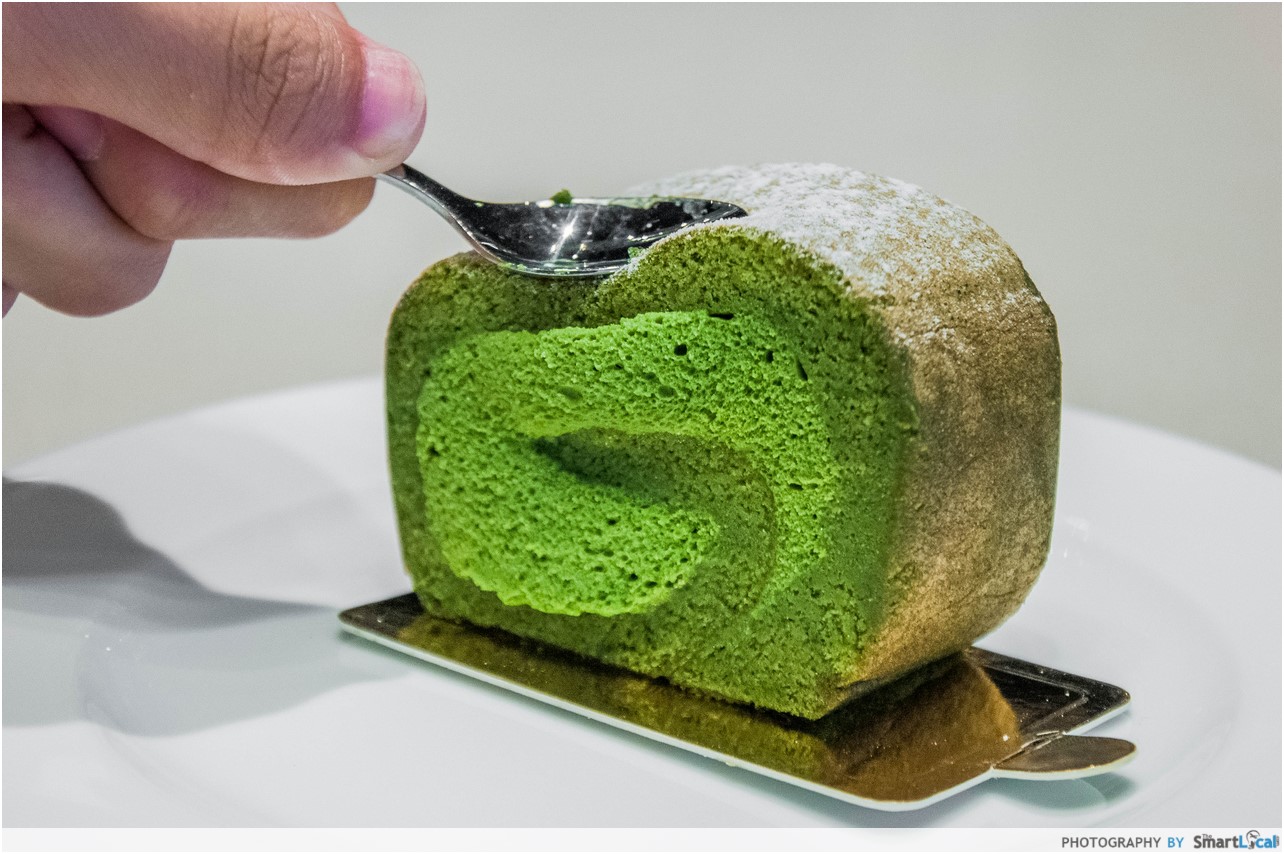 It's so fluffy I'M GONNA DIE.
The earthy green tea fragrance wafting off the Matcha Roll Cake ($4) was so distinct. I could tell, even before the first bite, that this roll cake would not disappoint.
Each mouthful of the roll revealed a lightly sweet sponge that gave way to a thick, fluffy layer of melt-in-your-mouth cream. The cream filling of the roll cake is one of the best I've ever tried; smooth as velvet, with an incredibly potent matcha taste.
If only the sponge cake layer was a tad softer, this cake would be point-perfect. Light as clouds and incredibly uplifting, this soft roll cake is the perfect way to end any meal. If you love matcha, you might have trouble stopping at just one.
Rating: 9/10
The Verdict 
I really liked certain things about Redpan; the spacious dining layout, the reasonable prices, as well as the creativity that went into the dishes on their menu. I was especially fond of the luscious Matcha Cream Roll, which is one of the better versions that I've had in Singapore.
However, I left feeling slightly let down. While the quality of the food was decent, I wasn't as impressed as I expected to be, especially after the recent flood of stellar reviews. There was a certain "WOW" factor that I found lacking in most of their dishes, and there are restaurants where I've had more satisfying renditions of similar food.
Redpan is still a pretty new establishment, so perhaps they need a little more time and fine-tuning to work out the kinks in their dishes. But, if there was one item that would lure me back, it would be their excellent Matcha Soft Roll.
Summary
Pros
– Excellent desserts
– Value for money
Cons
– The hype was not quite justified
– Food was not well executed
Recommended Dishes: Matcha Roll ($4)
Operating Hours:
Monday – Sunday 11am to 10pm
Address: #02-03/04 6 Raffles Boulevard, Marina Square, S039594