---
Best la mian in Singapore
---
To me, la mian are the best noodles of all time. Unfortunately, not many hawker stalls and restaurants can—pun intended—pull this noodle dish off. Most times, the hand-stretched noodles tend to be too gummy for my liking. If you're on a quest to find the best la main in Singapore, I recommend you start off by visiting these stalls!
---
1. Supreme Ramen Xiao Long Bao
---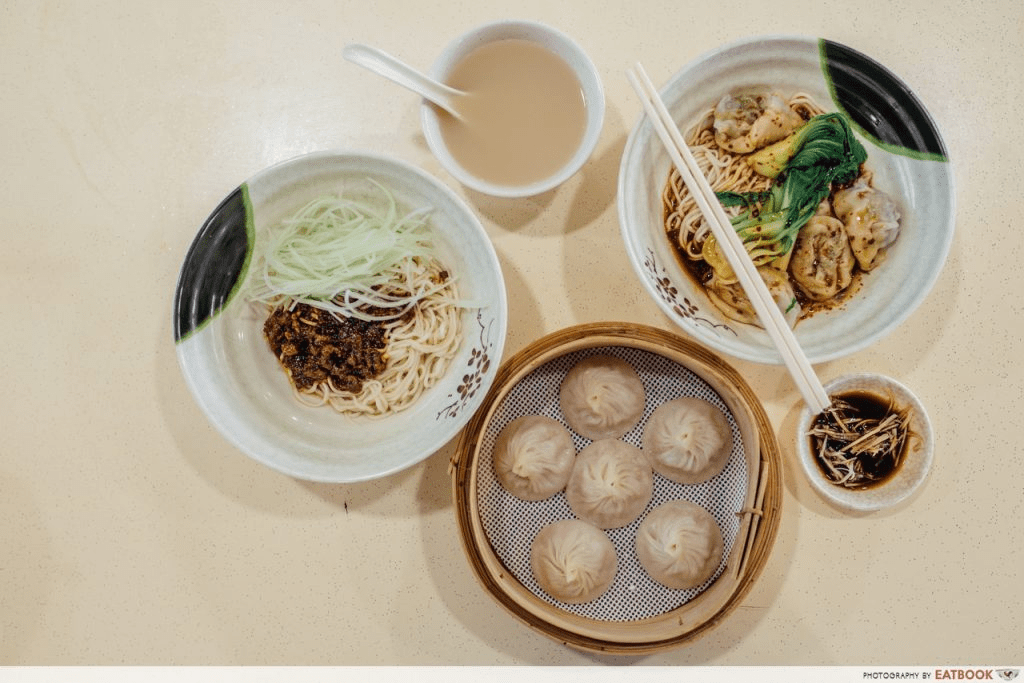 Manning the stall at Supreme Ramen Xiao Long Bao is a friendly husband-and-wife duo. The husband was previously a cook at Crystal Jade, so you can rest assured the dishes they serve are of restaurant standard. When you're here, order a basket of their Shanghai Xiao Long Bao ($4.50 for six pieces) to go along with their Pork Dumpling Noodles Dry ($4). The noodles are all hand-pulled at the stall and boast a soft, chewy texture.
Address: Blk 46 Holland Drive, #01-359, Singapore 270046
Opening hours: Tue-Sun 9am to 6:45pm
Tel: 9798 2211
Website
---
2. Nuodle
---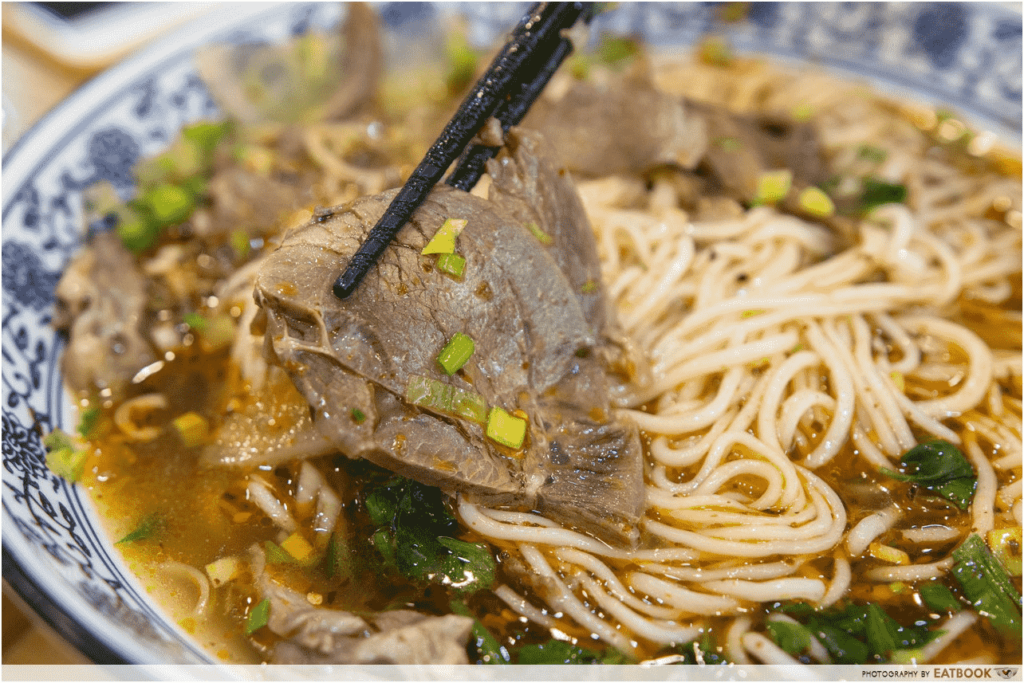 Muslim friends can have their fix of la mian too, at halal-certified beef la mian restaurant Nuodle. Originating from Lanzhou, China, the restaurant specialises in three noodle dishes:  Braised Beef La Mian (from $11.50), Sauerkraut Beef La Mian ($9.90), and Lanzhou Fried La Mian ($9.90). We recommend ordering their signature, as the beef slices are laced with fatty bits that melt in your mouth. The noodles deserve mention too, as they are both springy and soft at the same time.
Website | Full list of outlets
---
3. Shi Xiang Ge
---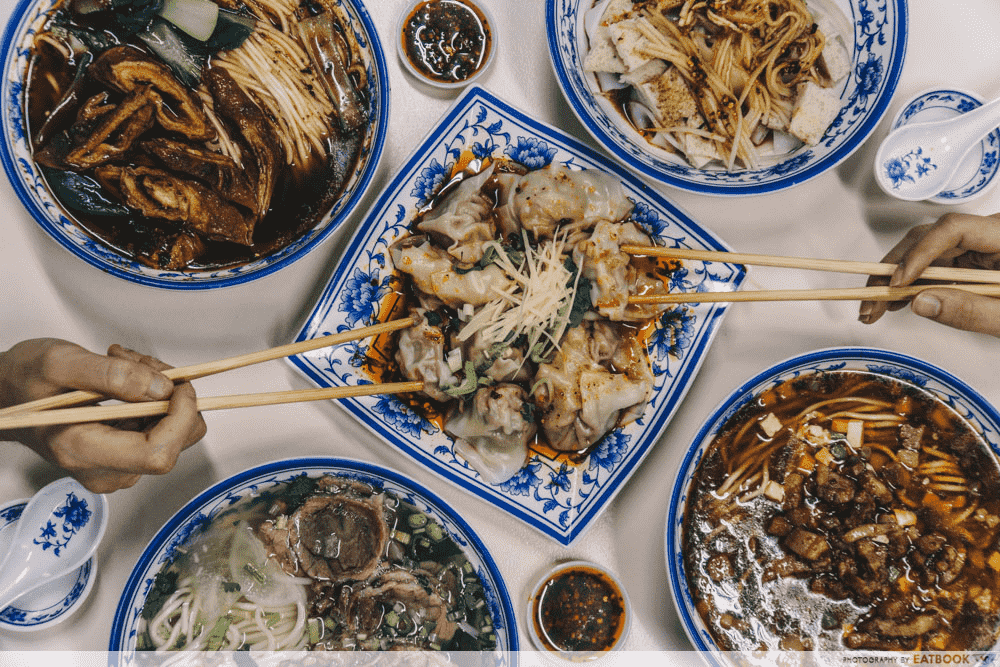 Another hawker stall that's opened by an ex-Crystal Jade chef is Shi Xiang Ge. The owner-chef boasts over 28 years of noodle-making experience working in various noodle houses and hotels. Great on a rainy day is their Beef La Mian ($6) which features a heady broth made from beef bones. 
Address: 514 Bishan Street 13, Level 2, Bishan Bus Interchange, Singapore 570514
Opening hours: Daily 10:30am to 9:15pm
Tel: 9151 3586
---
4. Noodle Man
---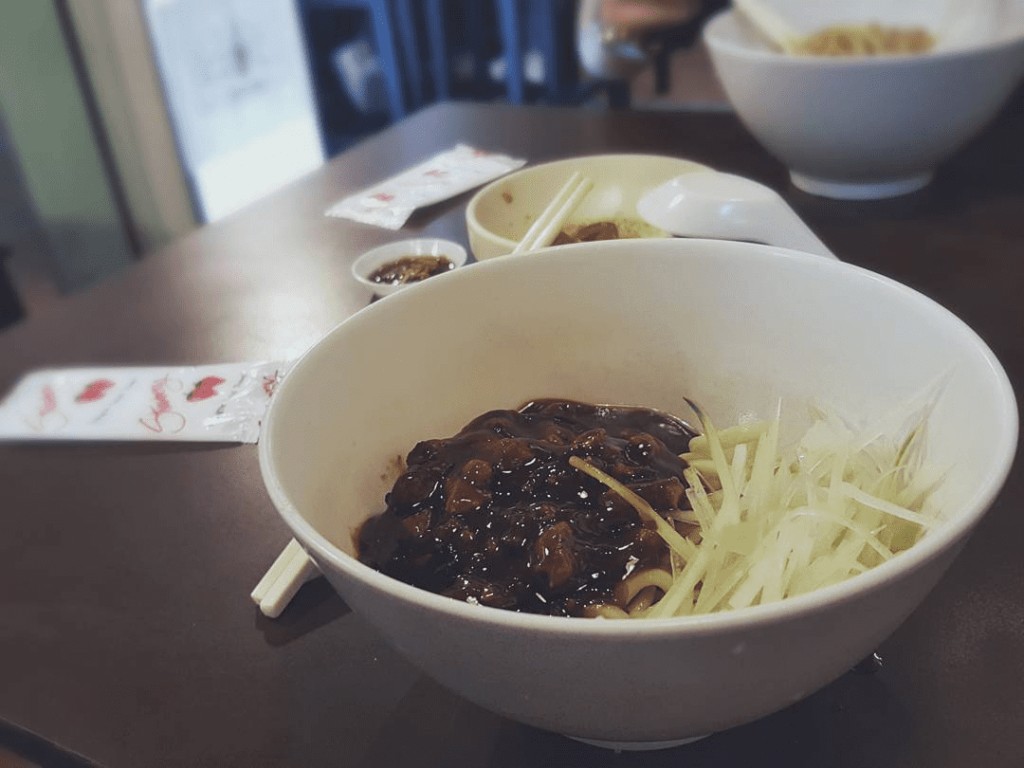 Image credit: @kent_godzillaattack
Tucked away in a Chinatown shophouse is Noodle Man, or Lan Zhou La Mian to their Chinese patrons. The quaint restaurant draws local la mian lovers and tourists alike, all thanks to the friendly owner who can be seen elegantly pulling and twirling the noodles at the open-kitchen counter. Highly recommended are their Minced Pork with Bean Sauce Noodles ($7.80+) and Fried Hokkien Prawn Noodles($7.80++).
Address: 19 Smith Street, Singapore 058933
Opening hours: Daily 12pm to 4pm, 6pm to 8pm
Tel: 6327 1286
---
5. Jing Hua Restaurant
---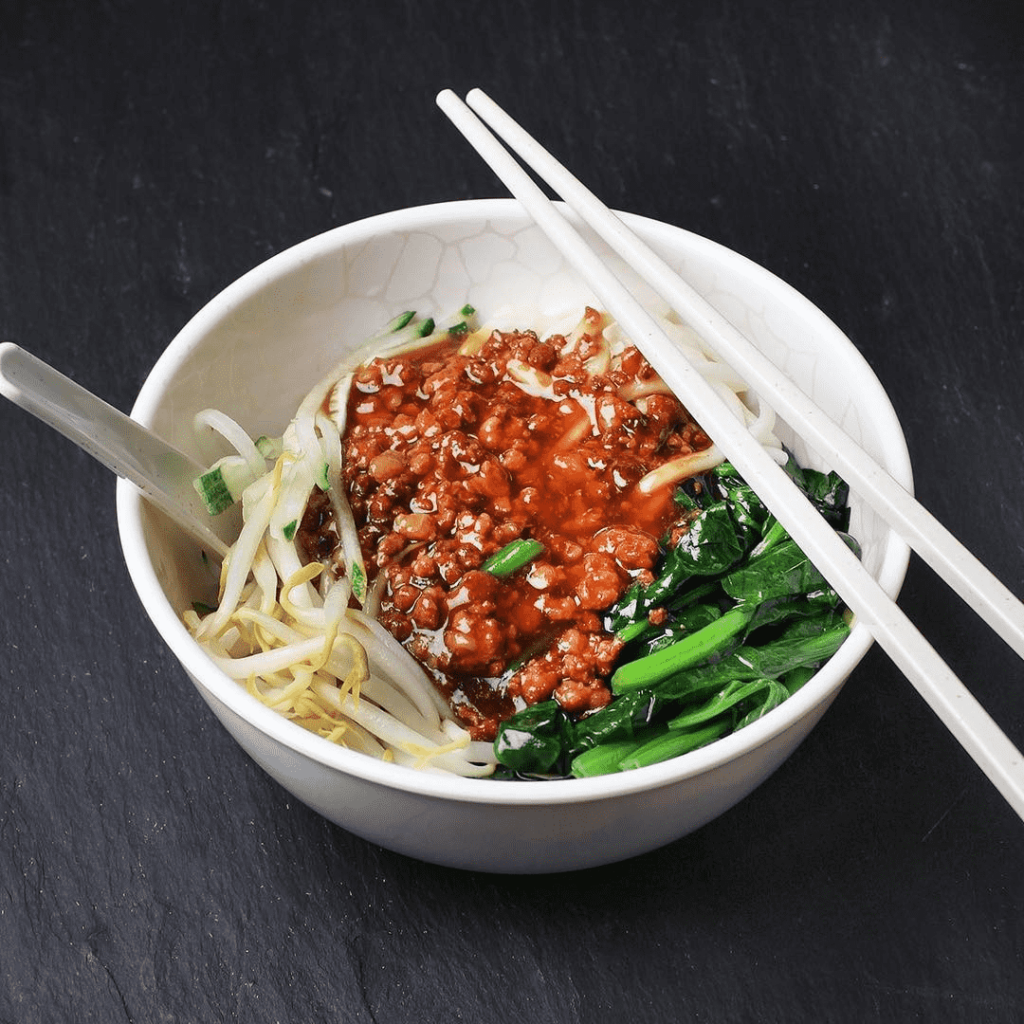 Image credit: @jinghuaxiaochi
Jing Hua Restaurant has been serving up XLBs, pan-fried dumplings and la mian since 1989. In fact, they claim to be Singapore's OG dumpling house! Expect to wait when you come during peak hours, as the Chinese restaurant is rather well-known. What makes their la mian special is that the noodles are a tad thicker than normal and more bouncy. A must-get is their signature Zha Jiang Noodle ($5.80++), which comes with soya bean sauce, minced pork, and veggies.
Address: 21 Neil Road, Singapore 088814
Opening hours: Daily 11:30am to 3pm, 5:30pm to 9:30pm
Tel: 6221 3060
Website
---
6. Shanghai Renjia
---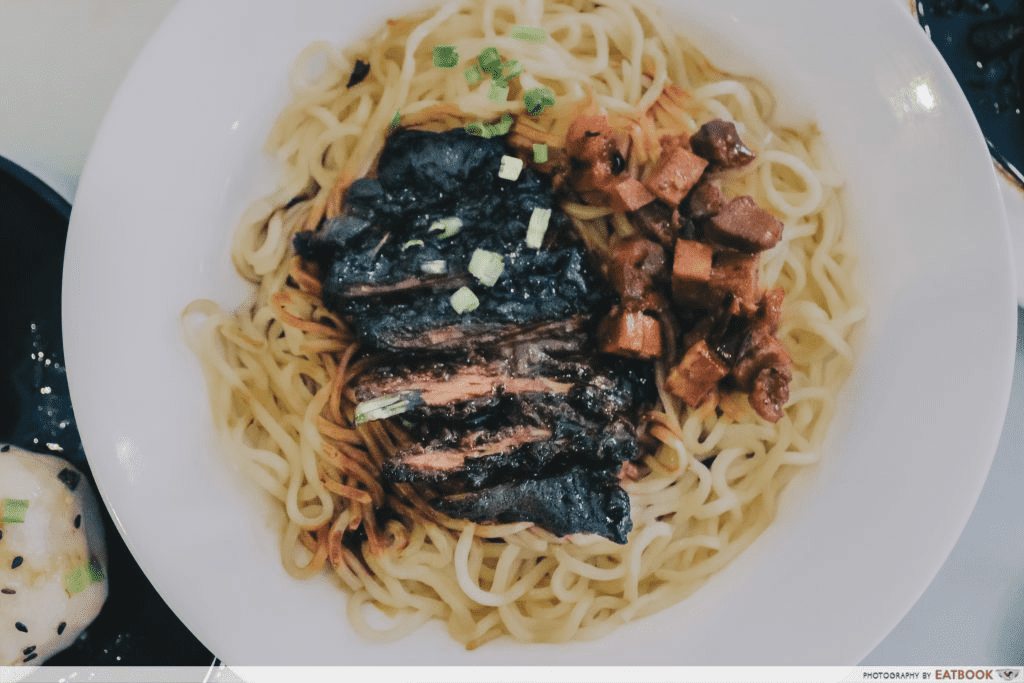 Check out Shanghai Renjia for al dente noodles that have a firm bite. Their Dry Homemade Noodles ($6) feature shallot-infused oil and a rich braised meat gravy. The flavours were an intense combination of sweet and savoury and were extremely appetising. The only downfall is that the braised meat was slightly tough on our visit.
Address: 151 Ang Mo Kio Avenue 5, #01-3046, Singapore 560151
Opening hours: Tue-Sun 11am to 3pm, 6pm to 10pm
Tel: 6368 6927
Website
---
7. Zhong Guo La Mian Xiao Long Bao
---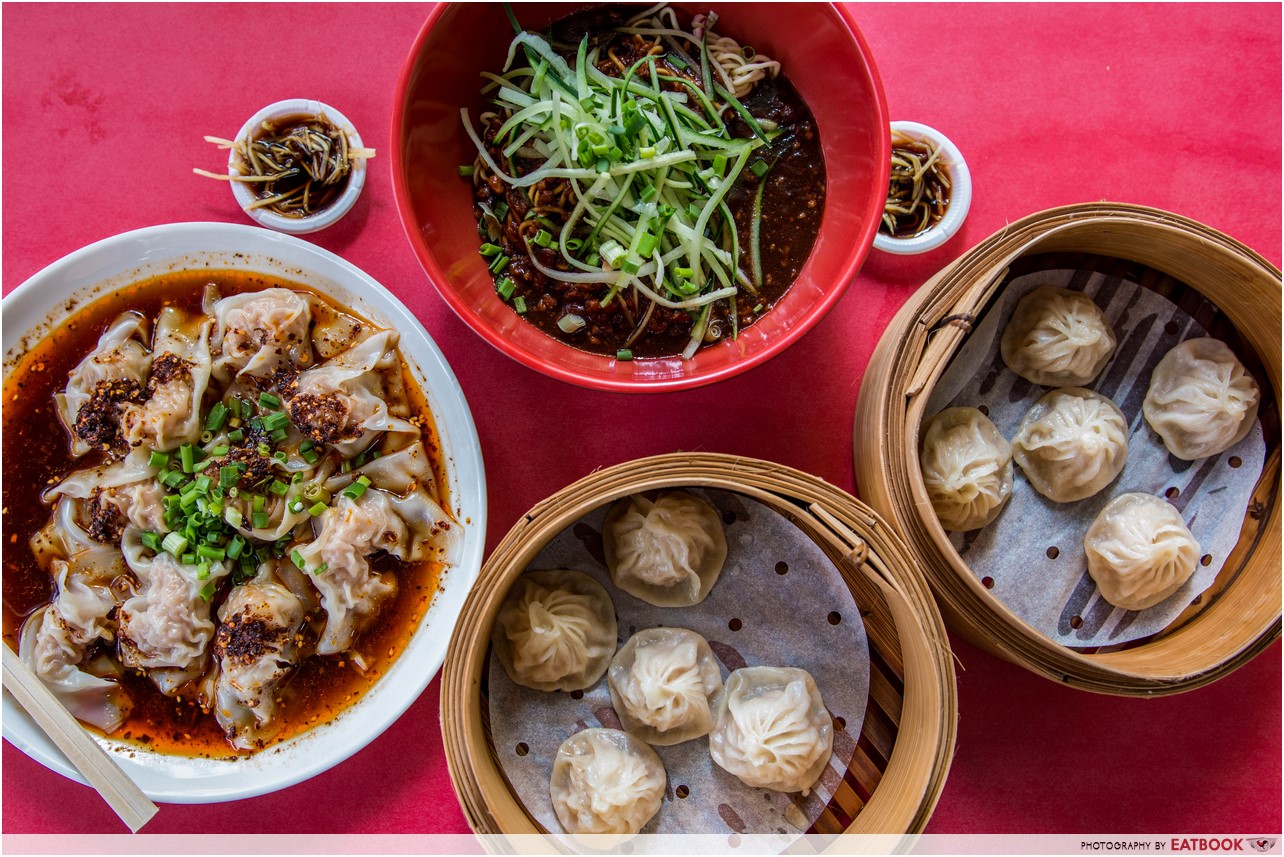 When people hear about Zhong Guo La Mian Xiao Long Bao, they only think of their juicy pork soup dumplings. But in actual fact, their la mian is just as commendable. Order their La Mian with Fried Bean Sauce ($4) for a hearty meal that won't disappoint. Commonly known as zha jiang mian, the QQ noodles here are complemented by crunchy shredded cucumber and black goopy sauce with bits of minced meat.
Address: 335 Smith Street, #02-135, Chinatown Complex Market & Food Centre, Singapore 089152
Opening hours: Wed-Sun 11:30am to 3pm, 5pm to 8:30pm
Tel: 9743 5287
---
8. Hong Peng La Mian Xiao Long Bao 
---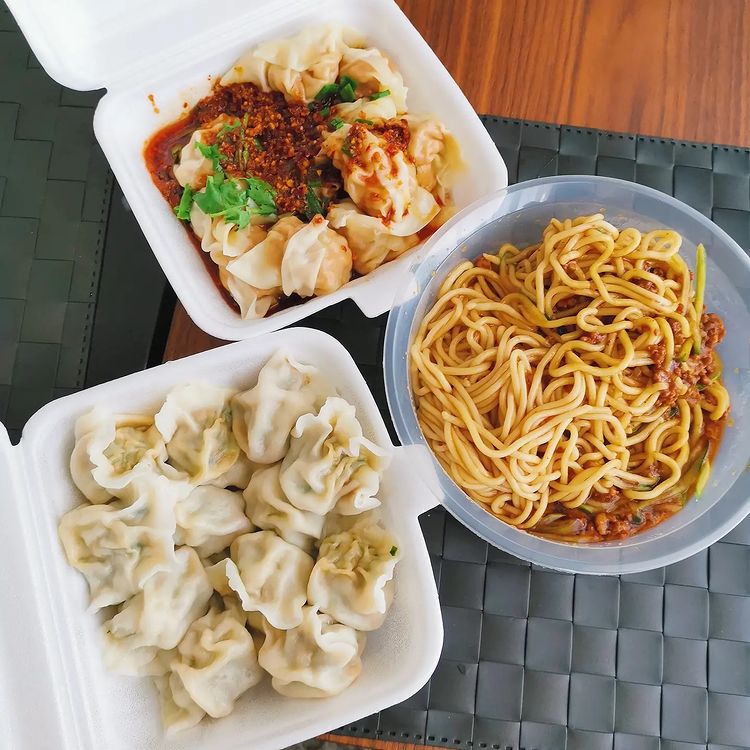 Image credit: @pseudohealthygirl
Hong Peng La Mian Xiao Long Bao
has made an appearance on the Michelin Guide for their hand-pulled noodles and their dumpling offerings. The
Flavour Beef Noodle ($5)
is highly recommended here—a generous serving of marbled, sliced beef, served with QQ noodles and a mildly spiced broth, intensified by their house-made chilli paste. Add however much chilli paste you like, but fair warning: it's hot.
Address: 32 New Market Road, #01-1064, People's Park Food Centre, Singapore 050032
Opening hours: Daily 11am to 9pm
Tel: 9083 5166
Hong Peng La Mian Xiao Long Bao is not a halal-certified eatery.
---
9. Zhang Ji Shanghai La Mian Xiao Long Bao 
---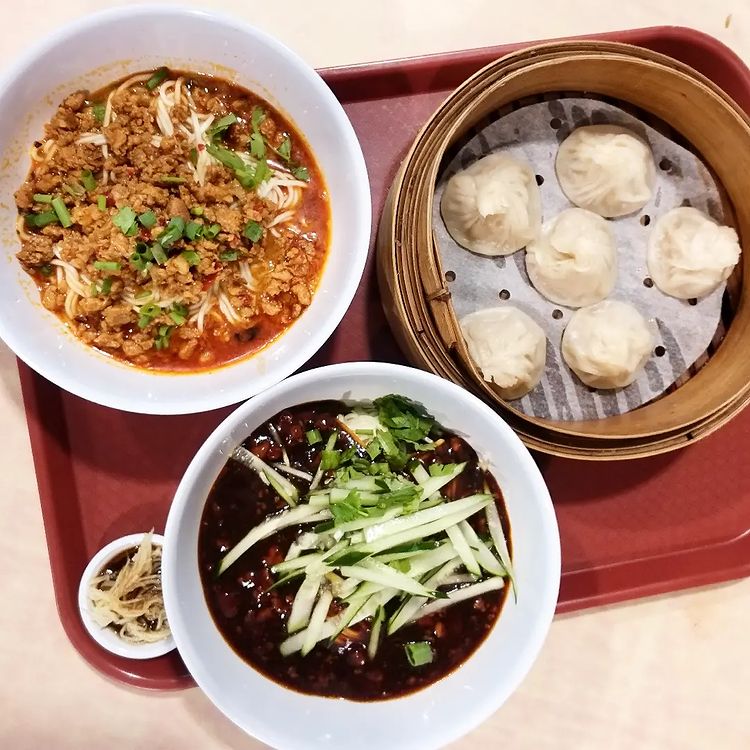 Image credit: @39weather
This Westside gem is a must if you are looking for hand-pulled la mian noodles. Swing by for their mouth-watering Szechuan Spicy Noodles ($4.50), which comes with a piquant minced meat sauce, or their affordable Sour Spicy Noodles ($2.50) if you want to bring on the heat. The sour-spicy broth definitely levels up your cup of instant suan la fen, with a vinegary kick.
Address: 120 Bukit Merah Lane 1, #01-56, Alexandra Village Food Centre, Singapore 150120
Opening hours: Thurs-Sun 11:30am to 2:30pm, 5pm to 8pm
Hong Peng La Mian Xiao Long Bao is not a halal-certified eatery
---
10. Ah Wang La Mian Xiao Long Bao 
---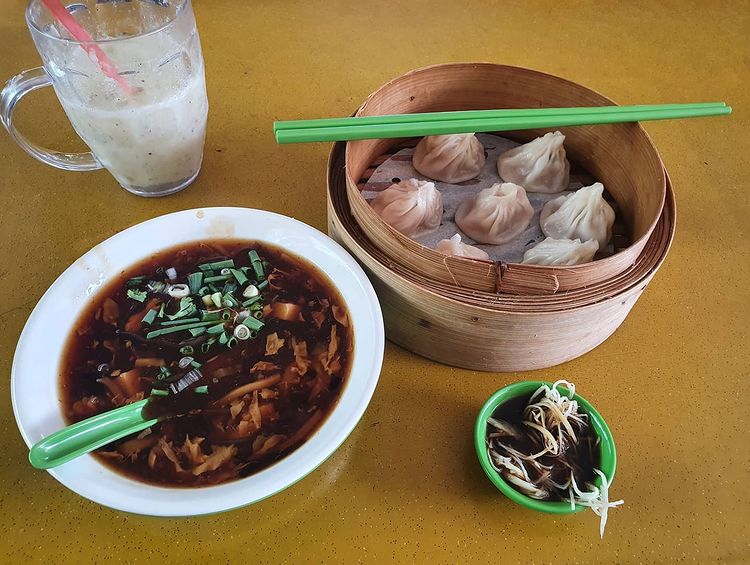 Image credit: @kierstens_feed
Regulars to Zion Riverside Food Centre will be familiar with Ah Wang for their crispy-bottomed guo tie, and juicy xiao long bao, but they also have a substantial array of la mian offerings featuring house-made broths and soups that pack quite the punch. Try their Dan Dan Noodles ($5), with slurpable, starchy, and spicy sauce, or their Sour & Spicy Noodles ($4), which feature their bestselling, and often sold-out, suan la broth.
Address: 70 Zion Road, Singapore 247792
Opening hours: Wed-Sun 9:30am to 9pm
Ah Wang is not a halal-certified eatery
---
11. A9 Noodle Dumplings 
---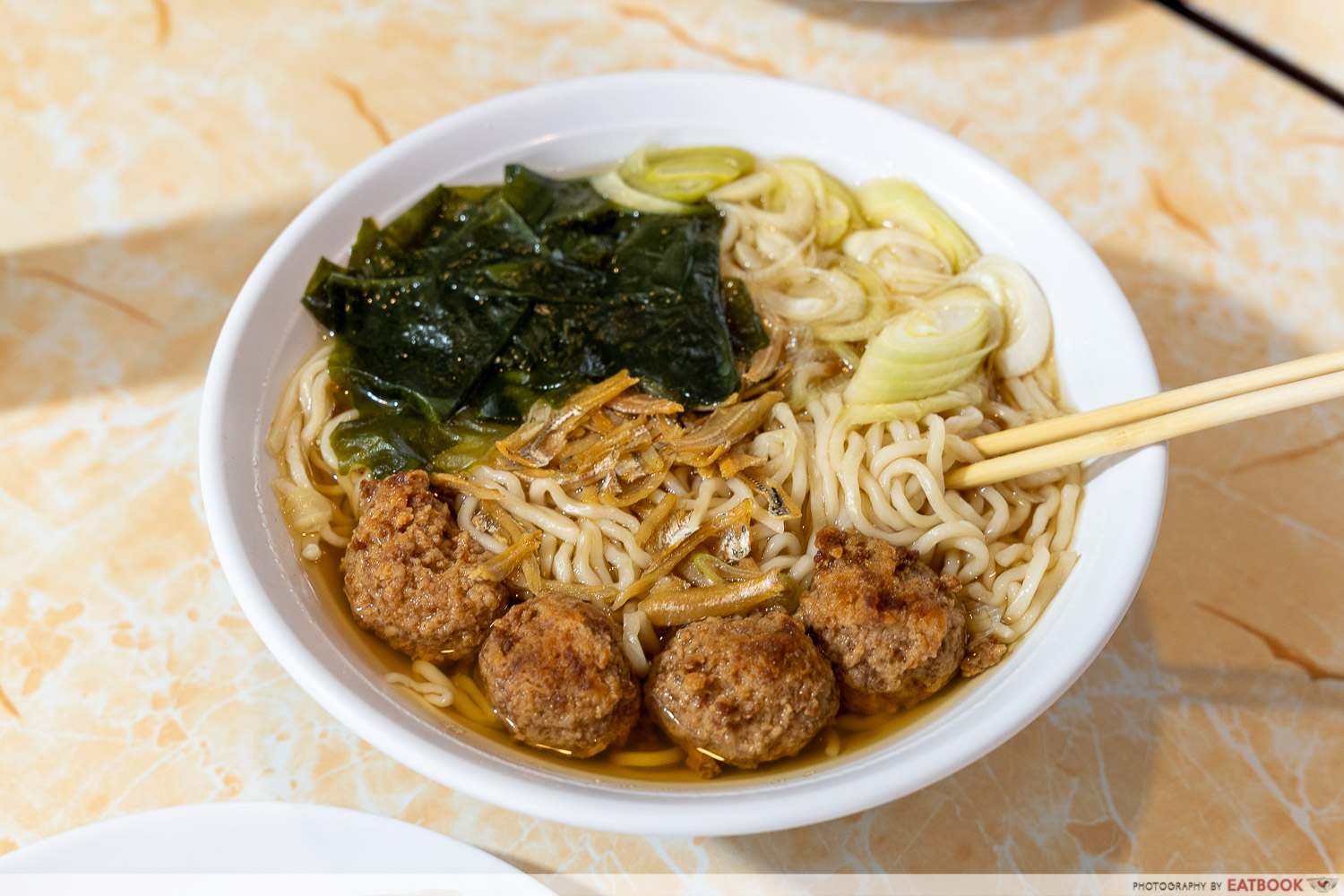 We paid a visit to A9 Noodle Dumplings because we got wind of their $4 for 15 dumplings price tag, but were equally wowed by their handmade noodles. The Mala Savoury Noodle ($5) and Spicy Savoury Noodle ($5) are two of their bestsellers, but if you're not big on spice, their Pork Meatball Noodle ($4) is your best bet. Clear, light soup is served with springy noodles, and handmade meatballs that have quite the chew. Don't skip their affordable handmade dumplings either. 
Read our A9 Noodle Dumpling review.
Address: 190 Middle Road, #02-26, Fortune Centre, Singapore 188979
Opening hours: Daily 10am to 8pm
Tel: 9667 1510
Website
A9 Noodle Dumplings is not a halal-certified eatery.
A9 Noodle Dumplings Review: 15 Dumplings for $4 And Mala Noodles At Bugis
---
12. Da Shao Chong Qing Xiao Mian 
---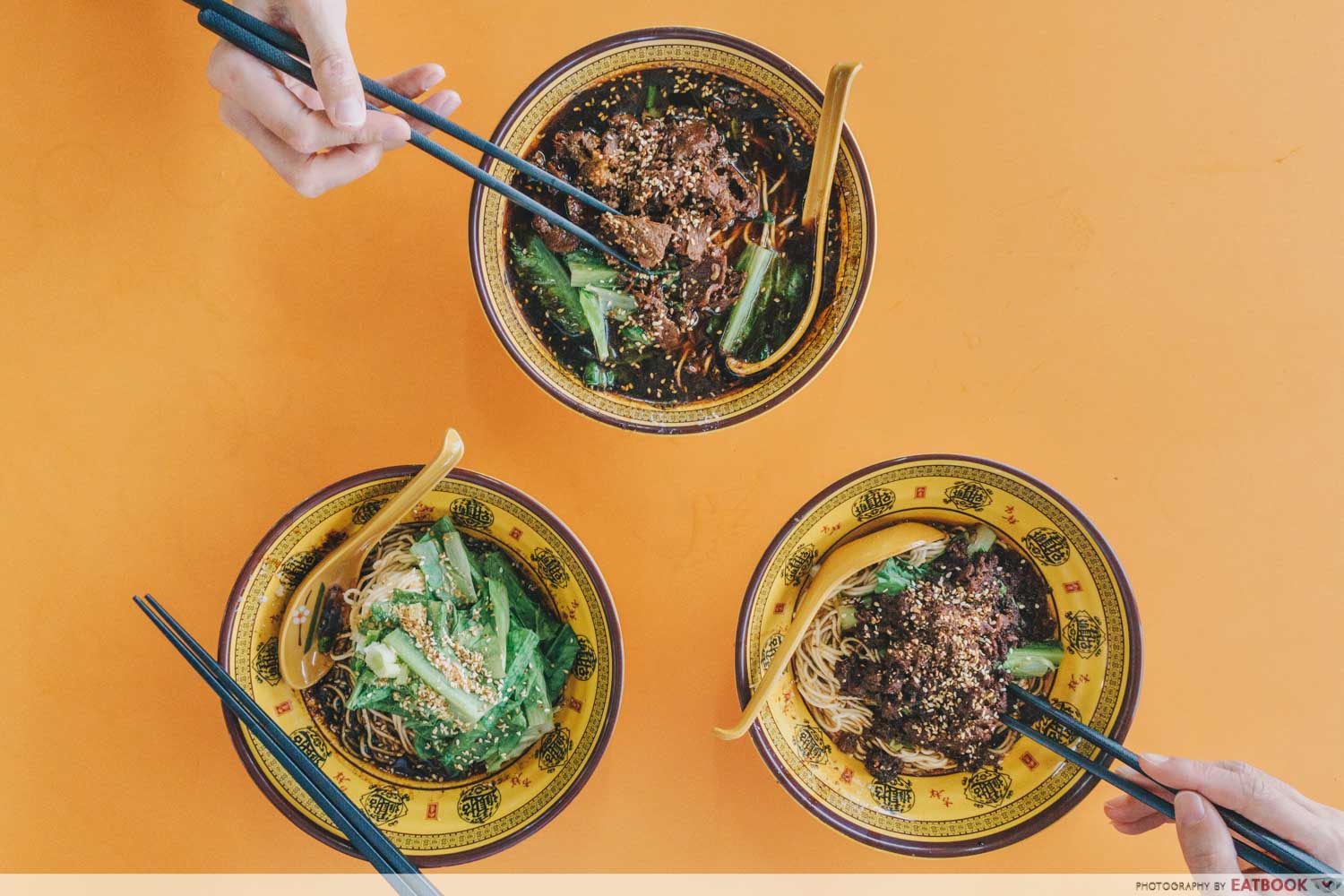 If you love ma la spice, then you'll want to add Da Shao Chong Qing Xiao Mian to your list. The hawker stall specialises in legit Chongqing-style beef noodles, richly spiced and packed with numbing peppercorns for that signature ma la kick. The noodles here are thin, and are the ideal vehicle for the sauce to cling to. Get their Minced Meat Noodles (from $4.50) if you're a zha jiang mian fan, or try their classic Chongqing Mala Noodle (from $4.50), made with their signature sauce.
Read our Da Shao Chong Qing Xiao Mian review.
Address: 17 Upper Boon Keng Road, #01-81, Upper Boon Keng Market and Food Centre, Singapore 380017
Opening hours: Wed-Mon 10:30am to 8pm
Tel: 9424 3633
Website
Da Shao Chong Qing Xiao Mian is not a halal-certified eatery.
Da Shao Chong Qing Xiao Mian Review: Legit Chongqing-style Mala Beef Noodles At Boon Keng
---
Hand-pulled la mian in Singapore
---
Originating from China, la mian is one of the more popular noodle dishes in Singapore. If you can't get enough of noodles, there's our best ban mian and best bak chor mee guides to check out.
10 Best Bak Chor Mee In Singapore Ranked—Tai Hwa, Tai Wah, Seng Kee And More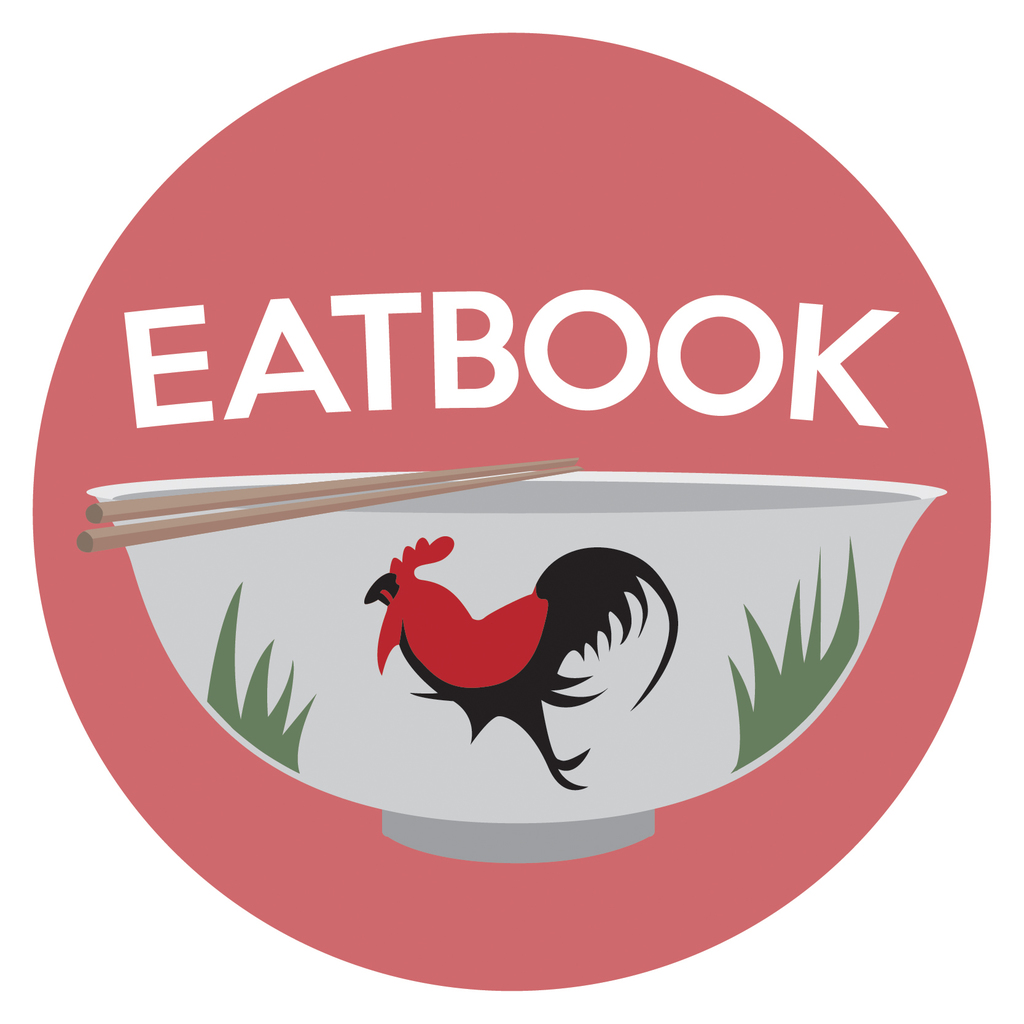 Drop us your email so you won't miss the latest news.