---
New restaurants in June 2018
---
Just like that, half a year has passed. And things are picking up in the food scene, with an array of new restaurants and cafes opening up in Singapore. One of them is started by a Michelin-starred restaurant in Hong Kong, while another is opened by a famous restaurateur from London! So whether you're looking for atas Chinese food or a casual Thai meal, check out these new restaurants this month.
---
1. Qi – House of Sichuan
---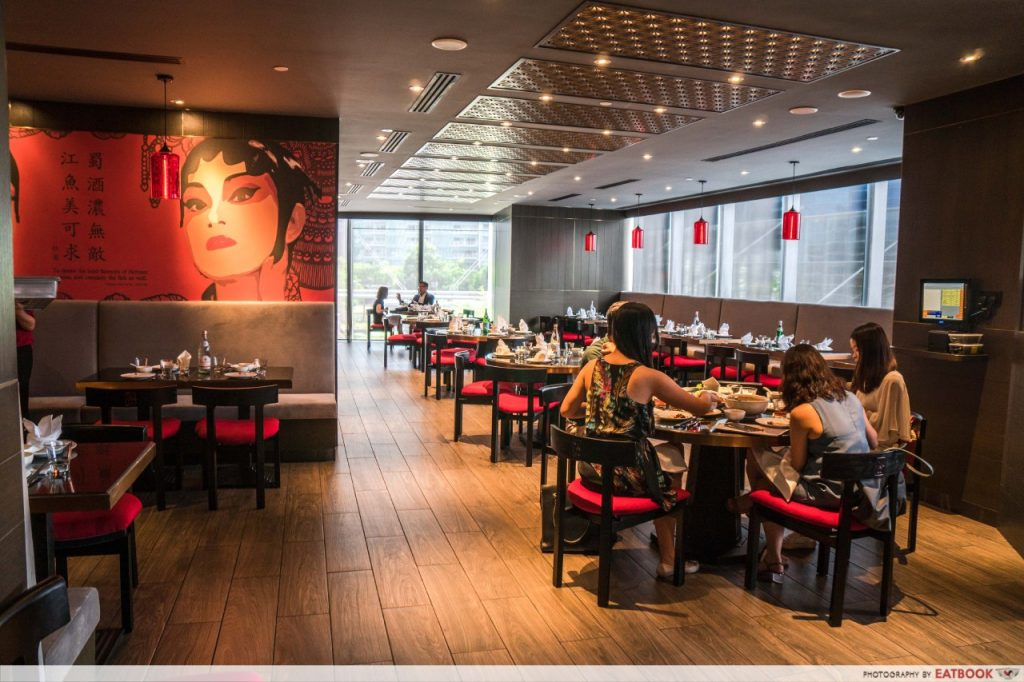 Located at Marina Bay Financial Centre is Qi – House of Sichuan, a Michelin-starred restaurant from Hong Kong! The kicky 90-seater space is fitted with many booth seats for four, as well as one open dining room for a big group of 10 people.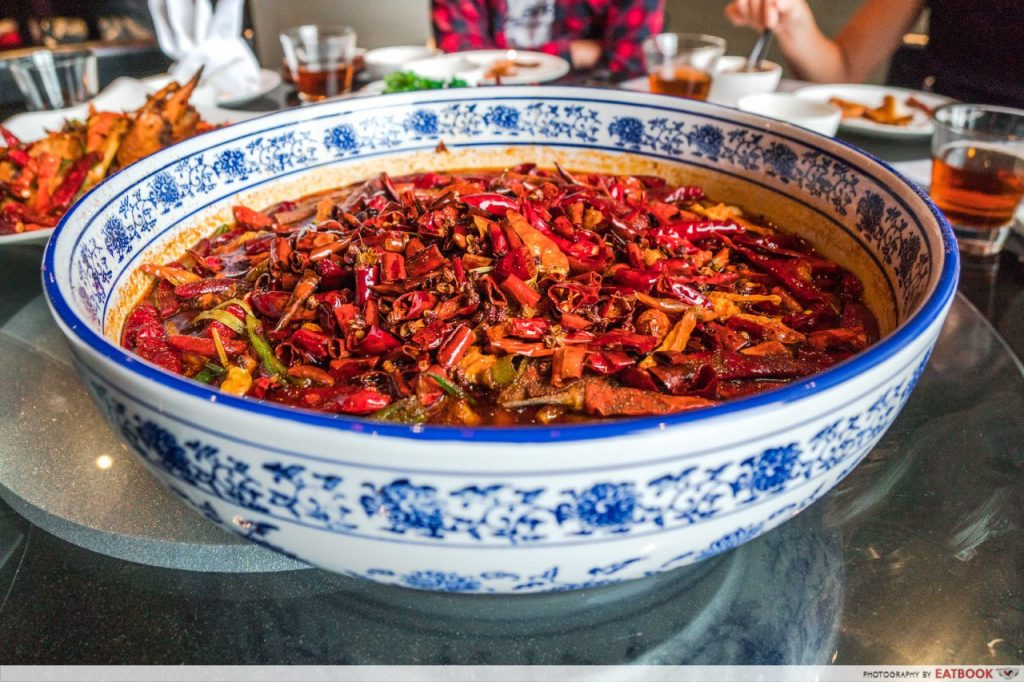 One bite of their Braised Garoupa Fish Fillet in Chili Oil Soup ($40++ for small, $50++ for large) set my tongue on fire, so order it at your own risk. The soup is as fragrant as it is spicy, and underneath the thick layer of dried chillies is a devilishly red broth that contains fresh slices of fish, sweet potato noodles and mushrooms.
Qi – House of Sichuan Review: Spicy Ma La Dishes In The CBD By A Michelin-Starred Restaurant
Address: 8A Marina Boulevard, #02-01, Marina Bay Link Mall, Singapore 018984
Opening hours: Daily 11:30am to 3pm, 6pm to 10pm
Tel: 6634 8277
---
2. Ding Xian Hot Pot
---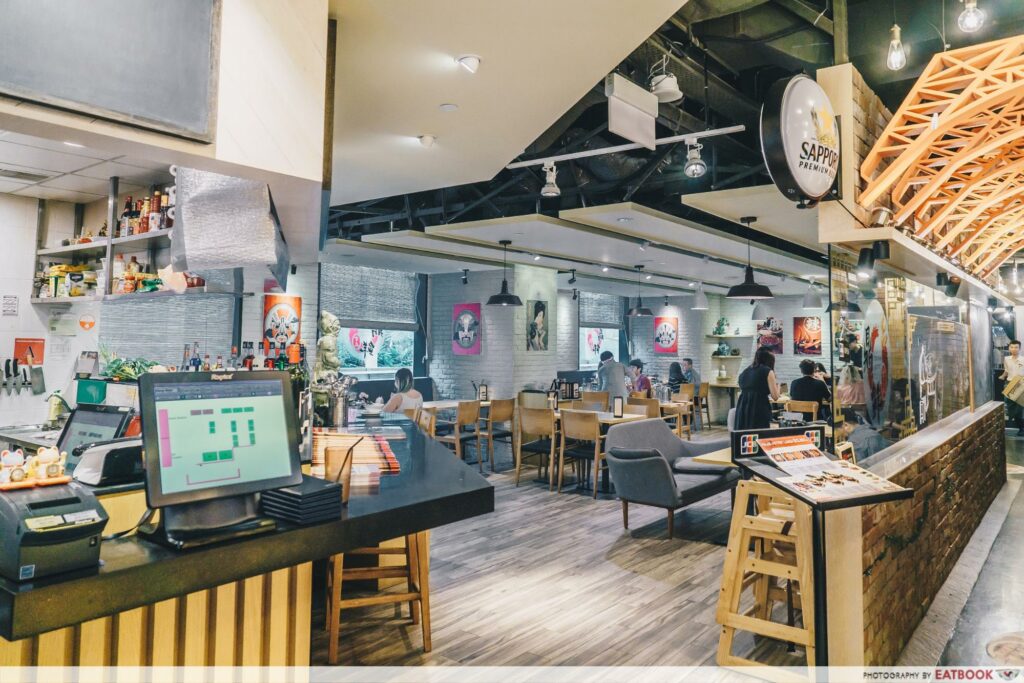 Tucked within Eat at Seven at Suntec City is Ding Xian Hot Pot, a new restaurant that'll satisfy your cravings for steamboat. Their space can sit up to 40 people, and it is great for small gatherings, as larger groups may find it a little squeezy.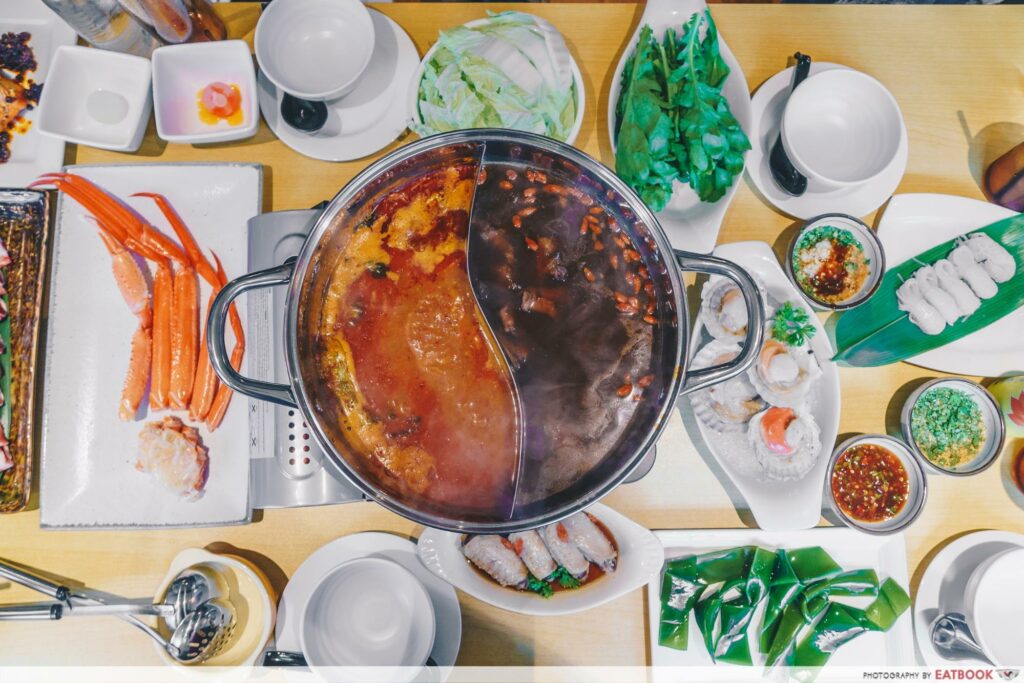 There are five soup bases to choose from, and fans of spicy food will definitely love their Japanese Spicy Miso Soup. Aptly nicknamed as the Blazing Magma soup base, the soup really burns your throat, but the umami flavour it holds is well worth the kick.
Plus, you don't necessarily have to come with a group of friends – Ding Xian also offers Personal Lunchtime Hot Pot Sets ($12.90++), which come with your choice of soup and 10 fresh ingredients. If you'd rather have the usual duo soup pots, the prices for their meat and seafood platters start at $38.80++, and individual portions of ingredients go from $2++.
Address: 3 Temasek Boulevard, #03-315, Suntec City North Wing, Singapore 038983
Opening hours: Daily 11:30am to 3pm, 5:30pm to 10pm
Tel: 6266 5338
Website
---
3. Makanista
---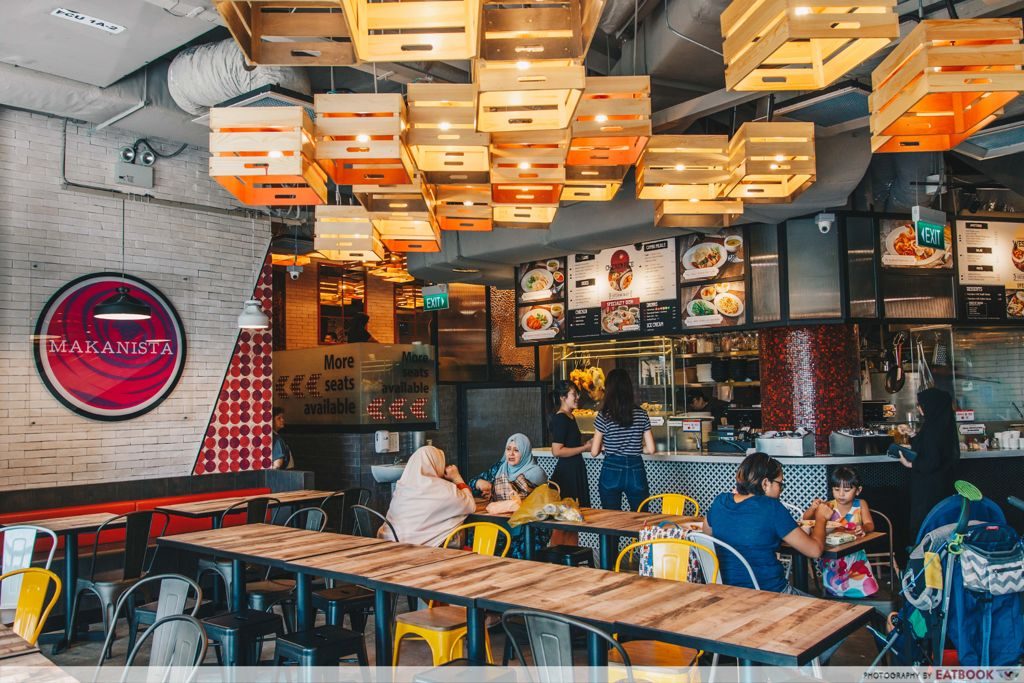 Pop by the huge Makanista at Tampines Mall. The long tables in the main area are suitable for big groups of friends, as well as parents with baby strollers. Smaller round tables can be found at the back, if you're looking for a cosier atmosphere. The whole food court can fit up to 130 people.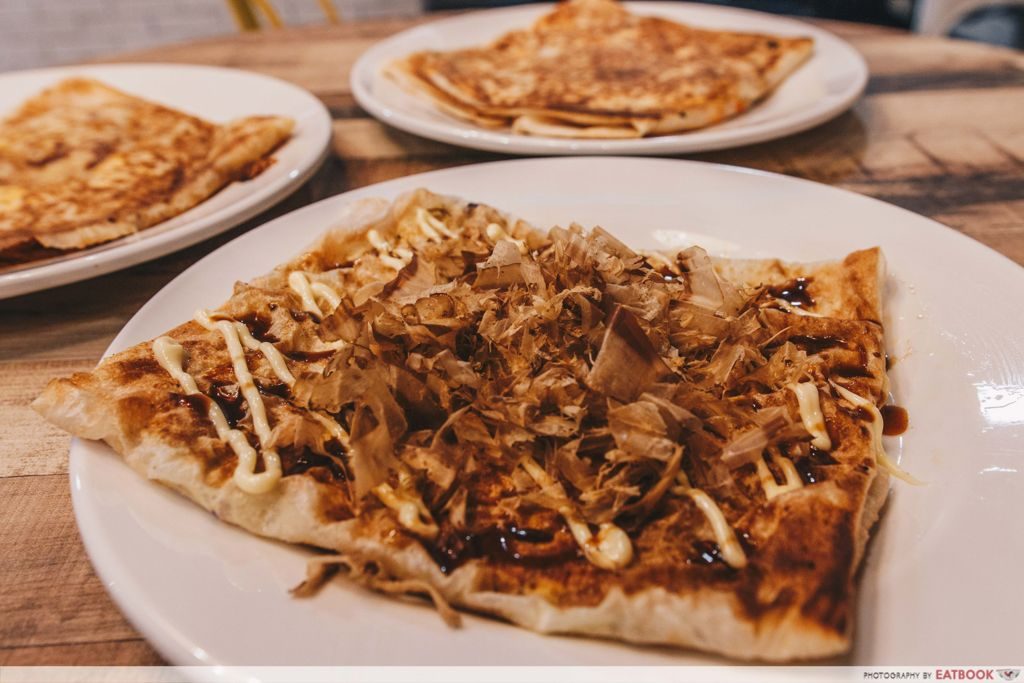 This Okonomiyaki Prata ($7) is one of the best dishes to demonstrate Makanista's flair for innovation. Combining a regular prata with the well-known pancake from Japan, we found hearty fillings of egg, cheese and shredded cabbage within its folds. The finishing touches of bonito flakes, sweet okonomiyaki sauce and creamy mayonnaise complete the dish with savoury and sweet flavours.
Makanista Review: Okonomiyaki Prata, Curry Chicken Pasta And More At Tampines
Address: 4 Tampines Central 5, #01-42/43/44, Tampines Mall, Singapore 529510
Opening hours: Mon-Fri 9am to 10pm, Sat-Sun 8am to 10pm
Website
---
4. Siamese Cat
---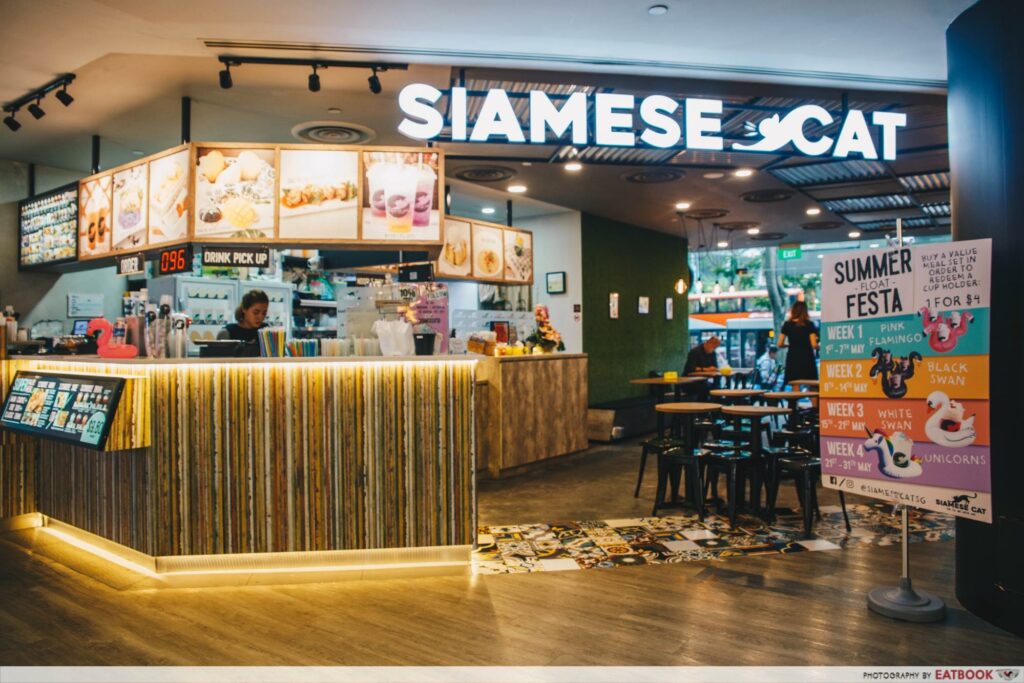 Siamese Cat was born due to a partnership fallout with Tuk Tuk Cha. Taking over the Tuk Tuk Cha outlets in Novena Square, Suntec City, and Causeway Point, Siamese Cat continues to serve Thai food at a casual setting.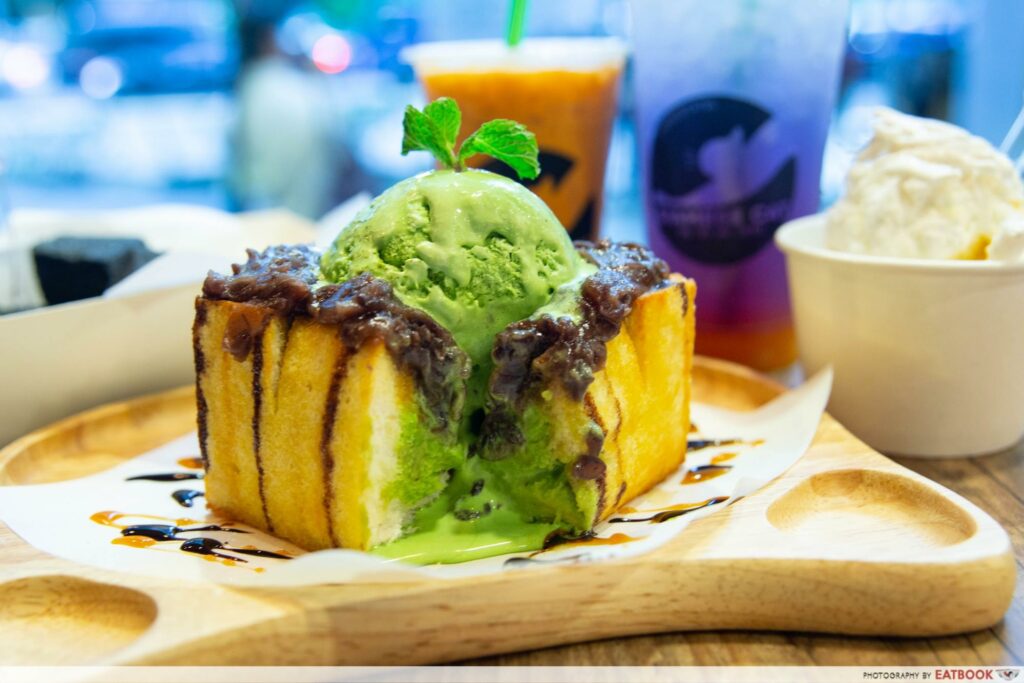 One of the must-tries here would be their Matcha Shibuya Toast ($11.20), and that's coming from someone who doesn't appreciate matcha very much! As the matcha ice-cream melted, the fluffy insides of the toast soaked up all the goodness. The azuki beans added more sweetness to the dessert, complementing the earthy flavour from the matcha ice-cream. They also have mains such as Pad Thai Prawn ($7.80) and drinks such as Avocado Coco ($5.50/$6.70).
Siamese Cat Review: New Thai Cafe That Took Over Some Tuk Tuk Cha Outlets
Address: 238 Thomson Road, #01-68/69, Novena Square, Singapore 307683
Opening hours: Daily 10am to 10pm
Tel: 6252 6563
Website
---
5. Took Lae Dee
---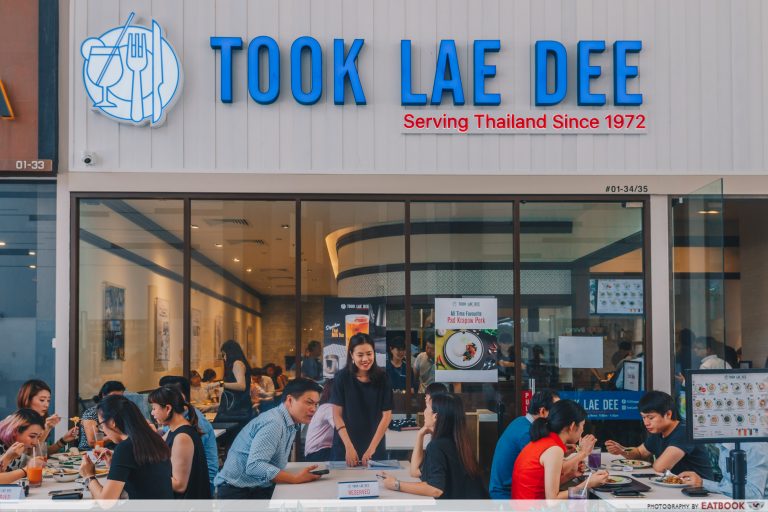 A new addition to Tai Seng, Took Lae Dee is where you should hit when the Thai food cravings strike. Their floor-to-ceiling windows keep the interior bright, and the sheltered outdoor area was really breezy when we were there.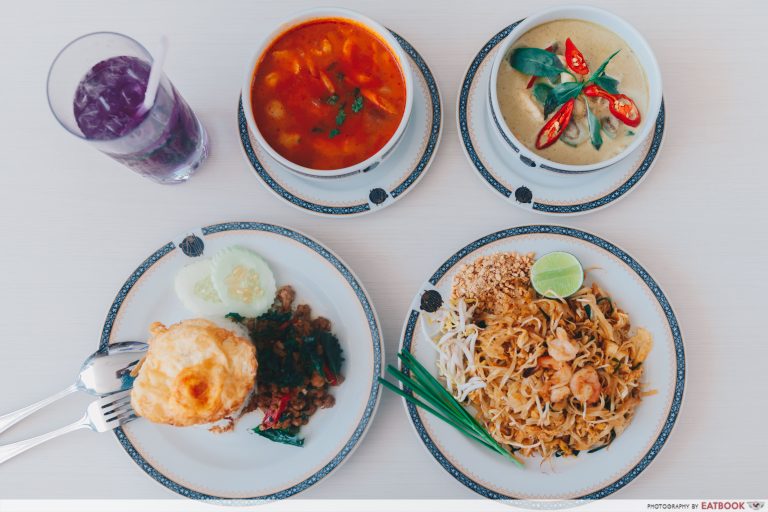 The food here is cheap and good, and the menu includes classics such as Pad Krapow ($3.80), which is basil pork or chicken with rice, and Pad Thai ($5). For a refreshing drink, go for the fizzy Iced Butterfly Pea Tea ($2.80), made with butterfly pea flowers and soda water. Their Took Lae Dee Iced Milk Tea ($2.80) is also worth a try, especially since it comes with Thai milk tea ice cubes to prevent the drink from being diluted as the ice melts.
Took Lae Dee Review: Popular Thai Restaurant From Bangkok With Mains From $3.80
Address: 18 Tai Seng Street, #01-34/35/K9, Singapore 539775
Opening hours: Daily 11am to 9pm (last order at 8:30pm)
Tel: 6272 2000
Website
---
6. Madame Fan
---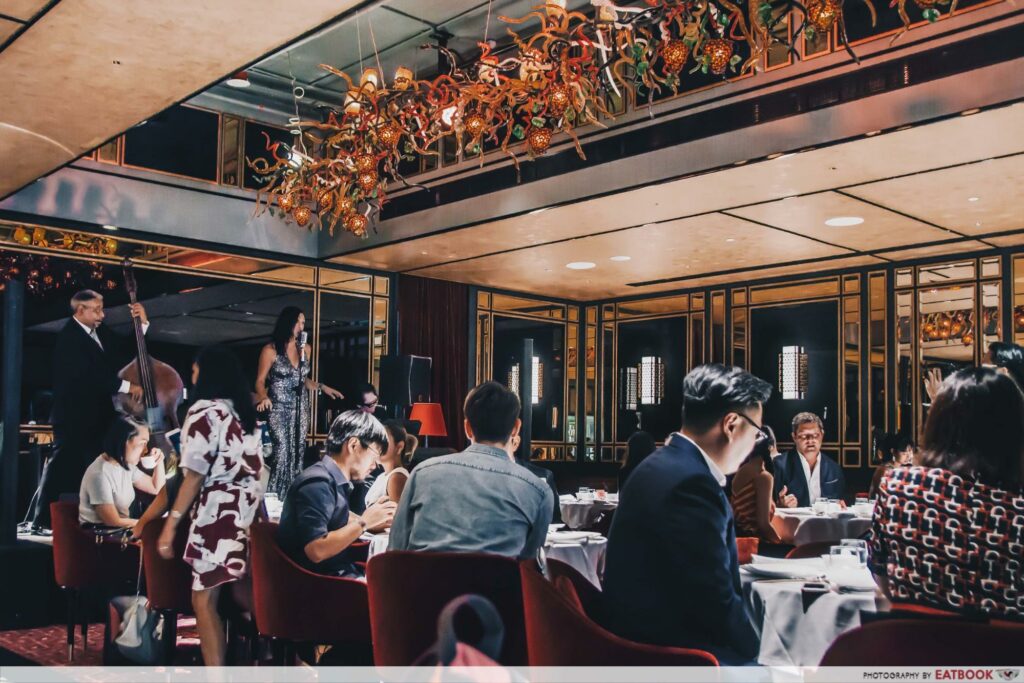 Madame Fan is opened by the man behind Hakkasan, which is one of the most popular Chinese restaurants in London that has a Michelin star and plenty of other awards. Unlike most Chinese restaurants boasting large sharing tables, the intimate, swanky setup here resembles an American jazz bar during Prohibition.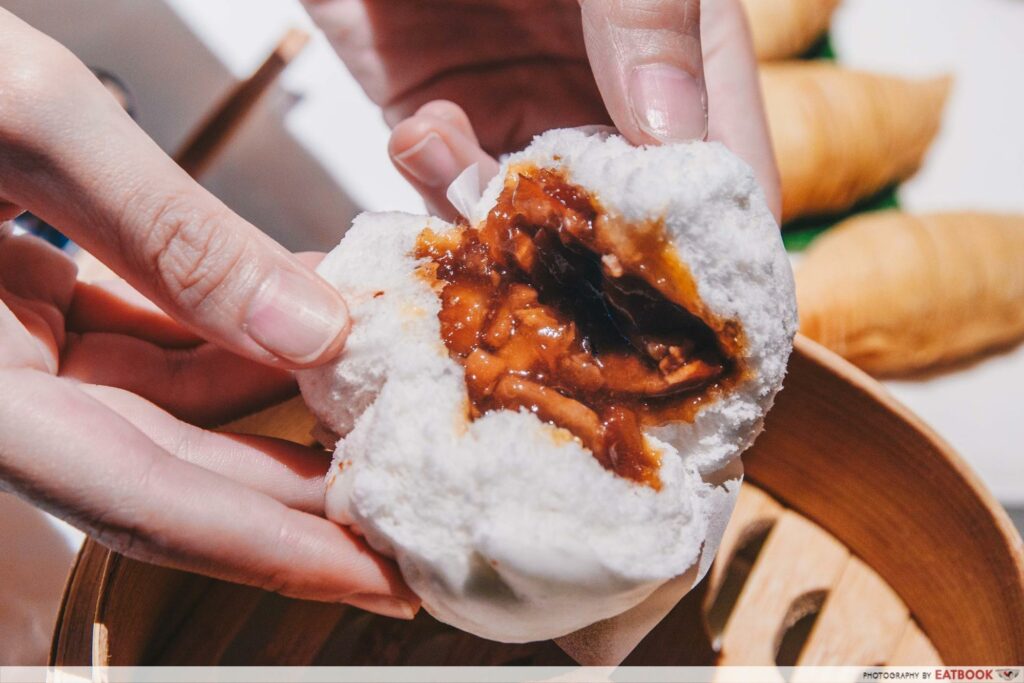 Even though they have a wide selection of Chinese dishes such as Jasmine Tea Smoked Ribs ($25++), we recommend coming here for the live music and dim sum. Their bite-sized dumplings and buns were commendable, and our favourite was the Char Siu Bun ($7++ for two). A simple dish one would never think much of, the fluffy buns seriously left us in awe, with its juicy pork bits that had an excellent ratio of fat to meat, as well as a charred, treacly red sauce.
Address: 32 Beach Road, The NCO Club, Singapore 189761
Opening hours: Daily 12pm to 3pm,  6pm to 11pm
Tel: 6818 1921
Website
---
7. Old Chang Kee Coffee House
---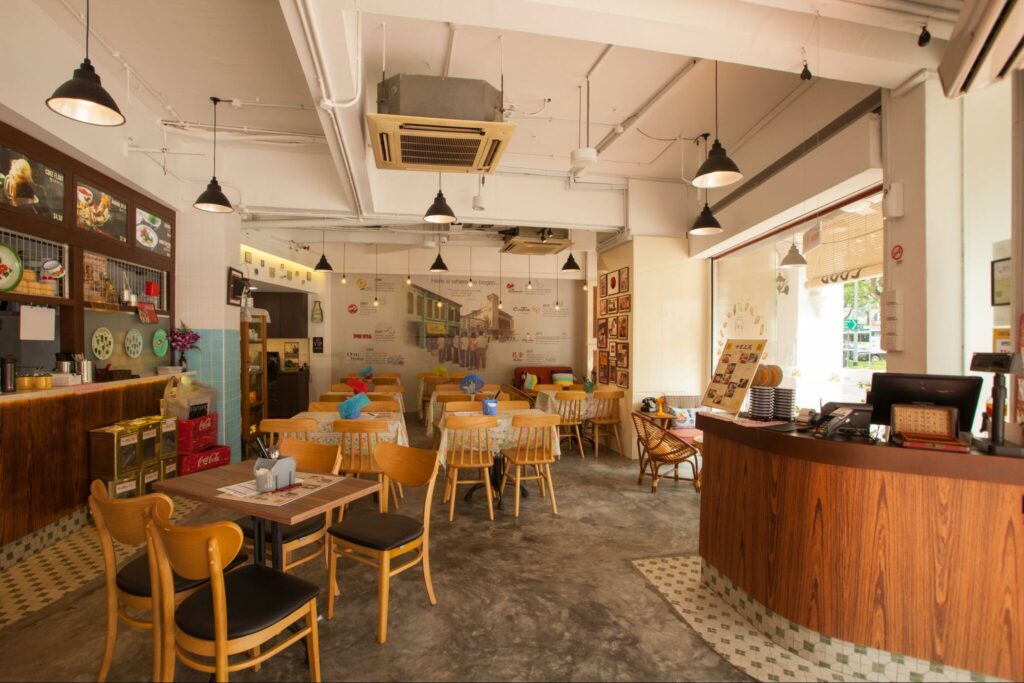 When I was still a student, I'd always grab a curry puff from Old Chang Kee on the way to tuition class. Fast forward a decade or so, they're no longer just a chain of takeaways. Their latest flagship store – Old Chang Kee Coffee House @ Rex – is spanking new, yet evokes nostalgic feels with retro rattan chairs and old-school plastic tablecloths.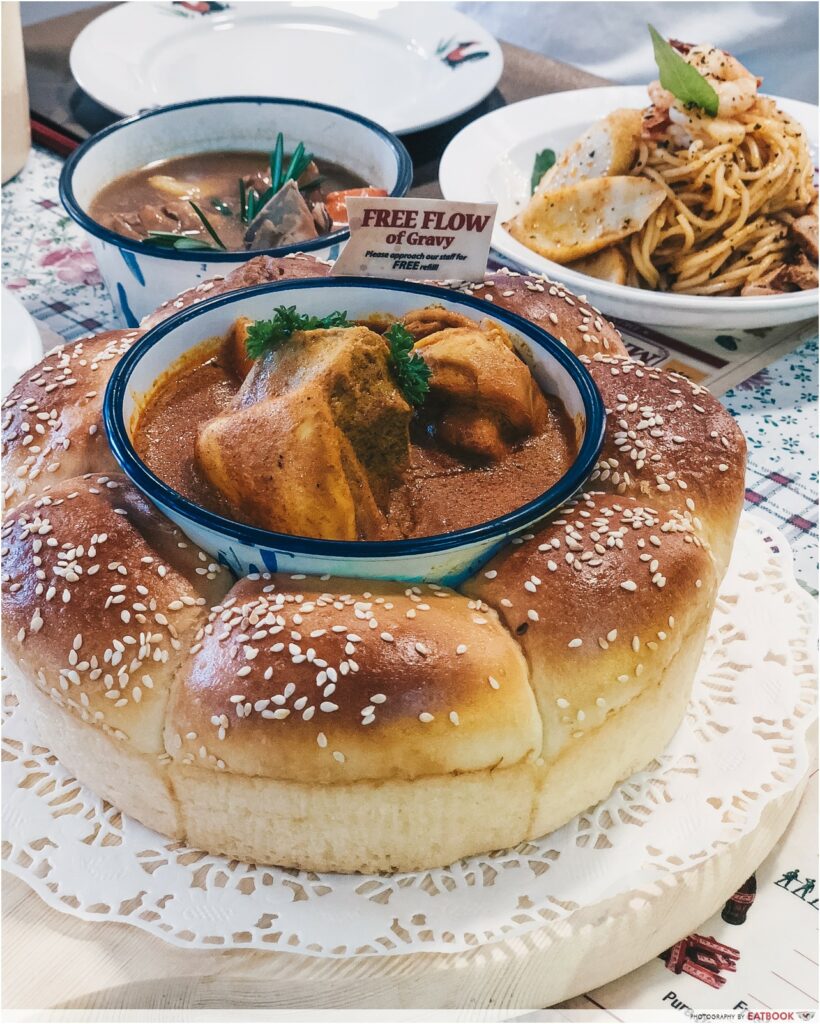 Food-wise, this outlet has got way more than curry puffs and fried sotong. There are a handful of new dishes that are exclusive to this store, and a must-try is the Flower Bread with Curry Chicken ($11.90). The subtly sweet bread is freshly made in the kitchen, so you'll get it nice and warm. If curry is not your thing, replace it with Chicken Stew at the same price, or add $2 for their Beef Stew. The curry and stew gravies are free flowing, so you can go crazy dipping the bread!
Address: 19 Mackenzie Road, #01-01, Singapore 228678
Opening hours: Mon-Thur 11am to 9pm, Fri-Sat 10am to 10pm, Sun 10am to 9pm (last orders 30 minutes before closing)
Tel: 6732 1665
Website
---
8. Shabu En
---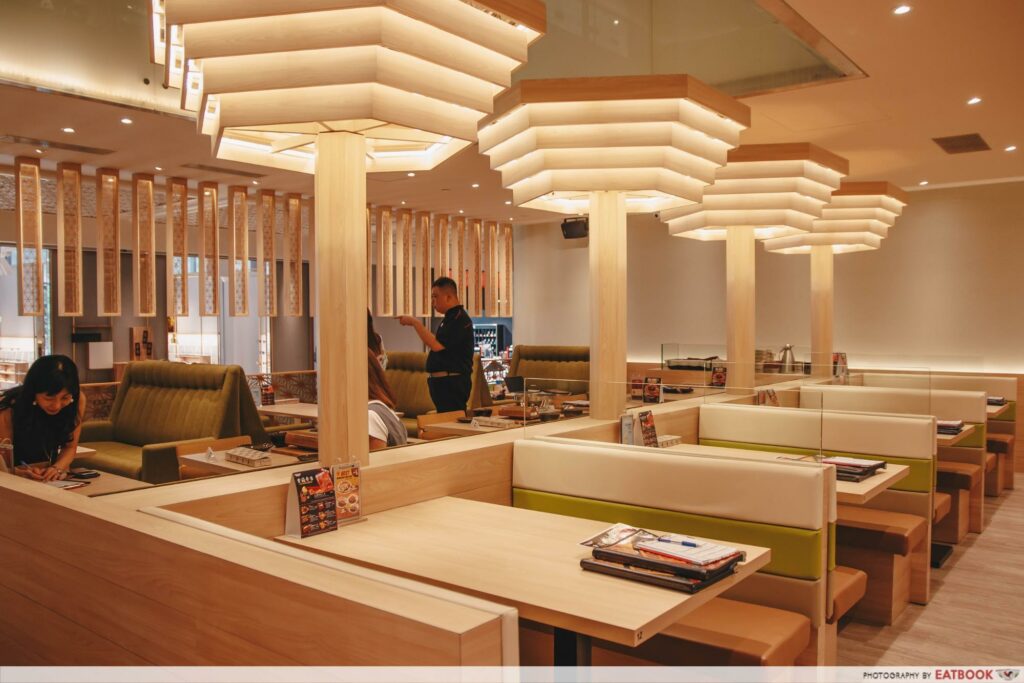 Brought to you by the people behind Monster Curry, Shabu En introduces Kyushu Taki Nabe – an interesting way to enjoy shabu shabu. There are currently two Shabu En outlets, one at Parkway Parade and the other at OUE Downtown Gallery. The outlet at OUE Downtown Gallery is housed in the same space as Monster Curry.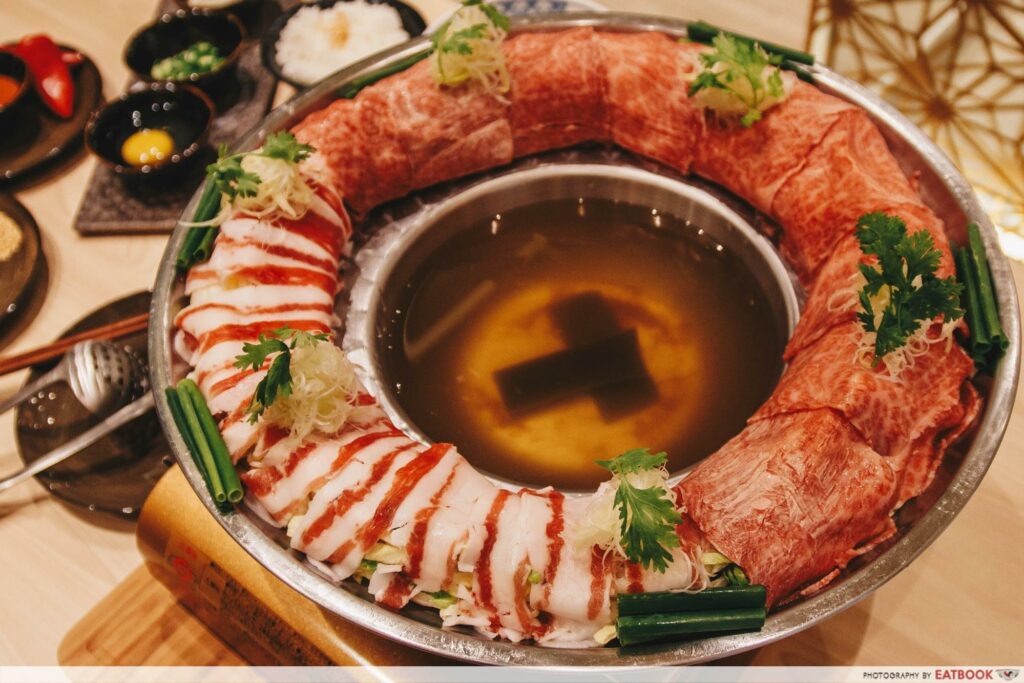 The Kyushu Taki Nabe features a 40cm ring-shaped pot with meat surrounding a broth of your choice. You can get either a combination of two meats or single meat for your hot pot. Some of the combinations available are Miyazaki Wagyu & Iberico Pork Belly ($38.80++) and Premium Beef & Iberico Pork Belly ($28.80++). There are three different types of broths for you to choose from, namely Paitan Collagen Chicken, Spicy Kara Miso, and Dashi Bonito & Kombu, which is made up of bonito flakes and kelp.
Shabu En Review: First Kyushu-Style Beef Ring Hot Pot In Singapore
Address: 80 Marine Parade Road, Parkway Parade, #01-11, Singapore 449269
Opening hours: Daily 11am to 10pm
Tel: 6348 6171
Website
---
9. Sinfonia Ristorante
---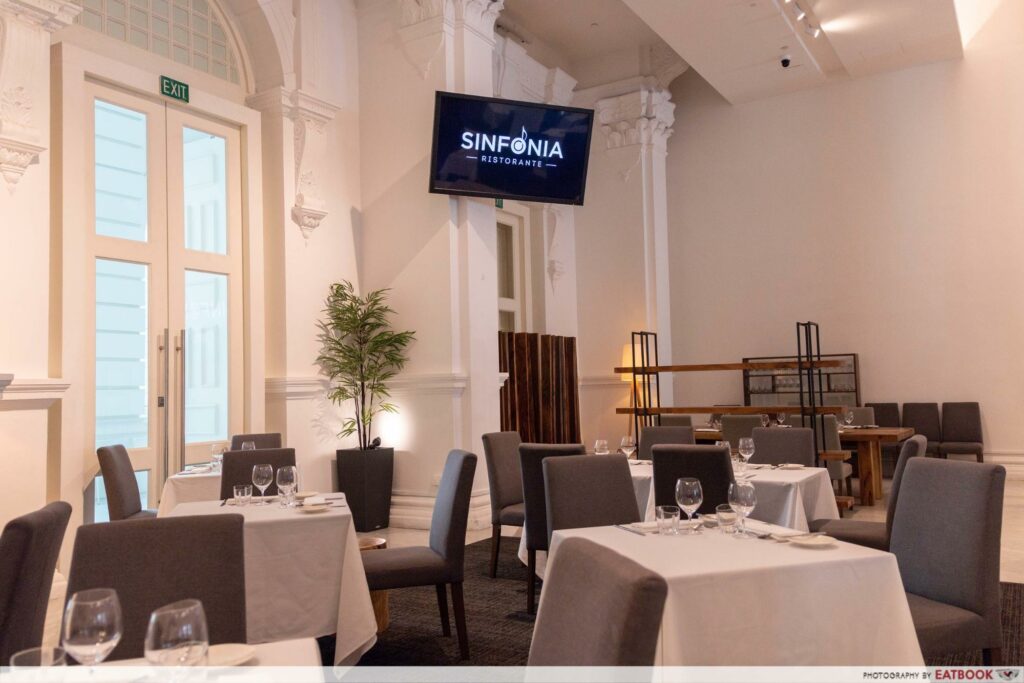 Having undergone a revamp, Sinfonia Ristorante, previously known as FOO'D By Davide Oldani, now serves modern Italian dishes created by Chef Simone Depalmas. Much thought has been given into the layout and decoration of the restaurant to create a classy yet comfy place that's great for gatherings.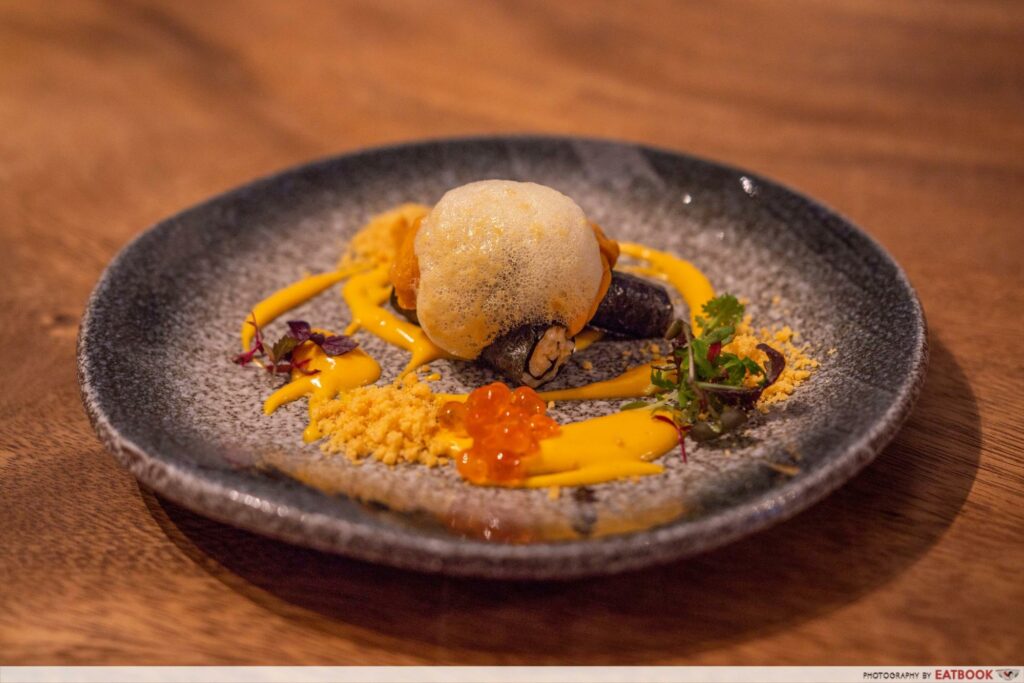 I fell in love with their Sea Urchin, Alaksan King Crab, Rice Roll, Salmon Roe, Foam ($32++). The salmon roe burst in my mouth with its briny tang, while the golden Hokkaido sea urchin was creamy and slightly sweet. Their tender Frog Leg, Tempura ($36++) is also one not to be missed. The crispy frog legs were served with a creamy sauce made with milk and vinegar.  
Address: 11 Empress Place, #01-01, Victoria Concert Hall, Singapore 179558
Opening hours: Tue-Sat 12pm to 3pm, 6pm to 11pm, Sun-Mon 12pm to 3pm
Tel: 6385 5588
Website
---
10. Little Creatures Singapore
---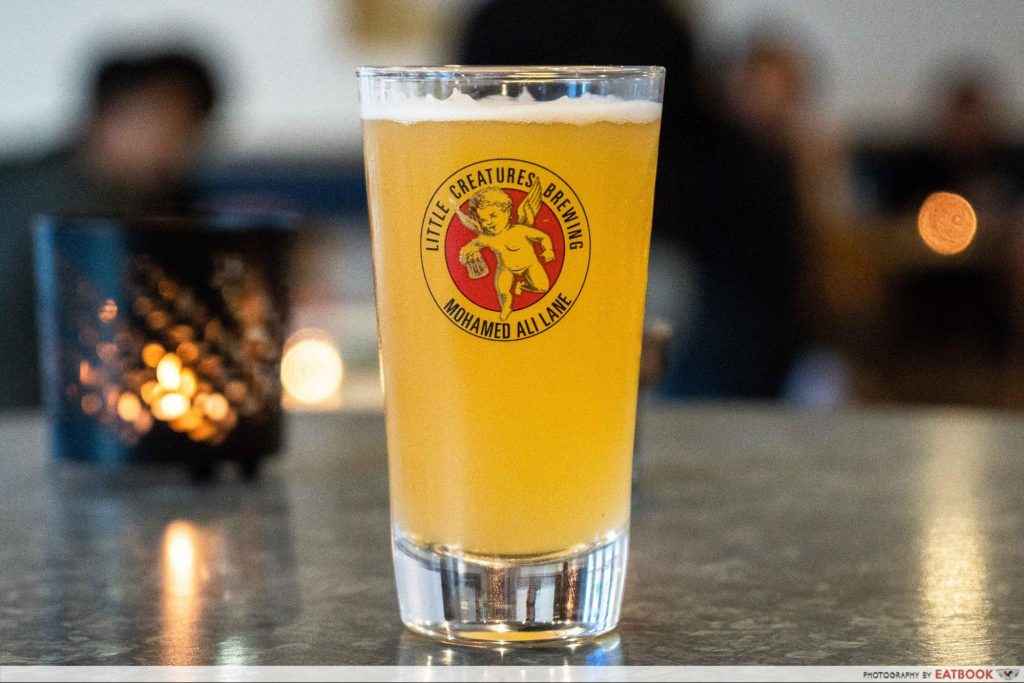 Craft beer enthusiasts are jumping for joy with the opening of Little Creatures Singapore. A must-visit when you're at Fremantle in Perth, the Australian brewery pushes out more than just good beer; their grub is worth the travel too and even non-drinkers will enjoy their time here!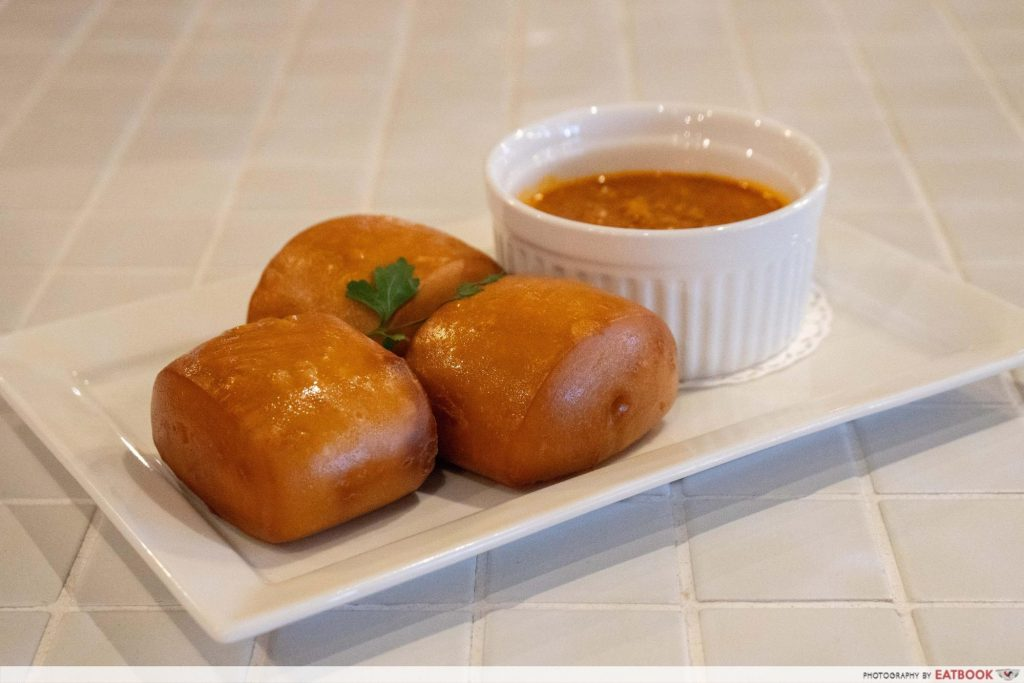 Savour hearty creations such as this Fried Man Tou ($19) with a piquant chilli crab sauce boasting chunks of crab flesh. Those who love cheese will be pleased with their Tomato Burrata ($22), where the fresh buffalo milk cheese was super creamy and moreish. A 280ml glass of beer go at $12, while a 430ml glass costs $14 to $17. The best part is, you won't have to pay GST or service charge here!
Little Creatures Serves Craft Beer At Nett Prices At Their New Singapore Outlet
Address: 36 Club Street, Singapore 069469 (enter through Mohamed Ali Lane)
Opening hours: Daily 8am to 12am
Website
---
Bonus 1: Wagyu and Crab Buffet at En Sakaba
---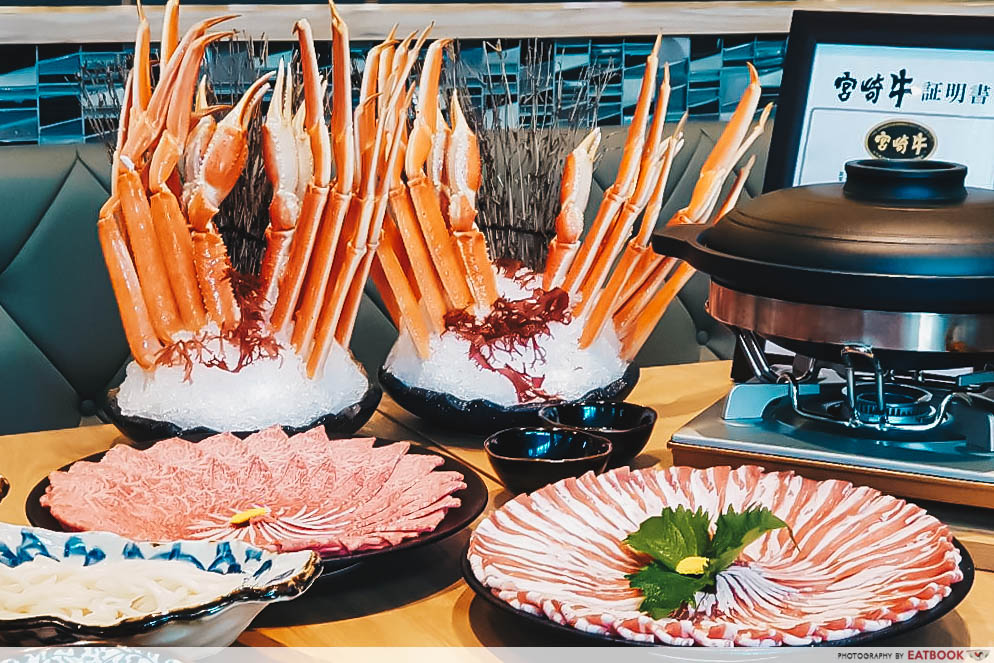 While En Sakaba is not new, they've got a striking addition to their buffet menu at their Capital Tower and Jem outlets. Their Miyazaki Wagyu & Premium Queen Crab Hotpot Buffet ($78++ per person) comes with a wide variety of dishes such as Miyazaki wagyu, queen crab, Iberico kurobuta pork, and vegetables. Udon or Japanese porridge are also available for carb lovers. The 90-minute buffet includes one serving of an appetiser, a sashimi platter, tempura, and Haagen Dazs ice-cream as well!
Address: 168 Robinson Road, #01-10, Capital Tower, Singapore 068912
Opening hours: Mon-Sat 11am to 11pm
Tel: 6423 0110
Website
---
Bonus 2: Tiong Bahru Bakery
---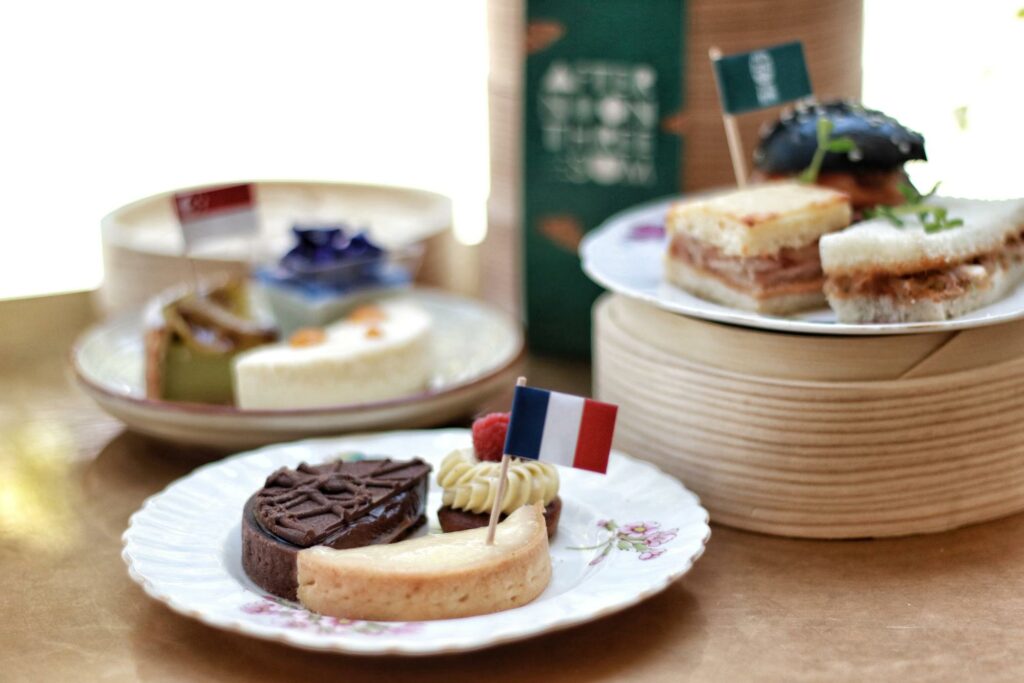 Tiong Bahru Bakery has a new high tea set that's cheekily named Afternoon Three Sum ($25). Served in dim sum baskets, the set comes with three layers, each containing three items. Once you open the lid, you'll be greeted with a pulled pork sandwich, a squid ink and smoked salmon slider, and a croque monsieur. The middle layer contains half a chocolate tart, half a lemon tart, and a raspberry financier. The bottom layer comes with a slice of pandan tart, a blue pea and yuzu verrine, and a slice of coconut cheesecake. The best of the lot is definitely the coconut cheesecake, which releases fragrant coconut notes as each creamy bite slowly melts in your mouth.
Address: 56 Eng Hoon Street, #01-70, Singapore 160056
Opening hours: Daily 8am to 8pm
Tel: 6220 3430
Website
Menu
Full list of outlets
---
Bonus 3: Durian High Tea Buffet at Marriott Cafe
---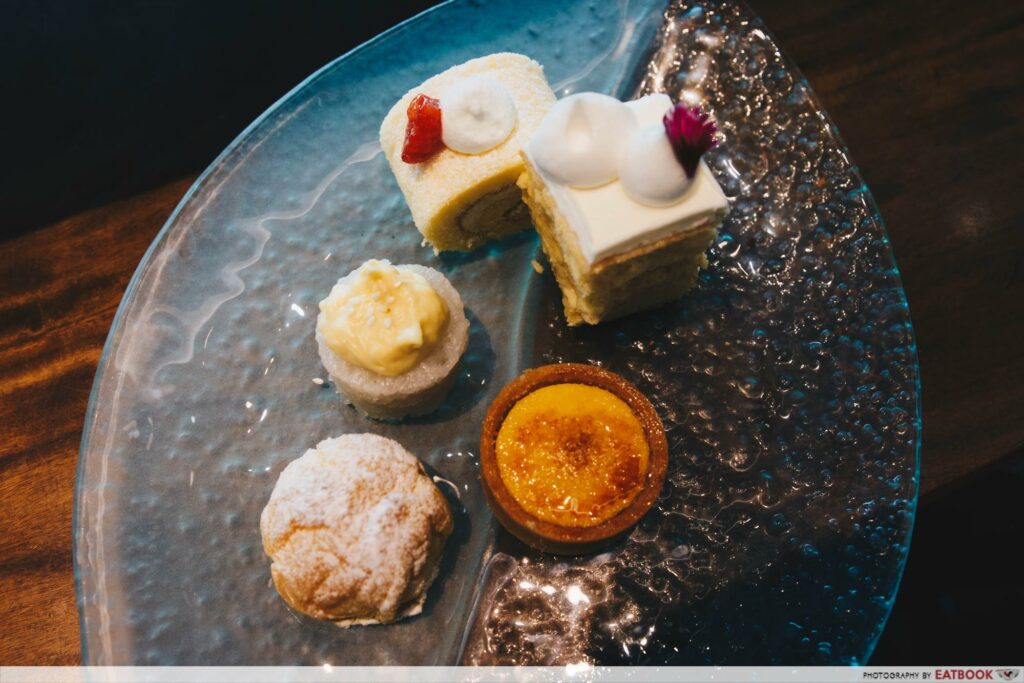 Durian lovers will have a blast at Marriott Cafe's Durian High Tea Buffet. Priced at $45++ and $48++ on weekdays and weekends respectively, the indulgent buffet comes with more than 10 desserts made using D24 and Mao Shan Wang durians. Two of our favourites were the Durian Creme Brulee Tartlets that hold creamy durian flesh in its core, as well as the classic Durian Puff. On top of durian goodies, you'll also get to feast on more than 50 of their usual high tea buffet dishes!
Address: 320 Orchard Road, Lobby Level, Singapore Marriott Tang Plaza Hotel, Singapore 238865
Durian High Tea Buffet dates and hours: 1 June to 31 July 2018, 3pm to 5:30pm
Tel: 6831 4605
Website
---
New restaurants in June to check out
---
So there you have it, a list of restaurants to check out this June! Jio your friends or family to a feast at these places for your next gathering. Let us know if you know of anywhere else we should visit!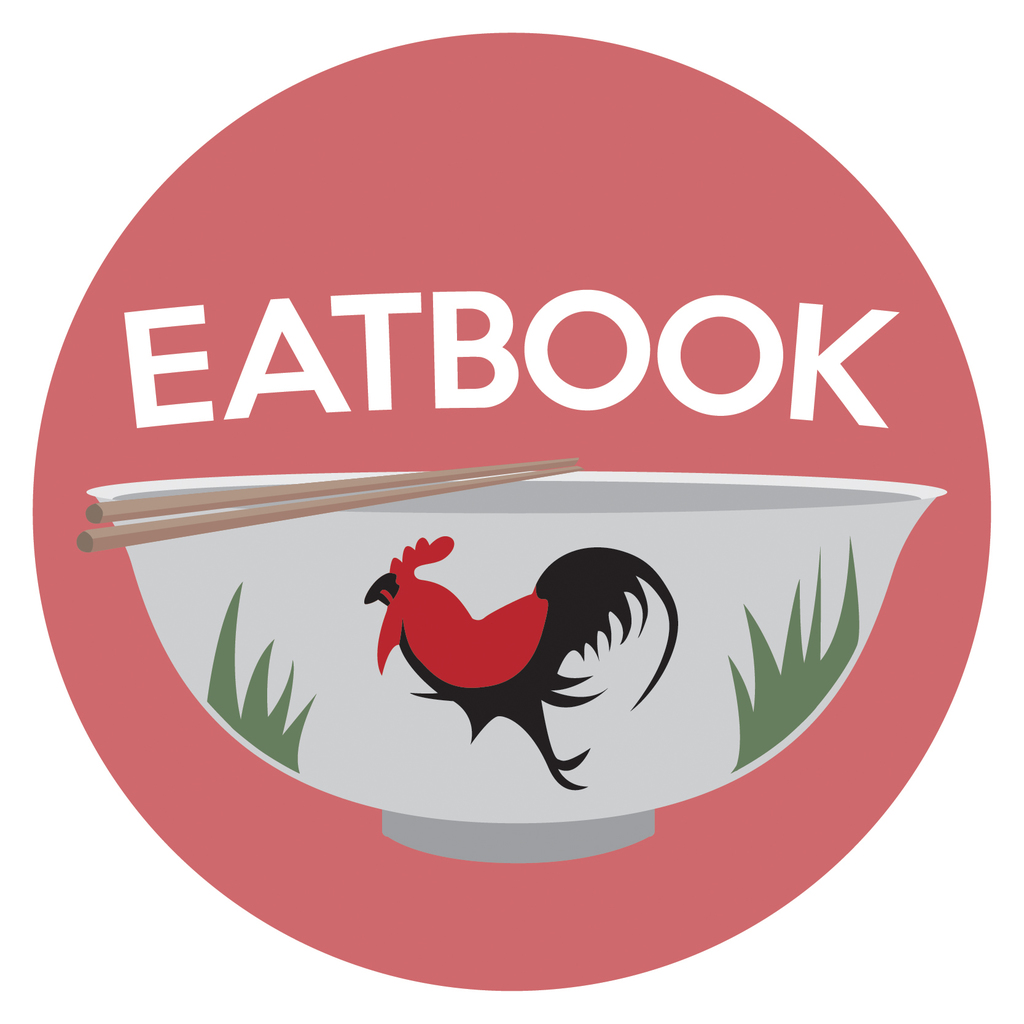 Drop us your email so you won't miss the latest news.