Makanista at Tampines Mall
Update (19 Nov 2018): Makanista has permanently closed.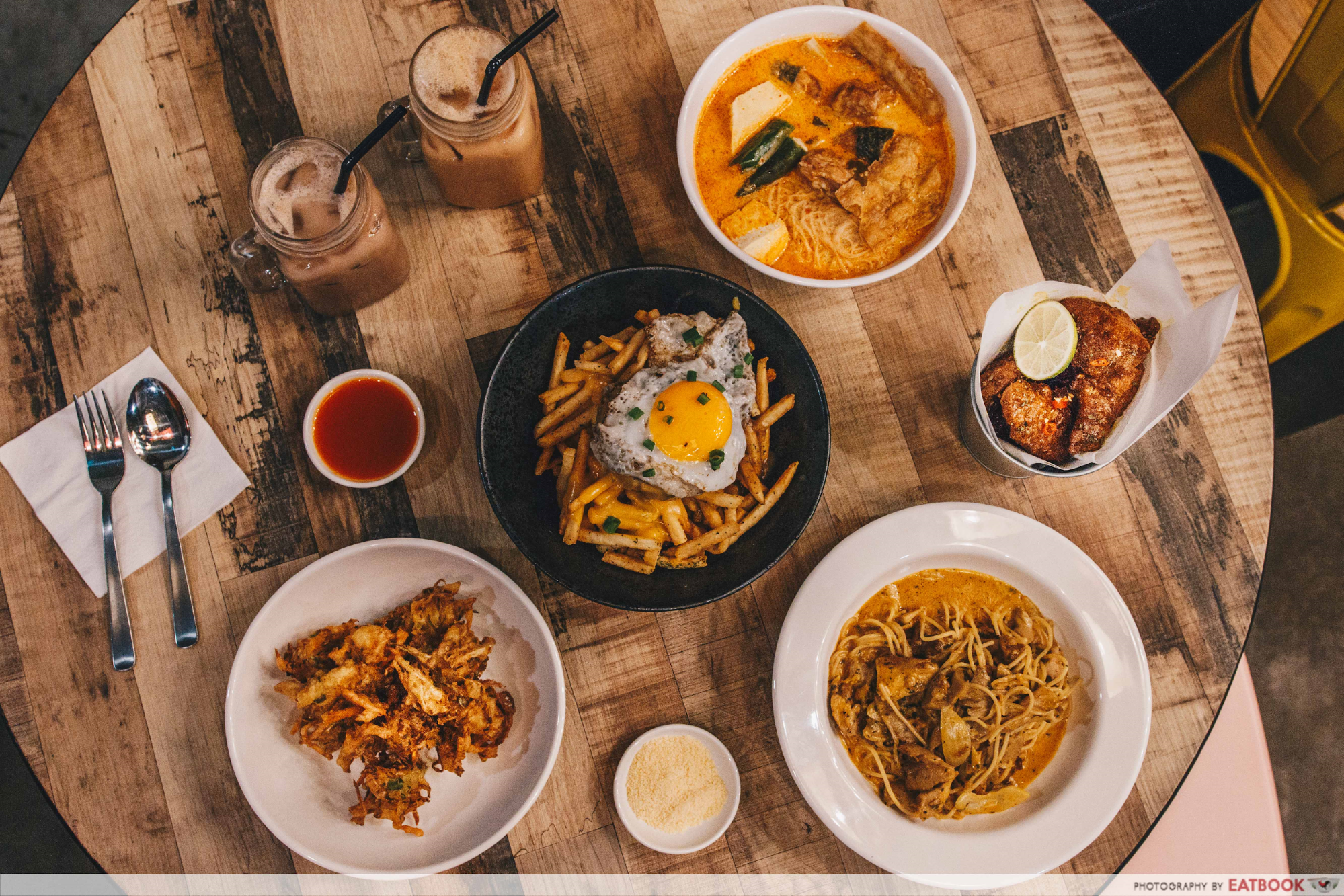 As a Northie, I don't even think of the East when I'm going out – if not for this tasting, I probably won't have stepped foot into Tampines Mall at all. But as it were, I was introduced to Makanista, a dining space that's something like a classy food court, with four different food stands with familiar names such as Chicken Rice and Western.
Food at Makanista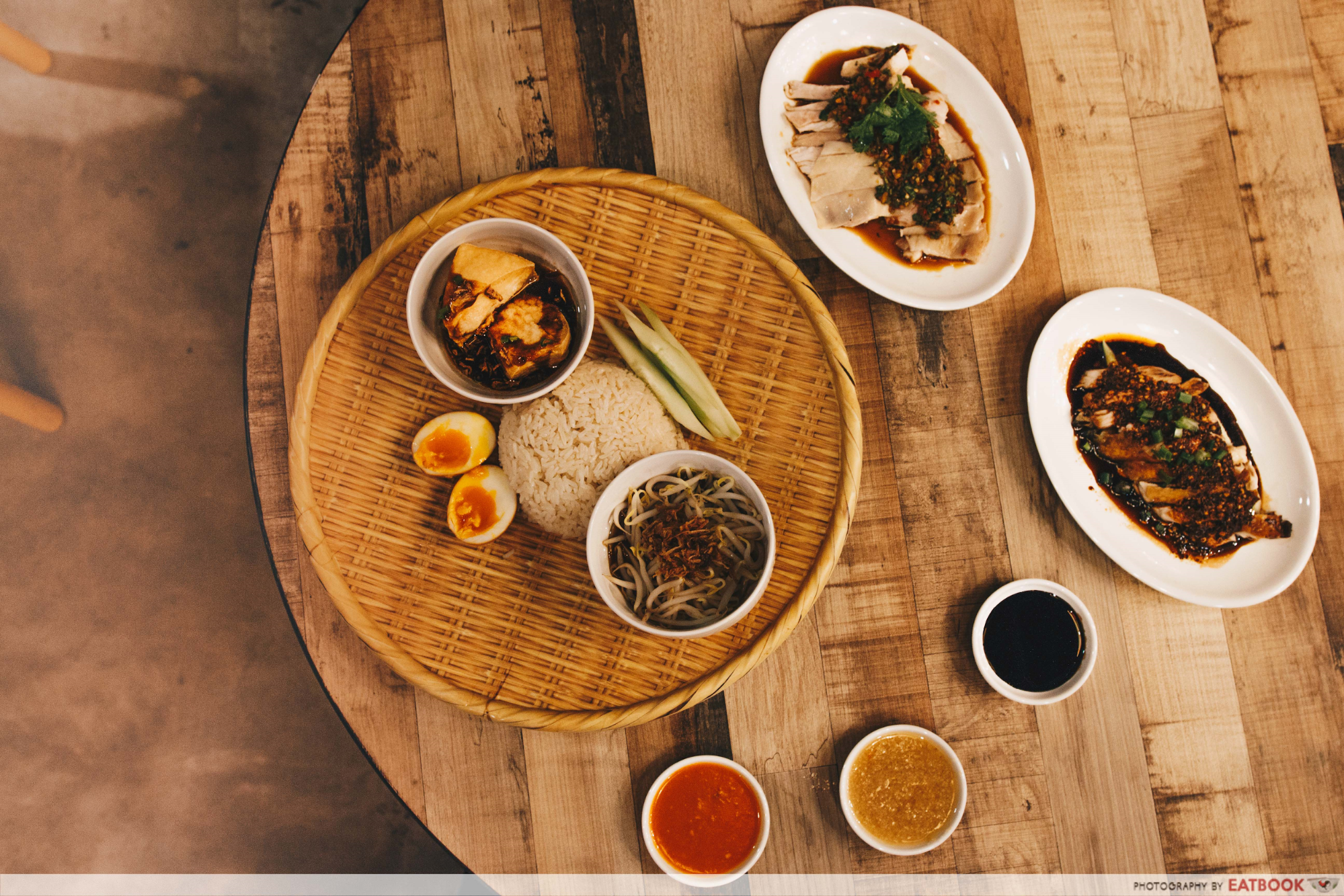 First up, we tried the Chicken Rice Combo Meal – Duo ($16.50), a huge sharing platter with a two-people portion of fragrant chicken rice. The serving size can be tweaked to accommodate up to four people. In addition to the usual choices of poached chicken and roasted chicken, you can choose more adventurous flavours such as ma la and Thai chilli.
I was surprised by the variety of dishes presented. The ramen egg was delightfully creamy, with the yolk melting in my mouth. The tau kwa was another pleasant surprise – the skin was well crisped and savoury, while the inside was soft and mild in flavour, creating a tasty contrast.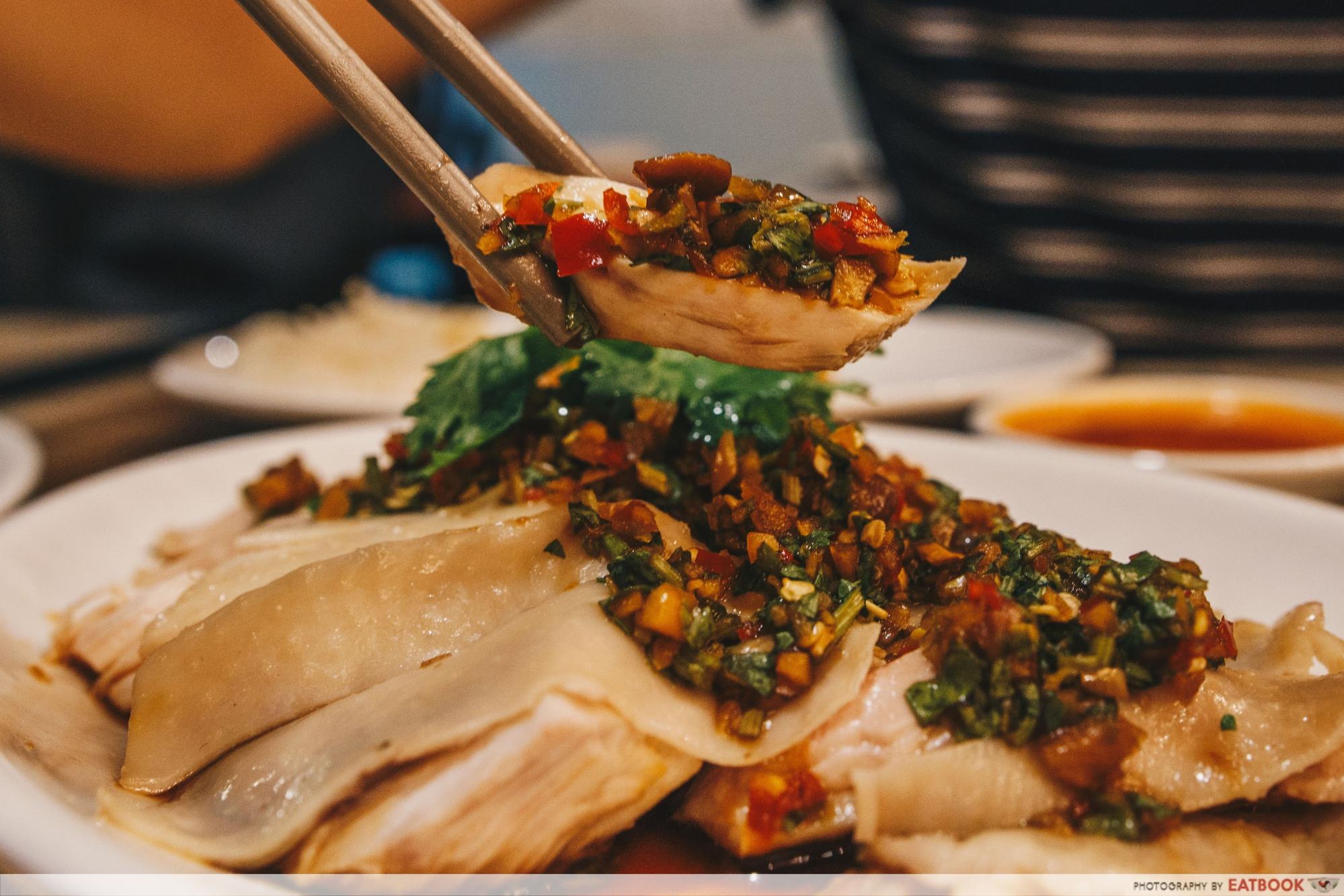 Of course, the stars of the show were definitely the Thai chilli and ma la chicken. The former is seasoned with light soy sauce and palm sugar, with garlic, coriander and shallots adding a kick to its flavour. For the latter, Sichuan spices invaded my taste buds with chilli heavily piled on. In both cases, the chicken was tender and springy, and had me reaching for the next piece while I was still chewing!
Though the dishes were great, the rice fell short of expectations. I'm a sucker for the oily fragrance of chicken rice, but in this case, there was barely any taste in it at all. If you're having the spicy chicken, it makes sense for the rice to serve as an accompaniment to the heavily seasoned meat, but those having the poached chicken might find the rice too bland.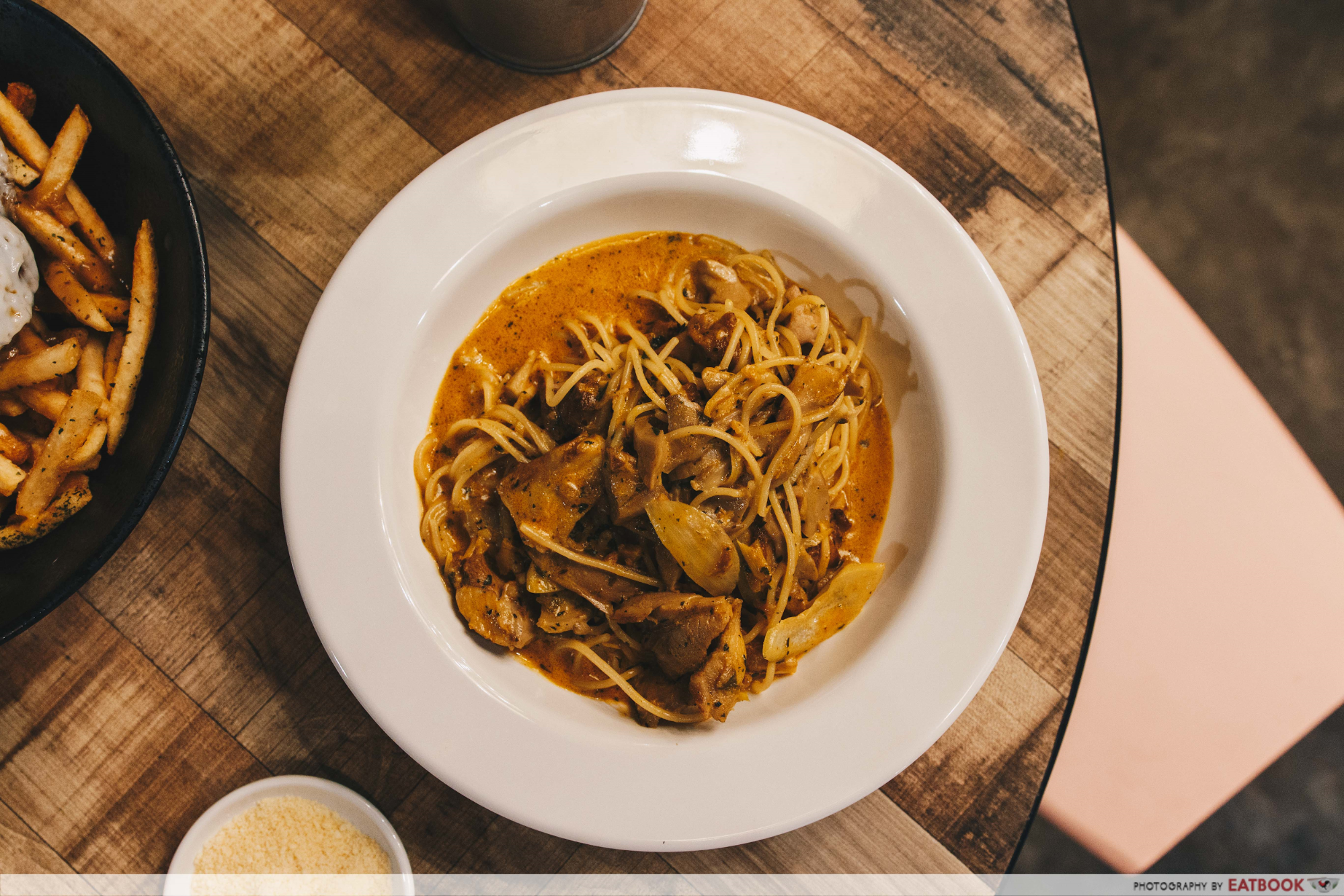 This French Chicken Curry Pasta ($7.50) appeared a mystery. There was a mouthwateringly sweet, creamy aroma that confused me, since the pasta sauce didn't appear to have a cream base. Turns out that in addition to curry powder, turmeric and coconut milk, whipped cream was added for the sauce to thoroughly coat the pasta. The mildly spicy curry sauce added a kick to what would have been a heavy, creamy sauce, and I felt like I could go on forever with this dish!
With its al dente pasta coated with signature sauce, huge, tender chicken chunks that all but fell apart in my mouth, and onion slices thick enough to soak up the sauce while remaining crunchy, I must say that I was thoroughly impressed by this dish. It's pretty affordable too!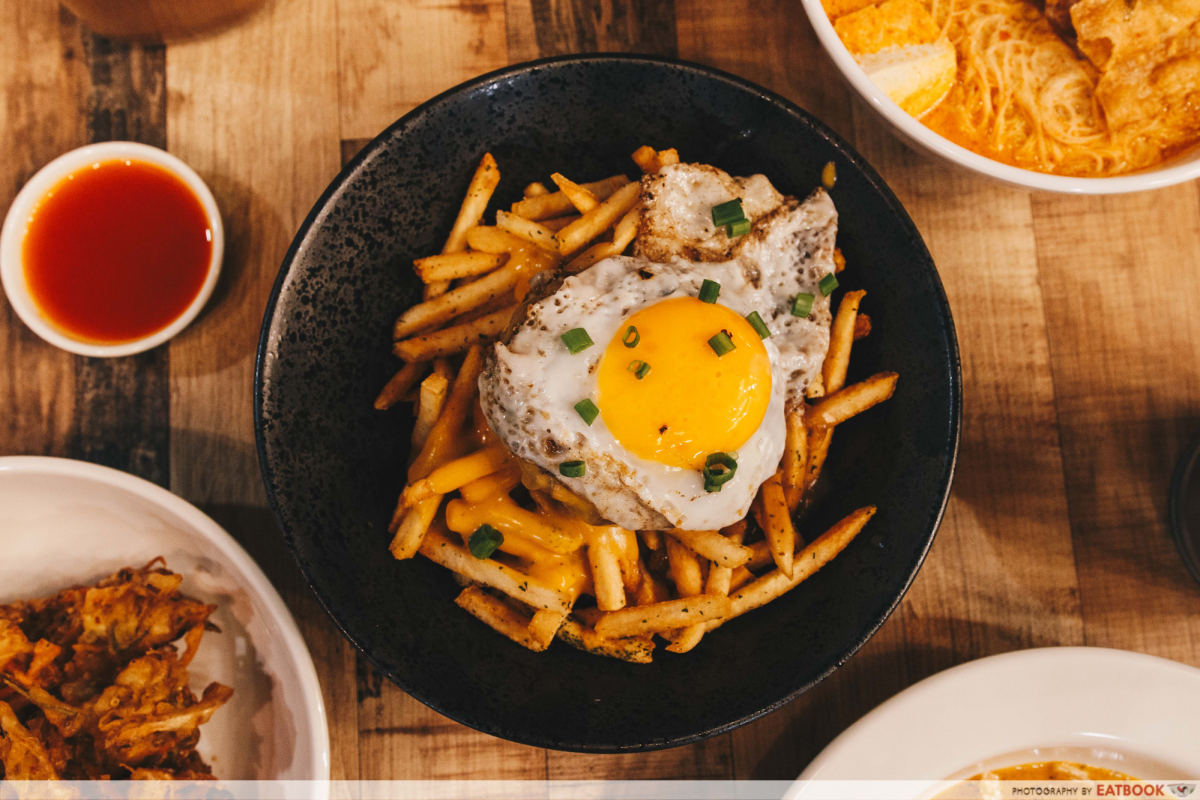 At first, I was certain this was just your obligatory Instagrammable dish on the menu. The Beef Hamburg and Fries ($10.90) is a sinfully indulgent main, with a pile of french fries forming the base, and a large beef patty and sunny side up resting comfortably on top.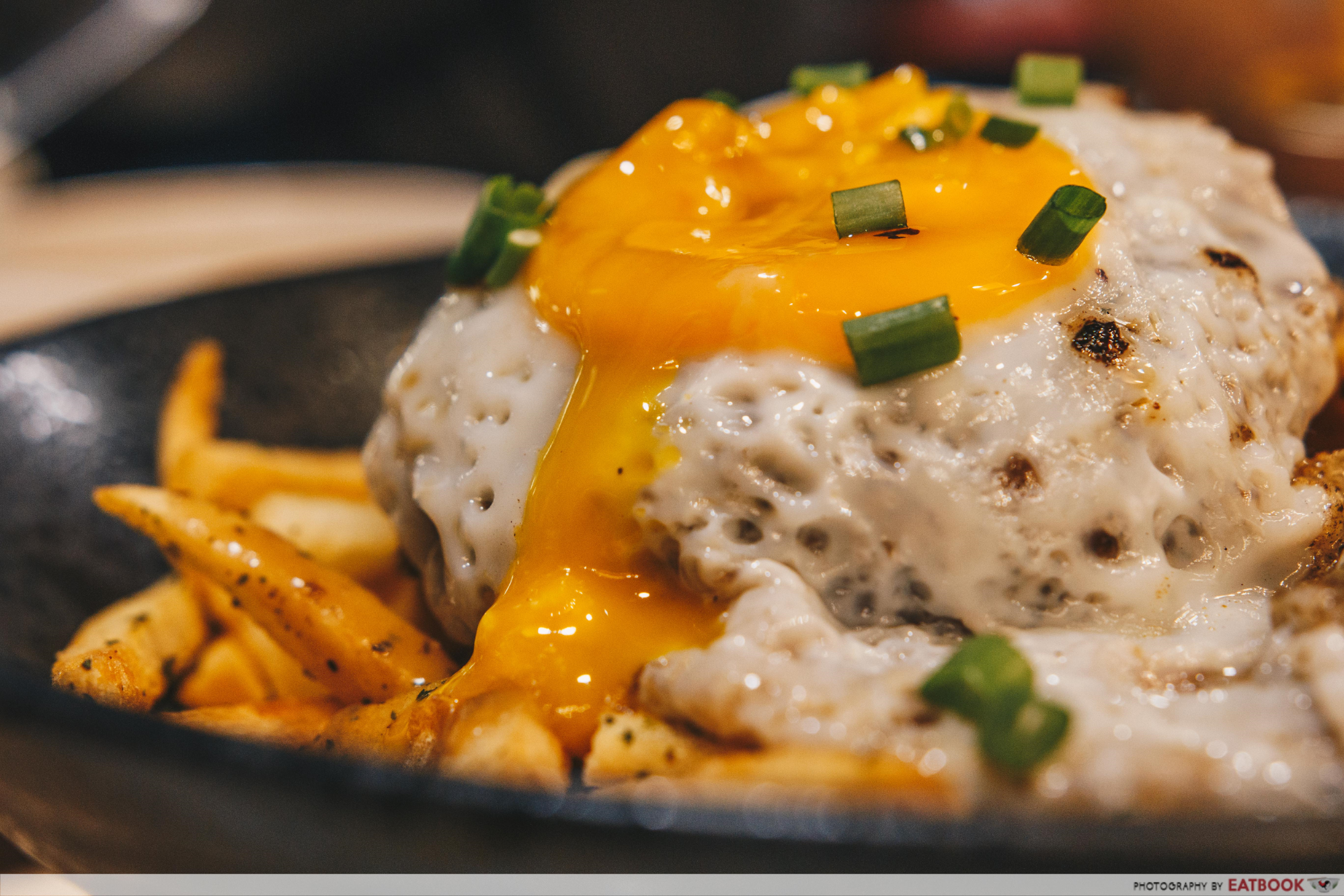 The egg was just the right amount of runny, and, once cut open, soaked the patty and the fries in rich, silky yolk. The sauce that drenched the crispy, thin fries, a decadent black pepper and truffle cheese duo, smelled delicious and tasted even better. I was impressed by how the earthy, aromatic taste of truffle cheese blended in with the deeper, more pungent note of black pepper.
However, the beef patty failed to impress. Probably due to its large size, the time taken to cook through to the centre of the beef patty made it dry and rather tough to chew. The seasoning was off the mark as well, and the patty ended up tasting too plain.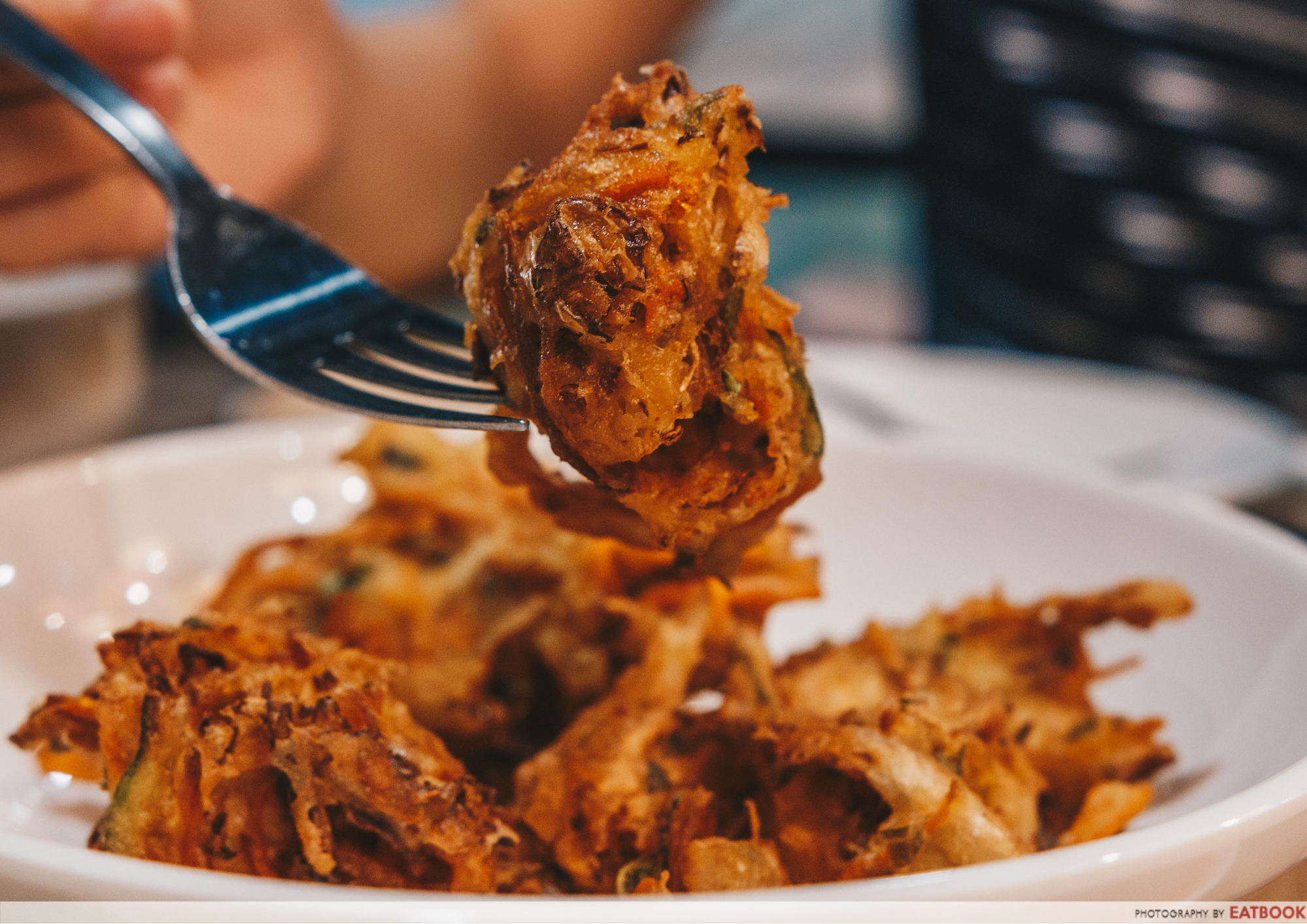 Let me bring your attention to this underrated side dish, found at the Yong Tau Foo stall: Bakwan Sayor ($2.80), or the signature Indonesian vegetable fritter. An affordable sharing dish, the deep-fried vegetables were deliciously crunchy. Consisting of shredded cabbage, carrots and spring onions among a variety of veggies, the texture was silky smooth where the oil didn't reach, and perfectly crispy when it did.
Transform its flavour by dipping the fritters in the Lingham chilli sauce that comes with every portion. While coating the fritters in the sauce softened the crunch, it also elevated the depth of flavour with its own sweet and spicy taste.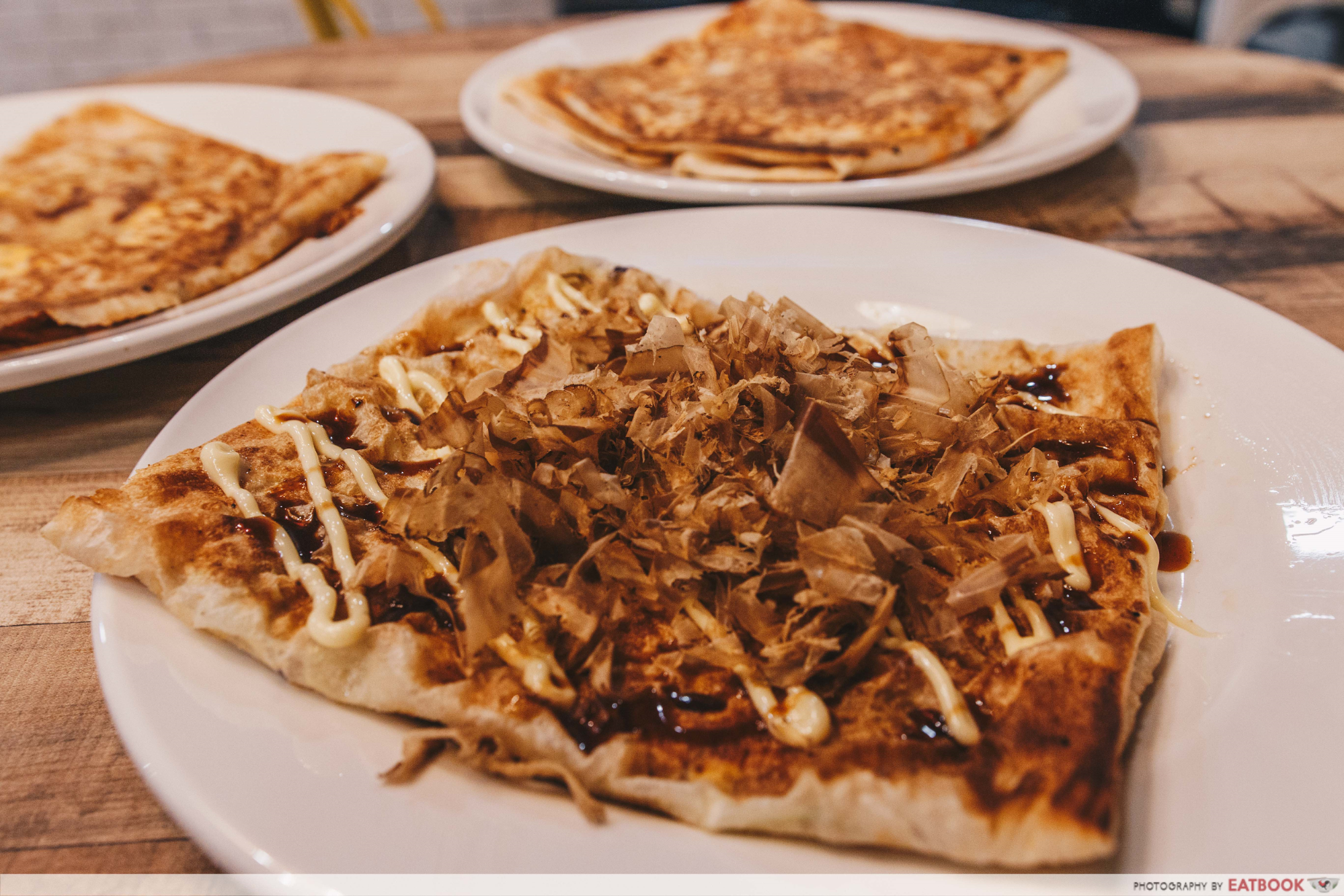 Having tasted a great many dishes up to this point, I was sure that I'd have no room left for the Okonomiyaki Prata ($7) from Prata & Desserts. However, one taste of this savoury Japanese-fusion prata had me going back for more! Stuffed with shredded carrots and cabbage, cheese and egg are added to complete the prata. While I tasted some natural sweetness from the veggie fillings, the prata itself didn't have a strong flavour.
On the other hand, the creamy mayonnaise and sweet okonomiyaki sauces drizzled on top of the prata worked well to complement each other, and the topping of salty-sweet bonito flakes further added a dimension of taste that became addictive.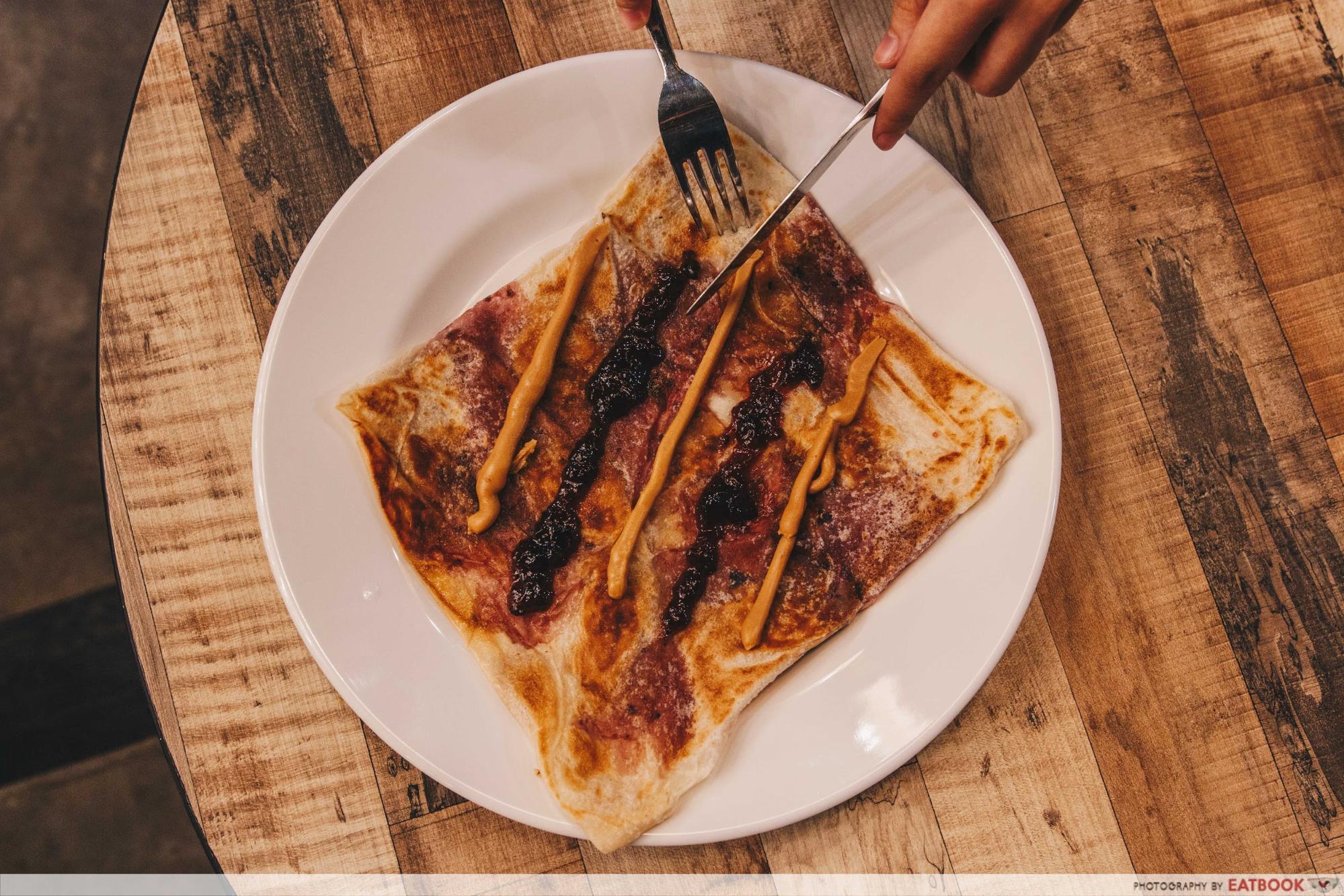 When I first saw the Prata & Desserts stall, I was wondering why the two were lumped together. This dish, the Peanut Butter and Jam Prata ($2.80), answered that question for me. The crispy, thin prata base made an unexpectedly good pairing to the sweeter jam and peanut butter, which you'd spread across the prata's surface before slicing it up.
You can't go wrong with PB and J, the unshakable duo – the nutty, creamy peanut butter perfectly balances the thinner, sweeter flavour of the blueberry jam. This prata definitely wrapped up our meal well as a dessert!
Ambience at Makanista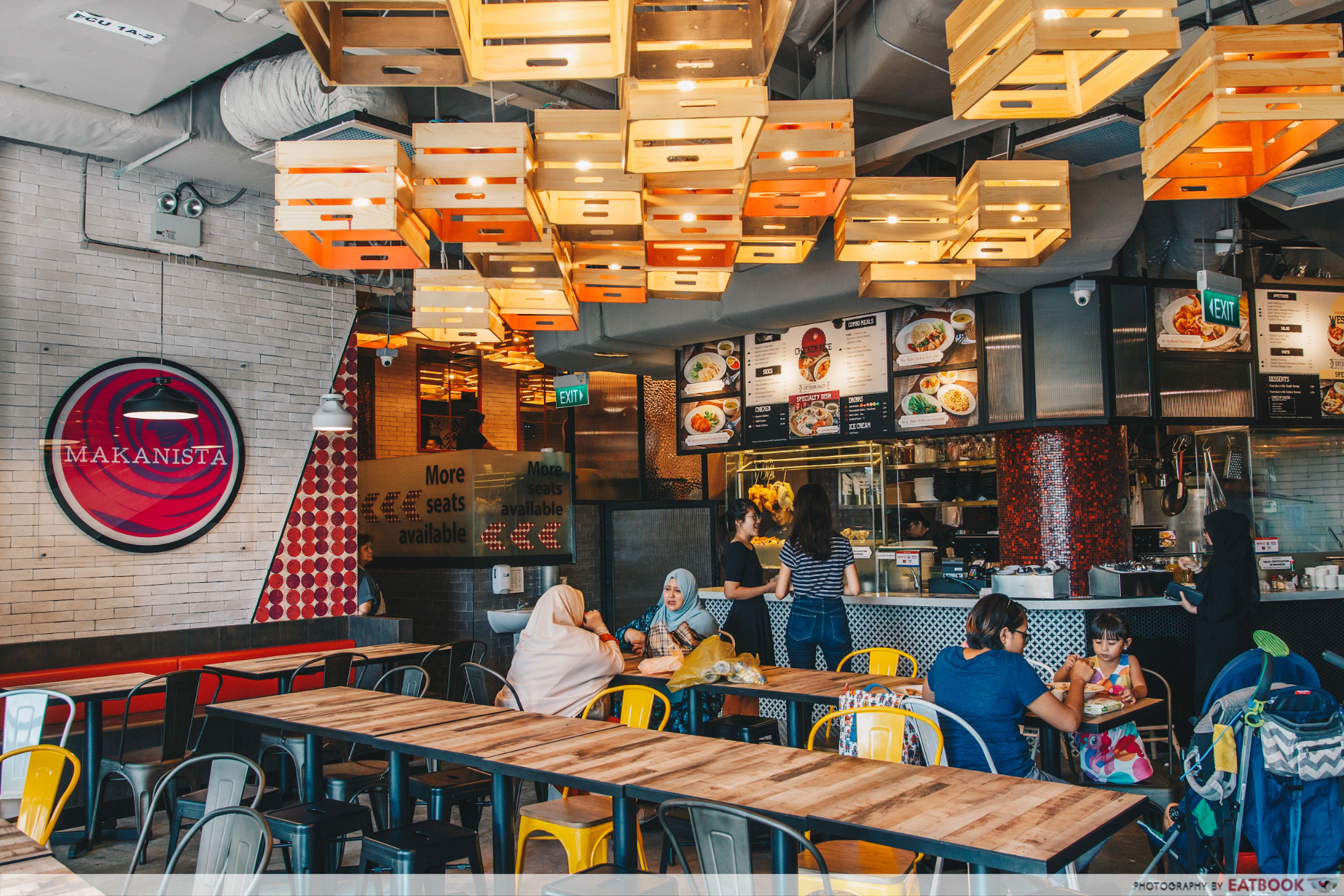 Newly opened in April, Makanista is huge, spanning three units in the first floor of Tampines Mall. With two seating areas, it's got tons of seats basking in cosy yellow and orange lighting. It's a pretty great place for a family outing, or for friends to catch up at since it wasn't crowded even as we approached dinner time.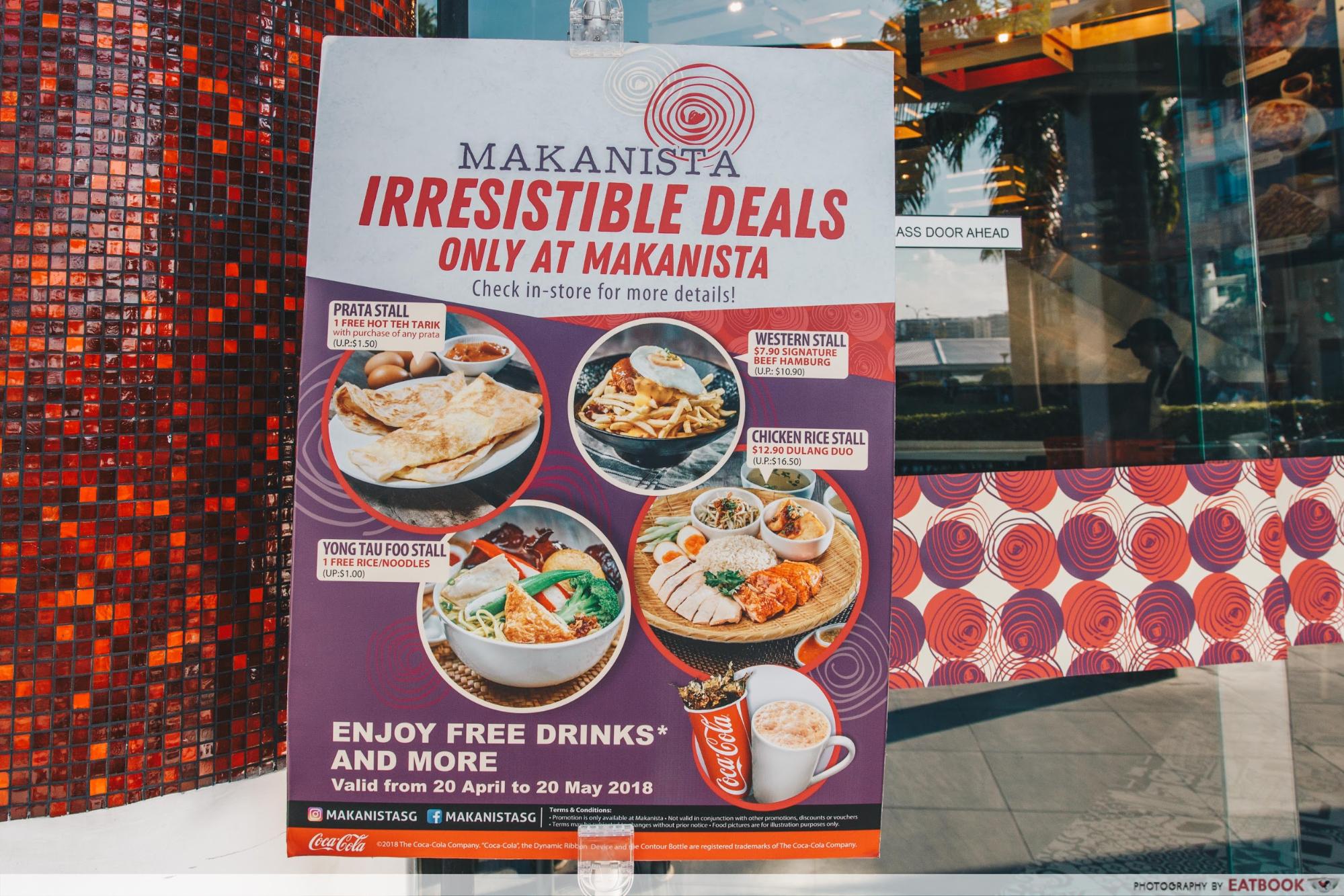 Head down soon to enjoy Makanista's promotions. Until 20 May, you can pay $7.90 for the Beef Hamburg and Fries (U.P. $10.90), and $12.90 for the Chicken Rice Combo Meal (U.P. $16.50).
The verdict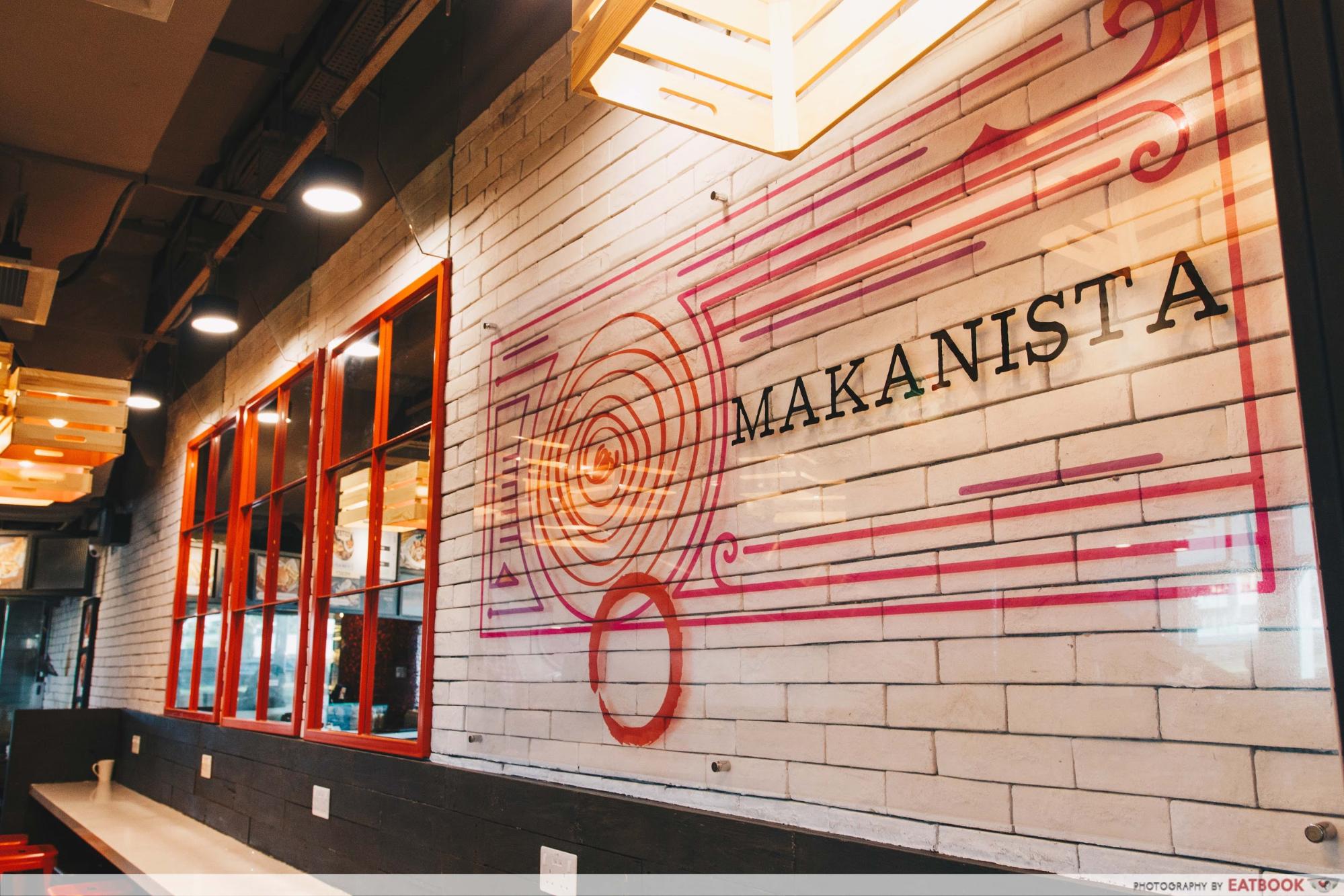 Tampines isn't really in the way for me, but I'd definitely keep this place in mind if I happen to be in the area. Mains are affordably priced from $5.80, although the more adventurous options start from $7. Though that sounds like a stretch for the likes of prata and yong tau foo, I think the inventive creations are still worth a try!
Address: 4 Tampines Central 5, Tampines Mall #01-42/43/44 Singapore 529510
Opening hours: Daily 8am to 10pm
Website
Makanista is currently applying for halal certification.
This was a media tasting at Makanista.
Summary
Pros
– Twists to food are carried out well
– Hearty portions
– Spacious and cosy interior
Cons
– Expensive for hawker food
– Far for those who don't stay in the East
Recommended dishes: French Chicken Curry Pasta ($7.50), Okonomiyaki Prata ($7)
Opening hours: Mon-Fri 9am to 10pm, Sat-Sun 8am to 10pm
Address: 4 Tampines Central 5, Tampines Mall #01-42/43/44 Singapore 529510