---
Raw foods to prepare your guts for 
---
During my previous trip to Japan, my Japanese friend brought me to an underground yakitori restaurant where I had my virgin taste of highball with Japanese whiskey and chicken sashimi. My friend ate the raw chicken like a pro – picking up a slice skillfully with her chopsticks and dipping it into raw egg yolk and ponzu sauce, before washing it down with whiskey. Meanwhile, all I could think of was whether I could get Avian Flu from raw chicken or if this would be my last supper.
After much persuasion from my friend and a fleeting moment of bravery, I picked up a piece of raw chicken meat and shoved it into my mouth. To my surprise, the chicken meat was soft and fresh, lightly flavoured by the ponzu sauce. I never looked back after that experience, and am now game to conquer any sorts of raw food!
---
1. Tori Yukke 
---
Otowa is a cosy yakitori joint with only 12 seats. Dive straight into unique dishes such as Tori Yukke ($15++) – raw chicken meat marinated in a blend of sesame oil and spices, topped with a raw quail egg yolk. The fresh chicken is marinated so well you won't even remember it's raw meat you're eating. So give into your curiosity and dig in!
Address: 150 Orchard Road, #03-16, Orchard Plaza, Singapore 238841
Opening hours: Mon-Sat 7pm to 11pm
Tel: 6733 5989
---
2. Fugu Sashimi 
---
Star in your own season of 'Daredevil' by visiting FUKU Fine Fugu Kaiseki Restaurant, the first restaurant in Singapore to specialise in fugu (pufferfish). Fugu is known to be one of the most poisonous fishes in the world, yet it still remains a fine delicacy. A show-stopping dish would be Tessa ($39++) – artfully arranged slivers of fugu sliced so thin they are completely translucent. Dip each slice into soy or ponzu sauce for more flavour, and put all your faith in the chefs with over 20 years of experience.
Check out other places in Singapore that serve exotic meats.
Address: 14 Mohamed Sultan Road, #01-01, Singapore 238963
Opening hours: Mon-Sat 6pm to 11pm (last order 10:30pm)
Tel:  6235 8216
Website
---
3. Korean Sannakji  
---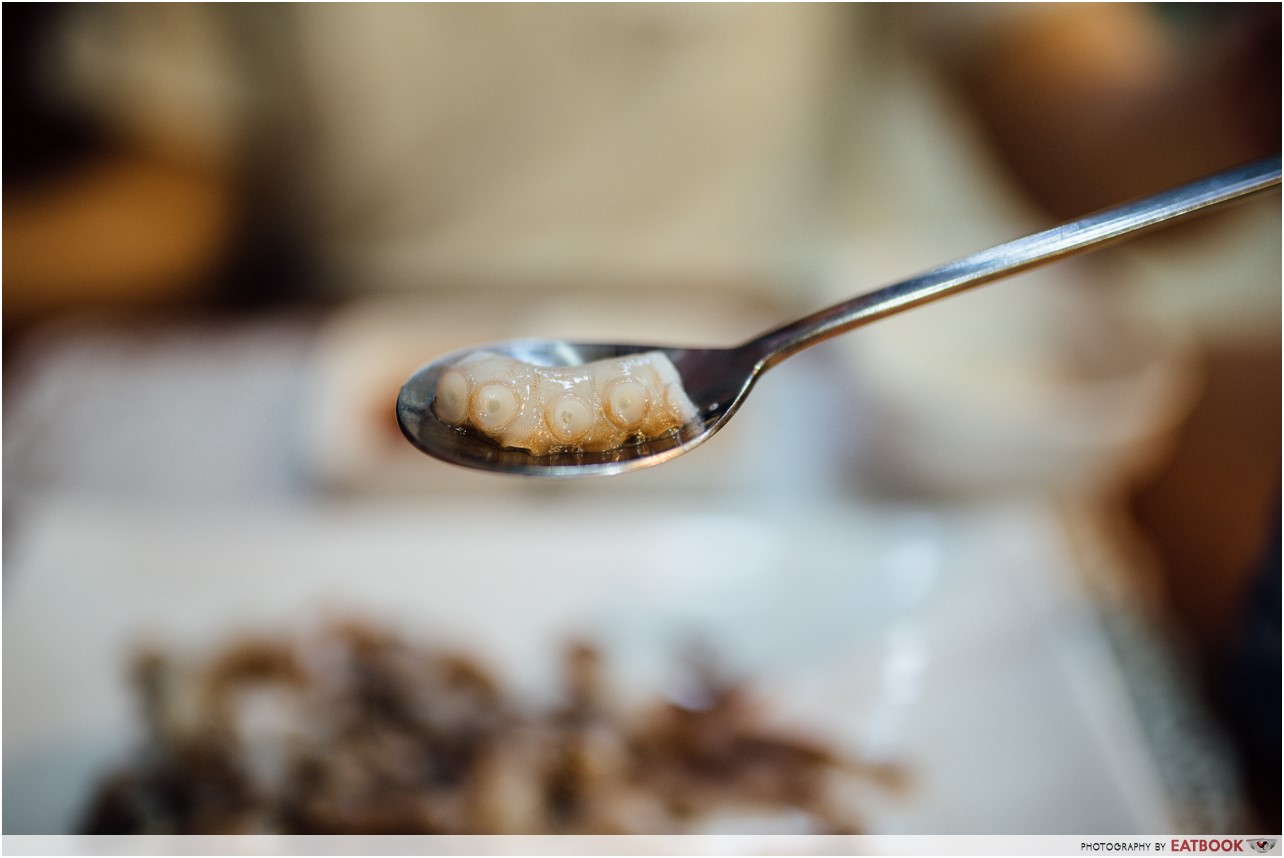 I consider myself a pretty adventurous foodie, but I foresee myself struggling to down Bukang Tuna Restaurant's sannakji from their Octopus Set ($60++). Freshly caught baby octopus is chopped into tiny writhing pieces right before your eyes, and served with a side of sweet-spicy sauce and sesame oil. Warning: unless you want to "resurrect" your dead octopus, DO NOT pour soy sauce over it.
Check out our full review of Bukang Tuna Restaurant.
Address: 28 Maxwell Road, #01-06, Reddot Traffic Building, Singapore 069120
Opening hours: Mon-Sat 11:30am to 2:30pm, 5:30pm to 10:30pm
---
4. Kangaroo Tartare  
---
The only time I handled kangaroo meat was when I fed kangaroo jerky to my neighbour's husky, so when I came across Salted & Hung's Kangaroo Tartare ($18++), I was very intrigued. The meat is cured in a blend of spices, such as black pepper, caraway and coriander seeds. Served with pickled beetroot and dehydrated juniper crumbs on a bed of blood orange crème, this dish is surprisingly refreshing and light on the palate.
Address: 12 Purvis Street, Singapore 188591
Opening hours: Mon-Fri 11:30am to 2:30pm, 5pm to 10:30pm, Sat 11:30am to 4pm, 6pm to 10:30pm (last orders at half an hour before closing)
Tel: 6358 3130
Website
Menu  
---
5. Shirako

---
Shirako is directly translated to 'white children', and it's named this way probably because it's white and it's the sperm sacs of male cods. If you are lucky, Hakumai Sushi & Omakase serves this dish as part of their Hakumai Omakase Course (seasonal price), only when it is in season. Some say shirako is the best thing they have ever had – you will never find out if you don't try!
Address: 10 Anson Road, #01-50A, International Plaza, Singapore 079903
Opening hours: Mon-Sat 11:30am to 3pm, 6pm to 10:30pm (last order at 45 minutes before closing)
Tel: 6224 4790
Website
Menu
---
6. Whole Lobster Sashimi   
---
Keyaki is situated in the centre of a picturesque garden, and offers both tatami and Western-style dining areas. Their Whole Lobster Sashimi ($23++ per 100g) is a standout, and if you prefer your food cooked, they also do meat and seafood in different ways, such as teppanyaki and sukiyaki.
Address: 7 Raffles Boulevard, Level 4, Pan Pacific Hotel, Singapore 039595
Opening hours: Daily 11:30am to 2:30pm, 6:30pm to 10:30pm
Tel: 6826 8240
Website
---
7. Ganjang-Gejang

---
Han Kook Gwan Korean Restaurant serves raw Korean marinated crab, also known as ganjang-gejang. Order their signature Ganjang-Gejang Set ($53++) for a medium-sized crab, steamed egg and army stew. Sliced chilli imparts a slight heat to the otherwise sweet crab meat doused in soya sauce. A lot of elbow grease goes into making ganjang-gejang, and it can even take up to a few days to prepare this dish! So take your time while eating this to slowly savour the smooth, delectable crab meat.
Check out other places in Singapore that serve delicious crab dishes.

Address: 26 Tanjong Pagar Road, Singapore 088449
Opening hours: Daily 11am to 12am
Tel: 6224 2881
Website
---
8. Chicken Liver Sashimi

---
Kazu Sumi-Yaki Restaurant's Tori Liver Sunagimo Sashimi ($12++) features both chicken liver and chicken gizzards, and tastes surprisingly light and refreshing, with a texture similar to tofu. It may taste a little bland on its own, but you can always coat it with ginger and dipping sauce for more flavour. If you're an adventurous foodie and eating chicken liver is like chicken feet to you, check out their grilled Chicken Heart ($3++)!
Address: 5 Koek Road, #04-05, Cuppage Plaza, Singapore 228796
Opening hours: Tue-Sun 6pm to 10pm
Tel: 6734 2492
---
9. Steak Tartare   
---
A signature dish at The Disgruntled Chef is Steak Tartare ($21++). Raw minced beef is topped with egg yolk confit, chopped spring onions and a side of prawn crackers. Pro-tip: use a prawn cracker to break the yolk, mix it with the meat and scoop some of that meaty goodness up for a great blend of crispy, salty prawn cracker and soft, well-marinated beef. End your meal with a unique blue cheese ice-cream stick called Roquefort and Honey "Magnum" ($8++).
Find out where else has rich and interesting chocolate desserts in Singapore.
Address: 26B Dempsey Road, Singapore 247693
Opening hours: Tue-Thur 12pm to 3pm, 6pm to 11pm, Fri-Sat 12pm to 3pm, 6pm to 12am, Sun 12pm to 5pm, 6pm to 11pm
Details on last order timings
Tel: 6476 5305
Website
Menu
---
10. Scallop Ceviche
---
Beautifully plated with vibrant colours, Scallop Ceviche ($18++) from Ding Dong is not only appealing to the eyes, but to the taste buds as well. Fresh scallops are tossed with vinegar, Chinese cabbage, Thai mango and coconut. Served alongside is kueh kapit, or Nyonya love letter. Get a bite of fresh scallop chunks, tangy vegetables and fruits by using the crispy love letter as a spoon.     
Address: 115 Amoy Street, #01-02, Singapore 069935
Opening hours: Mon-Fri 12pm to 3pm, 6pm to 12am, Sat 6pm to 12am
Tel: 6557 0189
Website
---
Salmon-else needs to take it a step further
---
My first raw chicken experience went better than expected – and no, I didn't contract any form of illnesses after that meal. Salmon sashimi is not the only thing you can eat raw, so step out of your comfort zone and try the above mentioned 10 raw dishes! Drop us a comment below if you have tried other raw food that we missed.