Not for the weak at heart
Update (4th April 2019): Bukang Tuna has permanently closed.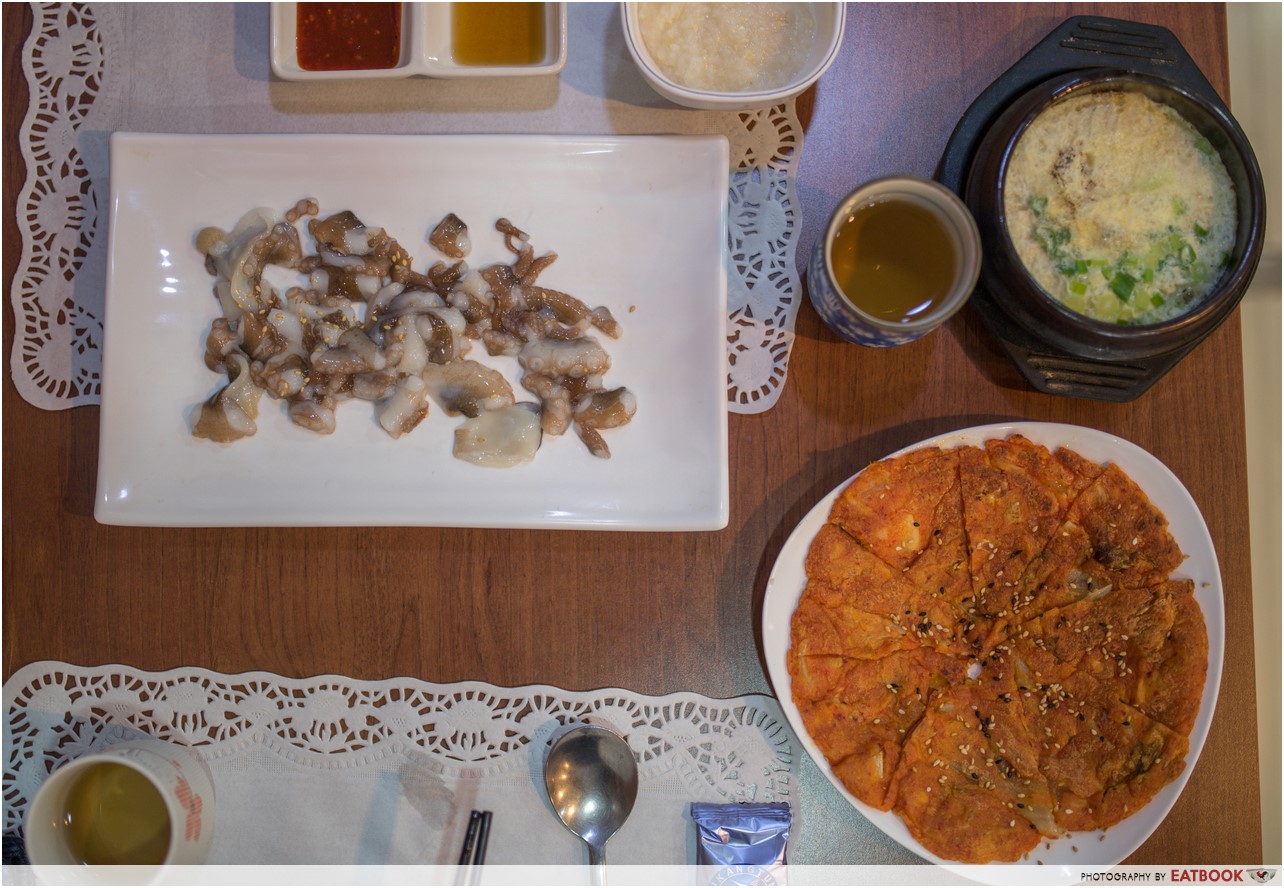 I've always taken pride in myself for being an adventurous foodie. Whether it's fried crickets, reindeer steak or other whatnots, exotic dishes have brought tonnes of surprises – and long toilet sessions – to my life.
So when I was told Bukang Tuna Restaurant has Korean sannakji, or raw baby octopus that squirms in my plate, I was down to give it a go. Even though my colleagues lost no time in telling me morbid stories of people dying from sannakji by getting tentacles stuck in their throats, I was still pretty stoked to try it.
Food at Bukang Tuna Restaurant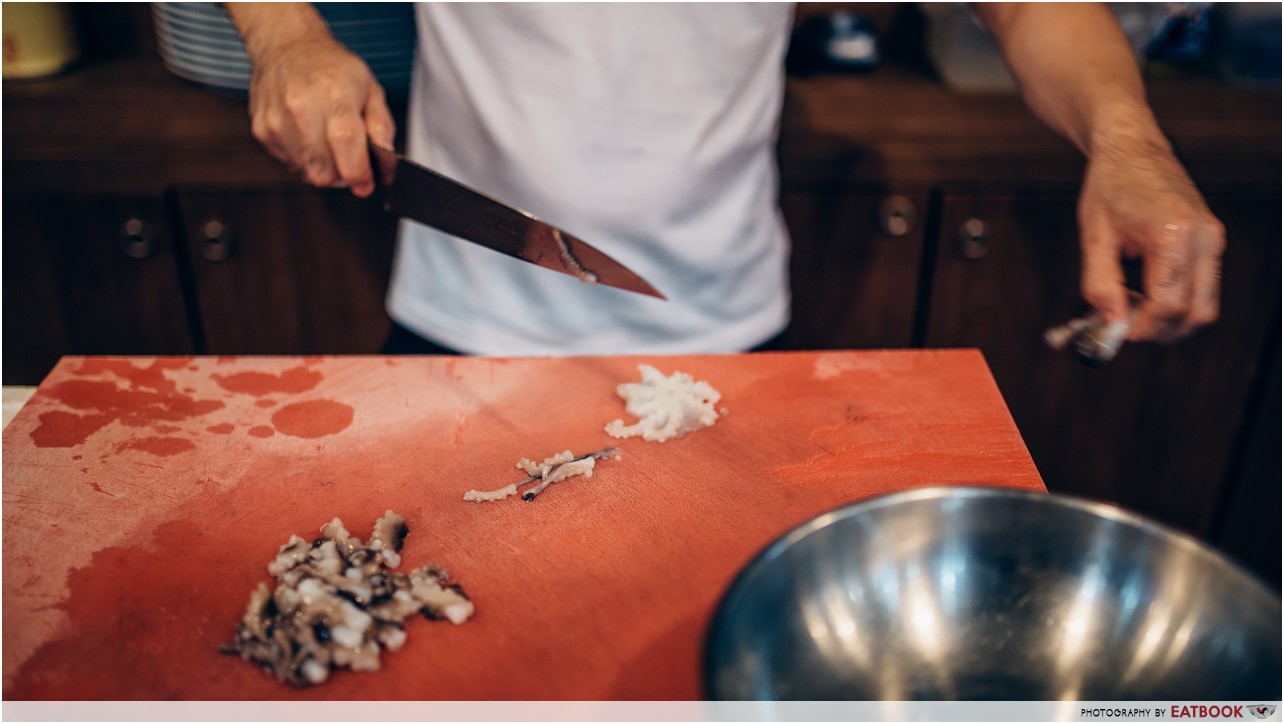 We arrived with a clear motive, so we ordered Octopus Set ($60++) immediately. The restaurant's entrance was full of live seafood tanks and we saw a chef catch a baby octopus with his bare hands from one of them.
He brought it to the back of a bar counter in front us and started chopping the squirming animal into pieces. At that point in time, I was half-fascinated and half-horrified about what I just did to this poor creature.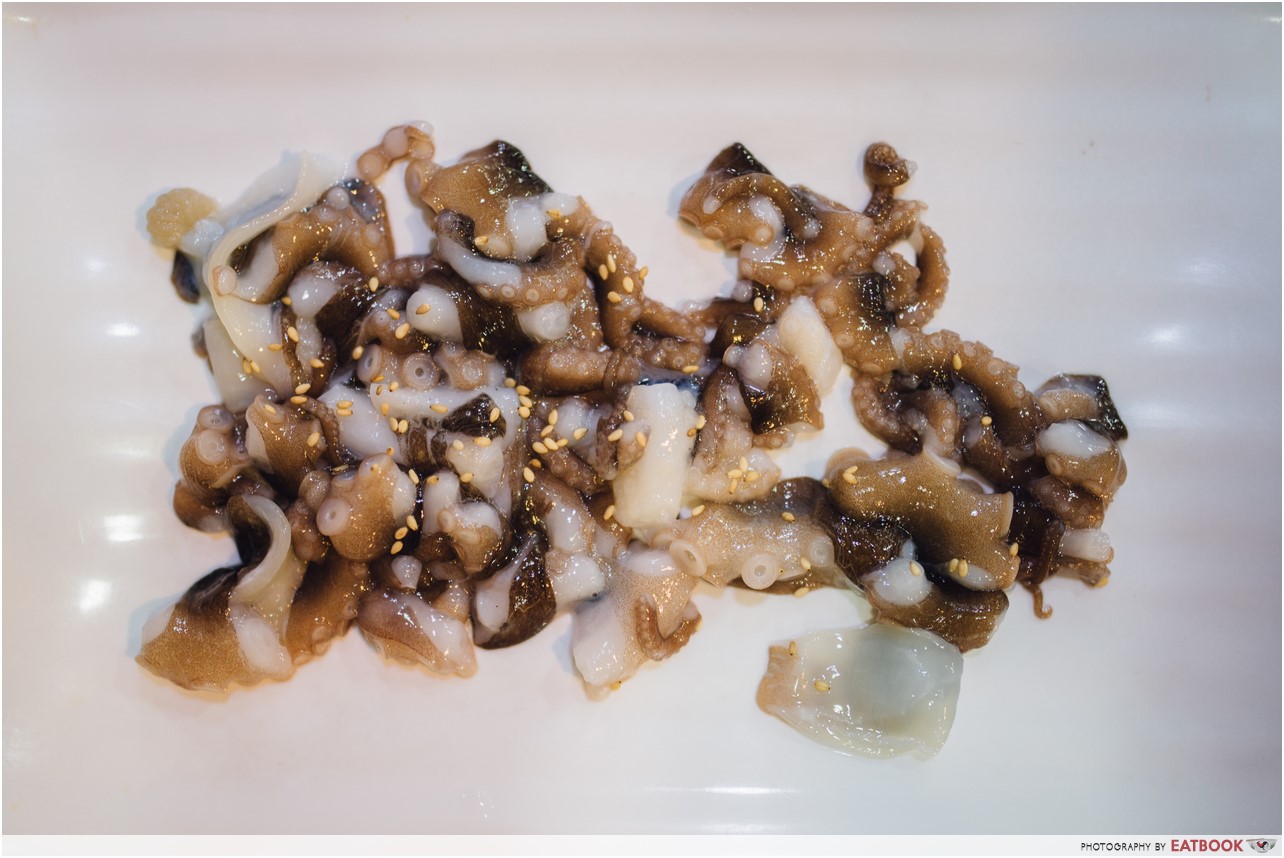 Two minutes later, the chopped up octopus was set before me with a sweet-spicy sauce and sesame oil. It was still wriggling a little and not gonna lie, a part of me was terrified. As adventurous as I am, I much prefer my food to be dead, TYVM.  
We figured it would be quite tasteless, so we poured soya sauce over it – BAD IDEA. It was as if the sauce was some sort of potion because the tentacles resurrected and started writhing BIG time.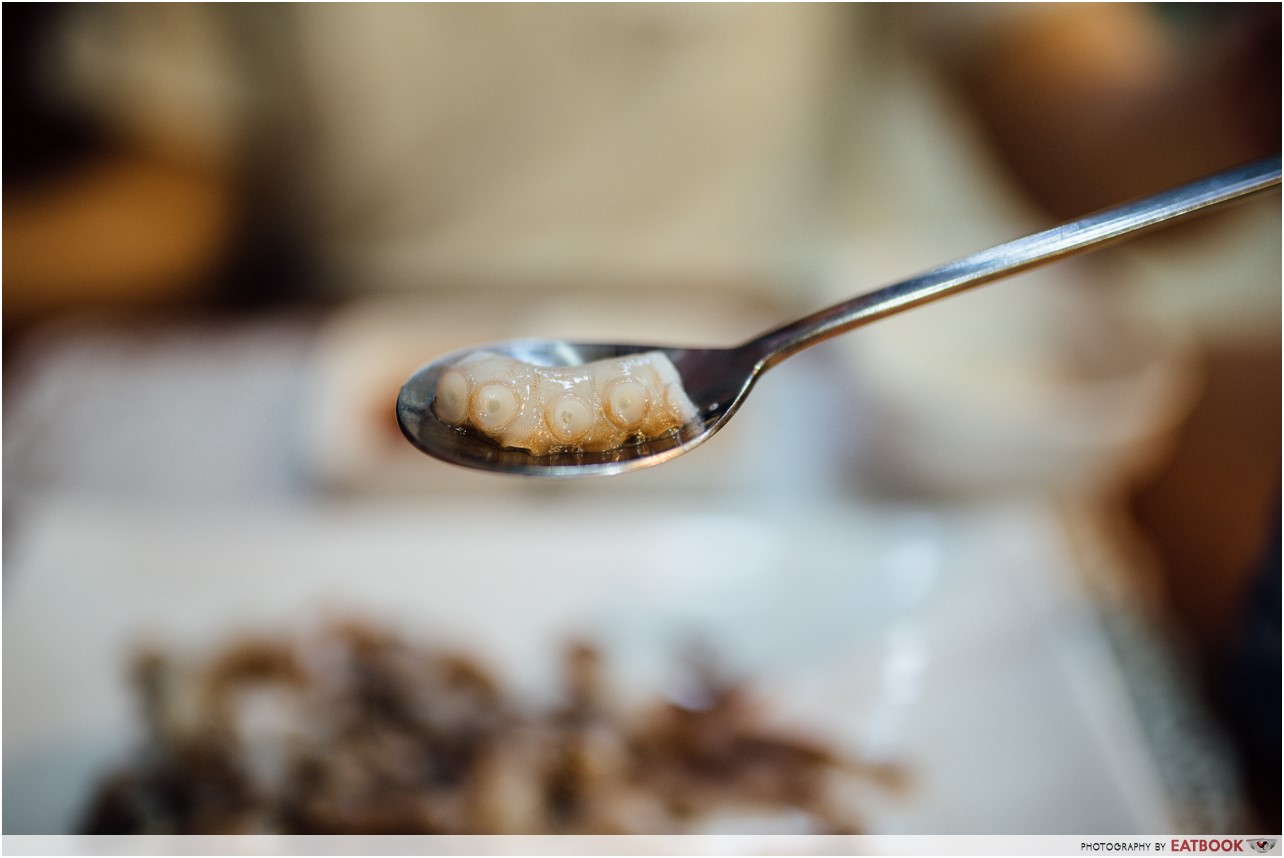 The octopus was super slimey, so I spent quite some time prodding it with my chopsticks before giving up and using a spoon. By then the piece of tentacle has "died" again, and thankfully didn't move when I put it in my mouth.
Taste-wise, it was nothing like what I expected. It was extremely chewy and fresh, and tasted good even without dipping it in sauce. It didn't feel slimey at all in my mouth and I liked it so much I surprised myself by popping a few more pieces.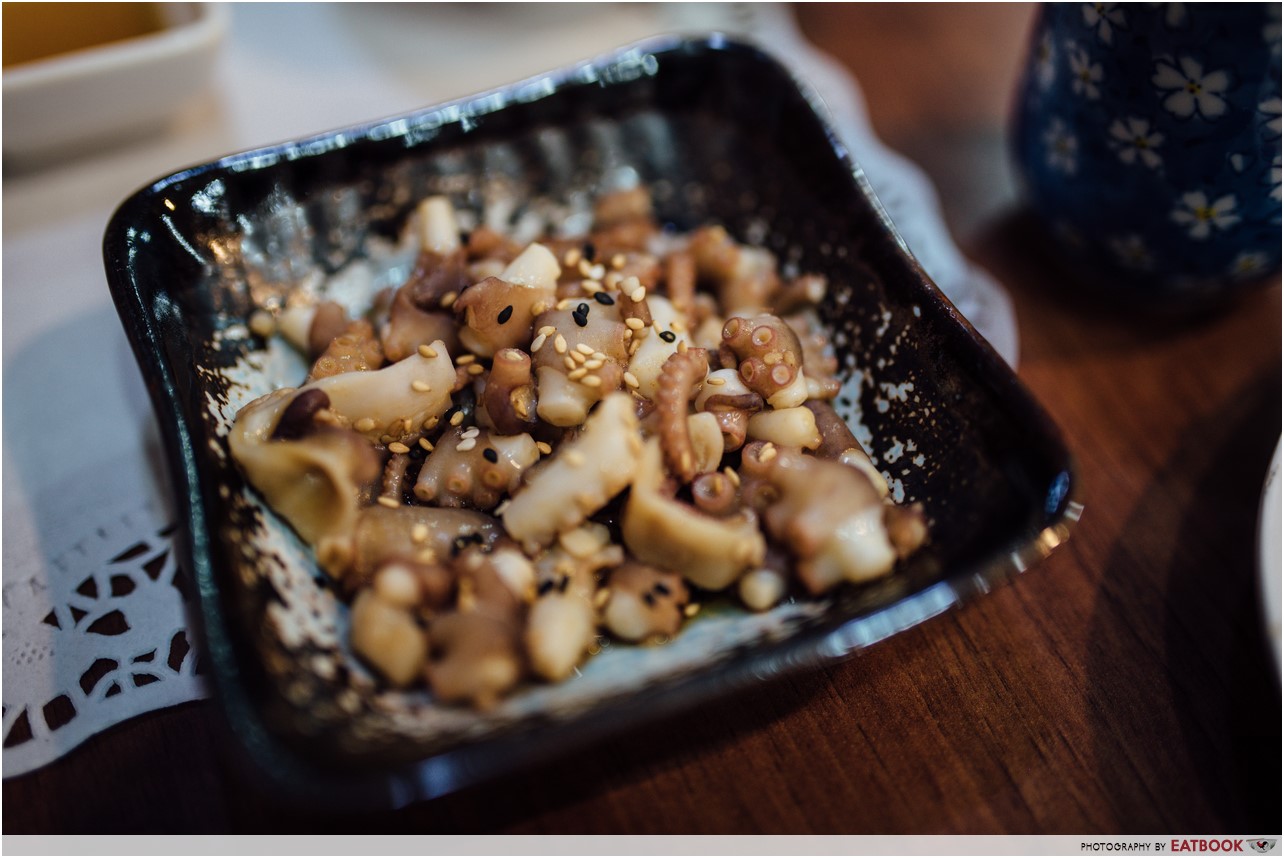 After a while, a Korean staff came by to ask if we wanted to boil the octopus. I said yes, because eating a whole plate of the living dead is way too much for me. So good news for those who want to try but are scared of wasting money – you can have super fresh boiled octopus even if you fail at sannakji.
Side dishes at Bukang Tuna Restaurant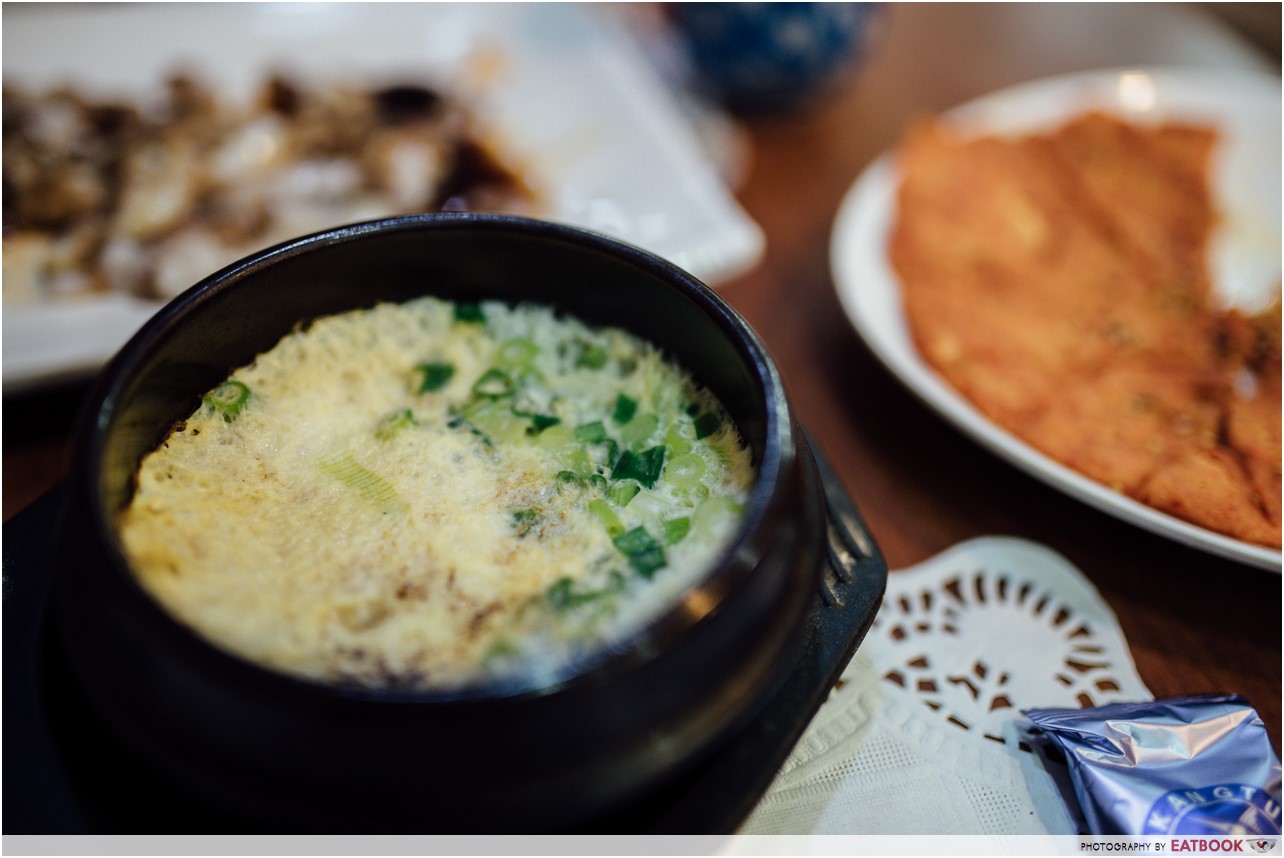 The set came with steamed egg, kimchi pancake and seafood porridge. The seafood porridge was thick and quite sticky, which is the total opposite of Cantonese porridge, and has a strong umami flavour. The other two, however, were nothing to shout about. The steamed egg was slightly burnt on top and very burnt at the bottom, giving it a bitter taste.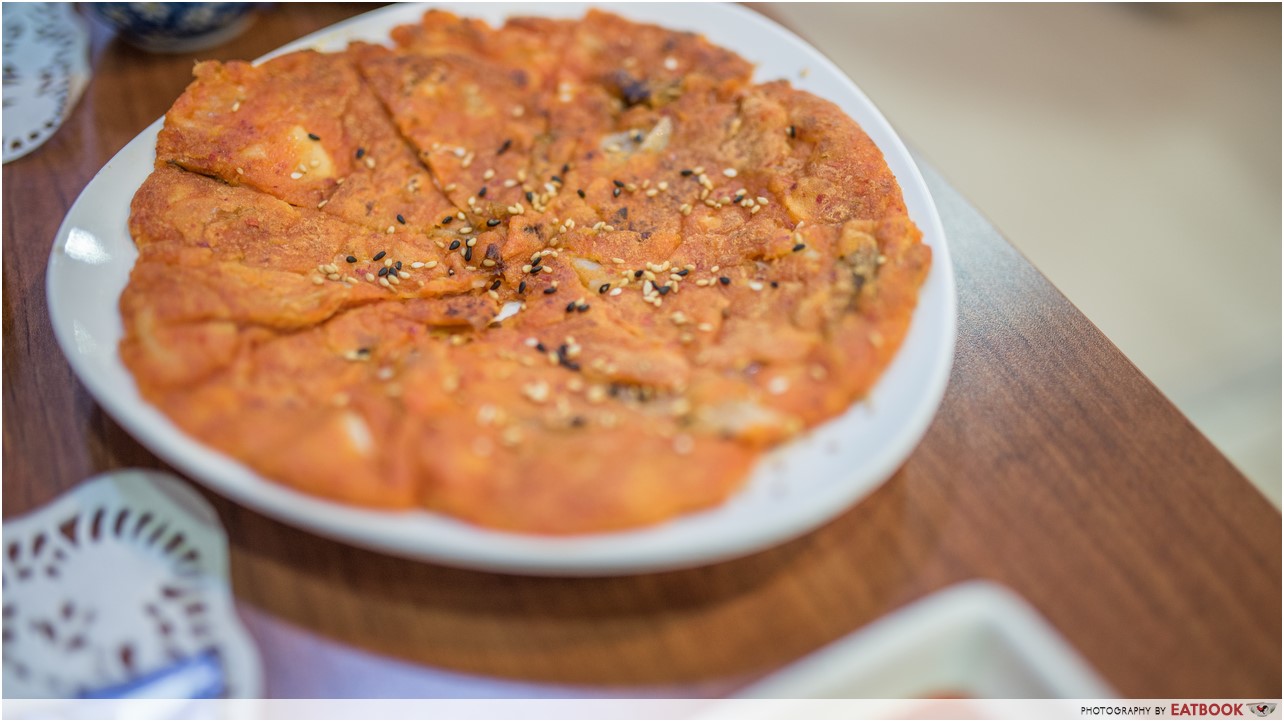 The kimchi pancake was slightly nicer, with crisp edges and pieces of kimchi in the soft pancake. The kimchi taste was strong, but slightly too salty for my liking.
The Verdict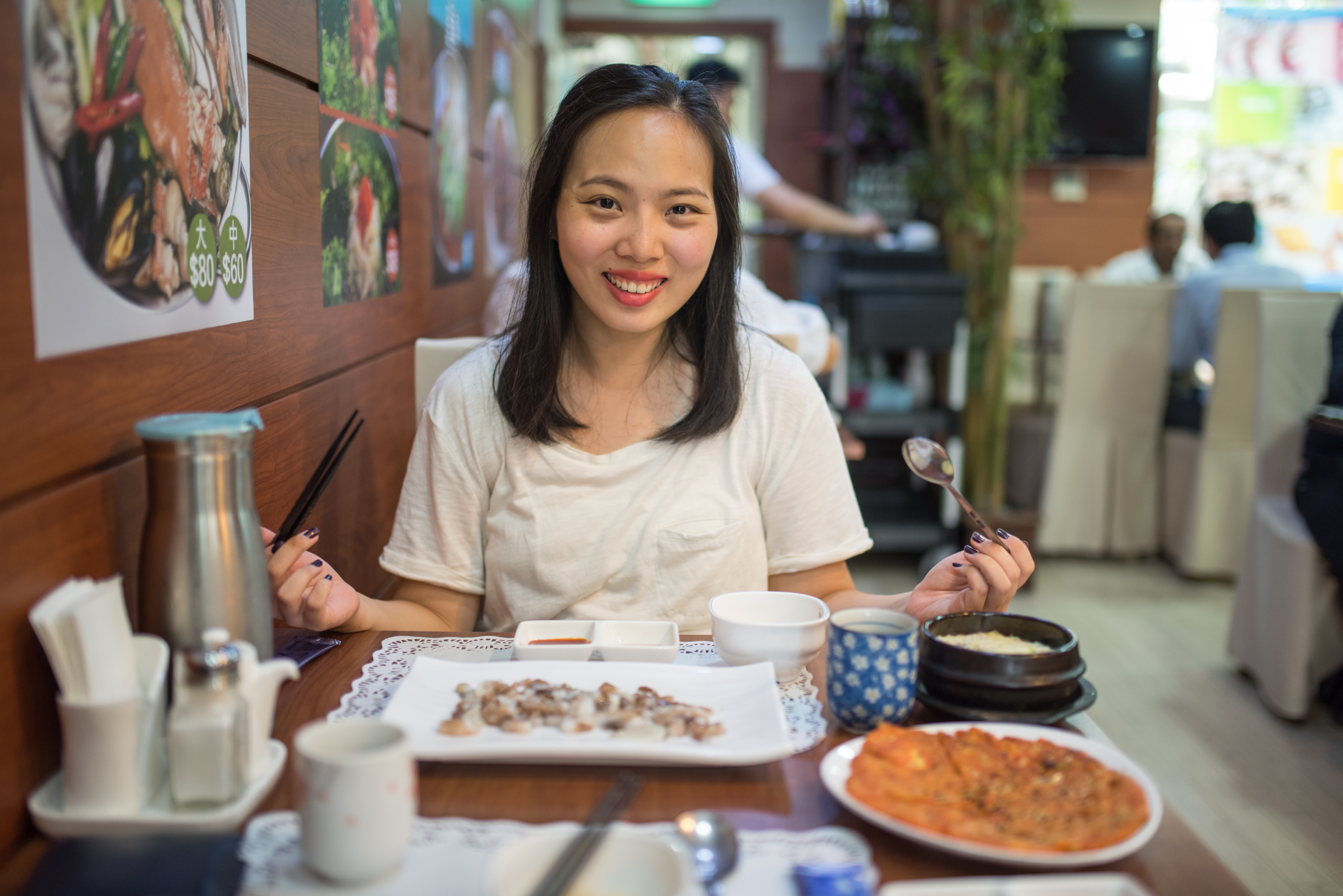 I'm gonna be totally honest and say that even though my virgin sannakji experience wasn't that bad, it's not something I'd add to my diet. Bukang Tuna Restaurant, however, left a good impression on me. The staff was attentive, and the freshness of the octopus made me want to try other sashimi dishes there. 
To all the brave souls who are keen on taking up the challenge, I wish you all the best and please remember there's literally a boiling way out if the squirming things makes you want to throw up right there and then.
This is an independent review with all expenses borne by Eatbook.sg.
Summary
Pros
– Convenient location
– Fresh seafood
Cons
– Expensive
Recommended Dishes: Octopus Set ($60++)
Operating Hours:
Monday to Saturday 11:30am to 2:30pm, 5:30pm to 10:30pm
Address: 28 Maxwell Road, #01-06, Reddot Traffic Building, Singapore 069120