Nantsuttei doesn't serve typical tonkotsu broth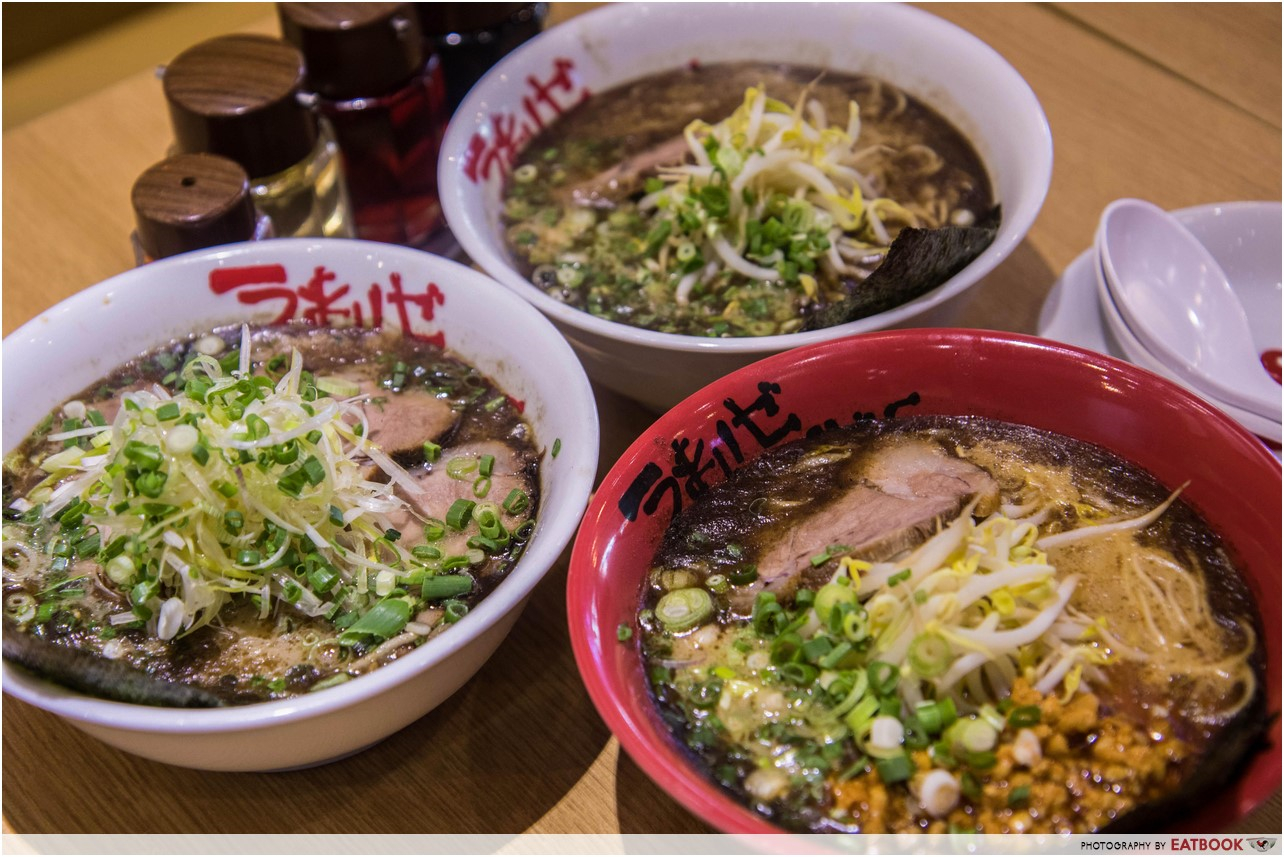 I remember having my first bowl of ramen in Japan. My fambam and I were navigating our way through Tokyo, and we stumbled across a ramen street. With our tummies growling after all the walking, we found ourselves entering a small Japanese restaurant with only a handful of high chairs, Japanese murals, and bamboo windows.
The entire restaurant screamed tradition, right down to the enthusiastic cry of "irasshaimase!" from the staff. Ever since that meal, I've developed a soft spot for the simple combination of cha shu and ramen. And Nantsuttei almost managed to help me relive those memories.
Food at Nantsuttei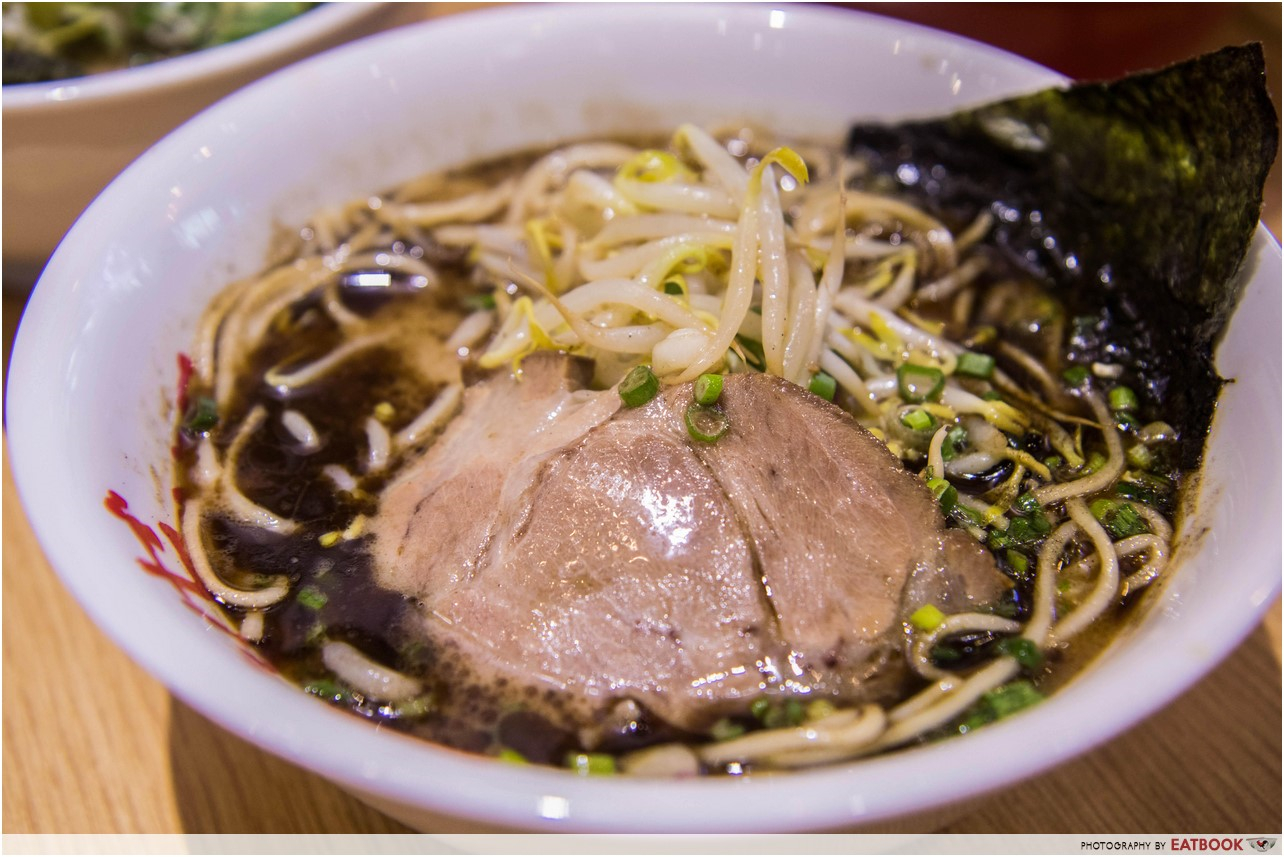 We ordered their signature Nantsuttei Ramen ($10.80++), and within 10 minutes, a bowl of piping hot ramen arrived at our table.
The dish had a large piece of cha shu, which was sitting atop ramen noodles swimming in their house-made broth. The entire dish was topped off with a generous amount of bean sprouts and a handful of spring onions.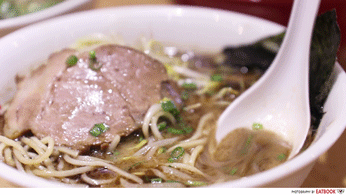 Unlike other tonkotsu broths I've had, this was slightly darker and had a stronger garlic fragrance. The broth was made from simmering pork bones, chicken bones, pork bone marrow, and plenty of garlic, for three hours every day. The intense broth is then topped off with an ingredient that makes this bowl of ramen stand out – black garlic oil.
The oil added a wallop of roasted garlic flavour to the thick broth. The combination of the oil and broth brought the whole flavour of the dish up a notch. Overall, not only was the broth creamy, it was also highly addictive. If you prefer a light bowl of ramen, however, this might be too heavy for you.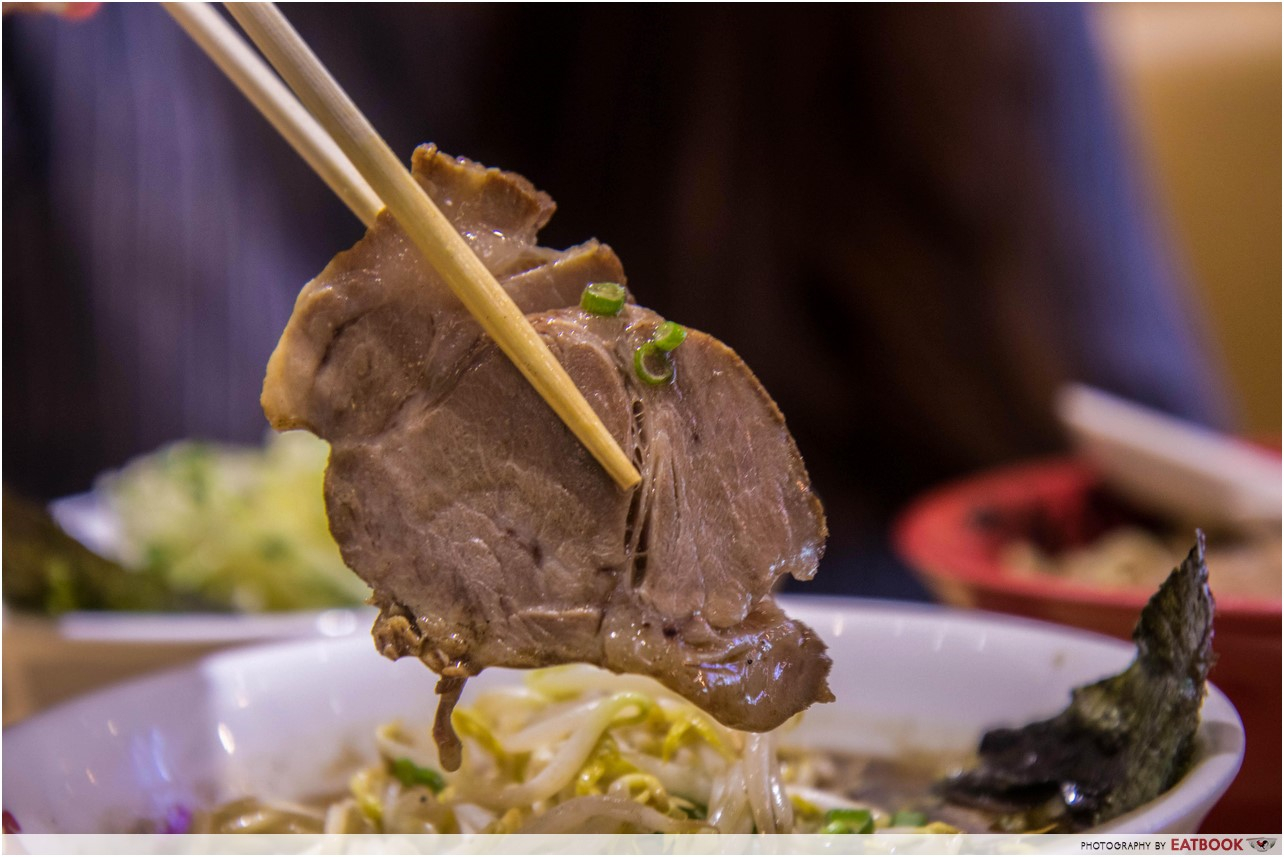 What stood out for me was their cha shu, which is made every day. I was told that the Japanese head chef first parboils the meat, then marinates it with their special sauce imported from Japan. Then, the meat is simmered in a special sauce for over an hour to achieve a tender texture.
The chef keeps the meat in the refrigerator with the sauce overnight. This allows the flavour to be intensified, and chilled pork is also easier to slice. The melt-in-your-mouth cha shu had a nice ratio of meat to fat, and a good balance of sweetness and saltiness – just like how a good piece of cha shu should be.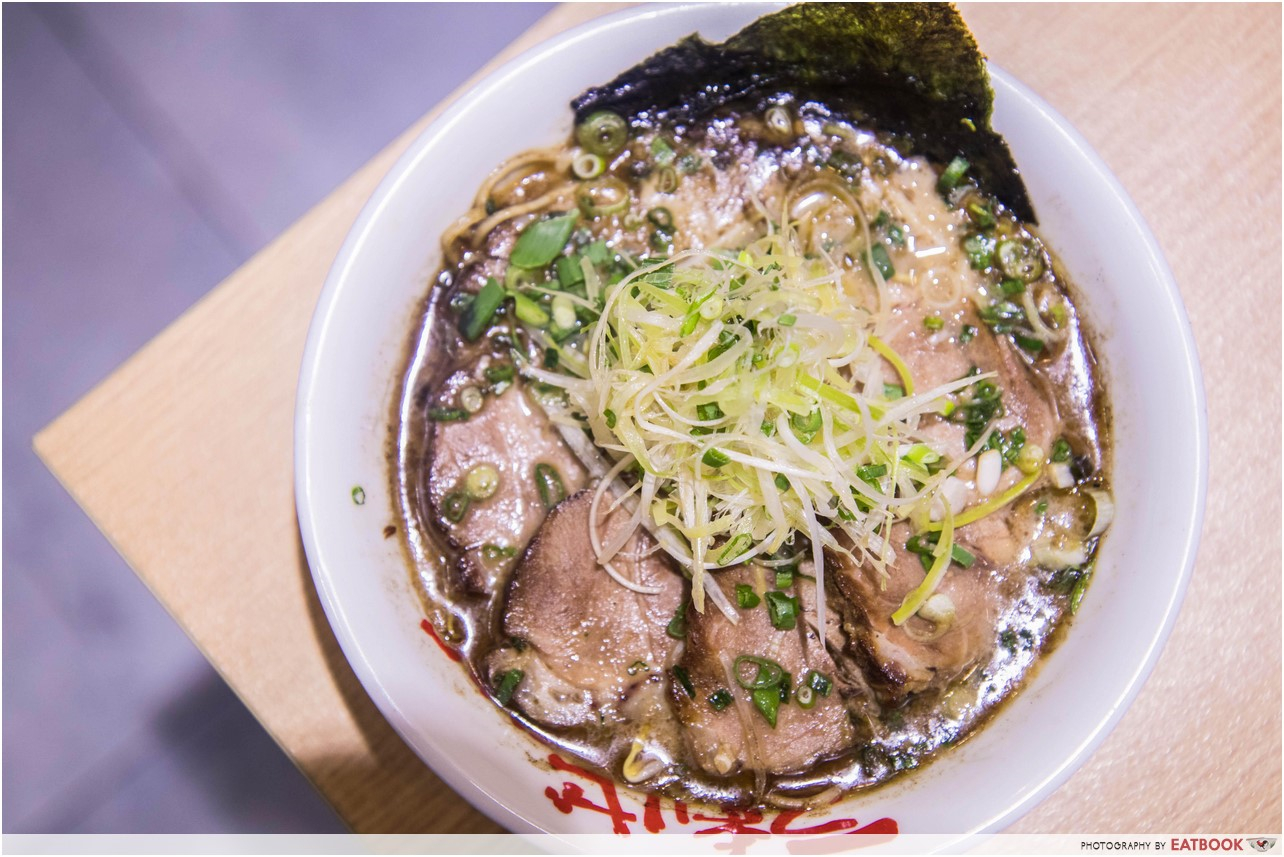 Next, we went on with Marutoku Negi Chashu-men ($15.80++). The al dente noodles were soaked in the same broth, and topped with six pieces of delicately arranged cha shu, and a mountain of julienned spring onions.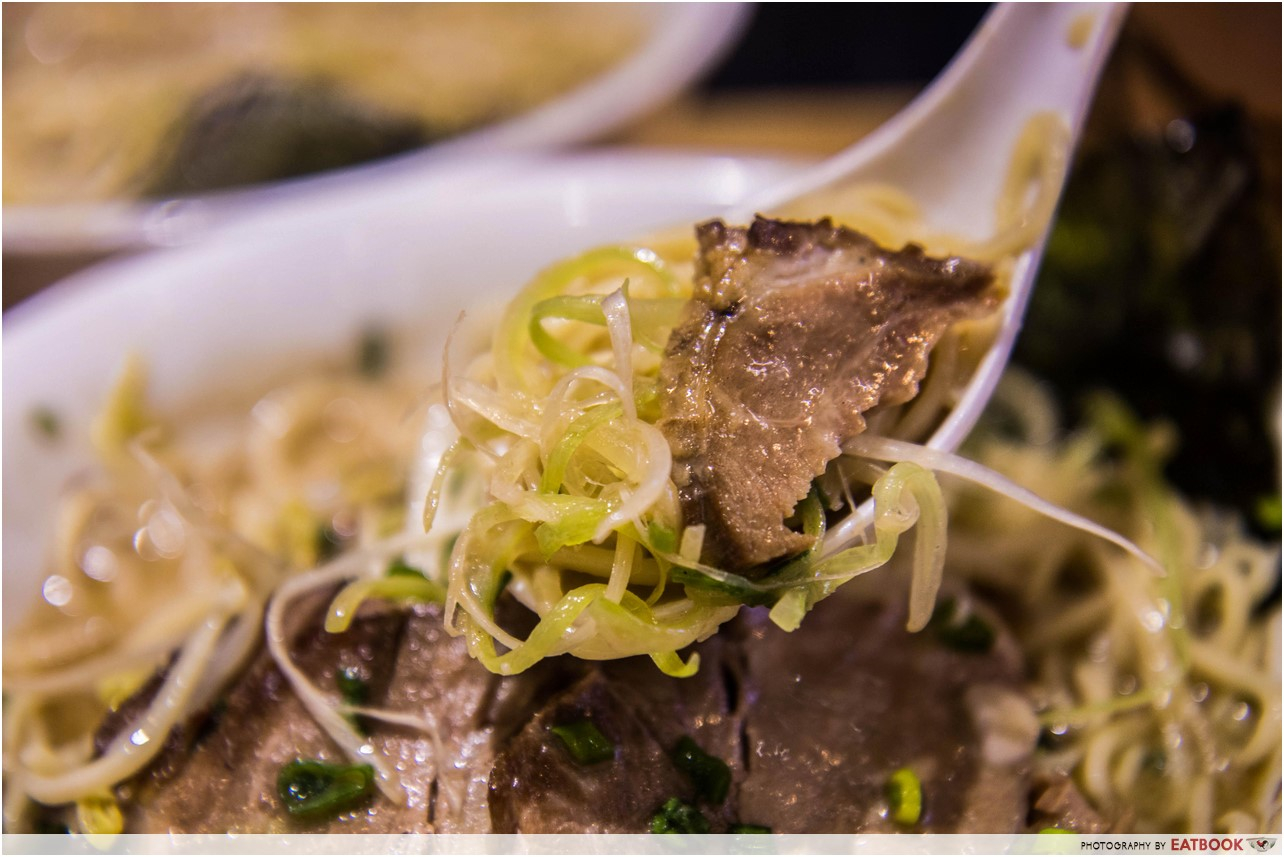 The spring onions added a nice touch to the bowl of heavy ramen, as it provided a contrast in texture, and freshness to cut through the salty broth. Overall, this dish tasted similar to the Nantsuttei Ramen.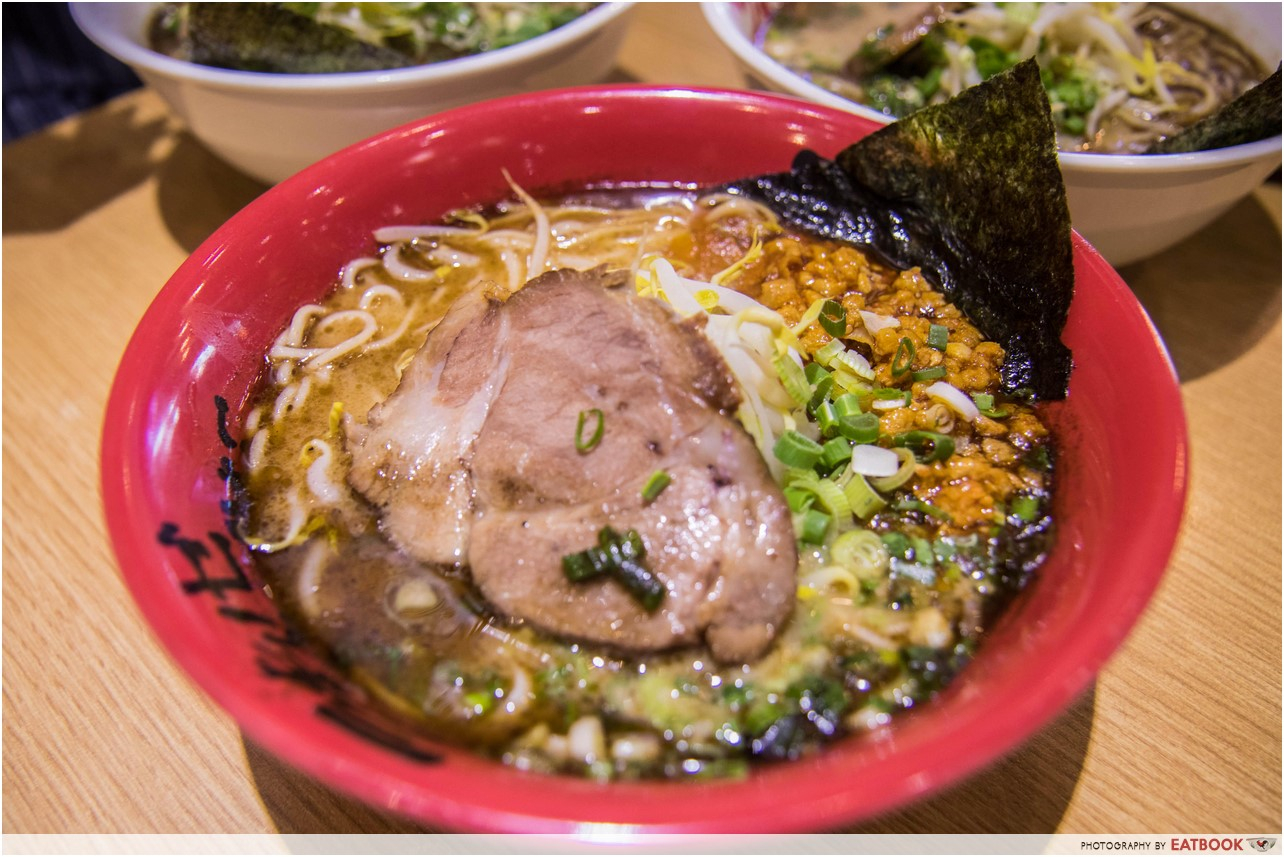 The last bowl of ramen we got was Dragon Ramen ($13.80++). Before ordering, the chef warned us that this bowl of ramen is not for the faint-hearted. Using the same broth, this dish was finished with their house-made spicy sauce and a sprinkle of spring onions.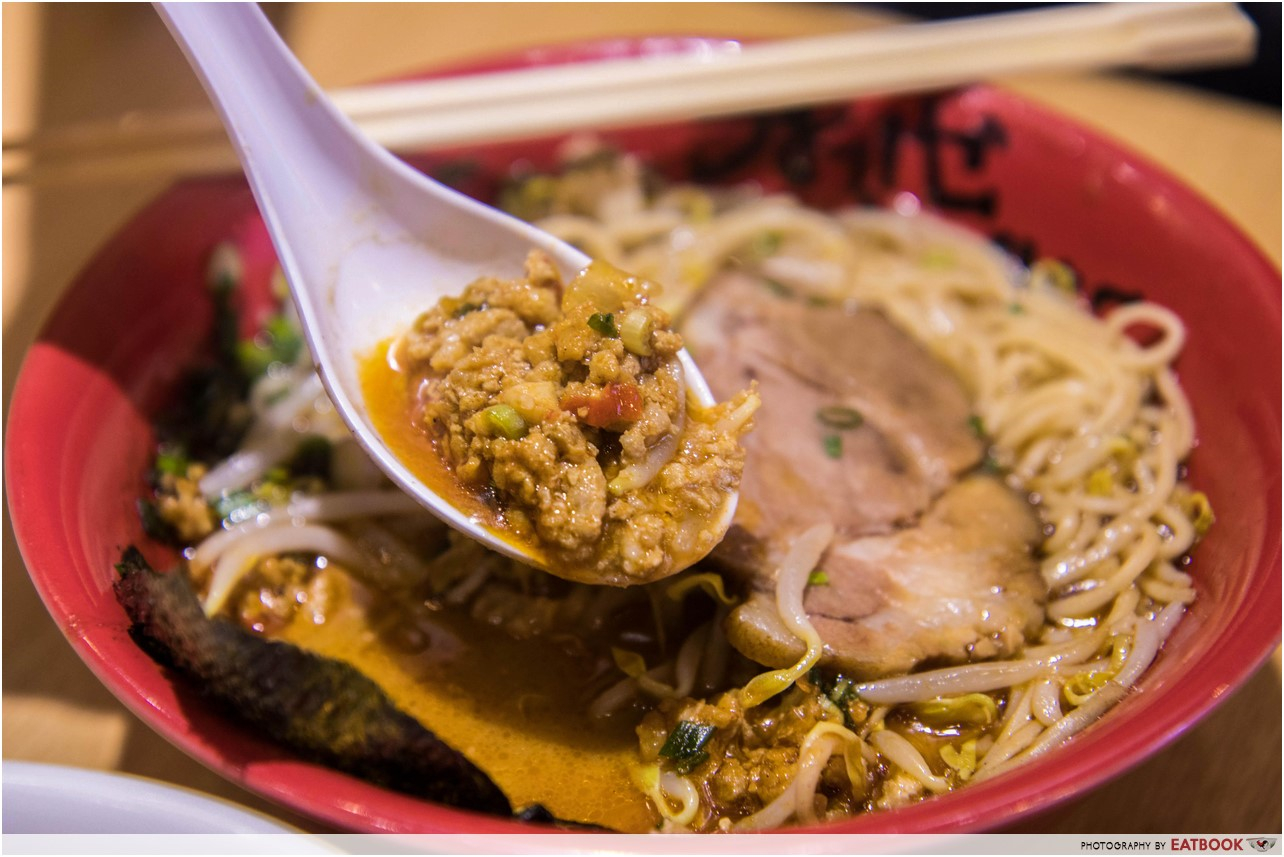 Instead of using chilli oil, Nantsuttei makes their own sauce from minced pork, cayenne pepper, Chinese chilli bean paste, chilli padi, and Japanese sake. It wasn't even that red. In fact, it looked fairly manageable, but I've never been so wrong.  
This spiciness isn't the type that slowly creeps up your throat. Instead, the heat gives no time for mental preparation and hits you like a train. By the time I finished my first mouthful, I was scrambling for tissues. Try licking a candle – I swear this might just be hotter.
Disclaimer: this is coming from someone who's a weakling when it comes to spicy food.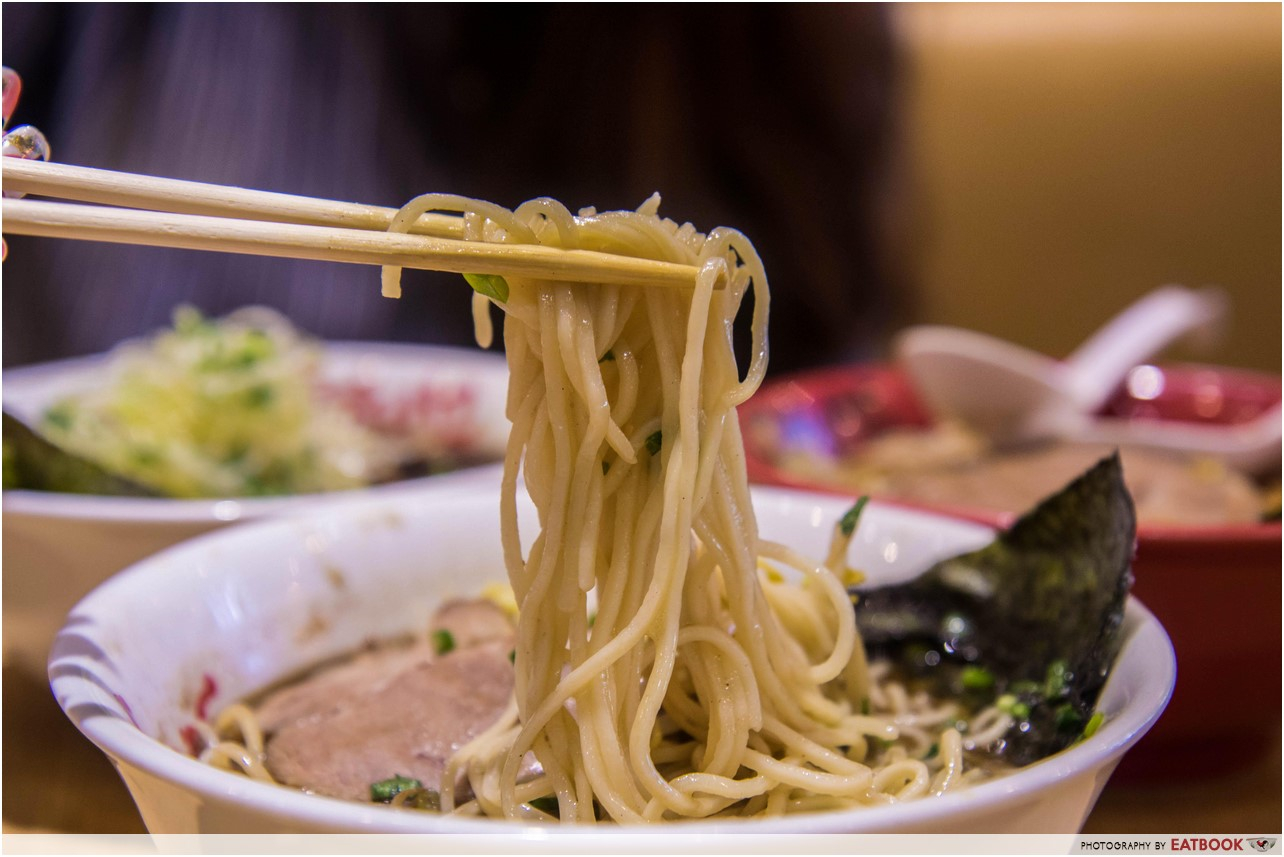 The noodles are worth mentioning. Flown in from Japan, they were springy, taut, and cooked al dente. All three bowls of noodles had a consistent texture. Also, if you have a preference as to how you like your noodles to be done, you can tell a staff member and they'd gladly convey it to the chef.
Ambience at Nantsuttei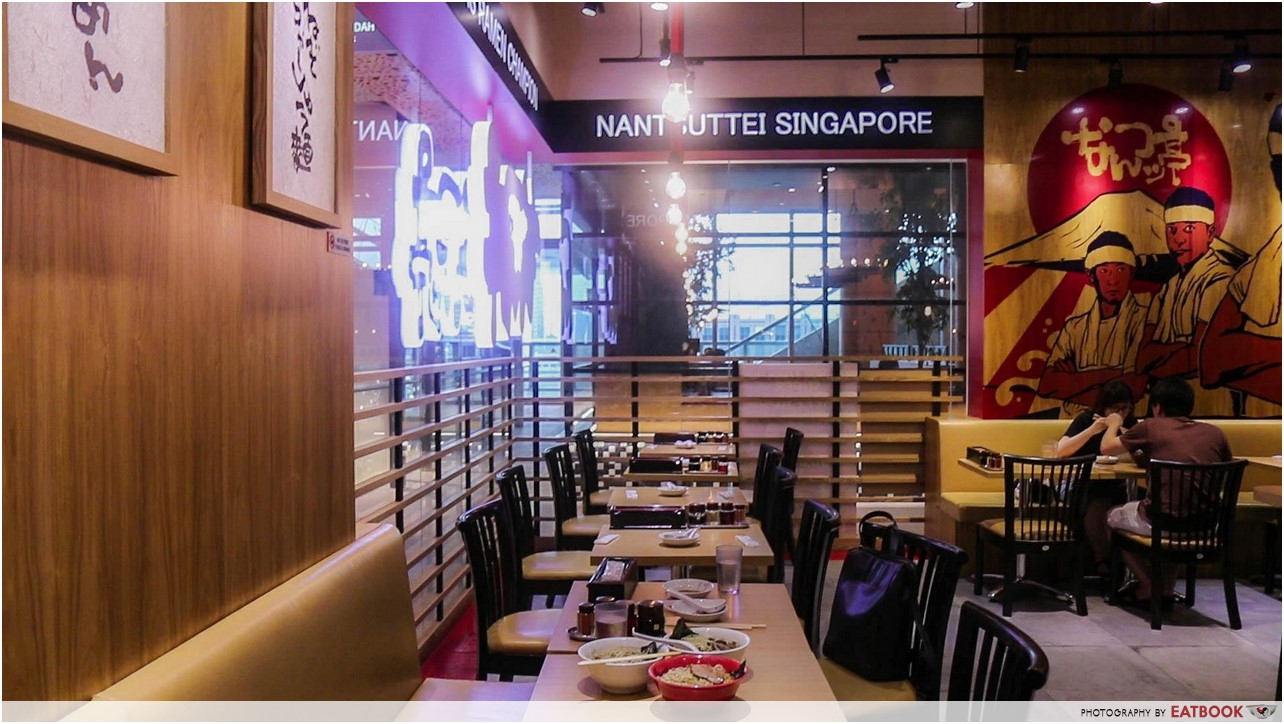 The restaurant is located on the seventh floor of Orchard Central. Get off the train at Somerset MRT Station, and it'll only be a few minutes away. They serve up a wide variety of ramen, so you're bound to find something you'd like. They can also accommodate large groups, so it's a great place for get-togethers or fuss-free dinners with your family. The interior decor reminds me of typical modern restaurants in Japan, with wooden chairs and colourful murals.
The verdict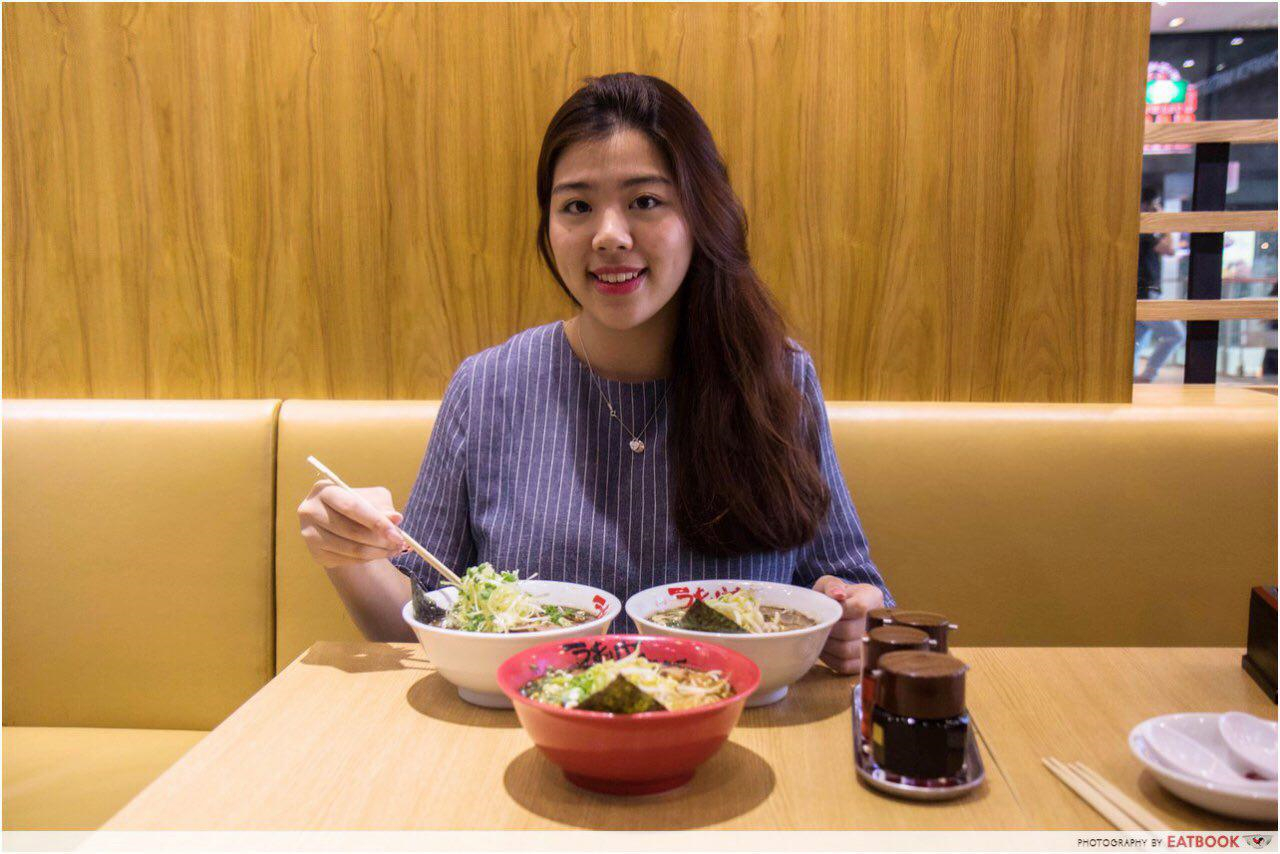 Overall, the ramen at Nantsuttei impressed me. The dishes, however, would be more complete with a marinated egg. I was quite surprised to not be served any, especially when it's a ramen restaurant. All in all, if I were to ever come back, it's because of the tasty broth and tender cha shu. For more pocket-friendly ramen, check out this list of cheap ramen places in Singapore!
Address: 181 Orchard Road, Orchard Central, #07-12/13, Singapore 238896
Opening hours: Daily 11am to 10:30pm
Tel: 6337 7166
Nantsuttei is not a halal restaurant.
Website
This is an independent review by Eatbook.sg.
Summary
Pros
– Value for money
– Cosy ambience
– Affordable
– Efficient staff
Cons
– Might get crowded during peak hours
– Ramen might be heavy for some
Recommended Dishes: Dragon Ramen ($13.80++), Marutoku Negi Chashu-men ($15.80++)
Operating Hours:
Daily 11am to 10:30pm
Tel:
6337 7166
Address: 181 Orchard Road, Orchard Central, #07-12/13, Singapore 238896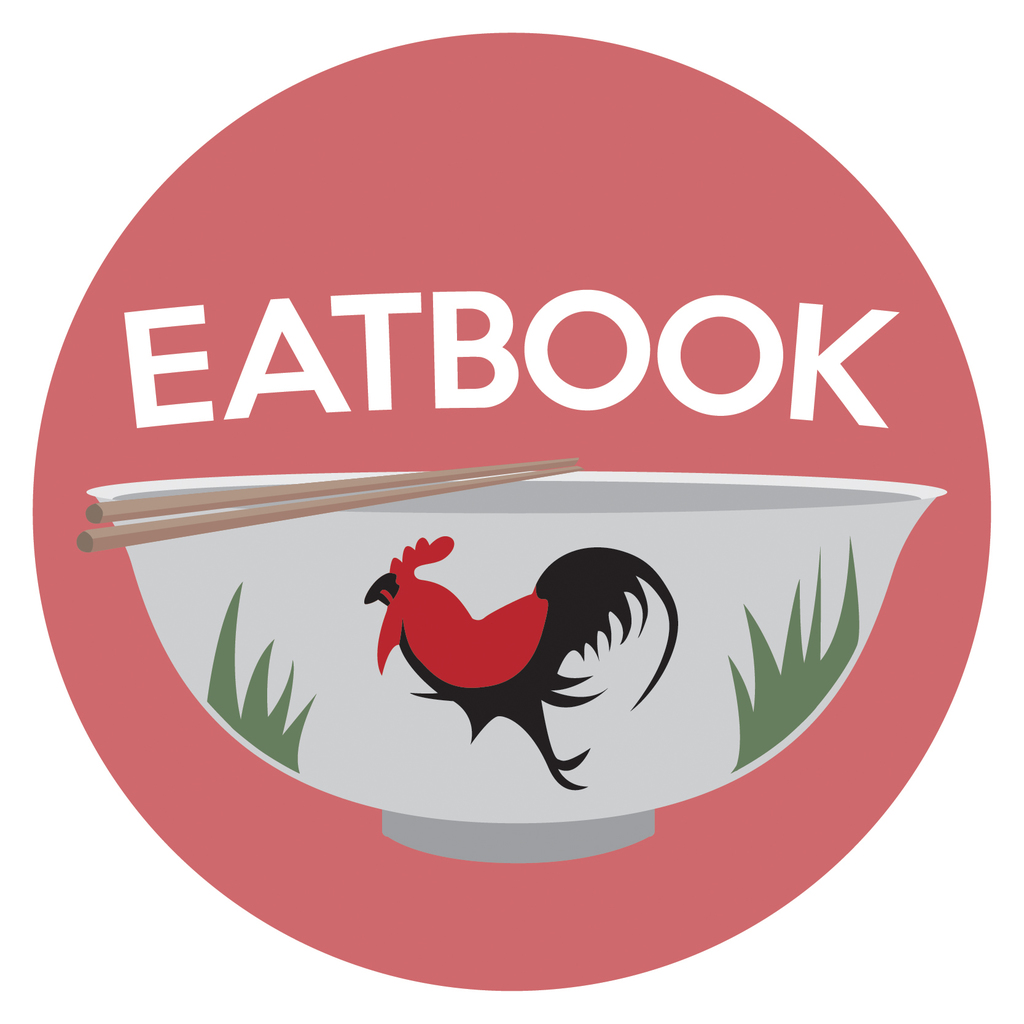 Drop us your email so you won't miss the latest news.