Cheap and good ramen from Takagi Ramen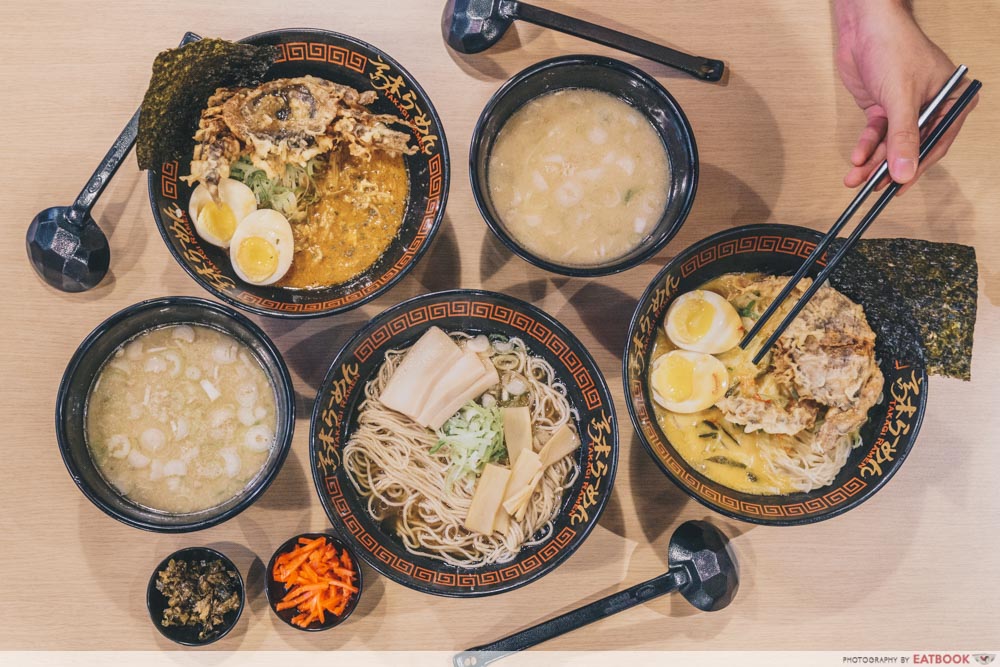 Takagi Ramen may have started out as a humble stall in NUS, but it has steadily amassed a loyal following in the past four years. Not only does it offer a wallet-friendly selection, but it also constantly refines its ramen to better suit our palates.
As such, there's often a local twist injected into their dishes including bak kwa in ramen and salted egg yolk!
Food at Takagi Ramen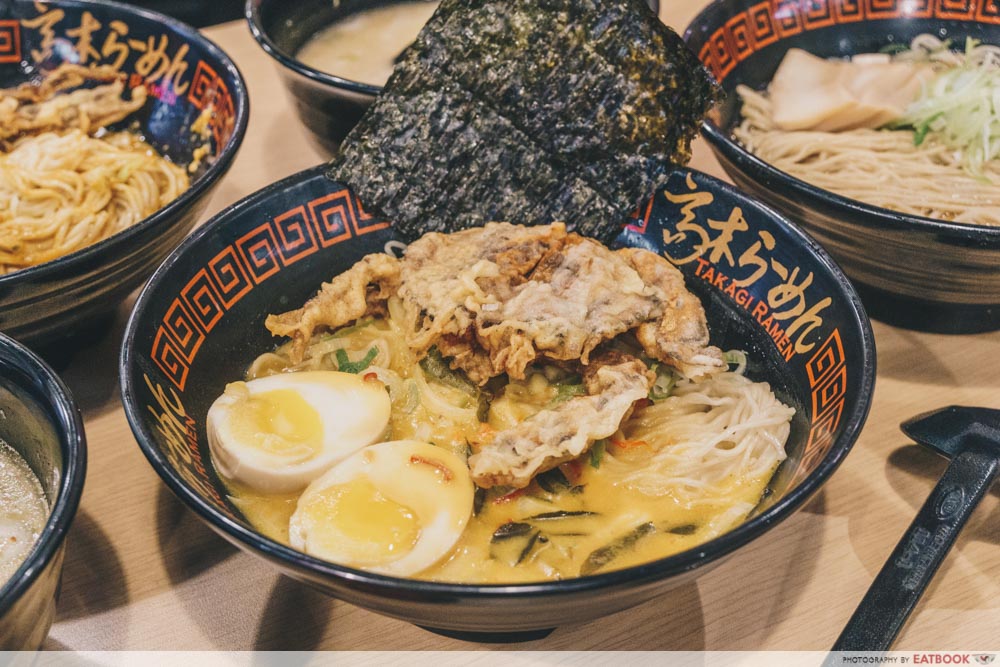 Due to popular demand, Takagi is bringing back their Salted Egg Soft-Shell Crab Ramen ($12.80). Here, Hakata-style noodles are draped in a thick salted egg yolk sauce, forming a springy bed for the golden-brown soft-shell crab to rest upon. A supporting cast of scallions and a gooey soft-boiled egg completes this treat.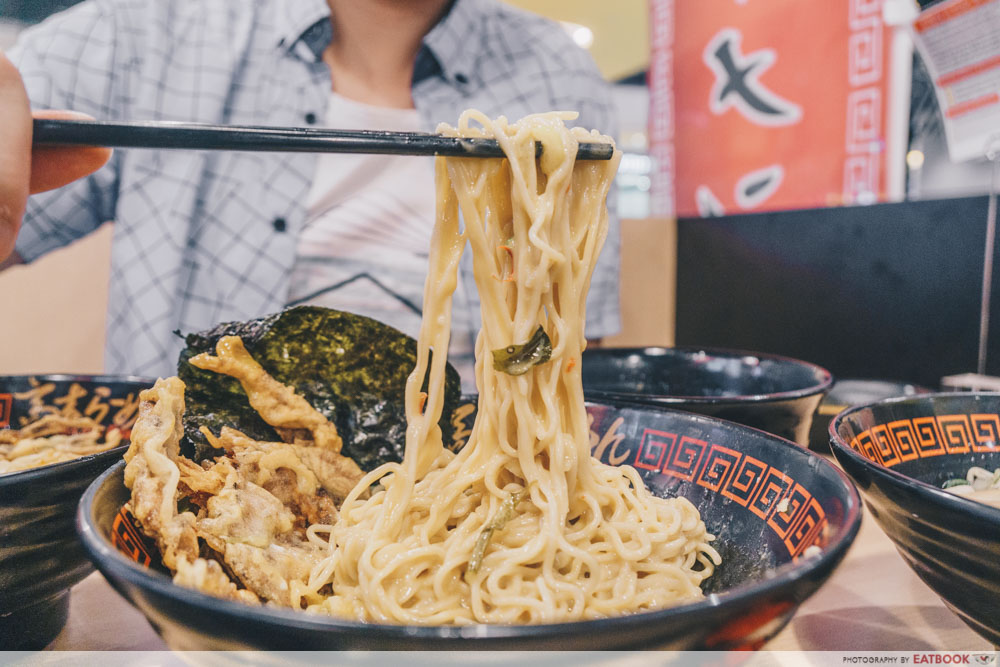 For those unaware, Hakata ramen originates from Fukuoka province. Compared to other regional styles of ramen, these noodles are thinner and bouncier, making them the perfect vehicle to soak up the luscious salted egg sauce.
Creamy and packed with umami, this golden liquid empowered the noodles with its savoury accents. Subtle notes of chilli padi and curry leaves rode on its coattails, injecting a much-needed piquancy to the gravy.
Don't worry if you had wolfed down your noodles in a jiffy, as Takagi Ramen offers a kaedama (refill) system! Each bowl of ramen comes with an additional serving of noodles F.O.C. It's prepared à la minute, so you can def' leave with a satisfied belly.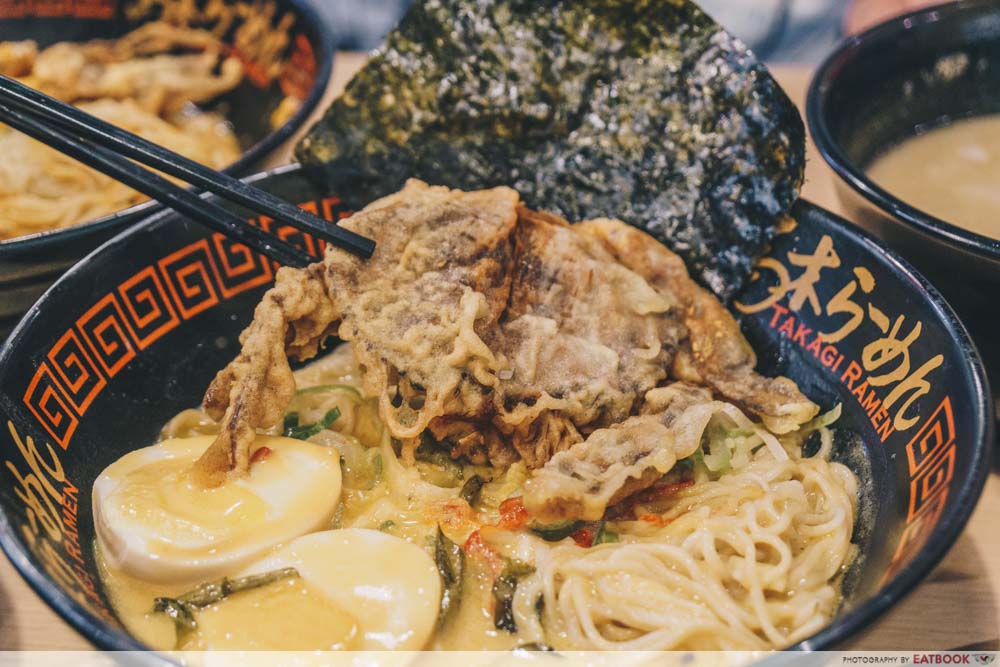 Now, onto the star of the show: the mouth-watering soft-shell crab. Coated in a thin batter of flour, egg, and water, the crab boasted a crispy exterior. Lightly seasoned with salt, this crustacean packed a full-bodied tang. As its punchy flavours dissipated, a briny and luscious flavour lingered.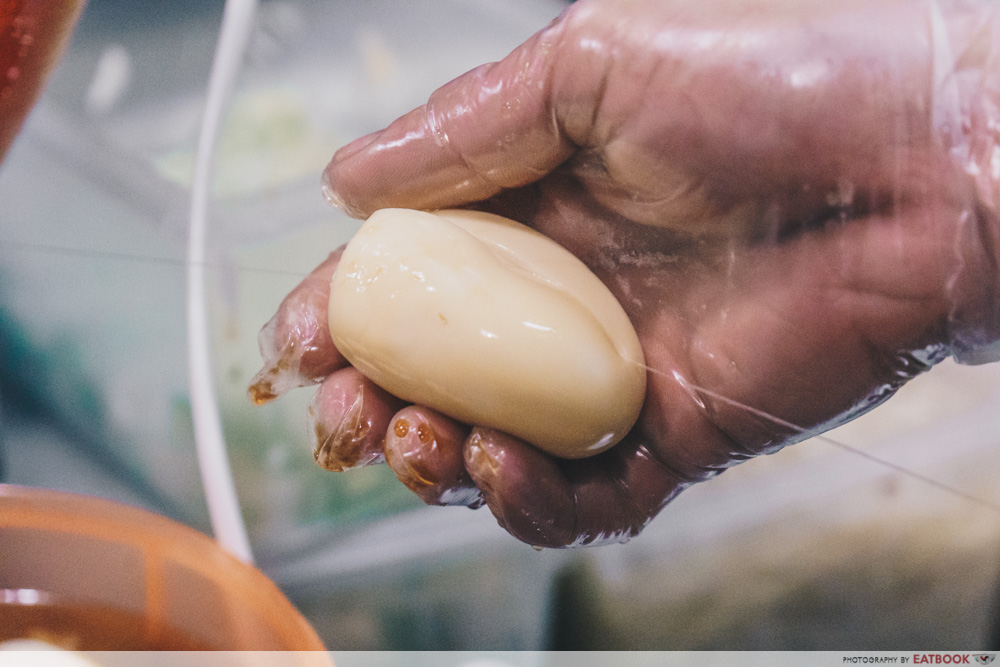 Their soft-boiled egg was another standout. Tinged brown from the soy sauce marinade, it was so soft that a fishing line was used to cut through it.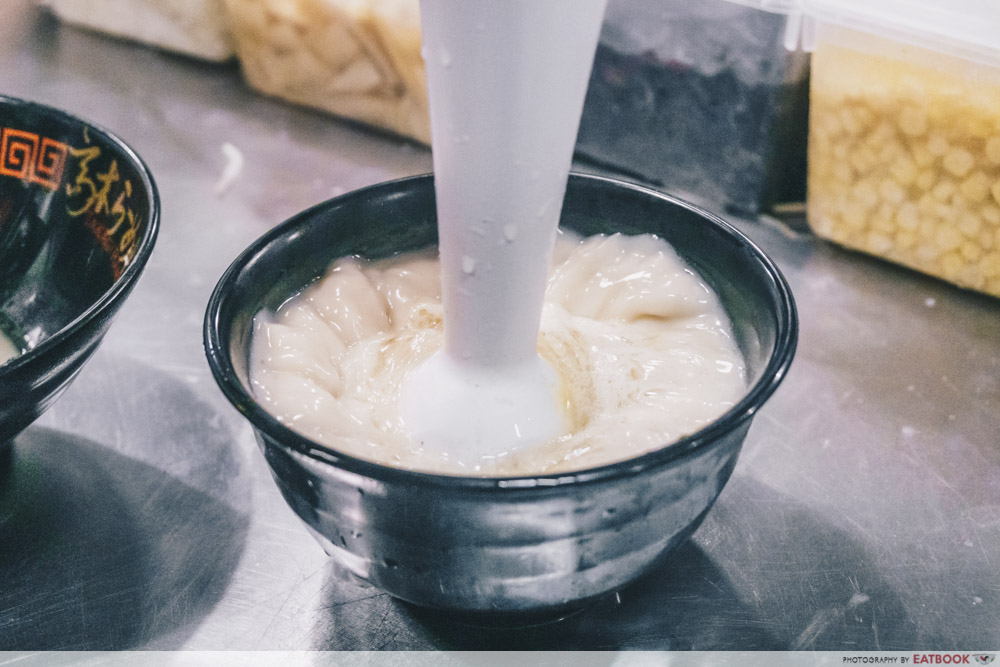 Complete your meal with a bowl of their signature tonkotsu broth. Resplendent with a meaty fragrance, this soup is the product of patiently boiling pork bones for 12 hours. A dollop of pork fats was blended into the broth as well, supplying it with a bolder and creamier taste.
Yet, the soup wasn't overpoweringly rich, with mellow notes of onion and garlic bringing balance to the broth.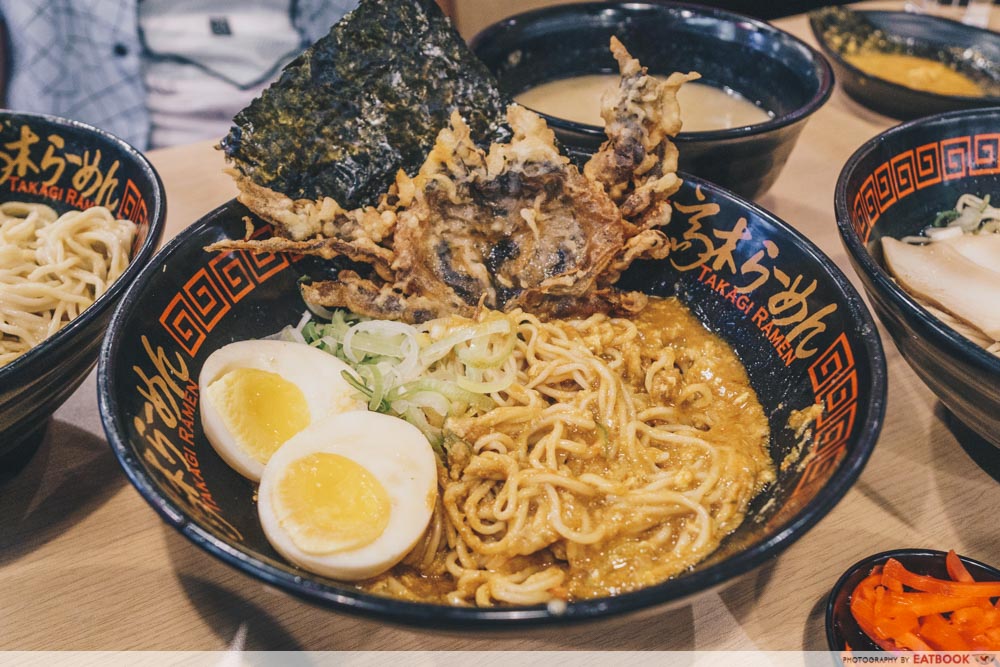 Those who prefer tangier flavours can opt for their Chilli Crab Soft-Shell Crab Ramen ($10.90) instead. Other than the type of sauce, this piquant dish is a carbon copy of its salted egg cousin.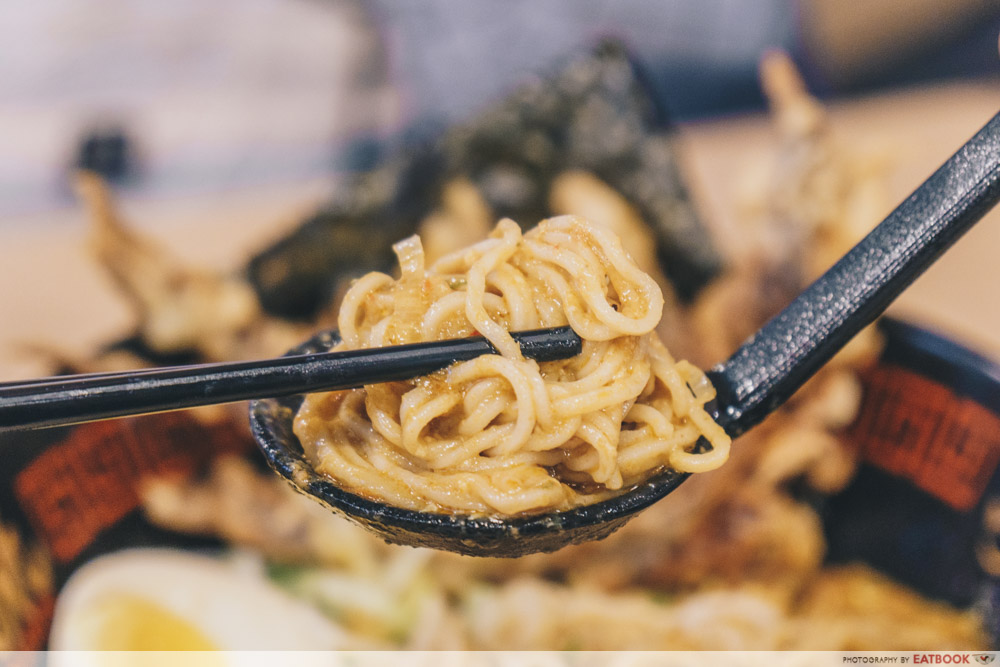 Peppered with egg white, the chilli crab sauce bolstered the noodles with its velvety touch, creating a slurp-worthy treat which glided down my throat. And with my taste buds reeling from the salted egg, the gravy also offered a refreshing change with its spicy kick.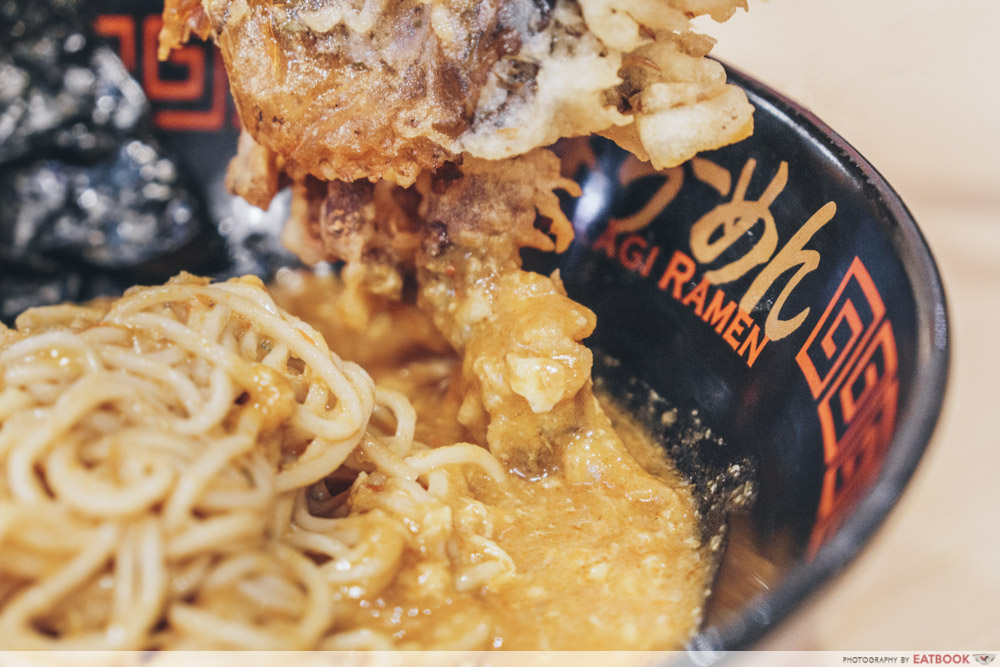 Soak the soft-shell crab in this sauce and experience the various flavours dance across your palate. The gravy cut across the briny tang of the crab, unfurling in a burst of spiciness, followed by a salty aftertaste.
That being said, I would have preferred if the sauce had been a tad sweeter.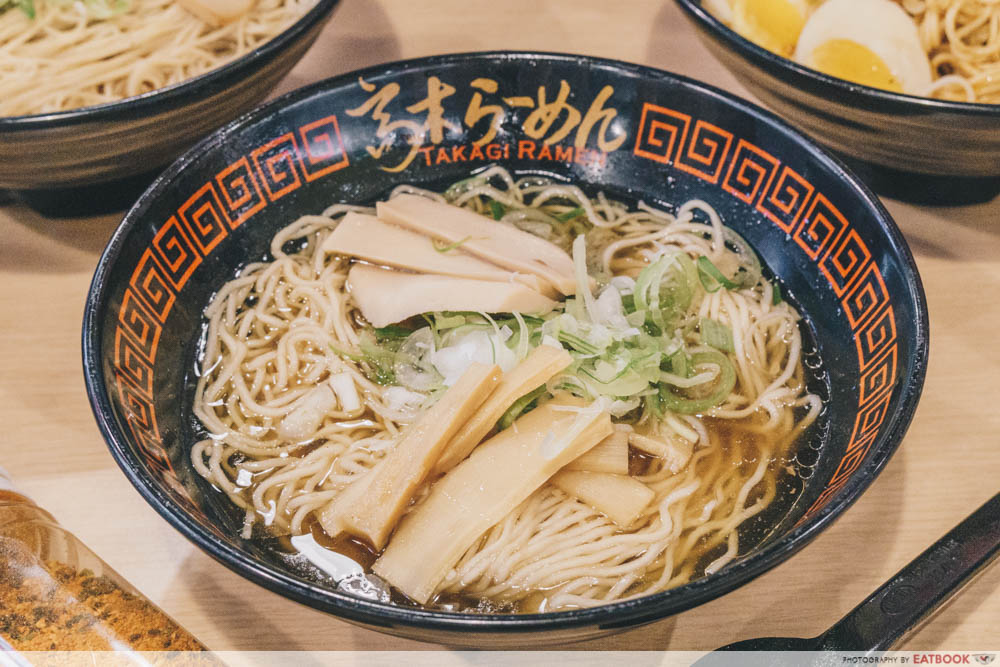 While Takagi Ramen specialises in tonkotsu ramen, it also impresses with its Awabi Shoyu Ramen ($7.80).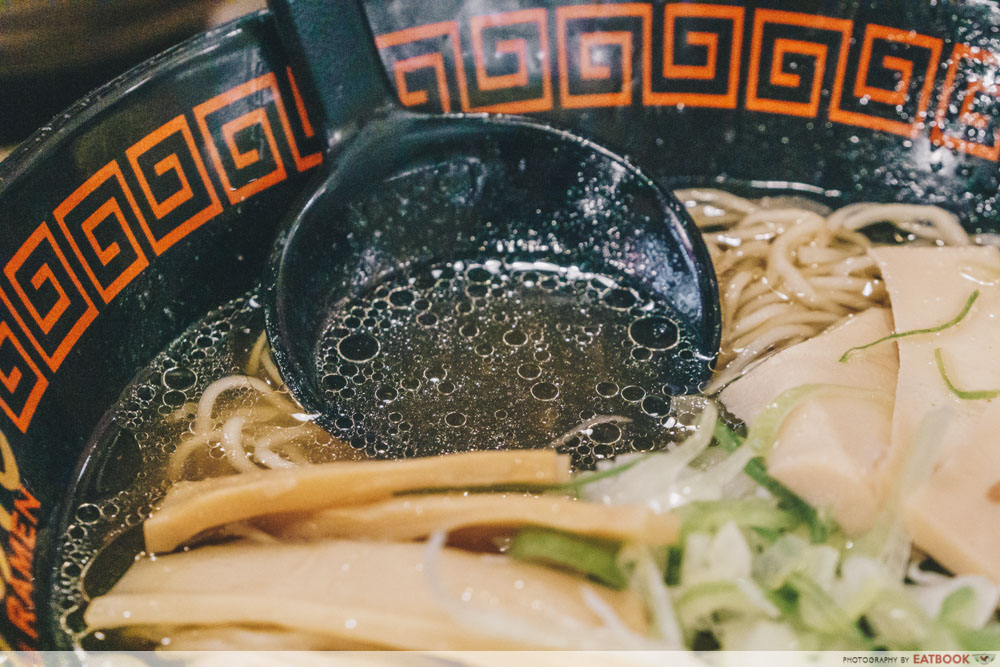 A blend of pork essence and shoyu, the umami-packed broth left a clean aftertaste. The pork essence was a background player here, as it quietly supported the sweet notes of the shoyu with its savoury undertones.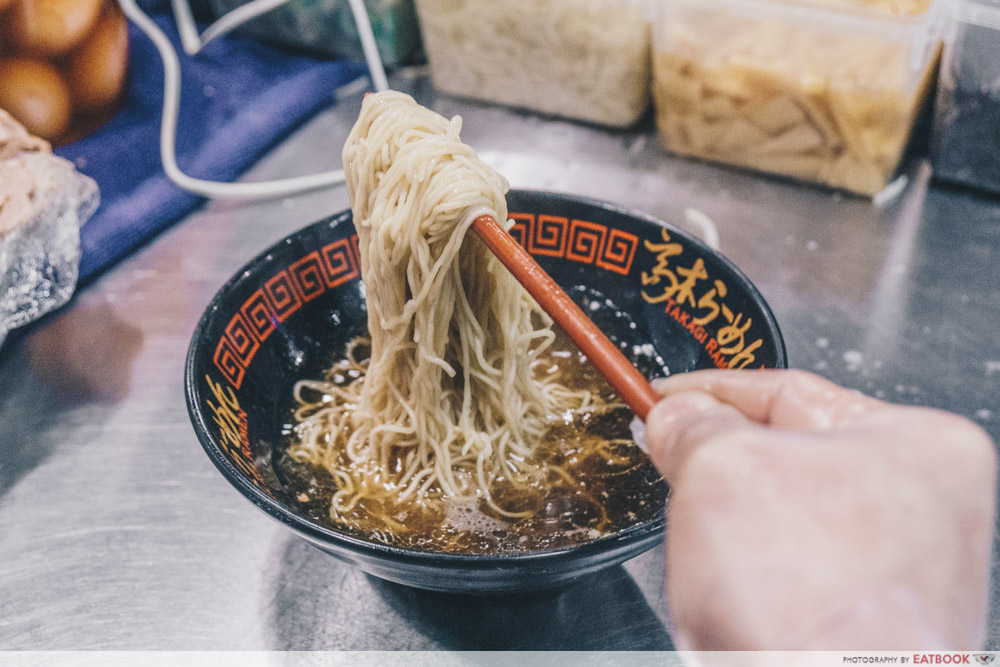 Despite resting in the broth for long periods of time, the noodles retained their chewy bite. This is because their noodles are specially designed to retain their bounce and not get soggy quickly.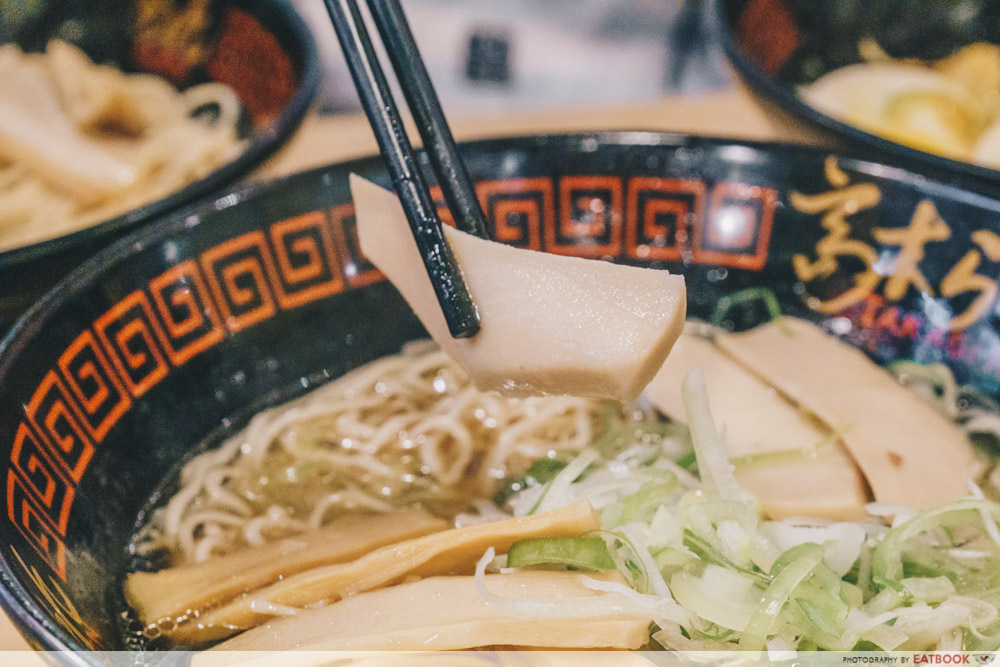 Juicy slivers of mock abalone wrapped up this satisfying meal. Boasting a tender and succulent bite, the mock abalone injected a brilliant punch of gentle sweetness to the soup.
Ambience at Takagi Ramen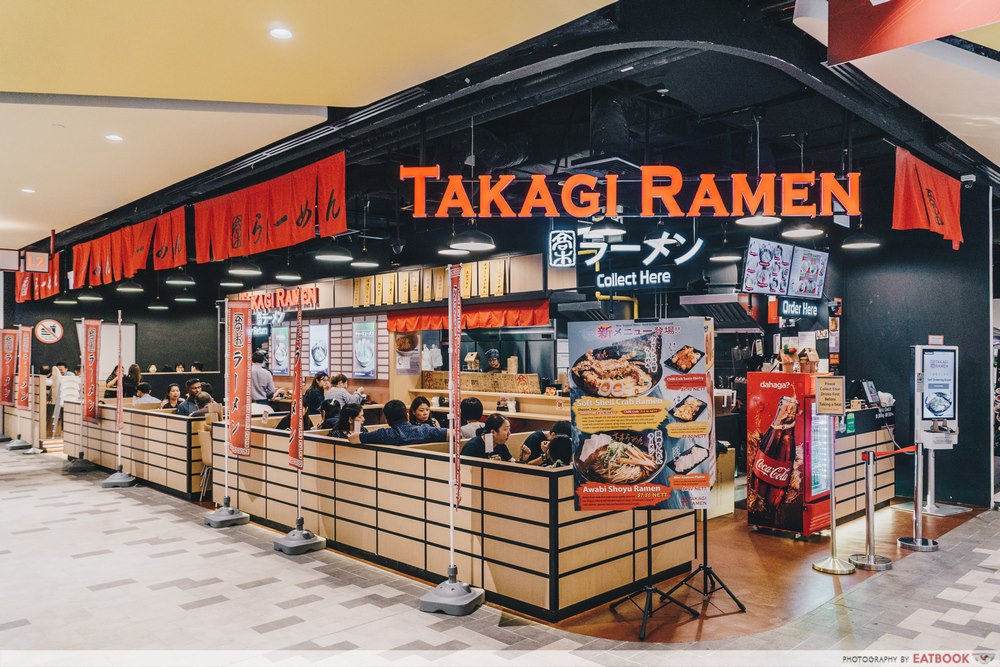 With the wood-furnished interior and Japanese posters plastered on the walls, Takagi Ramen transports you to the homely ramen bars in Fukuoka. Seats are aplenty here, though certain areas are rather closely packed.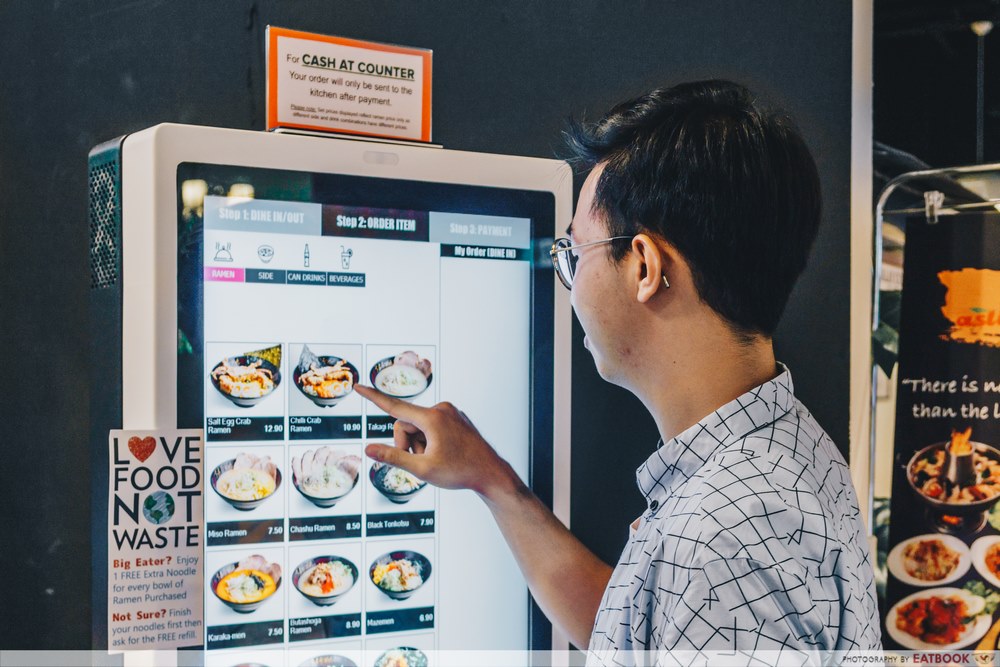 Similar to McDonald's, Takagi Ramen runs on a self-service ordering system. Once you've decided on your meal, hop over to their touch-screen kiosks to order before paying for your meal at the counter.
The verdict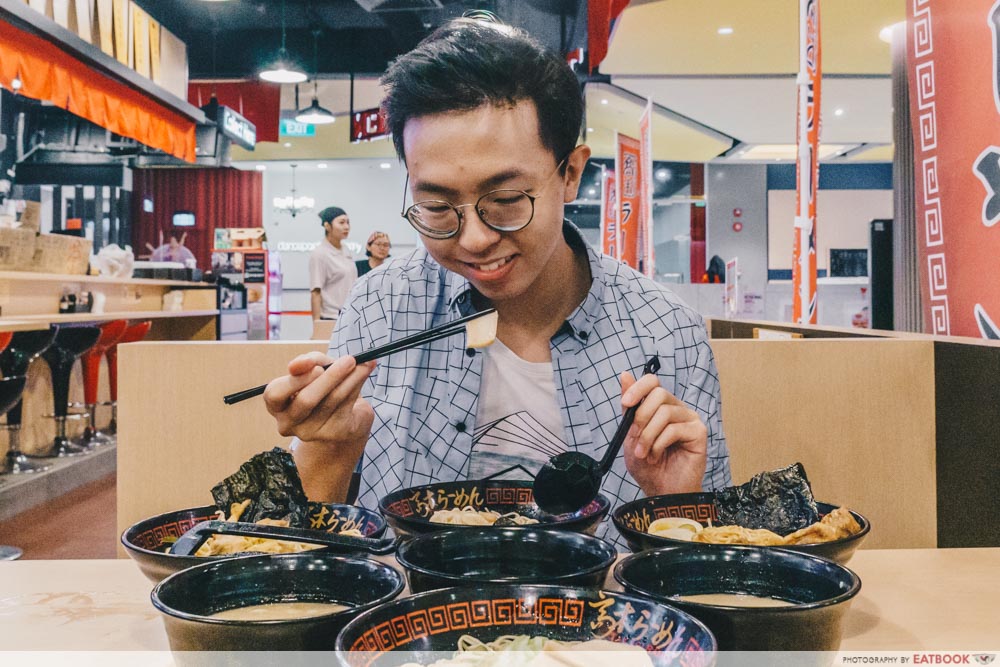 With most dishes here comfortably priced below $10, and their quality comparable to those found in famous restaurants, I certainly foresee myself returning to Takagi Ramen. Furthermore, the service here is pretty efficient, so you won't be kept waiting with a frustrated belly.
If you just wanna Netflix and chill on a lazy weekend, island-wide delivery is available as well. However, do note that free delivery via their site will only be given for orders above $100, so it's wiser to order from GrabFood, foodpanda or Deliveroo if you're dining alone.
Address: 1 Pasir Ris Close, #02-316, Downtown East E!Avenue, Singapore 519599
Opening hours: Daily 11:30am to 10:30pm
Tel: 9138 8017
Website | Full list of outlets
Takagi Ramen is not a halal-certified eatery.
Photos taken by Heng Wei Shin.
This post is brought to you by Takagi Ramen.
Summary
Pros
— Affordable prices
— Quality ramen
— Flavours tailored to the local palate
Cons
— Hard to find seats during meal times
Recommended Dishes: Salted Egg Soft-Shell Crab Ramen ($12.90), Chilli Crab Soft-Shell Crab Ramen ($10.90)
Opening hours: Daily 11:30am to 10:30pm
Address: 1 Pasir Ris Close, #02-316, Downtown East E!Avenue, Singapore 519599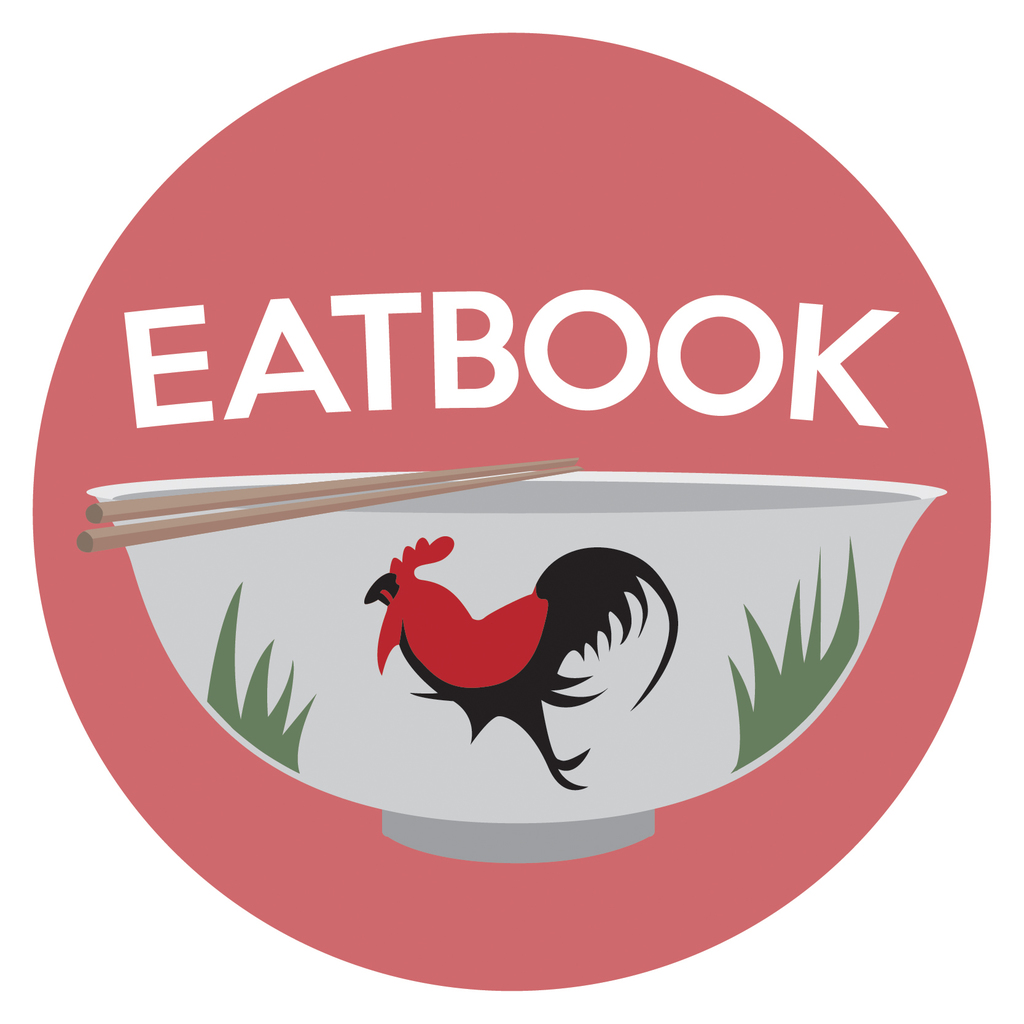 Drop us your email so you won't miss the latest news.