Pha Muk in Golden Mile Complex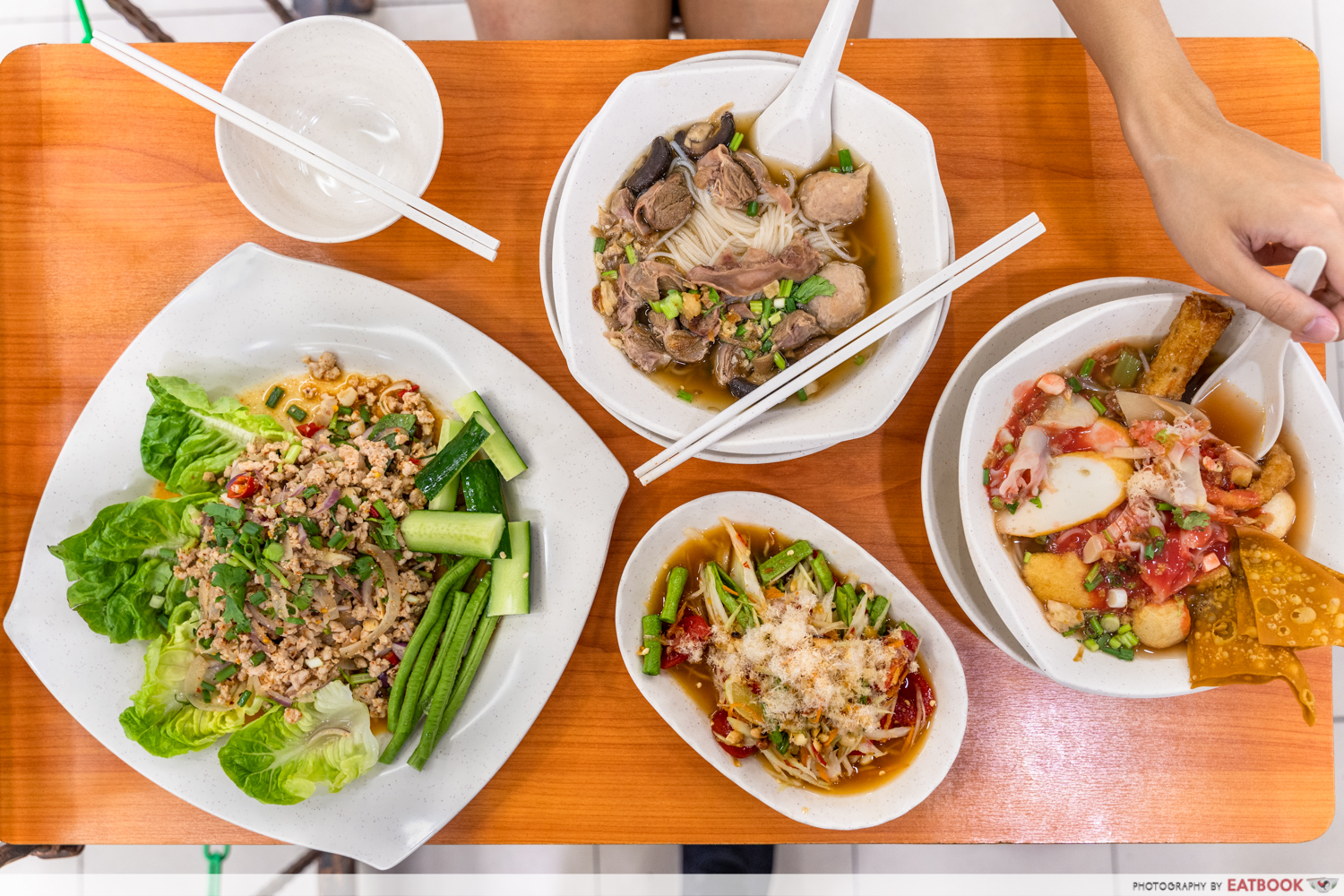 As many foodies know, Golden Mile Complex is the place to head to, if you are craving for cheap and authentic Thai food. Hidden within the supermarket is Pha Muk, a humble stall run by a husband and wife from Singapore and Thailand respectively.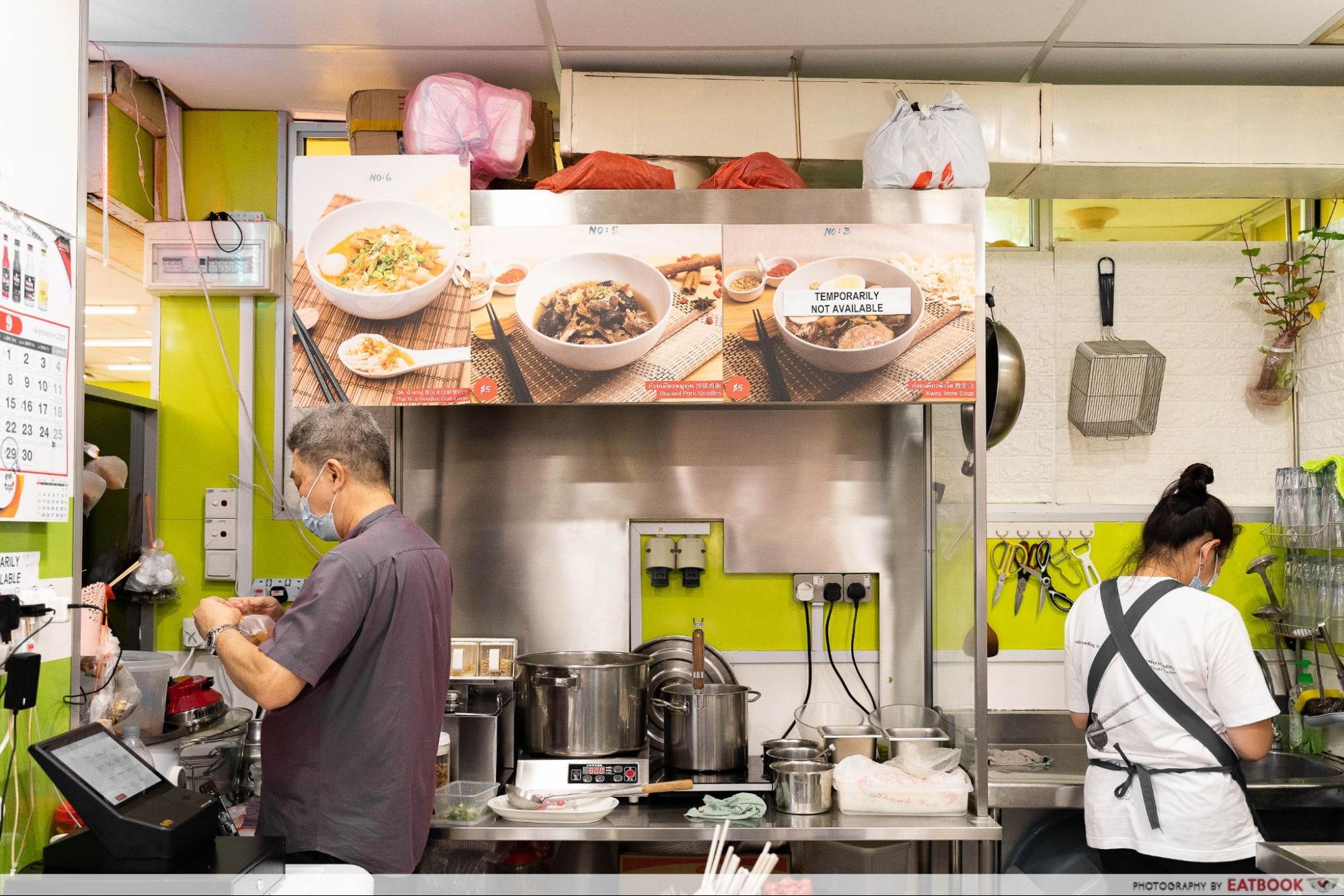 With an open kitchen concept, you will be able to see the lady boss preparing all your food items from scratch. There are a couple of unique items on their menu, including the pinkish yen ta fo and Thai laksa with crab, the latter of which is only available on weekends. 
The Three Elephants Review: Thai Braised Pork Trotter Rice And Duck Kway Teow From $5.80
Food at Pha Muk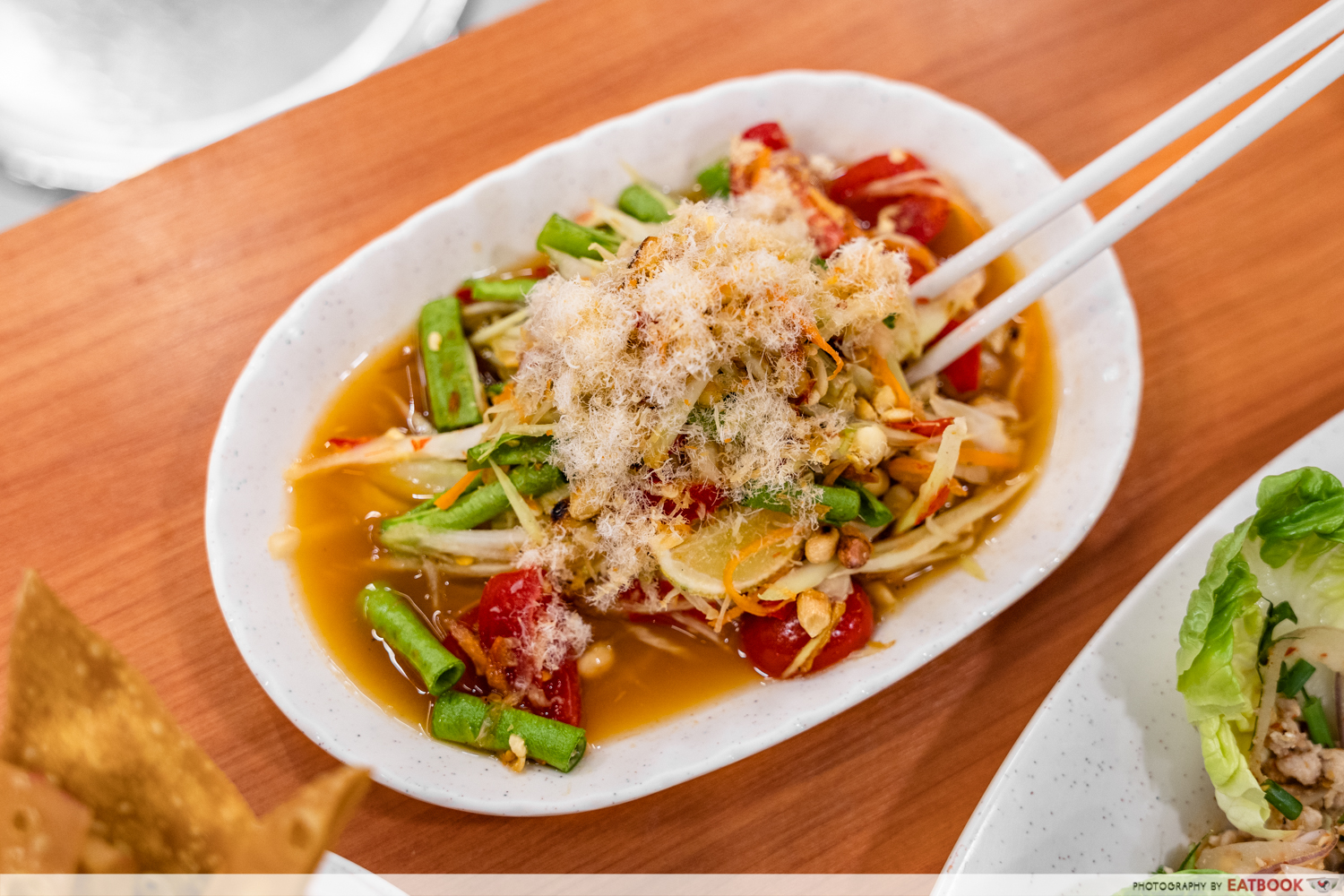 We started off our meal with one of my go-to Thai appetisers—Papaya Salad ($5). Swimming in a slightly reddish sauce was shredded pieces of green papaya, long beans, cherry tomatoes, pork floss, and intimidating bits of chilli padi.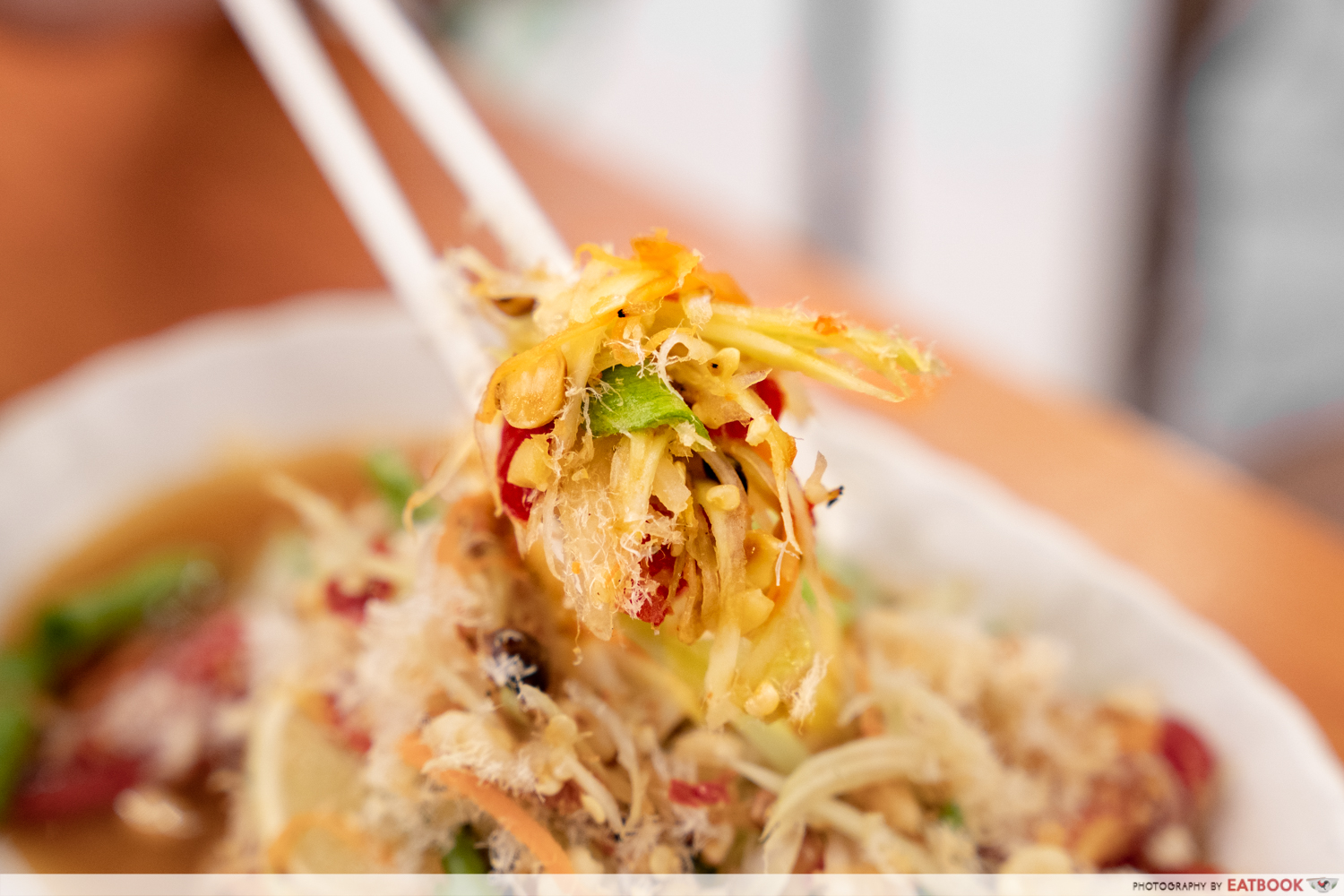 The first taste that hit me was a familiar aromatic flavour of fish sauce. With lime squeezed all over this dish, there was also a distinct tanginess that made this dish extremely refreshing. The shredded papaya was thick enough such that they still had a substantial crunch, without merely disintegrating into my mouth. 
This dish did pack a punch with the addition of chilli padi bits, so you might want to ask the chef to add a little bit less if you can't take spice. This was definitely one of the better papaya salads I have tasted, and I'll be back for this affordable yet delicious appetiser.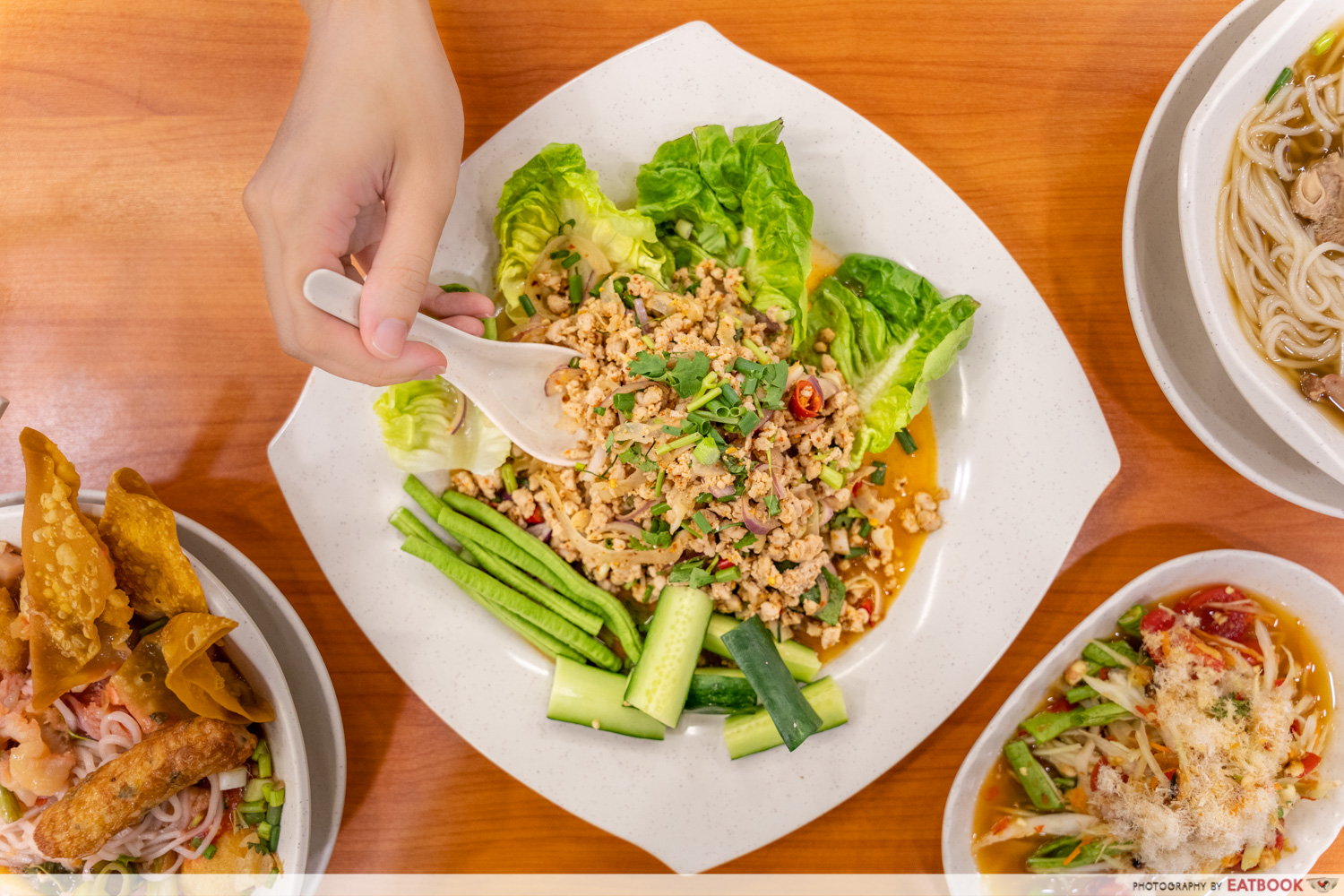 Another appetiser we went for was the Grilled Pork Salad ($6), a dish that I have never had before. The chef fries minced pork in sliced onions for extra sweetness, before adding chilli padi, spring onions, and parsley into the mix. She even throws in raw vegetables, including cucumbers, long beans, and lettuce, for you to pair with the flavourful minced pork.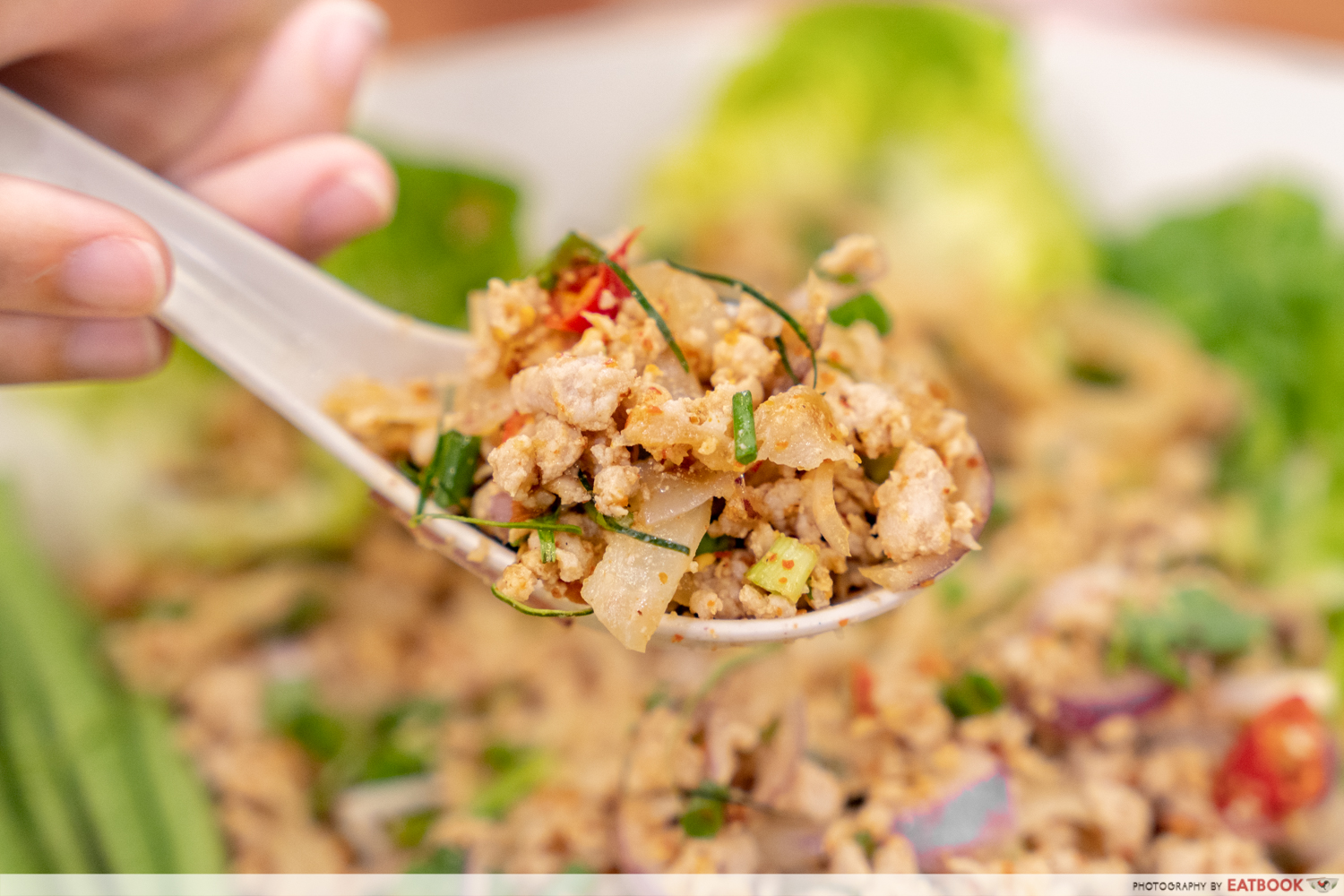 Doused in fish sauce just like the papaya salad, you do get a whiff of fishiness with the dish, albeit in a good way. What really struck me, however, was the level of spice. Unlike the papaya salad that was fairly manageable, this dish got me reaching for my colleague's iced milk tea to save my burning mouth. 
Having said that, I really enjoyed the savoury-sweet flavour of this dish, especially when paired with the cold cucumber. I can imagine that a bowl of rice could be a welcome addition to this dish.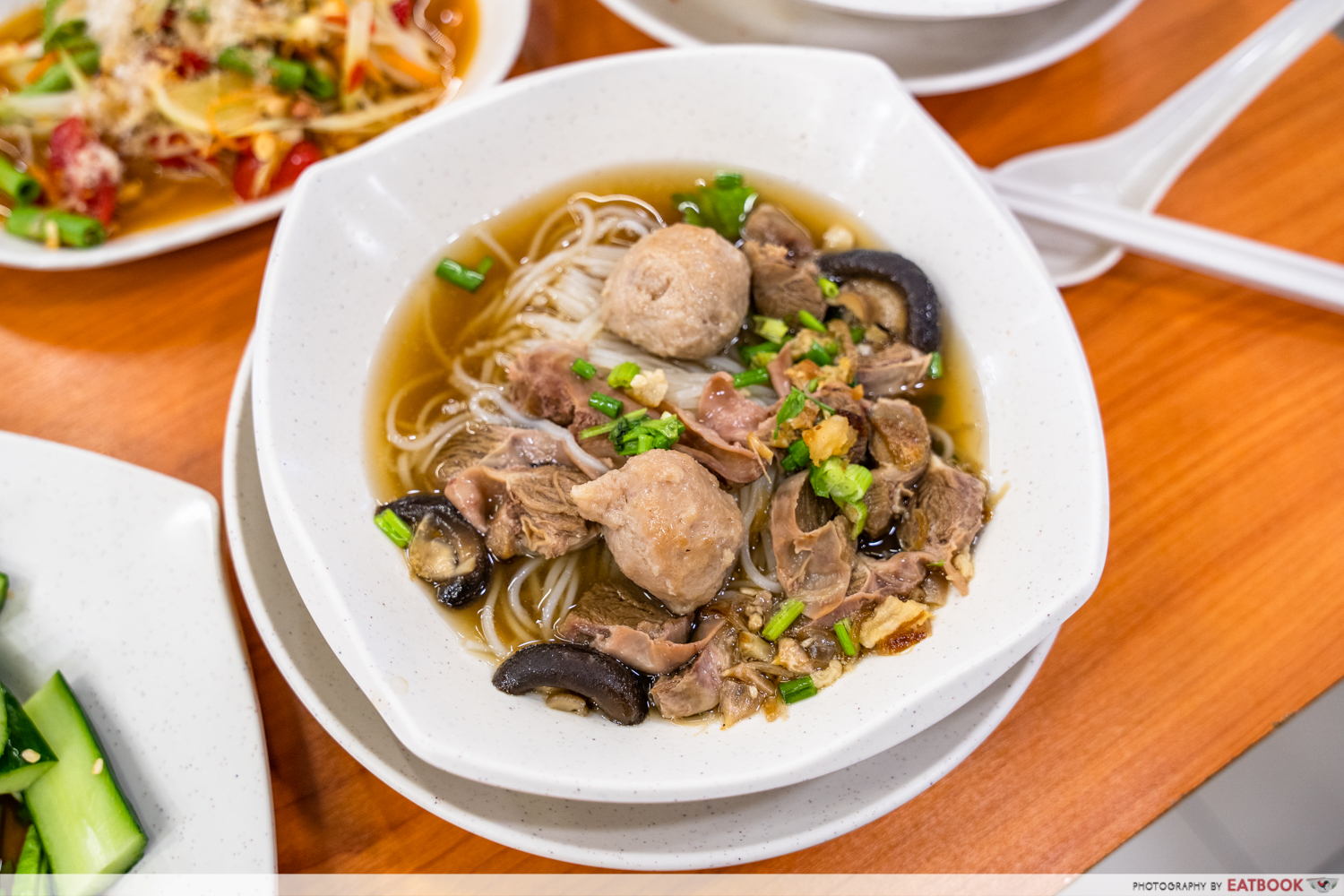 Moving on to the mains, I tried the Braised Pork Noodles ($5) filled with a plethora of ingredients. There were thick chunks of lean pork meat, succulent shiitake mushrooms, meatballs, and translucent rice noodles. The broth had a brownish hue, with a slightly lighter colouration compared to Taiwanese beef noodles.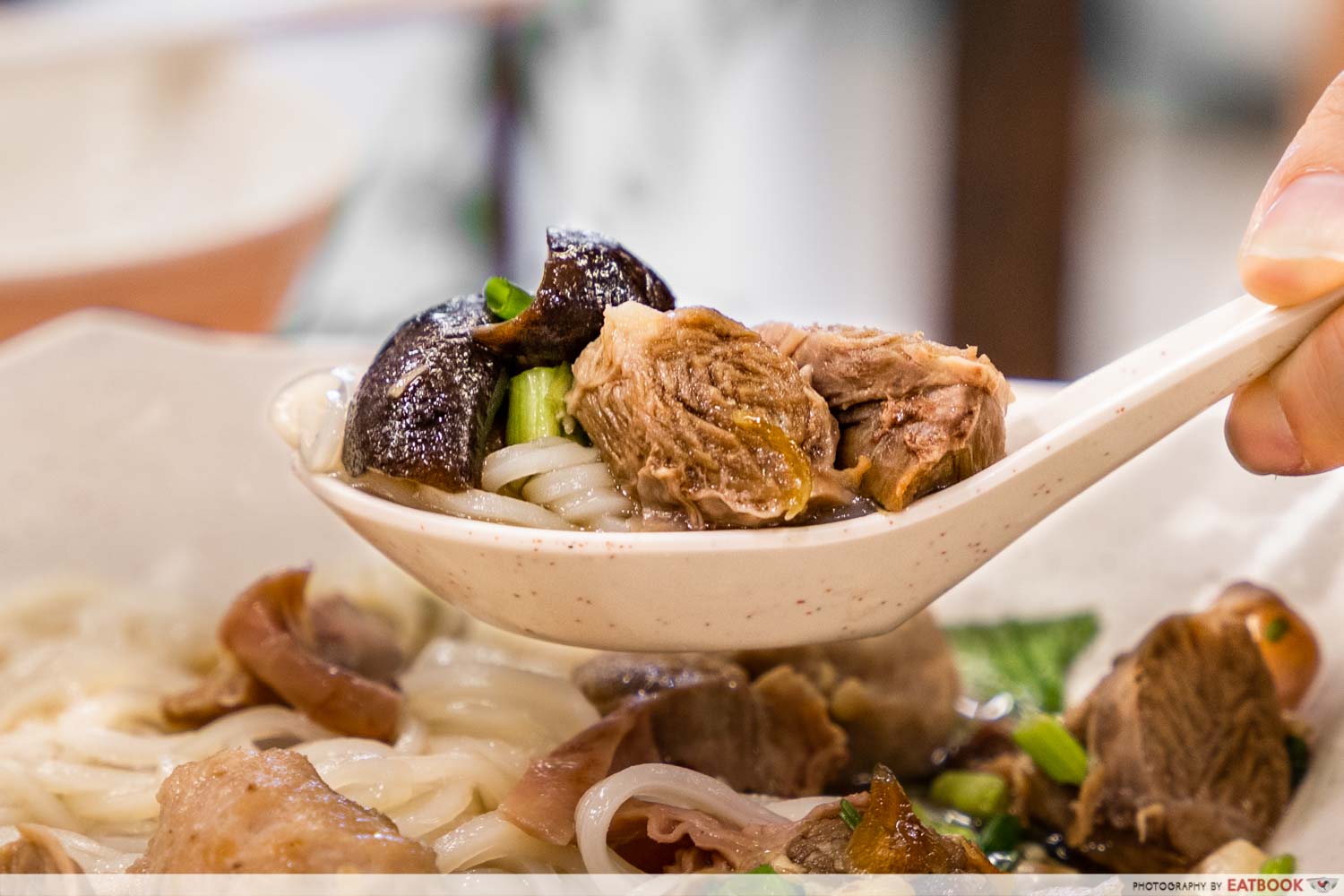 This dish was a little underwhelming in my opinion, as the broth was not as flavourful as expected. I was hoping for a more saturated meaty flavour to be infused into the soup, but it merely had a light touch of savouriness. 
On the other hand, the ingredients did not disappoint. The meatball and lean pork had a good bite, while the mushroom was nicely chewy and soft.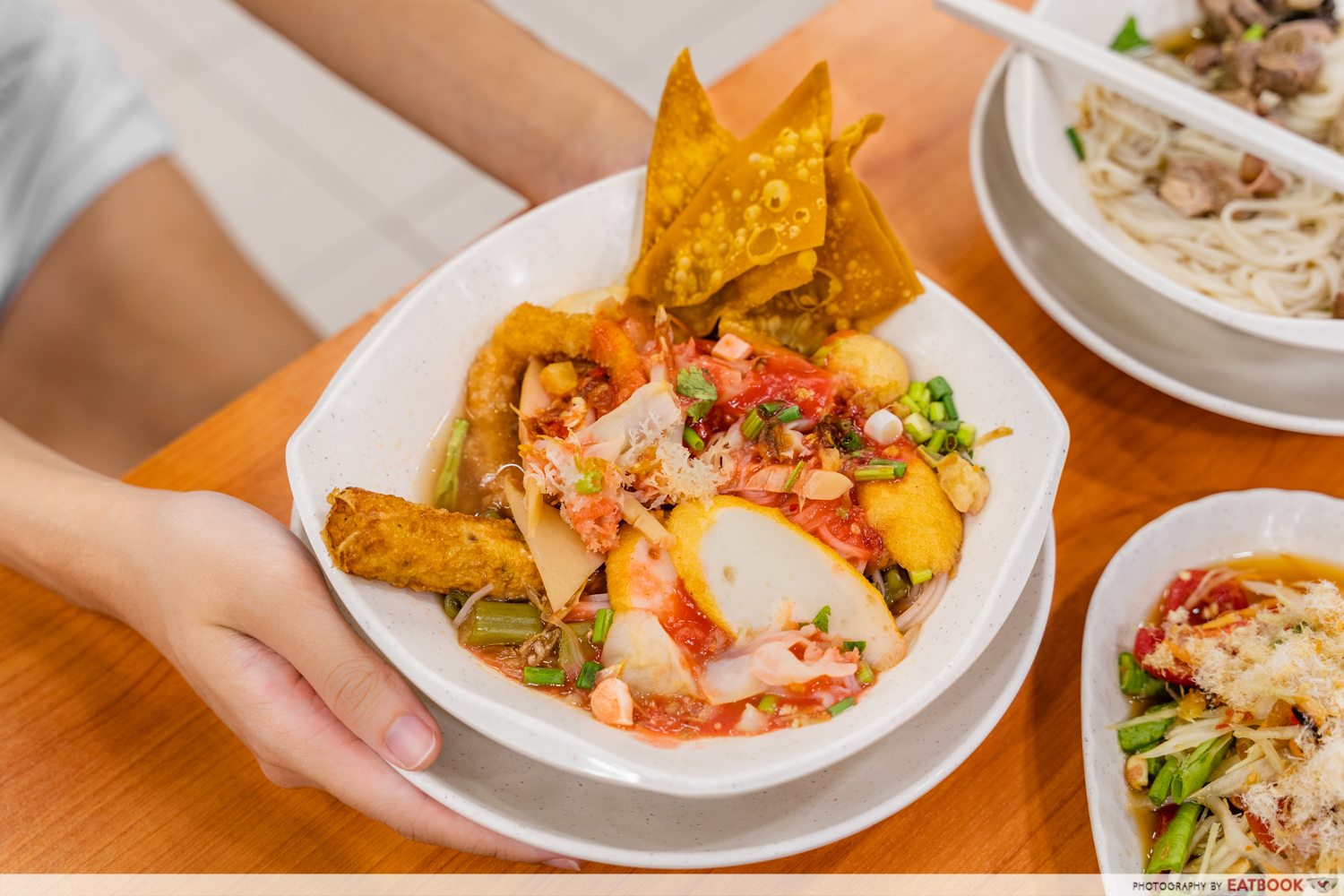 I was most excited to try the Yen Ta Fo ($7) here, which featured a full bowl of ingredients swimming in a pinkish broth. Completely different from the braised pork noodles, this bowl had deep-fried calamari, slices of fishcake, deep-fried wonton, cuttlefish, and green vegetables.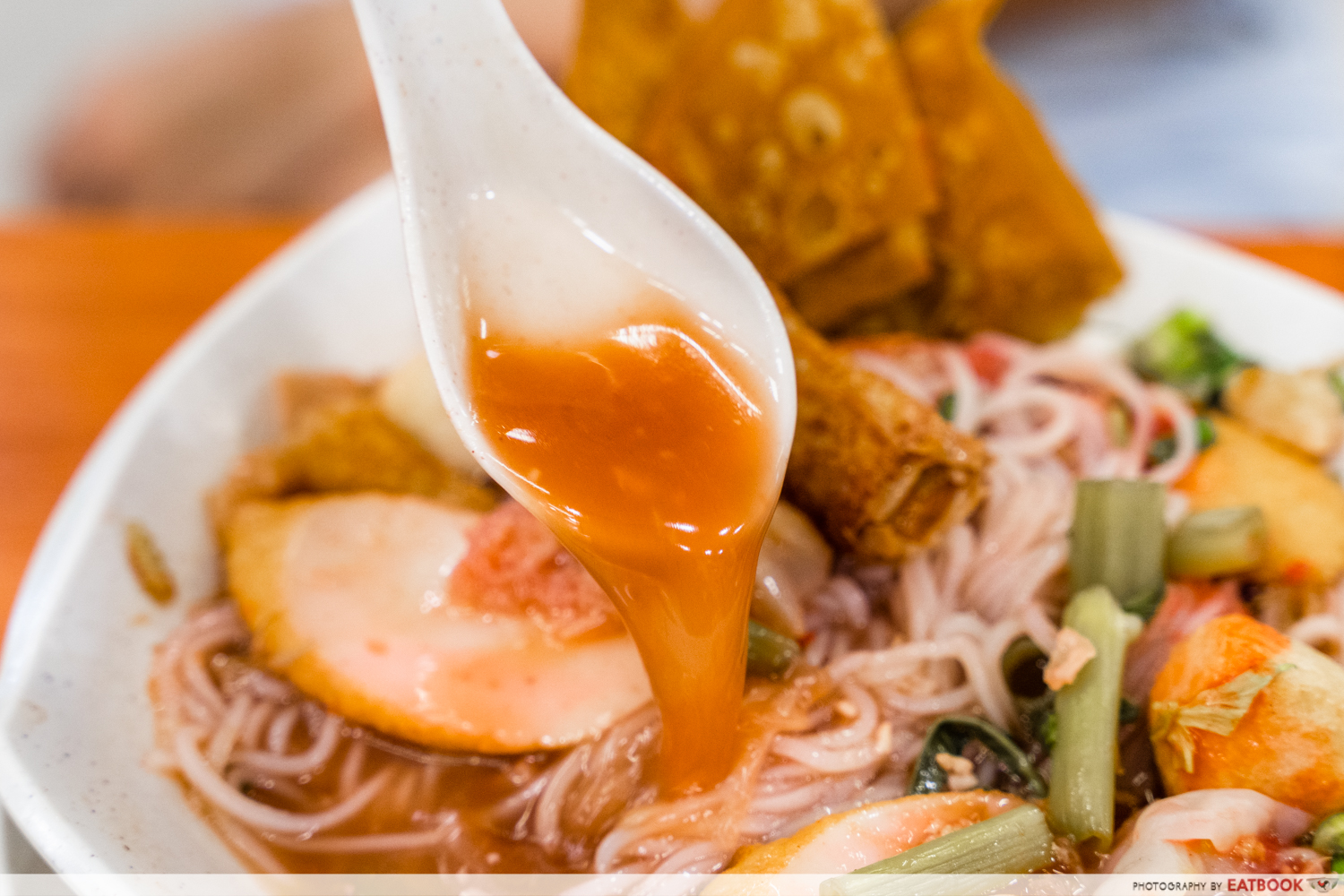 The soup was a little sweet, which got me slightly confused at first, as it reminded me of the red yong tau foo sauce that many of us are familiar with. The rice noodles can get soggy, so eat this bowl once it arrives to the table.
Fans of traditional Thai food should still come here for a taste of this dish, though, as Thai yen ta fo is a unique bowl of noodles that is rarely found in Singapore.  
Tearuk Dessert Bar Review: Over-Filled Yaowarat Buns With Flavours Such As Thai Milk Tea, Taro, Crab Mayo And More
Ambience at Pha Muk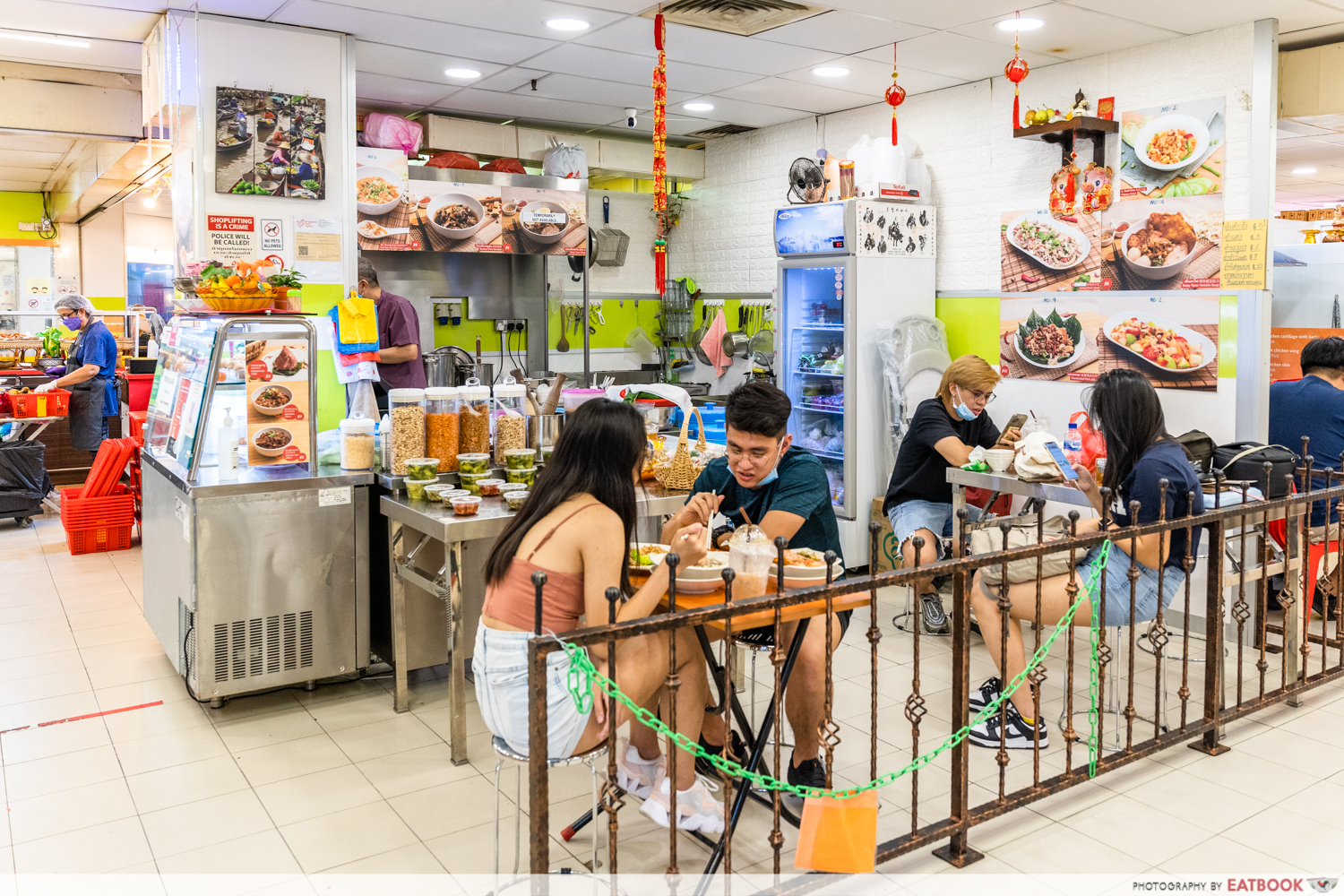 Situated in Golden Mile Complex AKA the Little Thailand of Singapore, the stall is just an eight-minute walk from Nicoll Highway MRT Station. Hidden within the highly populated supermarket of Golden Mile Complex, you might have a tough time finding this food stand if you do not frequent this mall. When you enter the supermarket, look to your right to find a humble-looking stall decorated with tubs of Thai spices and ingredients. 
The verdict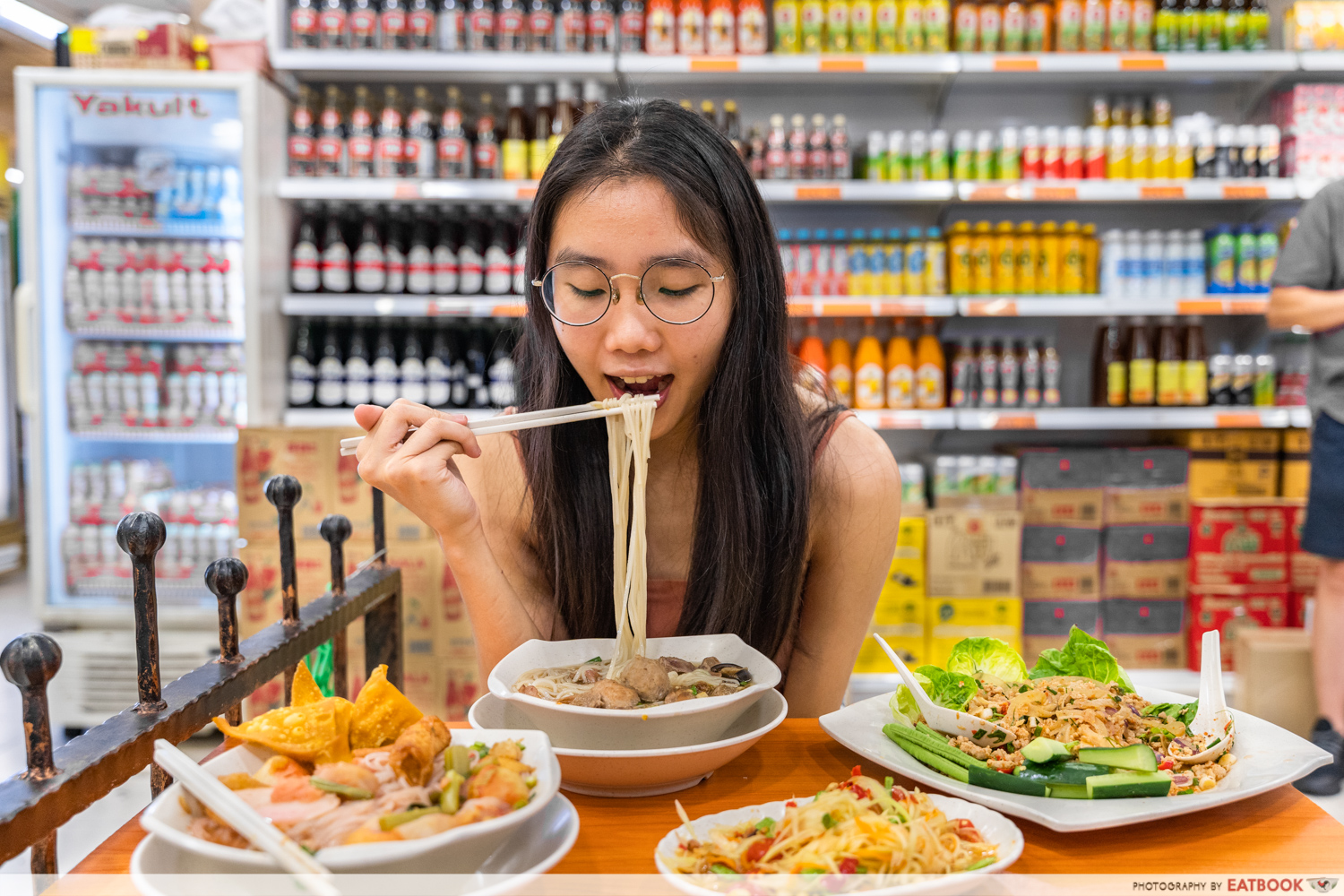 As a huge fan of Thai food, I was delighted to be introduced to Golden Mile Complex, as well as Pha Muk. Although the noodle dishes did not really suit my taste buds, I did enjoy the appetisers that were extremely refreshing. 
It is heartwarming to find legit Thai food in Singapore cooked by those who come from the country itself, and this alone is the main reason I will come back to Pha Muk for their salads and other new dishes that I have not tried. 
For more Thai eats, check out our Yummy Yum By Ta-Lad review for the new eatery at Golden Mile Food Centre that opens till 1am!
Address: 5001 Beach Road, #02-64 Unit D, Golden Mile Complex, Singapore 199588
Opening hours: Thurs-Tue 10:30am to 7pm
Pha Muk is not a halal-certified eatery.
Photos taken by Tan Zi Hui.
This was an independent review by Eatbook.sg.
Pha Muk Review: Legit Thai Food Such As Yong Tau Foo, Papaya Salad And More Hidden In Supermarket
Summary
Pros
– Unique menu items
– Prices are affordable 
Cons
– Noodle dishes were slightly lacklustre 
Recommended dishes: Papaya Salad ($5), Grilled Pork Salad ($6)
Opening hours: Thurs-Tue 10:30am to 7pm 
Address: 5001 Beach Road, #02-64 Unit D, Golden Mile Complex, Singapore 199588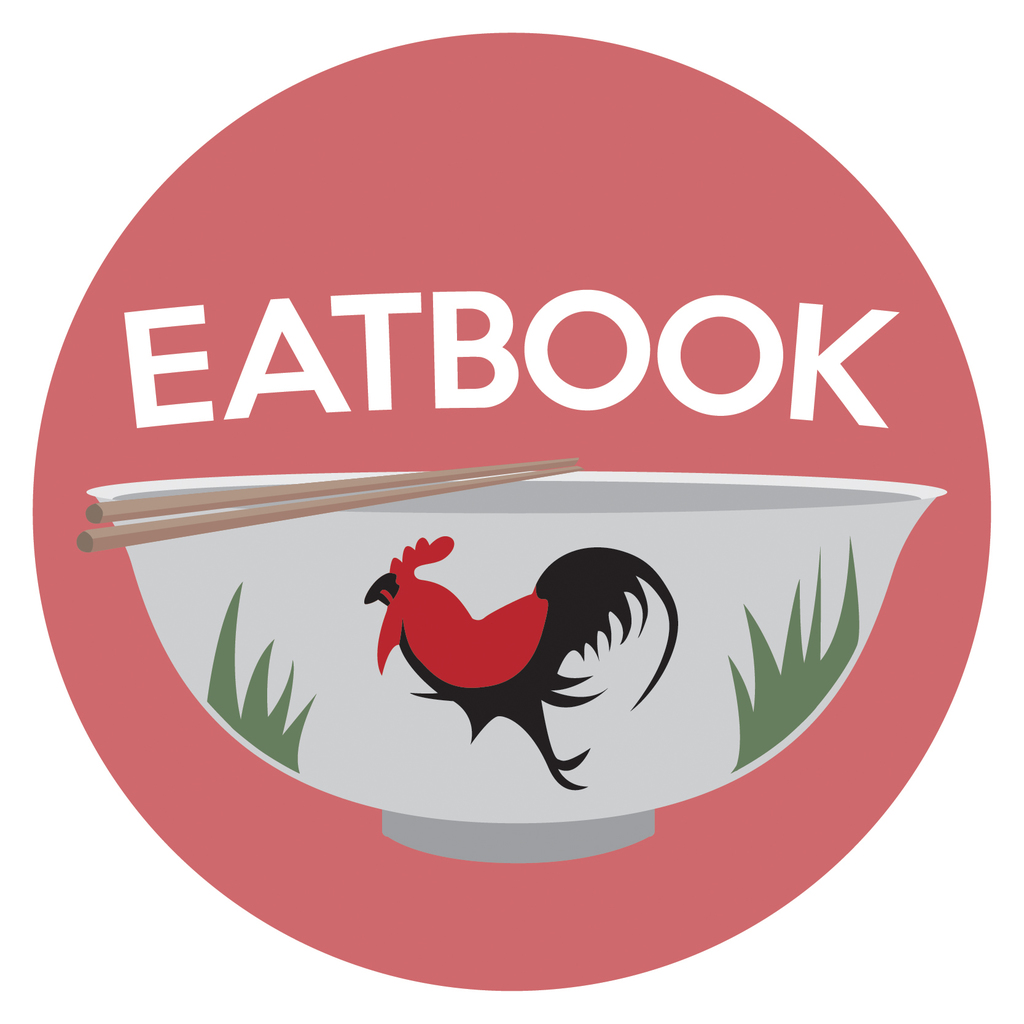 Drop us your email so you won't miss the latest news.