Markozar is here at Teck Whye Lane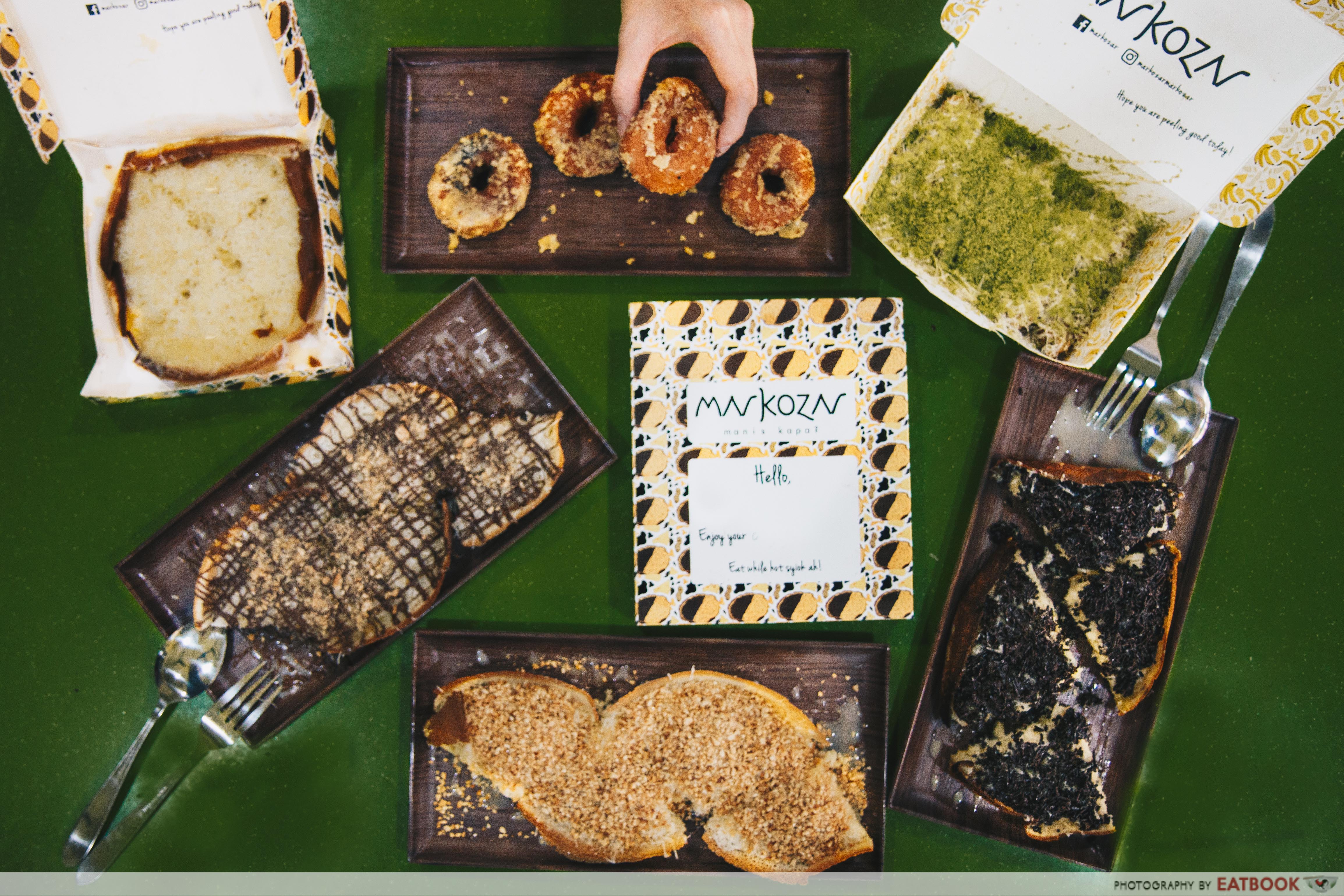 You may be wondering what Markozar stands for – I did. Conveniently enough, I have a friend who knows the owner! My friend explained to me that the name is a combination of 'martabak' and the Japanese word 'oza', which means 'throne'. Hence, Markozar has made it their aim to one day become the king of desserts.
Apart from Markozar, there aren't many other places in Singapore selling martabak manis. For those who haven't a clue about the beloved snack, martabak manis is a crispy pancake topped with tasty ingredients such as cheese and condensed milk.
Food at Markozar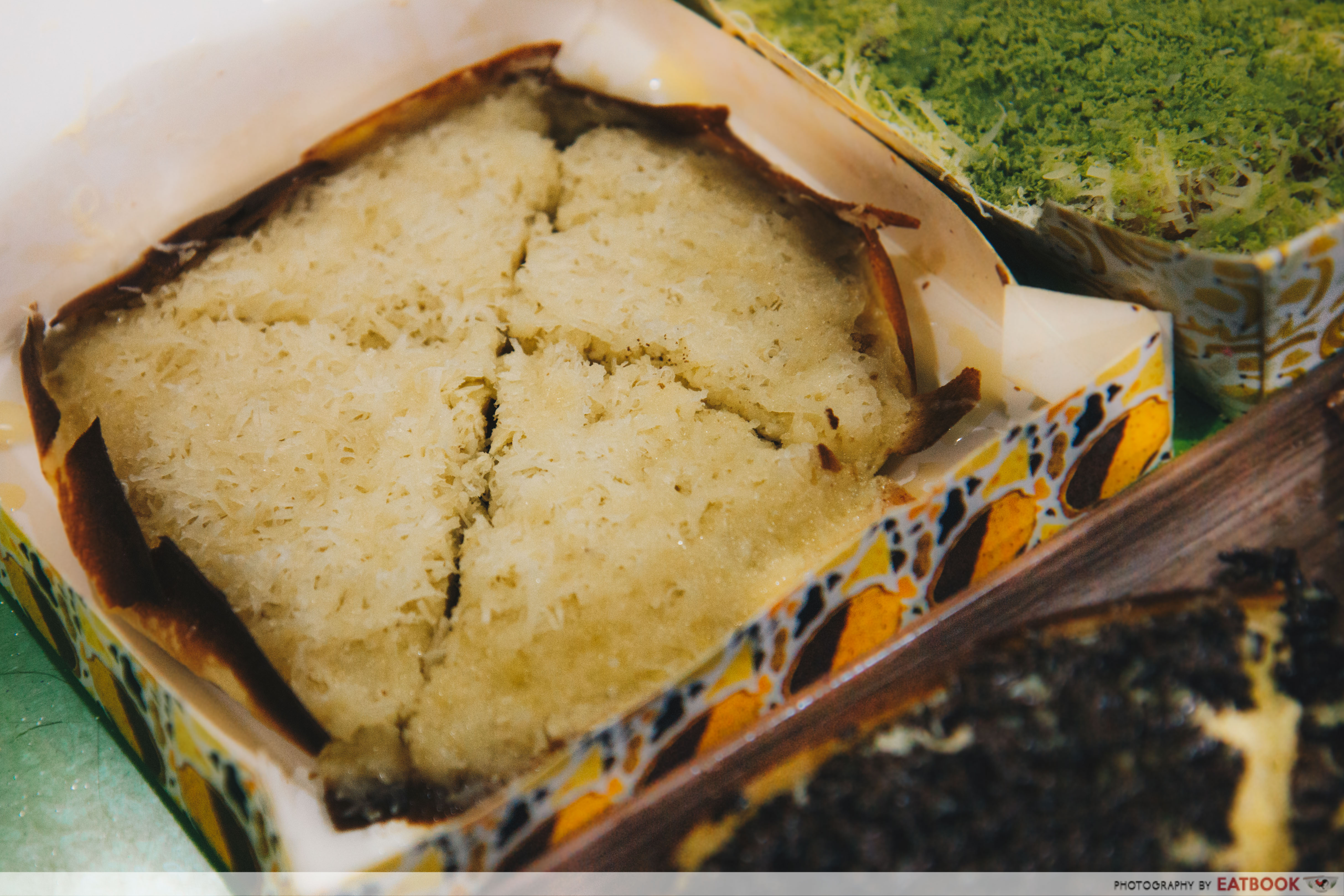 Let's begin with the OG Original ($6.50). My colleague and I realised a little too late that we should've asked for the food to be served on a plate, instead of the box it came in. The packaging made the martabak manis turn soggy and flat in a matter of minutes, which was a total downer.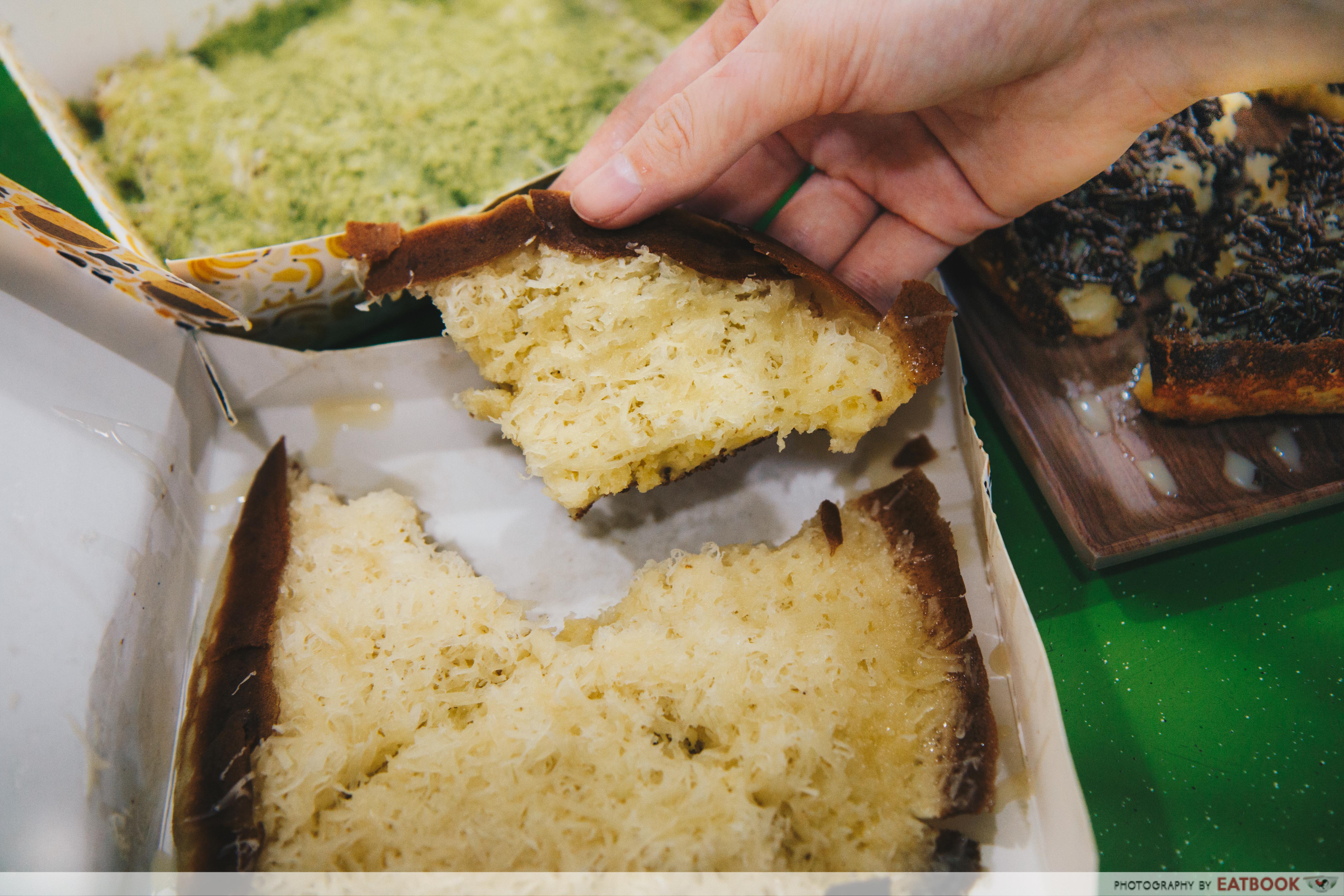 In terms of taste, the OG Original did not let us down. In fact, my colleague claims this was her favourite! Topped with a sprinkling of grated cheese and a light drizzle of syrupy condensed milk, the pancake was soft and buttery, with a salty sweet flavour from the mix of cheese and condensed milk. The martabak manis was also slightly burnt at the edges, and it truly was a pity that we did not get to savour it at its crispiest.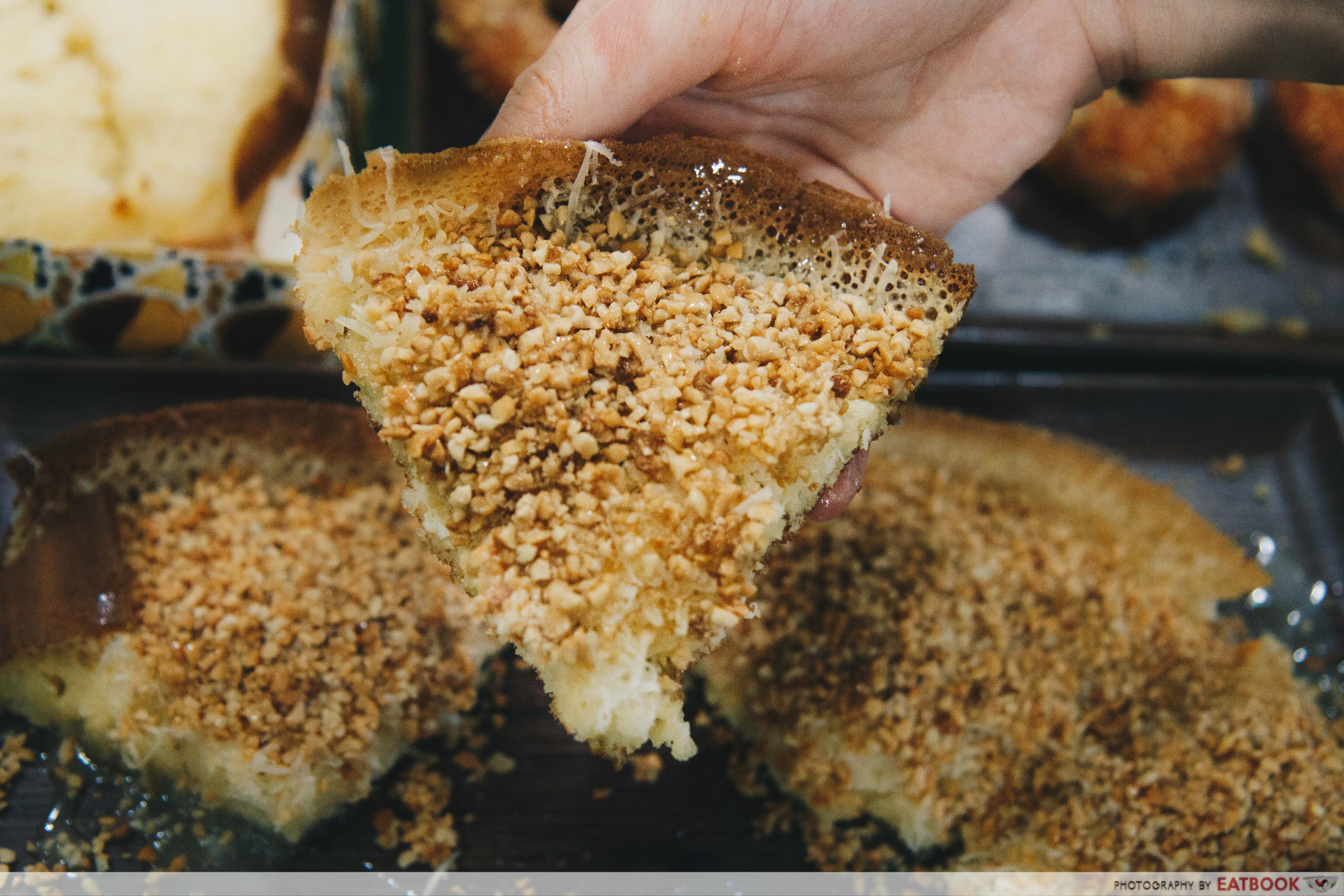 Next up came Good Ol' Peanut ($6.50). Now, the presentation for this sweet treat was a sight for sore eyes.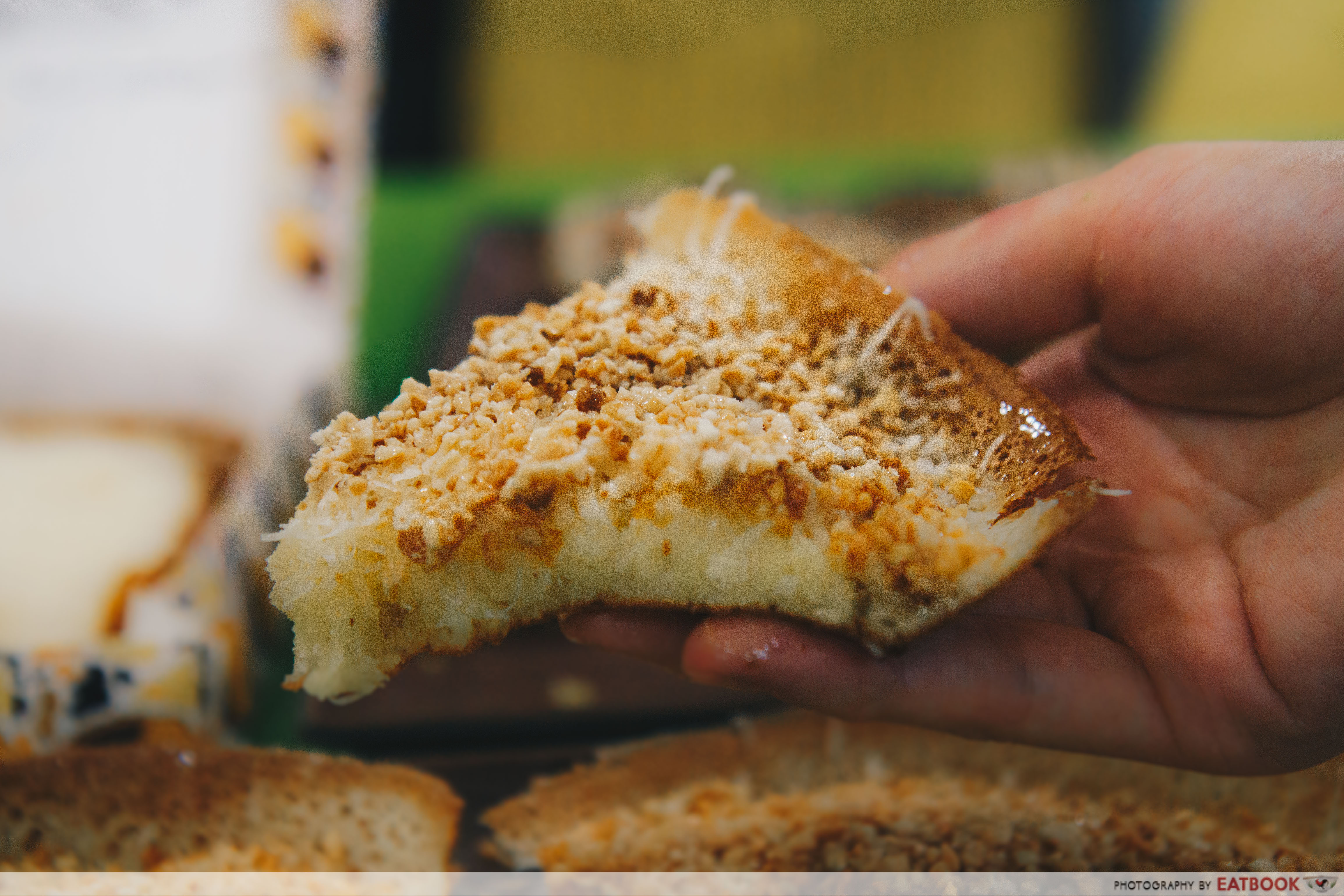 The crushed peanuts scattered over the crisp pancake gave the martabak manis a nutty  crunch.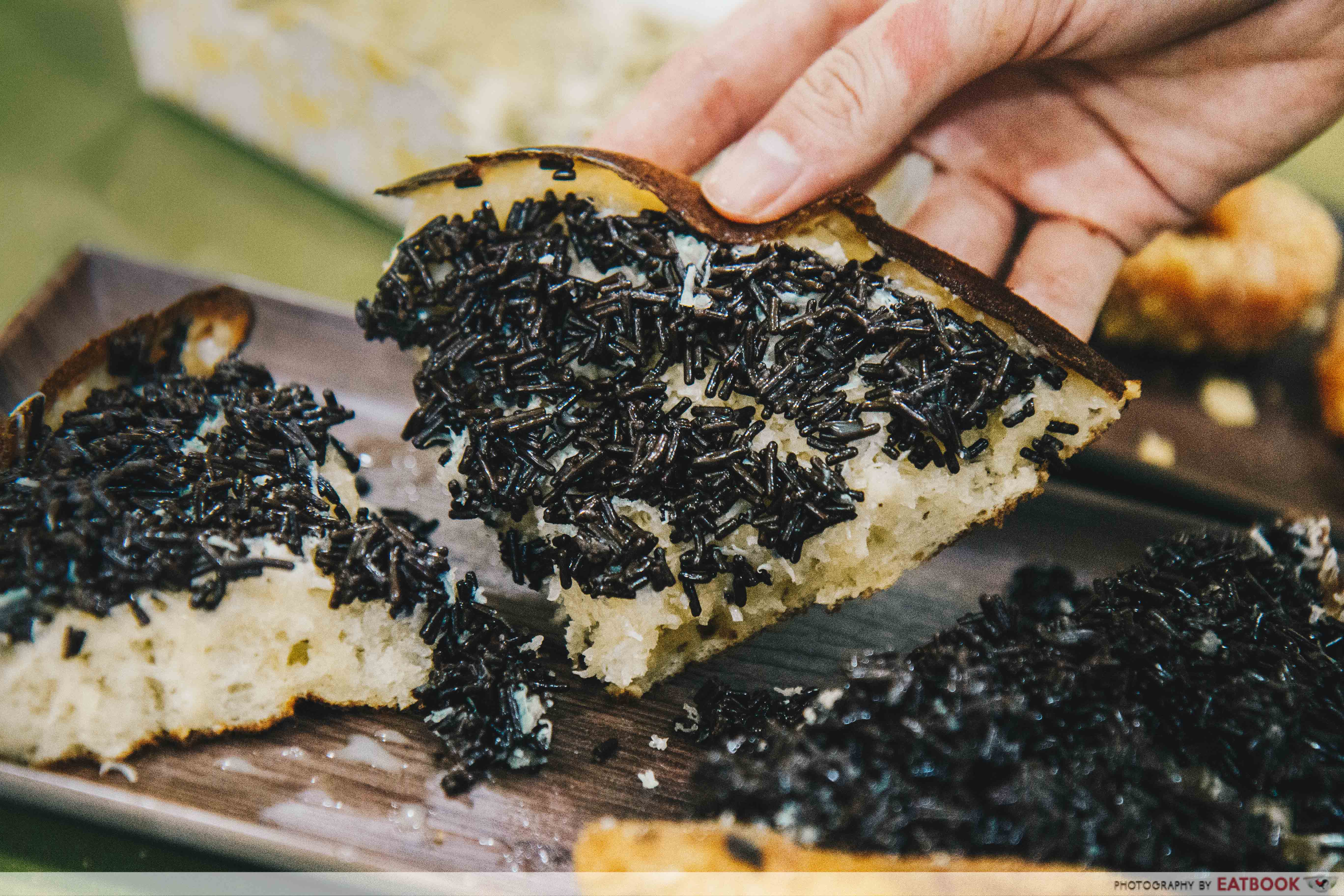 And the different varieties of martabak manis did not stop coming! I dug into the Choco Rush ($6.50) with my belly already three-quarter full.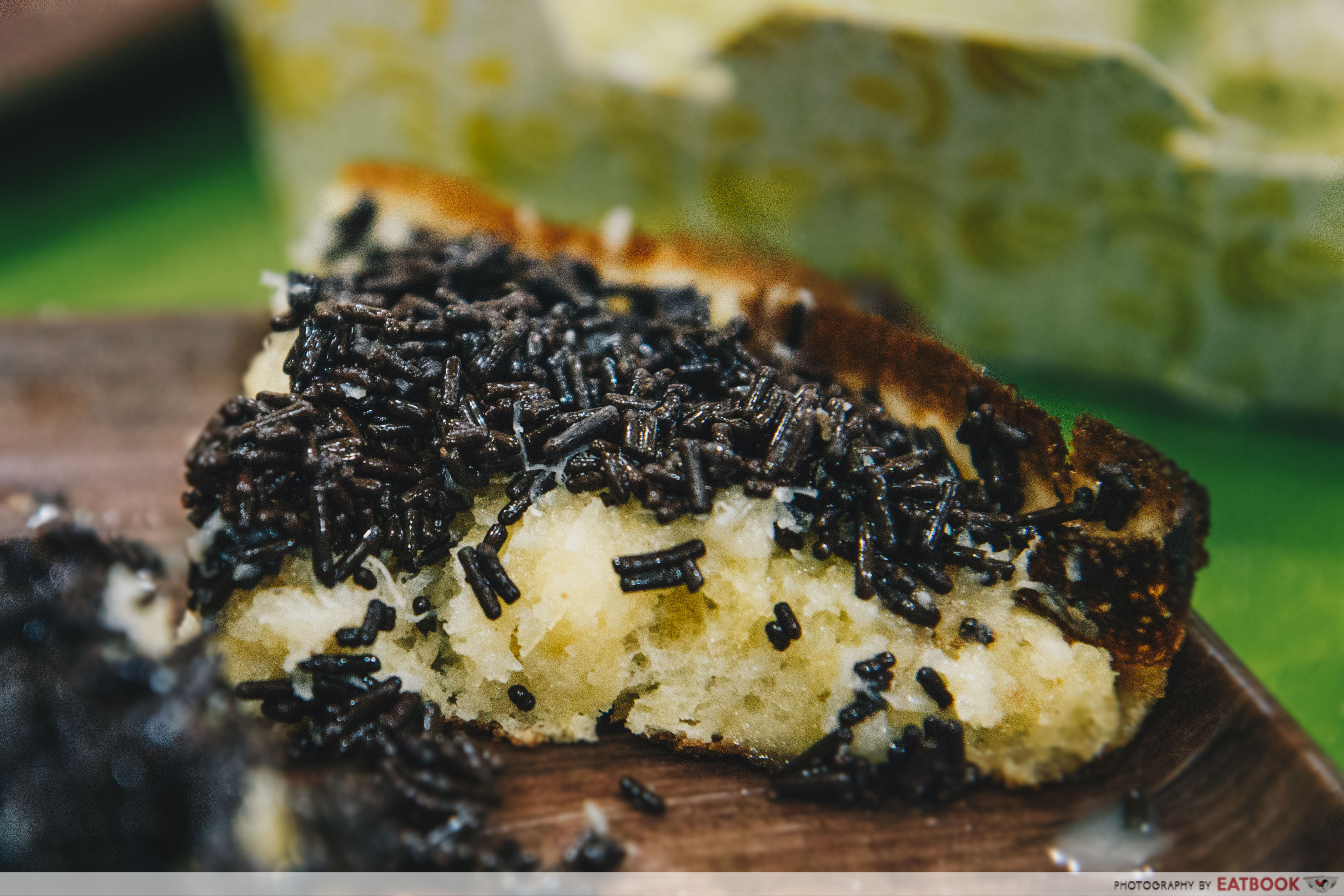 This martabak manis was especially thick and fluffy, almost to the extent of being a little spongy. The chocolate rice and condensed milk made a sinfully sweet combination, which was lightened by the chunky pancake.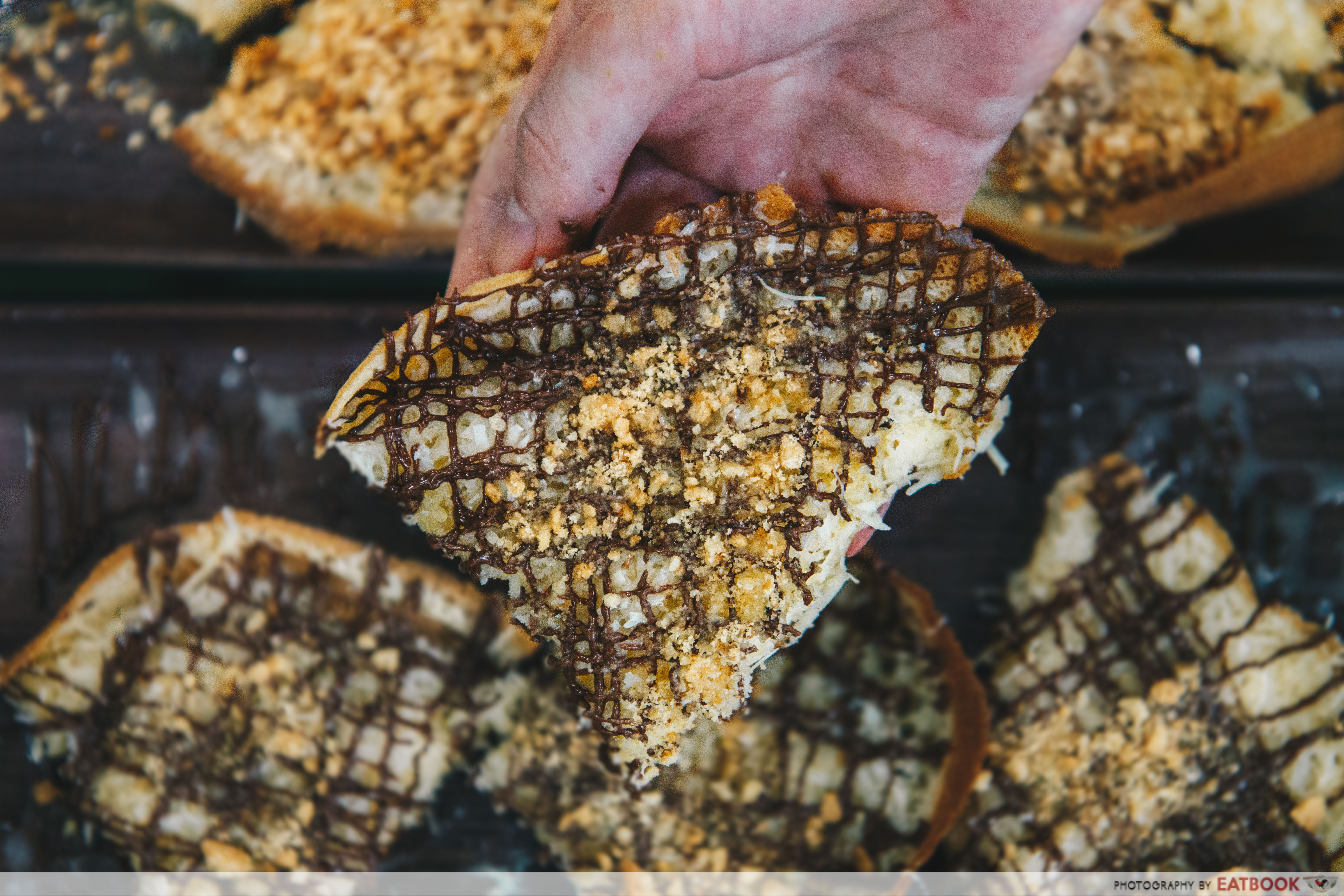 Finally, we tried Nutella Falls ($6.50), which not only came with an aesthetic criss-cross drizzle of Nutella and condensed milk, but also a shower of roasted peanuts.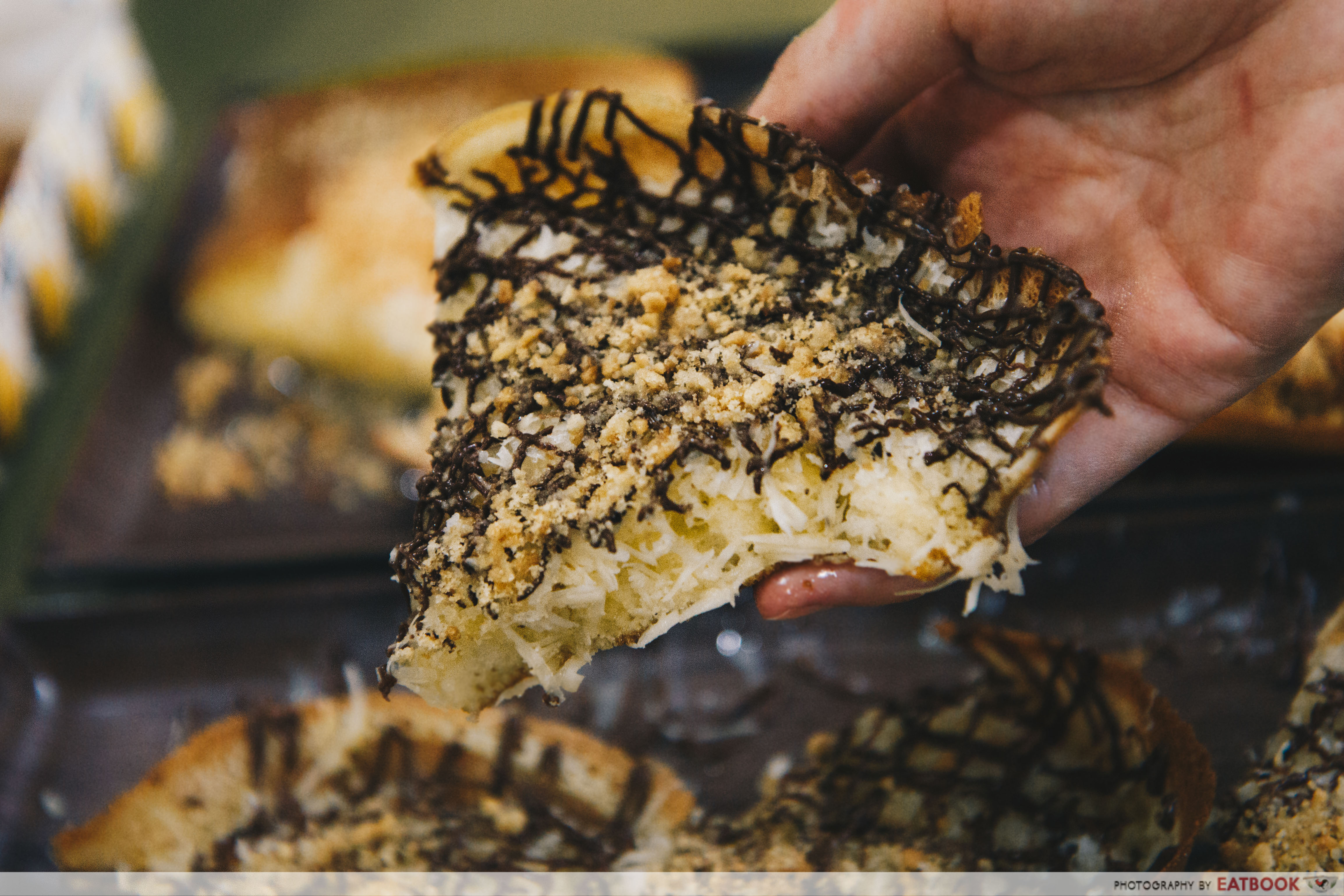 I'm a huge fan of Nutella – I eat it by the spoonful on cheat days. However, I wasn't able to appreciate its richness here, as its flavour had been overpowered by the peanuts.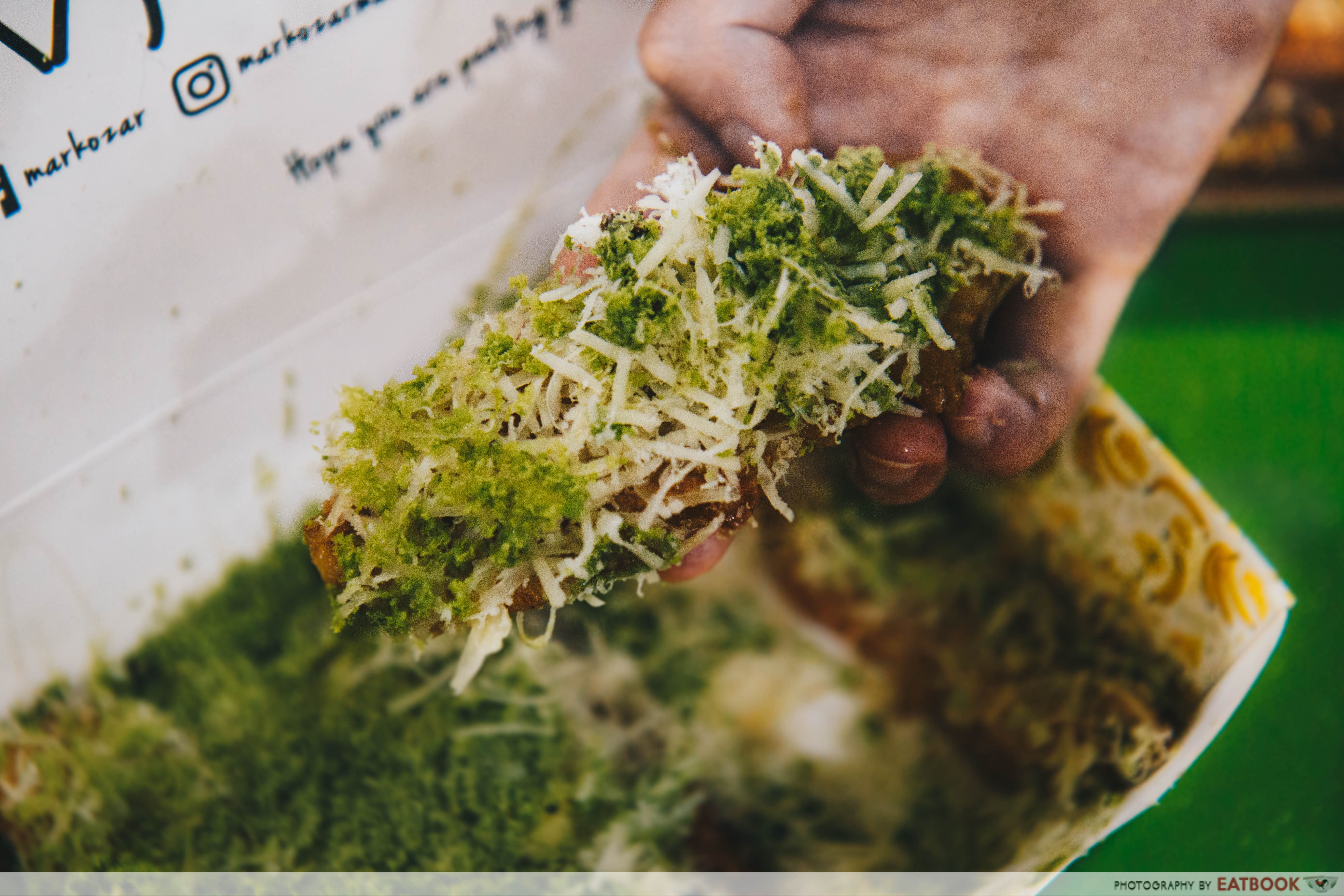 Aside from martabak manis, Markozar also serves fried treats such as goreng pisang. We tried their Matcha Banana Cheese ($5.50 for four pieces). The pieces of goreng pisang were all so heavily coated in a layer of grated cheese and matcha chocolate powder that I initially couldn't tell how many pieces there were in the box. The powdered matcha chocolate tasted a little like frosting and melted on my fingers like tiny green snowflakes.
The banana filling was soft and gooey, nicely complementing the crispy fried batter. Although I enjoy matcha and cheese individually, I think I would prefer savouring the goreng pisang on its own next time. All the clashing flavours felt a little overwhelming.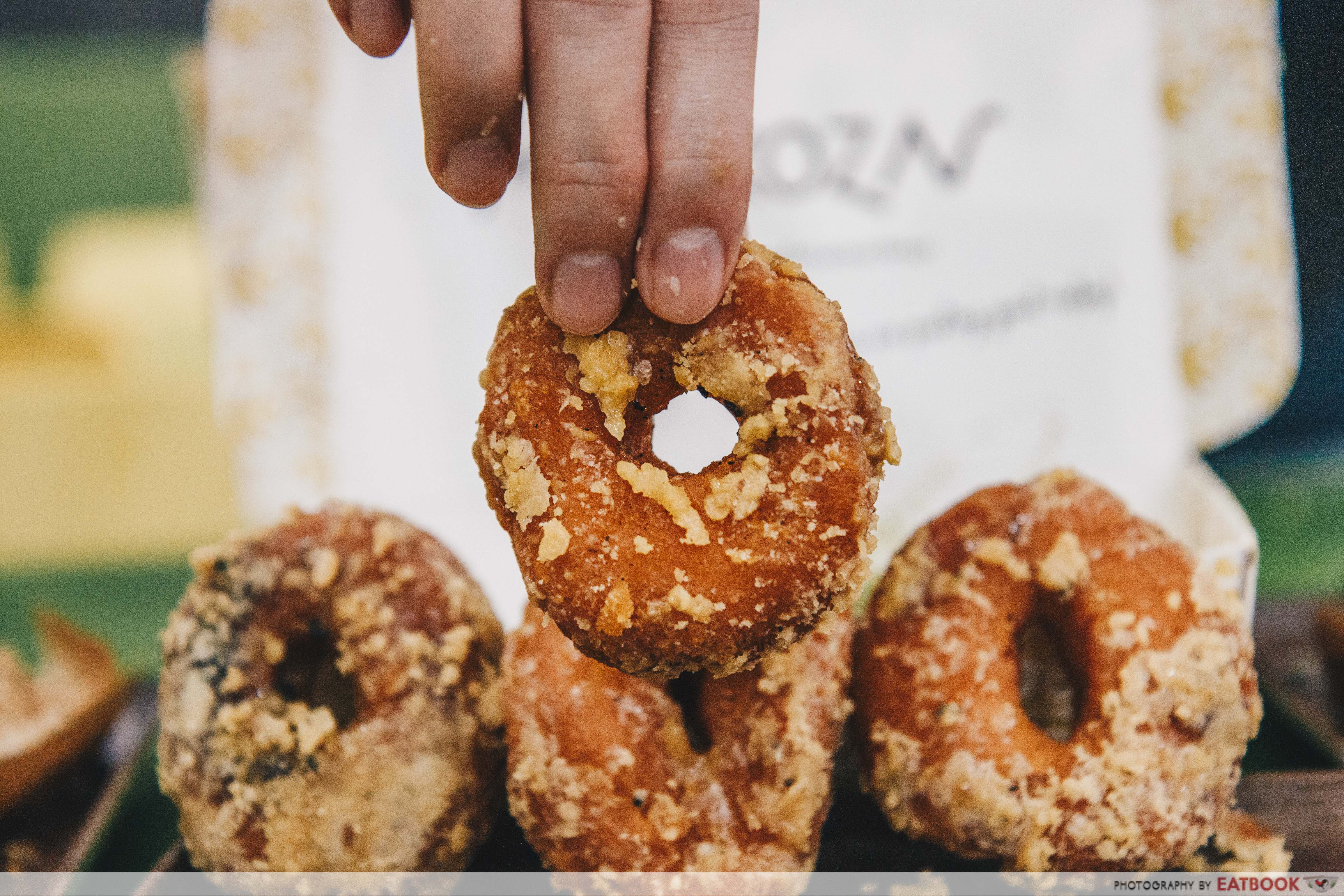 Last but not least, we sank our teeth into the Keria Viral ($5.50 for four pieces). These are sweet potato donuts coated in gula melaka! Despite patting my round belly from all the food I'd eaten so far, I nearly managed to finish a whole donut. So I guess that's saying a lot!  
The Kera Viral was sweeter than the average donut, but what blew me away was how chewy it was; each mouthful was only slightly tougher than a mochi ball.
Ambience at Markozar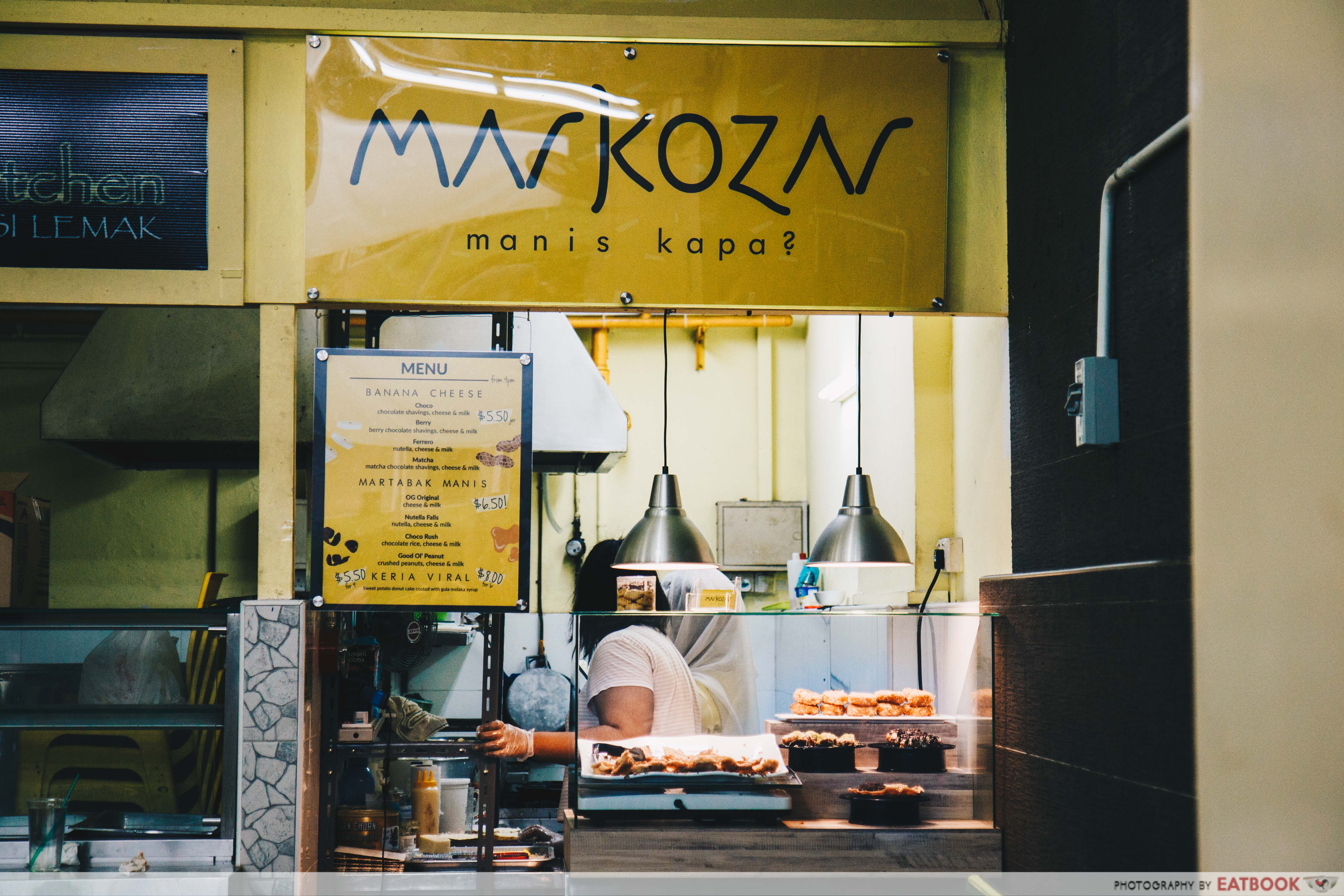 You'll find Markozar tucked into a corner of Rasa-Rasa coffee shop. My colleague and I got a little lost trying to track the place down, because it was quite a walk away from Bukit Panjang MRT Station.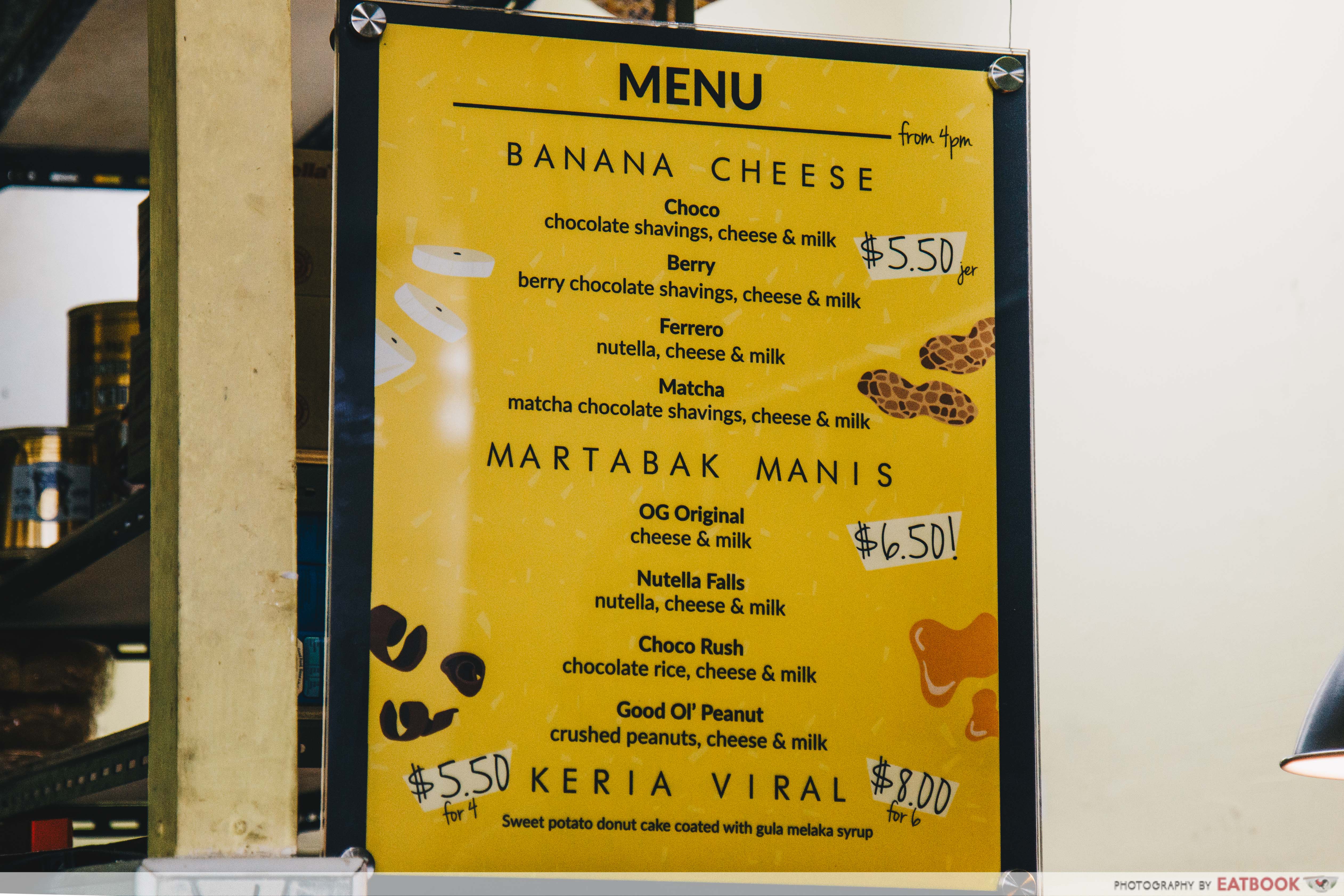 Here's a picture of their bright menu, which states all the sweet treats they offer. As most of the snacks have strong flavours and are quite decent in portion, it'd be good to bring a friend along.
The verdict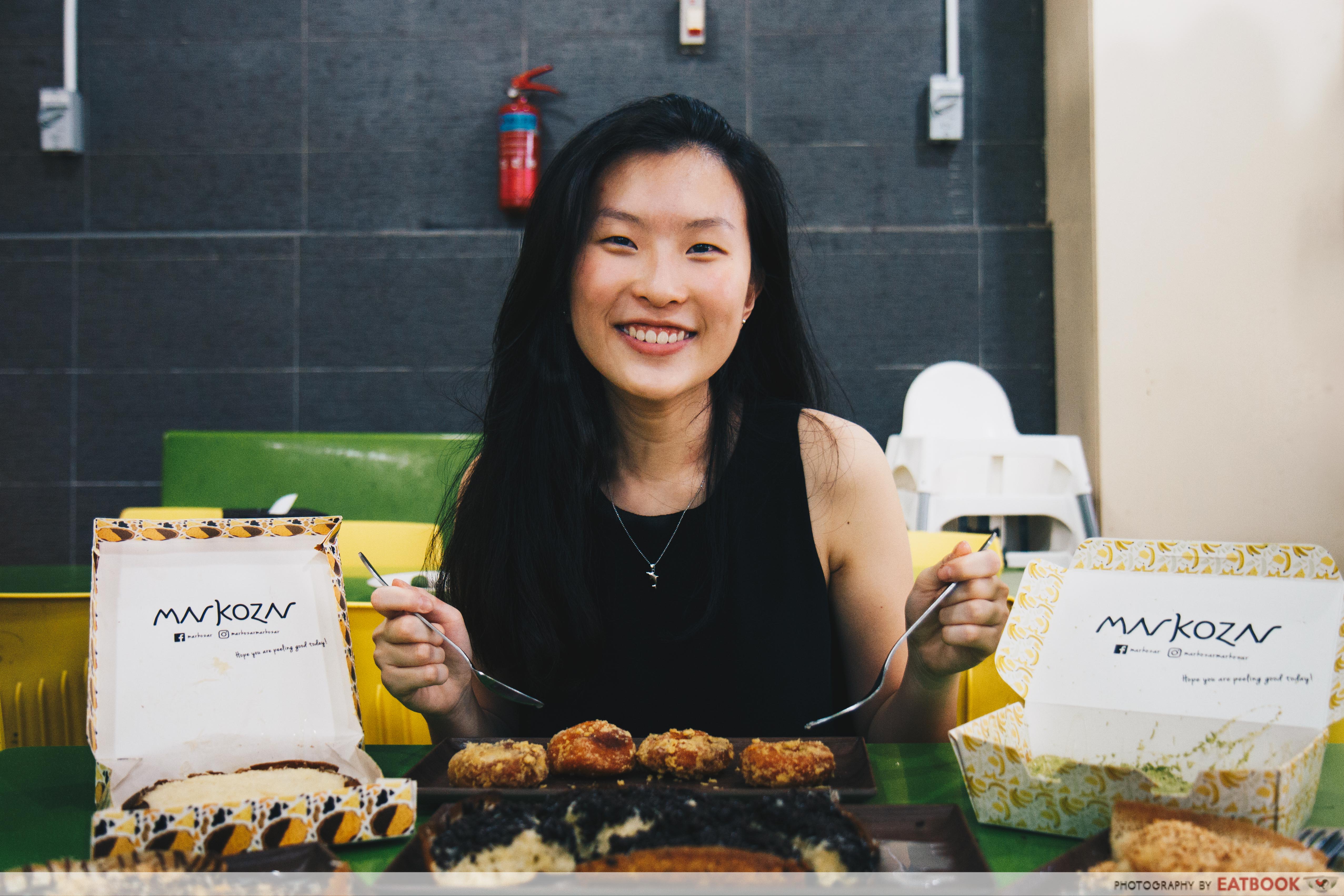 Despite finding the food decent, I'm left doubting whether cheese is a good fit with the rest of the sugary ingredients in the desserts I'd tried. I'm not sure if it's something I'd make the effort to travel back down for. Perhaps a pizza-flavoured martabak manis would be fun to try? I would return for something savoury instead.  
I told my colleague right before delving into our feast that I would "confirm get sugar rush". Instead, all I got in the end was a sleepy food coma.
Easties, head down to Terang Bulan at Simpang Bedok instead for your martabak manis fix!
Address: 160 Teck Whye Lane, Rasa-Rasa, Singapore 680160
Opening hours: Daily 2:30pm to 11pm
Tel: 9680 0565
Website
Markozar is a Muslim-owned stall.
This is an independent review by Eatbook.sg.
Summary
Pros
– Tasty snacks
Cons
– Inconvenient location
Recommended dishes: Keria Viral ($5.50), Matcha Banana Cheese ($5.50)
Opening hours: Daily 9am to 2pm (breakfast), 4pm to 12am (dessert)
Address: 160 Teck Whye Lane, Rasa-Rasa, Singapore 680160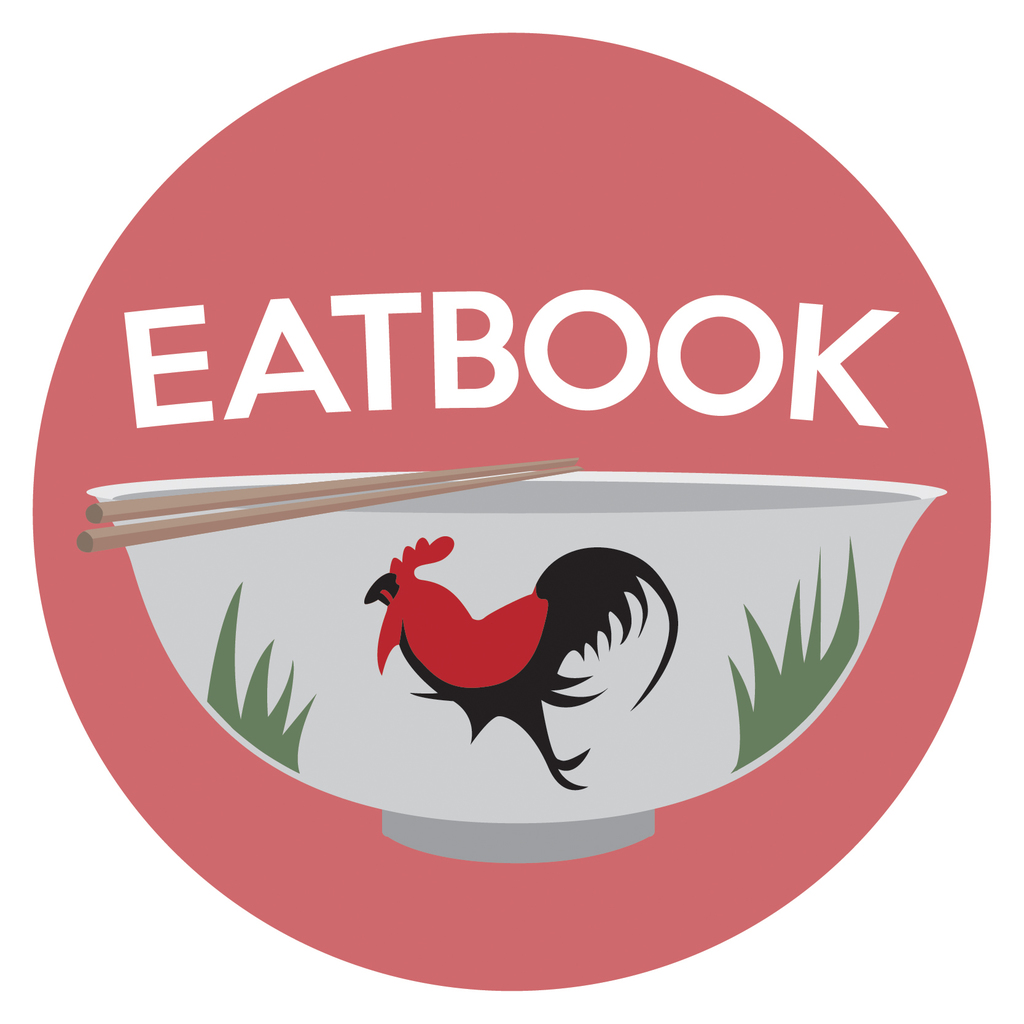 Drop us your email so you won't miss the latest news.