Terang Bulan offers unique flavours of martabak manis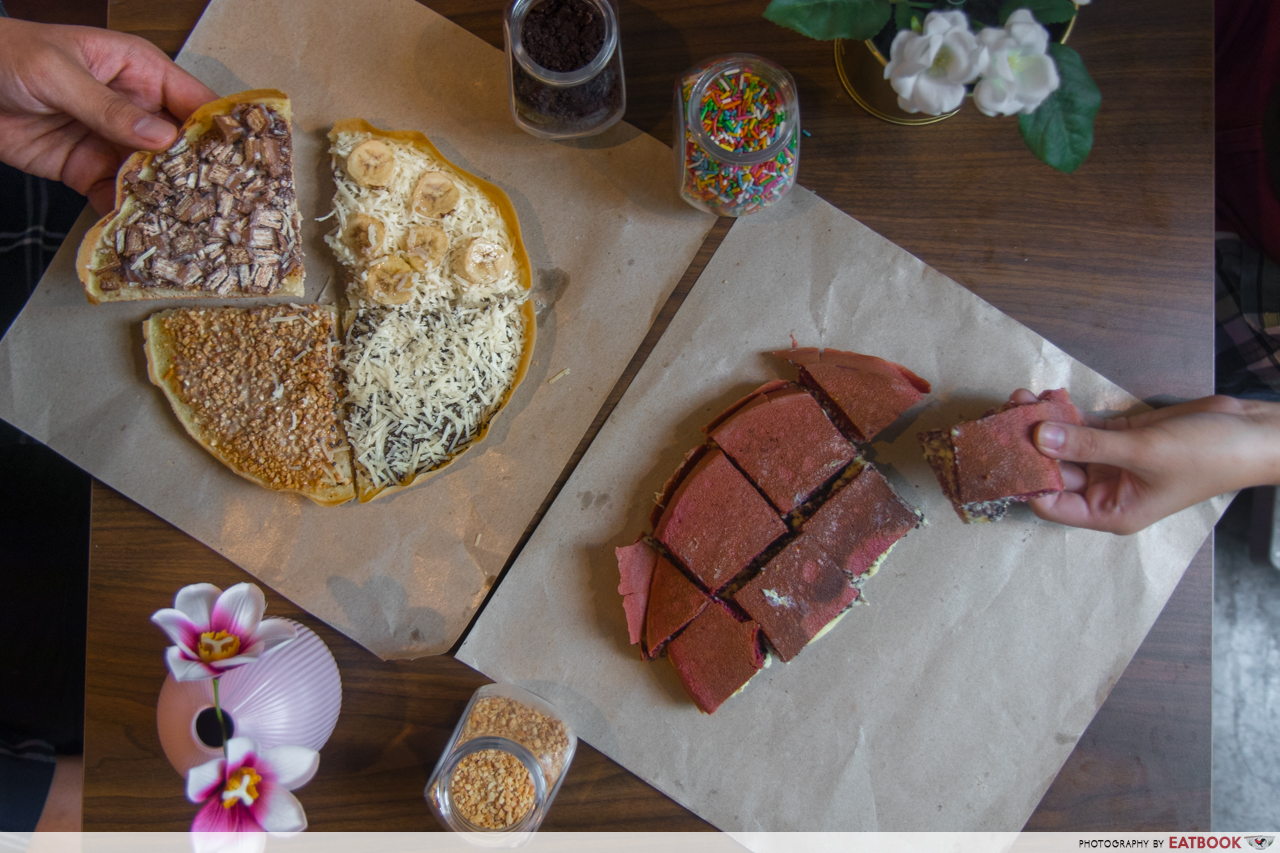 When I was much younger, my family used to frequent Indonesia for holidays. I would marvel at the treacherous mountains from afar while chilling in the car. And if there's another thing that remains in my mind till today, it  is their food – especially their street snacks. I would always pester my mom to get some martabak manis from a street peddler. For those who don't know, martabak manis is a much thicker version of min chiang kueh, and it is usually drenched in butter and condensed milk.
It is tough to find authentic martabak manis here in Singapore. When I first saw the newly opened Terang Bulan selling the snack, I knew I had to give it a try ASAP.
Food at Terang Bulan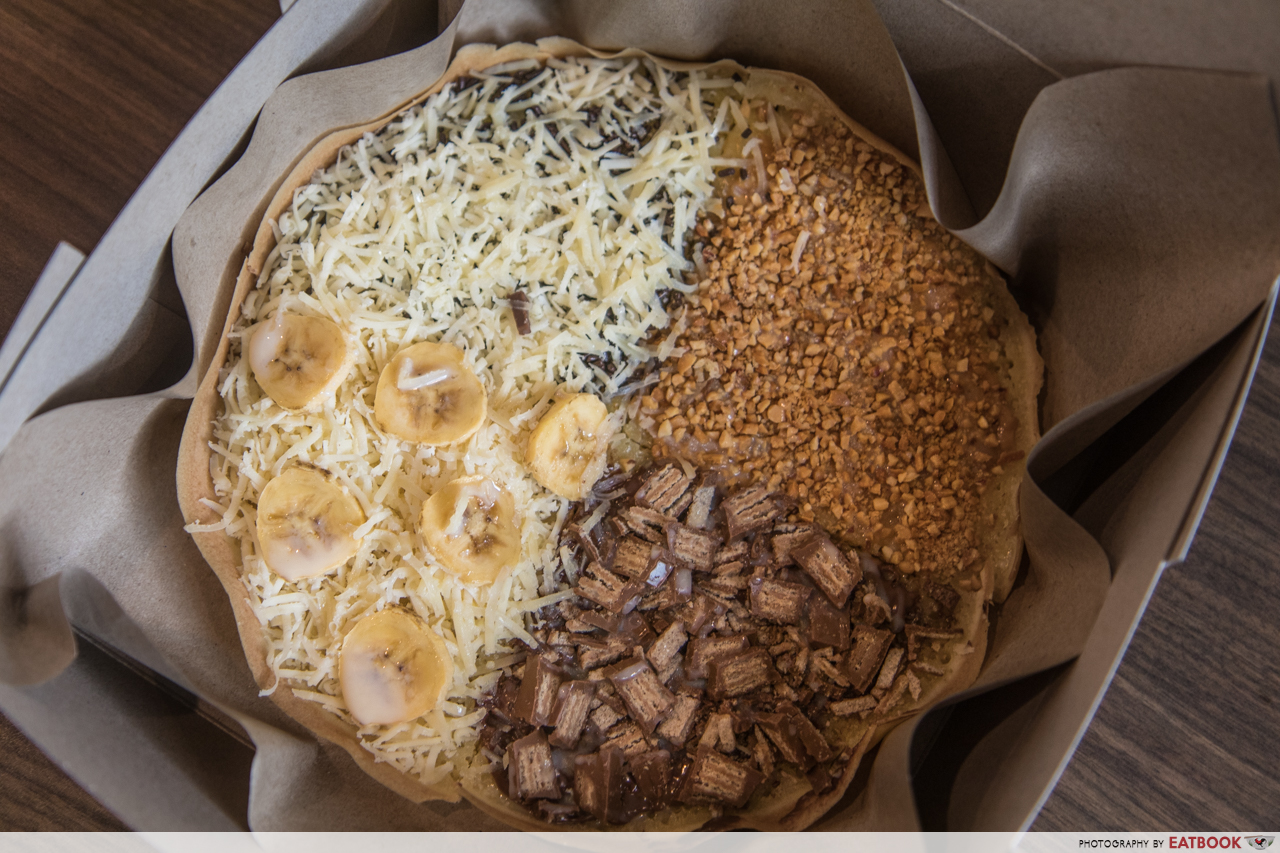 For $10, we had their Pizza Terbul which comes with four toppings of your choice – two standard and two premium toppings. For premium toppings, we had their KitKat and Choju (chocolate and cheese), whereas for the standard ones, we chose Kacang (peanut) and Juna (banana and cheese). Freshly made upon order, our martabak manis was prepared deftly by a staff member. The piping hot pancakes were decked with a substantial amount of toppings and drizzled in luscious, silky condensed milk.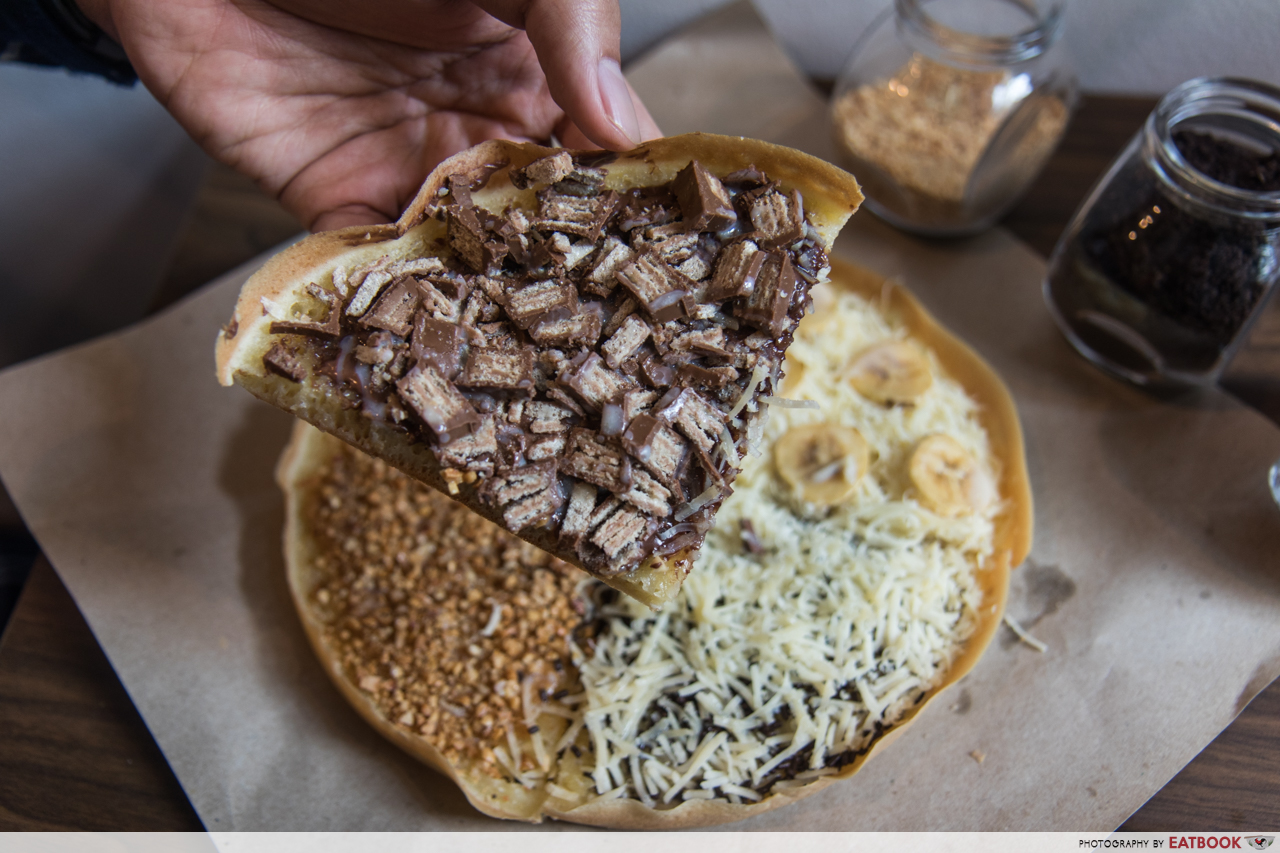 For a sweetness overload, go for the KitKat flavour. With Nutella as the base, the pancake was topped with chopped chunks of KitKat and glossed with condensed milk. The chocolate wafer lent each bite a satisfying crisp, which went really well with the viscous Nutella and sweet condensed milk. It did feel jelak after a while so it is best when shared among friends.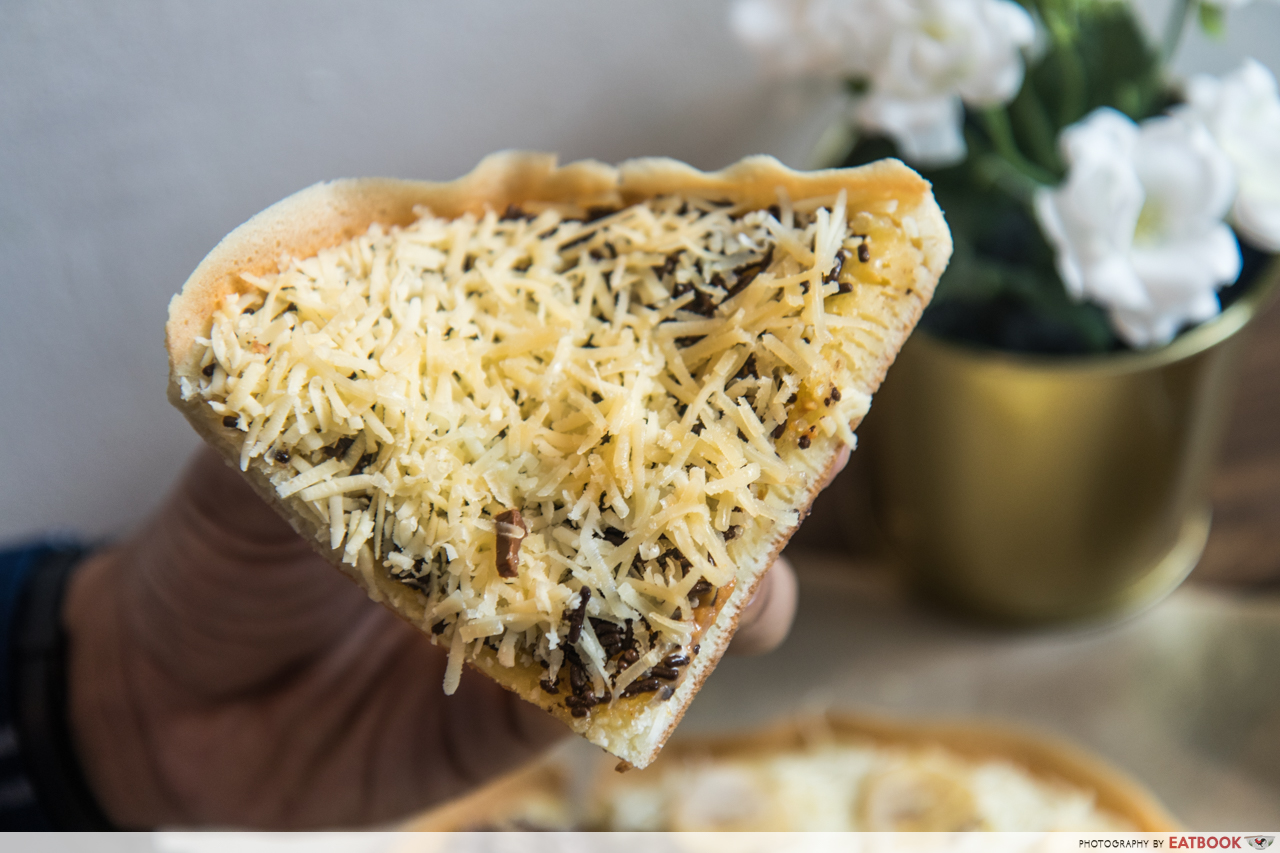 With chocolate rice as a base, another quarter of the pancake was covered with a generous amount of grated cheddar cheese. The milky cheddar had a mellow tang which went really well with the sweet chocolate rice.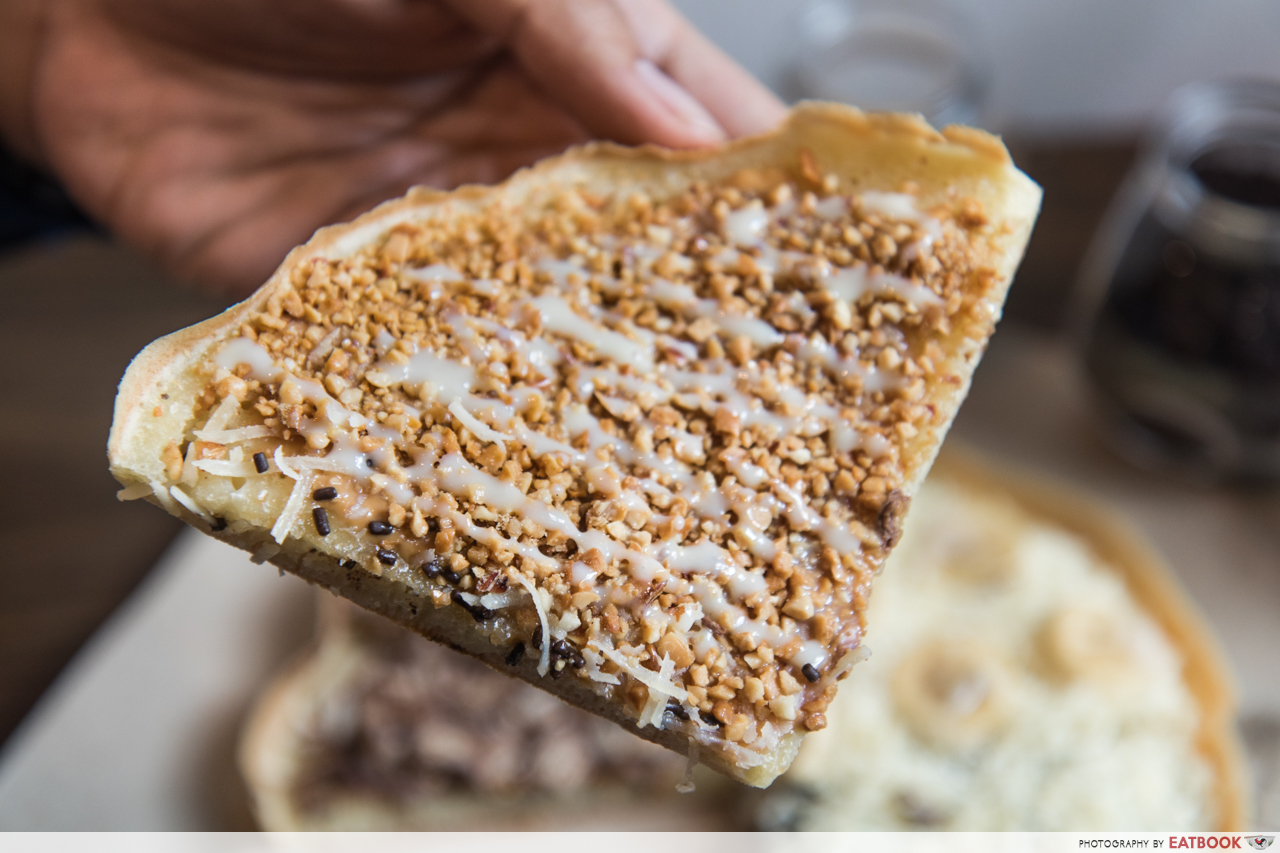 The spongy pancake was next topped with finely chopped toasted peanuts and condensed milk. It tasted like min chiang kueh but it was much sweeter. If you love nutty flavours then this would definitely make the cut.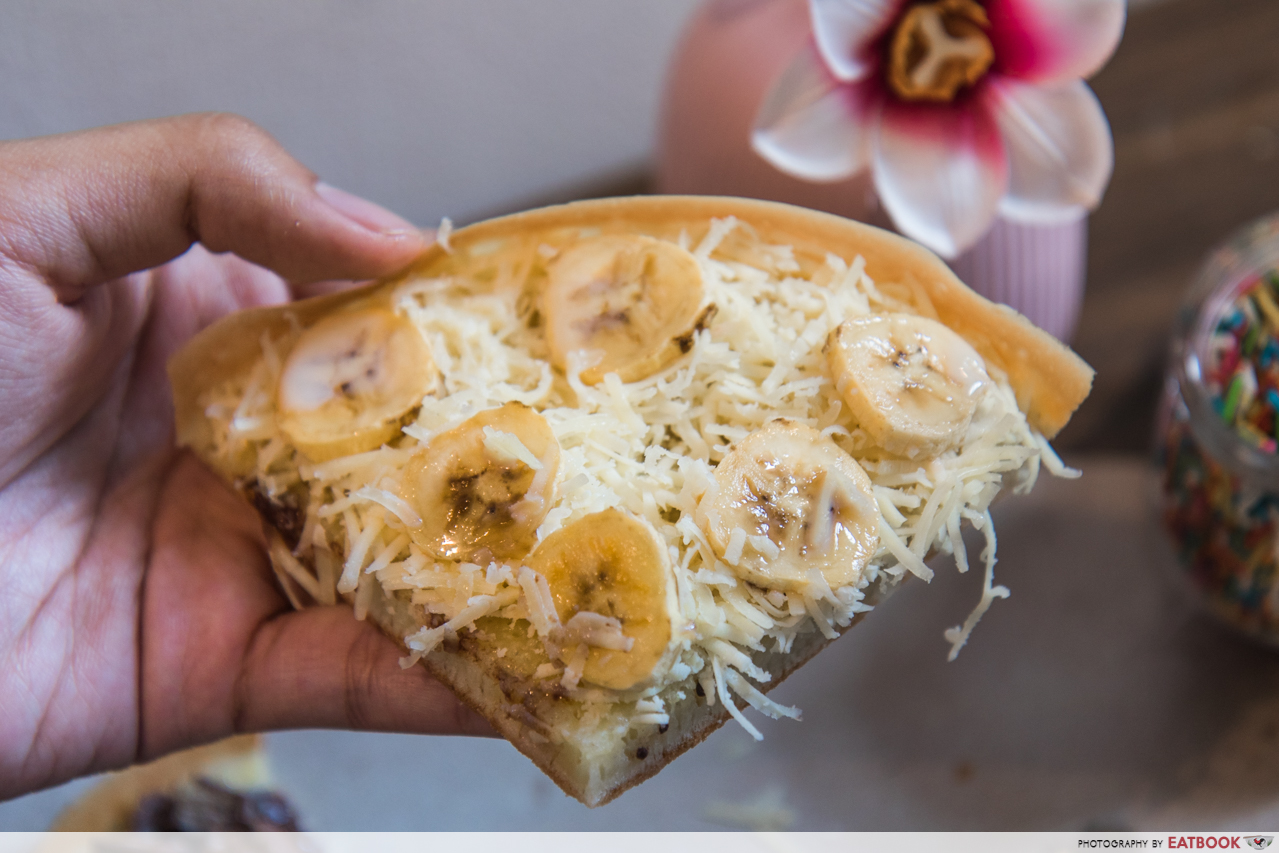 The last quarter of the pancake was Juna, which stands for cheese and banana. Six slices of banana sat atop the shredded cheddar cheese. This was my favourite topping out of the four; the banana went really well with the condensed milk and the cheese added a tinge of savouriness.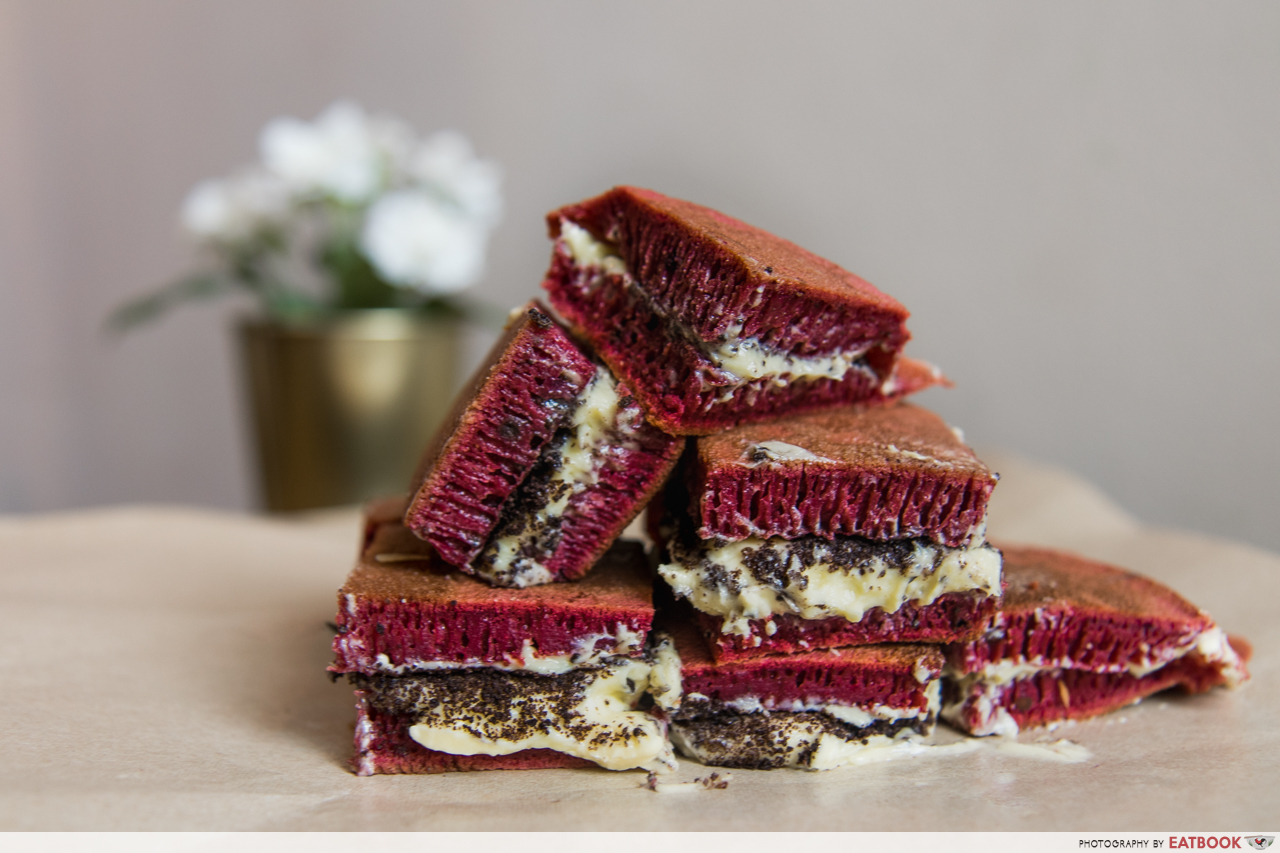 We had to give their Oreo Red Velvet Cream Cheese ($11) a try as well. The red pancake was slathered with velvety rich cream cheese and topped with Oreo crumbs. The thick martabak manis was folded into half and cut into smaller bite-sized pieces. Its exterior was then brushed with margarine.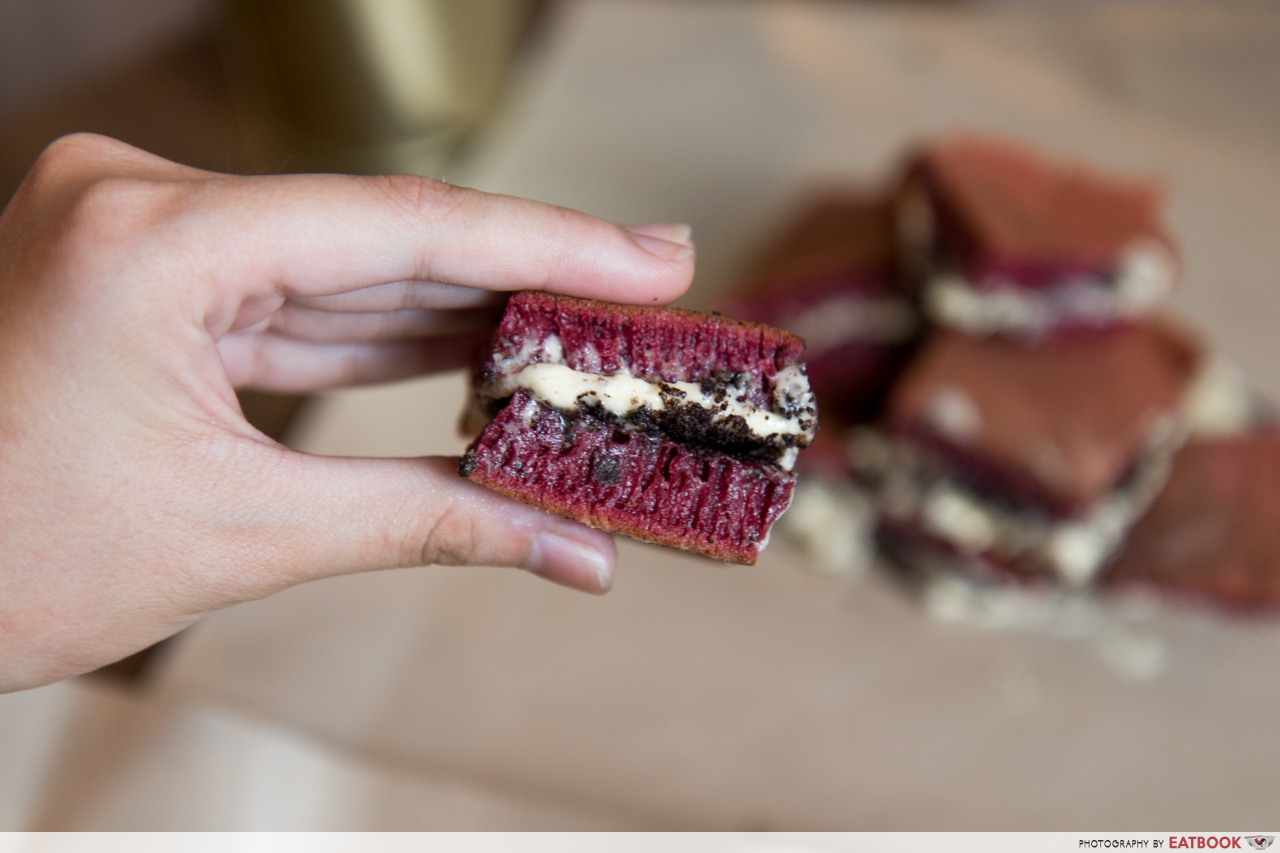 As my teeth sunk into the pancake, the lavish cream cheese oozed out from hiding. The batter was smooth and light, making the martabak soft and fluffy. The Oreo crumbs added a gritty texture which contrasted with the soft pancake. The rich cream cheese was sweet and had an underlying pleasant tang which I really liked. However, it would have been much better if the pancake was drenched in more butter.  
Ambience at Terang Bulan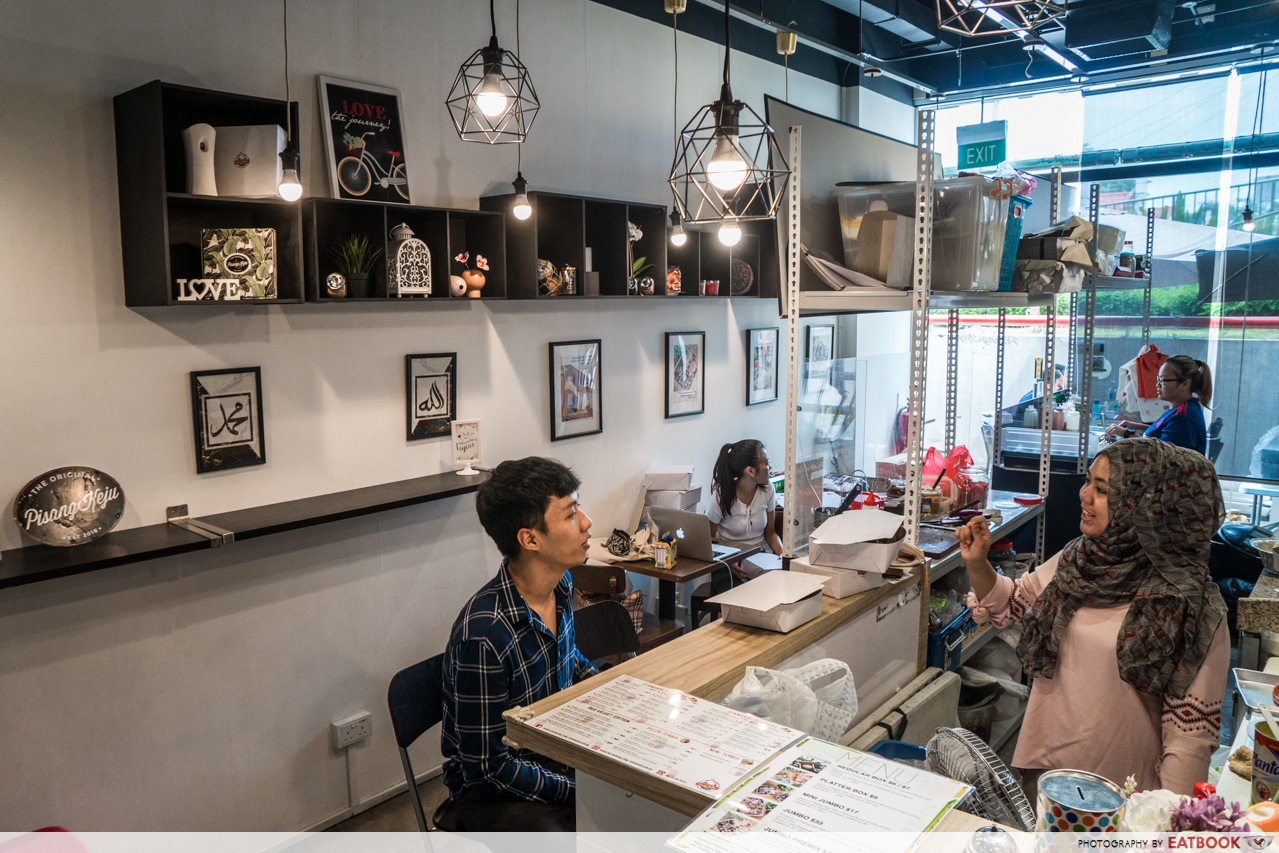 Terang Bulan is situated in East Village, sharing the same workspace as Original Pisang. The owner learned how to make martabak manis from Surabaya, where the people call it "terang bulan" – which means "bright moon". The porous texture of the pancake resembles the moon's craters. Initially starting out as a home business, they gradually garnered many returning customers.
As the demand started growing, they knew they had to find a bigger workspace. Due to space constraints, they only have four seats available in their cafe. Customers usually buy take-outs and Terang Bulan offers delivery services as well.
The verdict


The martabak manis was great, though it wasn't like how I had it in Indonesia. It would have been a hit if it was drenched in more butter and condensed milk. That being said, I would still recommend the shop to my friends, and they can buy and bring the pancakes back home for a great afternoon snack.
If you happen to drop by Terang Bulan any time, check out the cheese-drenched takoyaki stall next to theirs as well!
Address: 430 Upper Changi Road, #01-04, East Village Mall, Singapore 487048
Opening hours: Tue-Sun 12pm to 8pm
Tel: 9230 9514
Website
Menu
Terang Bulan is a Muslim-owned eatery.
This is an independent review by Eatbook.sg.
Summary
Pros
– Substantial toppings
– Scrumptious red velvet cream cheese martabak
– Nett prices
– Offers delivery services
Cons
– Limited seats available
– Lack of butter and condensed milk
Recommended Ingredients: Terbul Pizza ($10), Terbul Oreo Red Velvet Cream Cheese ($11)
Operating Hours: Tue-Sun 12pm to 8pm
Address: 430 Upper Changi Road, #01-04, East Village Mall, Singapore 487048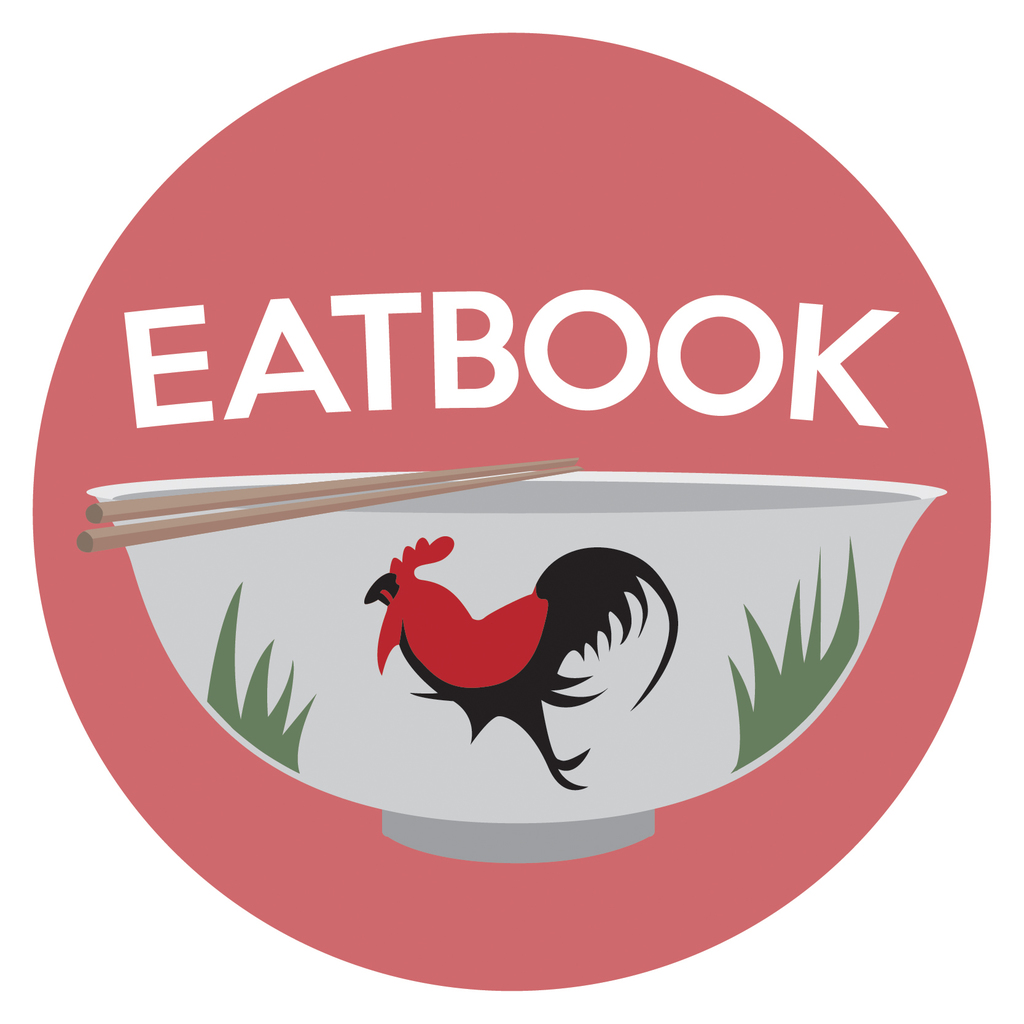 Drop us your email so you won't miss the latest news.