Shrimp Prawn Seafood has free food promo till 27 September 2023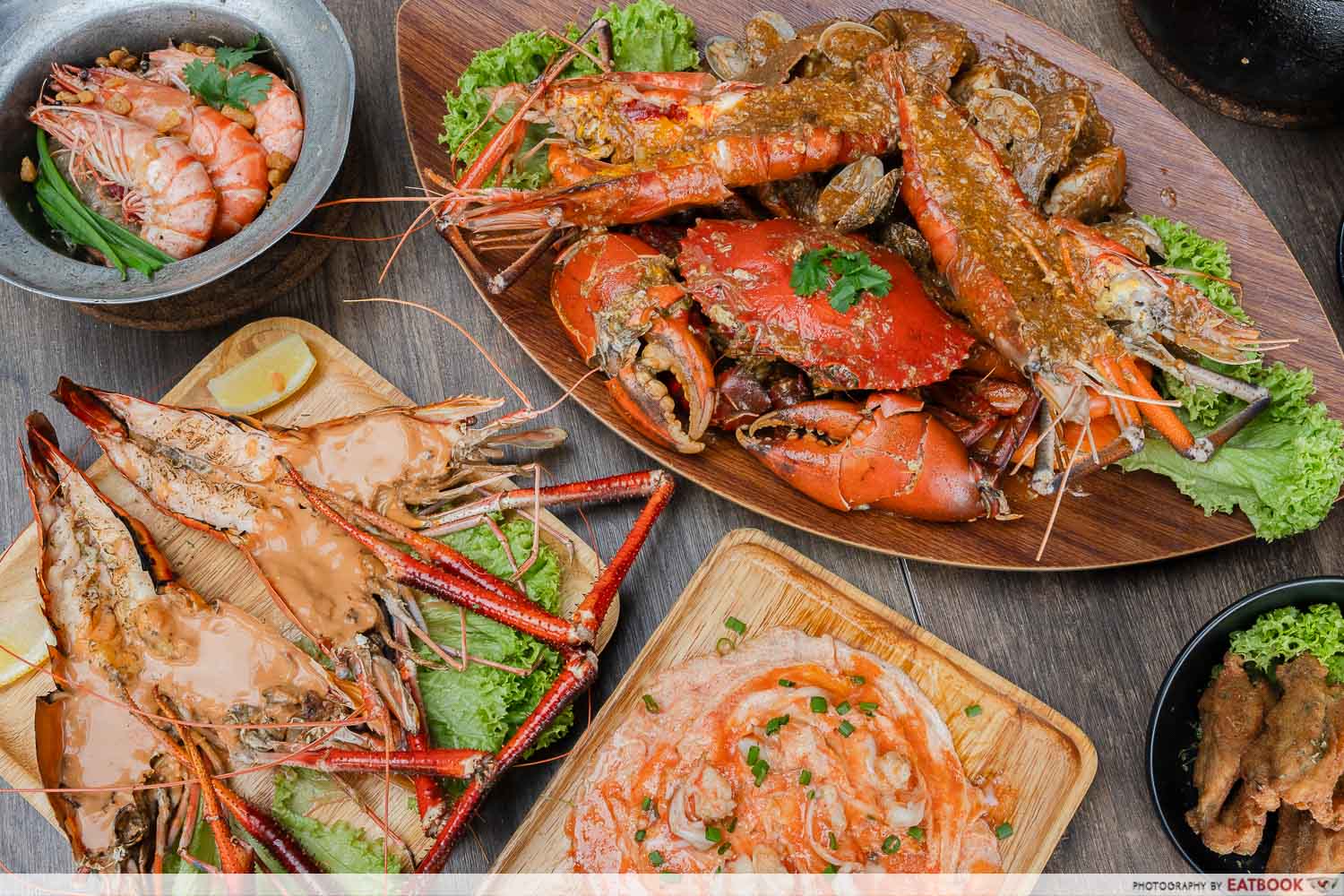 Since its opening in 2020, Shrimp Prawn Seafood has established itself as one of the best places to get Thai shrimp glass noodles in Singapore. Now, the Boat Quay restaurant is celebrating three successful years with an enticing promo: from 25 September to 27 September 2023, dine-in customers are entitled to a free dish, with no minimum spending required.
Shrimp Prawn Seafood Review: Famous Seafood Steel Pot Vermicelli With 2-hour Wait Opens A Restaurant At Boat Quay
If it sounds like it's possible to redeem that dish and leave without ordering anything else, you'd be right. To make things even more exciting, each day of the promotional period features a different dish that, according to the owner, is an original invention—you're unlikely to find it anywhere else in the world.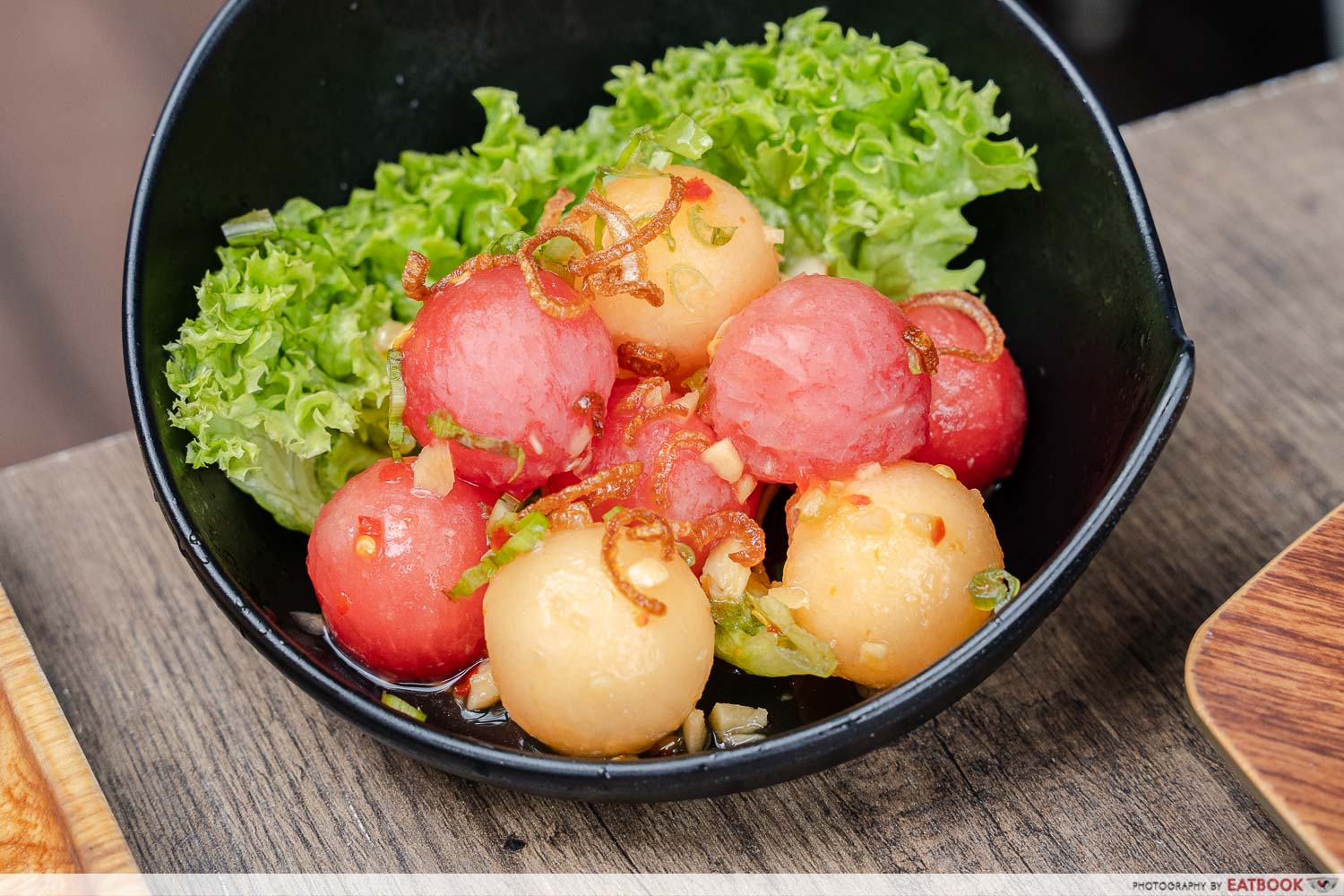 The first of these dishes is the "Tai" Melon (U.P. $8.80++), a starter that features honeydew melon and watermelon balls drenched in a mixture of Thai sauces. It is reminiscent of mango salad, but with the pleasant sweetness of the two aforementioned fruits. This dish is available for free on 25 September.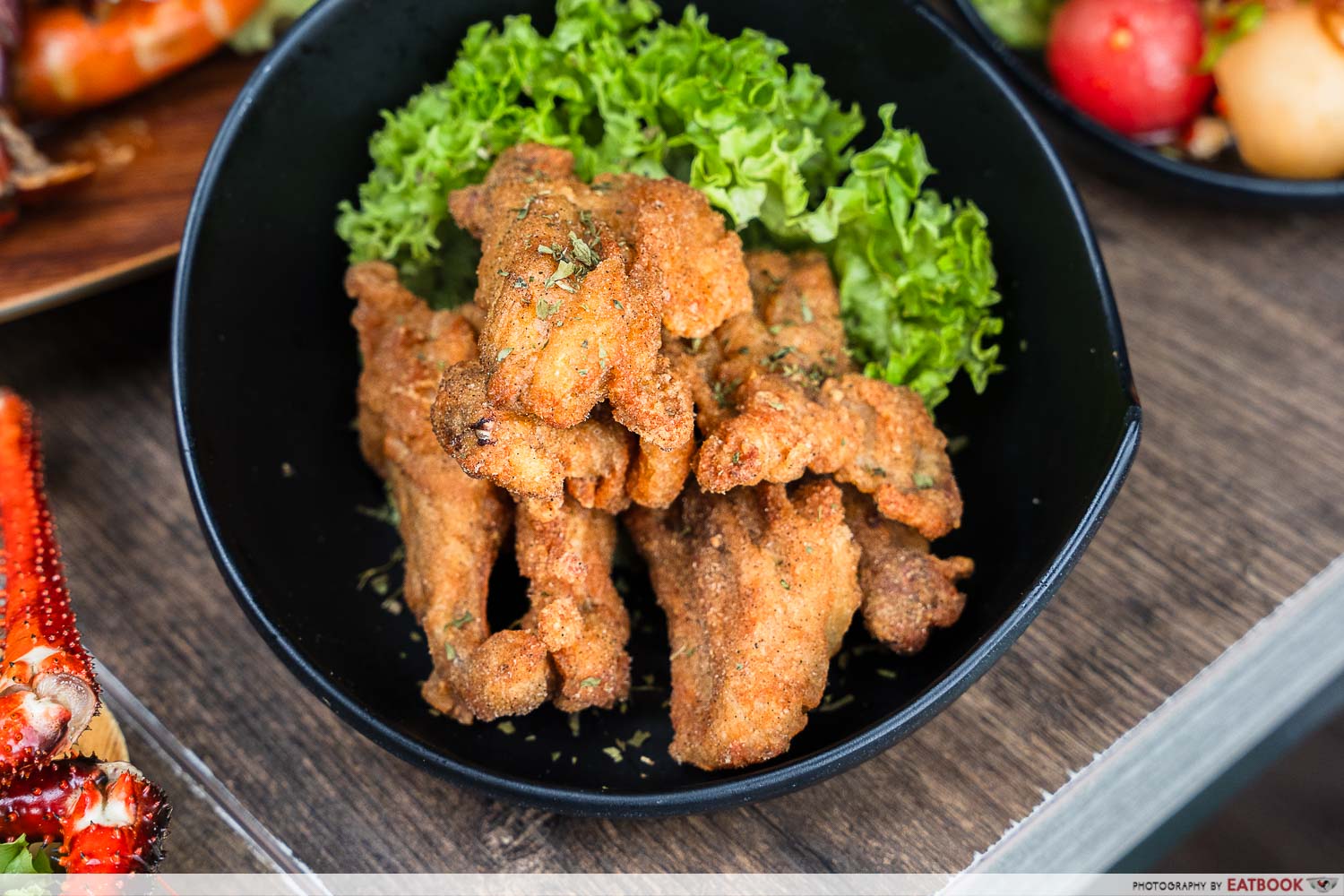 Second is the Chicky Chick Ribs (U.P. $15.80++), a dish that combines Thai-style chicken ribs with a blend of Taiwanese spices. You'll be reminded of Taiwanese street food, but with the unique texture of chicken ribs. You can get this for free on 26 September.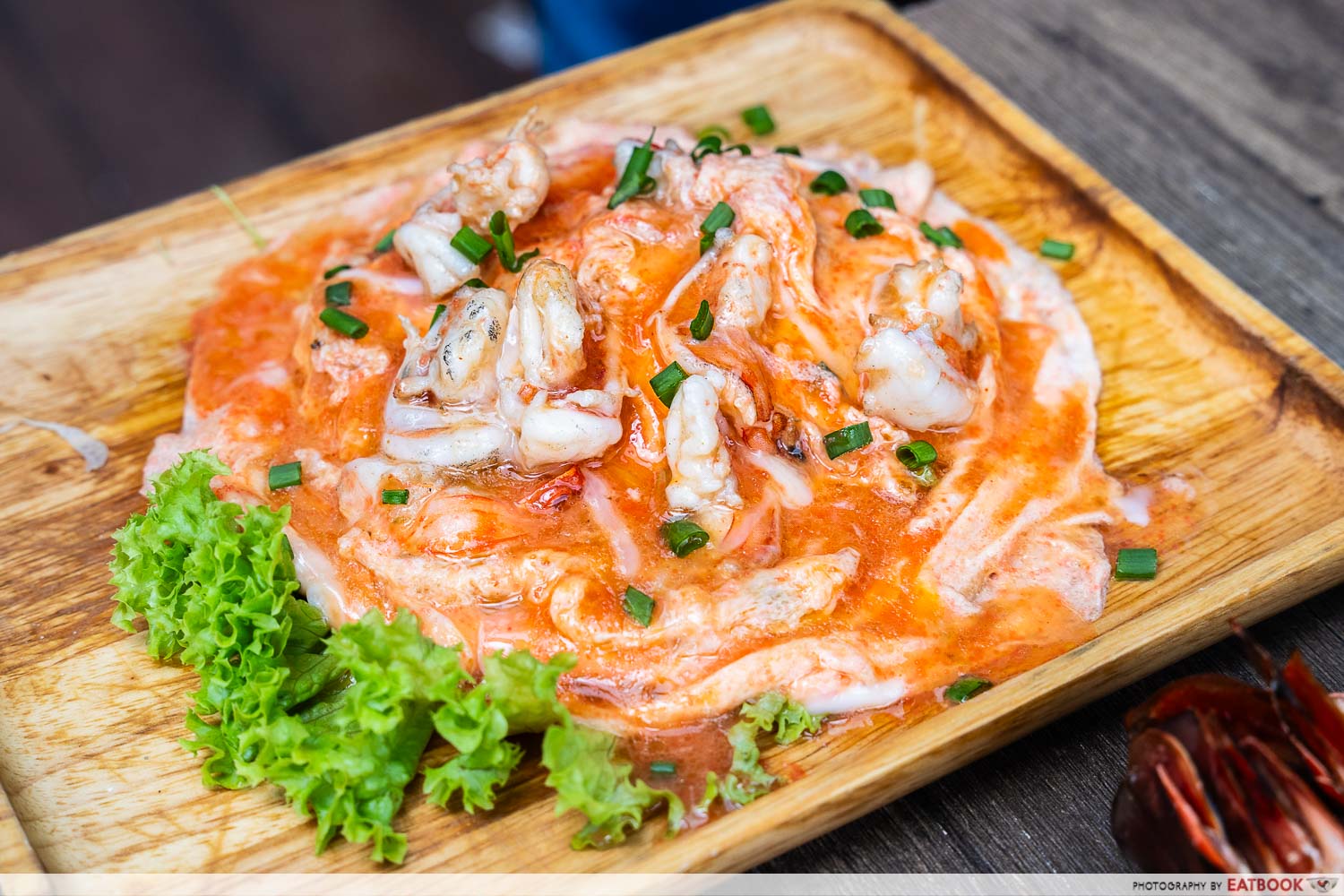 Finally, there's the Umami Prawn Omelette (U.P. $18.80++), which is basically a prawn omelette zhnged up with copious amounts of cod roe. The result is an eggy dish brimming with savoury goodness and luxurious flavour. Redeem yours on 27 September!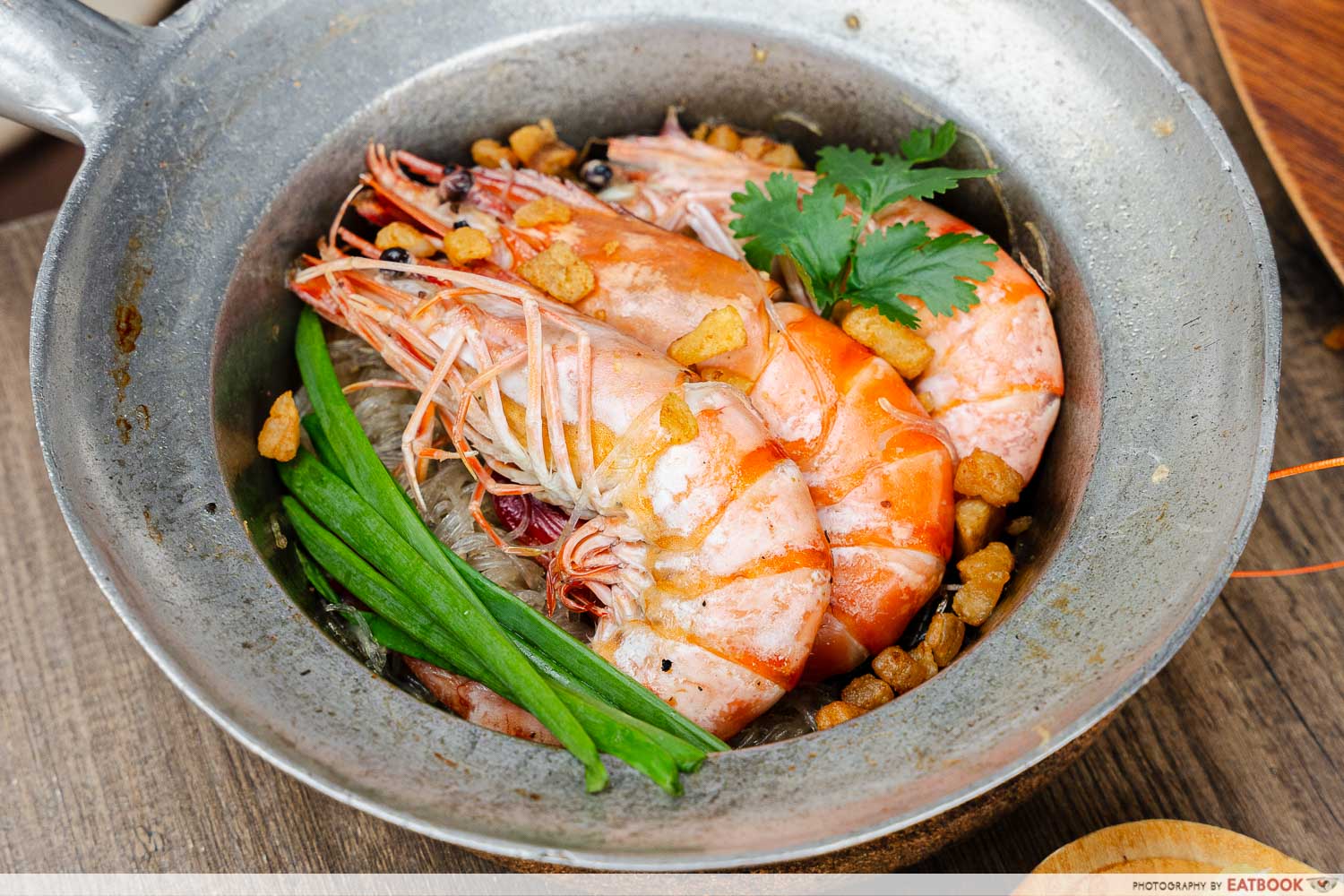 These three free dishes aren't exactly hearty eats, so if you'd like to get a main dish to go with them, make the Shrimp Prawn Signature ($25.80++) your order. Enhanced by pork lard, garlic, black pepper, and a savoury sauce, these silky glass noodles are paired with sizeable, fresh prawns.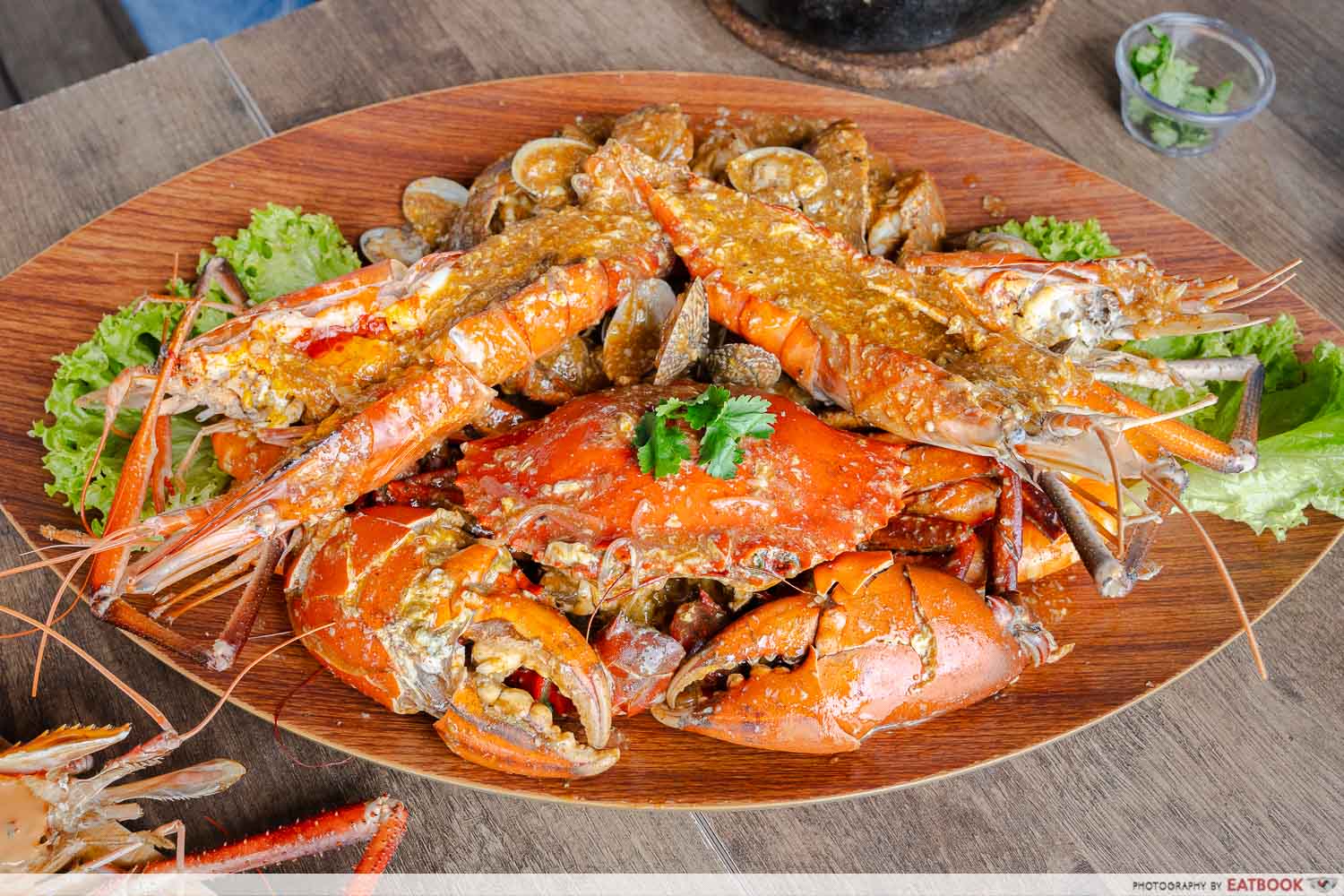 If you're looking to have a feast here, there's a new menu item that's perfect for that: the Singapore Chilli Crab Seafood Platter ($188.80++). Prawns, clams, crayfish, scampi, mud crab, and vermicelli are bathed in a sweet chilli sauce that'll leave you wanting more.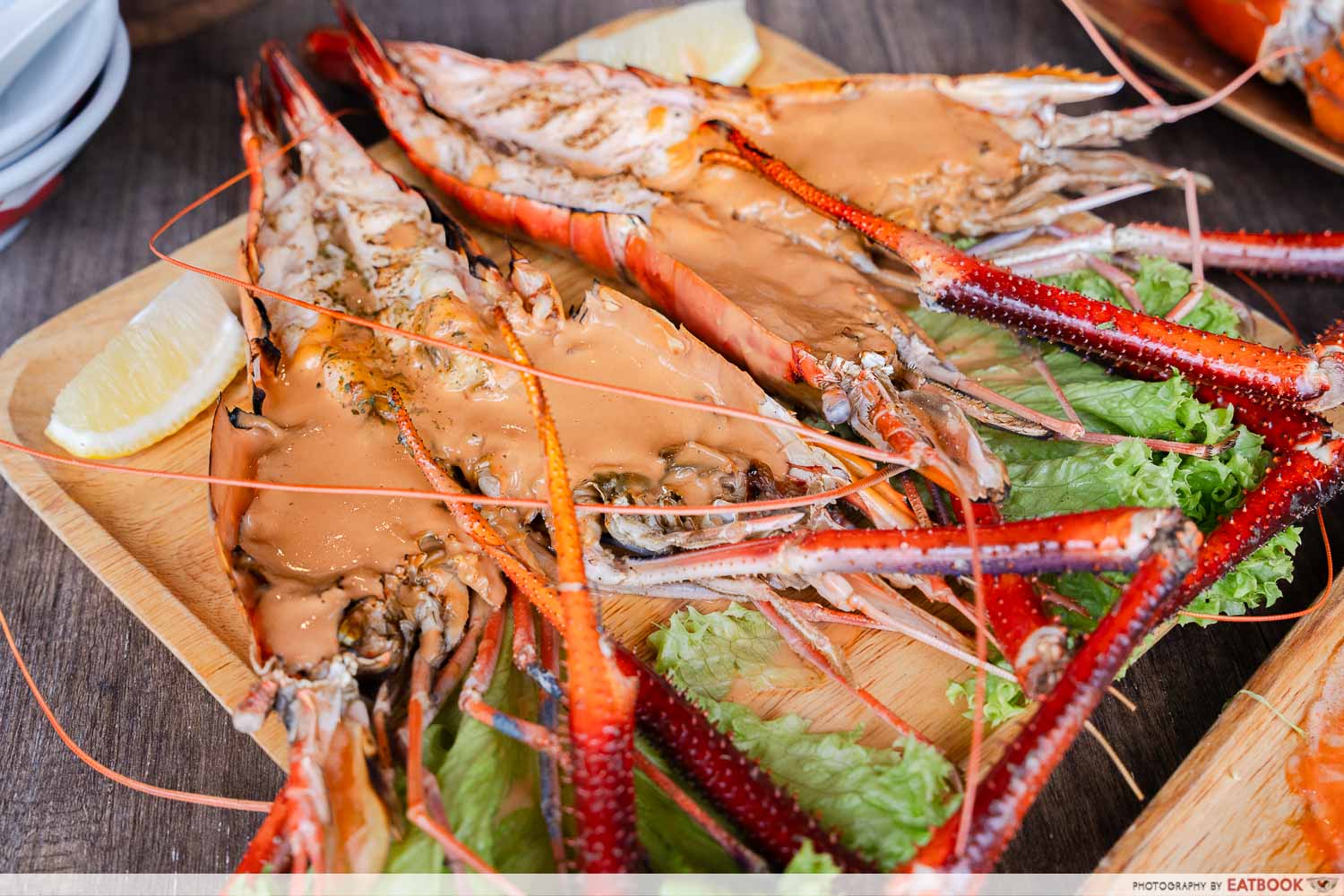 Another new dish that'll fuel your seafood feast is the Oozing Giant Scampi ($28.80++ per piece / $53.80++ for two pieces). They weren't kidding with the "giant" adjective here—this massive crustacean is filled with fresh, chunky meat that's coated with umami roe sauce.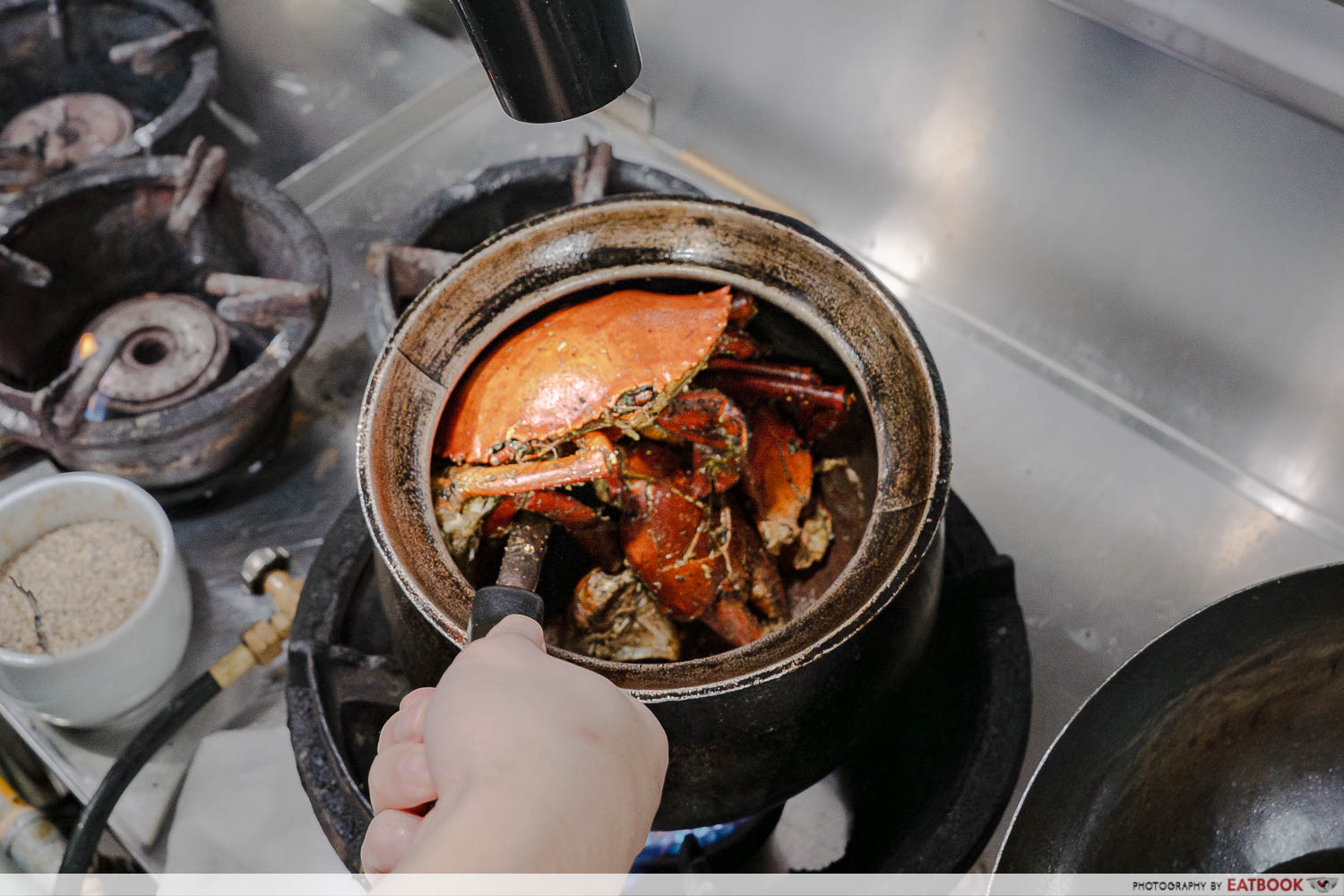 Don't forget to give the Hairdryer Dog Mother Crab ($58.80++). This dish uses the 狗母锅, which roughly translates to dog mother pot, said to imbue ingredients with minerals and improve their flavours. Here, a mud crab is slow-baked then blasted with a hair dryer—yes, a hair dryer—to ensure it is evenly cooked. The result is a wonderfully sweet and juicy crab enhanced by spices such as white and black pepper.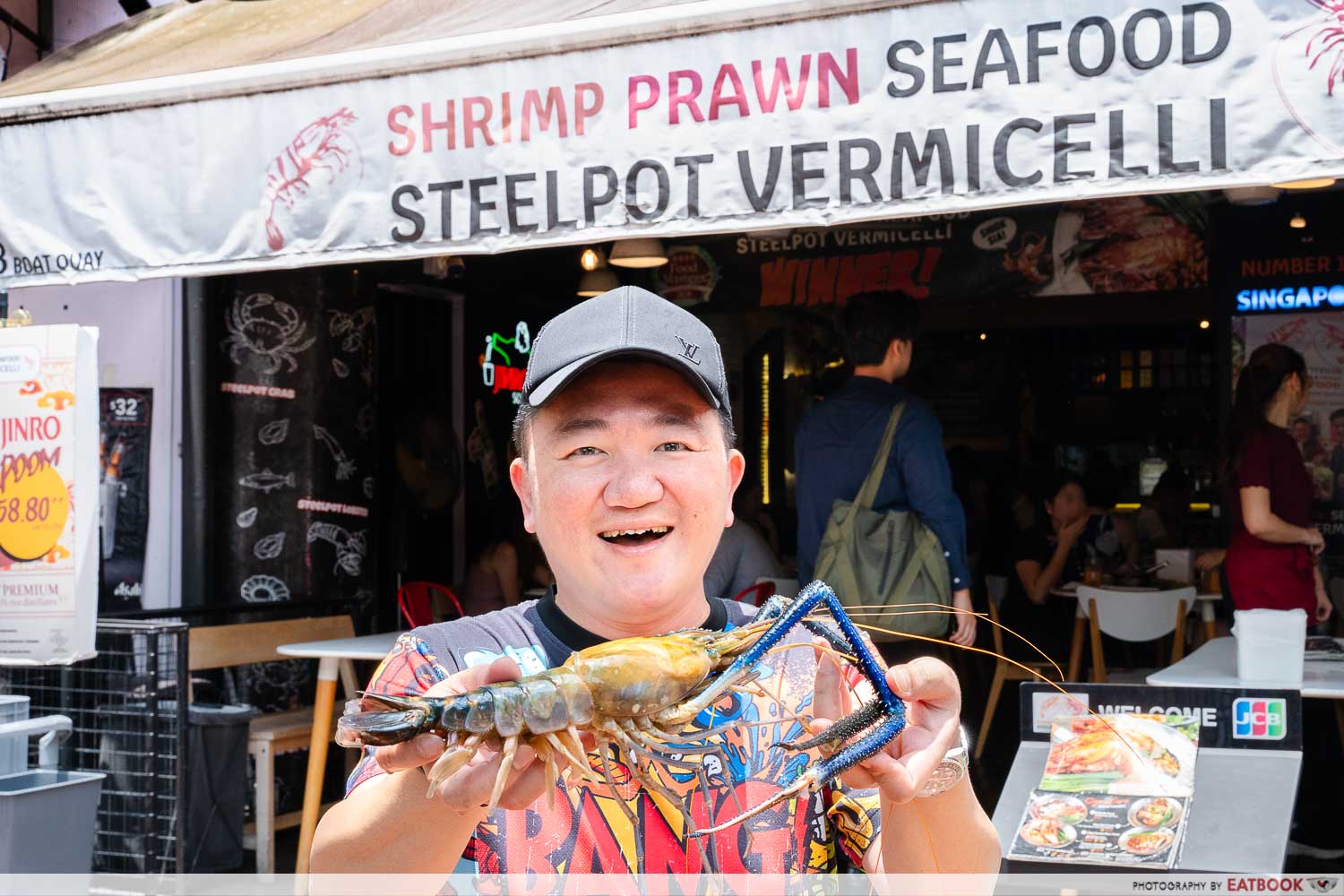 Mark your calendars—you don't want to miss out on this exciting promo and delectable dishes come 25 September!
For other great Thai eateries to check out, have a look at our 15 best Thai food places in Singapore listicle. For a Thai fusion restaurant bar in Jalan Besar, read our HUE review.
Address: 53 Boat Quay, Singapore 049842
Opening hours: Mon-Fri 11:30am to 2:30pm, 5:30pm to 10:30pm, Sat-Sun 5pm to 10:30pm
Website
Shrimp Prawn Seafood is not a halal-certified eatery.
15 Best Thai Food Places In Singapore For Legit Tom Yum, Crab Fried Rice And More
Photos taken by Casandra Nicholas.
This was a media tasting at Shrimp Prawn Seafood.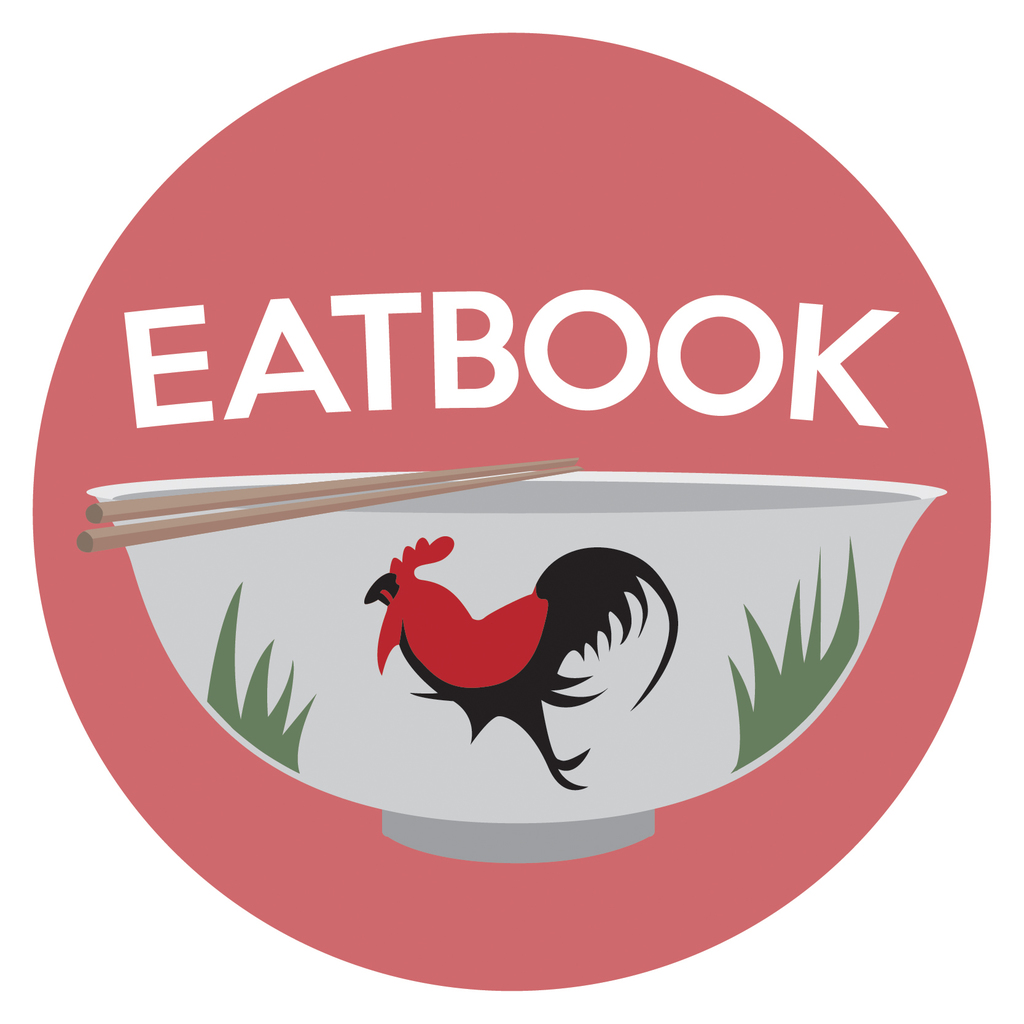 Drop us your email so you won't miss the latest news.