---
Best Thai food places in Singapore
---
Thai food is, without a doubt, one of my favourite cuisines to feast on. The aromatic herbs, combined with the mouth-numbingly spicy flavours, make each dish simply irresistible—at least to me. Here we've shortlisted 15 best Thai food places in Singapore to check out for authentic tom yum, trendy crab omelette. hearty boat noodles and more!
---
1. Khao Hom by Rung Mama
---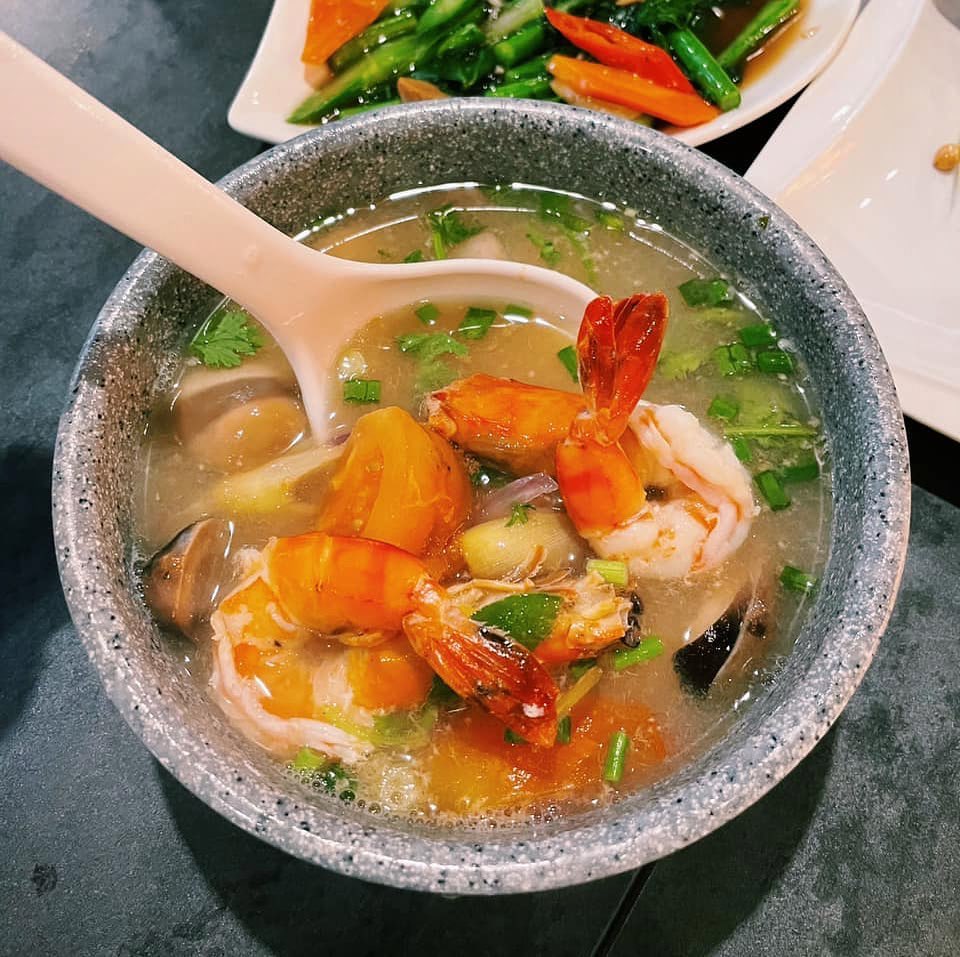 Image credit: @khaohomsg
Khao Hom by Rung Mama is tucked in the quiet neighbourhood of Ang Mo Kio, serving up classic Thai fare we all know and love. The recipes are said to be from the owner's Thai mum who moved to Singapore in the 1980s.
Tuck into the Clear Tom Yum Seafood Soup ($12++), a spicy, tangy, and aromatic favourite. The cosy restaurant also offers a Jay Fai-inspired Omelette Roll with Crab Meat ($30++), starring crispy fried omelette loaded with chunks of crab meat. Round up your meal on a sweet note with the Mango Sticky Rice ($7++): ripe Thai mango cubes with sweet glutinous rice and coconut cream.
Address: 5 Ang Mo Kio Central 2, #01-06, Djitsun Mall, Singapore 569663
Opening hours:  Mon-Thurs 11am to 2:30pm, 4:30pm to 10pm, Fri-Sun 11am to 10pm
Tel: 8202 2512
Website
---
2. Rod Dee Thai Cafe
---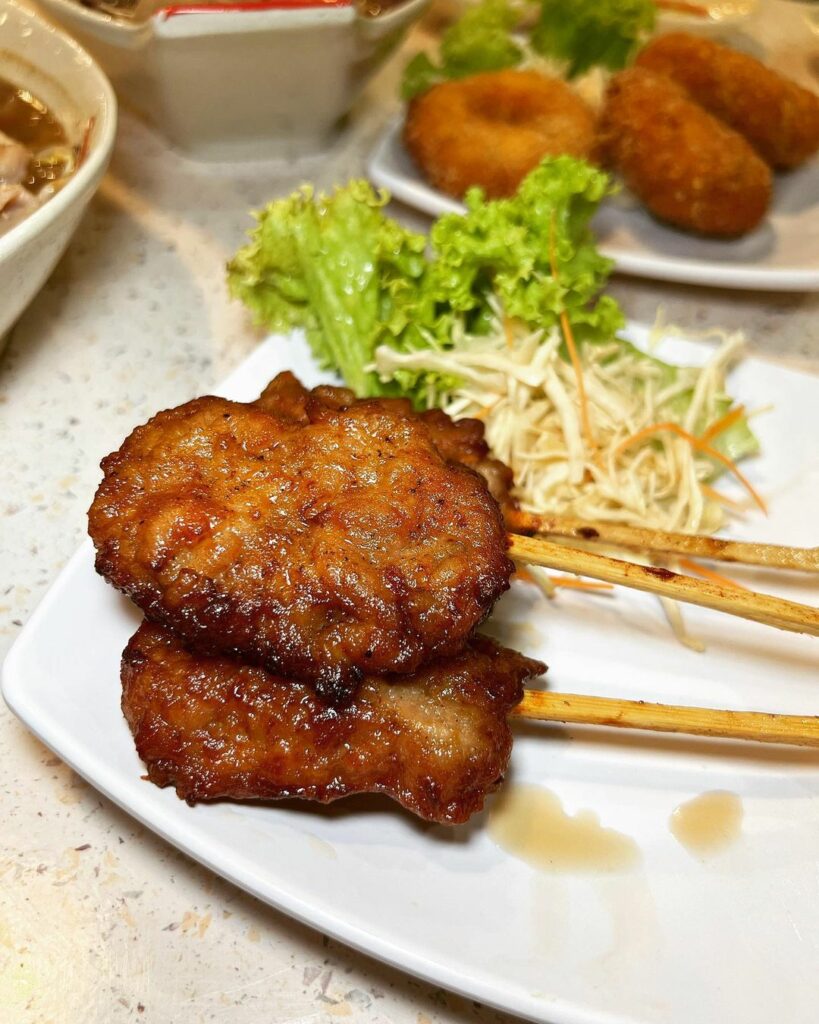 Image credit: @foodhunterph
Rod Dee Thai Cafe is a new-ish Thai cafe that's conveniently located right outside Outram Park MRT Station, with modern-looking interiors and nett prices.
Patrons love their Moo Ping ($7.80 for three pieces) AKA pork skewers, which are said to be juicy and tender with a sweet and smoky flavour. The eatery also has classic Thai-style zi char mains including Tom Yum Fried Rice ($8.80) and Pineapple Fried Rice ($7.80). There's also the quintessential Mango Sticky Rice ($8.80) and Coconut Ice Cream ($2.80) that'll take you back to the streets of Bangkok.
Address: 5 Teo Hong Road, Singapore 088323
Opening hours: Daily 11:30am to 9:30pm
Tel: 6980 7252
Website
Two Bake Boys Cafe Review: Thai Tea Croffles, Green Curry Pasta And More By IG-Famous Crepe Cake Shop
---
3. Tha Chang Noodles 
---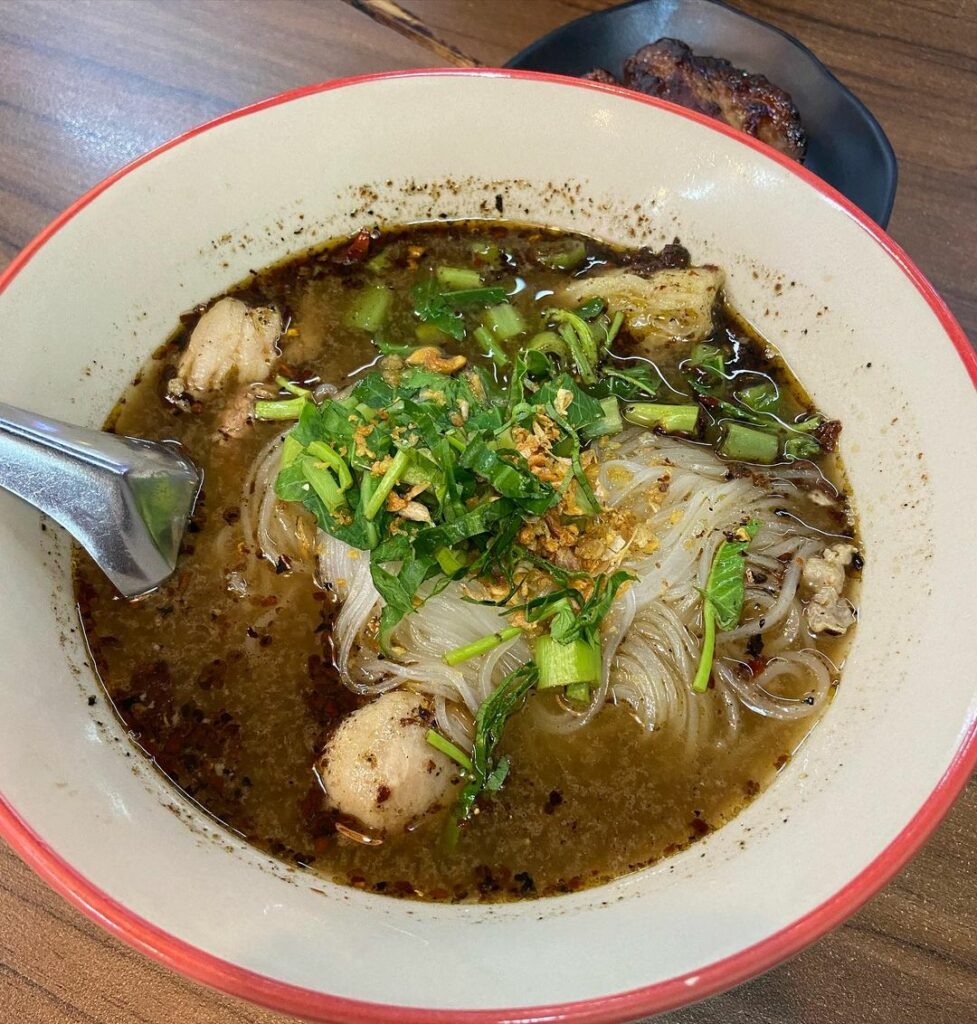 Image credit: @food.kohma
Apparently, the boat noodle recipe from Tha Chang Noodles at Golden Mile Complex originated from a 36-year-old stall in Bangkok. Here you get to choose between the Special Beef or Pork Boat Noodle, both priced at $1.90 for a small bowl. The former costs $6.90 for the full portion, and the latter $7.90. Both soups are said to be uber-rich and flavourful, with chewy rice noodles and meaty toppings.
The som tum menu is rather extensive too, with options such as Papaya Salad with Cockle ($19.90).
Address: 5001 Beach Road, #01-91, Golden Mile Complex, Singapore 199588
Opening hours: Tue-Sun 12pm to 4pm, 5pm to 10pm
Tel: 8874 6868
Website
Tha Chang Noodles is not a halal-certified eatery.
---
4. Sab Ubon Thai Cuisine
---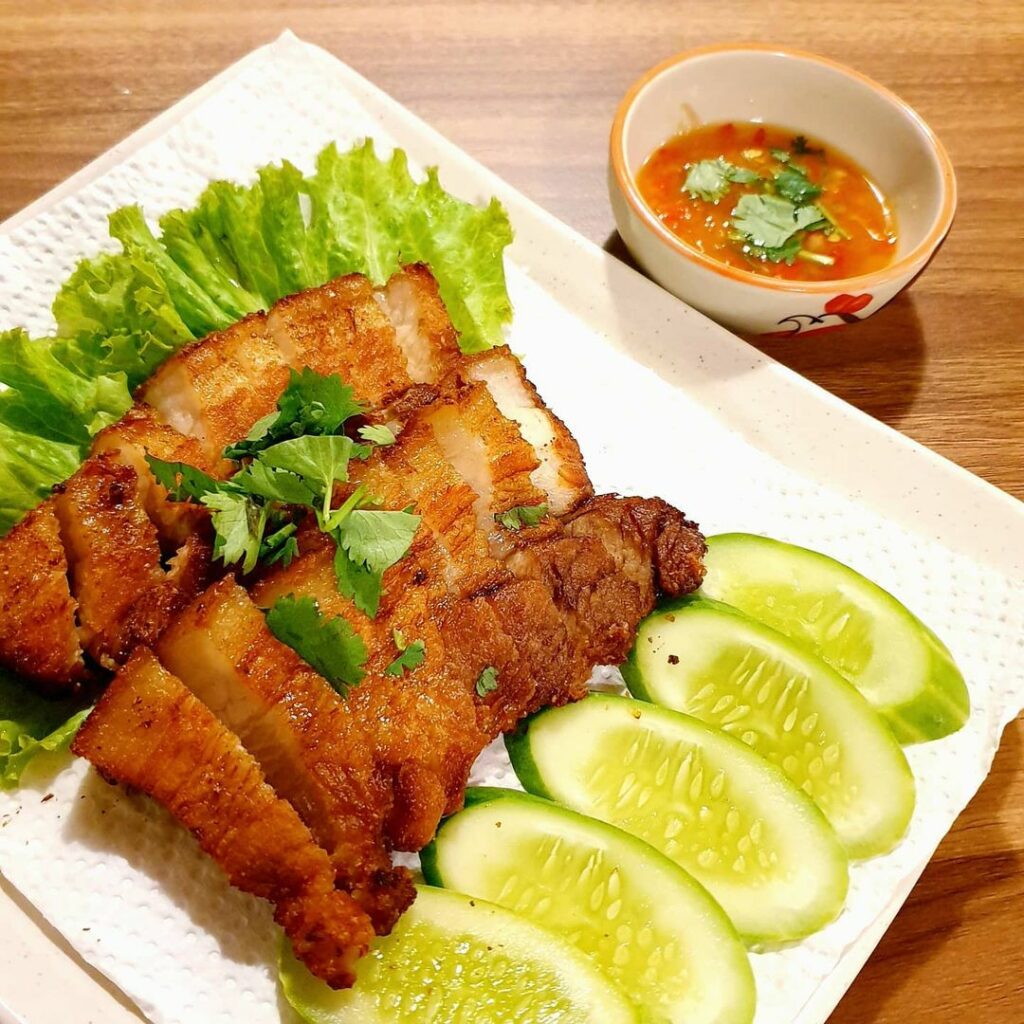 Image credit: @sapubon
Also located in Golden Mile Complex is Sab Ubon Thai Cuisine, a no-frills eatery run by a Singaporean husband and Thai wife duo. The hole-in-the-wall restaurant is tucked in the basement of the mall. They serve legit Thai dishes including Thai Roasted Pork Ubon ($12) and the classic Tom Yum Seafood Soup ($12), a creamy and fragrant concoction packed with fresh seafood.
The casual eatery is small and cosy with limited seats, so you might have to wait a little longer for your order, especially during peak hours!
Address: 5001 Beach Road, #B1-08, Golden Mile Complex, Singapore 199588
Opening hours: Daily 12pm to 10:30pm
Tel: 9778 0064
---
5. Dian Din Leluk
---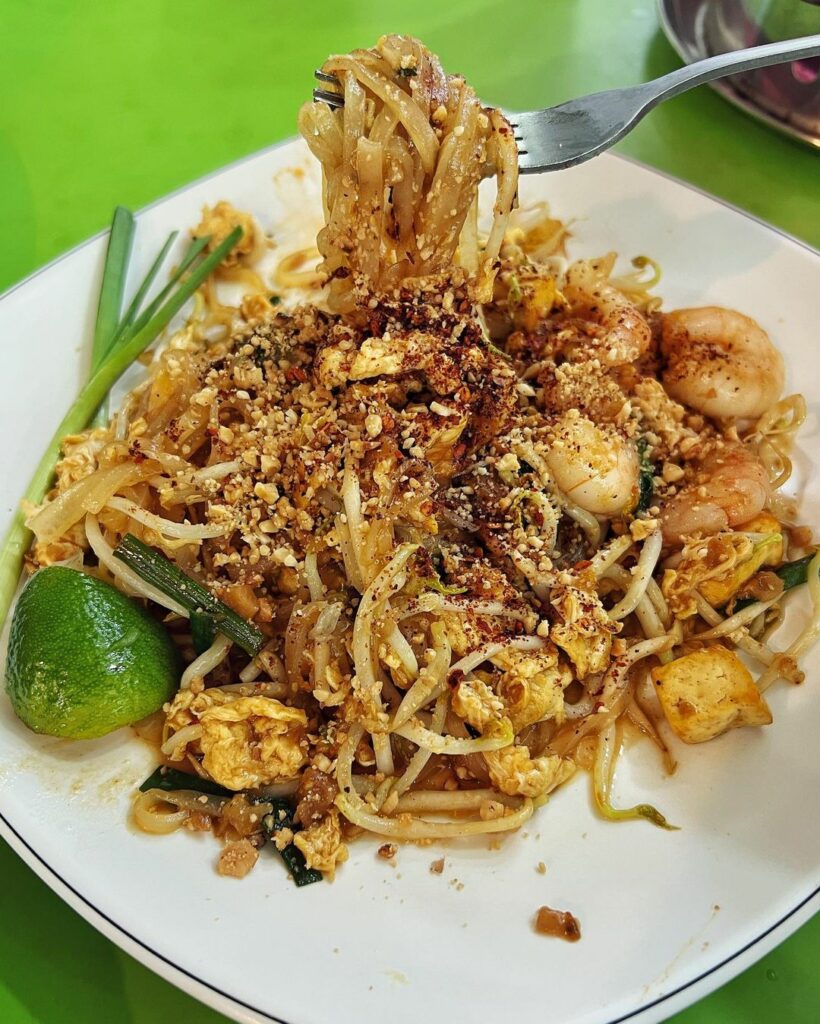 Image credit: @gluttonscoops
Dian Din Leluk has been around for close to 40 years, serving legit Thai dishes at Golden Mile Complex AKA Singapore's 'Little Thailand'. The Thai-owned eatery dishes out a solid plate of Phat Thai ($6++) that's been said to taste just like what you'd get in the motherland. Each serving gets you chewy rice noodles, beansprouts, tofu, fried egg, and prawns, tossed with a messy peanut-and-chilli mix. There's also an Omelette Phat Thai at $8++, which features the same noodles wrapped in a fried omelette.
The eatery offers luxe seafood dishes if you're looking to splurge. There's the Dian Din Signature Tung Hoon Crab ($45++), or the Lobster Fried Rice with Lava Egg ($28++) that feeds two to three diners.
Address: 5001 Beach Road, #01-67/68/69, Golden Mile Complex, Singapore 199588
Opening hours: Daily 10am to 10pm
Tel: 6293 5101
Website
Dian Din Leluk is not a halal-certified eatery.
---
6. Kra Pow Thai Restaurant 
---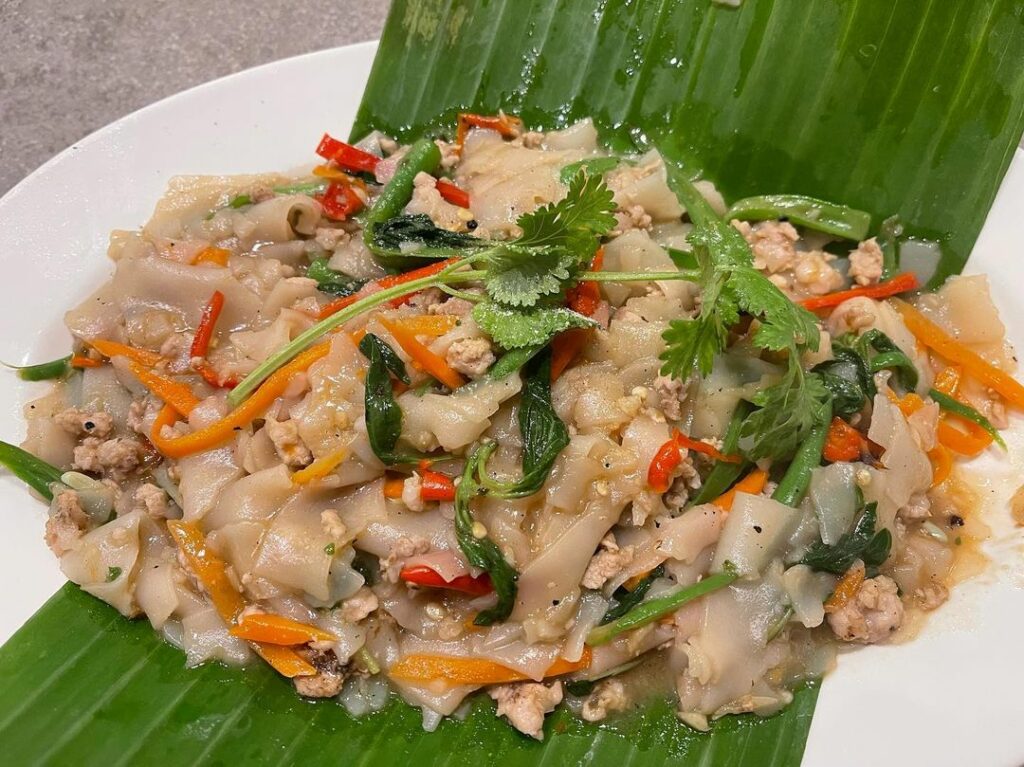 Image credit: @itsjesslynchen
Kra Pow Thai Restaurant has two locations: Far East Plaza and Chinatown Point. The casual eatery draws crowds for its Drunkard Noodles, available in three options: Minced Pork ($9++), Minced Chicken Thigh ($9++), and Tiger Prawn and Fresh Squid ($18++). The flat rice noodles are said to pack a punch in the spice department and come with a ton of wok hei.
If you need more spice in your meal, get the Red Tom Yum with Prawns and Mushroom ($24++) to share with your chilli-loving friends. Then, wash it all down with a cup of Thai Milk Tea ($4.50++), an essential way to cool down from the heat.
Website | Full list of locations
Kra Pow Thai Restaurant is not a halal-certified eatery.
---
7. Un-Yang Kor-Dai
---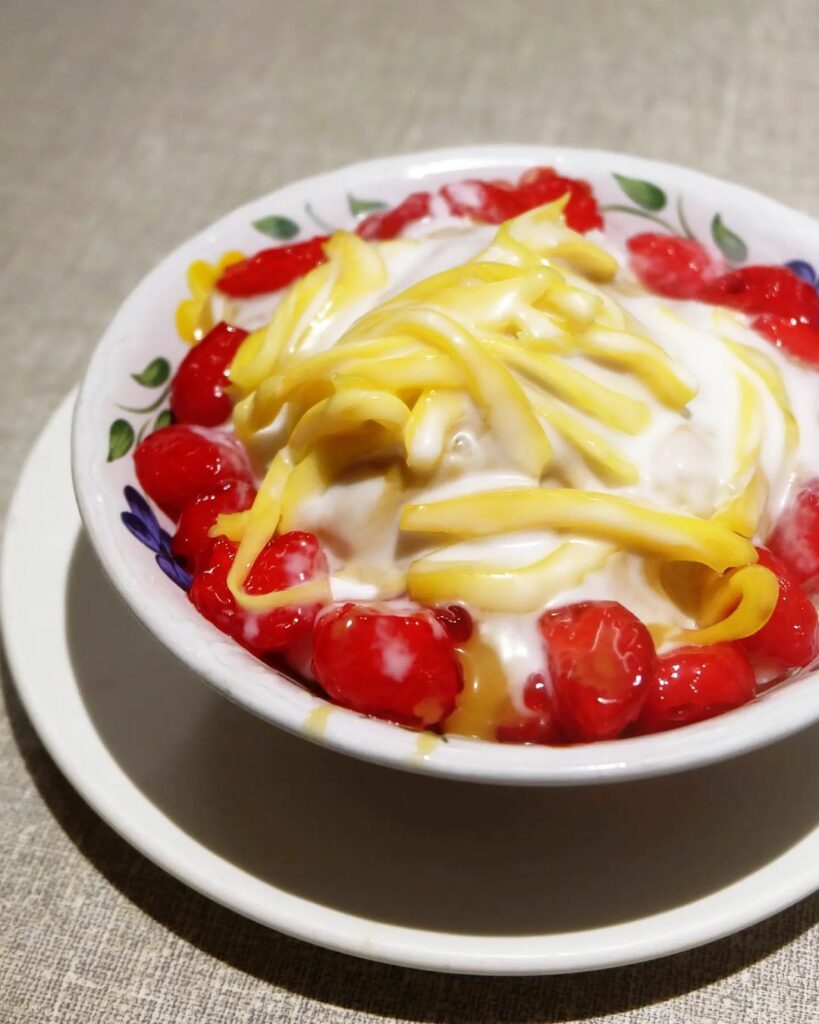 Image credit: @vanessa_kou
You don't need to travel all the way to Thailand for a taste of authentic Isaan cuisine; just head to Un-Yang-Kor-Dai on South Bridge Road. This Michelin-approved Northern Thai restaurant hails from Khao Yai National Park in Thailand, so you know they're legit.
Here you'll find interesting Isaan dishes that are hard to get elsewhere, including PenLaos Signature Grilled Chicken (from $15++), marinated with white peppercorn and coriander for an aromatic flavour. There's also the Red Curry with Grilled Chicken, Lychee, Tomato, and Sweet Basil ($18.50++), best paired with Isaan Spicy Grilled Pork Neck Fried Rice ($15.90++) if you're up for more spice.
Don't forget to order a side of Red Ruby in Coconut milk ($8.50++) for a satisfying post-meal dessert fix!
Address: 57 South Bridge Road, #01-02, Singapore 058688
Opening hours: Tue-Sun 11:30am to 2pm, 6pm to 9pm
Tel: 6787 8575
Website
Un-Yang-Kor-Dai is not a halal-certified eatery.
12 Affordable Thai Food Places With Mains Below $15 For Your Next Clique Outing
---
8. Beer Thai House 
---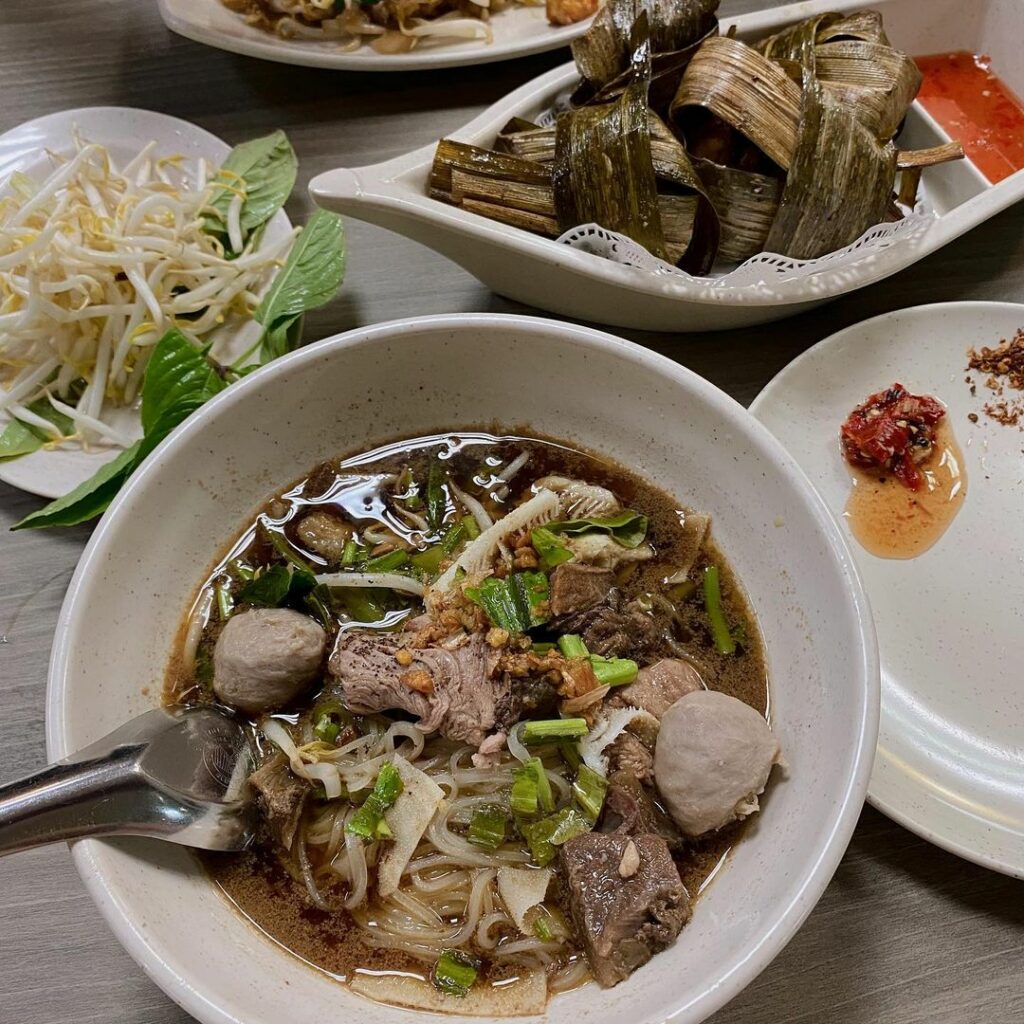 Image credit: @hangry.rui
Beer Thai House is a Thai-run restaurant in Golden Mile Complex with a huge variety of dishes, ranging from boat noodles to Thai-style zi char. Their Thai Beef Noodles ($6) are said to be thick and beefy, with a good serving of meat and noodles. Other popular noodle dishes are Thai Pork Noodles ($6) and Pad Thai ($6).
Pair your mains with classic sides, such as Thai Fish Cakes ($12) and Pandan Chicken ($12 for four pieces), well-loved by regulars of the no-frills eatery.
Make sure to schedule a visit before Golden Mile Complex closes down in May 2023!
Address: 5001 Beach Road, #01-94/96 Golden Mile Complex, Singapore 199588
Opening hours: Daily 11am to 9:30pm
Tel: 6297 7644
Website
Beer Thai House is not a halal-certified eatery.
---
9. Shrimp Prawn Seafood
---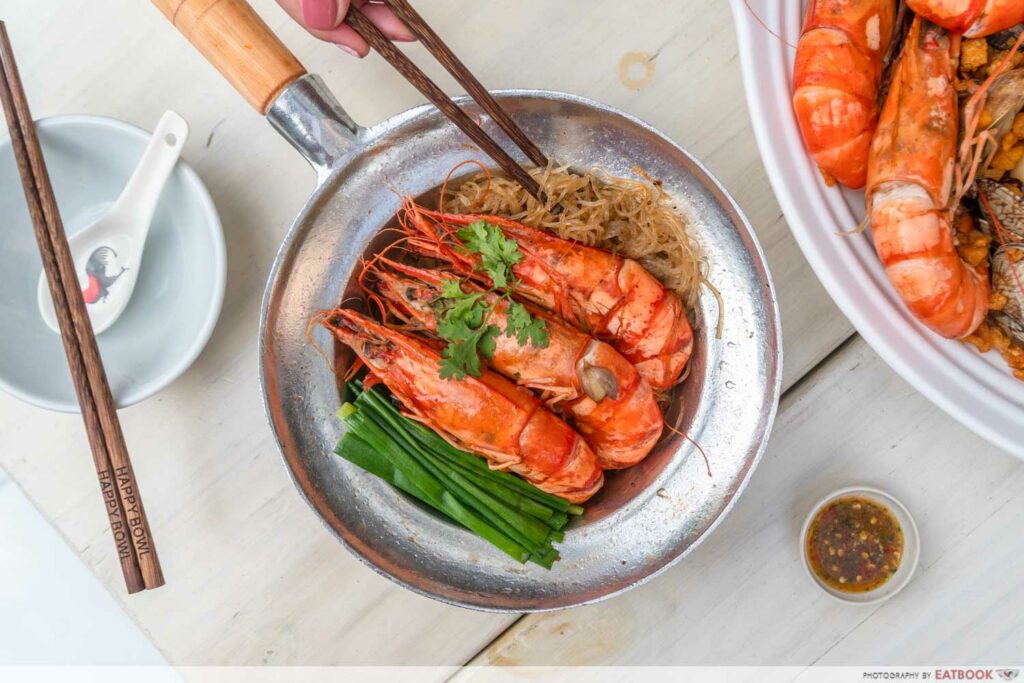 When we first did our Shrimp Prawn Seafood review, we were blown away by the flavours of their Goong Ob Woonsen, AKA Thai-style glass noodles. The signature Steelpot Vermicelli is available with toppings such as Butterfly Prawn ($19.80++) and King Tiger Prawn ($18.80++). The hearty pot of noodles is full-on flavour, thanks to the addition of garlic, ginger, black pepper, and coriander root. Pork lard is thrown into the mix, along with raw prawns for a seafood-esque sweetness.
The restaurant also has claypot dishes, including Tom Yum Seafood Soup ($15.80++) and an Incredible Hulk Green Curry ($16.80++), which can be made extra-spicy.
Address: 53 Boat Quay, Singapore 049842
Opening hours: Mon-Fri 11:30am to 2:30pm, 5:30pm to 10:30pm, Sat-Sun 5pm to 10:30pm
Tel: 9888 8853
Website
Shrimp Prawn Seafood is not a halal-certified eatery.
Shrimp Prawn Seafood Review: Famous Seafood Steel Pot Vermicelli With 2-hour Wait Opens A Restaurant At Boat Quay
---
10. Thai Tantric Authentic Thai Cuisine

---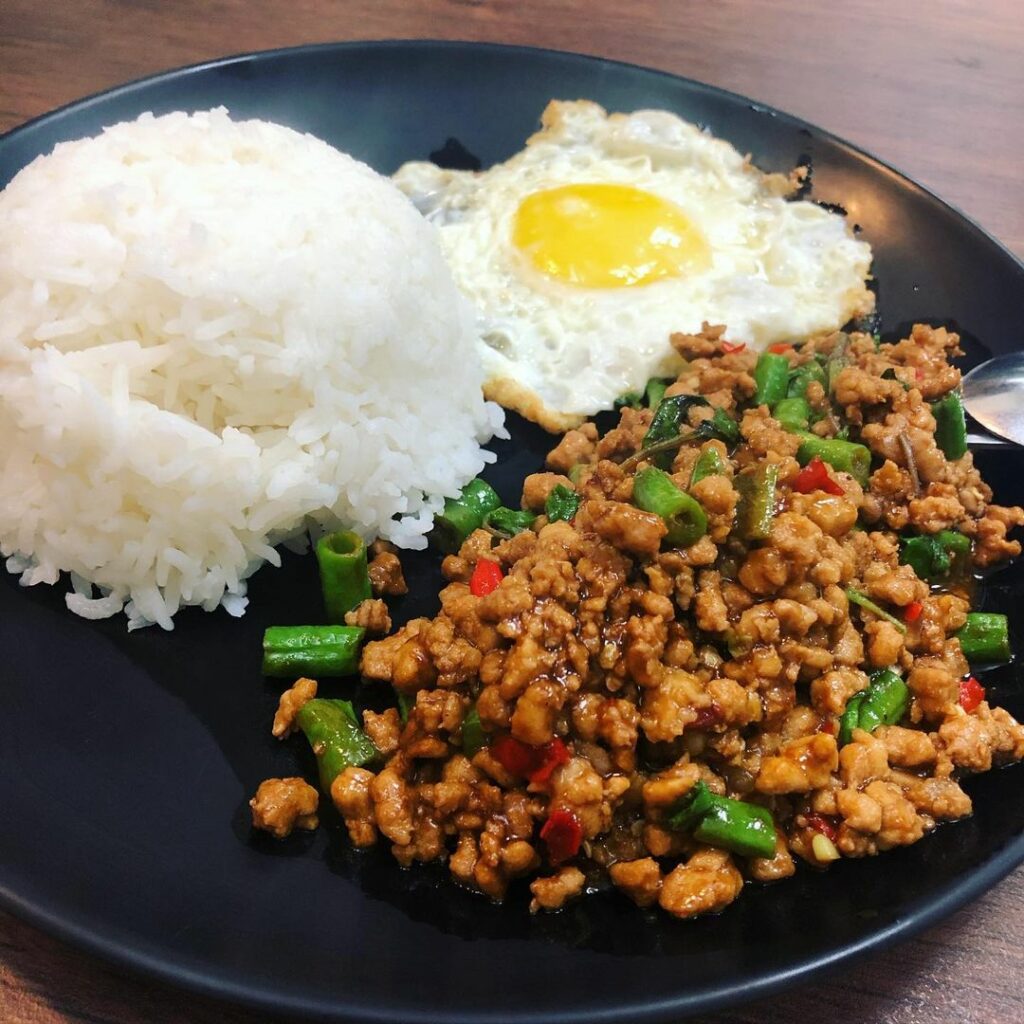 Image credit: @mana_i_v
Diehard Thai food fans would be familiar with Thai Tantric Authentic Thai Cuisine, which is somewhat of a hidden gem. Its discreet location—on the third floor of Orchard Towers—and no-frills setup will make the dining experience feel rather authentic.
Regulars love the Khao Pad Kra Pow ($8): stir-fried chilli and basil with minced chicken, pork, or beef, served over rice and a fried egg. The rich and flavourful sauce is fragrant from the Thai basil leaves and comes loaded with meat. The casual eatery also does a delicious Tom Yum Soup ($15) with seafood, but be warned as it's pretty spicy.
Address: 400 Orchard Road, #03-44, Orchard Towers, Singapore 238875
Opening hours: Mon-Sat 11:30am to 10pm
Tel: 9625 7523
Website
Thai Tantric Authentic Thai Cuisine is not a halal-certified eatery.
---
11. Nummun Thai Food 
---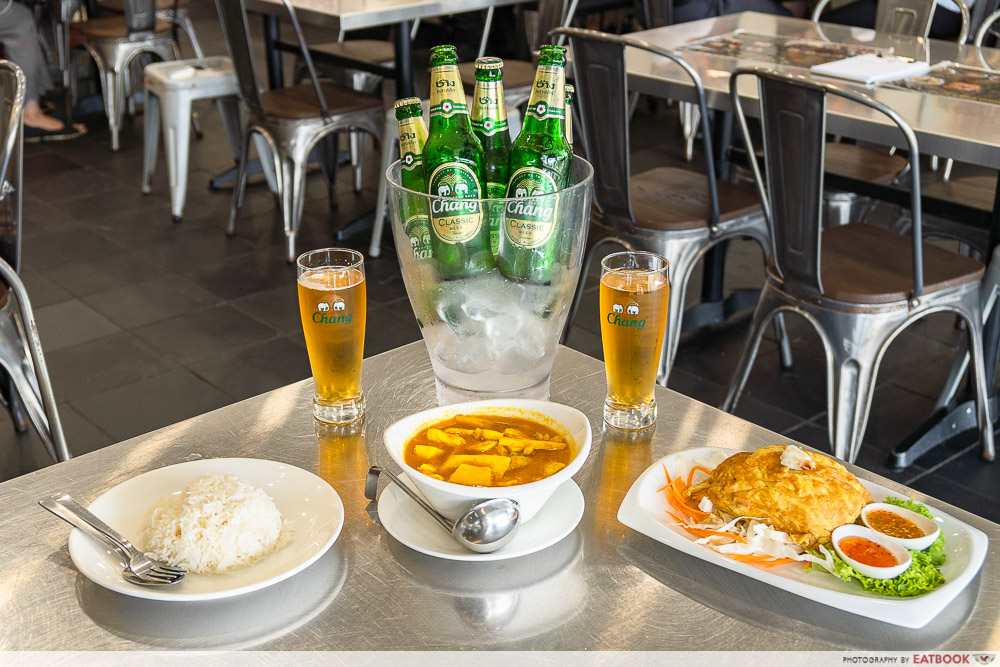 If you love Thai cuisine, chances are you've heard of Thai-owned Nummun Thai Kitchen along Upper Thomson Road. This highly rated eatery is a hit among Thais and locals alike, and we can see why.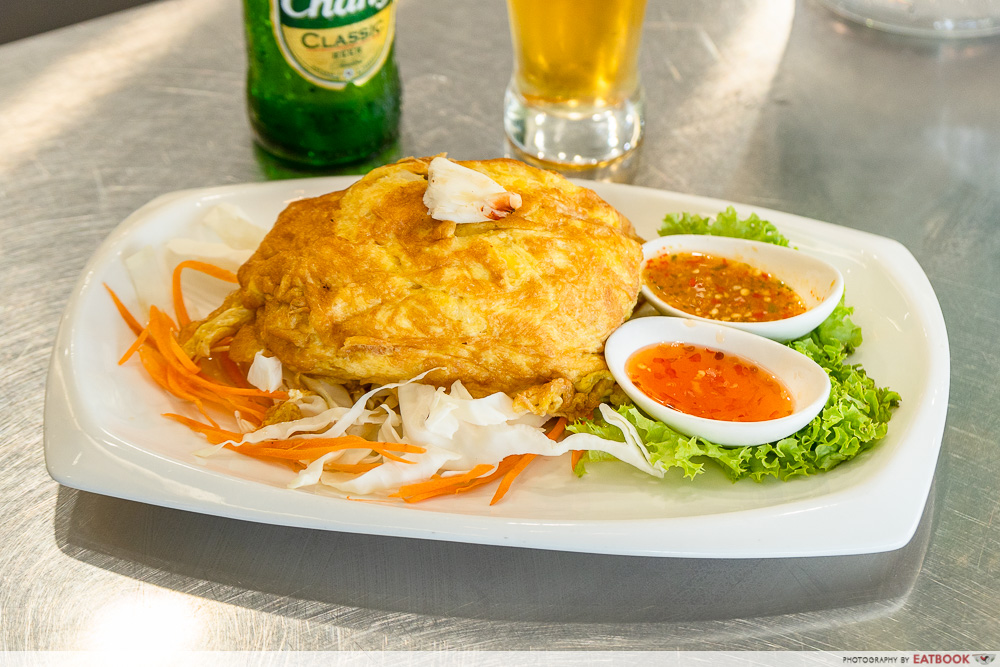 Here they serve popular Thai dishes such as the Crab Meat Omelette ($28), teeming with a generous amount of crab chunks. Another must-order is the Southern Thai Fish Curry with Young Coconut ($15), a spicy and refreshingly tangy fish curry best paired with a side of rice ($1). Alternatively, order their Tom Yum Seafood Soup (Clear), priced at $12, to share.
Address: 200 Upper Thomson Road, #01-03, Thomson Imperial Court, Singapore 574424
Opening hours: Tue-Sun 11:30am to 2:30pm, 5:30pm to 9pm
Tel: 8886 8699
Website 
---
12. Sisaket Thai Food
---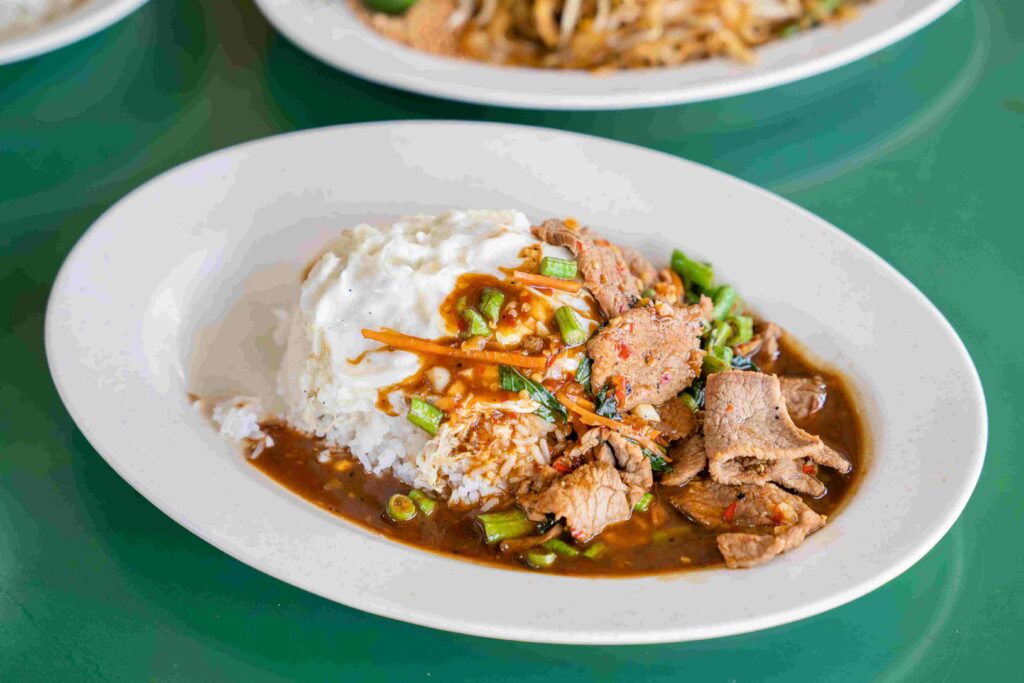 Sisaket Thai Food is a gem in the CBD, as the humble stall in Maxwell Food Centre dishes out affordable and delicious Thai dishes in hearty portions. A must-try is the Basil Beef Rice ($6.50), which features thin beef slices fried with a flavourful, basil-spiked sauce, served atop steamed rice and a fried egg.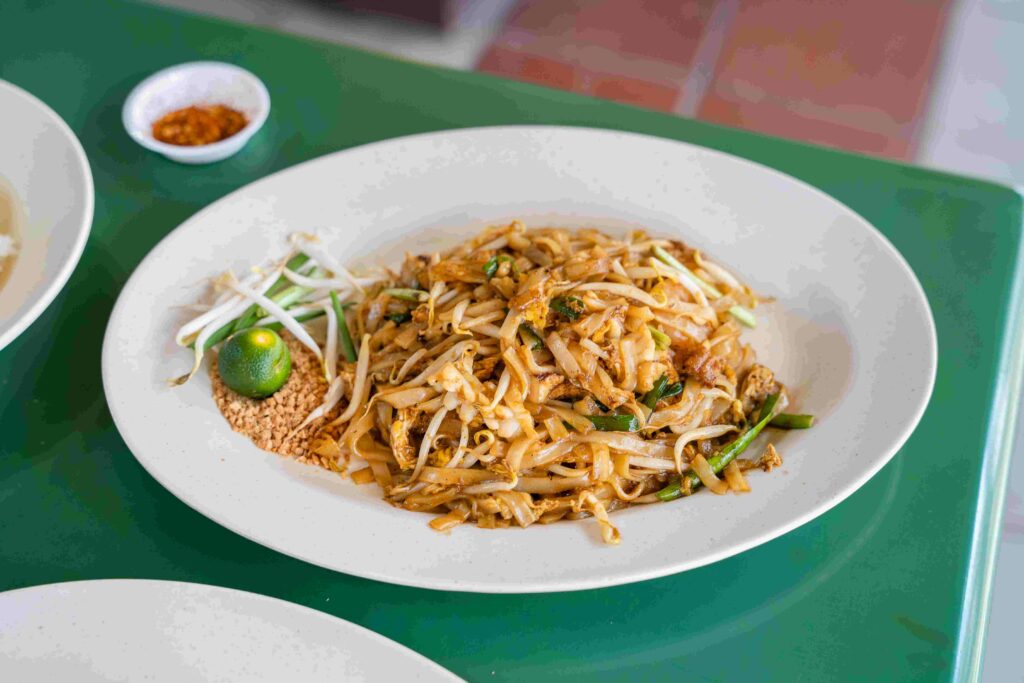 The Pad Thai ($5) is another popular pick. This plate of noodles features thin kway teow, stir-fried with egg, a sweet-savoury sauce, and beansprouts for crunch. It comes with a side of roasted peanuts for you to toss with the noodles, and a lime wedge for added acidity—just like how they do it in Thailand.
Address: 1 Kadayanallur Street, #01-85, Singapore 069148
Opening hours: Daily 9am to 8pm
Sisaket Thai Kitchen is not a halal-certified eatery.
---
13. Tasty Thai
---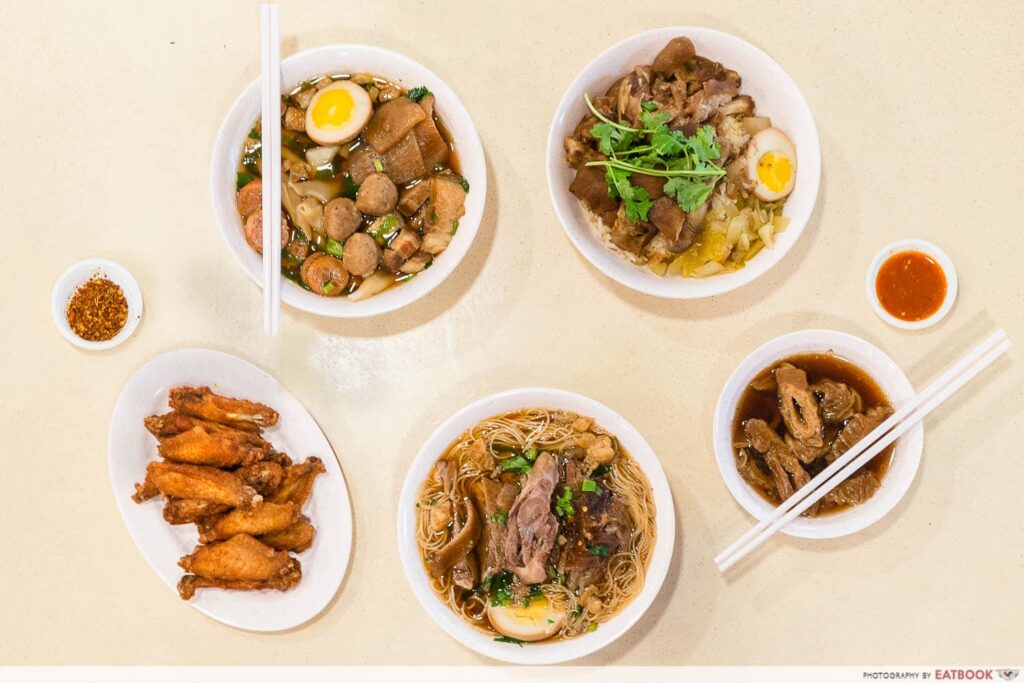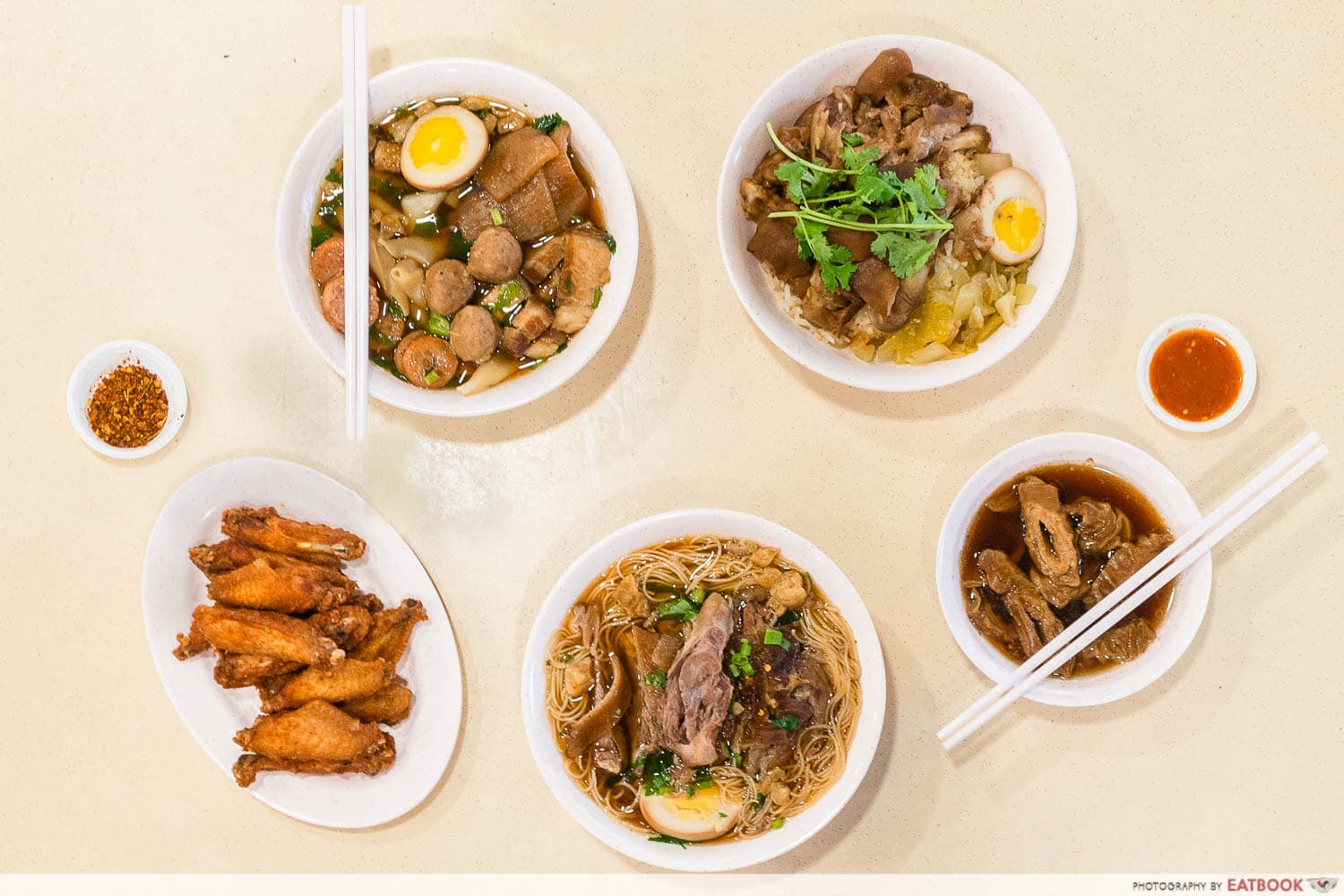 Thai kway chap isn't the most common sighting in Singapore. Tasty Thai, a humble hawker stall in Bukit Batok, offers a solid rendition of Hat Yai-style kway chap. This dish features a darker and more herbal broth instead of the lighter, peppery soup spotted along the streets of Bangkok's Chinatown.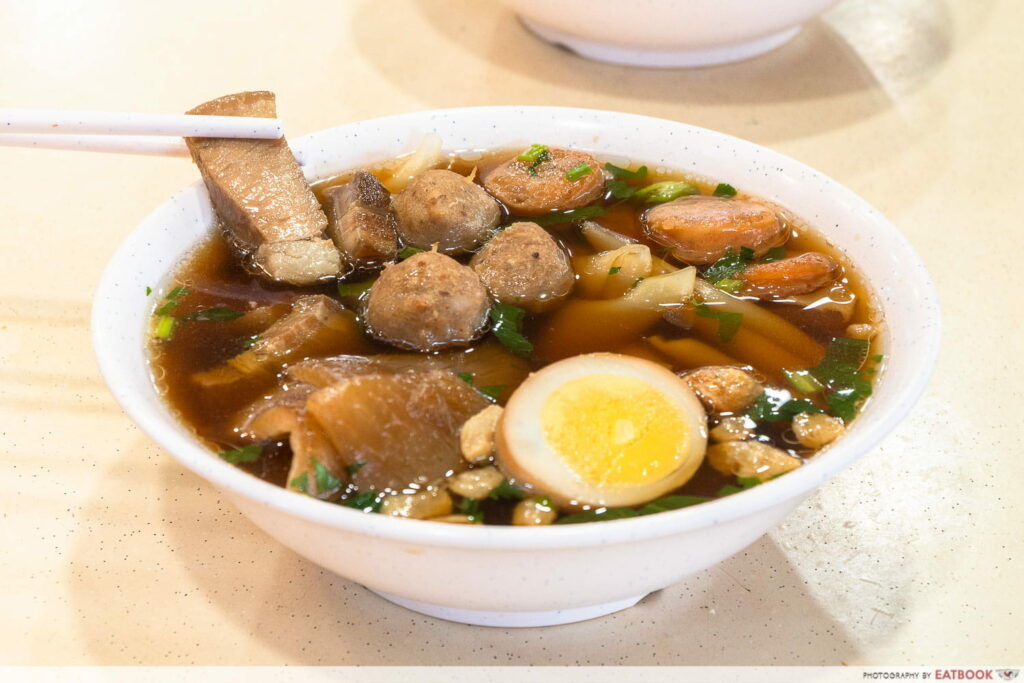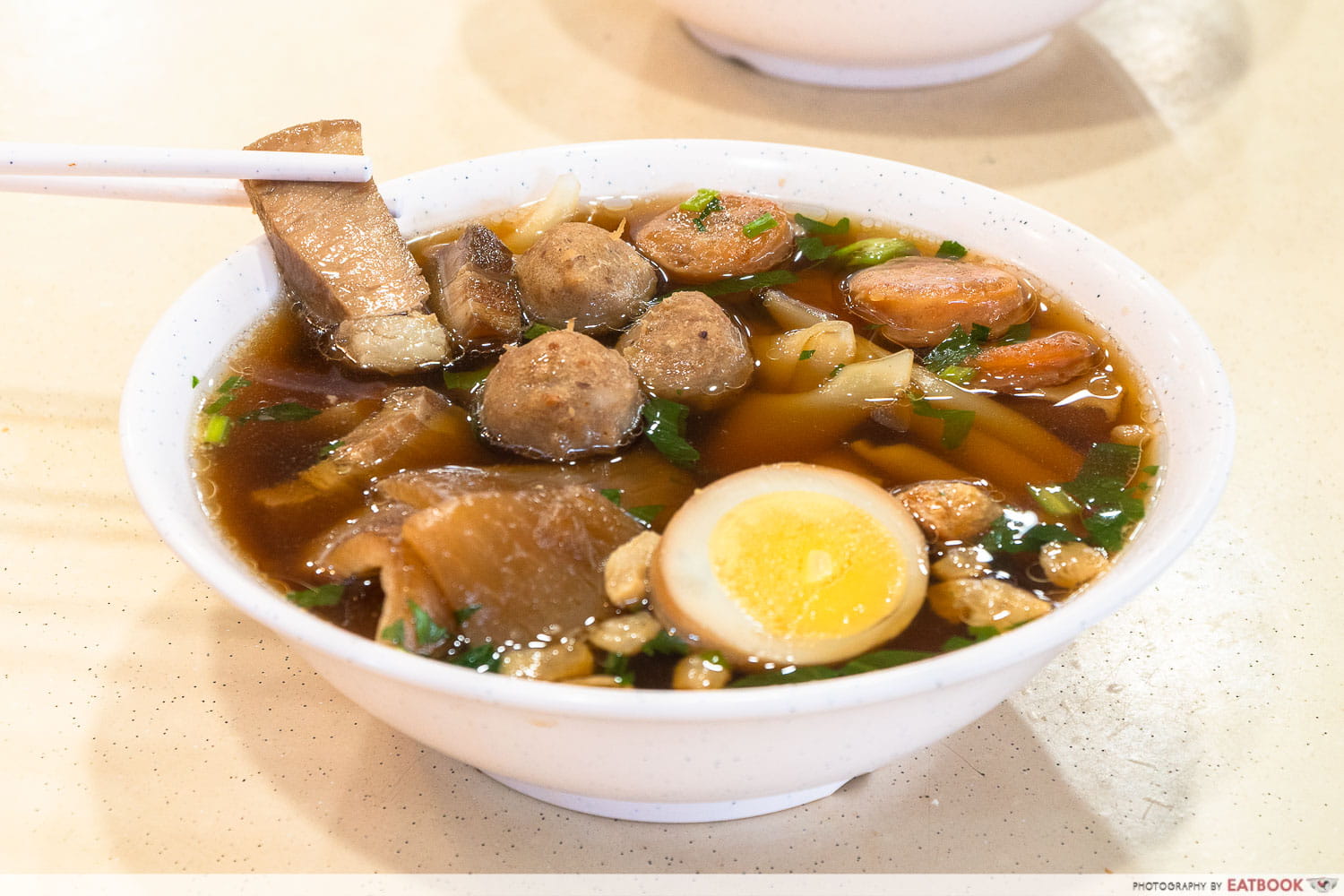 The Thai Kway Chap ($4.90) is a signature here. You get a bowl of rolled-up rice sheets with an assortment of toppings including pork belly, pork skin, pork balls, fish sausage, and braised egg. Complement your meal with a side of Thai Chicken Wings ($6), marinated in salt, pepper, and lemongrass for a fragrant finish.
Address: 150 Bukit Batok Street 11, #01-246, Kimly Coffeeshop, Singapore 650150
Opening hours: Daily 8:30am to 8:30pm
Tasty Thai is not a halal-certified eatery.
Tasty Thai Review: Thai-Style Kway Chap And Tender Pork Trotter Rice Under $5 In Bukit Batok
---
14. BANNGKOK Street Food
---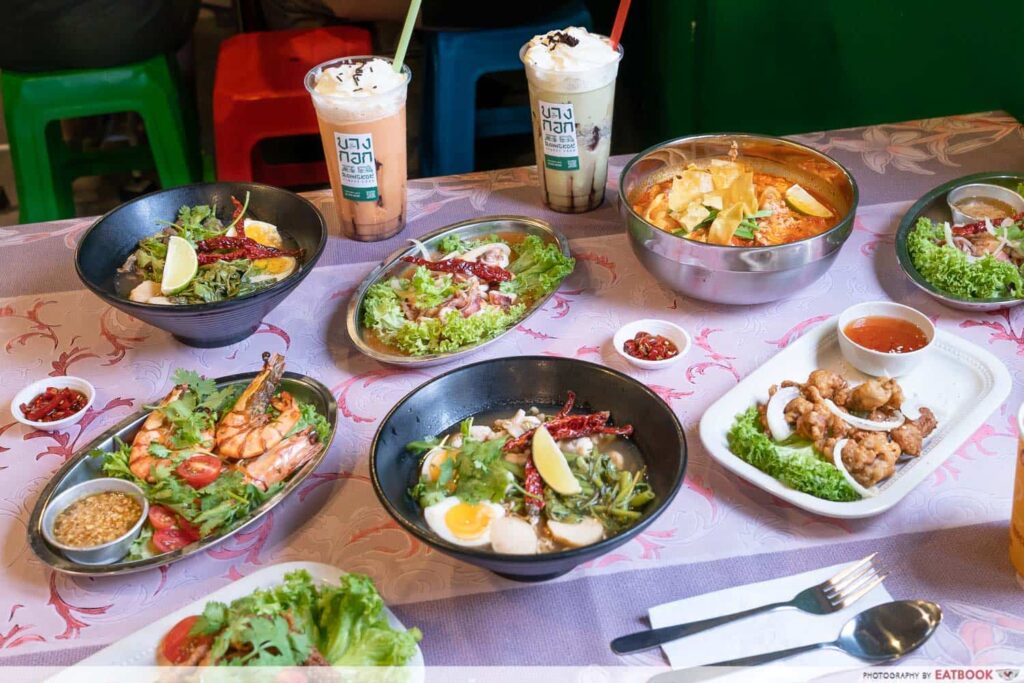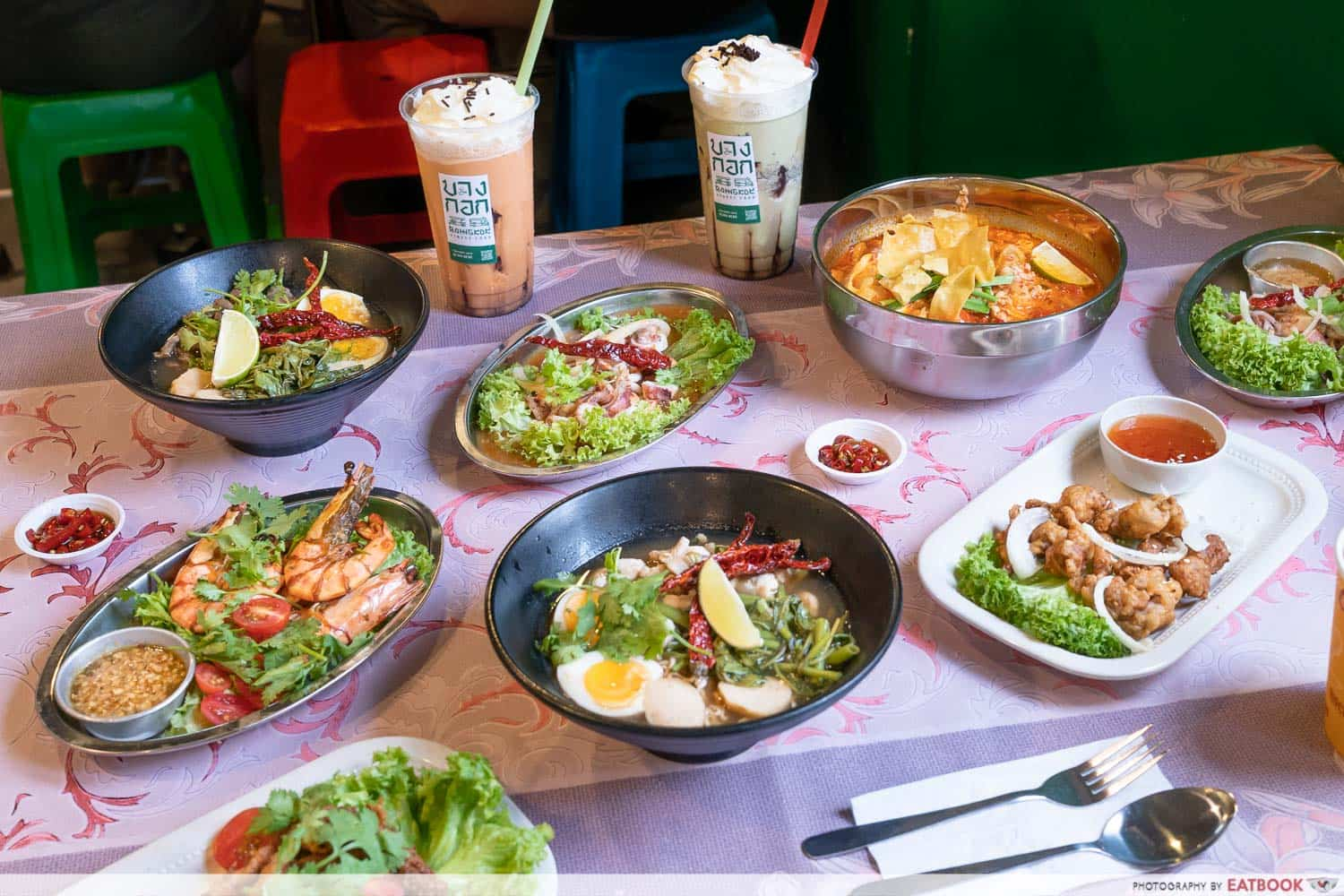 A popular halal option for Thai food is BANNGKOK Street Food, a casual eatery in the Kampong Glam locale. This Muslim-friendly restaurant specialises in Thai street food: think Sangkaya Steam Bread ($5.90++) served with a kaya custard dip, creamy tom yum noodles and more. They also have grilled seafood items including the Pla Muk Yang ($14.90++) AKA grilled squid with spicy and garlicky house-made sauce.
The eatery exudes Bangkok street stall vibes with its simple set-up and bright stools, so you'll feel like you're almost being transported to the Land of Smiles!
Address: 43 Sultan Gate, Singapore 198491
Opening hours: Mon-Sun 12pm to 3pm, 4.30pm to 10pm
Tel: 8879 6869
Website
BANNGKOK Street Food is a halal-certified eatery.
---
15. Shuang Bao Thai
---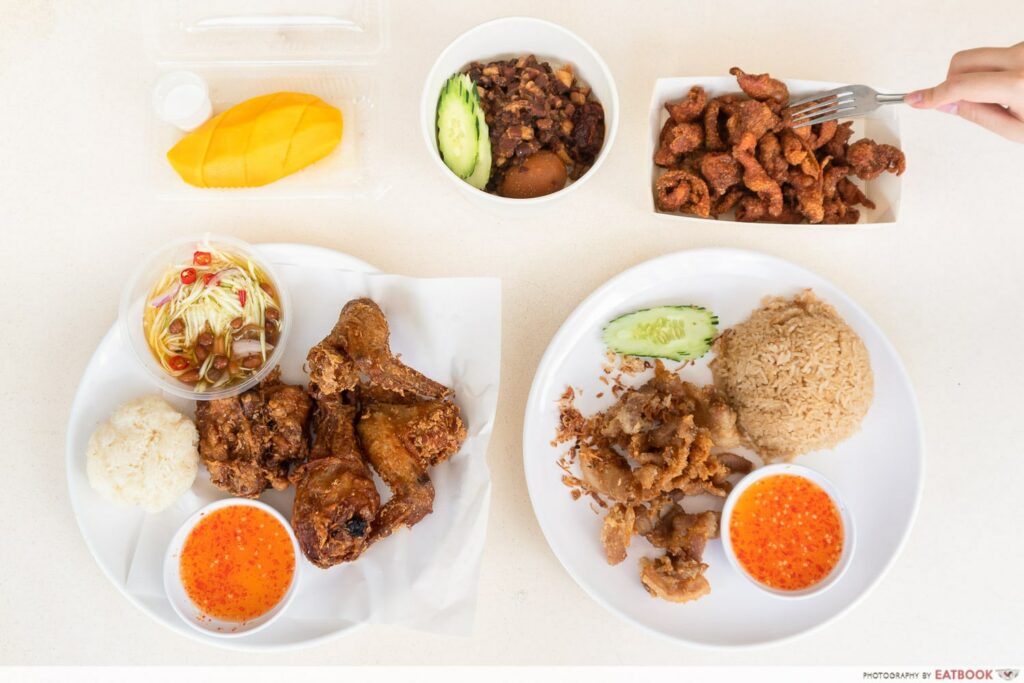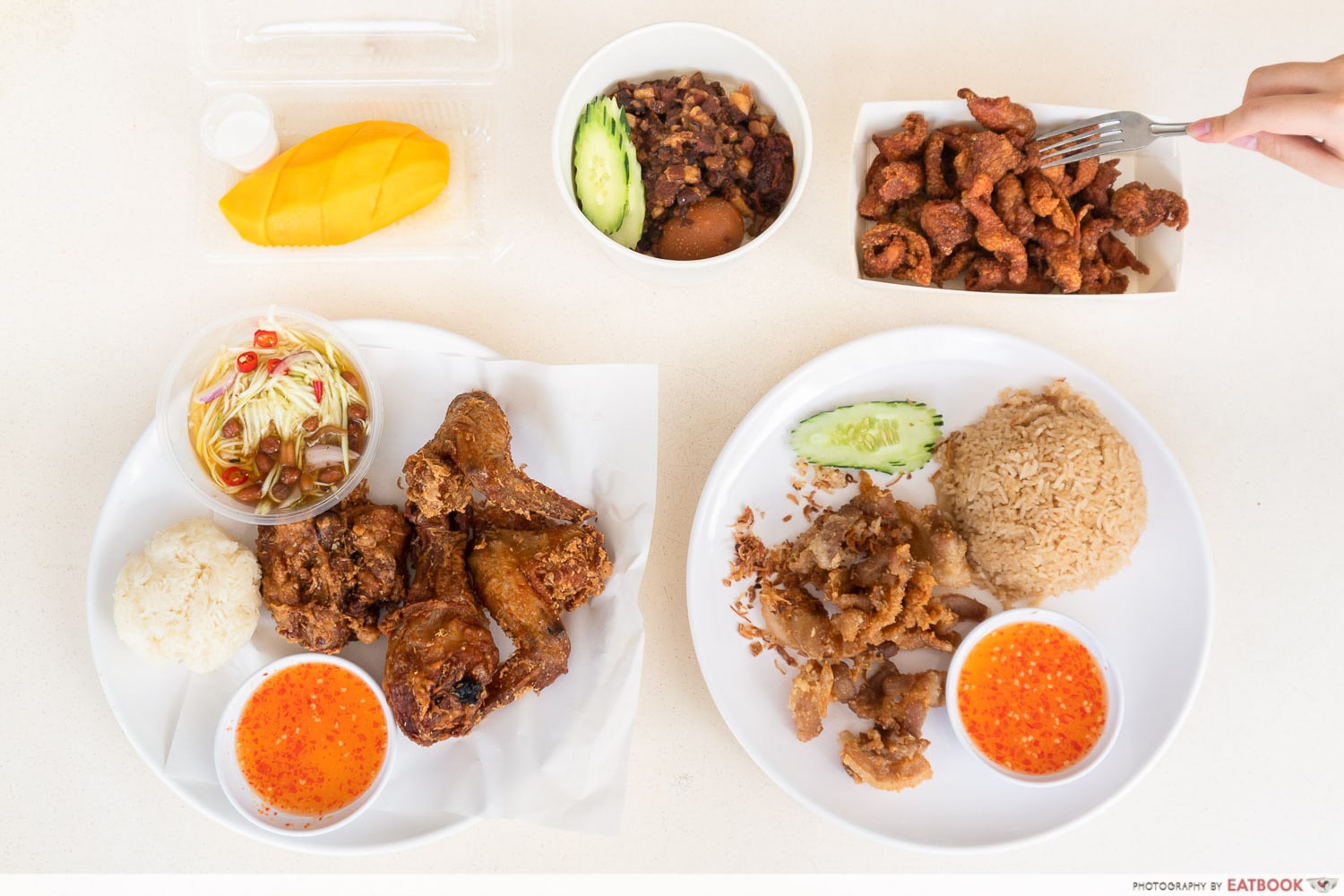 If you reside in the east, check out Shuang Bao Thai, a hawker stall in the Bedok heartlands known for their Hat Yai-style fried chicken. Owned by a Bangkok-born lady boss, the stall dishes out affordable Thai fried chicken snacks, including the addictively crispy Fried Chicken Skin ($3.90) and Fried Pork Belly ($4.50).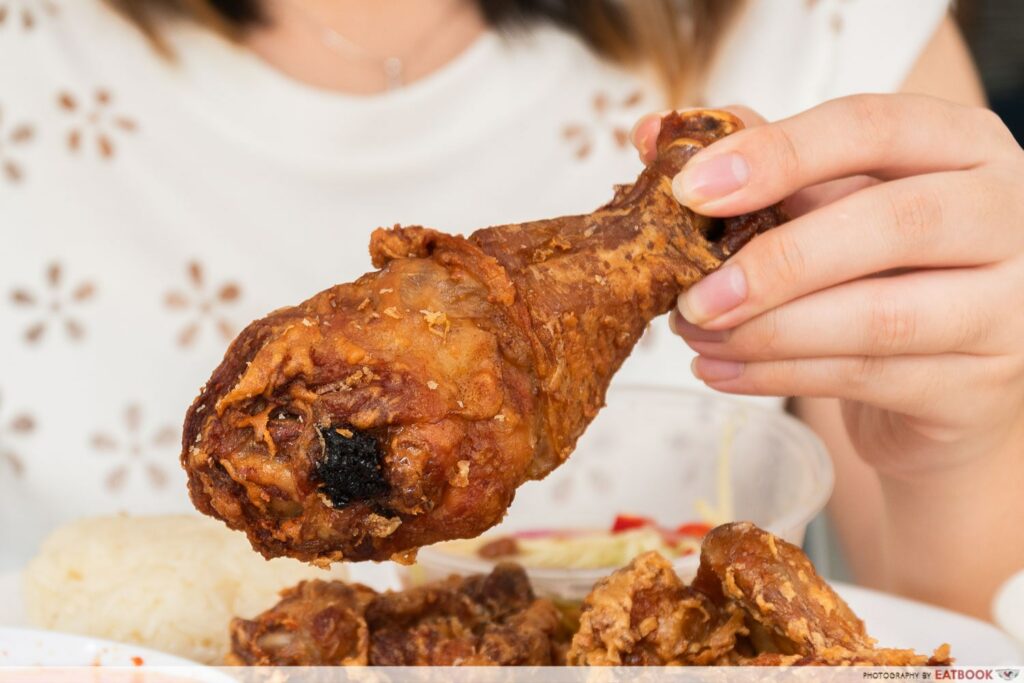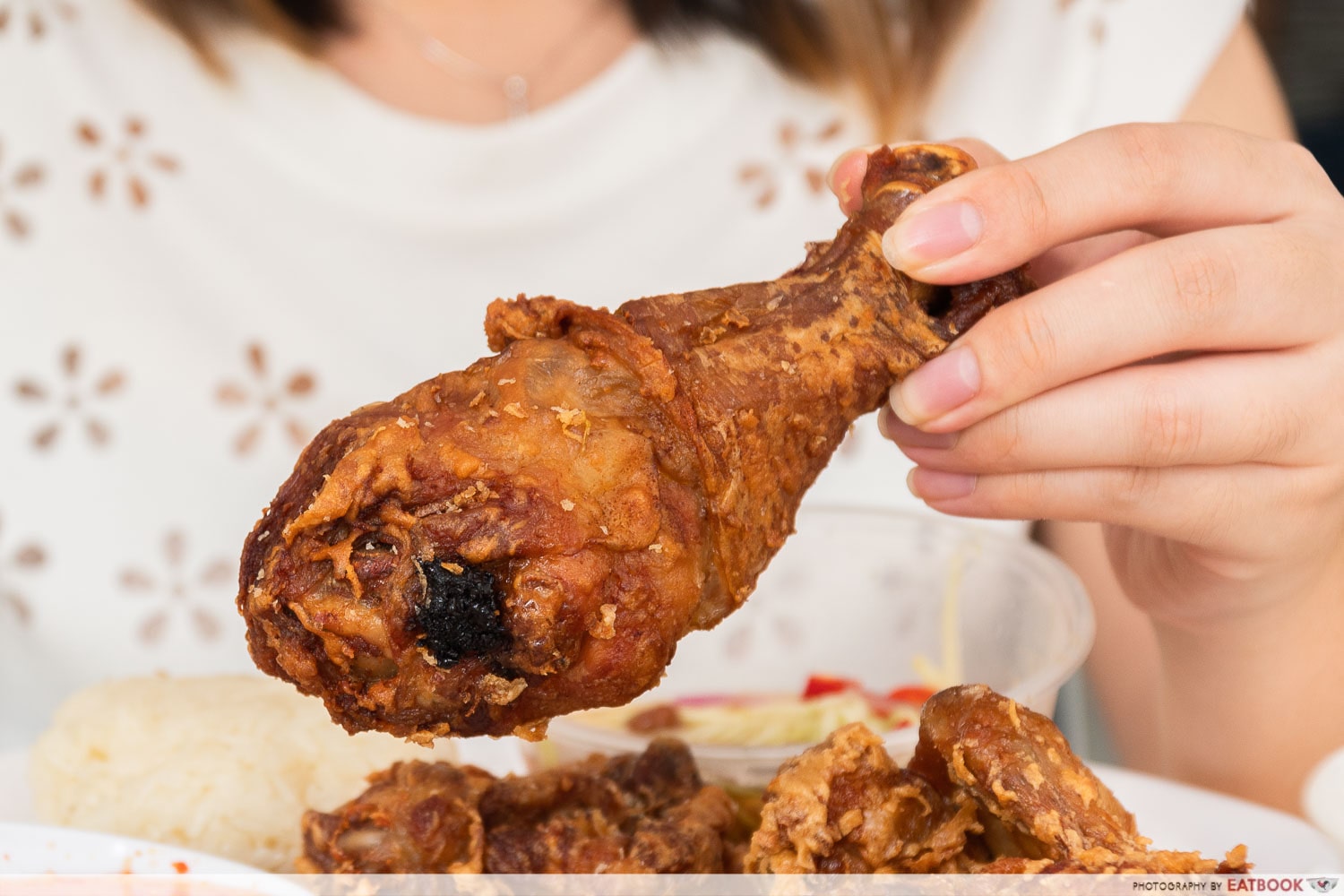 Order the signature fried chicken as a set meal ($10.80) to share. This set also comes with a side of sticky rice and mango salad—a typical way of serving fried chicken in Hat Yai. The fried chicken features a thick and crunchy exterior, with juicy and tender meat within.
Address: 204 Bedok North Street 1, #01-393, Happy Hawkers, Singapore 460205
Opening hours: Daily 11am to 8:30pm
Tel: 8282 4595
Website
Shuang Bao Thai Hat Yai Fried Chicken is not a halal-certified eatery.
---
Where to eat Thai food in Singapore
---
Like many other popular cuisines, the list of Thai food places in Singapore is endless. Hopefully, this guide will come in handy the next time you're craving a shiok and spicy bowl of tom yum or a juicy pork skewer!
For more guides, check out our list of the 10 best chicken rice in Singapore! There's also our best kopi guide if you're up for strong Nanyang-style coffee and toast.
10 Best Chicken Rice In Singapore Ranked, Including Tian Tian And Boon Tong Kee
Featured image adapted from @mana_i_v, @hangry.rui, and @itsjesslynchen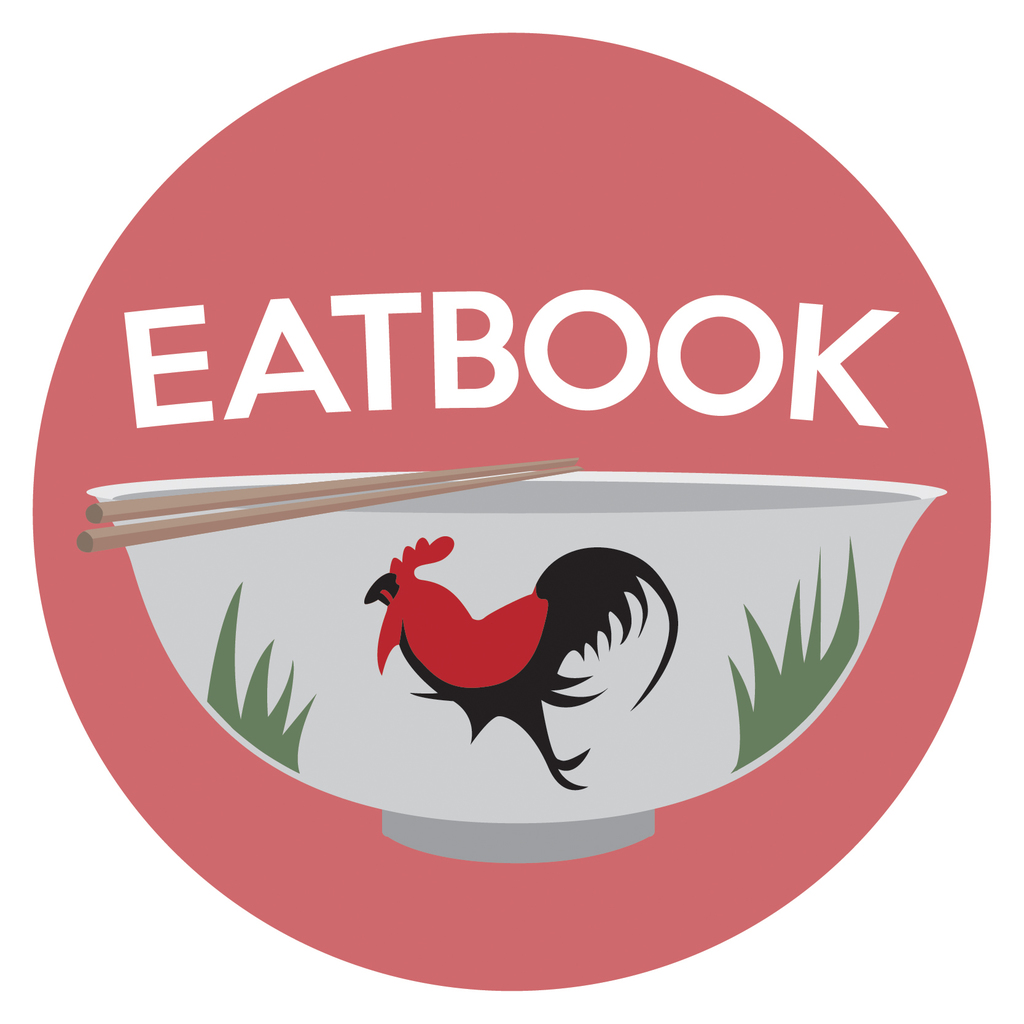 Drop us your email so you won't miss the latest news.