Garang Grill Express has unique burgers in City Gate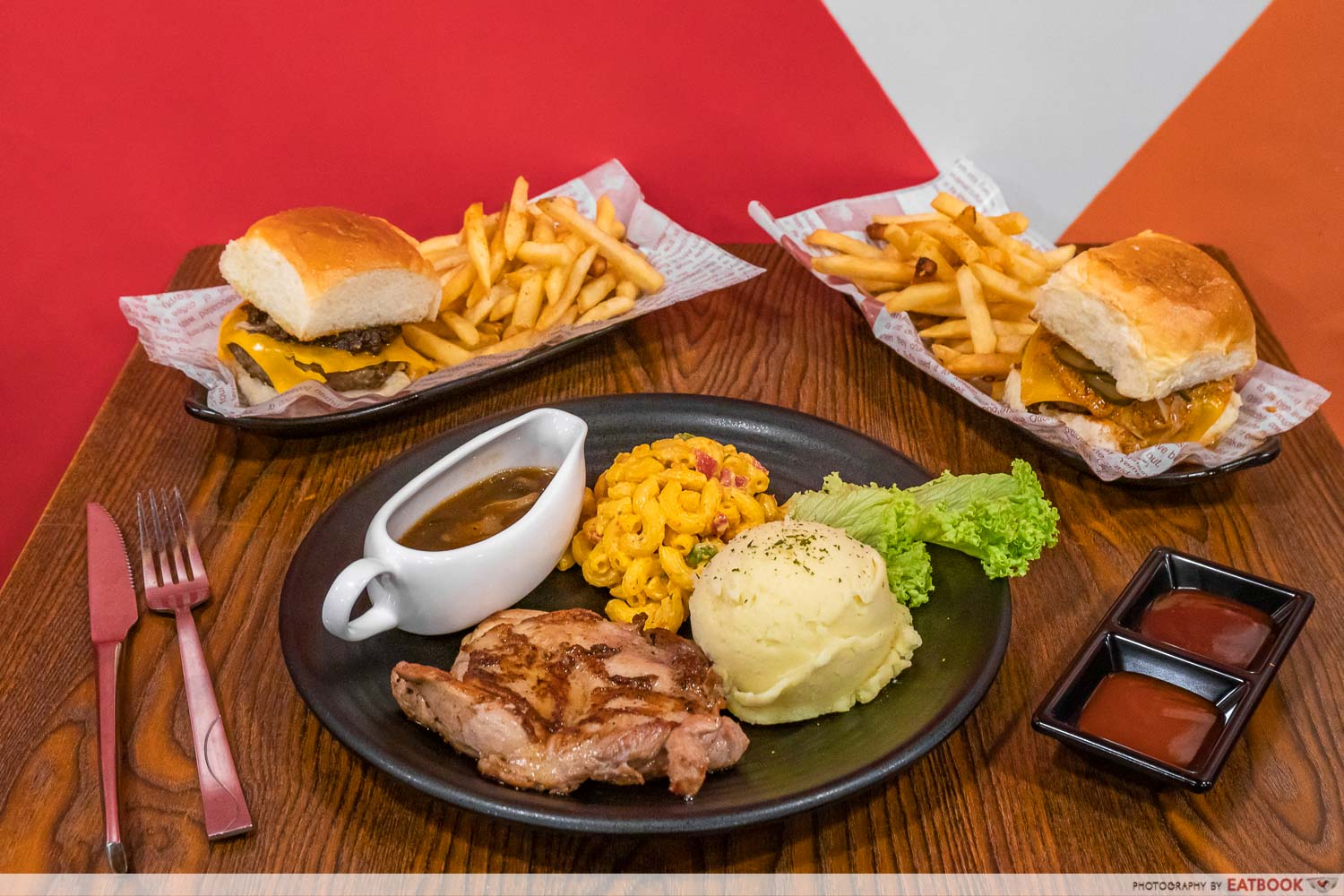 There's a new burger joint in town, and it's home to some fascinating flavours. Garang Grill Express, a concept by New Ubin Seafood Group, recently opened in City Gate with a menu of burgers that use ingredients such as buah keluak and rendang. There's a host of other Western dishes on offer too, including chicken chops, steaks, and pasta.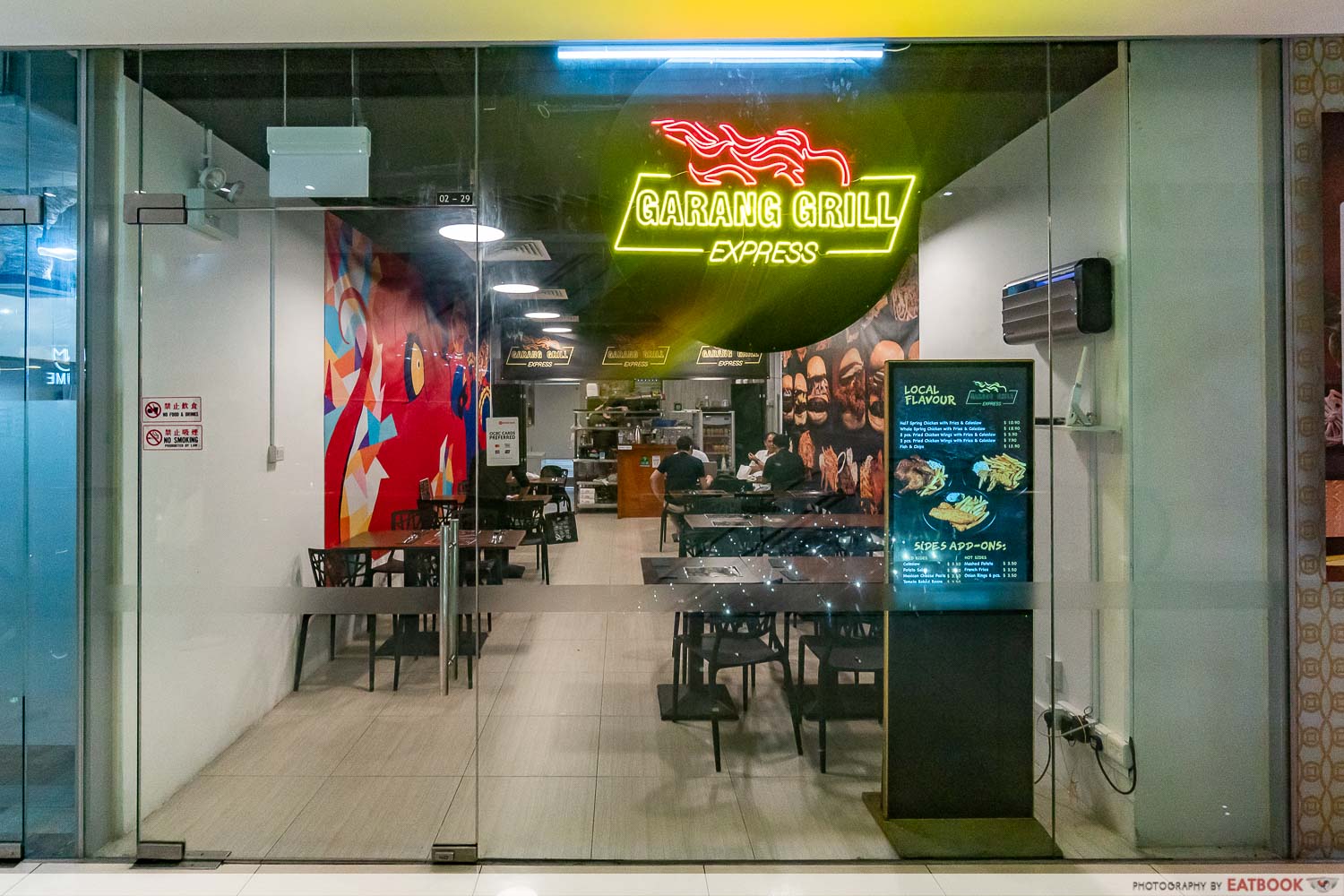 We were invited to try the fare at Garang Grill, which was great since we were in the mood for some delicious burgers. As it turned out, the eatery was more of a mixed bag than a triumph.
Peri Peri Grille And Pasta Review: Louisiana-Style Western Food By Potong Pasir Hawkers
Food at Garang Grill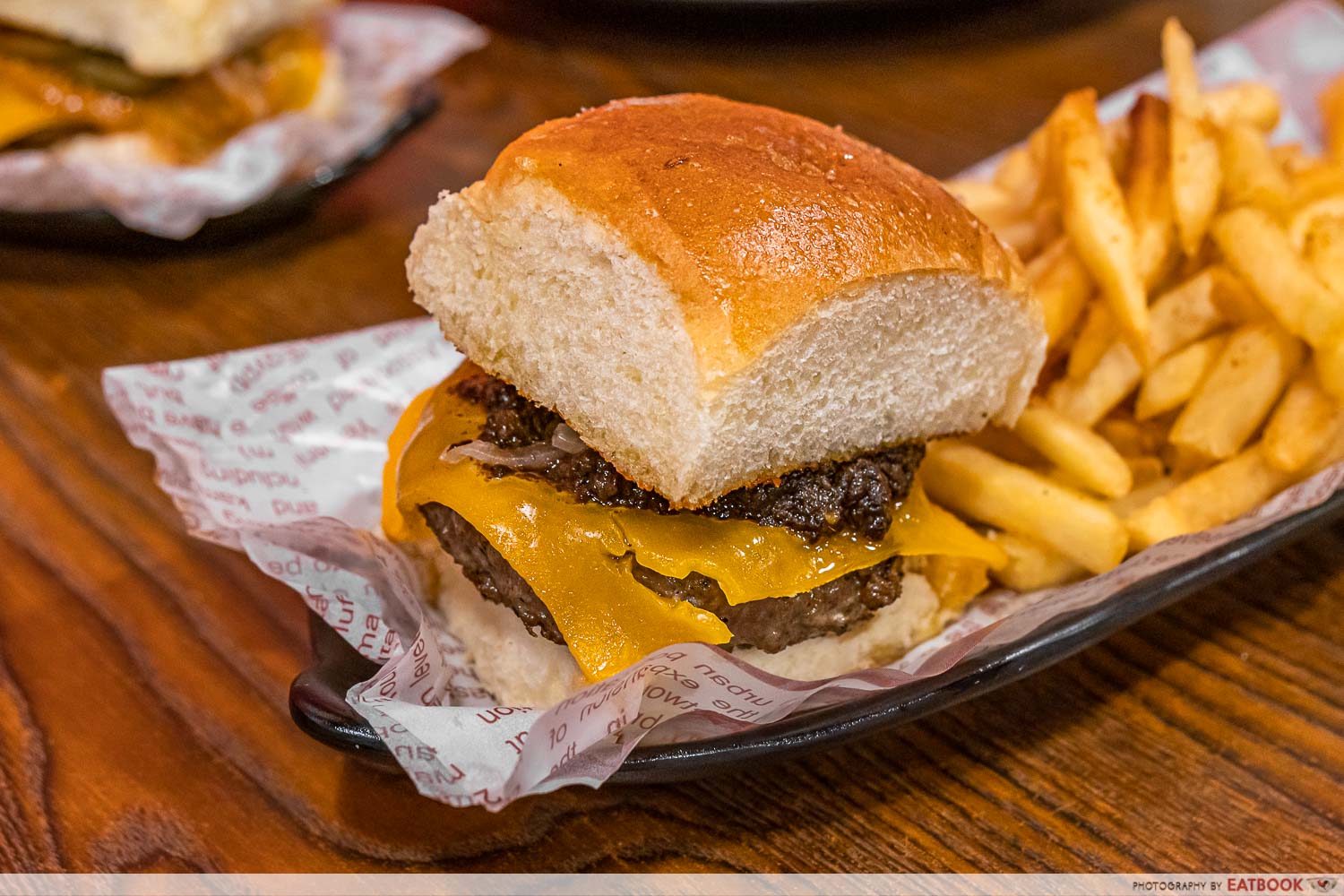 We started with the Smoked Burger – Buah Keluah Rich Sauce ($17.50). For those unfamiliar with buah keluak, it is a nut that's used in some classic Peranakan dishes. It's also well-loved for its distinct earthy and slightly bitter taste with a savoury undertone. Buah keluak has quite the complex flavour profile, so I was excited to see how it would work in this burger.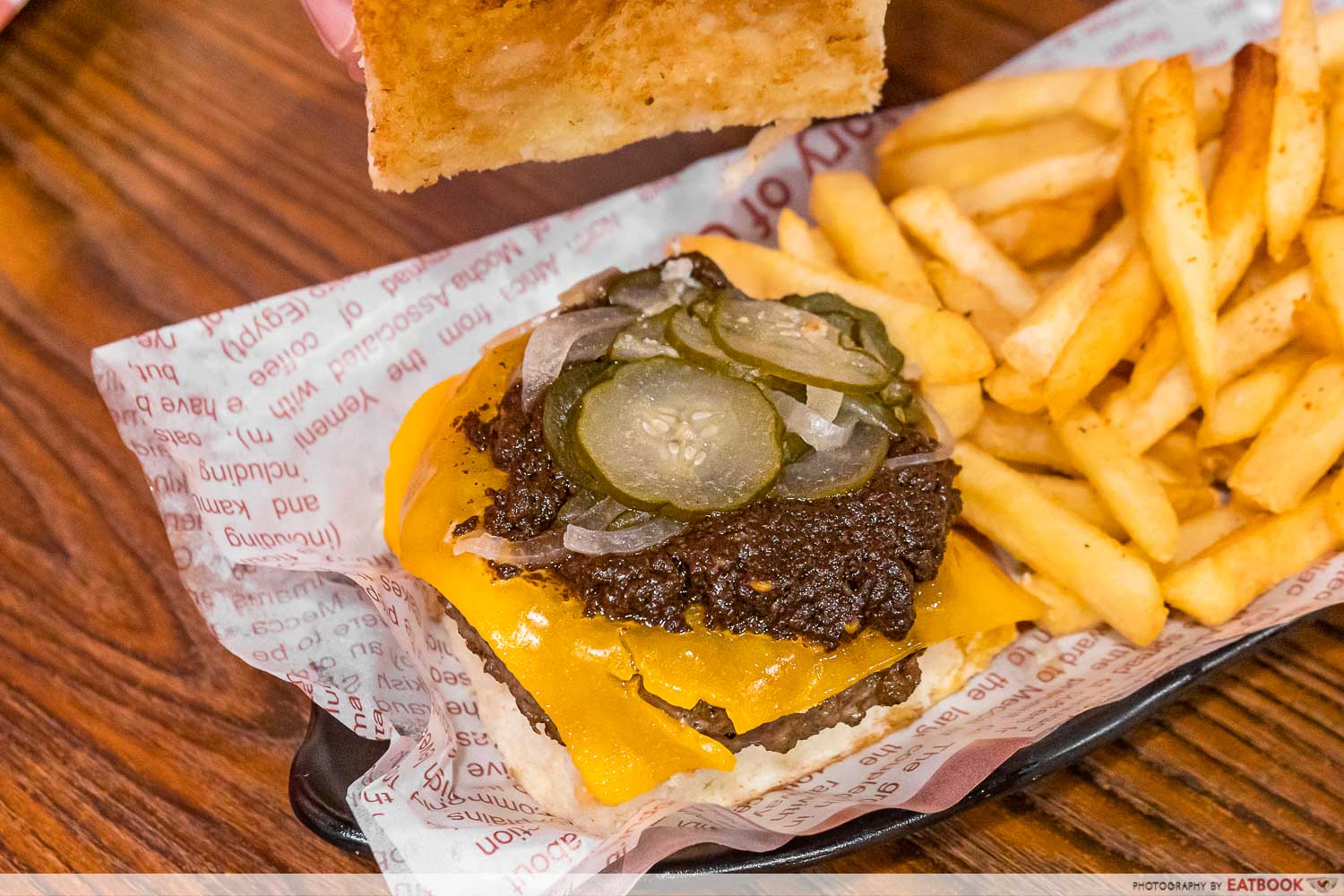 As you can see above, the buah keluak was topped with pickles and onions, and perched on top of cheese, a beef patty, and a tangy sauce underneath it all. All that was, of course, sandwiched between two buns that were reasonably fluffy. The buah keluak did have the rich flavour I was expecting it to have, but I felt that it didn't mesh particularly well with the other flavours present in the patty. It tasted a little strange, but that I could forgive.
What I was less accepting of was the beef patty which, though smoky and well-charred, was overly soft and lacking in bite—it was as if the meat had too much fat or was over-processed. You'd want your patty to be tender, of course, but this felt way too flimsy.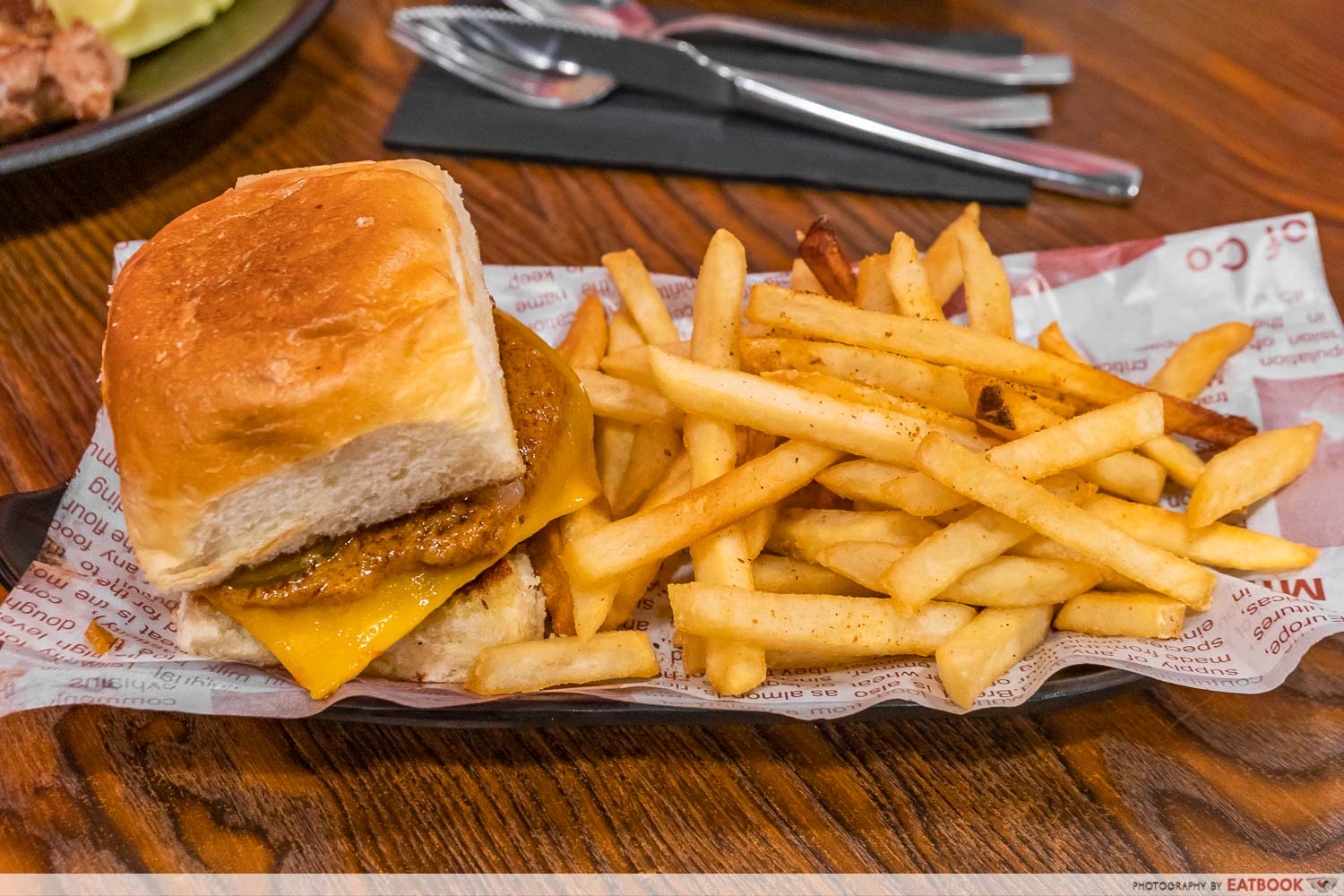 Up next was the Smoked Burger – Raya's Rendang ($17.50), which was essentially a cheeseburger but with rendang sauce slathered over the cheese.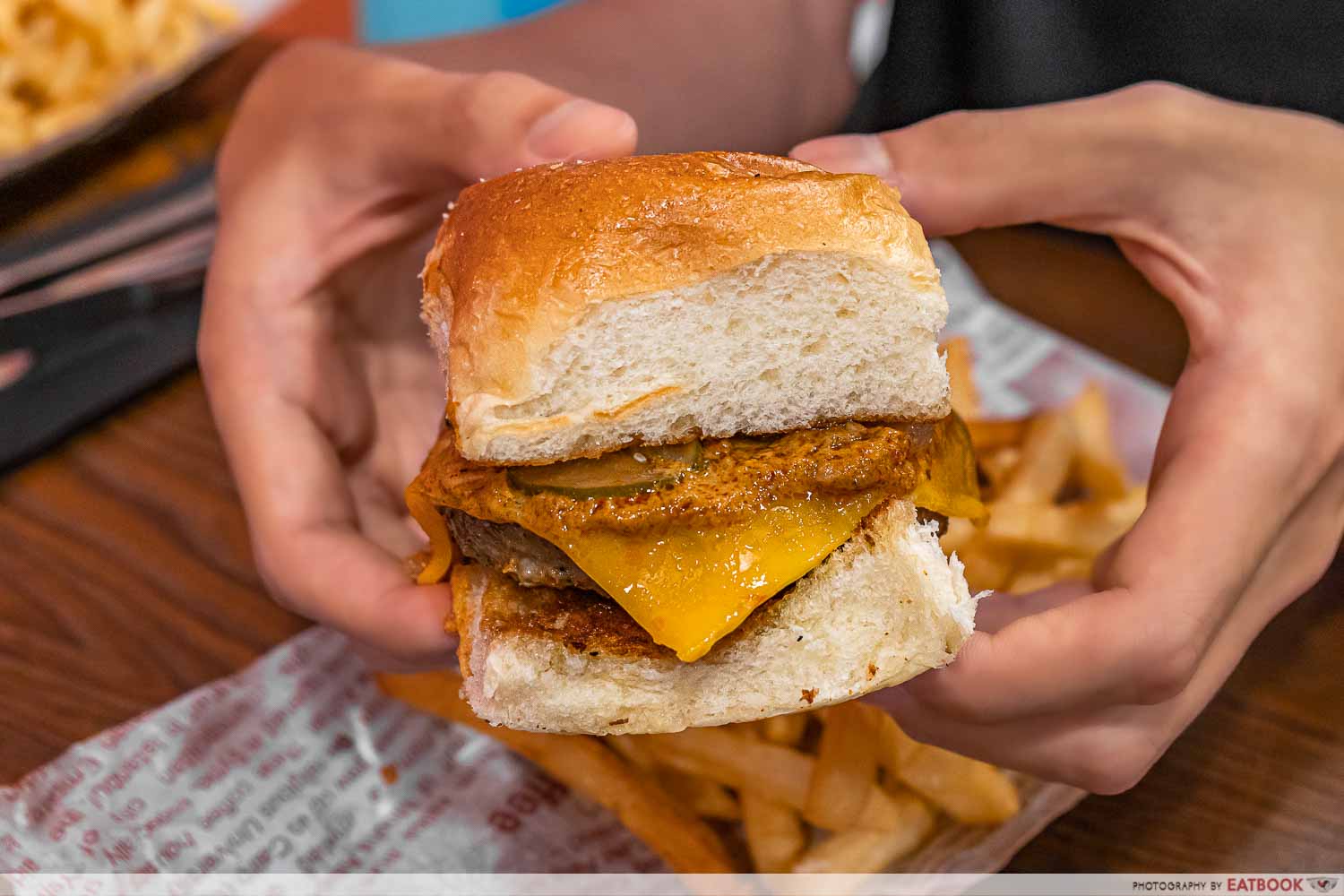 But the same issues plagued this burger. The rendang sauce was really fragrant and flavourful;it was piquant but only slightly spicy, and yet it was hard to ignore the lacklustre beef patty. The Cajun fries on the side were decent enough, though.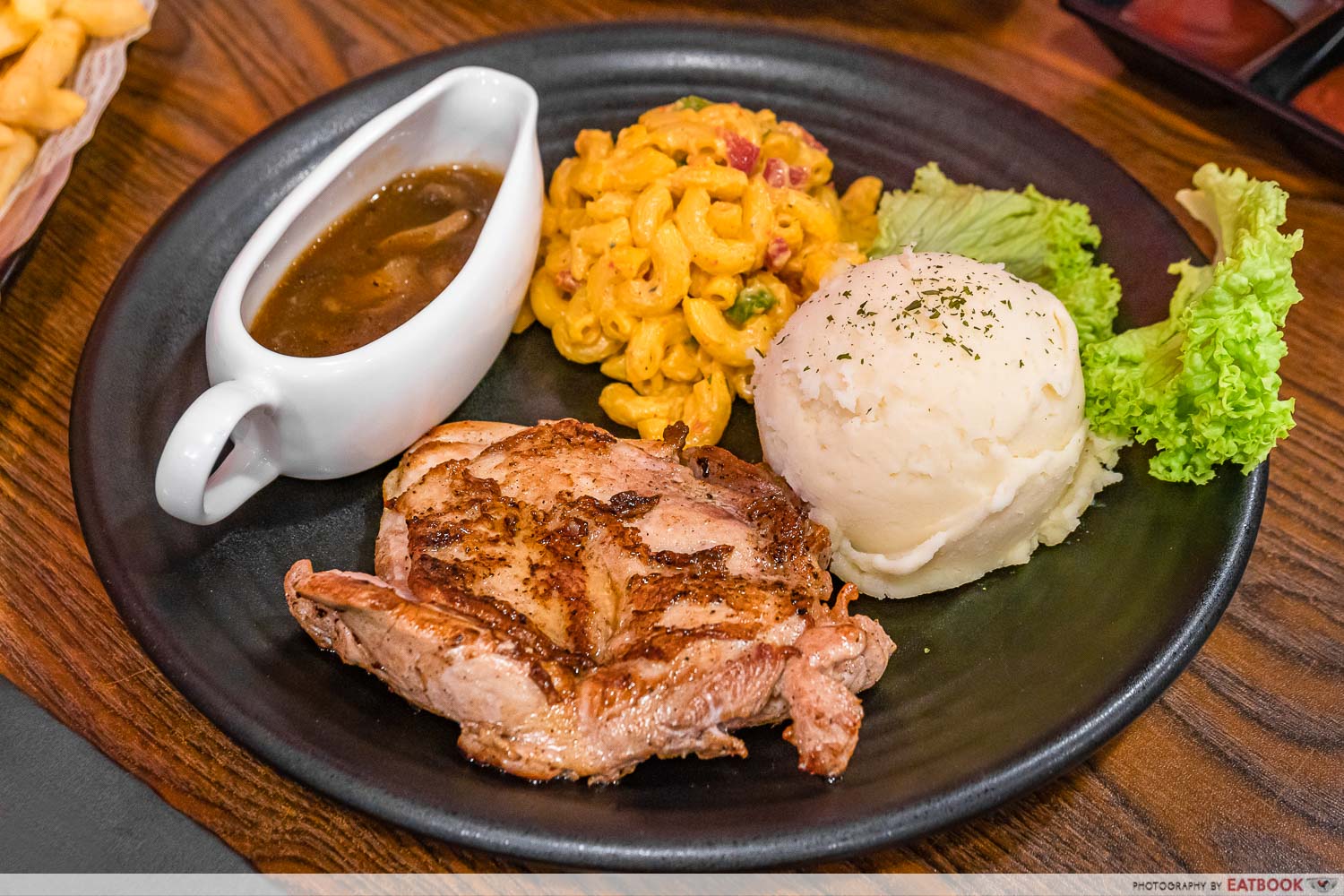 For our last dish, we decided to get the Mushroom Chicken Chop ($11.90). We got it with a side of mashed potatoes and Mexican cheese pasta, which was essentially macaroni and cheese but with bell peppers. The former was strange in that it came with no sauce of its own, but the latter was a fun, savoury supporting act to the chicken.
For its price and quality, I had no complaints about this dish. The chicken was cooked to perfection, with a delicious char on the outside while remaining juicy and flavorful on the inside. When poured over the chicken, the mushroom sauce added a rich and savoury element to the dish.
Ambience at Garang Grill Express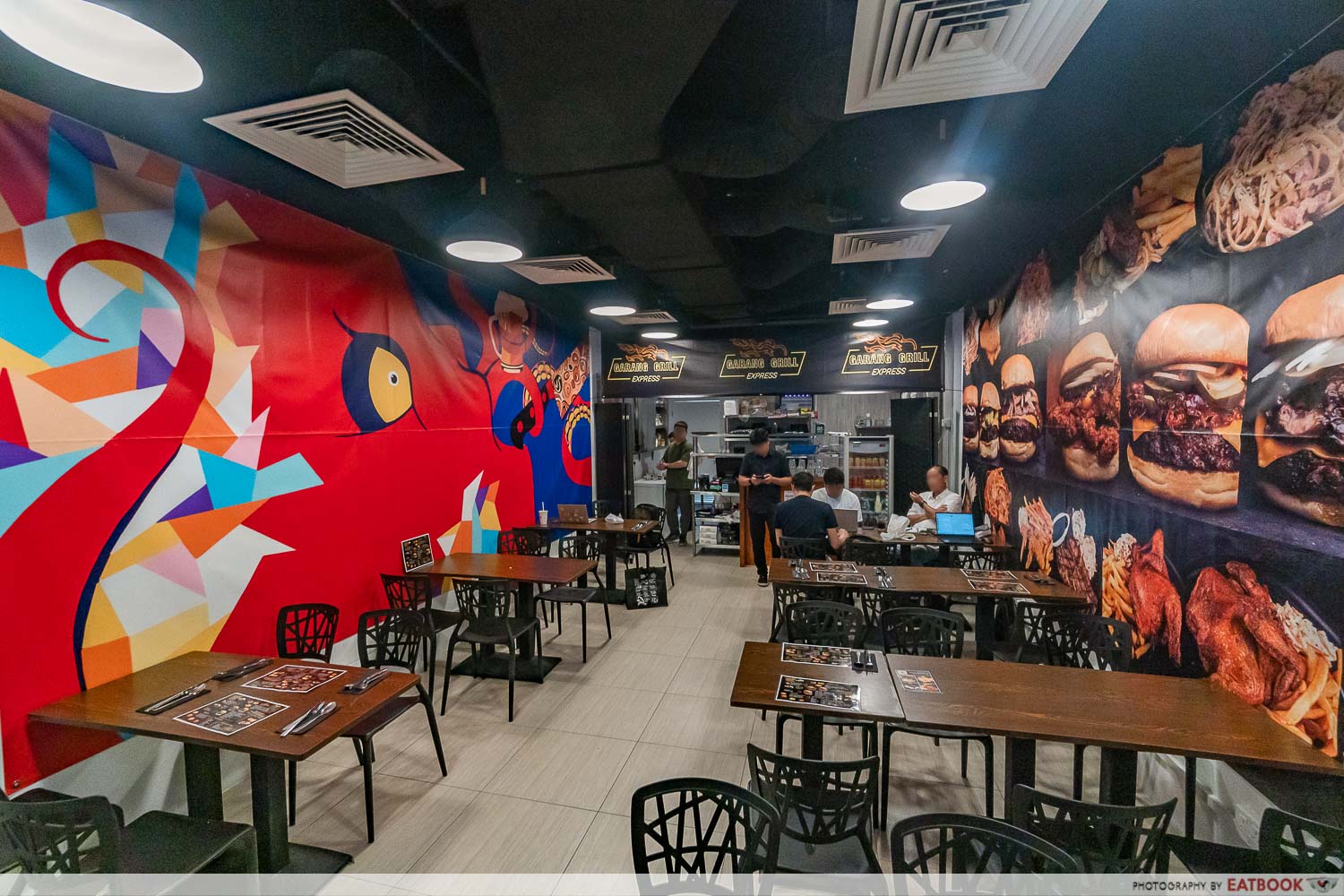 Garang Grill Express occupies a modest but relatively comfortable space, with six or so tables and walls decorated with colourful banners. You'll find it on the second floor of City Gate, a mixed-development mall just opposite Golden Mile Tower.
The eatery is a six-minute walk from Nicoll Highway MRT Station.
The verdict
Given the interesting burgers on the menu, I was disappointed that they weren't well-made enough to justify their prices. It does seem that the other items on the menu, such as the chicken chop, are good and somewhat affordable, so I'd reckon those are worth a shot.
For vodka beef burgers and whisky ribeye in a hawker setting, check out our Fatty Patty Burger review. For restaurant-quality dim sum from $1.20, have a look at our Mama Dim Sum review.
Address: 371 Beach Road, #02-29, City Gate, Singapore 199597
Opening hours: Tue-Sun 11am to 9:30pm
Tel: 9740 6870
Website
Garang Grill Express is not a halal-certified eatery.
Fatty Patty Burger and Grill Review: Vodka Beef Burgers And Whisky Ribeye By Young Hawkers
Photos taken by Aldrich Tan.
This was a media tasting at Garang Grill Express.
Garang Grill Express Review: Buah Keluak And Rendang Burgers At Beach Road
Garang Grill Express Review: Buah Keluak And Rendang Burgers At Beach Road -

6/10
Summary
Pros
– Unique burgers
– Chicken chop was solid and affordable
Cons
– Beef patties were underwhelming
– Burgers were too expensive for their actual quality
Recommended dishes: Mushroom Chicken Chop ($11.90)
Opening hours: Tue-Sun 11am to 9:30pm
Address: 371 Beach Road, #02-29, City Gate, Singapore 199597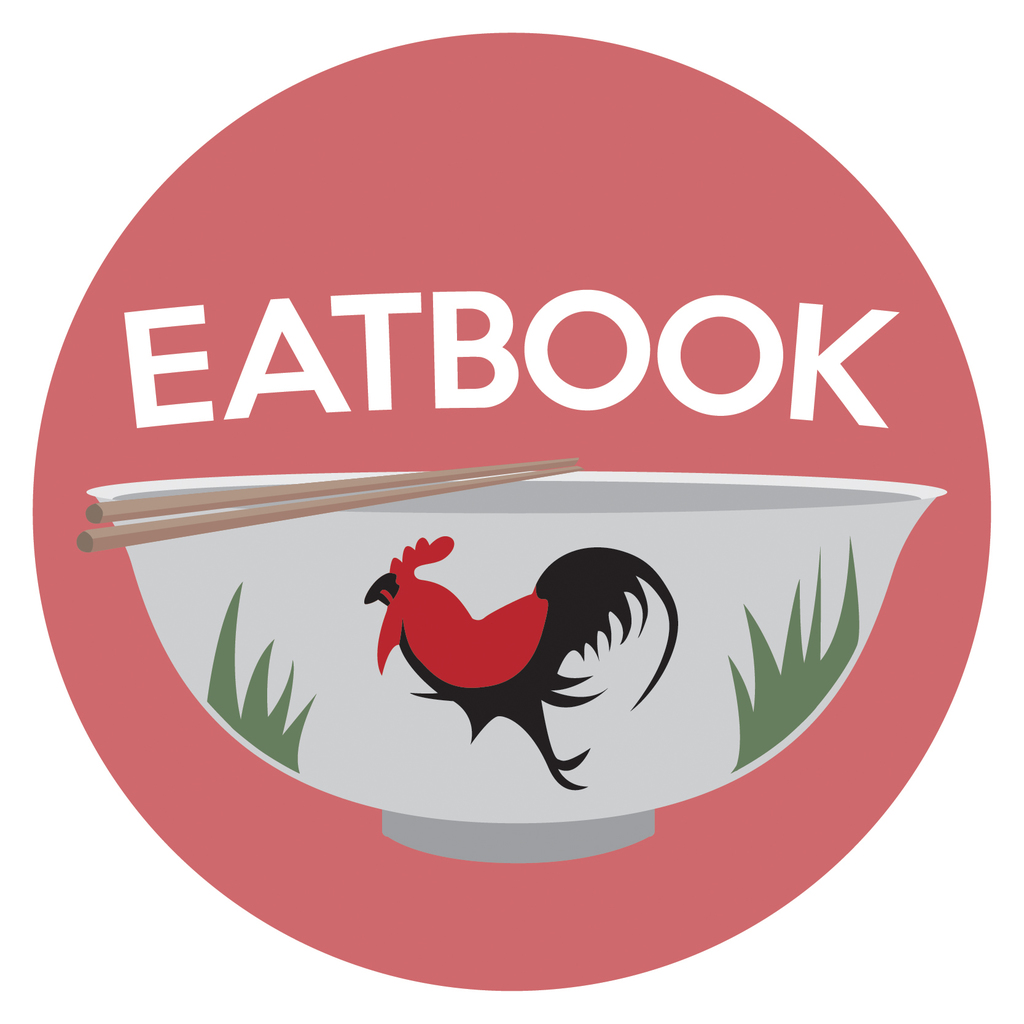 Drop us your email so you won't miss the latest news.