Mama Dim Sum has cheap restaurant-style dim sum in Jurong East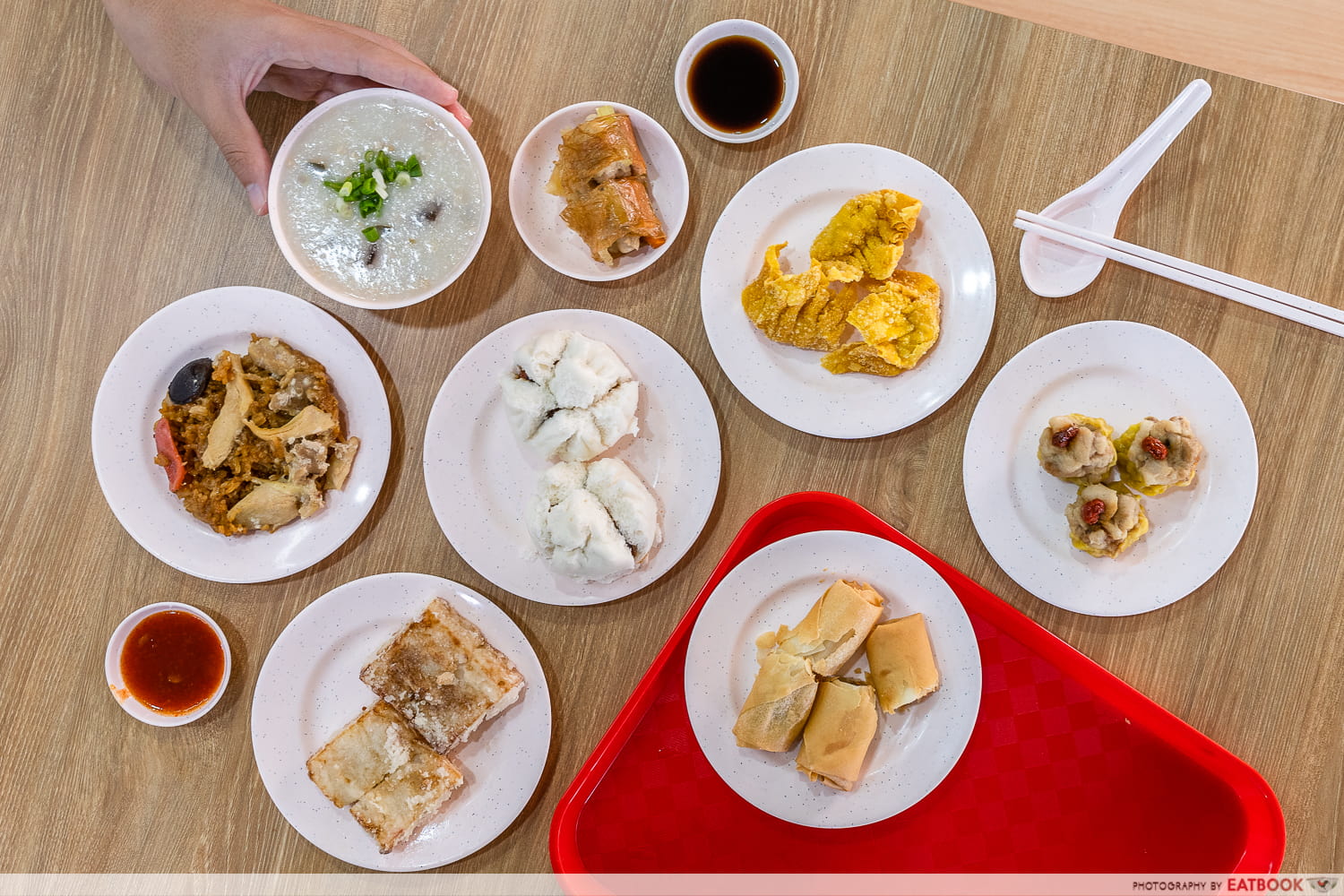 Let's face it: good dim sum is expensive, especially in Singapore. It's often rare that I get to dine at a dim sum restaurant━and whenever I do so, I'm often bitten by the expensive bill that comes with the food. So when I was assigned to review Mama Dim Sum, which is said to serve restaurant-quality dim sum at affordable prices, I knew I had to give them a try. 
Mama Dim Sum is operated by Hong Kong-born chef Poon Ka Nang, who used to work as the head dim sum chef at Spring Court—a popular Chinese banquet restaurant—for over four years. Aspiring to bring restaurant-standard dim sum to the masses, he started his own dim sum business in Jurong East. 
Food at Mama Dim Sum
I was initially perplexed to find only 10 items on the current menu. However, during my conversation with Mr Poon, I learnt that given their limited manpower, they are only able to offer that many items—especially if they want all their dishes to be fresh and of good quality.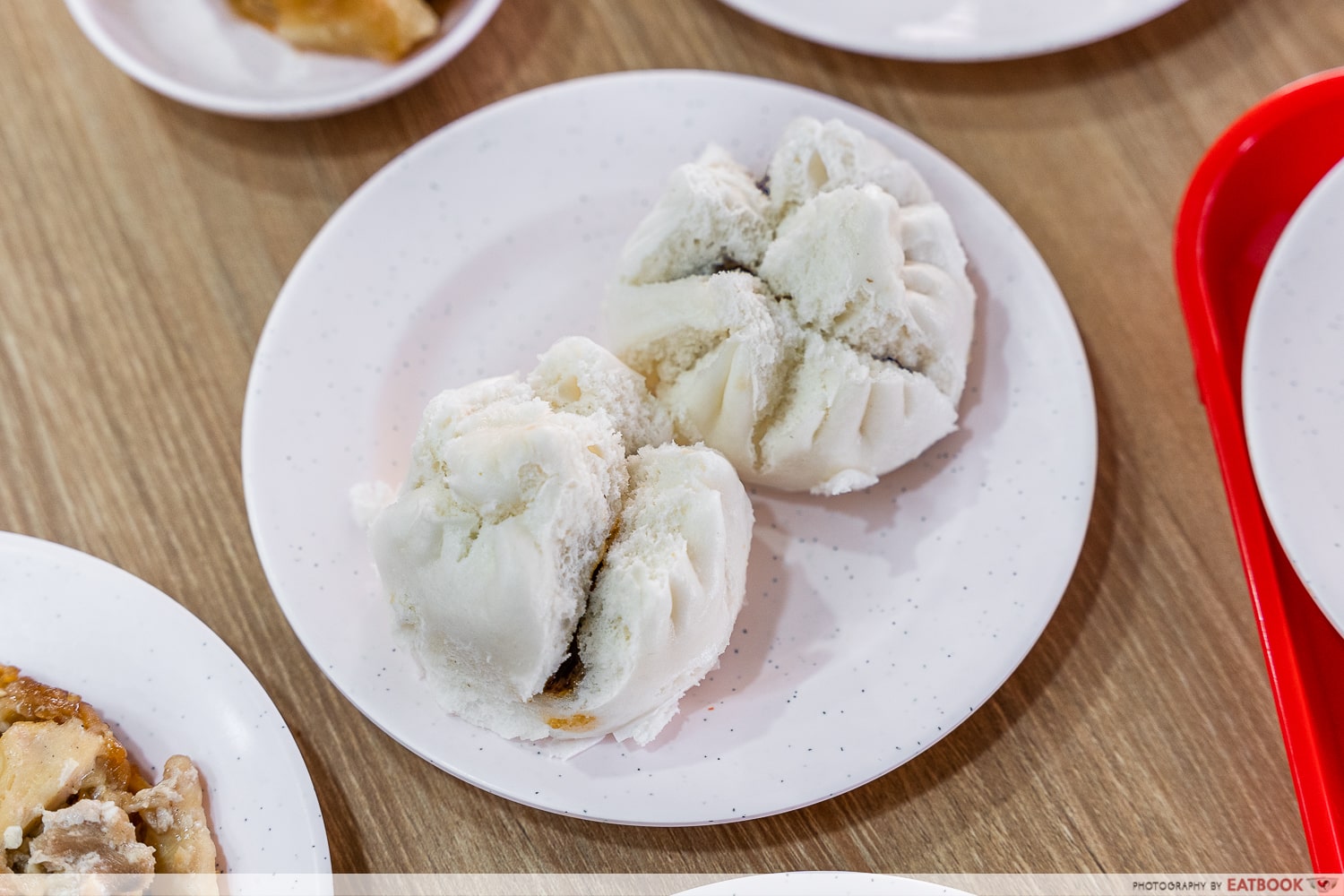 We started with their signature Char Siew Bao ($1.20 per piece). We also learnt from Mr Poon that in order to achieve the iconic 'bloom' of a Cantonese char siew bao, their dough is fermented overnight with a house-grown yeast starter, which gives rise to a fluffier exterior.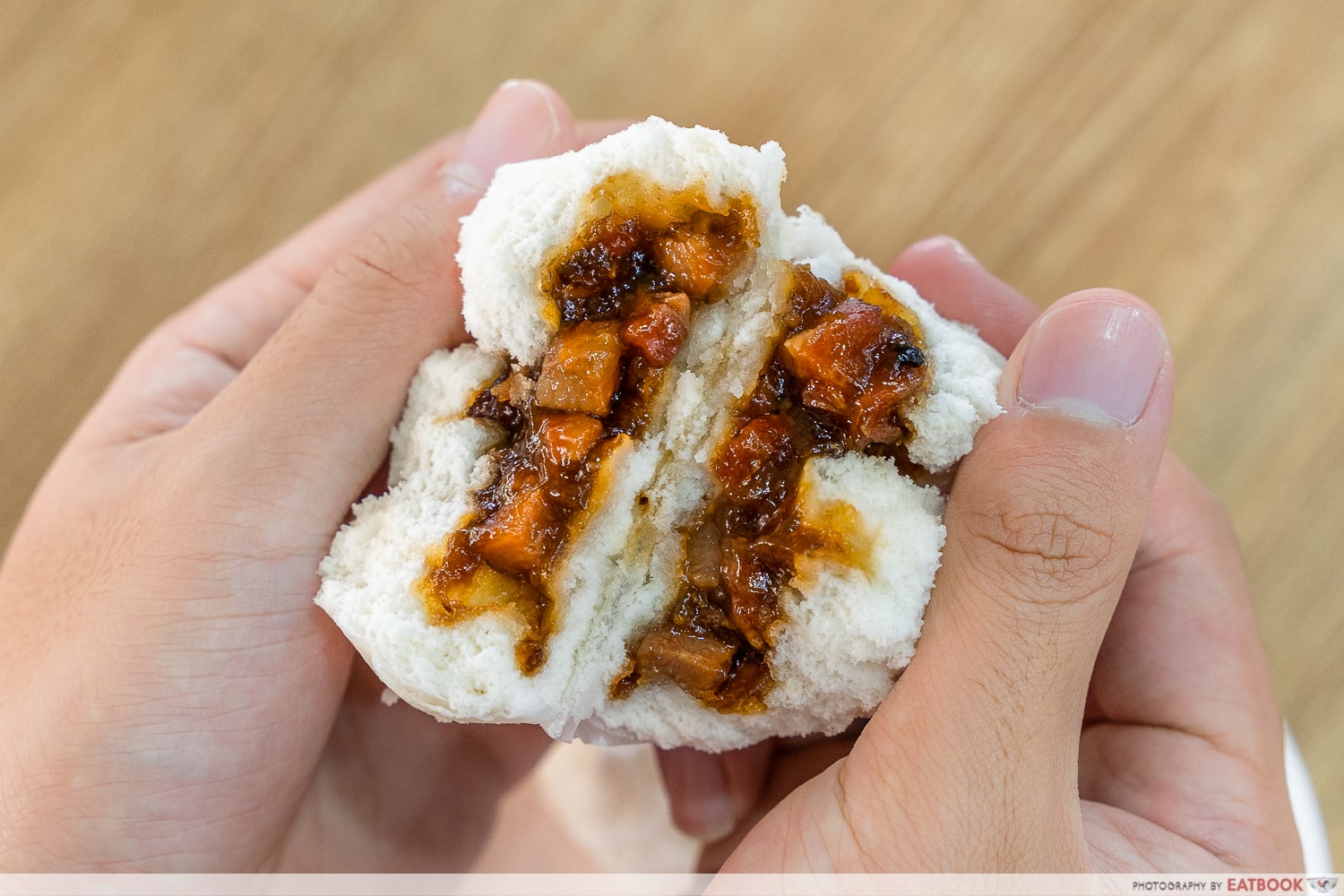 True enough, the bao skin was pillowy soft and light, which balanced out the chewy pork chunks. Unlike the usual small, minced pork that you'd get in typical char siew bao, the pork chunks here are slightly larger which gives a fuller, satisfying bite. I also felt that the flavour of the char siew bao was well-balanced, while the light-tasting bun paired well with the savoury barbecued pork filling.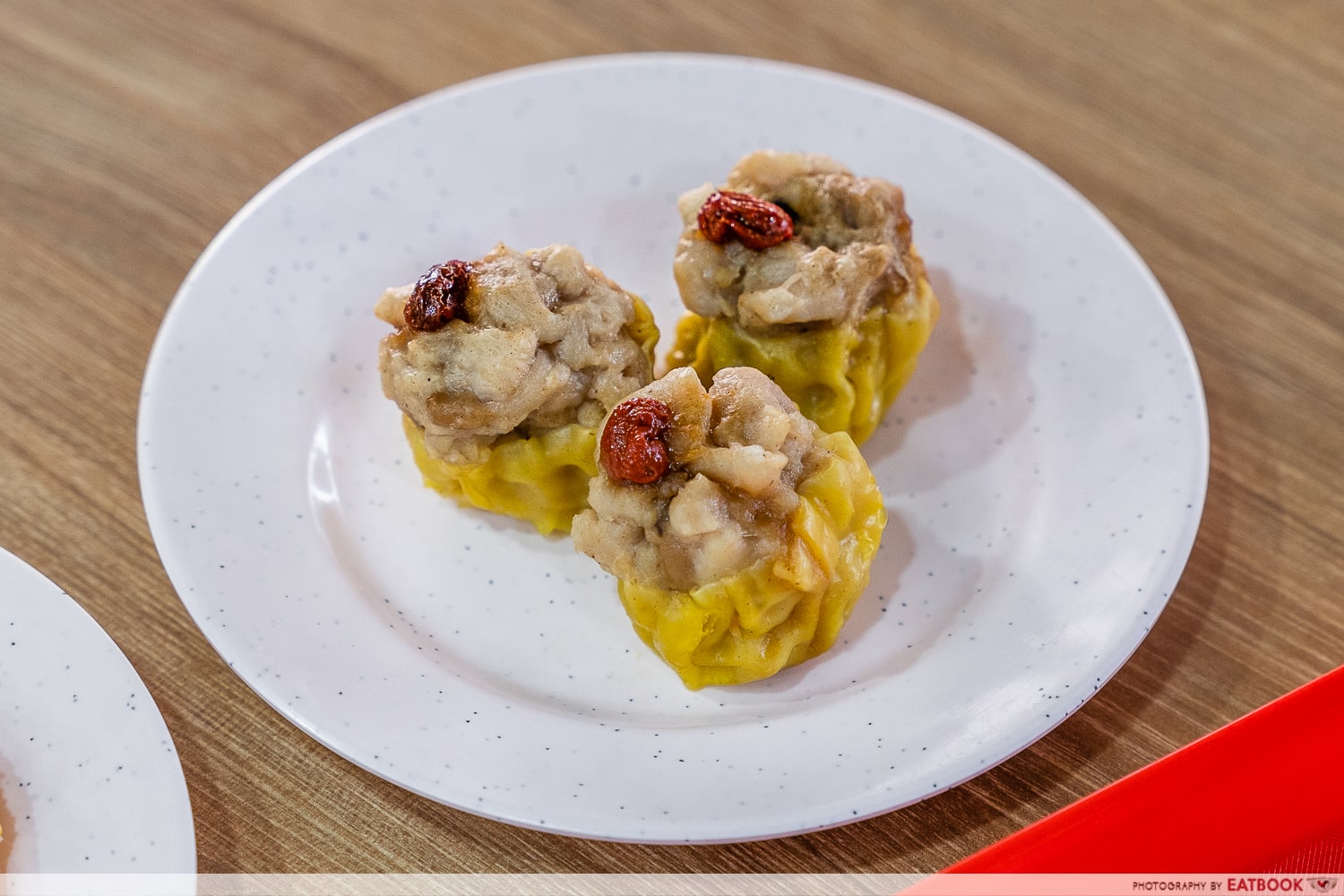 Next, we tried their Siew Mai ($1.20 per piece), which sees each piece stuffed with juicy prawn and pork chunks. While the siew mai was on the small side, it was meaty and packed with flavour.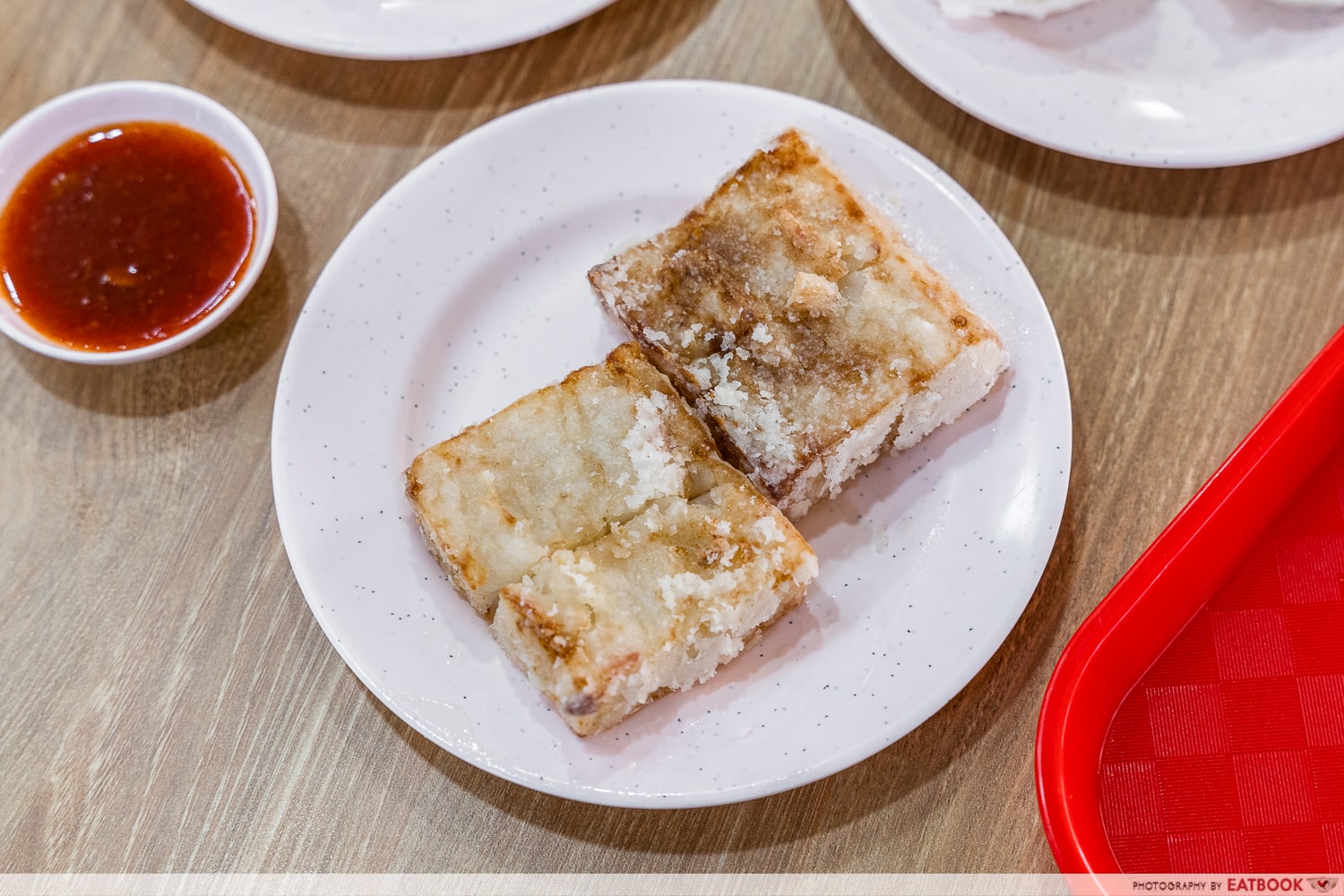 Another classic item that we ordered was the traditional Hong Kong-style Fried Carrot Cake ($1.20 per piece).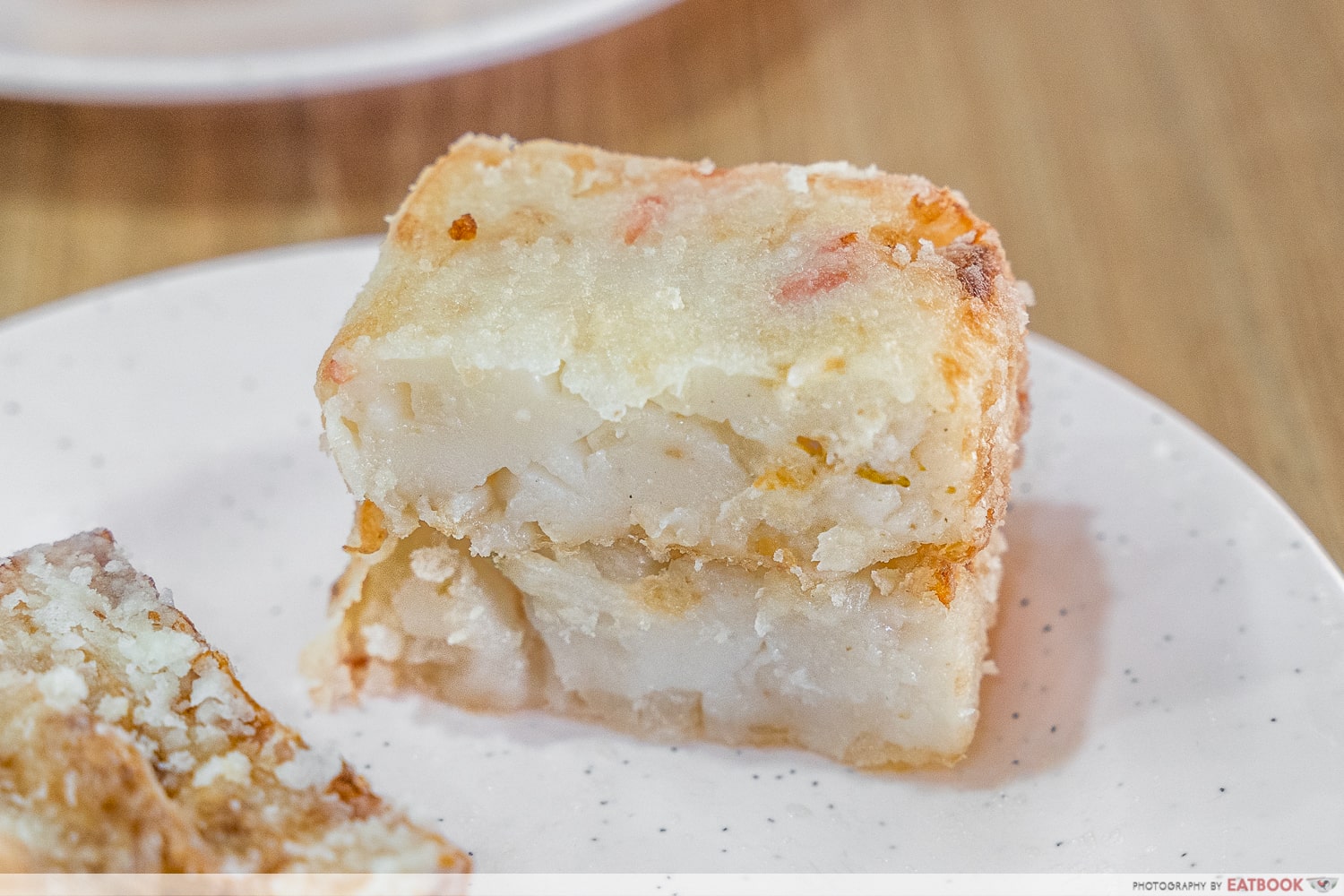 The carrot cake boasted a crispy finish and chewy insides, which made each bite satisfying. It looked much paler than I had expected, not helped by the light batter of flour coating each slice. I personally wished that the carrot cake could have more liao within too, to lend the dish more flavour.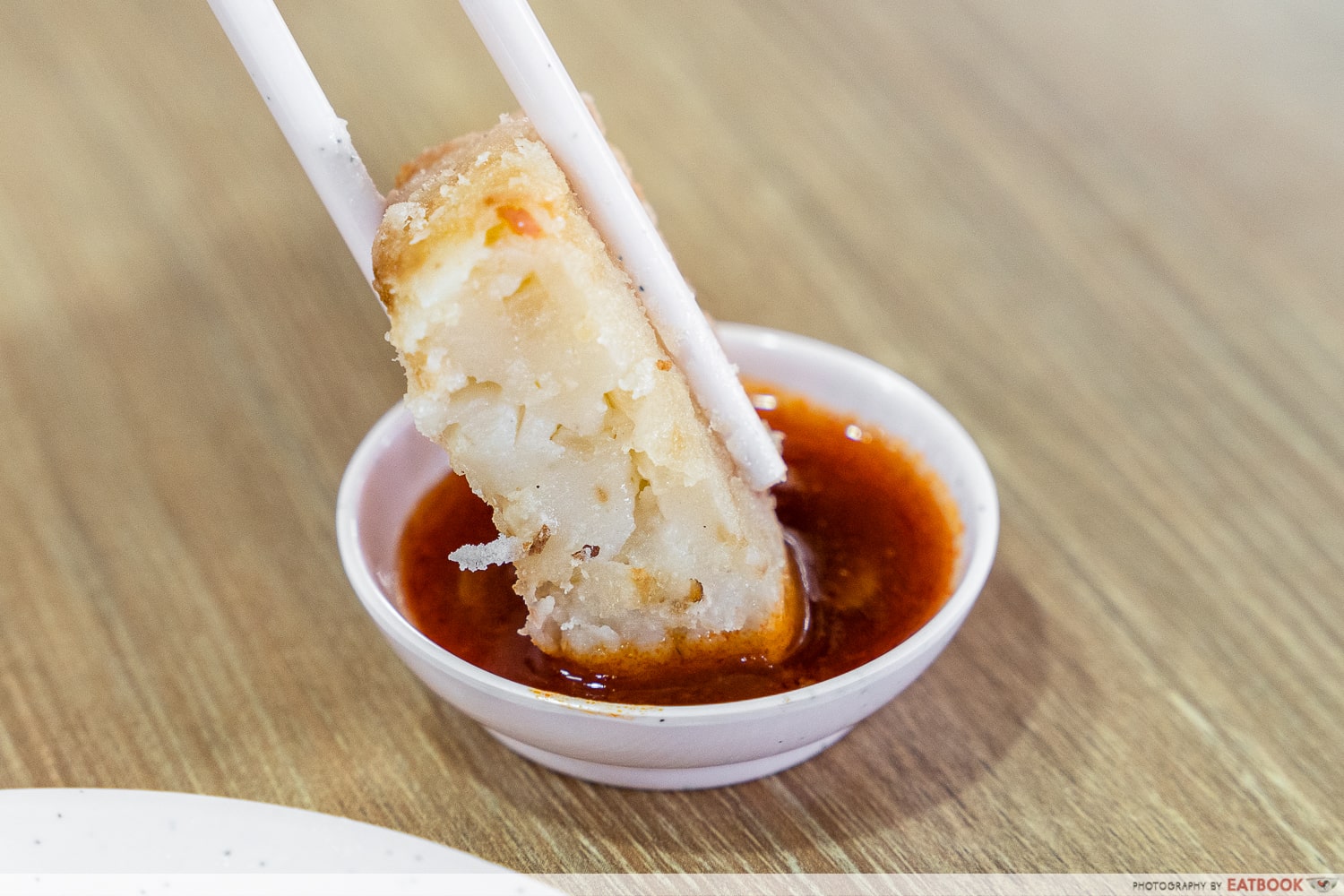 We also enjoyed dipping the carrot cake in the chilli sauce provided, which lent an additional spicy, savoury kick. While the sauce is not house-made, Mr Poon assured us that it's the same as the one you'll get in Spring Court.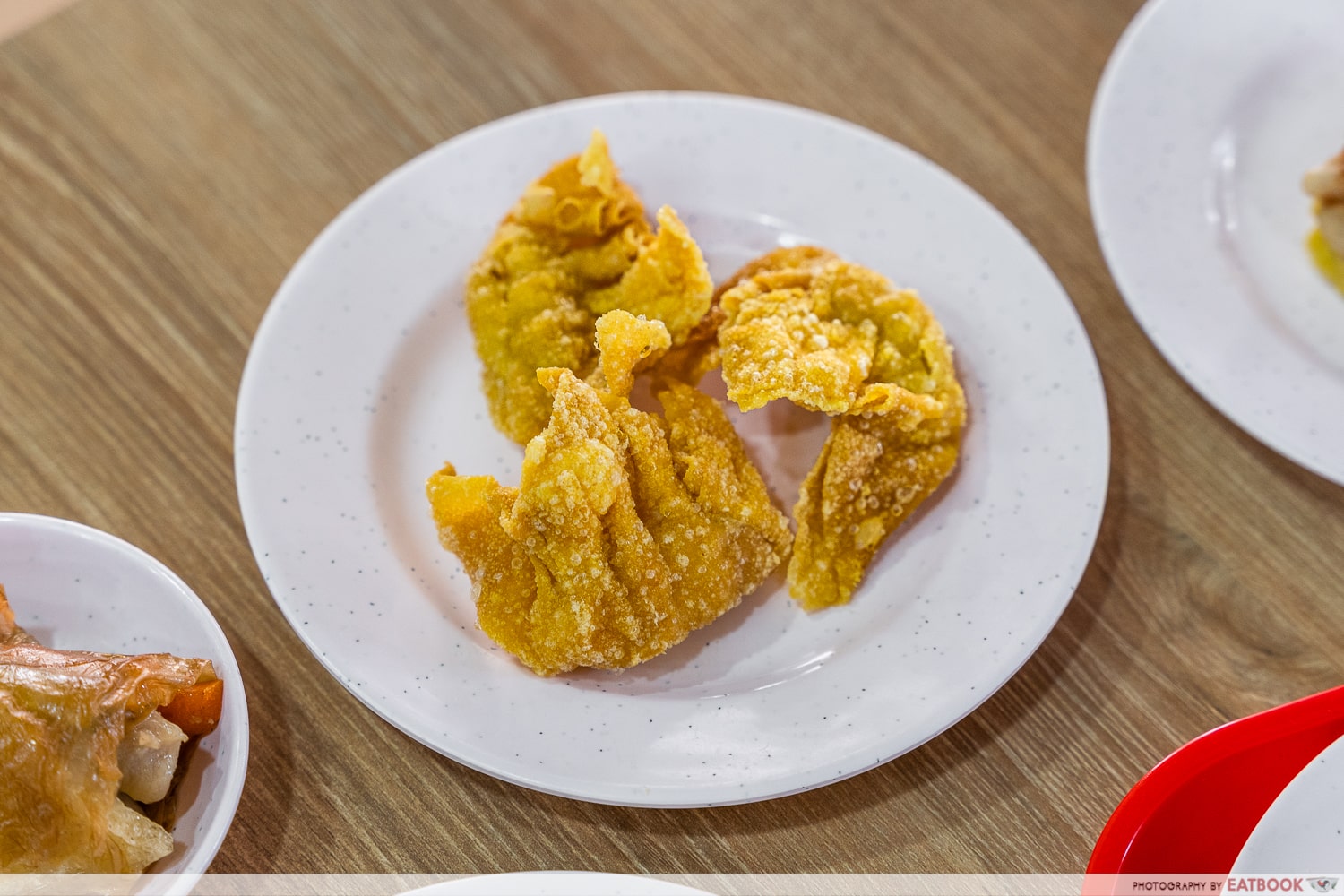 We also opted for the Fried Prawn Dumpling ($1.30 per piece). We found the dumpling skin to be nicely crispy, though it leans a tad hard. The dumpling skin was also too greasy, but the saving grace here was the juicy and succulent prawn filling.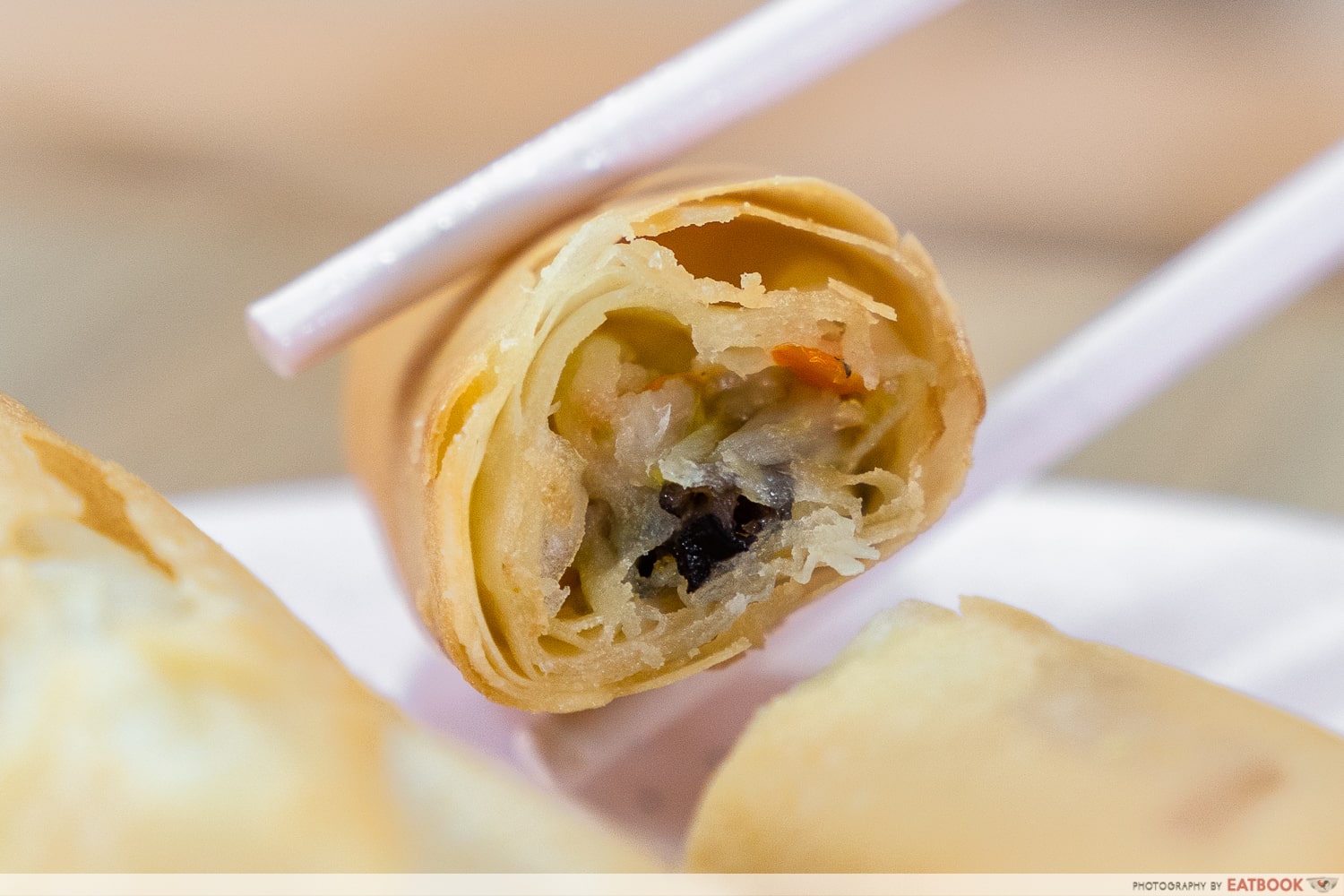 We also ordered their Fried Spring Rolls ($1.20 per piece), which were filled with cabbage, mushrooms, carrots and shrimp. I enjoyed how there wasn't too much wrapper, with a good amount of ingredients inside which added some textural variance too.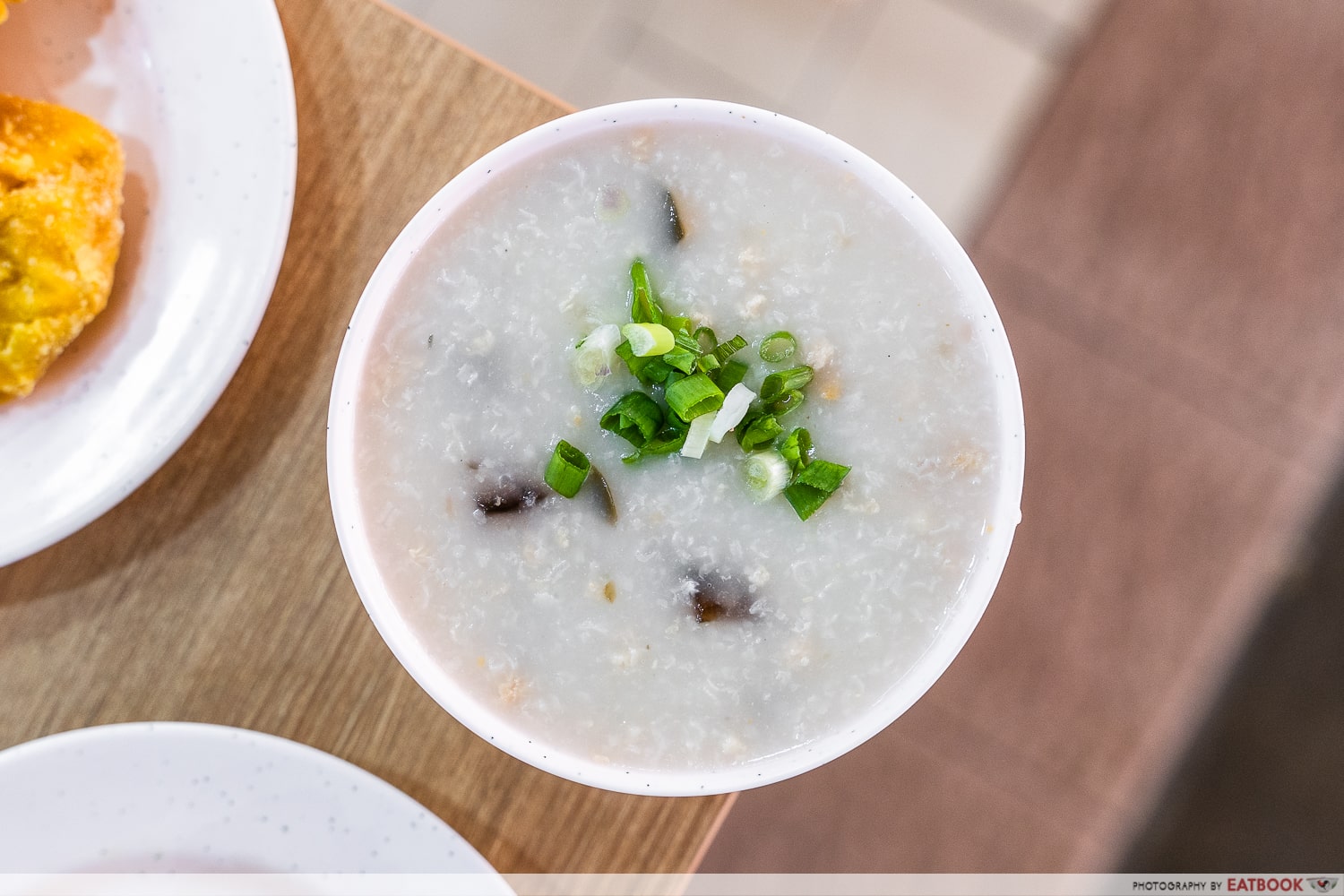 For carbs, you can go for their Century Egg Minced Pork Porridge that's priced at just $1.80. I found this light on the palate with a smooth, thin consistency. It's a simple dish you won't go wrong with.
25 Best Dim Sum Places In Singapore From $1.30, Including Halal Dim Sum And Buffets
Ambience at Mama Dim Sum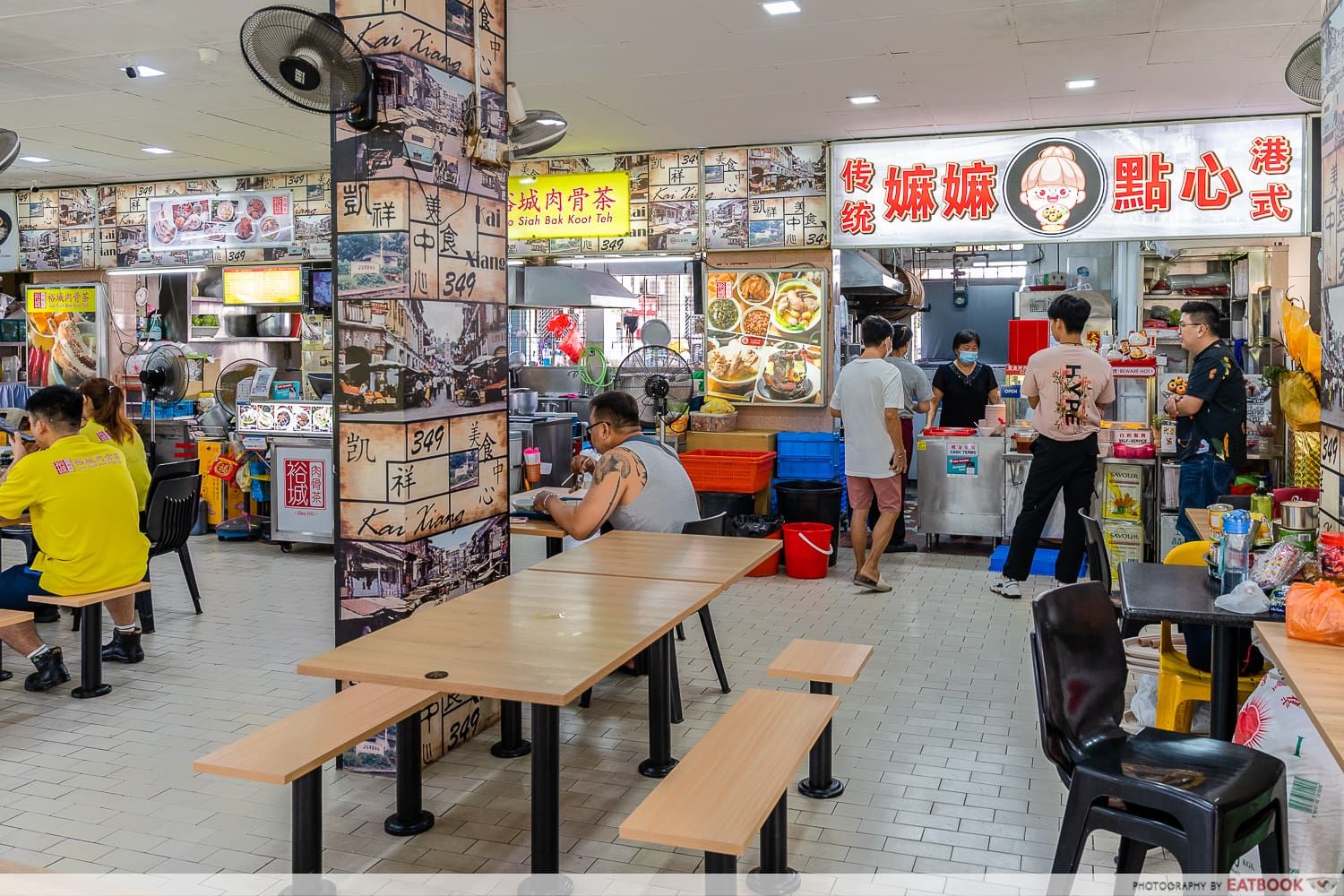 Mama Dim Sum can be found in Kai Xiang Food Centre, a 10-minute walk from Chinese Garden MRT Station. The kopitiam is spacious with plenty of seats. There weren't a lot of people when we arrived there in the morning, but we heard from the stall keepers that the food centre usually gets crowded during the peak lunch period. We'd recommend coming down earlier if you prefer some peace during your meal. 
The verdict
While there were some hits and misses, I appreciate how Mama Dim Sum still stands by their commitment to selling affordable dim sum dishes in the heartlands. Their dim sum items might be simple, but nonetheless tasty and comforting. Mama Dim Sum is a place you can consider dropping by if you're in the area.
For more dim sum places, read our best dim sum places in Singapore guide. Alternatively, check out Bei-Ing Dim Sum Club, which has truffle xiao long bao, deep-fried bao and more!
Address: 349 Jurong East Avenue 1, #01-1215, Kai Xiang Food Centre, Singapore 600349
Opening hours: Wed-Mon 8am to 2pm
Website
Mama Dim Sum is not a halal-certified eatery.
Bei-Ing Dimsum Club Review: Famous Wonton Mee Founders Sell $1.50 Truffle XLB, Deep-Fried Bao And More
Photos taken by Tan Zi Hui.
This was an independent review by Eatbook.sg
Mama Dim Sum Review: Restaurant-Quality Dim Sum From $1.20 In Jurong East
Mama Dim Sum Review: Restaurant-Quality Dim Sum From $1.20 In Jurong East -

6.5/10
Summary
Pros
– Char Siew Bao has generous, tasty fillings
– Affordable prices
Cons
– Portions are slightly small
– Fried Prawn Dumpling was too oily
Recommended dishes: Char Siew Bao ($1.20),Siew Mai ($1.20)
Opening hours: Wed-Mon 8am to 2pm
Address: 349 Jurong East Ave 1, #01-1215, Kai Xiang Food Centre, Singapore 600349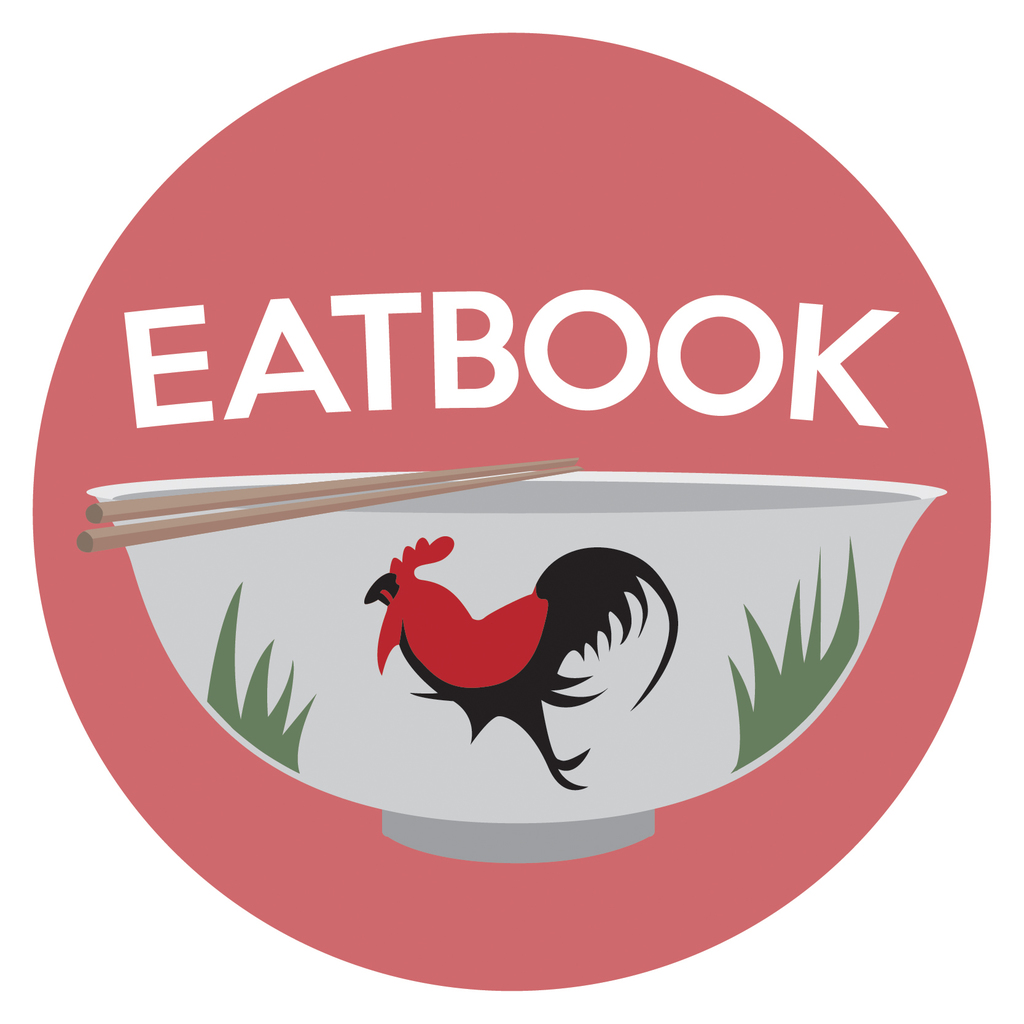 Drop us your email so you won't miss the latest news.