Bei-Ing Dimsum Club has affordable and unique dim sum in East Coast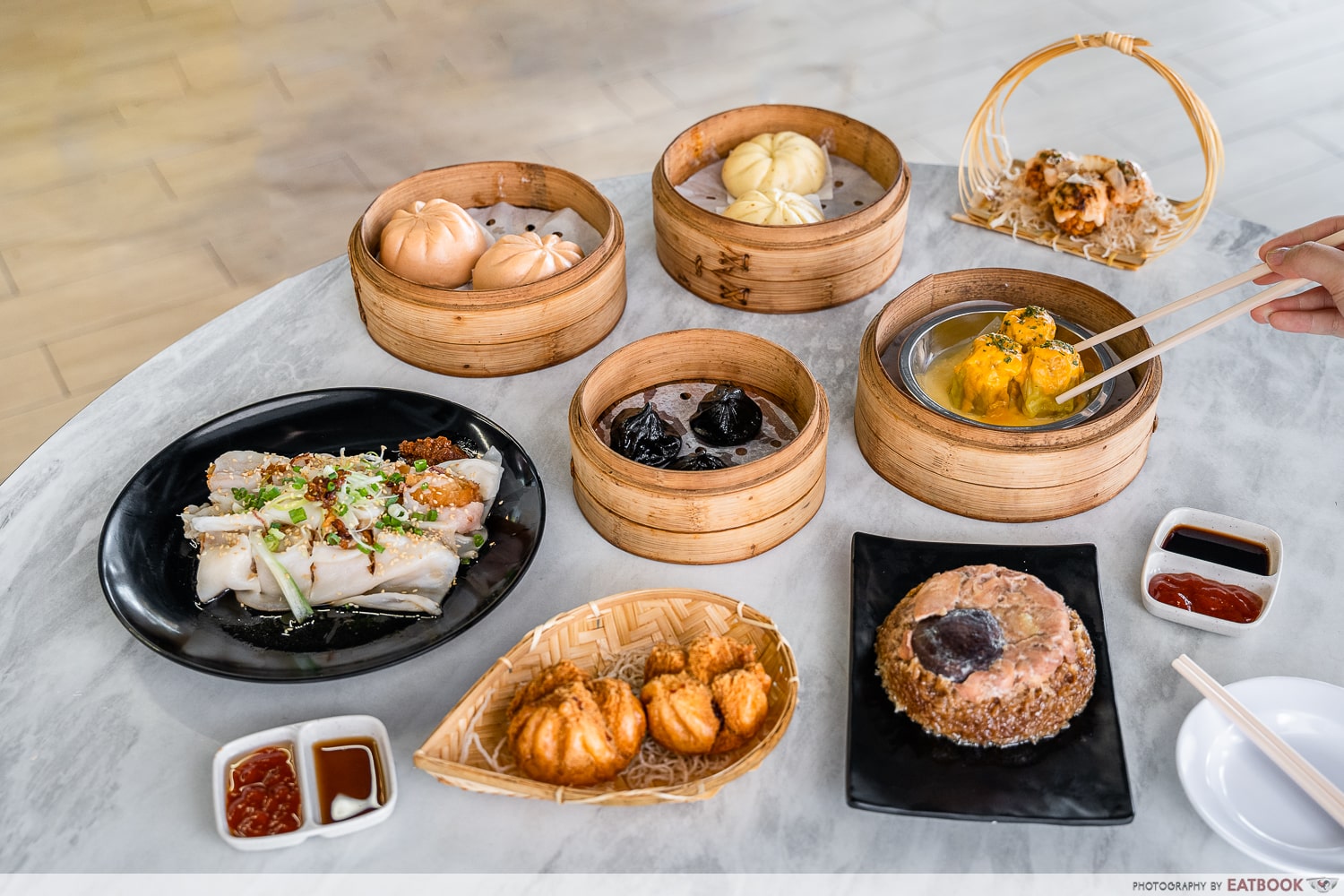 If there's one thing to be thankful for, it's that cheap dim sum is readily available in hawker centres around the country. Bei-Ing Dimsum Club isn't located anywhere near where I live, but I'm always on the lookout for some affordable dim sum. Also, just like any other Singaporean, I'm willing to travel for good food.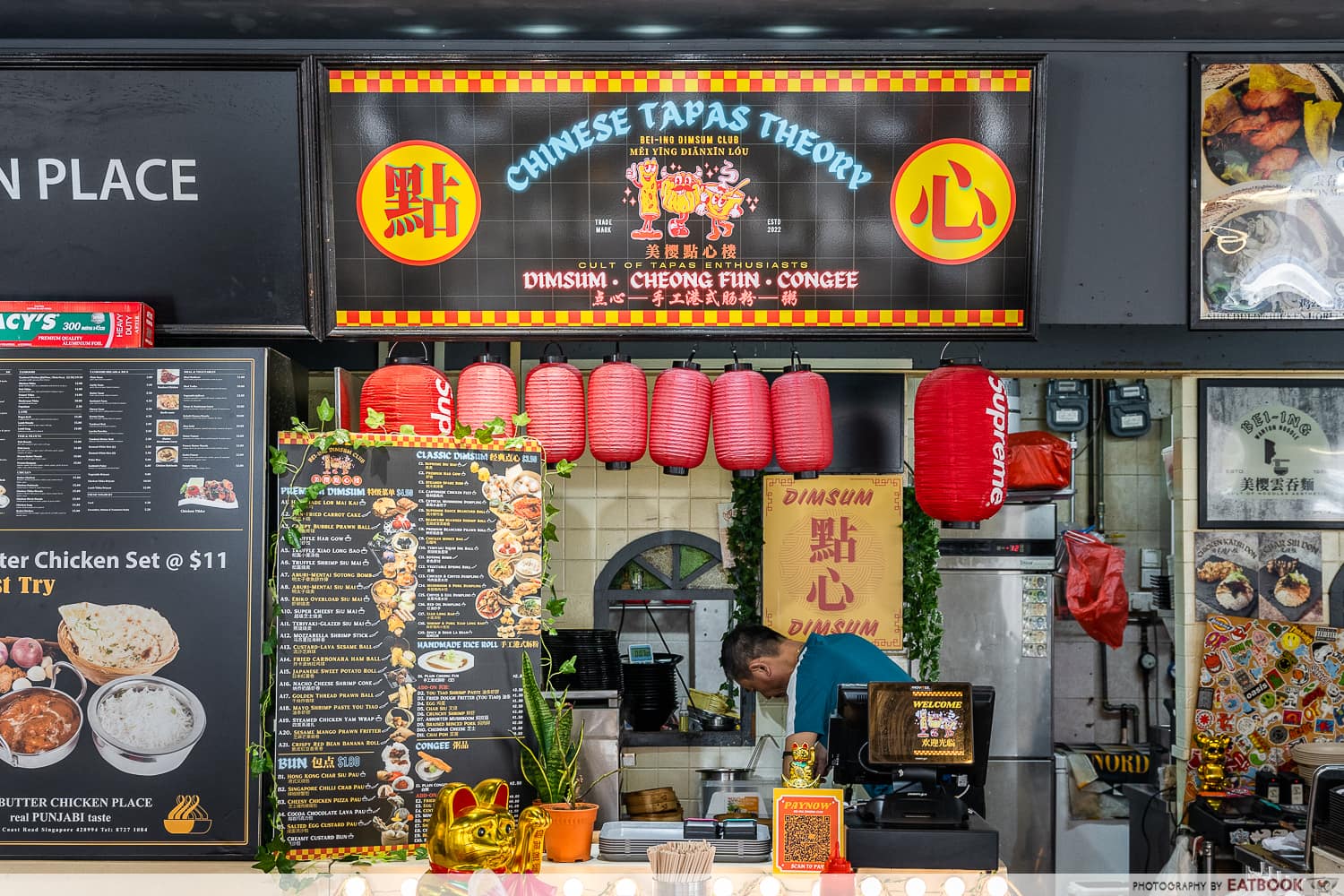 Bei-Ing Dimsum Club is established by the son of the couple running the famous Bei-Ing Wanton Noodles at Roxy Square 1. In fact, the new dim sum stall is located next to their noodle branch in The Bullion Hawker Bar. Although it has only been open for a short period of time, Bei-Ing Dimsum Club was already occupied with orders when we visited—they were busy packing delivery boxes and plating up pretty portions for their customers. 
Geylang Lor 29 Hokkien Mee Review: $6 Charcoal-Fried Hokkien Mee, Pork Belly Satay And More In East Coast
Food at Bei-Ing Dimsum Club
While Bei-Ing Dimsum Club does have its fair share of conventional dim sum on offer, we were far more interested in the unique items on the menu. After all, the stall specialises in modernised, fusion-style dim sum, adapted from recipes provided by the hawker's brother who works at an upscale Chinese restaurant in London. With a dim-sum chef who has a decade of experience cooking in Hong Kong eateries at the helm, we had high expectations for our meal, to say the least.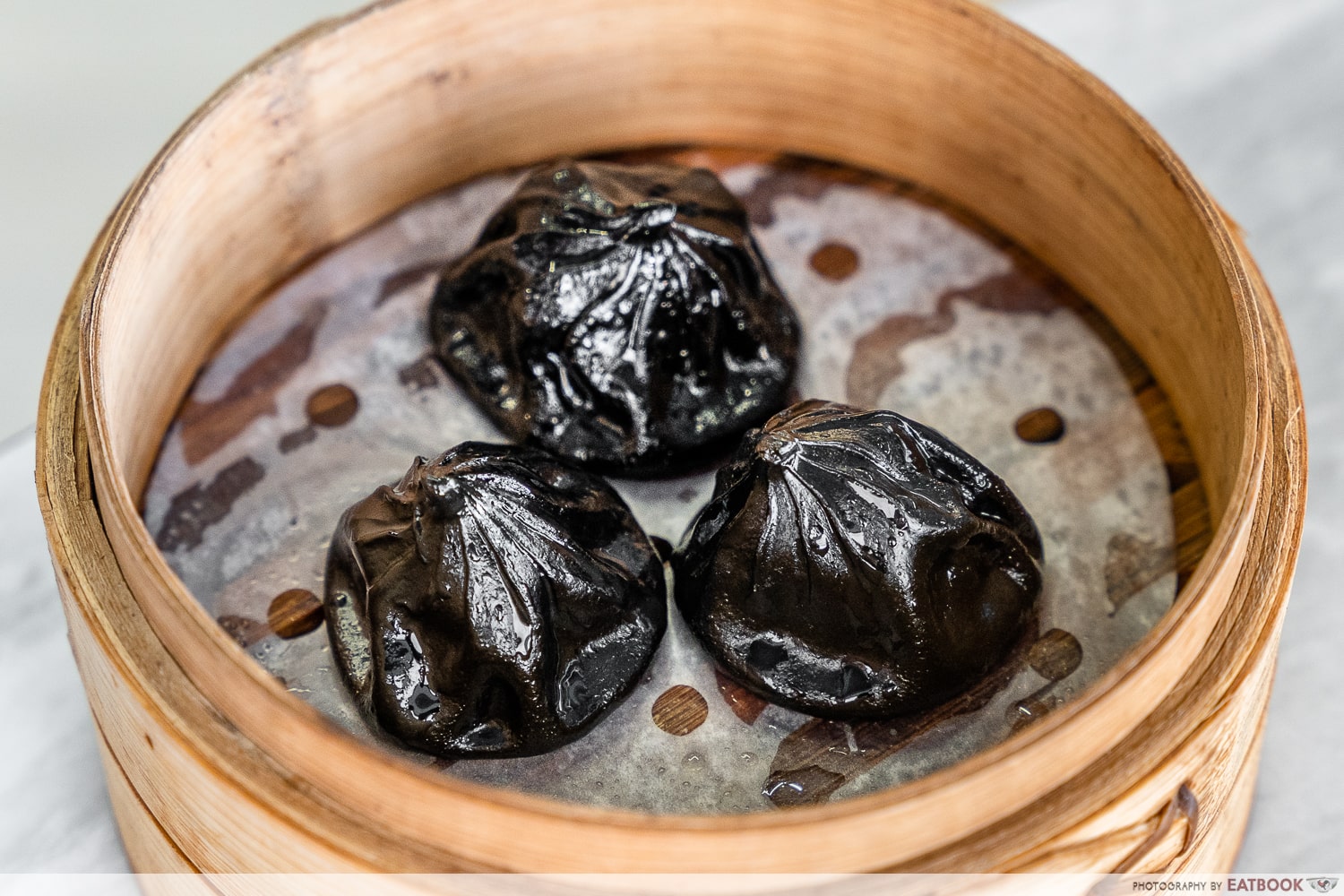 Here you can get the Truffle Xiao Long Bao as part of their premium dim sum menu items, with a basket of three costing $4.50. At $1.50 for each truffle XLB, it was a pretty good deal. We could smell the mouth-watering aroma of truffle oil even before the basket was delivered to our table.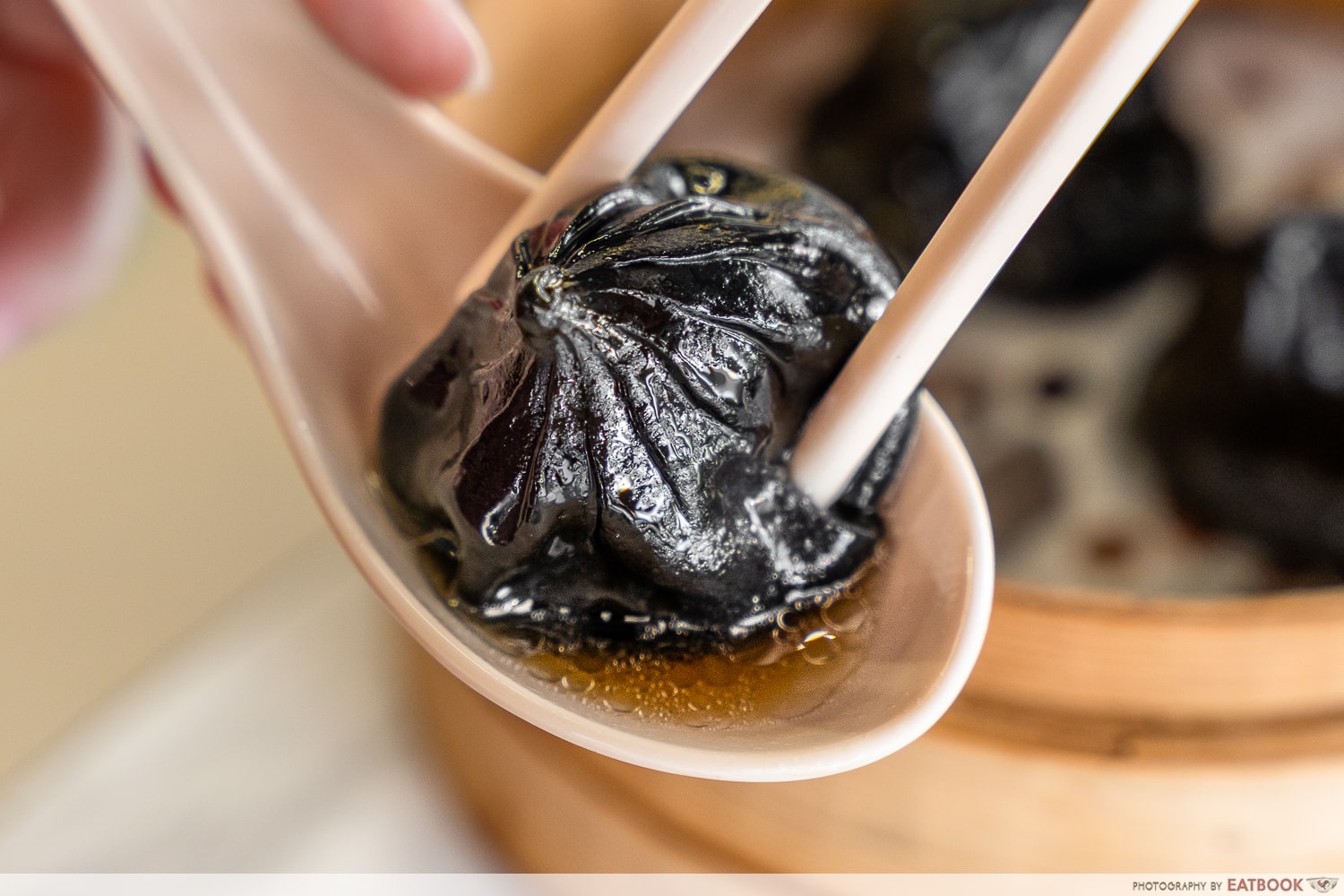 Normally I devour my XLB by shoving it steaming hot into my mouth before the dumpling turns cold, but just this once I decided to eat it the proper way. I dipped the dumpling in a vinegar soy mix, let the soup flow out into my spoon, and slowly savoured it as the XLB gods intended.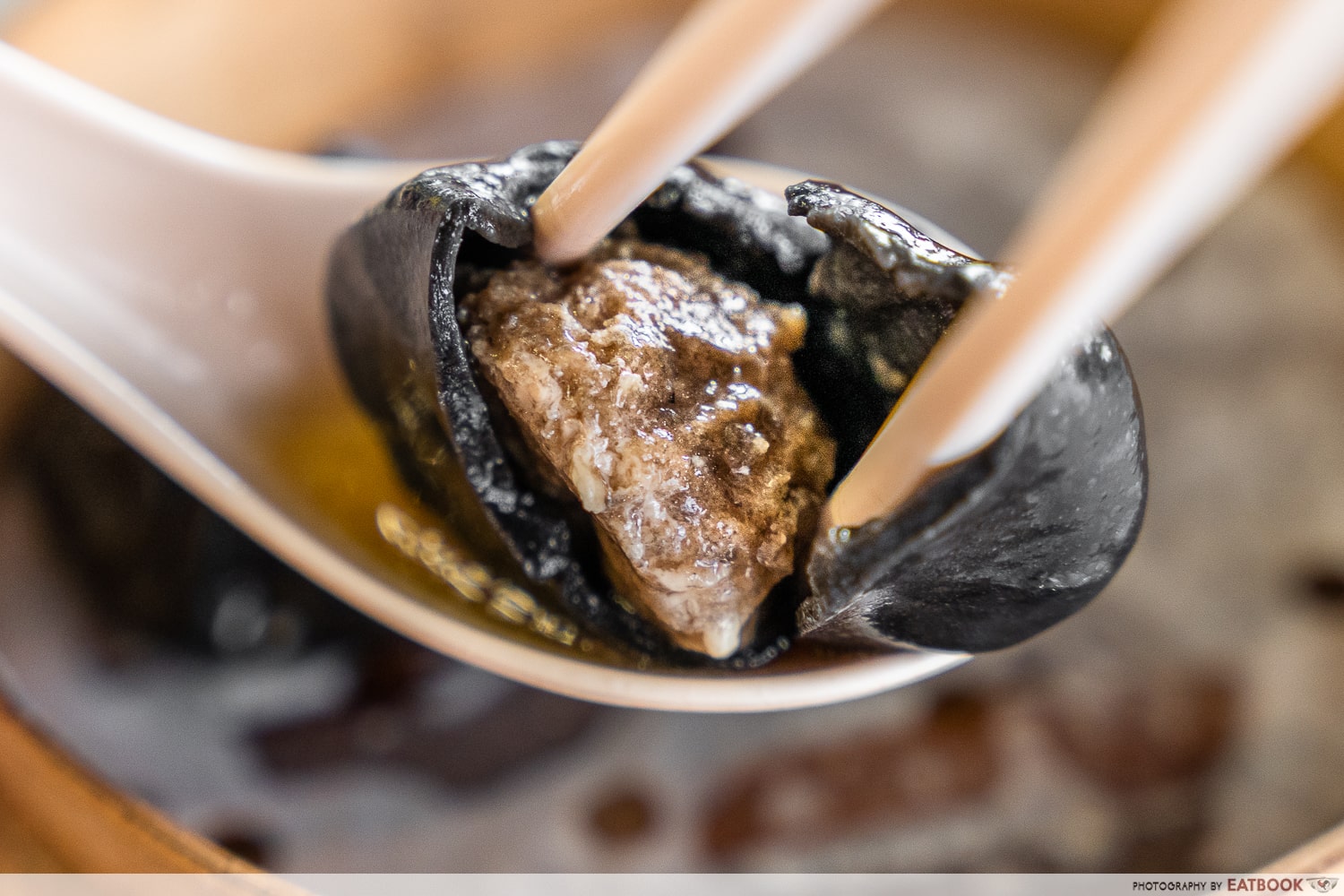 Unfortunately, the truffle xiao long bao's soup-to-filling ratio was skewed heavily in the filling's favour. Flavour-wise, there wasn't as much truffle to be tasted as I had expected, though it was stronger in the soup than the meat itself. Nonetheless, I did like the delicate black skin of the dumpling, and overall it was a good truffle XLB for the price, even if it needed more soup.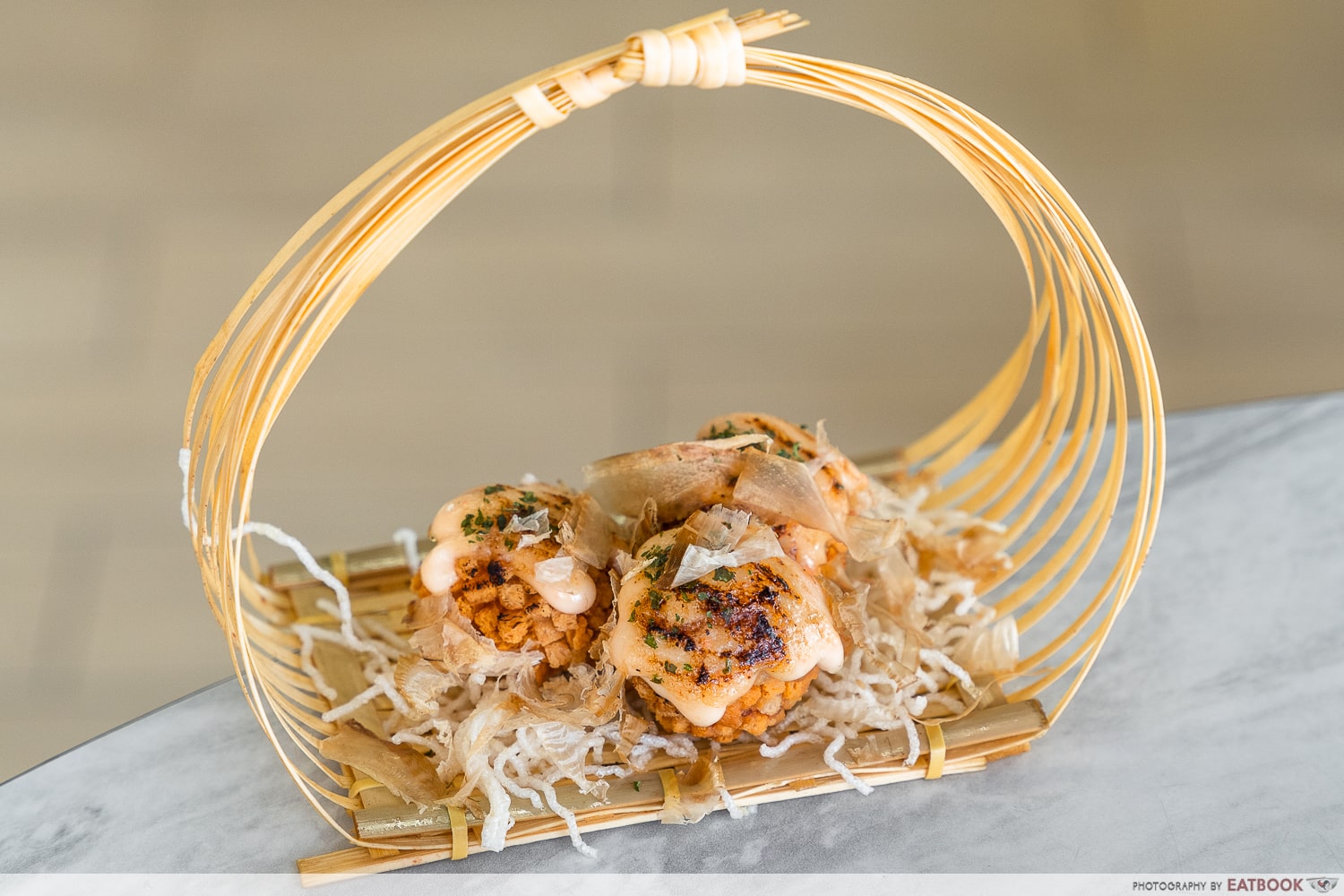 The stall has also hopped on the recent mentaiko trend. Their Aburi-Mentai Sotong Bomb ($4.50) was a trio of breaded squid balls that were deep-fried, covered in mentaiko sauce, and seared with a blowtorch.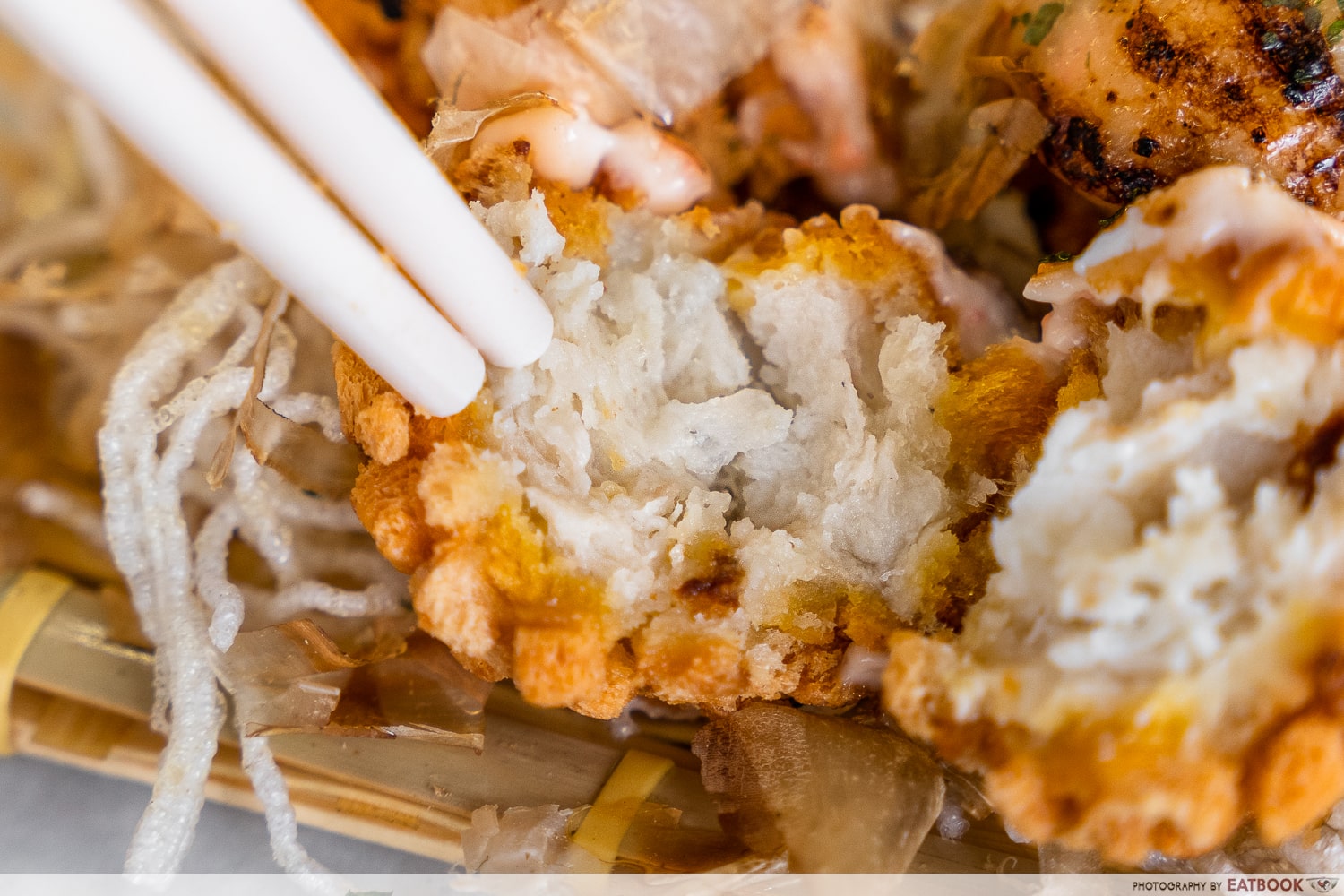 Biting into the balls gave a satisfying crunch. Bei-Ing's rendition of sotong balls were meaty and well-seasoned. While I wasn't certain that flame-searing contributed to anything other than visual appeal, the creamy mentaiko sauce complemented the crispy outer layer of the sotong balls very well.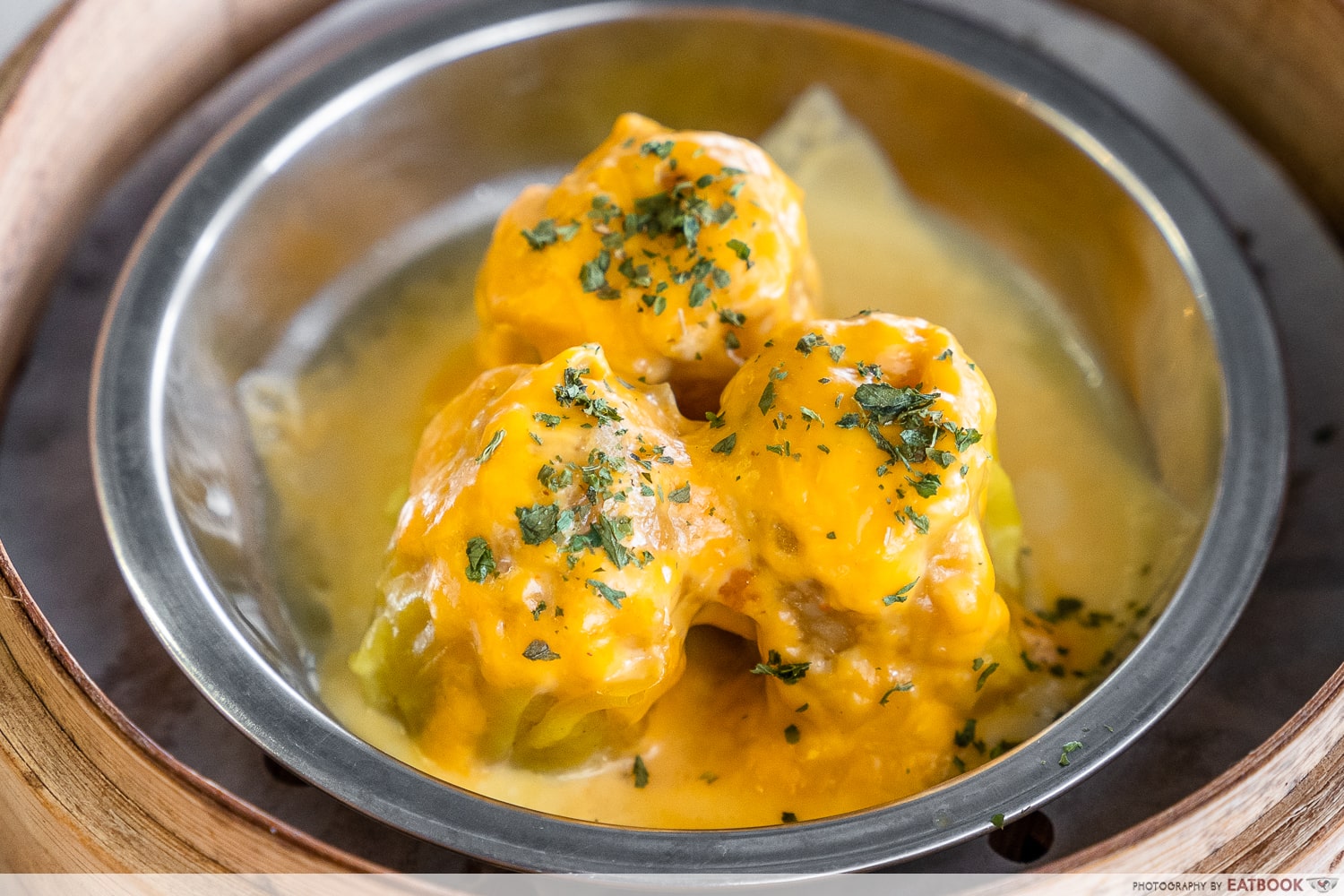 There's also the Super Cheesy Siu Mai ($4.50), possibly the one dish we ordered that I was most sceptical about. Nacho cheese and siew mai just sounded like one of those cursed food combinations you'll see online, nevermind in person.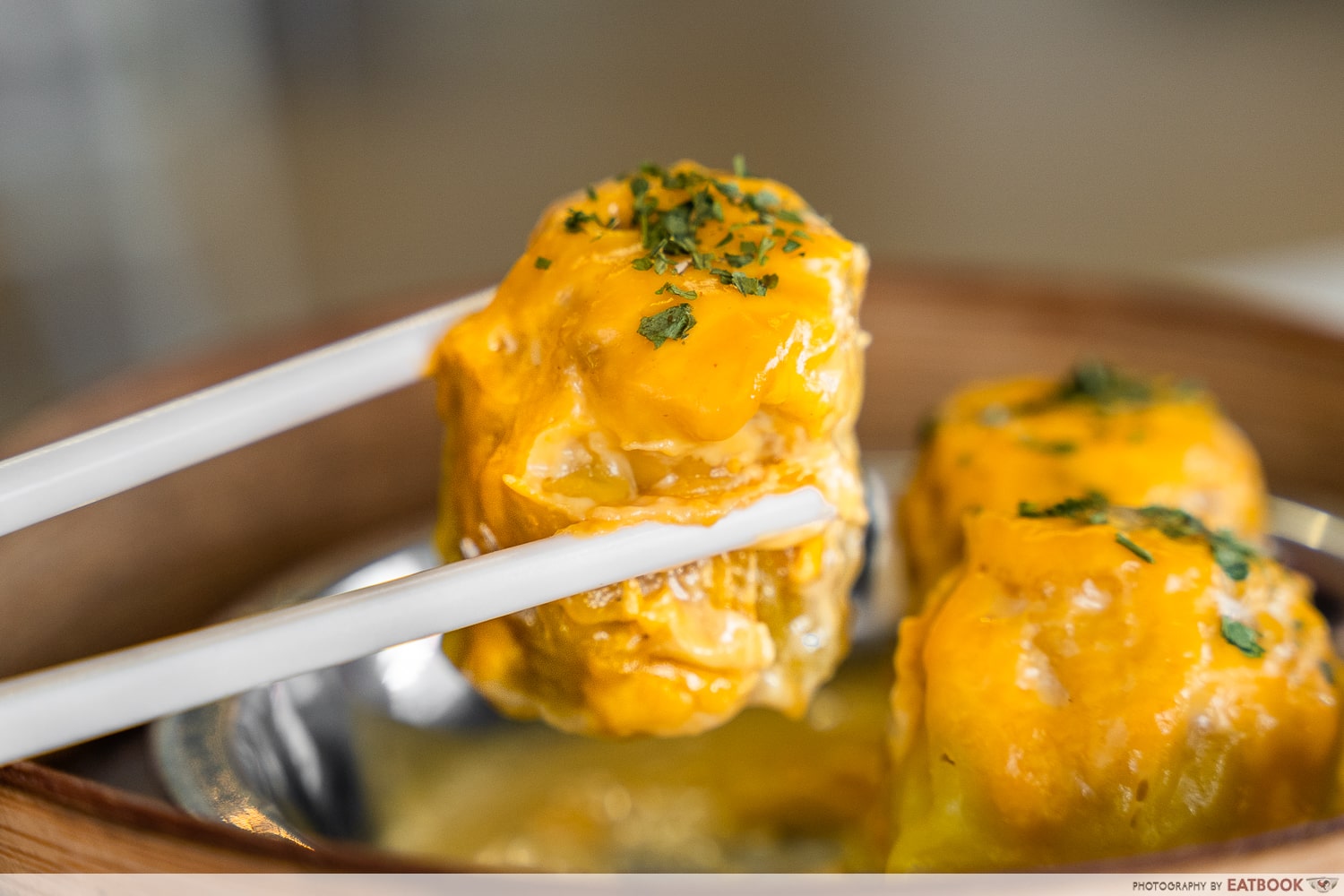 While we were wary of the amount of cheese blanketing the siew mai, we were surprised to find out that the pairing wasn't bad at all. The combination of the nacho cheese, juicy meat filling, and chewy dumpling skin made for an explosion of flavour in our mouths.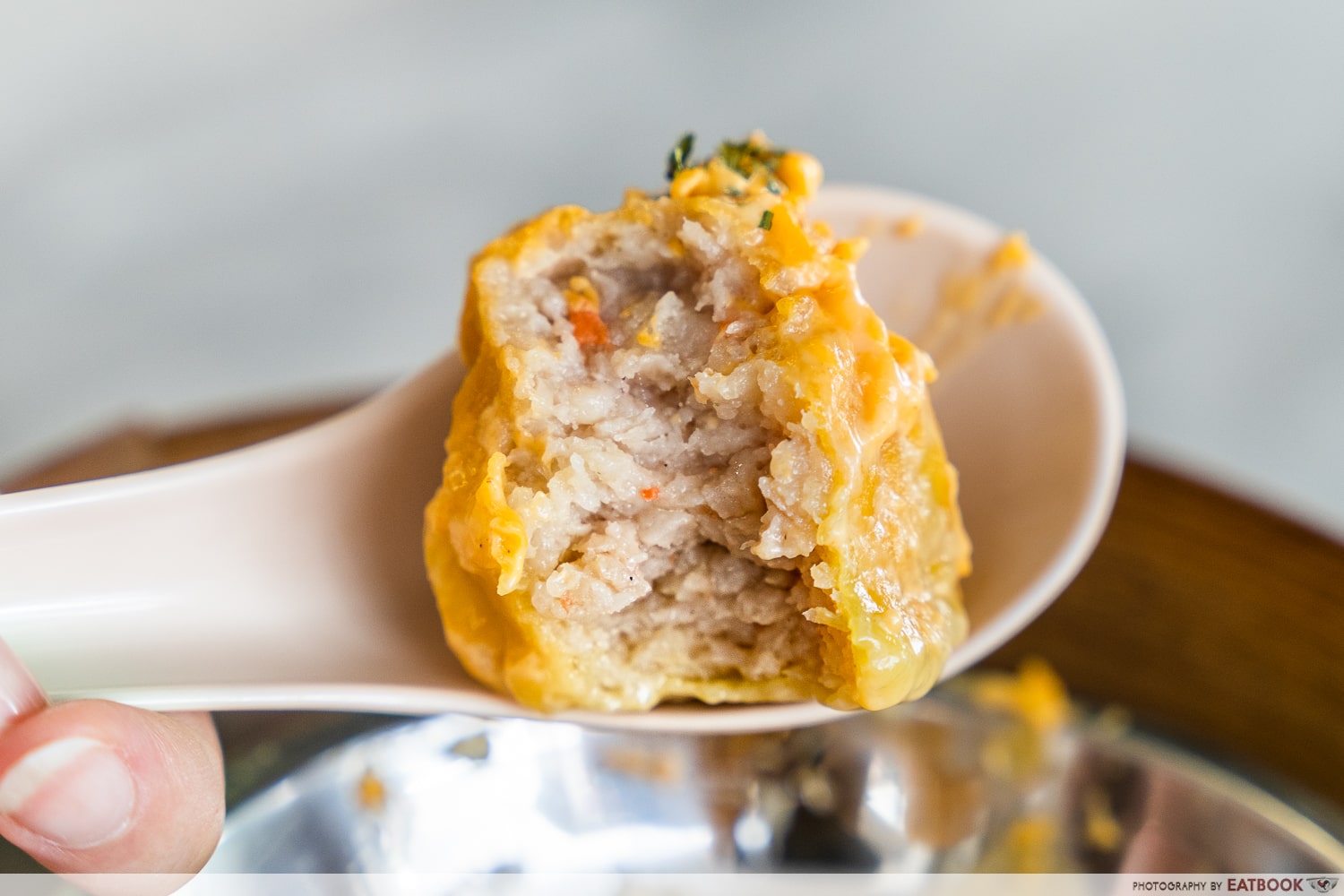 We also enjoyed it with the spicy-sweet chilli sauce on the side, which made us wonder if Bei-Ing Dimsum Club was on to something with this combination. Unfortunately, the cheese began to solidify as it went cold, so it's definitely better eaten as soon as possible.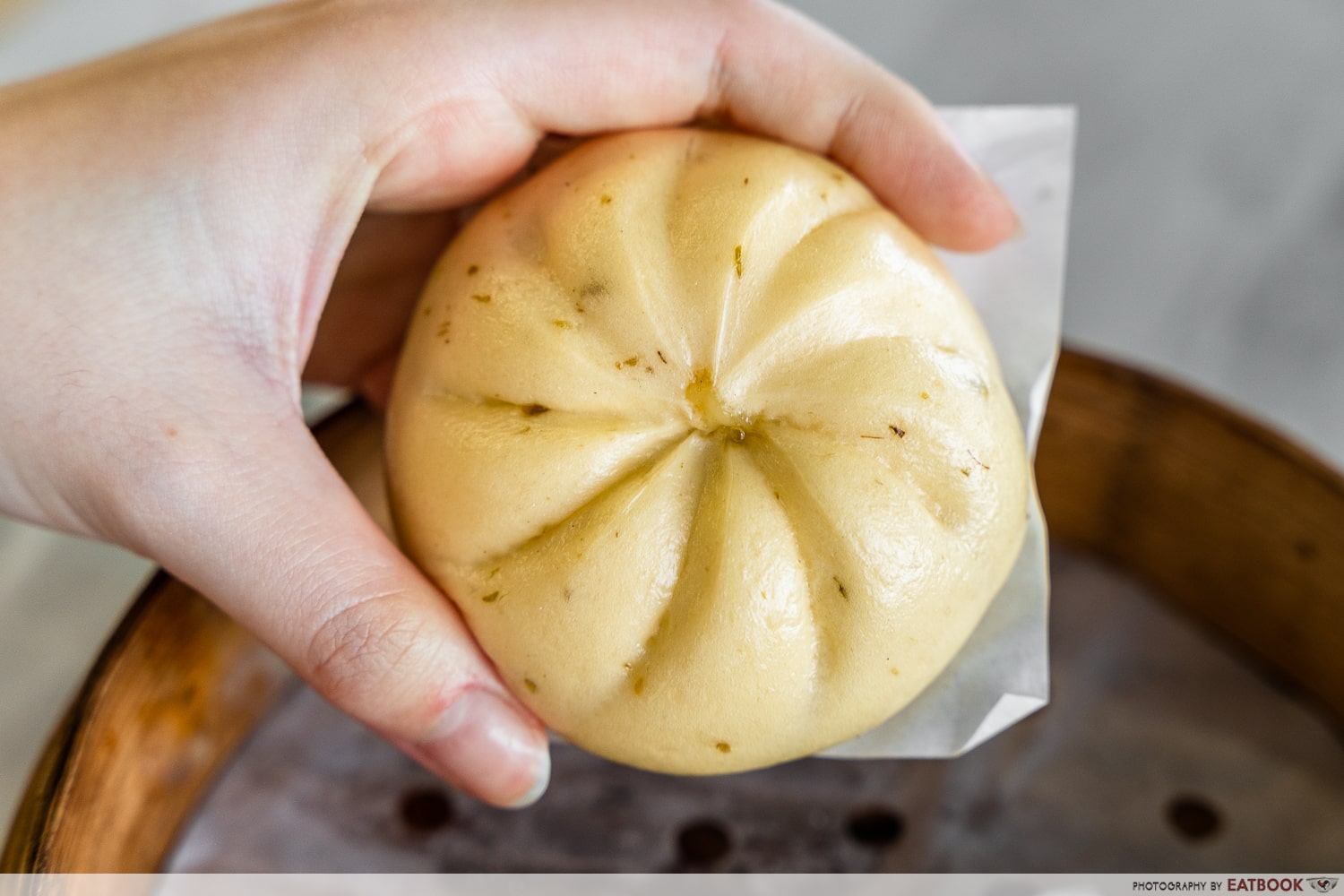 The other cheesy dish on our order was one of Bei-Ing Dimsum Club's unique bao creations, the Cheesy Chicken Pizza Pau ($3.60). Sold in a set of two, I liked how fluffy and sweet the buns were, and the gooey, tomato-based filling on the inside was delicious too. The tiny chunks of chicken gave the filling a more varied texture, and the added basil did make it taste somewhat like pizza.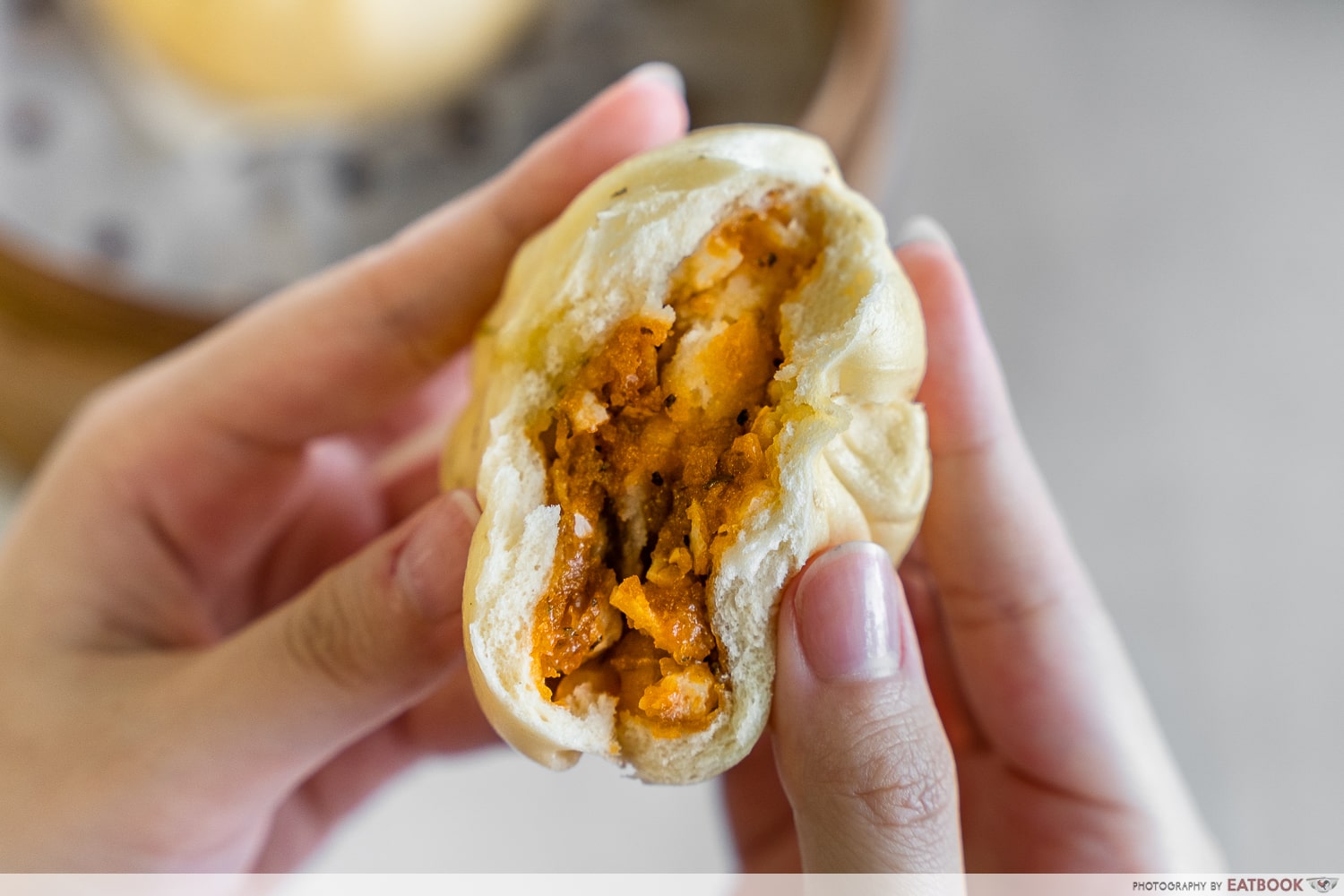 My only gripe was that I barely tasted any cheese in the bao, despite its name.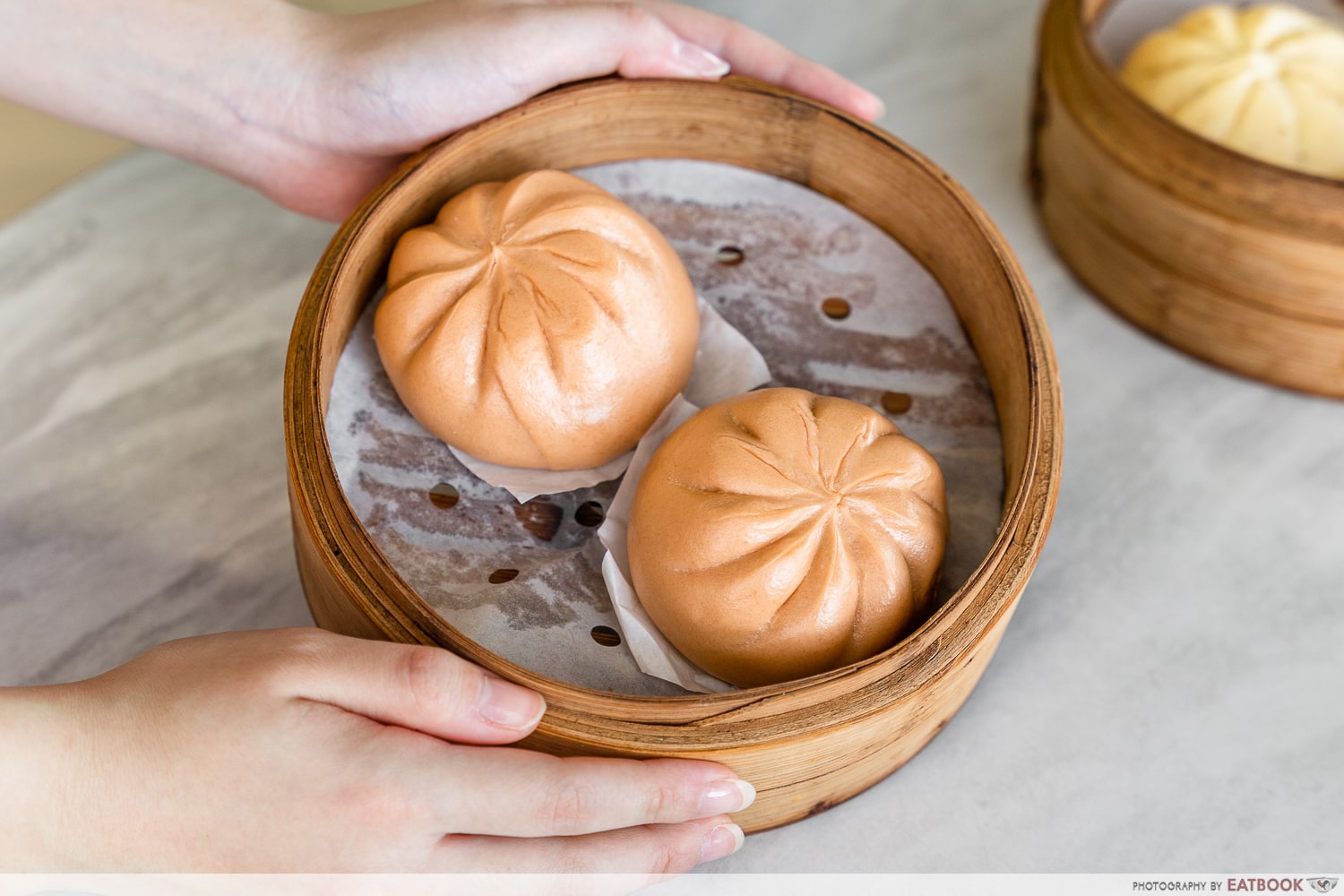 As a big fan of bao with molten fillings, I found myself enjoying the Cocoa Chocolate Lava Pau ($3.60).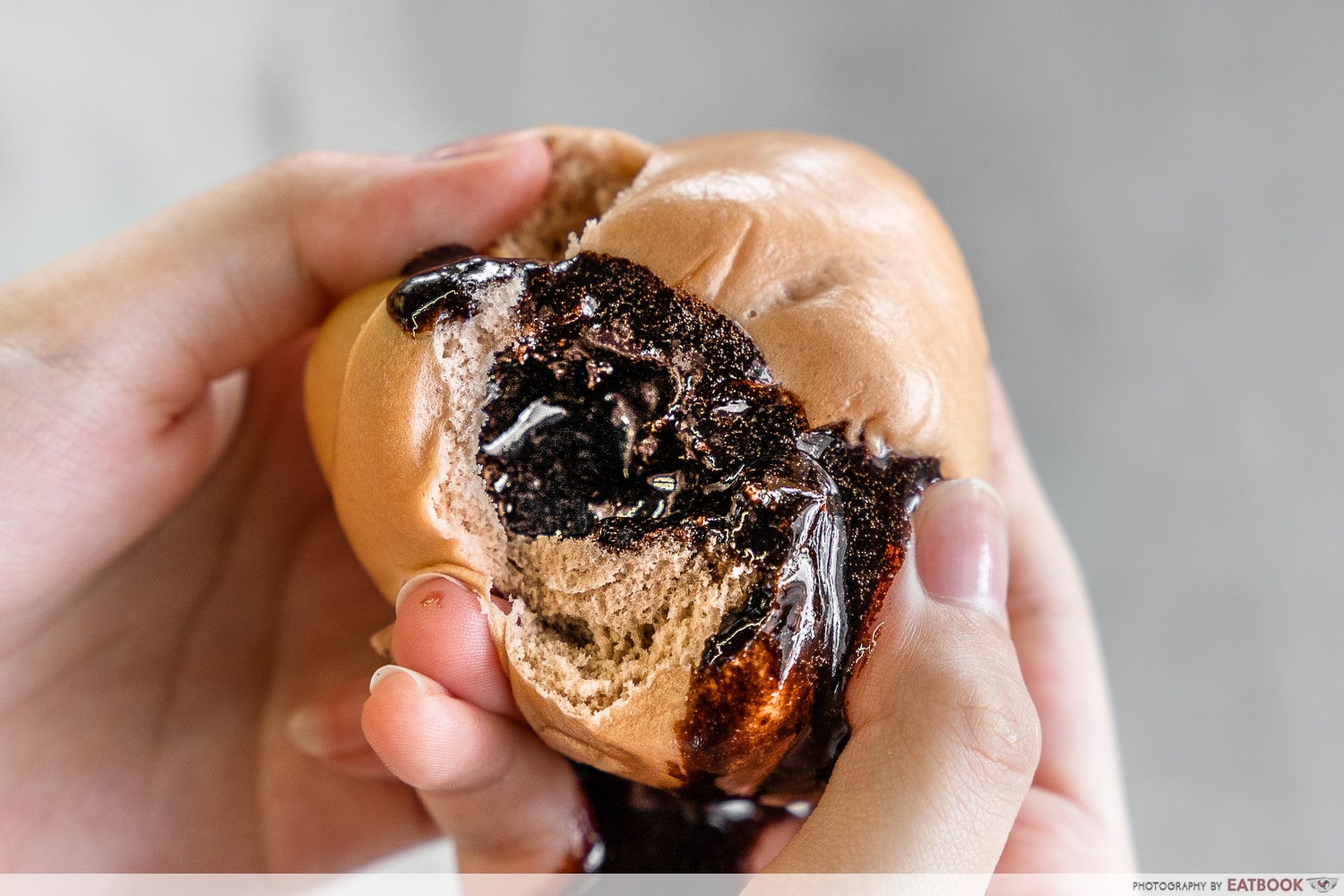 The thin, dark chocolate sauce was a great addition, practically bursting out when we tore open the bao.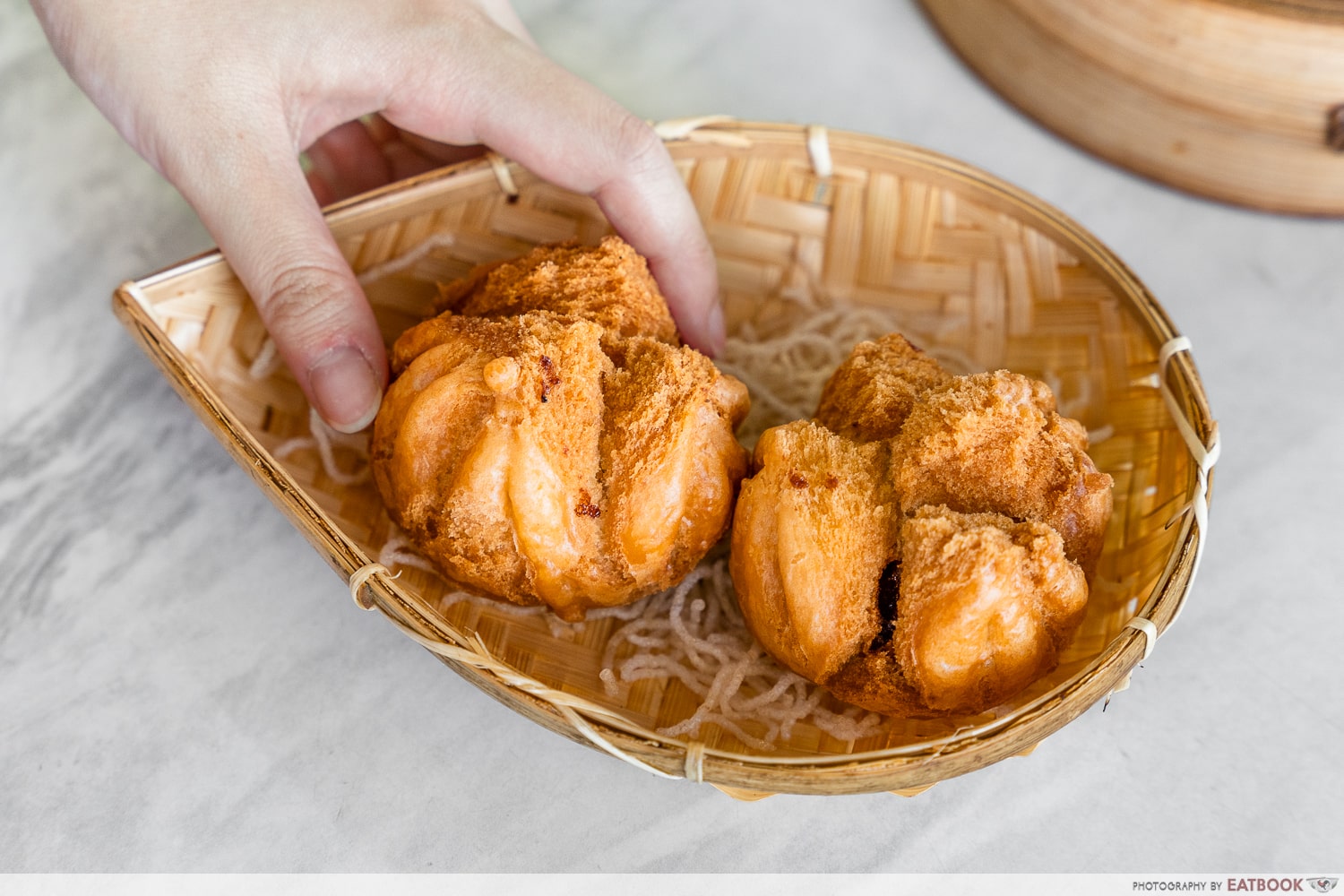 While you could order the char siew bao steamed as usual, I also heard that you could ask to have their handmade Hong Kong Char Siu Pau ($3.60) deep-fried instead. From the look on the hawker's face at our request I thought I had been pranked at first, but sure enough our char siew bao came with a golden brown and crispy exterior that had a satisfying crunch.
Maybe we should have stuck to the regular steamed version, because the sweet bun did not mesh well with the oily crust that deep-frying gave it. If the inside had been a savoury meat filling instead of the gooey sweet char siew, perhaps the dish would be more balanced instead of being overly sweet and greasy.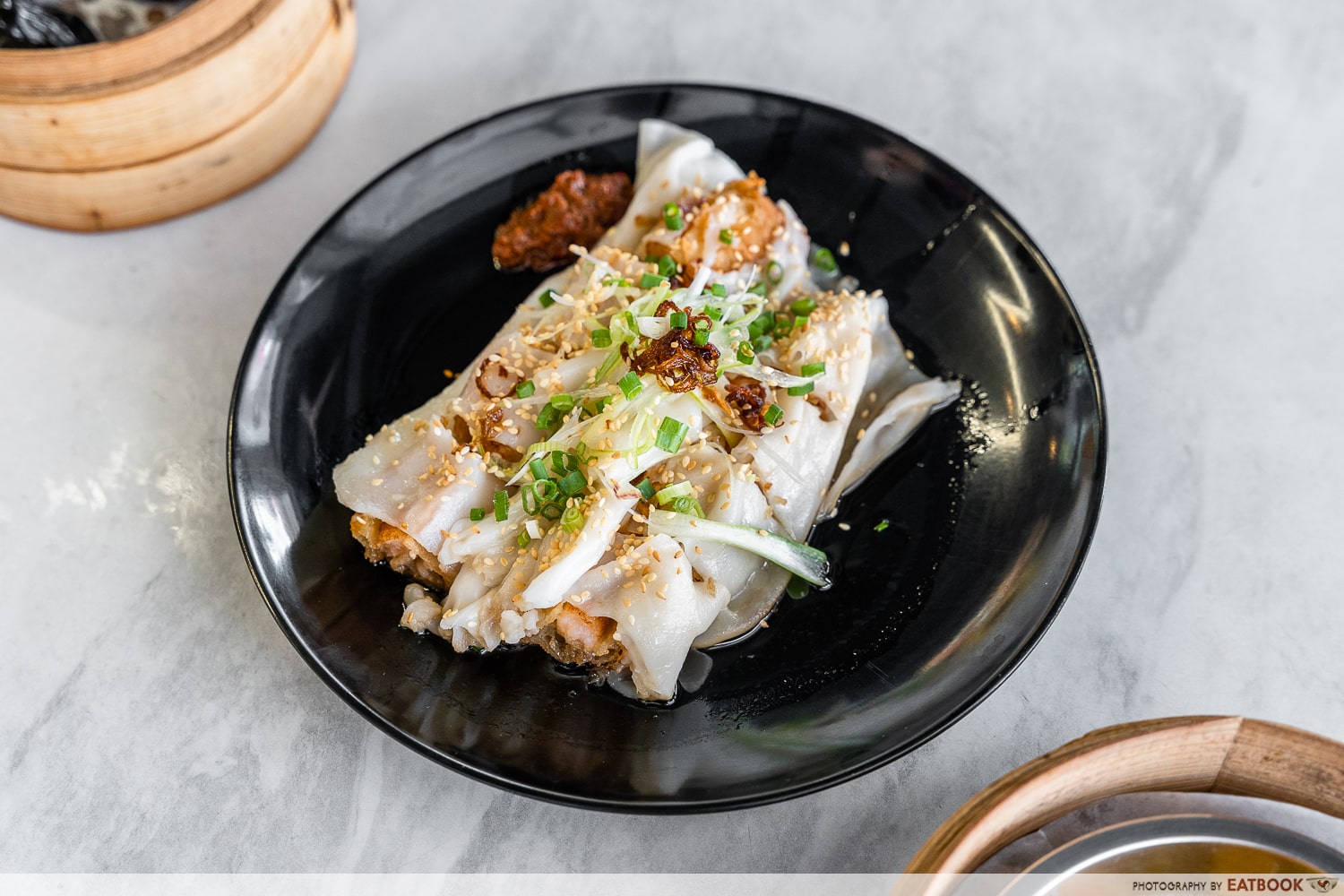 The Chee Cheong Fun ($2.90) was probably the most standard item out of the food we ordered, so we zhnged it up with a You Tiao Shrimp Paste filling for $3.50 instead. The hefty rice rolls came on a large black plate that hid the dark red colour of the sauce. It was also stuffed with you tiao and garnished with a large helping of shredded spring onions and sesame seeds.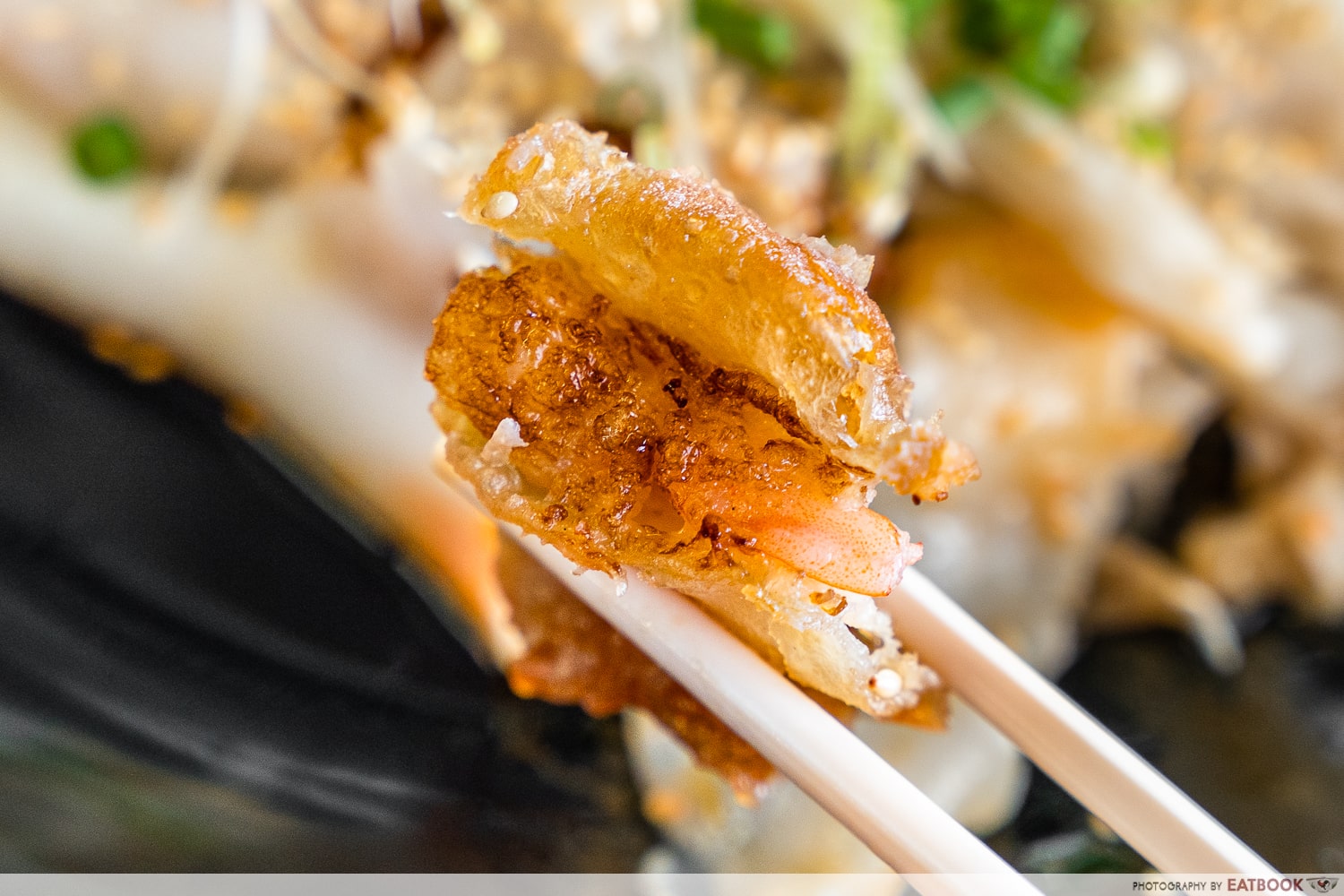 The prawns were shoved vertically into the you tiao to ensure they wouldn't fall out, though the you tiao itself refused to stay inside the slippery rice noodles. Once we managed to wrangle everything to stay on a spoon and gave it a try, we both found this to be our favourite dish of the day.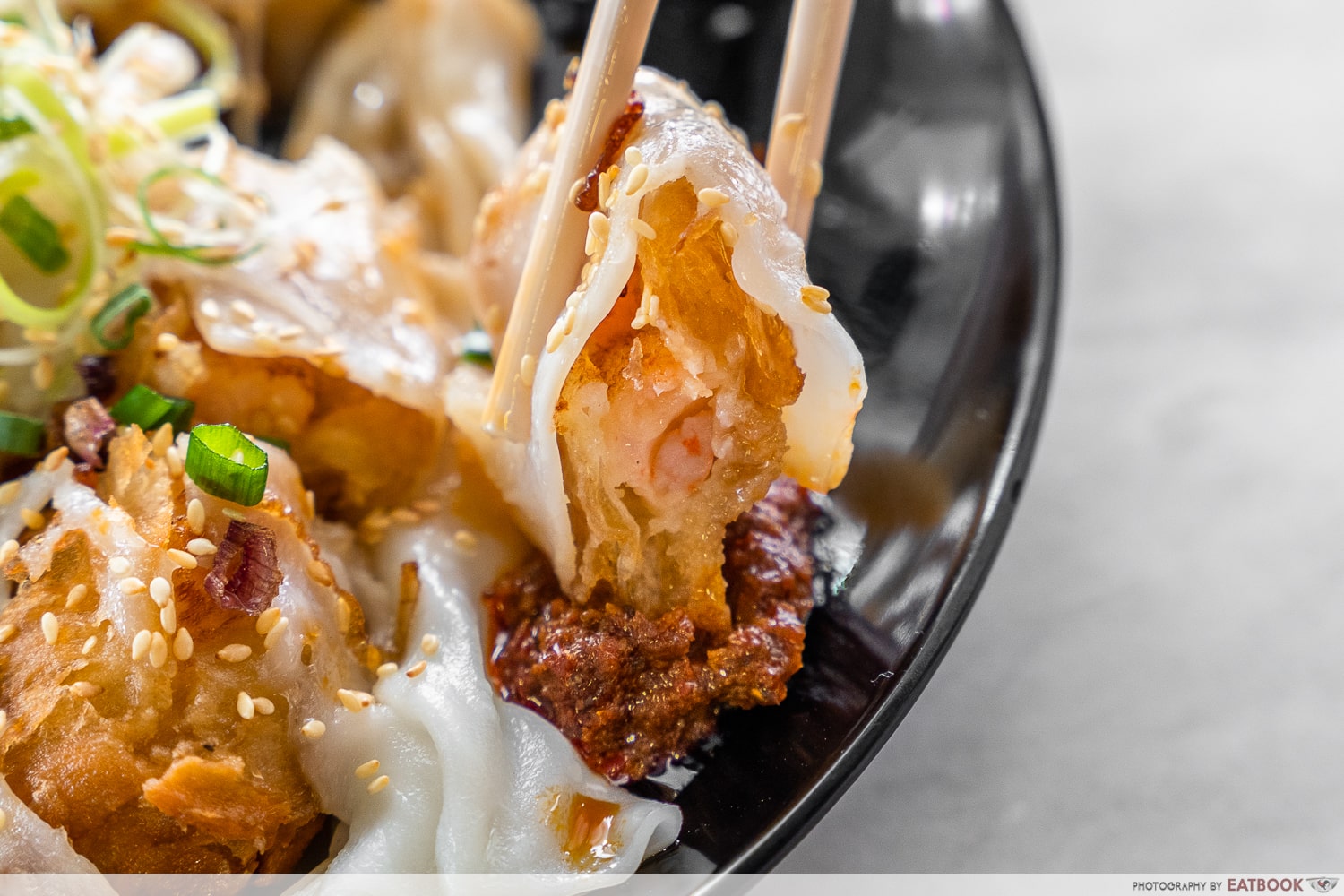 The crispiness of the you tiao remained even as it cooled down, providing a great contrast to the silkiness of the rice noodles. The slight sweetness of the prawns and cheong fun also went well with the spicy kick of the sambal chilli. Each mouthful left us wanting more. 
25 Best Dim Sum Places In Singapore From $1.30, Including Halal Dim Sum And Buffets
Ambience at Bei-Ing Dimsum Club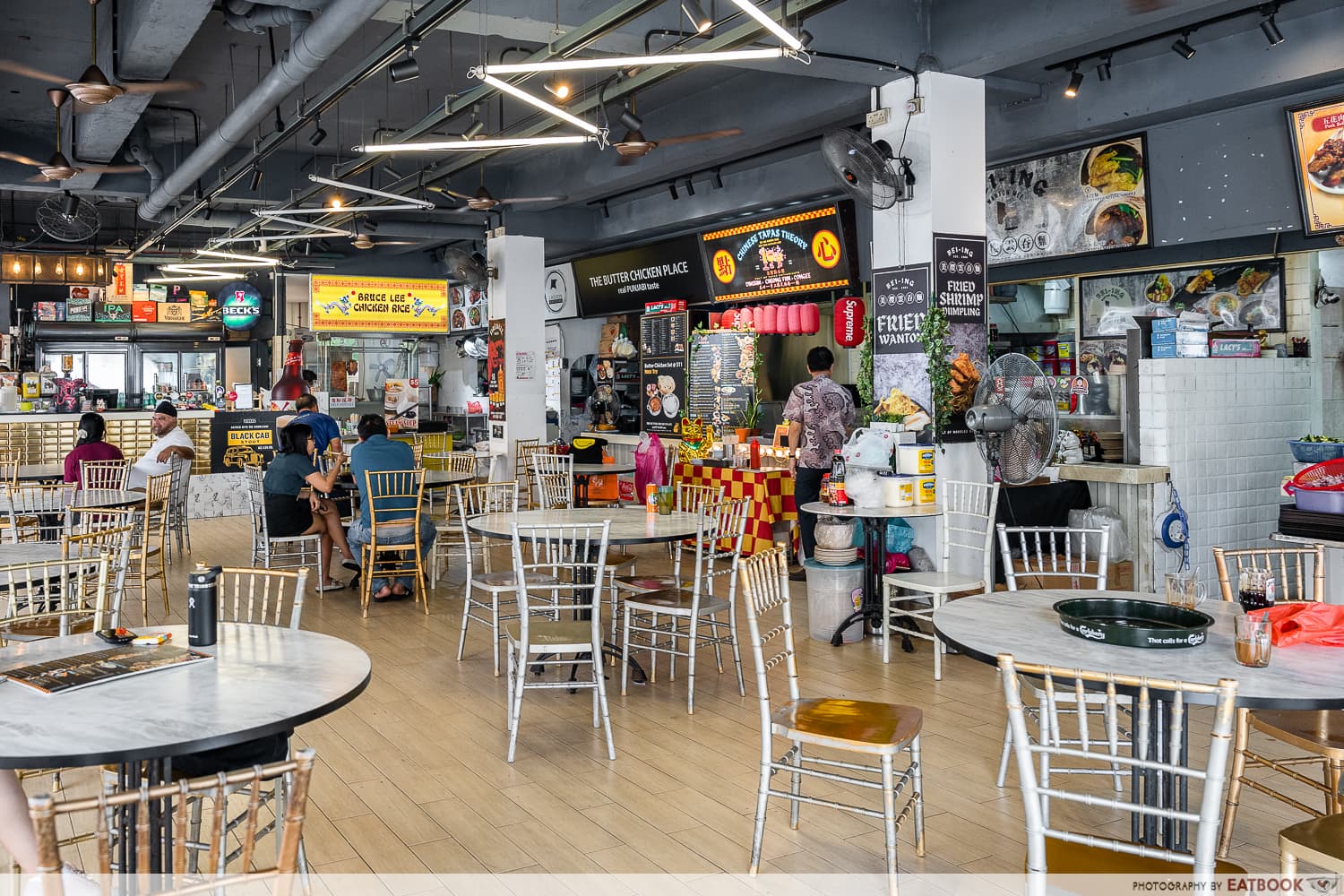 Located in Katong, Bei-Ing Dimsum Club is closest to Eunos MRT Station, but still requires a short eight-minute bus ride and some walking to get to. 
The kopitiam is modern and well-ventilated, mostly indoors with a small seating capacity. I enjoyed the quiet and chill atmosphere when I was there early in the morning. By the time lunchtime came around, the place was full of chatter as every single seat became occupied once Geylang Lorong 29 Hokkien Mee opened for business. Bei-Ing Dimsum Club's menu items are subject to availability too, so be sure to turn up early for your dim sum fix.
The verdict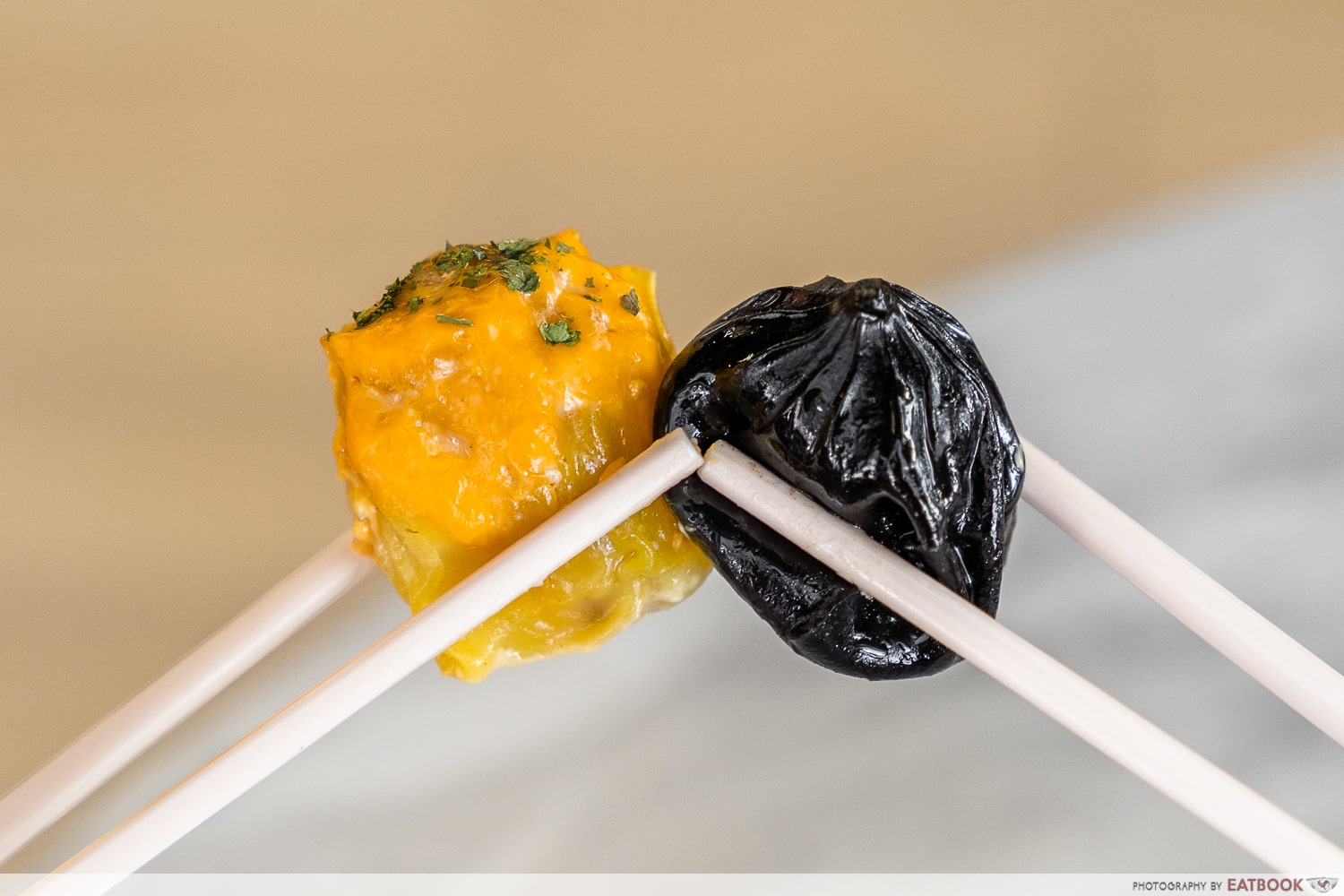 It's always interesting to see how creative chefs can be when modernising old-school, familiar foods. Bei-ing Dimsum Club's renditions on dim sum were interesting, despite some misses.
As to whether I'd travel back here for dim sum, I think I'll only do so when I'm in the area. Still, it's a pretty decent option if you live around the area and want to have morning dim sum in a casual environment. 
Check out our guide to the best dim sum places in Singapore for more affordable and tasty snacks. Also, read our review of Nian Nian Fa Dim Sum which has cheap dim sum made by a legit Hong Kong chef!
Address: 396 East Coast Road, The Bullion Hawker Bar, Singapore 428994
Opening hours: Fri-Wed 9pm to 8pm (or sold out)
Tel: 9046 7176
Website
Bei-Ing Dimsum Club is not a halal-certified eatery.
Nian Nian Fa Dim Sum Review: $1.10 Dim Sum From Hong Kong Chef With Over 40 Years Of Experience
Photos taken by Tan Zi Hui
This was an independent review by Eatbook.sg
Bei-Ing Dimsum Club Review: Famous Wonton Mee Founders Sell $1.50 Truffle XLB, Deep-Fried Bao And More
Bei-Ing Dimsum Club: Hawker Stall With $1.50 Truffle XLB, Deep-Fried Char Siew Bao And More In East Coast -

7.5/10
Summary
Pros
– Buns were soft and fluffy
– Chee Cheong Fun with You Tiao Shrimp Paste was excellent
– Very interesting flavours
Cons
– The cheesy chicken pizza bao wasn't really cheesy
– Some of the fusion dishes were misses
– Far from MRT
Recommended Dishes: Chee Cheong Fun ($2.90) with You Tiao Shrimp Paste ($3.50), Cocoa Chocolate Lava Pau ($3.60) 
Opening hours: Fri-Wed 9pm to 8pm (or sold out)
Address: 396 East Coast Road, The Bullion Hawker Bar, Singapore 428994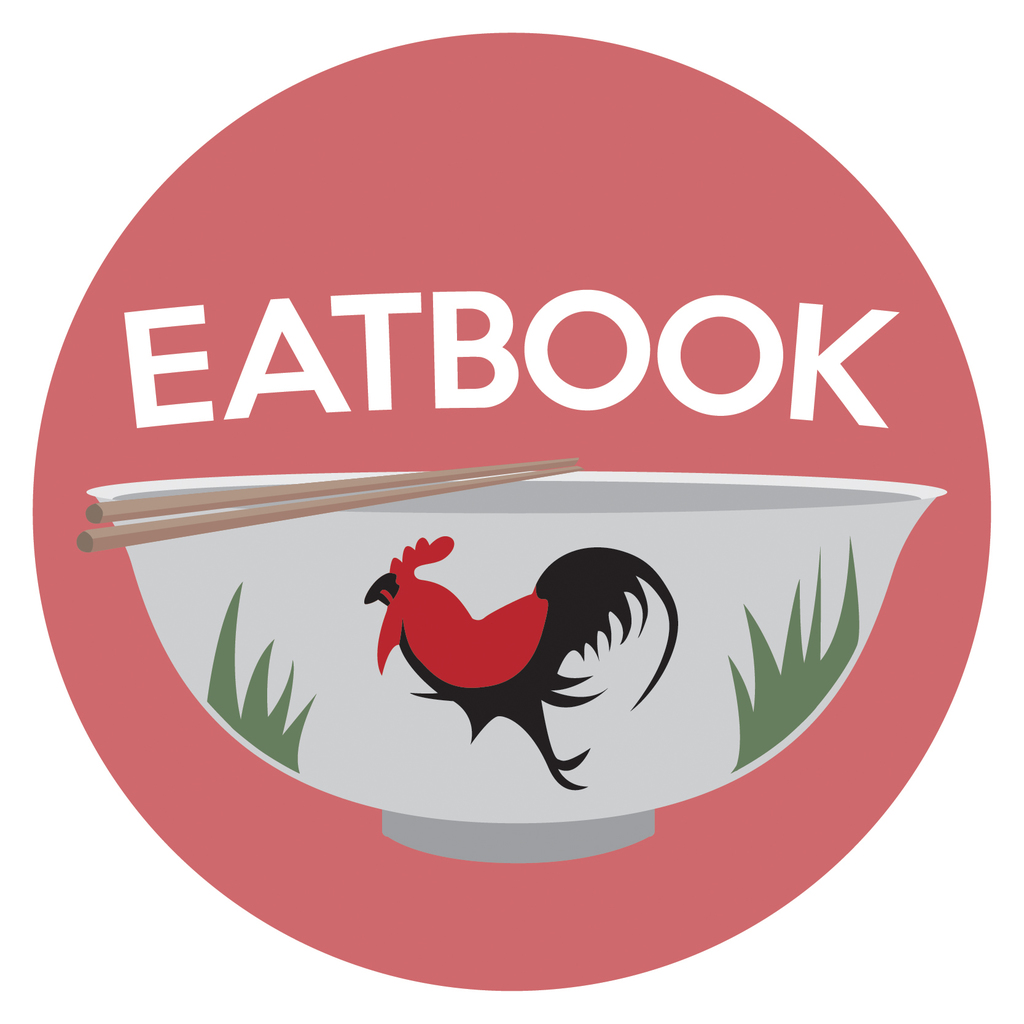 Drop us your email so you won't miss the latest news.