Geylang Lor 29 Hokkien Mee and pork belly satay in East Coast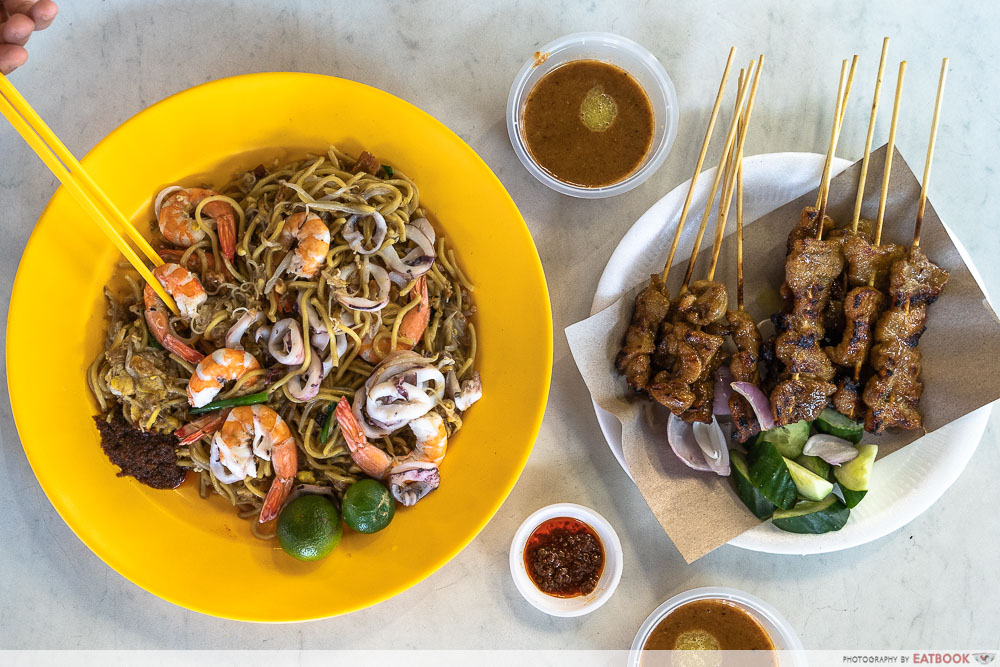 There's no doubt that hokkien mee is a beloved national dish many Singaporeans feel strongly about. A popular stall that has been dishing out legit hokkien mee across generations is Geylang Lor 29 Hokkien Mee, located along East Coast Road.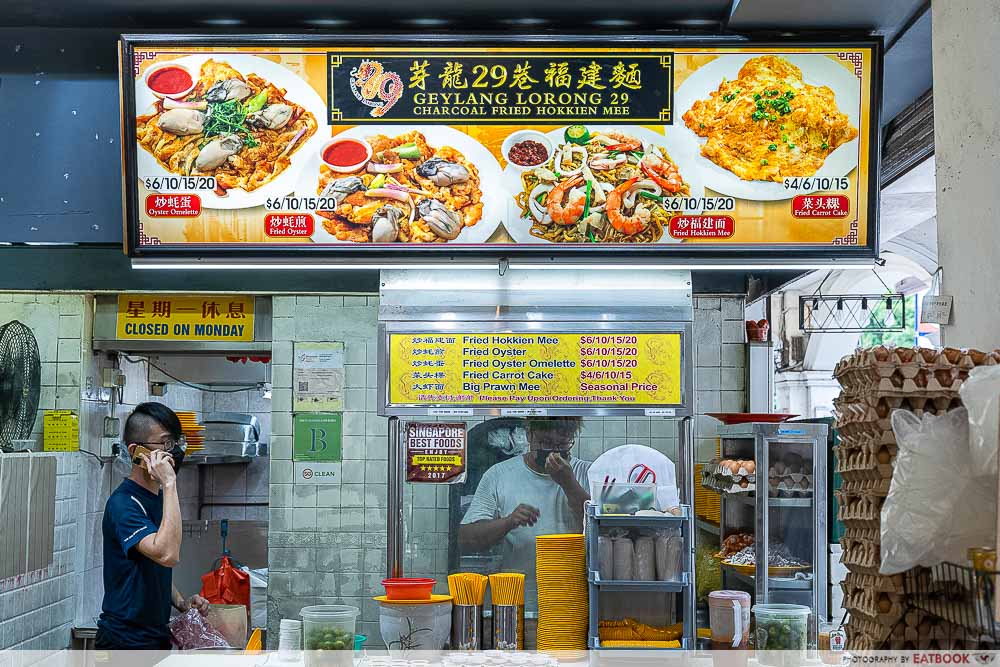 This hokkien mee stall is not to be confused with Swee Guan Hokkien Mee, which is in fact located on Geylang Lorong 29, even though both stall owners are related by blood. The original Swee Guan Hokkien Mee was first run by Uncle Alex, who passed the baton to his son. This East Coast stall is currently run by Uncle Alex's daughter, with her husband helming the wok.
Swee Guan Hokkien Mee Review: Charcoal-Fried Hokkien Mee With 41 Years Of History
Food at Geylang Lor 29 Hokkien Mee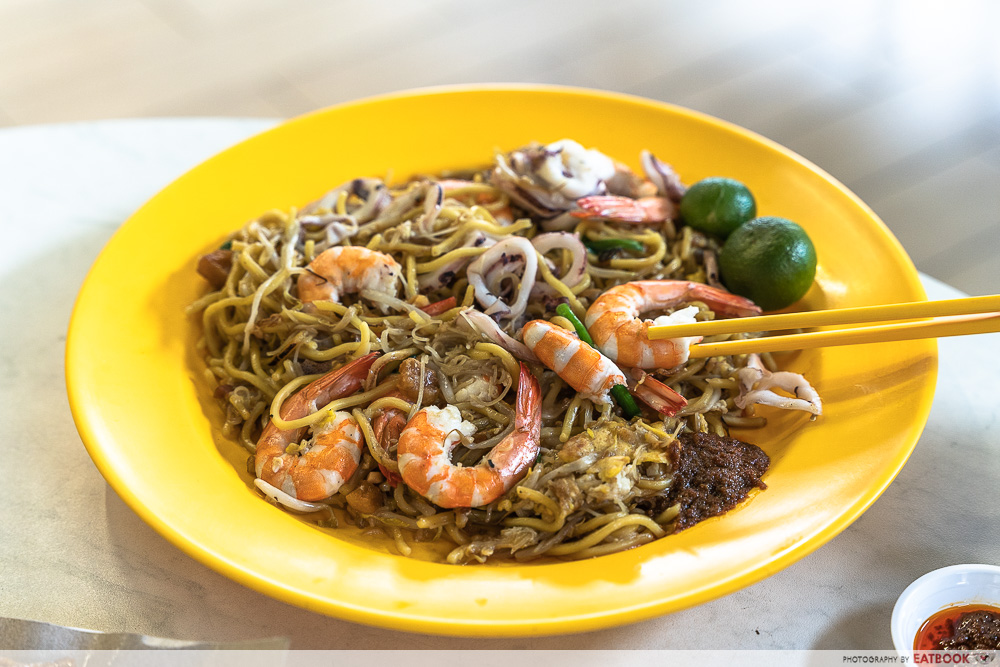 As with most local fare, a good plate of hokkien mee can be rather subjective. Some diners like theirs dry and full of wok hei, while others prefer their order wet and slick with a heady prawn stock. Ask a hokkien mee enthusiast and they'll most likely have their personal favourites, which can make the topic a divisive one.  
Here, the Fried Hokkien Mee is available in four sizes: $6, $10, $15, and $20. We went for the $15, which came loaded with fresh prawns, sotong, and lashings of pork lard.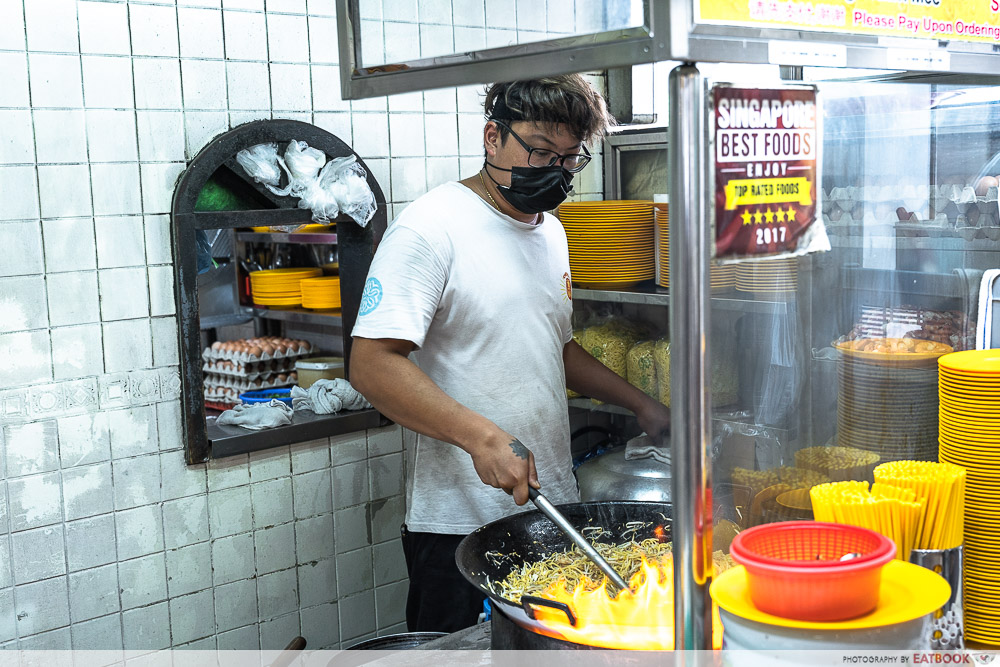 Each plate comprises a mix of yellow noodles and thin bee hoon, wok-fried over charcoal fire with a heady prawn stock. It's a cross between wet and dry hokkien mee as soon as it's served to your table, but after sitting out for a while, the noodles soaked up most of the zhup. 
You also get a generous dose of pork lard bits, which added more flavour to the dish, but I thought they could be crispier.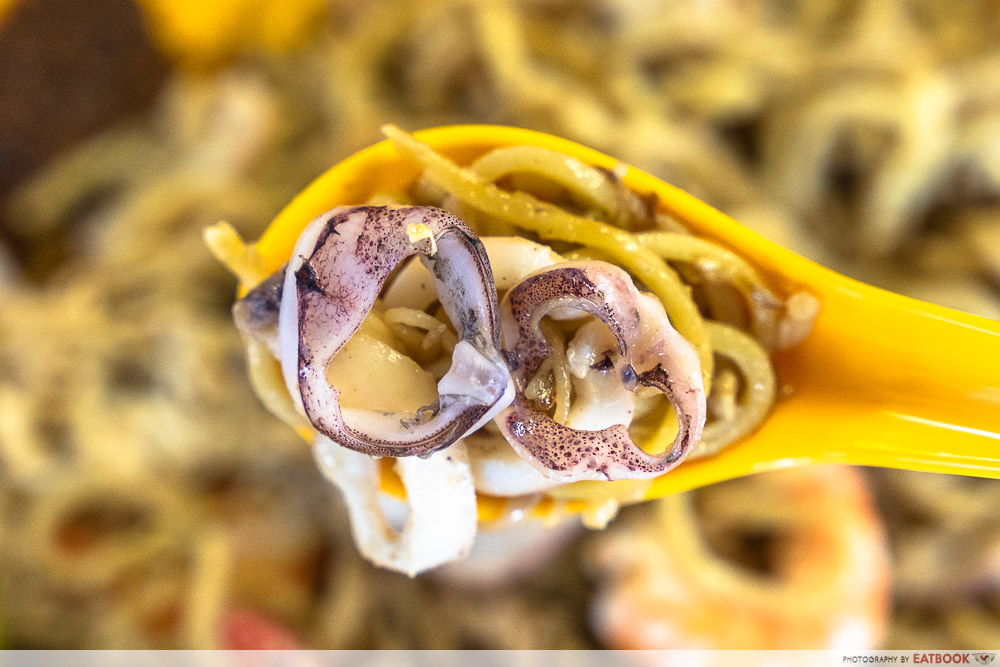 For $15, your hokkien mee comes with added portions of prawns and sotong. While the seafood tasted fresh, the sotong was rather bland. Perhaps the squid was underseasoned on purpose, so as to not overshadow the star of the show: the ultra-savoury noodles. 
We were first hit by the heady aroma of the prawn stock as soon as they fired up our order. This continued as we enjoyed our plate of noodles, which was full of rich umami and sweet prawn flavours thanks to the intense stock. A squeeze of lime is highly recommended to cut through the rich and hearty flavours.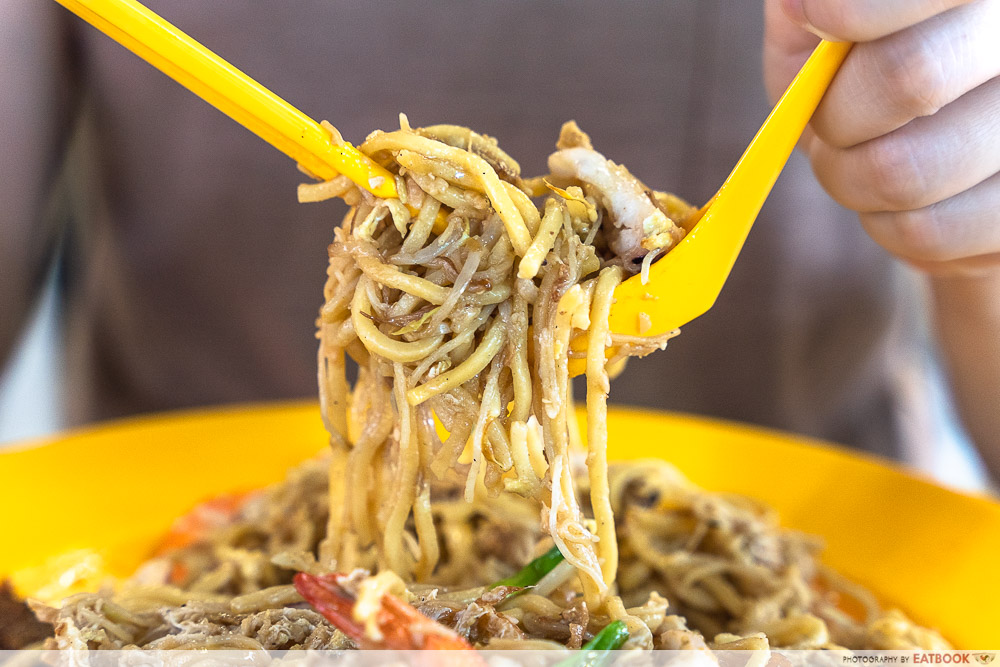 The yellow noodles still had a slightly alkaline taste that I didn't mind, while the thin rice noodles served their purpose of soaking up all the flavours. Adding oomph to each bite were the stringy and crispy bits of fried egg that leaned greasy—but in a shiok way. 
The flavours were on point, but my main gripe was that this dish could use more wok hei. There was a bit of char on some strands of noodles but the wok hei flavour wasn't super prominent.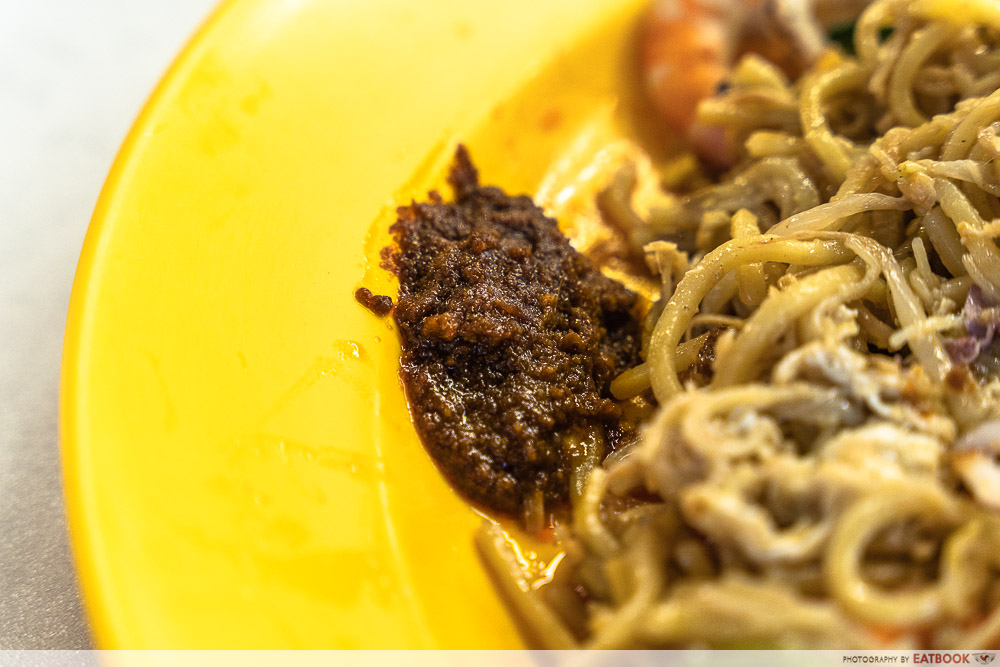 I'd also recommend mixing a heaping spoonful of their chilli sauce into the noodles to add another layer of flavour. The house-made chilli was punchy and slightly sweet, with notes of citrus and garlic to cut through the richness of the noodles.
Here's another tip: dabao a serving of hokkien mee and enjoy it the next day, like I did. I actually preferred it a-day-old as I felt that the flavours had more time to intensify and meld together.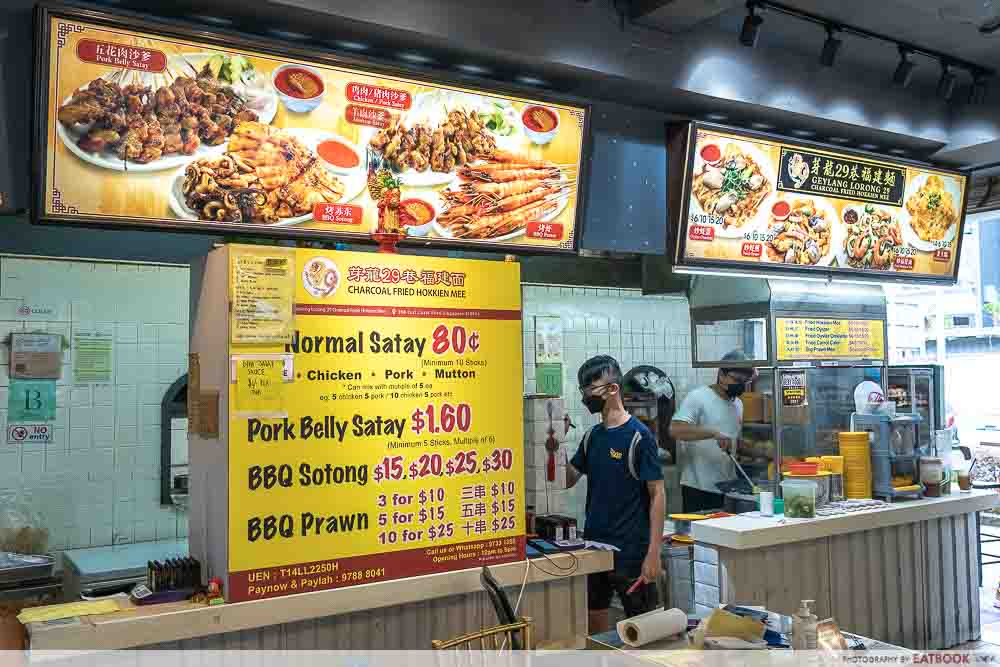 Besides hokkien mee and other wok-fried items such as oyster omelette, the stall has another unit right beside it that focuses on charcoal-grilled satay.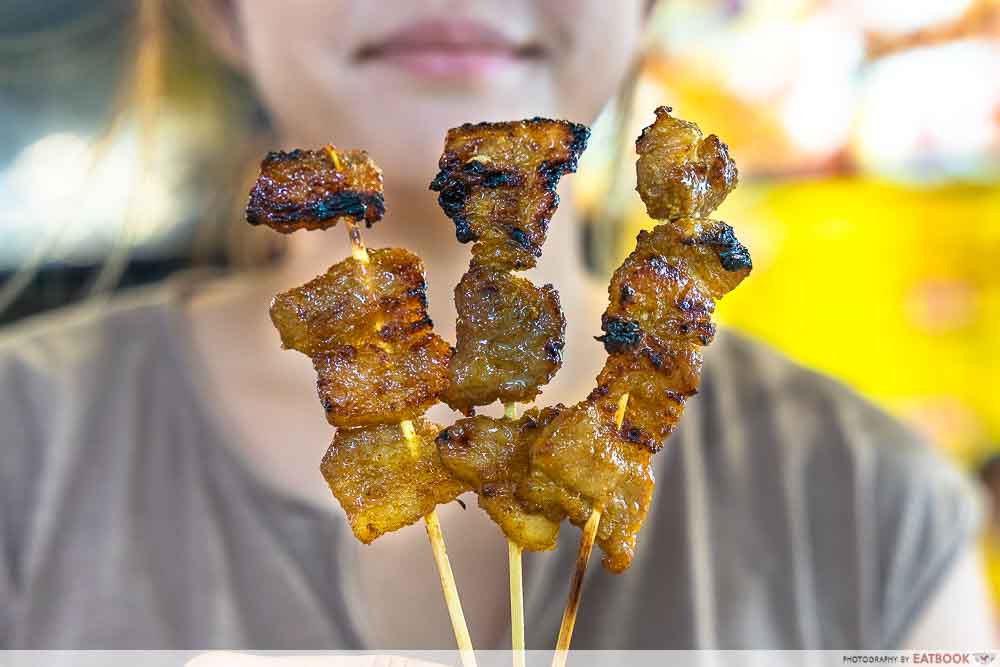 Pork Belly Satay ($1.60 each) isn't exactly common, so we knew we had to get it. There was a decent amount of char on the meat, with a well-balanced mix of fat and meat. The bits of fat crisped up during the grilling process, adding textural contrast to the pleasantly tender pork.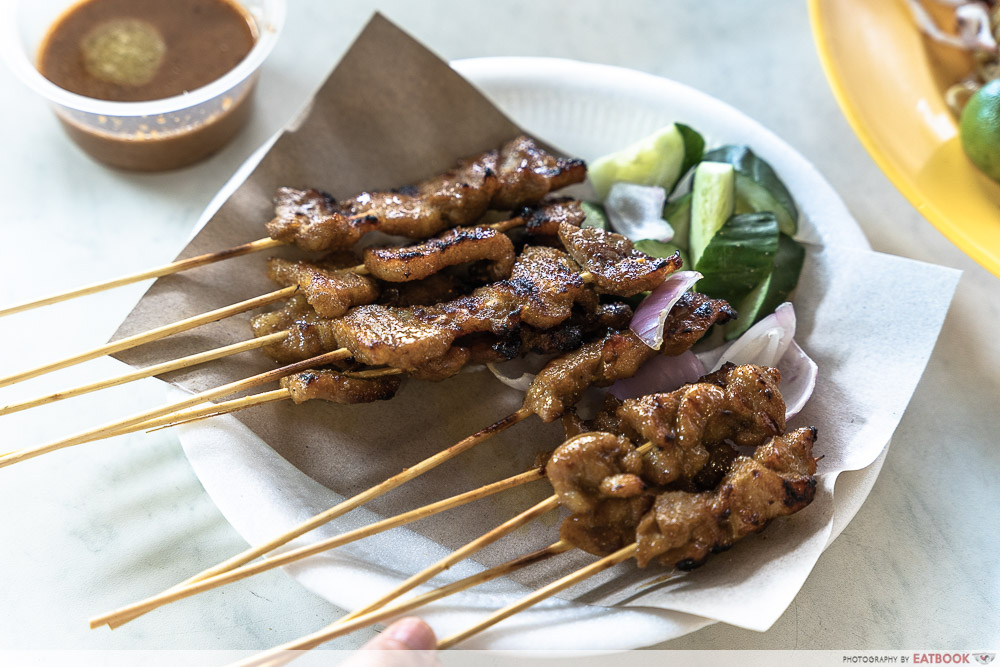 The Chicken Satay ($0.80) was well-executed too, but was a little sweet for my liking.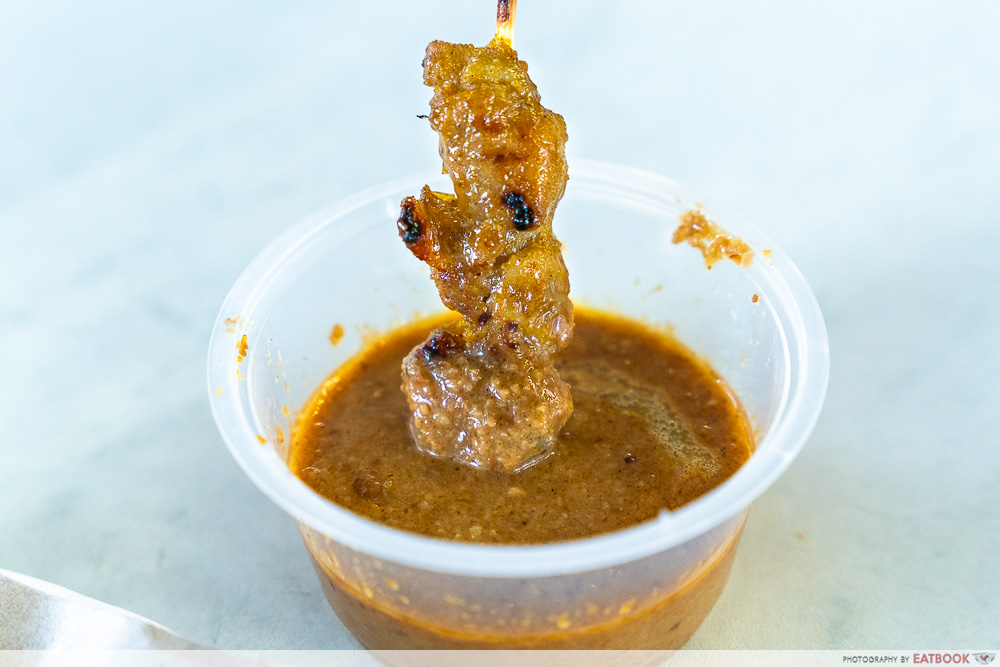 Dip each skewer into the satay sauce, which comes with a dollop of pineapple puree in the middle. The peanut sauce had a lovely, nutty fragrance, with specks of roasted peanuts within.
Ambience at Geylang Lor 29 Hokkien Mee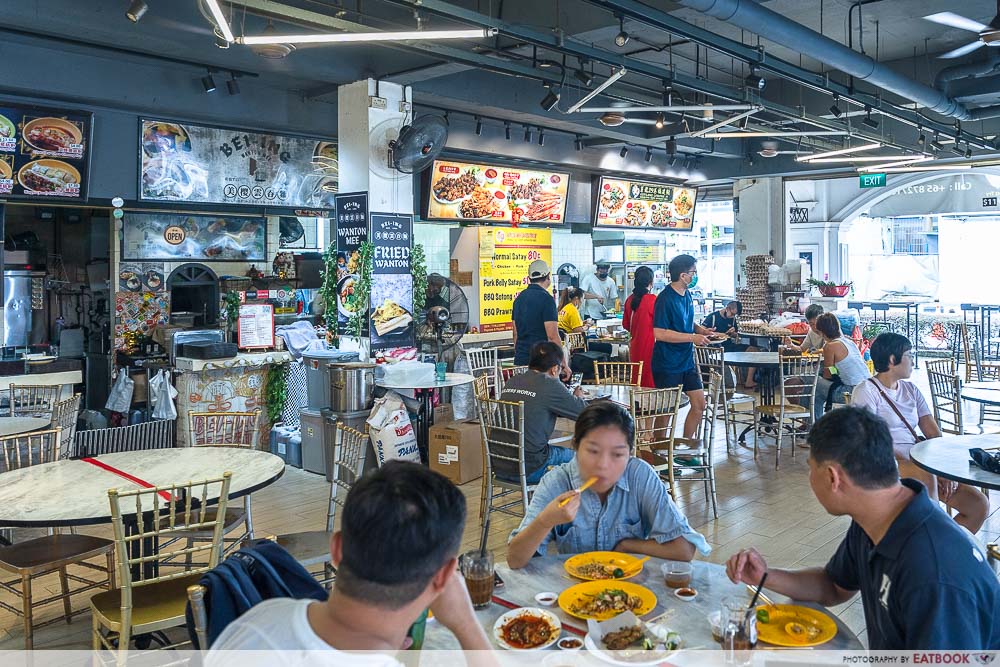 Geylang Lor 29 Hokkien Mee takes up two units at the corner of a coffeeshop along East Coast Road. It's not exactly near any train station, but you can easily access it by bus from Eunos, Kembangan, or Mountbatten MRT Station. 
The seats are mostly indoors, though you can grab a table outside if it isn't too hot in the day. There's also a drinks stall selling beers on tap, which sounds like the perfect accompaniment to a piping hot plate of hokkien mee!
The verdict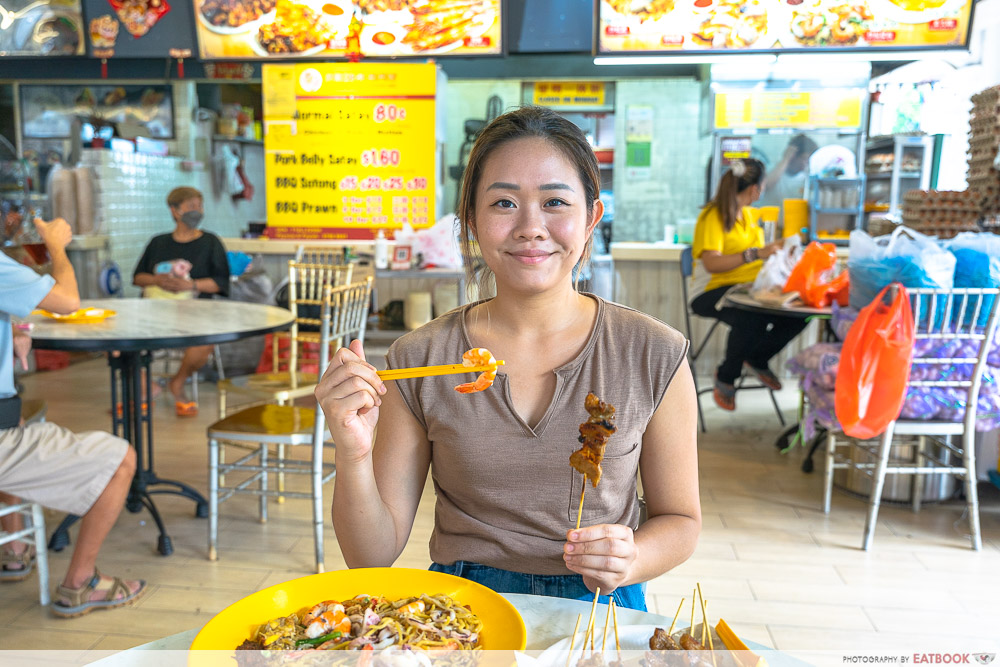 All in all, Geylang Lor 29 Hokkien Mee serves a solid plate of hokkien mee. Yes, it wasn't mindblowing good and could use more char, but the intense flavours of their rich prawn stock, coupled with their delicious house-made chilli, made up for the lack of wok hei. The fact that their noodles tasted as good—if not, even better—the next day is another plus point. 
I'll definitely be back to feast on more hokkien mee, along with a spread of pork belly satay on the side for good measure! 
If you're looking for more food in East Coast, read our Katong food guide for otah banh mi, IG-worthy cafes and more! Otherwise, read our Chin Mee Chin Confectionery review if you're up for old-school kaya buns and cream horns in the area.
Address: 396 East Coast Road, Singapore 428994
Opening hours: Tue-Sun 11:45am to 8pm
Tel: 9733 1388
Geylang Lor 29 Hokkien Mee is not a halal-certified eatery.
23 Joo Chiat And Katong Food Places For Har Cheong Gai Waffles, Otah Banh Mi And More
Photos taken by Jasper Juay.
This was an independent review by Eatbook.sg
Geylang Lor 29 Hokkien Mee Review: $6 Charcoal-Fried Hokkien Mee, Pork Belly Satay And More In East Coast
Geylang Lor 29 Hokkien Mee Review: $6 Charcoal-Fried Hokkien Mee, Pork Belly Satay And More In East Coast -

7.5/10
Summary
Pros
– Flavourful, fried-to-order hokkien mee
– Pork belly satay was delicious
– Ample seats 
Cons
– Not enough wok hei
– Far from MRT Station

Recommended dishes: Fried Hokkien Mee ($15), Pork Belly Satay ($1.60)
Opening hours: Tue-Sun 11:45am to 8pm
Address: 396 East Coast Road, Singapore 428994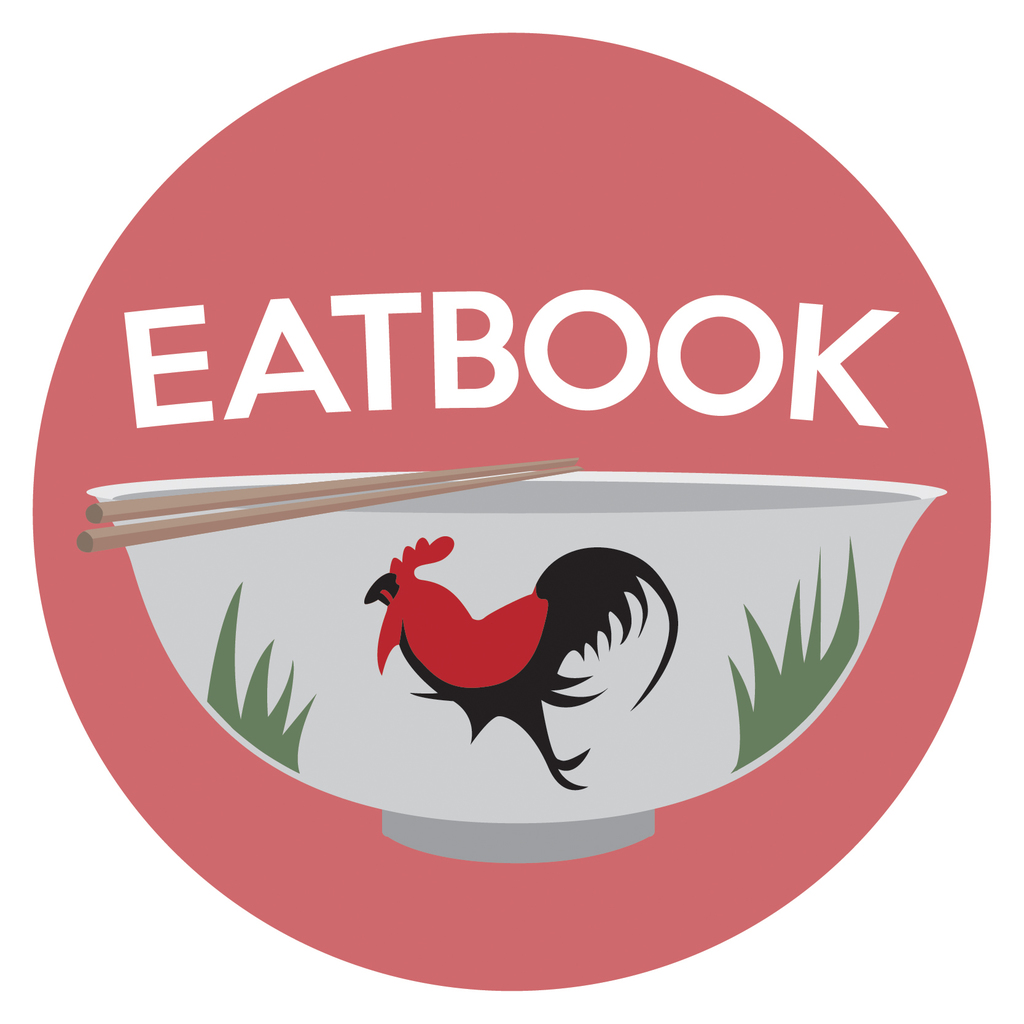 Drop us your email so you won't miss the latest news.