---
Best cheap rosti in Singapore
---
Growing up, rosti used to be a dish I could only get from Marché. Everyone who has paid a visit to the Swiss-themed market-restaurant will know that the rosti stall is one of its best—its constant, long queue is a testament to the fact. Since then, however, rosti has become a much more accessible dish, making its way to cafes and even hawker menus islandwide.
While most eateries that offer the crispy Swiss potato pancake charge a pretty penny for a serving, the places we've rounded up on this guide serve up some of the best rosti in Singapore without breaking the bank. Most are under $10 too!
---
1. Spuds Shack
---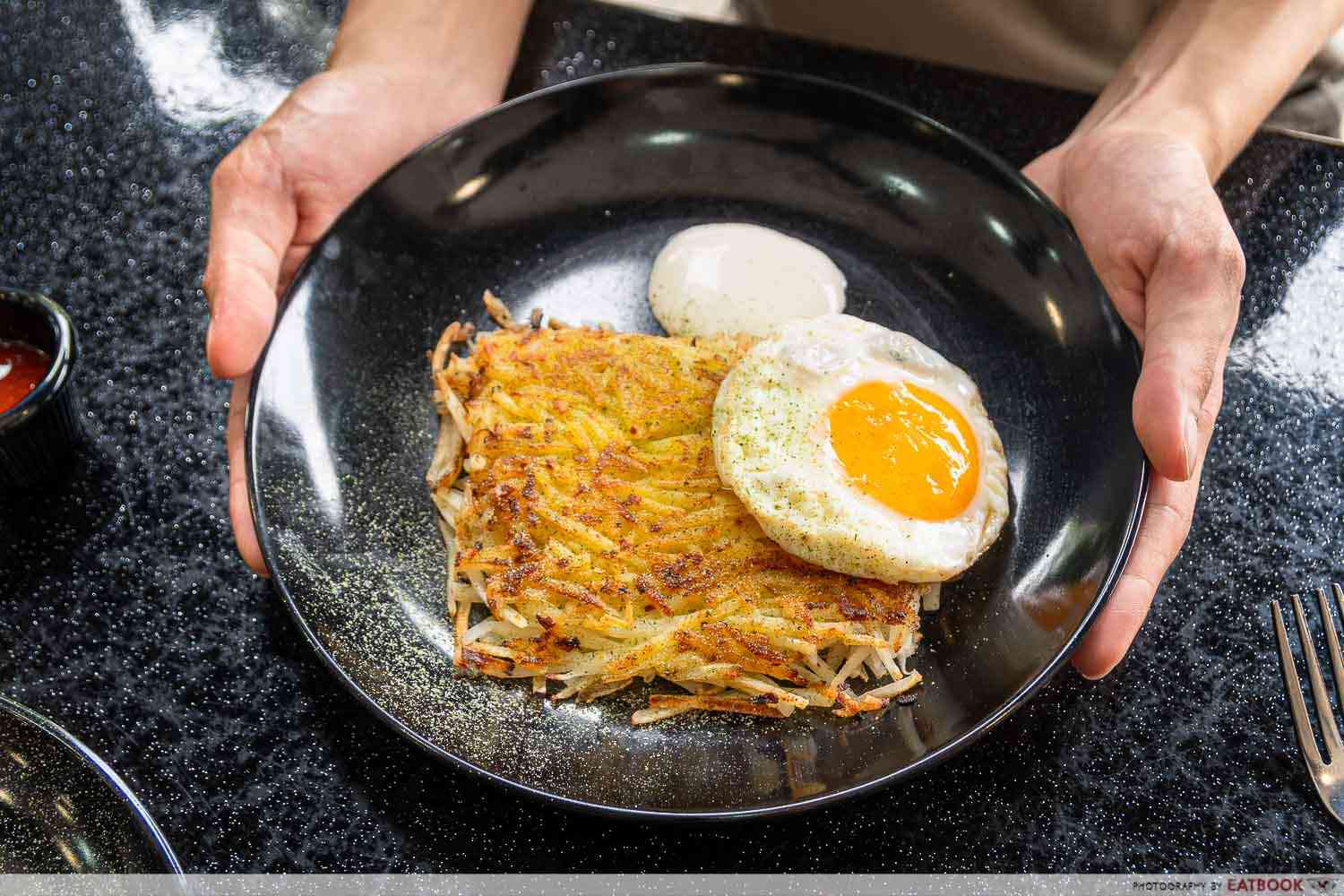 Spuds Shack is a Geylang eatery that offers rosti at prices as low as $5.50. Across their menu, you see rosti served with a variety of trendy flavours, from Garlic Pepper ($5.80) to Black Truffle Aioli ($7.60), even Torched Mentaiko ($7.80)! We're big fans of how the rosti is lightly crispy on the outside, not mushy at all despite being quite buttery. Aside from rosti, the stall also sells Western mains, including Chicken & Waffles ($8).
Read our Spuds Shack review.
Address: 440 Geylang Road, FellasCube, Singapore 389400
Opening hours: Mon-Wed, Fri-Sat 12pm to 10pm, Thurs 12pm to 5pm, Sun 11am to 6pm
Spuds Shack is not a halal-certified eatery.
Spuds Shack Review: Rosti From $5.50 At Geylang With Flavours Such As Mentaiko And Truffle
---
2. Breakfast Club
---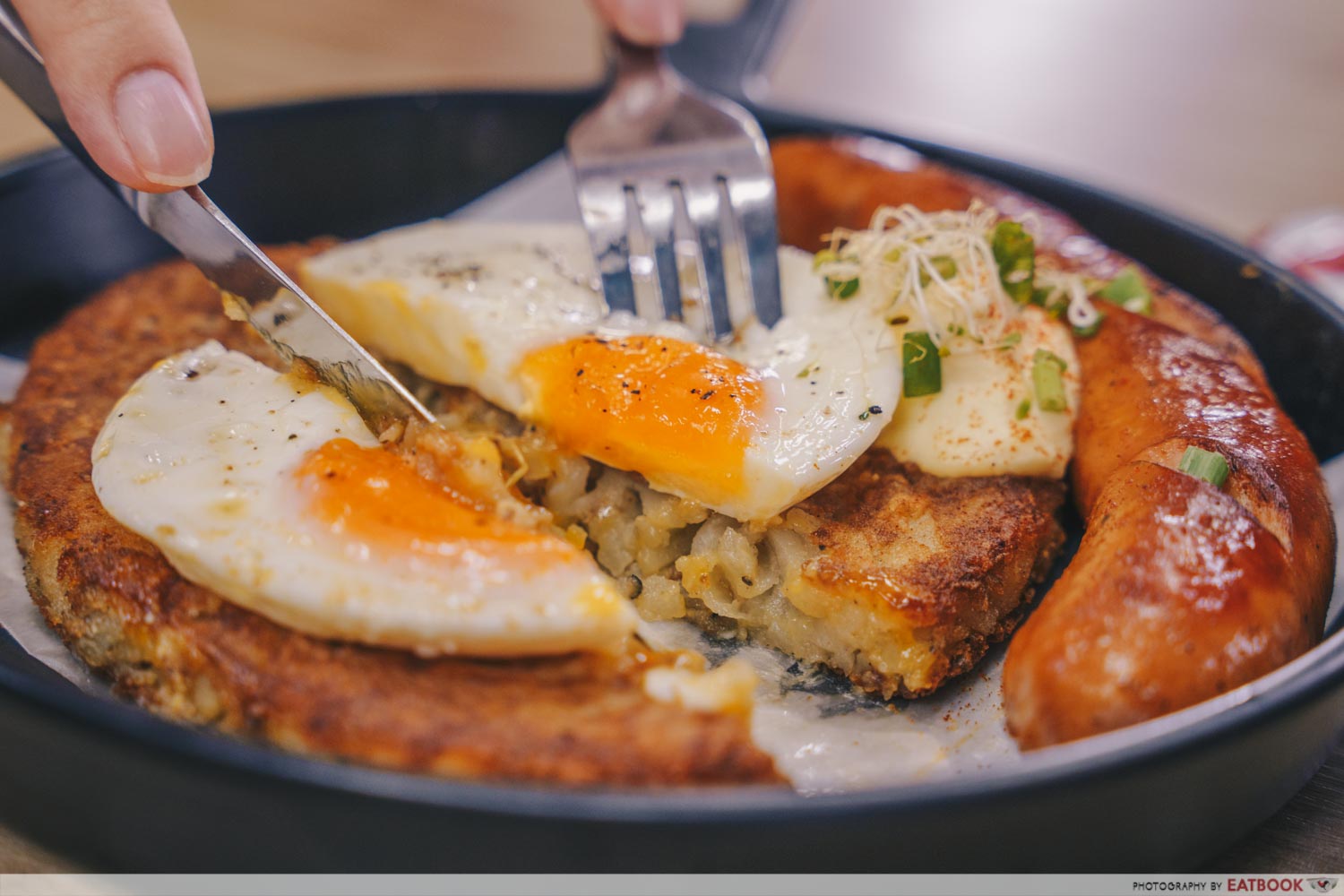 When Breakfast Club opened in 2021, it made waves because it offered cafe-style breakfast in a hawker setting. While their all-in Breakfast Plate ($9.90) is their most popular option, they also do a Rosti with Sausage and Egg ($8.90). The rosti is made in-house, and served with a fried egg, a dollop of sour cream, as well as a herby sausage, all on a skillet. 
Read our Breakfast Club review.
Address: 941 Upper Serangoon Road, Singapore 534709
Opening hours: Daily 9am to 9pm
Tel: 8292 9478
Website
Breakfast Club is not a halal-certified eatery.
Breakfast Club Review: Hawker Stall Has Cafe Breakfast And Rosti From $5.90 At Kovan
---
3. Baole Desserts
---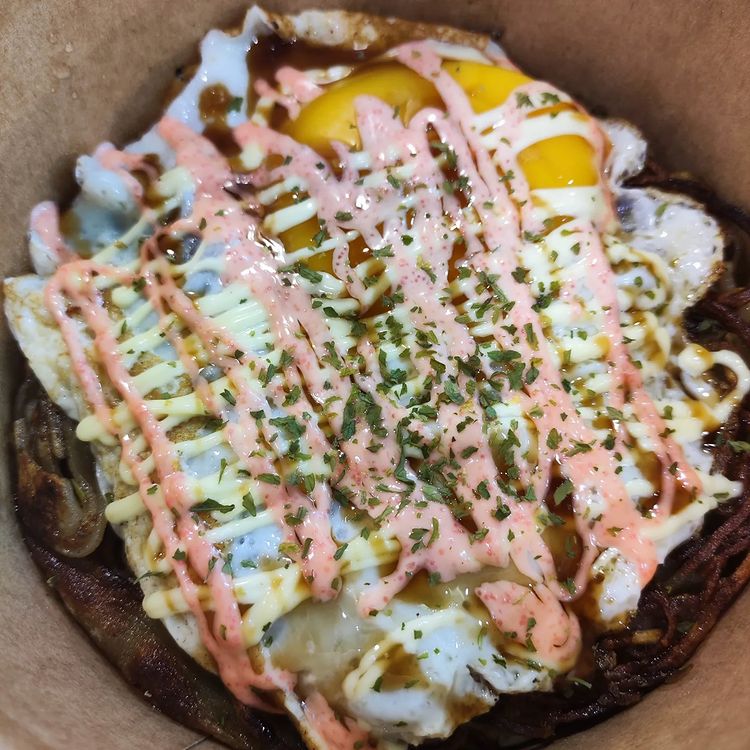 Image credit: @baoledessert
Newly opened Baole Desserts is a hole-in-the-wall Toa Payoh kiosk that sells both Taiwanese desserts and rosti from $5.90. Instead of the classic rosti style, where the potato pancake is served with sour cream, and a fried egg, Baole Desserts plates theirs up okonomiyaki-style, with a drizzle of mayonnaise and sweet teriyaki sauce. The shredded potato is also tossed with sweet onion and mozzarella cheese for added oomph. They also serve their rosti with a variety of different toppings, including mentaiko sauce and seafood, beef cubes, and smoked duck.
Read our Baole Desserts review.
Address: Block 190, Toa Payoh Lorong 6, #01-514, Singapore 310190
Opening hours: Daily 11am to 9:30pm
Baole Desserts is not a halal-certified eatery.
This New Toa Payoh Stall Has Mentaiko Rosti And Taiwanese Desserts From $5.90
---
4. Joji's Diner
---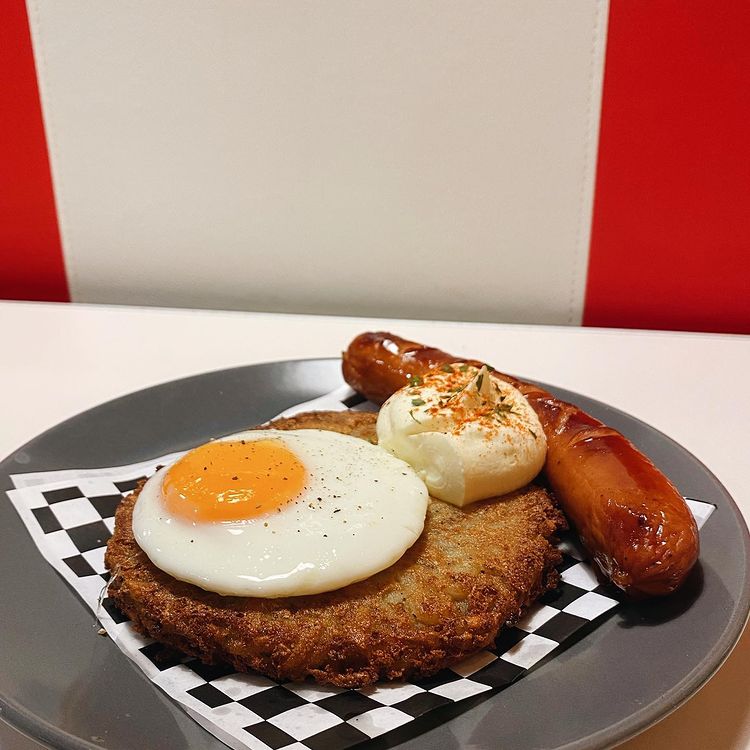 Image credit: @megans3meals
Joji's Diner is a retro American-style diner in both Serangoon and Telok Ayer. While their menu has a lot of classic American diner fare—such as their Chicken and Waffle ($12.90++) and their full breakfast All Star Plate ($12.90++)—they also serve up their take on a rosti known as Weiner & Hash ($8.90++), served with sausage and a sunny-side up.
Read our Joji's Diner review.
Website | Full list of outlets
Joji's Diner is not a halal-certified eatery.
Joji's Diner Review: Retro American Diner At Serangoon For Chicken Waffles And Burgers Under $12.90
---
5. Ang Moh Zi Char
---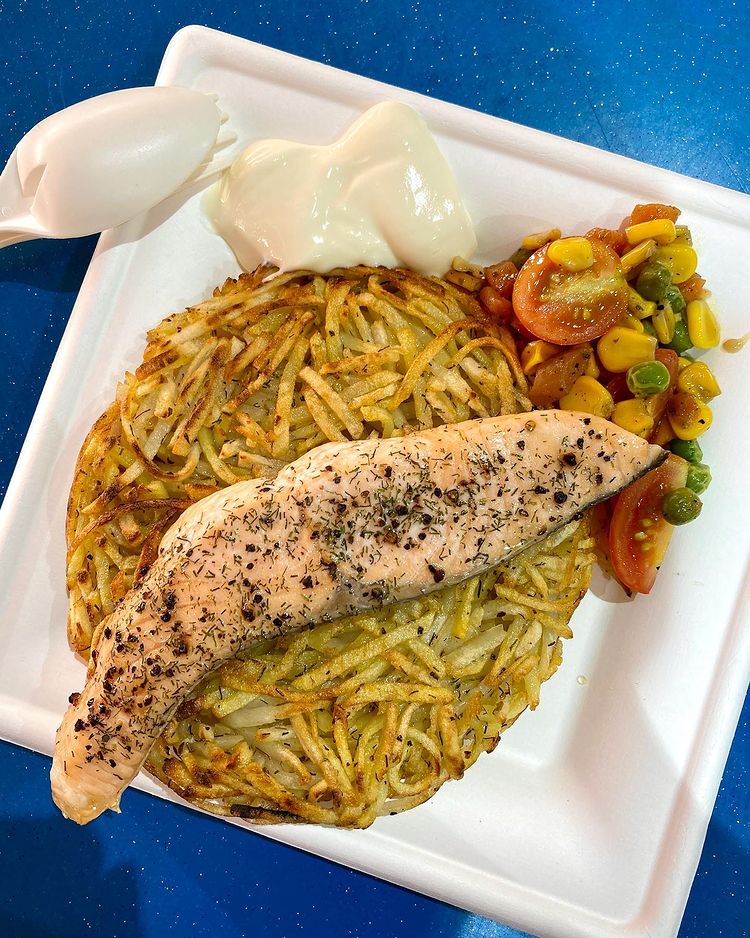 Image credit: @bennydunreallycare
There aren't many hawker stalls in the West that serve rosti, which makes Ang Moh Zi Char stand out. Their rosti starts at $6, and you get to add on a topping for an additional $3, ranging from mushrooms to chicken chop. Each serving comes with seasonal vegetables. If you'd like to splurge, you can also get their Rosti with Salmon for $12! This is accompanied by a full salmon fillet, seasoned with herbs.
Address: 3 Yung Sheng Road, #03-151, Taman Jurong Market & Food Centre, Singapore 618499
Opening hours: Thurs-Sun 11am to 2pm, 6pm to 9pm
Website
Ang Moh Zi Char is not a halal-certified eatery.
---
6. Bread First Everyday 
---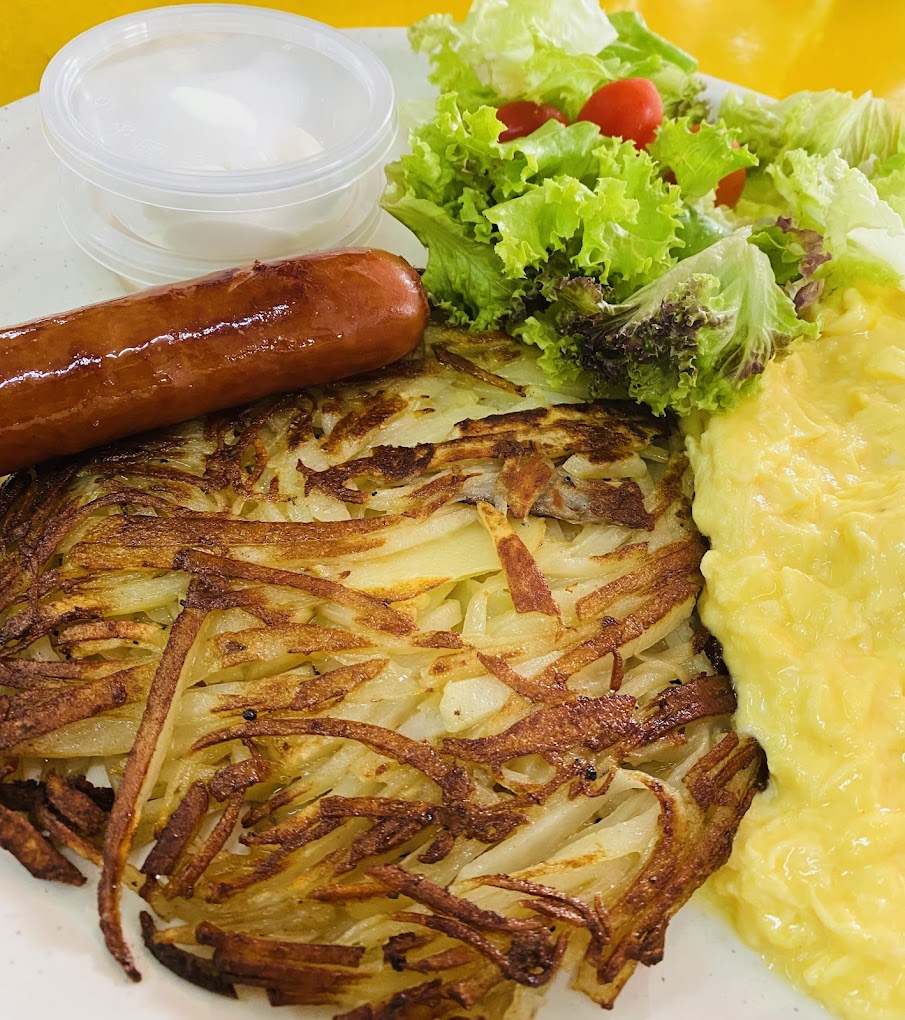 Image credit: Ankori
Bread First Everyday in Mee Sek Food Court is a hidden gem of a hawker stall that is run by the same folks behind Qi Xiang Hotpot—the hotpot restaurant in Jurong that serves rosti as well. The rosti here is the only one on the list that is slightly above $10, coming in at $10.90, but you get quite a substantial portion. A crispy potato pancake is accompanied by a smoked sausage and scrambled eggs, as well as a side of garden salad.
Address: 969 Upper Serangoon Road, Singapore 534723
Opening hours: Daily 9am to 5pm
Tel; 8808 6730
Bread First Everyday is not a halal-certified eatery
---
7. Ivan's Carbina
---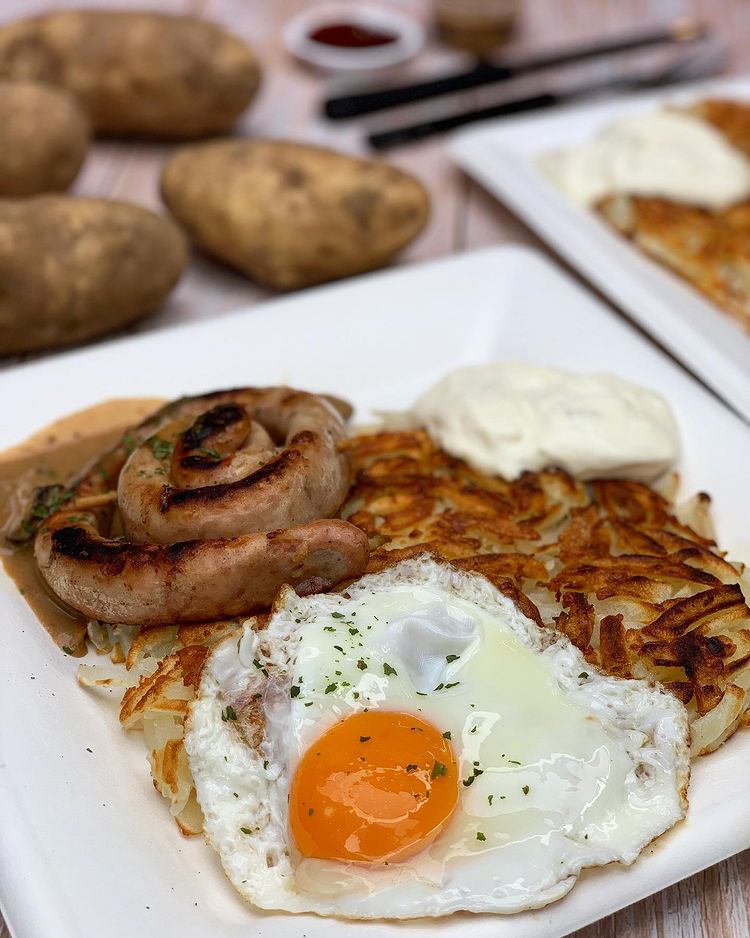 Image credit: @eatwithjw
Those living in the North should swing by Ivan's Carbina for their rosti fix. Located quite a way from the interchange is this lowkey Western hawker that serves up the Swiss staple along with other dishes. The cheapest rosti here is their Cheese Sausage ($9.80) offering, which comes with a fried egg, and a cheesy pork sausage. You can zhng-up your rosti here with Snail Pork Sausage ($10.50), akin to the kind you get at German restaurants, or even an NZ Chilled Ribeye ($17.80)!
Address:  354A Woodlands Ave 5, Singapore 730354
Opening hours: Tue-Sun 11am to 9pm
Tel: 8292 8599
Website
Ivan's Carbina is not a halal-certified eatery.
---
Where to eat rosti in Singapore
---
Here are all the places to eat cheap rosti in Singapore! For more places to enjoy Western food. Check out our old-school Western hawker food guide.
13 Old-School Western Food Stalls In Singapore For XXL Chicken Cutlet And Fish And Chips From $6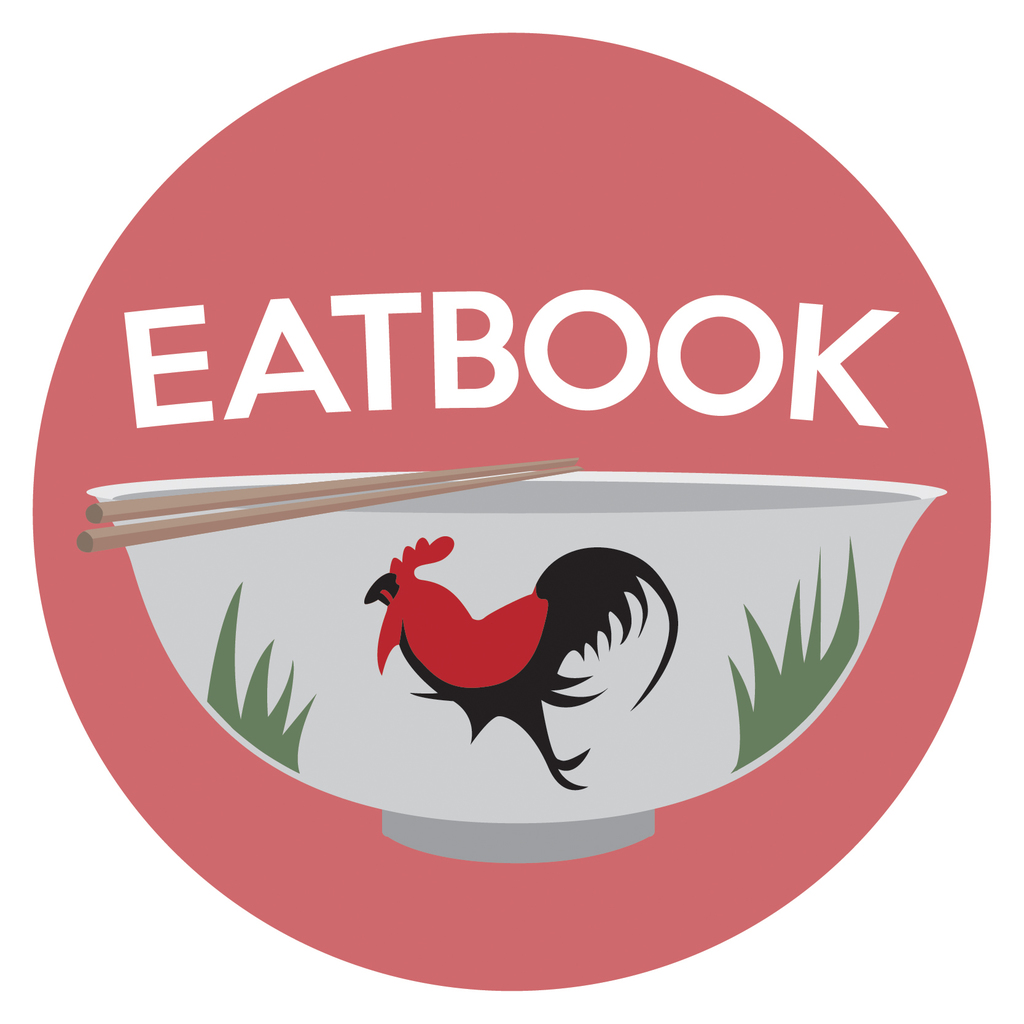 Drop us your email so you won't miss the latest news.