---
Best tiramisu in Singapore
---
Tiramisu is the quintessential Italian dolci (dessert). I can think of few better ways to close off a decadent, carb- and cheese-loaded Italian meal than with this airy medley of booze, coffee, and cream. What's even better is that I don't have to travel to Italy to get my fix of this dessert, given the lengthy list of eateries and cafes in Singapore that do a mean rendition.
Typically, tiramisu is made by layering savoiardi biscuits, AKA ladyfingers, dipped in a mixture of coffee and liqueur or fortified wine, with whipped mascarpone cream. Traditionally, the booze component is a marsala or an amaretto, but these days, you get anything from Baileys to vodka coming into play. Singapore's tiramisu offerings also experiment widely with flavours, so expect to see unique twists including pumpkin spice, ispahan, and matcha flavoured desserts on this list.
---
1. The Tiramisu Hero 
---

Image credit: @thetiramisuhero
The Tiramisu Hero is one of the earliest tiramisu-focused cafes in Singapore. It was established by two friends in 2012 to offer locals a variety of customisable tiramisu in a wide selection of flavours. Get the MommaHero Classic ($7.50) for your fix of traditional Italian 'misu, or opt for alternatives infused with anything from lychee rose to kaya. They even have a Honey Soju ($9.50) option on the menu! Another great thing about The Tiramisu Hero is that their signature desserts come in cute jars, which make them great for gifting too.
Address: 121 Tyrwhitt Road, Singapore 207548
Opening hours: Mon-Fri 11am to 10pm, Sat 9am to 10pm, Sun 9am to 9pm
Tel: 6292 5271
Website
---
2. All About Tiramisu 
---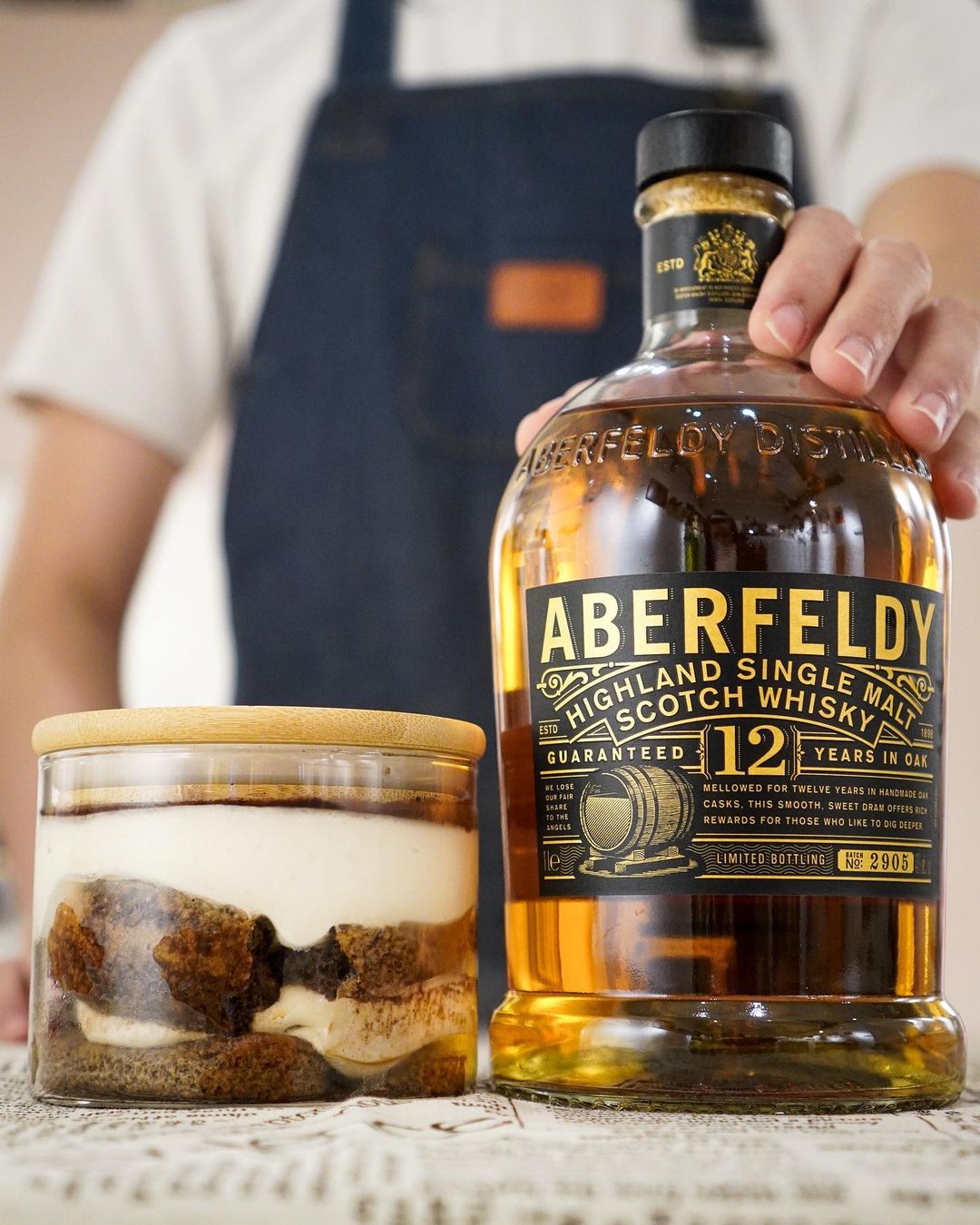 Image credit: @allabouttiramisu
All About Tiramisu takes their namesake dessert seriously, and if you like 'misu that's heavy on the booze, here's where you need to go. Choose from 420ml pots that start from $26, to 2.4l tiramisu servings that feed an entire party for $150. While their Classic rendition uses dark rum, they have an option Bailey's, pineapple rum, single malt scotch, and even a decaf, booze-free serve for kiddos.
Address: 14 Scotts Road, #01-69, Far East Plaza, Singapore 228213
Opening hours: Mon-Thurs 11am to 8:30pm, Fri-Sat 11am to 9:30pm, Sun 11am to 8pm
Tel: 8866 3890
Website
All About Tiramisu: XXL Tiramisu In Flavours Such As Baileys, Mango Yuzu, And Earl Grey Gin
---
3. L'Atelier Tiramisu 
---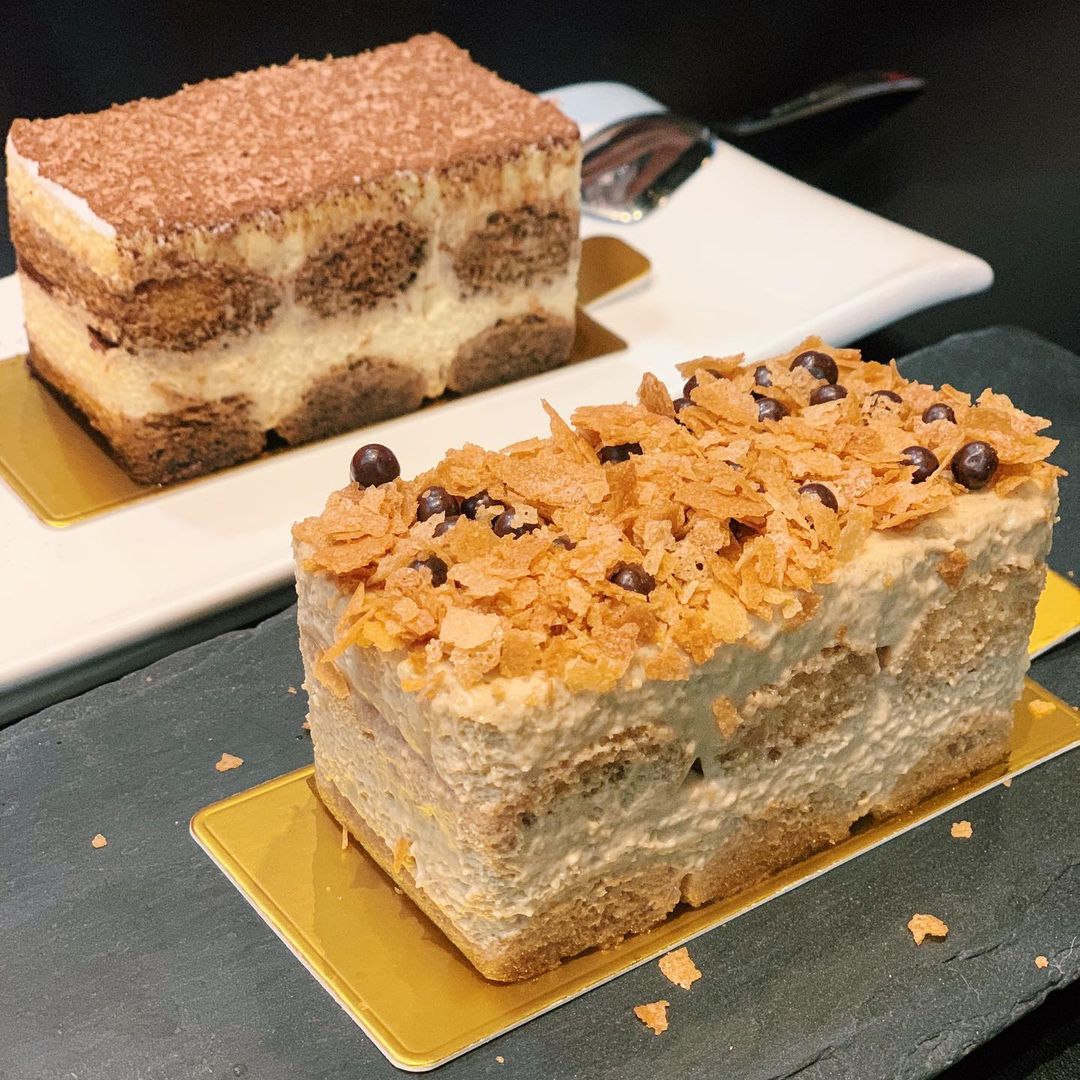 Image credit: @camilliadass
You can get seven different types of tiramisu at this takeaway kiosk: Classico, Lychee, Matcha, Dark Cherry, Brulee, Pistachio, and Lavender Earl Grey. Each slice is priced from $7.20, and all have the characteristics of tiramisu, albeit with a unique cream infusion. Apart from the OG, not all of them have coffee, but instead, use teas as a soaking liquid for the ladyfingers. This is ideal if you're not a big coffee fan.
Address: 6 Eu Tong Sen Street, #B1-08/09, Singapore 059817
Opening hours: Mon-Thurs 12pm to 9pm, Fri-Sat 12pm to 10pm, Sun 12pm to 7pm
Tel: 9389 8582
Website
---
4. Nesuto Singapore 
---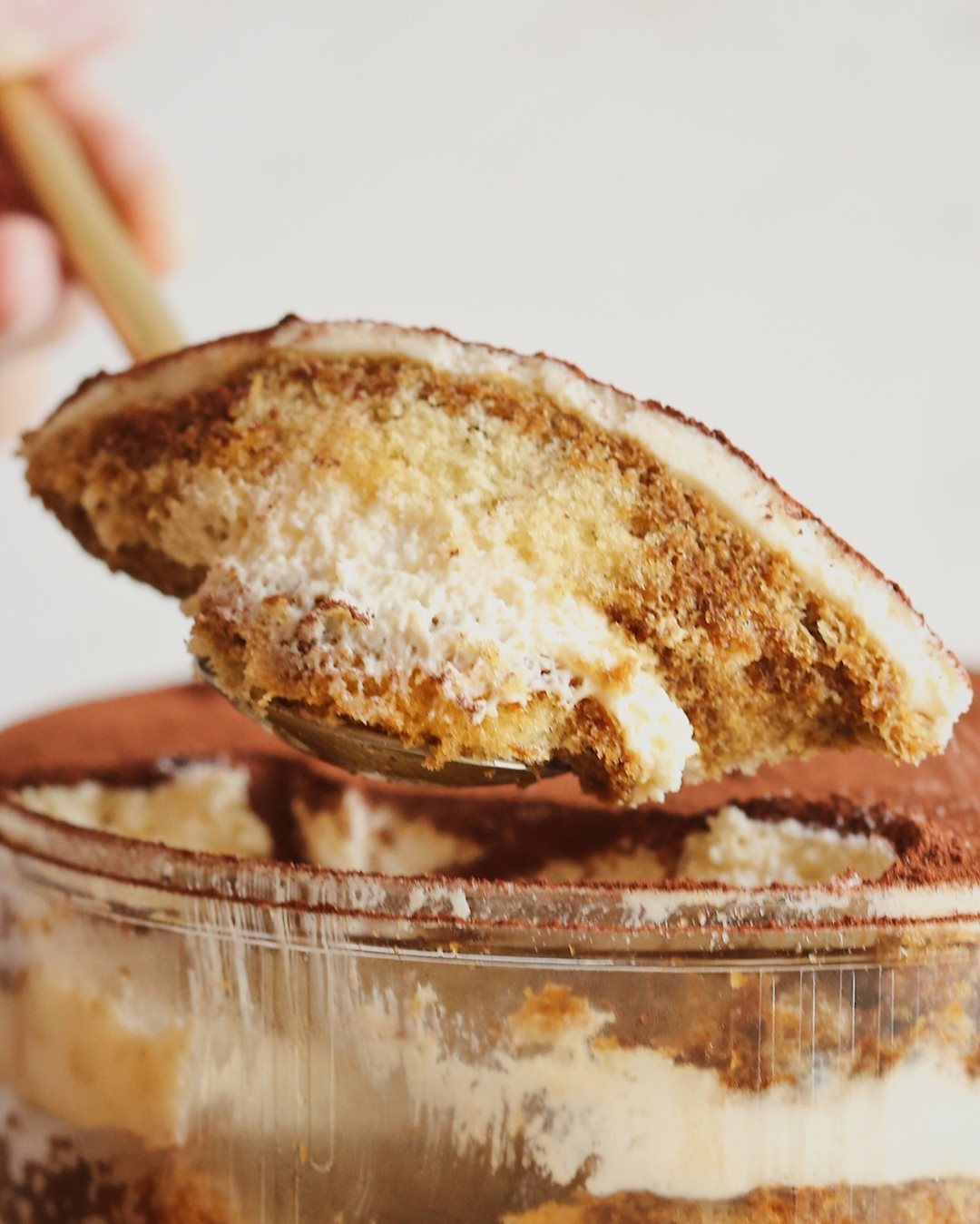 Image credit: Nesuto
Nesuto is home to a variety of French-Japanese bakes. While that makes the Italian Tiramisu a bit of an outlier, its flavour is consistent with the A-grade cakes and entremets Nesuto puts forth. Each is priced at $11.80 and served in a personal jar. Layers of creamy mascarpone and sponge are textured with a house-made dark chocolate crumb here. You also get a dropper with rum so you can tailor the amount of booze that goes into your dessert.
Address: 53 Tras Street, #01-01, Singapore 078992
Opening hours: Mon-Sat 12pm to 10pm, Sun 12pm to 6pm
Tel: 6980 5977
Website
---
5. Trattoria Nonna Lina 
---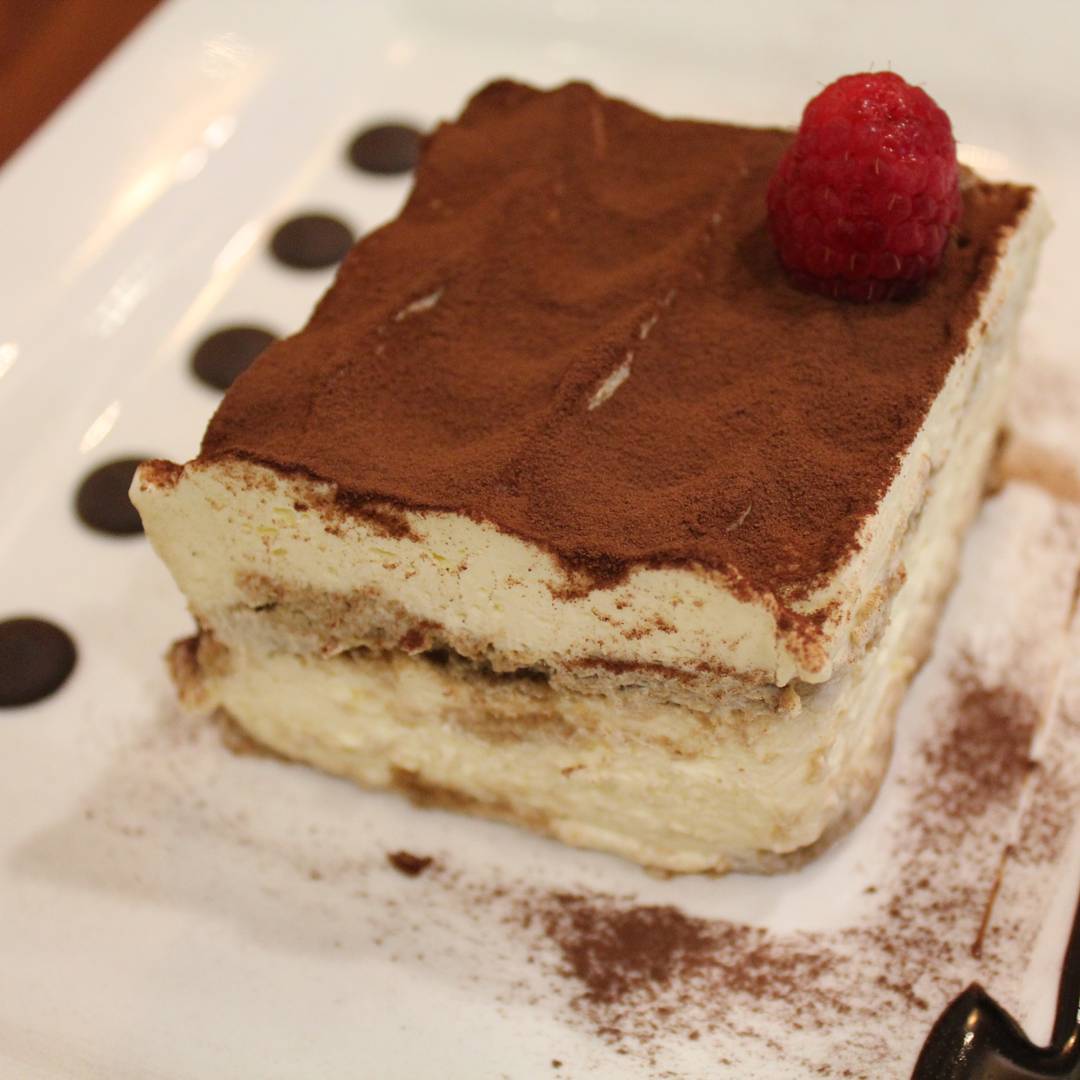 Image credit: @trattorianonnalina
If you're looking for authentic Tuscan fare, then make your reservation at Trattoria Nonna Lina. The restaurant is run by Italian chef Simone, who wanted to transplant the conviviality and flavours of Tuscan dining to Singapore. The menu is chock full of homely dishes, but no meal is complete without the Tiramisu ($17++) to finish. The portion is large and meant to be shared. Every spoonful hits the mark, with the right amount of chocolate, booze, and coffee.
Address: 61 Cantonment Road, Singapore 089757
Opening hours: Tue-Sat 12pm to 12:30pm, 6pm to 10:30pm
Tel: 6222 0930
Website
---
6. Bistecca Tuscan Steakhouse 
---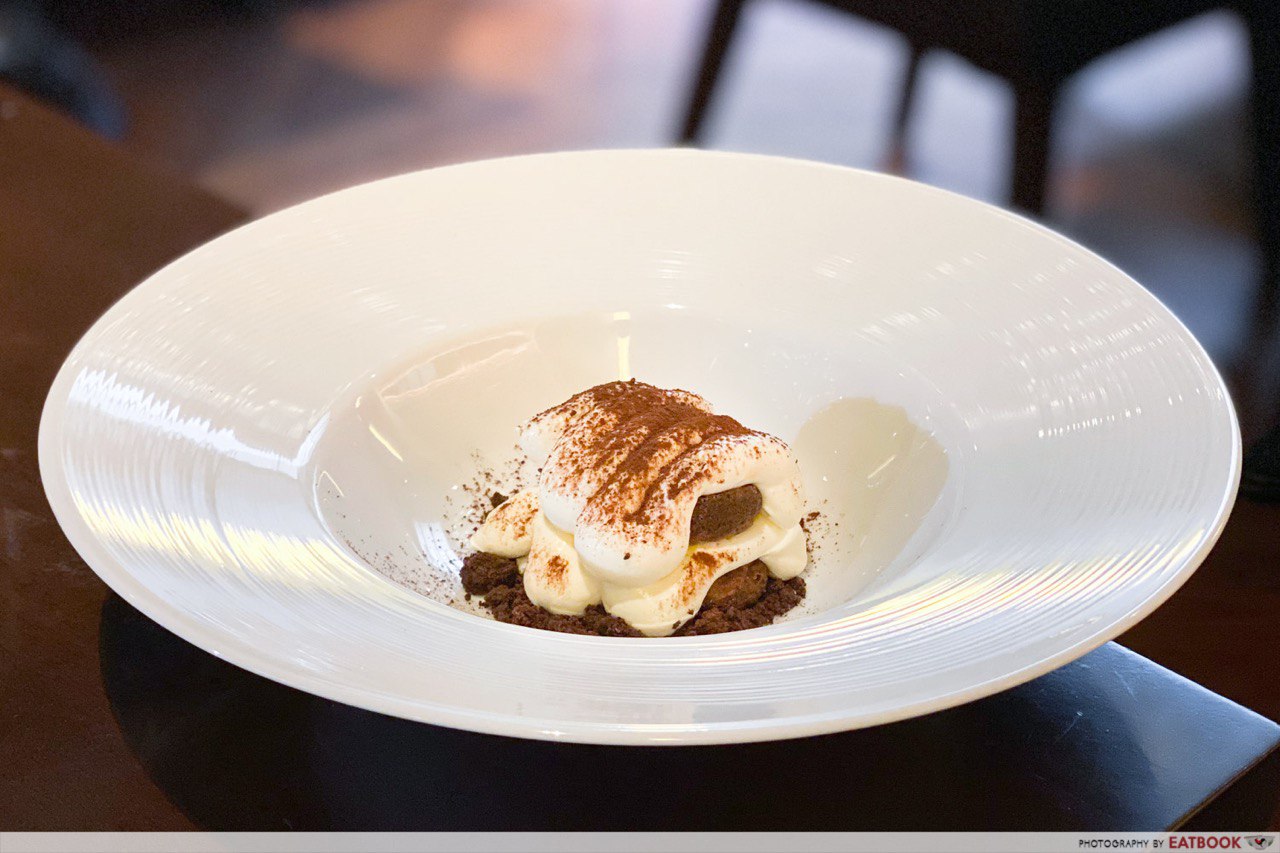 Come to Bistecca Tuscan Steakhouse for their chargrilled Florentina steaks, but stay for their legit tiramisu. The mains here are rib-stickingly hearty, but the Tiramisu ($15++) is surprisingly light, despite all the mascarpone that it comes with. The medley of espresso and dark rum here truly shines, given extra depth with the generous dusting of bitter cocoa.
Address: 26 Mohamed Sultan Rd, Singapore 238970
Opening hours: Mon 6pm to 10pm, Tue-Thurs 12pm to 2:30pm, 6pm to 10pm, Fri-Sun 12pm to 2:30pm, 5:30pm to 10pm
Tel: 6735 6739
Website
---
7. Da Paolo Gastronomia
---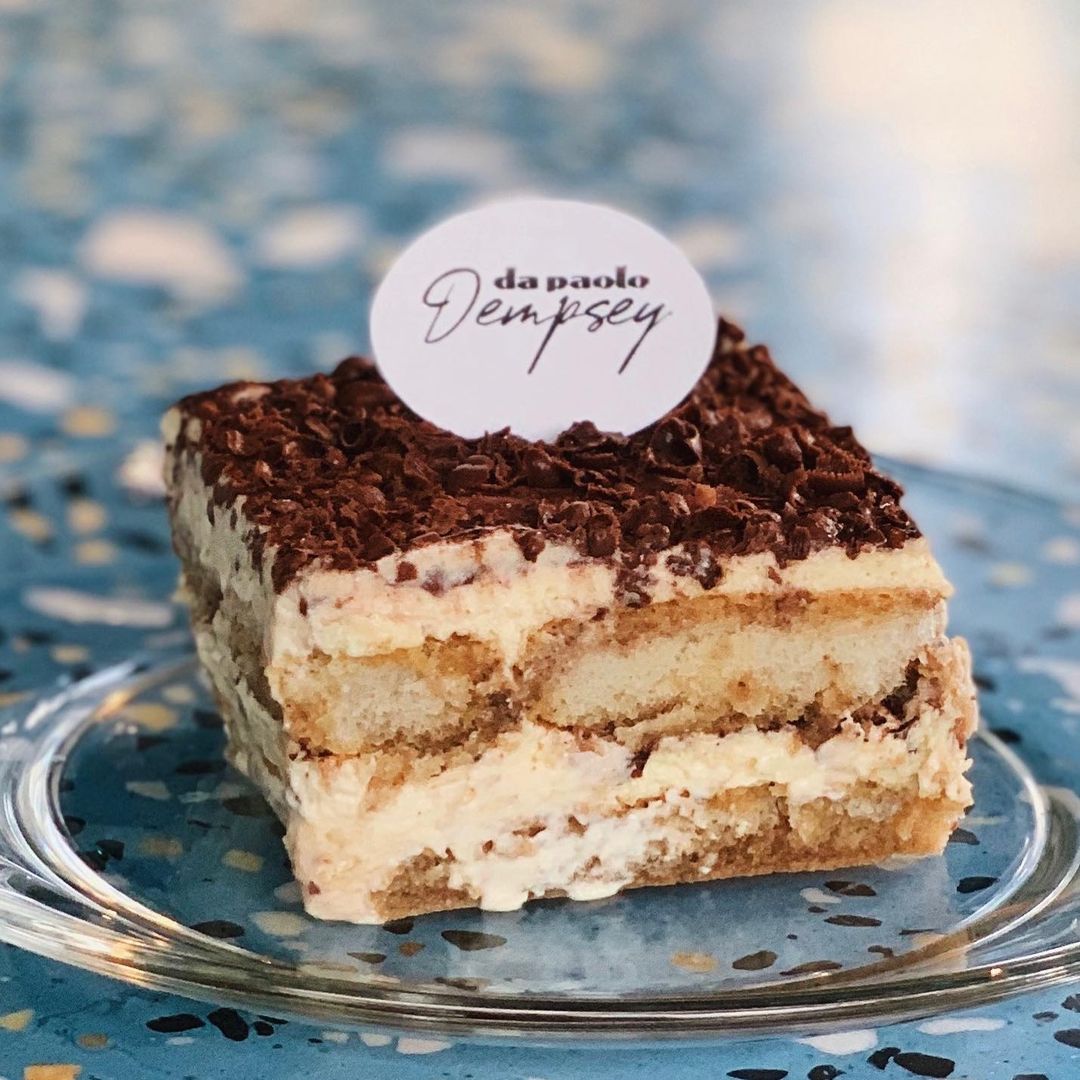 Image credit: @dapaolosg
One problem with having a 'misu craving is that you're often forced to dine in at restaurants or cafes so you can enjoy it as dessert. Not so at Da Paolo Gastronomia, which sells their Tiramisu ($17.90) in a tub to go. Each feeds two, and comes with savoiardi biscuits liberally soaked in espresso and marsala—a fortified Italian wine. If you prefer a single serving, get the dessert in a cup instead for $11.50.
Website | Full list of outlets
---
8. Mia Tavola
---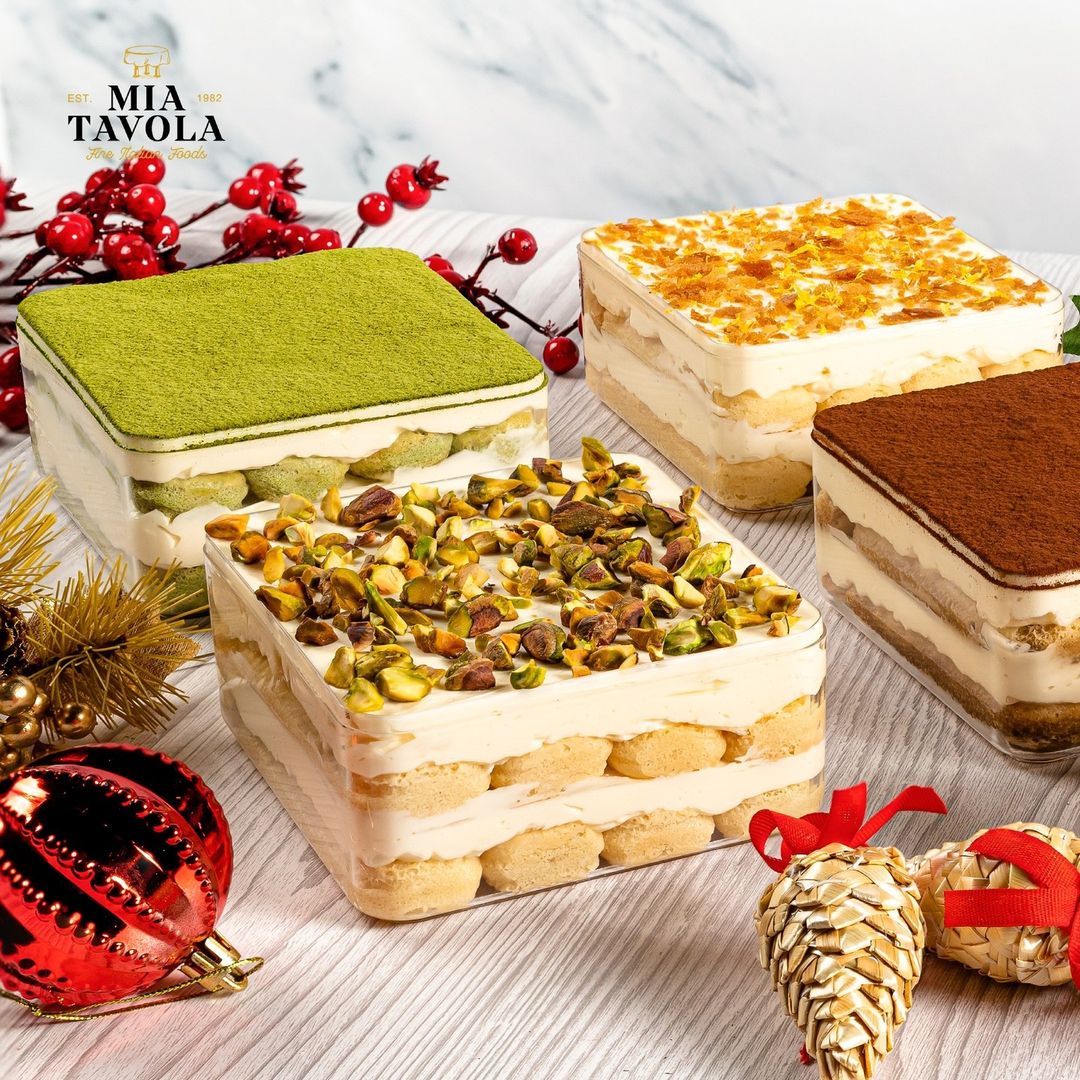 Image credit: @miatavola_
Mia Tavola is an Italian deli of sorts, and they specialise in takeaway, DIY Italian dishes, all based on American-Italian chef Nick's family recipes. Their party-sized tiramisu starts at $34 for a small serving, measuring 17 x 12cm. Then, you get to choose from six flavours, including non-alcoholic versions. Popular picks include Pistachio, which stars Grand Marnier-soaked ladyfingers, candied Italian orange peels, and a pistachio mascarpone. Then, there's Pumpkin Spice, where the ladyfingers are soaked in cafe latte, and the dessert is flavoured with a secret spice blend.
Address: 371 Beach Road, City Gate Mall, B1, #22, Singapore 199597
Opening hours: Tue 9am to 1pm, Wed-Sun 9am to 4pm
Tel: 9372 6736
Website
---
9. Positano Risto
---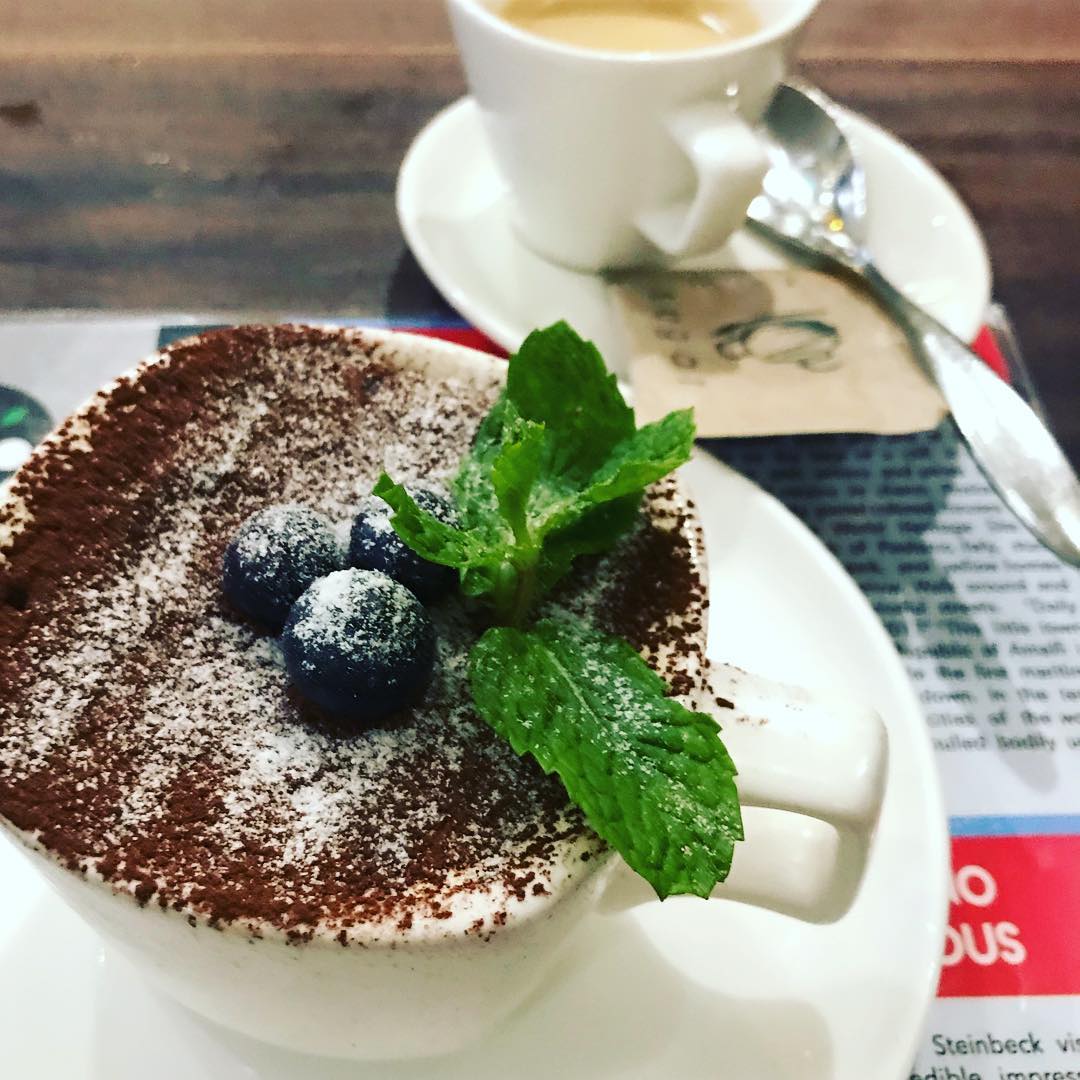 Image credit: @i.schaffi
Muslim-owned Positano Risto serves up Italian soul food, including a super traditional Tiramisu ($8.95++). The stacked dessert is zero frills, made with just the classic combination of espresso, ladyfingers, and mascarpone cream cheese.
Address: 66 Bussorah Street, Singapore 199479
Opening hours: Sun-Thurs 11:30am to 9:30pm, Fri-Sat 11:30am to 10:30pm
Tel: 6292 1866
Website
---
10. iO Italian Osteria
---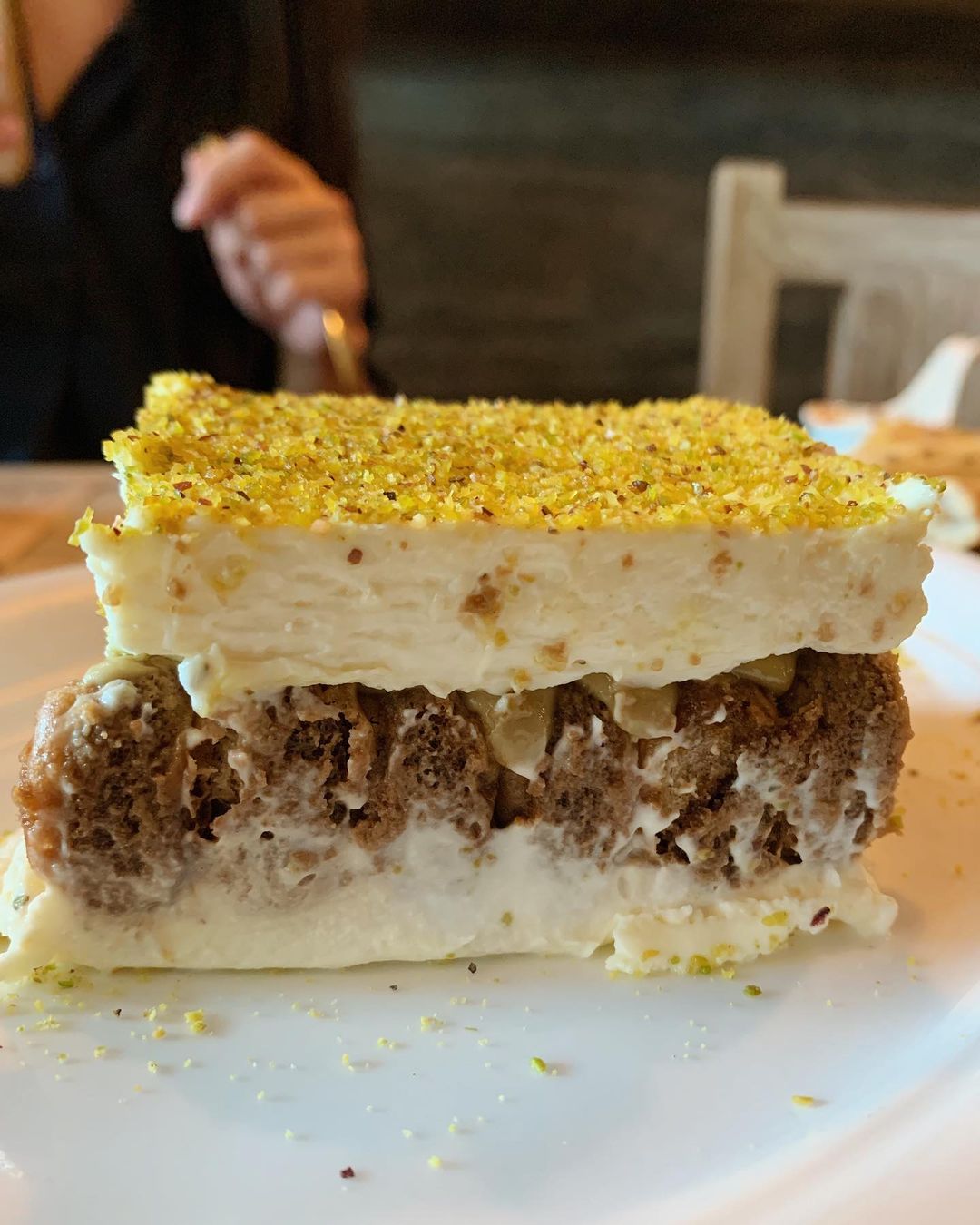 Image credit: @tang.yuanz
iO Italian Osteria may be better known for their pasta dishes and their crispy, oven-roasted pork belly, but the homely restaurant makes a mean 'misu too. Steering away from tradition, they serve up a Pistachio Tiramisu ($14++), with cloudlike pistachio cream, and authentic Sicilian pistachio dust atop.
Address: 4 Hillview Rise, #02-01, HillV2, Singapore 667979
Opening hours: Mon-Fri 11:30am to 10pm, Sat-Sun 10am to 10pm
Website
---
11. Kucina Italian Restaurant
---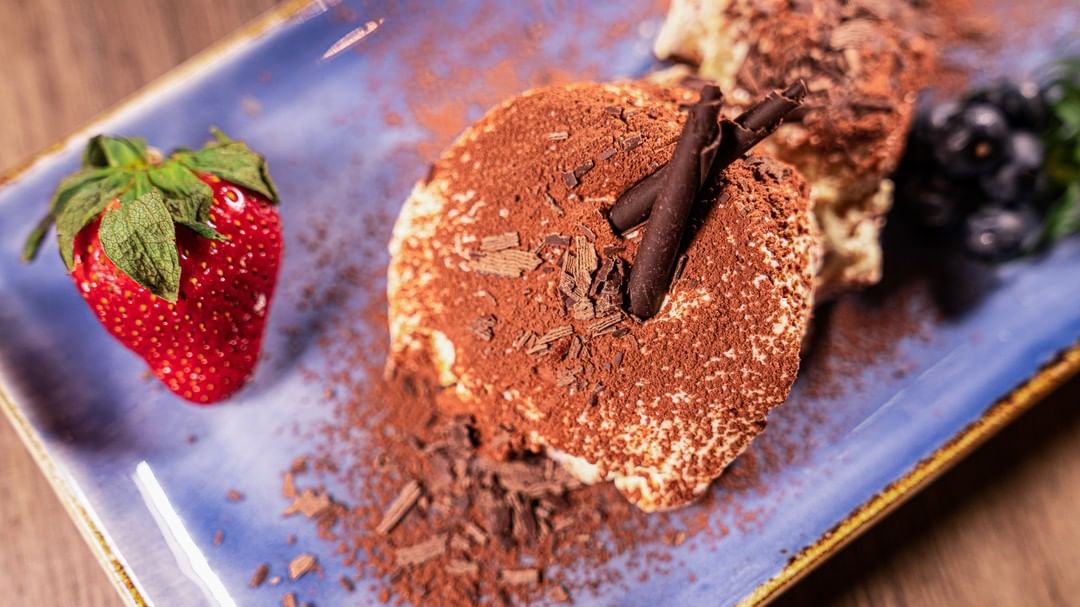 Image credit: @kucina_sg
Singapore's pioneering halal Italian restaurant, Kucina, is famed for their house-made fresh pasta dishes, but they also make a fluffy, lightweight tiramisu that's great to close off a meal. Priced at $10.90++, their version is a slice of airy mascarpone cream, layered with espresso-bittered ladyfingers, all topped with cocoa dust and chocolate shavings.
Address: 11 Tanjong Katong Road, #B1-09/10, KINEX 437157
Opening hours: Daily 11:30am to 10pm
Tel: 6493 2154
Website
---
Where to find legit tiramisu in Singapore
---
From single serves to end off a meal, to family-sized servings for your next party, this list has you sorted for all your tiramisu needs.
For more dessert options, check out our guide to mochi bakes in Singapore, as well as orh nee desserts.
16 Mochi Desserts And Bakes To Try, Including Mochi Doughnuts, Waffles, And Mantou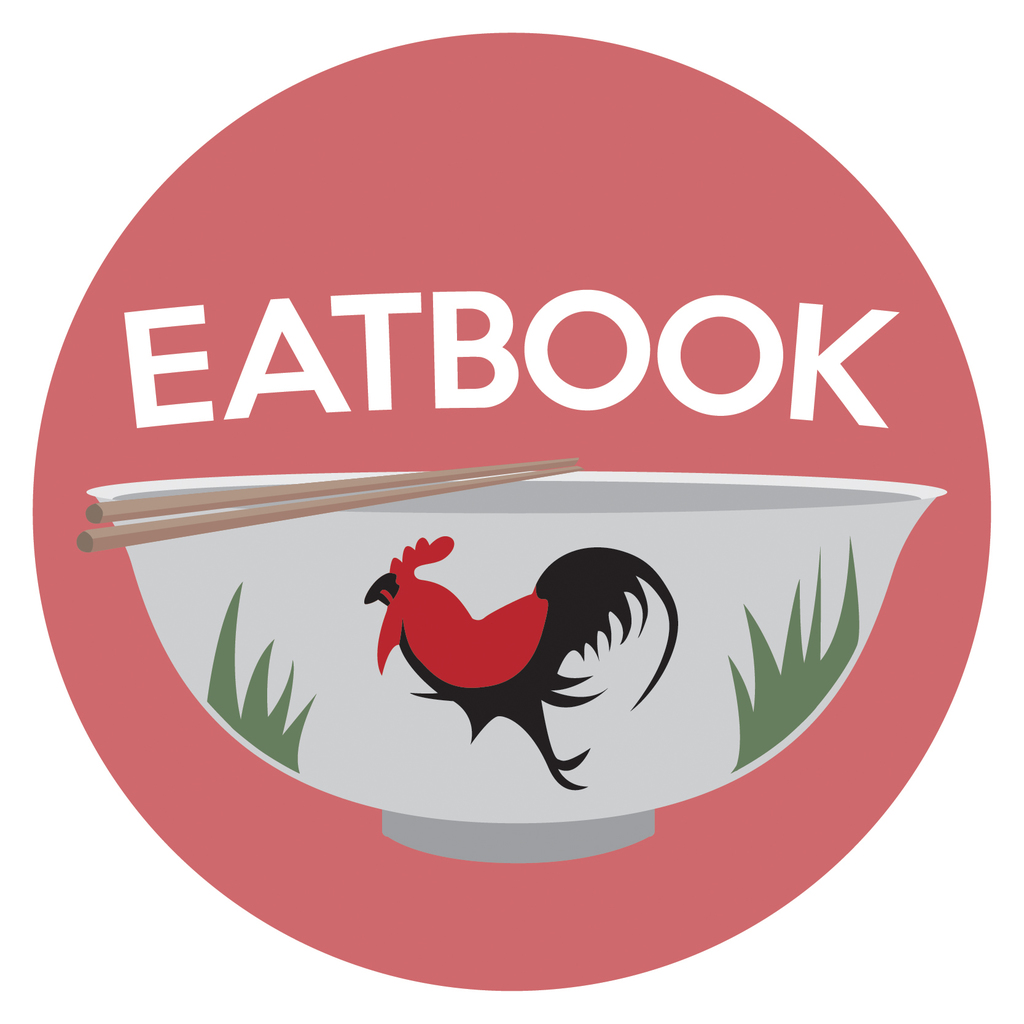 Drop us your email so you won't miss the latest news.