---
Dempsey Hill restaurants to eat at
---
Situated right along the fringes of Orchard road is a hidden expat enclave. Dempsey Hill is no doubt the next extravagant place to bring your date to. Upon stepping foot here, its chill vibes will hit you like a breath of fresh air. The restaurants have a winning formula of beautiful ambience and great food, and will surely impress you and bae. Here are 10 Dempsey Hill restaurants for your next date night.
---
1. The Dempsey Cookhouse & Bar
---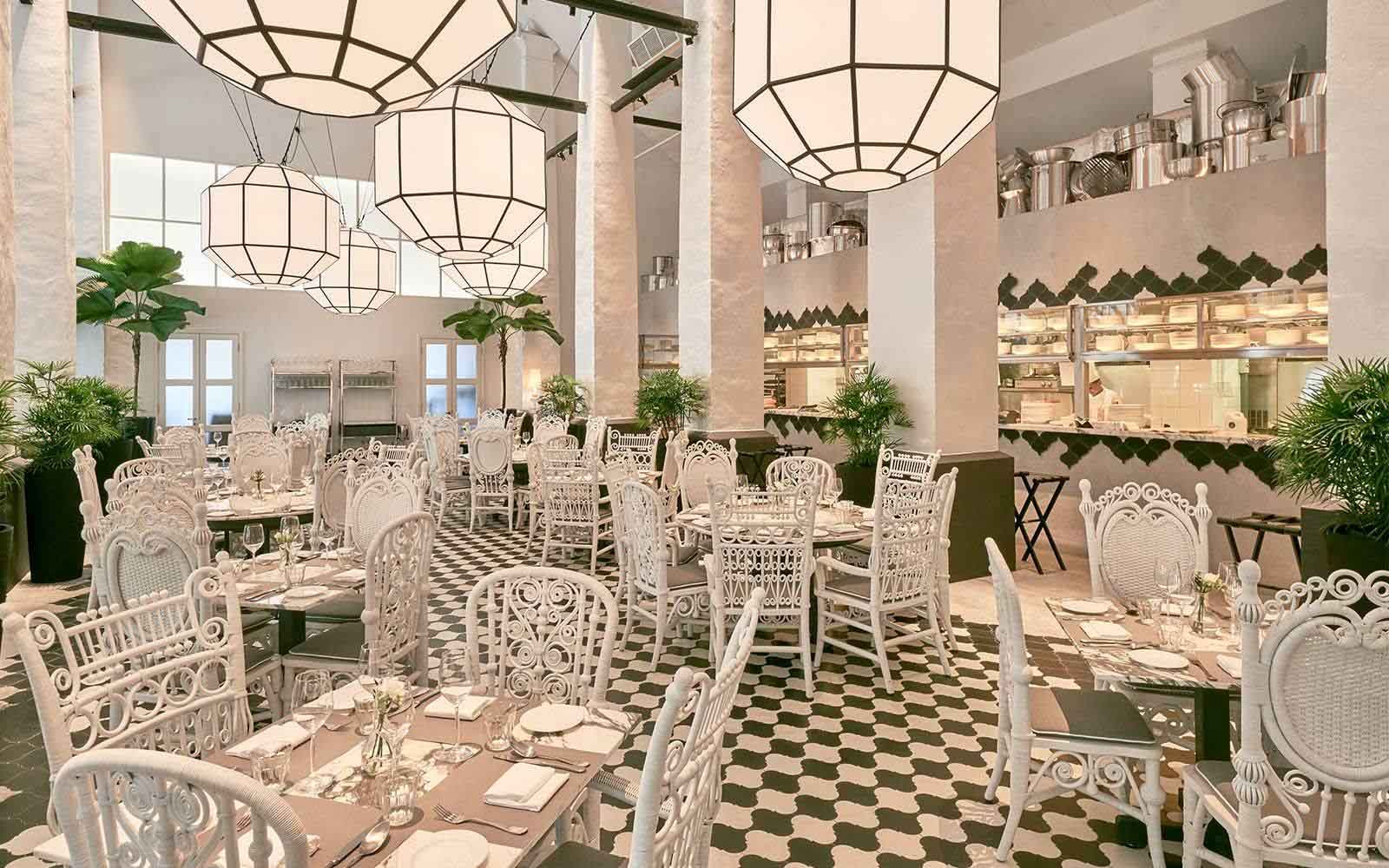 Image credit: Jean-Georges Dubai
Found in a timeless colonial house at, The Dempsey Cookhouse & Bar at COMO Dempsey is simply beautiful. Their aesthetic interior space has a monochromatic theme that contrasts effortlessly with the bright coloured greenery, making it a truly pleasant sight. When the restaurant gets dimmer during the evening, the warm shadows set a soothing tone for a romantic meal.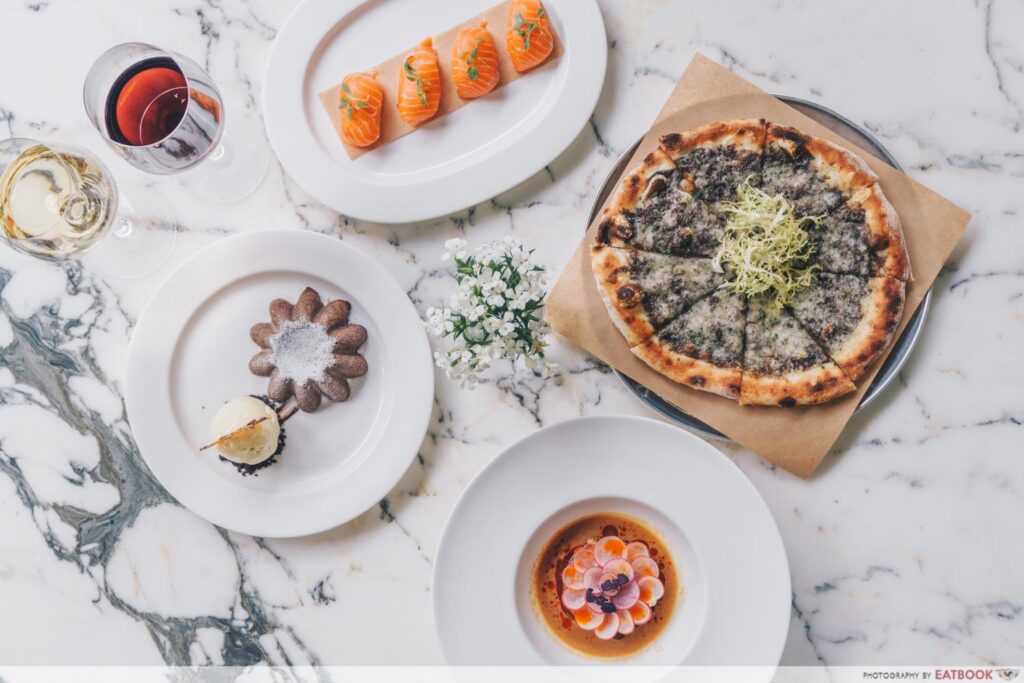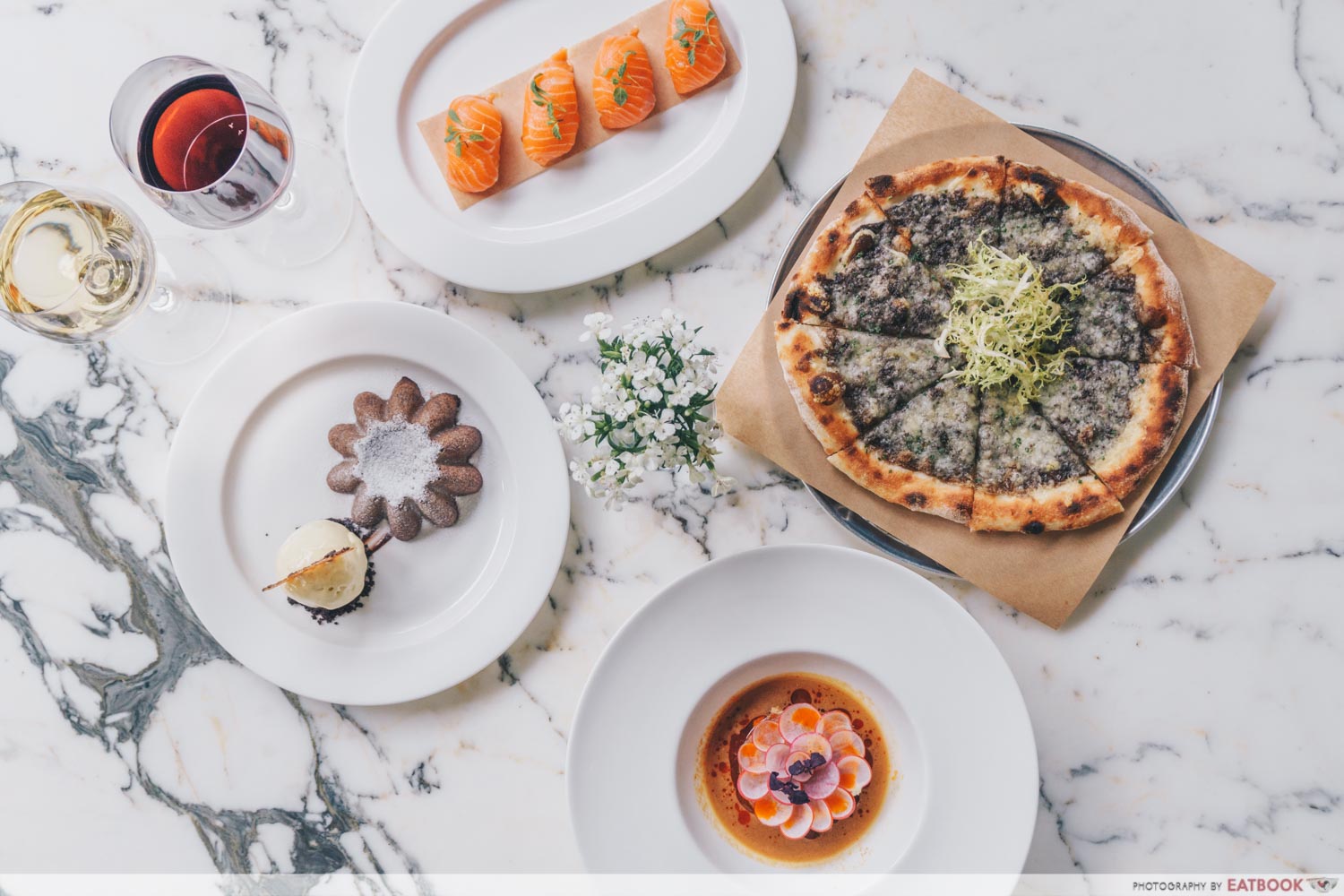 Their food is just as impressive. Conceptualised by Michelin-starred chef Jean-Georges Vongerichten, the dishes here are beautifully plated and boast bold flavours. Try their Black Truffle and Fontina Cheese Pizza ($36++), which features a chewy dough that's covered by an abundance of buttery cheese and shaved black truffles. 
Address: 17D Dempsey Road, Singapore 249676
Opening hours: Mon-Thurs 12pm to 3pm, 6pm to 12am, Fri 12pm to 3pm, 6pm to 1am, Sat 11:30am to 4pm, 6pm to 1am, Sun 11:30am to 4pm, 6pm to 12am
Tel: 1800 304 5588
Website
---
2. Candlenut
---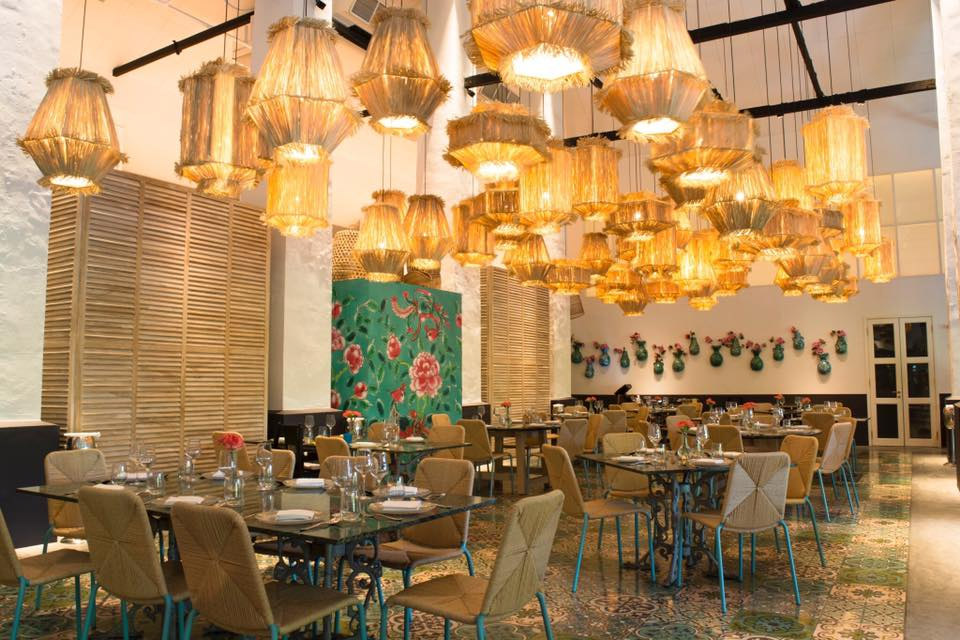 Image credit: Candlenut
As the only Michelin-starred Peranakan restaurant in the world, Candlenut has made waves in Singapore's food scene. Their COMO Dempsey restaurant looks especially opulent, with gorgeous ambient lighting, spacious tables, and a high ceiling. Coupled with the classy Peranakan decor, it sets the note for a romantic evening.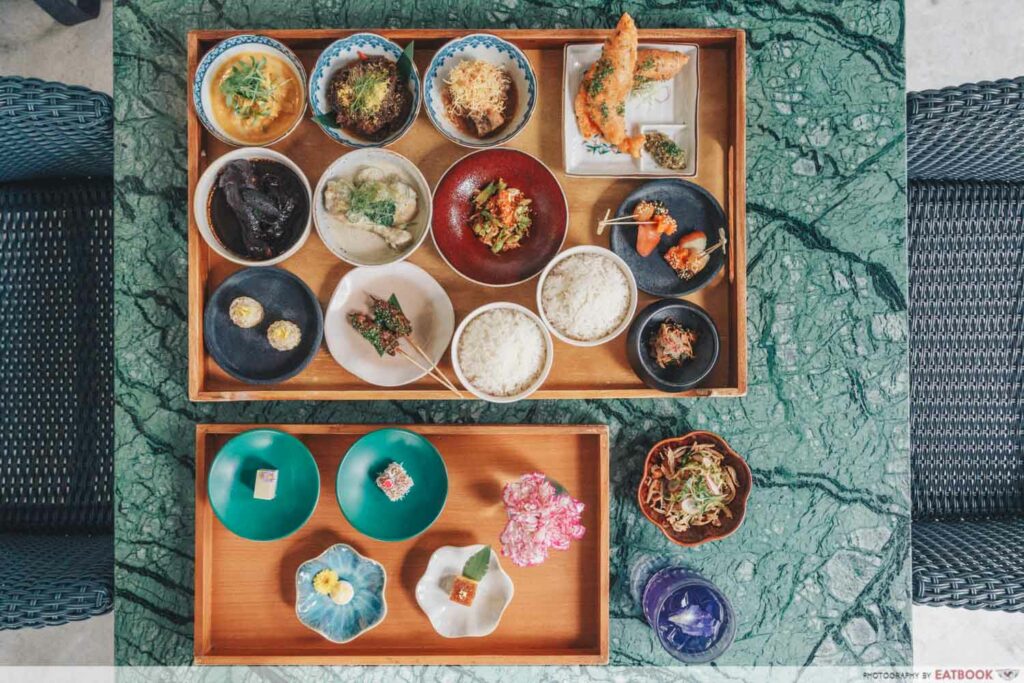 Candlenut serves comforting Peranakan cuisine with an innovative twist. Taking a leaf out from Japanese fare, the signature Ah-ma-kase ($88++ for lunch, $128++ for dinner) is a curation of specially created Peranakan dishes from executive chef Malcolm Lee.
If their tasting menu isn't your thing, try their Westholme Wagyu Beef Rib Rendang ($36++) which is extra smoky and flavourful due to the incorporation of a myriad of traditional spices. The beef rib is tender, and the cocountty rendang adds a nice dash of heat to this great dish. 
The Aunt Caroline's Babi Buah Keluak ($36++) is their classic rendition of the popular Peranakan dish. The buah keluak creates a distinctive taste that are slightly smoky and sour. When paired with chicken meat, the sauce gives the tender chicken its distinct flavour. With all that comforting food, coupled with the romantic ambience at Candlenut, you and your date are surely in for a treat! 
Address: 17A Dempsey Road, Singapore 249676
Opening hours: Sun-Thurs 12pm to 3pm, 6pm to 10pm, Fri-Sat 12pm to 3pm, 6pm to 11pm
Tel: 1800 304 2288
Website
---
3. Blu Kouzina
---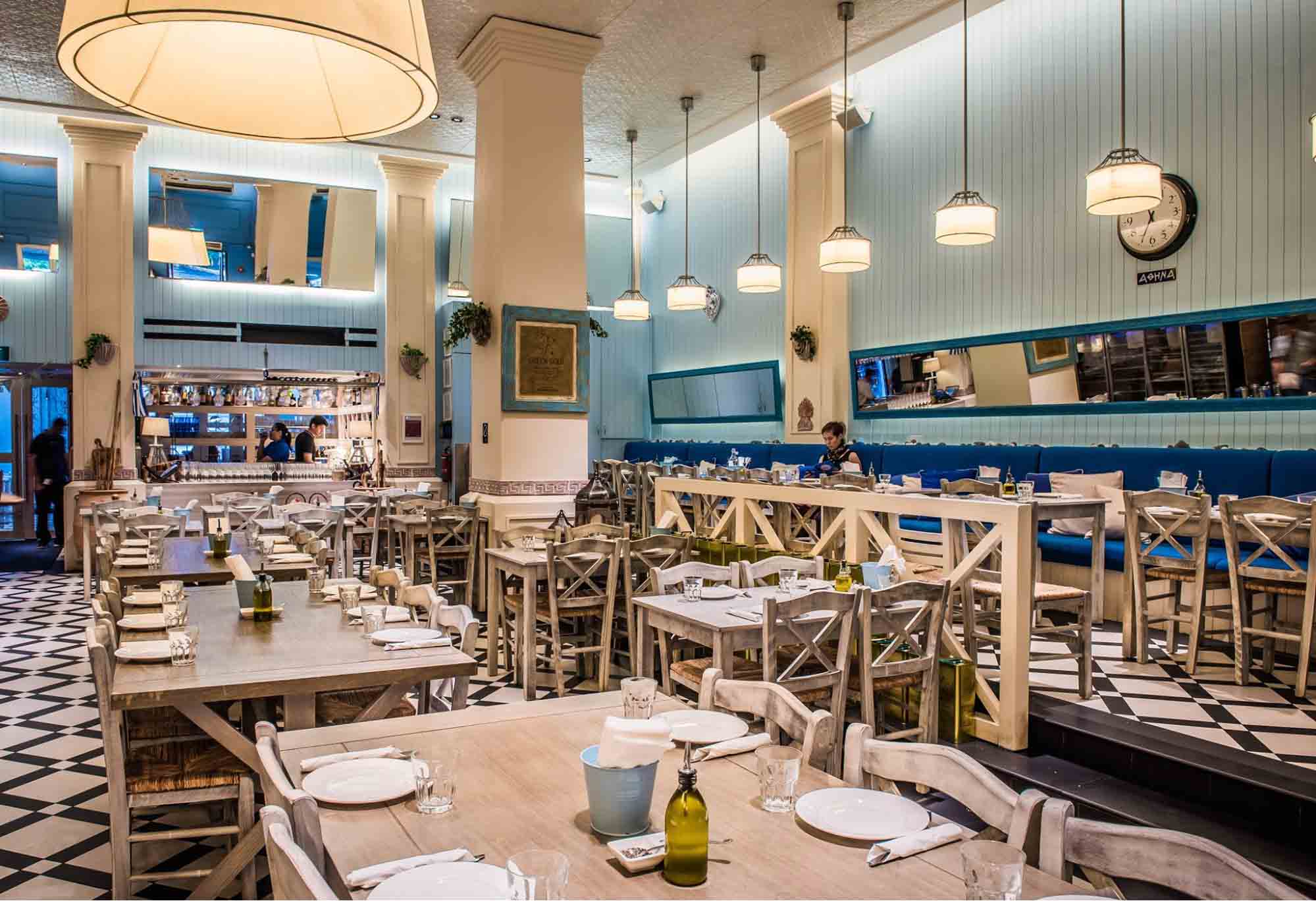 Image credit: Blu Kouzina
Being one of the few restaurants in Singapore that serve legit Greek cuisine, Blu Kouzina is a rare gem. 
Its interior is nicely decorated with hues of blue and white, giving an intimate atmosphere.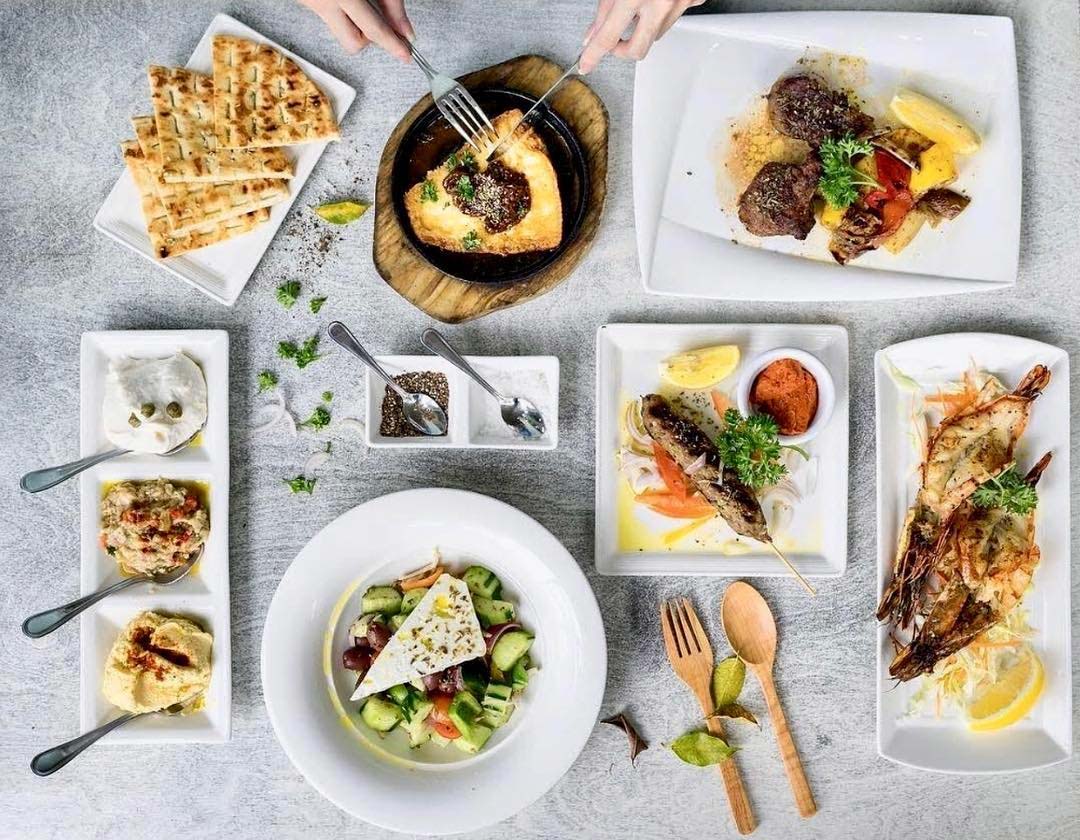 Image credit: Blu Kouzina
Blu Kouzina serves a wide variety of no-frills, great-tasting Greek food. We recommend their Bifteki Stin Sxara ($16.80++ for a piece). Not your boring beef patties seasoned with salt and pepper, each juicy patty is stuffed with tons of herbs, giving the beef an earthly flavour. It's served with savoury roasted potatoes, alongside refreshing tomatoes and lemon. 
Their Baklava ($6.80++ a piece) is a fitting end to this special meal. Nicely stuffed with cinnamon, almond, and caramel, this dish is satisfyingly sweet. The woody sweetness of the cinnamon, the slight savouriness of the caramel, and the crispiness of the warm pastry all come together very nicely. And unlike most desserts that are overly sweet, this dish won't feel too heavy on the palate.
Address: 10 Dempsey Road, #01-21, Singapore 247700
Opening hours: Daily 12pm to 2:30pm, 6pm to 10pm
Tel: 6875 0872
Website
---
4. The White Rabbit
---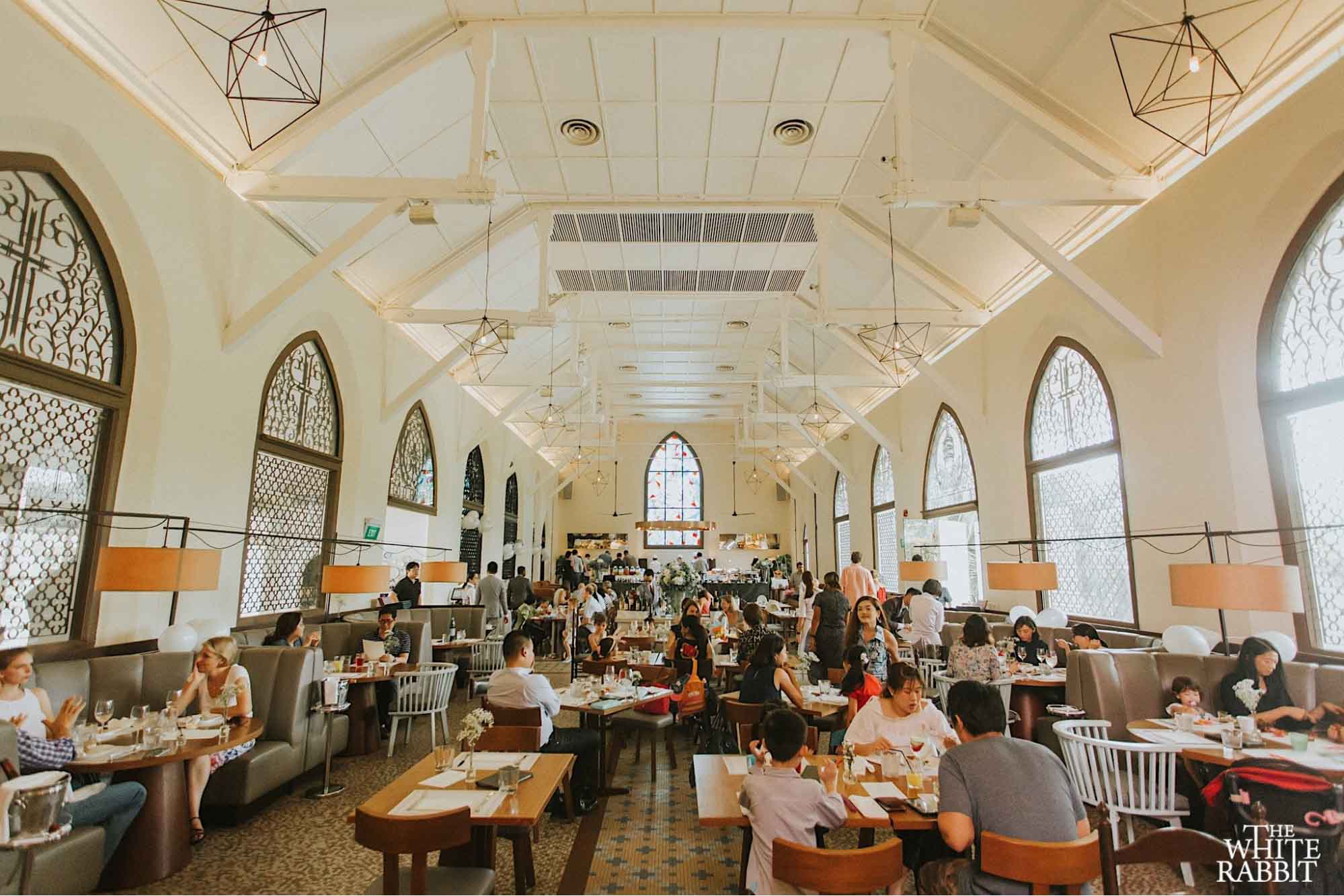 Image credit: The White Rabbit's Facebook page
Tucked in a beautifully restored chapel is The White Rabbit. Themed after 'Alice In Wonderland', the quirky restaurant sports mosaic floor tiles and stained glass windows, adding to its rustic appeal.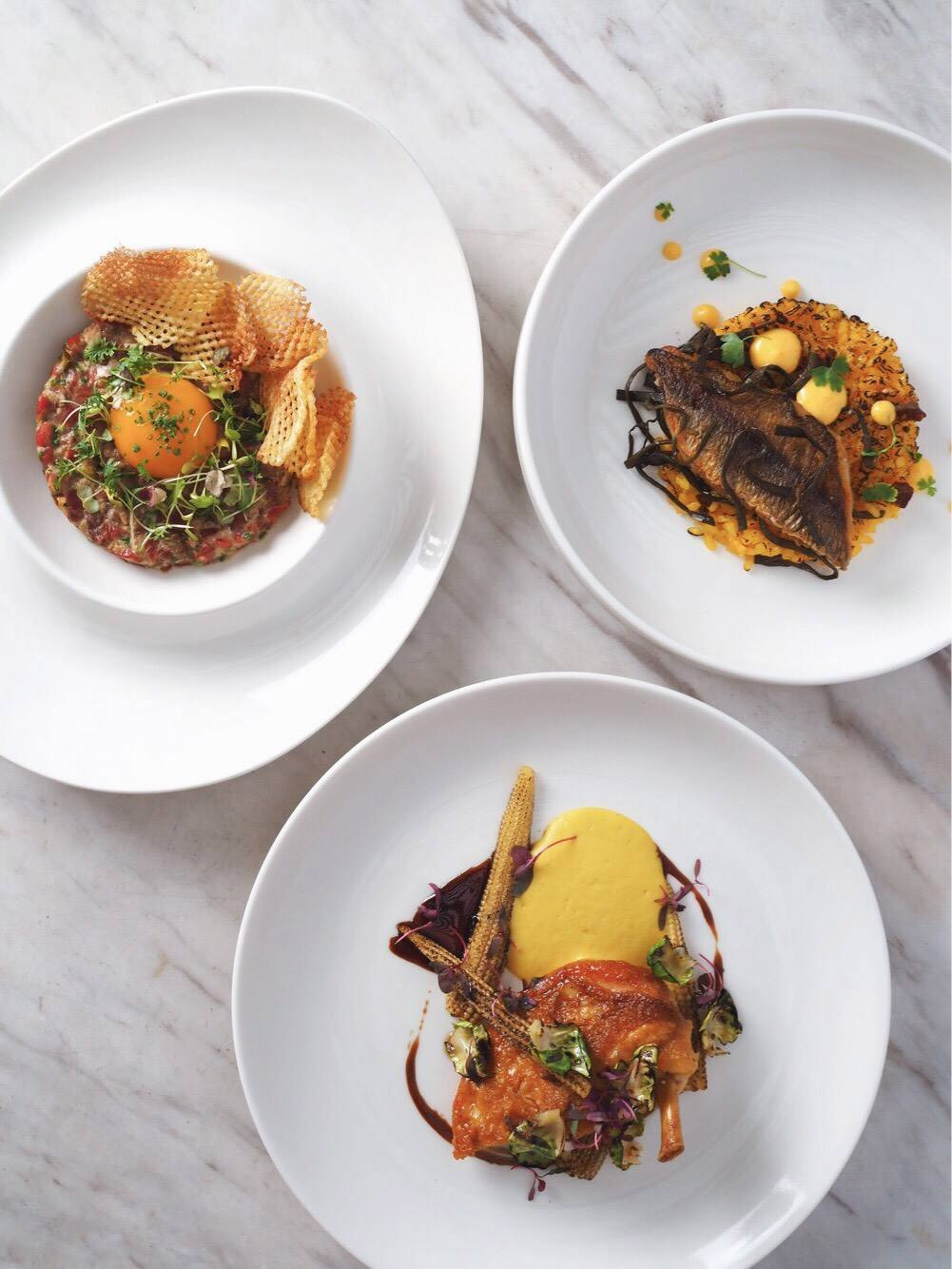 Image credit: The White Rabbit's Facebook page
The White Rabbit serves up mouth-watering European classics. For a taste of melt in your mouth Wagyu while leaving enough stomach space, we recommend the Rangers Valley Wagyu Carpaccio'18 ($26++). Their Roasted Black Truffle Chicken'18 ($78++) is a treat. Featuring a whole chicken, it's cooked with shaved black truffles to give the meat a richer taste and deeper flavour profile.
They also have a fairly affordable set lunch that starts from $39++, and they serve up a hearty brunch on weekends as well. The White Rabbit is a place to impress your date with a wonderful dining experience. 
Address: 39C Harding Road, Singapore 249541
Opening hours: Tue-Fri 11:45am to 2:30pm, 6:15pm to 10:30pm, Sat-Sun 11am to 3pm, 6:15pm to 10:30pm
Tel: 6473 9965
Website
---
5. Bincho @ Min Jiang
---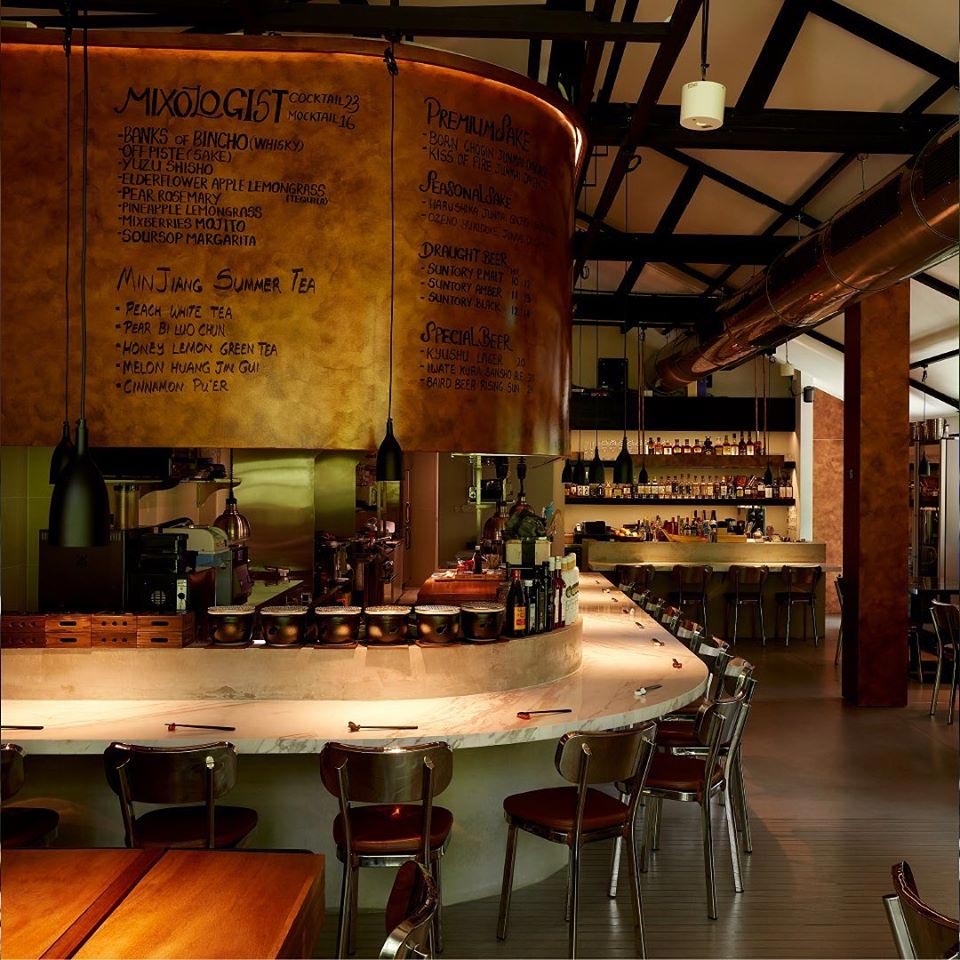 Image credit: Friends Of Beautiful People
For a classy Japanese yakitori experience, Bincho @ Min Jiang is the place to go. It's situated at an obscure corner of the building that it shares with Min Jiang Chinese Restaurant.
The restaurant is dimly lit, and has a minimalist and sleek interior. Its lighting is warm and inviting, with an attractive bar counter that entices you and your date for a tipple.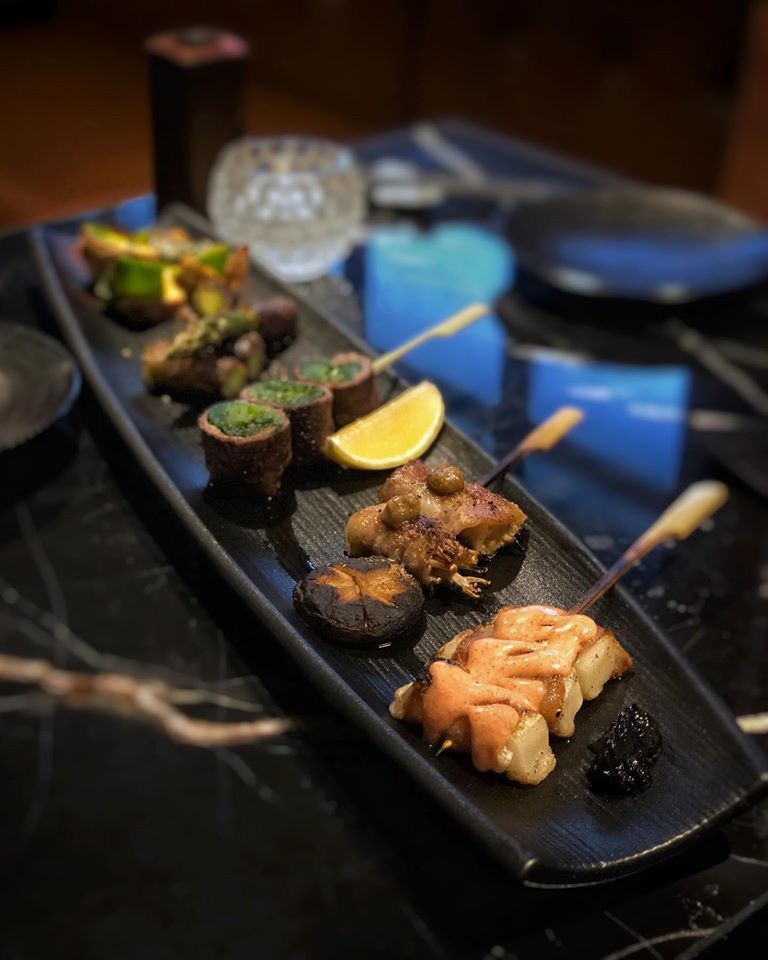 Image credit: Yvette's Altered Egos
Their yakitori is mouth-watering. The tender meat has a distinct smokiness that can be tasted in every bite, making you yearn for more. The Yakitori Platter ($20) is a good option for those looking to get a bit of everything. Besides their skewers, other recommended items include their Uni Shabu Shabu ($68++), which presents a creamy and unique shabu shabu experience, and luscious Snow Crab Fried Rice ($42++).
Address: 7A/B Dempsey Road, Singapore 249684
Opening hours: Tue-Fri 6pm to 12am, Sat-Sun 12pm to 3pm, 6pm to 12am
Tel: 6972 7328
Website
---
6. Margarita's
---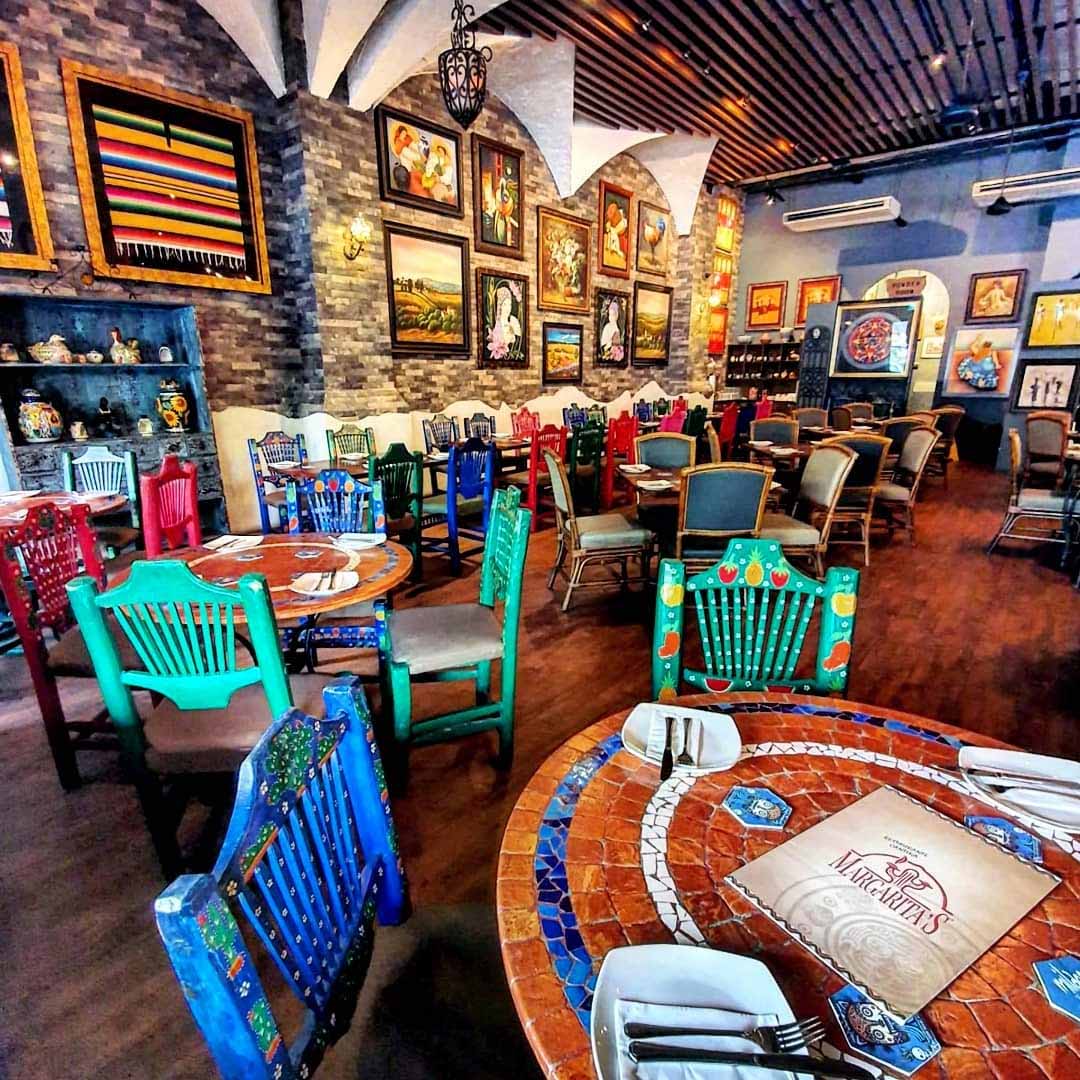 Image credit: Margarita's Dempsey Hill
Far from the usual date-night restaurant standard black and white furniture and tables that are adorned with wine glasses, Margarita's is a breath of fresh air. Margarita's vibrant interior sets the tone for a light-hearted and fun evening. The playful colours of their furniture and paintings add a new dimension to the casual vibe of the restaurant.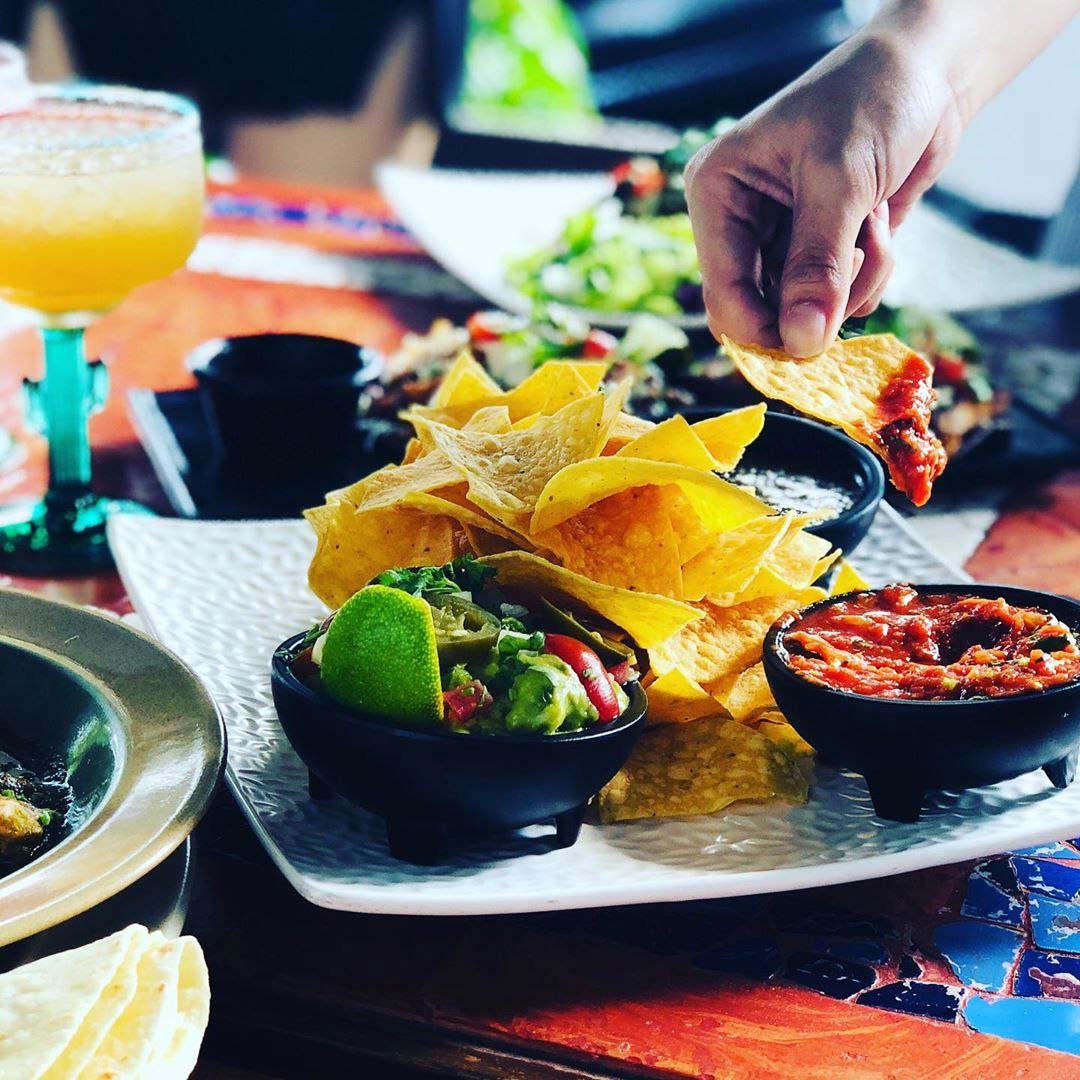 Image credit: @dempseyhillsg
Margarita's serves up one of the tastiest Mexican grubs in Singapore. Their blend of Mexican spices gives their food a mouth-watering yet fiery taste. For the hungry tummies, try their Carnitas de Puerco ($32++). The beautifully roasted pork is served with crunchy warm tortillas, creamy guacamole, traditional Mexican salsa verde, and salsa rojas sauces. To balance the extra hearty meal, we recommend ending everything off with their unique desserts like Mexican Fried Ice Cream ($15++) and Churros ($15++).
Address: 11 Dempsey Road, Singapore 249673
Opening hours: Daily 11:30am to 11pm
Tel: 6471 3228
Website
---
7. Chopsuey Cafe
---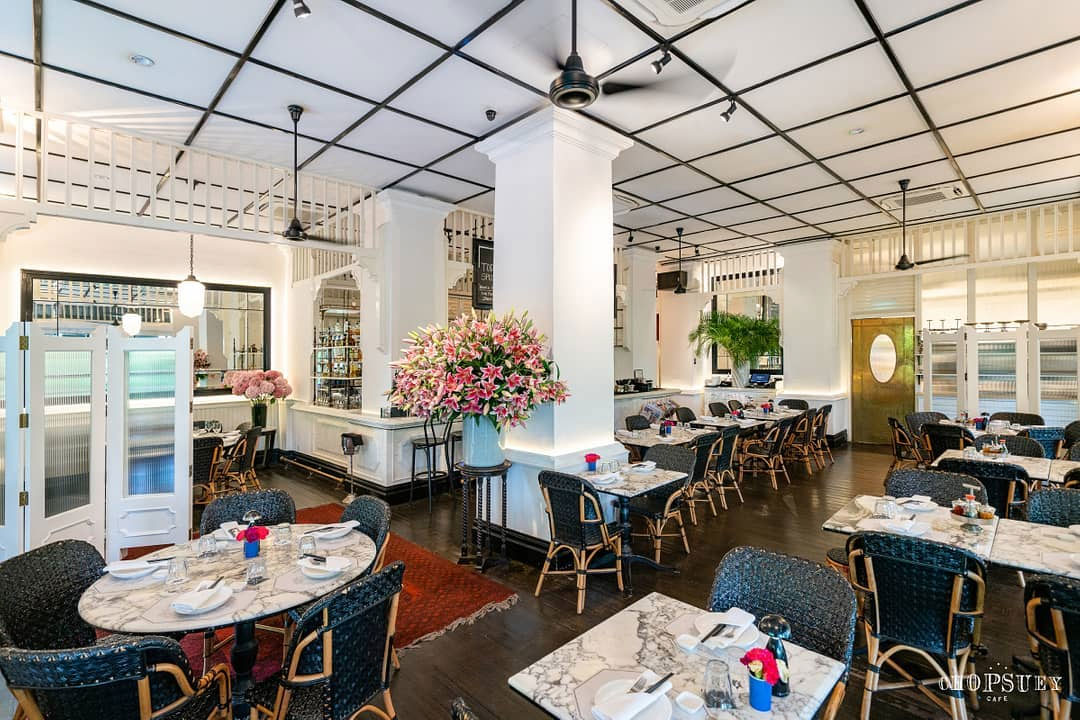 Image credit: @chopsueycafe
Located at the end of Dempsey Hill is the ever-popular Chopsuey Cafe. Run by the folks behind PS Cafe, this cafe has a charming black and white design that's accompanied by splashes of bright colours from the flowers and furniture.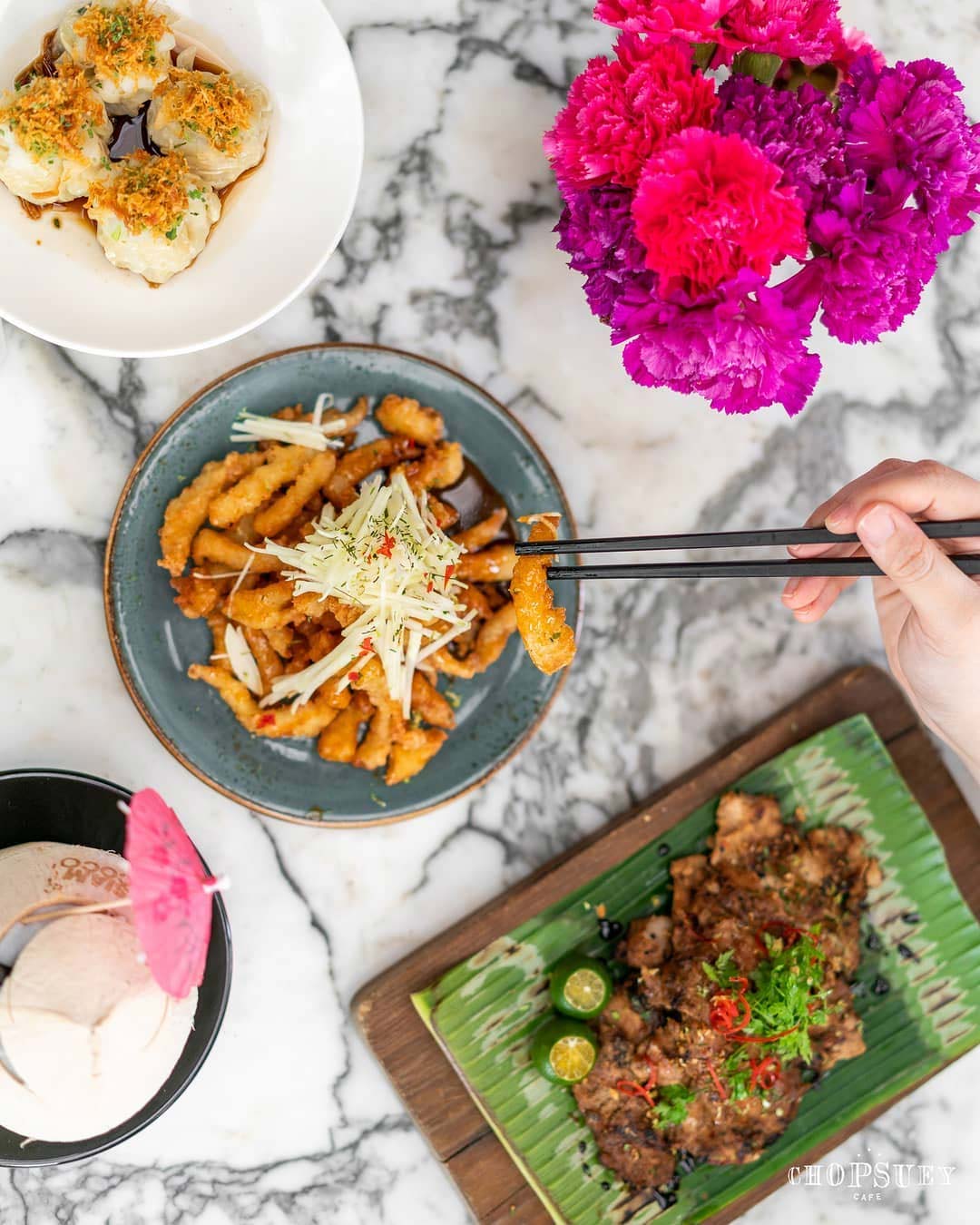 Image credit: @chopsueycafe
Chopsuey Cafe serves up all of your favourite Chinese food, but with a playful twist. For their version of a traditional Hainanese pork chop, try their succulent Cooky's Pork Chop with Chips & Edamame ($24++). The Steamed 'Lasagna' of Snapper & Tofu ($19++) is a unique take on traditional beef lasagna, this time with soft and juicy snapper that's accompanied by comfortingly smooth tofu.
Address: 10 Dempsey Road, #01-23, Singapore 247700
Opening hours: Mon-Fri 11:30am to 11pm, Sat-Sun 10:30am to 11pm
Tel: 6708 9288
Website
---
8. Open Farm Community
---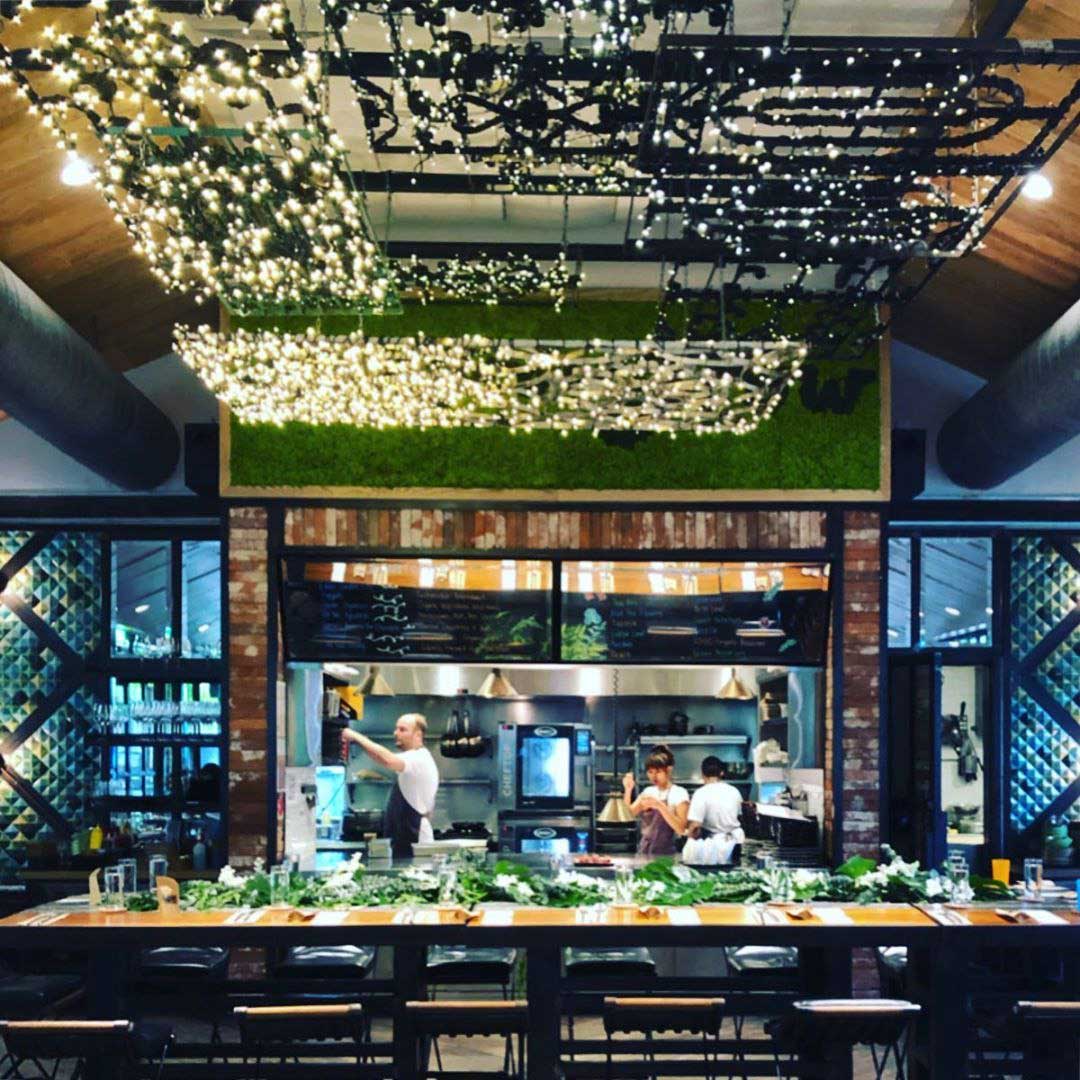 Image credit: @zacharychooi
With majestic glass windows and a stunningly high ceiling, Open Farm Community is gorgeous. Its interior is dotted with beautiful lights and greenery, making for a pleasant dining experience.
Much more than a simple restaurant, they regularly host gardening workshops and sustainability talks in their garden and educational space respectively.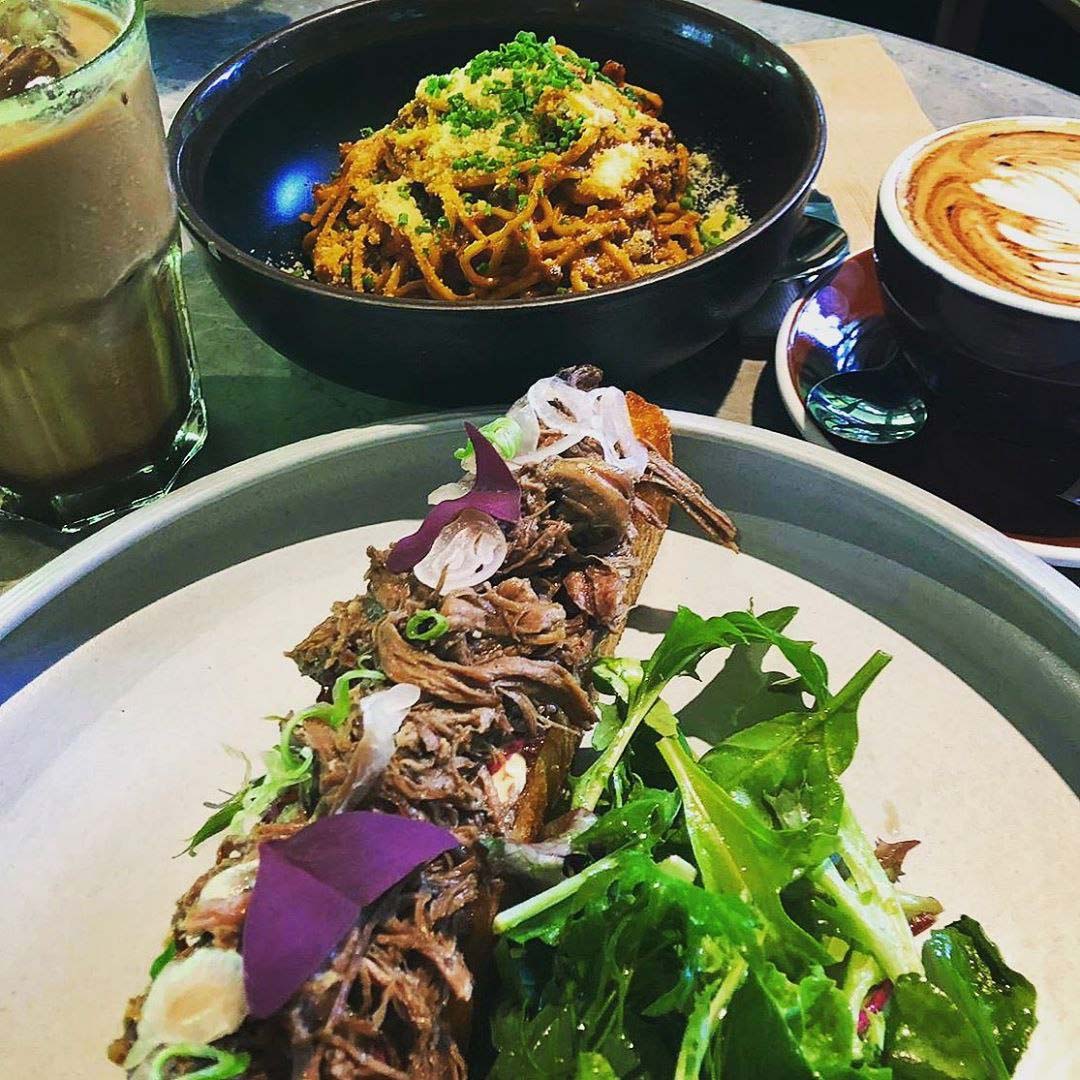 Image credit: @gohtravelling
Their food is served from the heart, and it'll be sure to impress your significant other, both in taste and visual appeal. Start with their Cauliflower Wings ($16++), which features cauliflower fritters that are battered with a light seasoning and fried to a golden brown. For a refreshing ending to your meal, try their Lime In The Coconut ($16++), whereby a citrusy lime sorbet and comforting coconut meringue come together as one.
Address: 30E Minden Road, Singapore 248819
Opening hours: Mon-Thurs 12pm to 4pm, 6pm to 11pm, Fri 12pm to 4pm, 6pm to 12am, Sat 11am to 5pm, 6pm to 12am, Sun 11am to 5pm, 6pm to 11pm
Tel: 6471 0306
Website
---
9. Red Sparrow
---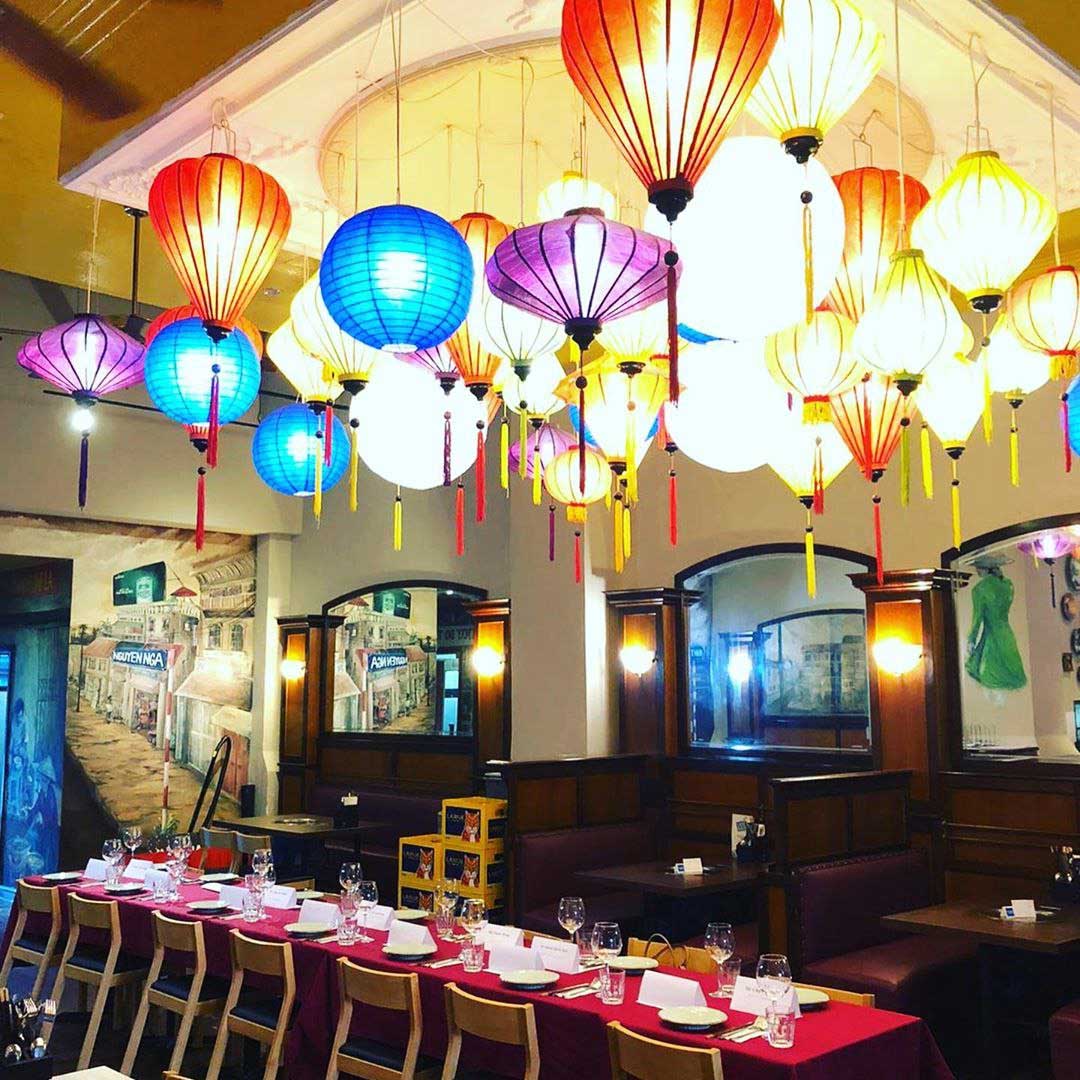 Image credit: @redsparrowsg
Deviating from classic Western food, Red Sparrow is the only Vietnamese restaurant on this list. This homely restaurant serves legit Vietnamese fare in a beautifully modern, yet classic setting. Colourful lanterns are prettily hung on the ceiling against a backdrop of traditional Vietnamese art.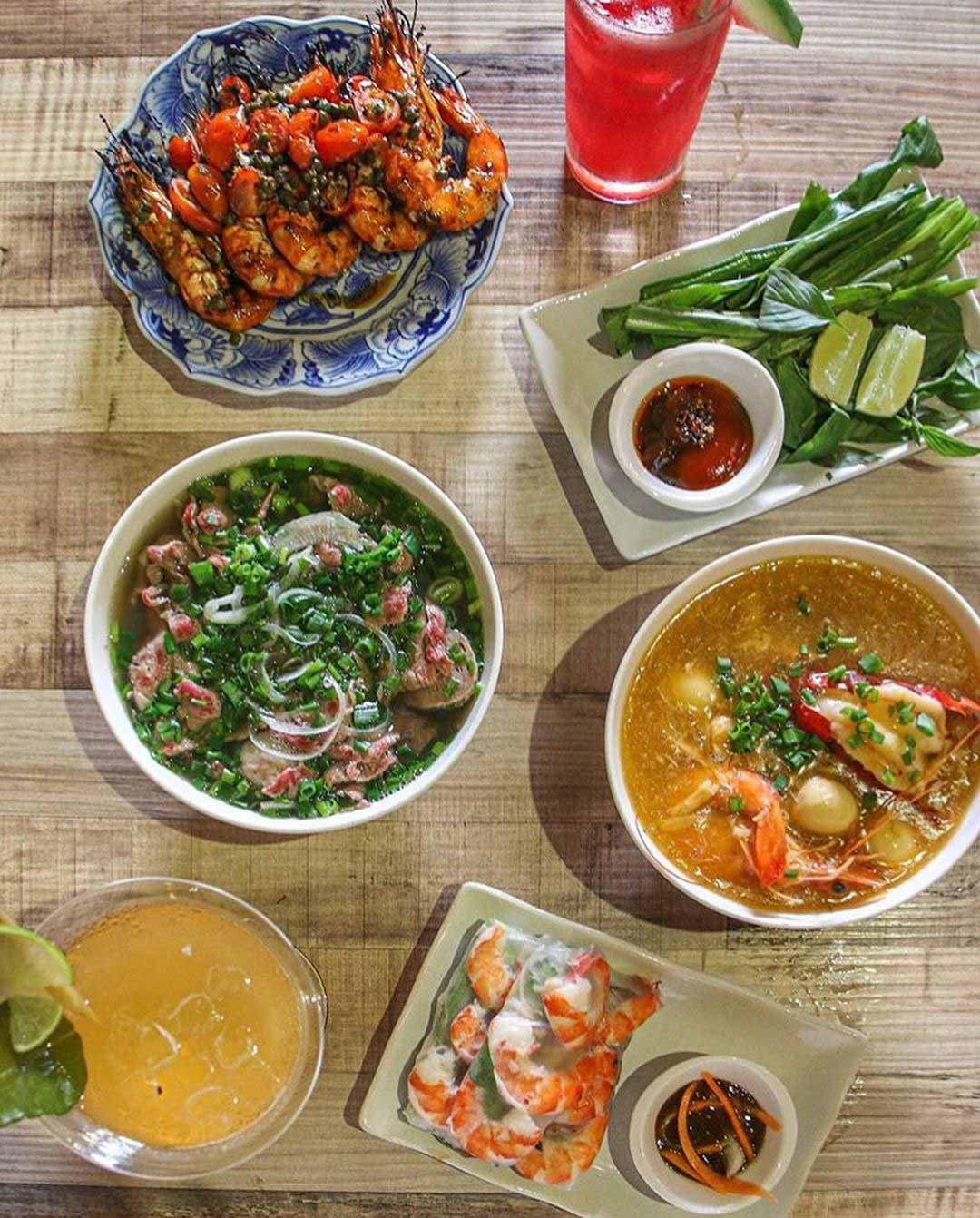 Image credit: @redsparrowsg
The Pho Bo Tai ($18++) features tender beef brisket, while the fresh crab meat and prawns within the soft rolls of Cha Gio ($16++) are juicy and succulent. You have to try their Ca Kho ($30++). The snapper fillet is juicy and surprisingly flavourful, considering the simple flavour profile of most snappers.
Address: 11 Dempsey Road, #01-18, Singapore 249673
Opening hours: Daily 11am to 11:30pm
Tel: 6776 6118
Website
---
10. Jim Thompson Thai Restaurant
---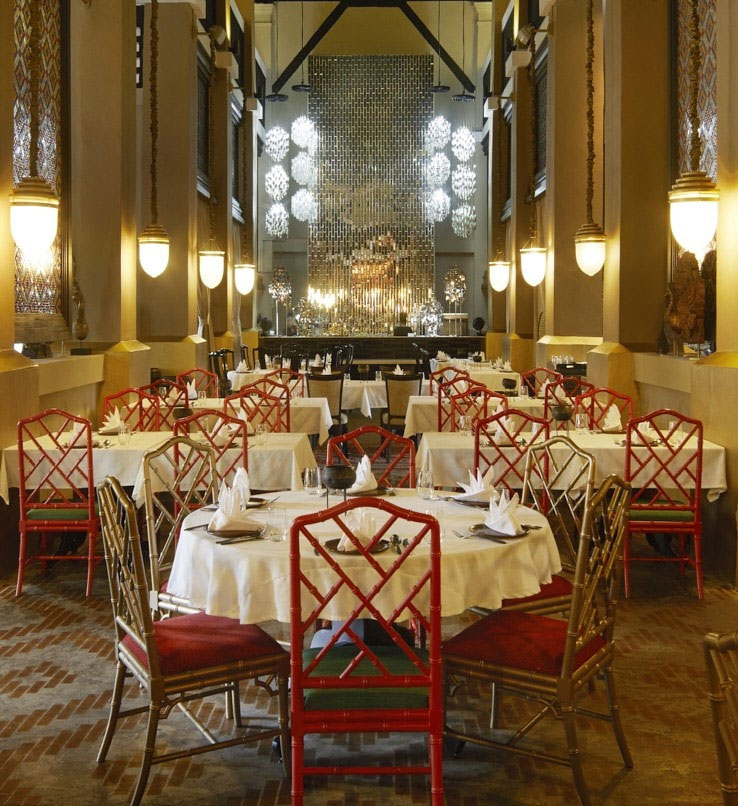 Image credit: Jim Thompson Thai Restaurant & Wine Bar – Singapore
Boasting a high ceiling and a spacious dining hall, Jim Thompson Thai Restaurant makes you feel like a Thai royalty. Their exquisitely carved tableware, silk-covered tabletops, and lush interior gives an intimate and luxurious dining experience.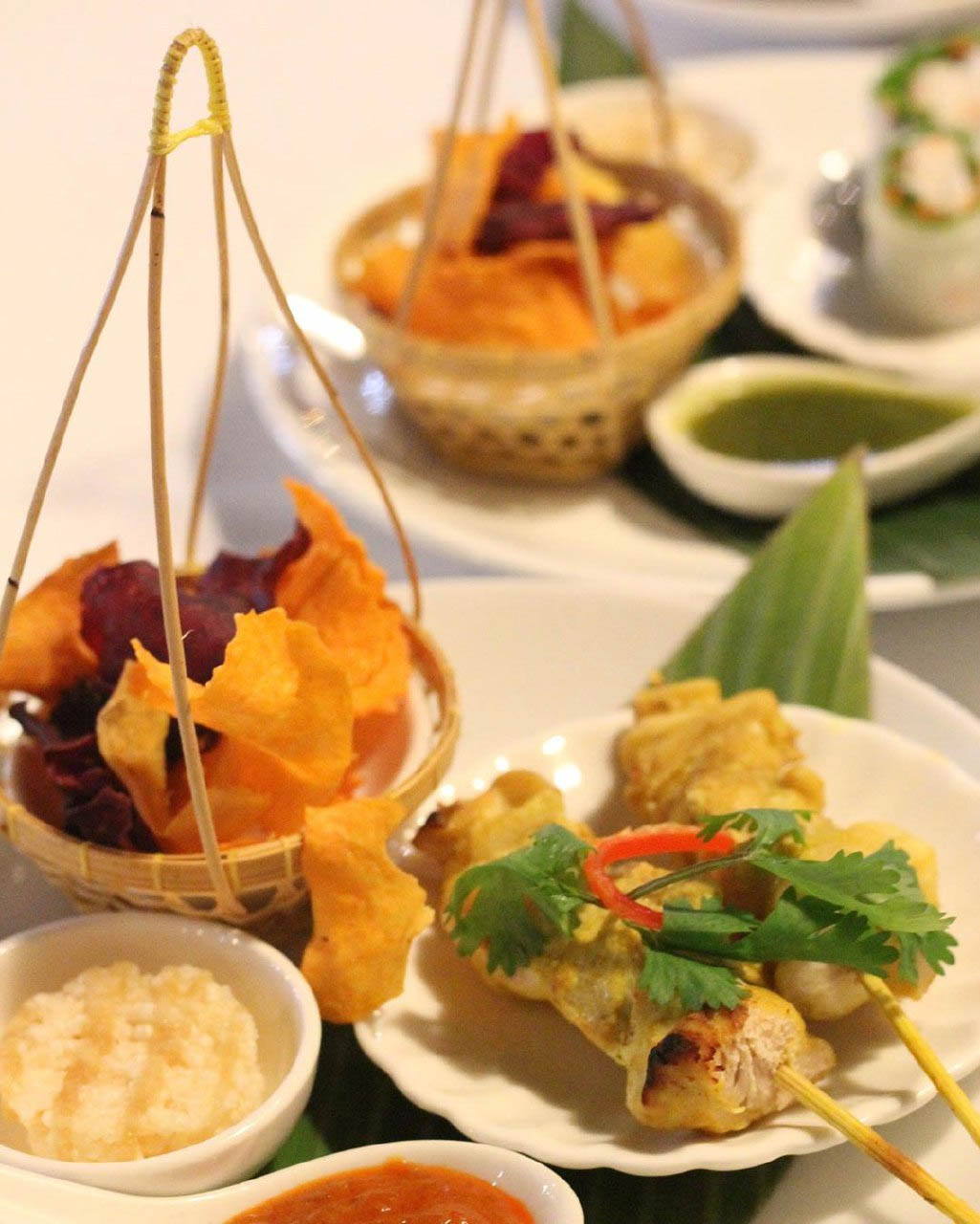 Image credit: @sohadang_
No one goes to a Thai restaurant without ordering tom yum, so it seems natural to get their Tom Yam Goong ($27++ for single serving), where succulent prawns are simmered in a flavourful sweet and sour soup. Their speciality Poo Nim Phad Pong Gari ($29++) is a must-try as well. It features crisp soft shell crabs that are covered by heaps of luxuriously spicy yellow curry. Chilli lovers will love this place because the food here has some serious heat. Though the food here tends to lean on the pricier side, the ambience more than justifies it. 
Address: 45 Minden Road, Singapore 248817
Opening hours: Tue-Sun 12pm to 3pm, 6pm to 11pm
Tel: 6475 6088
Website
---
Dine at these Dempsey Hill restaurants 
---
Dates are essential to creating shared memories with your special someone, and through these memories would you two grow closer. The Dempsey Hill restaurants on this list offer unique dining experiences that will be sure to shake up your usual date night dining repertoire. If you're clueless on where to bring your bae for date night, why not try one of these places to create even more wonderful memories. 
For more restaurant recommendations this V-Day, check out these romantic restaurants.