---
Romantic restaurants for date nights
---
Most of us have thought of the confession: wowing your first love with a grand romantic gesture before delivering a riveting outburst of emotion. But there's expectation and there's reality. How we feel is usually lost in translation behind awkwardly phrased acclamation of love and clumsily executed actions. And that's why location matters, as a romantic one can help set the tone for the night ahead. 
So enchant bae this Valentine's Day at these 11 romantic restaurants, and you're halfway there in creating the perfect date night!
---
1. The Summerhouse
---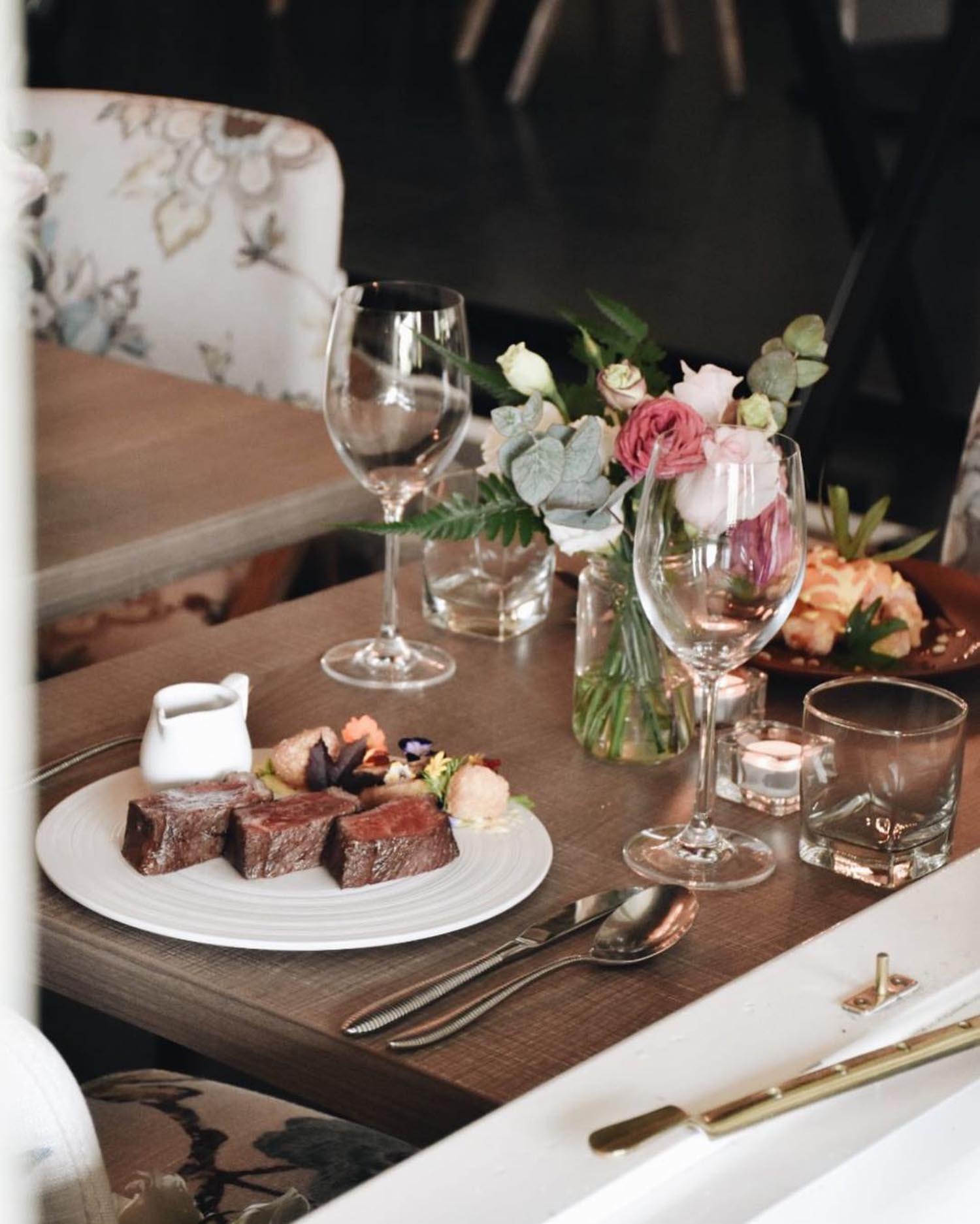 Image credit: @thesummerhousesg

Whisk your date away to The Summerhouse, a traditional bungalow concealed within the tranquil grounds of Seletar Airport. Exclusively released on Valentine's Day, the Four Course Sharing Menu For Two ($250++) unveils luxurious treats such as Alaskan King Crab Rillette, Seared Scallop & Foie Gras, and Grilled Sanchoku Wagyu Rump Cap MBS 7.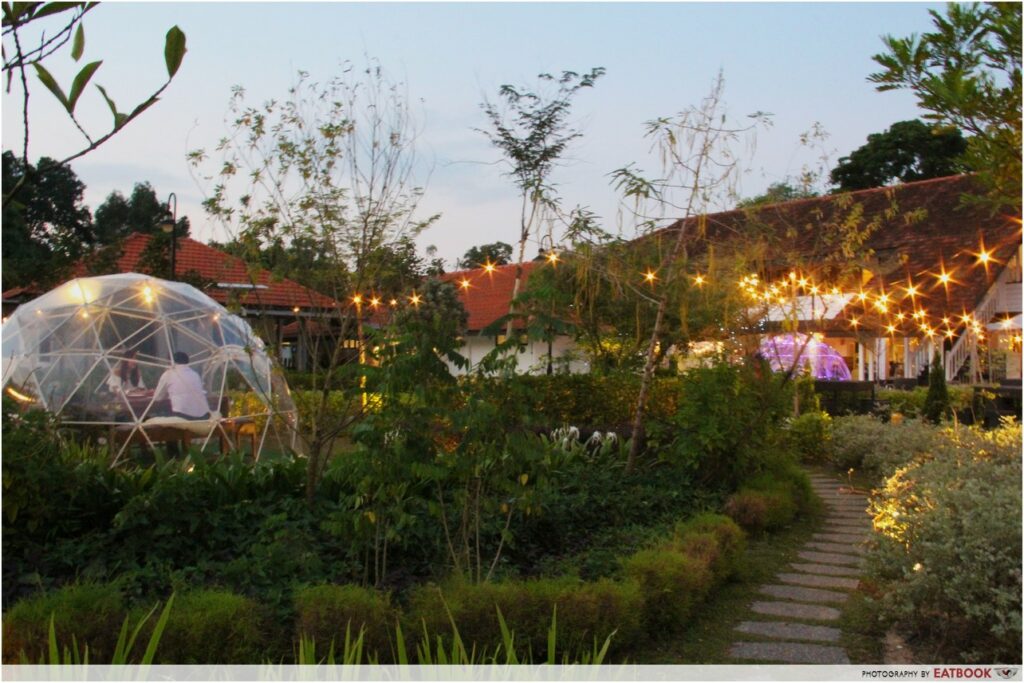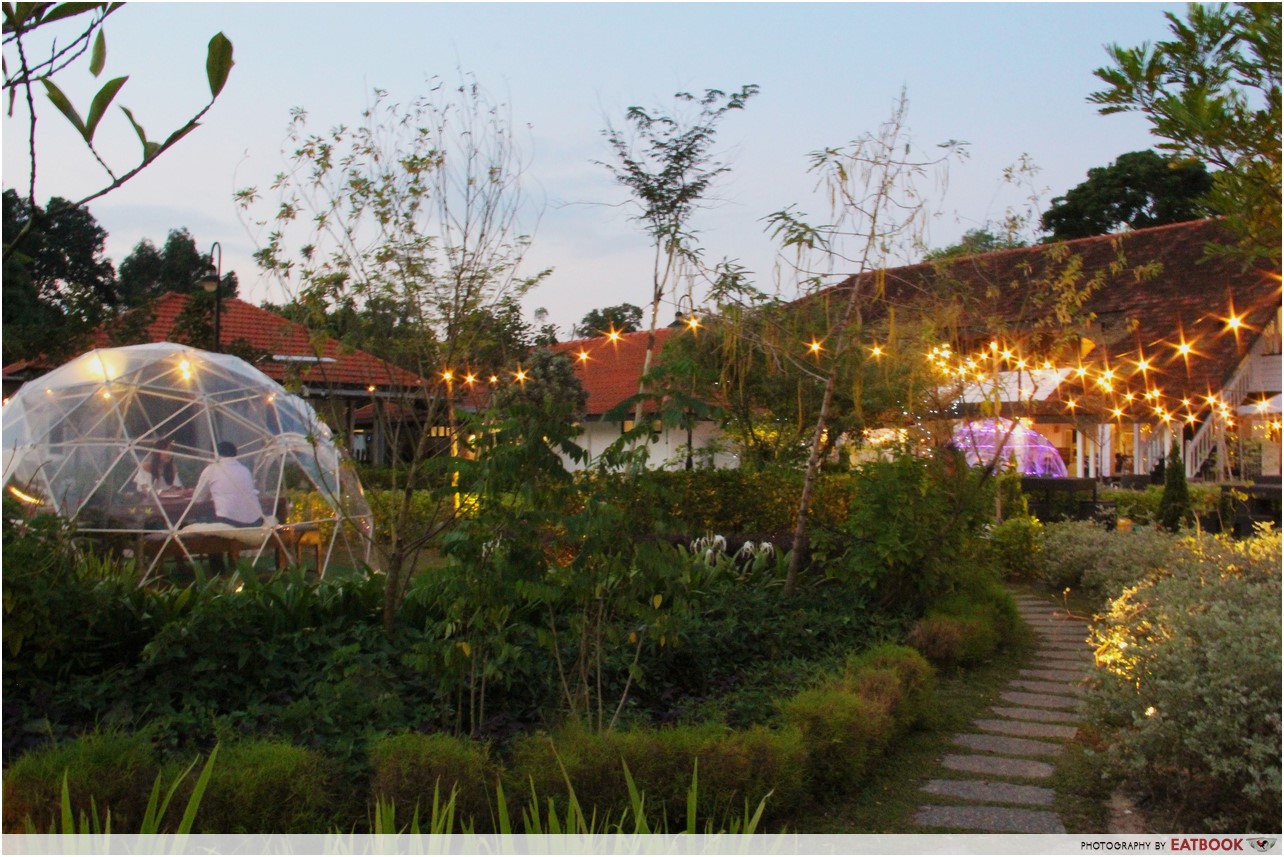 For a more enchanting V-Day, make a reservation at the Summerhouse Garden Domes ($350++ per couple). These transparent, air-conditioned domes come in three themes: Bohemian, Scandinavian, and Lounge. Regardless of the theme chosen, you are guaranteed to catch the starry night unfurl like a canvas in front of your eyes.
Check out our review of The Summerhouse here!
The Summerhouse: Singapore's First Igloo Domes That Let You Dine Under The Stars
Address: 3 Park Lane, Singapore 798387
Opening hours: Wed-Thur 6pm to 10pm, Fri-Sun 12pm to 3pm, 6pm to 10pm
Tel: 6262 1063
Website
---
2. Pollen
---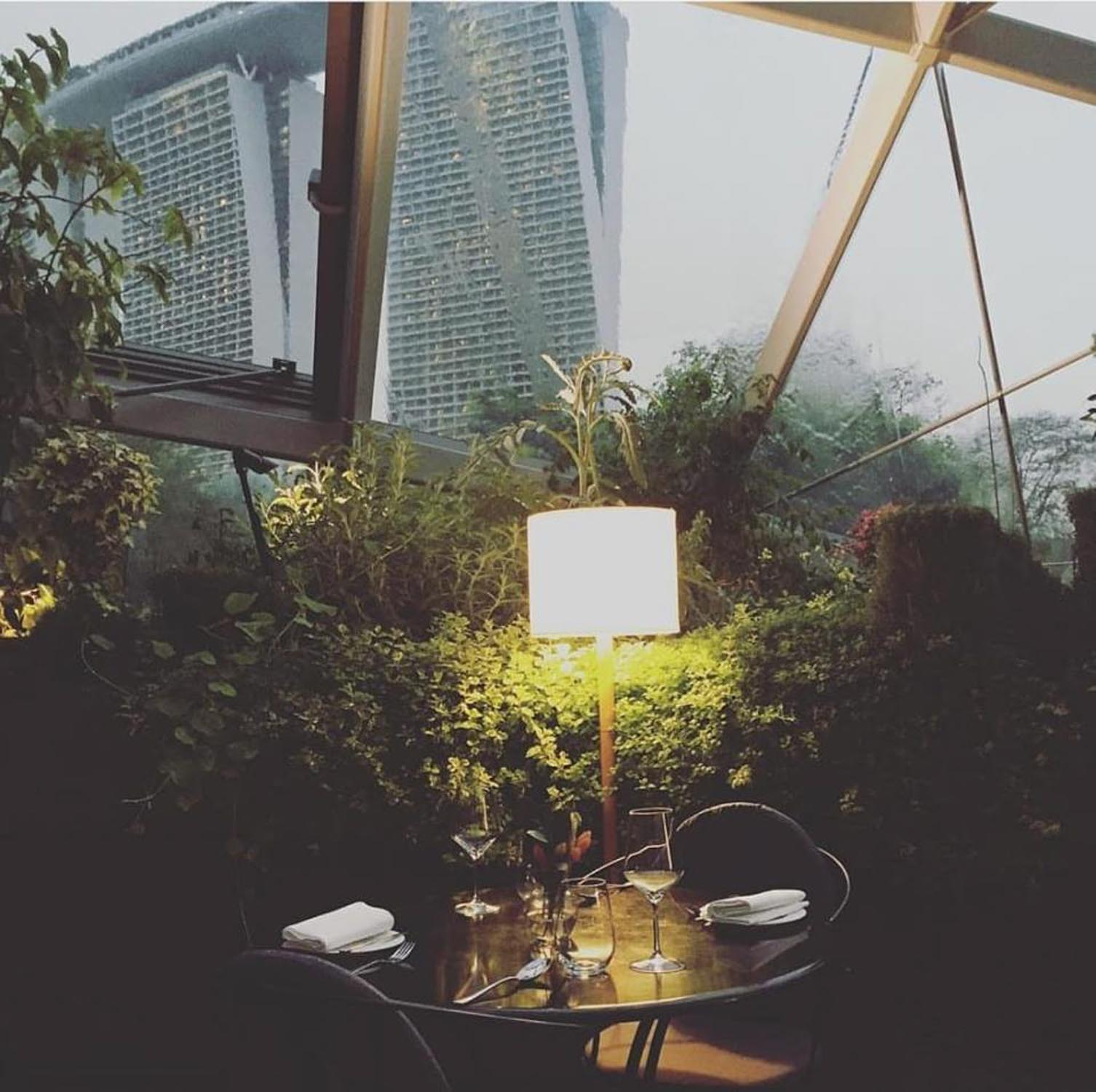 Image credit: @pollenrestaurantsg
Dining at Pollen pampers you from start to finish with quality service as you are ushered into the Flower Dome in your personalised buggy. Kickstart your six-course Valentine's Day Dinner Menu ($158++ per person) with a glass of complimentary Cava as you admire the picturesque Marina Bay waterfront.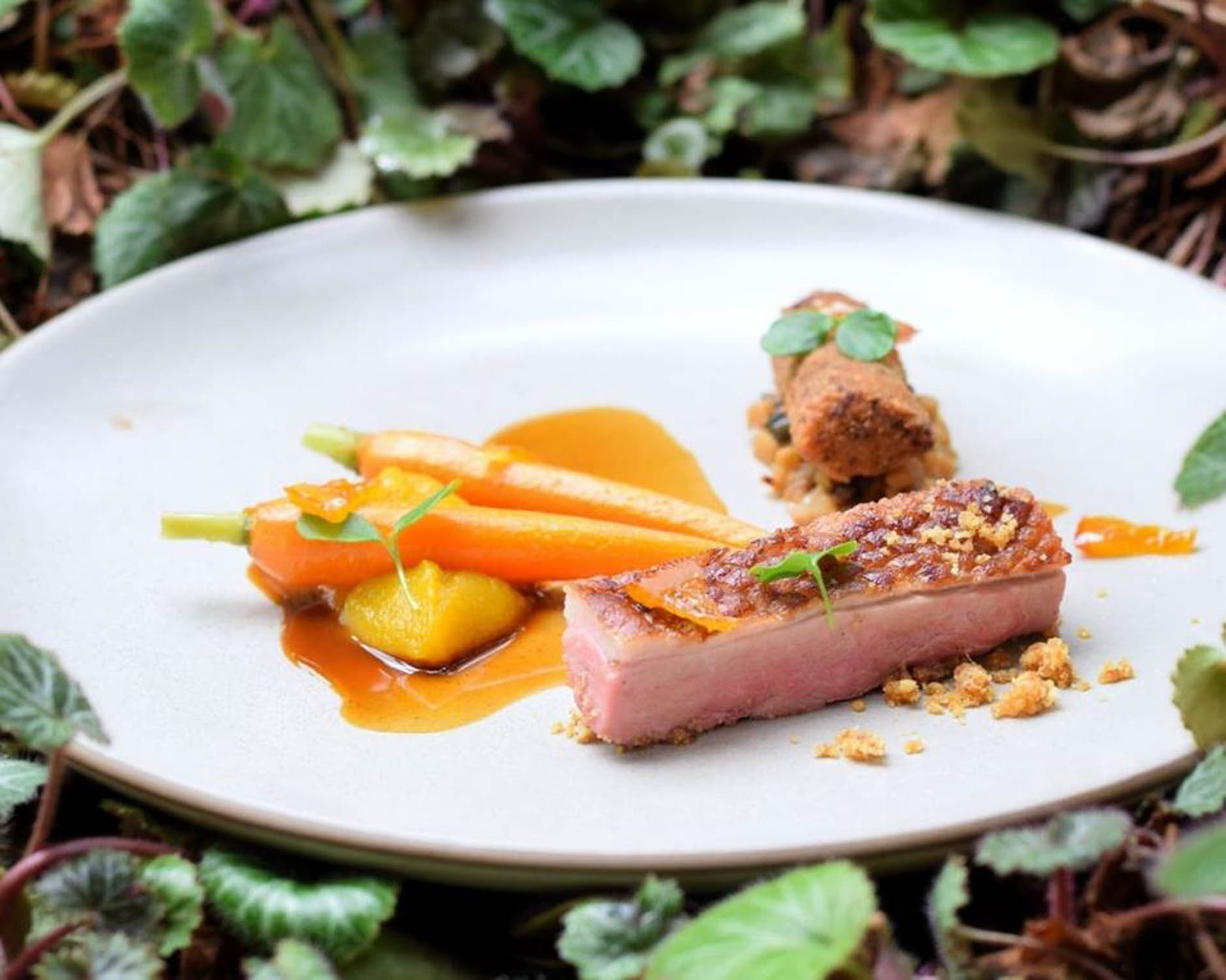 Image credit: @pollenrestaurantsg
The piece de resistance of this epicurean treat is the Poached and Roasted Duck, served with carrots, orange, and swede. Dining at Pollen grants free access to the Flower Dome, so you can enjoy a stroll with bae after the meal. With the intoxicating fragrance of exotic flowers and relaxing ambience, you can't help but lazily rest your head on the shoulders of your significant other.
Address: 18 Marina Gardens Drive, #01-09, Flower Dome, Gardens By The Bay, Singapore 018953
Opening hours: Wed-Mon 12pm to 3pm, 6pm to 10pm
Tel: 6604 9988
Website
---
3. Lawry's The Prime Rib Singapore
---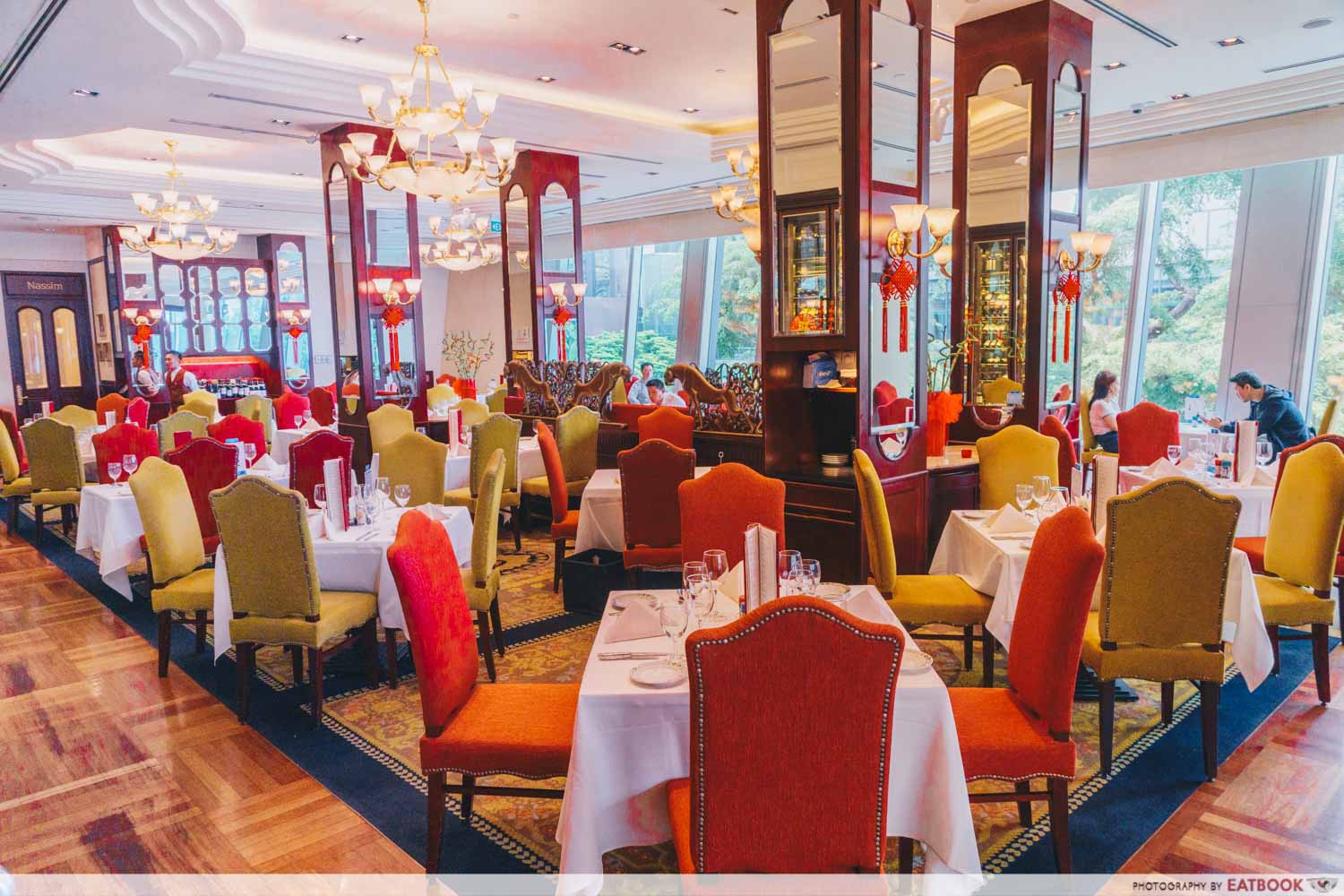 Lawry's The Prime Rib Singapore is not only known for their prime roast but also their impeccable service, so you need look no further for an ideal V-Day restaurant. Basking in the romantic ambience, every couple will get bring a complimentary bottle of Ruffino Moscato d'Asti home to celebrate this special occasion.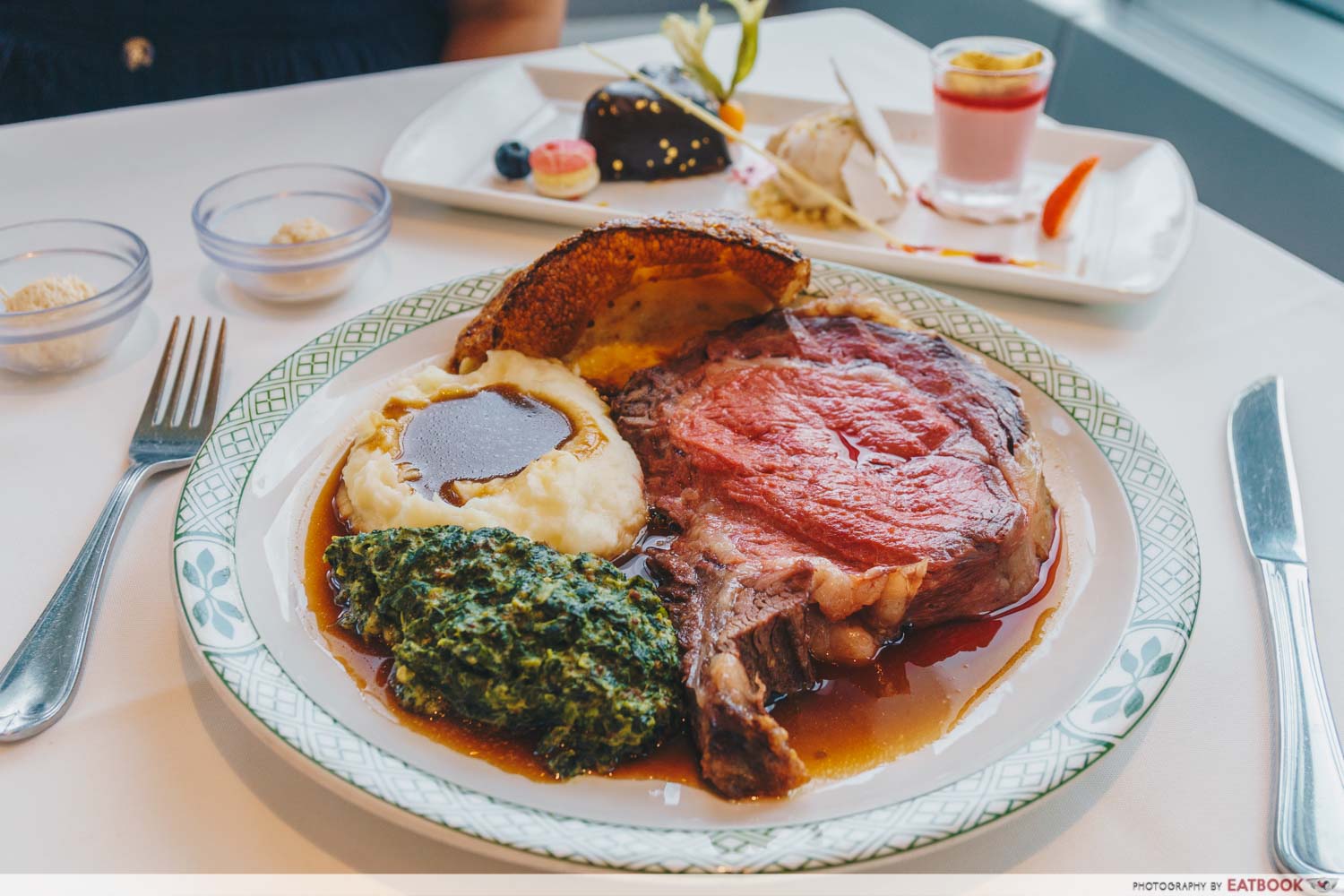 The six-course Valentine's Menu ($188++ per person) includes aphrodisiacs such as Foie Gras Macaron, Grilled Spanish Octopus and Smoked Salmon with Avruga Caviar, and their Signature Roasted USDA Prime Rib of Beef. Those with a sweet tooth can also look forward to the beautifully plated dessert which features a praline dome, tiramisu mochi ice-cream, and strawberry mousse.
Address: 333A Orchard Road #04-01/31, Mandarin Gallery, Singapore 238897
Opening hours: Sun-Thur 11:30am to 10pm, Fri-Sat 11:30am to 10:30pm
Tel: 6836 3333
Website
---
4. Arbora
---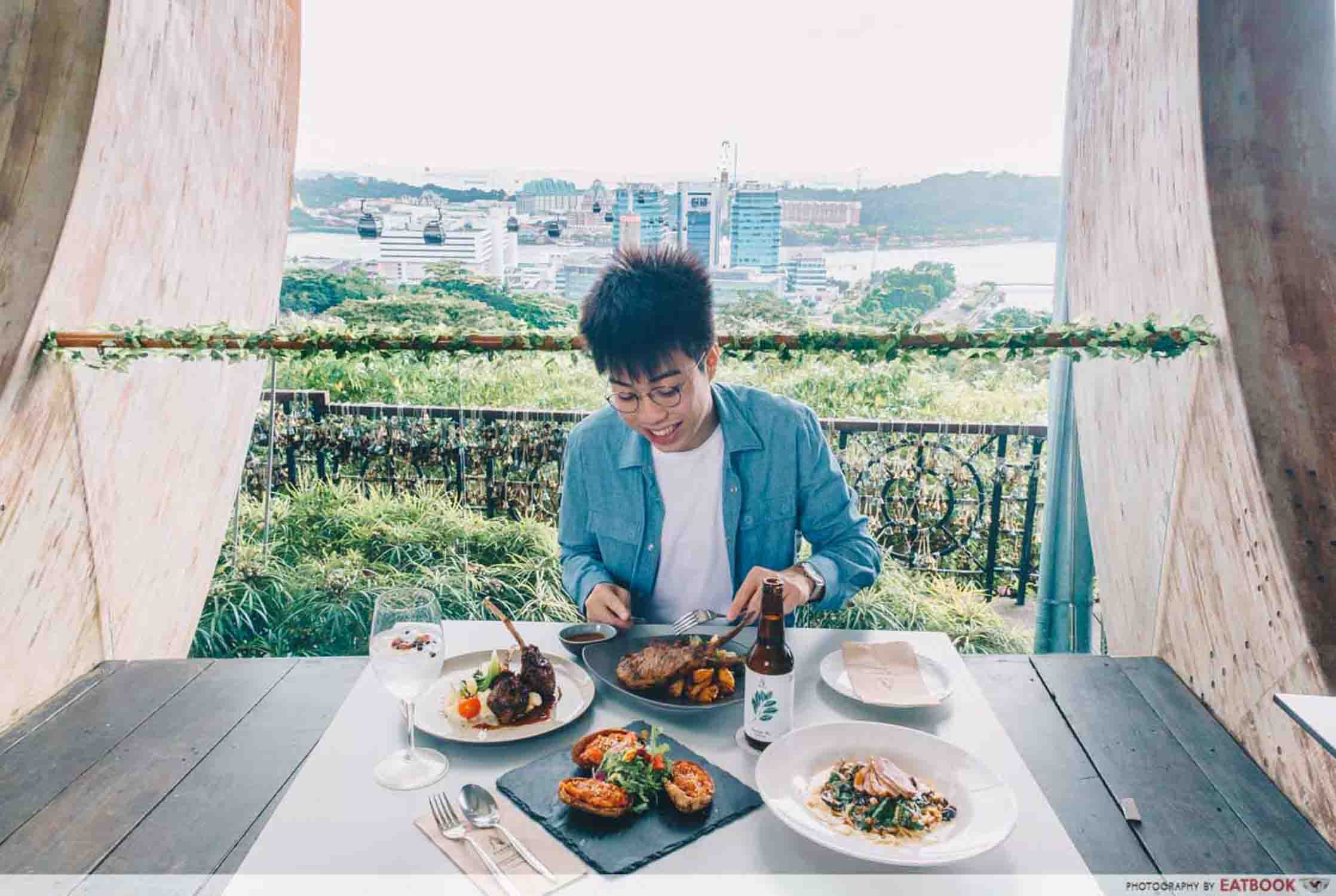 Offering a majestic view of Sentosa and Harbourfront, Arbora is the perfect destination for a romantic night out. Resting 100 metres above sea level, the restaurant offers much-needed peace and quiet for an intimate celebration. Their 13-metre wide foliage feature wall is also the perfect backdrop for you to flaunt your 10 out of 10 V-Day experience on IG!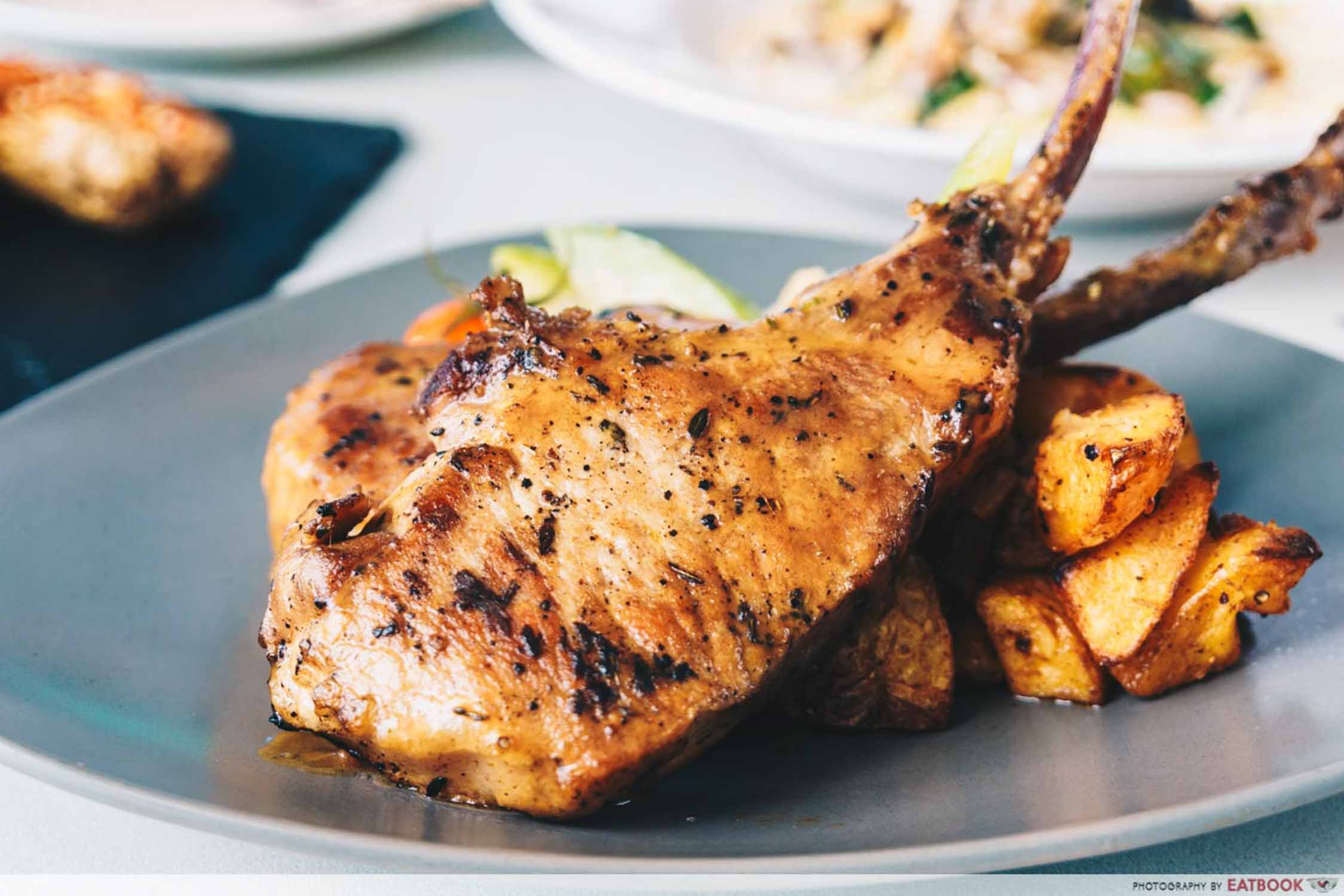 The crowning glory of Arbora's a la carte menu is the Tomahawk Pork Rib ($65++). The giant slabs of bone-in pork chops, which comes with beef jus on the side, will have you licking your lips out of sheer anticipation. In spite of its incredible thickness, the meat was skilfully seared to appropriate doneness.
Address: 109 Mount Faber Road, Faber Peak, Singapore 099203
Opening hours: Mon-Thur 4pm to 11pm, Fri 4pm to 2am, Sun 11am to 11pm
Tel: 6377 9688
Website
---
5. La Cantina In Venezia
---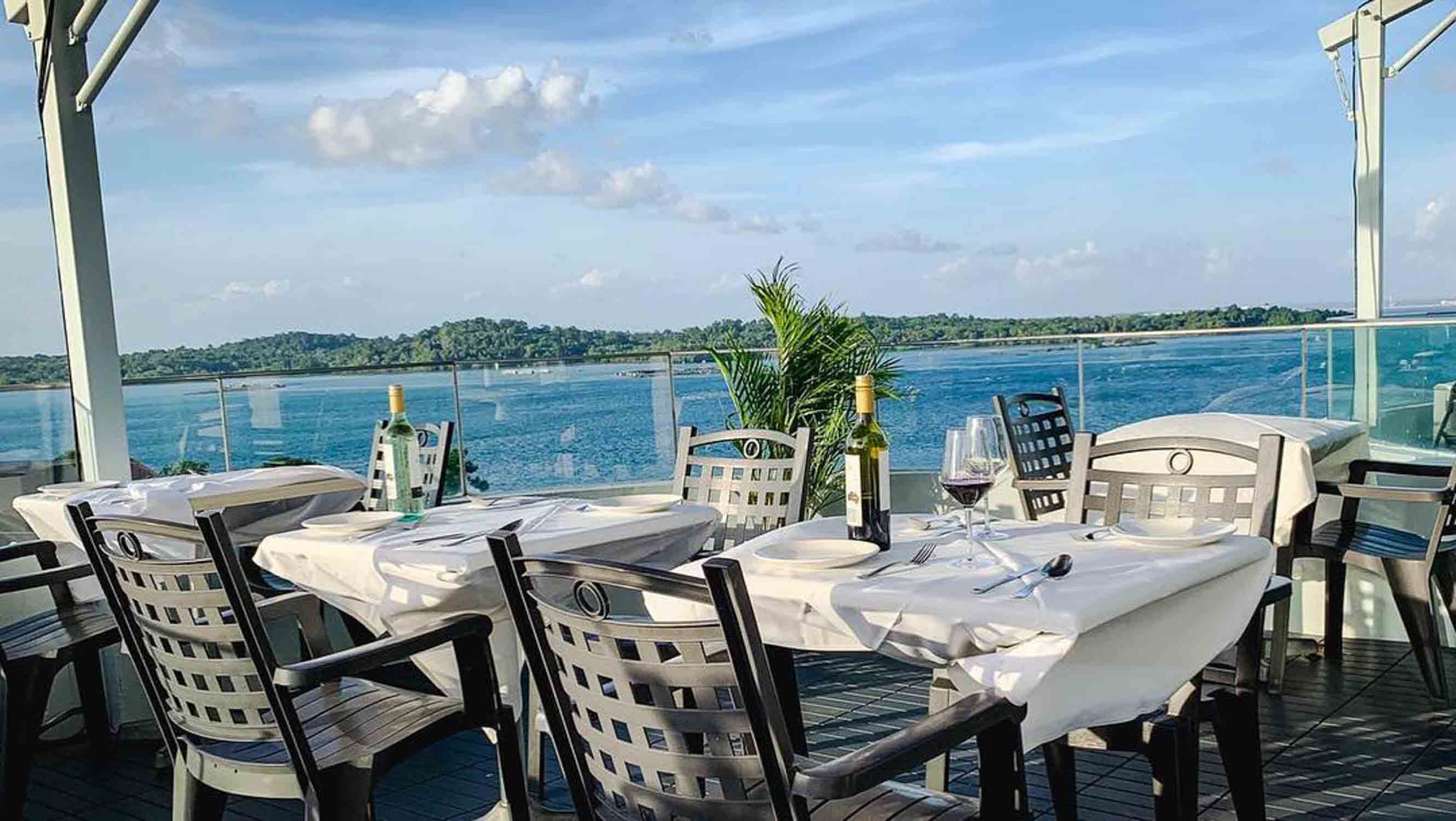 Image credit: @lacantinainvenezia
With the Italian-style decor and array of authentic Italian dishes, La Cantina In Venezia instantly transports you to the doorsteps of Venice. The elegant setting is inspired by Venetian masquerade balls of the Renaissance period, and sets the mood for you to share an intimate heart to heart conversation with your partner.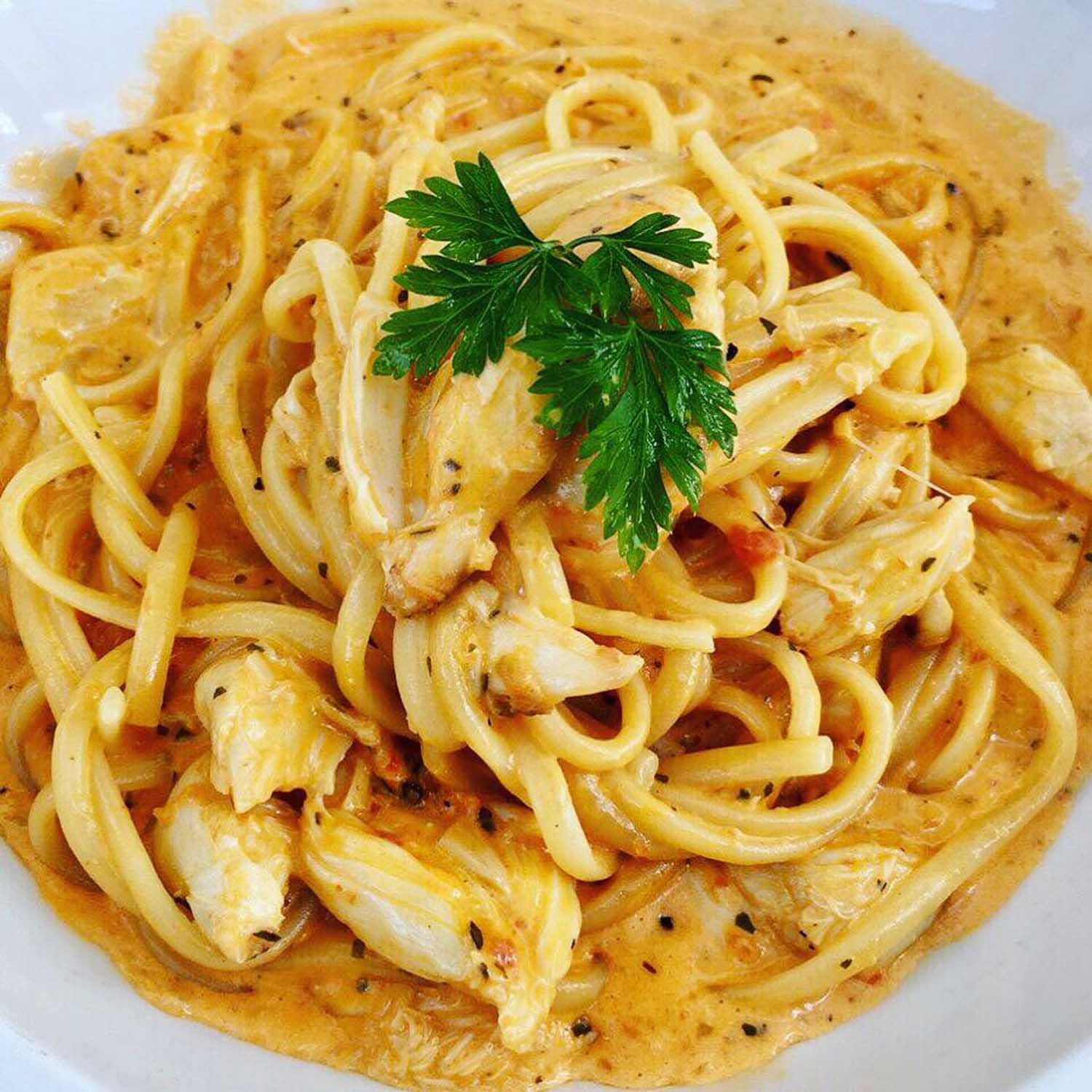 Image credit: @lacantinainvenezia
Their Linguine Al Granchio ($29.90+) is a must-try. The al dente linguine boasts large chunks of succulent crab meat bursting with briny sweetness. The pomodoro (tomato) sauce is patiently slow-cooked for five hours and laces the linguine with a touch of sweetness. Considering the lavish helping of pasta and the creaminess of the sauce, the pasta promises to be a filling treat.
Address: 1 Netheravon Road, Changi Village Hotel, Singapore 508502
Opening hours: Tue-Fri 11am to 3pm, 6pm to 11pm, Sat-Sun 11am to 11pm
Tel: 6546 9190
Website
---
6. Skai
---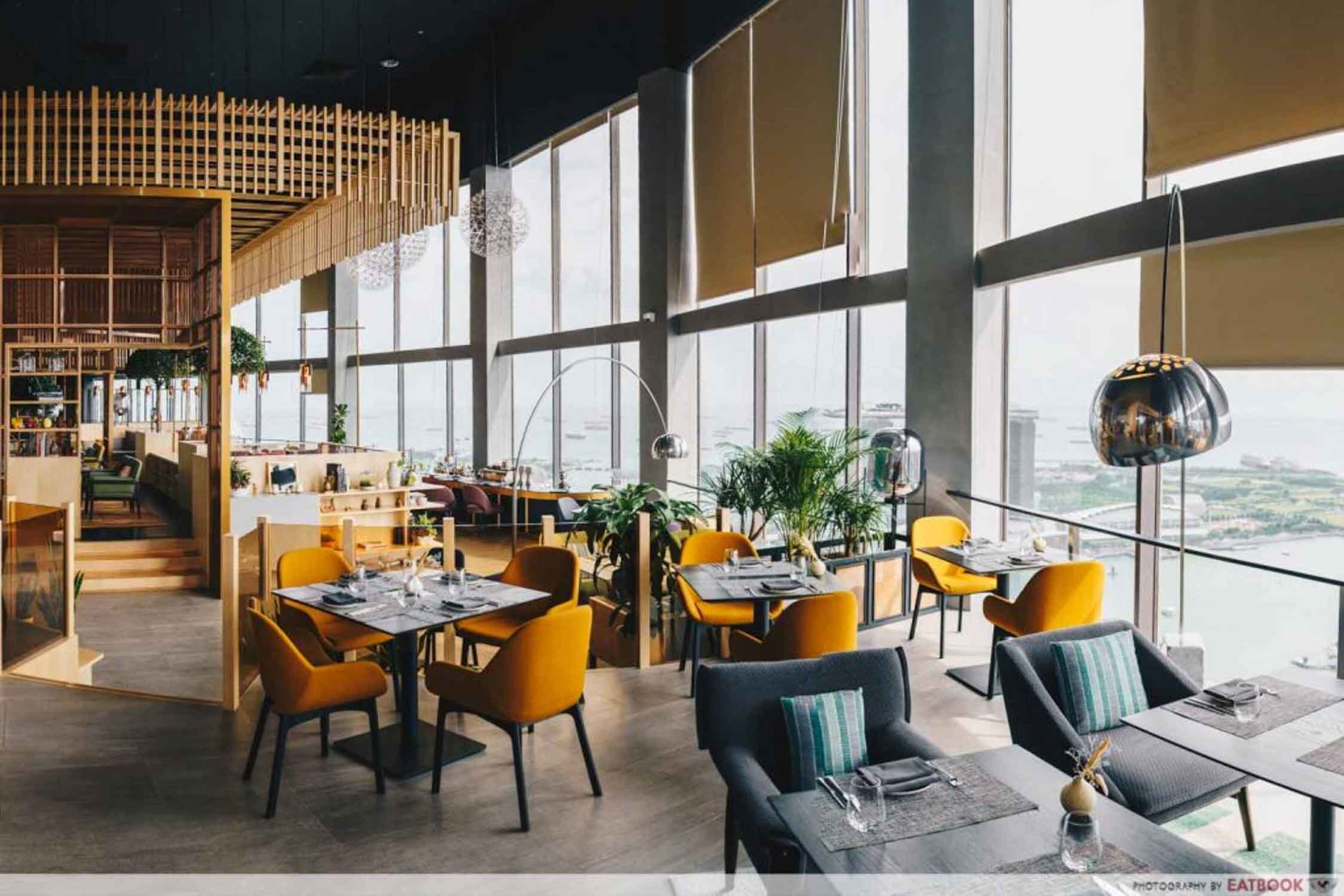 Located on the dizzying 70th floor of Swissôtel The Stamford, spending Valentine's at Skai comes with the perk of enjoying an impressive panoramic view of Singapore's skyline. In a fitting celebration of romance, Skai has introduced an exclusive Valentine's Day Set Dinner ($248++ for five courses with a glass of champagne), which treats you to a decadent selection of food.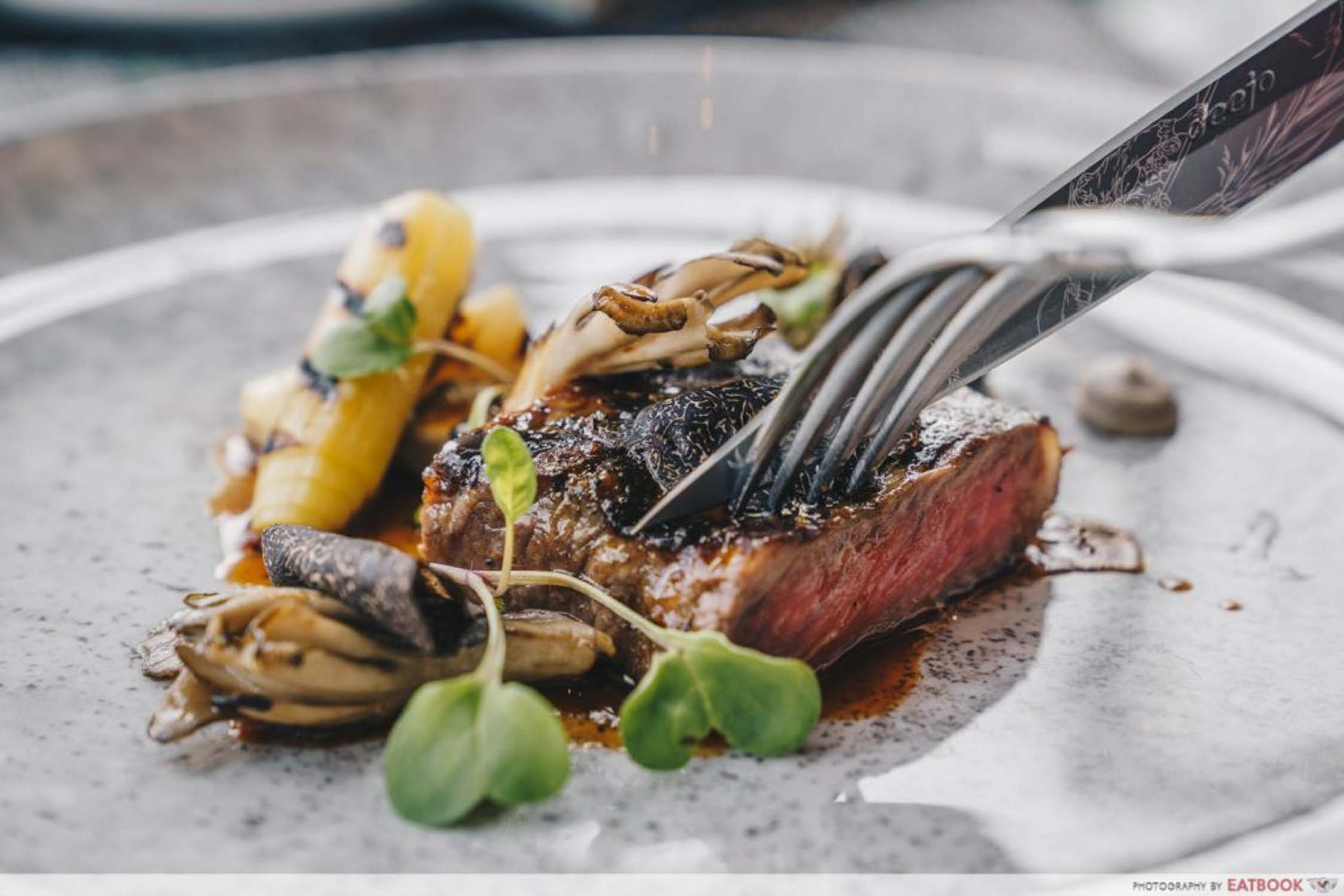 Special mention goes out to their Wylarah Wagyu Strip, which arrives adorned with slivers of shaved black truffle. Wylarah wagyu represents the crème de la crème of wagyu and its quality shone in its melt-in-your-mouth tenderness. Every side is prudently chosen, as the shiitake and maitake mushrooms duo, grilled leek, and kombu strips balanced out the beef's robust flavours.
Check out our full review of Skai here!
SKAI Review: Uni Risotto And Truffle Wagyu Valentine's Day Dinner With A 70th-Floor View
Address: 2 Stamford Road, Level 70, Equinox Complex, Swissôtel The Stamford, Singapore 178882
Opening hours: Mon-Fri 12pm to 2:30pm, 6pm to 10pm, Sat-Sun 12pm to 3:30pm, 6pm to 10pm
Tel: 6837 3322
Website
---
7. Aura
---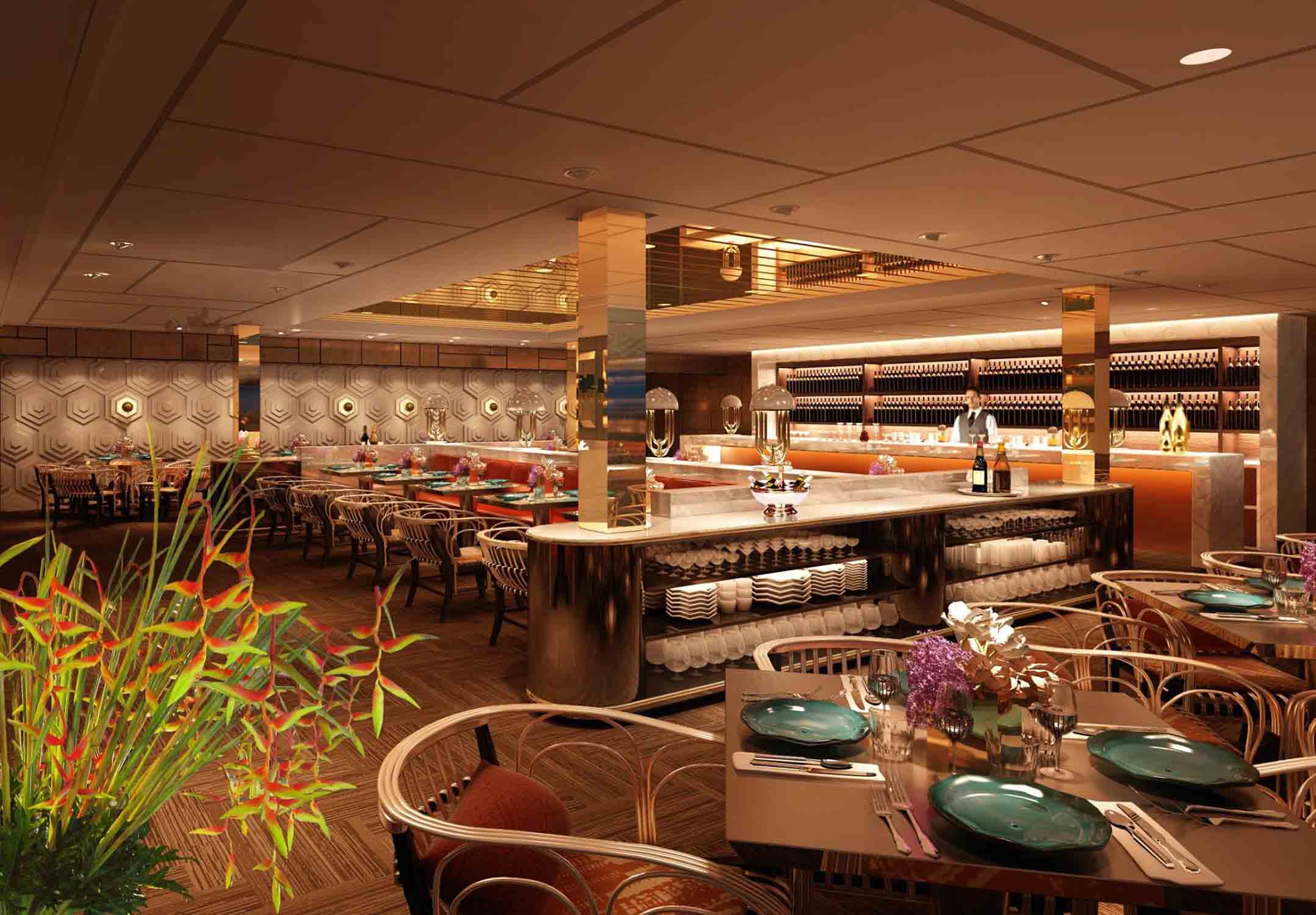 Image credit: Aura's Facebook page
Covering two floors of National Gallery Singapore, Aura is an Italian restaurant overseen by Michelin-starred chef Beppe De Vito. Their exclusive Valentine's Day Menu ($178++ per person) comes with complimentary access to the elegant Sky Lounge. Supplying a stunning view of the brightly-illuminated Marina Bay skyline, it is a classy location to relish their Amorini, a cocktail specially designed for V-day.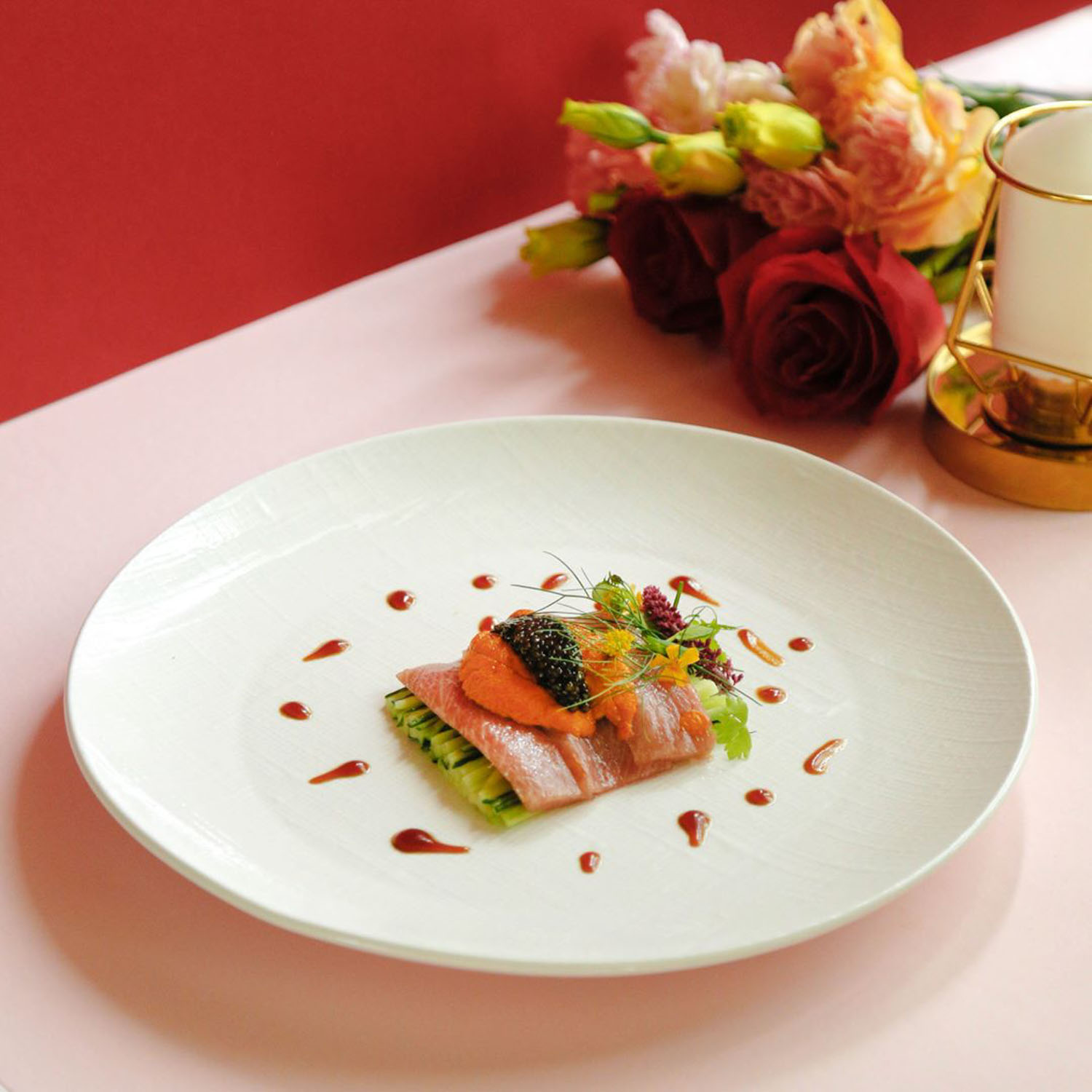 Image credit: @aura.nationalgallery
The curated selection screams of luxury, from an appetiser of tuna belly garnished with sea urchin and Oscietra caviar to a main of wild Italian seabass served with truffle and red wine sauce. If you are a connoisseur of fine wine, opt for the Wine Pairing Menu ($68++ per person), and appreciate a tipple of Louis Latour Chardonnay 2015 or Giesen Riesling 2017.
Address: 1 St. Andrews Road, #05-03, National Gallery Singapore, Singapore 178957
Opening hours: Daily 12pm to 2pm, 6:30pm to 10pm
Tel: 6866 1977
Website
---
8. The Halia
---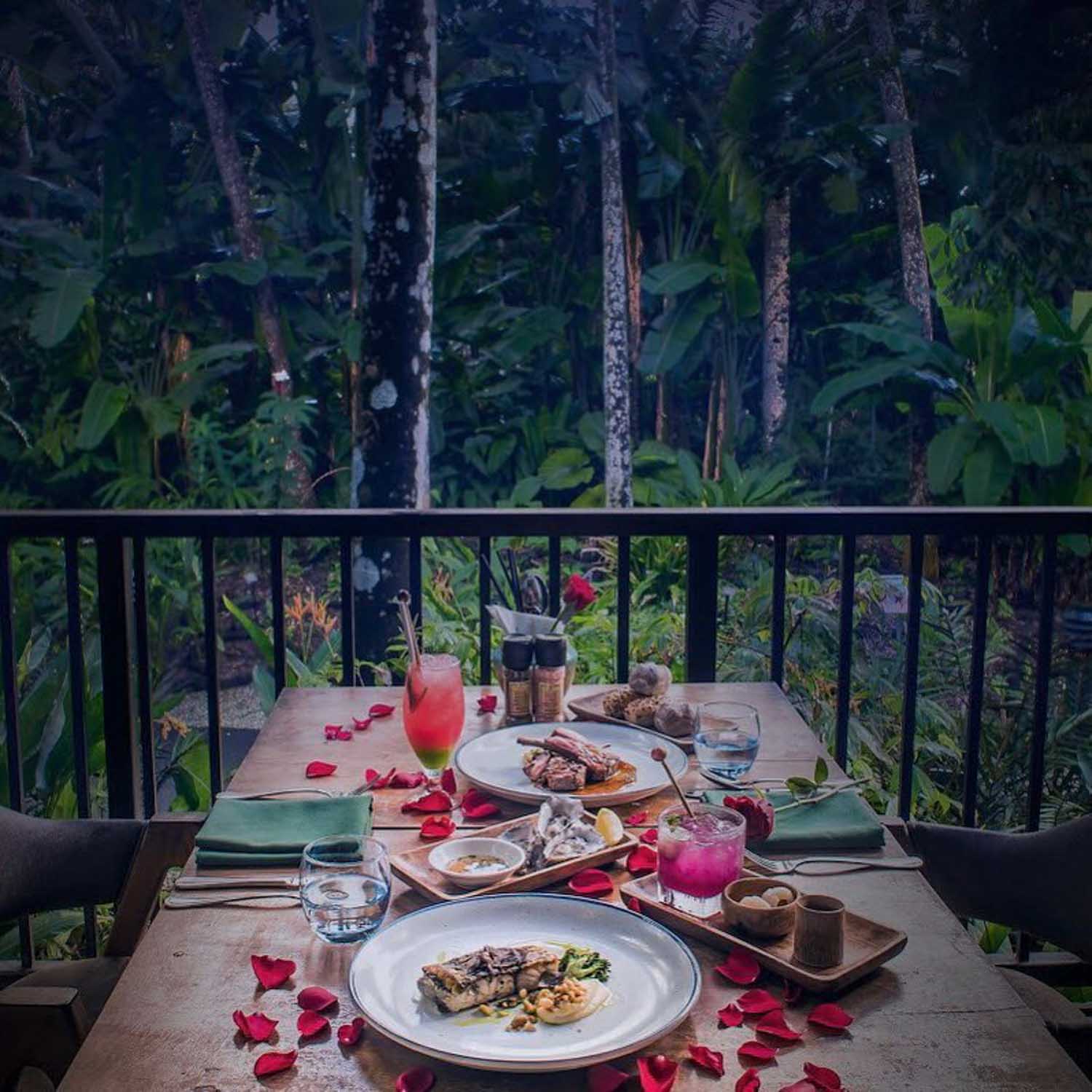 Image credits: @thehalia
Halia translates to 'ginger' in Malay, and The Halia pays homage to Singapore Botanic Garden's Ginger Garden where it's nestled in. Enclosed by majestic palm trees and verdant greenery, you are granted a serene setting to appreciate each other's company.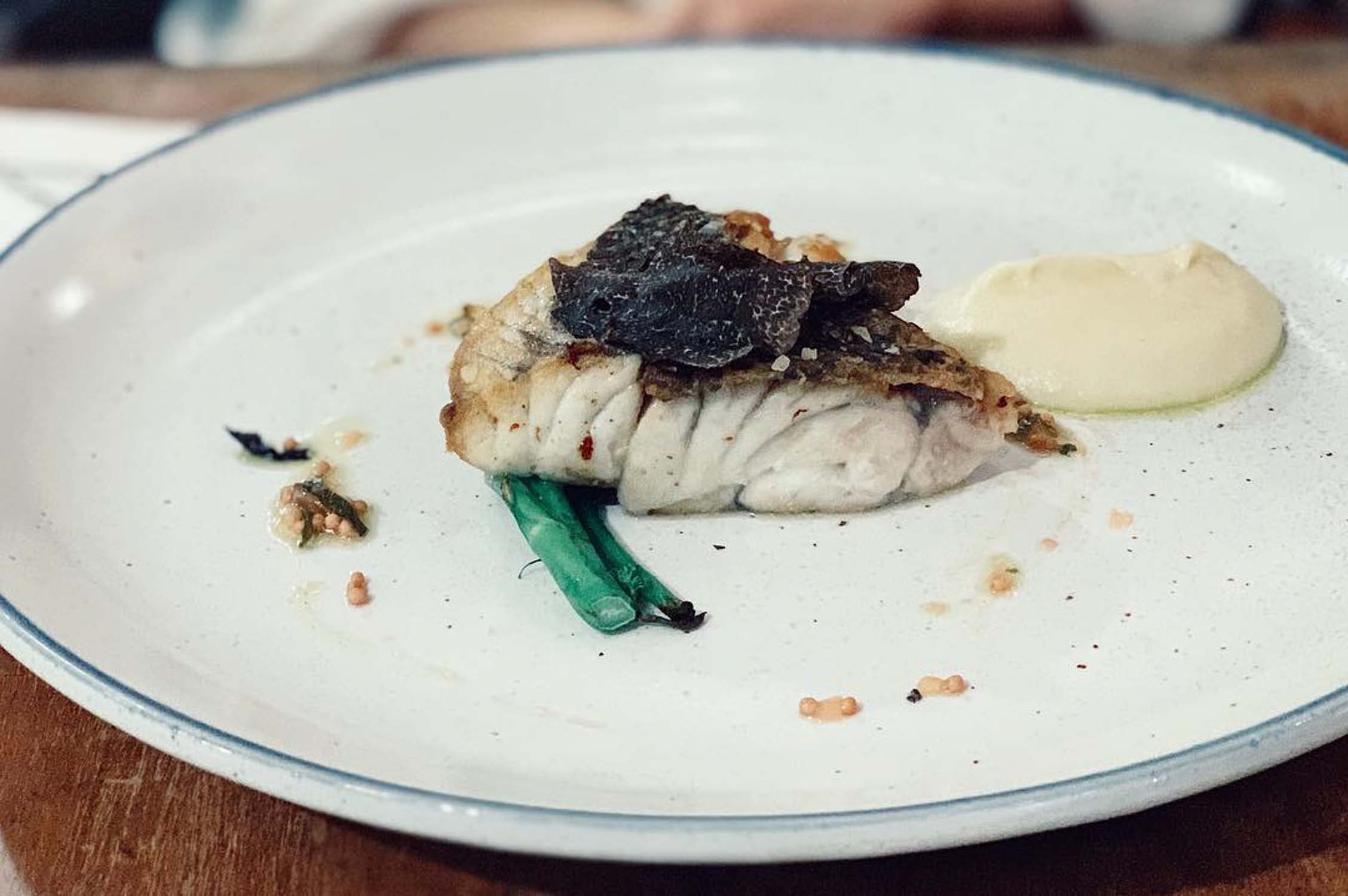 Image credits: @jouste
Despite its open-air setting, The Halia provides a cool environment to feast on its Valentine's Day Couple Sharing Menu ($270++ per couple). This 10-course extravaganza will surprise you with novel creations such as smoked hiramasa kingfish and barramundi served with a dollop of ginger milk.
Address: 1 Cluny Road, Ginger Garden, Singapore Botanic Gardens, Singapore
Opening hours: Mon-Fri 9am to 10pm, Sat-Sun 10am to 10pm
Tel: 8444 1148
Website
---
9. The Ottomani
---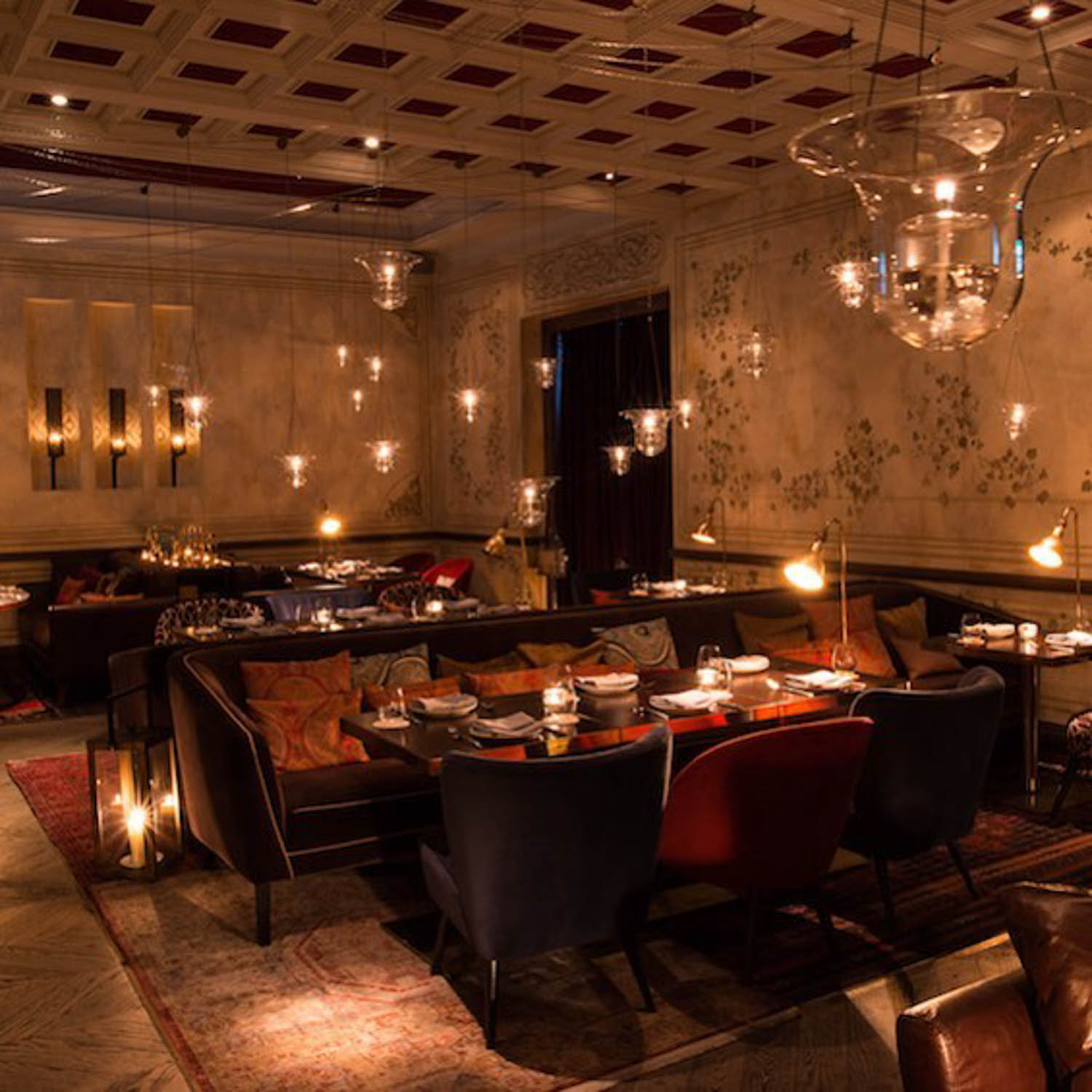 Image credit: @theottomani
The Ottomani lives up to its proclamation as Singapore's sexiest space with its alluring oil lanterns and seductive candles. Apart from its A La Carte Tasting Menu ($108++ per person), the eatery is also offering a seven-course Valentine's Day Menu ($296++ per couple) with funkily-named creations such as Bodegas, Vios, and Point Arena.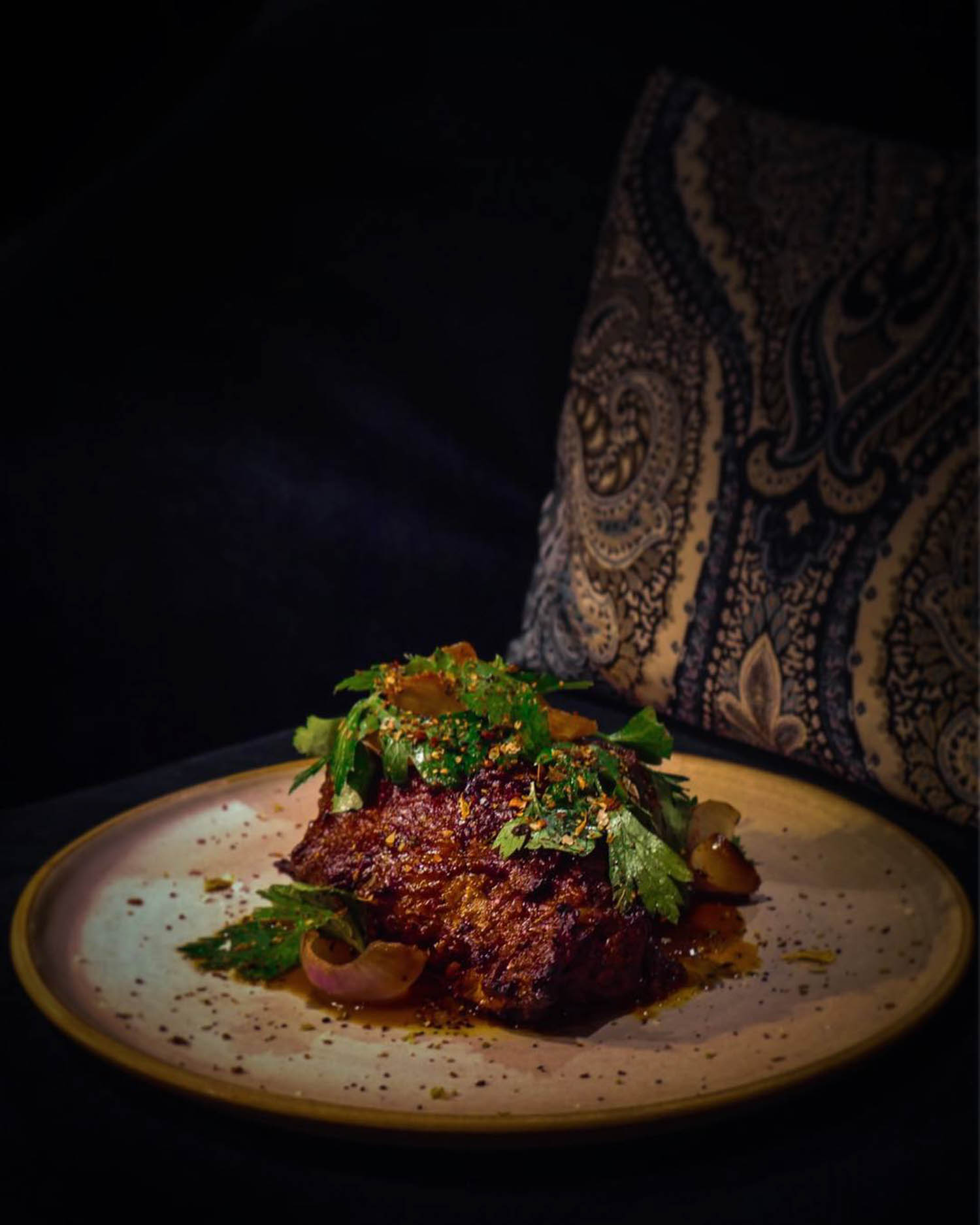 Image credit: @theottomani
The star of the show is the In Marshall. Slow roasted overnight in a wood-fired earth pit, the fork-tender omega-lamb shoulder effuses a deep smokiness. I especially loved how the sumac gremolata, which is a tangy dressing made from grated garlic, parsley, lemon, and sumac, alleviates the gaminess of the lamb.
Address: 48 Peck Seah Street, #01-01A, Singapore 079317
Opening hours: Mon-Sat 6pm to 12am
Tel: 9231 9316
Website
---
10. Botanico at The Garage
---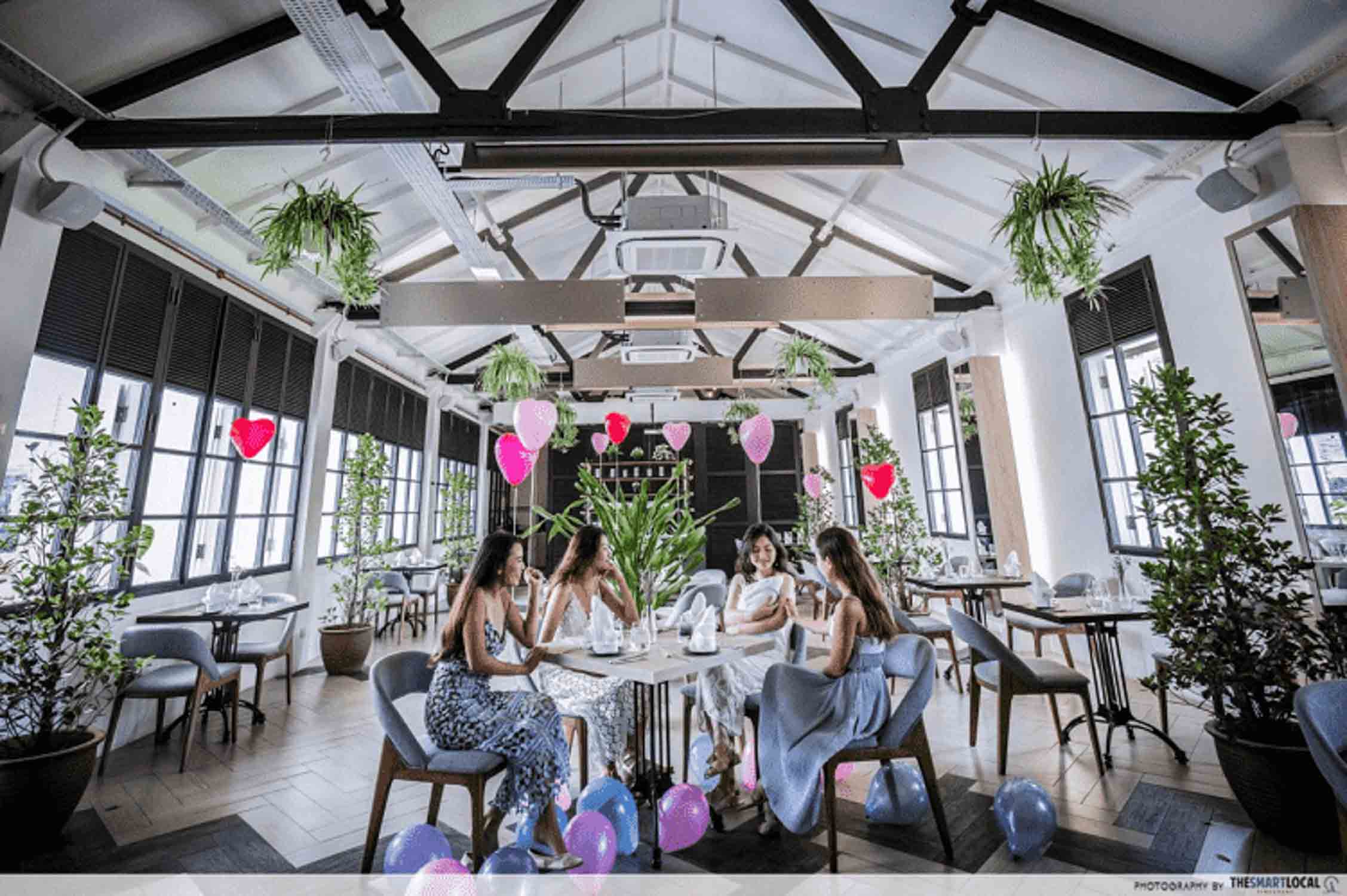 Set on the second floor of an Art Deco-inspired colonial building, Botanico at The Garage is a chic location for a special occasion like Valentine's Day. Be sure to escort your date to Botanico's outdoor terrace. Illuminated with fairy lights at night, the air-conditioned space will leave both of you spellbound.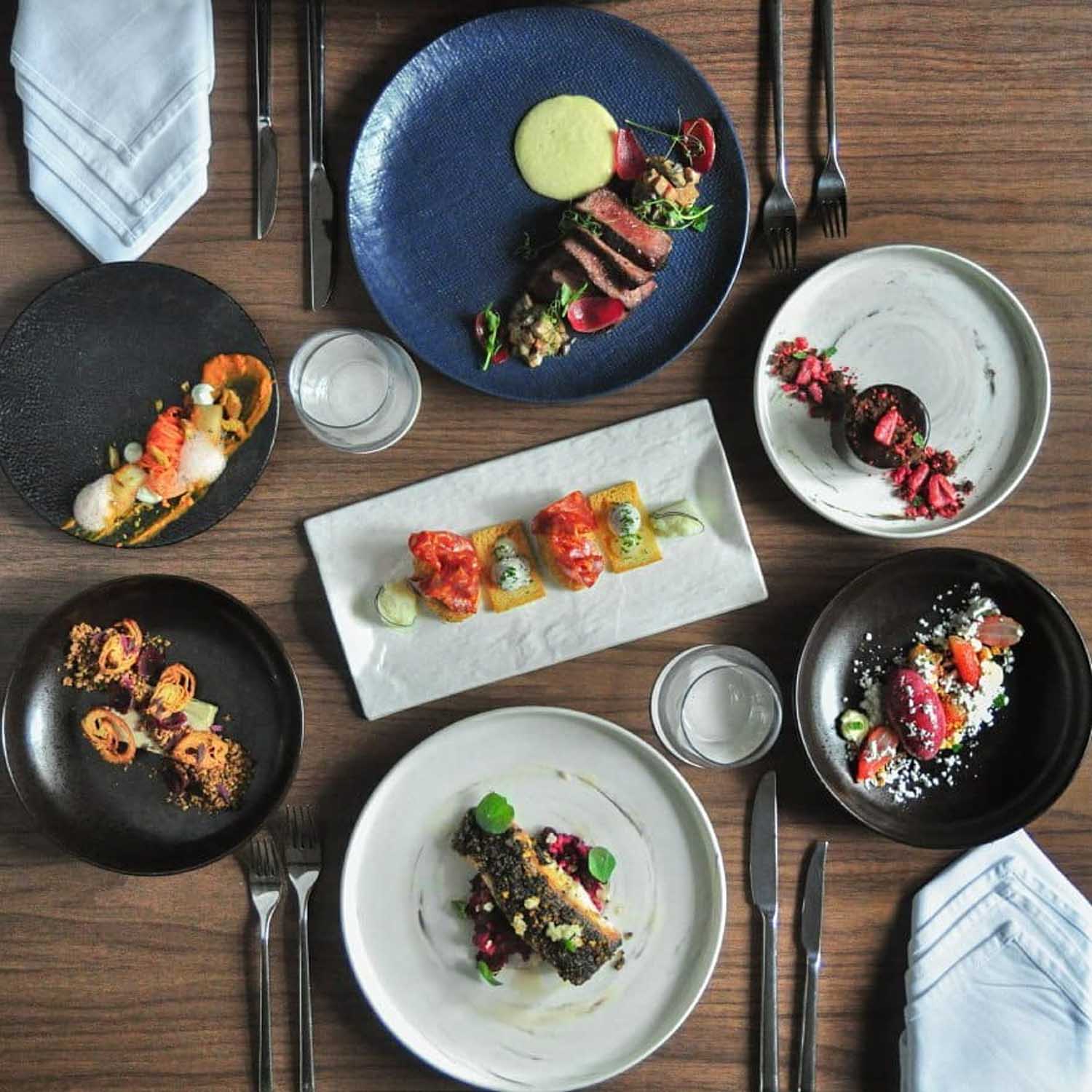 Image credit: @botanicosg
European cuisine injected with a modern Asian twist, their Valentine's Day Menu ($250++ per couple) is a four-course gastronomic spree with dishes such as pan seared foie gras, Hokkaido scallops carpaccio, and wagyu striploin. No Valentine's Day is complete without chocolate, and I loved how Botanico incorporated chocolate in both its Venus cocktail and chocolate praline cake.
Address: 50 Cluny Park Road, Singapore Botanic Gardens, Singapore 257488
Opening hours: Sat-Sun 11am to 3pm
Tel: 9831 1106
Website
---
11. Royal Albatross
---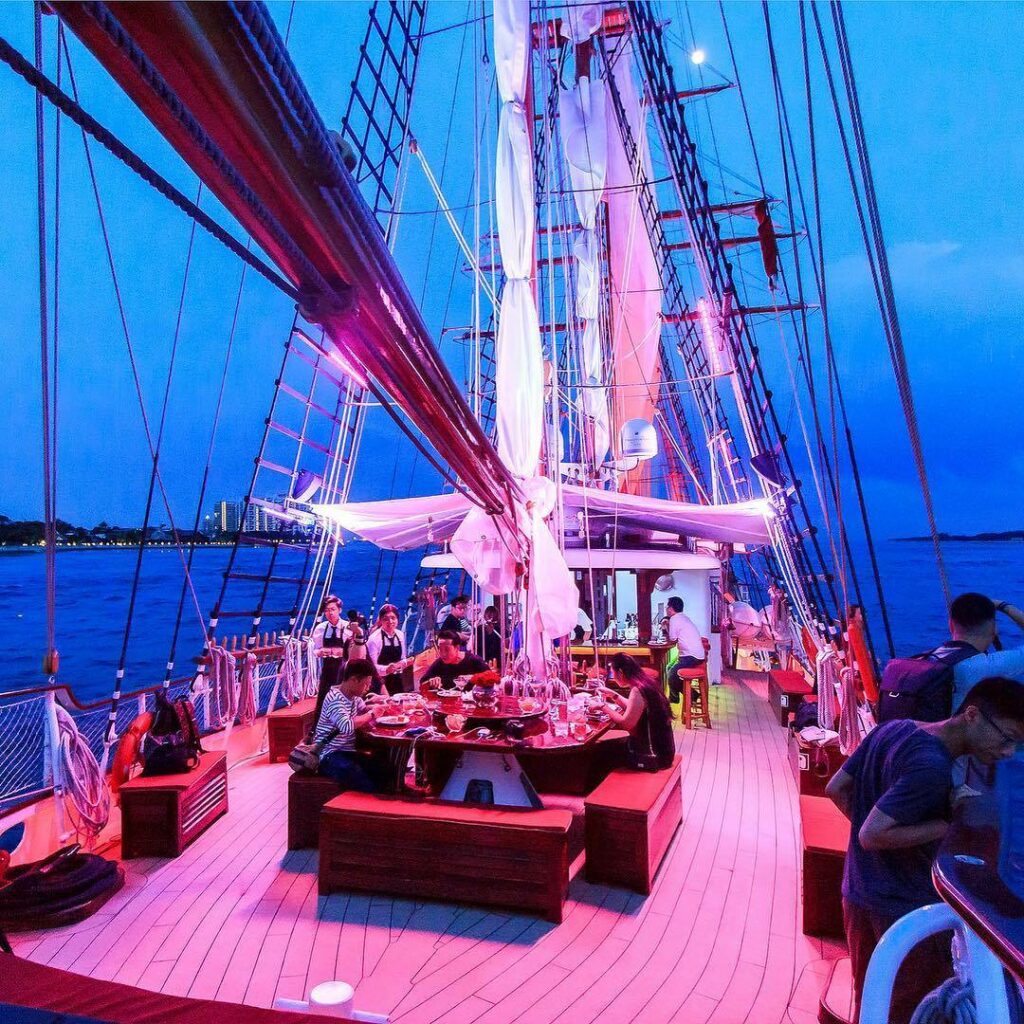 Image credit: Royal Albartross' Facebook page
Spoiler: Royal Albatross doesn't strictly qualify as a restaurant. Instead, it is a tall sail providing a two and a half hour Valentine's Love Week Dinner Cruise ($195 per person). Begin your whirlwind date with a dockside reception at Resort World Sentosa before experiencing an idyllic cruise around St. John's and Lazarus Island.
While you are on board, share in a three-course dinner with your loved one at your own private table on the upper deck. The set meal comes with a platter for two, where you can share mains such as a Crispy Polenta Salmon Fillet and Roasted Lamb Leg.
With your date tightly clasped in your arms as you gaze upon the horizon, stars glittering in the night sky and the gentle ocean breeze coursing through your hair, it's impossible not to fall in love.
Address: 8 Sentosa Gateway, Sentosa Island, Singapore 098269
Opening hours: Mon-Tue 10:30am to 2:30pm, Wed-Thur 10:30am to 8pm, Fri 10:30am to 2:30pm, 7pm to 9:30pm, Sat 10:30am to 2:30pm, 6pm to 8:30pm, Sun 10:30am to 2:30pm, 5pm to 7:30pm
Tel: 6863 9585
Website
---
Fall in love again at these Valentine's Day Restaurants!
---
Show your appreciation for the one you love by treating them to an unforgettable Valentine Day experience at these 11 romantic restaurants! Let us know in the comments below if we have missed out on any other romantic restaurants in Singapore!