Fico is a new Italian restaurant by Mirko Febbrile in East Coast Park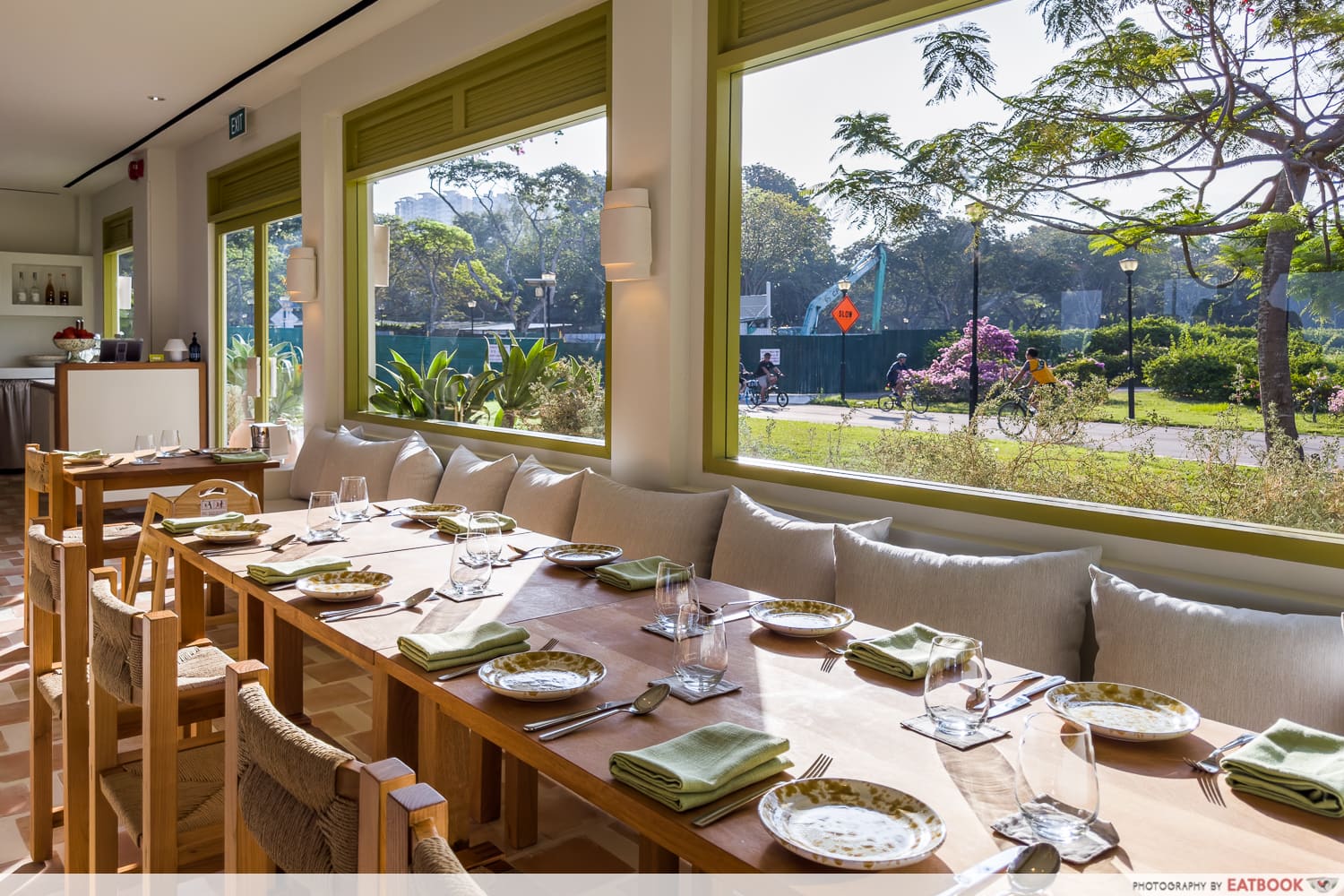 If your social media feed is anything like mine, you'll have seen a recent spate of posts featuring an Italian restaurant in East Coast Park that you might not believe is in Singapore. This latest restaurant in the sprawling park is none other than Fico, a concept that's meant to be back to basics and about enjoying the moment as a community.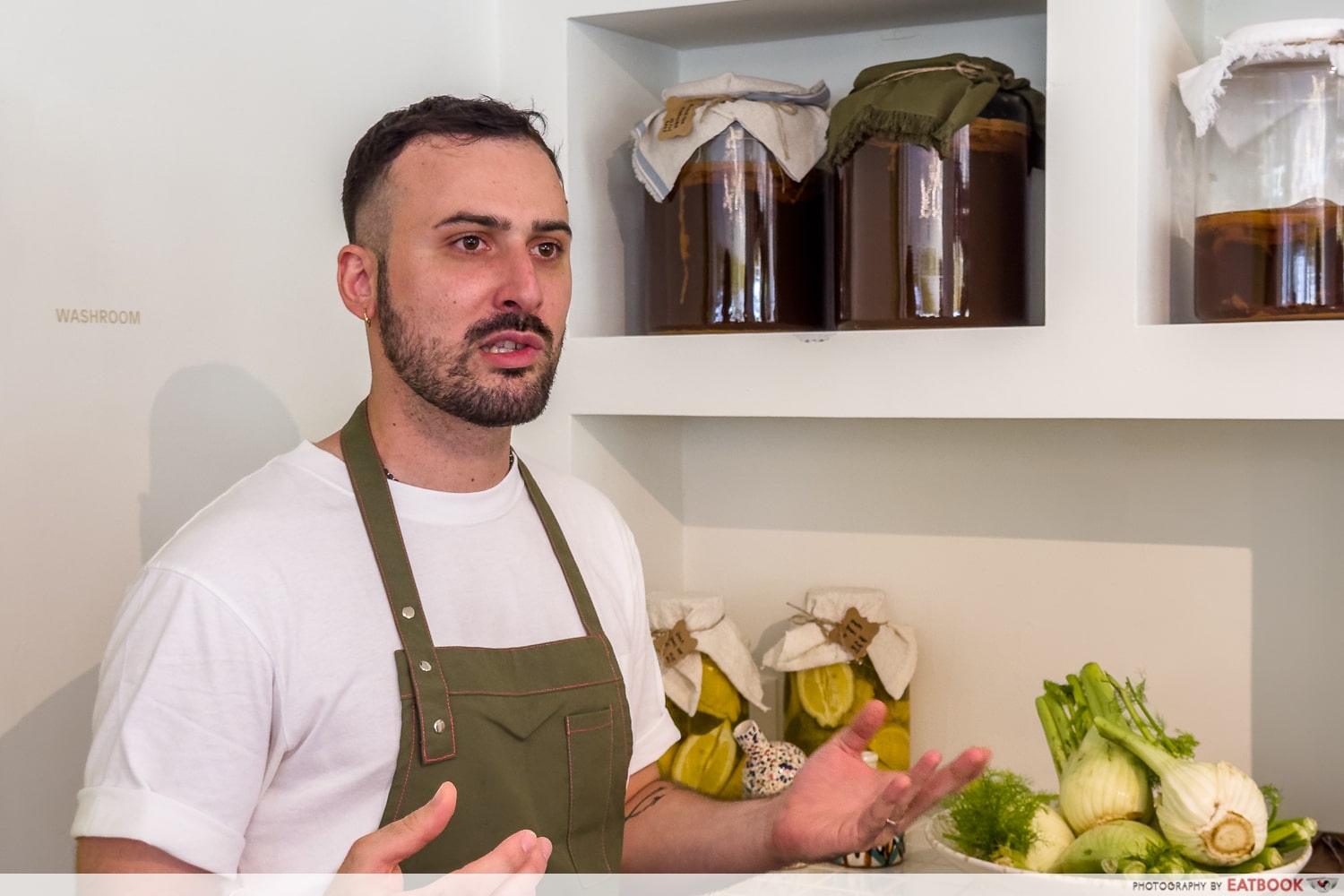 The man behind Fico is Chef-Partner Mirko Febbrile, who used to head Michelin-starred Braci, among others. Fico is his first restaurant, where his cuisine goes back to his Pugliese roots, embracing the Southern Italian region's no-frills, no-waste sort of dining traditions.
Food at Fico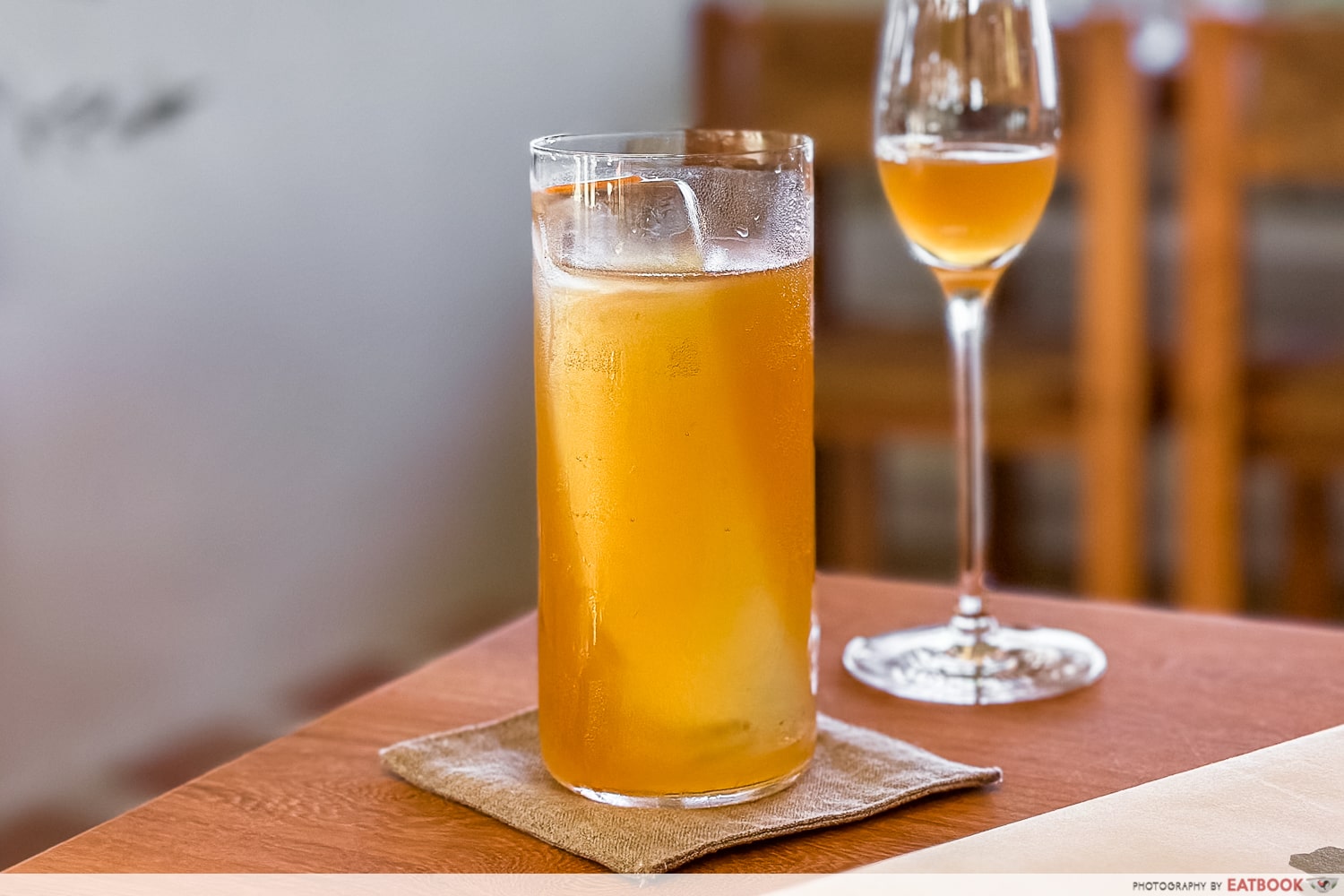 There are three kombucha flavours on the menu—all fermented in-house—alongside a host of other house-made preserves and more. Each priced at $12++, you can choose from Apricot, which IMO tastes and smells like Aesop's Geranium Leaf range, with a touch of mellow from the base of milk oolong, Pineapple, and Blackberry.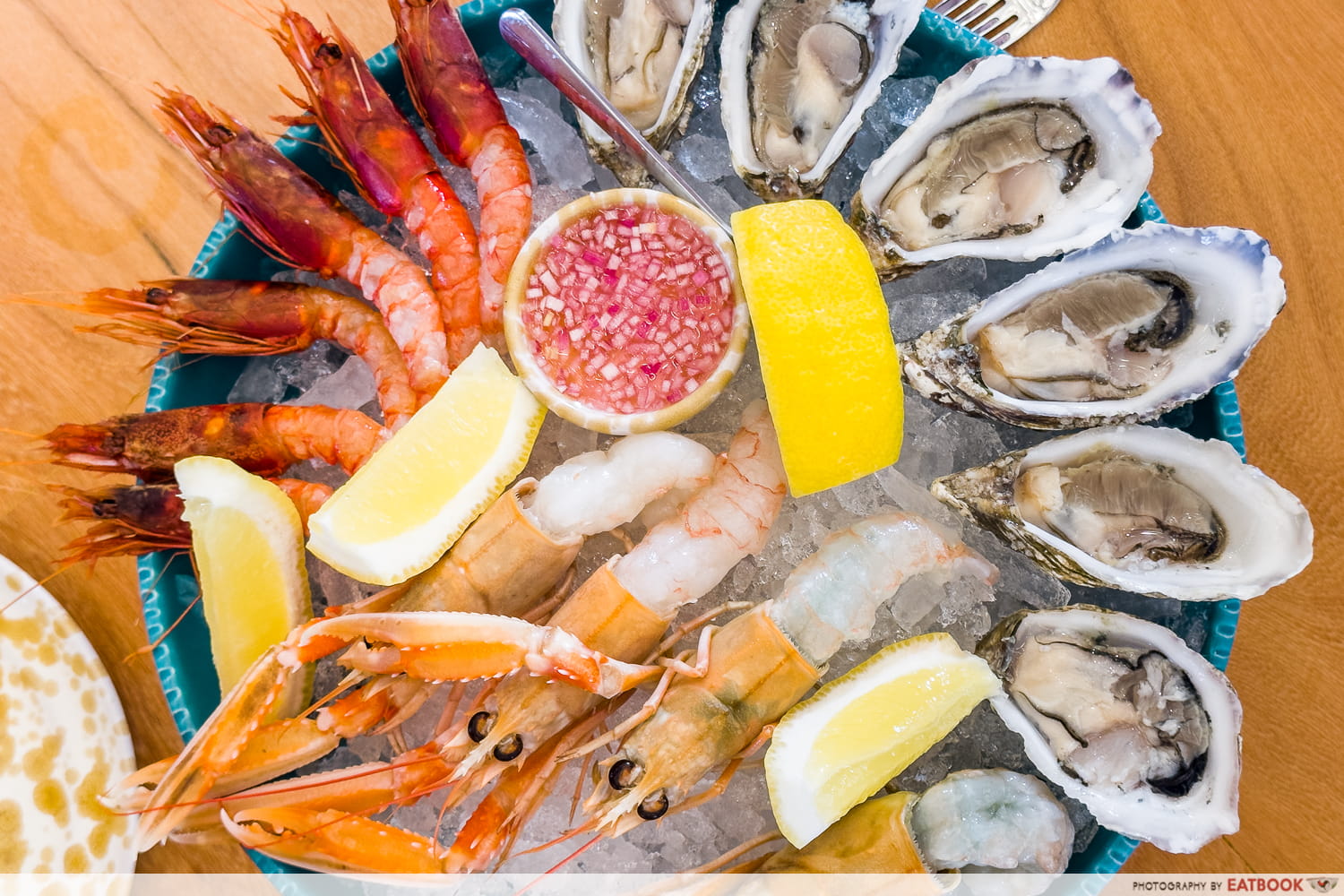 If you're here with a bunch of people, cool off from the tropical heat with Fico Seafood Platter ($98++), a melange of Fin de Claire oysters, red prawns, and scampi that lend your seaside dining experience some extra feels.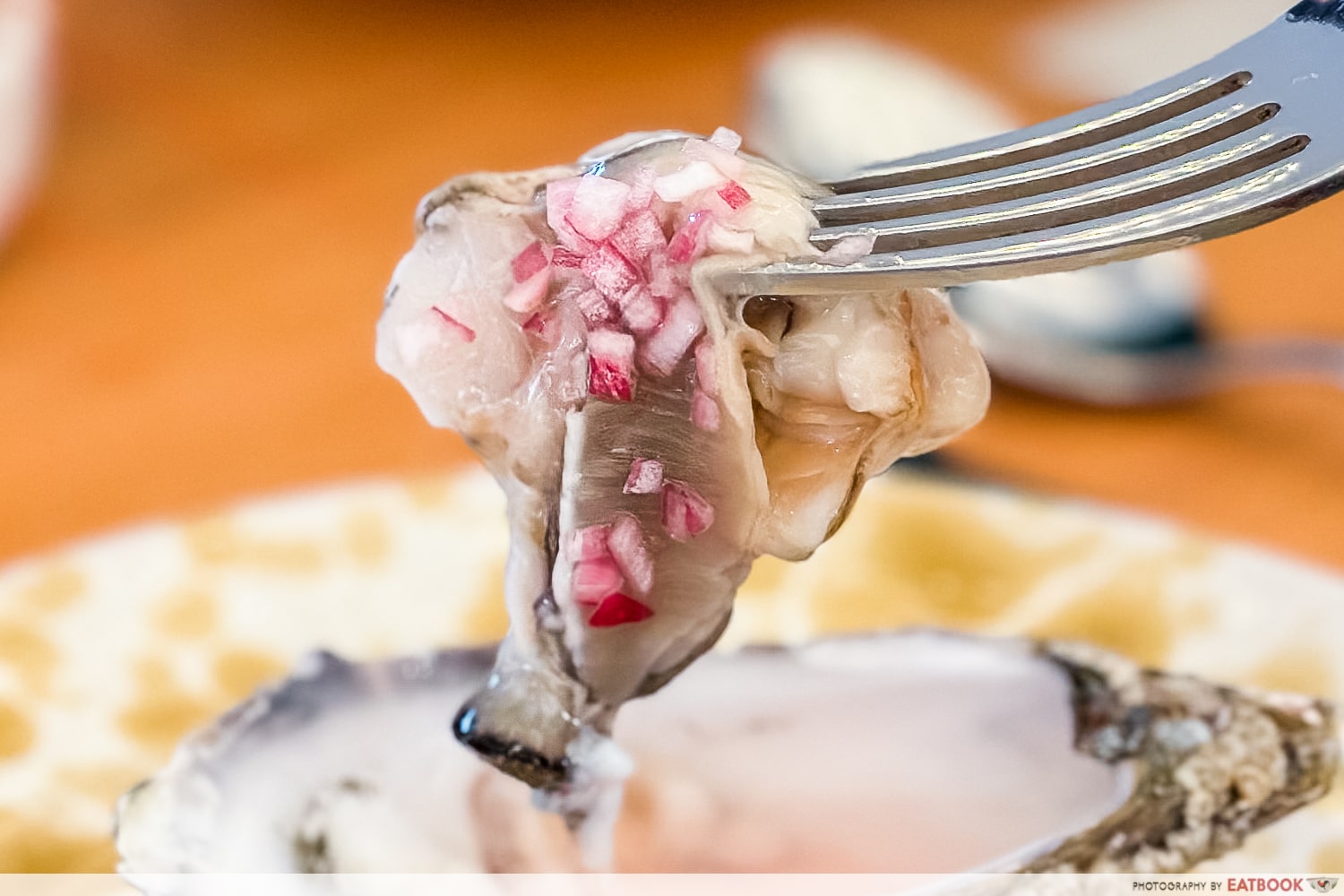 The seafood served on this platter is sourced fresh from around the world, depending on seasonality.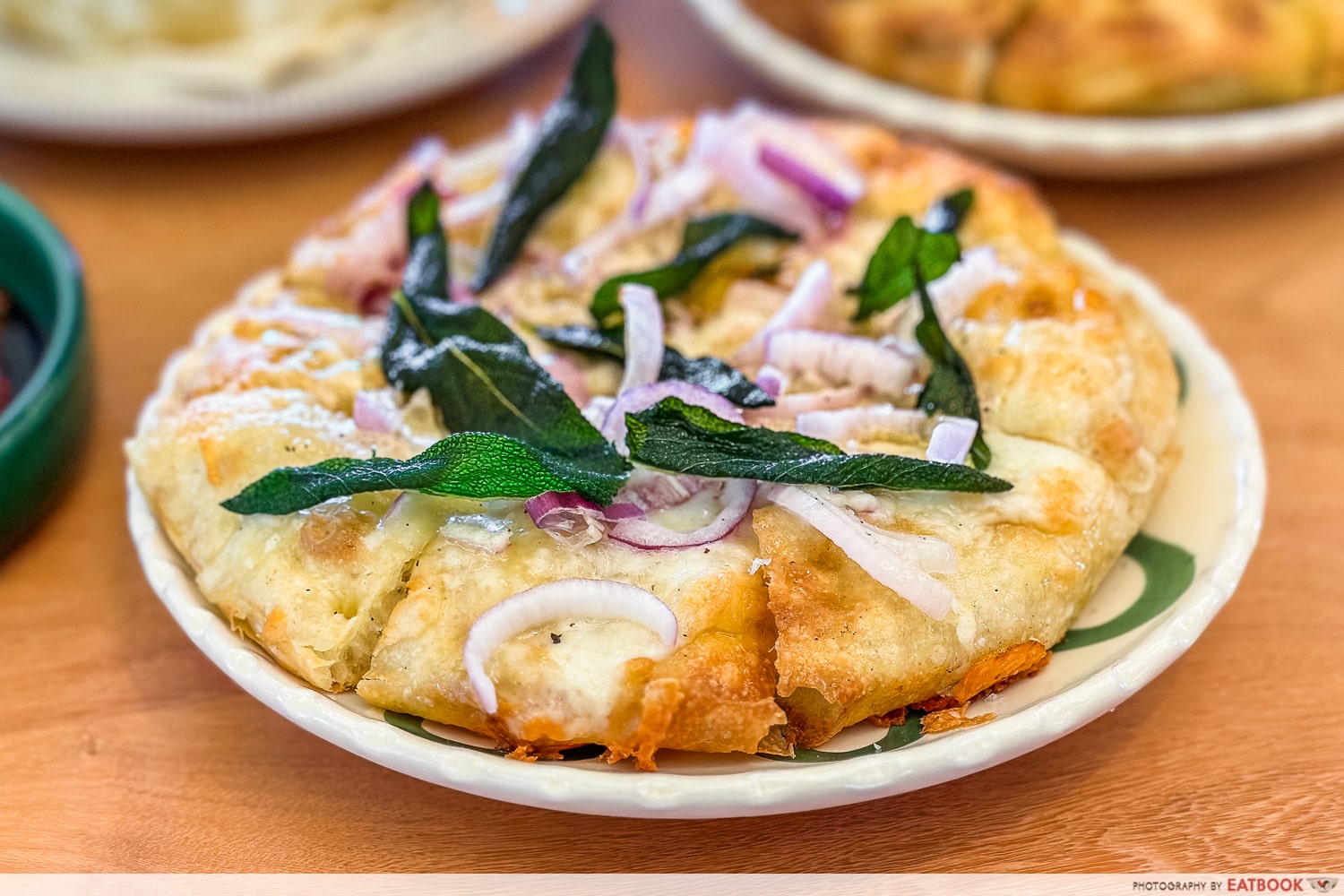 One of the highlight dishes that have been seeing rave reviews is Mirko's trio of focaccina, described as the love child of focaccia and pizza. If you love cheese and honey, go for the Tropea Onions ($18++), a nine-inch pie topped with goat milk blue cheese, fior di latte, fried sage, and Sulla honey.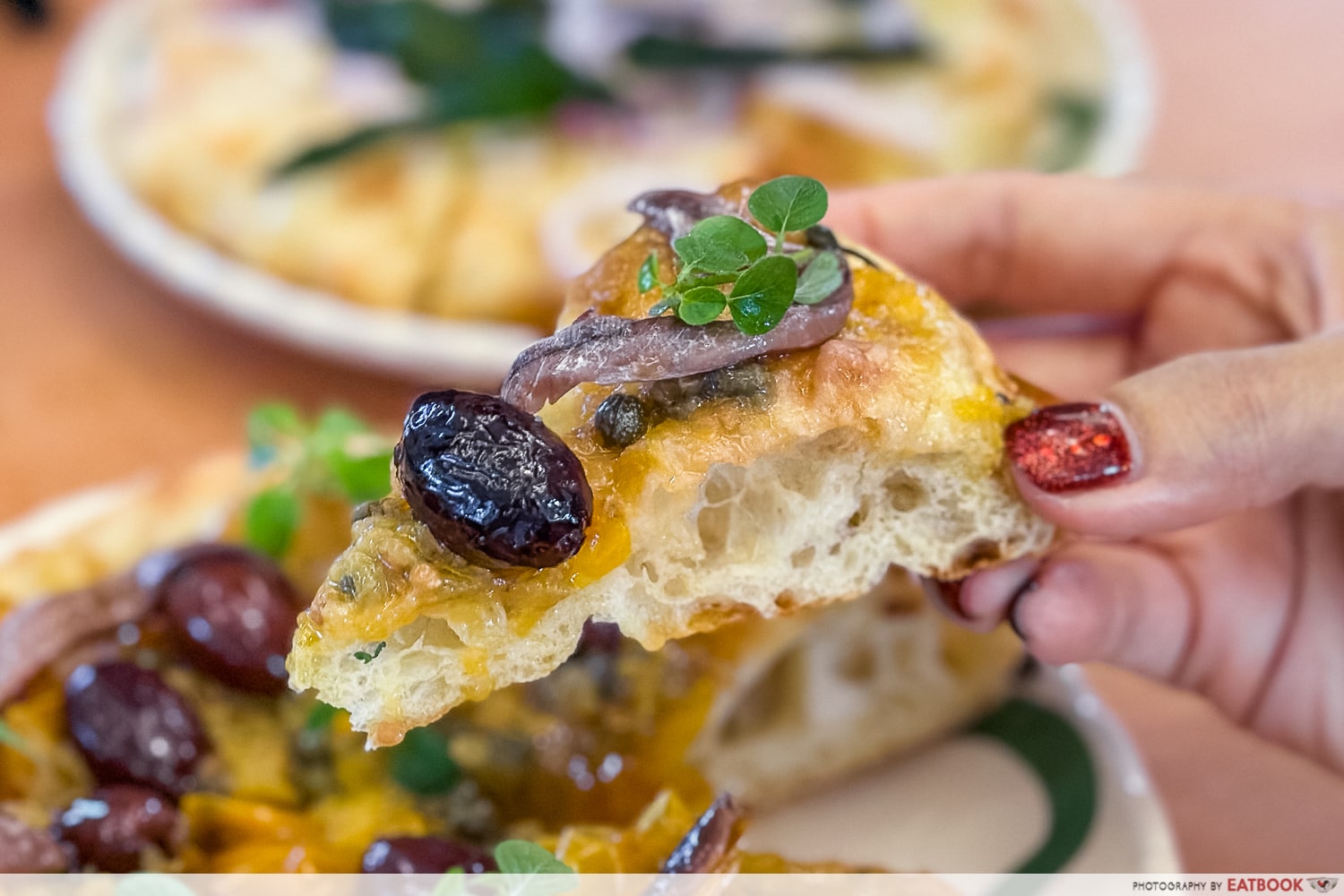 There's also Piennolo Giallo Tomatoes ($22++), a crowd favourite with its Gulf anchovies, baked black olives, capers and oregano—it's like pizza, but better.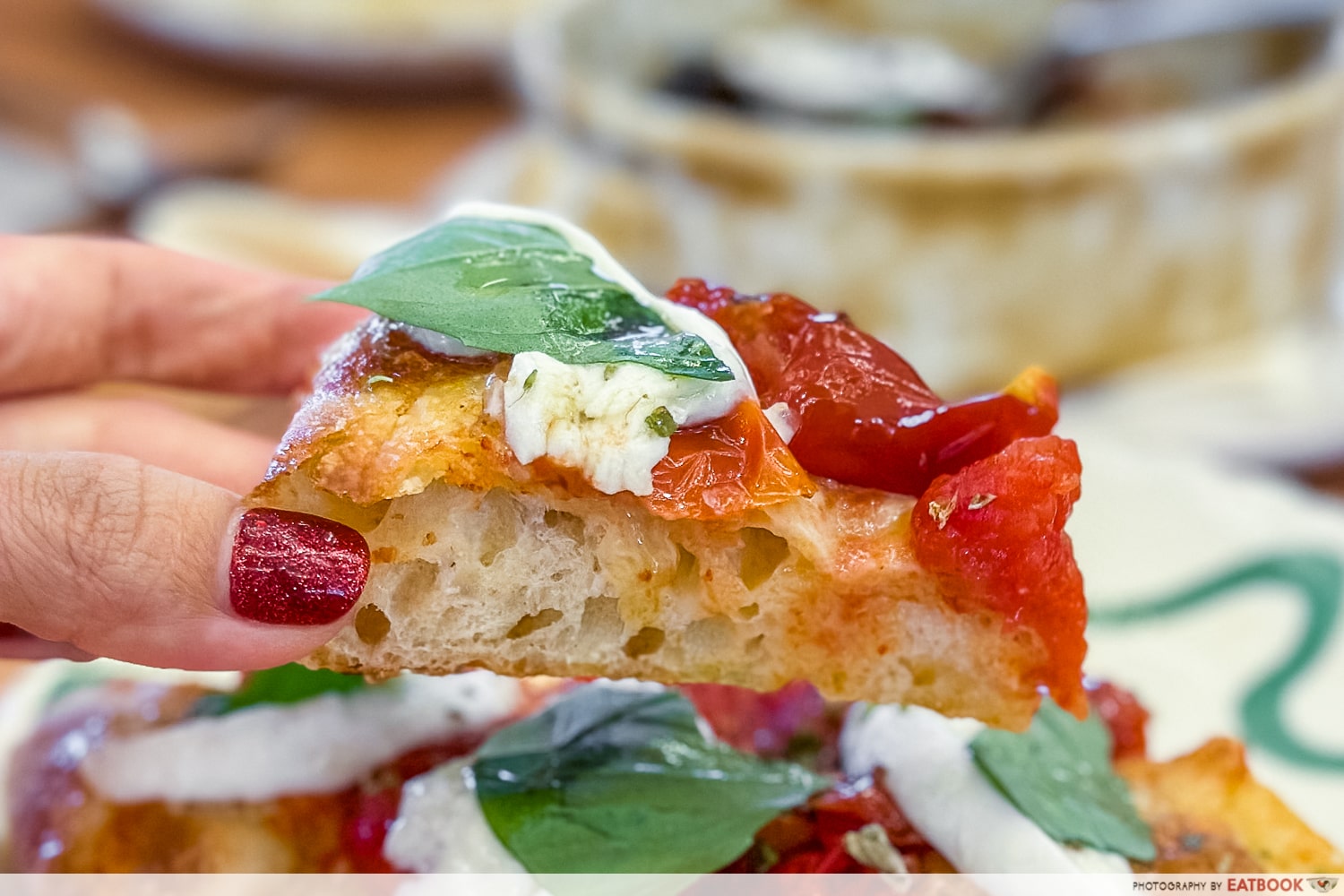 My favourite was San Marzano Tomatoes ($22++), which sees the intense-flavoured fruit paired with its classic mates of bufala mozzarella, fresh basil leaves, and extra virgin olive oil.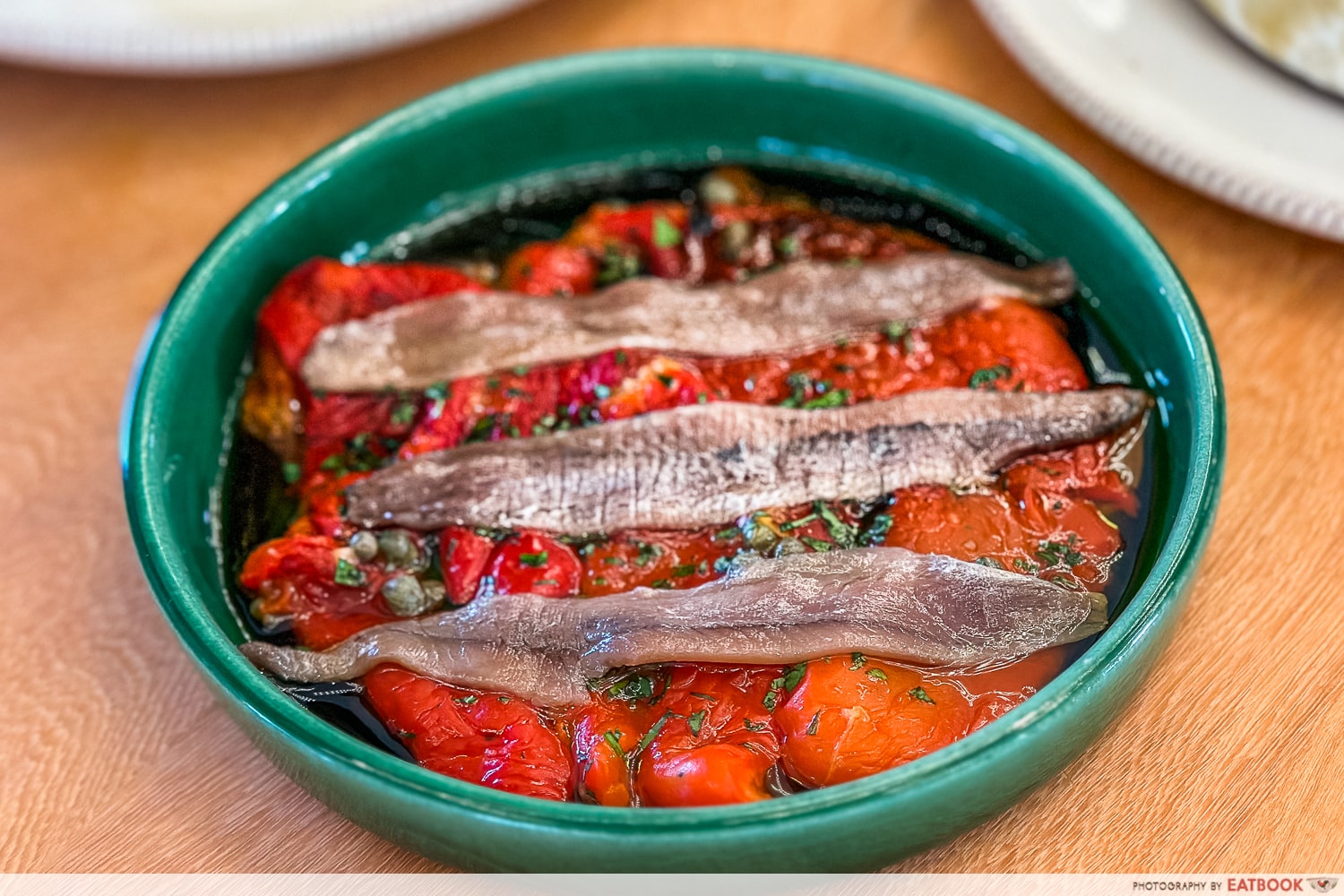 While you're enjoying the focaccina, mix it up a little with a selection of small plates, such as Charred Red Peppers ($18++), where the bright, piquant sweetness of the Pugliese peppers is balanced out with Cantabrico anchovies and capers.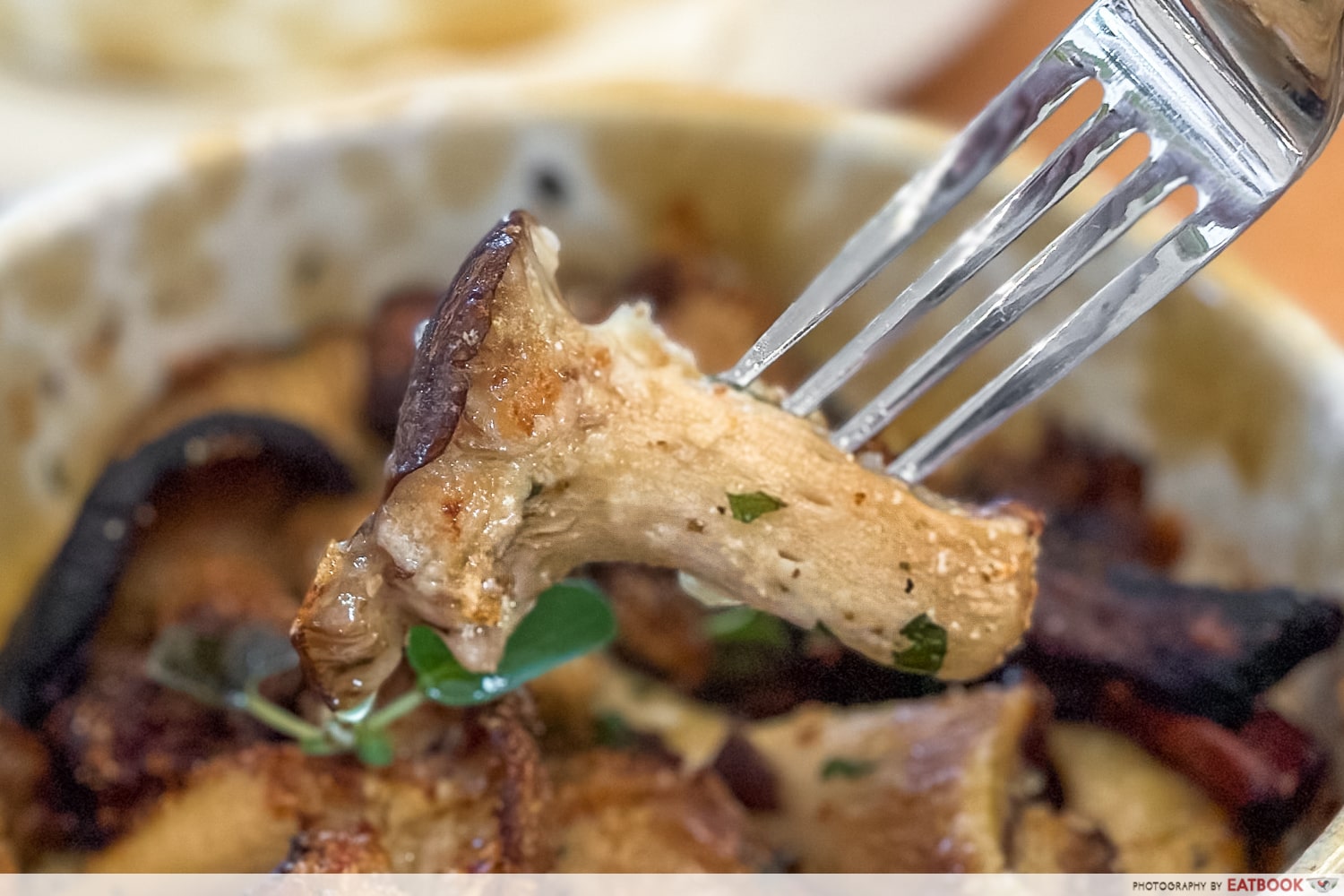 For something earthy, stop your search at Cardoncelli Mushrooms ($21++), or King Trumpet Mushrooms. Grilled and baked, these lightly charred and meaty umami bombs are just the right counter to the smorgasbord of other flavours going on in the other plates.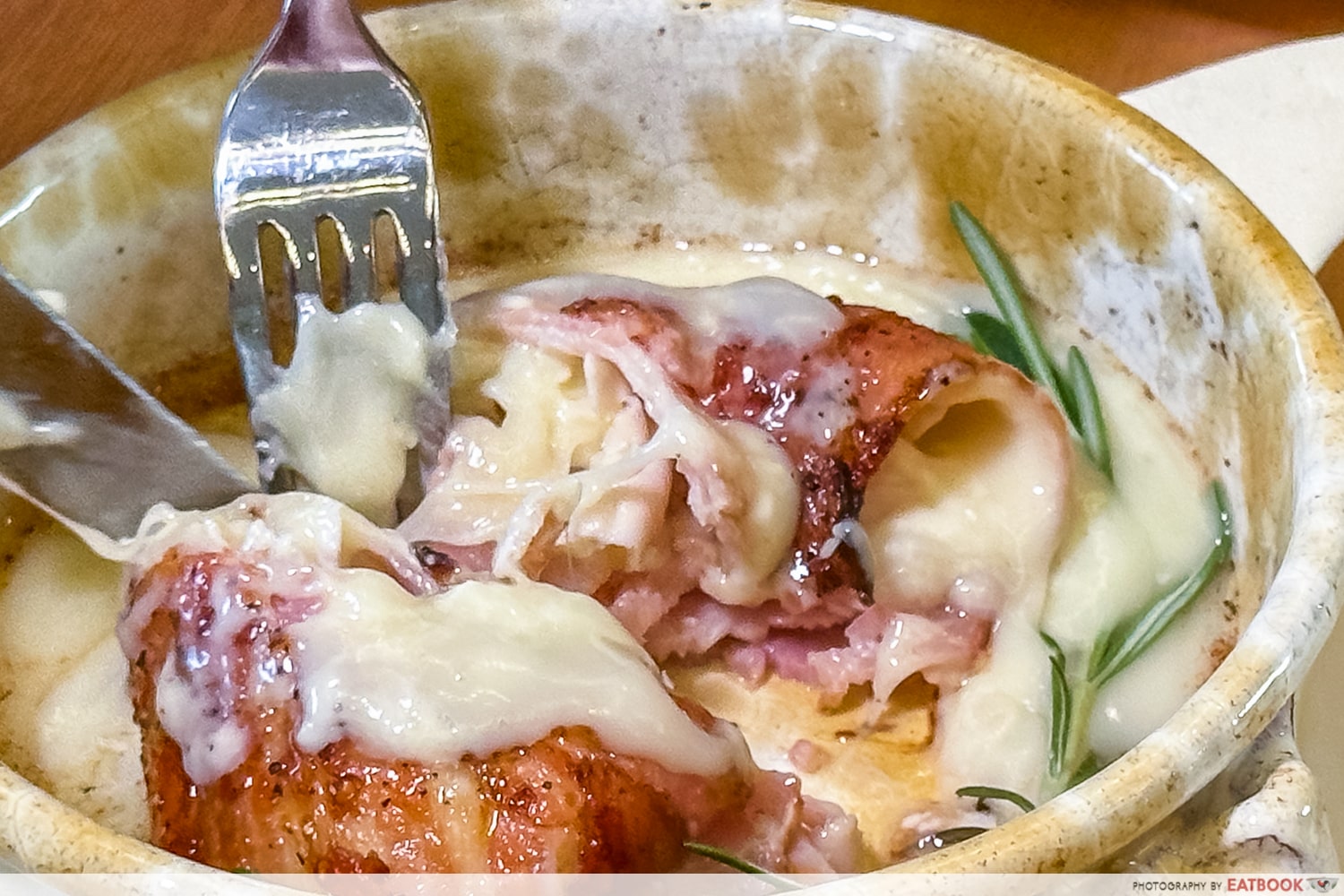 If you've got room in your belly, consider ordering Tomino Cheese ($22++), where the soft cow's cheese is wrapped in pancetta and baked till it's oozy and melted inside. It's cut upon serving, for an eruption of molten cheese.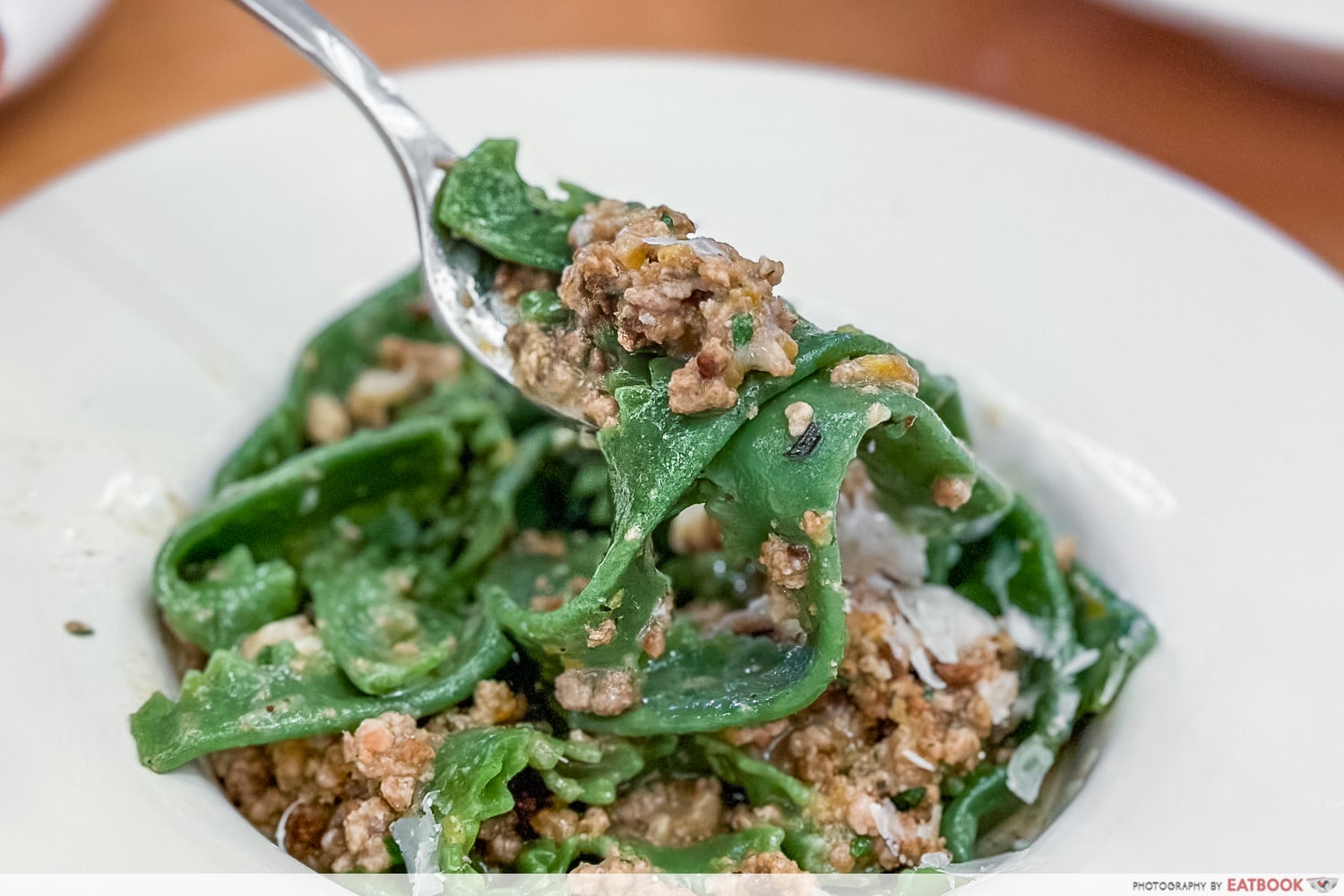 For a pasta that's named Dragon's Teeth, the Denti del Drago ($25++) comes in a most fitting shade of bright green, naturally coloured with spinach. This is served with a white ragu, AKA a bolognese without tomatoes, although purists will tell you the two terms are not interchangeable. I enjoyed the meaty, heavy flavours of the ragu, which went well with the substantial strands of this pasta shape.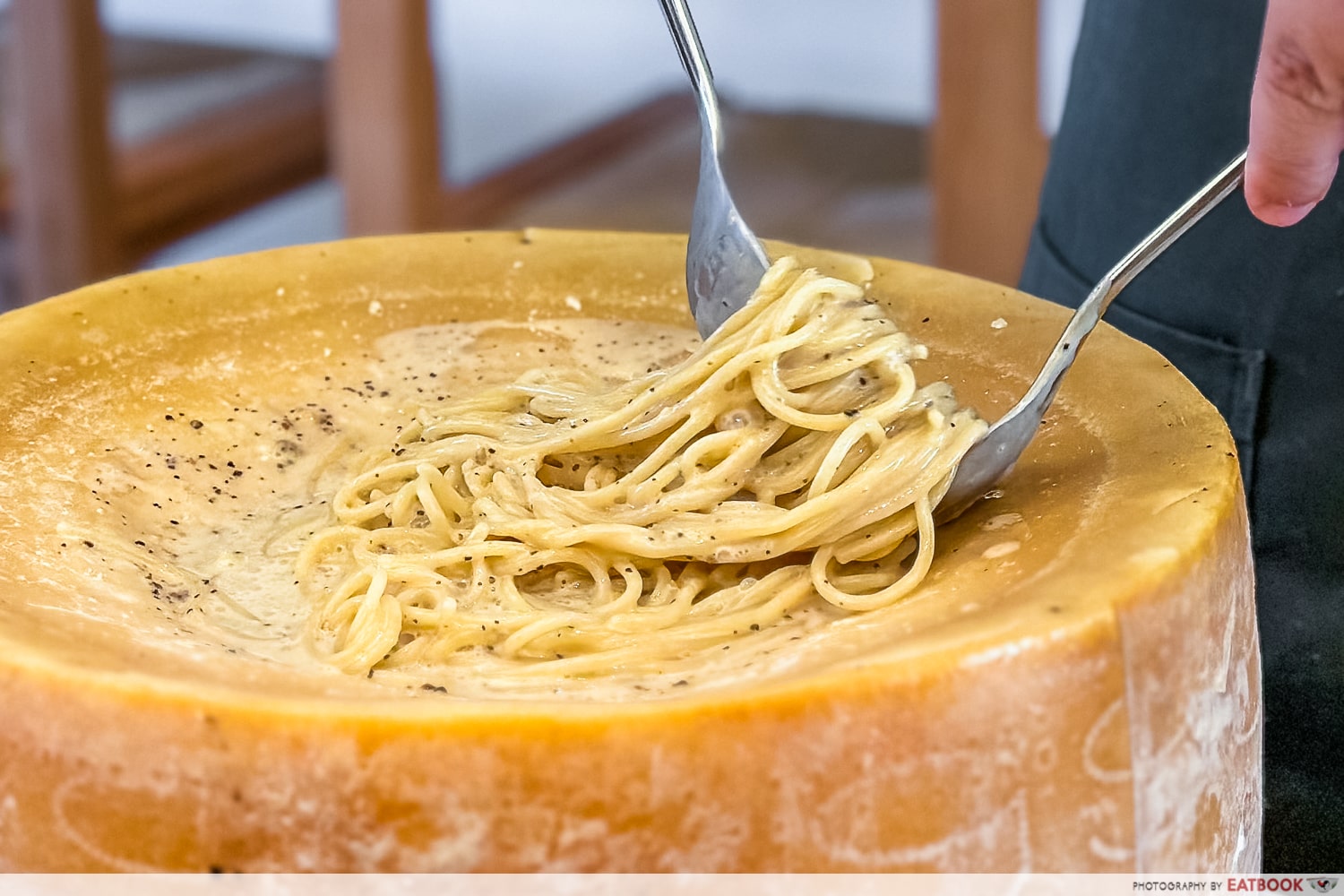 There's a minimum order of two portions for the Spaghetti ($26++), but for the 'gram and the oohs and aahs, go ahead and order this. An entire wheel of pecorino is brought out, and your pasta gets cooked in this cheese wheel.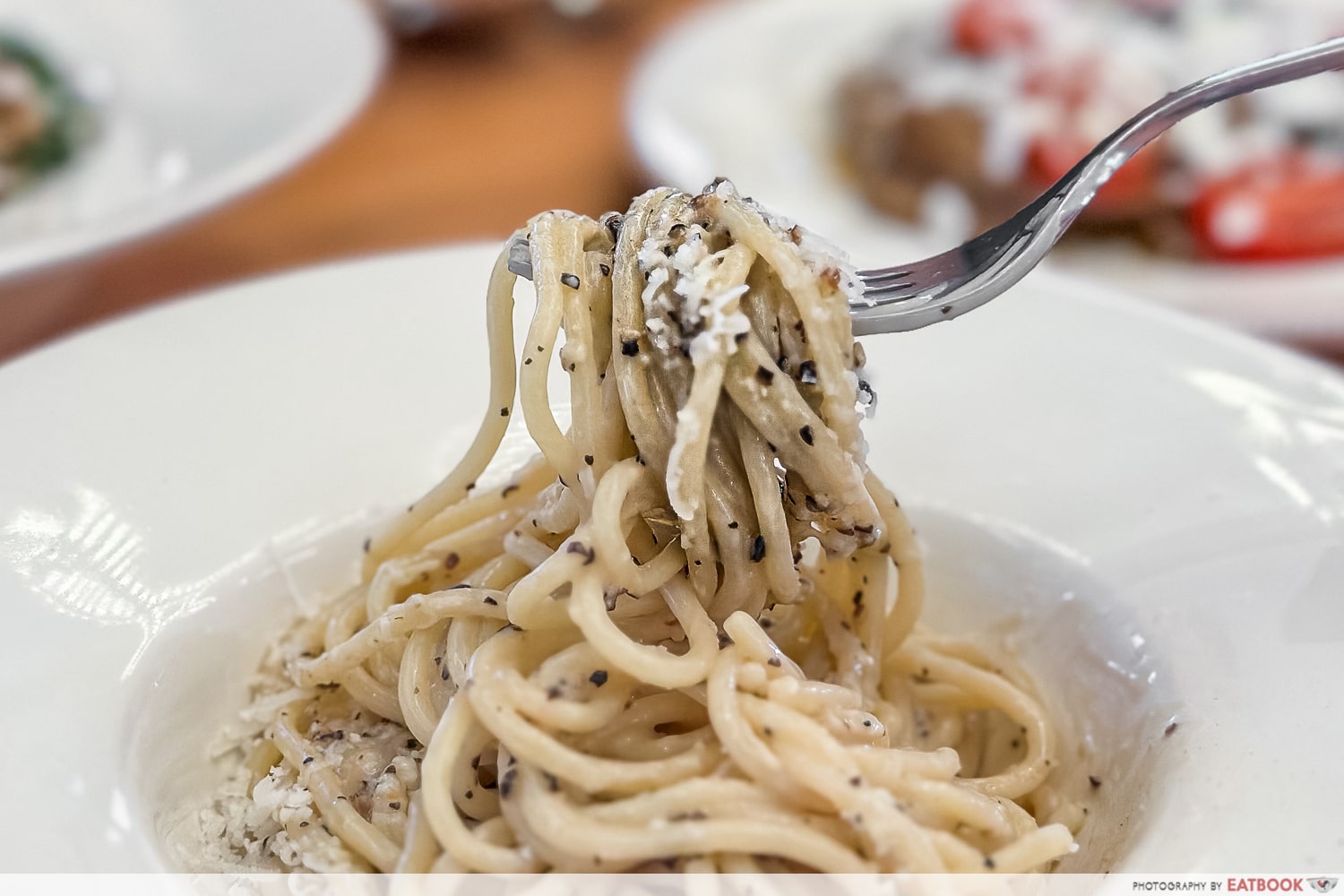 Of course, cacio e pepe is not for everyone, with its plainer flavours of just cheese and pepper.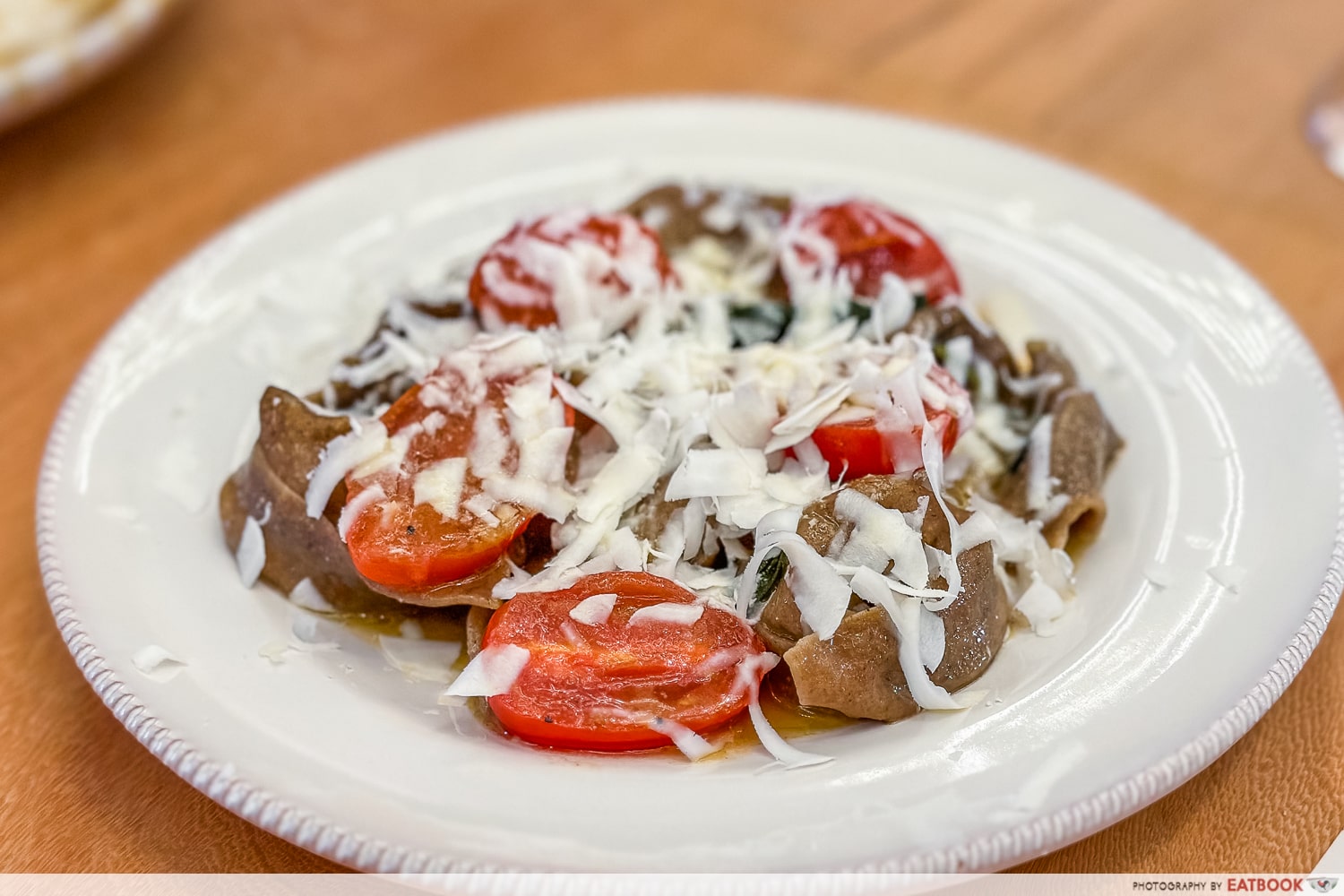 The most unique item on the menu is made of semolina and Grano Arso—a burnt wheat flour from Puglia that's meant to have an intense flavour with a smoky edge. I didn't get to try the burnt wheat pasta at his Nudedles pop-up, so here was my chance with Burnt Wheat Balanzoni ($23++), a tortellini-like pasta stuffed with cacioricotta and eggplant.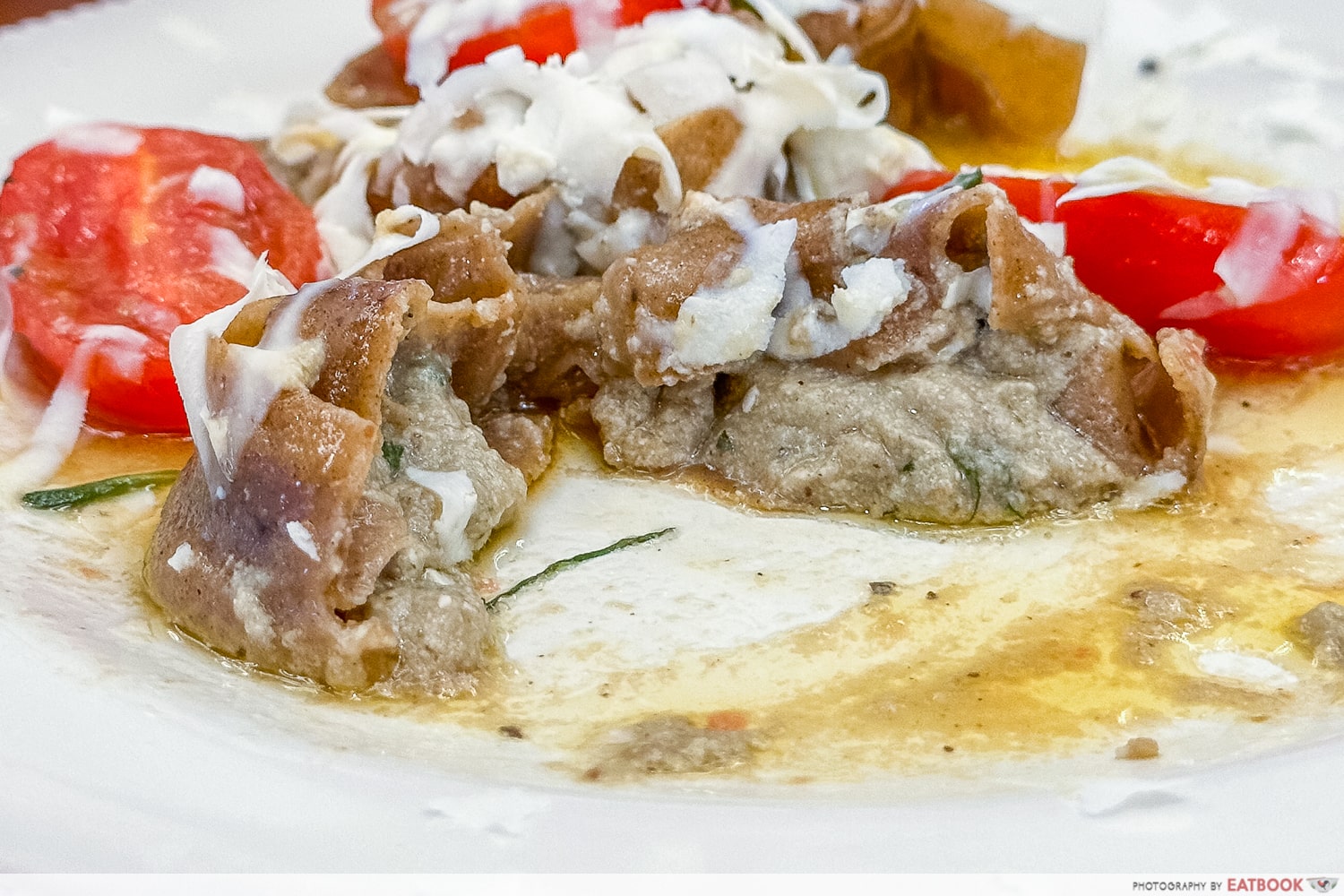 This was a complex plate of varied flavours: smoky wheatiness of the pasta with the earthy aubergine, plus the caramel-nutty notes of brown butter, and the musky-mintiness of sage. Then there's the cherry tomatoes, which literally gives the dish a lift, both in flavour and look on the plate.
Then comes the secondi, or the meat and seafoods of the meal—we tried Charcoal-grilled Baby Octopus ($34++), which had crisp, charred bits, and was tender throughout. It's served with peas and wild garlic leaves, a relatively light main as compared to your other options.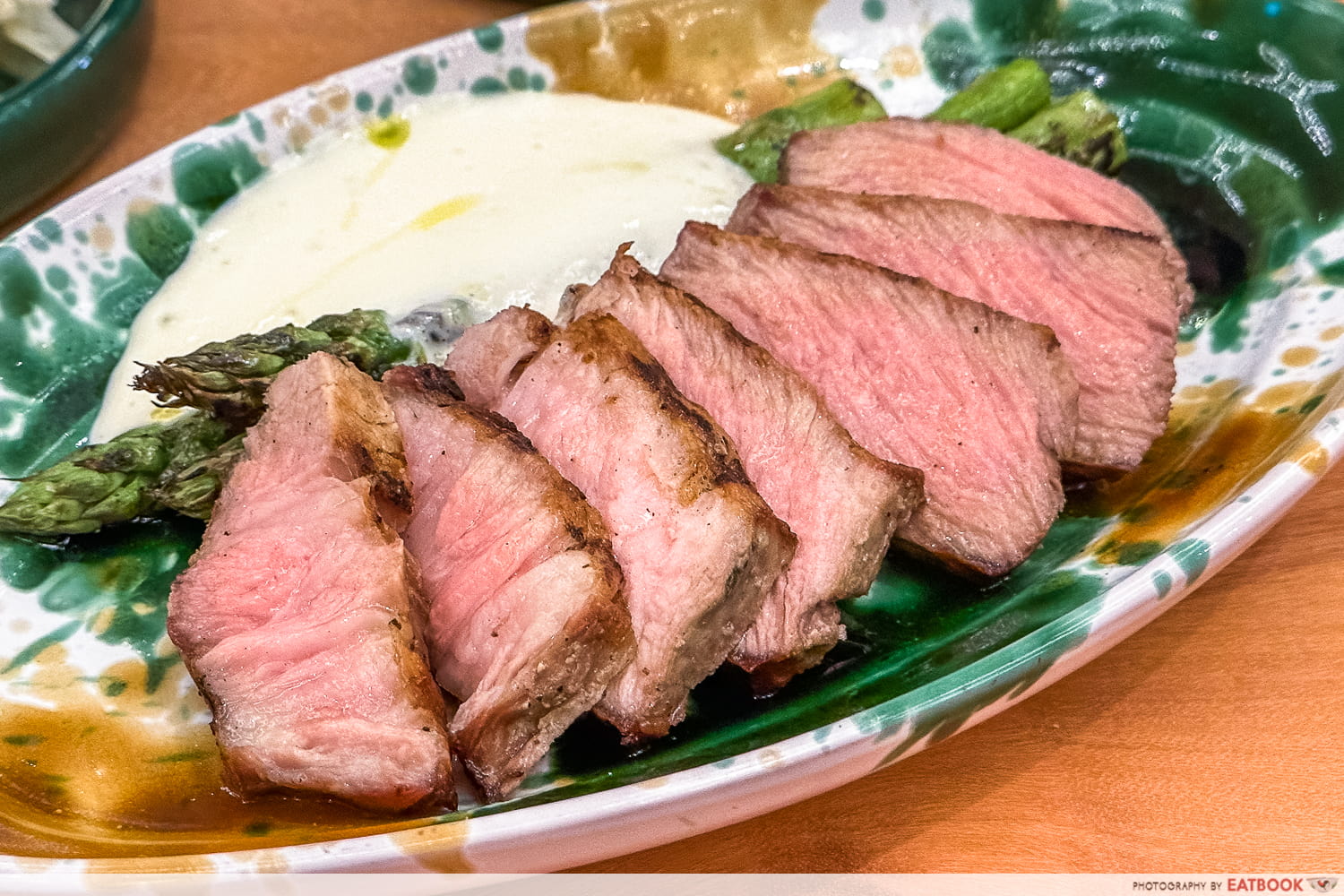 I really enjoyed the Grilled Pork Collar ($38++), where perfectly pink-centred slices of pork lay on a Mirko-designed plate with green asparagus and a colatura-parmigiano sauce. P.S.: he designed all the dishware himself and had them made by hand by a ceramic business that's 18 generations old and counting. Colatura, if you were wondering, is the Italian equivalent of fish sauce.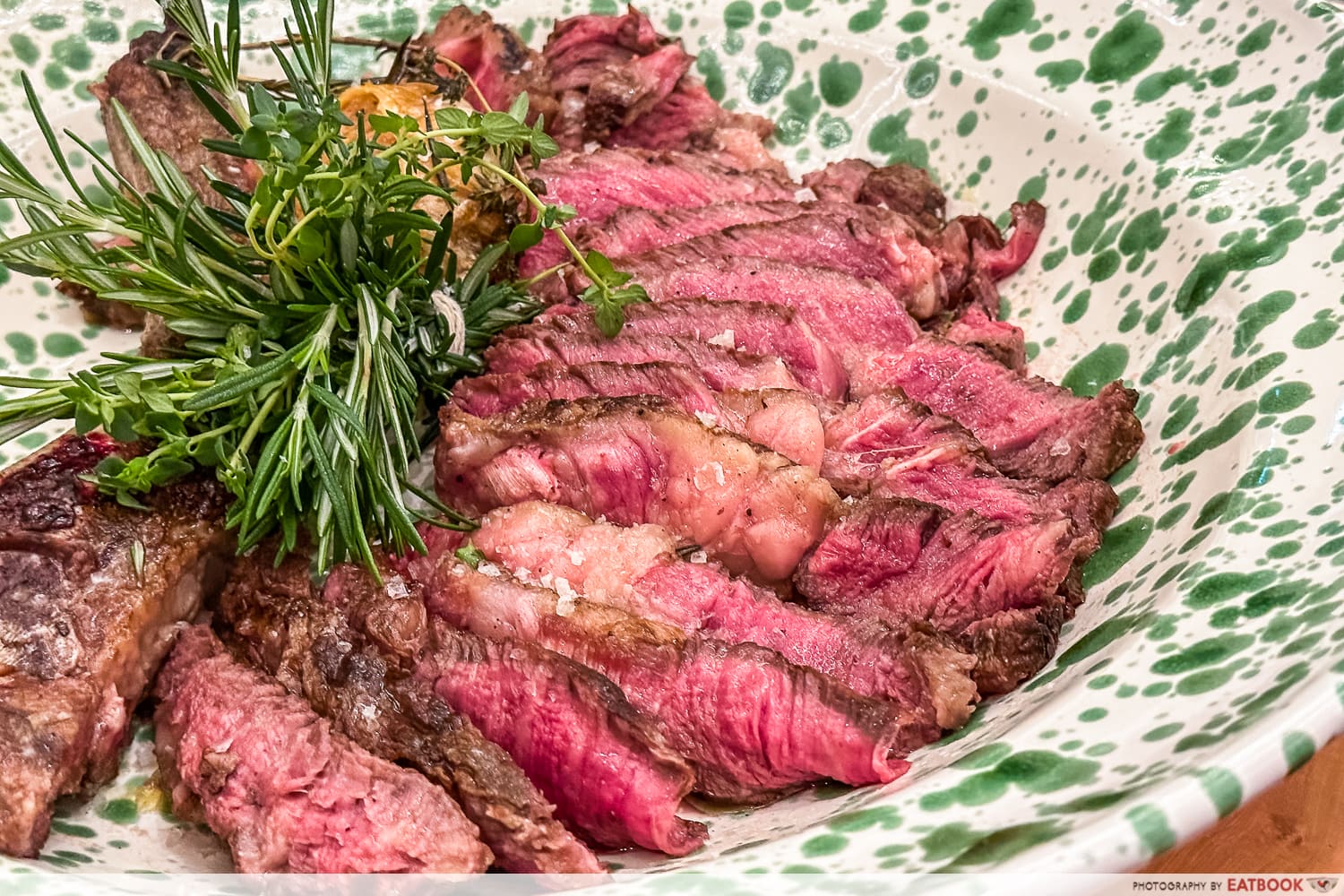 Like the pork, the Beef Costata ($178++) came grilled just right. It's also simply seasoned with salt and pepper so you can enjoy the flavours of the meat. This chonky 1 to 1.2kg grass-fed, bone-in ribeye is good for up to five to share, and I recommend spreading some of the confit garlic on your slices of beef to enjoy.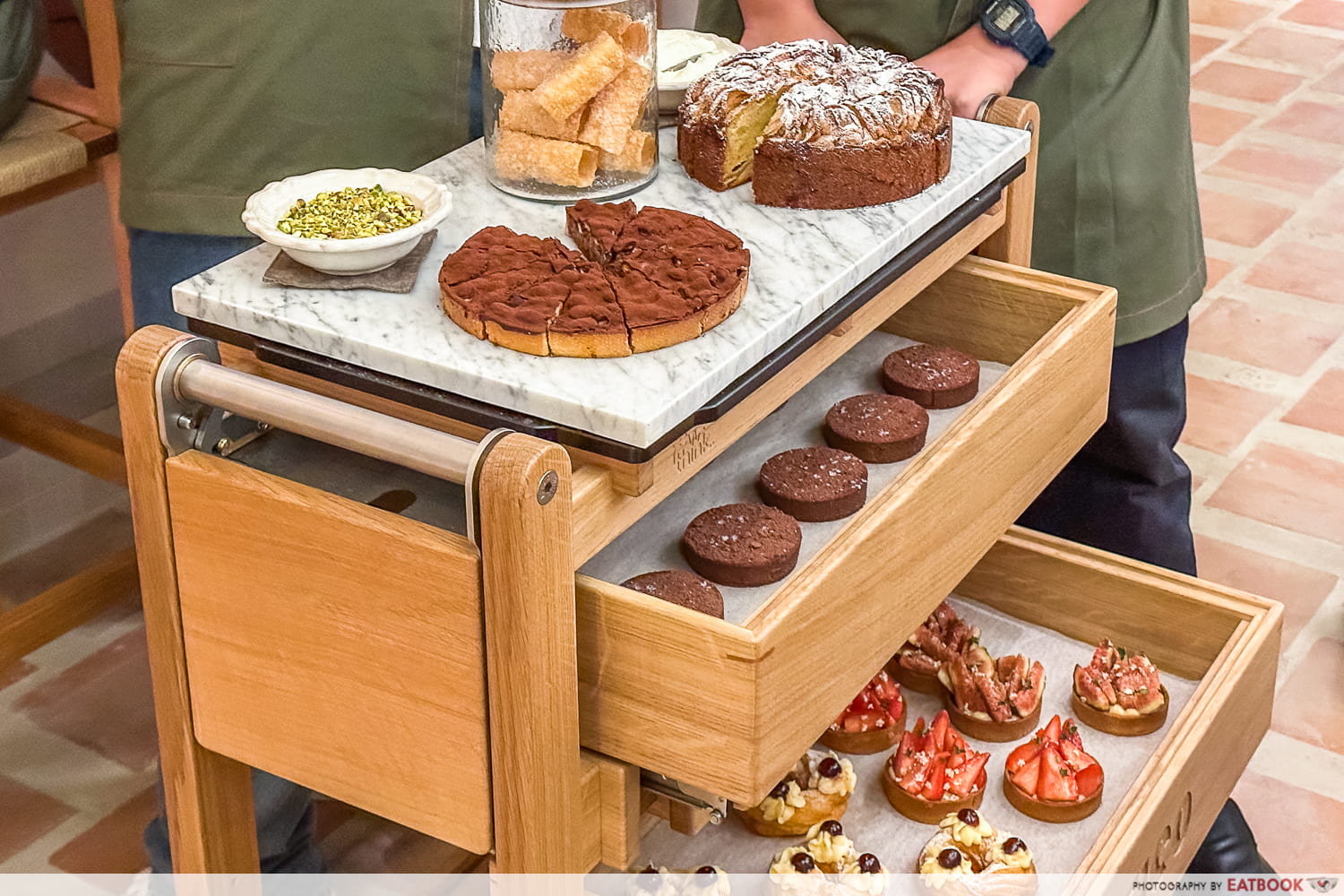 End your meal with your choice of sweets from the dessert trolley, where two desserts are priced at $14++, with every additional dessert charged at $5++ each.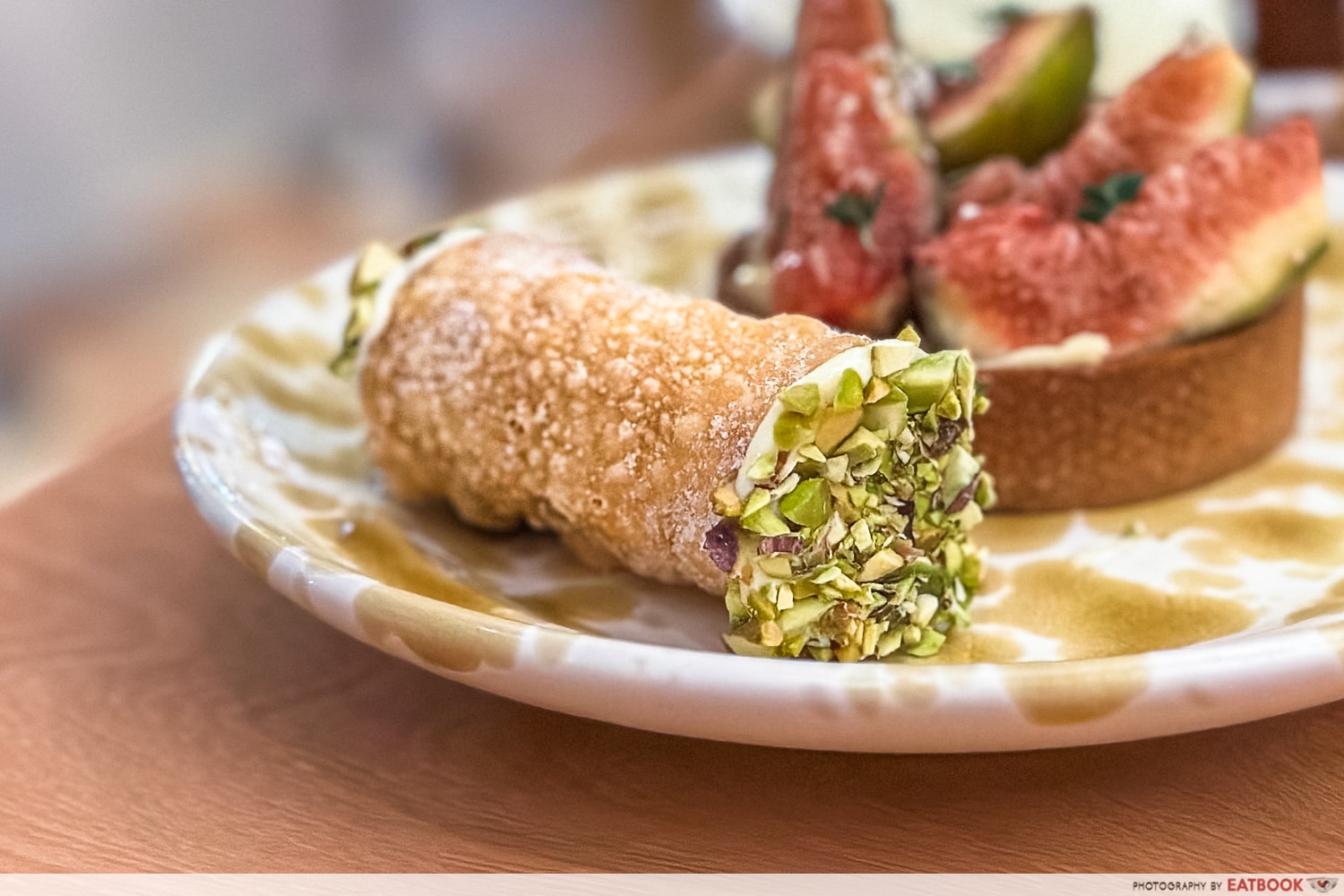 Go for a light-as-air Cannoli, piped right by your table and finished with chunky crushed pistachio, fruit tarts, chocolate souffle tarts, or whatever's on display.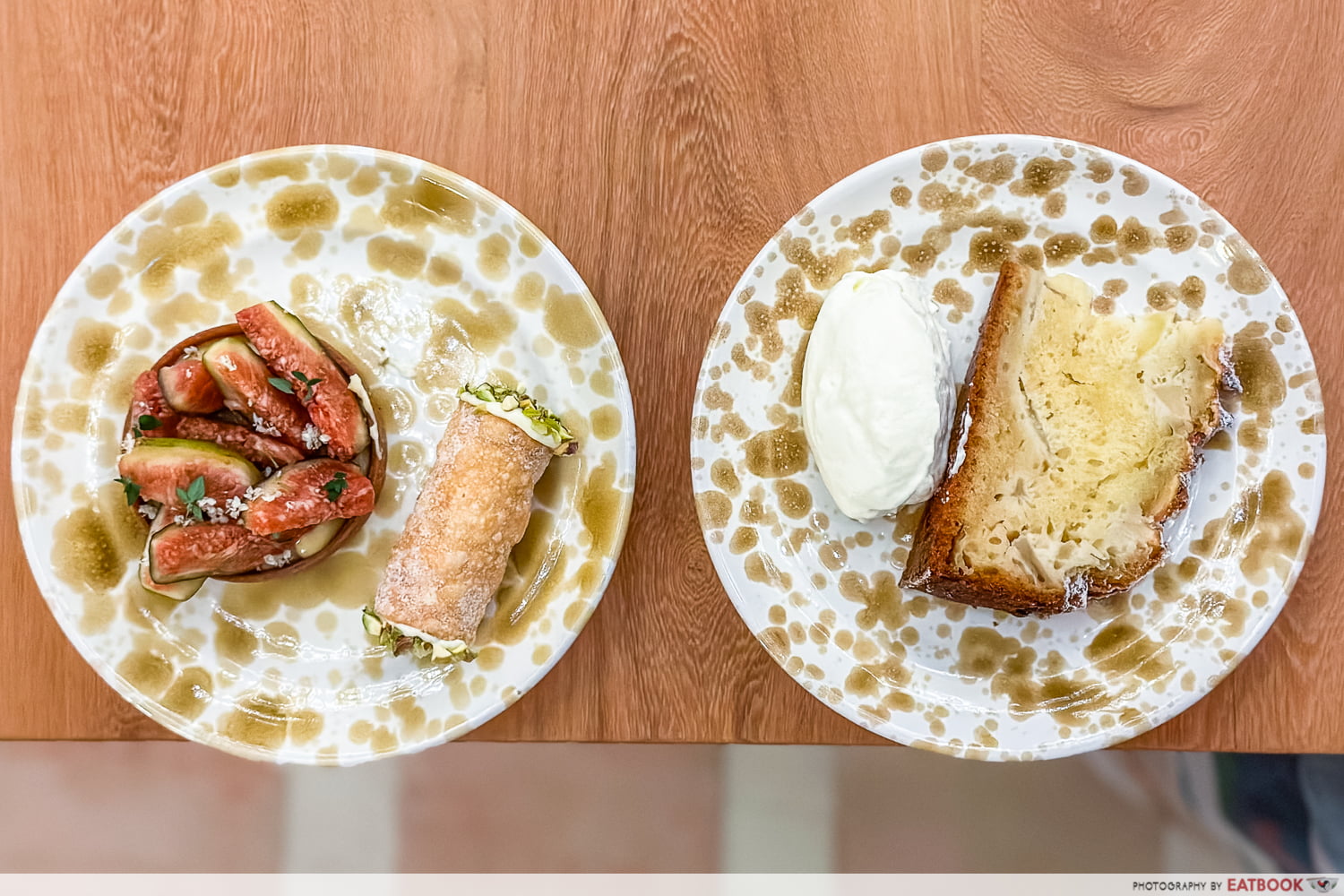 The Apple Torta is particularly good, with its mild sweetness and the Chantilly cream by the side.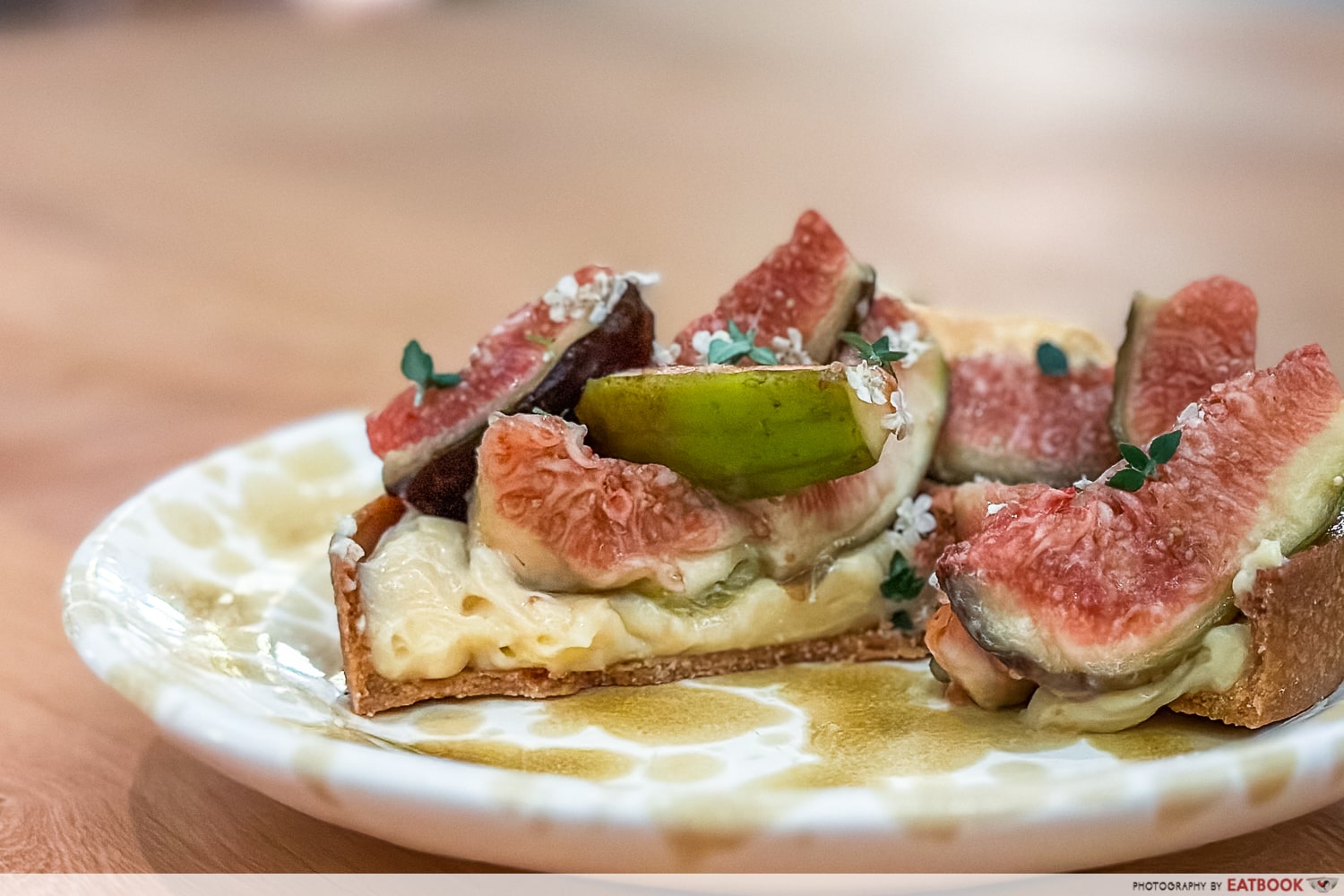 Fruit tarts are topped with whatever's in season, and on our visit there were French strawberries, or a Fig Tart, with a surprising custard of burnt honey, lending it a delicate, floral sweetness.
14 Pasta Restaurants In Singapore For Italian Food Cravings On Date Nights
Ambience at Fico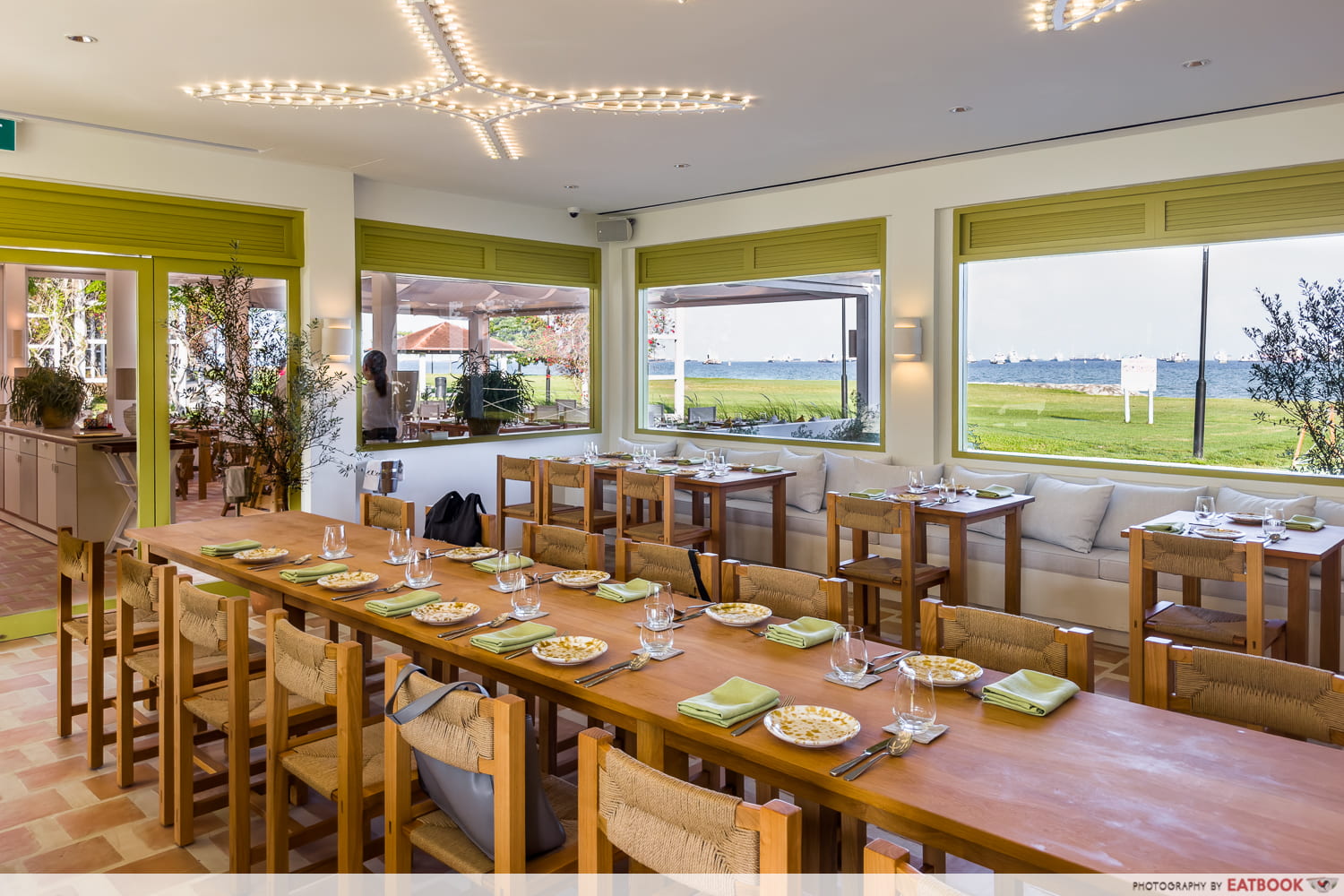 Come for the 5:30pm seating if you can make it: you'll catch the best light of the day and the sunset over the course of your meal. The restaurant is almost equal parts indoor and outdoor seating, but taking centrestage in the air-conditioned section is an extra-long communal table, built around the Pugliese way of community-building through food. Unless your dining party takes up the entire 14-seater table, you can expect to rub shoulders with other groups—make friends!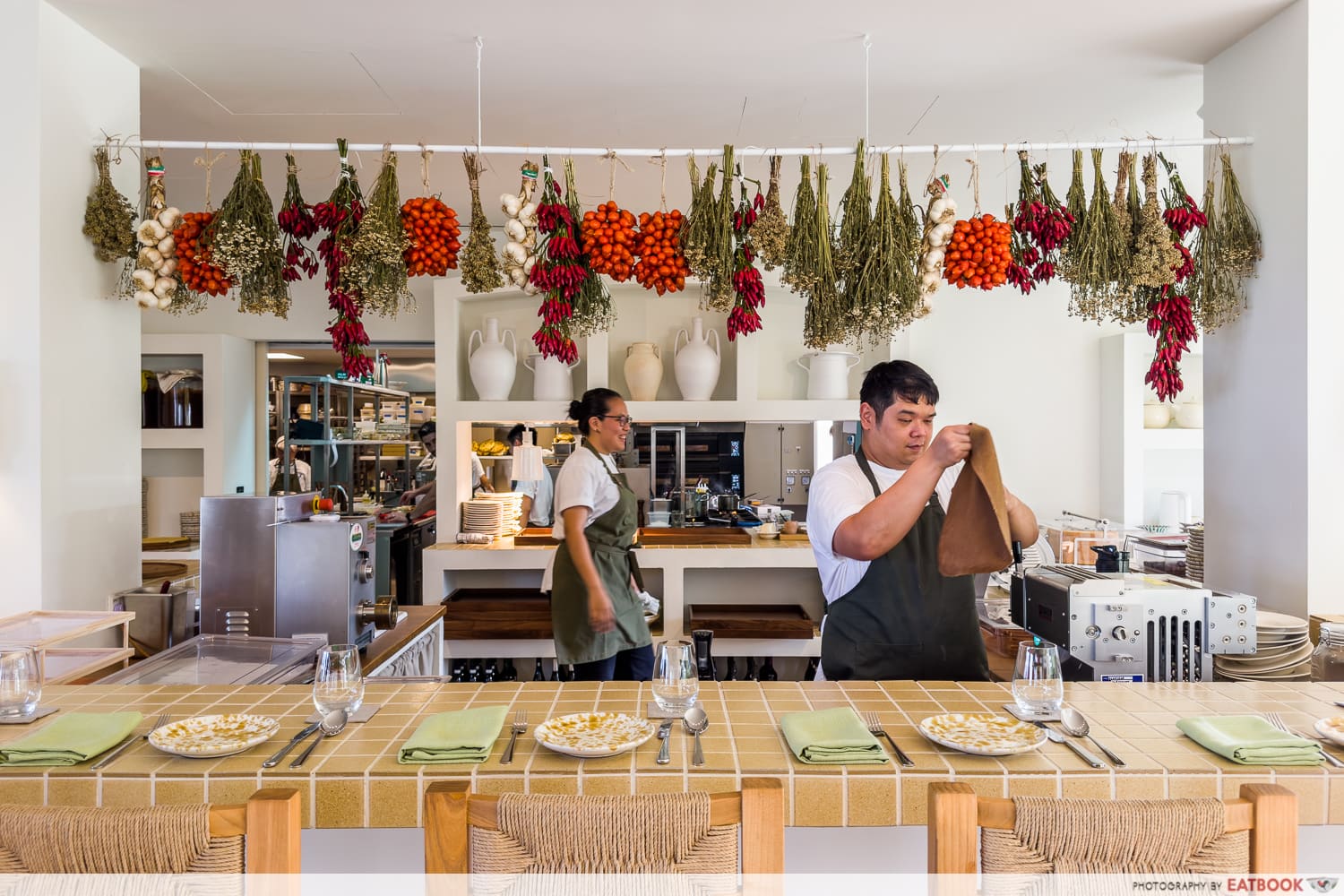 If you're here for a cosy date night, consider getting a reservation at the counter, where you might see the chefs making pasta or desserts, against a backdrop of the kitchen's busyness.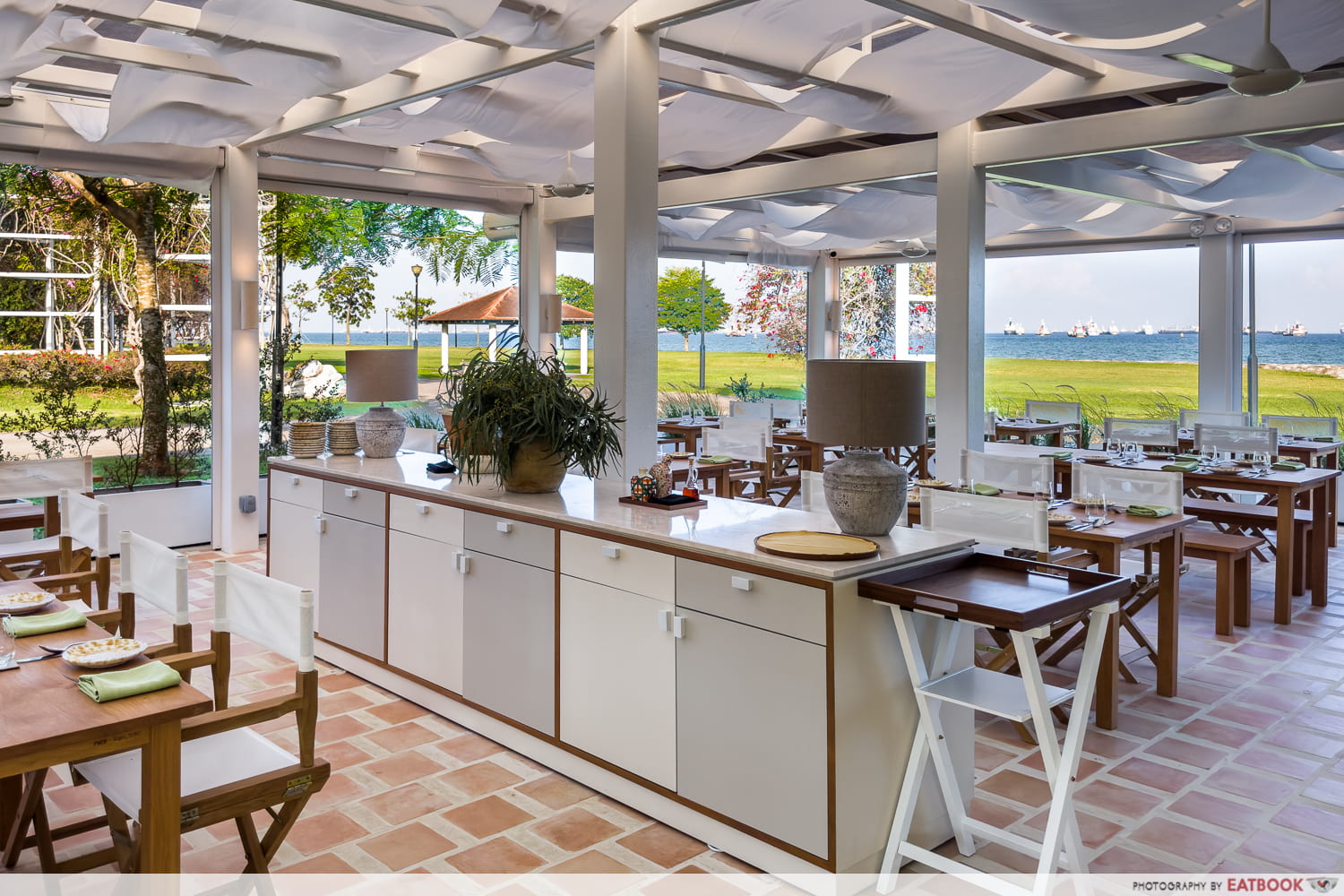 The outdoor seats sit under billowing canopies which absolutely add to the idyllic seaside feel; rest assured that blinds roll down to shield diners from any torrential rains that may hit. On that note, the walk to the restaurant from the carpark is completely exposed to the elements, and Fico is a 46-minute walk from Bedok South MRT Station. You could take a bus from that station, but the journey still includes 40 minutes on foot.
The verdict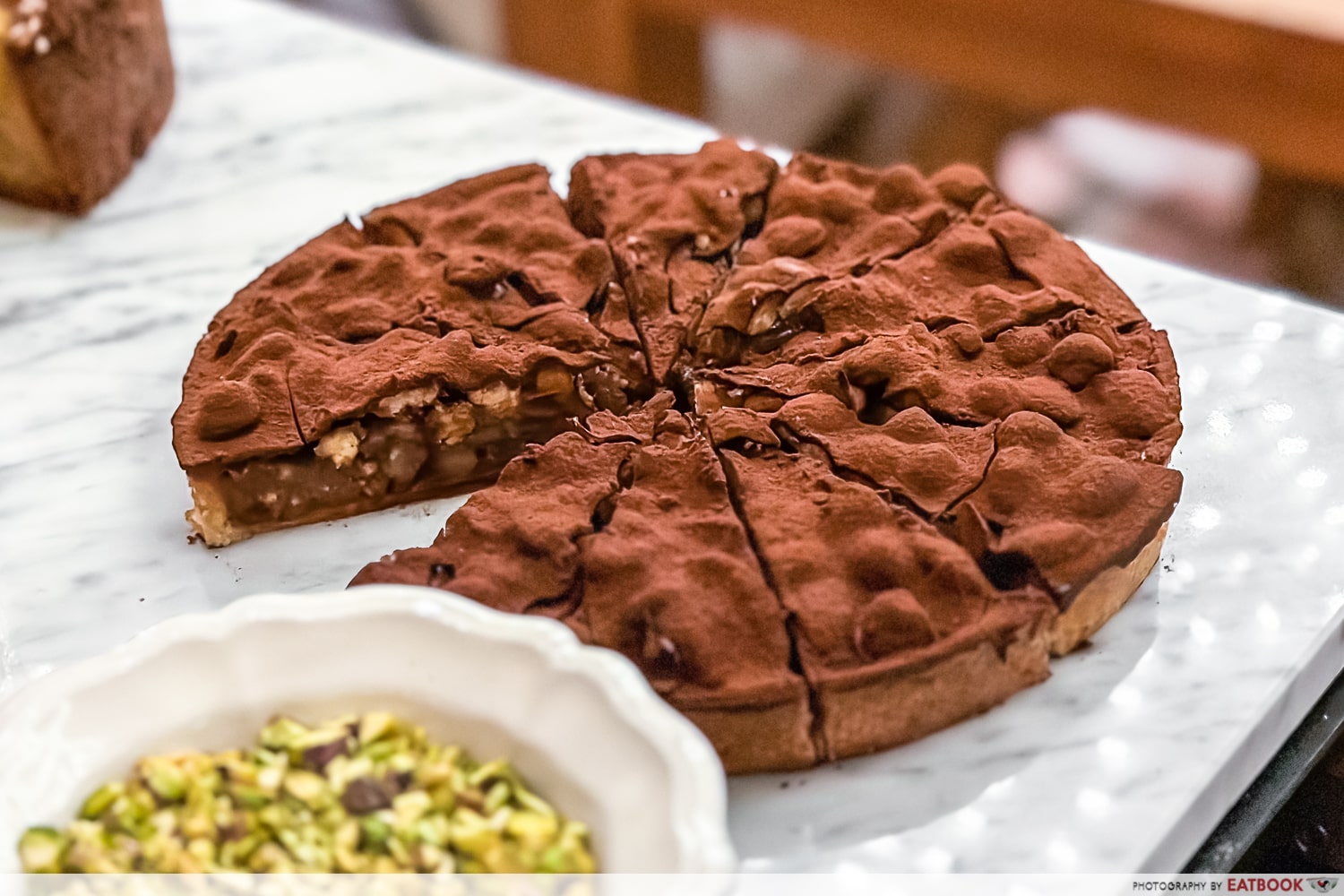 Yea, I'll be back for Mirko's focaccina, the hearty Italian dishes, and the beautiful seaside dining spot—though the journey from anywhere without a car is frankly, painful to think of. This is a meal that you'll want to treat yourself to after a long quarter of a year, or to put on your list for any special occasion that's coming up. I hear the restaurant is pretty booked out for the month-plus ahead, so some future planning is involved if you're looking to dine here.
Check out our East Coast Park food guide for more nosh in the park. Otherwise, we've got a list of pasta restaurants in Singapore for you to sort your next pasta craving.
Address: 1300 East Coast Parkway, East Coast Park Area F, Singapore 468964
Opening hours: Tue-Thurs 5:30pm to 10:30pm, Fri-Sun 11:30am to 3pm, 5:30pm to 10:30pm
Tel: 8121 7208
Website
Fico is not a halal-certified eatery
East Coast Park Food Guide: 10 Places For Famous Chilli Crab, Teppanyaki And More
Photos taken by Michelle P and edited by Tan Zi Hui.
This was a media tasting at Fico.
Fico Review: Cheese Wheel Handmade Pasta And More By Michelin-Starred Chef In East Coast Park
Fico Review: Cheese Wheel Handmade Pasta And More By Michelin-Starred Chef In East Coast Park -

7.5/10
Summary
Pros
– Gorgeous ambience
– Well-executed food
Cons
– Pricey
– Not conveniently located
Recommended dishes: San Marzano Tomatoes focaccina ($22++), Tomino Cheese ($22++), Grilled Pork Collar ($38++), Denti Del Drago ($25++)
Opening hours: Tue-Thurs 5:30pm to 10:30pm, Fri-Sun 11:30am to 3pm, 5:30pm to 10:30pm
Address: 1300 East Coast Parkway, East Coast Park Area F, Singapore 468964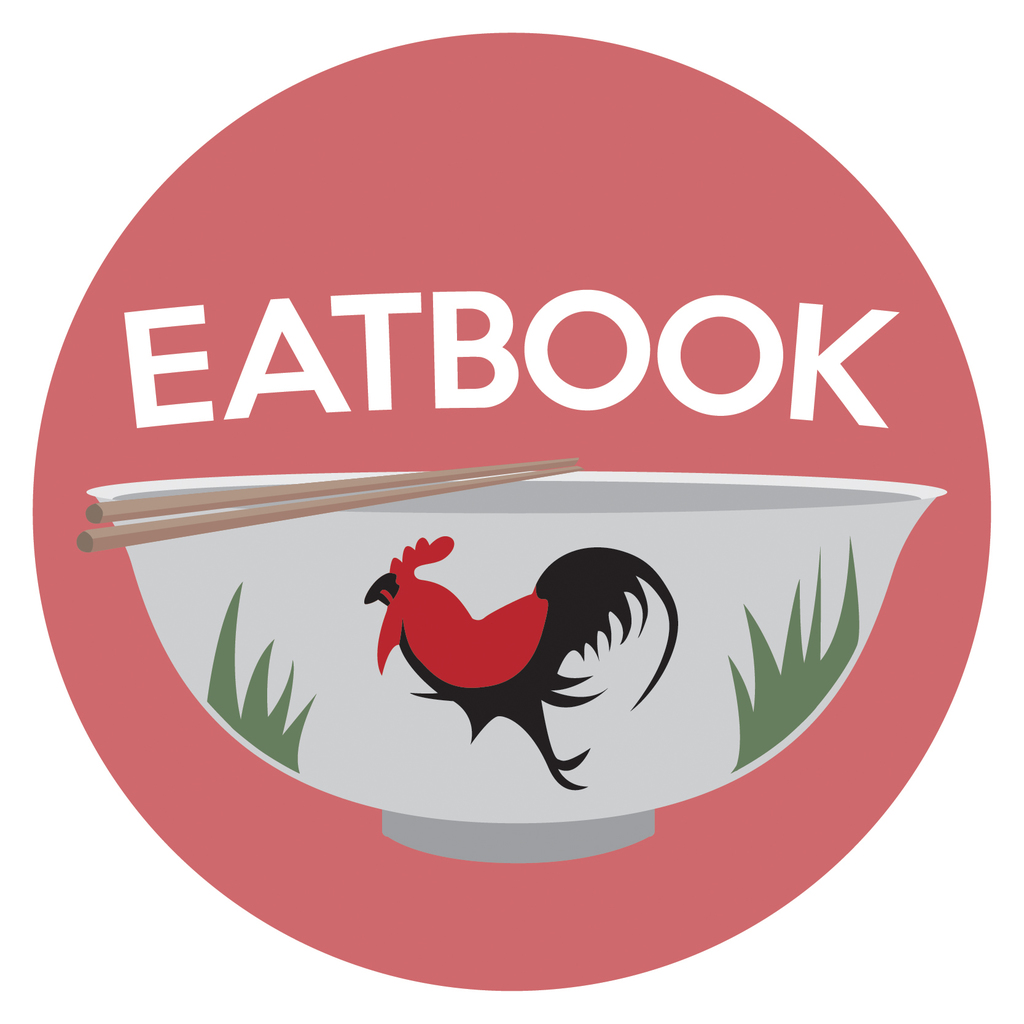 Drop us your email so you won't miss the latest news.