High tea at Lime Restaurant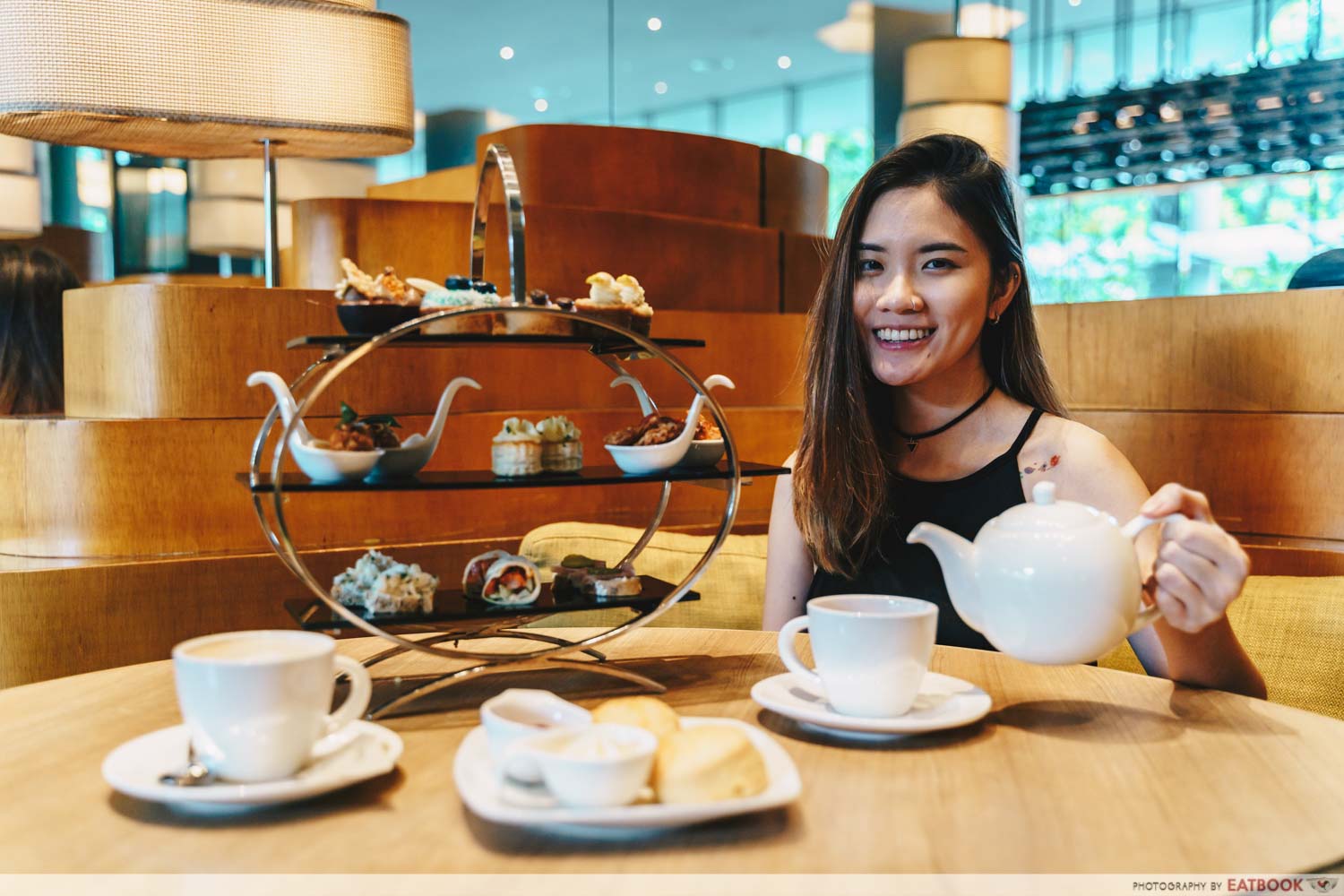 I've taken a liking to afternoon teas recently. Apart from the fact that it gives me an opportunity to doll up and fulfil my tai tai dreams for a few hours, it's a moment of tranquillity that I truly appreciate. This time, I headed to Lime Restaurant at PARKROYAL COLLECTION Pickering to continue my pursuit of more afternoon tea adventures. 
8 Affordable High Tea Sessions At $30++ Or Less So You Can Lead The Tai Tai Life
Food at Lime Restaurant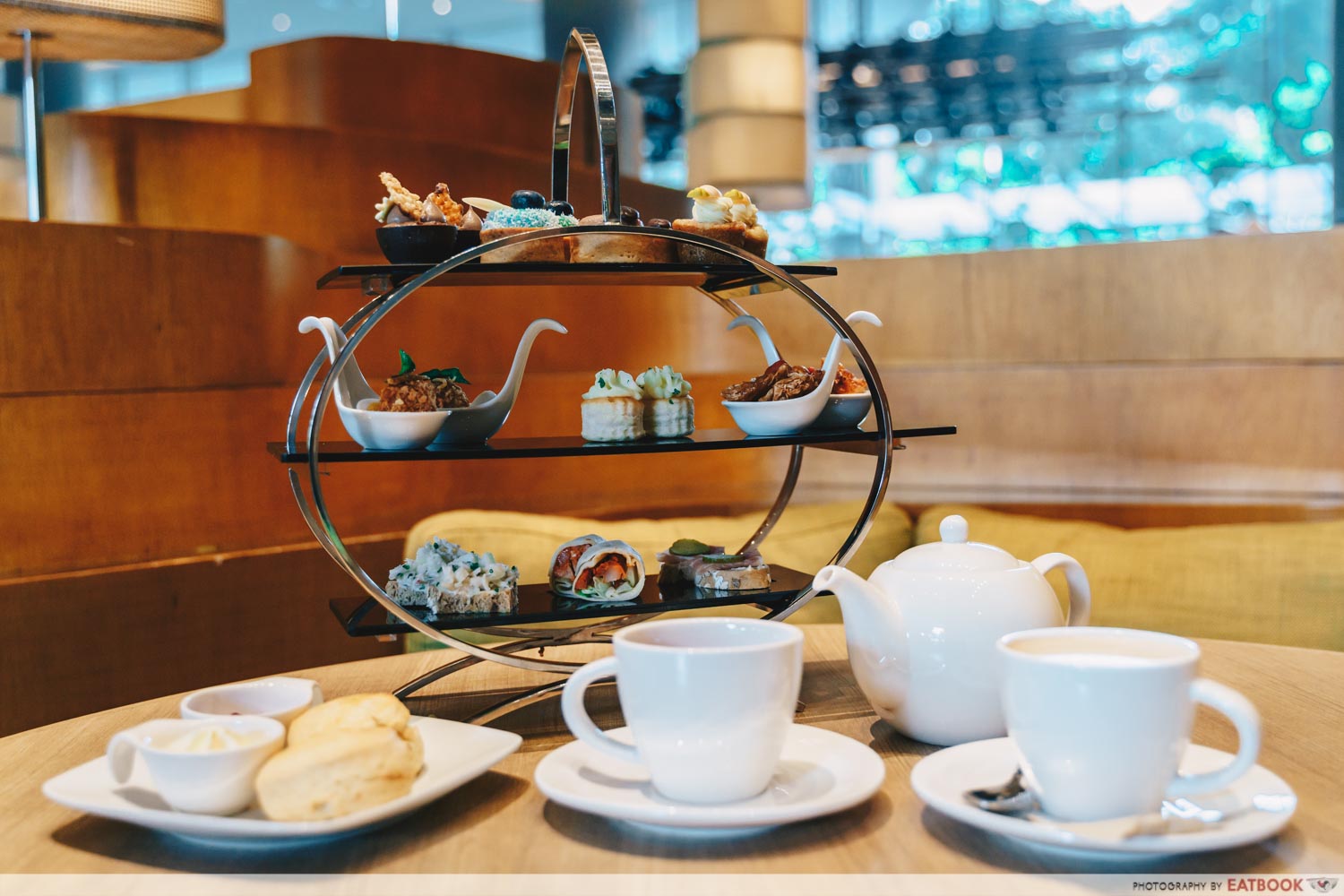 Lime Restaurant's Afternoon Tea Set, coined Tiers Of Joy, is only priced at $58++ for two people This includes a three-tiered stand of dainty sweet and savoury delights, scones served with jam and clotted cream, as well as unlimited coffee and tea. I'm not talking about just any tea─in fact, you can choose among a wide selection of tea from the luxury artisanal tea brand TWG Tea.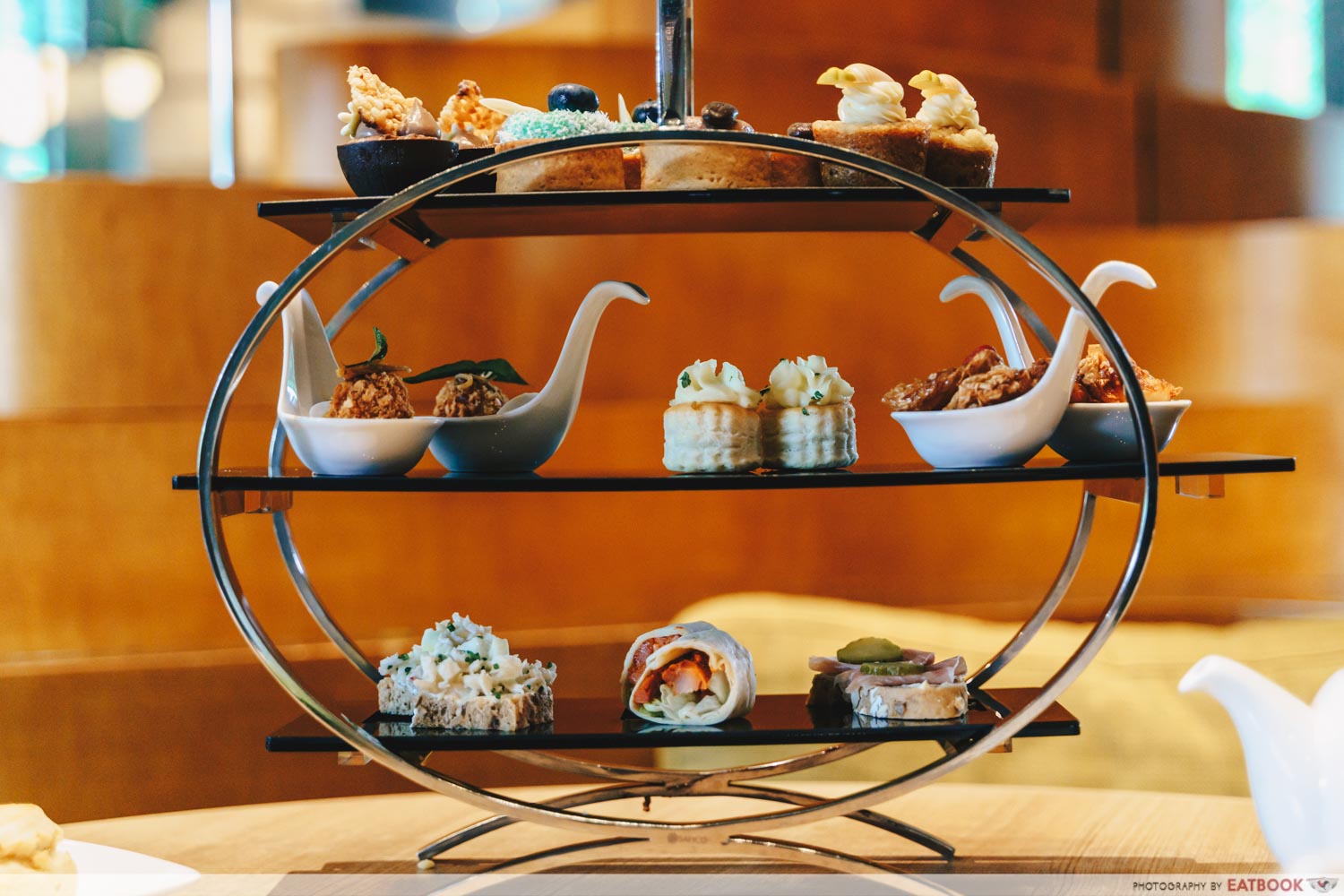 The three-tiered stand carried four mini desserts and six savoury snacks. Each comes in pairs, so there's no need to share. Needless to say, the presentation was on point.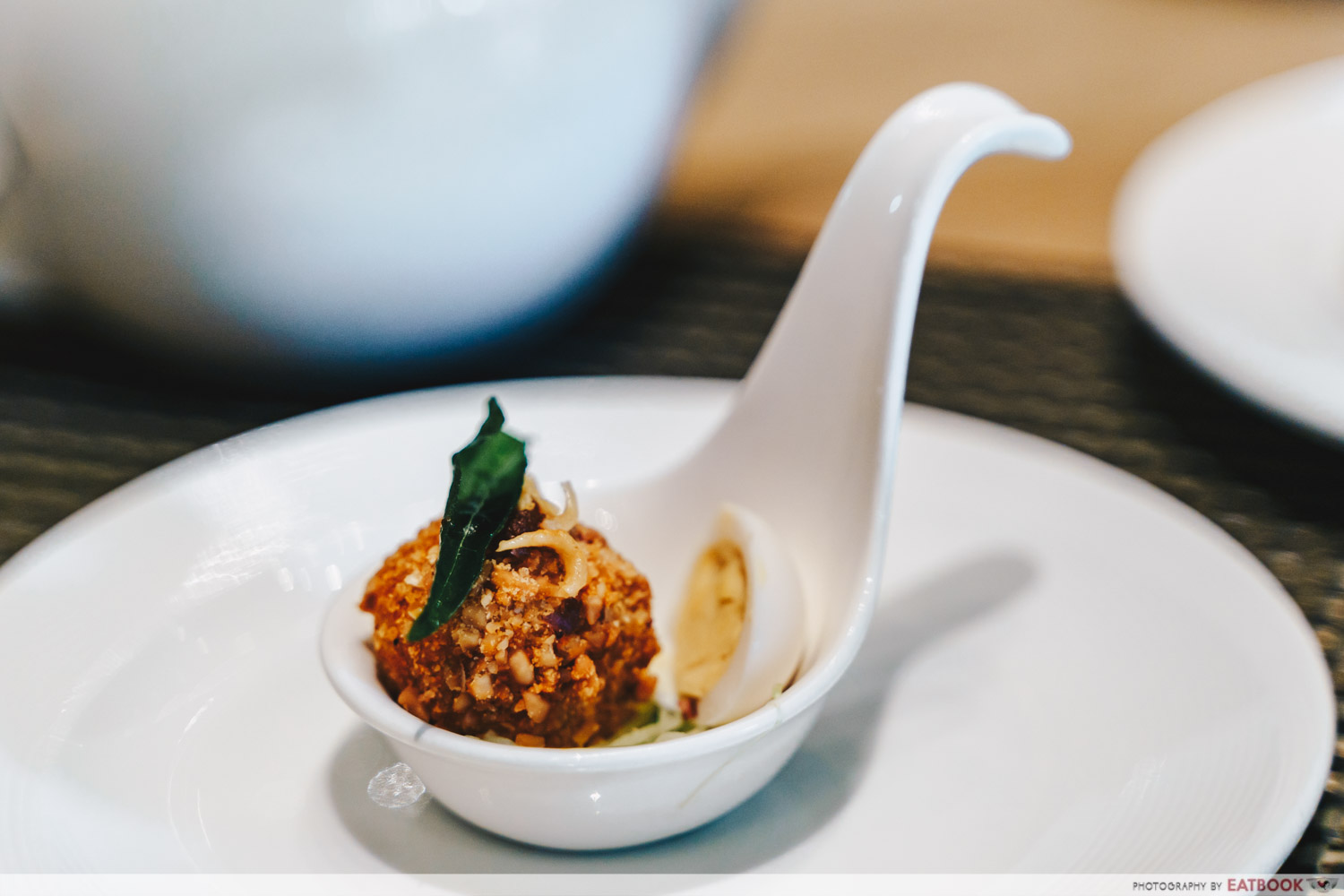 We started off with the savoury items. Instead of serving typical Western-styled bites, they included a couple of creations that were adapted from local dishes. 
Take the Nasi Lemak Ball for instance. Though it did remind me of Italian arancini, which are deep-fried risotto balls, they used nasi lemak rice instead. The crisp, golden balls were nestled on a bed of shredded cucumber and garnished with half a quail egg, sambal chilli and a deep-fried curry leaf.
The taste of the rice bore a closer resemblance to nasi impit─compressed rice cakes usually served alongside satay. I would've loved for the rice to have a stronger coconut fragrance. Nonetheless, it was still tasty because of the punchy, salty sambal chilli.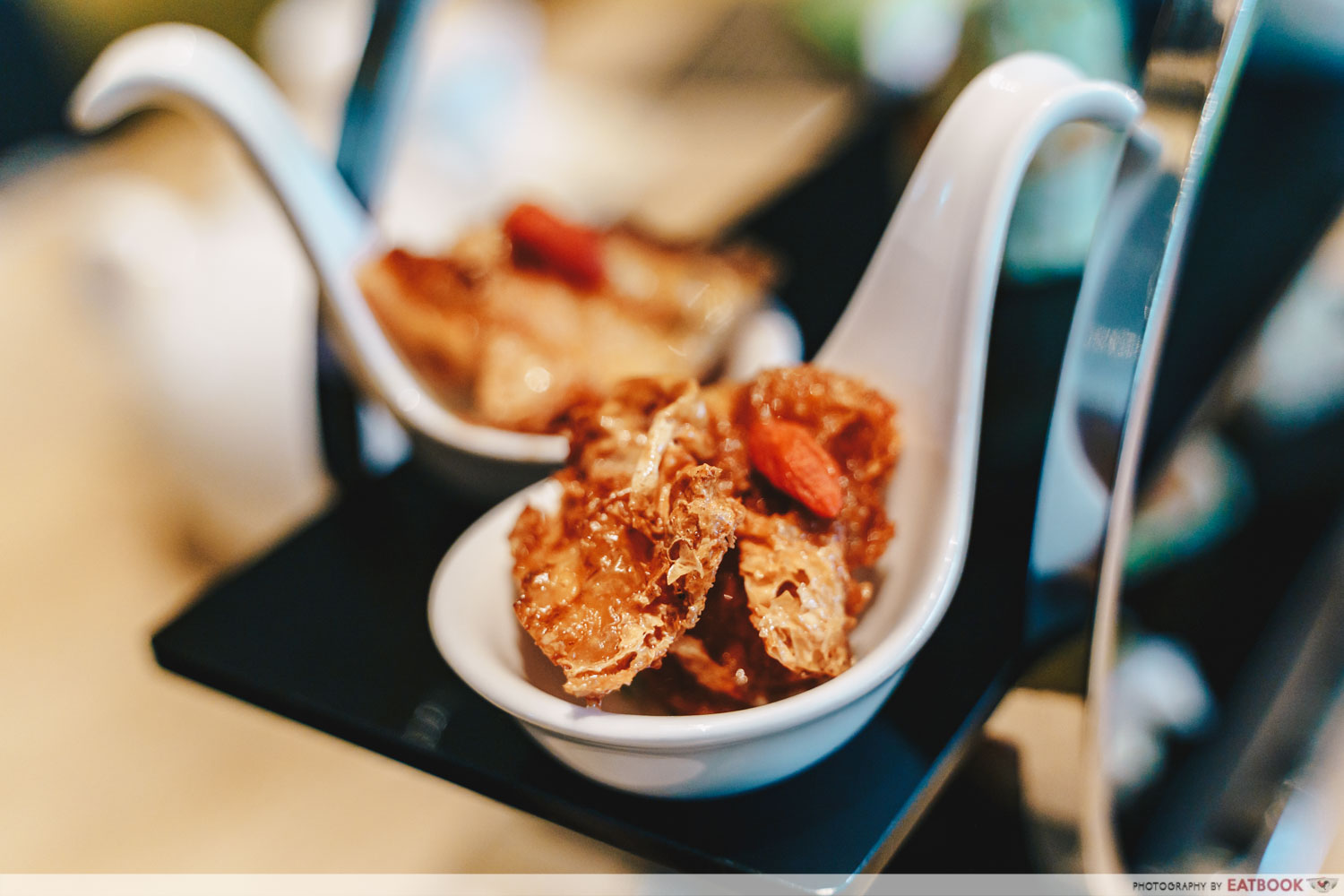 The Crispy Prawn Beancurd Roll is another element in the tea set that hits close to home. Each roll had a succulent, bouncy prawn filling that was wrapped in a crisp, savoury beancurd skin. It wasn't exceptionally tasty, but it was definitely better than average.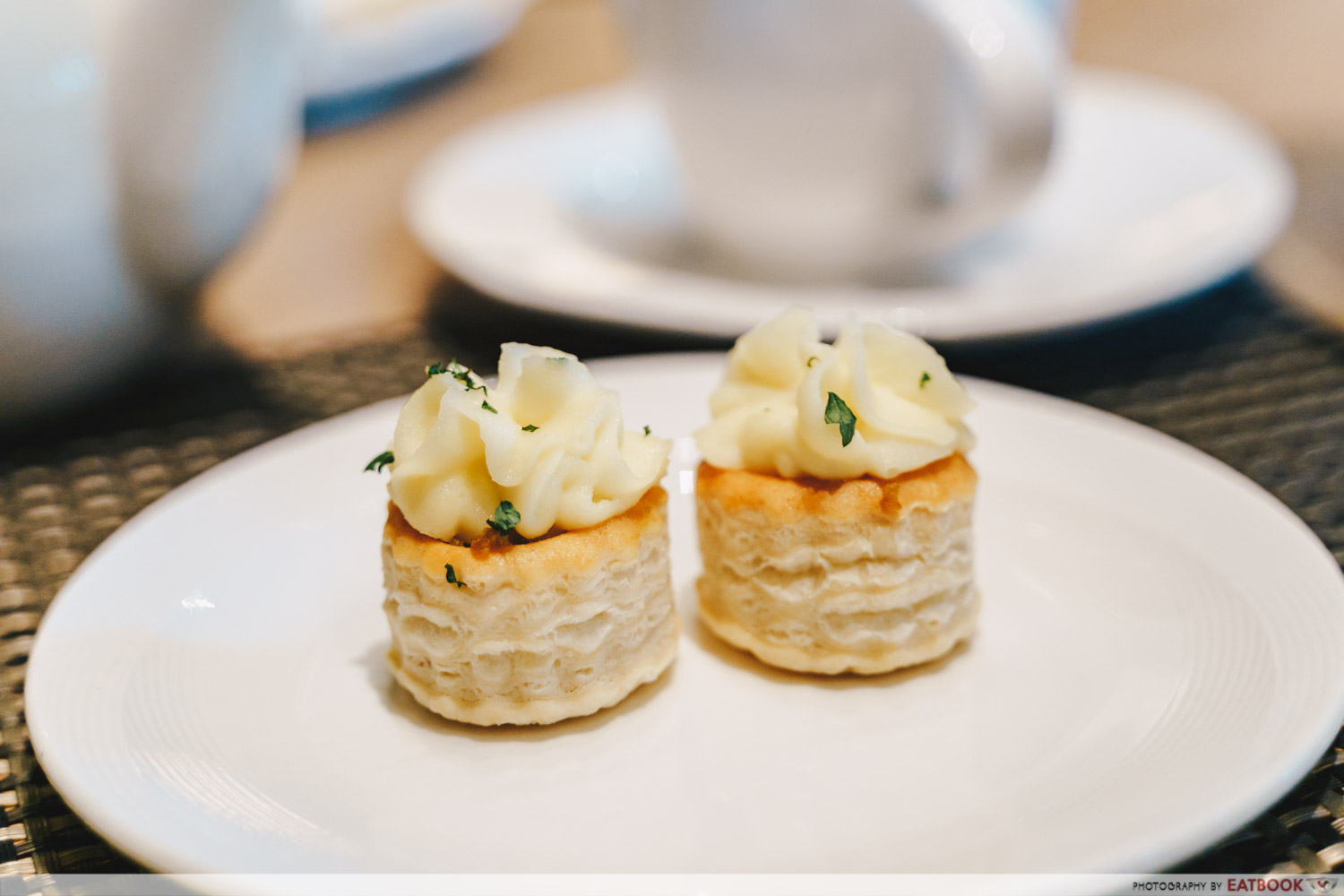 Most shepherd's pies I'm used to come in a large casserole, where a ground meat mix forms the bottom layer, and mashed potato makes up the top. This Mini Shepherd's Pie was, well, a miniature version of that, with minced meat filling encased in a shortcrust pastry, topped with a dollop of mashed potatoes.
The chicken mince was flavourful and well-seasoned, but because of the disproportionate pastry-to-filling ratio, it tasted a little bland. Perhaps if they added more filling and used a thinner pastry, it would've been perfect.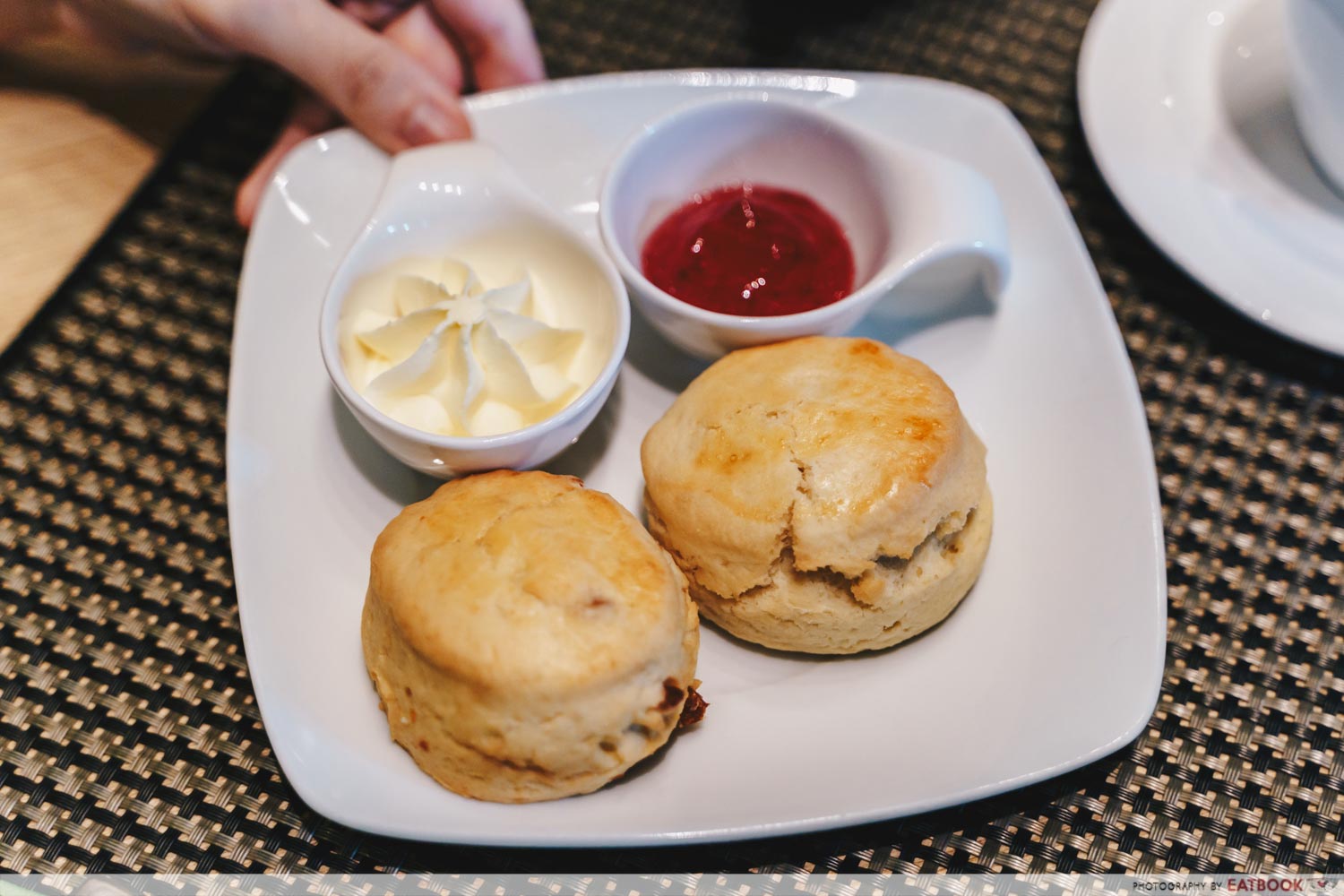 After we had our fill of all the savoury snacks, we moved on to the Plain and Bak Kwa Scones. The Plain Scone was superb. It was fragrant, crumbly, and slightly moist. 
Peng Guan Bak Kwa Now Makes Charcoal Bak Kwa Bao, Sold At Five For $4
I've seen a groundswell of support for bak kwa creations, such as bak kwa baos and bak kwa and swiss rolls, which explained why I was looking forward to tasting the Bak Kwa Scone. True enough, it exceeded my expectations. On top of that delicious buttery taste, the bits of bak kwa in and around the scone imparted a smoky, savoury flavour that complemented the baked treat harmoniously. It was good on its own, but it tasted even better with clotted cream and jam.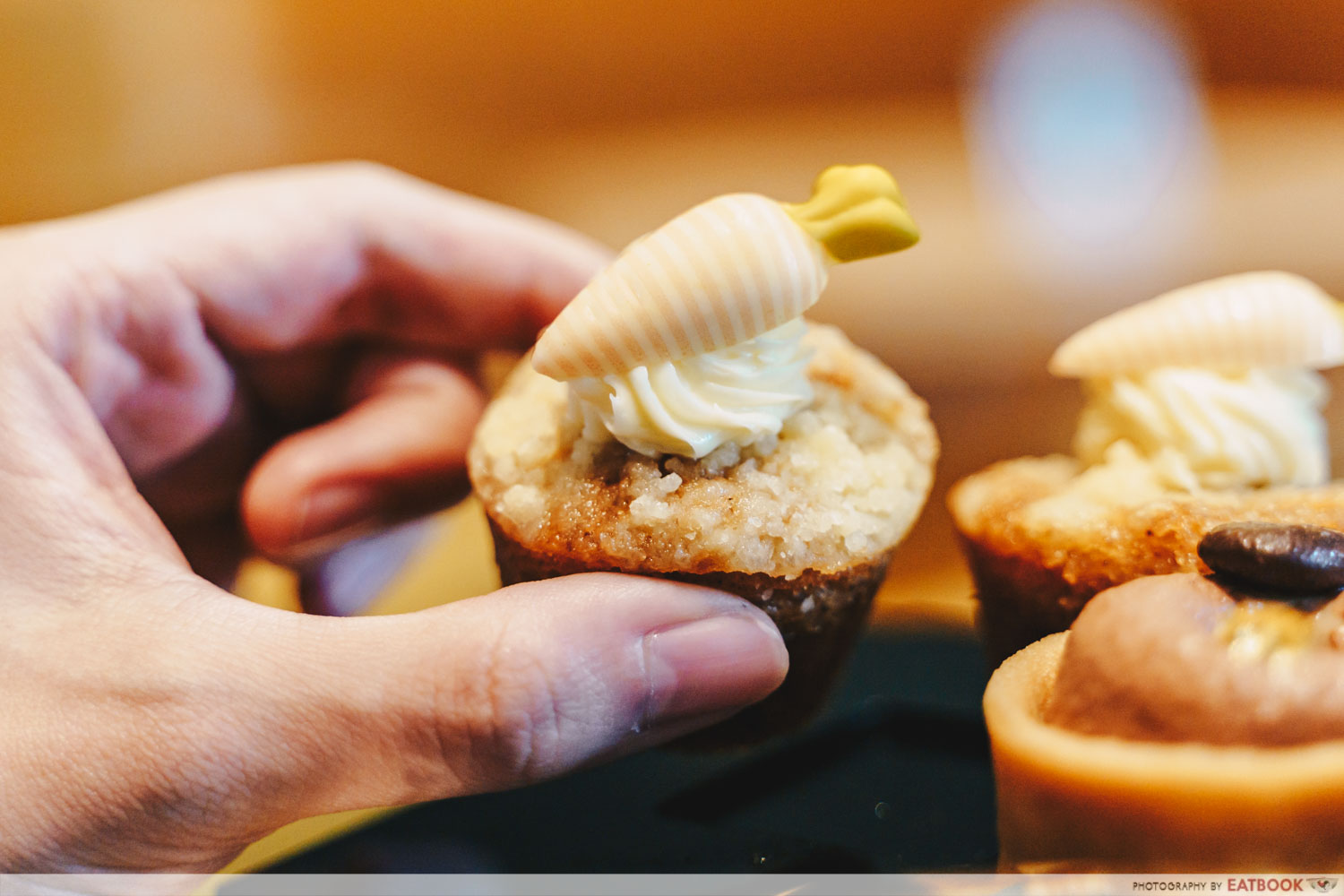 The moist Carrot Cake with Cream Cheese Frosting had a slightly chunky consistency, where you could actually see bits of shredded carrot in it. Not that I minded one bit though, as it did give a bite to the cake. There were hints of cinnamon and nutmeg that were pretty subtle. The cream cheese frosting was slightly too sweet for my liking, but if you're someone with a sweet tooth, the level of sweetness would be perfect for you.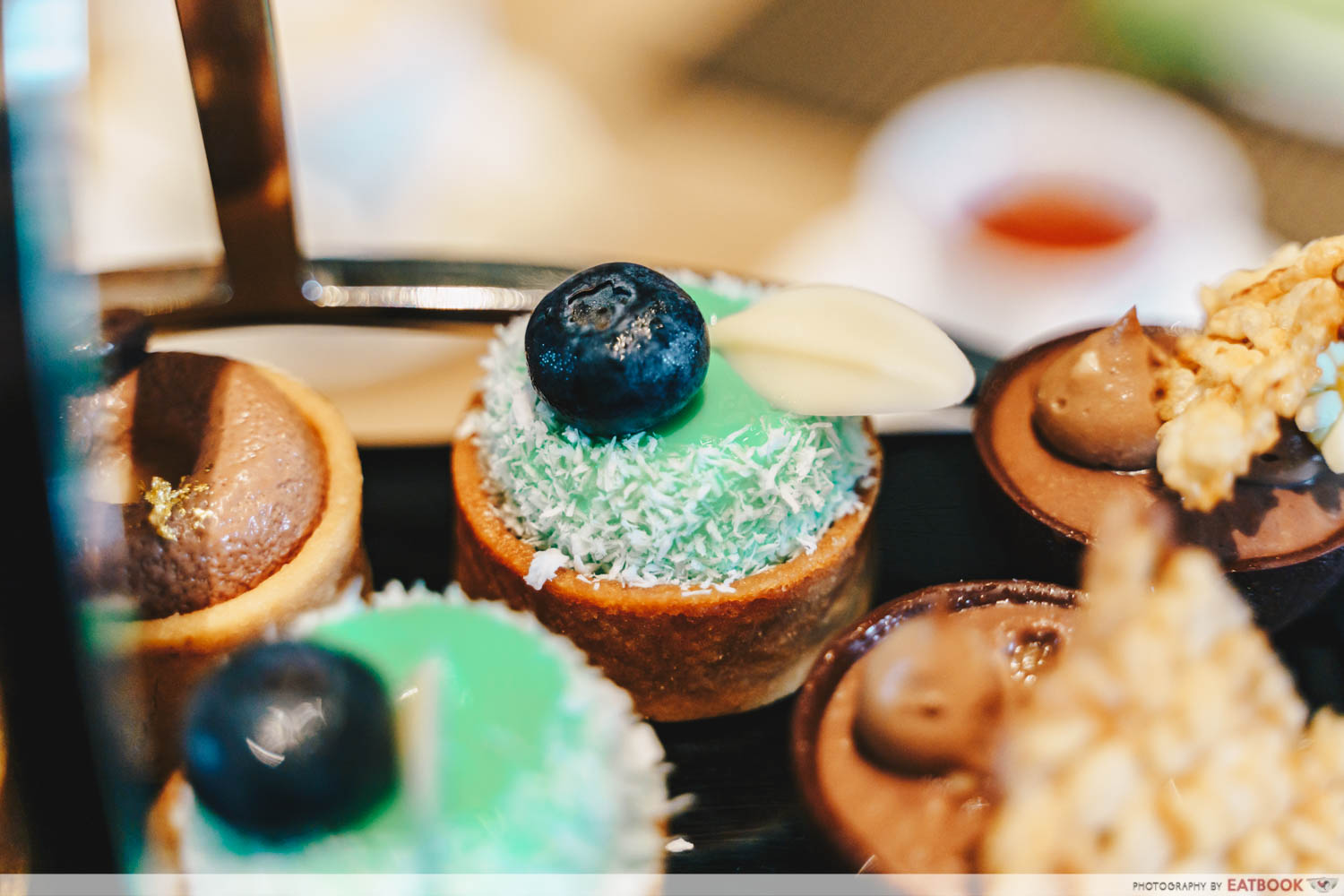 The fragrance of pandan and coconut was clearly highlighted in the Pandan Coconut Tart.  The crust of the tart was decent─it was crumbly but firm enough. The pandan curd was sweet, delicate and smooth, while the desiccated coconut added a burst of flavour. Overall, it was well-executed.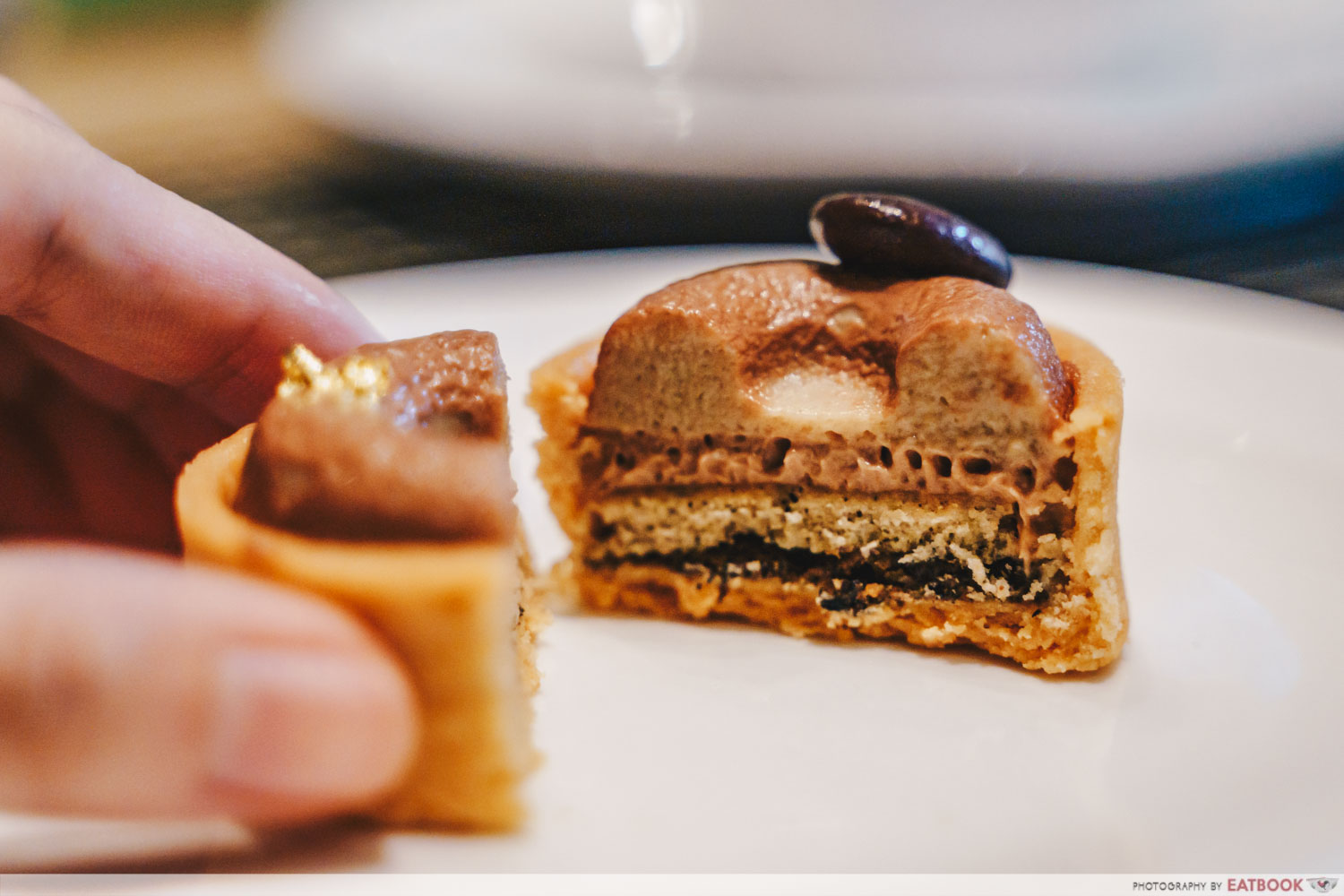 Here's one for those who enjoy an espresso kick. The Earl Grey Cappuccino Tart had a bold coffee taste that was balanced with a slight sweetness. The earl grey component wasn't really noticeable, as it was overpowered by the espresso. With regards to the texture, it was light and airy, which, to me, perfectly replicated the element of milk foam in cappuccino.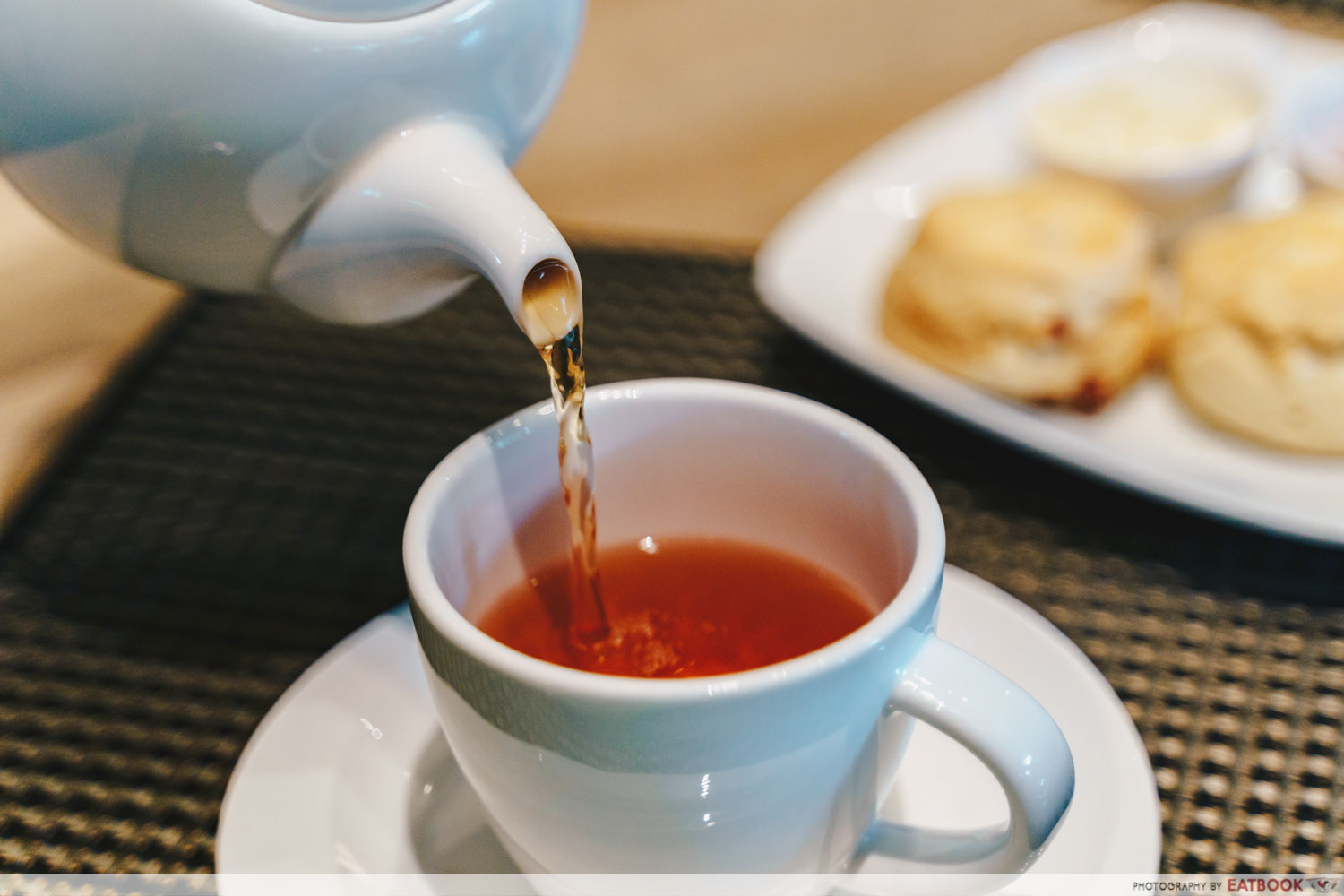 Of course, the free-flow coffee and TWG tea made this experience even more value-for-money. They offer a variety of tea, including classic blends like the English Breakfast and Chamomile, as well as exotic ones like South African Vanilla Bourbon Tea and Moroccan Mint Tea. We tried the Moonfruit Black Tea, which was warm, soothing, and had a burst of fruitiness. 
Also, you don't have to stress over which tea or coffee to select given the variety of choice. Lime Restaurant allows you to opt for a different flavour, or switch to coffee if you change your mind and would like something different on your second cup.
Ambience at Lime Restaurant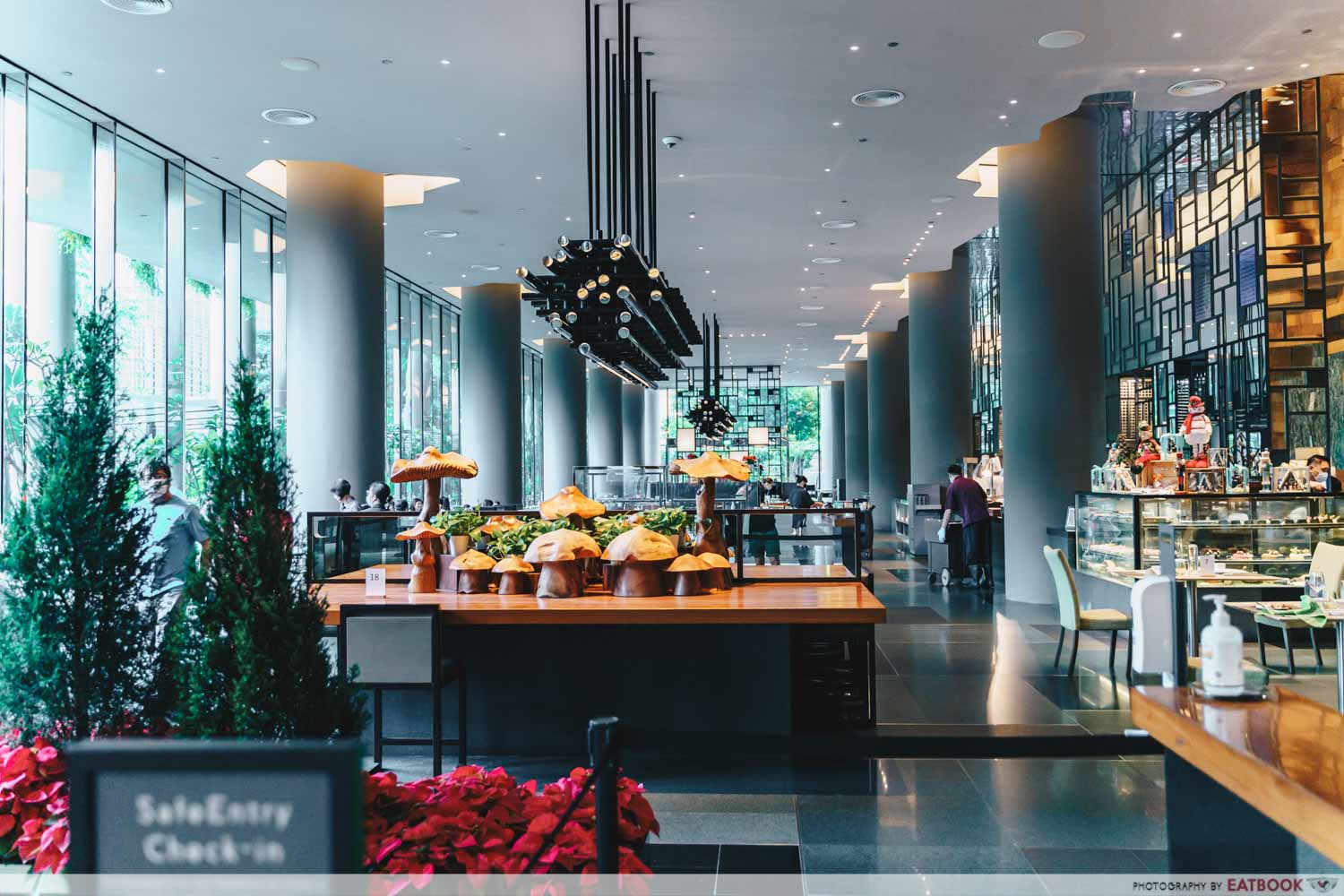 Lime Restaurant is located on the first floor of PARKROYAL COLLECTION Pickering, which is just a two-minute walk from Chinatown MRT Station. The interior of the restaurant was clad in a smooth, greys, and had classy decor. The full-length glass windows invited a lot of light in, giving it a more open and spacious look. I'd recommend requesting for sofa seats as it makes the experience even more comfortable. 
The verdict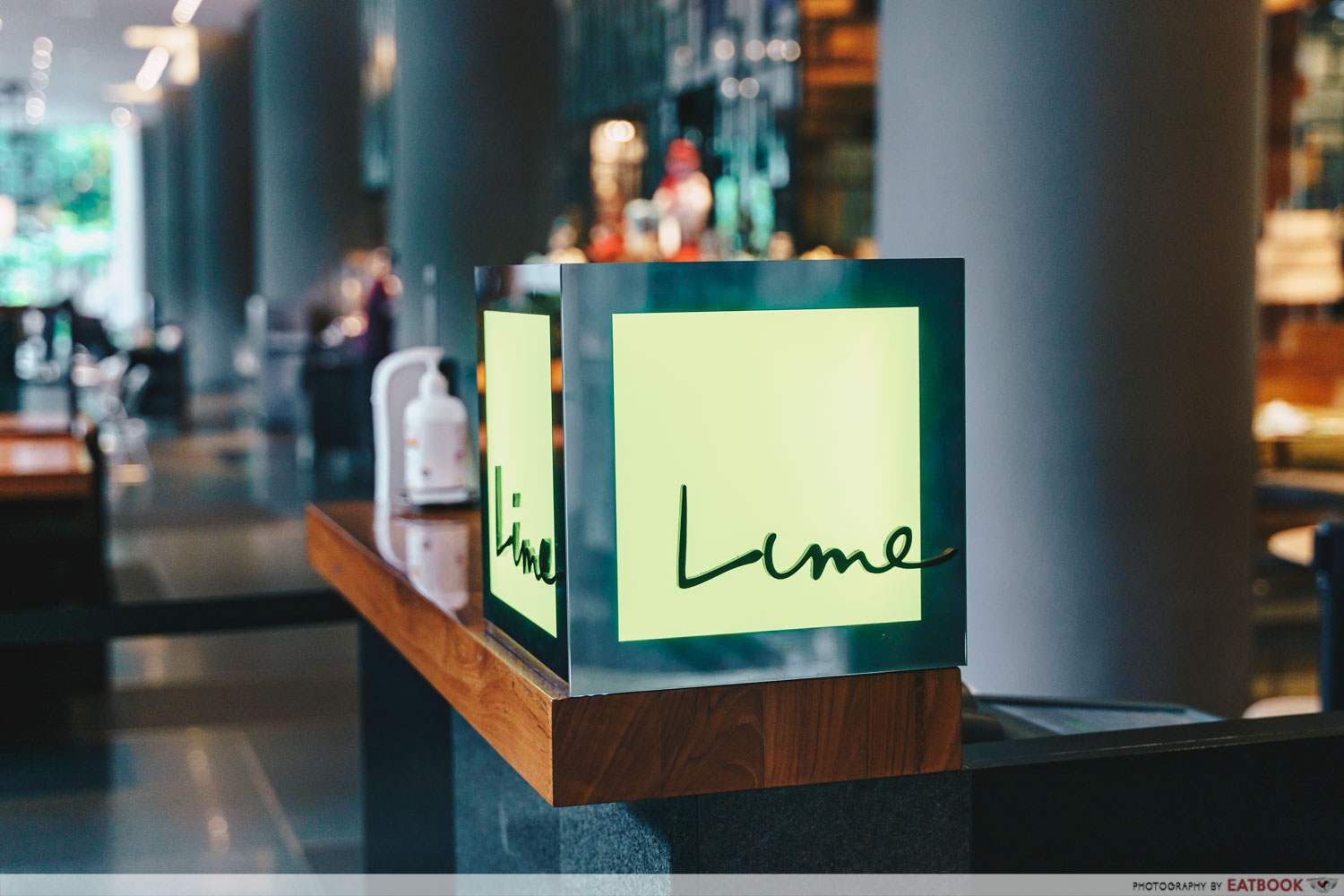 Considering the spread of food, bottomless coffee and tea, and the classy ambience, the price is immensely worth paying for. Their sweet and savoury treats are decent, some better than average for sure. No doubt, the experience left me feeling pleased and rejuvenated. 
They also have a Christmas-themed high tea set available during this festive season, which is also priced at $58++ for two. Remember to make a reservation before heading down as it may be crowded at this time of the year. 
Address: 3 Upper Pickering Street, PARKROYAL COLLECTION Pickering, Singapore 058289
Opening hours: Mon-Fri 3pm to 5pm, Sat-Sun 3:30pm to 5:30pm
Website
Lime Restaurant is not a halal-certified restaurant.
Photos taken by John Lery Villanueva.
This is an independent review by Eatbook.sg.
Lime Restaurant Afternoon Tea Review: $29++ Per Person With Bak Kwa Scones And Earl Grey Tarts
Summary
Pros
– Great view
– Cosy ambience
– Delicious scones
– Value-for-money
Cons
– Some desserts and savoury treats were average-tasting
Recommended Dishes: Tiers Of Joy ($58++)
Opening hours: Mon-Fri 3pm to 5pm, Sat-Sun 3:30pm to 5:30pm
Address: 3 Upper Pickering Street, PARKROYAL COLLECTION Pickering, Singapore 058289