---
Pamper yourself at a high tea sesh with your girls  
---
I don't know about you, but as a kid, I imagined high tea to be a luxury only available for the rich and fancy. I would picture a group of tai tai clad in designer wear from head to toe, laughing daintily as they sipped on organic tea from a tiny silverware, and nibbling on canapés beautifully arranged on a floral tiered stand.
While our sunny island is home to many drool-worthy high teas spots, I find most of the prices bo hua given that we are being served morsels of food. Hence, this list is for people like me who wish to step tai tai, but do not want to spend like one. Be sure to stick around till the end because these places are ranked from the most to least expensive!  
---
1. House at Dempsey 
---
Recreate the iconic Mad Hatter tea party with your girlfriends at House at Dempsey, which offers an extensive spread of both sweet and savoury nosh as part of their vintage-themed House Hi-Tea ($30++). Highlights of their buffet spread include mini slider burgers, chocolate avocado brownie, and moist banana muffin. Your choice of unlimited tea or coffee is also served in a teapot, my favourite being their homemade ginger tea. While you're at it, snap a few pictures of the picturesque interior, or pose for an #ootd shot in the garden for your next Instagram update.
Address: 8D Dempsey Road, Singapore 24967
High tea hours: Thur-Fri 3pm to 5:30pm
Tel: 6475 7787
Website
---
2. L'eclair by Sarah Michelle 
---
Most may have heard of L'eclair by Sarah Michelle's stellar eclairs, but not many know about their revamped L'eclair High Tea Degustation Set ($60 for two). Engage in a tête–à–tête with your dining partner while savouring three tiers of canapés and mini eclairs, together with your choice of coffee or tea. If all the mini eclairs combined are not enough to satisfy your sweet tooth, purchase a regular-sized Ispahan Eclair ($8.50). This sweet treat blends both rose and lychee flavours, and is made complete with raspberries.
Address: 190 Clemenceau Avenue, #01-28, Singapore Shopping Centre, Singapore 239924
High tea hours: Tue-Fri 11am to 8pm, Sat 11am to 9pm, Sun 11am to 6pm
Tel: 6635 7909 /  9101 1971
Website
---
3. Hotel Fort Canning 
---
Hotel Fort Canning recently revamped their Hi-Tea in the Park ($25++), available at both The Salon and Tisettanta Lounge. Look forward to an assortment of mini sweets and savoury bites with your choice of coffee or TWG tea, while unwinding in their beautiful park. My favourites from this set are the mini macarons and Coronation Chicken Tartlet.
Address: 11 Canning Walk, Hotel Fort Canning, Singapore 178881
High tea hours: Daily 3pm to 6pm
Tel: 6799 8809
Website
Full list of prices and other Hi-Tea sets
---
4. Arteastiq 
---
Take a break from shopping and pop by Arteastiq at Mandarin Gallery to enjoy their Signature Teasery ($48++ for two) that comes with two specialty teas of your choice. Expect an assortment of sweet and savoury bites such as mini smoked salmon sandwiches and matcha cheesecake, elegantly plated in a two-tiered golden bird cage stand. For all you artsy-fartsy people, embrace your inner Picasso in their art studio and paint a masterpiece with all the materials provided by the cafe.
Address: 333A Orchard Road, #04-14/15, Mandarin Gallery, Singapore 238867
High tea hours: Mon-Fri 11am to 10pm, Sat-Sun 10am to 10pm
Tel: 6235 8370 or SMS 8120 4659
Website
Menu
Full list of outlets
---
5. LIME at PARKROYAL on Pickering

---
If you missed LIME at PARKROYAL on Pickering's Christmas buffet, a cheaper alternative would be Tiers Of Joy ($42++ for two). Pick either a cup of coffee or TWG tea to pair with three tiers of mouth-watering savoury and sweet treats such as Snow Crab with Green Apple Open-Faced Sandwich and Coconut Pandan Mousse. If you are a self-declared caffeine addict, add $5 to enjoy unlimited coffee and TWG tea.
Address: 3 Upper Pickering Street, PARKROYAL on Pickering, Singapore 058289
High tea hours: Daily 3pm to 6pm
Tel: 6809 8899
Website  
---
6. Tiffany Cafe & Restaurant  
---
If No-Face from Spirited Away is your spirit animal, and you can chow down humans food like him, Tiffany Cafe & Restaurant's Weekend High Tea ($19.90++) might just be your next favourite weekend hangout. Expect an array of sweet and savoury bites in this buffet-style high tea that includes kueh, dim sum, sushi and cakes – great for those who simply cannot stick to one cuisine.
Address: 60 Eu Tong Sen Street, Furama City Centre, Singapore 059804
High tea hours: Sat-Sun 2:45pm to 5:30pm
Tel: 6531 5366
Website
---
7. Fresh Fruits Lab

---
Chemistry was my favourite subject in secondary school. Thus, when Fresh Fruits Lab's lab-inspired plating started making waves on Instagram, it immediately caught my attention and made it to my list of 'must-visit cafes'. Satisfy your inner geek by drinking cold-pressed juices out of beakers, and digging into tiramisu served atop a tripod and wire gauze from their photogenic Afternoon Tea Set ($19++).
Address: 351 Changi Road, Lorong Marzuki, Singapore 419818
High tea hours: Tue-Fri 3pm to 5pm
Tel: 6677 6741
Website
---
8. The Marmalade Pantry

---
I used to frequent The Marmalade Pantry for brunch, but next time, I'll head down for their Afternoon Tea ($38++ for two). Choose two pots of Gryphon tea and any two cupcakes to go alongside buttermilk scones with strawberry preserves and clotted cream, as well as savoury finger sandwiches. Some top cupcake picks are Lavender Blueberry ($4.80++ a la carte) and S'mores ($4.80++ a la carte), so be sure to keep a lookout for these flavours that are on rotation!
Address: 2 Orchard Turn, #03-22, ION Orchard, Singapore 238801
High tea hours: Daily 3pm to 6pm
Tel: 6734 2700
Website | Full list of outlets
---
9. Chilli Padi Nonya Cafe  
---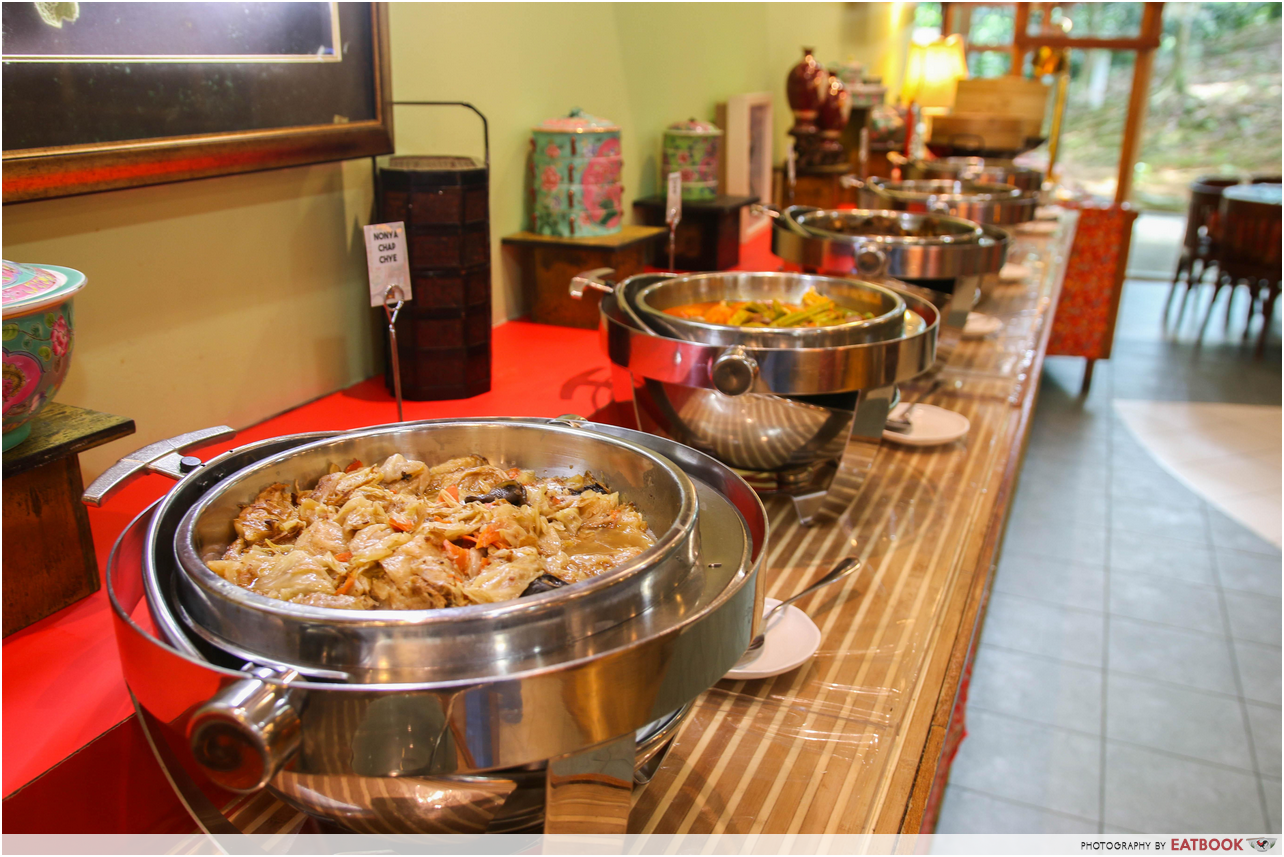 Change up your high tea routine at Chilli Padi Nonya Cafe, which serves a plethora of Peranakan treats in their Buffet Hi-Tea ($12.80++). Be sure to have a go at their DIY laksa and kong ba bao (braised pork belly bun), and end your feast with a selection of sweet kueh. Located within the premises of NUS, this is a great place for large OG celebrations before hitting the books again.
Address: 29 Heng Mui Keng Terrace, #06-21, Singapore 119620
High tea hours: Sat-Sun & PH 3pm to 5:15pm
Tel: 6872 2982
Website
---
10. Fosters  
---
Holland Village is an enclave of cafes that continues to attract foodies from all corners of Singapore. Living in the North makes travelling to Holland V slightly inconvenient, but I'll head down anyway for Fosters' Devonshire Cream Tea Set ($11.50++). Comprising of two slices of tea cakes, mini sandwiches and their highly-raved-about scones with strawberry jam and clotted cream, as well as freshly brewed coffee or tea, this tea set gives you a bang for your buck.
Address: 277 Holland Avenue, Holland Village, Singapore 278994
Tea hours: Mon-Fri 11am to 5:30pm, Sat-Sun 3pm to 5pm
Tel: 6466 8939
Website
---
Be a budget tai tai
---
With these affordable high tea spots, you no longer have to fret over where to hang out at with your girlfriends. Comment down below if your go-to high tea spot is less than $30++ per pax!