---
Pamper yourself at an affordable high tea sesh
---
While our sunny island is home to many drool-worthy high teas spots, I find most of the prices bo hua given that we are being served morsels of food. Hence, this affordable high tea in Singapore list is for people like me who wish to step tai tai, but do not want to spend like one. Priced under $30++ per person, you definitely get value-for-money to go with those atas vibes.
---
1. Wildseed Cafe
---

Tucked away in Seletar Aerospace Park, Wildseed Cafe offers a quiet retreat from the hustle and bustle of urban life. Make yourself at home in this charming colonial house, and pamper yourself with their Afternoon Tea Set ($40++ for two).
Start off with some fluffy and buttery Madeleines, continue with their Mini Brownies before refreshing your palate with bites of their Chicken Pinche Petit Sandwiches. End off your meal sipping a coffee, to go along with their sweet Macaroons to complete your afternoon tea session!

Address: 3 Park Lane, Seletar Aerospace Drive, Singapore 798387
High tea hours: Daily 2pm to 5pm
Tel: 8126 7524
Website
---
2. Violet Oon
---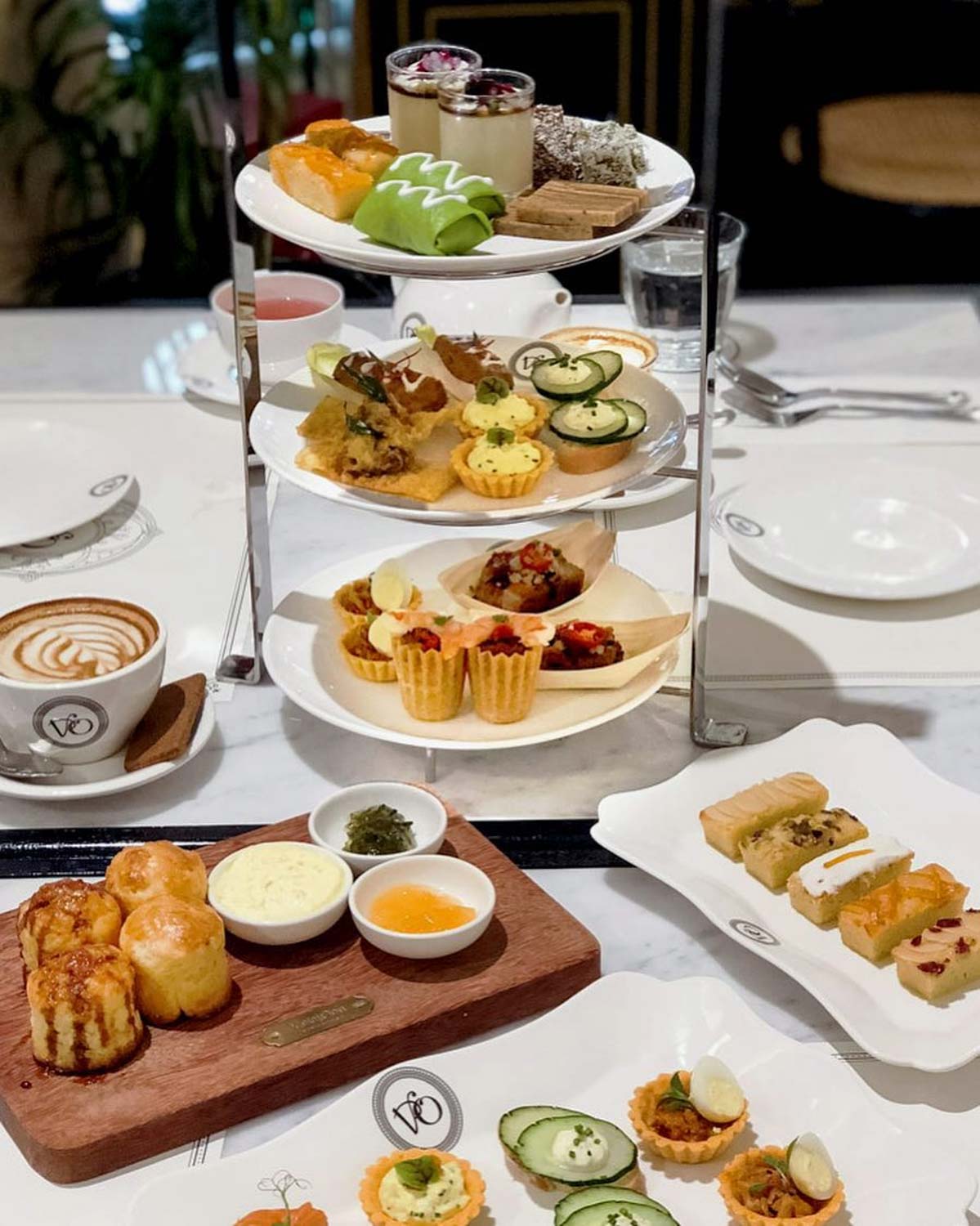 Image credit: @violetoonsingapore

Violet Oon is one of Singapore's pre-eminent authorities in Peranakan food, so expect to find legit Nyonya kueh in their Singapore High Tea Set ($58++ for two). There are 13 different bites in the platter, including their signature Kehy Pie Tee, so you can definitely stretch your dollar.

Special mention goes to their Kueh Dah Dah. Sink your teeth into this fluffy pancake roll and savour the candied aftertaste of gula melaka. For those who prefer savoury flavours, their Chilli Crab Tartlet with Quail Egg will wow you with its spicy kick.

Address: 2 Orchard Turn, #03-28/29, ION Orchard, Singapore 238801
High tea hours: Daily 3pm to 5.30pm
Tel: 9834 9935
Website
---
3. Strait Place 1819 
---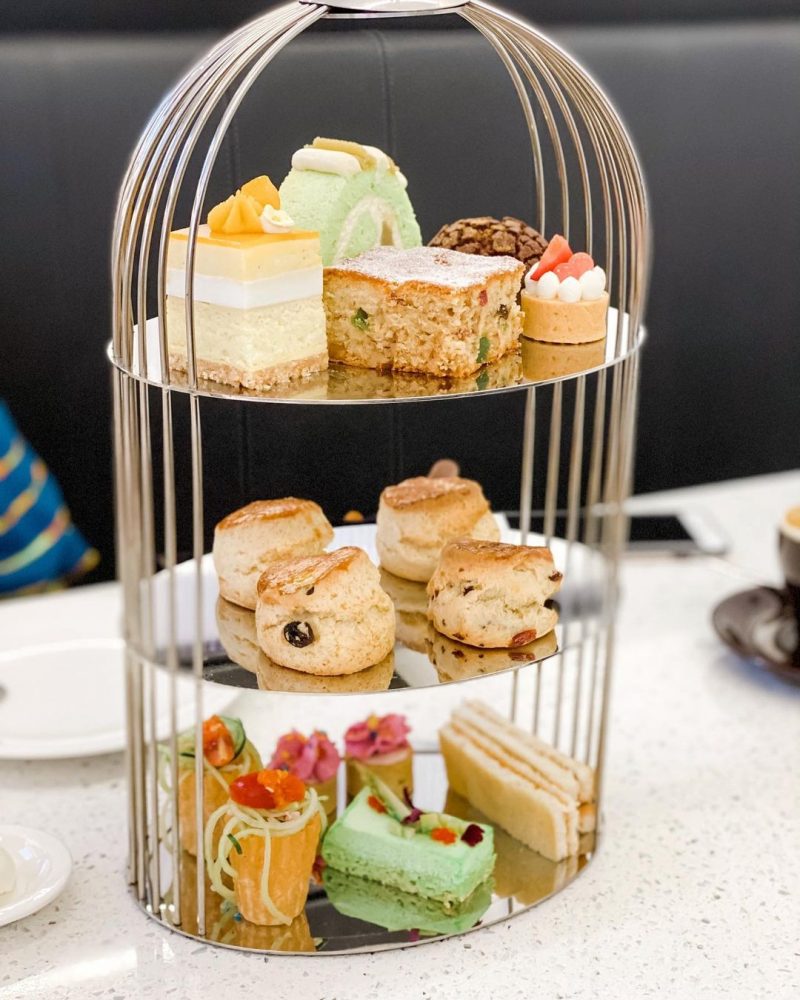 Image credit: @vivienneeluv

Recharge with The Strait Afternoon Tea ($42++ for two) at Strait Place 1819 by d'Good Cafe! This three-tiered set features a plethora of treats which are handcrafted daily, including their Matcha Swiss Roll and Cranberry Scones. For something more savoury, the set includes Nasi Lemak Sushi, a local twist on the popular Japanese food.

Another reason to chill at Strait Place 1819 is the diverse selection of brews, with 100 types of coffee and tea available here.

Address: 1 HarbourFront Walk, #02-111, VivoCity, Singapore 098585
High tea hours: Daily 2:30pm to 5:30pm
Tel: 6261 6602
Website
---
4. The Marmalade Pantry
---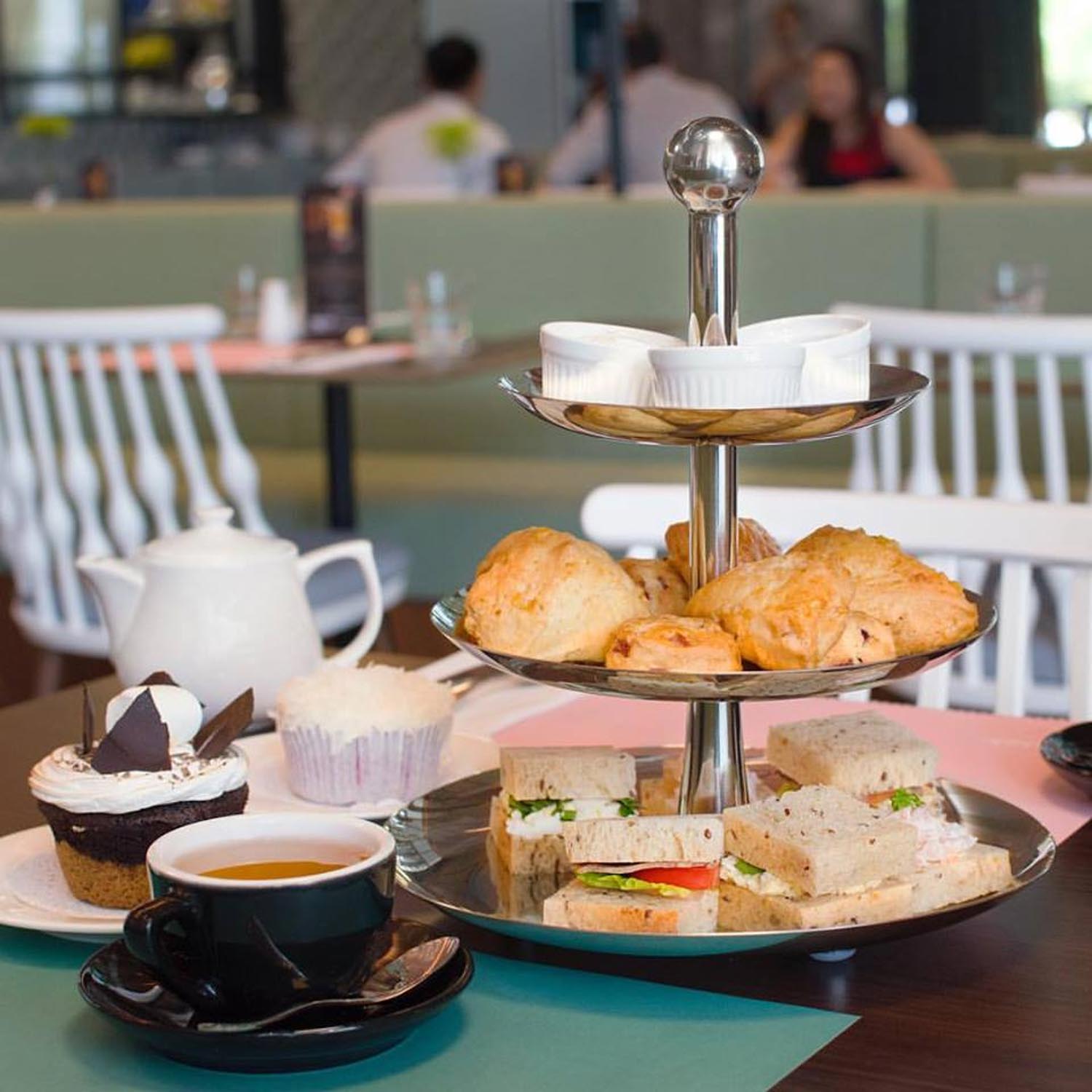 Image credit: @themarmaladepantry

I used to frequent The Marmalade Pantry for brunch, but next time, I'll head down for their Afternoon Tea Set ($48++ for two). Have pots of Monogram tea to go alongside your Buttermilk Scones with Strawberry Preserves and Clotted Cream, as well as savoury Smoked Salmon and Truffle Egg Mayo finger sandwiches. Add on some of our top cupcake picks to make the meal sweeter, such as the Cranberry Lychee ($5++ a la carte) and S'mores ($5++ a la carte). Be sure to keep a lookout for these flavours as they are on rotation!

Address: 8 Sinaran Drive, #01-02/04, Oasia Hotel Novena, Singapore 307470
High tea hours: Fri-Sun 3pm to 6pm
Tel: 6664 0348
Website
---
5. TWG Tea
---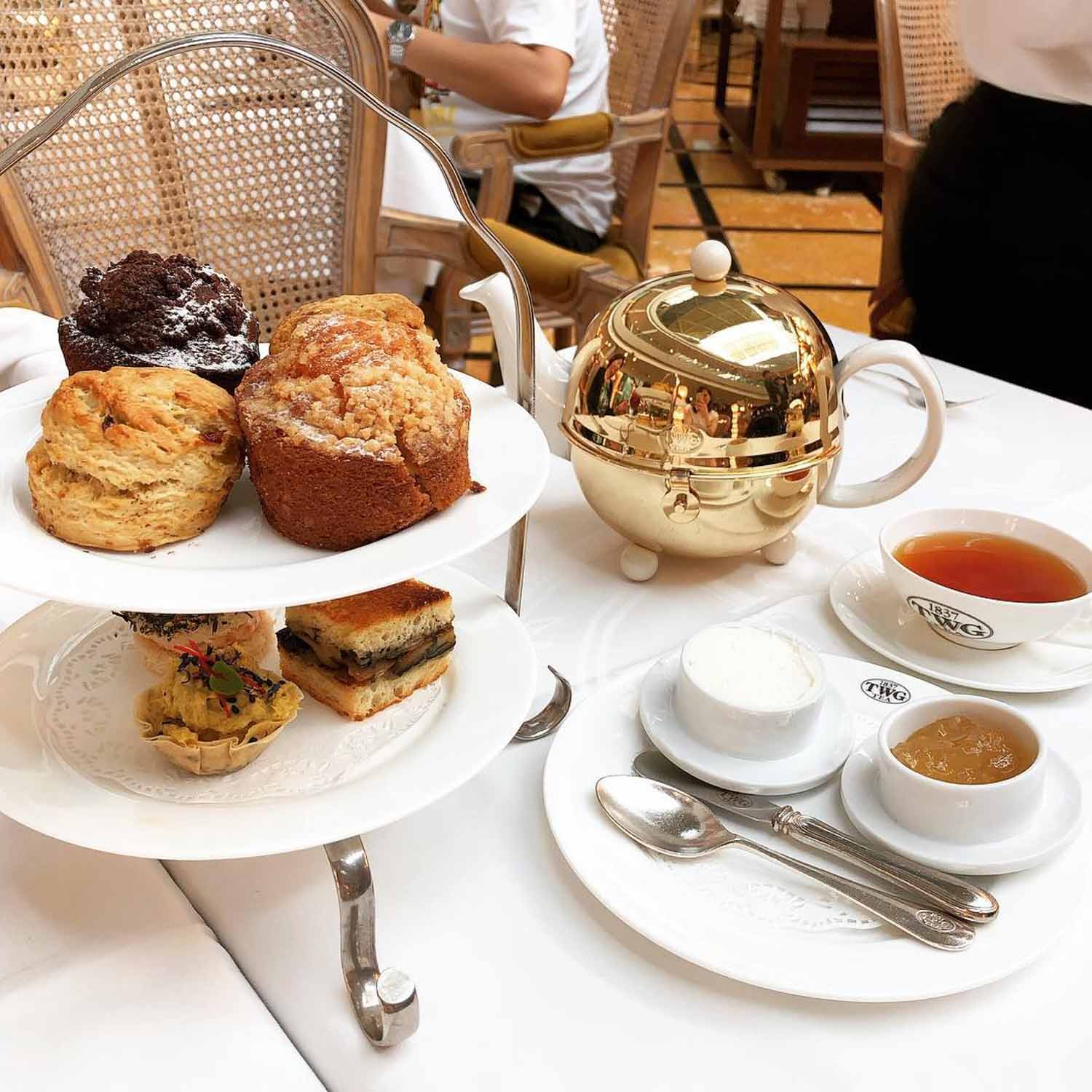 Image credit: @pakupaku.kanata

TWG Tea is synonymous with atas tea blends, so it's no surprise that their tea time set menus are just as classy and luxurious. If you're a tai tai on a budget, their 1837 ($20++) tea set is best suited for you. Pair a cup of tea with your choice of two muffins, one tea-infused patisserie, or two scones.

For those who prefer a more extensive selection, or with the budget of a Crazy Rich Asian, their Fortune ($44++) and Parisian ($72++) sets are better alternatives. Both come with an assortment of sandwiches, sweets, and tea, though in different quantities and variety. 

Address: 2 Orchard Turn, #02-21, ION Orchard, Singapore 238801
High tea hours: Daily 2pm to 6pm
Website
---
6. Brunches Cafe
---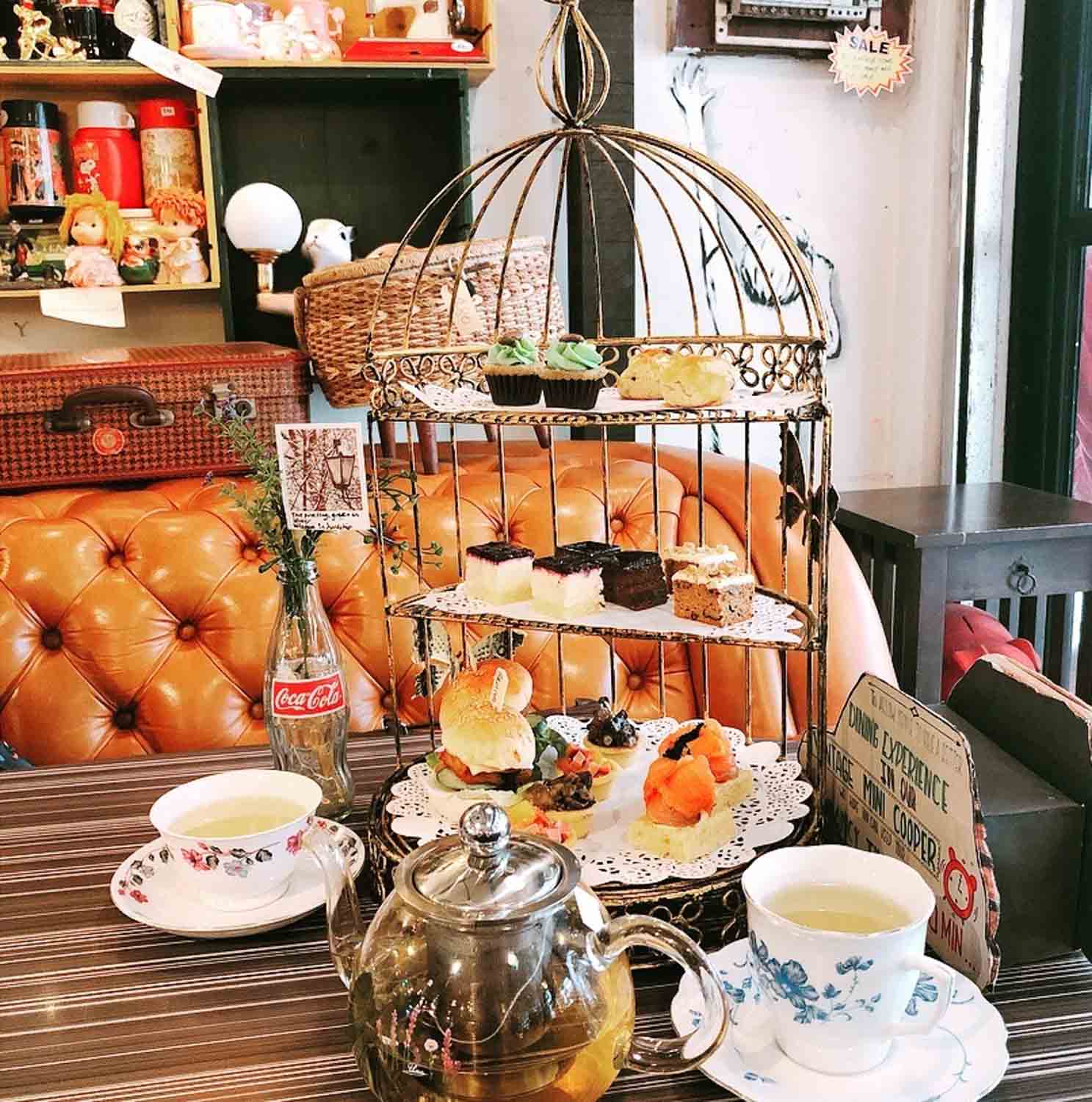 Image credit: @yi_chieh_wu

Exploring Brunches Cafe is akin to a treasure hunt. From the rotary dial phone to the gramophone, you'll stumble upon a litany of old-school gems at this vintage cafe. The jewel in the crown is this refurbished Mini Cooper, converted into a seating booth; every spot is simply too IG-worthy to pass. However, this spot is highly coveted, so be sure to call in advance to chope it!
Once you're settled in, lean on the leather sofa and tuck into the Brunches High Tea Set ($36++ for two). Housed in an intricate birdcage, this set offers a myriad of sweet and savoury treats, including mini burgers, tarts, and cakes. End your afternoon with their Cooling & Inner Strength ($7.50++) tea and enjoy the reinvigorating notes of red dates and dried longan.

Address: 96 Rangoon Road, Singapore 218381
High tea hours: Mon-Fri 11am to 10pm, Sat-Sun 10am to 10pm
Tel: 8685 8488
Website
---
7. Cedele
---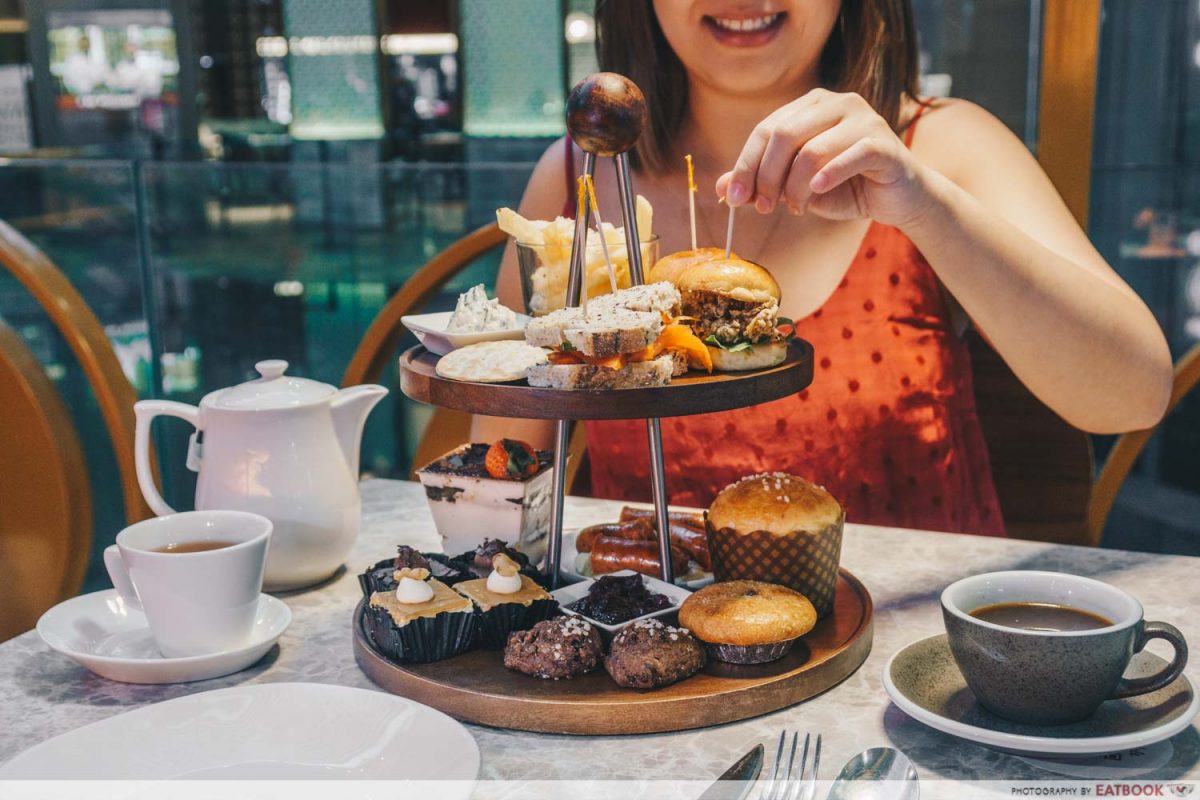 Another inexpensive option at Marina Bay Sands is Cedele's Afternoon Tea Set ($48++ for two). Look forward to interesting savoury options like Crispy Soft Shell Crab and Hollandaise Sliders and Smoked Salmon and Pancake Coins to fill you up. If not, those with a sweet tooth will love their Drop Scones With Homemade Fruit Jam or even their Dark Jamaican Rum Tiramisu!
Check out our Cedele Afternoon Tea review!
Address: 2 Bayfront Avenue, #B2-120/120A, Marina Bay Sands, Singapore 018972
High tea hours: Daily 2pm to 6pm
Tel: 6688 7345
Website
Cedele Afternoon Tea Review: $24++ Per Person With Truffle Fries, Rum-spiked Tiramisu And More
---
8. JUMBO Seafood
---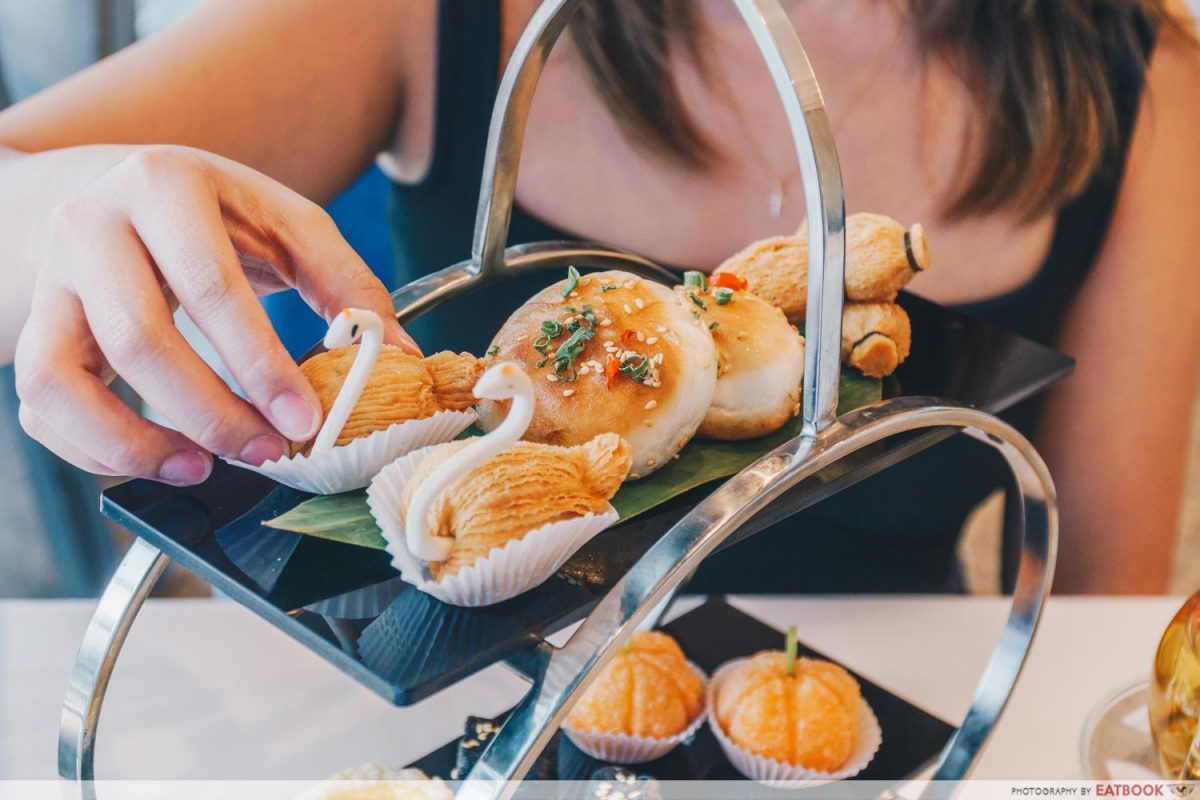 JUMBO Seafood doesn't only serve crabs and seafood, they have a very affordable Afternoon Tea Set ($48++ for two) as well. Feast on their signature Pan-fried JUMBO Chilli Crab Buns or JUMBO 'Siew Mai' while looking out into the nice skyline view of Orchard Road from the higher floors of ION Orchard. End off your meal with sweet treats like Molten Salted Egg Yolk Lava Mochi.
Read our JUMBO Afternoon Tea review.
Address: 2 Orchard Turn, #04-09, ION Orchard, Singapore 238801
Afternoon tea hours: Daily 2pm to 5:30pm
Tel: 6737 3435
Website
JUMBO Seafood Afternoon Tea Review: $24++ Per Person With Chilli Crab Bun And Salted Egg Lava Mochi
---
9. Dian Xiao Er
---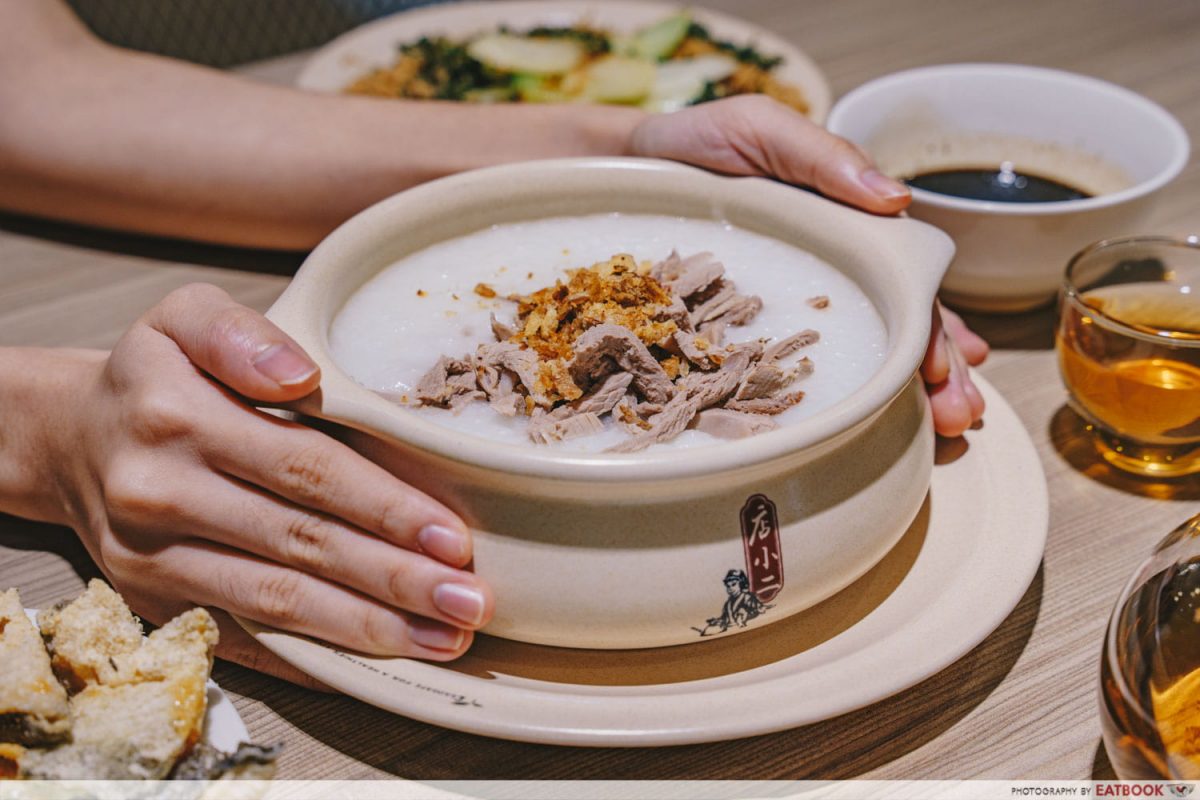 Those looking to take a break from walking around Jewel Changi Airport's shops, consider stopping by Dian Xiao Er for their Floral Tea Set ($23.80++ for 2 to 3 people). Unlike your conventional afternoon teas, they offer comforting Ten Wonder Shredded Duck Porridge or Minced Meat, Century Egg and Salted Egg Porridge, both going well with the Deep-Fried Kailan with Floss served as a side. With four different types of tea blends for you to choose from, you'll leave with your tummy satisfied here.
Check out our Dian Xiao Er Afternoon Tea review!
Address: 78 Airport Boulevard, #B2-229, Jewel Changi Airport, Singapore 819666
Afternoon tea hours: Mon-Thurs 2.30pm to 4.30pm
Website
Dian Xiao Er Afternoon Tea Review: $23.80++ For Two, Including Herbal Duck Porridge And Pork Floss Fried Kailan
---
10. Arteastiq
---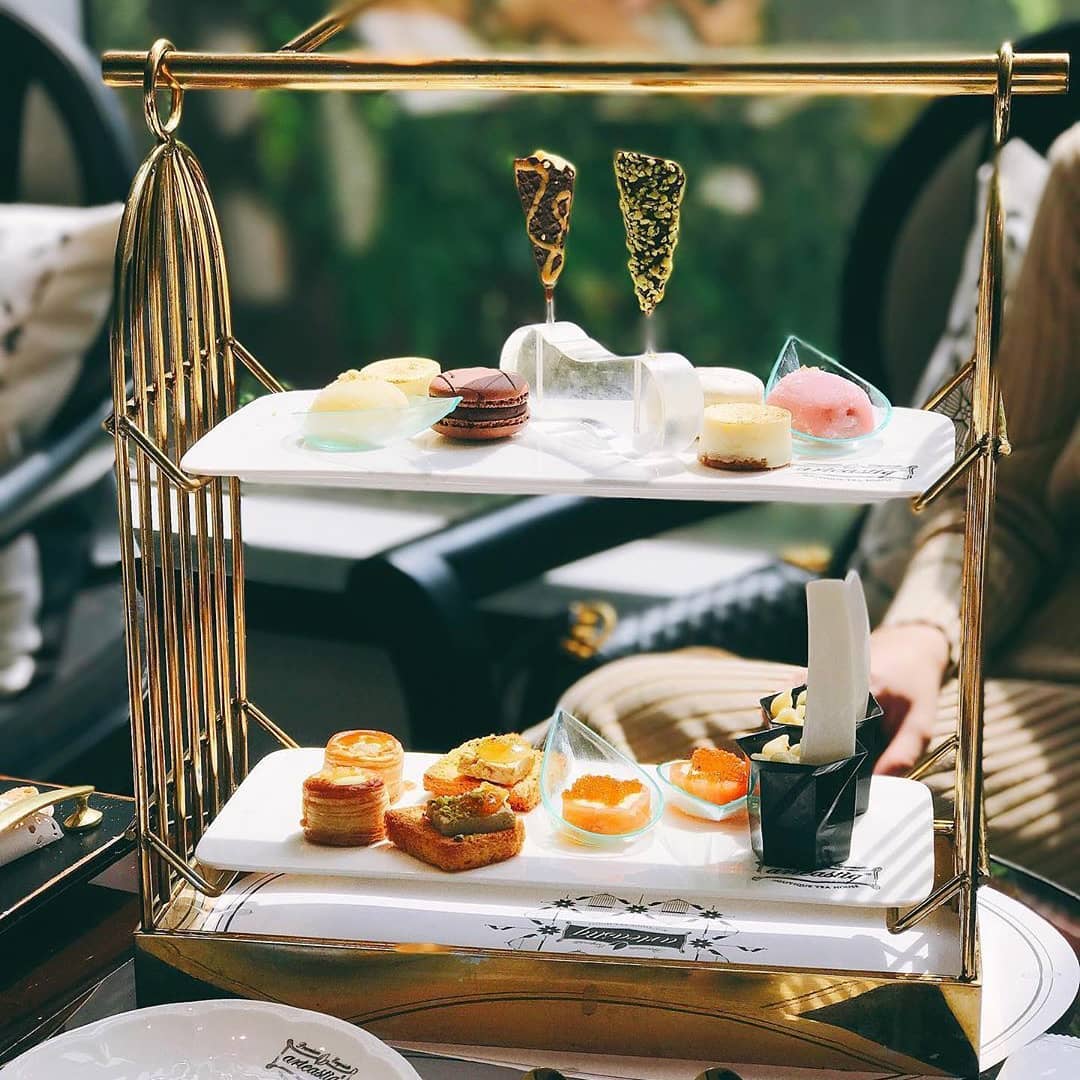 Image credits: Arteastiq
Right at the heart of Orchard Road rests Arteastiq, with its Signature High Tea Set ($48++ for two). Other than a boutique teahouse, they are also an art studio that allows you to paint while sipping on coffee. Enjoy unique dishes like Foie Terrine On Toast Bread and Truffle Shell Pasta, as well as sweets such as Chocolate Cone With Banana Custard, while overlooking the view of Orchard Road.
Address: 333A Orchard Road, #04-14/15, Mandarin Gallery, Singapore 238867
High tea hours: Daily 1pm to 5pm
Tel: 6235 8370
Website
---
11. L'Eclair Patisserie
---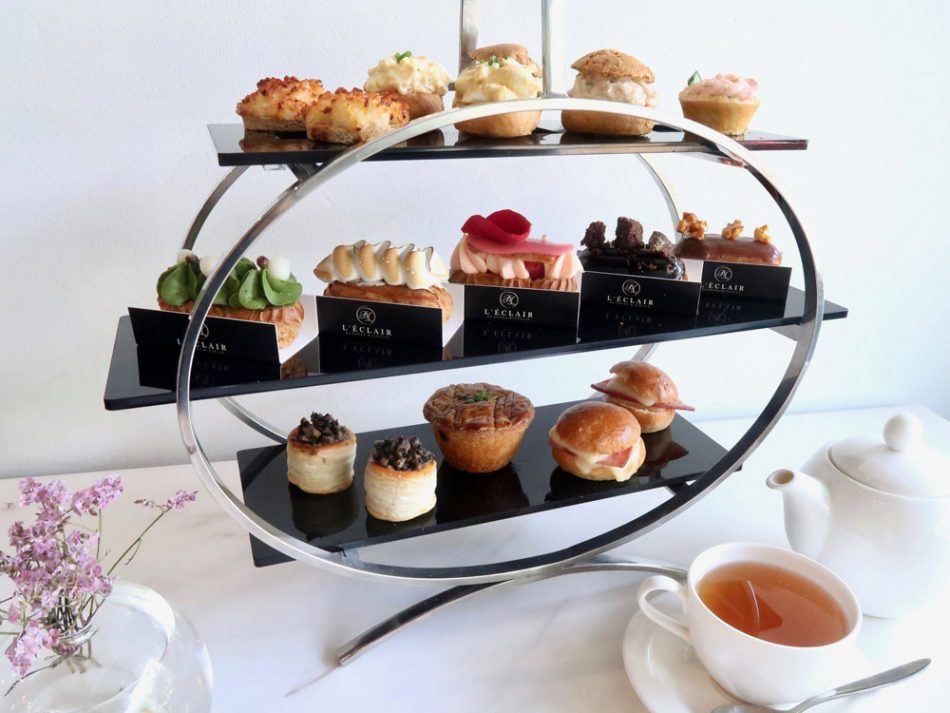 Image credits: L'Eclair Patisserie
Fans of French eclairs rejoice, there's something for you at L'Eclair Patisserie. Their Degustation High Tea Set ($55 for two) is carefully prepared by chefs who have been trained at Le Cordon Bleu Paris. Savour their Warm Crab Gougeres and Parmesan Onion Crostini, then finish off with their signature 5 Assorted Mini Eclairs. This set requires reservations to be made in advance.
Address: 190 Clemenceau Ave, #01-28, Singapore Shopping Centre, Singapore 239924
High tea hours: Daily 12pm to 1.30pm, 2pm to 3.30pm, 4pm to 5.30pm
Tel: 6635 7909
Website
---
12. Tea Room
---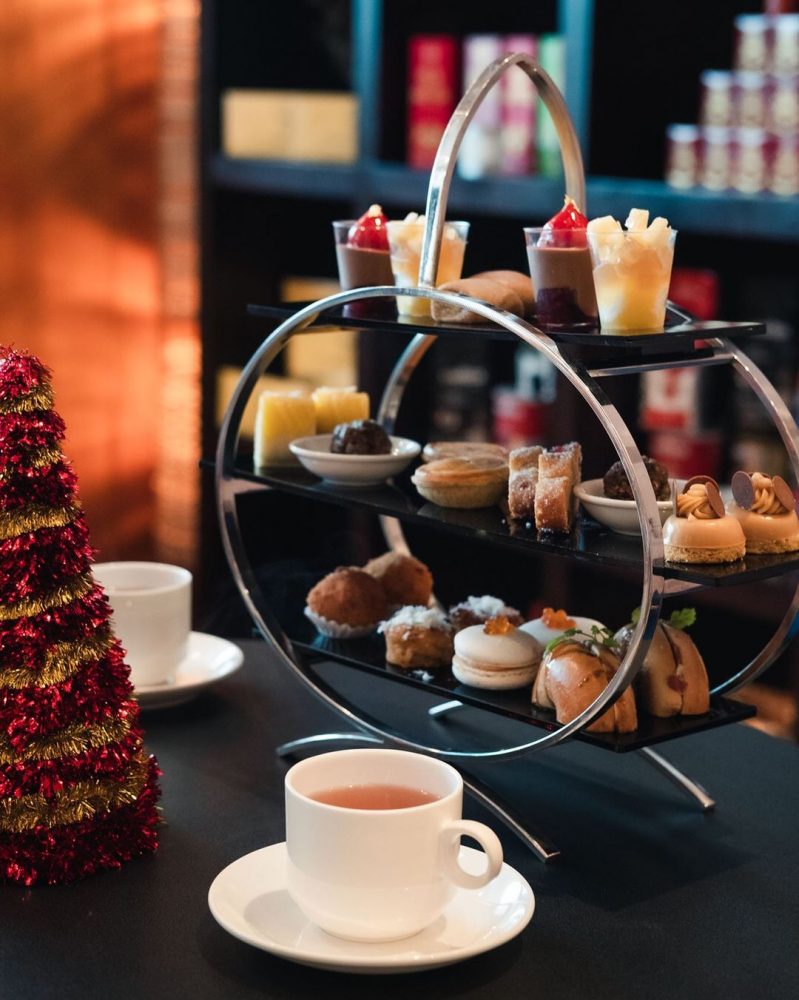 Image credits: @bertweekendeats
A local twist on your usual experience, Amara Singapore has a Quintessential Afternoon High Tea Set ($50++ for two). Look out for their Mini Crispy Har Cheong Chicken Burger and Otak Brioche Toast, and end your meal on the right note with desserts like Cendol Panna Cotta and Hong Kong Style Egg Tart. 
Address: 165 Tanjong Pagar Road, Amara Hotel, Singapore 088539
High tea hours: Sat-Sun 12pm to 5pm
Tel: 6879 2626
Website
---
13. Fosters Steakhouse
---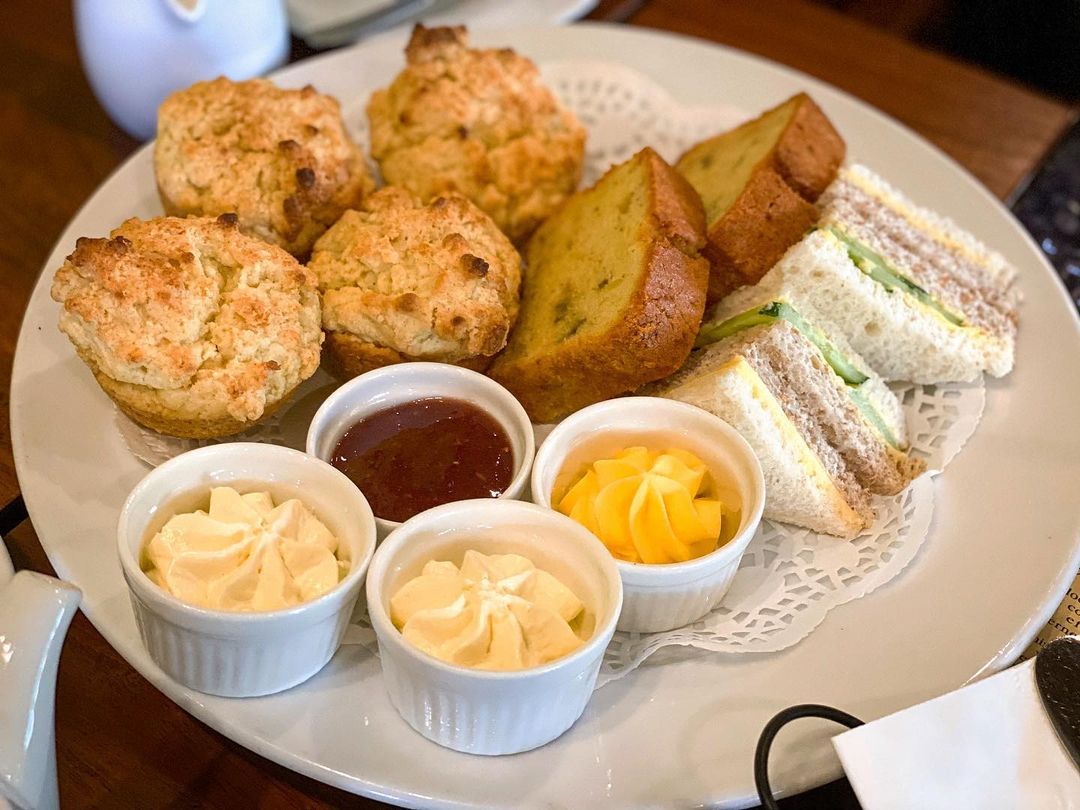 Image credits: @darzie.eats
An OG in the Singapore food scene, Fosters Steakhouse has been around since the 1960s. Situated in Holland Village, their Devonshire Cream Tea Set ($11.50++) is one of the most affordable high tea sets around. 
Consisting of fresh scones with butter, fresh strawberry preserve and fresh cream and finger sandwiches, they come served with a pot of tea or cup of coffee. Fostering a sense of national pride is important, but so is remembering our colonial roots.
Address: 277 Holland Avenue, Singapore 278994
High tea hours: Daily 3pm to 5pm
Tel: 6466 8939
Website
---
14. LeBar
---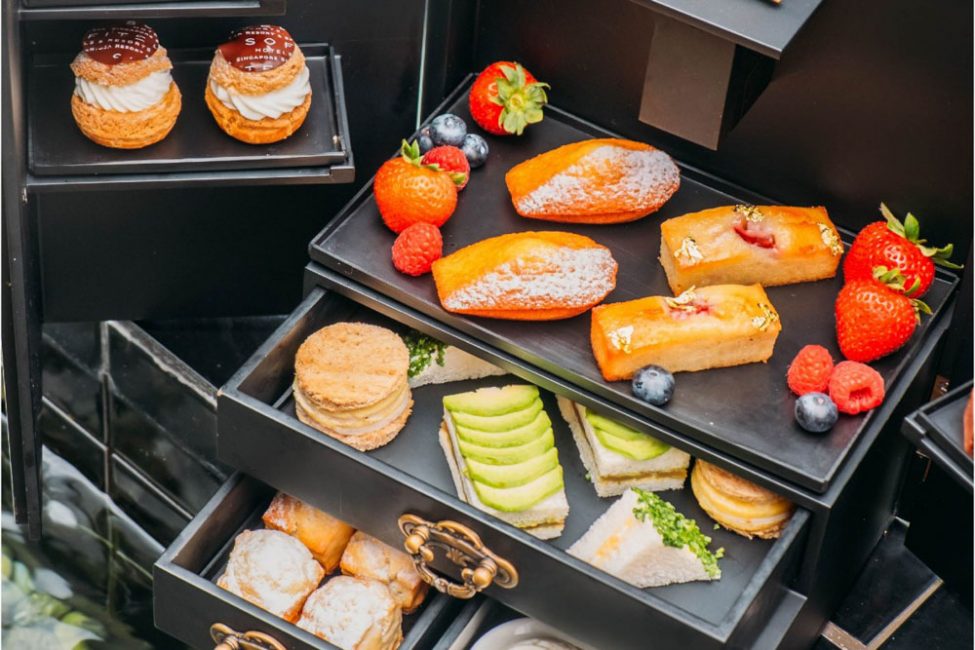 Image credits: LeBar
Other than its beaches and tourist attractions, Sentosa also has a solid afternoon tea place in Sofitel Singapore's LeBar. Their French Classic High Tea ($58++ for two) has French influences like Dark Chocolate Candied Orange Moelleux and Jasmine Tea Macarons. Look out for their locally-inspired Otah-Otah Sandwich With Sambal Mayo and Pandan Kaya Layer Cake if they're up your alley too!
Address: 2 Bukit Manis Road, Sofitel Singapore, Singapore 099891
High tea hours: Daily 1pm to 5pm
Tel: 6708 8310
Website
---
15. Sweetea Caffe
---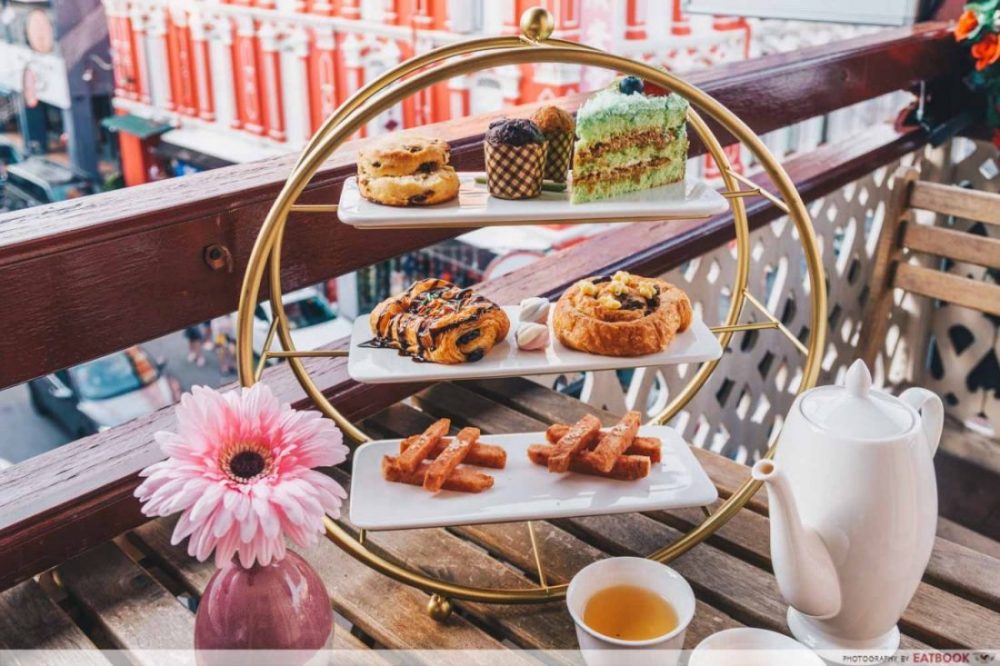 Chinatown has a hidden gem in Sweetea Caffe, selling affordable afternoon tea set amidst the ambience of a traditional Chinese inn, on a balcony overlooking the neighbourhood. Their High Tea Set ($38.80) serves two to three people, so we'd recommend coming with friends or family.
It includes cakes like their Ondeh Ondeh Cake and pastries like Chocolate Danish for those with a sweet tooth. If not, their savouries like their fried Luncheon Meat Sticks can fill you up. Their balcony view is delightful and the vibes there are truly laid-back, but you have to call in advance to book the balcony seat.
Read our Sweetea Caffe review!
Address: 15A/B Trengganu Street, Chinatown Complex, Singapore 058469
High tea hours: Daily 11am to 7pm
Website
Sweetea Caffe Review: IG-Worthy Rustic Cafe Has Afternoon Tea On A Balcony With Chinatown Views
---
16. The Coastal Settlement
---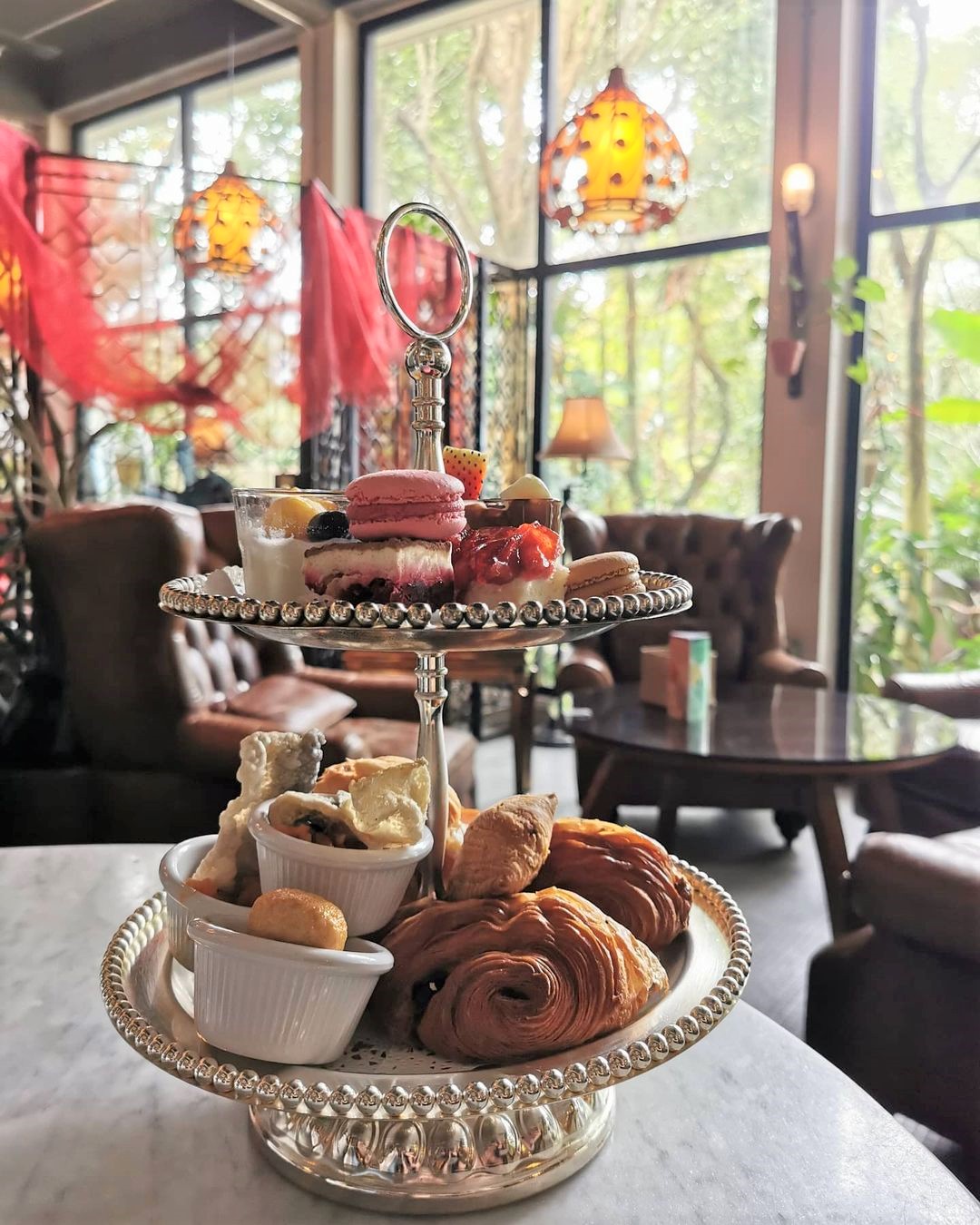 Image credit: @jazz_in_april
Head to The Coastal Settlement for afternoon tea that's priced at $19++ per person. You'll have to bring at least one other person with you, however, because there's a minimum order of two for this afternoon tea set. Each diner gets a free flow of coffee or tea, as well as assorted macarons, a mango panna cotta, ham and cheese croissant, and strawberries with Nutella dip.
Other than the afternoon tea set, The Coastal Settlement also has a selection of snacks, pizzas, and desserts that are available during the high tea hours of 3:30pm to 5:30pm daily. Get Spam Fries ($14++), or the TCS Waffle Stack ($16++) if you're still peckish after high tea.
Address: 200 Netheravon Road, Singapore 508529
Opening hours: Mon-Fri 10:30am to 11pm, Sat-Sun and Public Holidays 8:30am to 11pm
Tel: 6475 0200
Website
The Coastal Settlement is not a halal-certified eatery.
---
Affordable high tea around Singapore
---
With these affordable high tea places, you no longer have to fret over where to hang out at with your girlfriends. For more affordable places to dine, check out our list of cheap dim sum in Singapore, as well as halal buffets in Singapore starting from just $7.90.
This article was originally written on 21 June 2019.