Ms Durian for durian desserts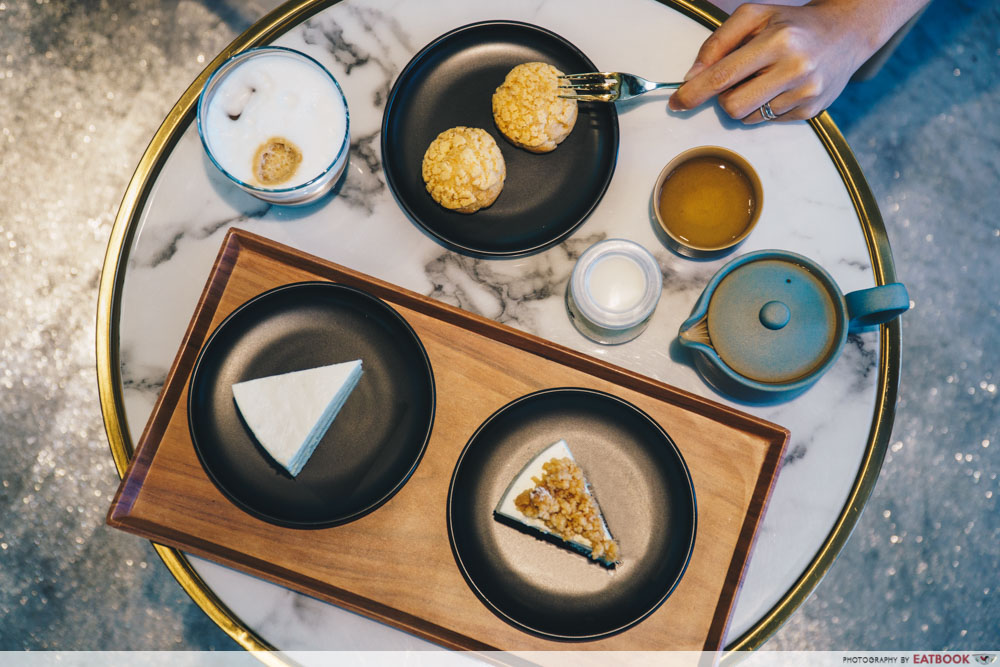 Durian – you either love it or hate it. I, for one, am a fan of the "smelly" fruit. And so is the demure lady behind Ms Durian, who opened up this durian dessert cafe two months ago due to her love for the fruit. Having seen so many cafes popping up, she was surprised that there were no durian-specialty cafes in Singapore, and thus decided to open her very own at Potong Pasir.
Desserts at Ms Durian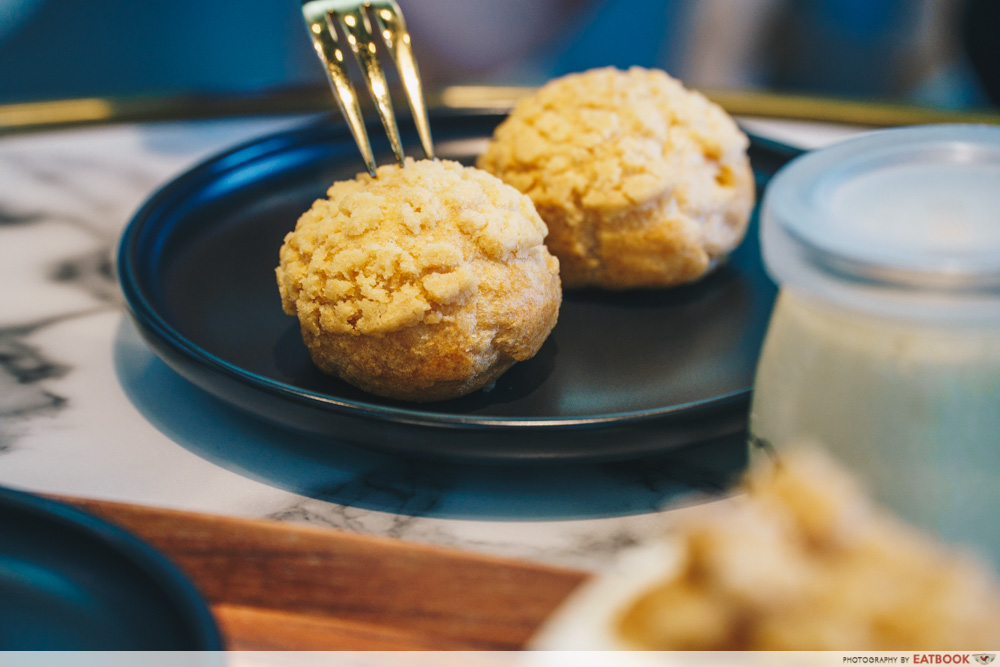 The menu is lean, with only seven sweet treats on the menu. We started off with the Durian Craquelin ($2 per piece, $10 for a box of five pieces).
Due to the other reviews online, I had set my expectations low as I read that the pastry was soggy. However, I was surprised to find that even after leaving it out for more than an hour, the choux pastry still retained a crispy exterior. The owner informed me that they now bake the pastry fresh daily, to ensure it doesn't become soft and spongy.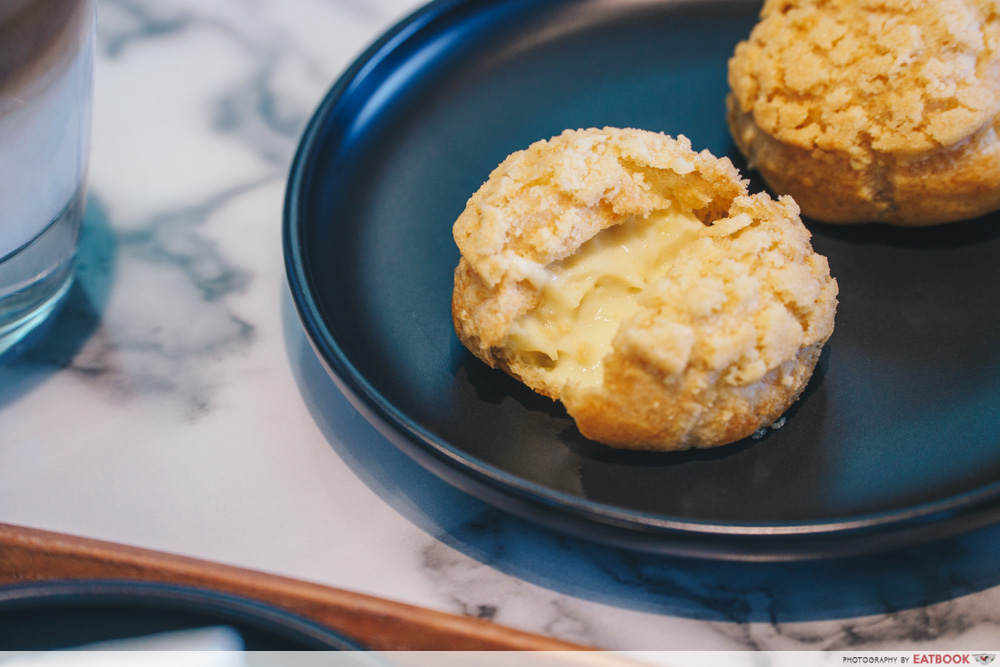 The Durian Craquelin is the only dessert here to use D24 durians instead of mao shan wang. I'm no durian connoisseur so this fact doesn't faze me. In fact, this was actually one of my favourite desserts at Ms Durian. The rich and creamy filling paired extremely well with the buttery pastry boasting a sugar-like crust, with none overpowering the other.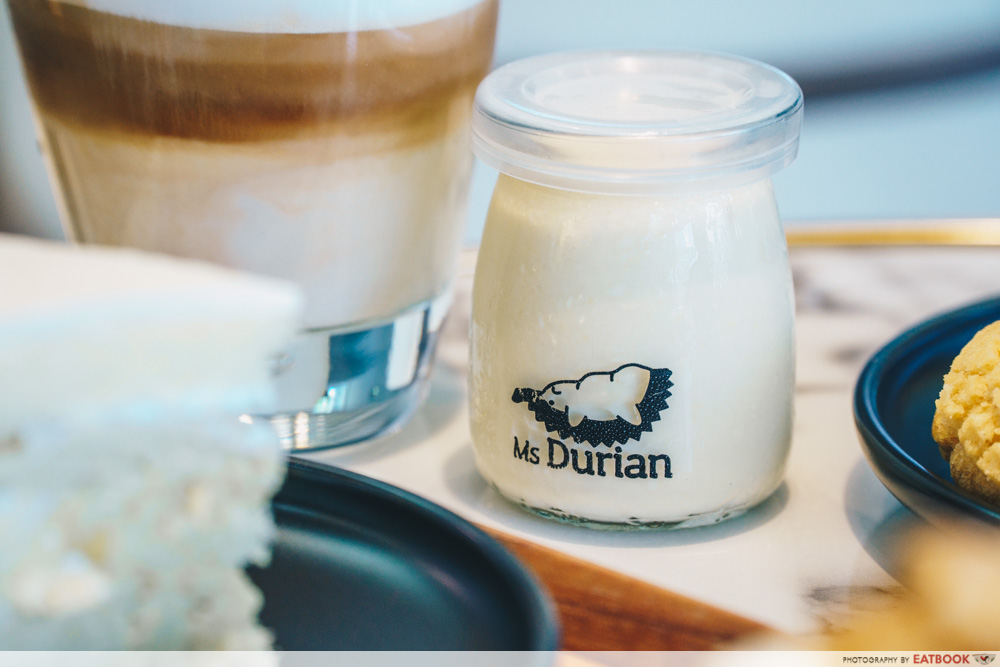 If durian desserts are new to you, then ease your way in with the Durian Coconut Milk Pudding ($6) featuring a blend of mao shan wang durian, fresh coconut milk, and Meiji milk.
Unlike the usual durian puddings at buffet lines, this version was more subtle in flavour. The rich, robust flavour of durian is muted down, thanks to the coconut milk. I like that the pudding is silky smooth too, sorta like tua huay.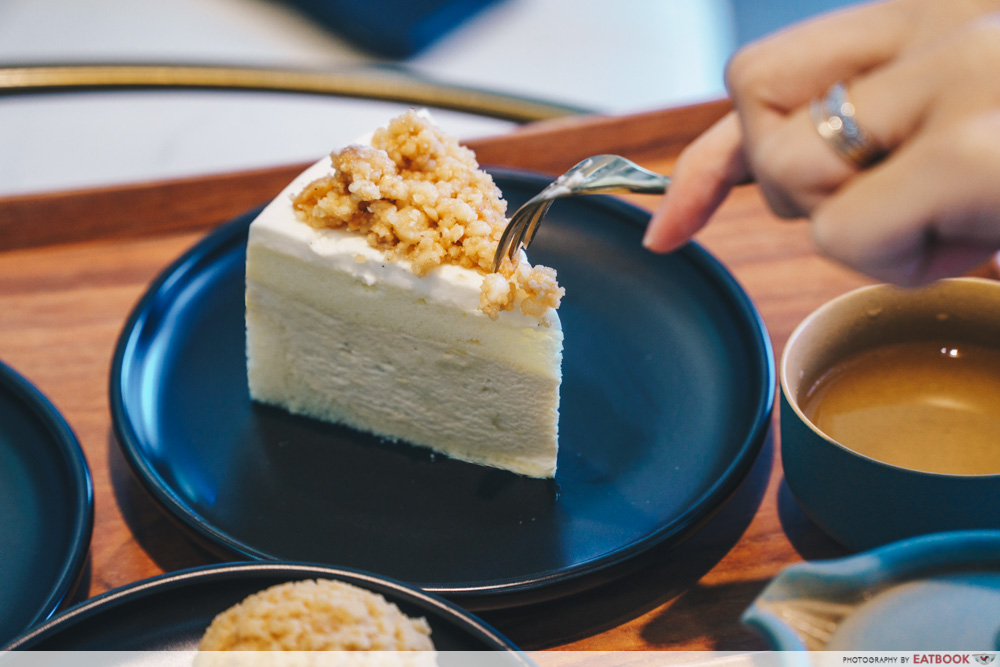 They currently only have two cakes on the menu: Durian Mousse Cake ($8.50 for a slice, $65 for a whole cake) and MSW Durian Cake ($12 for a slice, $90 for a whole cake).
The Durian Mousse Cake is a hot-seller, with only three slices left on display when we were there. It comprises mao shan wang durian, fluffy vanilla sponge cake, and a smattering of crushed macadamia nuts glazed in gula melaka.
10 Matcha Dessert Cafes For Matcha Fondue, Tiramisu And Ice-Cream To Remind You Of Japan
Personally, I would have enjoyed if the durian flavour was more pronounced. While the nuts provided a nice crunch, it also stole the limelight away from the main star, the durian. Yes, it was a nice cake, but if you're craving a durian sweet treat, you should opt for the MSW Durian Cake instead.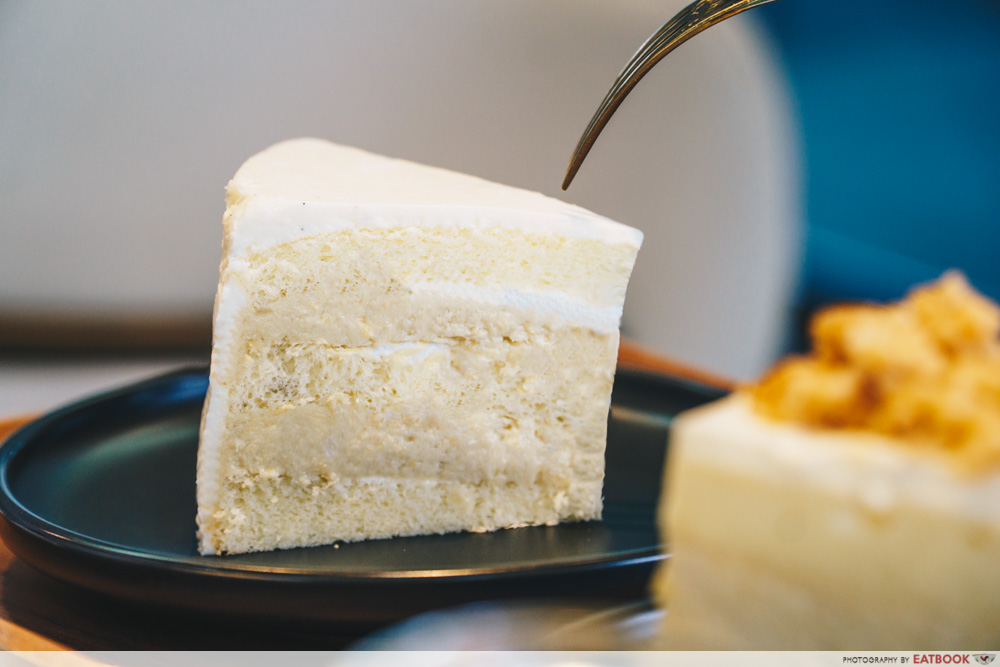 The latter managed to transform the King of Fruits into a delicate cake that was extremely light on the palate. Layers of pure Mao Shan Wang came nestled between moist vanilla sponge cake, and each bite was wonderfully light and refreshing. It's easy to enjoy with a cup of tea – even after you had a heavy meal.
That being said, don't expect strong, punchy durian flavours here. Instead, all the desserts have seem to have a hint of durian flavour. There's not much durian smell too wafting from the cafe, and I believe this is meant to welcome those who are on the fence about durian.
Ambience at Ms Durian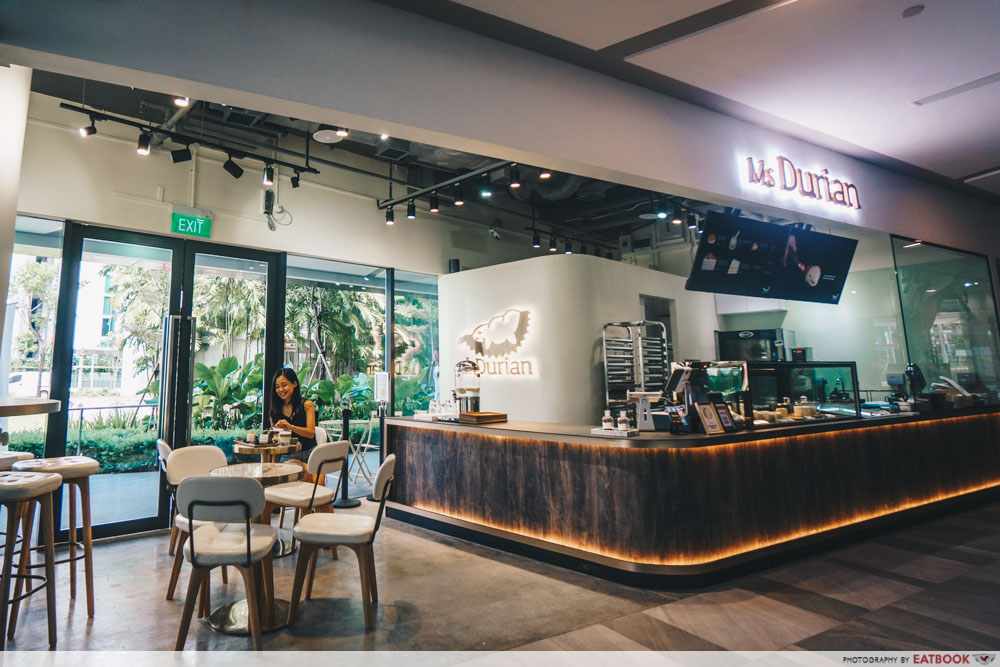 Tucked away in a corner of Poiz Centre at Potong Pasir, Ms Durian is a dainty cafe with both indoor and outdoor sittings. It has all the makings of an #aesthetic spot, with marble top tables, gold trimmings, and white cushioned chairs with wooden legs. They are currently revamping the storefront, and you can expect a vibrant yellow entrance that's perfect for the 'gram in days to come.
The verdict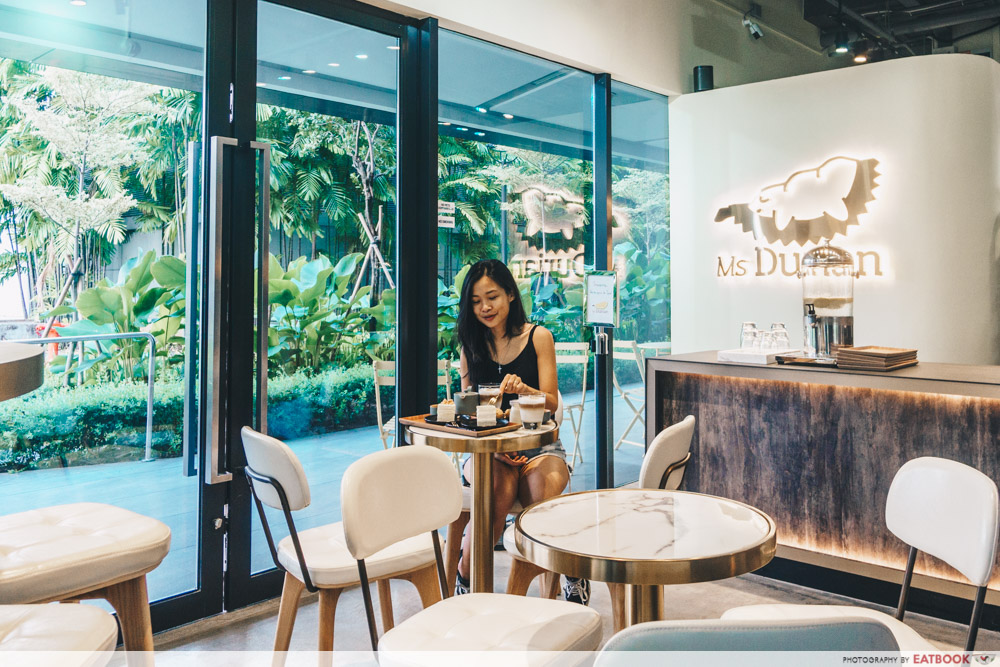 The durian desserts here lean towards a more refined flavour profile, so don't expect the punchy aroma you get from durian pengat. That being said, they do make for a toothsome treat – one where you won't get sick of eating. I mean, my dining partner and I literally ate everything we ordered with ease, and did not leave the place feeling sick of durian or sweets. If you are looking for a light durian dessert to enjoy after a satisfying meal, Ms Durian is the place to be.
The Goodwood Park Durian Buffet 2019 Includes New Desserts Such As D24 Pandan Cake
Address: 51 Upper Serangoon Road, #01-70, Poiz Centre, Singapore 347697
Opening hours: Mon 2pm to 10pm, Tue-Sun 12pm to 10pm
Website
Summary
Summary
Pros
– Friendly staff
– Delicious desserts
Cons
– Durian taste could be stronger
Recommended dishes: MSW Durian Cake ($12 for a slice, $90 for a whole cake), Durian Craquelin ($2 per piece, $10 for a box of five pieces)
Opening hours: Mon 2pm to 10pm, Tue-Sun 12pm to 10pm
Address: 51 Upper Serangoon Road, #01-70, Poiz Centre, Singapore 347697