---
The best durian desserts in Singapore
---
While eating durian in its purest form is the way to go, there are times we want to enjoy the King of Fruits in a way that also satisfies our sweet tooth. In comes durian desserts, ranging from pancakes to puffs, mousse to cakes, ice creams and gelatos, and everything in between. If you're looking for a cafe with durian desserts to add to your roster, look no further than these best durian dessert places in Singapore.
---
1. Ms Durian 
---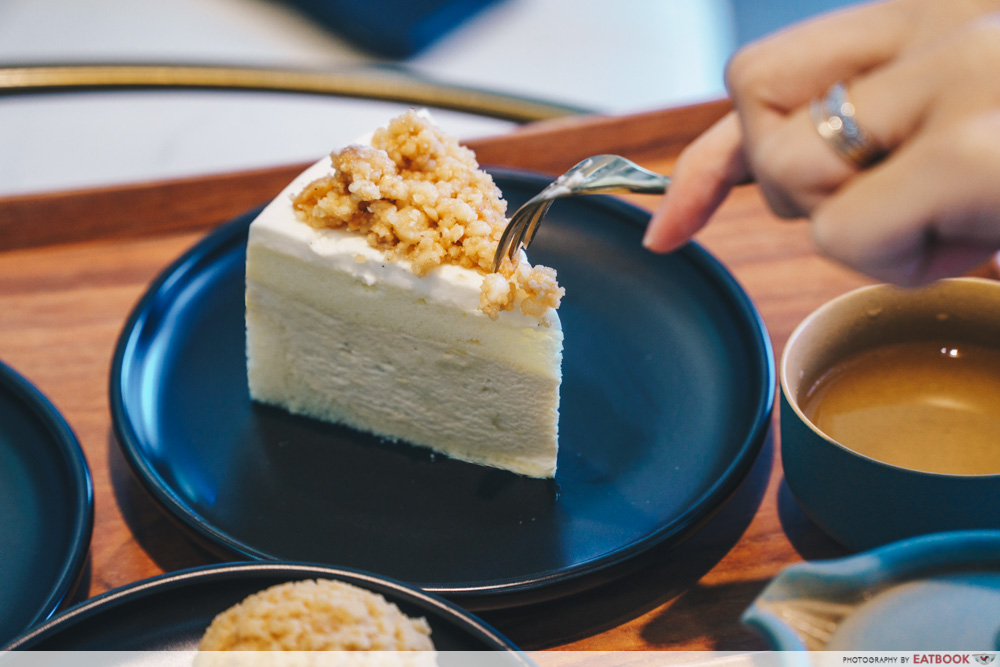 Situated in Little India is Ms Durian, a specialty bakery and cafe that serves all durian desserts. There are nine types of different desserts on the menu, ranging from puffs to puddings, mousse to cakes. The airy MSW Durian Cake ($12.50) seems pricey, but it is generously layered with pure Mao Shan Wang purée and a moist sponge, dressed in a light Madagascan vanilla fresh cream. The MSW Ice Cream ($9) is another top pick if you'd like to cool off from the heat, as it comes with a lush, creamy MSW cream. It's also eggless too!
The standalone cafe is pet-friendly as well if you're coming by with your furry friend over the weekend.
Read our Ms Durian review.
Address: 11 Kelantan Road, Singapore 208604
Opening hours: Wed-Mon 9am to 6pm
Tel: 6962 0057
Website
Ms Durian is not a halal-certified eatery.
Ms Durian Review: Durian Dessert Cafe Serving Mao Shan Wang Cakes And Ice-Cream
---
2. Sun Life Durian Puffs And Pastries 
---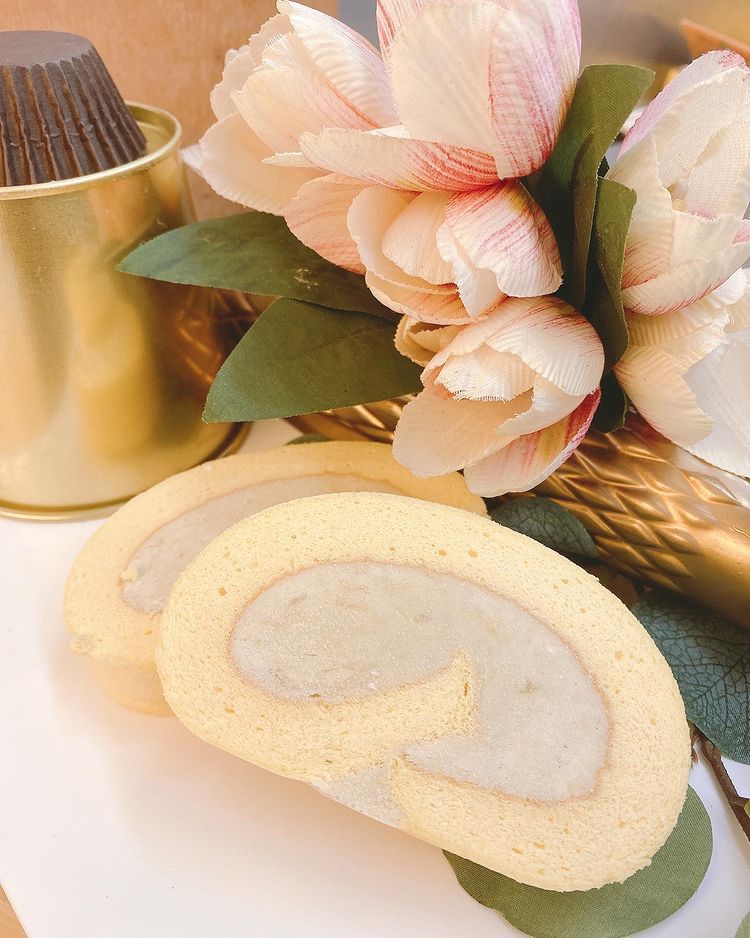 Image credit: @sunlifepastries
Established in Singapore in 2009 is a homegrown durian dessert kiosk, Sun Life. They do both cakes, packages, and small bakes, including their wildly popular D24 Durian Roll ($4.80 a slice), swirled with a luscious durian purée middle, laced with D24's characteristic bittersweetness. Also try their D24 Durian Mochi ($7.50 for six), featuring QQ Mochi skin and frozen durian purée that has the consistency of ice cream. Finally, the D24 Durian Crepe ($3.90) is another hit, a medley of thin durian crepe, a slice of Hokkaido sponge, and cold durian purée. Note that this is a takeaway joint.
Address: 1 Woodlands Square, #B1-K10, Causeway Point, Singapore 738099
Opening hours: Daily 10 am to 10pm
Website
Sun Life is not a halal-certified eatery.
---
3. The Durian Bakery 
---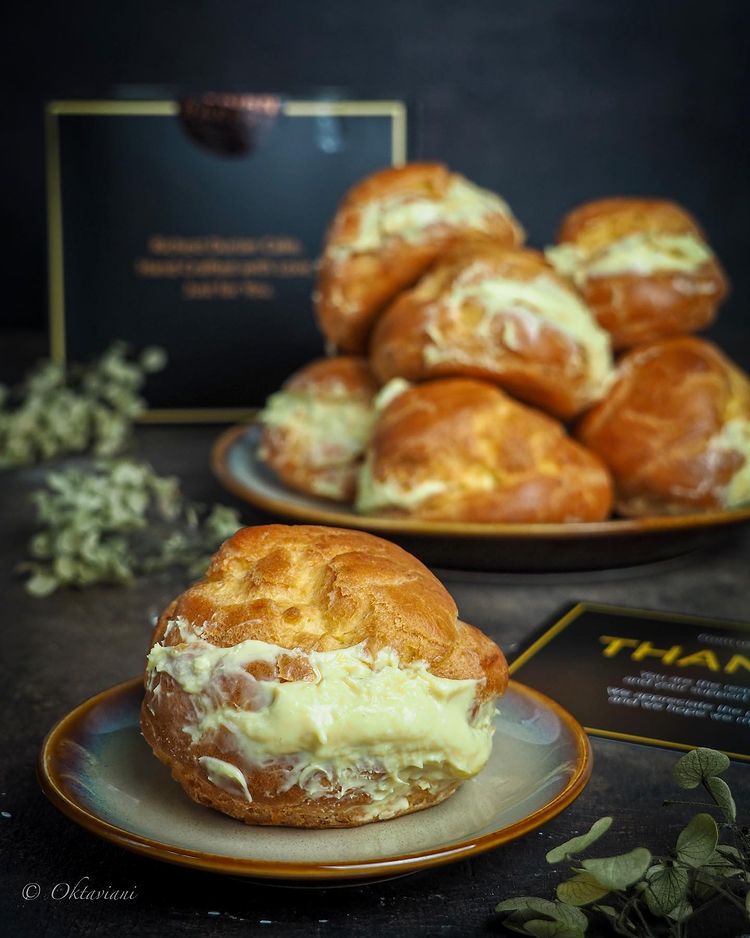 Image credit: @shotby_fenfen
The Durian Bakery isn't one you'd visit in person to satisfy your durian cravings, but the online durian cake delivery service is where it's at should you want to order in. They've got a major array of durian birthday cakes doubling up as a great pick for celebrations, but also a medley of durian desserts that won't disappoint. A popular choice here is their Signature Durian Dessert Box ($81.90), which is really a bundle of all their bestsellers: eight pieces of Super Burst MSW Giant Puff, six pieces of D24 Snowy Mochi, and one Dark Choco MSW Mousse. The XXL puffs are definitely a must-try, marrying airy choux with an indulgent MSW cream. They're available in individual boxes of eight for $56.
Website
The Durian Bakery is not halal, but is in the process of getting halal-certified.
---
4. Ah Chew Desserts 
---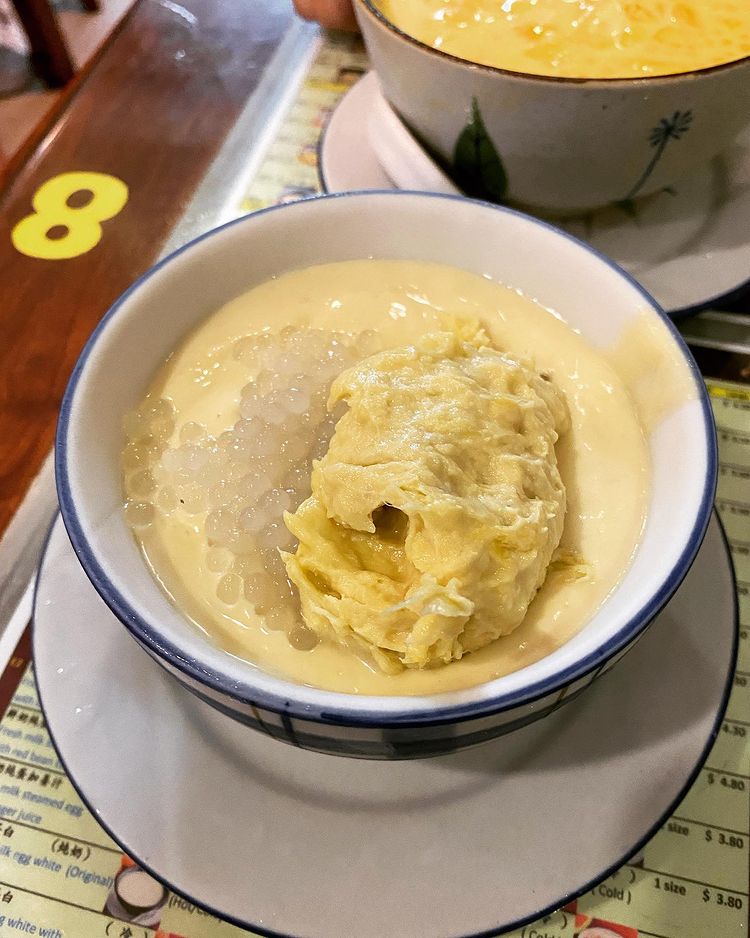 Image credit: @sgfoodiemonster
Famed local dessert cafe Ah Chew has a massive array of traditional sweet treats on their menu, but one to definitely try out if you haven't yet is their durian range. For a safe bet, try the classic Durian Sago ($7.20), which pairs a milky, durian "soup" with sago pearls and a dollop of durian purée.
Otherwise, they've also got other inventive bowls that celebrate the King of Fruits, including an earthy Durian Seaweed Green Bean Soup ($4.40), and a Durian Yam Sago ($5.40). We highly recommend the latter if you're a fan of orh nee or taro, as it's got a homely, milky dessert base studded with chunks of soft, cooked yam, sago pearls, and a heaping scoop of durian purée that just melts right into the mix.
Website
Full list of locations
Ah Chew is not halal-certified but does not use pork or lard.
---
5. Durian Lab Cafe 
---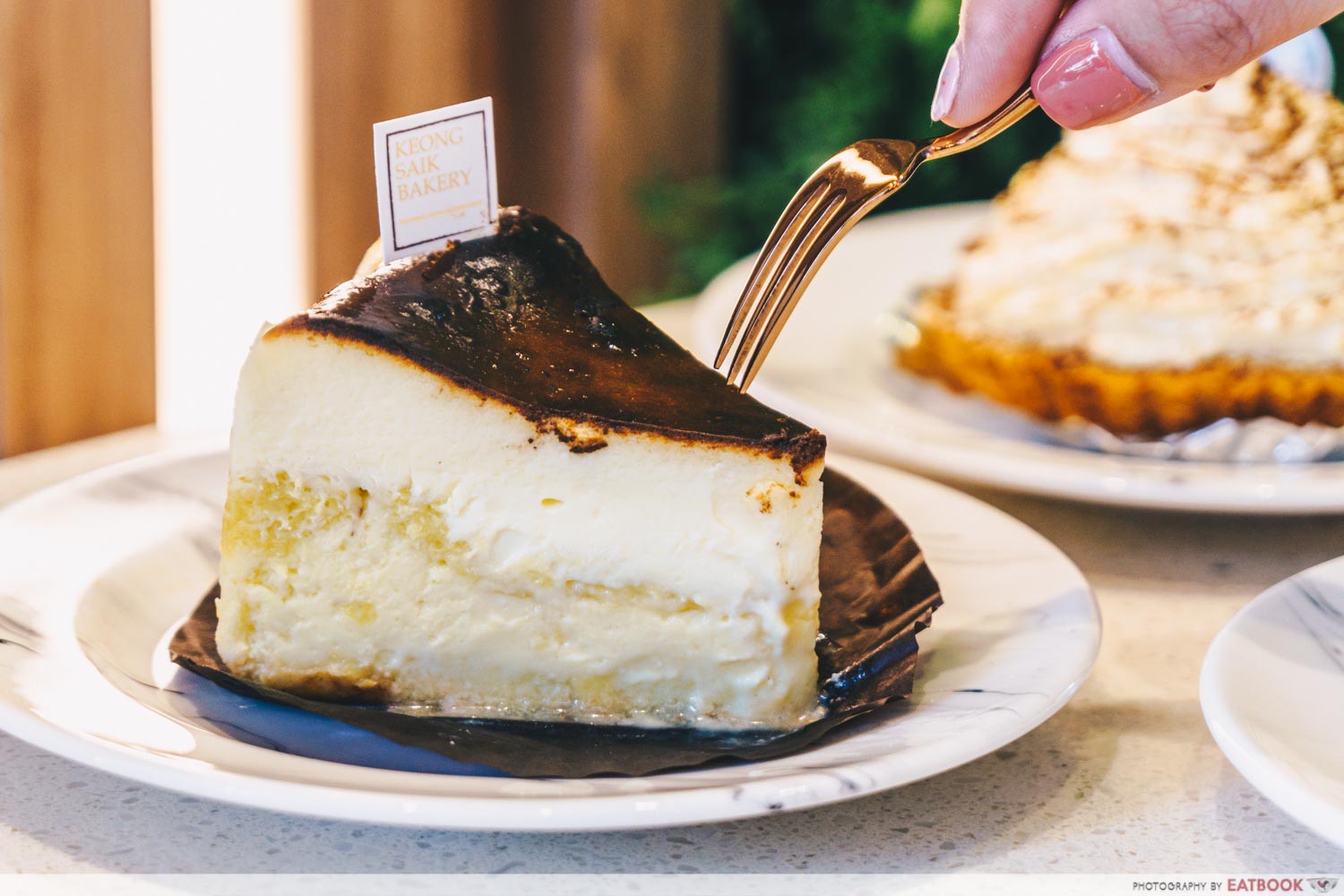 OG durian seller Ah Seng Durian opened a dessert cafe in 2020, celebrating a medley of sweet treats made by famed local bakeries. You can get your hands on inventions by Keong Saik Bakery and Flor Patisserie, all of them spotlighting the pure MSW purée made in-house by Ah Seng. Revisit the burnt cheesecake trend with the unctuous MSW Burnt Cheesecake ($11), complete with a custardy, barely-set durian middle. The MSW Burnt Cruffin ($7) is another hit, pairing flaky pastry with a molten MSW and cheese custard middle. Don't forget to ask to have it toasted for extra oomph.
Read our Durian Lab review.
Address: 119 Bukit Merah Lane 1, #01-22, Singapore 151119
Opening hours: Daily 12pm to 10pm
Tel: 9159 6160
Website
Durian Lab Cafe is not a halal-certified eatery.
Durian Lab Cafe Review: Ah Seng Durian Opens Dessert Cafe At Bukit Merah
---
6. 99 Old Trees 
---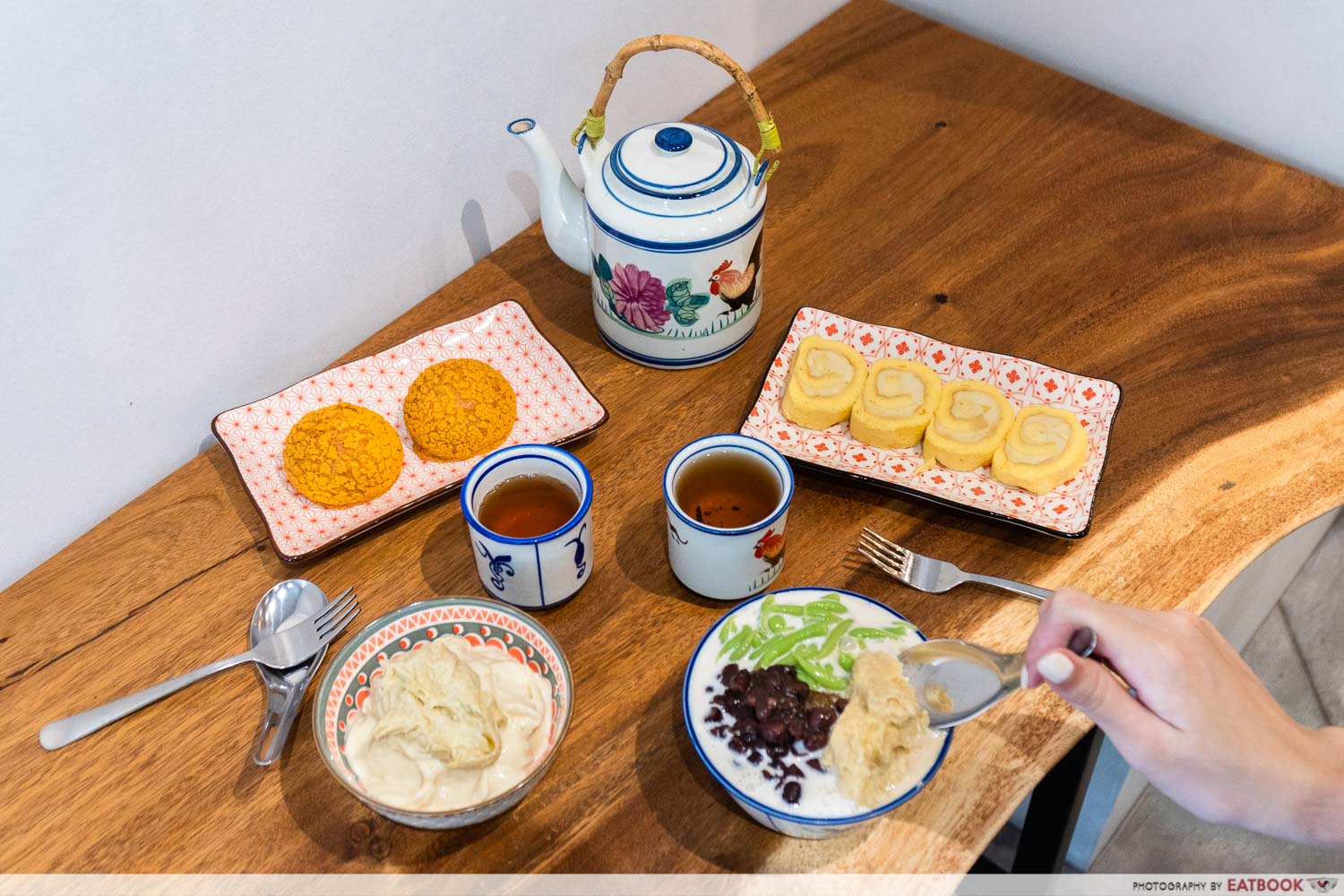 99 Old Trees is another big durian seller in Singapore, but they've since expanded to open a standalone cafe along Outram Park specialising in desserts that celebrate the King of Fruits. The minimalistic decor is bright and spacious, with seats indoors and out. Get the Stinky Bomb($1.80) a new MSW durian cream puff topped with a craquelin crumble. Otherwise, go straight for the Stinky Bowl ($5.40), a lush, creamy mousse made of D24 purée. You can add an extra shot of durian to the mix for an additional $1.50 if you think it isn't strong enough.
Read our 99 Old Trees review.
Address: 1 Teo Hong Road, Singapore 088321
Opening hours: Daily 12pm to 9pm
Tel: 9822 2495
Website
99 Old Trees is not a halal-certified eatery
99 Old Trees Durian Cafe Moves To Outram Park, Has $1.80 Durian Choux Puff And Other Desserts
---
7. Thornys 
---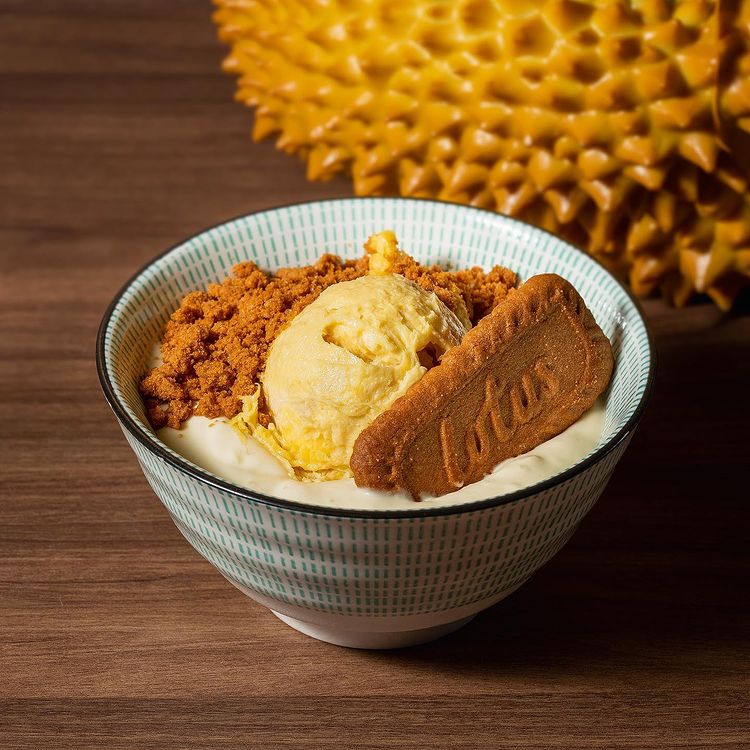 Image credit: @jtkmphotography
Durian retailer Thornys is a Woodlands fave during durian season, but you've also got to come by for their traditional desserts. The whipped MSW Durian Mousse ($6.50) is said to be some of the best ones can find, especially for the price. Delightfully pungent and velvety smooth, the bowl is served with a scoop of pure MSW flesh, which texture to every scoop.
For an inventive treat, try the MSW Mousse With Lotus Biscoff ($7), where the same mousse combo is now topped with a full Lotus biscuit and crumble. The combination of the biscuit's sweetness and mellow spices do work quite well together, making this a fan favourite. They also have other non-durian desserts, priced from $3. What's more: they open till 11pm daily, and till 2am on Saturday.
Address: 21 Woodlands Close, #01-26, Primz Bizhub, Singapore 737854
Opening hours: Mon-Fri 12pm to 11pm, Sat 12pm to 2am, Sun 3pm to 11pm
Tel: 8338 9656
Website
Thornys is not a halal-certified eatery but they do not serve pork or lard
---
8. Dessert Bowl Singapore 
---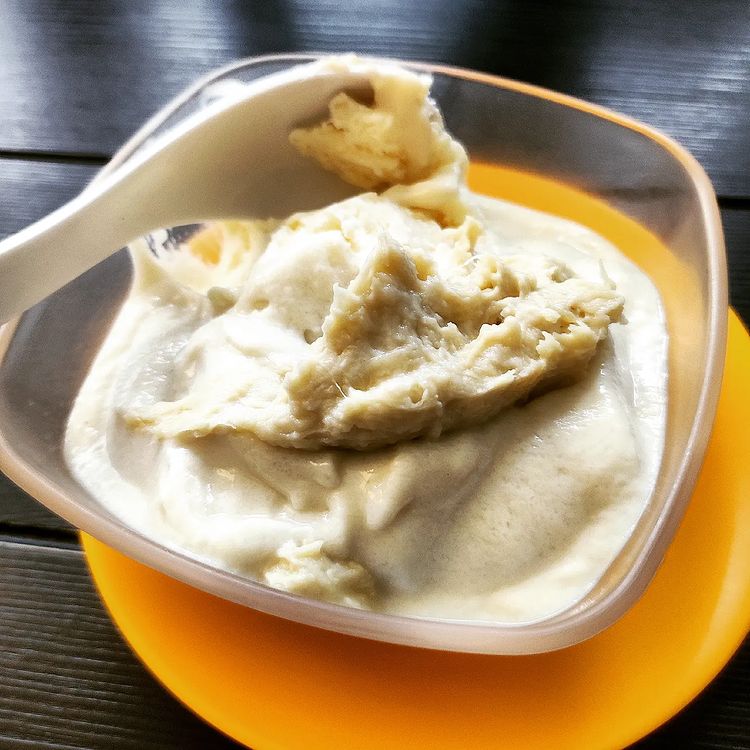 Image credit: @letssuuppraaann
Serangoon Gardens is a dining hotspot, with a medley of cafes, hawker stalls, and restaurants. If you're there feasting and you'd like a shiok, durian-rich end to your evening, swing by Dessert Bowl. Housed on the second floor of a shophouse, this dessert cafe is known for their two fruity bestsellers, the Mango Pomelo ($4.50), loaded with thick cubes of sweet mango, and their Extra-Shot Durian Mousse ($5.90), where a thick, generous serving of durian mousse is topped with a shot of durian flesh. Do note that there's a 45-minute dine-in limit, so this isn't the place to sit and chit-chat.
Address: 80A Serangoon Garden Way, Singapore 555976
Opening hours: Tue-Thurs 3pm to 5:15pm, 6:15pm to 10:30pm, Fri- Sun 2pm to 5pm, 6:15pm to 11:30pm
Tel: 6285 1278
Website
Dessert Bowl Singapore is not a halal-certified eatery.
---
9. Pang Zi Durian 
---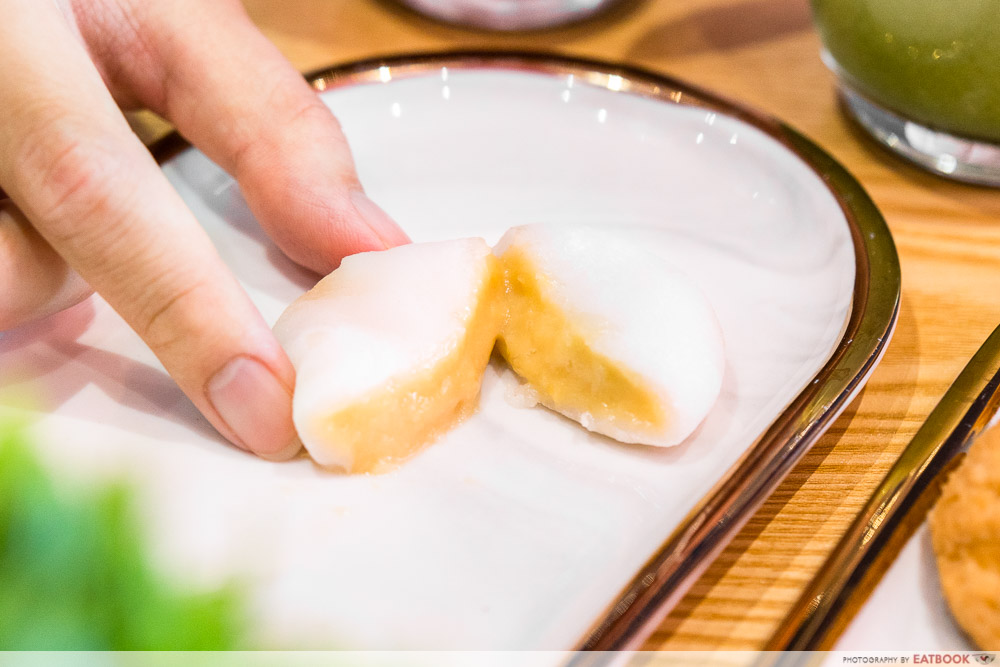 If you live in the West and you're craving durian desserts, swing by Pang Zi Durian. They have a number of durian desserts available. This includes house-made, handcrafted durian gelato, priced from $3.50 a scoop, which you can enjoy served atop a hot, fluffy waffle. They have Durian Mousse ($5), and Durian Mochi ($9.50 for four), but we really recommend their bestselling puffs, especially if you are team D24. These puffs are priced from $10 for 10 pieces and are loaded with a punchy durian custard. 
Address: 492 Jurong West Street 41, #01-18, Singapore 640492
Opening hours: Sun-Thurs 12pm to 10:30pm, Fri-Sat 12pm to 10:30pm
Tel: 8193 9559
Website
Pang Zi Durian is a halal-certified eatery.
---
10. DurianBB
---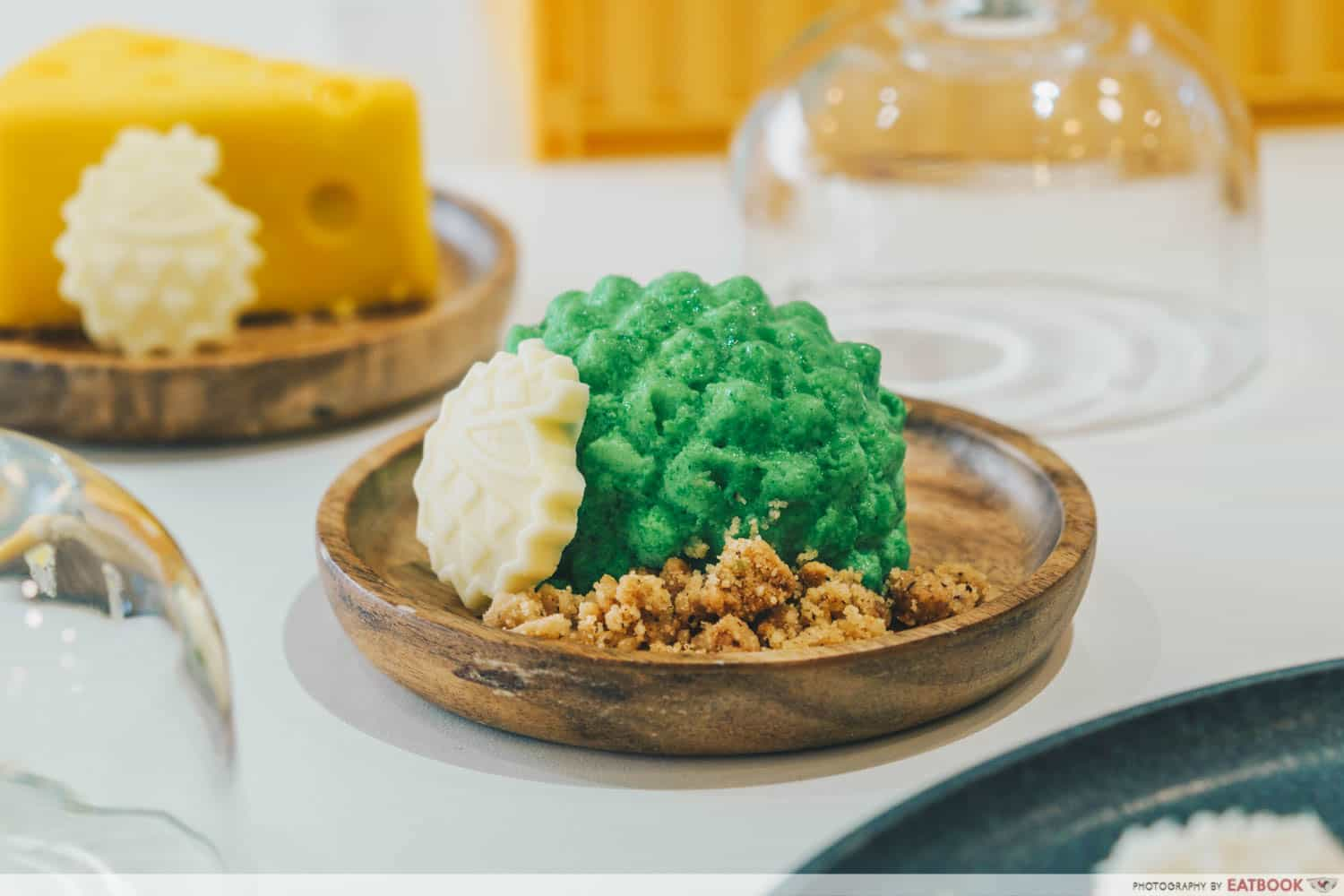 Hailing from Malaysia is DurianBB, an all-durian dessert cafe that also doubles as a durian seller. The durians used in their desserts are sourced from their Pahang plantation and are all of top quality. Durian finds its way into desserts both Western and Asian here, so you have plenty to pick from.
Some stars include their Black Gold Jumbo Mao Shan Wang Puff ($9.80), an XL durian puff chock full of Black Gold MSW cream, to King-on-King Burnt Cheesecake (from $24.90), an indulgent Basque-style cheesecake made with durian puree, then topped with three lobes of the fruit. If you prefer flavours closer to home, the Super Santan ($7.80) is a riff on chendol with MSW puree.
Read our DurianBB review.
Address: 462 Crawford Lane, #01-65, Singapore 190462
Opening hours: Tues-Sun 12pm to 10pm
Tel: 9245 0788
Website
DurianBB is not a halal-certified eatery.
---
11. Goodwood Park Hotel 
---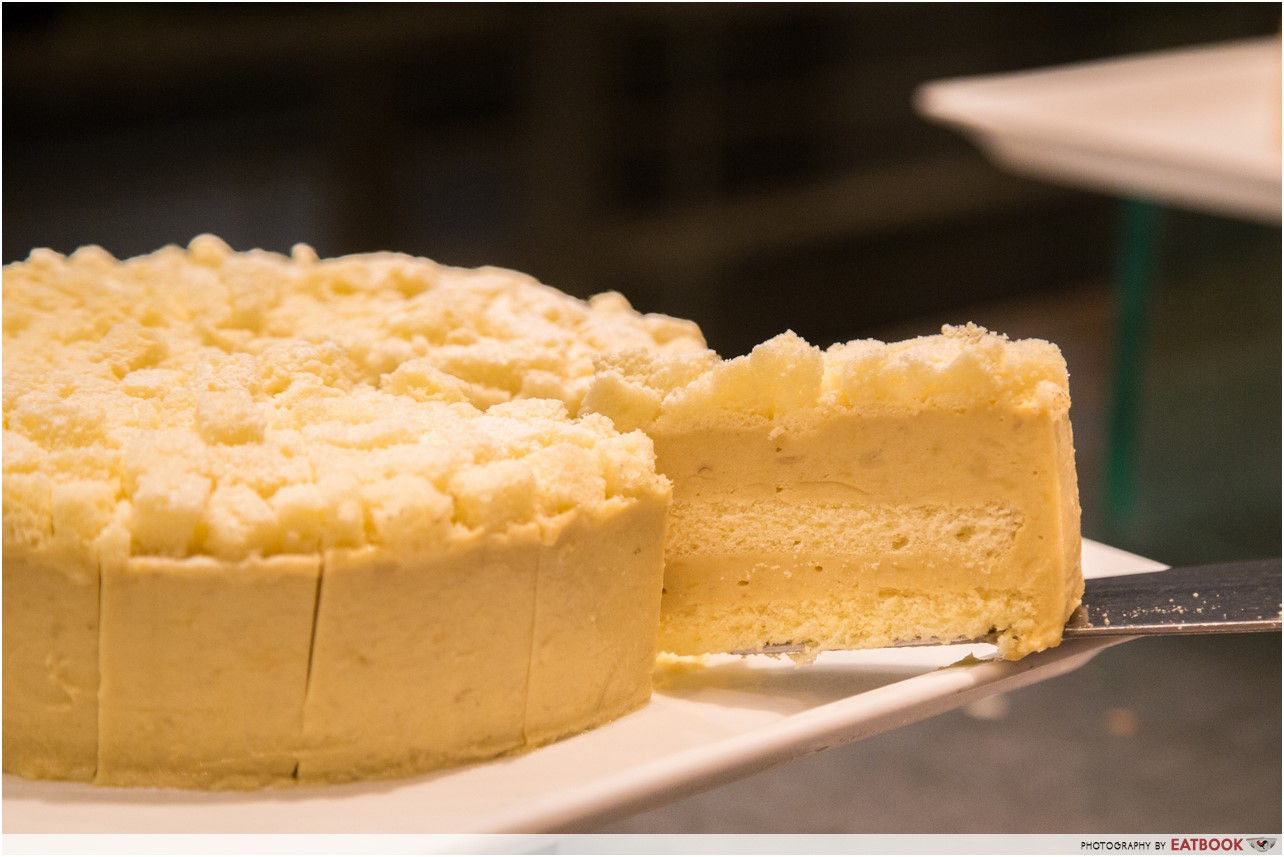 A list of the best durian desserts in Singapore wouldn't be complete without talking about Goodwood Park Hotel. Famed for their annual Durian Fiesta, an all-desserts bonanza celebrating the King of Fruit when it's in season, the hotel is also home to The Deli, a bakery that sells some of these desserts when the Fiesta is on hiatus. Their Signature D24 Puffs ($33 for six) come with light, crisp choux and a towering swirl of pure D24 puree. Also, a must-try is their D24 Crepe ($18), made with durian-infused skin and a heaping layer of D24 cream in the middle.
Address: 22 Scotts Road, Singapore 228221
Opening hours: Daily 11am to 7pm
Tel: 6730 1786
Website
The Deli is not a halal-certified eatery.
---
Where to get the best durian desserts in Singapore 
---
For more durian goodies, check out our durian delivery guide so you can get the fruit delivered to your home, fresh or frozen. Otherwise, read about Golden Moments' intense durian ice cream, if you're a fan of take-home MSW ice creams!
Golden Moments Has New Mao Shan Wang Durian Ice Cream, Super Gao With Durian Flavour
Featured image adapted from@shotby_fenfen and @letssuuppraaann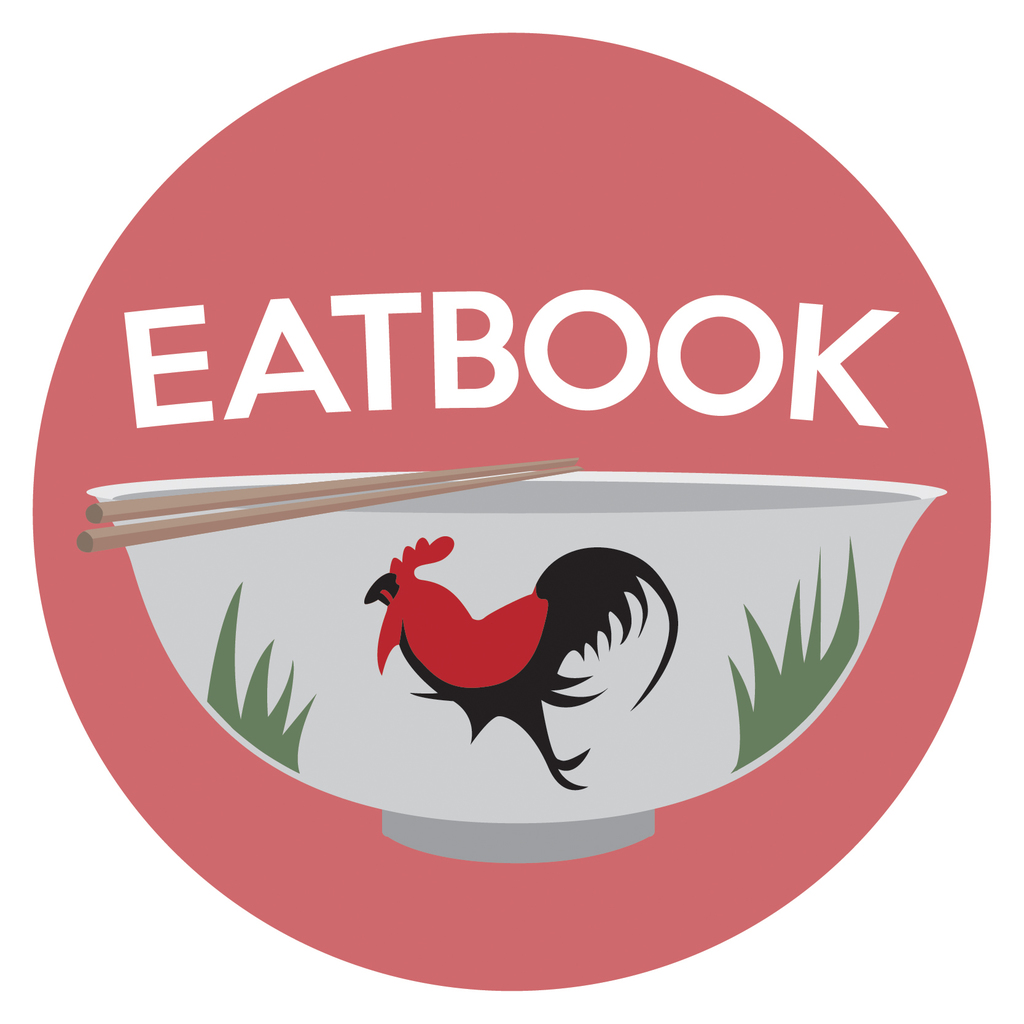 Drop us your email so you won't miss the latest news.