---
Durian stalls that provide durian delivery services
---
Staying in a tropical country means that we can indulge in the King of Fruits ASAP, once durian season arrives. However, the current Phase One measures mean that we can no longer feast on this amazing fruit with our kakis outdoors. Thankfully, durian delivery services are available for those who wanna feast on these yellow, pungent goodness in the comfort of their houses. Here are 11 durian stalls that offer delivery services!
---
1. 99 Old Trees
---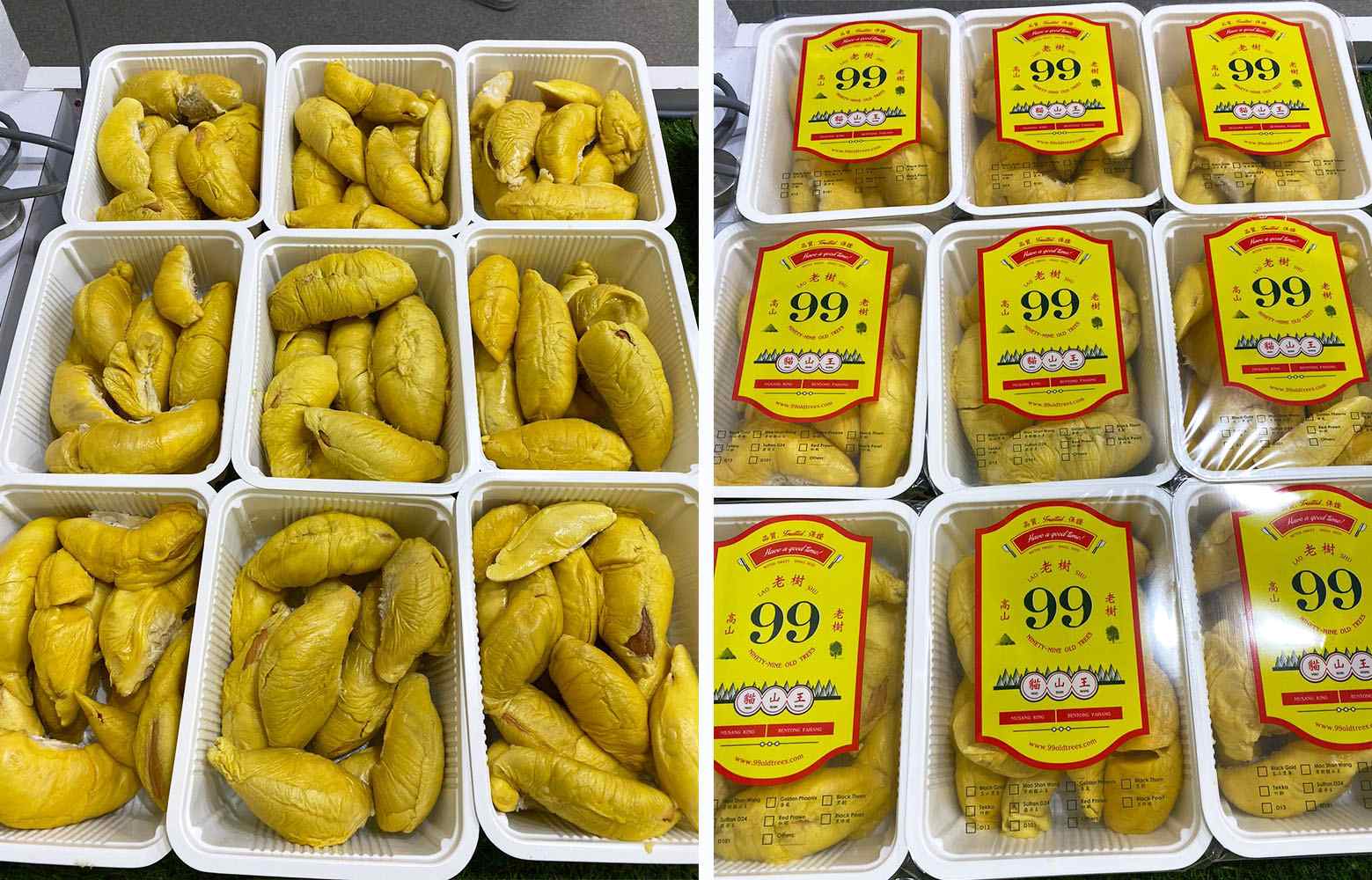 Image credit: 99 Old Trees
99 Old Trees gets their durian straight from Fook Gor Durian Farm in Raub district, West Pahang. The durian shop at Owen Road is managed directly by the farm, hence you get quality produce selected straight from the source. They offer a wide variety of durians, including those that are not so common. Of course, there's also the classic Mao Shan Wang. Durian ice cream, pastries and Mao Shan Wang pulp are also available if you're into sweet treats.
99 Old Trees provides island-wide delivery at a fee of $9.90. You'll get free delivery if your order is above $150!
Address: 46 Owen Road, #01-277, Singapore 210046
Opening hours: Mon, Wed-Sun, 12:30pm to 9:30pm
Tel: 9822 2495
Website
---
2. 227 Katong Durian 
---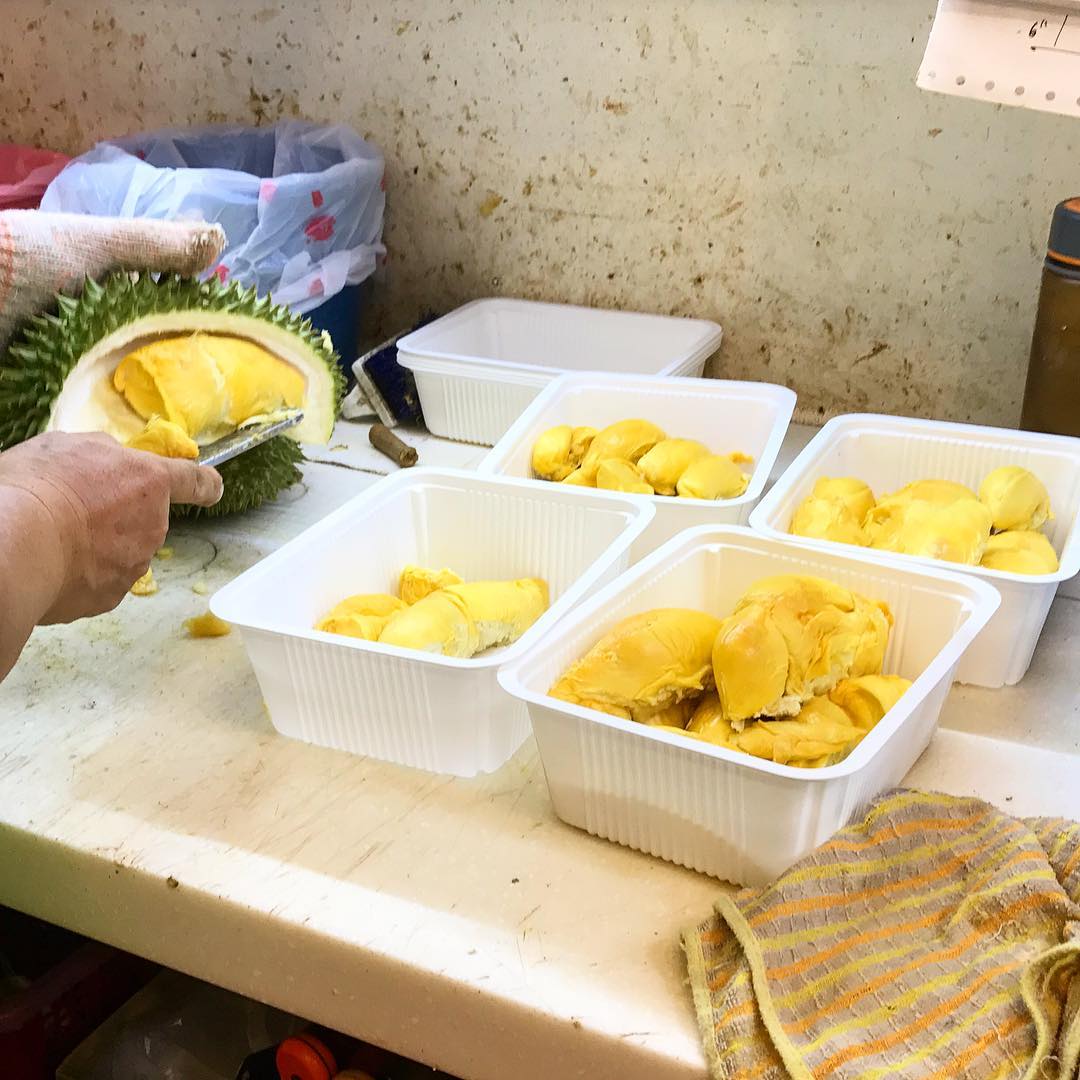 Image credit: @zjx_86
Started as a makeshift stall in 2008, 227 Katong Durian now occupies a shophouse along East Coast Road and it also provides delivery service. The store is most famous for their D13 durians that come from Johor, as well as their Golden Pheonix from East Malacca. The fruits are charged based on the seasonal price and delivery fees start from $10, with a minimum order of $30 and 2kg per type of durian. For those who wanna head down to dapao, do note that the durians will only be available after 2:30pm. 
Address: 227 East Coast Road, Singapore 428924
Opening hours: Daily 10am to 10:30pm
Tel: 8318 9924
Website
---
3. Hao Chi Durians
---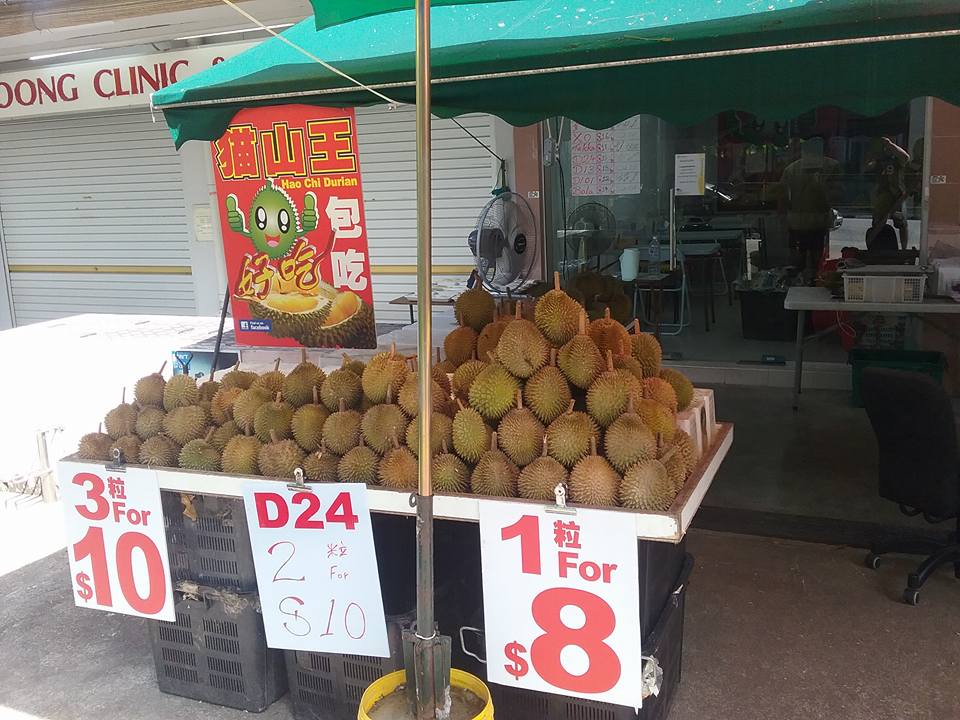 Image credit: Hao Chi Durians' Facebook page
Located at Clementi, Hao Chi Durians currently sells Pahang Highland MSW, and D24 durians. There is a minimum order of 6kg for delivery, which comes with a $5 delivery charge. Alternatively, you can get free delivery by purchasing more than 10kg worth of durians. Other fruits you can get here include mangosteens at $10 for 3kg.
WhatsApp your orders to 9699 6106.
Address: 109 Clementi Street 11, #01-02, Singapore 120109
Opening hours: Daily 12pm to 11pm
Tel: 9699 9106
Website
---
4. Durian Culture 
---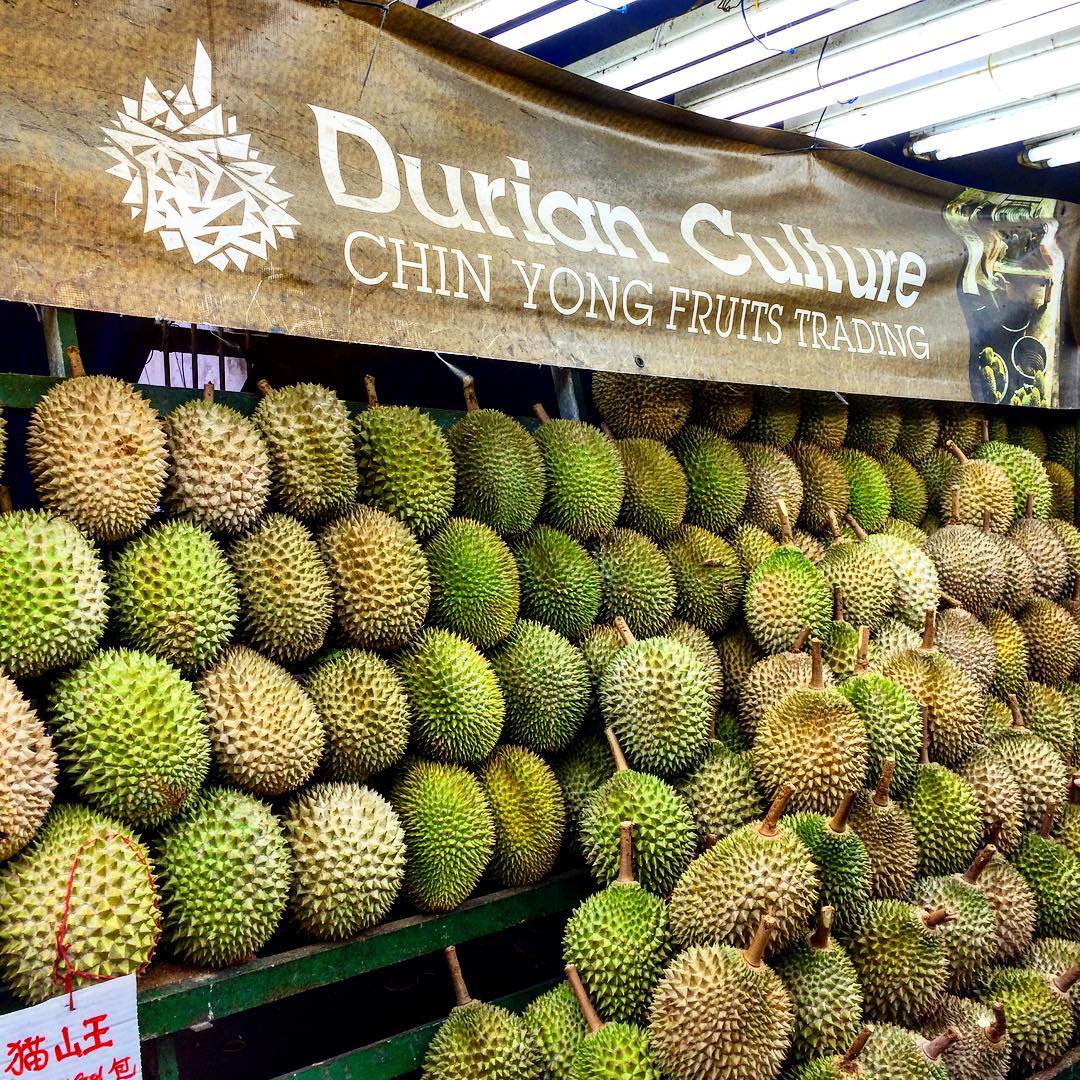 Image credit: @jeepeetje
Since 1969, Durian Culture has been supplying durians to retail outlets and supermarkets. Today, the company also delivers durians right to customers' doorsteps. Besides Mao Shan Wang and D24, Durian Culture also delivers durian puree for baking purposes! Free delivery is provided for orders that cost $200 and above.
Call 6744 5232 to place your order.
Address: 77 Sims Avenue, Singapore 387419
Opening hours: Daily 24 hours
Tel: 6744 5232
Website
---
5. Fruit Monkeys 
---

Image credit: Fruit Monkeys' Facebook page
Located a stone's throw away from Farrer Park MRT Station, Fruit Monkeys delivers a variety of durians, including Old Tree Signature Musang, Super D13 and more. To qualify for delivery, a minimum order of $80 is needed, and a flat $15 delivery charge applies. Order more than $180 worth of durians and your delivery is free!
WhatsApp your orders to 9145 2860, call them at 6291 2383, or order via their website.
Address: 88 Rangoon Road, #01-08, Singapore 218374
Opening hours: Daily 12pm to 10:30pm
Tel: 9145 2860
Website
---
6. Lele Durian
---

Image credit: Lele Durian Singapore
For more than 30 years, Lele Durian has been selling durians at Ghim Moh. They specialise in MSW durians, with a flat $10 delivery fee. Order more than $120 worth of durians and your delivery will be free.
Text your orders to 9694 8584.
Address: 20 Ghim Moh Road, #01-125, Singapore 270020
Opening hours: Daily 12pm to 9pm
Tel: 9694 8584
Website
---
7. Top Durian Station
---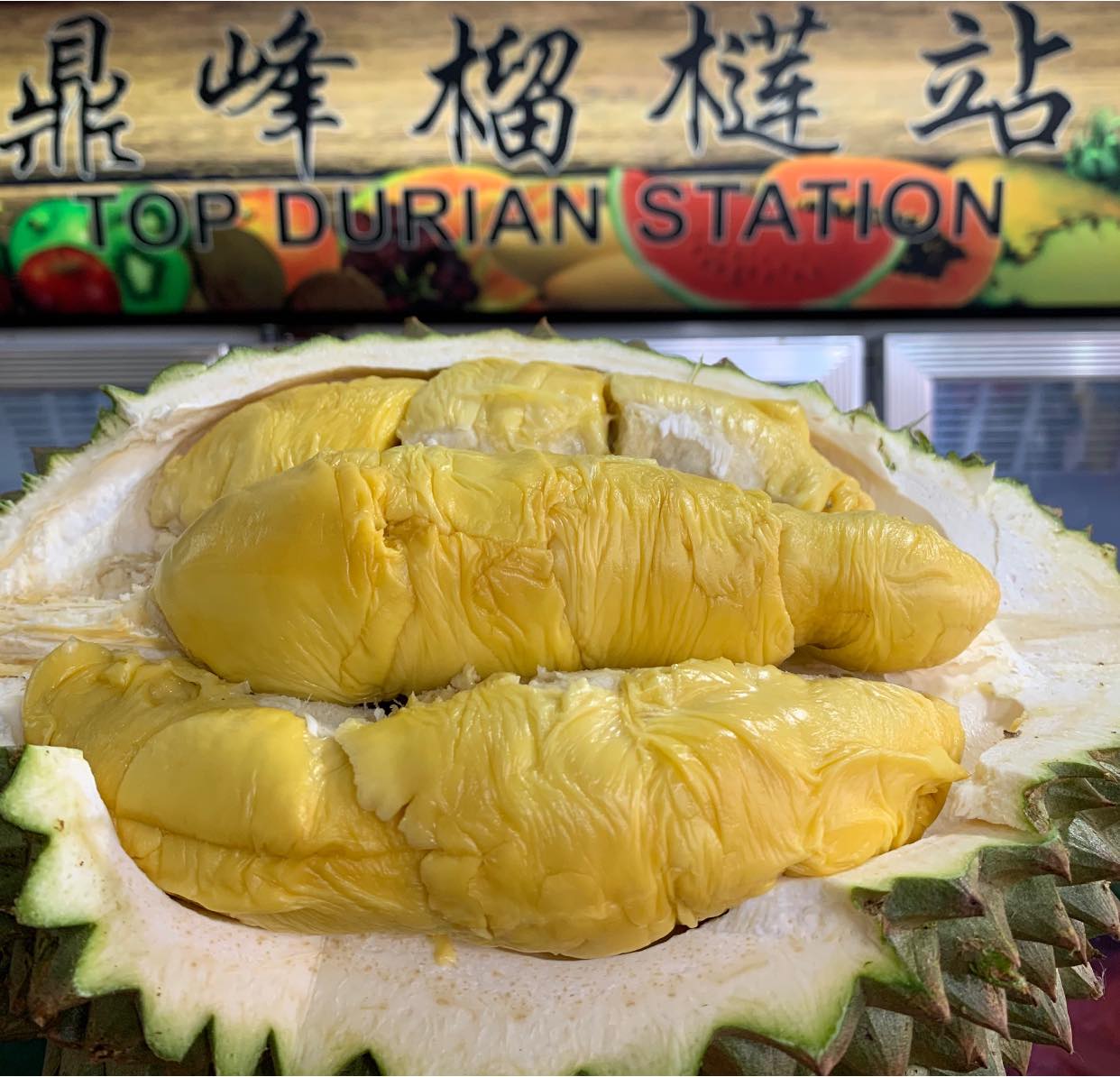 Image credit: Top Durian Station's Facebook page
With four outlets in Singapore, Top Durian Station is a familiar sight for heartlanders, especially those living in the North. They sell a wide range of cultivars, such as the custard-like Pahang Black Gold and bittersweet Gang Hai. Do note that every delivery order requires a minimum purchase of $60.
Address: 372 Bukit Batok Street 31, #01-350, Singapore 650372
Opening hours: Daily 3pm to 11pm
Tel: 8427 8988
Website
---
8. Sin Durian
---
Image credit: @brenda_mak
If you're planning a durian feast with the fam', check out Sin Durian which is currently selling their Johor Red Prawn, D1, and Black Gold varieties at reasonable rates. Their delivery time slots are limited from 8 to 10pm daily, and stocks are running out fast—so be sure to order early.
WhatsApp 8247 8111 to place your orders.
Address: 113 Aljunied Avenue 2 #01-15, Singapore 380113
Opening hours: Daily 9:30am to 10:30pm
Tel: 8247 8111
Website
---
9. Durian Studio SG
---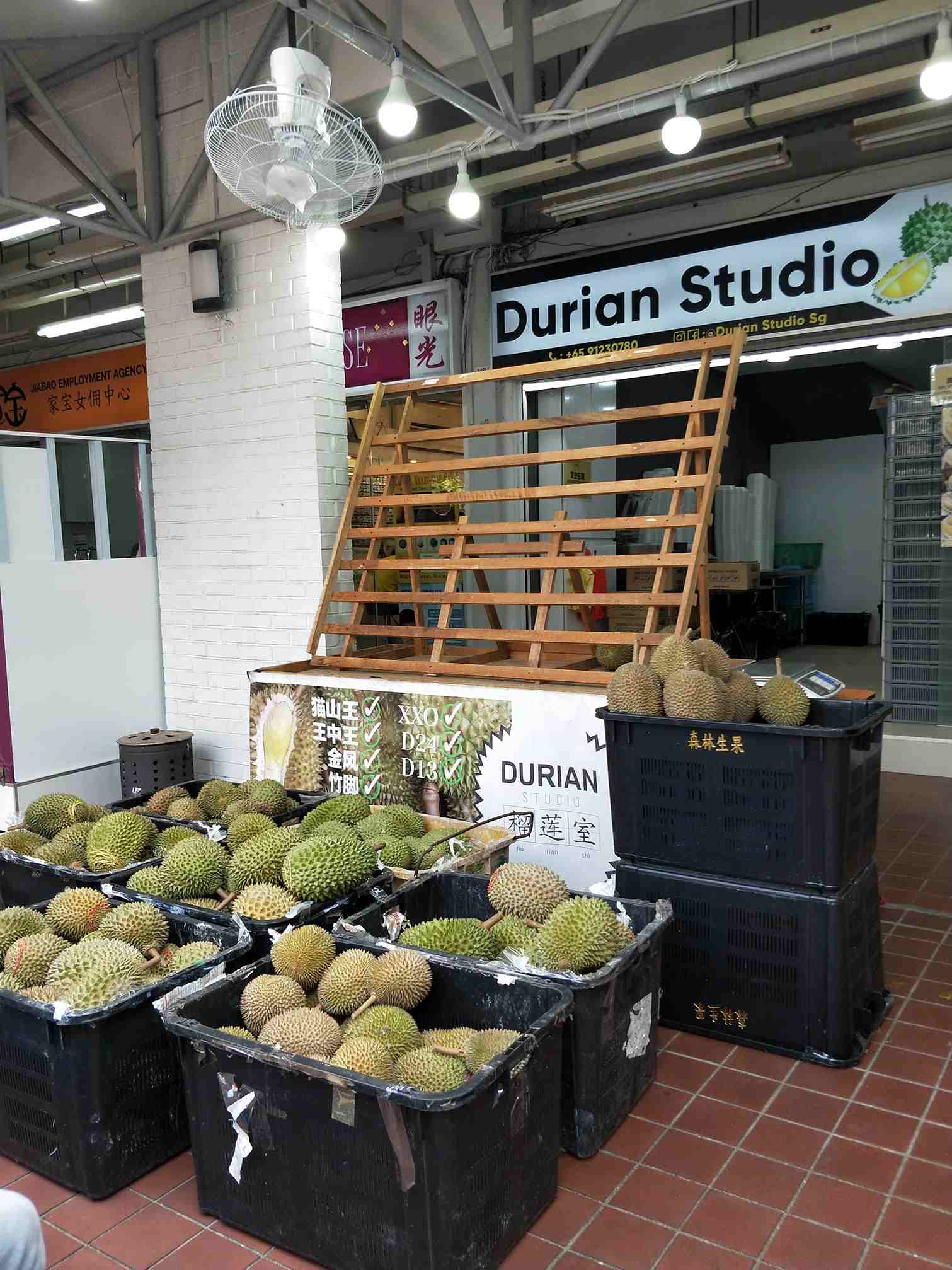 Image credit: Durian Studio SG's Facebook page
Those staying in Bedok have Durian Studio SG to turn to get their fix. The stall provides islandwide delivery, with a delivery fee of $10. Some of the cultivars you can get include Old Tree Mao Shan Wang and D13. Order more than 6kg worth of durians, however, and your delivery fee will be waived off.
WhatsApp 9123 0780 to place your orders.
Address: 510 Bedok Noroth Street 3, #01-27, Singapore 460510
Opening hours: Daily 3pm to 10pm
Tel: 9123 0780
Website
---
10. Durian Delivery
---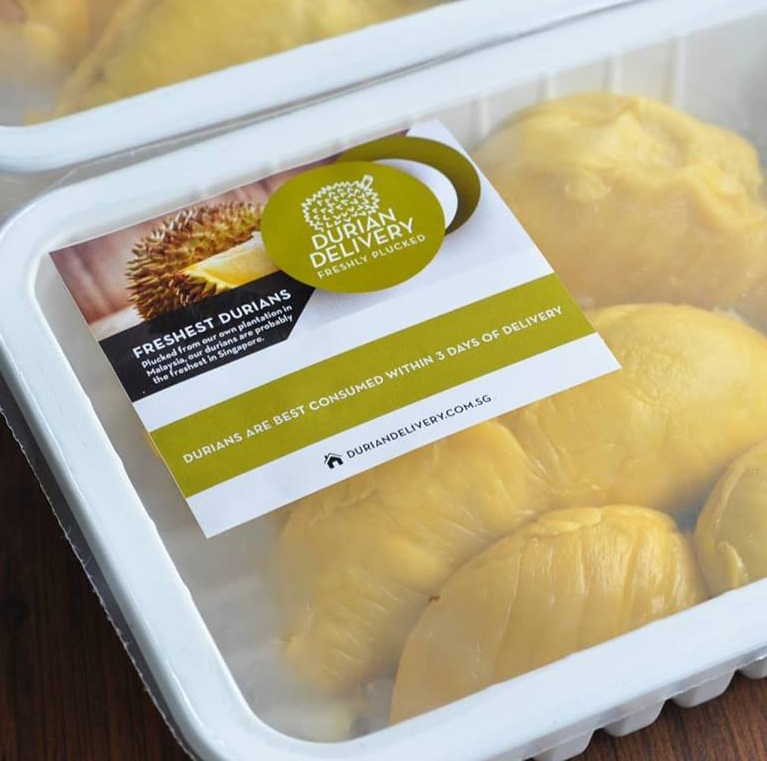 Image credit: Durian Delivery
Durian Delivery is a site whose name speaks for itself—they deliver durian straight to your doorstep. Their physical store is simply used as a pickup location, and most of their orders are done on their website. They have a wide range of durians such as D24 XO which are all dehusked before being delivered. Same-day delivery costs $9.70, and it'll be free for orders above $100. That being said, do note that their stocks run out very fast daily, so fastest fingers first.
---
11. Durian Empire
---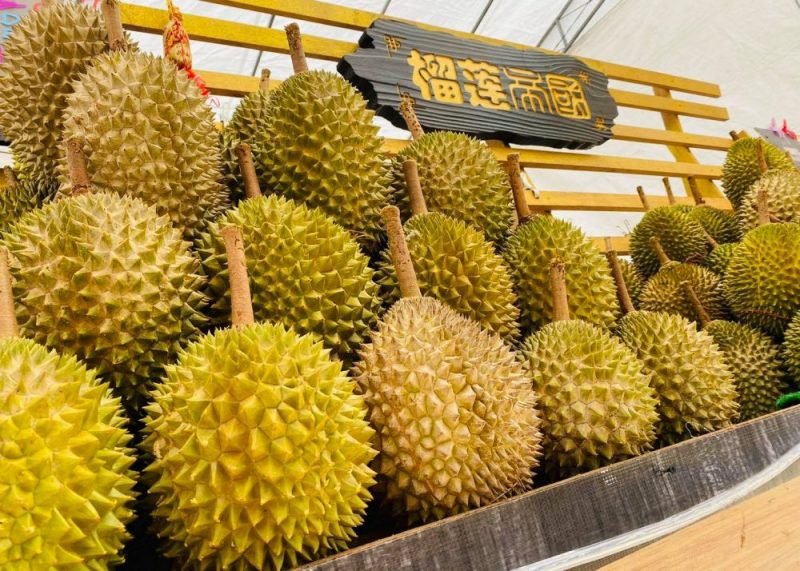 Image credit: Durian Empire
Based in Punggol, Durian Empire offers Pahang Highland MSW and D24 durians delivered to your doorstep dehusked, and in boxes. Each box has 400g-500g of durian, and you get free delivery if you order four boxes of D24, or three boxes of MSW. Orders are processed through their Facebook Messenger. Stocks are limited, so grab them fast!
Address: 168 Punggol Field, B1, Punggol Plaza, Singapore 820168
Opening hours: Daily 5:30pm to 11pm
Tel: 9767 1519
Website
---
Durian delivery services in 2020
---
Durian season is a highly anticipated time for most Singaporeans. Even though post-Circuit Breaker measures are in place, you can still gorge on the King of Fruits in your home. Simply order from these 11 durian stalls. For other delivery services that'll help satiate your Asian food cravings, check out out list of sushi delivery services and Thai food delivery services!
12 Sushi Delivery Services In Singapore For A Stay-Home Sushi Party
This article was first written by Yap Jia Hui in 2017, and has been updated in December 2020 by Beatrice Bowers.