---
Bak chang delivery services around Singapore
---
The annual Dragon Boat Festival is coming up soon, on 3 June this year. Whether you're celebrating with family at home or hosting friends for a meal, bookmark this list of bak chang delivery services to ensure you get your fill of these lovely rice dumplings sent right to your doorstep. Most of these places offer free pickup!
---
1. Bee Cheng Hiang 
---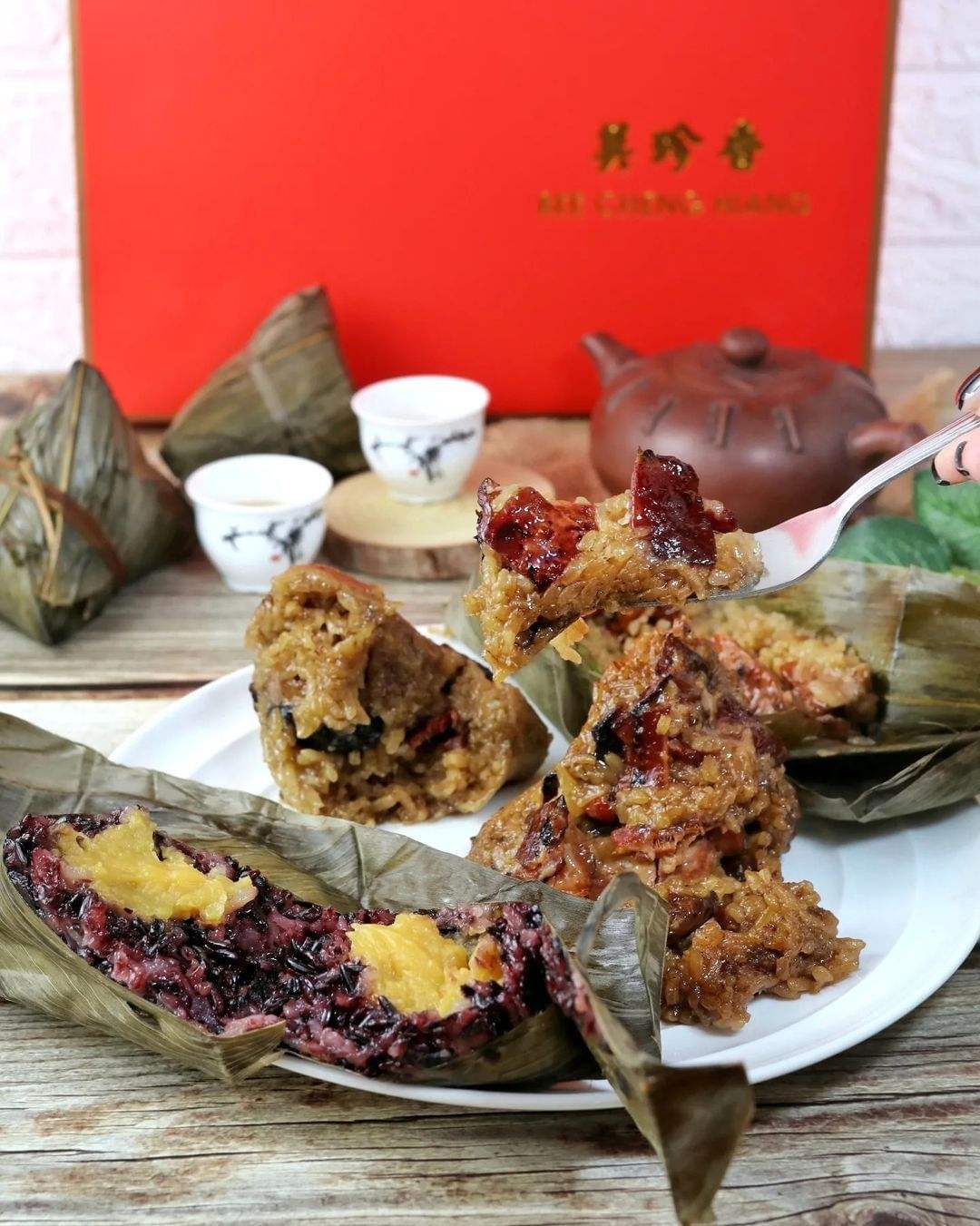 Image credit: @vincentfoodstagram
Bee Cheng Hiang may be most known for their bak kwa, but they've also cleverly incorporated the barbecued pork snack into their bak zhang for the upcoming Dragon Boat Festival. There's the Gourmet Bakkwa Rice Dumpling ($6.80), which comes with sweet bak kwa, shiitake mushroom, and chestnut, wrapped in aromatic glutinous rice. Alternatively, go for the Mala Bakkwa with Peanut Rice Dumpling ($6.50) if you love spicy.
If you're out to impress, get the Applewood Iberico Rice Dumpling ($13.80), a premium rendition made with the brand's finest bak kwa made with Applewood Marbled Iberico Pork and salted egg yolk. 
You can shop the dumplings online at Bee Cheng Hiang's website, or across the outlets islandwide. 
Website | Full list of outlets
---
2. Thye Moh Chan
---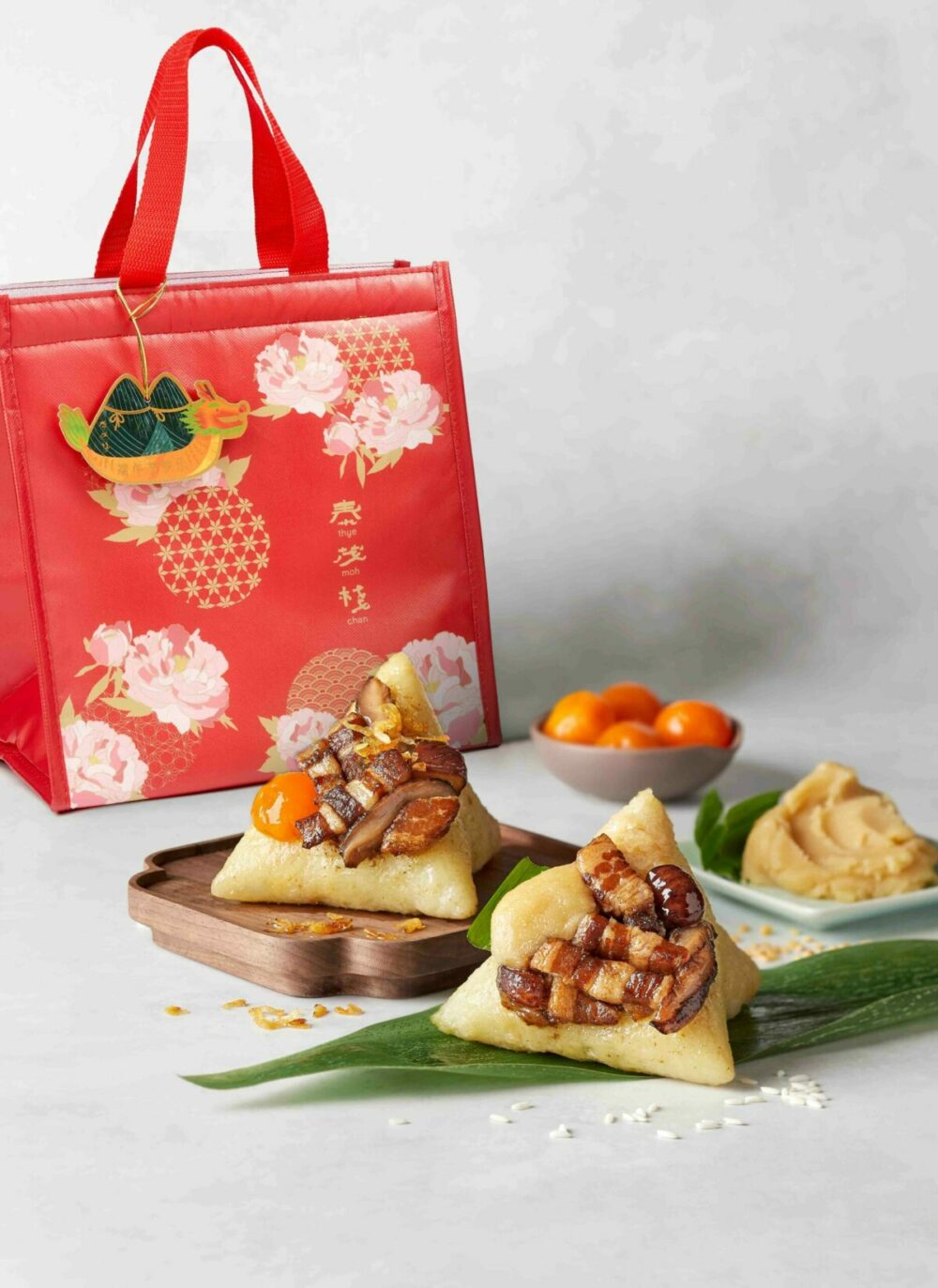 Image credit: Thye Moh Chan 
Teochew pastry shop Thye Moh Chan's popular rice dumplings are back again this year! Each bak chang is wrapped in bamboo leaves and slow-cooked for over two and a half hours to meld all the flavours into one parcel. 
Start with their signature Teochew Double Delight Bak Chang ($6.80), comprising braised pork belly and shiitake mushrooms, chestnut, and house-made sweet tau sar filling for a well-balanced, sweet-salty flavour. Those who want something different can go for the Teochew Salted Egg Bak Chang ($6.80), which comes with fried dried shrimp and salted egg yolk. If you're getting them as gifts, buy six pieces at $40.80 and receive one free bak zhang, or 10 pieces at $68 and get two free bak zhang plus a limited-edition cooler bag.
The rice dumplings are available from now till 3 June 2022 at all Thye Moh Chan, BreadTalk, and Toast Box stores except for the Tan Tock Seng Hospital outlet. 
Website | Full list of outlets
---
3. Paradise Group 
---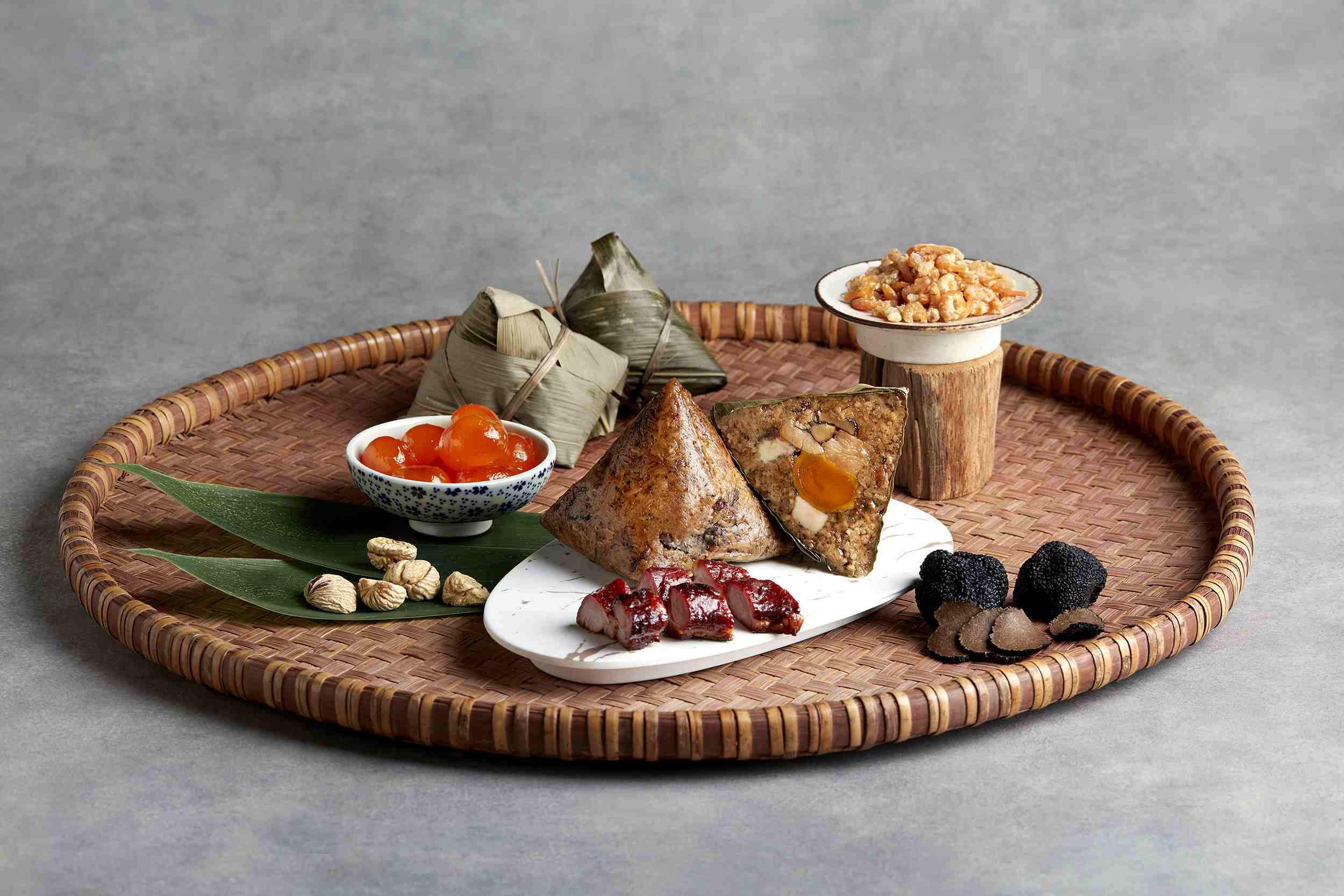 Image credit: Paradise Group
Paradise Group has rolled out a range of Hong Kong-style rice dumplings that are perfect for gifting or for your own enjoyment. A highlight this year is the Specialty Truffle Char Siew Rice Dumpling ($12.80), a premium bak chang filled with Spanish Duroc pork char siew, dried shrimp, mushroom, pork belly, chestnut, and salted egg yolk, zhnged-up with truffle sauce and truffle oil. Another gourmet pick is the Premium Abalone Rice Dumpling ($23.80), a square-shaped bak chang stuffed with a whole abalone.
The rice dumplings are available for pre-order from now till 3 June 2022 for takeaway, and can be collected at Taste Paradise, Paradise Teochew, Seafood Paradise, Beauty in The Pot, Paradise Dynasty, Canton Paradise, Paradise Classic, and Paradise Hotpot outlets.
Website | Full list of outlets
---
4. Joo Chiat Kim Choo
---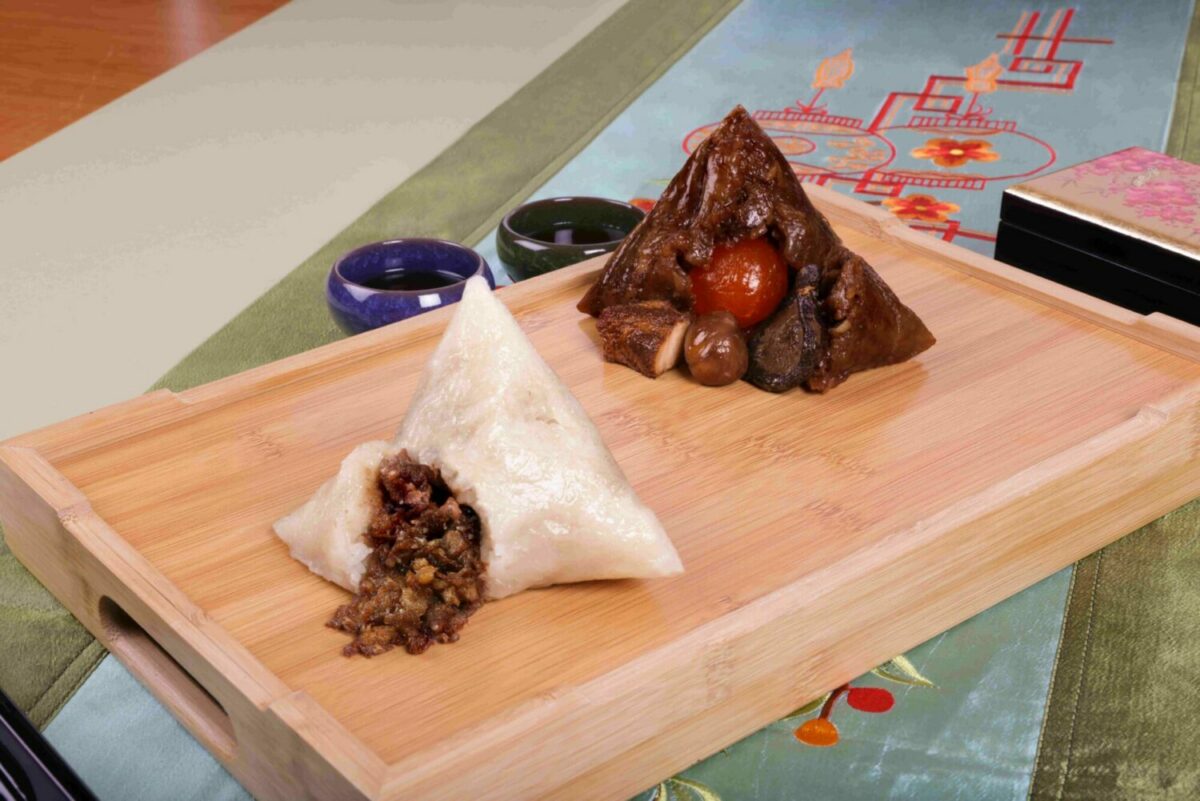 Image credit: Joo Chiat Kim Choo
For handmade rice dumplings that are made from scratch daily, head to Joo Chiat Kim Choo, an award-winning homegrown business that has lasted through the generations. You won't go wrong with their traditional Nonya Rice Dumpling ($6), a sweet version consisting of minced lean pork and winter melon strips, paired with sticky rice. For something more premium, order the Emperor's Rice Dumpling ($16.80) to share. This bak zhang contains a slew of ingredients including premium braised pork, dried scallops, lup cheong, and salted egg yolk, all cooked with a secret blend of 22 spices.
You can get the rice dumplings from Joo Chiat Kim Choo stalls or Joo Chiat Kim Choo's official website.
Address: 7 Enterprise Road, Singapore 629819
Tel: 6272 5743
Website
---
5. Min Jiang
---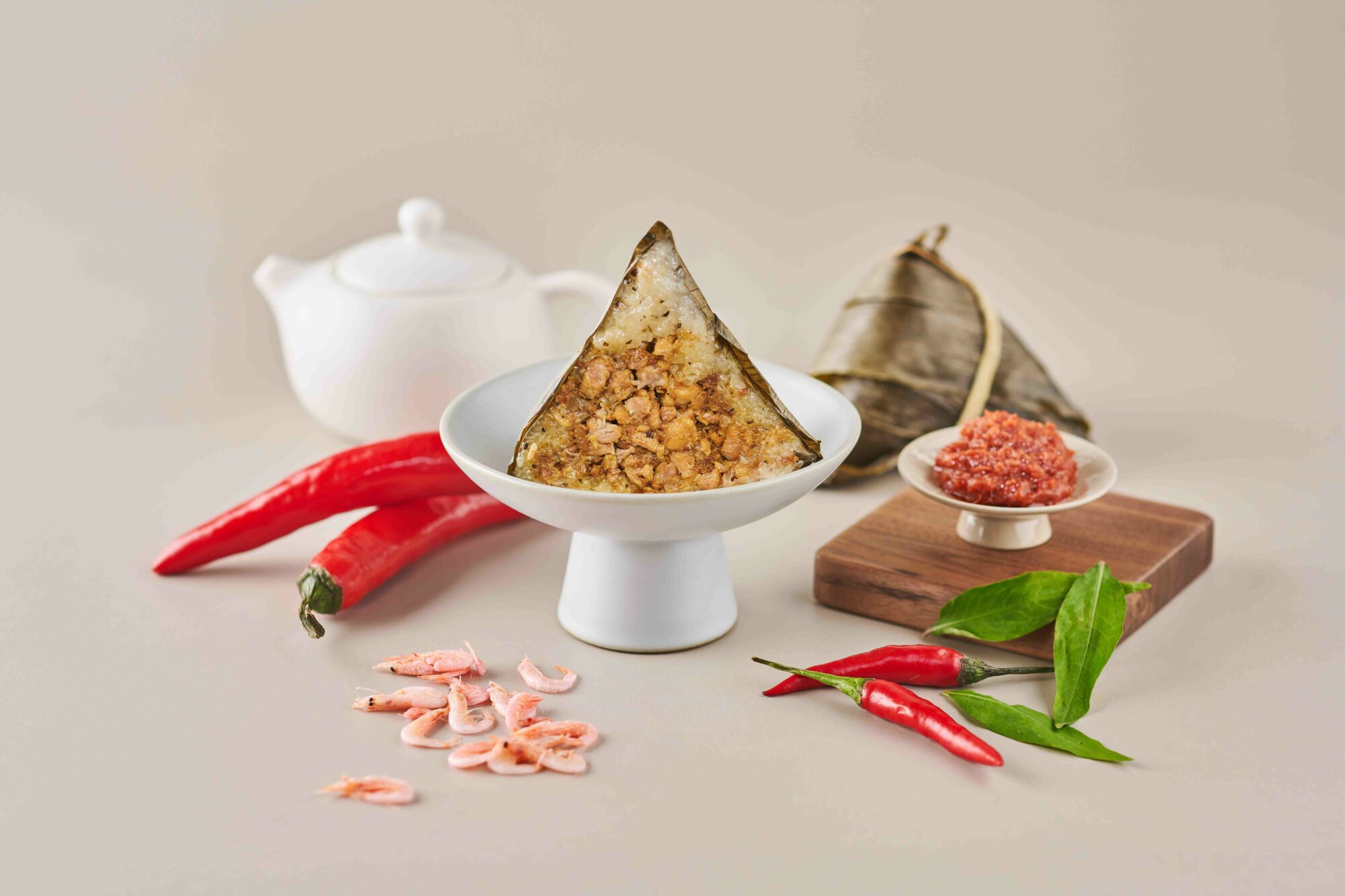 Image credit: Goodwood Park Hotel
Goodwood Park Hotel's Cantonese and Sichuanese restaurant Min Jiang has some really unique bak chang flavours in their lineup this year. The locally inspired Laksa Dumpling with Sambal Chilli ($32 for two) is made with a traditional laksa spice mix, and comes with shredded chicken and sakura ebii for texture. There's also the Bak Kut Teh Dumpling ($38 for two) that takes a nod to Singapore-style bak kut teh with its peppery flavour. If you're more into old-school styles, go for the Classic Hokkien-style Dumpling ($30 for two), a fan favourite consisting of pork belly, shiitake mushrooms, chestnut, dried shrimps, shallots, and salted egg yolk. 
You can pre-order these rice dumplings at least five days before collecting them at The Deli, from 11am to 7pm daily. Alternatively, opt for delivery on The Deli Online Shop from now till 3 June 2022. 
Address: 22 Scotts Road, Singapore 228221
Tel: 6730 1786
Website
---
6. Xin Cuisine Chinese Restaurant
---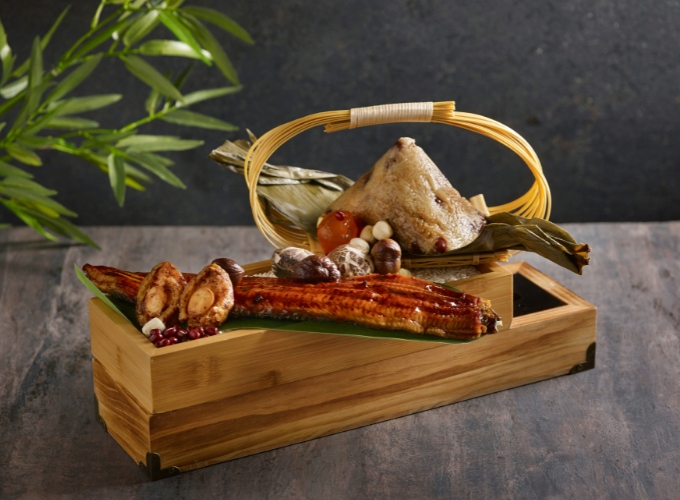 Image credit: Holiday Inn Singapore Atrium
Wow your family with Xin Cuisine Chinese Restaurant's latest creation: Unagi Abalone Dumpling ($28.80). This unique bak chang is packed with abalone, unagi, red bean, lotus seed, salted egg yolk, and mushroom, for the perfect combination of sweet, savoury, and umami. Those with a sweet tooth will also enjoy the Xin's Signature Red Lotus Seed Paste Dumpling served with Osmanthus Sauce ($12.80), also known as kee chang. The sweet dumpling features creamy lotus paste, chestnuts, and gingko nuts, accompanied by a honeyed dipping sauce for extra richness. 
Order from now till 1 June 2022, with a lead time of at least three days. Self-collection and delivery are available until 3 June 2022, from Wednesdays to Saturdays.
Address: 317 Outram Road, Holiday Inn Singapore Atrium, Singapore 169075
Tel: 3138 2531
Website
---
7. Peach Blossoms
---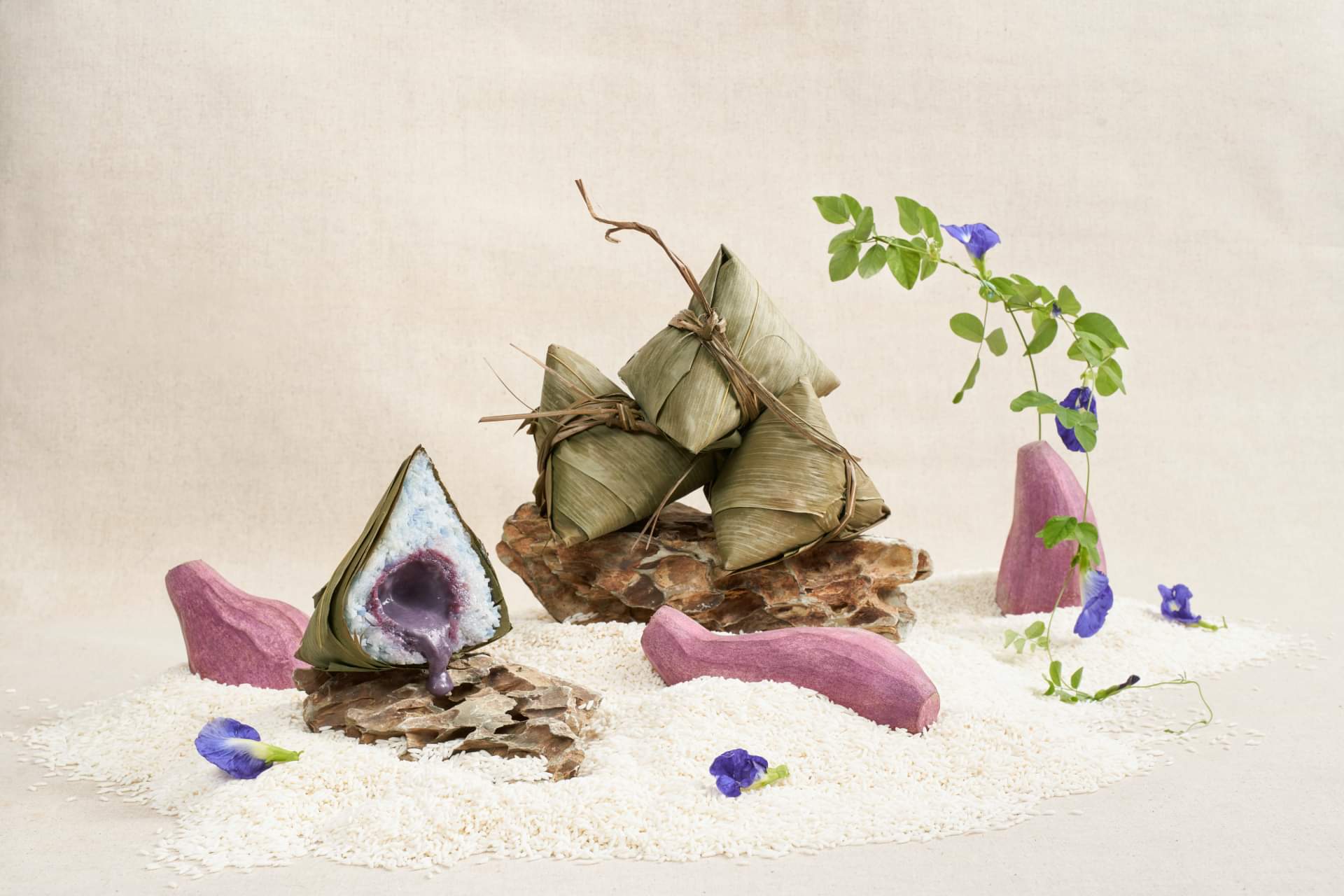 Image credit: Peach Blossoms
Peach Blossoms at PARKROYAL COLLECTION Marina Bay is pulling out all the stops this year with their bak chang collection. A special mention is the traditional 'Hakka' Kurobuta Pork Belly Rice Dumpling ($20.80+), featuring succulent Kurobuta pork belly with fermented beancurd, Japanese flower mushroom, dried shrimp, chestnut, and salted egg yolk. For something more unconventional, check out their Hokkaido Sweet Potato 'Lava' Rice Dumpling ($18.80+). Slice through it to reveal a molten purple sweet potato custard centre, surrounded by blue-tinted butterfly pea glutinous rice.  
The rice dumplings are available for sale from now till 3 June 2022 at Peach Blossoms. Delivery isn't available for now, but you can email the restaurant at peachblossoms.prsmb@parkroyalcollection.com to find out more.
Address: 6 Raffles Boulevard, PARKROYAL COLLECTION Marina Bay, Singapore 039594
Tel: 6845 1118
Website
---
8. Hai Tien Lo
---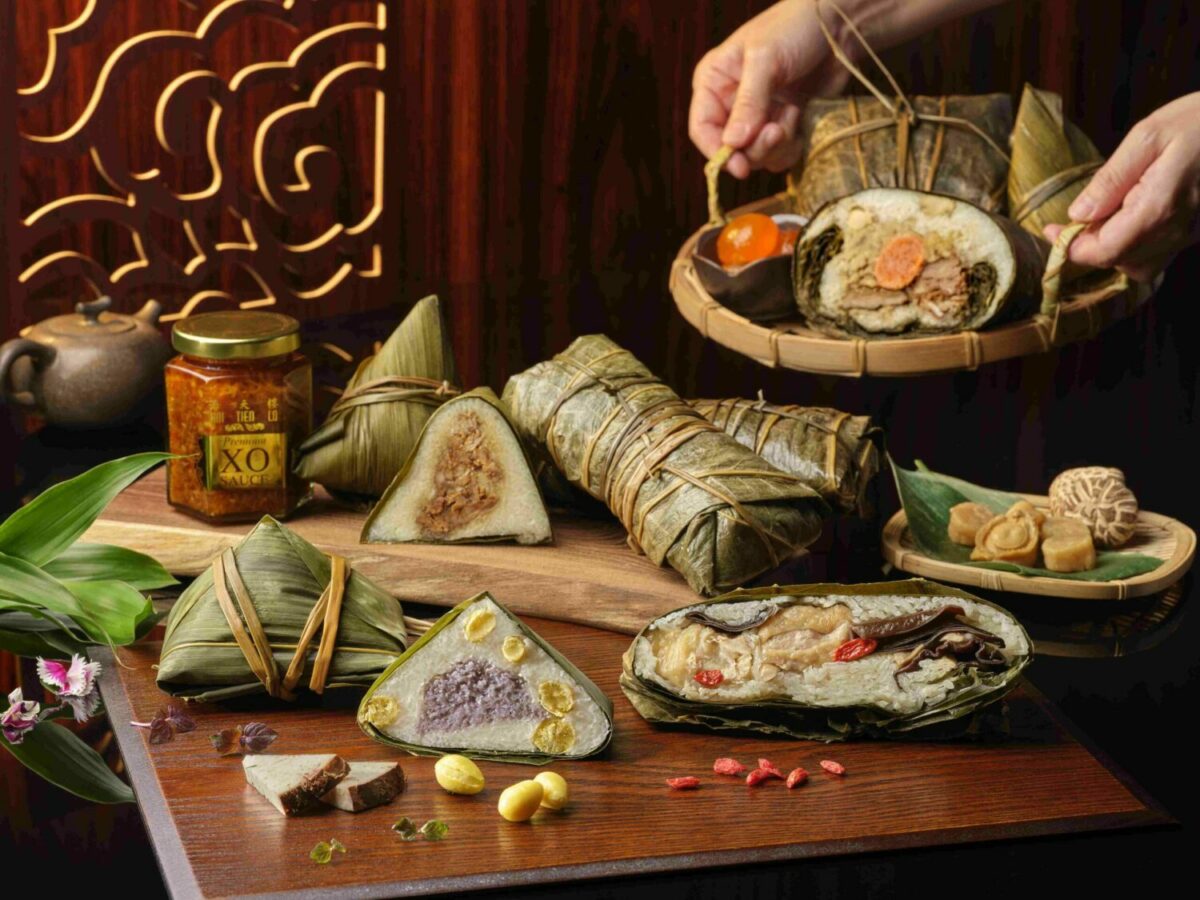 Image credit: Hai Tien Lo 
Award-winning Cantonese restaurant Hai Tien Lo's Traditional Jumbo Rice Dumpling with Abalone ($38.80+) is a must-order if you're hosting friends or family this year. This massive bak chang feeds a party of four to six, and comes with pork belly, whole abalone, chestnuts, salted egg yolk, green beans, lotus seeds, and glutinous rice. There's also the Classic Taiwanese Dumpling with Sesame Oil Chicken ($18.80), which takes reference from the famous Taiwanese chicken dish, and the orh nee-inspired Teochew Dumpling with Yam Paste and Gingko Nuts ($8.80) if you're craving a sweet treat. 
Bundles are available for online pre-order too. Self-collection takes place till 5 June 2022, daily from 11:30am to 9:30pm. Delivery costs $10 per location, or you can order a minimum of $150+ to enjoy free delivery.
Address: 7 Raffles Boulevard, Pan Pacific Singapore, Singapore 039595
Tel: 6826 8240
Website
---
9. The Hainan Story
---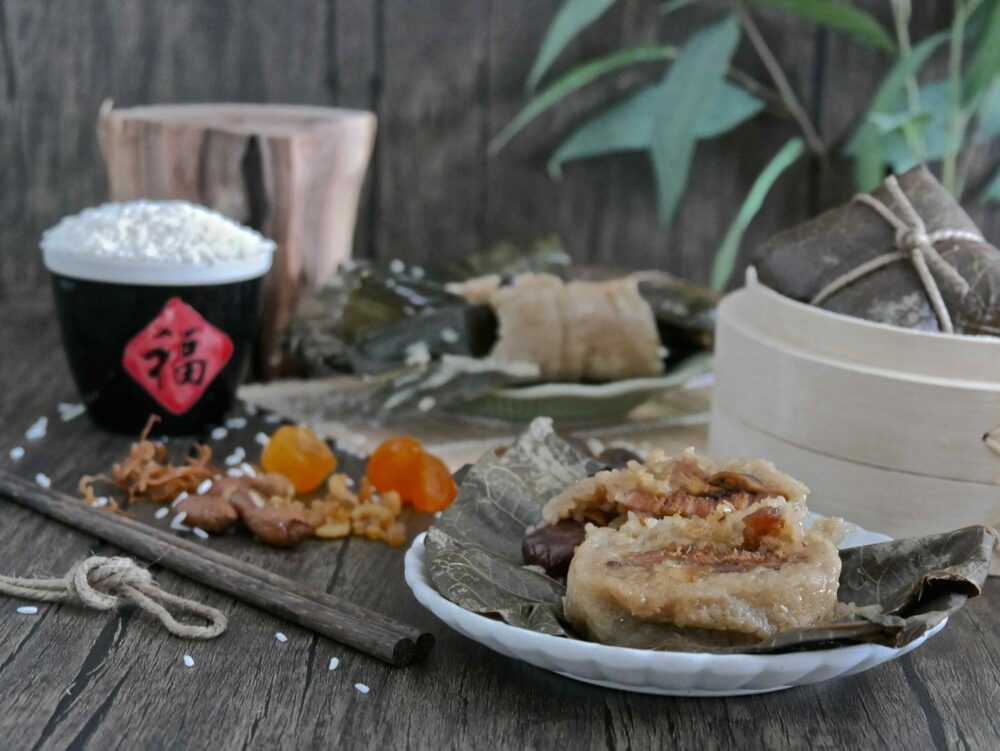 Image credit: The Hainan Story
Popular chain The Hainan Story's Hainanese Grandma Rice Dumpling ($50) is the perfect gift to impress Mum, Dad, or your in-laws. The set comes with four bak zhang, alongside a bottle of special house-made Hainanese sambal chilli. You get a generous chunk of fatty braised pork belly that's cooked for hours over low heat, plus a medley of chestnuts, peanuts, mushrooms, and salted egg yolk. The ingredients sit in glutinous rice that has been stir-fried with black pepper, dark soy sauce, and five-spice powder. That's not all—cuttlefish is also thrown into the mix for added texture and flavour. 
The dumplings can be ordered online from 15 May to 3 June 2022, or until sold out. Delivery is priced from $8 with a minimum order of $60.
Website | Full list of outlets
The Hainan Story Bakery Has Orh Nee Swiss Roll By Ex-Antoinette Chef, Hainanese Curry Polo Bun And More
---
10. Resorts World Sentosa 
---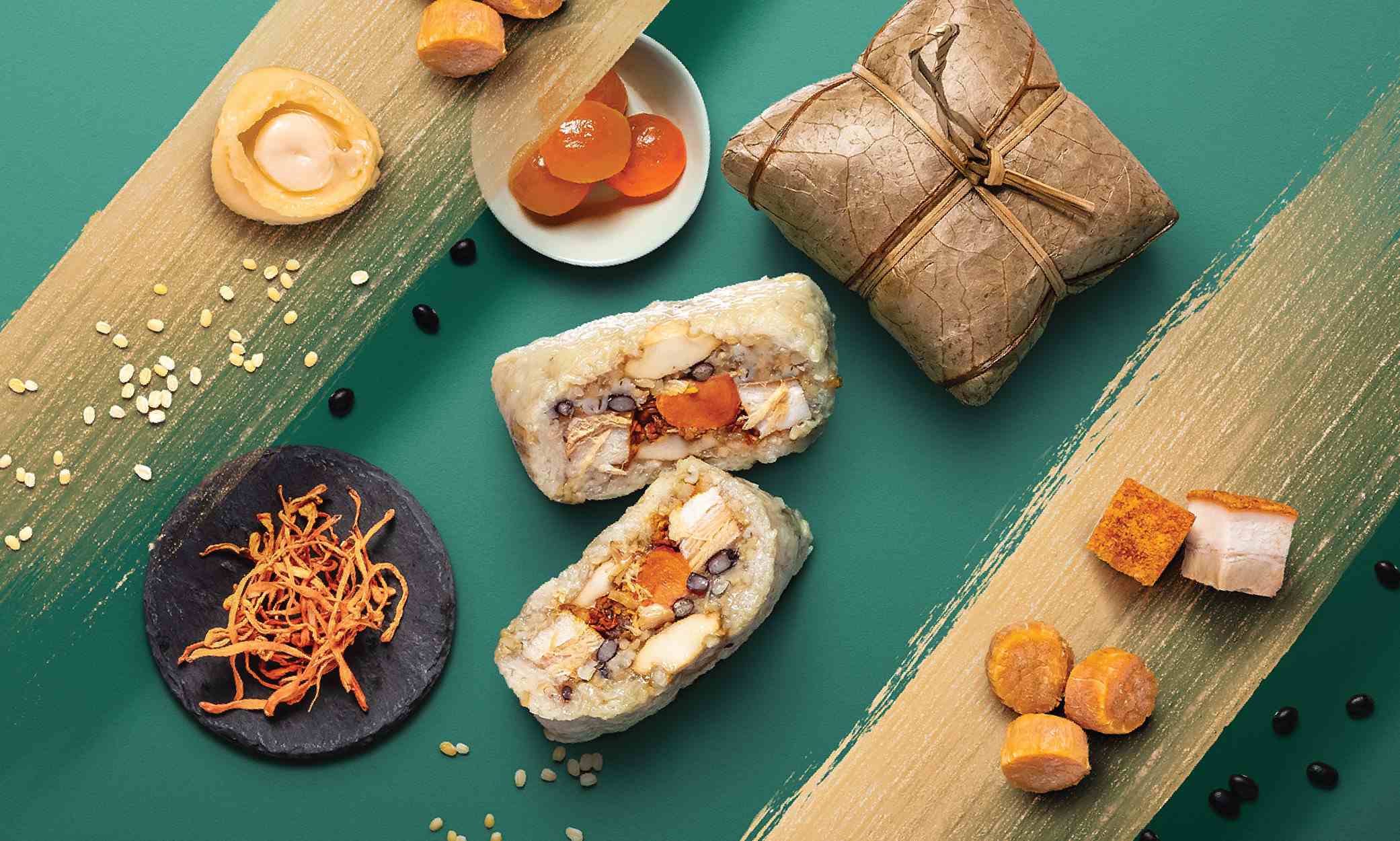 Image credit: Resorts World Sentosa 
For an unforgettable Dragon Boat Festival celebration, check out Resorts World Sentosa's (RWS) Deluxe Dumpling Set ($118), which comes with five special dumplings packed in an eco-friendly box. These bak changs are created by five master chefs from various restaurants.
One highlight is the Smoked Eel and Pork Tendon Dumpling by Chef de Cuisine Dayal Kesha of Michelin-starred table65. Created in collaboration with the in-house dim sum team at RWS, this one-of-a-kind bak chang stars braised pork tendon and smoked eel from Germany, mixed with dried oysters and chestnuts, held together by black and white sticky rice. There's also the Zakkoku Okowa Dumpling, a Japanese-inspired number made with Japan-imported rice, Kurobuta pork, sustainably sourced prawns, and sakura ebi. 
Pre-orders and self-collection are available till 4 June 2022. You can place your order online or at Feng Shui Inn and Malaysian Food Street. Self-collection is done at the Festive Booth of Hotel Michael from 12pm to 8pm daily. Alternatively, order at least three dumpling sets to enjoy free delivery (U.P. $30) to one location.  
---
Get your dumpling fix with bak chang delivery services
---
For those panicking over where to find bak chang for your family's little Dragon Boat Festival this year, or if you just adore these zong zi to the moon and back, we hope that our list of bak chang delivery services will be of help to you in one way or another.
If you are looking for more types of food delivery services, check out our guide to durian delivery services in Singapore. For something more savoury, read our guide to sandwich stalls offering delivery services too!
16 Sandwich Stalls With Delivery Including Tonkatsu And Grilled Cheese Sandwiches
This article was originally published on 8 June 2021 by Ryan Ho.