---
Telok Ayer is a Glutton's Paradise
---
You've seen our CBD Hawker Guide, but beyond local hawker delights at Amoy Street lies a whole long stretch of fantastic food options at Telok Ayer Street. From Korean fried chicken to Mediterranean bites and hearty sandwiches – you name it, Telok Ayer Street has it! Here are 10 places you should check out if you need a break from hawker food in the CBD.
---
1.Park Bench Deli
---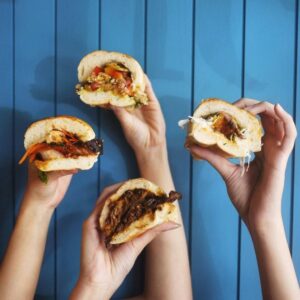 Source
What sets Park Bench Deli apart from its competitors is the tremendous effort they make, right down to the little things like how they wake up at 5am everyday to make their bread. Their Philly Cheese Steak ($16) is a glorious work of art with a heaping pile of cheesy meaty goodness stuffed in a crusty warm loaf. Their unconventional Kong Bak Bahn Mi ($14) will also have you marvelling at how the tender Chinese braised pork pairs so well with Vietnamese pickles. This is why Park Bench Deli has also made it to our Sandwich Guide.
Opening hours: Mon – Fri: 9am  – 3pm
Address: 179 Telok Ayer St, Singapore 068627
---
2.Pantler
---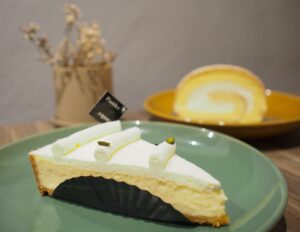 Source
Pantler is undeniably one of the best cake shops in town. Home to the softest, lightest, fluffiest Swiss Roll ($4.80) you'll ever have in your life, Pantler proves that the Japanese are a force to be reckoned with in the dessert scene. If there's anything you have to try at Pantler, it's everything. And I'm not even joking because everything is done to perfection there. But if you haven't already tried the Ricotta Cheese Tart ($8) or the Figaro ($8.50), you're missing out on some of the best things in life. We wish we had the foresight to include Pantler on our 10 Best Patisseries list, because it absolutely deserves a spot there!
Opening hours: Mon – Fri: 830am – 7pm, Sat: 1030am – 530pm
Address:  198 Telok Ayer St, Singapore 068637
---
3.Napolean Food & Wine Bar
---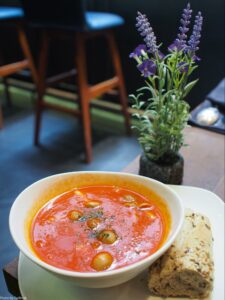 This mysterious restaurant is almost inconspicuous next to other big names on Telok Ayer Street like My Awesome Cafe, but it's worth a visit if you're looking for great lunch deals. Their Express Lunch is only $15 for a starter and a main, while their Chef's Lunch comes at an affordable price tag of $22 for three courses.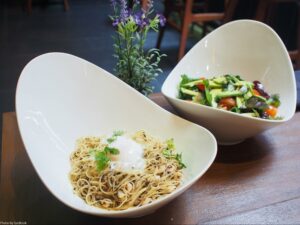 Napoleon's Truffle and Shrimp Angel Hair Pasta is a great choice if you need something luxurious to perk you up for another long afternoon at work. Every bite is a wonderful burst of earthy and briny flavour, made even better by that runny egg yolk coating the al dente pasta.
Opening hours: Mon – Fri: 11am – 12am, Sat: 6pm – 12am
Address: 206 Telok Ayer Street, Singapore 068641
---
4.Okkudak Oven & Fried Chicken
---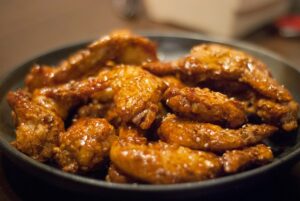 Source
The fried chicken at Okkudak is great, but ordering the Oven Baked Chicken would be a far wiser choice. I've always wondered why oven baked chicken hasn't taken off in Singapore yet, but I'm not complaining now that I have a go-to place for succulent baked chicken with the crispiest skin. If you're wondering how baked chicken could possibly compare to fried chicken in terms of satisfaction, you obviously haven't tried a good one yet. Go ahead, Okkudak is calling your name!
Opening hours: Mon – Fri: 1130am – 12am , Sat & Sun: 4pm – 12am
Address: 182 Telok Ayer Street, Singapore 068630
---
5.The Market Grill
---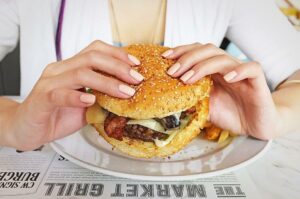 Source
Expect hearty burgers and a full on carnivore's paradise at The Market Grill. Their woodstone firestone charbroiler churns out steaks and burgers grilled to perfection, making them one of the most popular places on Telok Ayer Street. If you're having a cheat day, go for the CW Bleu Cheese Burger ($25). The combination of savoury blue cheese, sweet onion jam, fatty bacon and juicy beef patty is definitely worth the calories. Don't miss out the Lobster Rolls ($45) too which are grilled buns filled with juicy, tender and creamy lobster meat!
Opening hours: Mon – Sat: 1130am – 230pm, 6pm – 10pm
Address: 208 Telok Ayer Street, Singapore 068642
---
6.Sarnies
---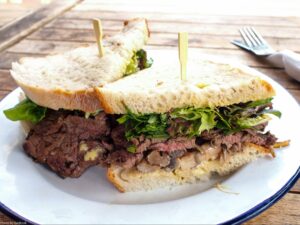 Sarnies immediately comes to mind when you think of sandwiches in the CBD. Their Grass-fed Steak Sarnie ($16.50) is a monstrous pile of medium rare steak, buttery mushrooms, crisp mesclun and the sweetest caramelised onions in between soft slices of fresh bread.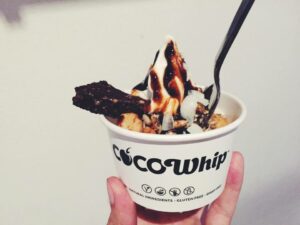 Source
Their newly launched coconut water soft serve, CocoWhip ($6.80), is also a great reason to head down to Sarnies! It's 97% fat free, so you can enjoy this refreshing trip all day, everyday.
Opening hours: Mon & Tue: 730am – 1030pm, Wed – Fri: 730am – 1130pm, Sat & Sun: 9am – 4pm
Address: 136 Telok Ayer Street, Singapore 068601
---
7.Urban Bites
---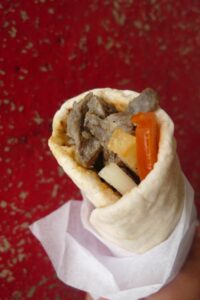 Source
If watching re-runs of the Avengers has put you in a mood for Shawarma, Urban Bites is your go to place to fix that craving. Their Shawarma Wrap ($15) is a filling option featuring homemade lebanese bread stuffed with meat, pickles, and fries. Urban Bites also does a sumptuous array of kebabs, Shawarma platters, and wraps, making this an excellent choice for people who love Mediterranean food.
Opening hours: Mon – Sat: 9am – 945pm
Address: 161 Telok Ayer Street, Singapore 068615
---
8.Cha Thai
---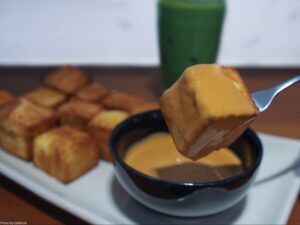 Other than their value for money $25 set lunches, other items to look out for at Cha Thai include their Toast with Thai Tea/Pandan Custard Dip ($8), and their Thai Iced Green Tea ($3.90). We preferred the Thai Tea dip as it is more unique, and not too cloying or heavy.
Opening hours: Mon – Sat: 11am – 10pm
Address: 80 Telok Ayer Street, Singapore 048466
---
9.Gaest
---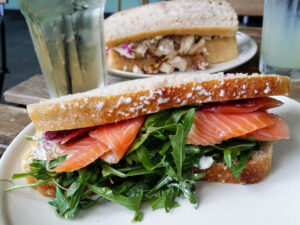 Source
Right at the very end of Telok Ayer Street is this little scandinavian sandwich join that's tucked away at the intersection of Mccallum Street. This is easily one of the best places to dine at if you're looking for a lip-smacking meal that won't give you the post lunch food coma. Their Salmon Sandwich ($15) is all jazzed up with sliced of pickled beetroot, rocket, and horseradish cream, while their Pork Sandwich ($14) is also a great hit for people who want something more filling.
Opening hours: Mon – Fri: 730am – 5pm, Sat & Sun: 830am – 330pm
Address: 21 McCallum Street, Singapore 069047
---
10.Moosehead Kitchen & Bar
---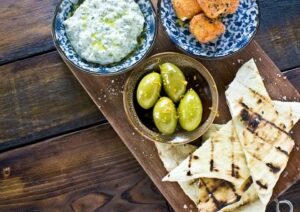 Source
This quirky Mediterranean eatery hidden at the far end of Telok Ayer Street is known for elevating Middle Eastern street food and giving creative twists to simple ingredients. Their Meze Board ($21) is a uncomplicated platter of flatbread, olives, crunchy feta, and tzatziki – a garlic flavoured greek yogurt – that offers the best of Mediterranean classics on a plate. They also do crowd-pleasers like Beef Burger ($22) and Pulled Pork Sandwiches ($22) which makes it a great spot for a hearty lunch fix.
Opening hours: Mon – Fri: 1130am – 230pm / 6pm- 1030pm, Sat: 6pm – 1030pm
Address: 110 Telok Ayer Street, Singapore 068579
---
Never Have A Boring Lunch At Telok Ayer Street
---
With this much good food to look forward to at Telok Ayer Street, you'll never have the Monday Blues again.