---
The return of the sandwich deli
---
I wasn't a fan of sandwiches until much recently. It's not hard to imagine since Subway used to the de facto place to get your hands on one, but I'd rather eat a bag  full of sand before I attempt another Subway abomination. Thankfully things have changed in recent years with the rise of some stellar delis to get your fix. So here are 10 of the best places to get a sandwich in Singapore!
---
1. Sarnies
---
One of the famous stars of the CBD, Sarnies is a popular deli known to the tie and blazer clad pencil pushers in the CBD. Besides the excellent coffee, don't miss out their classic grass fed beef sandwich ($16.50).
If you're feeling the need to be healthy, you should give the Basil Pesto ($14.50) a try. It's a healthy mix of pesto, tomatoes and mushrooms. Who says you can't have great tasting healthy food?
Opening Hours: Mon – Fri: 730am – 1030pm, Sat & Sun 9am – 4pm
Address: 136 telok Ayer Street
Contact: 6224 6091
---
2. The Provision Shop
---
Unlike your regular provision shop, the owner's name is most certainly not Muthu and there are no cigarettes for sale here. Instead, it's a wholesome cafe dishing out hearty breakfast foods and top of the line coffee in hip and happening Everton Park.
Try the Reuben Sandwich ($16) here, layers of corned beef, sauerkraut, Russian dressing and swiss cheese sandwiched between slices of rye bread. Biting into its crusty exterior and into juicy sliced of beef is probably one of the most understated things you could experience. Be sure to try their Eggs Florentine ($12-$14) too which was featured in our egg brunch guide.
Opening Hours: Mon – Fri: 730am-9pm, Sat & Sun: 9am-9pm
Address: Blk 3 Everton Park #01-79
Contact: 6225 9931
---
3. Park Bench Deli
---
Sandwiches with attitude is one way of describing the delicious creations out of this joint. They're my personal heroes for bringing the beloved Philly Cheese Steak ($16) to our shores, but if you want something more decadent, bite into their Fried Chicken Sandwich ($14), guaranteed to send you into a food coma for the rest of the day.
They do some crazy stuff too like PB&J ($8), their play on a peanut butter jelly sandwich with a cornflake crust!
Opening Hours: Mon – Fri: 9am-10pm
Address: 179 Telok Ayer Street
Contact: 6815 4600
---
4. Club Meatballs
---
Club Meatballs proves to be a ball of a time with their sandwich and wrap offerings. Go exotic with The Spaniard ($9.50), made with balls of Wagyu beef, roasted peppers and caramelized onions for sweet and juicy excellence. Or if you're feeling oriental, The Vietnamese ($9.50) offers a nice change of pace with chicken and cumin balls, red onions, carrots and fresh coriander.
Opening Hours: Mon – Thurs: 8am-12am Fri: 8am-1am Sat: 10am-12am
Address: 20 Cross Street
Contact: 6222 8660
---
5. Melt Bar
---
Melt Bar is a love letter to cheese lovers out there. If the sight of melting cheese excites you, this is the place for you. My absolute favourite has got to be The Porky ($16) which is pulled pork, BBQ sauce and coleslaw topped with cheddar cheese. It's sweet, crusty, juicy and savoury at the same time! You can't go wrong with the Bacon Guac ($14) either if you're after something less sinful.
Opening Hours: Daily: 10am-9pm
Address: 200 Turf Road
Contact: 8318 2326
---
6. Gaest
---
For something a little strange, try some Norwegian sandwiches. Nothing is more scandinavian that smoked salmon ($15), which is expertly paired and balanced with honey and apples, pickled beetroot, rocket and horseradish cream. It's location in the CBD also make it a great choice for the working crowd. If you're looking for something a little different, check out our CBD lunch guide.
Opening Hours: Mon-Fri: 730am-930pm Sat & Sun: 830am-330pm
Address: 21 McCallum Street
Contact: 6634 0922
---
7. Sacha & Sons
---
Sacha & Sons is the place you wanna go to if you feel like reliving your visits to classic New York Delis. You can choose between different breads for your sandwich here  including deli rye, bagel, potato bread or challah bread. You'd be wise to order the Classic Deli ($16) which is home made roast beef and pickles sandwiched between loaves of goodness. But don't leave until you've tried the bagels too! If you're looking for more value eats around town we've got you covered with our orchard food guide too!
Opening Hours: Sun-Thurs: 10am-10pm, Fri & Sat: 10am-10pm
Address: 333A Orchard Road, Mandarin Gallery
Contact: 6735 6961
---
8. Quiznos
---
Probably the most well known sandwich joint next to Subway, Quiznos remains one of the most accessible and tasty sandwich shops in Singapore. I'm sure I'm speaking for many others when I say the Zesty Grilled Steak is a sandwich you cannot miss when you visit.
Check their website for details on Opening Hours and Outlets
---
9. Banh Mi 888
---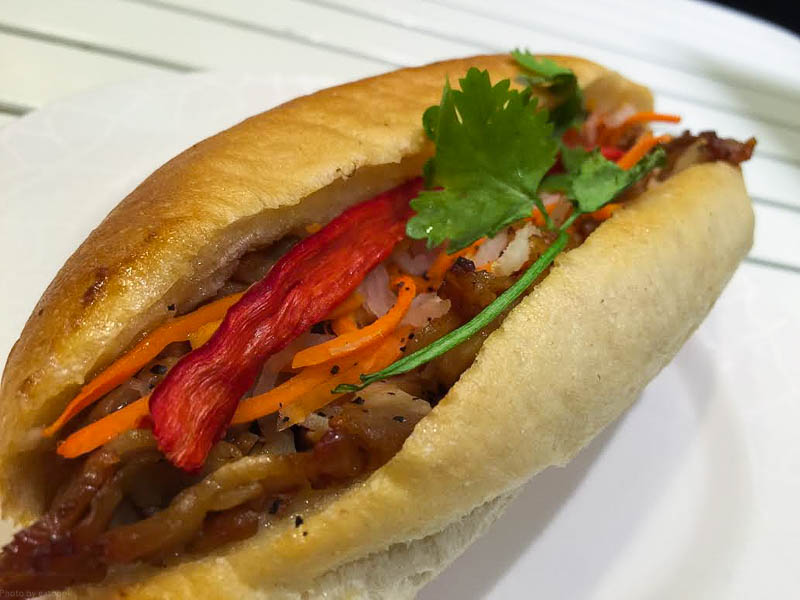 You know they're serious because of how many 8s they have in their name. Just a stone's throw away from our office in Balestiar, they've become a regular haunt for us with good reason. The baguettes here are extraordinarily crispy and fluffy on the inside and come warm and toasty. You absolutely have to try the grilled chicken banh mi ($7.10) which is a mix of spicy, savoury, sour and fresh flavours.
Opening Hours: Daily: 1030am – 830pm
Address: 101 Thomson Road, United Square, B1-06
Contact: 6354 3858
---
10. Smoke Shack
---
Put down your torches and pitchforks and pick up those regular forks because these guys have nothing to do with the horrendous haze. This tiny stand near Chinatown smokes their own meats for some of the most fulfilling sandwich experiences you can have in Singapore. Try the Montevideo Sandwich ($11.90), an original dish from Uruguay packed with warm steak, cheese, bacon, red peppers, lettuce between focaccia buns.
Opening Hours: Mon-Fri: 730am-6pm
Address: 2 Amoy Street, #01-01, Far East Square
Contact: 6557 2214
---
Know any more sandwich delis?
---
Now you're equipped with the latest and greatest in the world of sandwiches in Singapore! Make sure you comment below if you've got any more suggestions or if you'd like to contribute a sandwich pun which I have failed to make in this article!