---
Best banh mi in Singapore
---
In the past few years, we've seen a rise in the number of banh mi stalls in Singapore. For those who might not be super familiar with what exactly banh mi is, here's the lowdown: banh mi was a fusion dish invented in the mid-19th century in Vietnam, after French colonials introduced the baguette to the locals. The filled sandwich is typically loaded with Vietnamese meats, such as pork sausage, along with fresh herbs and pickled vegetables—coriander, carrot, and daikon are the most common. A lick of pate, mayonnaise, and a dash of red chilli complete this handy, portable meal.
If you're looking for some of the best banh mi in Singapore, then visit these names on this list. They're mostly banh mi kiosks and cafes that specialise in delicious renditions of the iconic Vietnamese sandwich. Often, they're run by native Vietnamese cooks too!
---
1. Banh Mi Thit 
---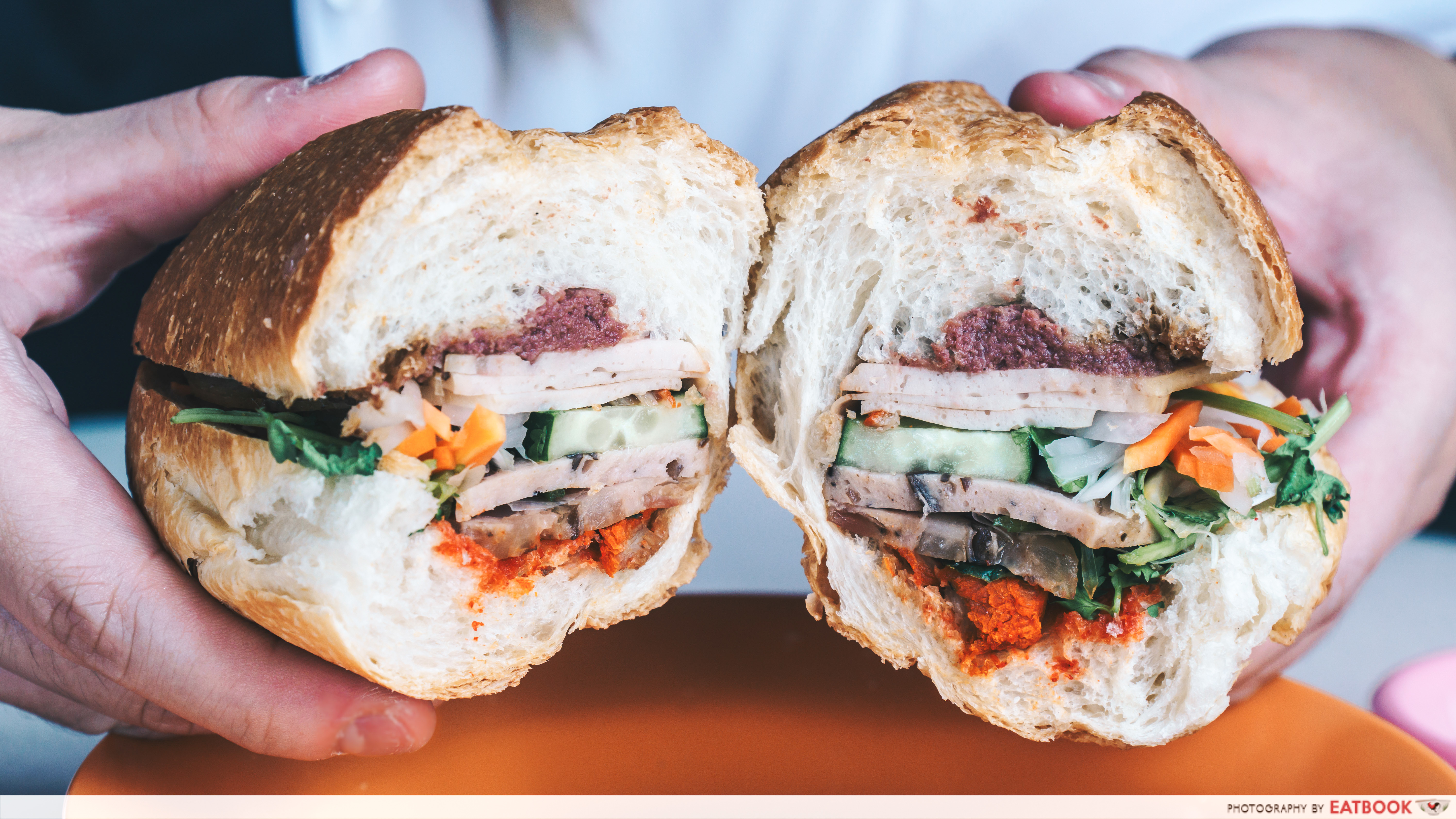 Banh Mi Thit is one of the OG Vietnamese delis, having been around before the sandwich became such a trend. Located in Joo Chiat, the eatery is known for their super affordable Banh Mi, priced at $5. You get to pick between pork, chicken, ham, beef, egg, or pate for the price. Their baguettes are baked in-house daily, prepared alongside their deliciously crisp, sour pickles. Add on $1 to enjoy your banh mi with your drink of choice, which includes Iced Authentic Vietnamese Coffee, typically priced at $1.80.
Read our Banh Mi Thit review.
Address: 543 Geylang Road, Singapore 389498
Opening hours: Tue-Sun 10am to 9pm
Website
Banh Mi Thit is not a halal-certified eatery.
Banh Mi Thit Review: Cheapest Banh Mi In Singapore At $3.80 Near Aljunied MRT
---
2. Co Hai 
---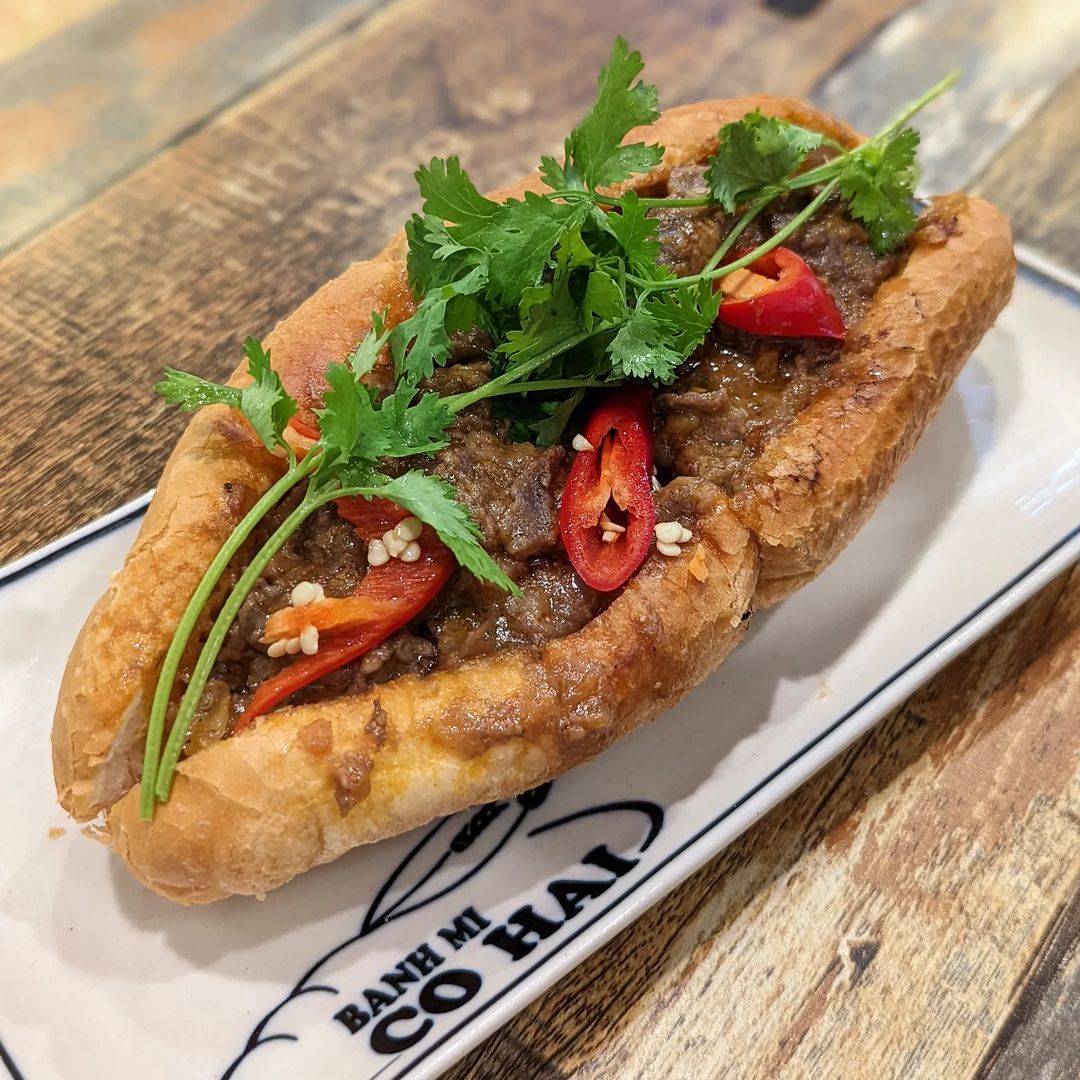 Image credit: @bokettokeeps
Co Hai is a hidden gem eatery located along Beach Road, near City Gate Shopping Centre. They're famed for their loaded banh mi here, including their signature Co Hai Baguette ($12), a fully stuffed sandwich packed with Vietnamese hams, barbecued pork, pork floss pate, butter, egg, and a pickled medley. If that's too much for you, they've got other banh mi options priced under $10, including a lighter but no less delicious Stir Egg & Cheese Baguette ($8), filled with an omelette. Aside from sandwiches, they've also got pho bowls from $10.
Read our Co Hai review.
Address: 359 Beach Road, Singapore 199575
Opening hours: Daily 11am to 10pm
Tel: 9650 7999
Website
Co Hai Banh Mi is not a halal-certified eatery
Co Hai Banh Mi: Chio Vietnamese Cafe With House-Baked Banh Mi Baguette And More
---
3. 233 Banh Mi 
---

Image credit: @uta0504
OGs will know of 233 Banh Mi, a kiosk in Joo Chiat with erratic opening hours. Now, the brand has expanded to larger premises at a different Joo Chiat address and offers affordable banh mi priced below $6. Get the Banh Mi Truyen Thong ($6)—this is as close as you can get to digging into banh mi on a bustling Ho Chi Minh curb as motorcycles rush past. A baguette is cut and toasted, then stuffed with pork sausage, pickled greens, and a generous swathe of pate. We also love how chill the space is, making this a comfortable spot for lunch or an early dinner.
Address: 157 Joo Chiat Road, #01-01, Singapore 427435
Opening hours: Mon-Sat 8am to 7pm
Tel: 6694 8109
Website
233 Banh Mi is not a halal-certified eatery.
---
4. Banh Mi Saigon 
---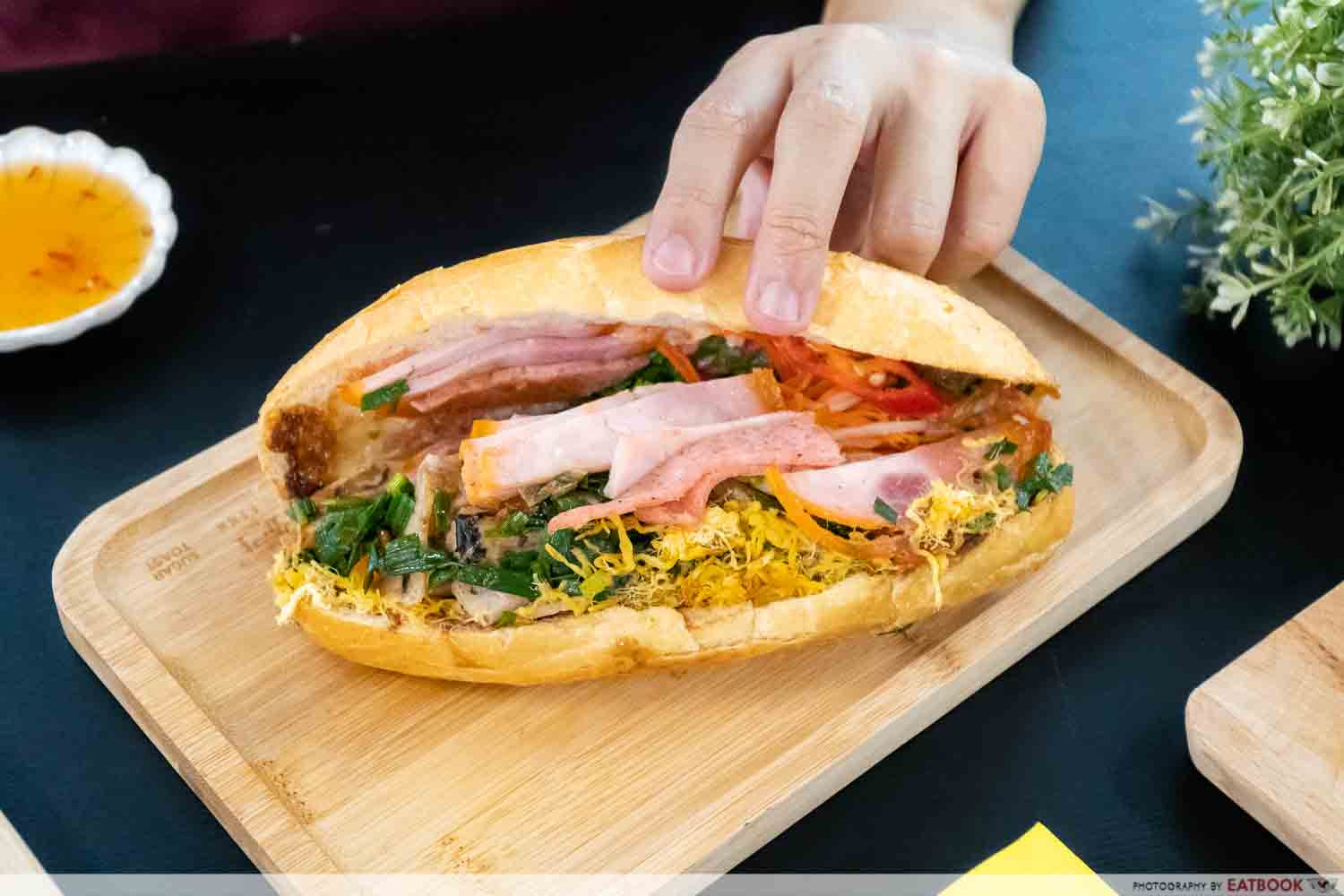 Singapore's Little Vietnam may reside in the East, but that doesn't discount other 'hoods from having A+ banh mi. Banh Mi Saigon in Ang Mo Kio went viral on TikTok for their banh mi, with cold cuts prepared from a family recipe from Vietnamese owner Victoria—recipes that date back over a century. There are 10 different options on the menu, but their Banh Mi Pha Lau ($9.90) is one of their bestsellers, packed with seasoned beef offal, including pig's ears. If you're not too enthused about offal, then their Special Great ($7.90) option is ideal, for it comes with a selection of different house-cured cold cuts. Other fillings include pork dumplings and salt-baked chicken. 
Read our Banh Mi Saigon review.
Address: 505 Ang Mo Kio Avenue 8, Singapore 560505
Opening hours: Daily 9am to 9pm
Website
Banh Mi Sai Gon is not a halal-certified eatery.
Banh Mi Sai Gon Review: 123 Year-Old Banh Mi Recipe With Pig's Ear Filling And More
---
5. Banh Mi Be Bi 
---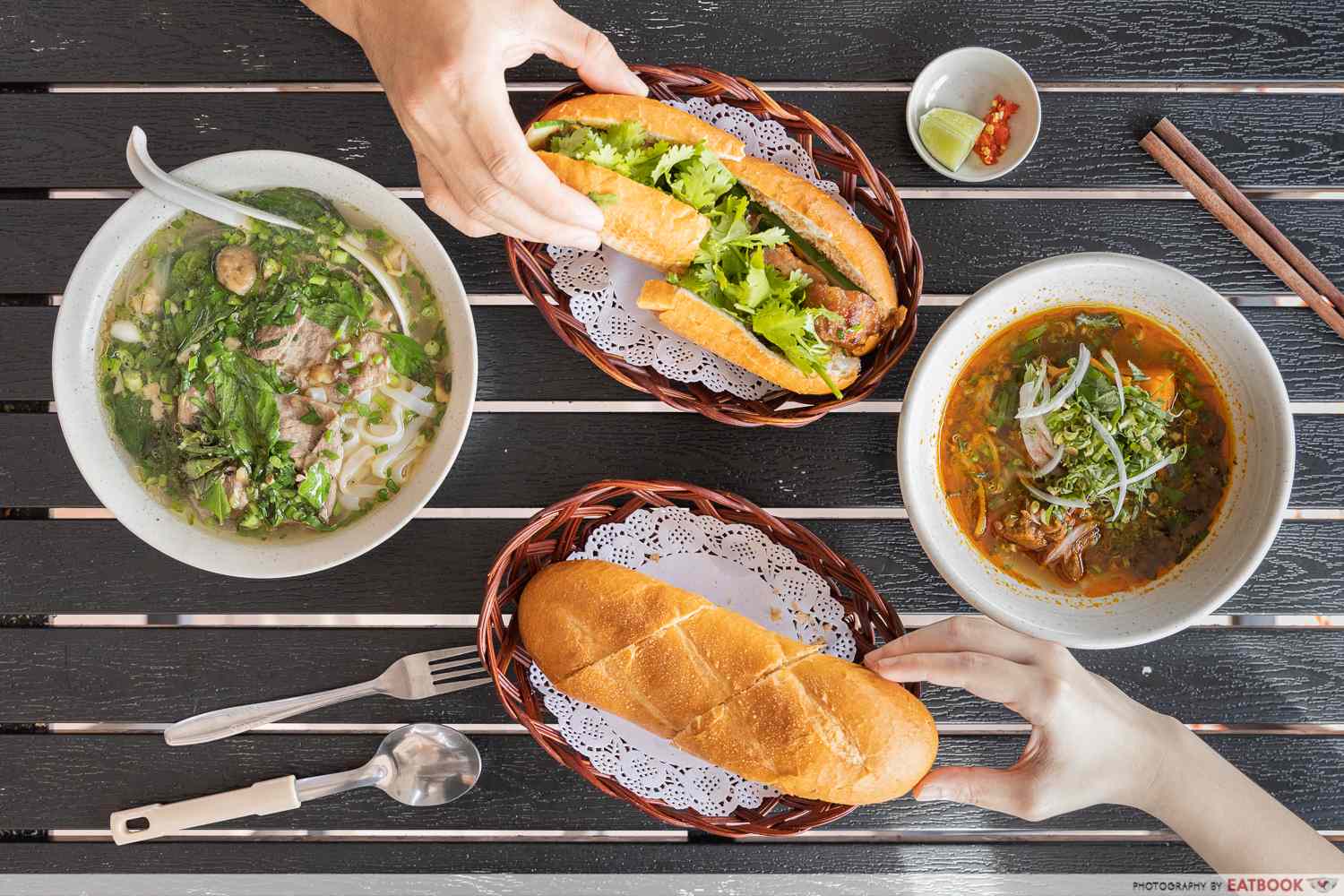 Banh Mi Be Bi is a humble hawker stall in Upper Aljunied Road, run by a mother-daghter duo. The stall grew quite popular for their affordable banh mi and other hearty Vietnamese dishes, served alongside their wallet-friendly loaves of house-made baguettes. The quality of the bread here is top-tier, crisp on the outside and fluffy on the inside, the ideal vehicle for their equally delicious fillings. Their Grilled Pork Banh Mi ($5) is a crowd favourite, though if you want a more substantial meal, get their Banh Mi Bo Ne ($7), which comes with slices of steak and egg on a  hotplate, and a fresh baguette alongside. The eatery also serves noodle dishes and Vietnamese seafood, all under $10.
Read our Banh Mi Be Bi review.
Address: 375 Upper Aljunied Road, Singapore 367860
Opening hours: Daily 9am to 9pm
Tel: 9054 3939
Website
Banh Mi Banh Bi is not a halal-certified eatery.
Banh Mi Be Bi Review: $1 Handmade Baguettes, Beef Stew And More At Vietnamese-Run Hawker Stall
---
6. Moc Quan 
---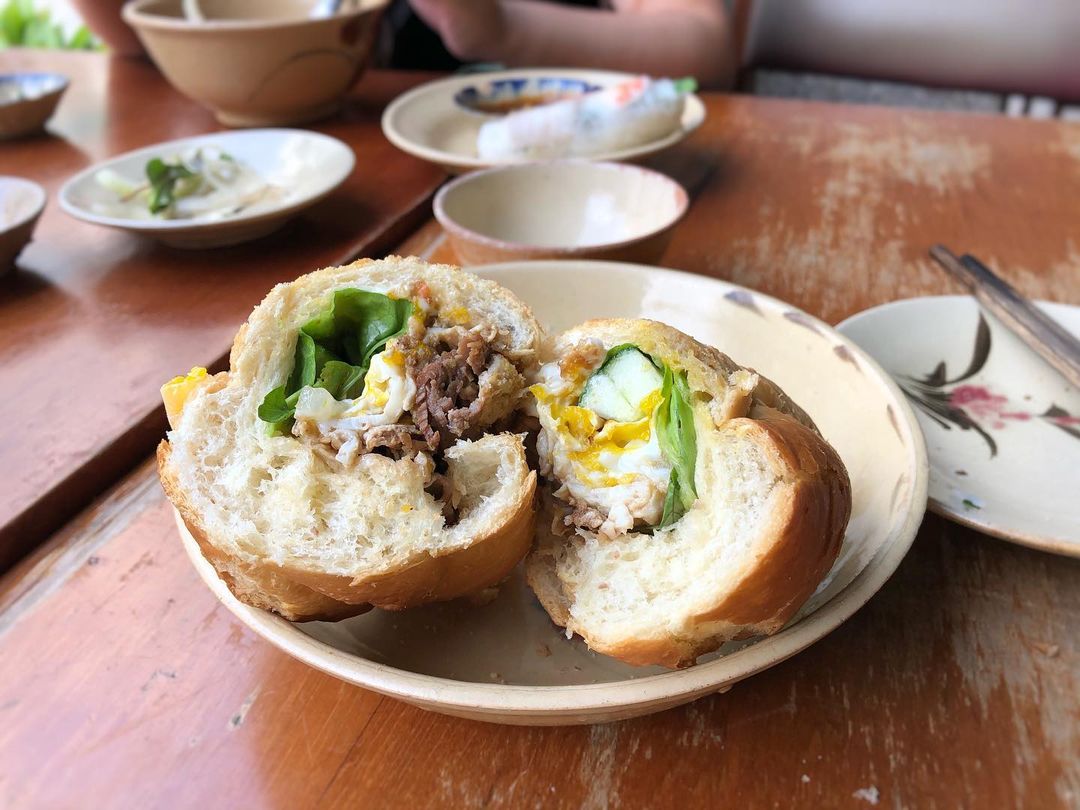 Image credit: @sallyiseating_
Moc Quan is a full-fledged Vietnamese restaurant just outside of Dhoby Ghaut. They're known for a variety of different dishes, including their banh mi, of which there are eight different flavours. All the fixings are made in-house, from the baguette to the pickles. The most affordable option is their Banh Mi Op La ($7.50++), served with sunny-side-up eggs, but the Banh Mi Bo Bit Tet ($8.50++) is one we'd recommend if you're really hungry, as it comes packed with pan-fried beef and eggs.
Address: 81 Clemenceau Avenue, #01-23, UE Square Shopping Mall, Singapore 239917
Opening hours: Daily 11am to 9pm
Tel: 6736 0123
Website
Moc Quan is not a halal-certified eatery.
---
7. Miss Saigon 
---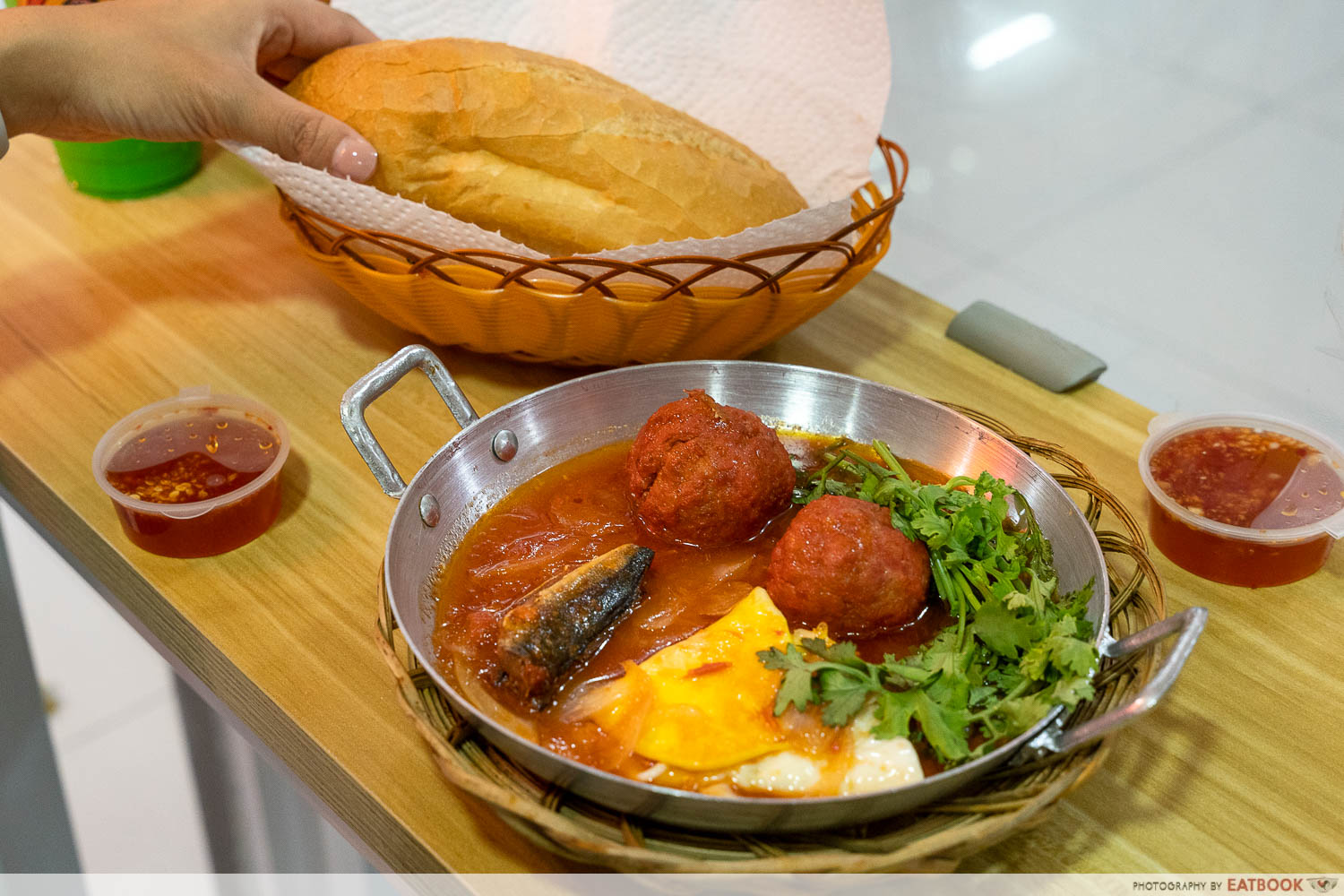 Founded by the folks behind Banh Mi Saigon is Miss Saigon, a 24/7 Vietnamese eatery located in Orchard Plaza. Their hearty selection of Vietnamese dishes makes for a great supper, especially their Banh Mi Chao ($12), where a fresh baguette is served with a tomatoey stew loaded with a sunny-side-up egg, Vietnamese meatballs, and sardines. Pair this shiok dish with their Ca Phe Sua Da ($4.50), Vietnamese iced milk coffee that's sweetened with condensed milk.
Read our Miss Saigon review.
Address: 150 Orchard Road, #02-56, Orchard Plaza, Singapore 238841
Opening hours: Daily 24 hours
Tel: 8925 3959
Website
Miss Saigon is not a halal-certified eatery.
Miss Saigon Review: Legit Vietnamese Banh Mi Eatery In Orchard That's Open 24/7
---
8. Your Deli Bite Cafe
---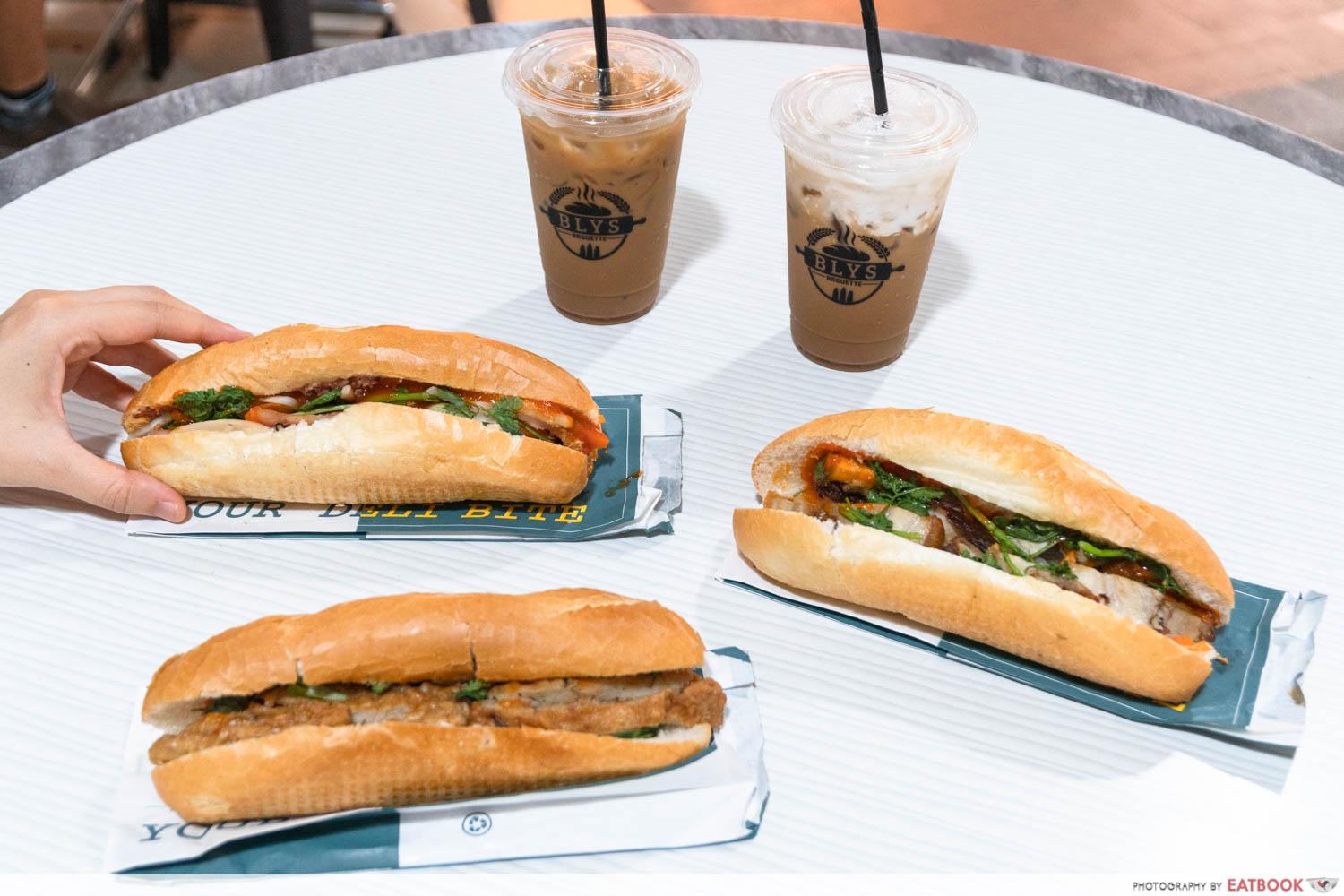 Your Deli Bite Cafe in Novena is the sister eatery to a now-defunct establishment of the same name in Jurong. Swing by for wallet-friendly banh mi, priced under $7. A popular pick is their Special Great Banh Mi ($6.90), packed with four types of ham, barbecue pork, pork floss, pate, and vegetables. Other must-tries include their signature Pate Beef ($12.90), a rich beef stew served on a hotplate, great to dig into with a crusty baguette loaf, though the latter is sold separately.  
Read our Your Deli Bite Cafe review.
Address: 275 Thomson Road, #01-03, Singapore 307645
Opening hours: Daily 10:30am to 10:30pm
Tel: 8866 7262
Website
Your Deli Bite Cafe is not a halal-certified eatery.
Get Hotplate Beef Banh Mi And Legit Pho At This New Vietnamese Cafe
---
9. Joo Chiat Caphe 
---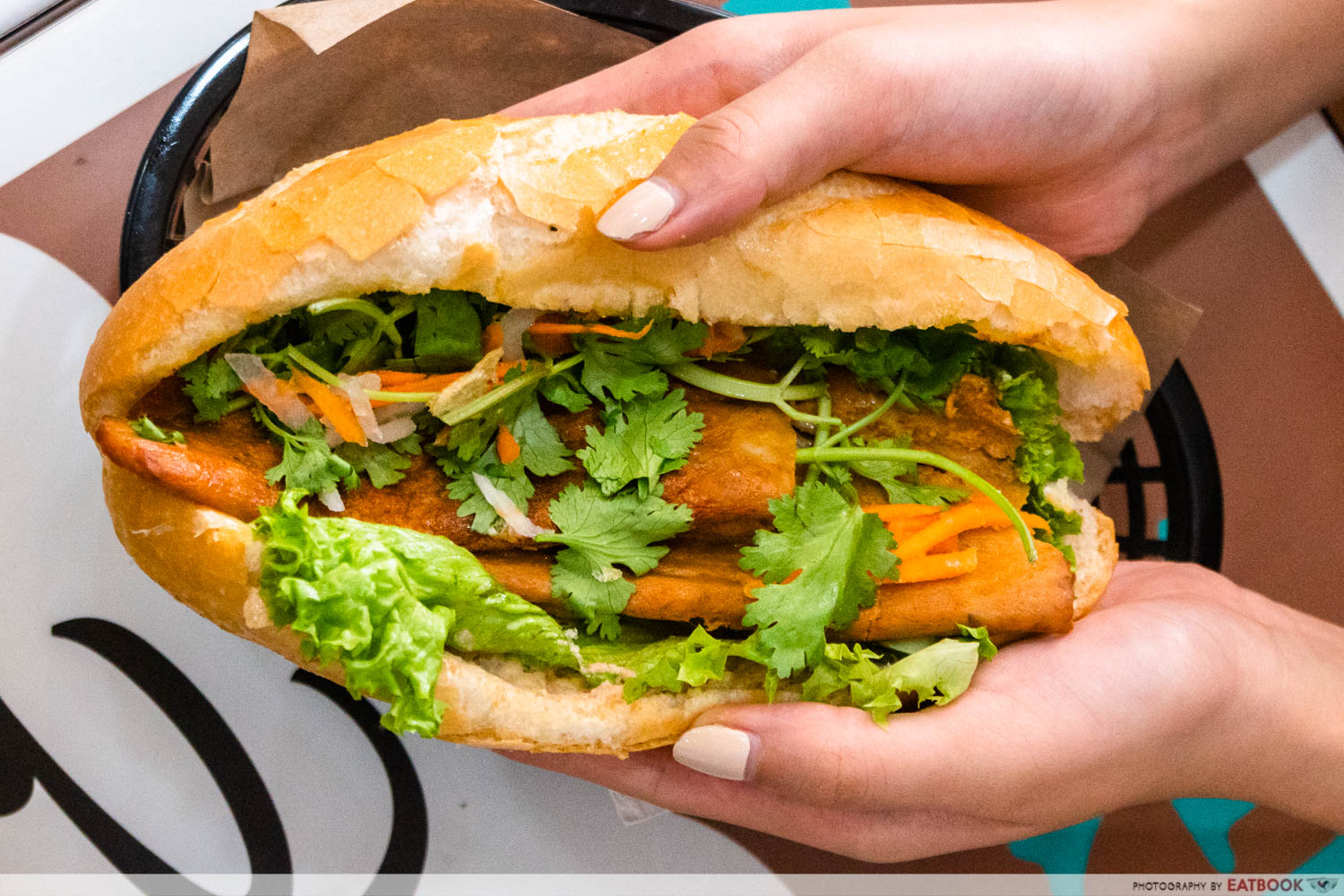 For banh mi with a fusion twist, swing by Joo Chiat Caphe. The Muslim-friendly eatery is a banh mi specialist run by a couple who formerly sold Nam San Mackerel Otah. Here's where you can get Singapore's only Mackerel Otah ($6.50), which comes with all the usual banh mi fixings, albeit sans meat. Instead, a spicy, lemongrass-laced fillet of mackerel otah plays the starring role here, and we have to say, the crossover is a success. Another unique option is the Battered Crispy Fish Fillet with Honey Mustard Sauce ($7). While the combo sounds out of place in a banh mi, don't knock it till you try it. The fish was fried well and fresh, with the honey mustard offering a mild sweetness and kick. The eatery also sells Vietnamese Drip Coffee ($4.80) that you DIY at the table, the way you would at a cafe in Ho Chi Minh, for example.
Read our Joo Chiat Caphe review.
Address: 263 Joo Chiat Road, Singapore 427517
Opening hours: Tue-Sun 9am to 5:45pm
Tel: 6988 1900
Website
Joo Chiat Caphe is not a halal-certified eatery but uses no pork or lard. 
---
10. Sandwich Saigon 
---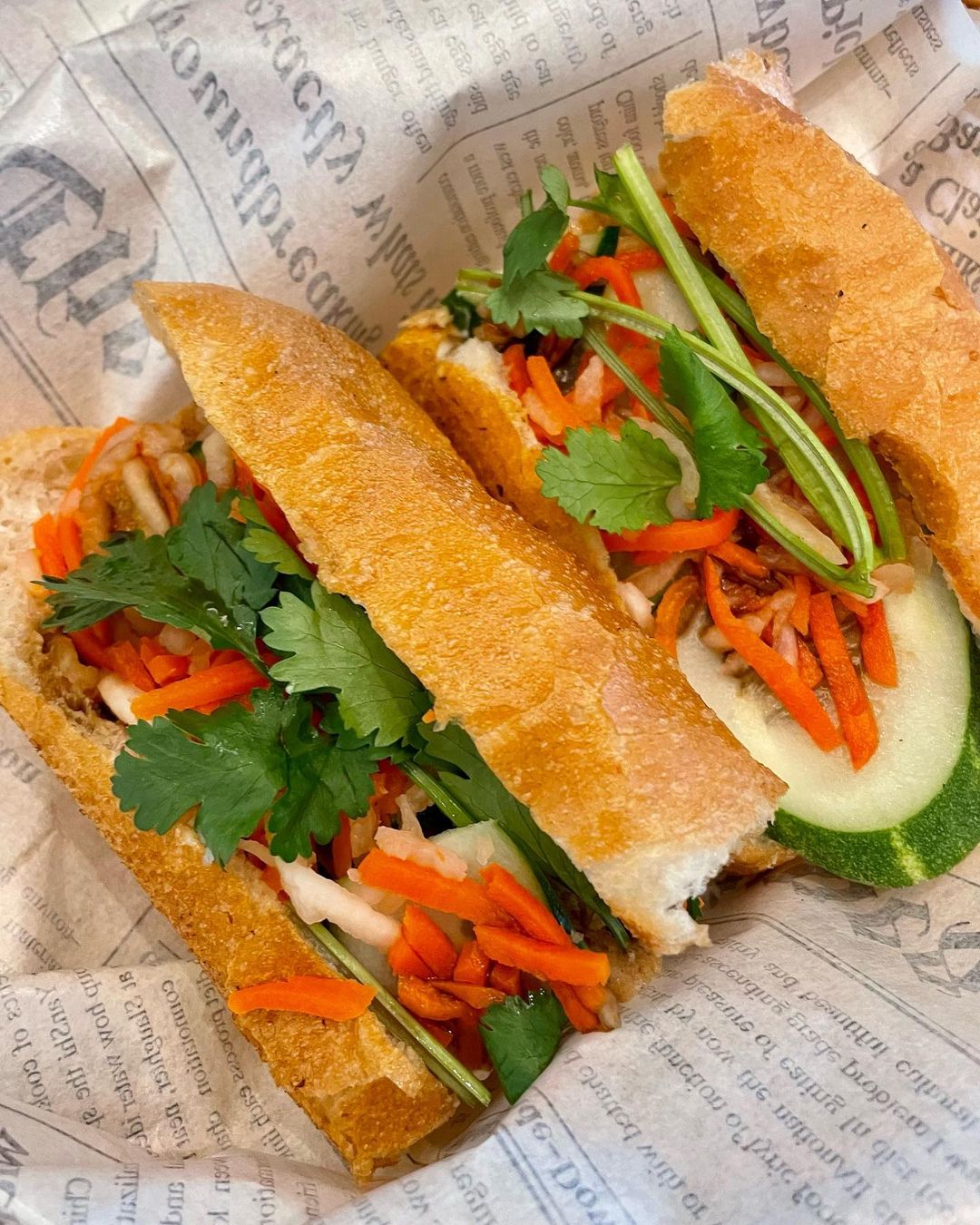 Image credit: @jiakzeh
Another East Coast gem is Sandwich Saigon, an eatery that's over a decade old and has recently transitioned into serving only vegetarian Vietnamese food. There are seven different plant-based banh mi, packed with fillings such as Mushroom & Tofu ($9), or a variety of different vegan mock meats, including Tuna ($9), Luncheon Meat ($9), Chicken ($9), and BBQ Meat ($9). These are as flavourful as their meat counterparts, so don't sweat that pure sacrificing flavour. Aside from banh mi, the menu has a plethora of other vegetarian and vegan options, including pho, banh xeo, and even Vietnamese breakfast.
Address: 93 East Coast Road, Singapore 428792
Opening hours: Wed-Mon 11am to 3pm, 5pm to 9:30pm
Tel: 6345 3849
Website
Sandwich Saigon is not a halal-certified eatery.
---
11. Eminami 
---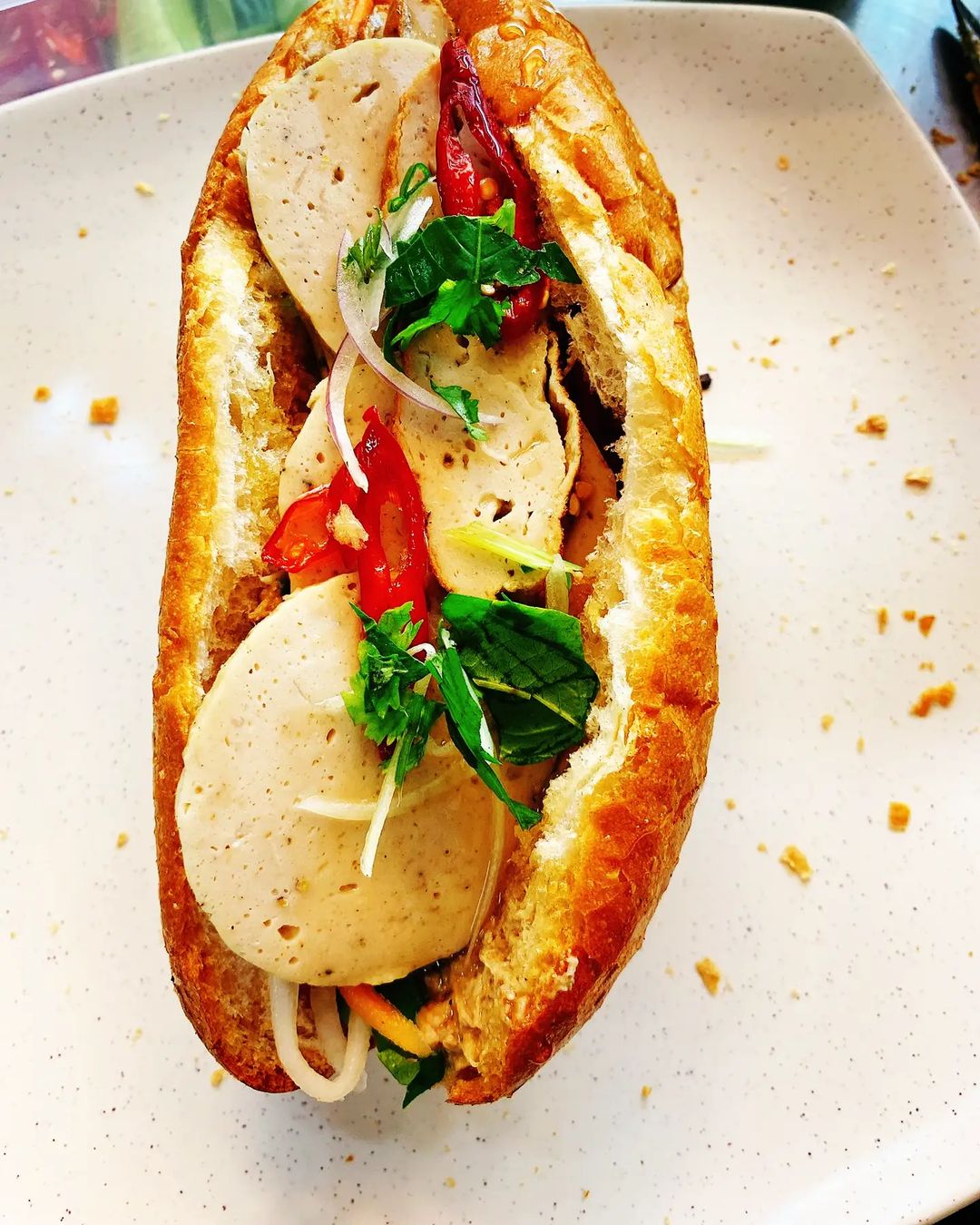 Image credit: @eminami.sg
Eminami gained a fair bit of online traction last year as one of the rare few halal Vietnamese eateries in Singapore. Located in Old Airport Road Food Centre, the stall serves up a handful of affordable Vietnamese dishes, including Banh Mi ($5) served with grilled chicken or beef. Aside from their signature sandwich, fans also love their Spicy Pho Bo ($6), a rich beef noodle soup prepared with a broth that is slow-boiled from beef bones, shank, and a medley of spices.
Read our Eminami review.
Address: 51 Old Airport Road, #01-47, Singapore 390051
Opening hours: Mon-Sat 9am to 6pm
Tel: 8742 8297
Eminami Halal Vietnam is a halal-certified eatery.
This Halal Vietnamese Stall Has $6 Spicy Beef Pho, Banh Mi And More In Old Airport Road Food Centre
---
12. Le Café Vie5
---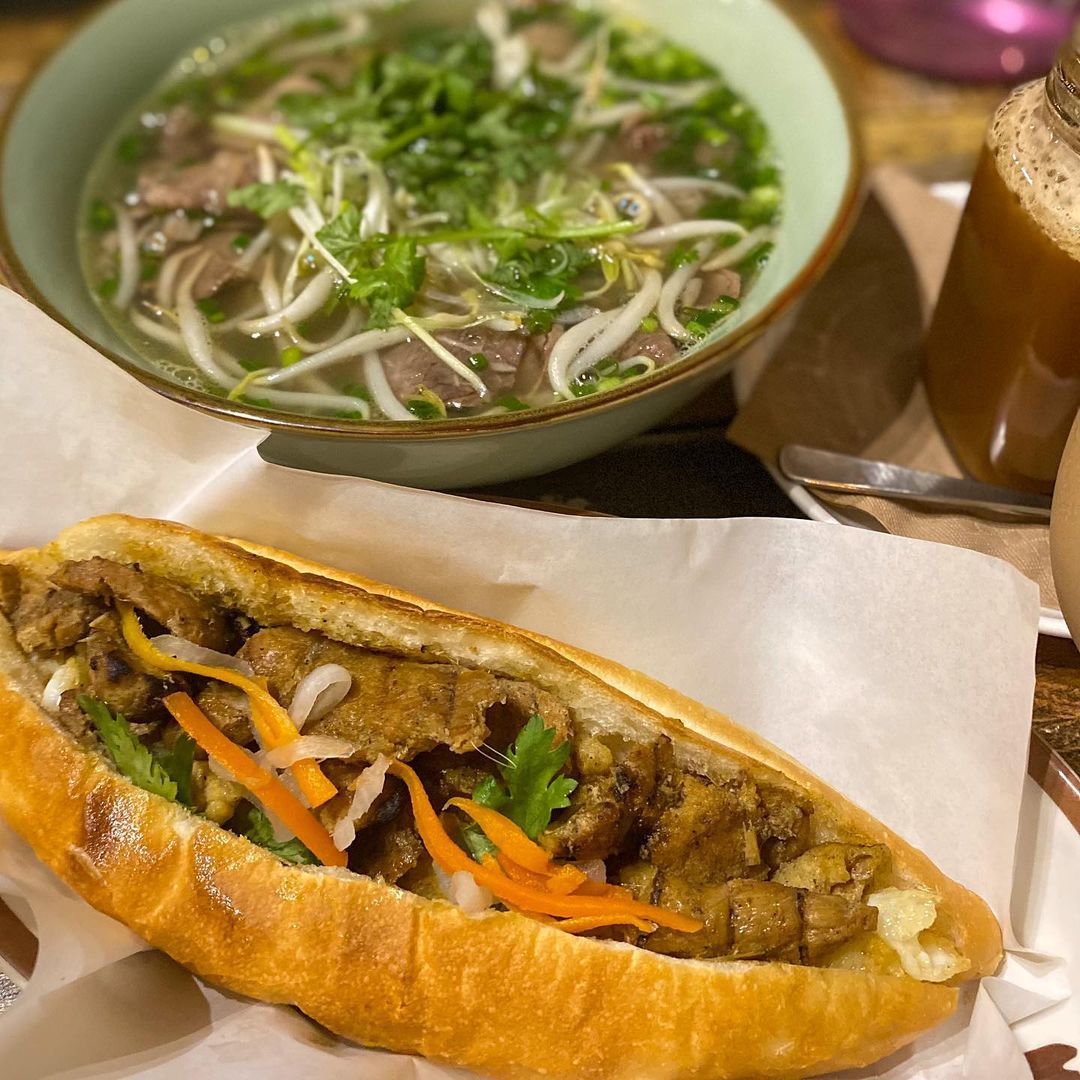 Image credit: @thatsoyummyy
A quick six-minute walk from the Tai Seng MRT Station is Le Café Vie5, a quaint eatery that looks straight off the streets of Hanoi. They're one of the few places you can get Vietnamese egg coffee in Singapore, which you can then enjoy alongside any pick from their selection of banh mi. Popular picks include the Grilled Pork Baguette ($8), stuffed with chunks of juicy barbecued pork and zingy pickled veg. 
Read our Le Cafe Vie 5 review.
Address: 151 Upper Paya Lebar Rd, Singapore 534851
Opening hours: Wed-Sun 10am to 9pm
Tel: 6970 9655
Website
Le Café Vie5 is not a halal-certified eatery.
This Vietnamese Cafe In Tai Seng Serves Legit Egg Coffee, Beef Stew Banh Mi And More
---
Where to get legit banh mi in Singapore
---
Now you know where to get some of the best banh mi in Singapore, check out our guide to the best Vietnamese restaurants in Singapore.
9 Vietnamese Food Places In Singapore For Legit Banh Mi, Pho, Bun Cha And More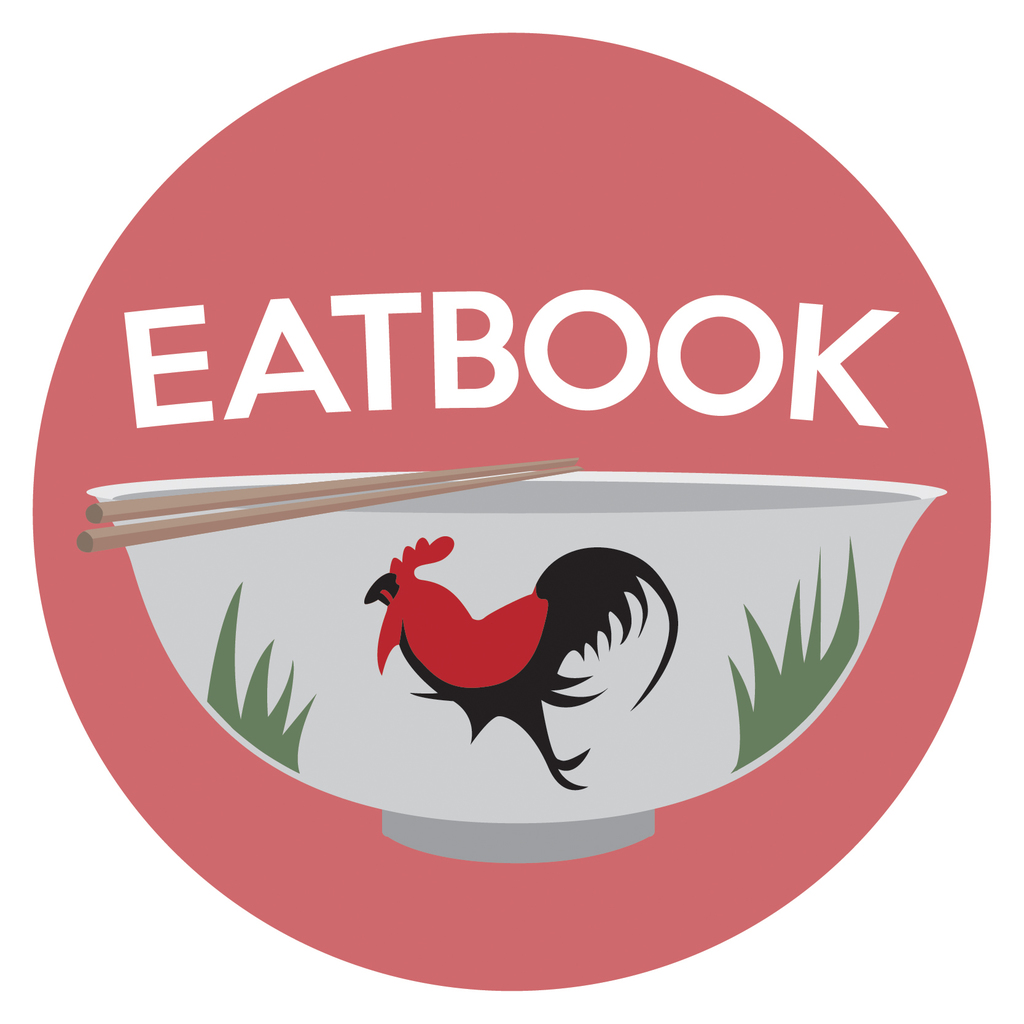 Drop us your email so you won't miss the latest news.