Mahmud's Tandoor in Bugis has hearty chicken burger sets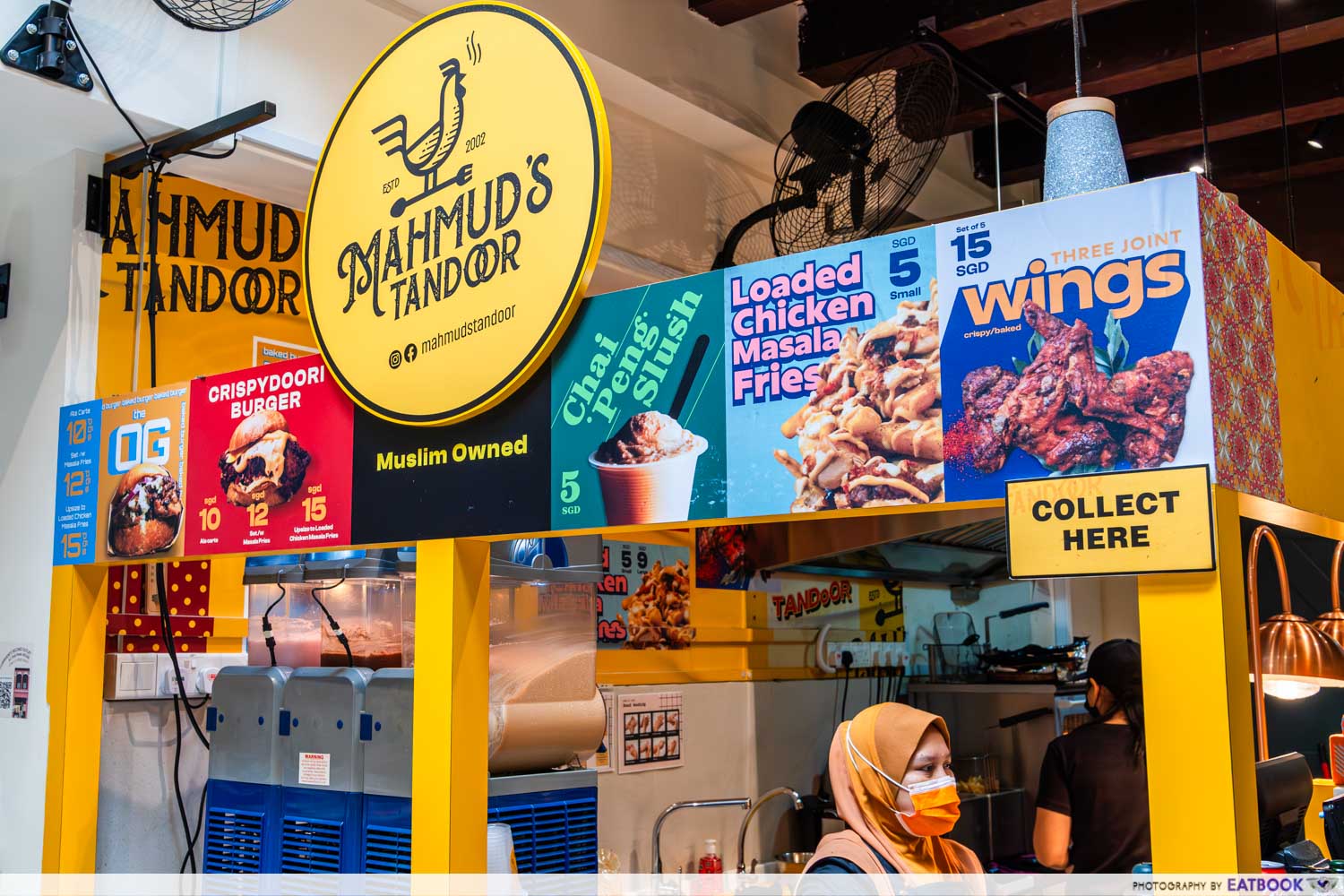 I first came across Mahmud's Tandoor during my visit to Artbox Singapore this year. The stall was immensely popular and had a snaking queue––I didn't want to wait too long to eat, which was why I didn't get a chance to try their food back then. When I heard that Mahmud's Tandoor had finally opened a brick-and-mortar stall at Curbside Crafters, I was super excited to go down and savour their famous tandoori chicken burgers.
Mohamed Javed Indian Muslim Food Review: Award-Winning Crispy Prata, Nasi Briyani And More In Sengkang
Food at Mahmud's Tandoor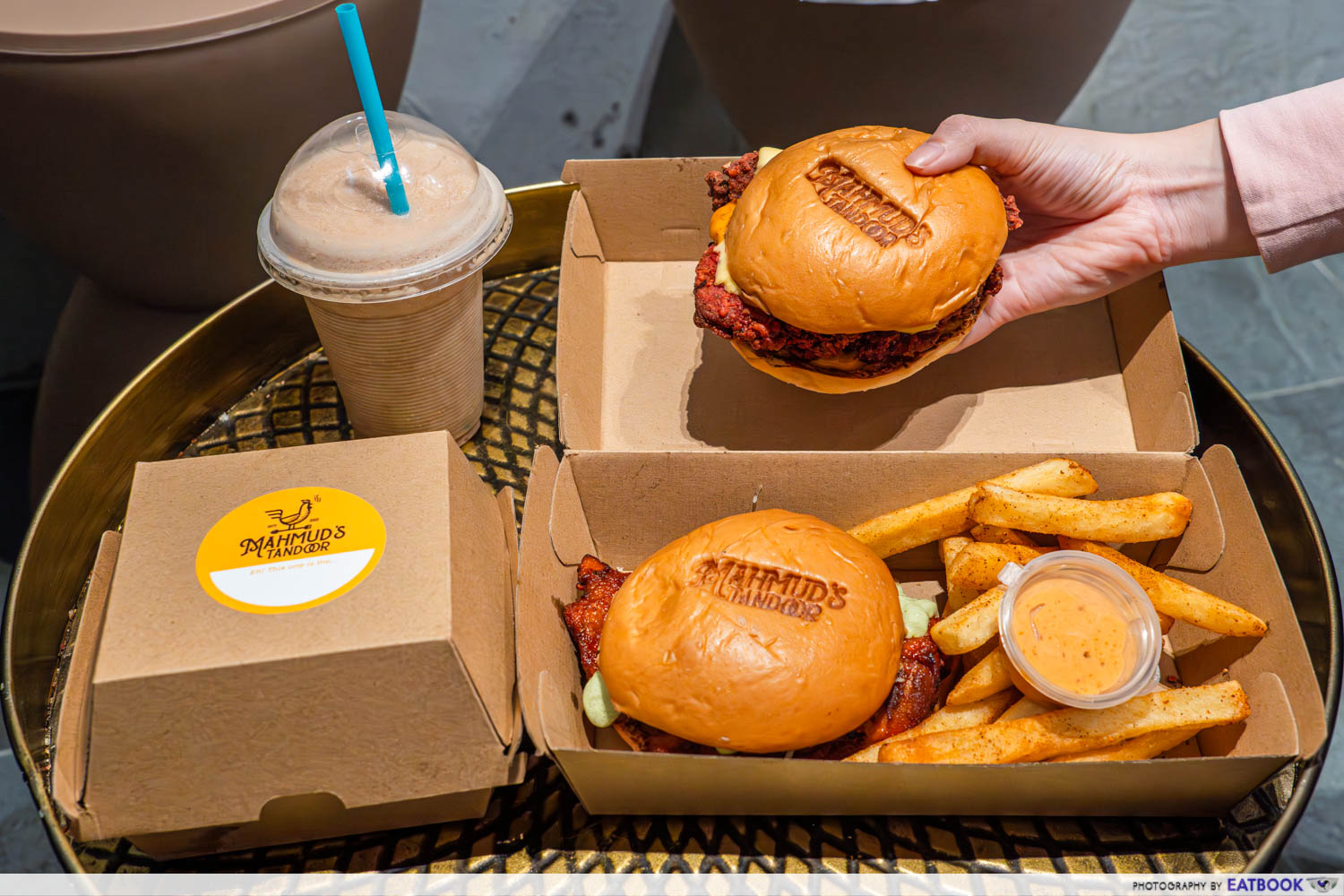 Mahmud's Tandoor was founded by an Indian-Pakistani couple, Siraj and Syirah, who shared a love for Pakistani fusion dishes. At the moment, the stall only has two burger flavours: The OG and Crispy Doori Burger. You can get each burger at $10, or have it as a set with Masala Fries for $12. Alternatively, you can upgrade your side to Loaded Chicken Masala Fries for $15. As we were feeling hungry, my colleague and I decided to order one burger each.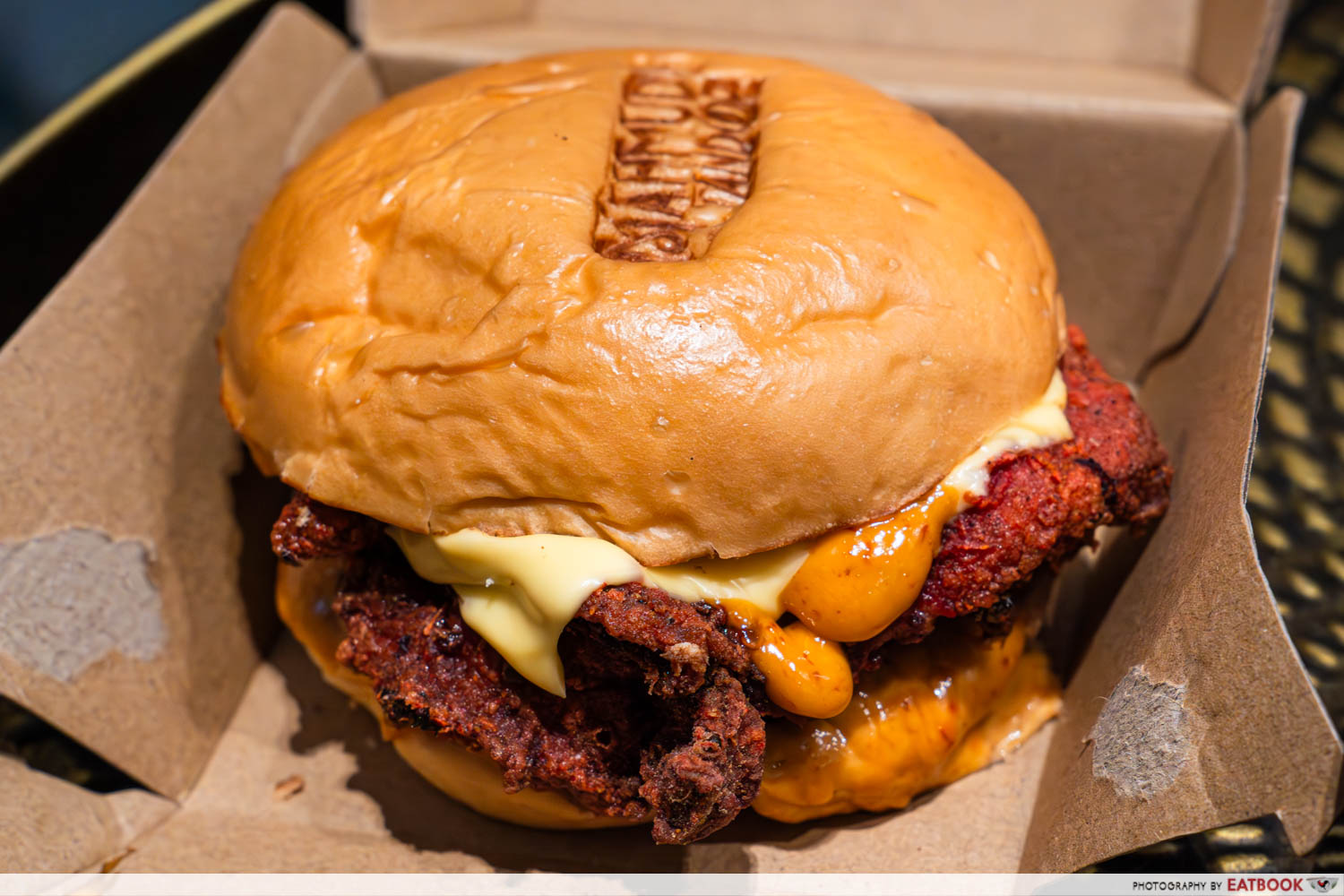 Our burgers were ready within 10 minutes and came packed in brown paper boxes. I was most excited to try the Crispy Doori Burger, as the stall aunty herself mentioned that this was her favourite item. As I opened up the boxes, I immediately caught a whiff of the fragrant tandoori spices.
The crispy burger featured a slab of chunky chicken thigh meat that's marinated with tandoori spices, then coated in a mix of flour with more spices before it's deep-fried. Then, the chicken patty was smothered with harissa-infused mayonnaise, layered with a slice of cheese, and finally, sandwiched between two fluffy brioche buns.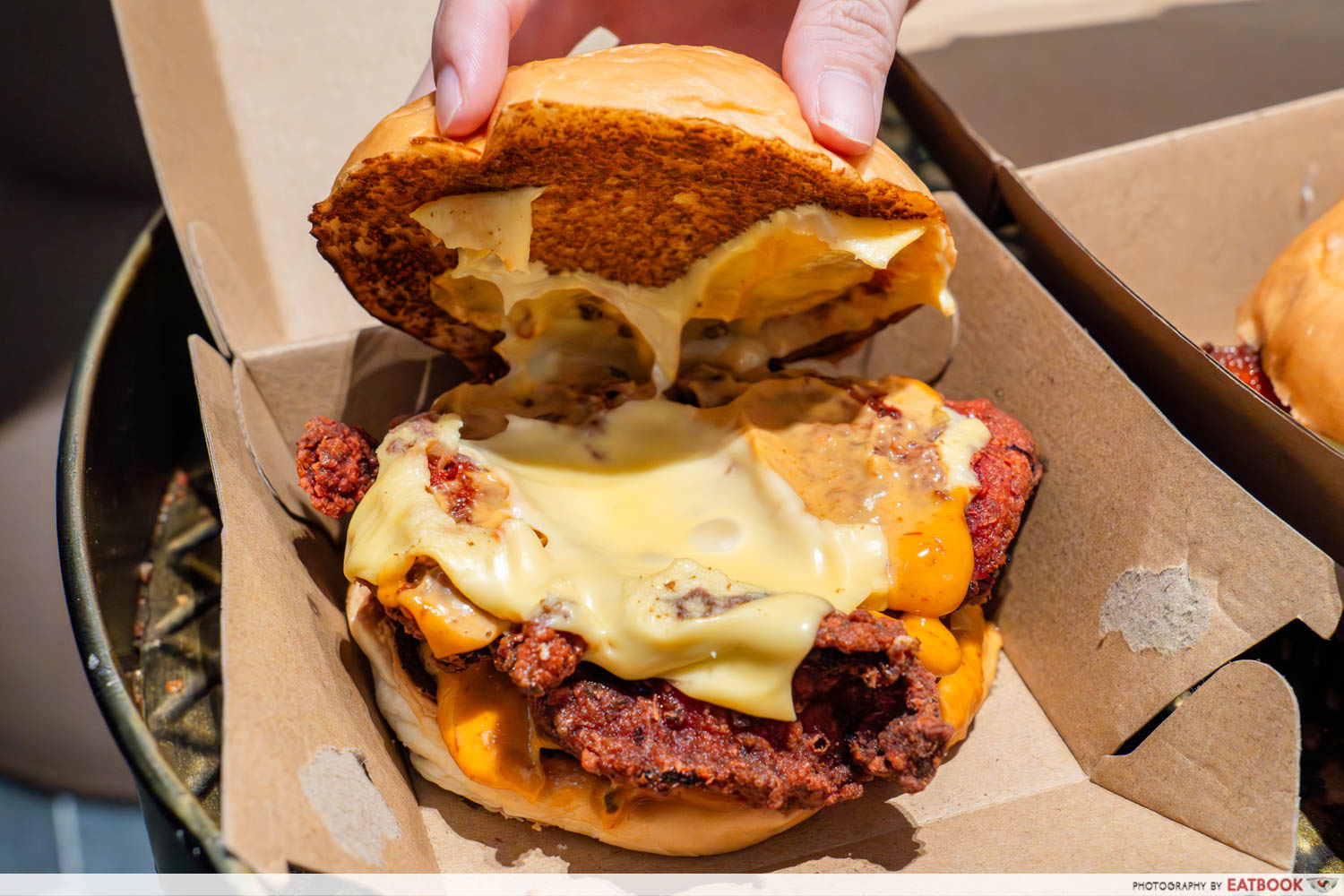 I took one huge bite out of the burger and heard a satisfying crunch coming from the crispy patty. The meat was extremely juicy on the inside too, and I love how the tandoori spices elevated its smoky flavours without being overpowering.
As someone who isn't blessed with high spice tolerance, I appreciated that the burger wasn't too spicy—you only get a slight kick from the piquant harissa mayonnaise sauce. For the uninitiated, harissa is an African hot chilli pepper paste consisting of ingredients such as roasted red peppers, garlic paste, cumin, olive oil, and coriander seeds.
Harissa sauce is known to have a peppery, smoky flavour, which was distinctively present in our crispy burger. I also enjoyed its garlicky notes, as well as the touch of tang that brightened up the hearty flavours.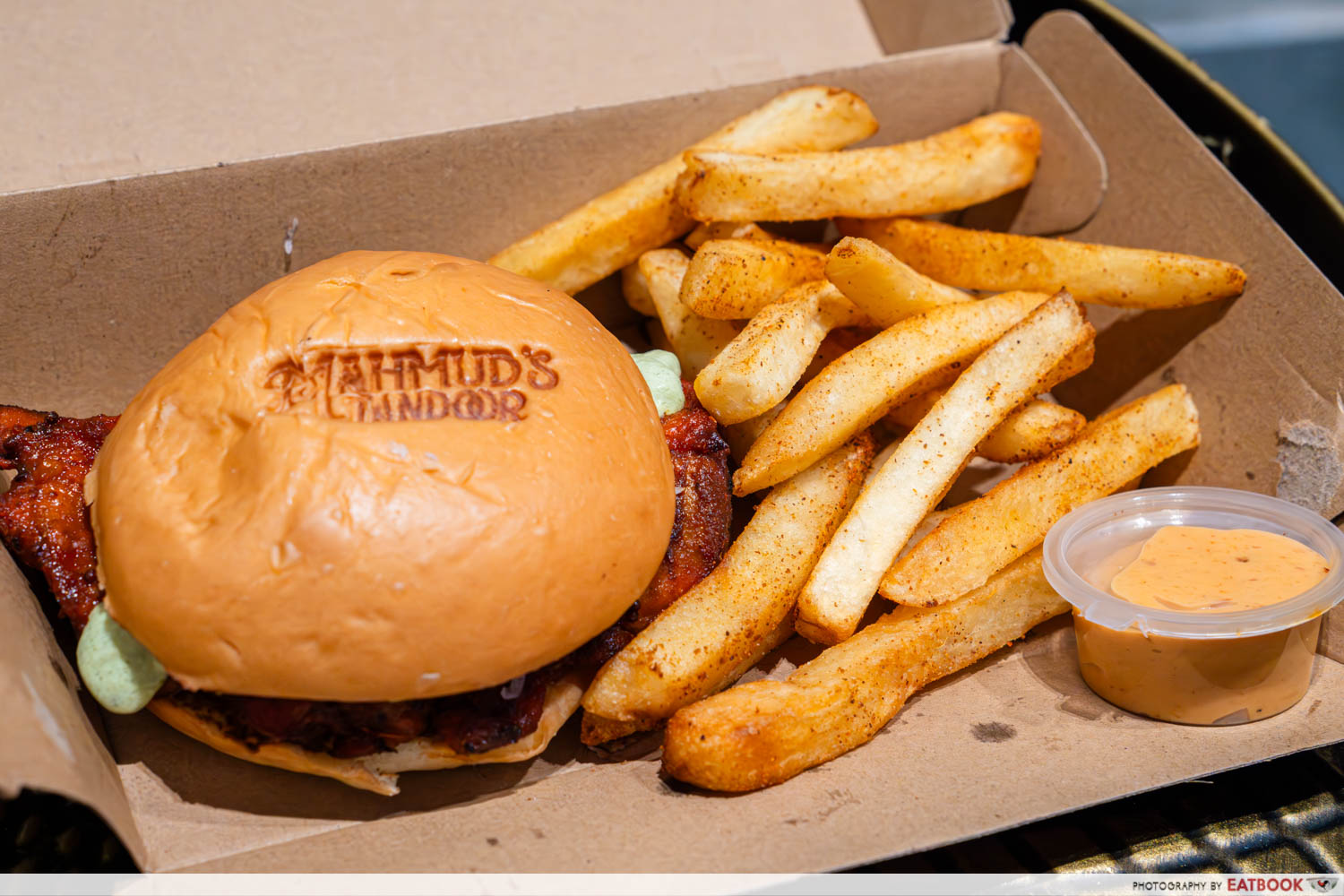 The OG burger was similarly delicious—I actually preferred this one to the crispy burger. Instead of fried chicken, this burger starred tender chicken thigh meat that's baked to a juicy crisp. The patty was lightly charred for good measure, smothered with a minty yoghurt sauce, and then topped with sliced onions. It's also marinated in the same spices as the chicken in the Crispy Doori Burger.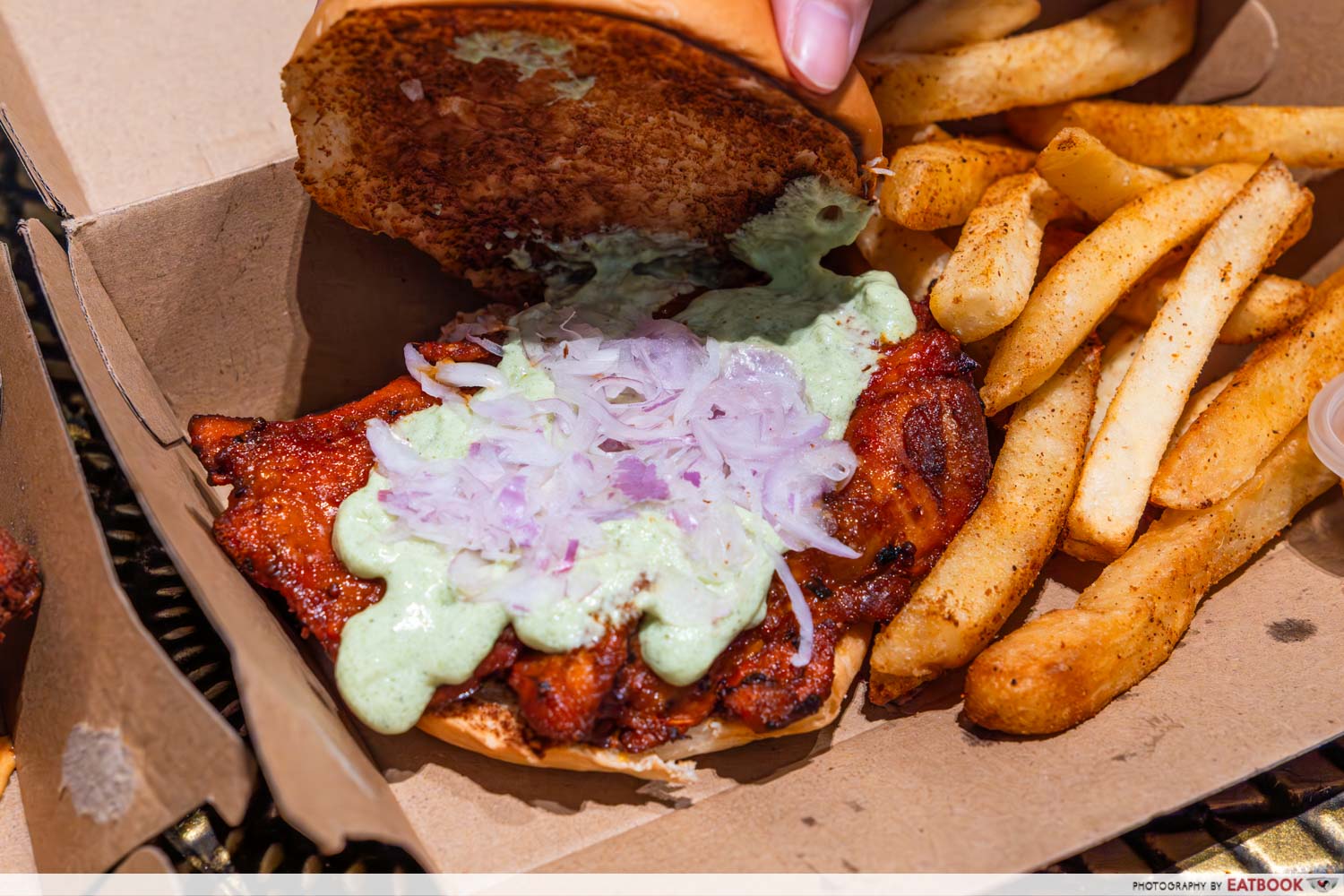 I loved the creamy yoghurt sauce, which reminded me of mint raita, AKA Indian mint sauce. Despite not being the biggest fan of mint, I enjoyed its subtle menthol-like aroma, which helped temper the spicy tandoori flavours. This burger was also noticeably spicier than its crispy counterpart, boasting a piquant kick that lingered on the tongue.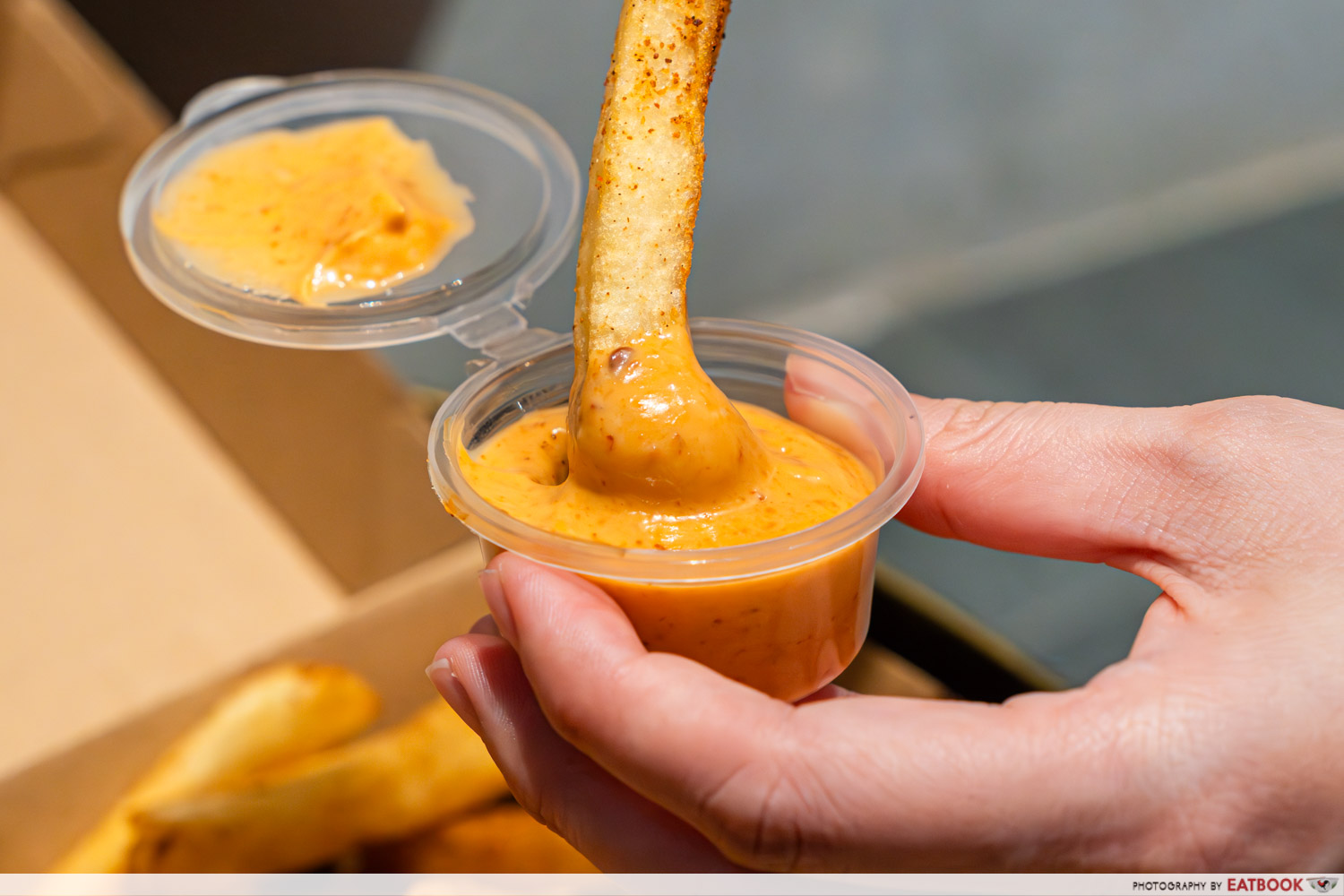 If you're getting the burgers as a set, your meal also comes with a side of Masala Fries and the same harissa-infused mayonnaise. The thick and fluffy fries are similar to cajun fries, but are spiked with garam masala powder for a punch of flavours. If you don't have a big appetite, I recommend savouring your burger first before finishing your fries, as the latter can be super filling!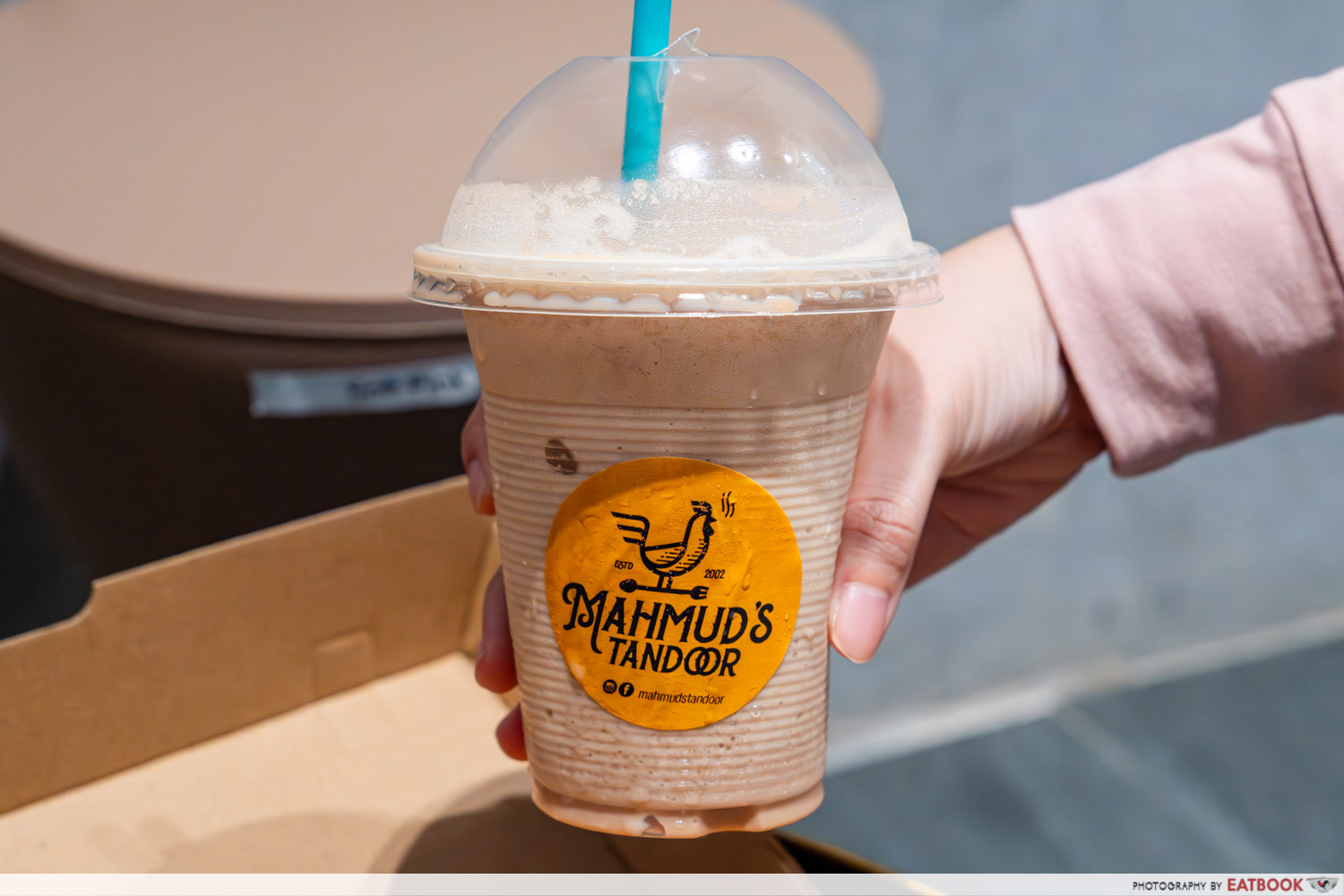 I often find myself craving something sweet with my burgers, so it's a good thing that the stall also sells slushies. We tried the Chai Peng Slush ($5)—creamy yet refreshing, with a touch of vanilla and an ever-so-subtle hint of chai. If you're someone who goes for 50% sugar or less with your bubble tea order, you may find the slushie's mild sweetness to be just right.
Wanderlost Review: Fairy Tale-Inspired Rooftop Bar With Rendang Nachos And More In Bugis
Ambience at Mahmud's Tandoor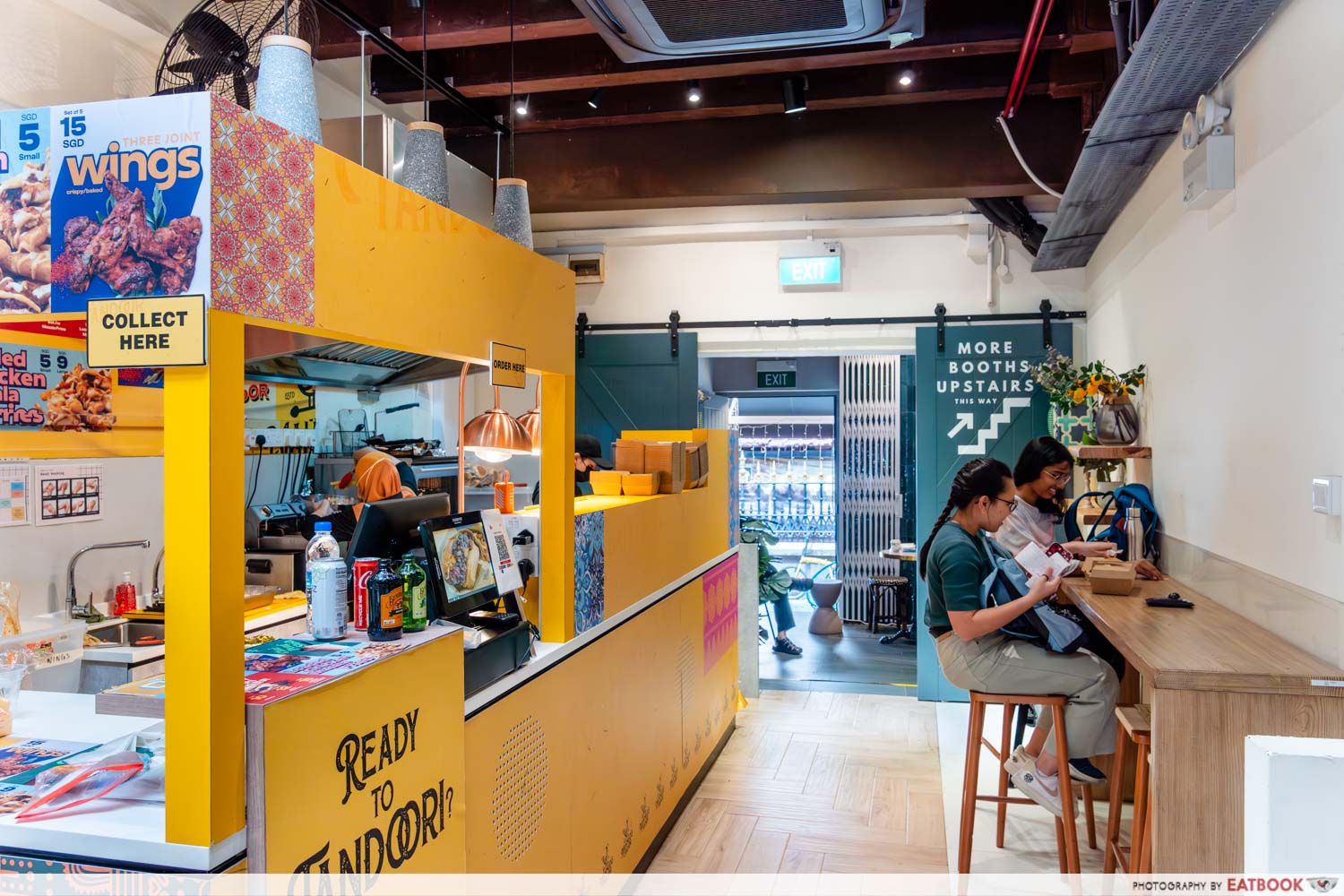 Mahmud's Tandoor is located on the first level of Curbside Crafters, a lifestyle marketplace at North Bridge Road. The stall is situated at the end of the retail space, right next to the staircase that leads up to the second floor. While seats are limited at the burger shop, patrons can choose to enjoy the yummy burgers in common dining areas around the marketplace, which are rather cosy. If you time your visit right, you may get to enjoy a couple of live music performances as well!
Mahmud's Tandoor is a 10-minute walk from Bugis MRT Station.
Keen's Bagelry: Bagel Shop In Bugis Has Japanese And NYC-inspired Bagelwiches
The verdict
After hearing all the hype surrounding Mahmud's Tandoor, and trying out the food for myself, I can finally understand why their stall is so popular. Generously portioned with relatively affordable prices, their burgers were absolutely delicious. I also found myself craving the masala fries for days after. I personally hope that they expand their menu soon, with more new creations, as their current offerings are rather limited. But for now, their tandoori chicken burgers are enough to keep this burger fan satisfied!
For more good food in Curbside Crafters, check out Keen's Bagelry, a popular bagel shop with Japanese and NYC-inspired bagelwiches. If you're looking for more loaded burgers, read our Big Boy Franks review.
Address: 730 North Bridge Road, Singapore 198698
Opening hours: Tue-Sun 12pm to 8:30pm
Website
Mahmud's Tandoor is a Muslim-owned eatery.
Big Boy Franks Review: Popular GastroBeats Smashed Burger Stall Opens New Outlet In Sembawang
Photos taken by Rifdi Syahir.
This was an independent review by Eatbook.sg
Mahmud's Tandoor Review: Highly Raved Tandoori Chicken Burgers And Masala Fries In Bugis
Mahmud's Tandoor Review: Highly Raved Tandoori Chicken Burgers And Masala Fries In Bugis -

8/10
Summary
Pros
– Tandoori chicken burgers were huge and delicious
– Prices are relatively affordable
– Near Bugis MRT Station
Cons
– Limited items on the menu
– Limited seats for patrons
Recommended dishes: The OG ($10) and Crispy Doori Burger ($10)
Opening hours: Tue-Sun 12pm to 8:30pm
Address: 730 North Bridge Road, Singapore 198698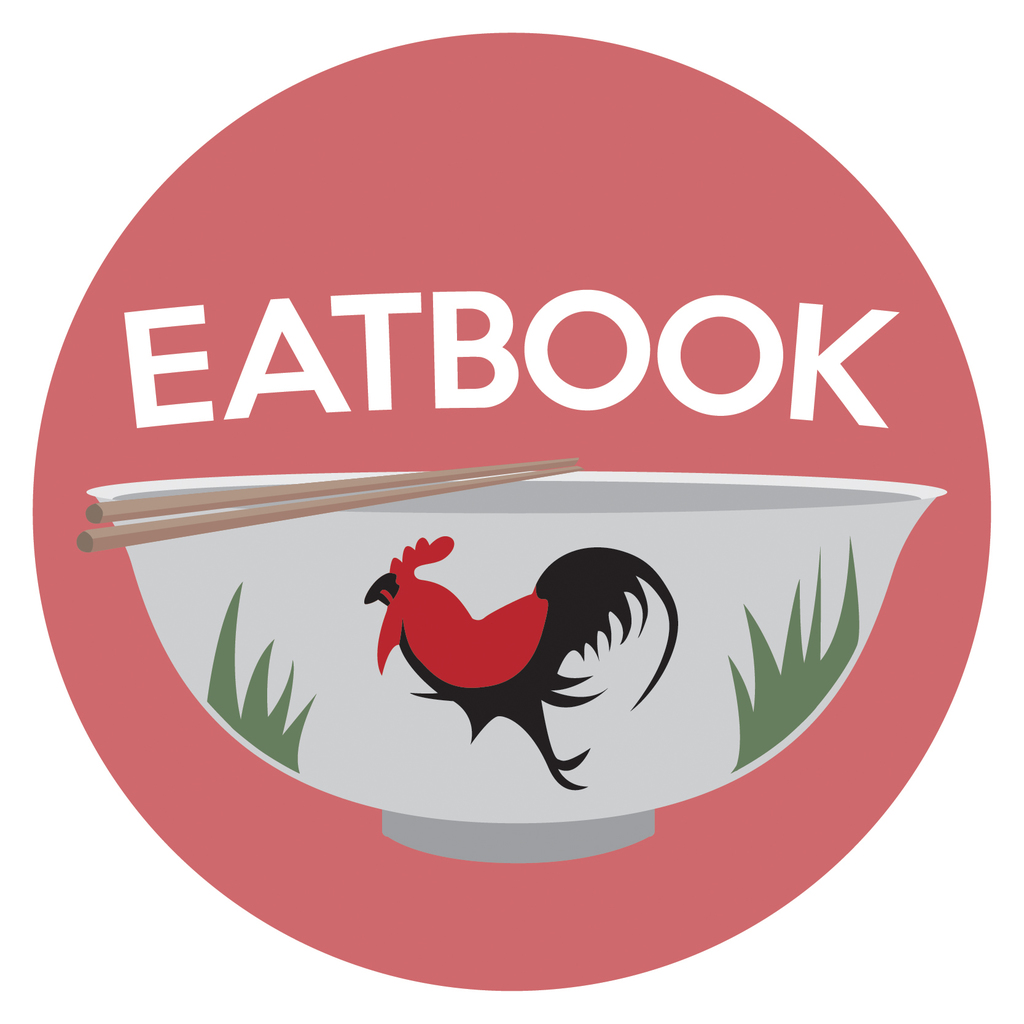 Drop us your email so you won't miss the latest news.