Eleven Finger Scissors Curry Rice is a hidden gem at Bugis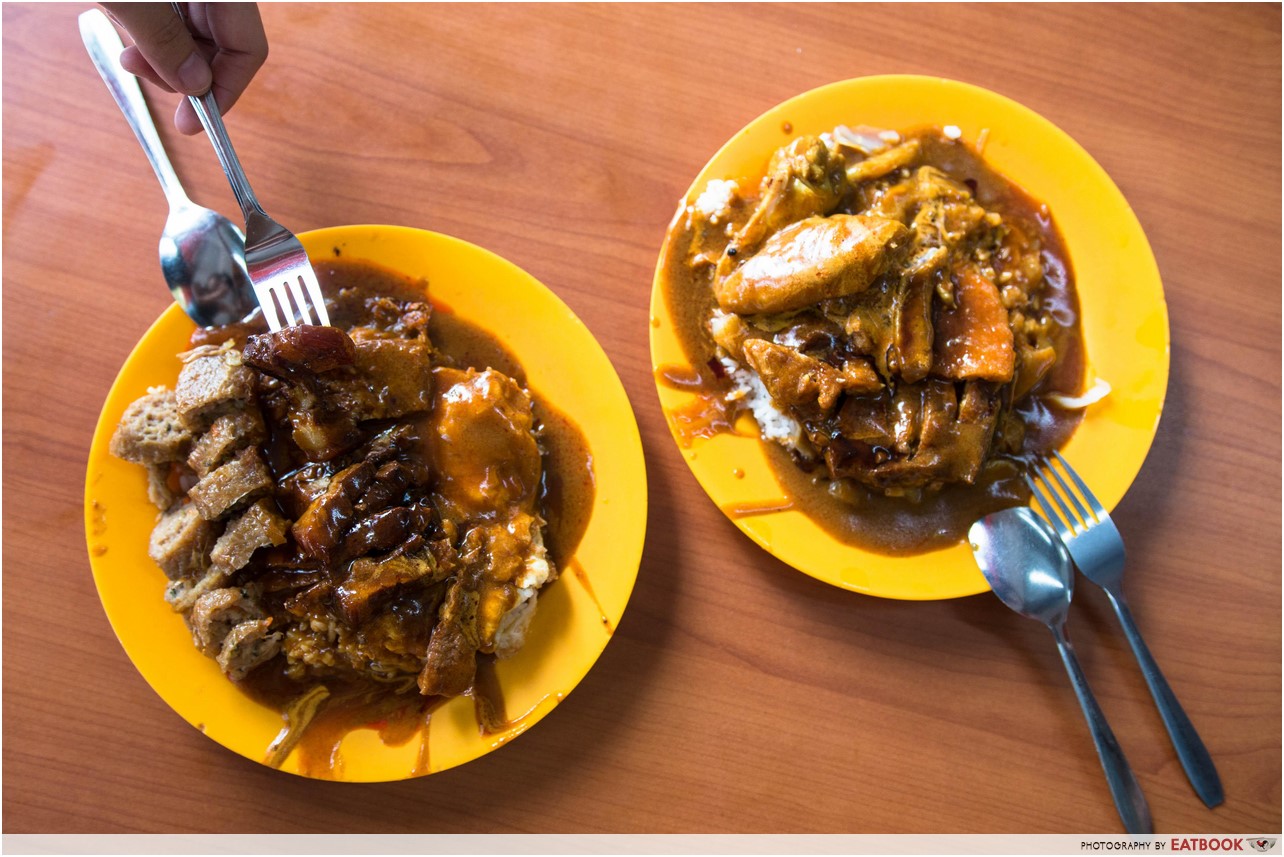 On some days, nothing screams comfort food like curry rice for me, with my usual must-haves being chap chye, lor bak (braised meat), and pork chop. I love my meal drenched in thick curry that is savoury and spicy. The plate usually looks like a sloppy mess, often dirtying my fingers as I carry it back to my seat. Instead of grabbing tissues, I lick them off in delight at the first taste of my meal and tuck into it.
At Eleven Finger Scissors Curry Rice at Bugis, I couldn't help but wonder what the story behind its name was. As it turns out, the first boss of the stall has an extra finger. A line of customers started to form when they opened at half past 10 in the morning. However, I suggest coming at 11am as they were still preparing the ingredients when we arrived!
Food at Eleven Finger Scissors Curry Rice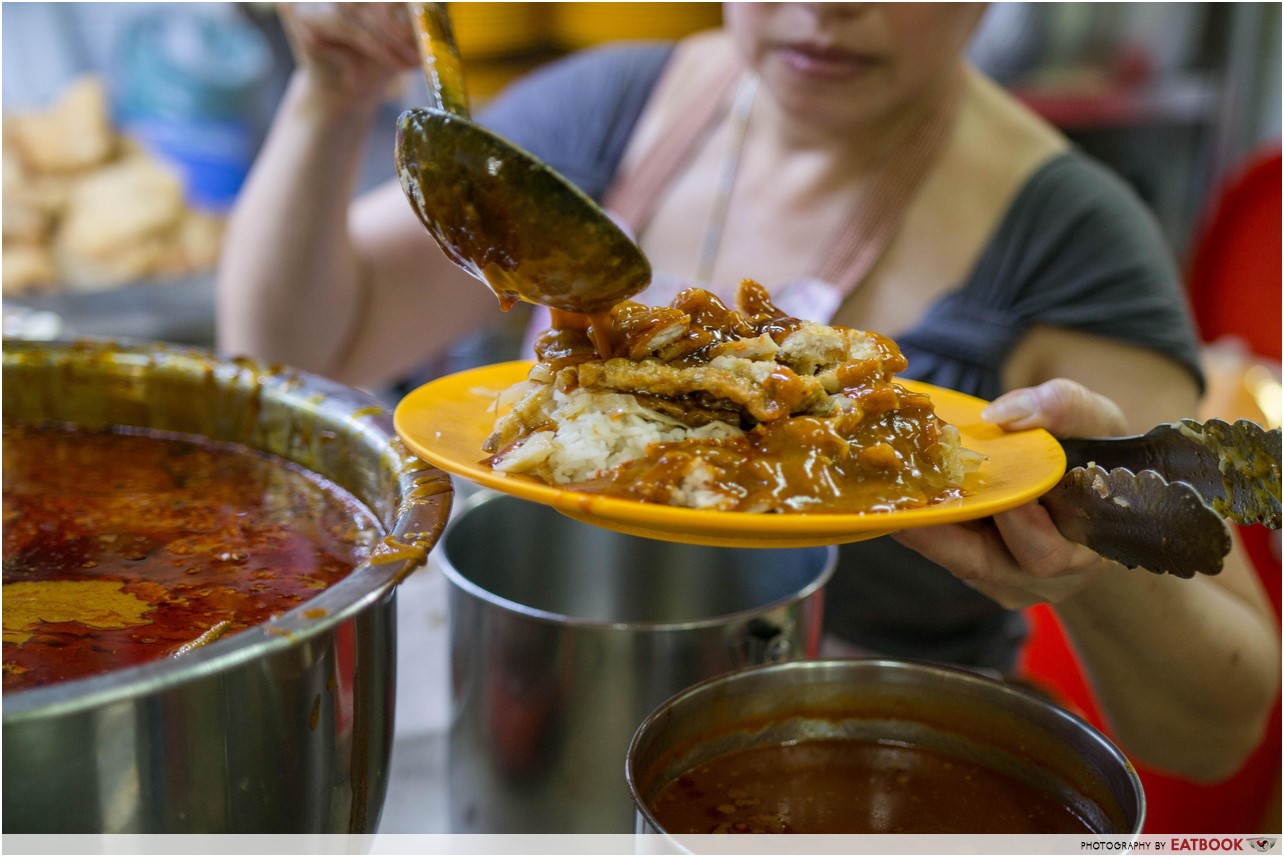 We ordered two plates of curry rice, with four ingredients each, and the auntie poured three sauces over each plate. Warm and creamy curry, starchy thick braising sauce, and chilli gravy covered our plates in a reddish-brown hue.
They charge by meat and vegetable ingredients, as well as big and small items. One meat and one vegetable costs $3 while an additional small item, like an egg, would cost $3.50.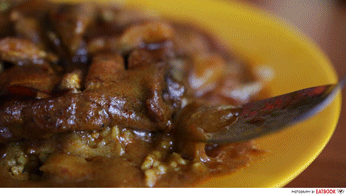 The sauce mix was flavoured with spices and tasted spicy, as I expected after seeing the amount of chilli oil glistening in their pot of curry. The gravy was thick yet not overly creamy, which is how I like it. The curry was smooth and didn't taste of curry powder although they used lots of it.
For every order of extra rice, an additional small saucer of the gravy mix is given. Their rice is somewhat dry, but this helps to prevent the grains from becoming too sticky after they soak up the curry.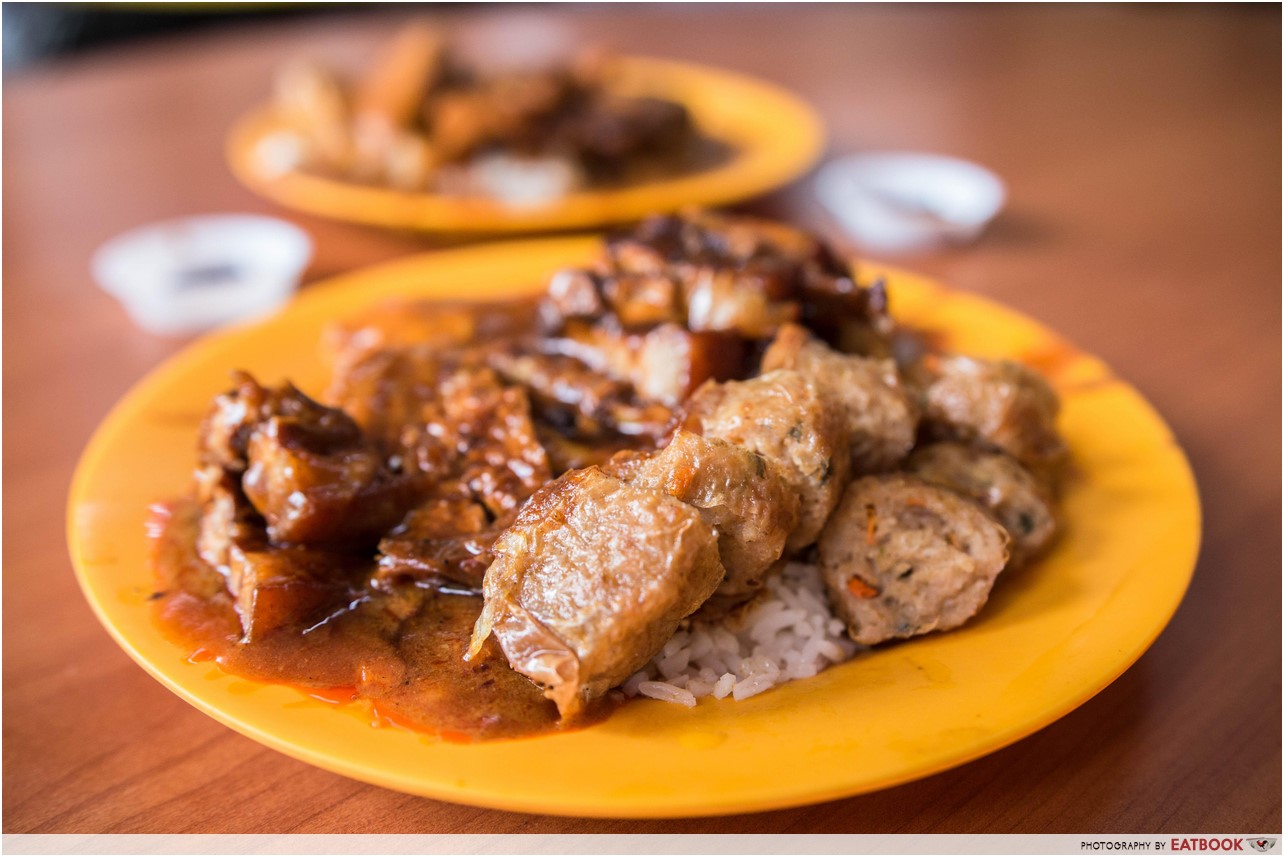 Our first plate with braised pork belly, ngoh hiang, fish cake, and a sunny side up costs $5.20. The ngoh hiang came from a frozen package and its taste was nothing to shout about. It wasn't crispy despite being freshly fried. It was too starchy and soft inside for my liking.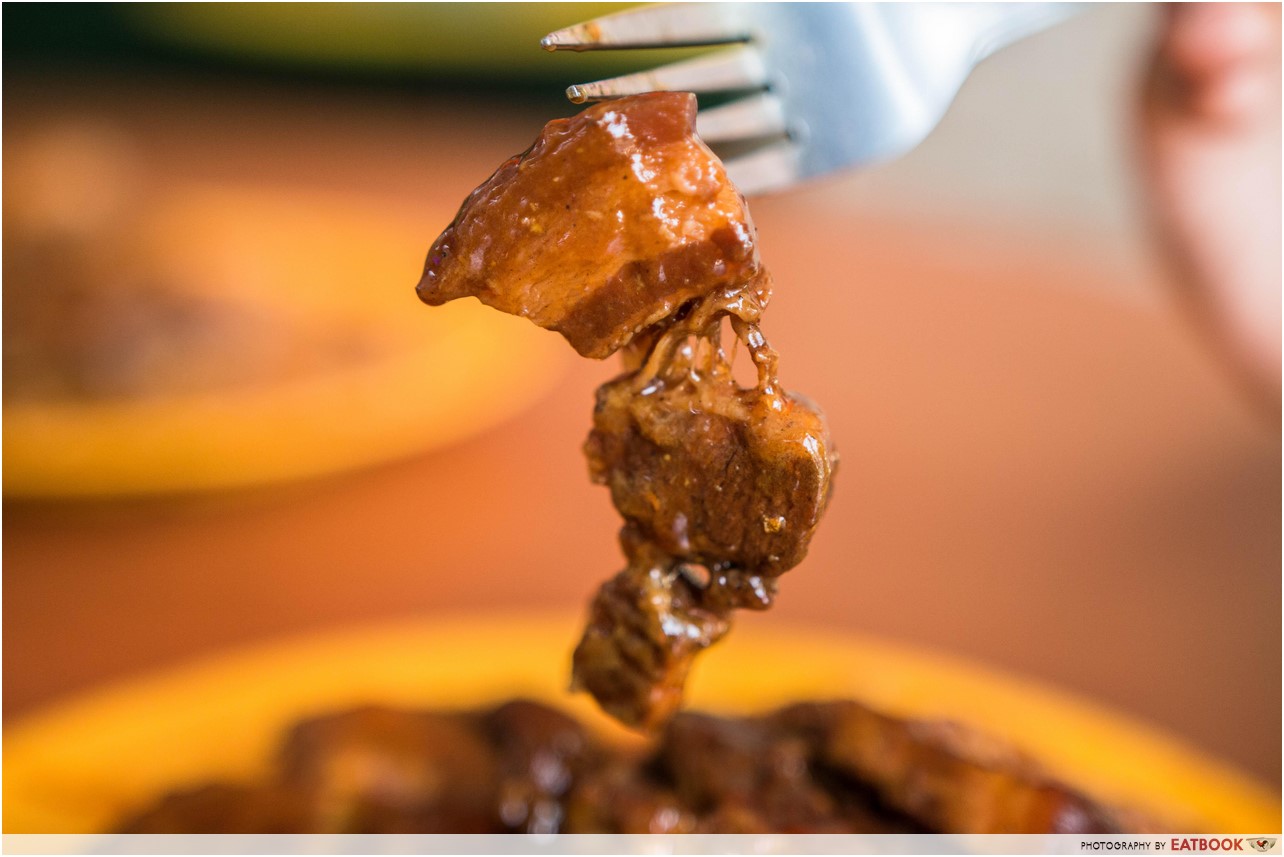 The pork belly had a good ratio of fat to meat and was thoroughly marinated. I would have preferred it to be cooked till tender as it was slightly tough. However, this gave it a meaty chew.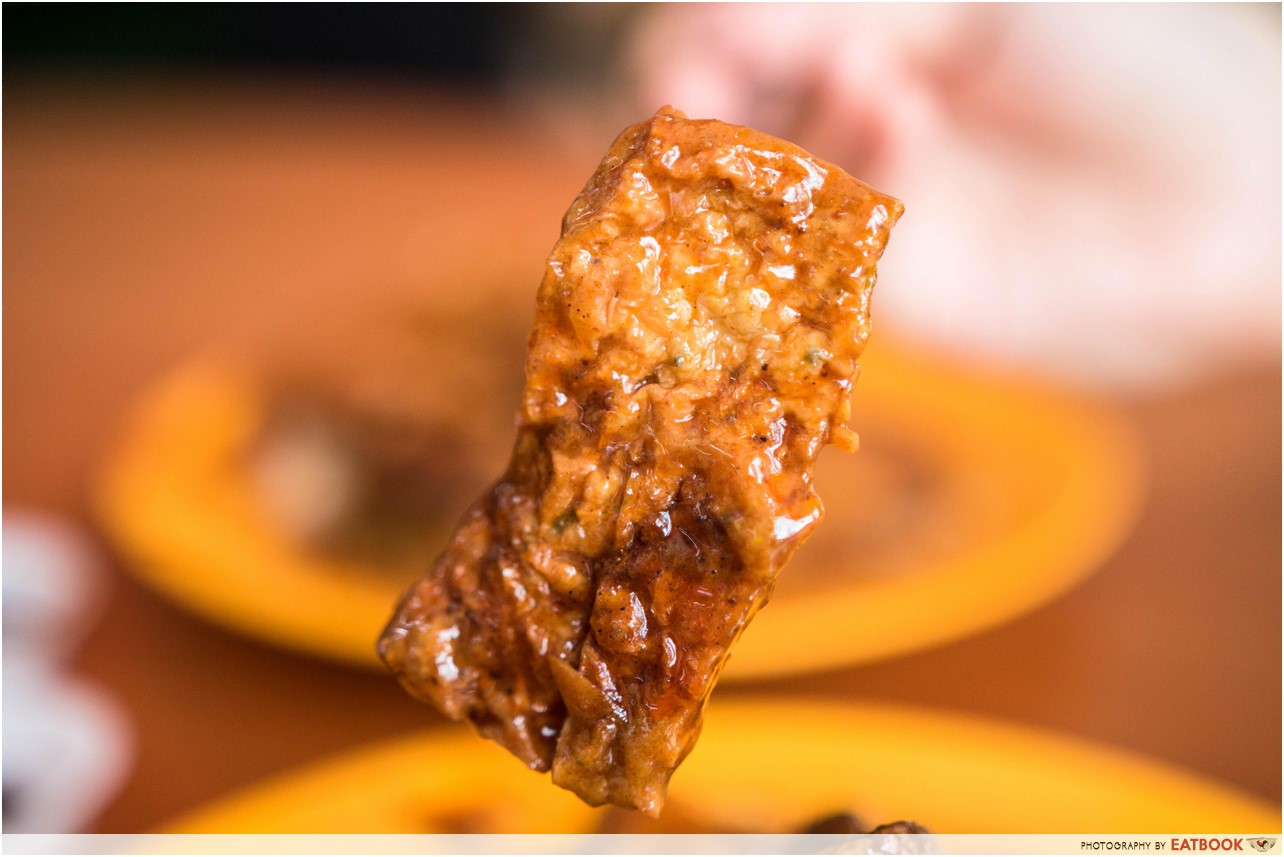 The pre-fried fish cake had a savoury fishy flavour. Preferring spongy fish cakes, I wasn't fond of the dense and thin texture this one had.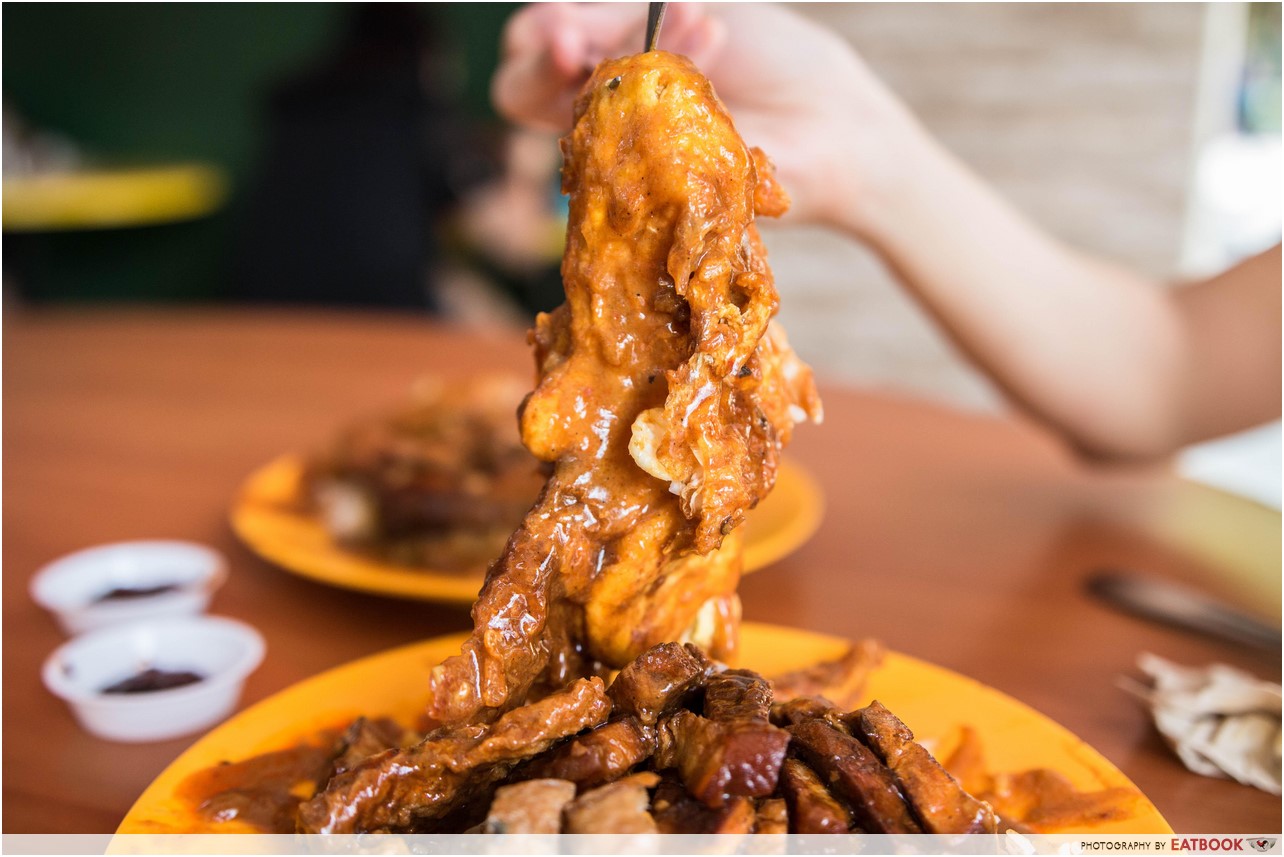 We liked the fried egg though, and the curry enhanced its taste. As I picked it up, I was surprised by how large it was. The egg white was slightly savoury and chewy, and its yolk was especially flavourful.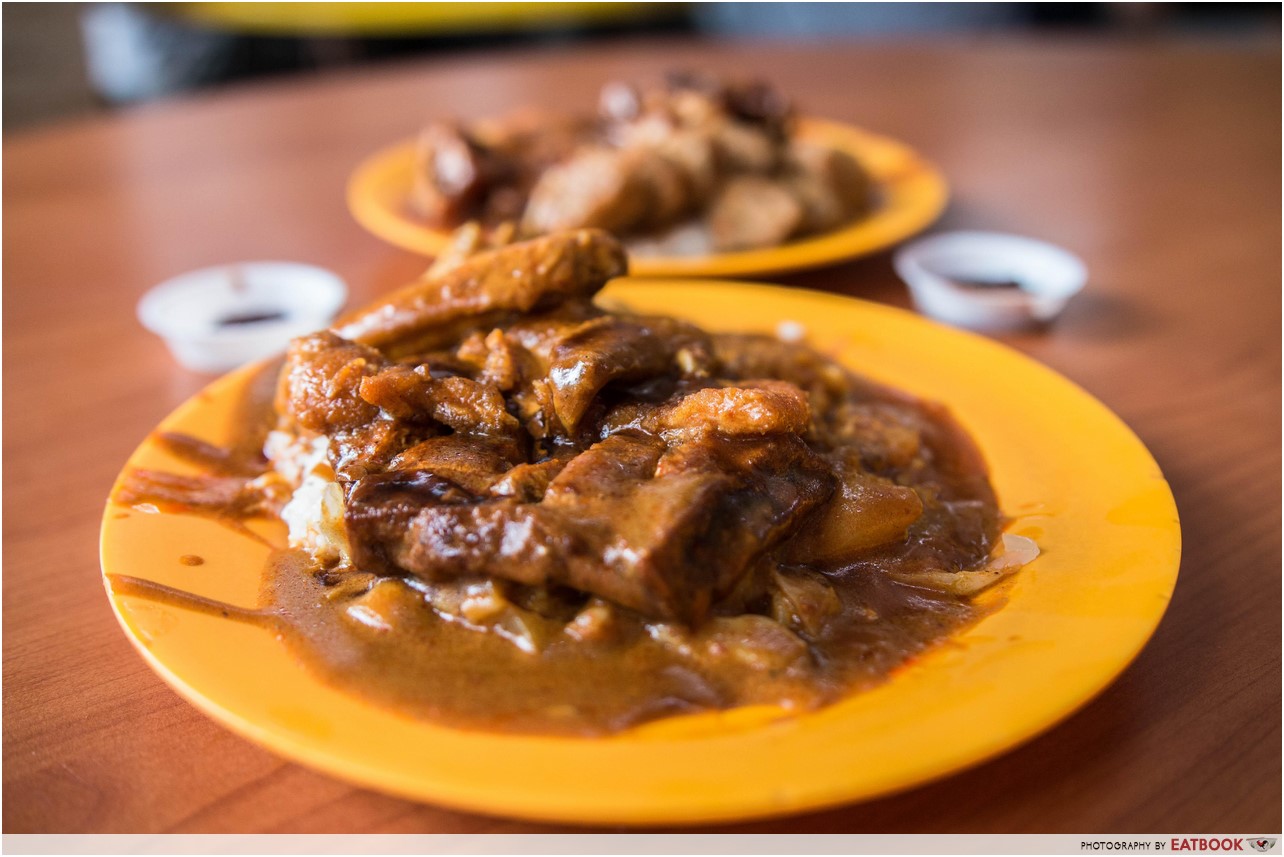 For our second plate, we ordered curry chicken, tau pok, pork chop, and chap chye for $4.50.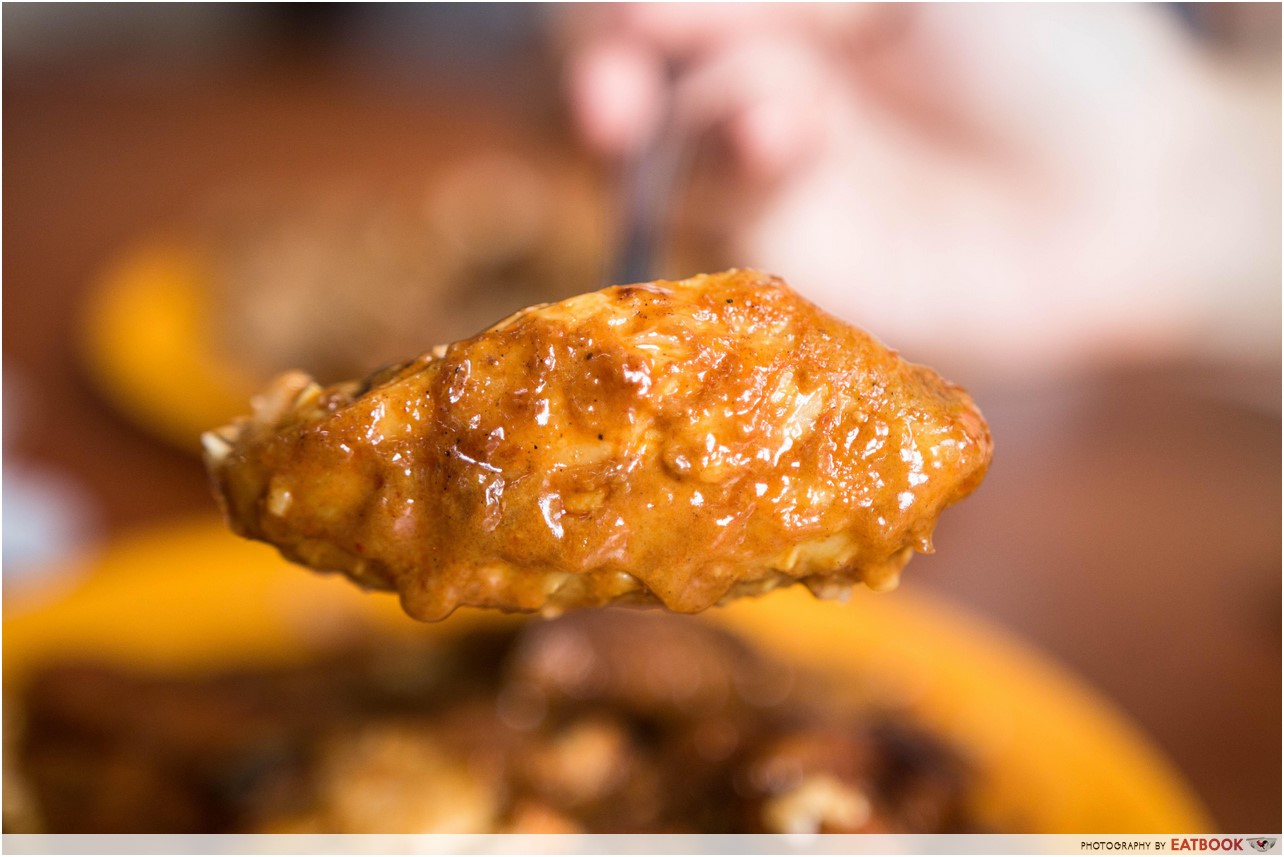 For the curry chicken, the stall only offers chicken wings that they cut into three parts upon order. Though the meat wasn't sweet, it was tender and went well with the curry it was cooked in.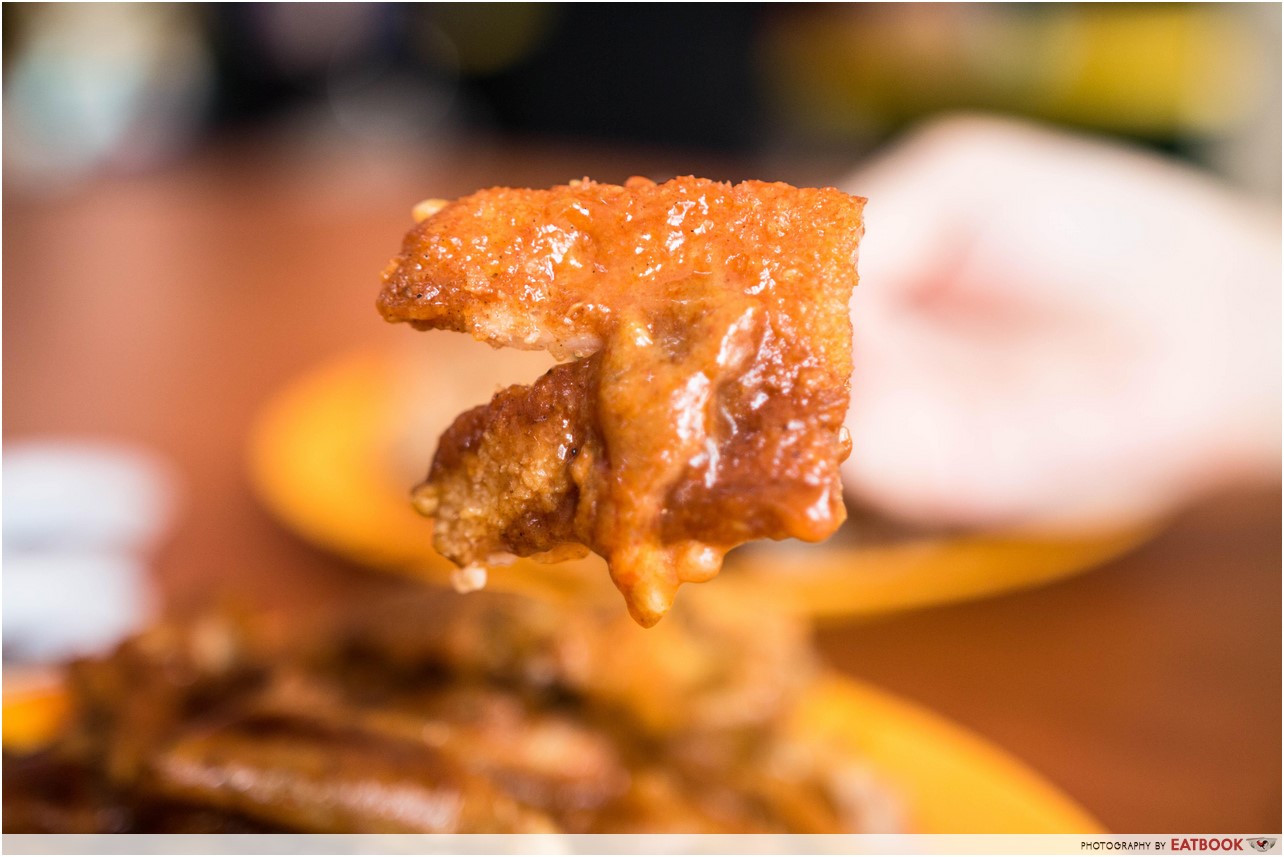 The pork chop was encased in a thin batter, with meat that was dense and not too thin. It wasn't crispy though it was freshly fried but it had a delectable garlicky aroma that we didn't expect. It was strong yet not overpowering.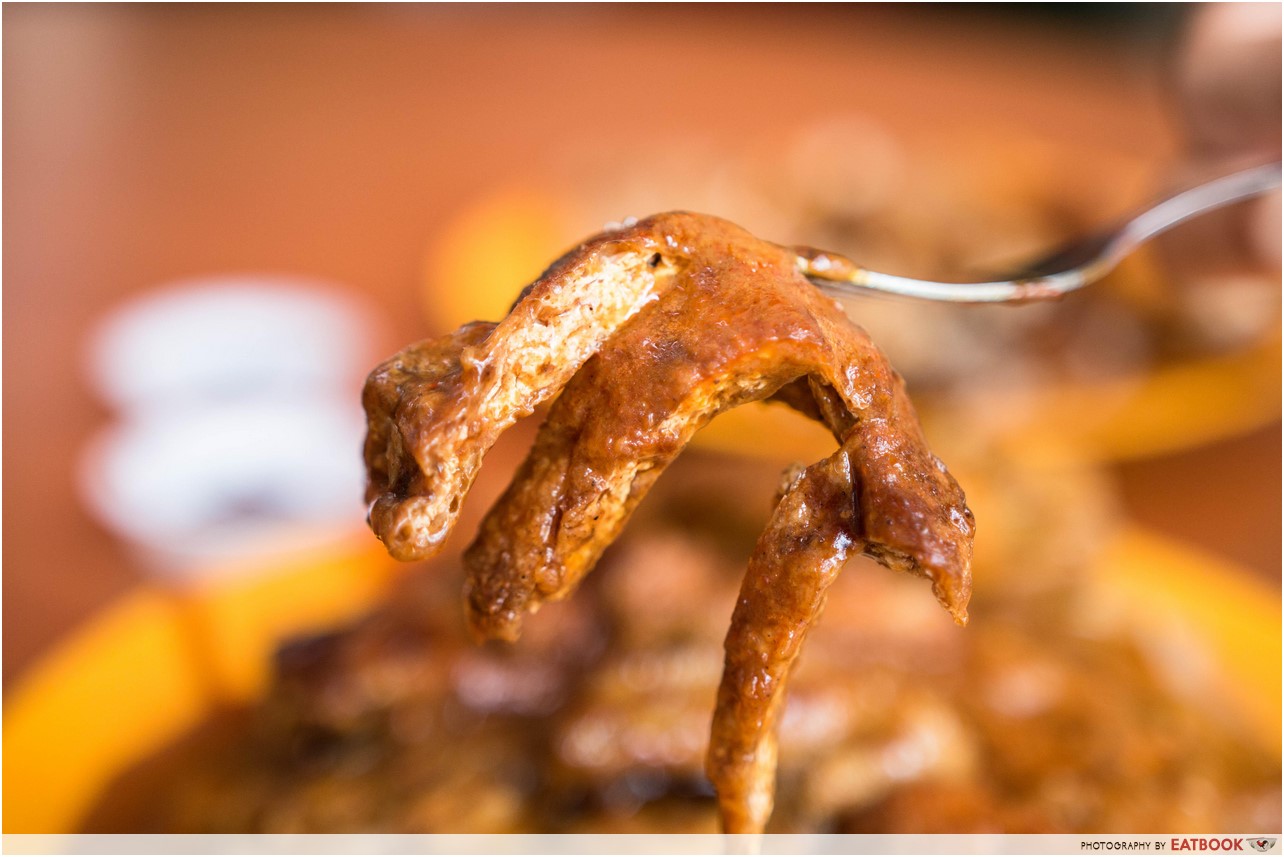 The tau pok was soft and slightly chewy. It oozed with the flavours of braising sauce as I chewed into it. It was cooked in a starchy dark sauce that added sweetness to the gravy mix, balancing out the savoury curry.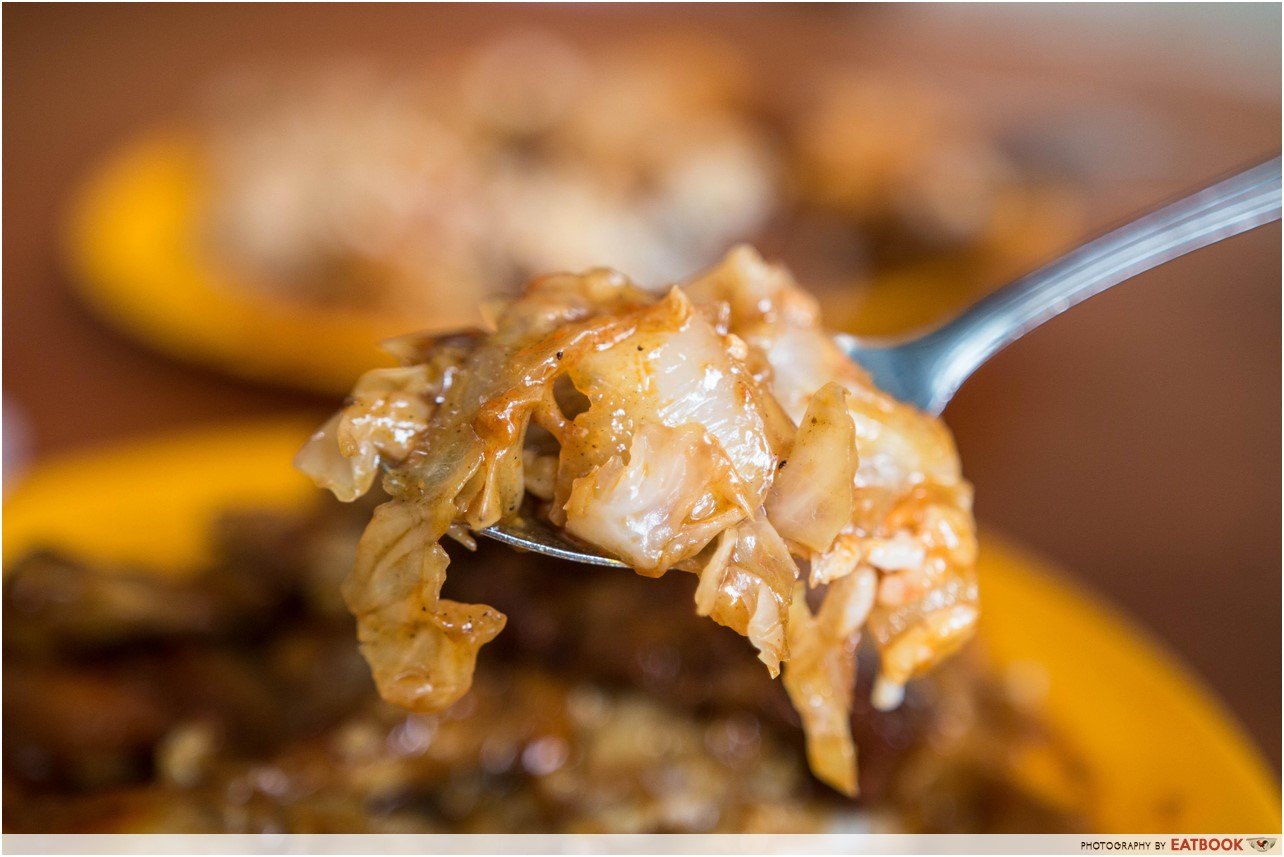 The chap chye retained some crunch which added to the mix of textures. It was lightly seasoned so it didn't taste too bland on its own, and took on the flavour of the curry easily.
Ambience at Eleven Finger Scissors Curry Rice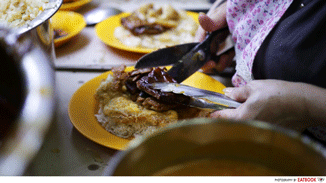 Ordering is simple with everything on display, and the staff members speak both English and Mandarin. The queue was constant when we were there, starting even before they were ready for business. That being said, it moved quite fast, so you probably wouldn't have to wait long.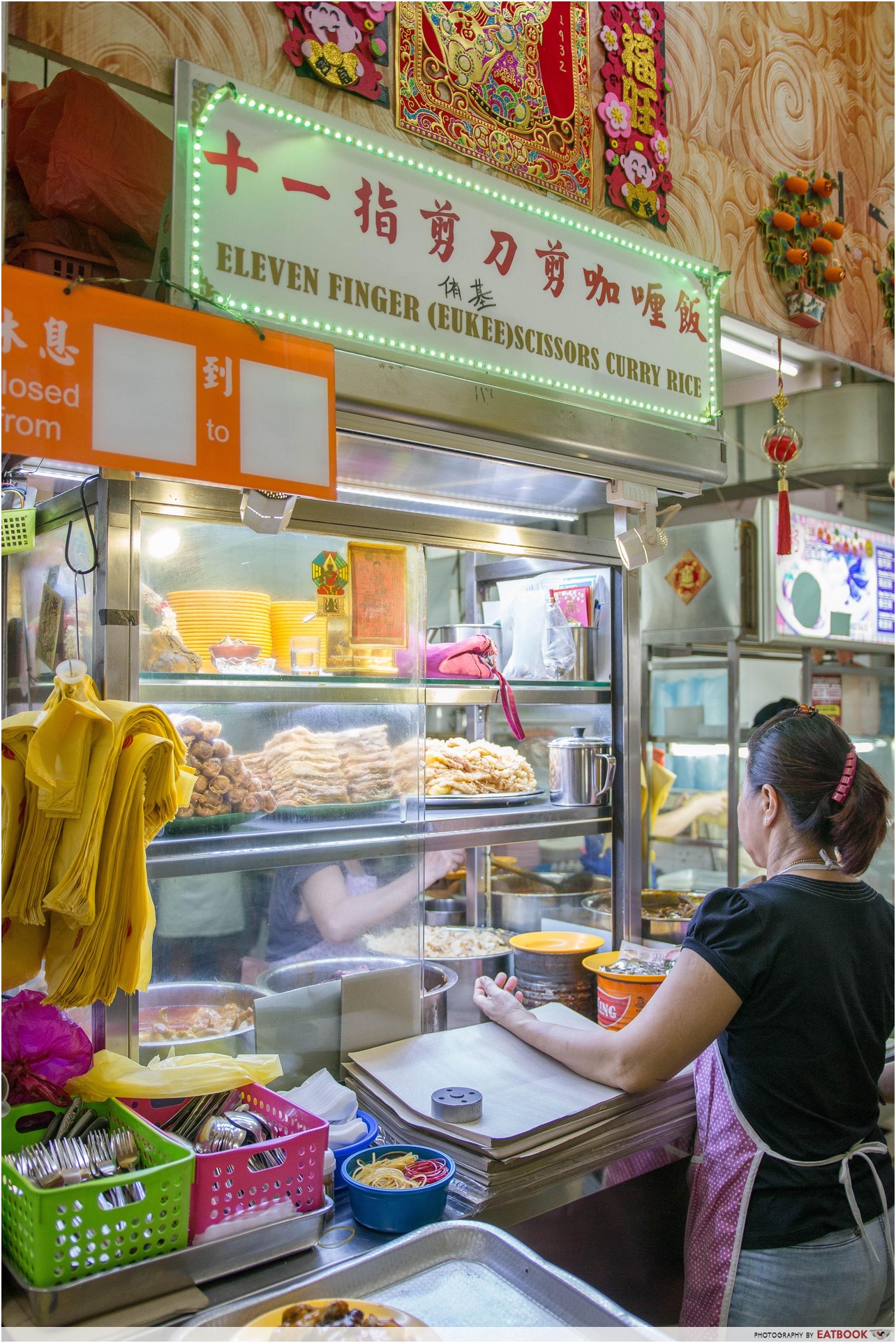 They share a space with a congee stall. Found across the street from Bugis+, in QS 269 Food House, the stall is easy to locate. Round the corner from the coffee shop is also Si Ma Lu Guan Yin Tang Temple and Sri Krishnan Temple.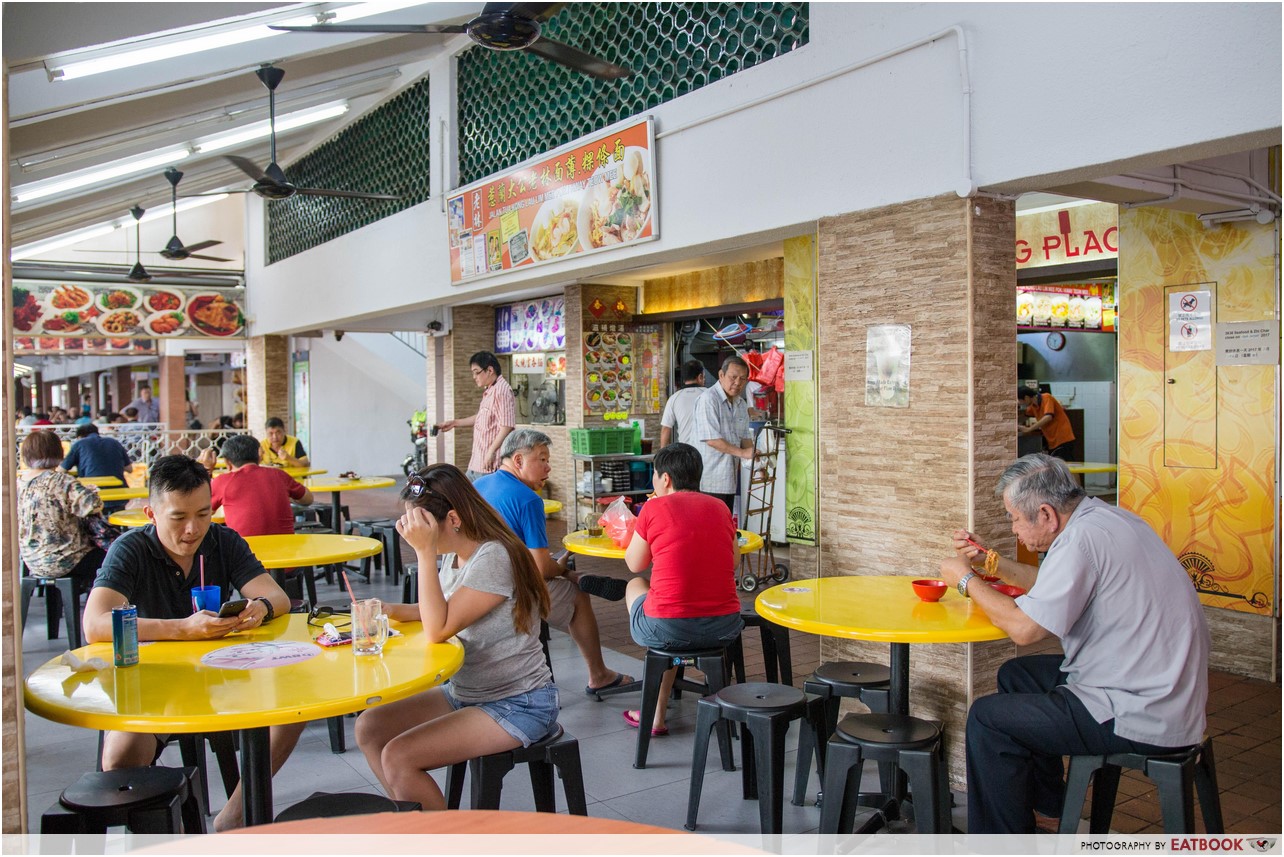 The kopitiam is divided into two blocks, 269A and 269B, but both are dimly lit even with the lights switched on in the day. Despite the fans, it was quite stuffy and slightly warm, so we were eager to escape into the air-conditioned mall after our meal.
The verdict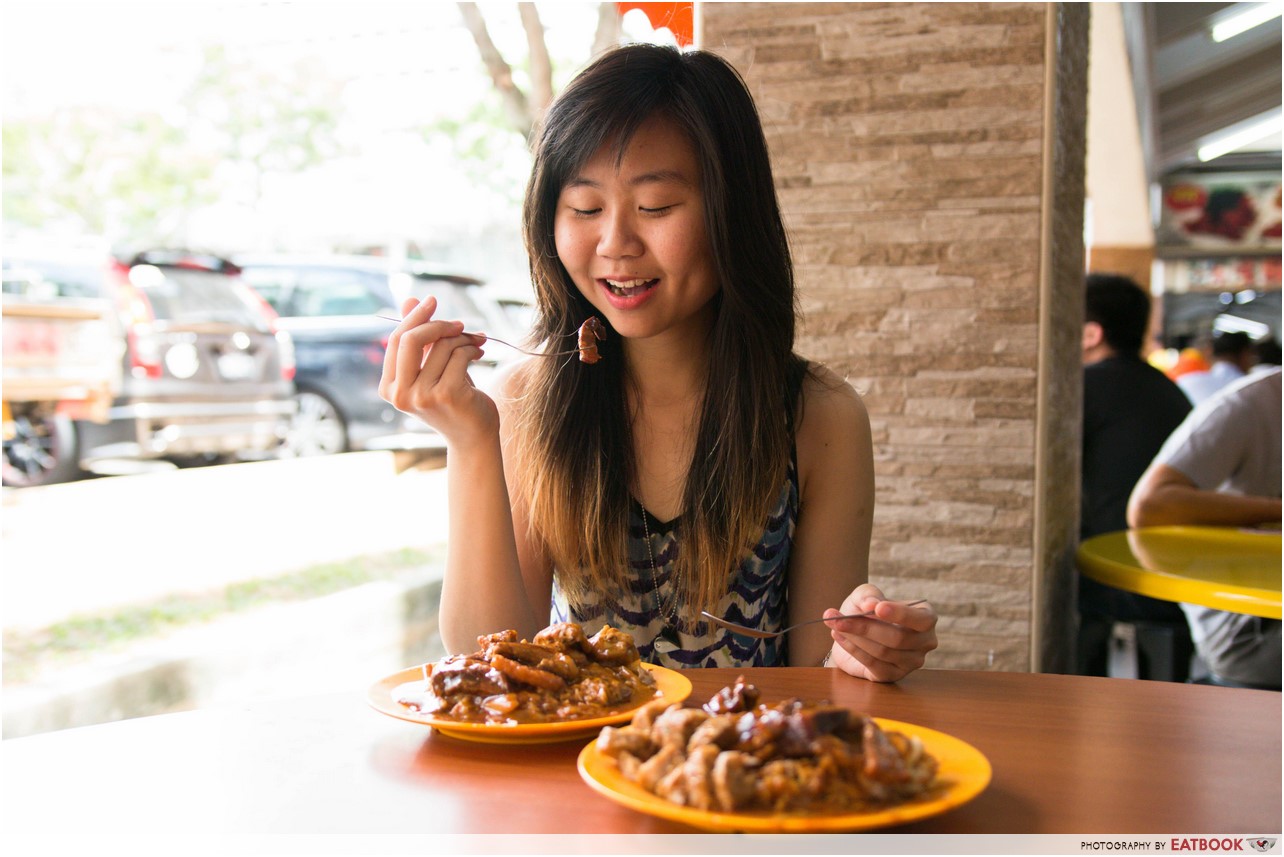 I enjoyed the sauce blend from Eleven Finger Scissors Curry Rice, and sometimes, that's the deciding factor as to whether a curry rice is satisfying. Their individual ingredients could have better textures and would be tastier if marinated with more spices. This would have given the meal more flavour and complexity. However, the stall owners are generous with the curry and I love how it is thick, savoury, and spicy. While this isn't a meal I would make a trip down for, it would be in my dining options if I was in the area and craving a warm meal of curry that's easy on my wallet. For more curry rice, check out this list of famous curry rice spots in Singapore! If you live near Kovan, be sure to visit Sin Chie Toke Huan as well. 
Address: 269B Queen Street, #01-235, Singapore 180269
Opening hours: Daily 10:30am to 7pm
Eleven Finger Scissors Curry Rice is not a halal eatery.
This is an independent review by Eatbook.sg.
Summary
Pros
– Affordable
– Spicy, thick curry
– Friendly service
– Staff speak English and Mandarin
Cons
– Stuffy ambience
– Ingredients can be improved on
Recommended Dishes: Chap chye, curry chicken, tau pok, fried egg, braised pork belly
Operating Hours:
Daily 10:30am to 7pm
Address: 269B Queen Street, #01-235, Singapore 180269

</p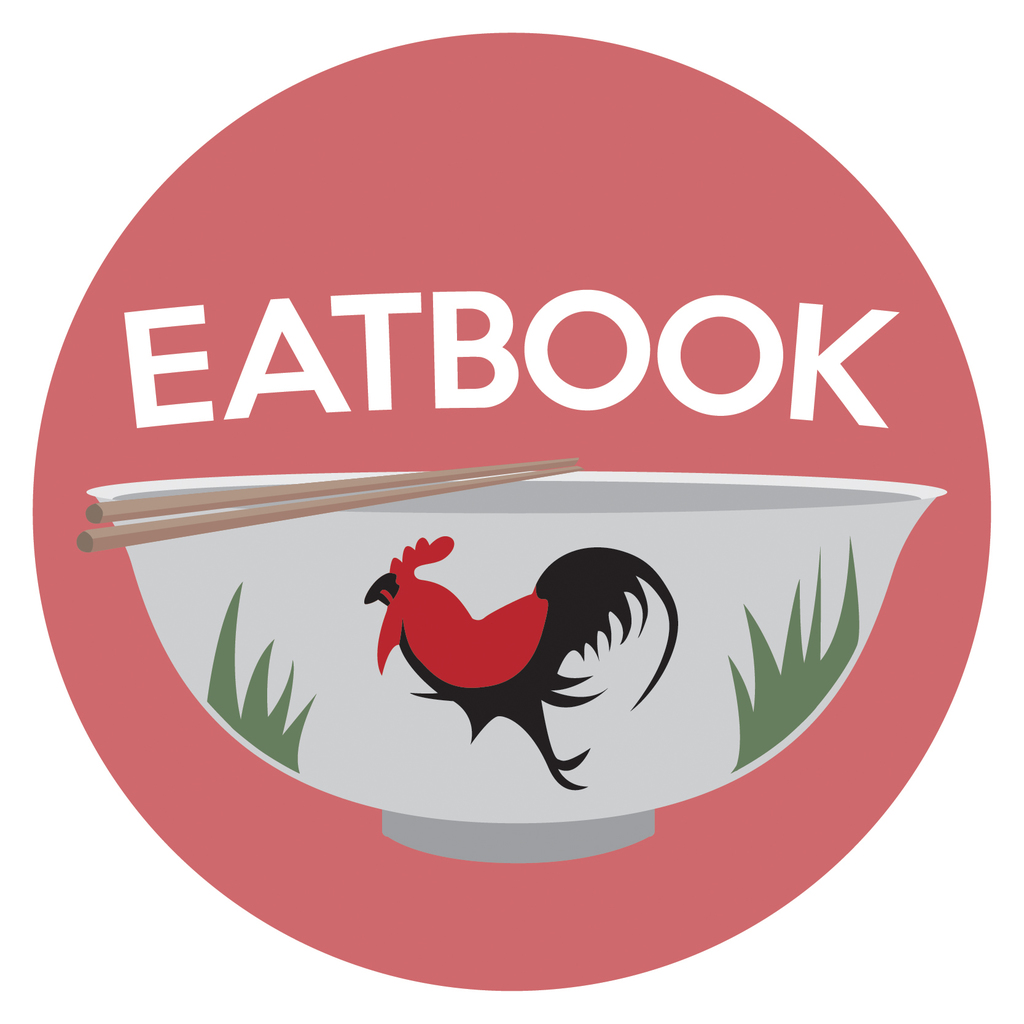 Drop us your email so you won't miss the latest news.