PerghChicks at Haji Lane has spicy ayam percik and volcano curry rice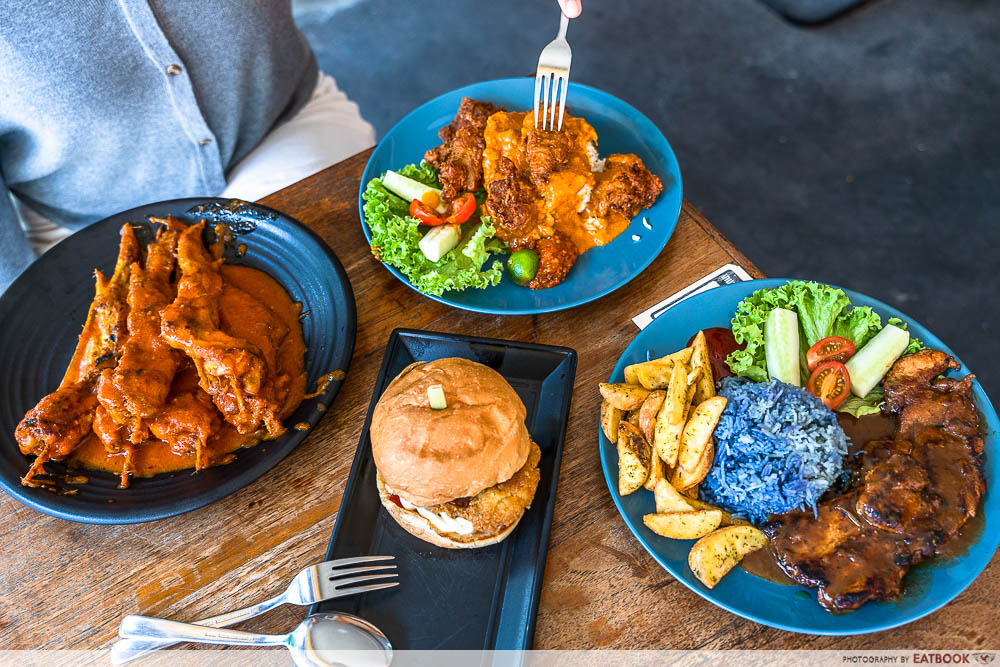 I love chicken in all of its forms—be it fried, barbecued, or in soups, and the list goes on. The best form of chicken to me, however, is when it's marinated in a myriad of spices or sauces, and then flame-grilled to get a beautifully charred skin. 
One dish that encompasses all those qualities is ayam percik, a dish I've only had on my occasional trips to Malaysia. Thus, when I heard of Pergh!Chicks, a restaurant that specialises in ayam percik, I knew I had to check them out. Formerly a business that appeared mostly at pasar malams, they have since expanded to an actual restaurant at Haji Lane. 
Food at Pergh!Chicks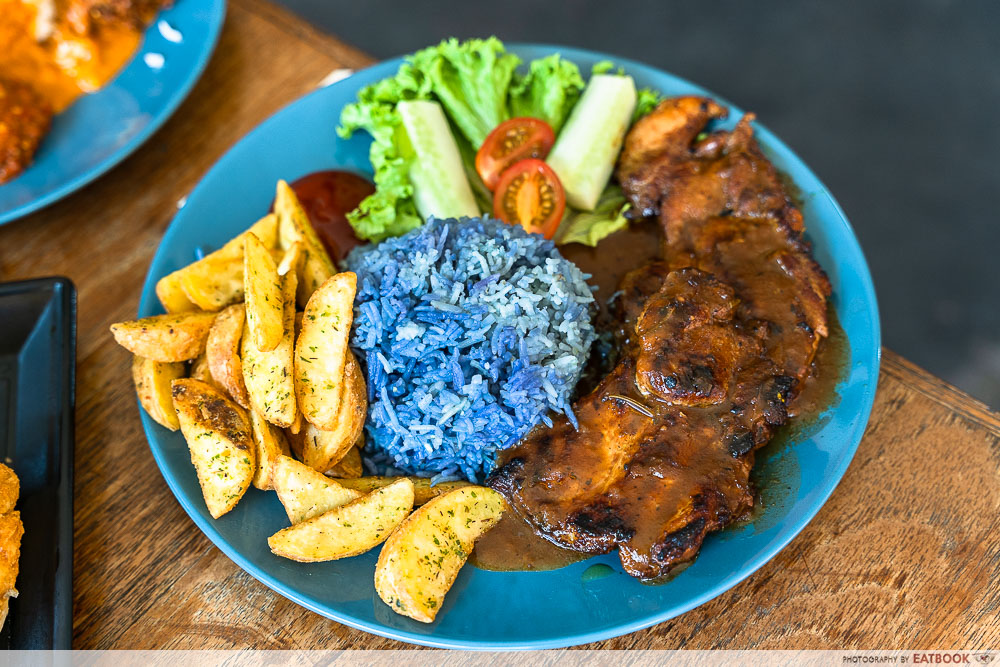 As I browsed the menu, a dish that caught my eye was the Honey BBQ Chop Set ($9.50+), which featured vibrant blue pea flower rice, potato wedges, fresh salad, and a thick slab of honey-glazed chicken chop.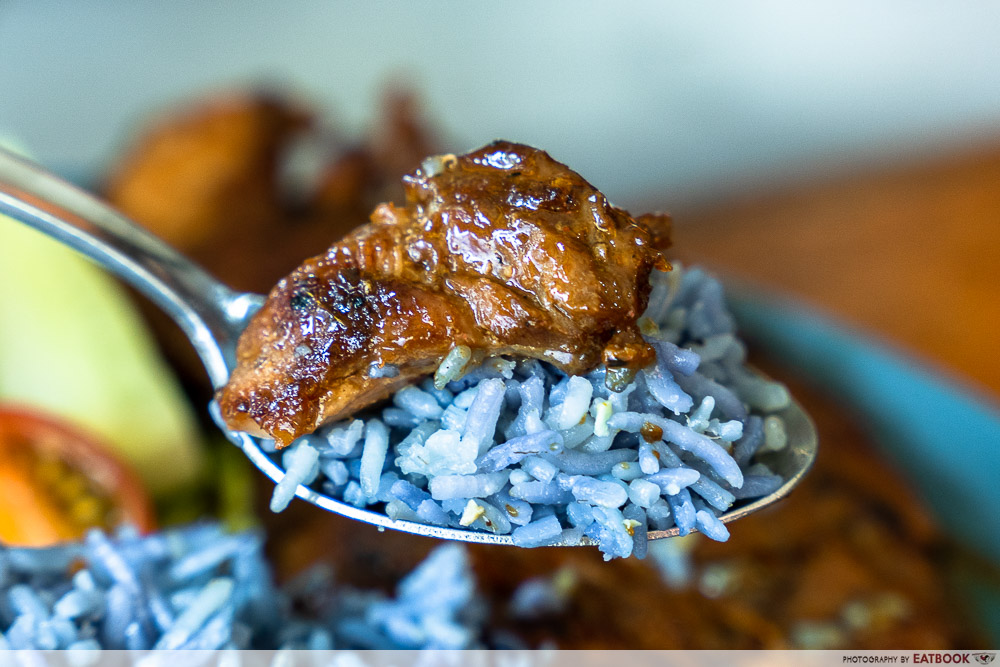 I was mostly curious about the rice because of its bright blue hue. There were mild hints of what seemed to be lemon, but otherwise, its taste leaned pretty close to plain white rice. It was unfortunately nothing much to shout about.
The well-seasoned potato wedges on the side had a fluffy interior and crisp skin. While it was delicious, it felt like a carb overload, so it'd be best to share this with a friend.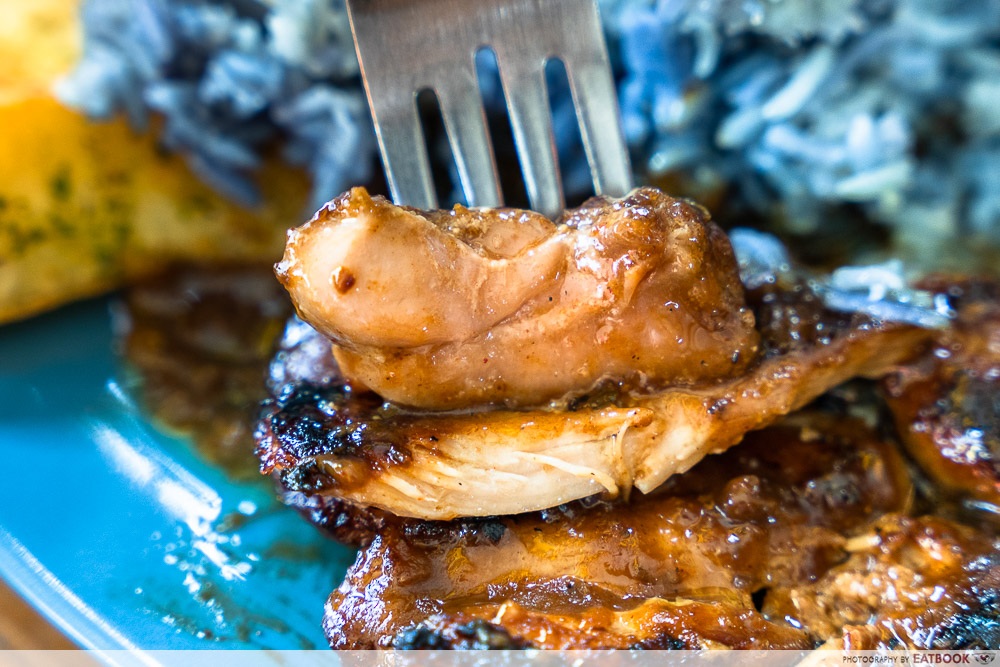 The chicken, on the other hand, starred a unique caramel-like sweetness and smokiness from the grill. I loved how tender and juicy it was, but the honey glaze was a tad too sweet for my liking. Perhaps this dish would be suited for those with a sweet tooth.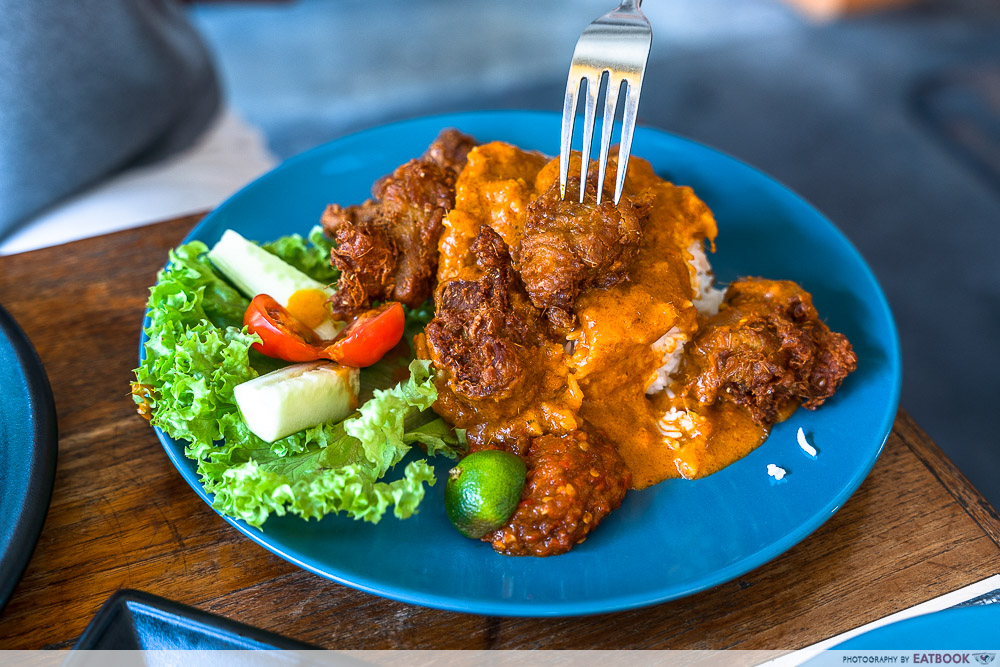 The next dish we tried was the crowd-favourite Nasi Kukus Volcano ($8.50+). Do note that it didn't arrive like what you see in the picture above; instead, this dish was encased in a metal cylinder. Upon arrival, the waiter immediately removed the metal cylinder, revealing an avalanche of thick curry and fried chicken chunks atop white rice.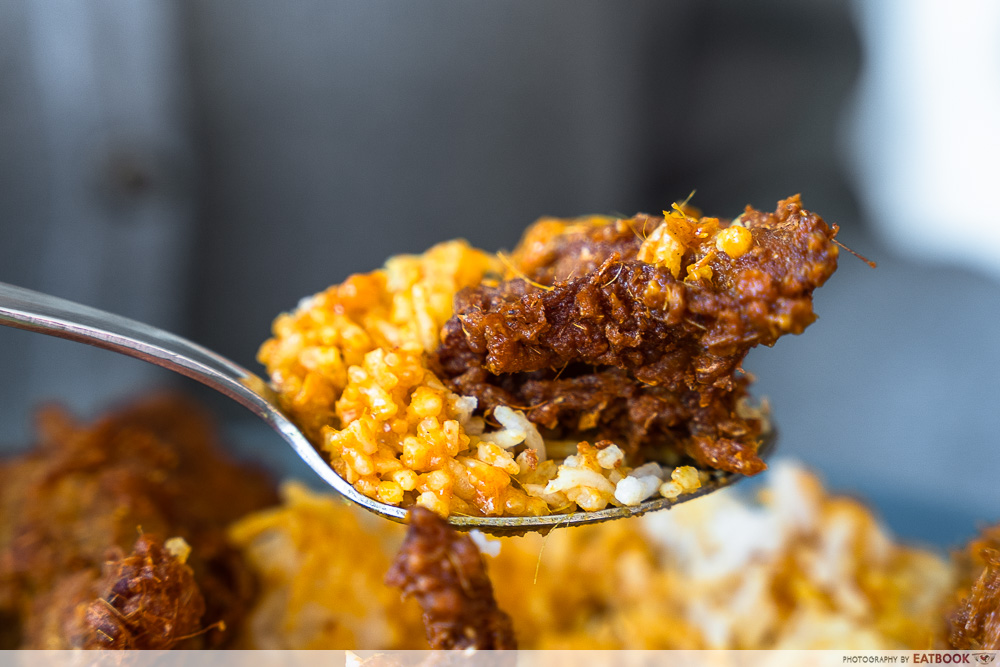 My dining companion and I had expected the curry to be on the sweeter side, but we were met with a rich, savoury, and flavourful gravy that worked in tandem with the crispy turmeric-infused chicken.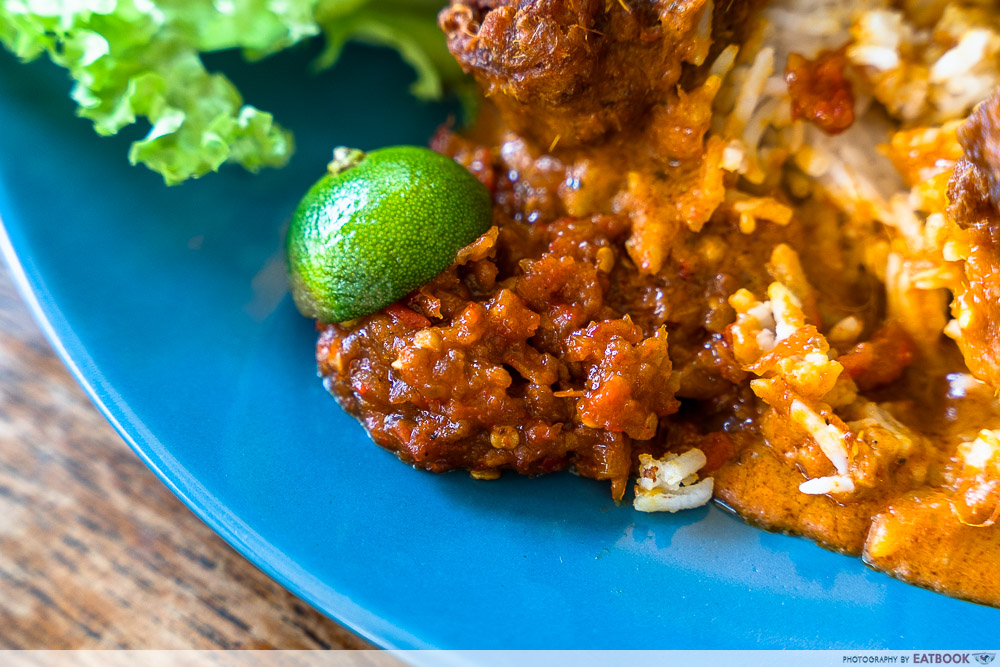 If you plan on getting this dish, be warned of the sambal as it packs a punch. Our taste buds were numbed for a bit as we made the mistake of adding too much to our rice. After a while, the zesty notes of the sambal became more apparent, which complemented the slight greasiness of the fried chicken and the richness of the curry.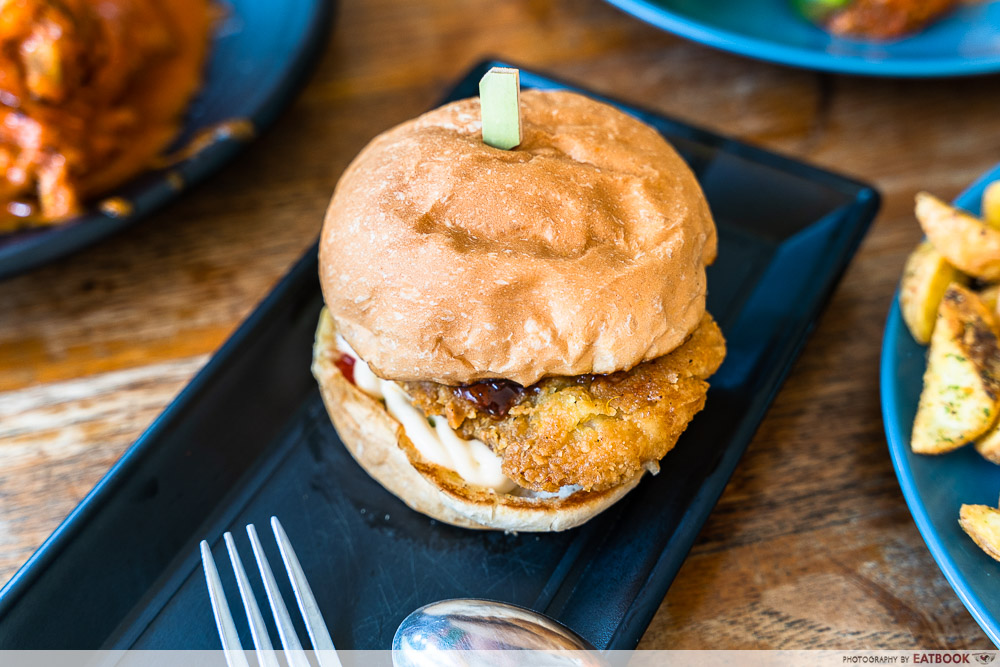 Burgers aren't something I would usually go for, but we decided to give the Ramly-style Crispy Chicken Burger ($3.50+) a shot after reading numerous positive reviews online.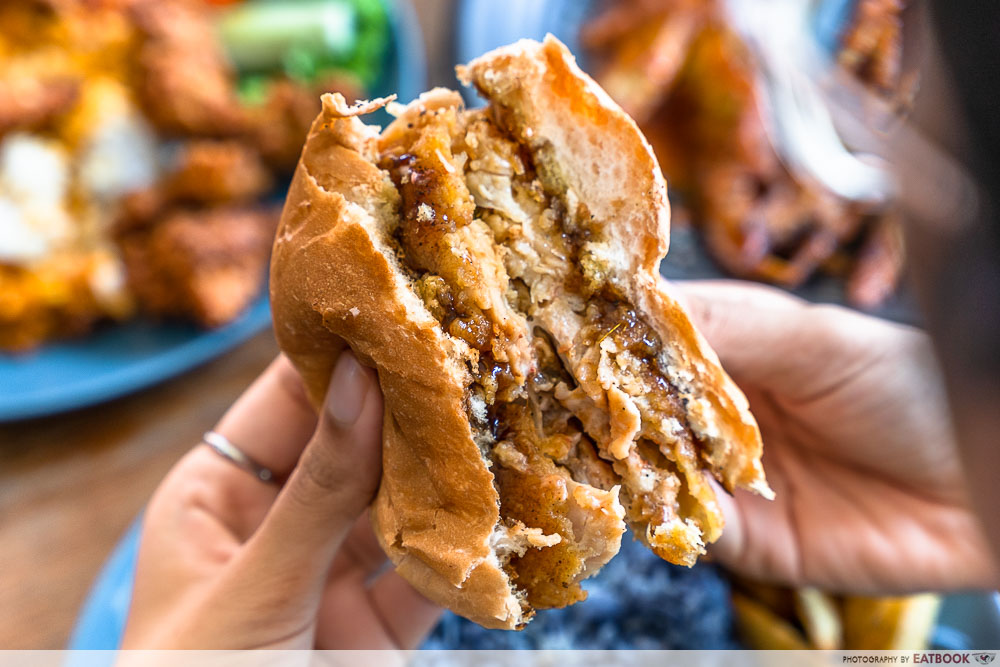 Unfortunately, we weren't a fan of this as the mayonnaise and black pepper sauce overpowered the crispy chicken. The burger was also slightly soggy, but that could be also because we left it out for quite some time during our shoot.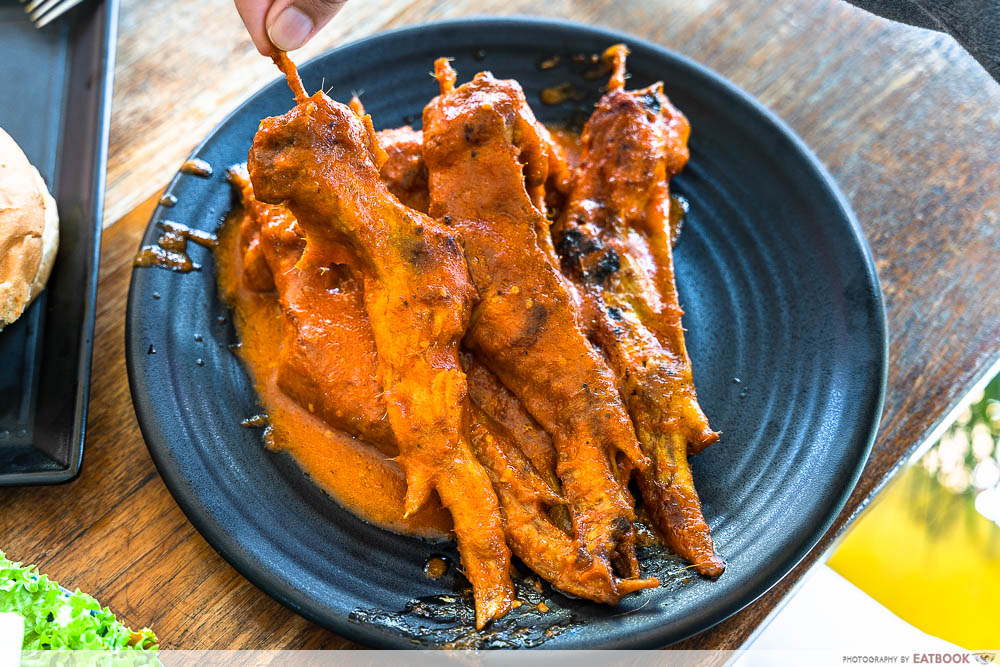 Saving the best for last, next up was the dish I was most excited about: the Percik Wings ($16+). These wings were much larger than I had expected and were served skewered on bamboo sticks, drenched in a house-made percik sauce. This thick, spicy, and coconutty sauce is said to be made from a blend of ingredients including cashew nuts, dried chillies, turmeric, and coconut cream.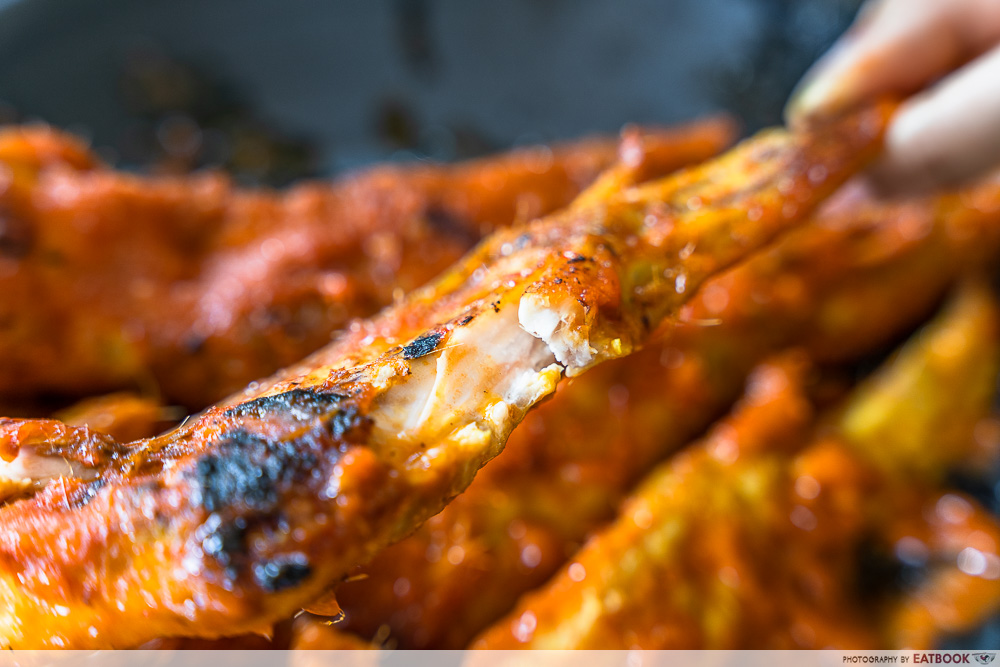 This was easily my favourite dish out of all the food we've tried, as the meat absorbed the spicy, tangy, and slightly nutty sauce really well. As I sunk my teeth into the meat, it tore apart with ease and didn't leave a greasy aftertaste. Each bite was so satisfying and juicy that we kept going in for more. 
Ambience at PerghChicks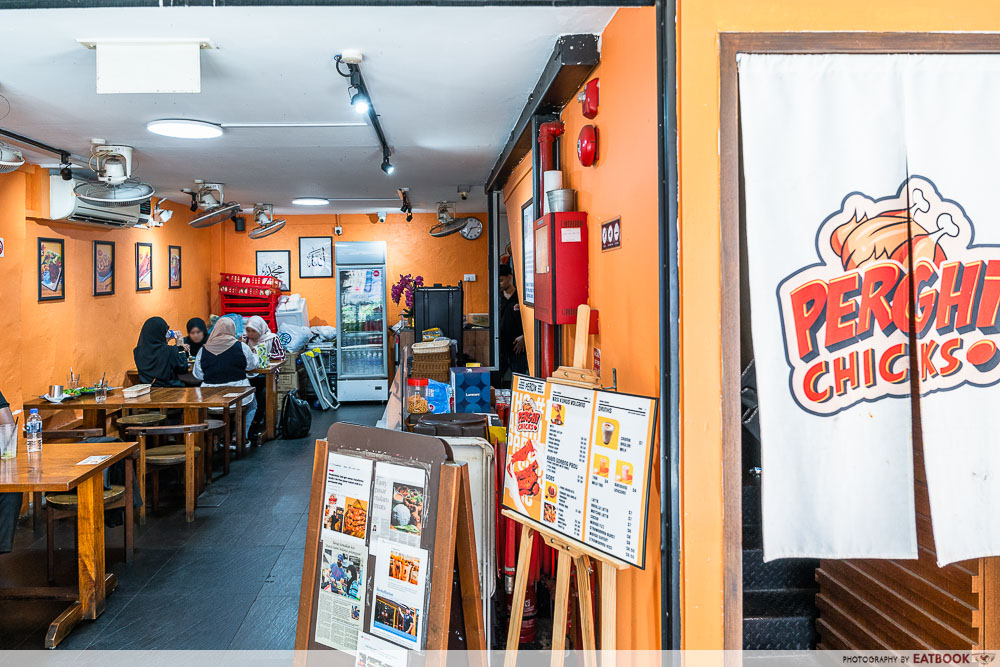 Despite being tucked away along a row of bars and restaurants, it's impossible to miss PerghChicks as the restaurant sports a bright orange interior. 
When we arrived, almost all of the tables were occupied, so we chose to sit at the small outdoor dining area by the roadside. This somehow made our dining experience feel more homely, too. Do note that PerghChicks also has an extended dining area on the second floor to host bigger groups of people. 
PerghChicks is a seven-minute walk from Bugis MRT Station. 
The verdict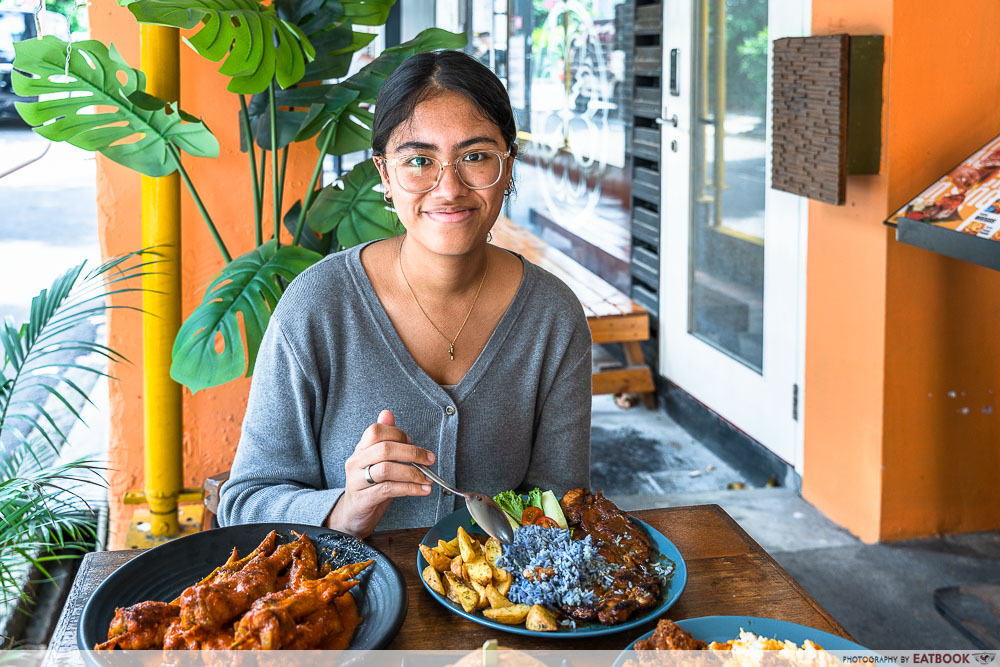 Overall, PerghChicks definitely surpassed my expectations. While there were some areas they could improve on, I felt that their menu had something for everyone to enjoy. 
The food was also satisfying enough and relatively affordable to draw me back for a second visit. I highly recommend coming down even if it's just for the Percik Wings, as they were as good as the ones I've tried in Malaysia. 
For more eateries to check out in the area, read our guide to the best cafes in Bugis for mochi croissants, souffle pancakes and more! Alternatively, read our KULON review for legit bakmi and mie bakso.
Address: 23 Bali Lane, Singapore 189859
Opening hours: Tue-Sun 10am to 10pm
Tel: 9665 9740
Website
PerghChicks is a Muslim-owned eatery.
KULON Review: Legit Indonesian Bakmi And Mie Bakso At Haji Lane
Photos taken by Yi En Chew
This was an independent review by Eatbook.sg
Pergh!Chicks Review: Ex-Pasar Malam Stall Opens Restaurant Selling Volcano Curry Rice And Spicy Wings
Pergh!Chicks Review: Ex-Pasar Malam Stall Opens Restaurant Selling Volcano Curry Rice And Spicy Wings -

7.5/10
Summary
Pros:
– Percik Wings were very flavourful and juicy
– Dishes were served in generous portions
– Nasi Kukus Volcano was delicious
Cons:
– Honey BBQ Chop Set was a tad too sweet
– Ramly-style Crispy Chicken Burger was slightly soggy
Recommended dishes: Percik Wings ($16+), Nasi Kukus Volcano ($8.50+)
Opening hours: Tue-Sun 10am to 10pm
Address: 23 Bali Lane, Singapore 189859