KULON at Haji Lane has Indonesian bakmi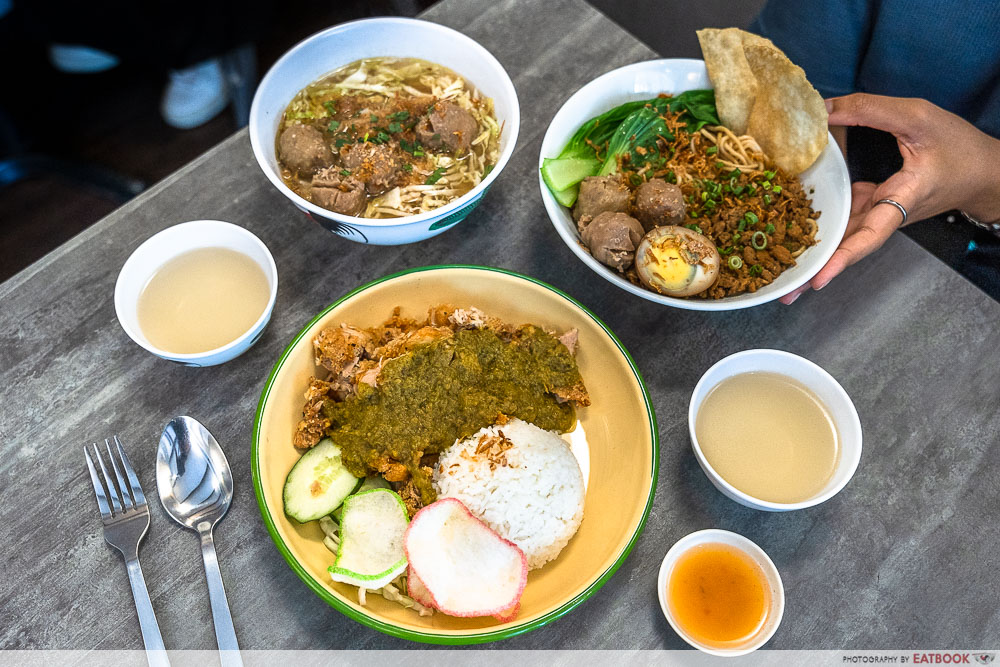 I'm part Javanese, but I'm not in touch with its food, since it's not as commonly found as Malay food, which bears some similarities, in Singapore. One of the more popular street foods in Indonesia is bakmi, a minced meat and noodle dish that I've always wanted to try. It's usually prepared with chicken in Indonesia, but Singapore's versions are almost always done in pork—which I can't eat. Thus, when I found KULON in Bali Lane, I was excited to give it a shot.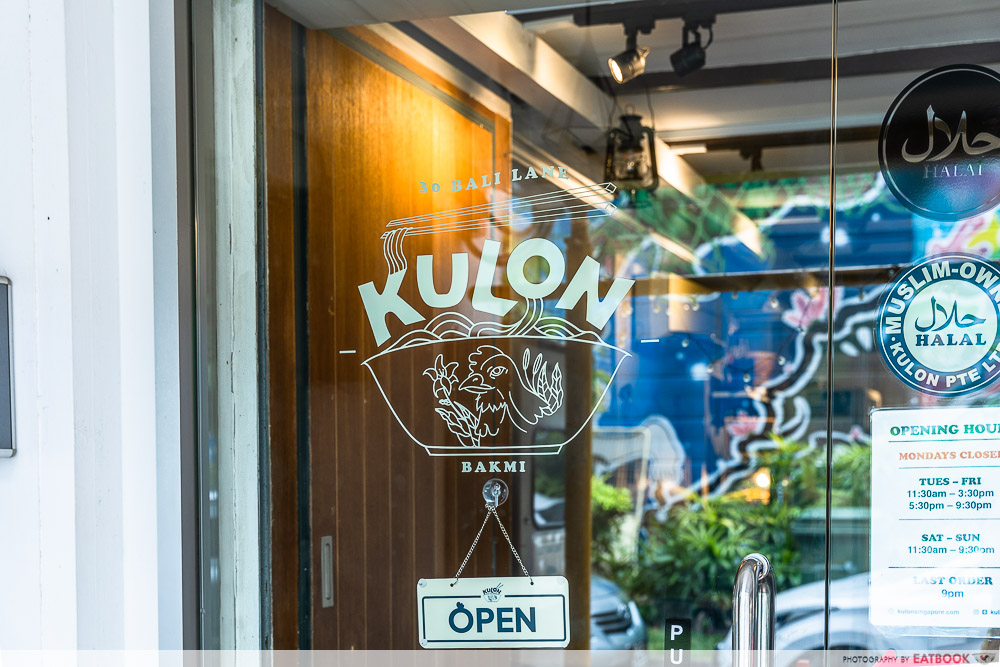 Formerly located at Singapore Polytechnic, this cosy and quaint restaurant is run by native Javanese Madam Wati and her son, Haris Ahmad. Though they offer a variety of Javanese comfort food, including some dishes that I don't see very often here, they specialise in bakmi. 
Food at KULON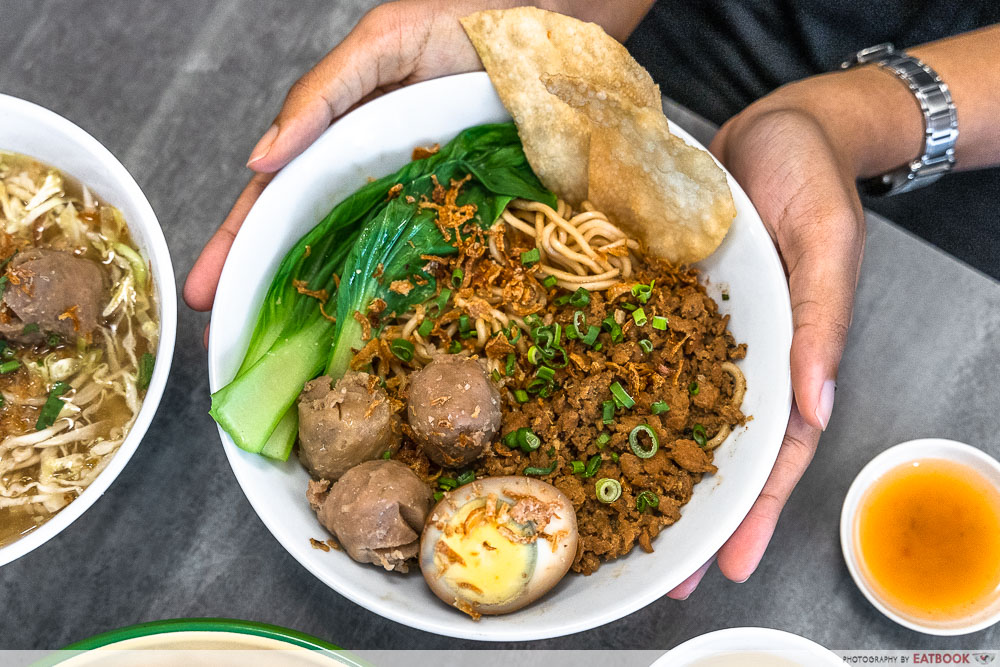 We first ordered their signature dish, the Bakmi Komplit ($13.80), where Komplit, or 'complete', meant that it came with all the possible toppings on the menu. This zhnged-up version of their Bakmi Spesial ($11.80) came with a sweet soya sauce braised egg and fried kulit pangsit.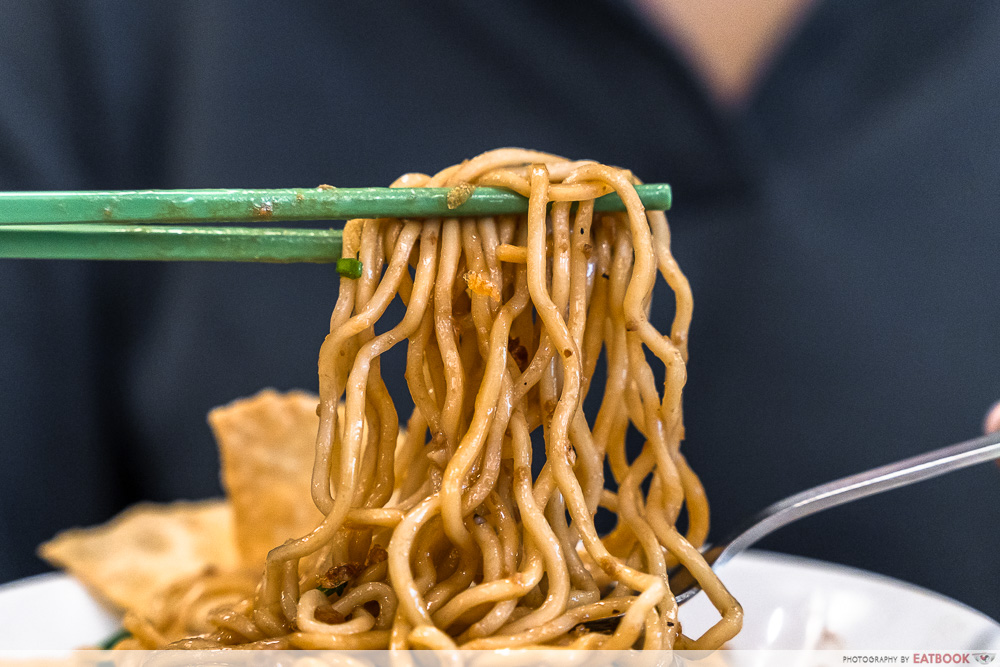 There are different variations on bakmi in Indonesia, but the most commonly used noodle is mie kuning, AKA yellow noodles, which is what you'll find here. They were thick like yellow mee, eggy, and had a good bite. 
Personally, I would have enjoyed it more if it was bouncier in texture, and didn't soften so quickly. Nevertheless, the sweet, umami sauce held onto the noodles really well.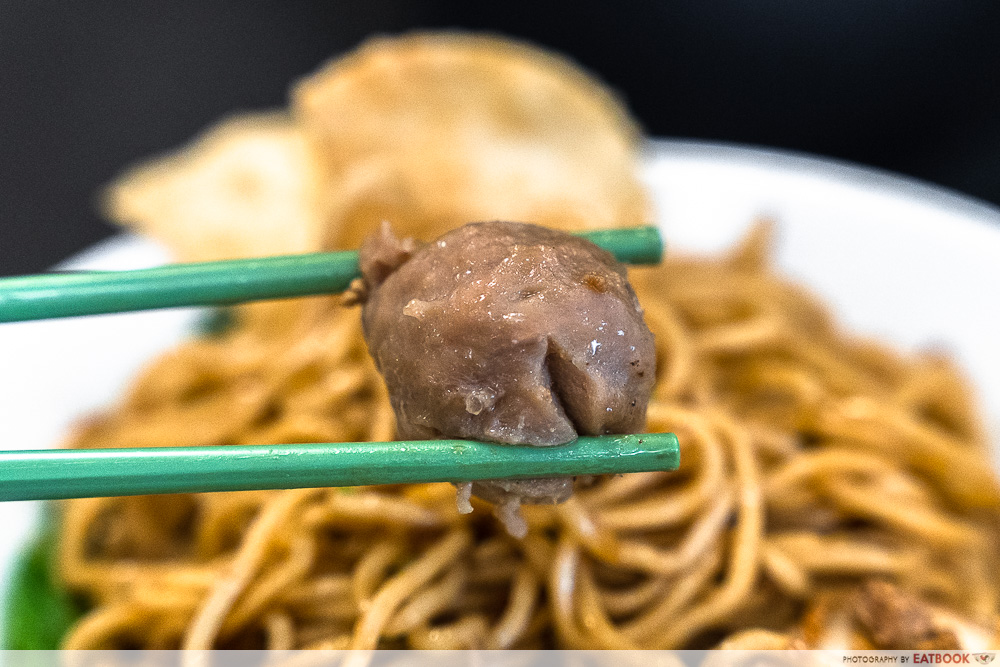 I was pleasantly surprised when I bit into the bakso beef balls. These were juicy with a sweet onion-y taste, and a springy texture similar to that of fishballs.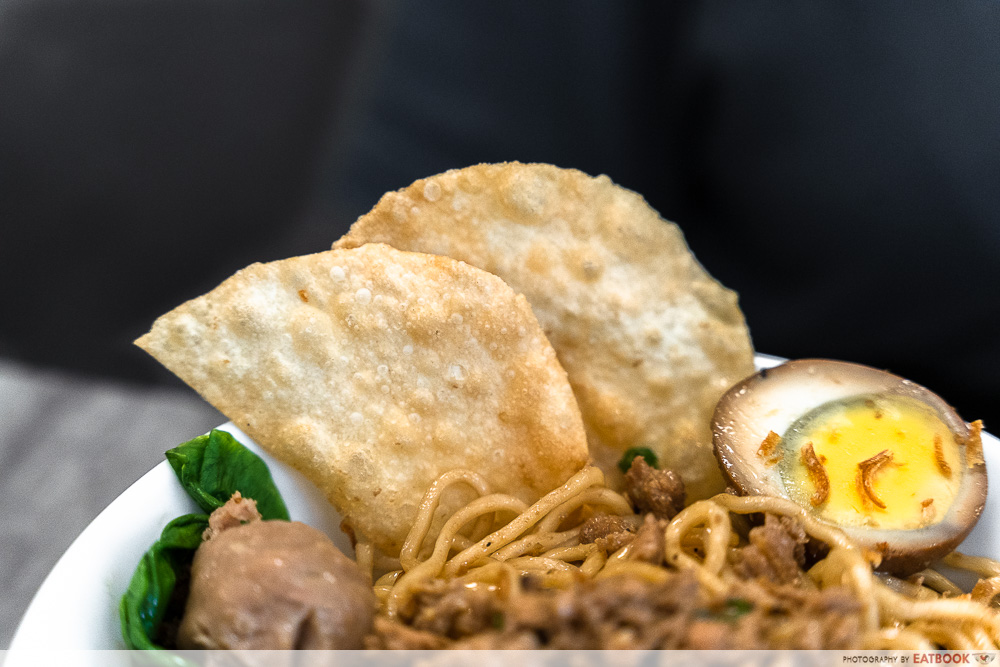 The fried kulit pangsit, or fried wonton skin, was a great addition to the dish. It was incredibly airy and light, yet crispy enough to add a nice textural contrast to the noodles. It did, however, get soggy quickly as it soaked up the sauce in the bowl.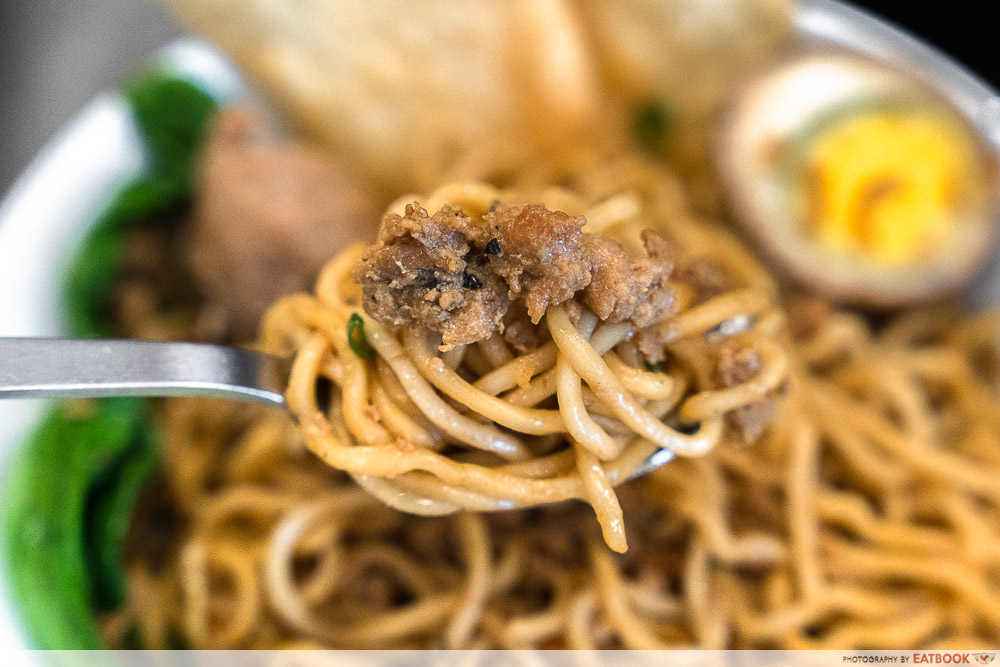 As for the minced chicken, it was fragrant and peppery with hints of lime. The eggy flavours of the noodles complemented the zestiness of the lime, which brightened the flavours of the dish.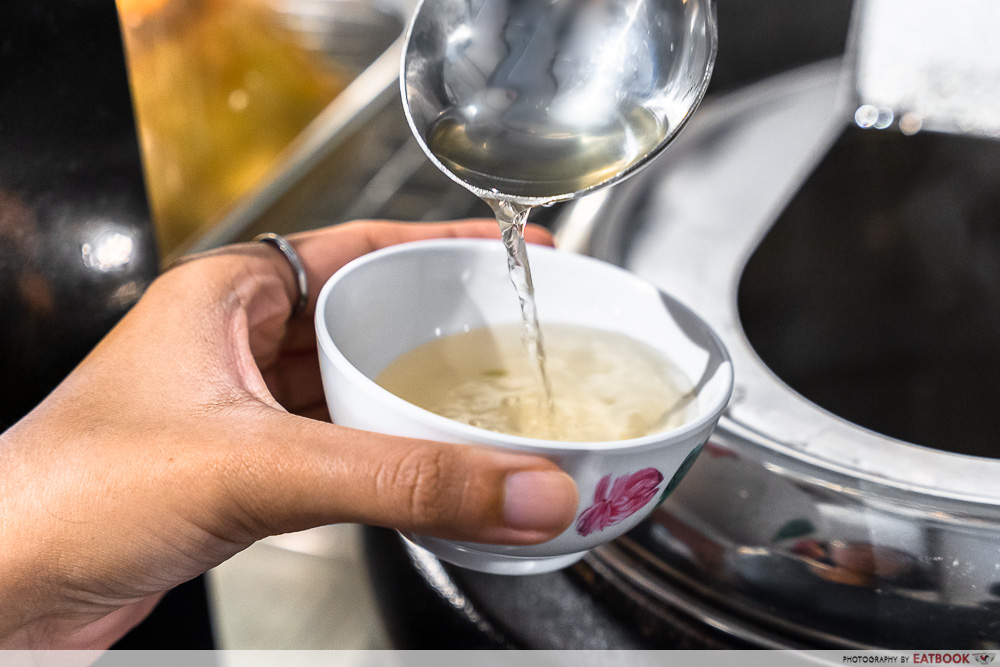 I appreciated how KULON offers free-flow soup to go with your meals, because it helped to rehydrate the noodles when they got a bit dry. With hints of ginger, garlic, and onion, it was very similar to the soup you'd get when you order Hainanese chicken rice.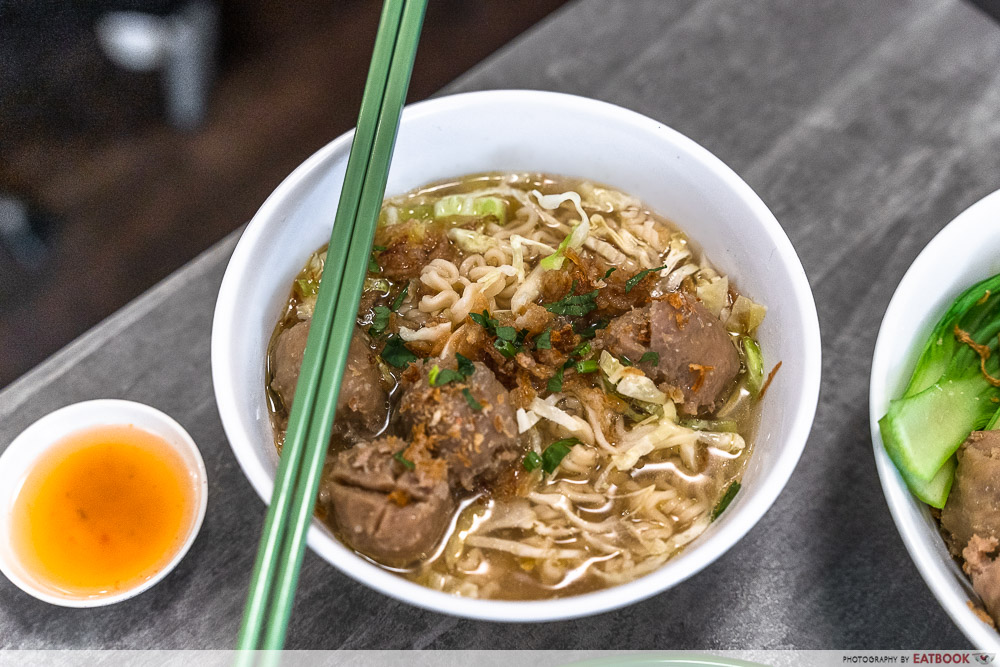 I usually prefer food with lighter flavours, so the Mie Bakso ($6.20) was definitely my favourite dish of the meal. Paired with a side of chilli, this was a very comforting and filling bowl of noodles.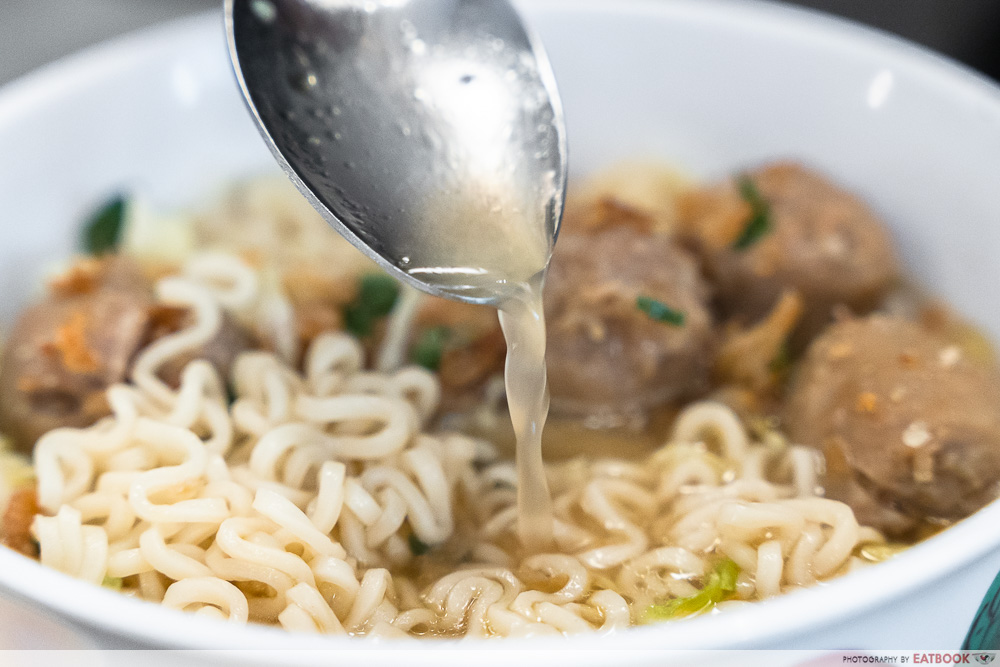 The moment I took a sip of the soup, I was reminded of the warm chicken noodles I crave whenever I am sick. It was aromatic and peppery, with a touch of sweetness from the shredded cabbage. It was not overly salty either, which I liked.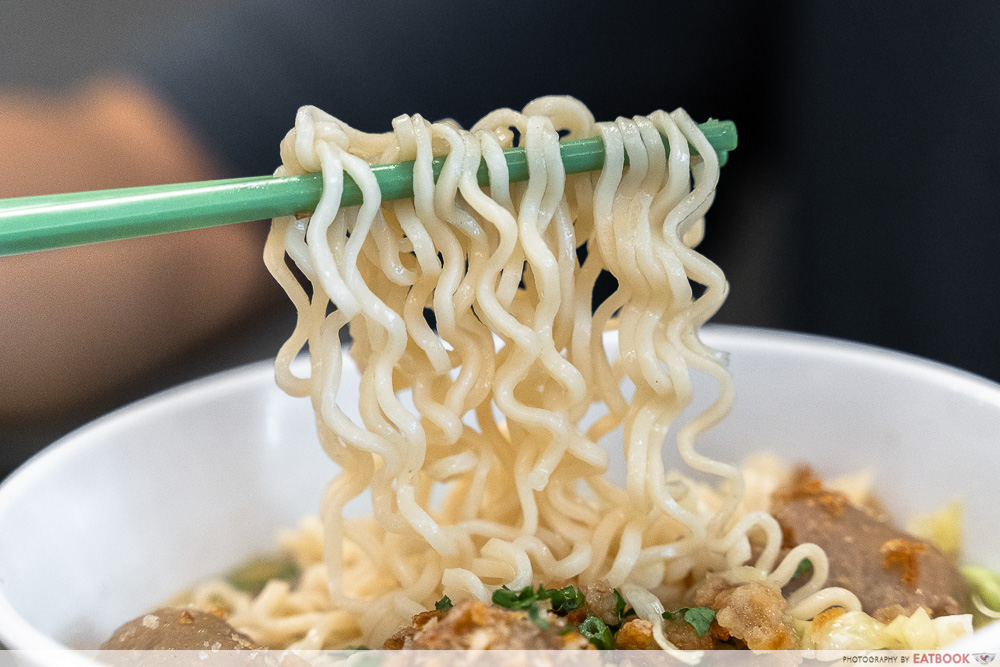 The noodles here are your usual instant noodles, which , compared to the bakmi noodles, are thinner and springier in texture. This made it a great match with the flavourful soup.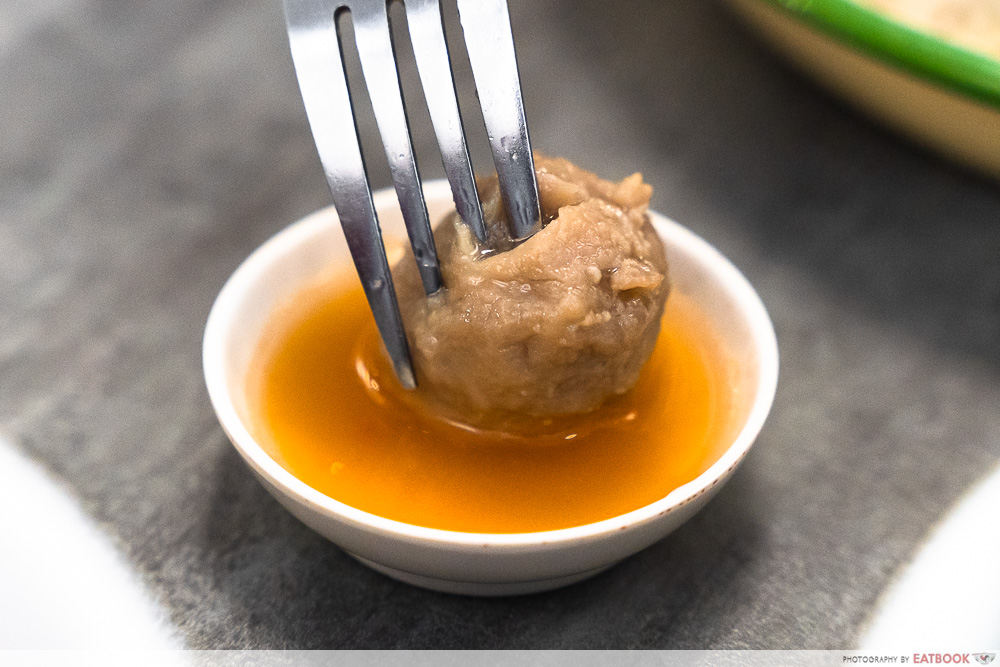 You can also enjoy the beef balls with some of their vinegar-laced chilli. I liked the acidity of the chilli when paired with the beef balls. There was a pungent whiff to it, which tastes like there could be something fermented in the mix, such as cincalok.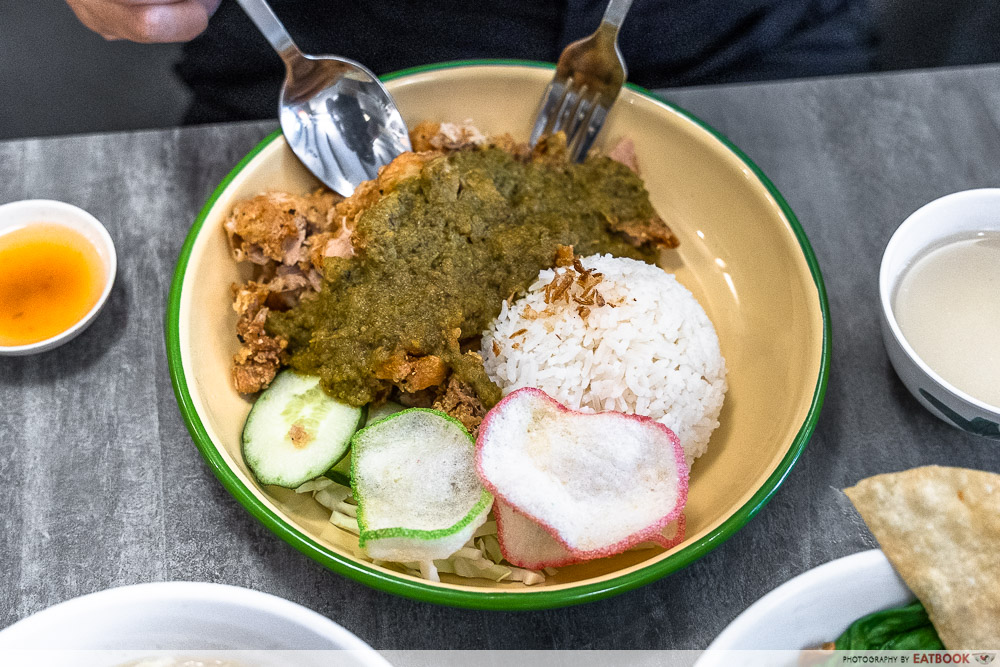 Lastly, we got the Nasi Ayam Geprek Ijo ($9.20) which was what Mdm Wati recommended. Unlike ayam penyet, ayam geprek is served boneless, and smashed into shreds. Here, it's topped with a sambal jio, a green chilli sambal.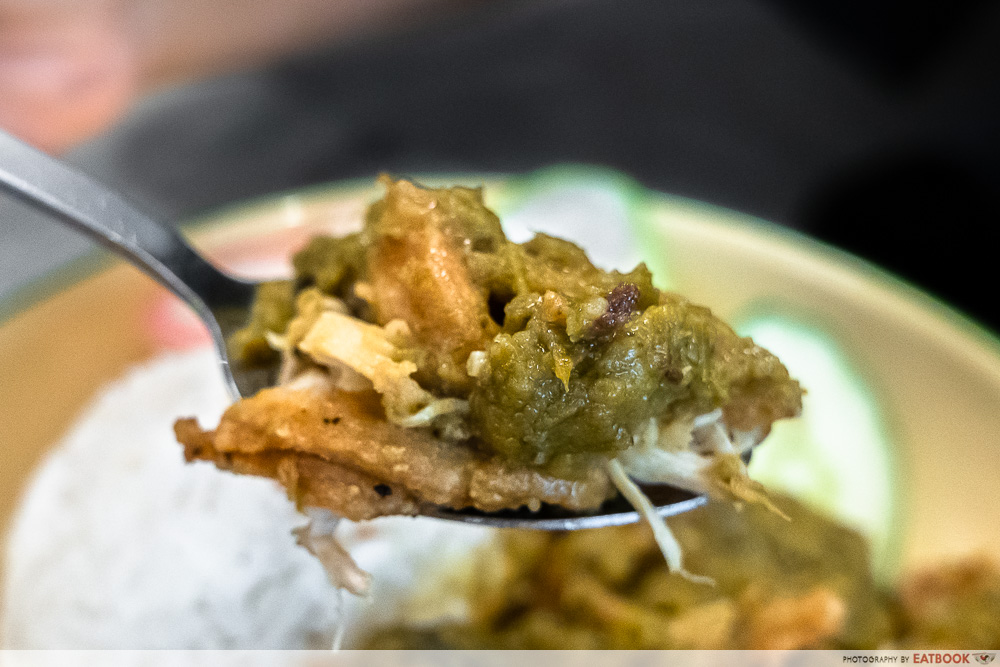 Although the chicken was blanketed in the fragrant sambal, its batter remained crisp. The meat was super tender and moist, making it easier to eat. The only downside about this dish is that the sambal was a tad too salty for my liking.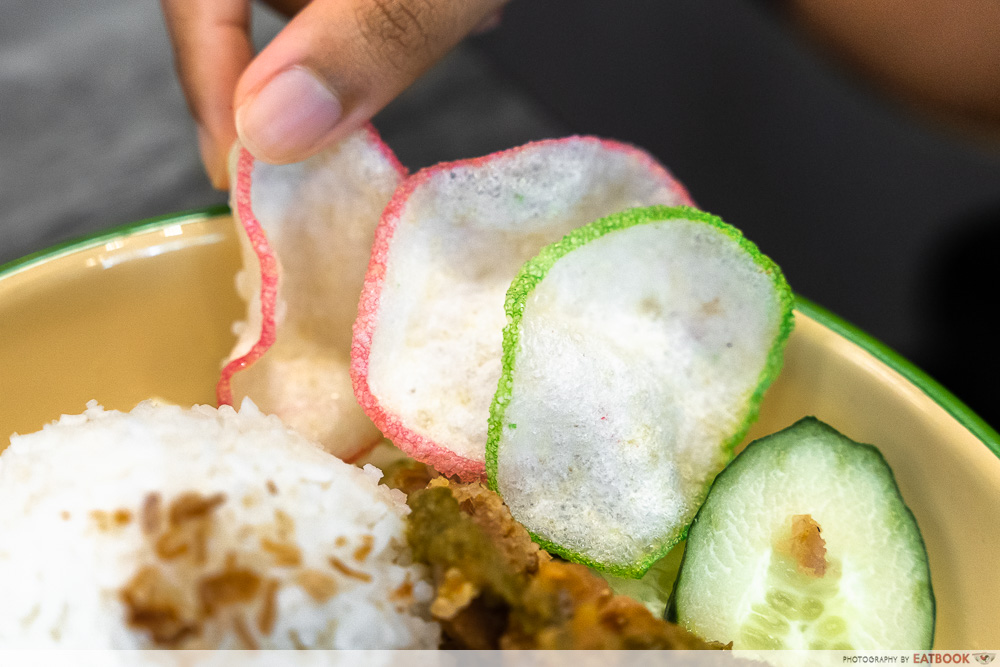 The dish was served with three shrimp crackers, which were super crispy and had a strong shrimp flavour. Given the large portion of the dish, I felt like they could have given us a few more pieces. Nevertheless, I still enjoyed the crackers, especially when dipped in the sambal. 
Ambience at KULON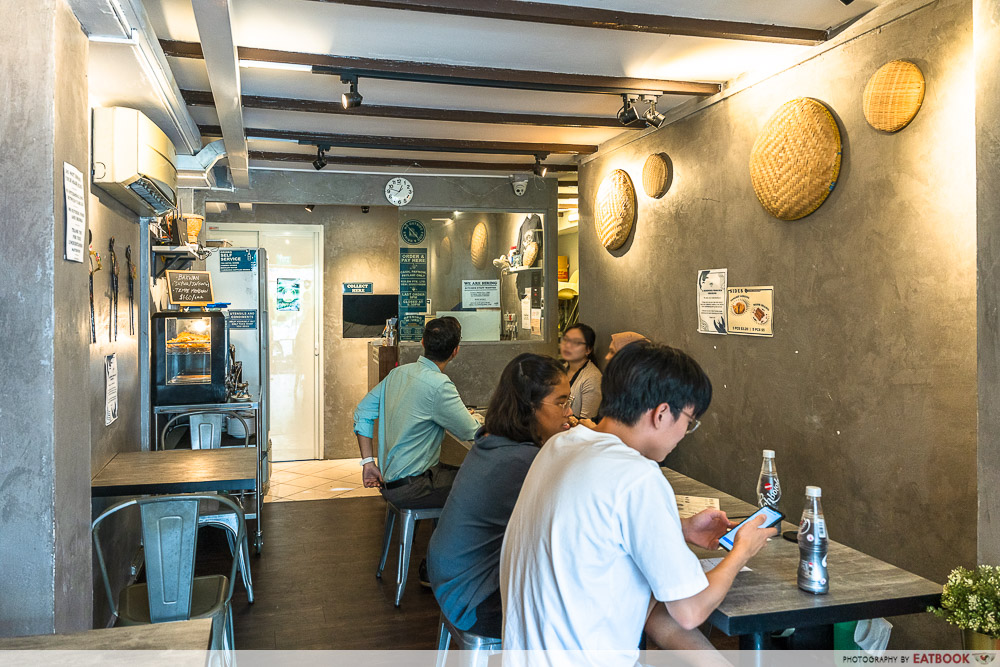 KULON is tucked along Bali Lane, located in the westernmost part of the Kampong Glam heritage district, and a seven-minute walk from Bugis MRT Station. Its rustic interior, with rattan baskets hung on the walls and lit with spotlights, created a warm and inviting atmosphere. Its indoor dining area can fit 16 diners, while its outdoor dining area can accommodate eight diners. 
The restaurant was empty when we first arrived at 12pm, but got crowded really quickly as it approached lunchtime, with office workers flooding in from the nearby Rochor Road and Fraser Street buildings. 
This Bakso Stall In City Plaza Has Legit Indonesian Meatball Soup
The verdict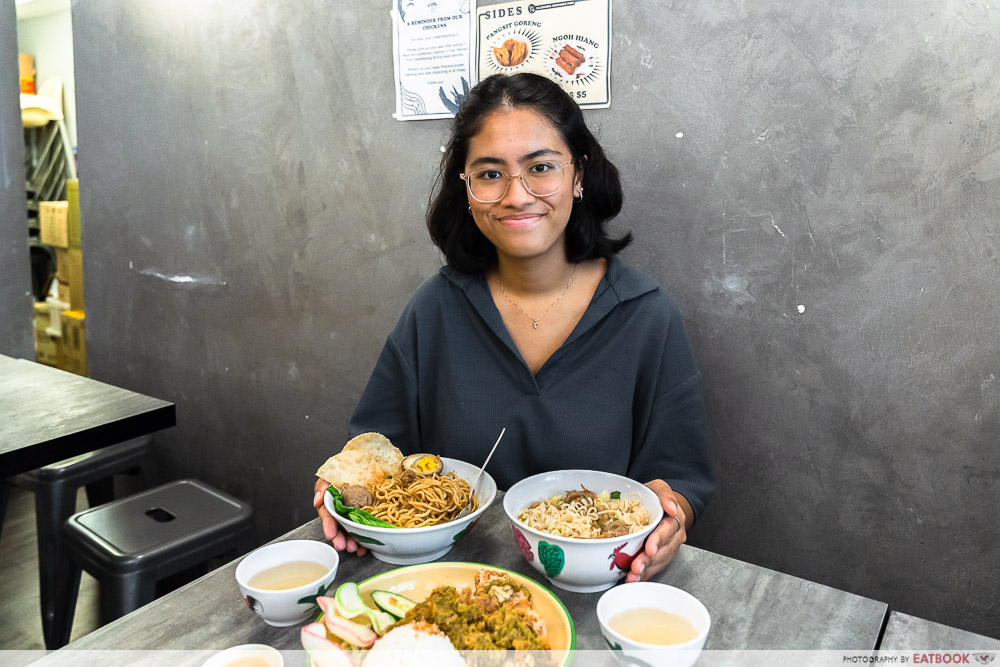 Overall, although the dishes at KULON were not mind-blowing, they did have a homely touch that I think many would enjoy. Their comforting Mie Bakso, large portions, and friendly staff would definitely draw me back for another visit.
If you're looking for more halal-certified eateries, check out Eminami, a hawker stall selling Vietnamese food. Alternatively, you can read our Waroeng Bakso review. 
Address: 30 Bali Lane, Singapore 189866
Opening hours: Tue-Fri 11:30am to 3:30pm, 5:30pm to 9:30pm, Sat-Sun 11:30am to 9:30pm
Website
KULON is a halal-certified eatery
This Halal Vietnamese Stall Has $6 Spicy Beef Pho, Banh Mi And More In Old Airport Road Food Centre
Photos taken by Chew Yi En.
This was an independent review by Eatbook.sg.
KULON Review: Legit Indonesian Bakmi And Mie Bakso At Haji Lane -

7.5/10
Summary
Pros
– Huge portions
– Mie Bakso was flavourful
– Friendly staff
Cons
– Limited seats
– Bakmi Komplit was slightly pricey
Recommended dishes: Mie Bakso ($6.20), Nasi Ayam Geprek Ijo ($9.20)
Opening hours: Tue-Fri 11:30am to 3:30pm, 5:30pm to 9:30pm, Sat-Sun 11:30am to 9:30pm
Address: 30 Bali Lane, Singapore 189866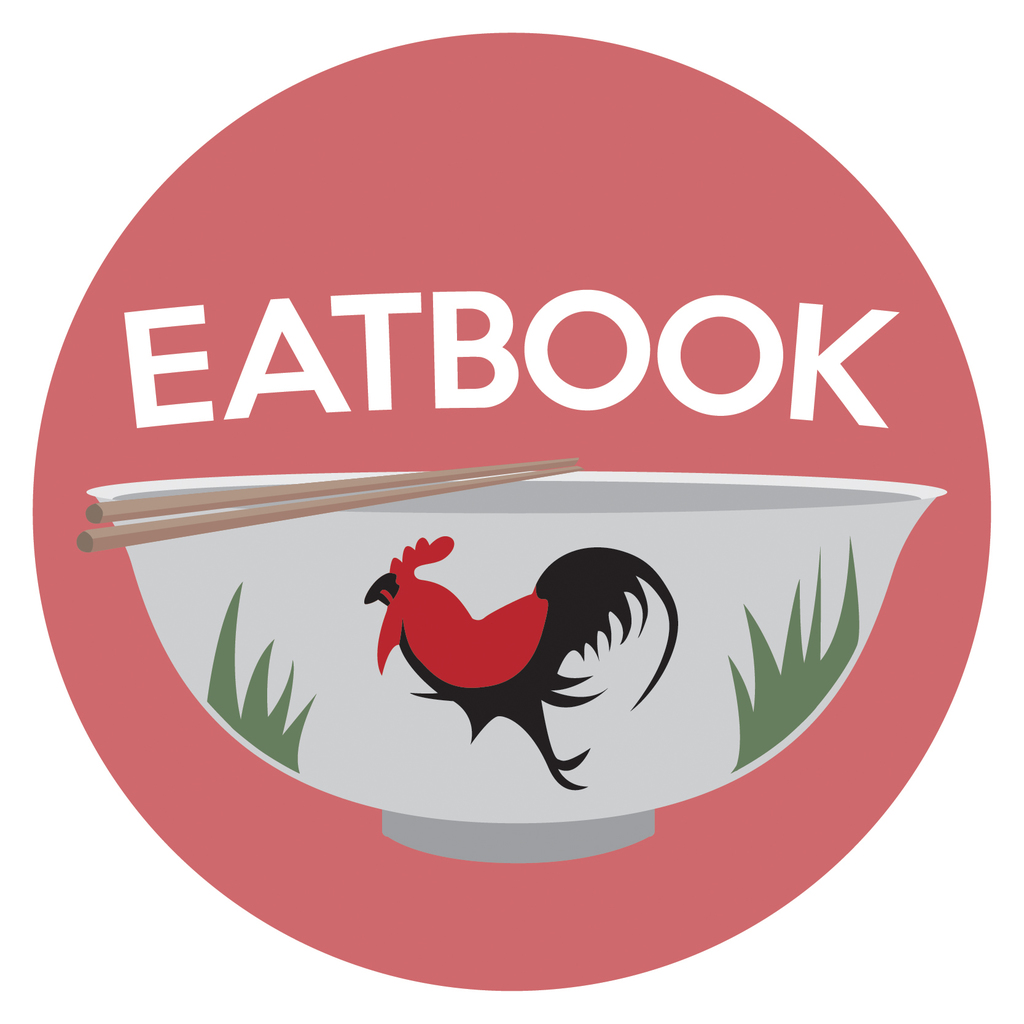 Drop us your email so you won't miss the latest news.