Chir Cafe + Bar at Holland Village
I've always had the impression that Chir Chir was just a shopping mall fast-food chain, but late last year they expanded their popular Korean fried chicken concept into the cafe and bar scene within Holland Village. 
Food At Chir Cafe + Bar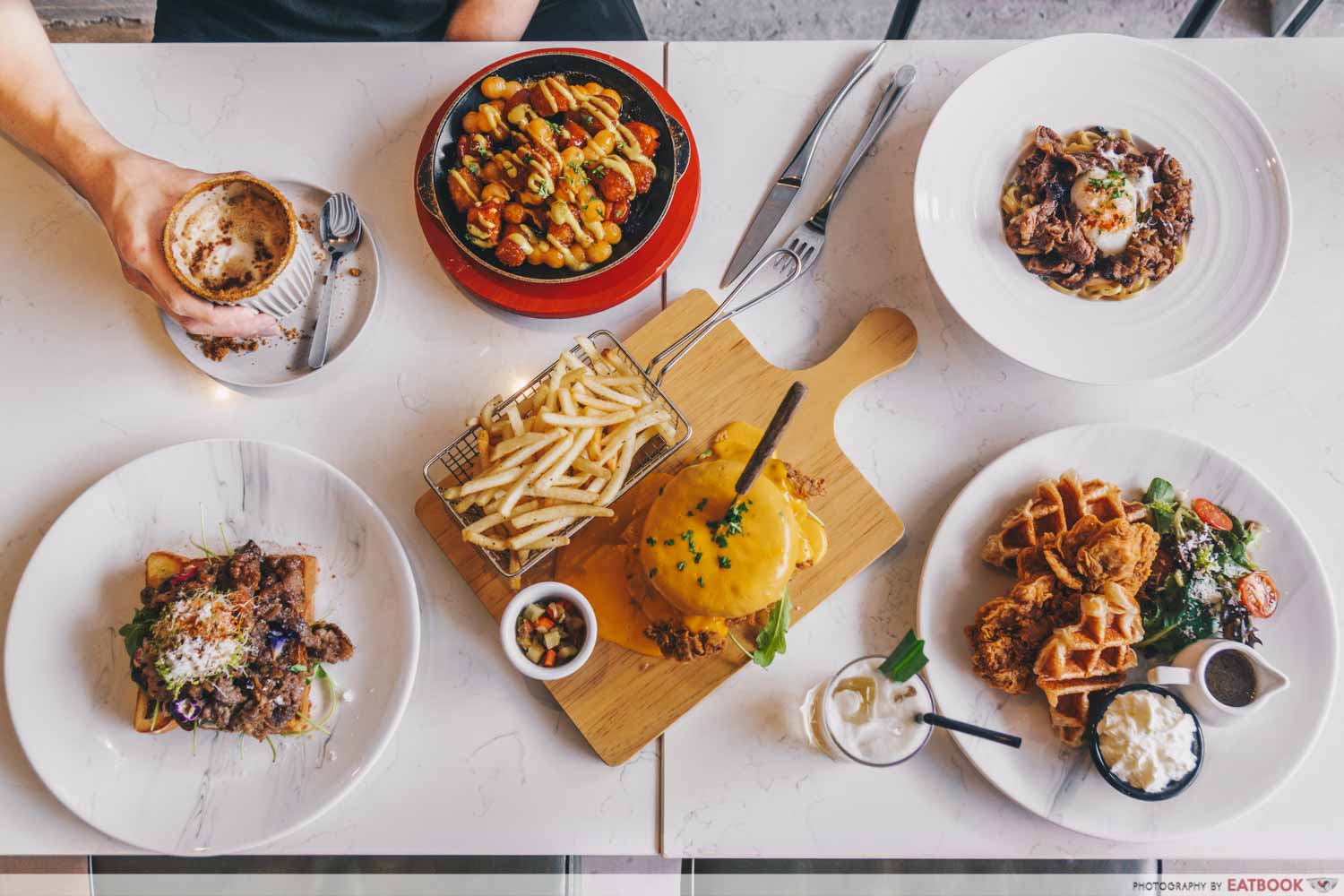 Their menu contains brunch classics such as burgers, croffles, and pasta, all done with Chir Chir's unique twist that combines Korean food with modern cuisine. Their brunch menu runs from 9:30am to 4pm, and the dinner menu begins from 4pm.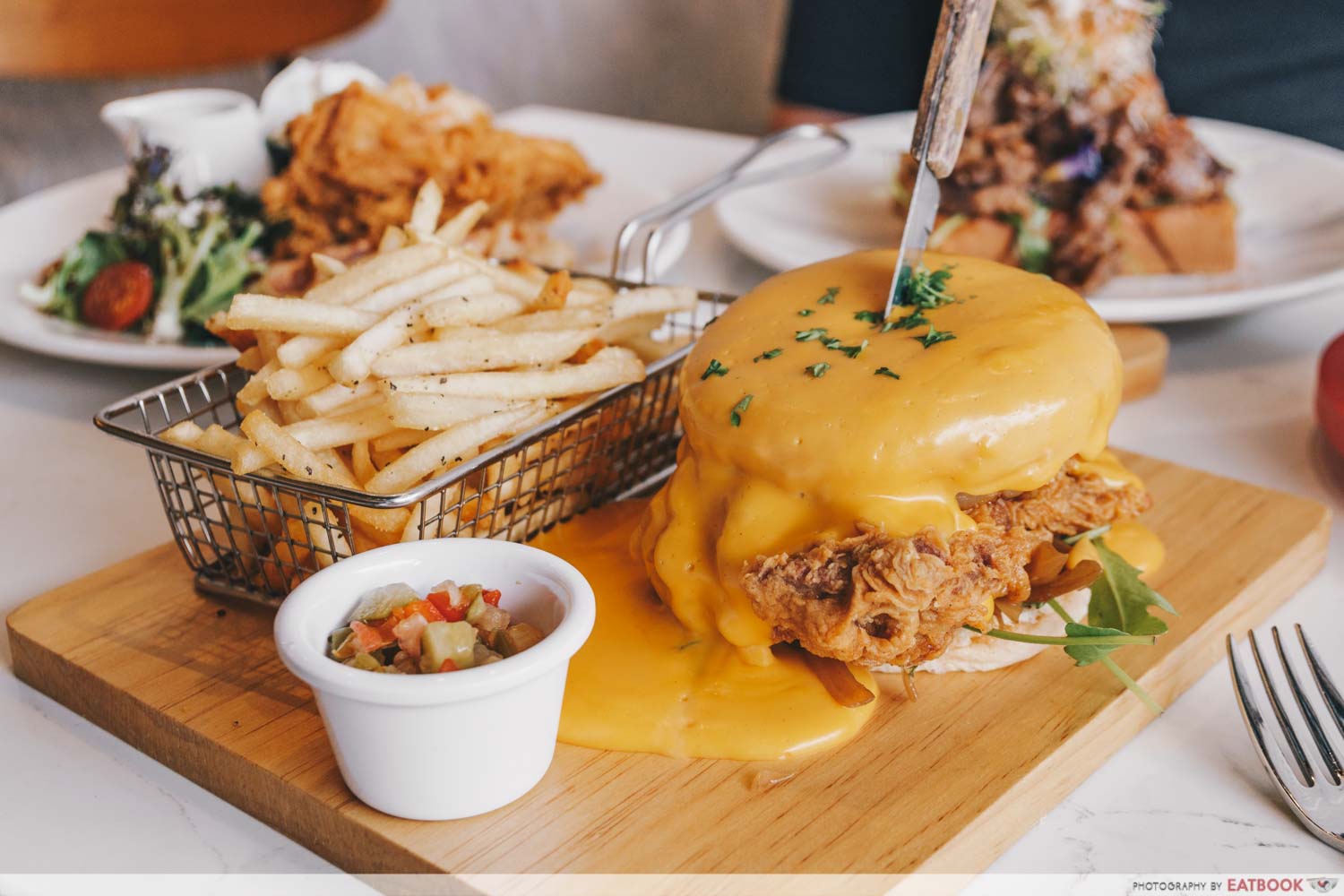 The Fondue Chicken Burger ($15.50++) was presented rather Halloween-esque with a knife impaling the burger. This made it visually striking, along with a heavy drizzle of nacho cheese coating the entire burger—a sure way to brighten your IG feed.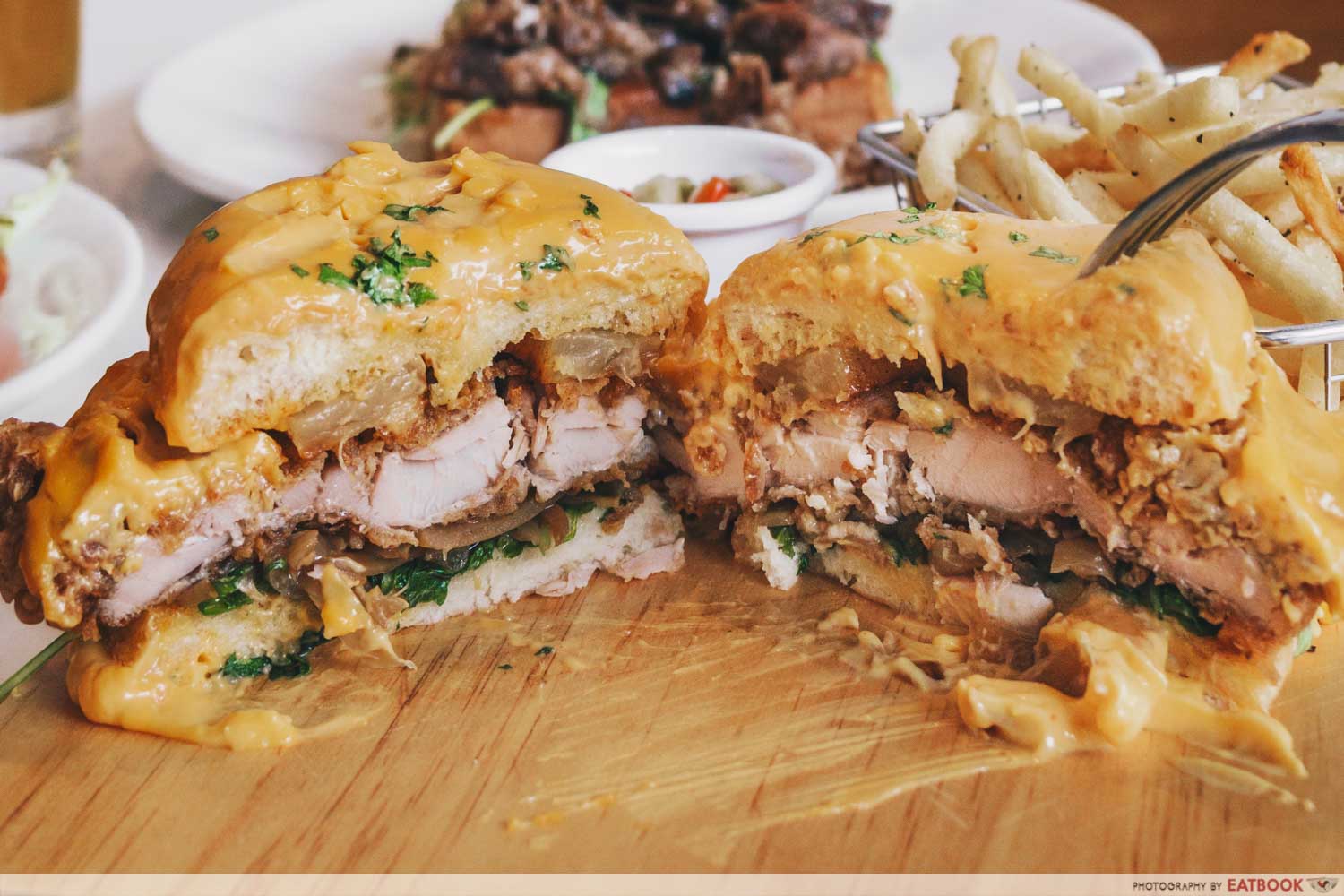 The burger came with a substantial piece of deep-fried chicken thigh that was crispy on the outside and succulent on the inside, reminiscent of Chir Chir's popular fried chicken. A surprising touch was the pineapple slice that added bursts of sweetness to the otherwise salty burger.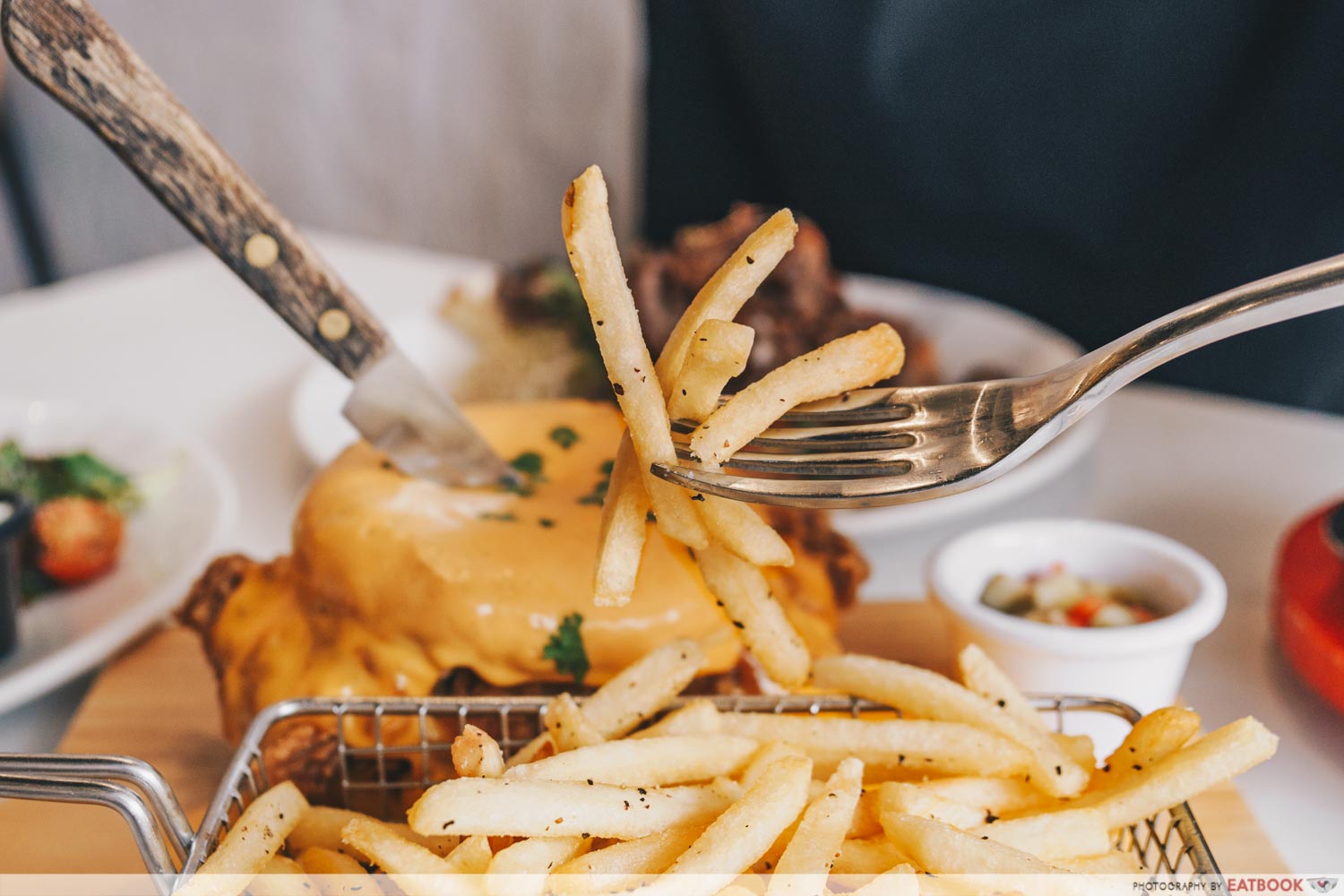 The fries didn't carry much flavour, but you can easily salvage them by scooping up the excess nacho cheese remnants with it. 
The whole dish may seem gimmicky, especially with the knife that makes you feel like King Arthur, but the burger proved to be of substance in both aesthetics and taste.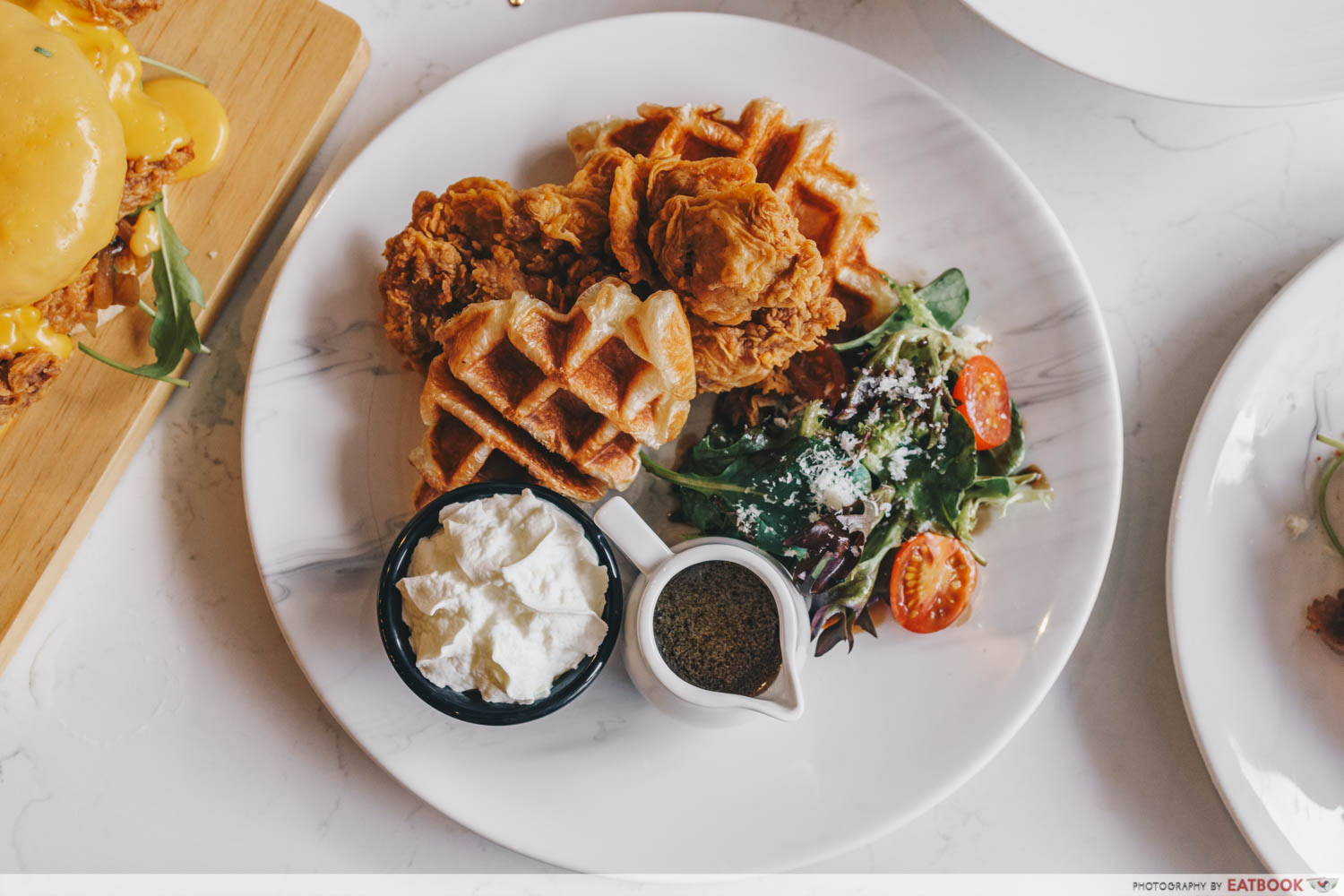 Their Chir Chicken Croffle ($17.50++) puts a twist on the typical chicken and waffles combo. Instead of doughy waffles, this dish uses buttery croissants as its carbs. To make it even better, the croffles also came with whipped cream that is made in-house. It reminded me of a dessert like waffles and ice cream.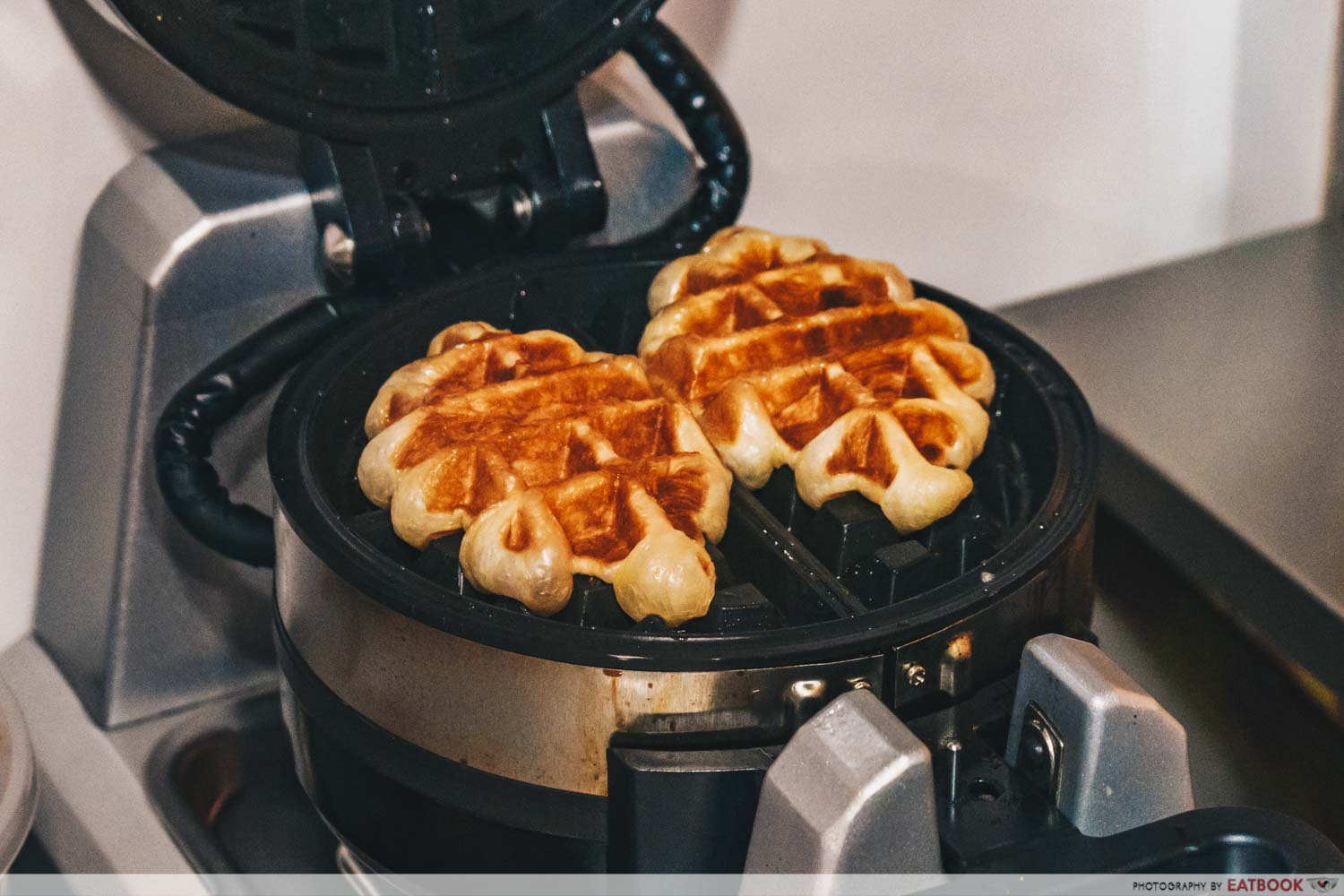 For the uninitiated, croffles are a Korean cafe's must-haves. Made with puff pastry inside a waffle iron, the croffles maintained a flaky exterior while creating a denser and more chewy interior.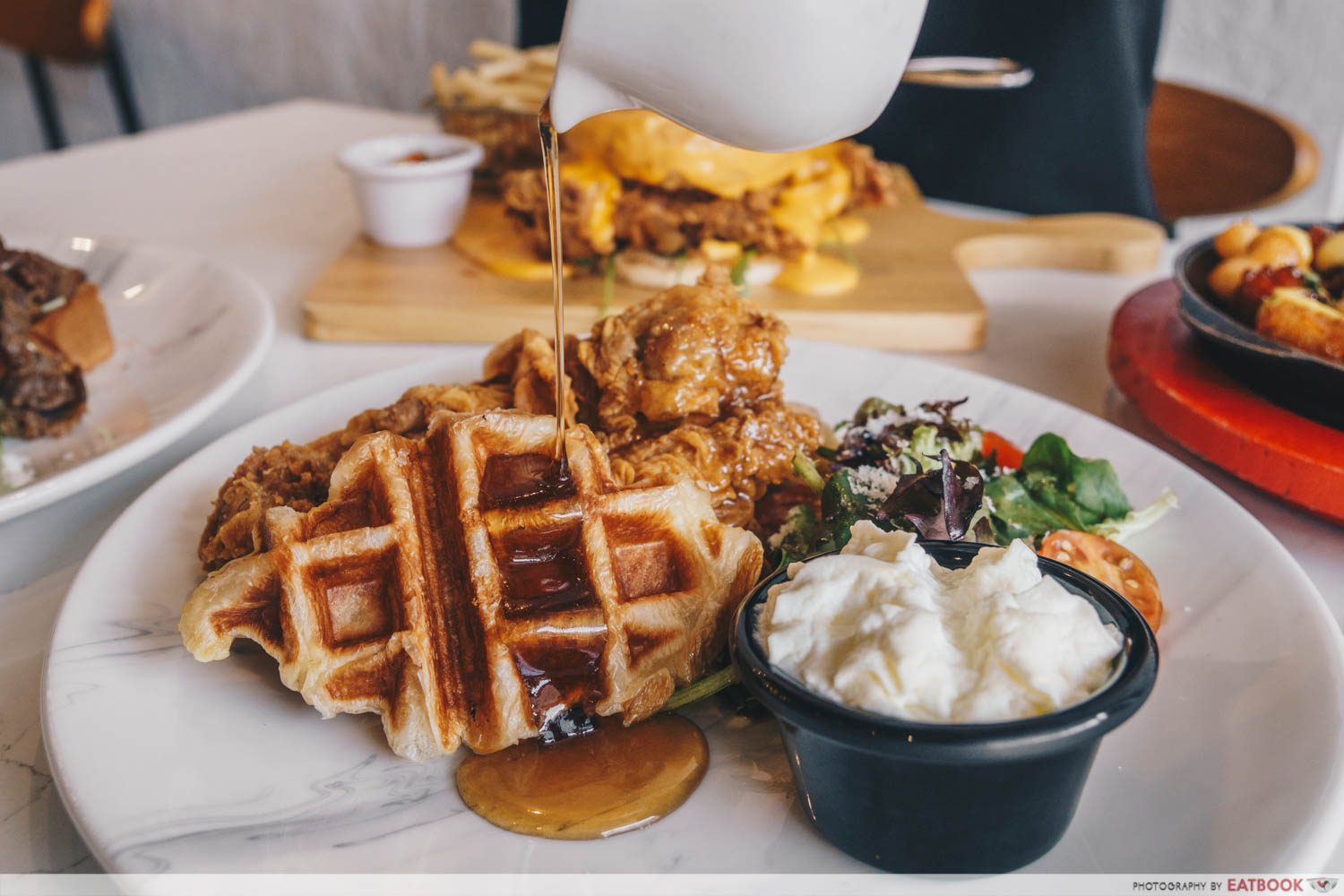 While the whipped cream was adequately sweet, the maple syrup was much sweeter and had to be poured sensibly or you will risk masking all the flavours.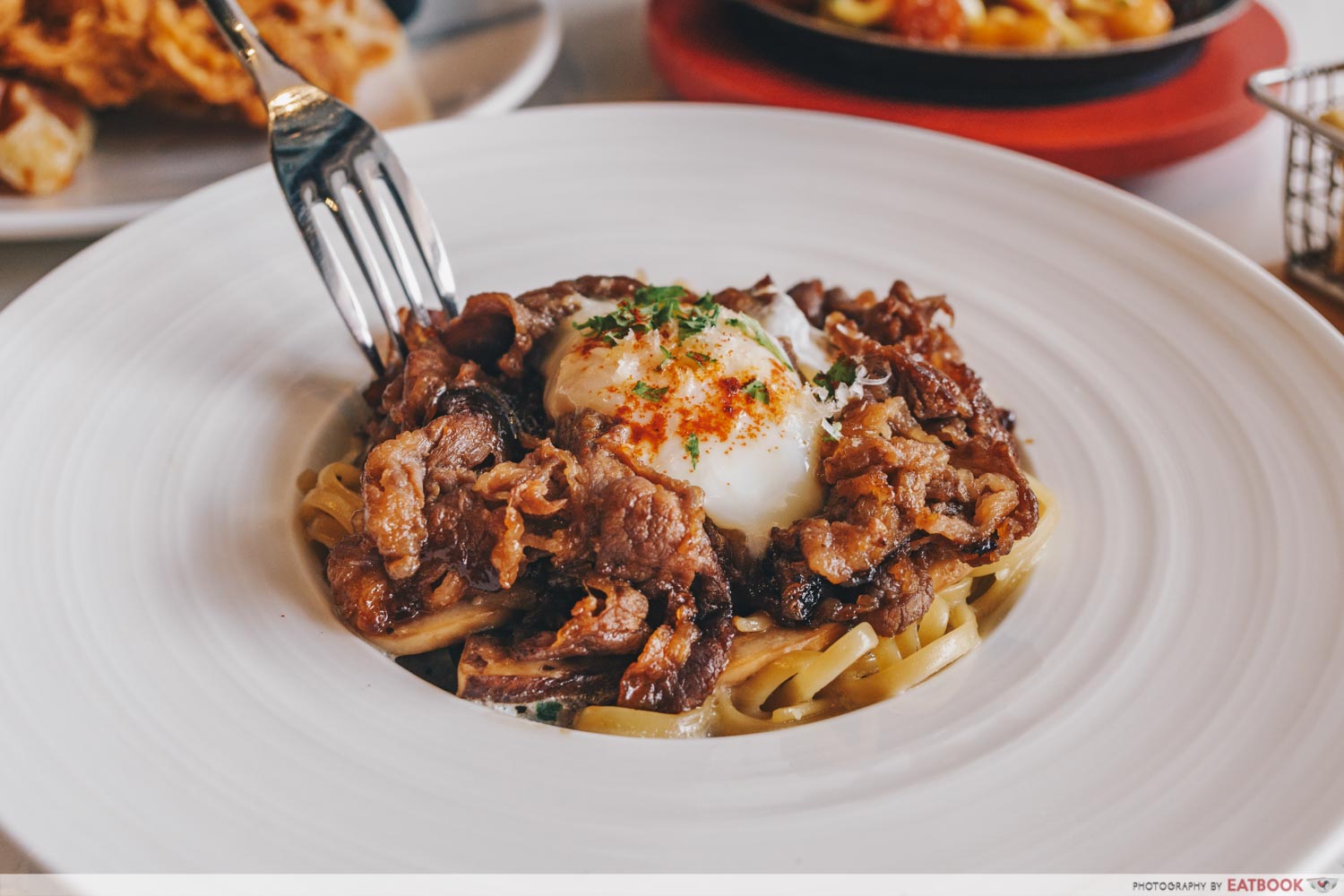 I got their Bulgogi Cream Pasta ($16.00++) from their all-day pasta menu as I was curious how Korean grilled meat will go with a common cafe staple such as cream pasta.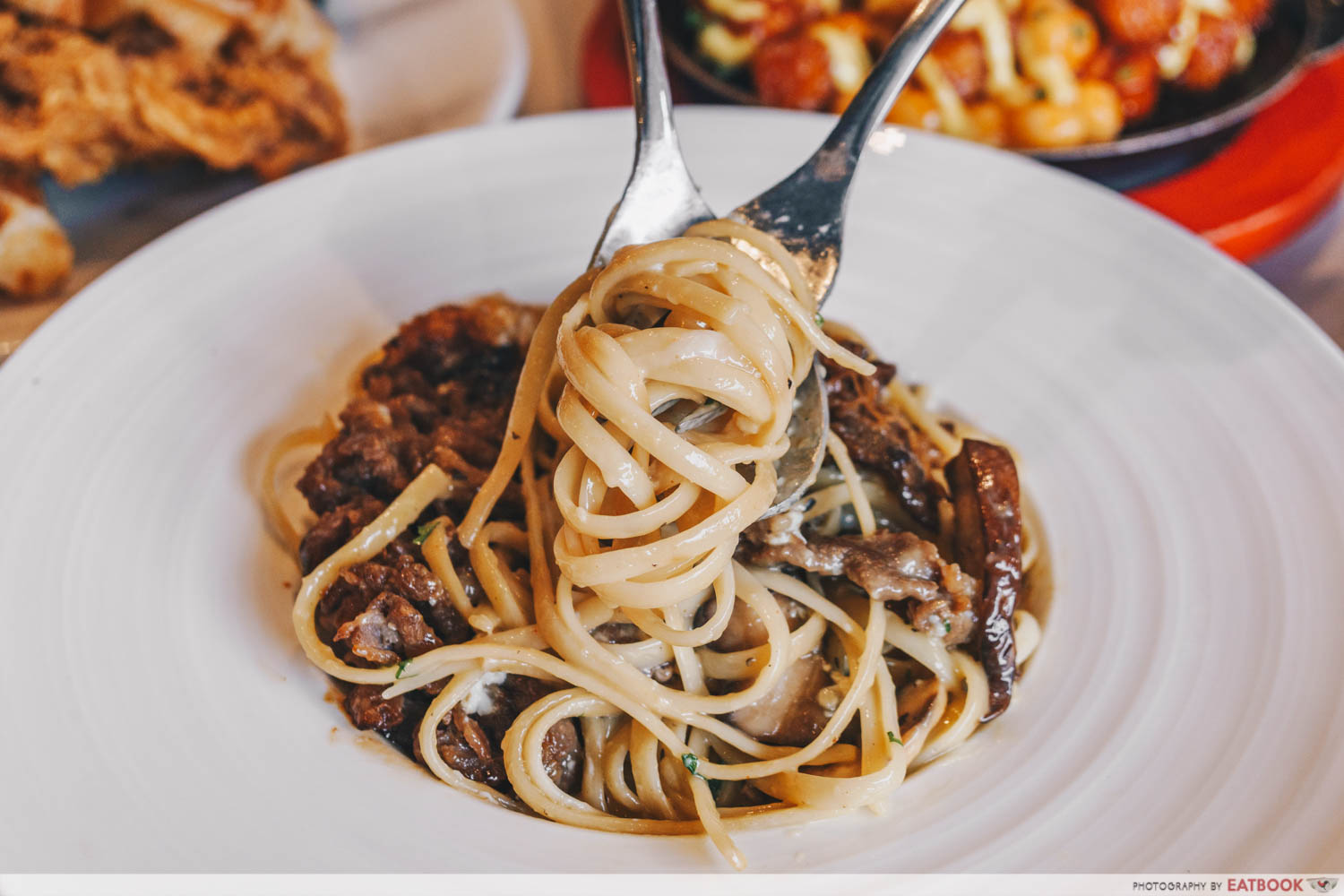 The pasta itself was cooked al dente and had the right amount of cream sauce clinging onto every strand. It did, however, remind me of an off-the-rack cream sauce with its rather one-dimensional flavour.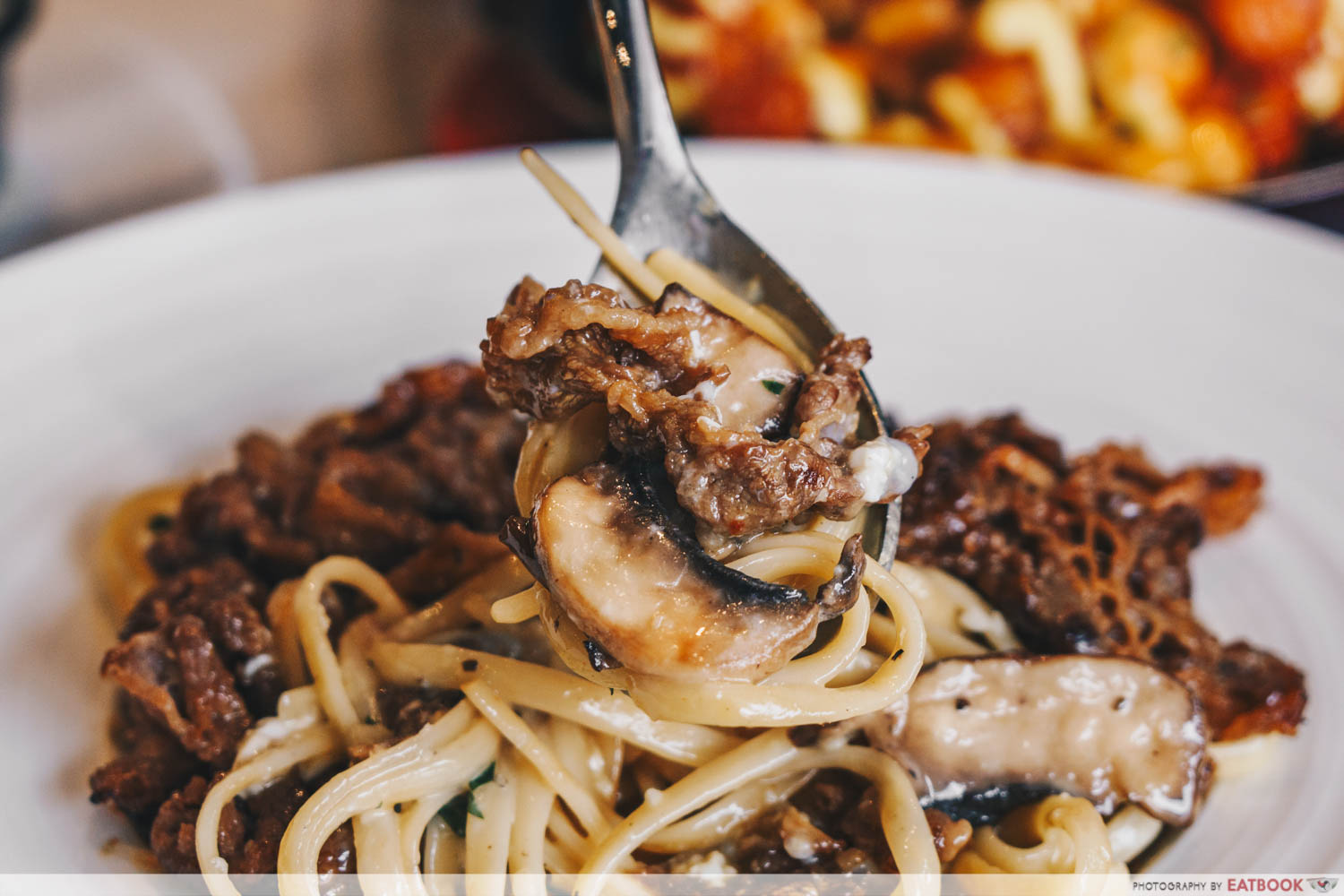 The meat came in loose and long strands that carried a nice chew, but it was similar to the texture of the pasta, and chewing quickly became laborious. Despite being fried on a griddle, the meat itself was a tad too sweet and did not have the smoky flavour I look for in Korean bulgogi.
Overall, the dish was underwhelming as the components felt rather arbitrarily placed together.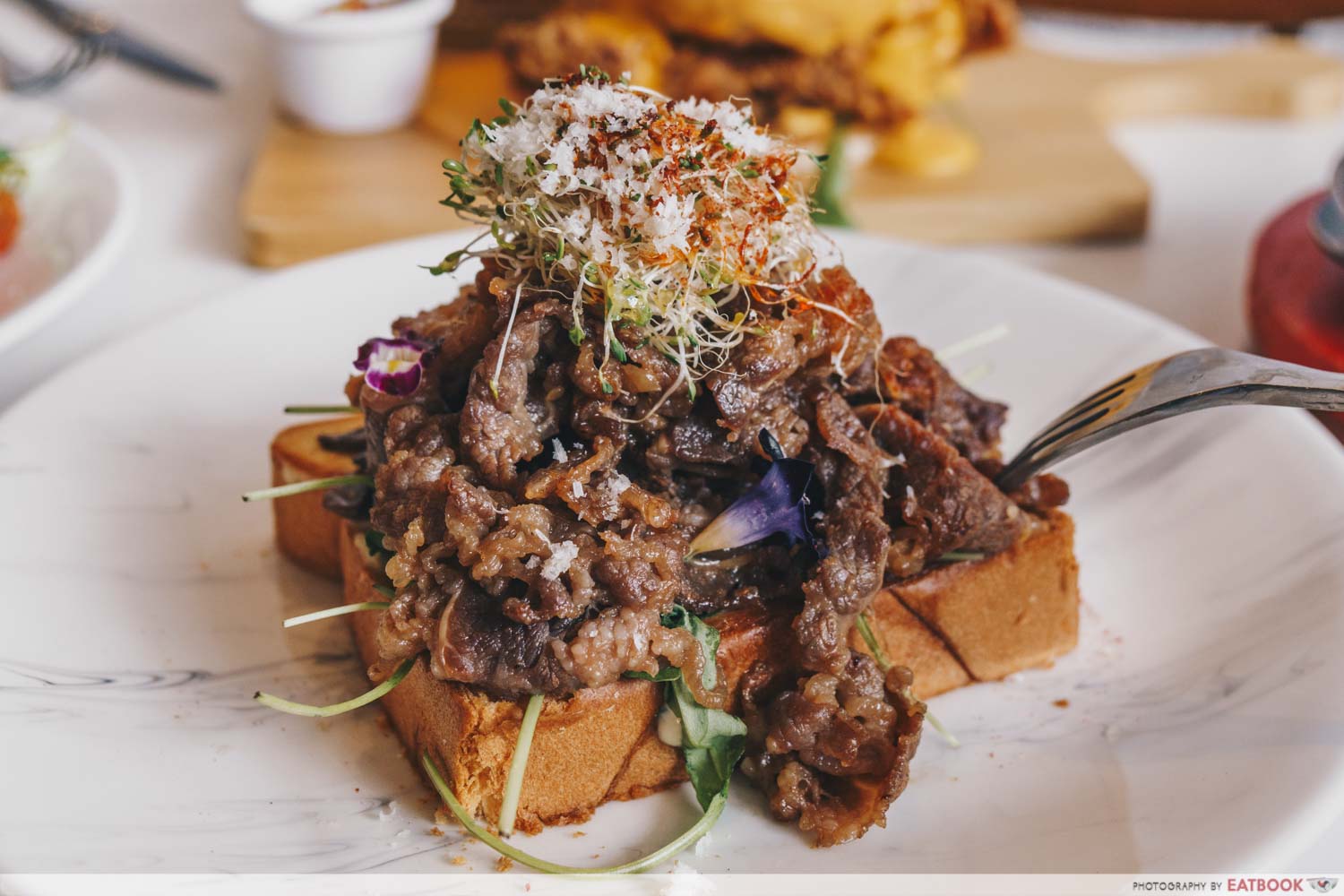 The Bulgogi Beef Tartine ($22++) featured a mountain of sweet bulgogi beef stacked on top of a thick slice of brioche. The flower buds were a clever touch and immediately made the mountain of meat aesthetically pleasing.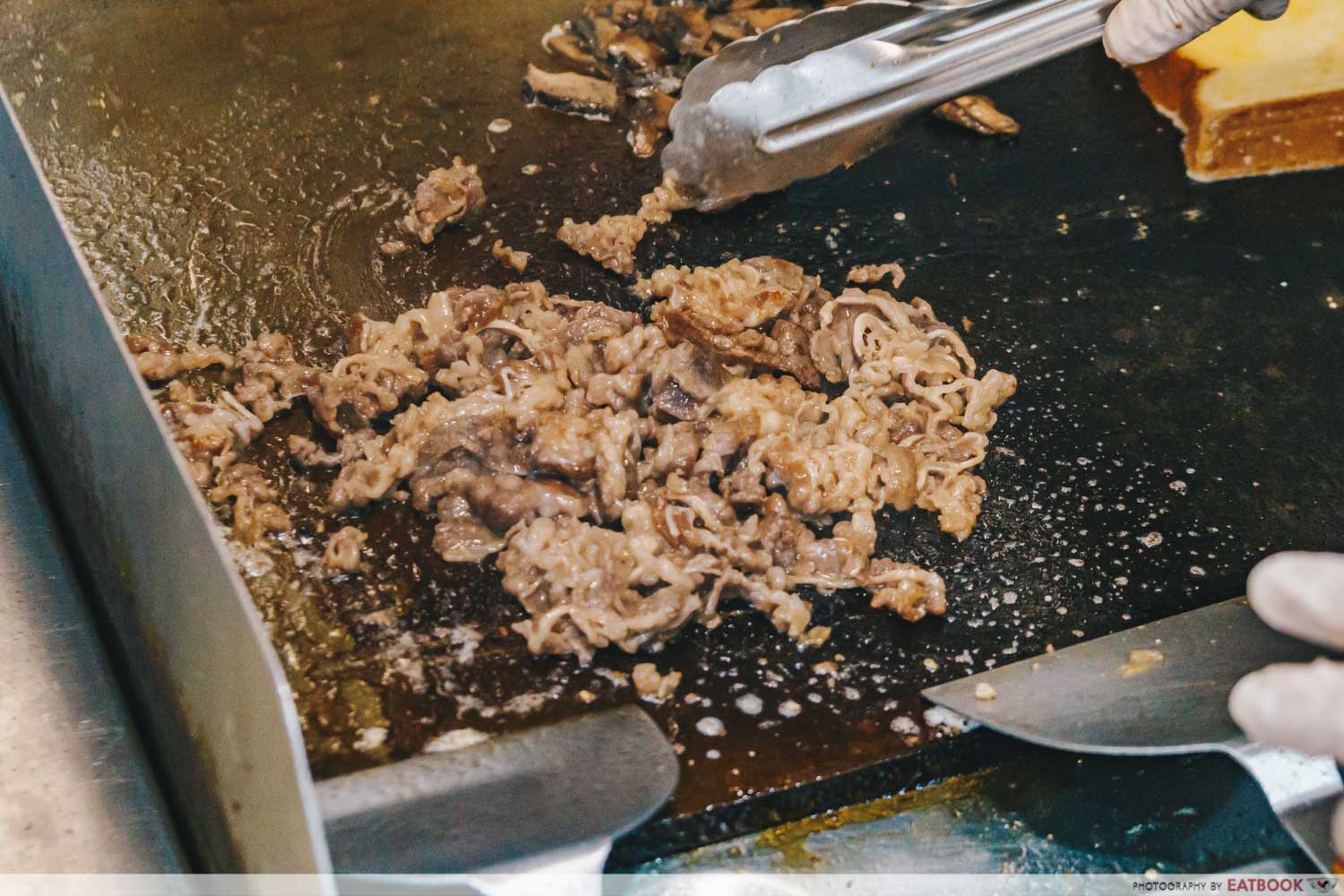 The beef was fried-to-order and while that meant longer waiting times, it did not bother me as my beef arrived piping hot and not overly cooked.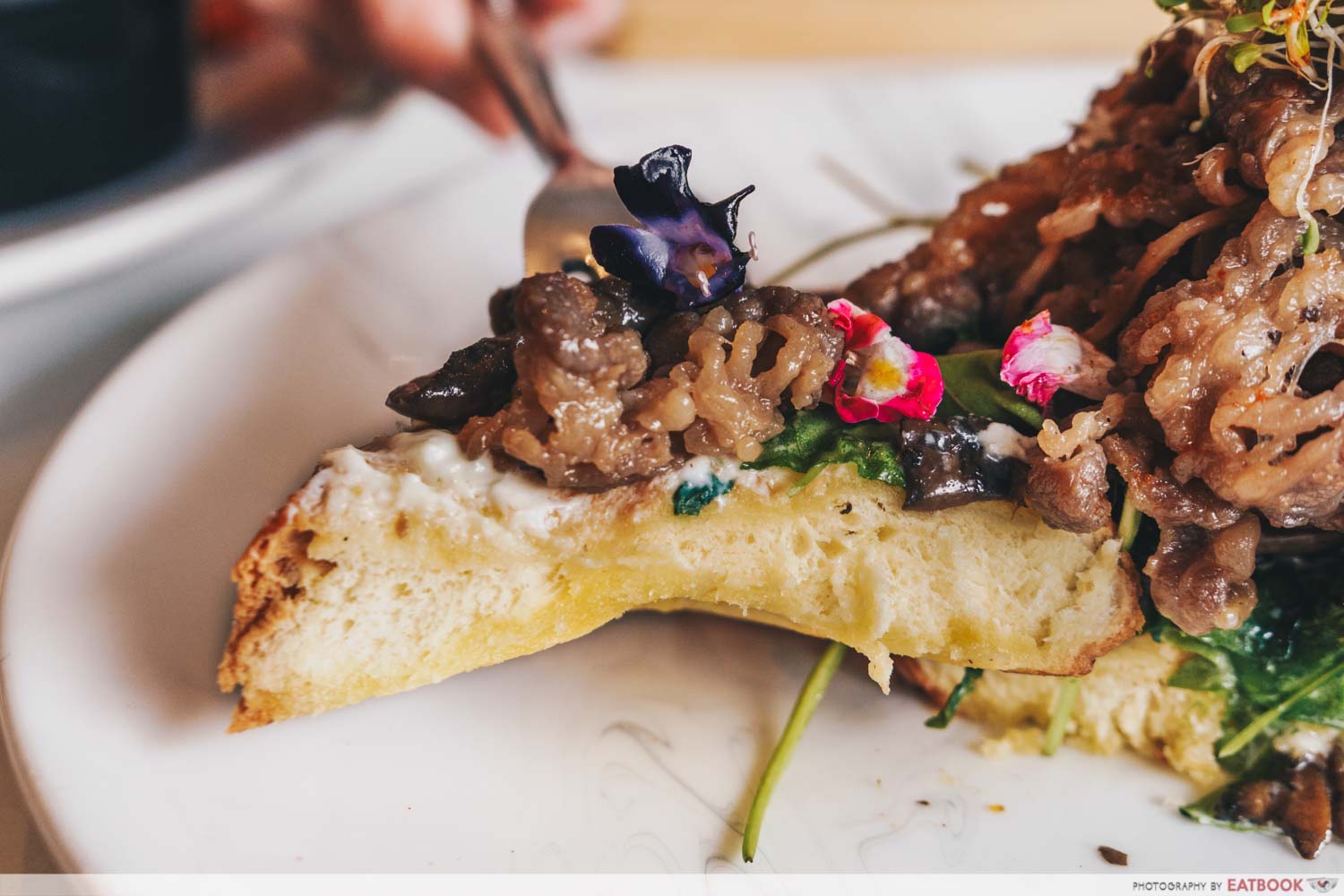 With its higher fat composition, the brioche bread gave strong buttery and milky flavours, which contrasted well with the rather sweet bulgogi beef. However, as you work your way into the dish, you will find that the oil of the beef seeps through into the bread rather quickly, making it soggy.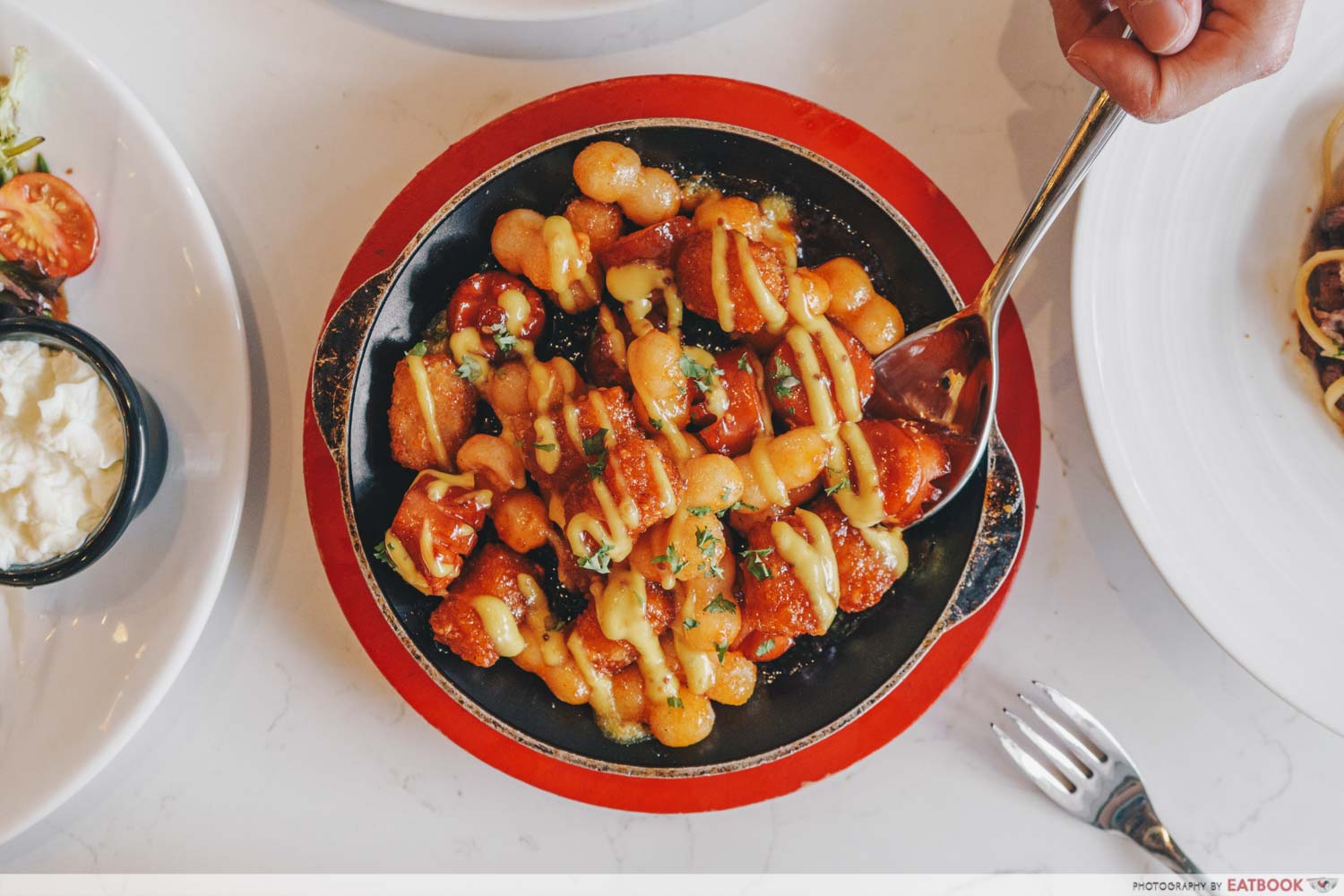 For the dinner menu, there is the So-Tteok Bowl ($14.50++), which is Chir Cafe's unique twist of a popular skewer street snack: so-tteok so-tteok. 'So' for sausage and 'tteok' for rice cake in Korean, the dish is a mix of stir-fried sausage, rice cakes, and tater tots, tossed with sweet and spicy yangnyeom sauce and mustard drizzled over. 
The piping hot chewy bites were sinfully addictive with its oily and savoury flavours that were fortunately balanced out with the sour mustard sauce. I can see how this is the perfect drinking snack that can easily rival the typical French fries and popcorn chicken.
Ambience at Chir Cafe + Bar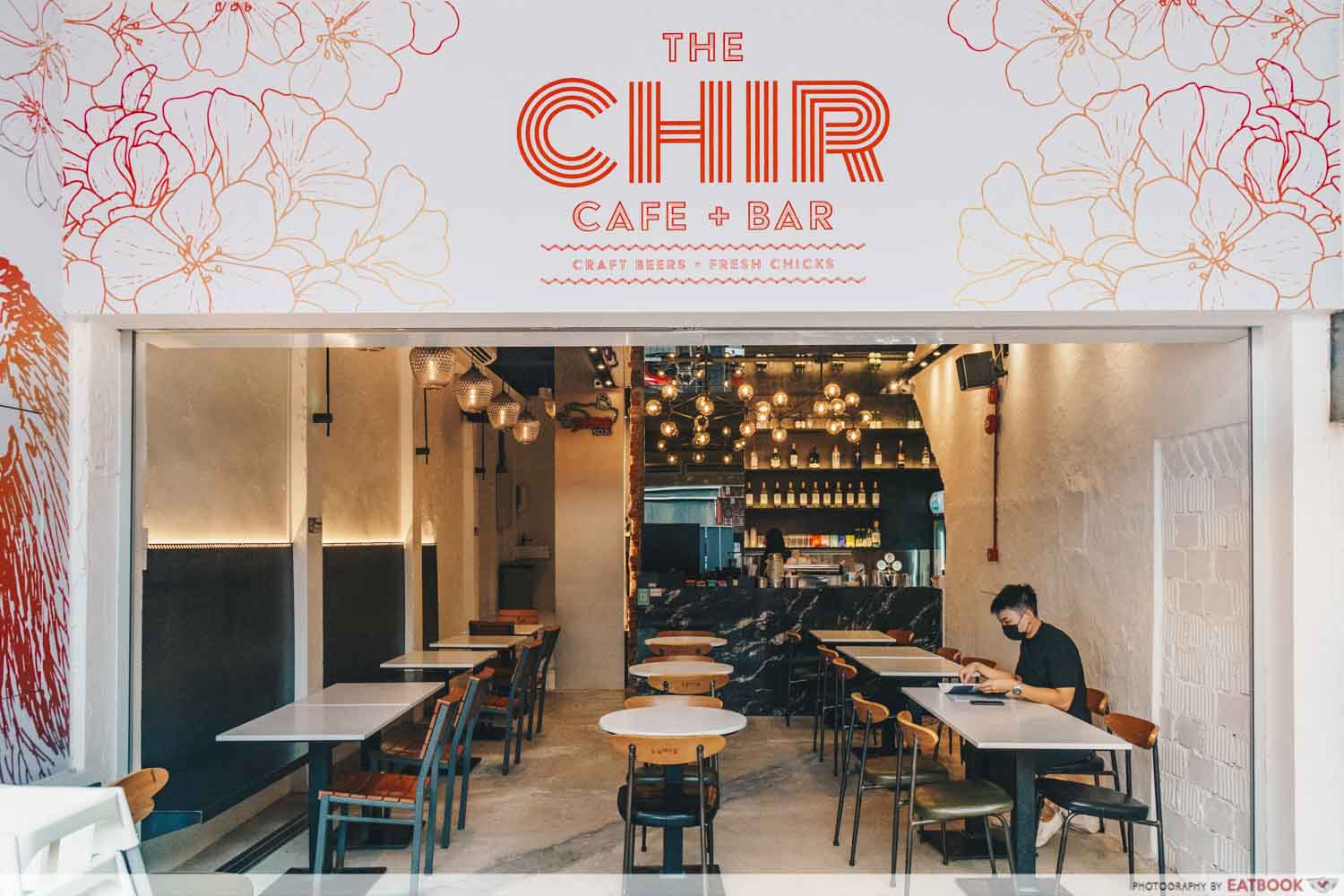 Less than a five-minute walk from Holland Village MRT Station, you will immediately notice the shop once you turn into Lorong Mambong.
The semi-open dining concept makes the small dining area feel much bigger than it seems. It's a quiet and comfortable brunch area in the day but it integrates into the lively atmosphere of the Holland Village drinking crowd at night.
The verdict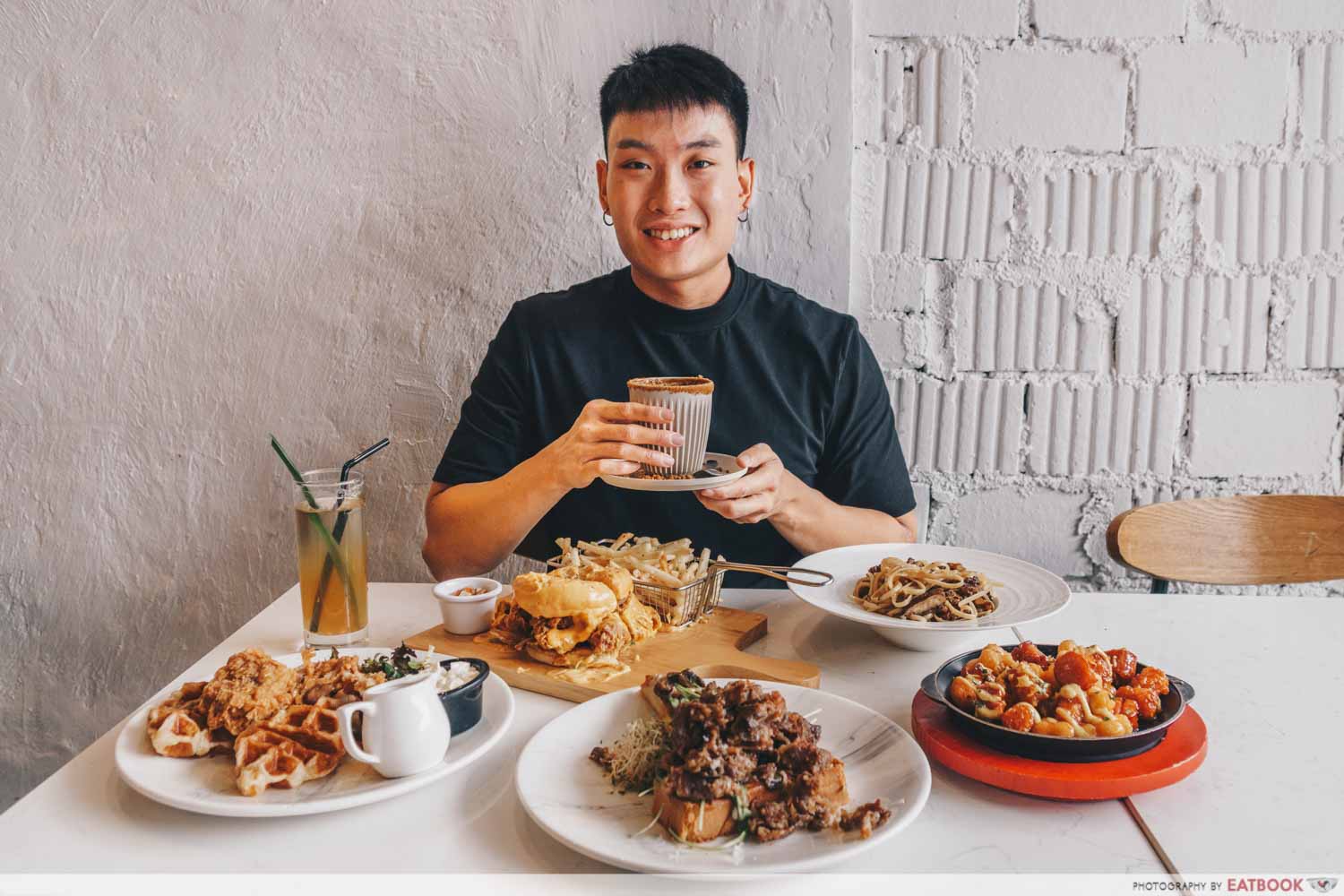 Chir Cafe + Bar nailed the duality concept on the head and really shone with their creativity, while still embracing their Korean fried chicken specialty. The Western culinary trained chef, Daniel Hu, managed to reimagine Korean cuisine and integrated it well into a more modern and trendy menu.
For other new cafes check our review of Juparo Coffee. Otherwise, visit our Holland Village food guide.
Holland Village Food Guide: 16 Places For Duck Ramen, Bagels And More
Address: 26A Lorong Mambong, Singapore 277685
Opening hours: Mon-Fri 11:00am to 10:30pm, Sat-Sun 09:30am to 10:30pm
Tel: 6235 9950
Website
Chir Cafe + Bar is not a halal-certified eatery.
Photos taken by Chew Yi En
This was a media tasting at Chir Cafe + Bar.
Chir Cafe + Bar Review: New IG-Worthy Korean Cafe With Cheese-Drenched Burger, Croffles And More
Chir Cafe + Bar Review: New IG-Worthy Korean Cafe With Cheese-Drenched Burger, Croffles And More -

8/10
Summary
Pros
– Innovative dishes
– Nice ambience
Cons
– Can be pricey
Recommended dishes: Fondue Chicken Burger ($15.50++), So-Tteok Bowl ($14.50++), Chir Chicken Croffle ($17.50++)
Opening hours: Mon-Fri 11:00am to 10:30pm, Sat-Sun 09:30am to 10:30pm
Address: 26A Lorong Mambong, Singapore 277685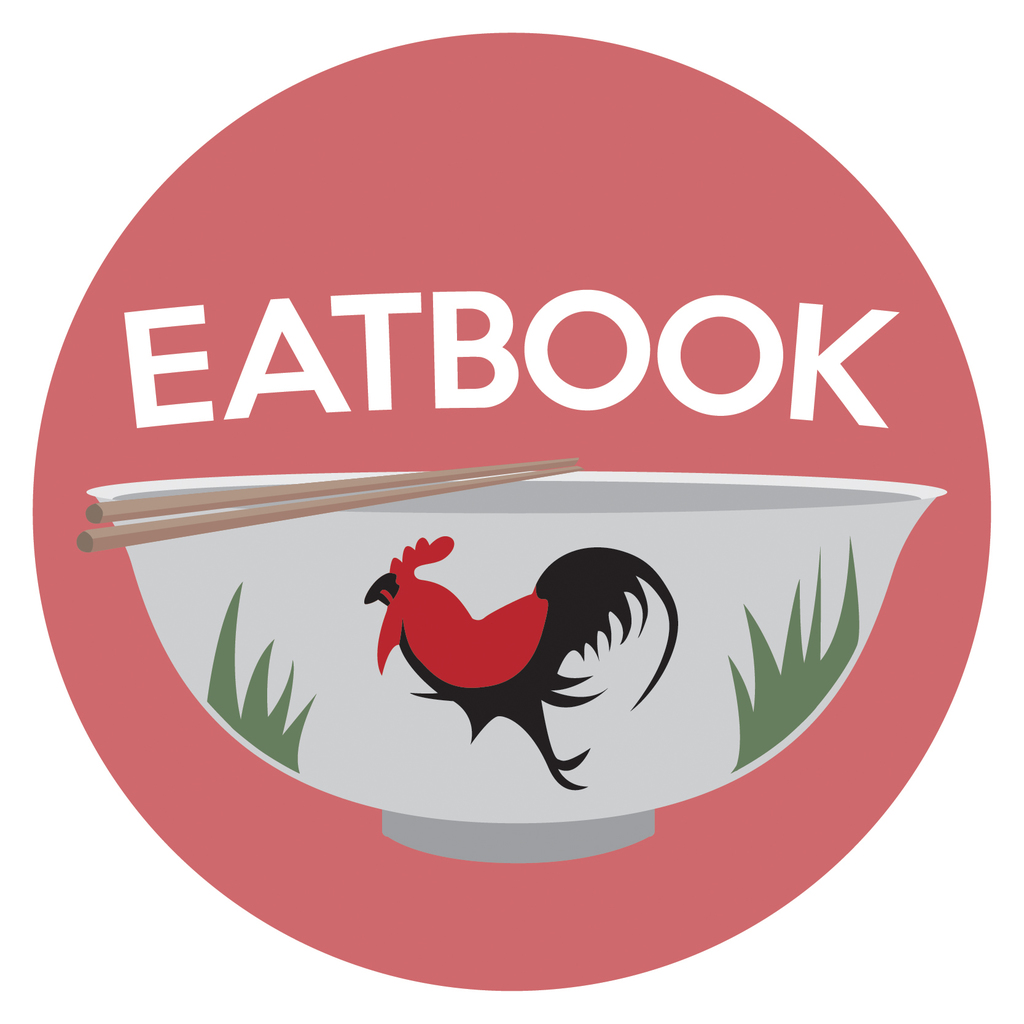 Drop us your email so you won't miss the latest news.