---
Best Holland Village food
---
With its numerous restaurants and bars lining the street, Holland Village is a place you'll never go hungry at. This vibrant enclave is brimming with food choices from all around the world, and you'll be spoilt for choice! For a fun night out with the boys or a nice romantic evening with your plus one, these Holland Village food spots have got your back. 
---
1. 88 Pocha
---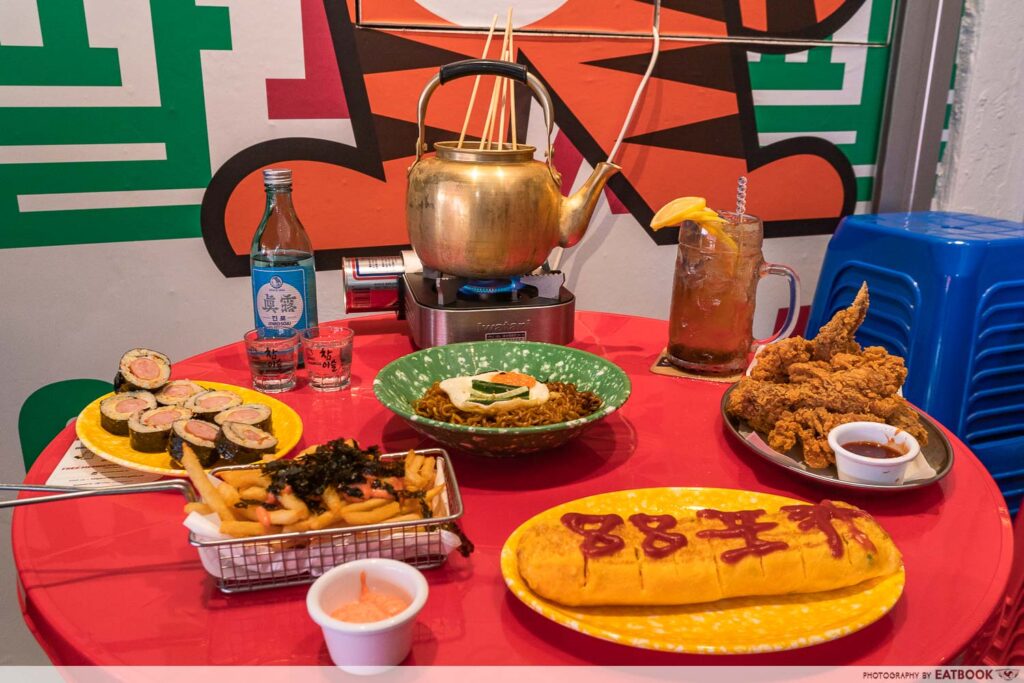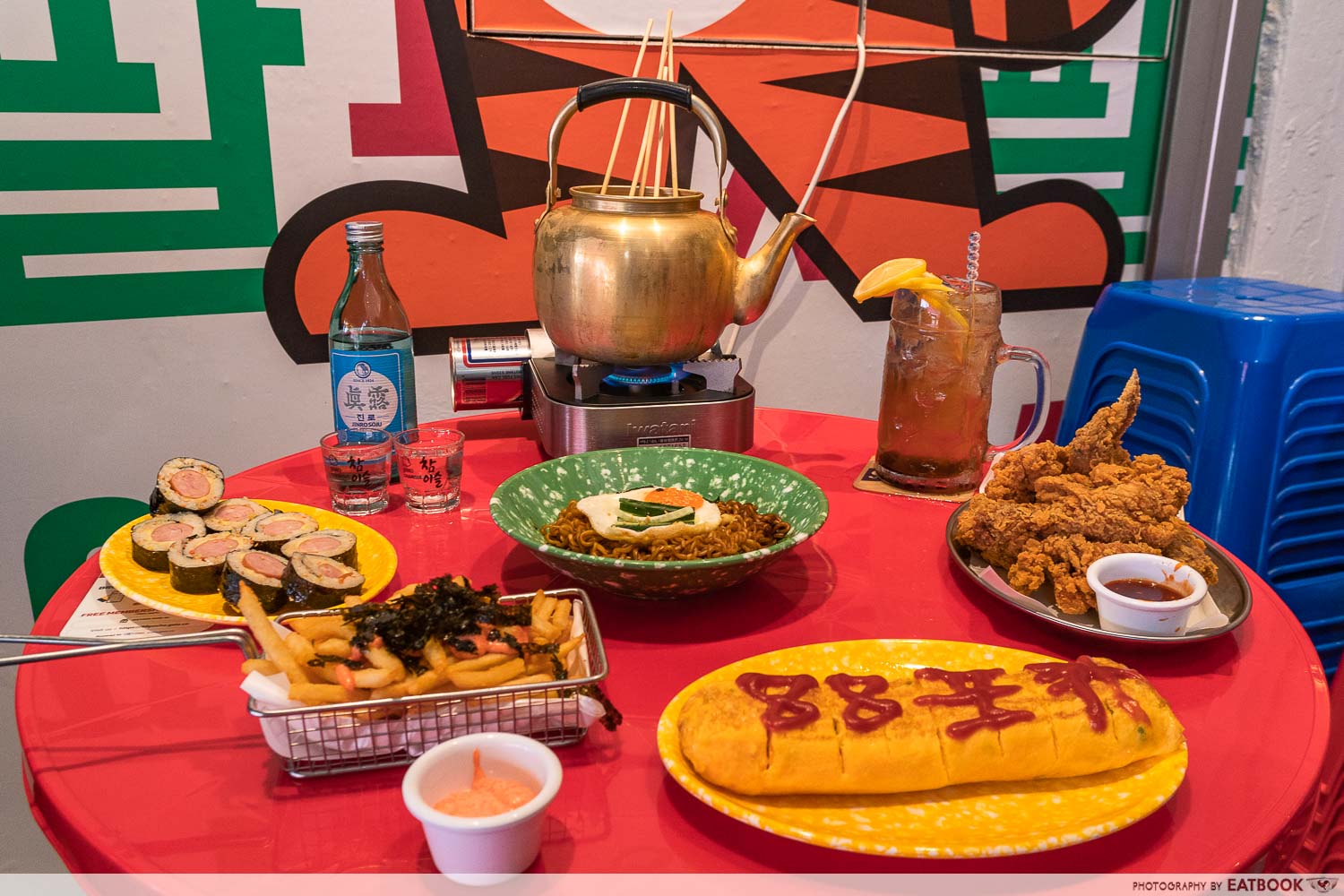 Good news: you can now get classic Korean street food in Holland Village at 88 Pocha! The new eatery takes inspiration from streetside stalls that often make an appearance in Korean dramas, with its red and blue plastic chairs and tables that'll remind you of dining at a legit pojangmacha in Korea.
Tuck into the likes of Fried Chicken (Half) ($15.88), served with a slightly spicy tomato sauce, perfect for cheat day. There's also a zhnged-up version of jjajangmyeon in the form of the Truffle Jjajang Ramyeon ($11.88), featuring springy ramyeon tossed in truffle oil and black bean sauce.
Read our full 88 Pocha review!
Address: 26A Lorong Mambong, Singapore 277685
Opening hours: Mon-Fri 11:30am to 3pm, 5:30pm to 12am, Sat-Sun 11:30am to 12am
Tel: 6235 9950
Website
88 Pocha is not a halal-certified eatery.
88 Pocha Review: Pojangmacha-style Eatery With Korean Fried Chicken And Truffle Jjajangmyeon
---
2. Tai Cheong Bakery
---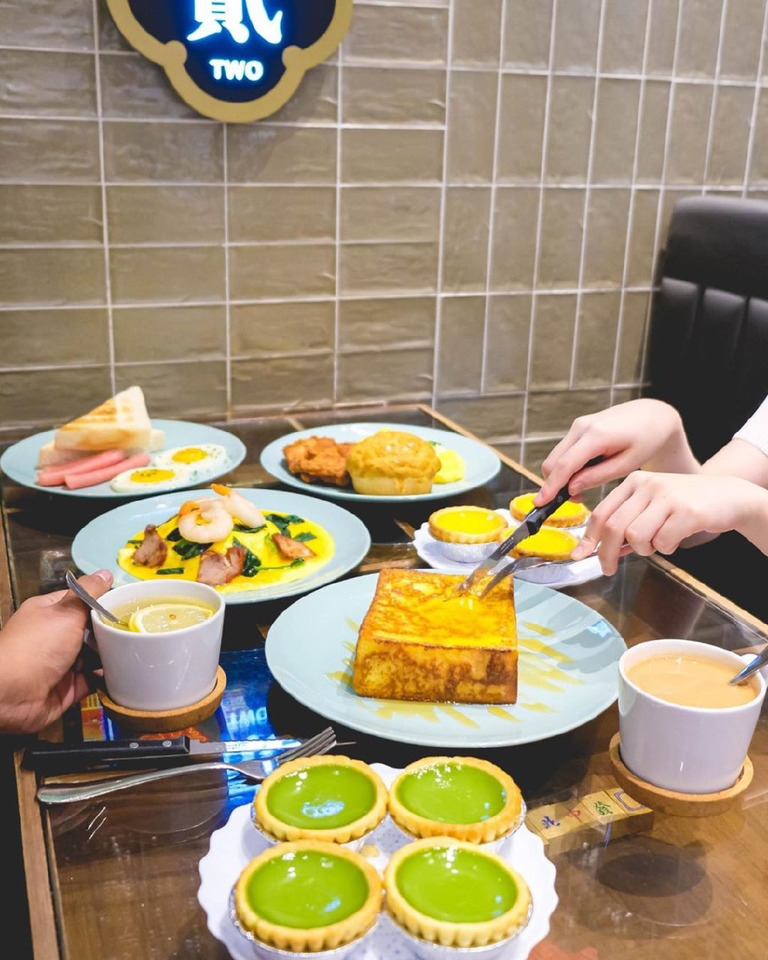 Image credit: @taicheongsg
Tai Cheong Bakery is a household name in Hong Kong, and the brand has won over many Singaporeans since its arrival in Singapore a few years ago. Fans of traditional Hong Kong cuisine would love their Cha Chaan Teng concept. Their Egg Tart ($2.20+) features smooth and creamy egg custard that's surrounded by a crisp, buttery pastry, while their fragrant Pandan Tart ($2.20+) is equally popular, too.
Suitable for rainy days, their comforting Three Eggs Macaroni Soup with Luncheon Meat ($9.90+) consists of springy macaroni, a sunny side up egg, and strips of savoury luncheon meat, all simmered in a savoury tomato broth.
Address: 31 Lorong Liput, Singapore 277742
Opening hours: Sun-Thurs 10am to 8pm, Fri-Sat 10am to 9pm
Tel: 9828 1954
Website
Tai Cheong Bakery is not a halal-certified eatery.
15 Best Egg Tarts In Singapore, Including Famous Hong Kong And Heritage Brands
---
3. Want Food Taiwanese Delights
---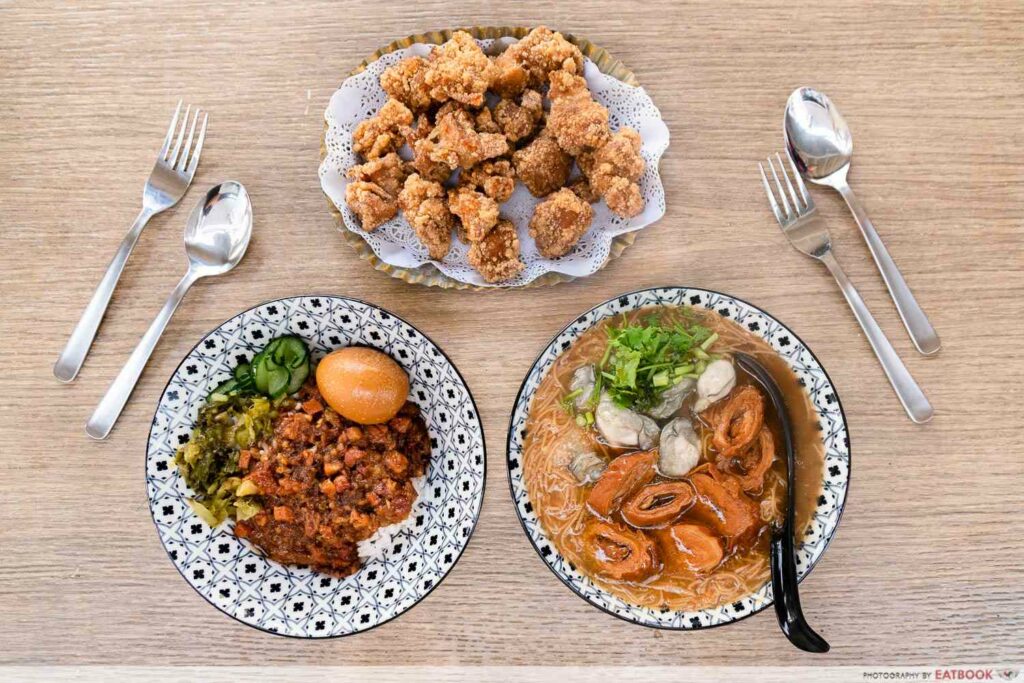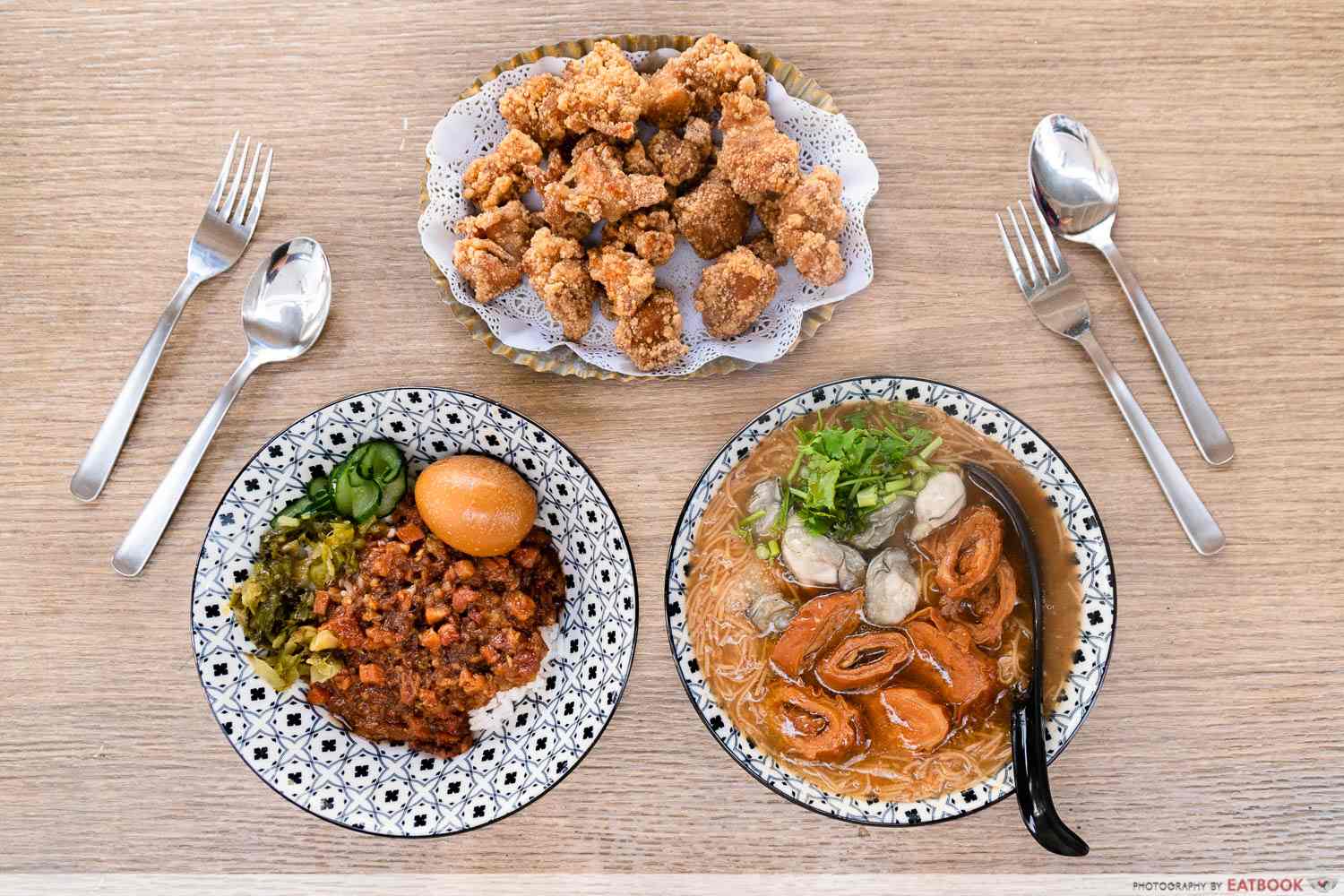 Popular Taiwanese eatery Want Food Taiwanese Delights recently opened shop at Lorong Liput to much fanfare. Their signature Oyster Intestine Mee Sua (from $6.90) is a must-try; this dish comes loaded with vermicelli noodles soaked in a bonito-infused stock, topped with plump oysters and intestine pieces. They also have an all-new Taiwanese Rice Ball ($6)—glutinous rice with a fragrant braised meat filling—and Crispy Cheese & Pork Floss Egg Pancake ($6) AKA dan bing. Don't forget to order a side of Salty Crispy Chicken ($8.90) to munch on!
Find out more about Want Food Taiwanese Delights at Holland Village.
Address: 25 Lorong Liput, #01, Singapore 277735
Opening hours: Wed-Mon 10am to 3:30pm, 5pm to 9pm
Tel: 9396 9800
Website
Want Food Taiwanese Delights is not a halal-certified eatery
---
4. Umi Nami
---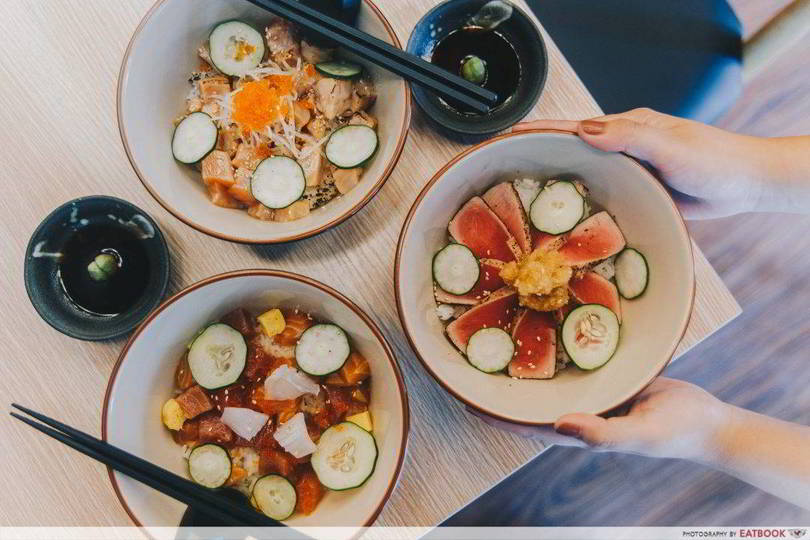 Umi Nami is a Japanese restaurant specialising in affordable donburi. Out of the 10 rice bowls they offer, one that is worth trying would be the Aburi Salmon Don ($14). It consists of a bed of Japanese white rice blanketed by torched salmon cubes with charred corners, sliced cucumbers, shredded radish, and a spoonful of tobiko. The aromatic salmon cubes complement the vinegared rice, and melt in your mouth with every bite you take. The best part is prices are nett, and water is free!
Check out our full review of Umi Nami!
Address: 8 Lorong Mambong, Singapore 277674
Opening hours: Sun-Thurs 11am to 11pm, Fri-Sat 11am to 12pm
Website
Umi Nami is not a halal-certified eatery.
---
5. Cha Cha Cha
---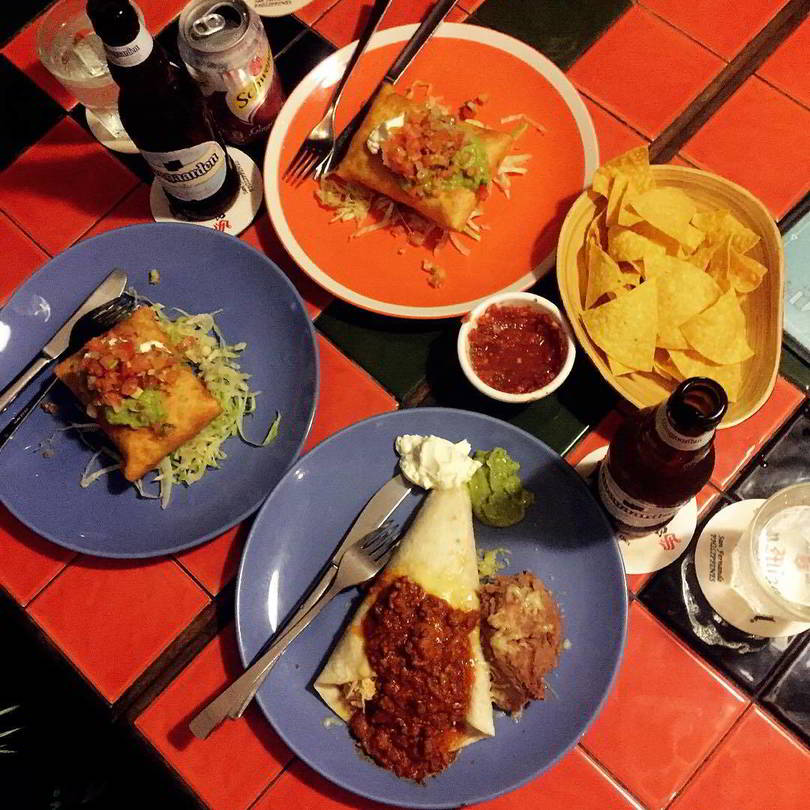 Image credit: @chinatsucandy
Cha Cha Cha is a Mexican restaurant and bar that serves up a tantalising spread of dishes such as tacos and burritos. Their Chimichanga (from $16++), a deep-fried tortilla with cheese, sour cream, guacamole, and salsa Mexicana, is popular among regular customers. Great to go along with their Tortillas Con Salsa ($5++) is the collection of alcohol they offer such as frozen margaritas and beer.
Address: 32 Lorong Mambong, Singapore 277690
Opening hours: Daily 11:30am to 11pm
Tel: 6462 1650
Website
Cha Cha Cha is not a halal-certified eatery.
---
6. Black Marble
---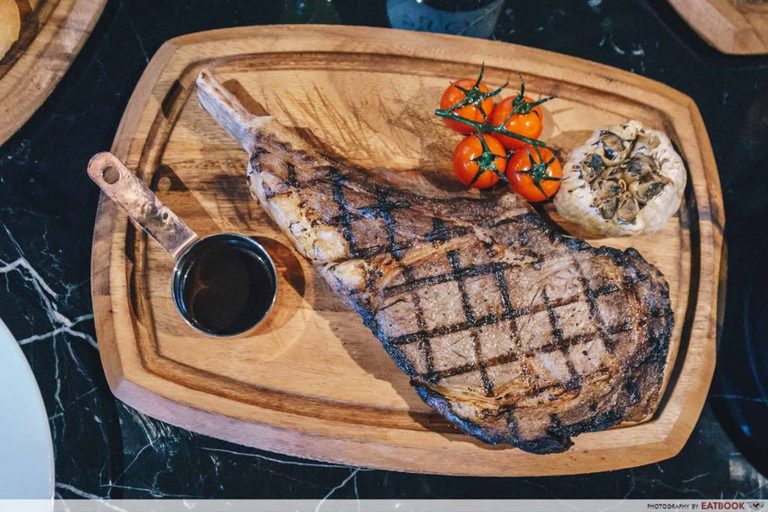 Started by celebrity chef Otto Weibel, Black Marble is a spiffy steakhouse at Raffles Holland Village Mall. While prices are steep, the quality and taste of the dishes make it worthwhile. Meat eaters will enjoy the 45 Days Dry-aged Angus Bone-in Ribeye ($150++ for 600gm) and Grain-fed Lamb Rack ($43++ for 350gm) that are full of robust flavours. Although this place focuses on grill and meat, their Lobster & Scallop Saffron Risotto ($42++) is a noteworthy dish as well, with its medley of seafood including Boston lobster tail and octopus.
Address: 118 Holland Avenue, #02-01, Raffles Holland Village, Singapore 278997
Opening hours: Daily 11am to 10pm
Tel: 9641 6913
Website
Black Marble is not a halal-certified eatery.
---
7. Wala Wala Cafe
---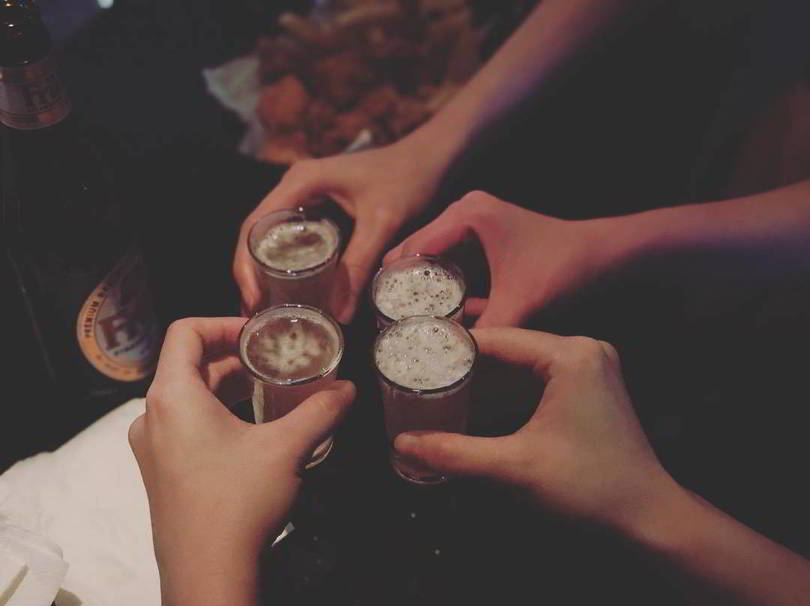 Image credit: @sheeryyy
Wala Wala Cafe is a two-storey pub that serves a wide range of alcohol to go along with various mains and sides. One popular choice would be the Wala Wala Chicken Wings ($14++), which is often seen on customers' tables. Customers would also get to enjoy live music from talented musicians while chilling with their drinking buddies.
Address: 31 Lorong Mambong, Singapore 277689
Opening hours: Sun-Fri 3:30pm to 1am, Sat 3:30pm to 2am
Tel: 6462 4288
Website
Wala Wala Cafe is not a halal-certified eatery.
---
8. La Nonna
---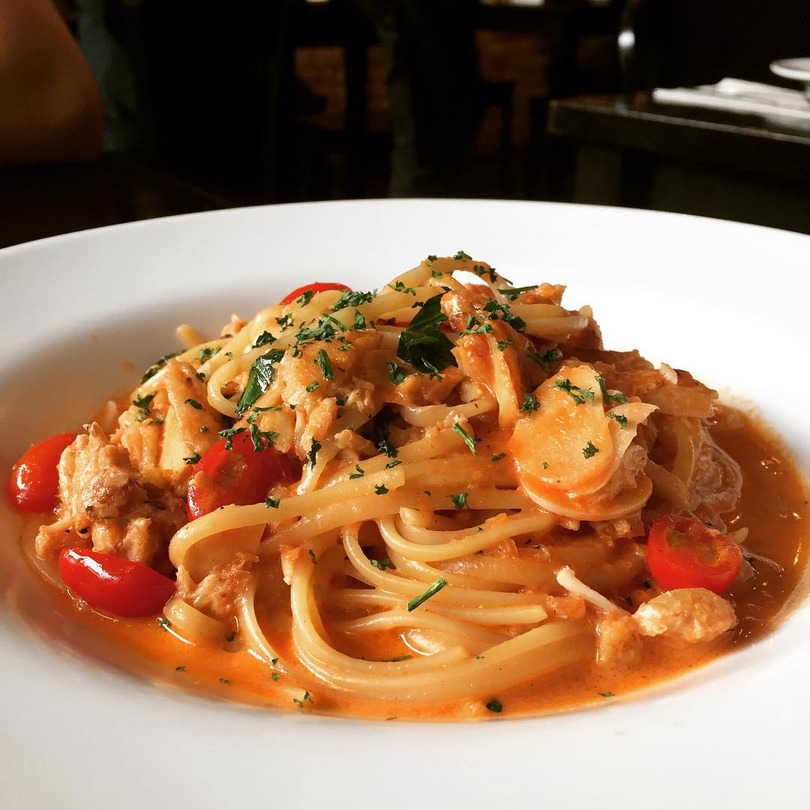 Image credit: @with.rachelle
Opened in 2006, La Nonna is an experienced contender in Singapore's Italian food scene. Those who love shellfish can try their Ravioli Della Nonna ($28++): lobster ravioli with arrabiata sauce and fresh herbs. Otherwise, their Parpadelle Coda Di Bue ($28++) is another favourite; this dish features housemade parpadelle pasta tossed in oxtail ragout. La Nonna also offers a wide range of pizzas, fresh from their wood-fired oven.
Address: 26/26B Lorong Mambong, Singapore 277685
Opening hours: Mon-Fri 11:30am to 2:30pm, 5:30pm to 10pm, Sat-Sun 11:30am to 10pm
Website
La Nonna is not a halal-certified eatery.
---
9. Thai Baang
---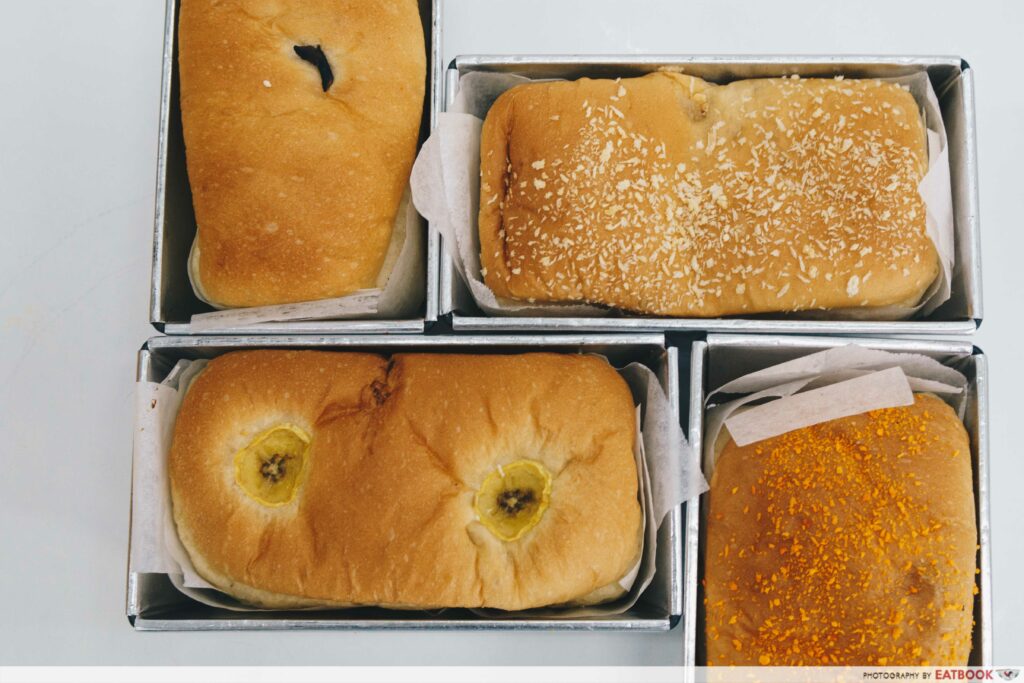 Bread lovers can get their carby fix at popular bakery Thai Baang's Holland Village outlet, a short walk from Holland Village MRT Station. Fan favourites include their Banana Chocolate Bread ($7.80), as well as soft and trendy tin breads. For the latter, you can expect trendy flavours including Tomyum Chicken ($2.40), Melon Butter Buns ($3.50), and Mochi Peanut Butter Filling ($3.50), which pairs a fragrant molten peanut butter with stretchy mochi.
Address: 43 Holland Drive, #01-41, Singapore 270043
Opening hours: Daily 8:30am to 8pm
Tel: 9722 1213
Website
Thai Baang is not a halal-certified eatery.
Thai Baang Is Opening A New Outlet In Paya Lebar, Has Fluffy Thai-Style Bakes, Mochi Bread And More
---
10. Keong Saik Bakery
---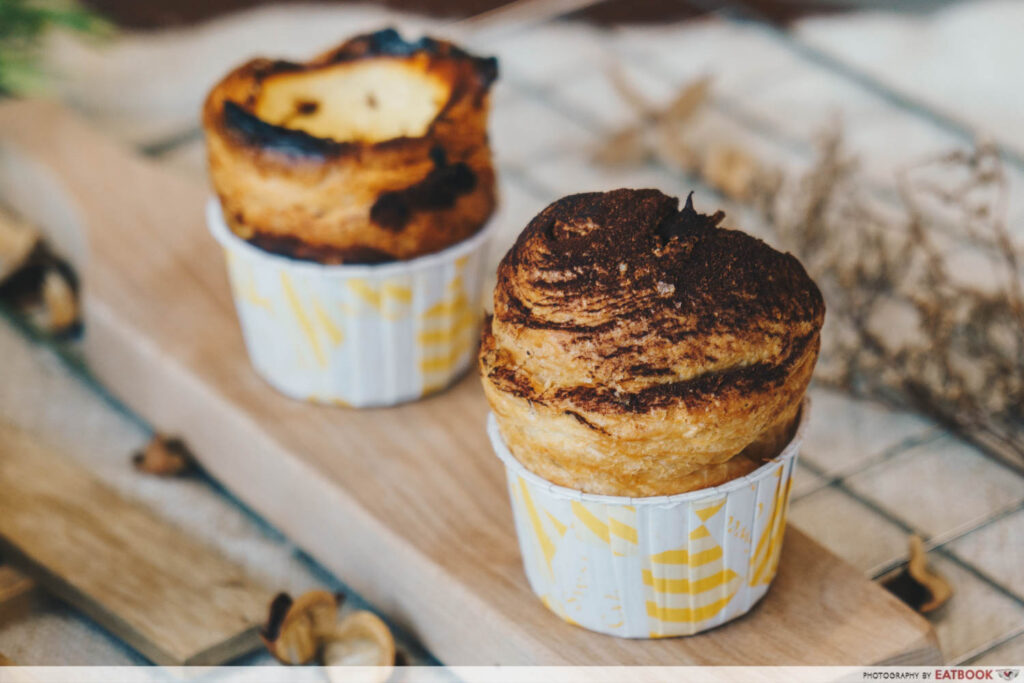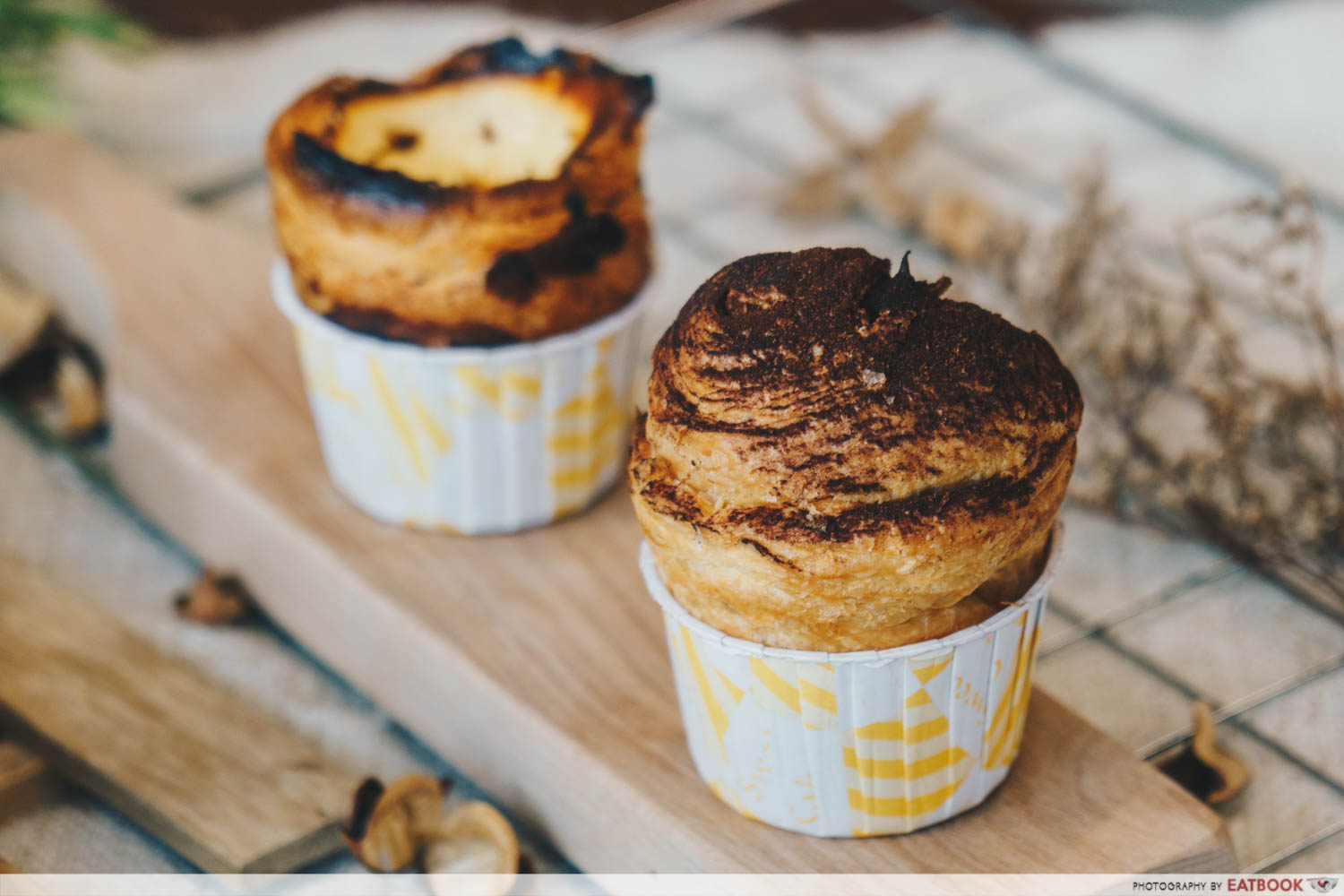 Another must-try bakery in the area is Keong Saik Bakery, which opened in the quiet Chip Bee Gardens estate last year. The newish cafe has a dine-in space, on top of new and outlet-exclusive bakes, including the Miso Kouign-Amann ($4.70): an umami-packed pastry that's buttery and savoury. They've also got cakes, cruffins, croissant cubes, and loaded sandwiches for those who want a filling meal.
Address: 44 Jalan Merah Saga, #01-42, Singapore 278116
Opening hours: Mon 8am to 7pm, Tue-Fri 8am to 8pm, Sat-Sun 8am to 6pm
Website
Keong Saik Bakery is not a halal-certified eatery.
Keong Saik Bakery Opens At Holland Village, With New Miso Kouign-Amann And More
---
11. Le Bon Funk
---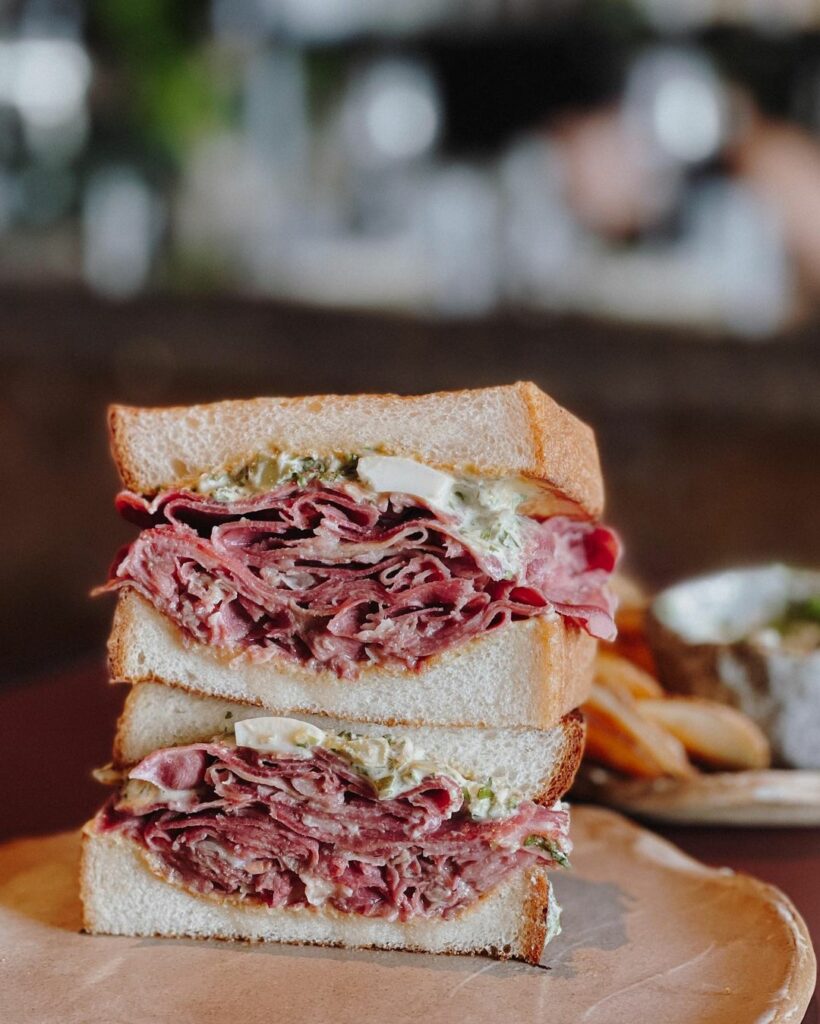 Image credit: @munchrkive
For special occasions and celebrations, head to Le Bon Funk, a popular wine bar that's taken over the space of the now-defunct Fosters Steakhouse. The fancy restaurant, which first opened along Club Street, is known for their Beef Tongue And Gribiche Sandwich ($28++), which features meltingly tender beef slices paired with gribiche: zhnged-up egg mayo flavoured with herbs. The menu changes daily depending on the ingredients that are available. There's also an impressive wine list for you to pair your food with.
Address: 277 Holland Avenue, Singapore 278994
Opening hours: Wed-Fri 5pm to 10pm, Sat-Sun 12pm to 10pm (kitchen is closed from 3:30pm to 5pm)
Tel: 9833 9867
Website
Le Bon Funk is not a halal-certified eatery
---
12. Lola's Cafe
---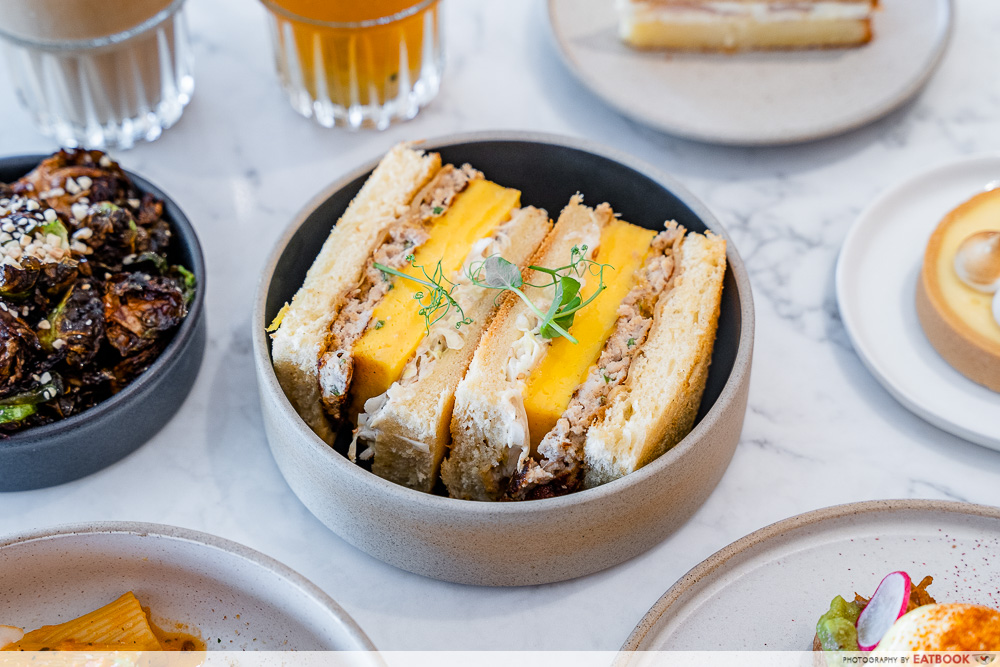 Lola's Cafe is a cult favourite among cafe hoppers, but their Kovan location is rather out of the way for some of us. Good news: the famous cafe recently opened their second branch in the heart of Holland Village with classic brunch staples and outlet-exclusive items! There's the IG-worthy Tsukune Sando ($17++): two broiche slices with Japanese chicken patty, tamagoyaki, pickled daikon, slaw, cheddar and furikake mayo. Another noteworthy dish is the Spicy Crab Rigatoni ($20++), a rich and creamy pasta dish with blue swimmer crab.
Address: 48 Lorong Mambong, Singapore 277699
Opening hours: Tue-Fri 10am to 9:30pm, Sat-Sun 9am to 9:30pm
Website
Lola's Cafe is not a halal-certified eatery.
---
13. Original Sin
---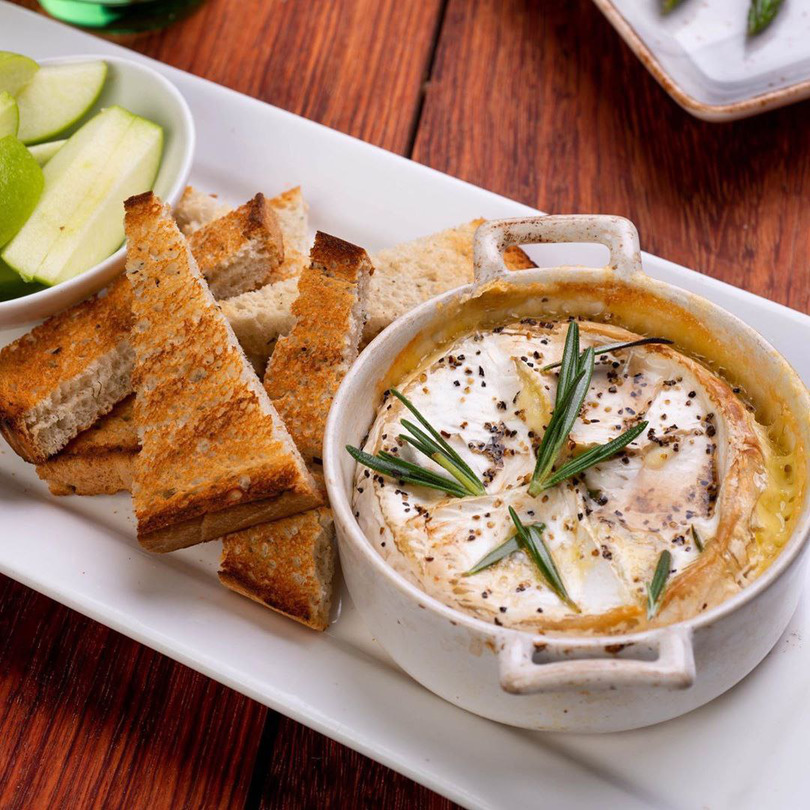 Image credit: @originalsinrestaurant
Original Sin is known as Singapore's first Mediterranean vegetarian restaurant, and they serve wholesome plant-based foods in an intimate setting. Their King Oyster Mushroom ($28++) consists of a beautifully grilled king oyster mushroom which is marinated in a tasty sauce. It's accompanied by a refreshing mix of asparagus, artichoke, roasted potatoes and tomatoes. For an extra romantic touch, diners have the option to dine al fresco under the beautiful night stars.
Address: 43 Jalan Merah Saga, #01-62, Singapore 278115
Opening hours: Daily 12pm to 2:30pm, 6pm to 10:30pm
Tel: 6475 5605
Website
Original Sin is not a halal-certified eatery, but uses no pork or lard.
---
14. Mian Jia Noodle Bar
---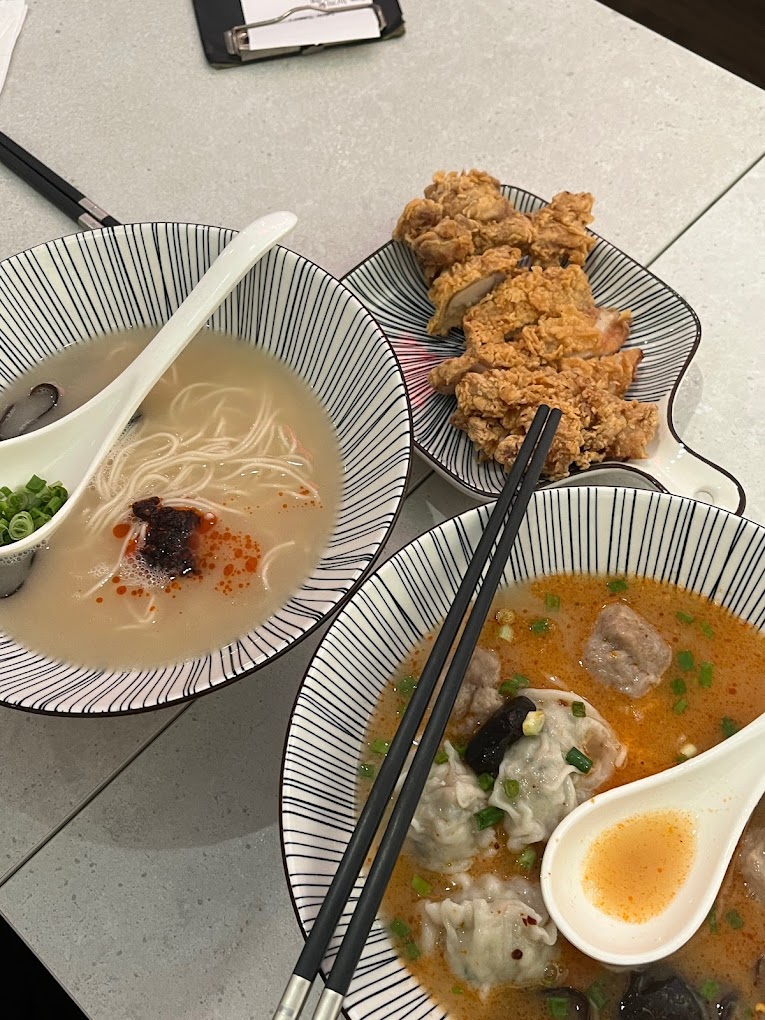 Image credit: Karen Ho
Mian Jia Noodle Bar is a highly rated la mian eatery that's popular among those residing in the area. Their fusion noodle dishes are a must-try, including premium options such as the Spain Iberico Pork Tonkostu Broth Noodle ($17.90+) and Fish Roe Prawn Paste Ball Tonkotsu Broth Noodle ($16.90+). There's even a Live Boston Lobster Supreme Broth Noodle ($29.90+) if you wish to splurge! Don't sleep on their sides, too; the Five Spice Crispy Pork Chop ($7.50+) and Spicy Chilli Oil Homemade Wanton ($6.90+) are signatures.
Address: 19 Lorong Liput, Singapore 277732
Opening hours: Daily 11am to 10:30pm
Website
Mian Jia Noodle Bar is not a halal-certified eatery.
---
15. Second Serving
---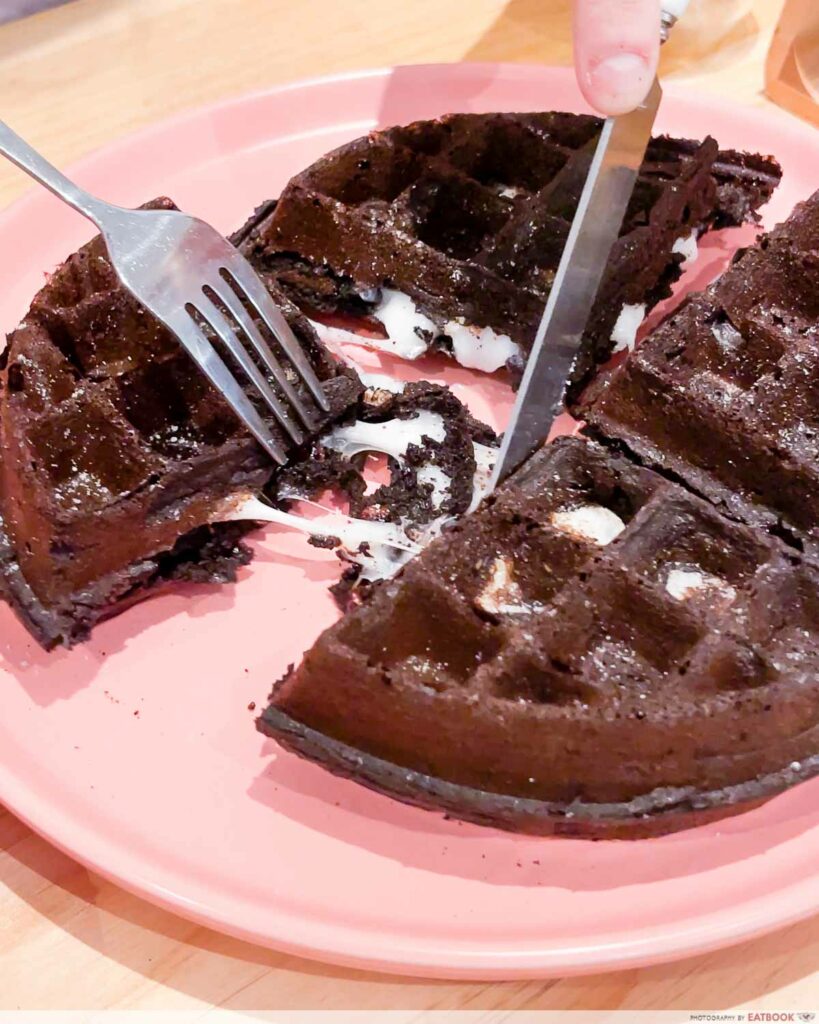 Ice cream cafe 2nd Serving is a hidden gem that's an eight-minute walk from Holland Village MRT Station. The cute cafe is tucked right behind a vending machine facade, which adds to the overall experience and vibe! We tried and loved their Brownie Mochi Waffle ($8), a super chocolatey waffle laced with soft and chewy mochi. Sadly, this waffle flavour is seasonal, and now they're serving a Pandan Mochi Waffle (price TBD), which pairs well with their signature tea-infused gelato.
Address: 41 Holland Drive, #01-07, Singapore 270041
Opening hours: Sun-Thurs 12pm to 5:30pm, 6:30pm to 10pm, Fri-Sat 12pm to 5:30pm, 6:30pm to 11pm
Website
2nd Serving is not a halal-certified eatery.
2nd Serving: Ice Cream Cafe Hidden Behind A Vending Machine In Holland Drive
---
16. Wang Dae Bak Korean BBQ
---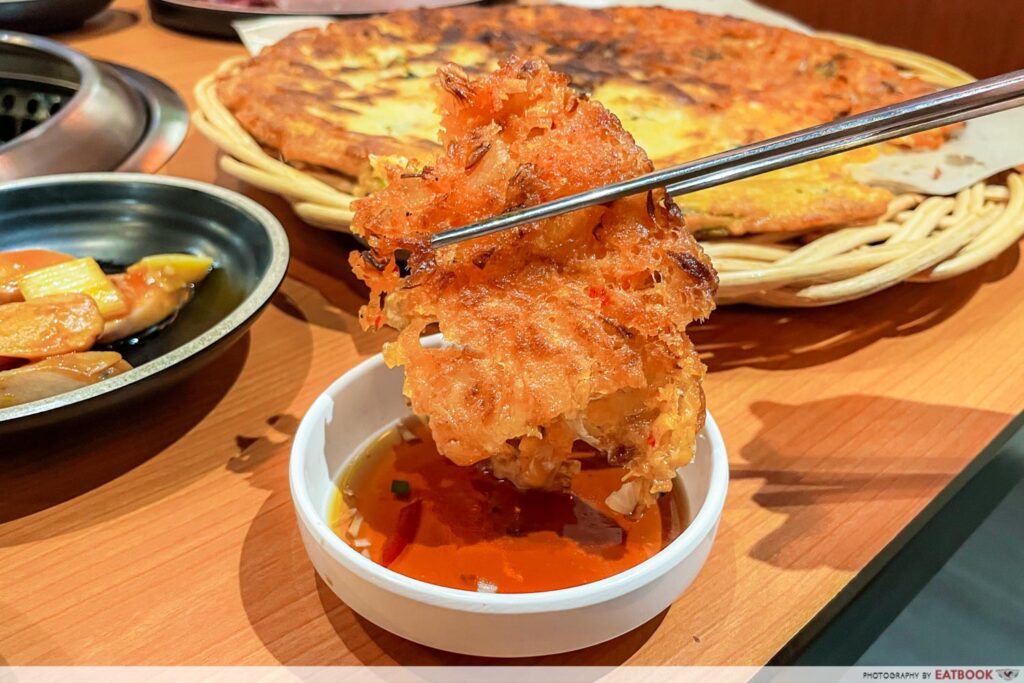 If you love Korean food, chances are you've heard of Wang Dae Bak Korean BBQ as they've been in the scene for a long time. Their Holland Village outlet has two separate menus for lunch and dinner. For the former, most of the sets are priced under $21++. If you want to go all out, there are also K-BBQ platters such as KBBQ Prime Set ($98++), which comes with US Prime Ribeye, Marinated Bone-In Prime Ribs, and UK Pork Tomahawk. Don't miss out on their side dishes, too; the  Half Half Pancake ($26++)—half seafood, and half kimchi—is great for sharing among the table.
Read our Wang Dae Bak Korean BBQ review!
Address: 3 Lorong Liput, Level 2, Holland Piazza, Singapore 277725
Opening hours: Daily 11:30am to 2:30pm, 5:30pm to 10:30pm
Website
Wang Dae Bak is not a halal-certified eatery.
---
Where to eat in Holland Village
---
No matter where you end up in Holland Village, you'll always have food around you. Be it a nice meal with your special someone or a night of fun with your friends, these Holland Village food spots will surely fit the bill.
10 Buona Vista Food Places, Including Famous Claypot Rice And Halal Western Fare
Drag your food kakis to Holland Village for a feast along the stretches of food places! For more articles such as this Holland Village food guide, check out these Buona Vista food gems. If you're looking for restaurants suitable for date nights and special occasions, do check out these 15 halal date night restaurants.
This article was originally published on 9th January 2020.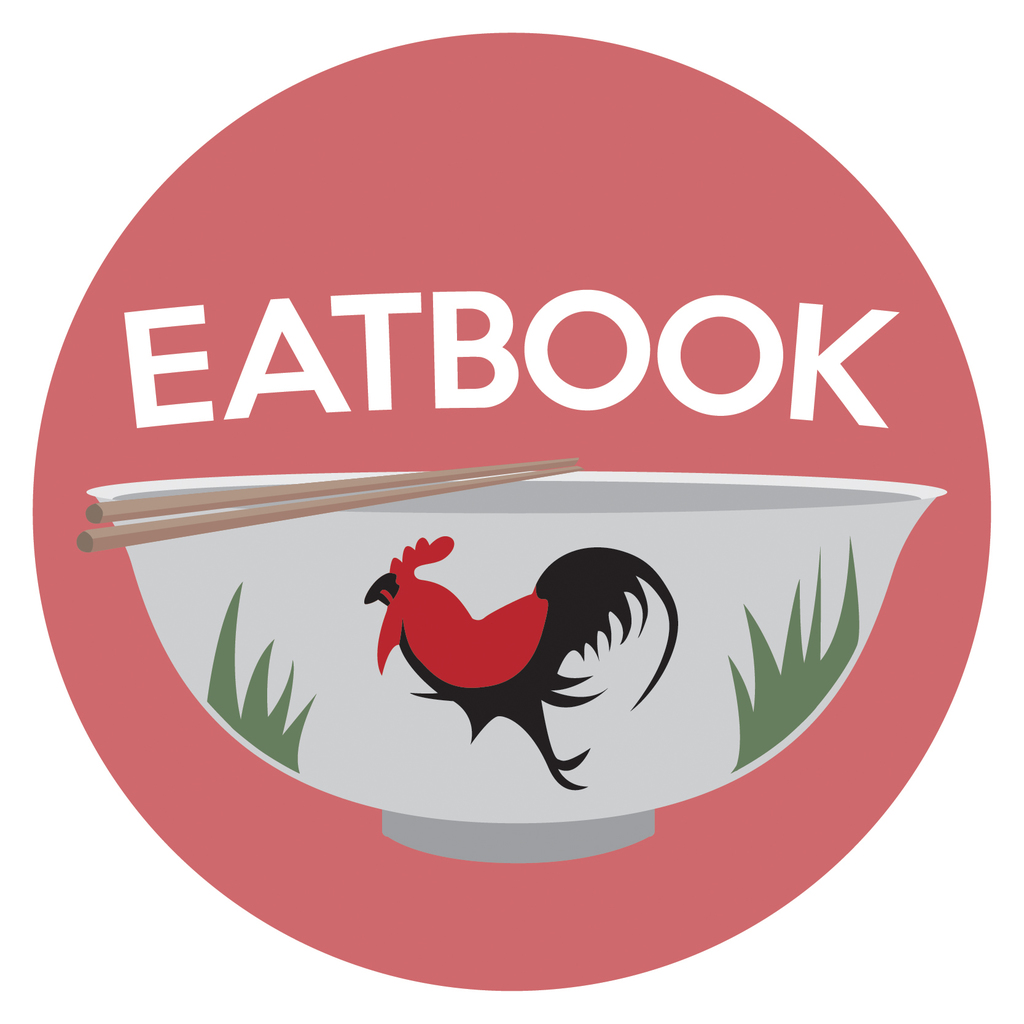 Drop us your email so you won't miss the latest news.