Ru Fa Bao Dian has unique handmade bao in Holland Village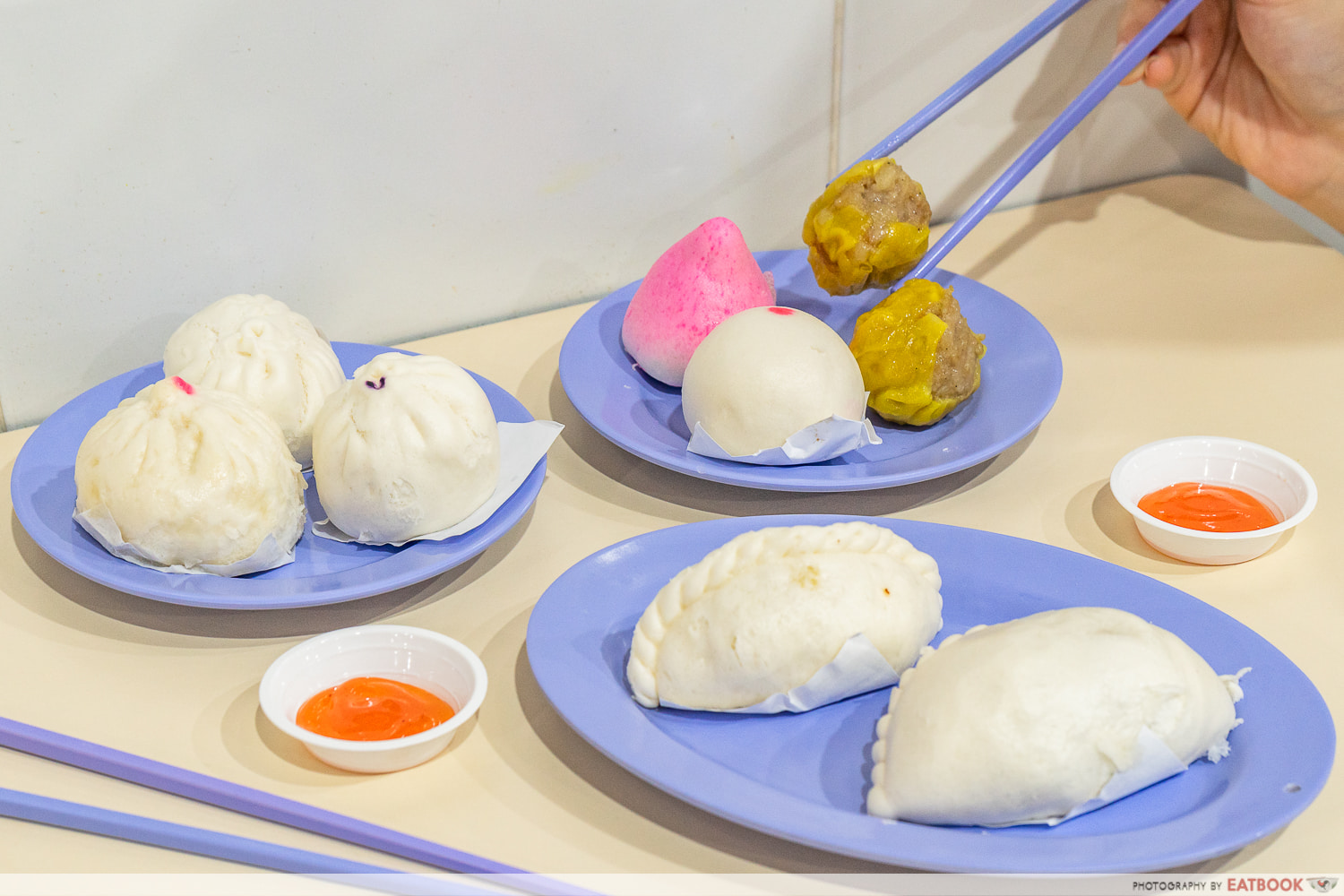 Good quality handmade bao is luxury these days, so learning of a hidden gem in Holland Drive Food Centre with handmade bao of unique shapes, fillings, and highly affordable prices was like winning the lottery for me. With my friend who only eats bao from NTUC's frozen section by my side, we visited Ru Fa Bao Dian with the intent to try as many of their bao as possible.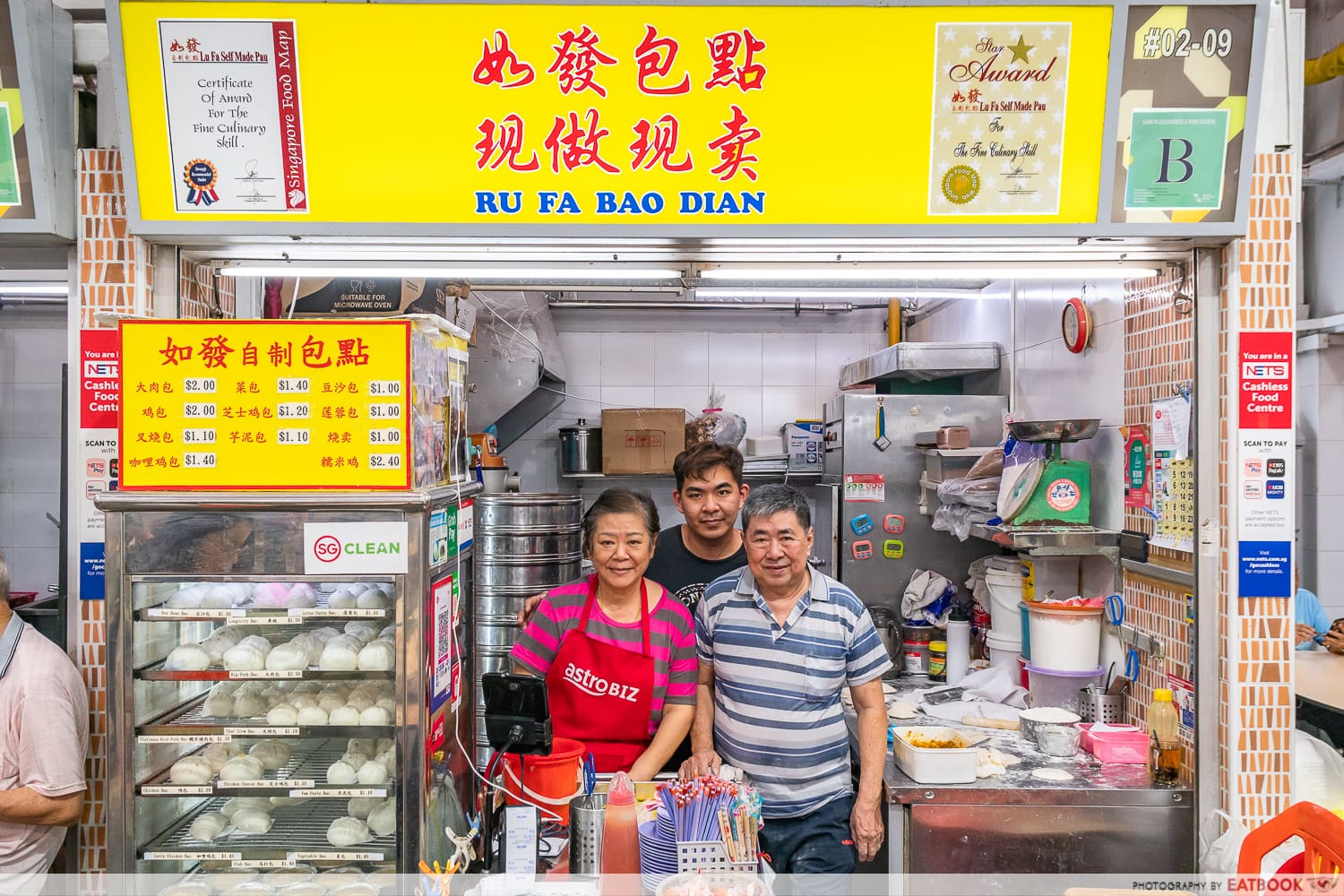 Naming the stall after a combination of their surnames, the hawker couple running Ru Fa Bao Dian have been a mainstay in this hawker centre for roughly a decade, serving customers that even include MPs! You can find them at their stall skillfully making bao throughout their operating hours, with the assistance of their son who is poised to take over the stall after their retirement.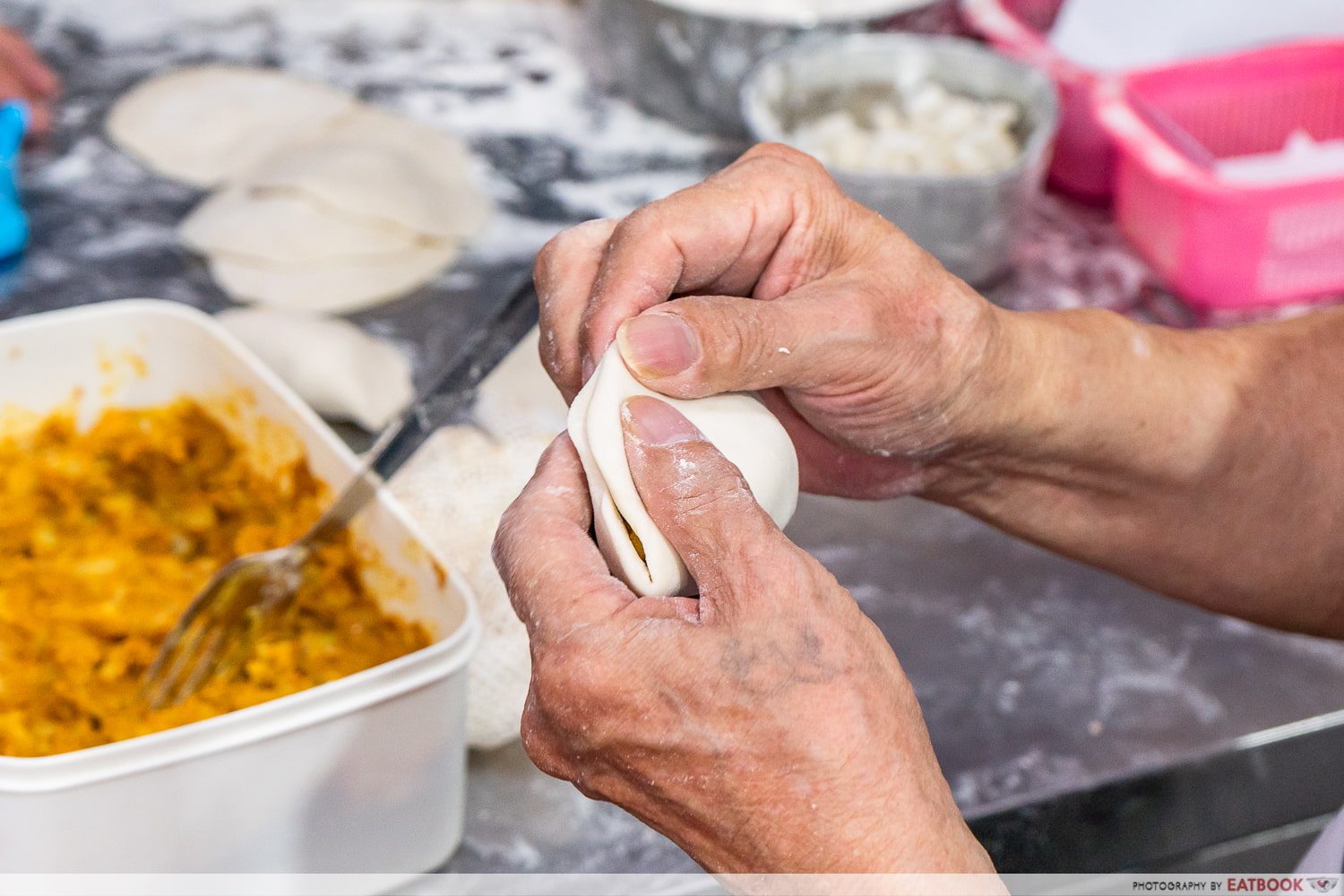 We were informed that other than making and shaping their bao dough by hand, all fillings used at the stall used to be house-made. But due to it being too labour intensive for the hawkers, they've since transitioned to using pre-made fillings for some of their baos. Others, such as their char siew bao and more unique bao such as the chicken curry bao still use fillings made by the hawkers. 
Food at Ru Fa Bao Dian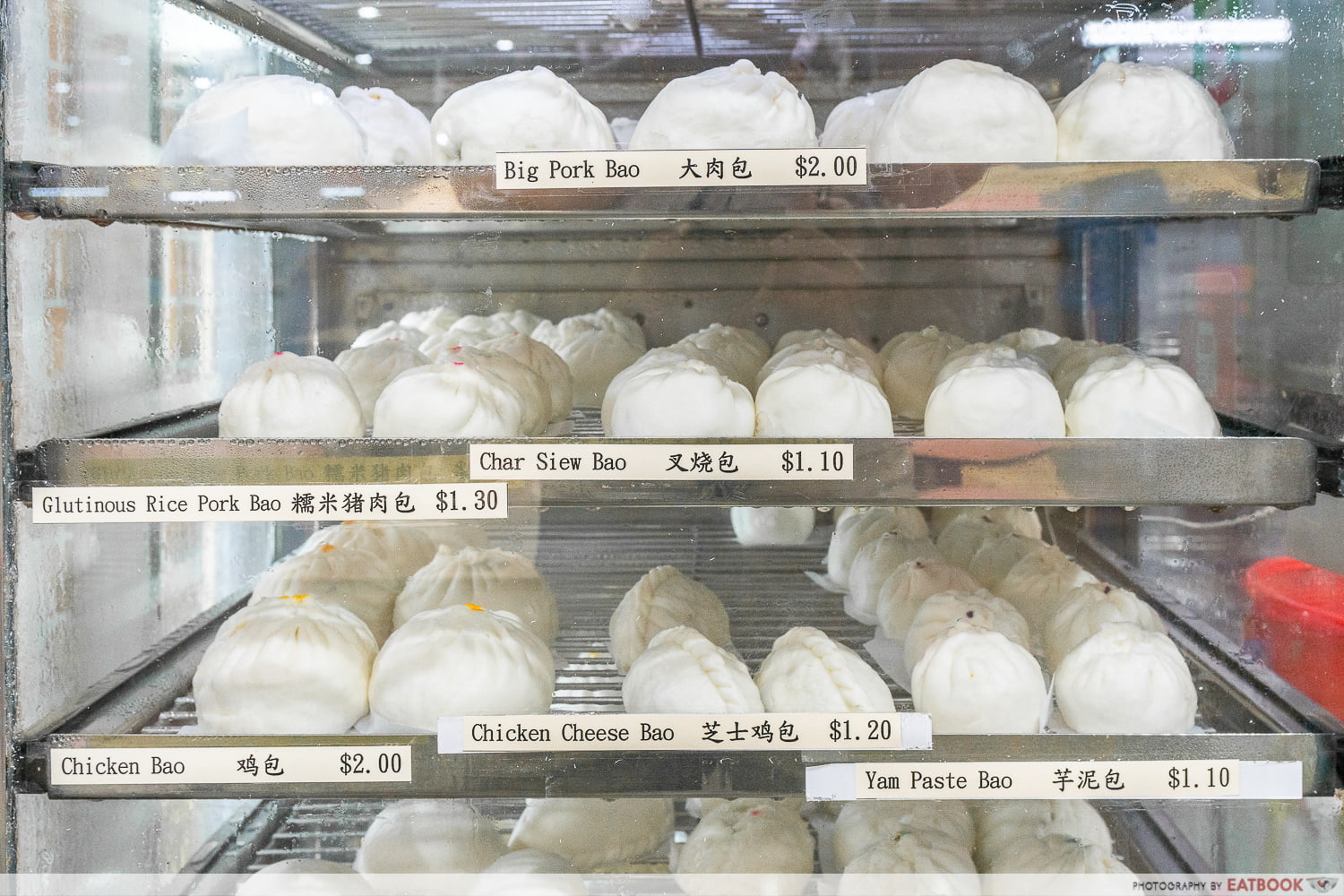 All the items at Ru Fa Bao Dian are incredibly affordable, with prices as low as $1 for a lotus paste bun to $2.40 for lor mai gai. Here, you'll find a huge variety of bao, from your typical char siew bao to unique creations such as a curry puff-shaped chicken curry bao and otah bao!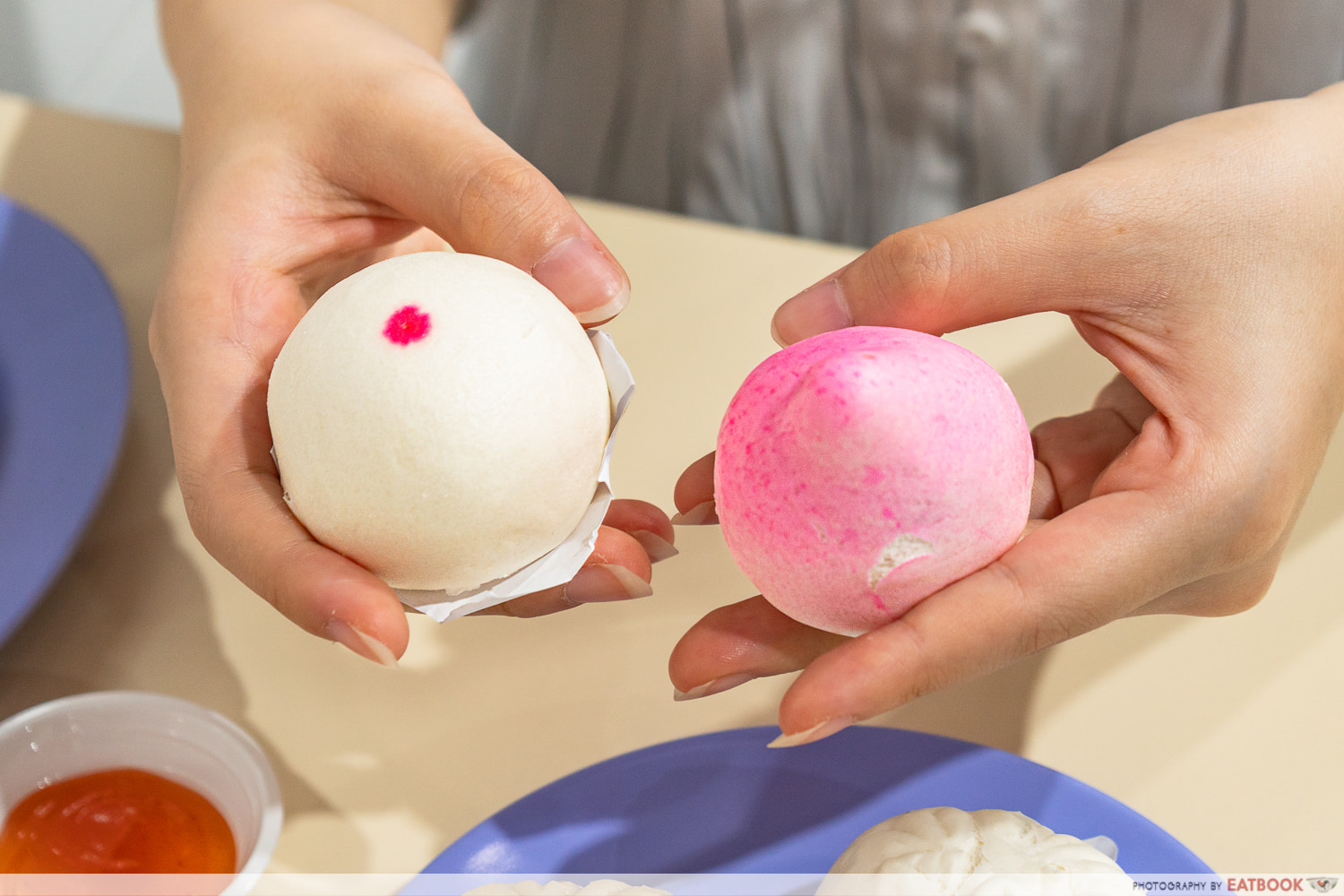 The two most affordable bao here, the Shou Tao, AKA longevity peach and Lotus Paste Bao both cost $1 each. I was quite surprised to see the stall selling shou tao buns here, considering they are rather uncommon to find outside of special occasions.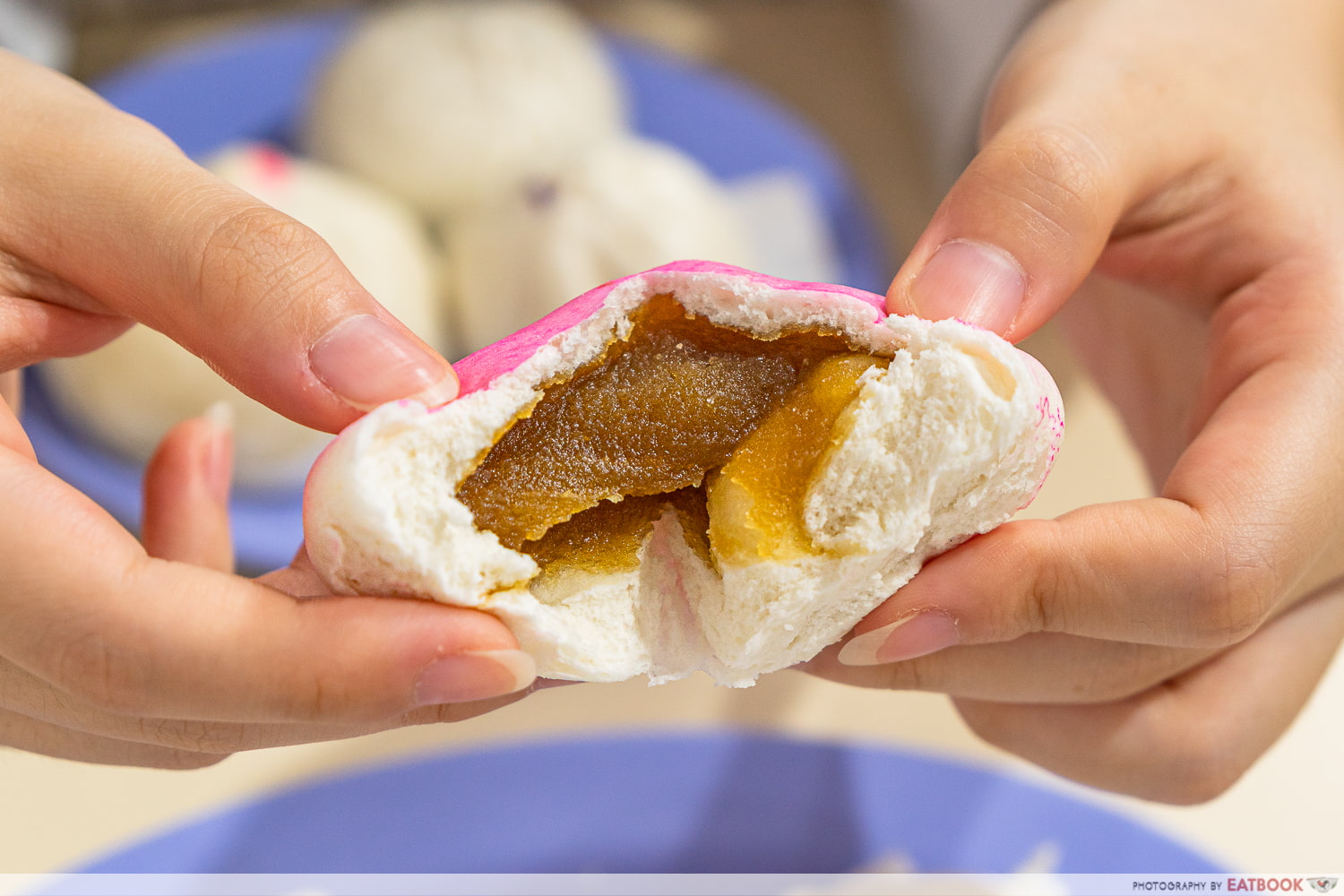 Both use the same lotus seed paste filling, which had a subtle sweetness and was of a good consistency and mouthfeel. They both also had a good filling-to-bao ratio, though I felt that the lotus paste bao was definitely fluffier and softer than the shou tao.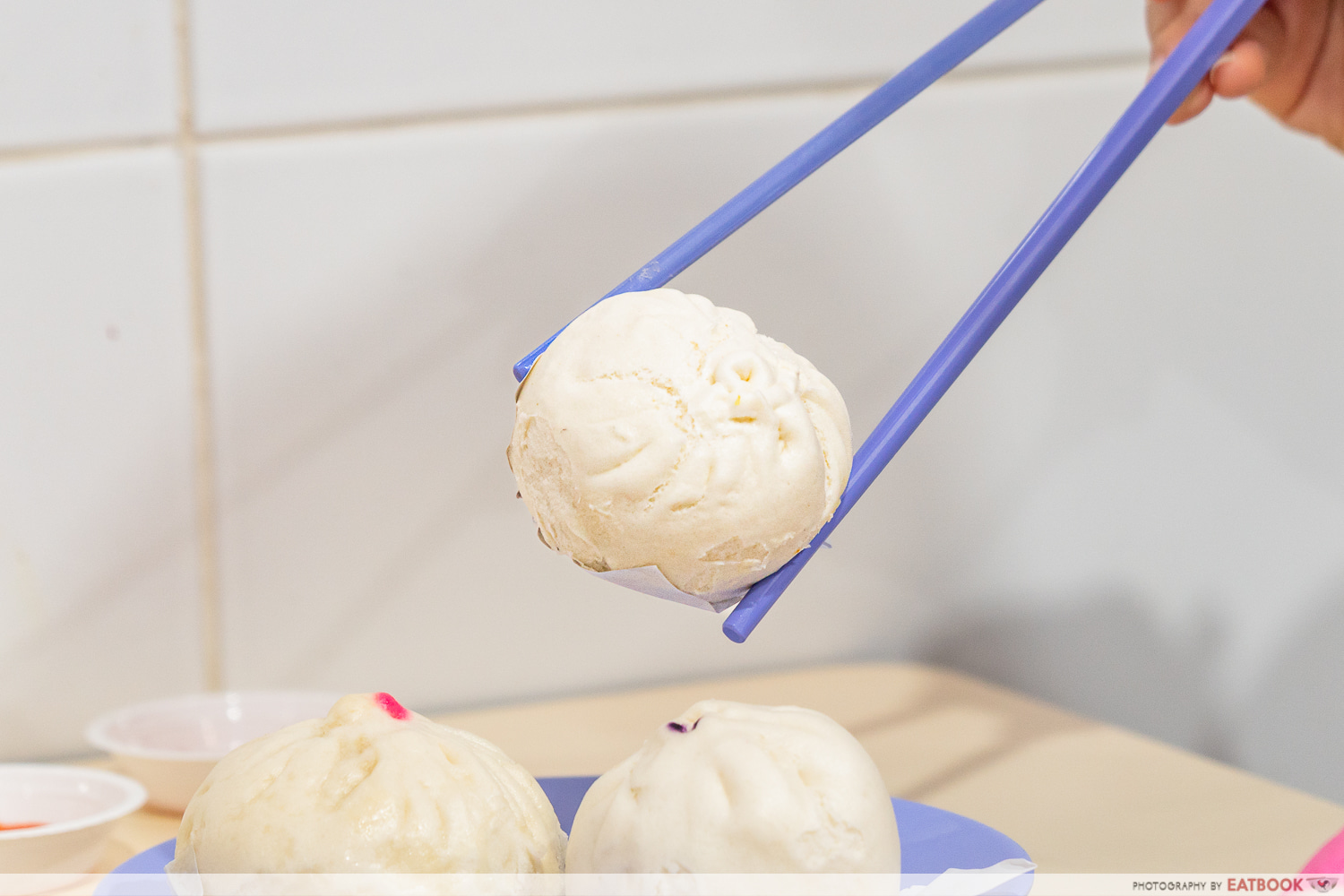 Another quintessential bao, the Char Siew Bao ($1.10), is only slightly more expensive than the lotus paste bao.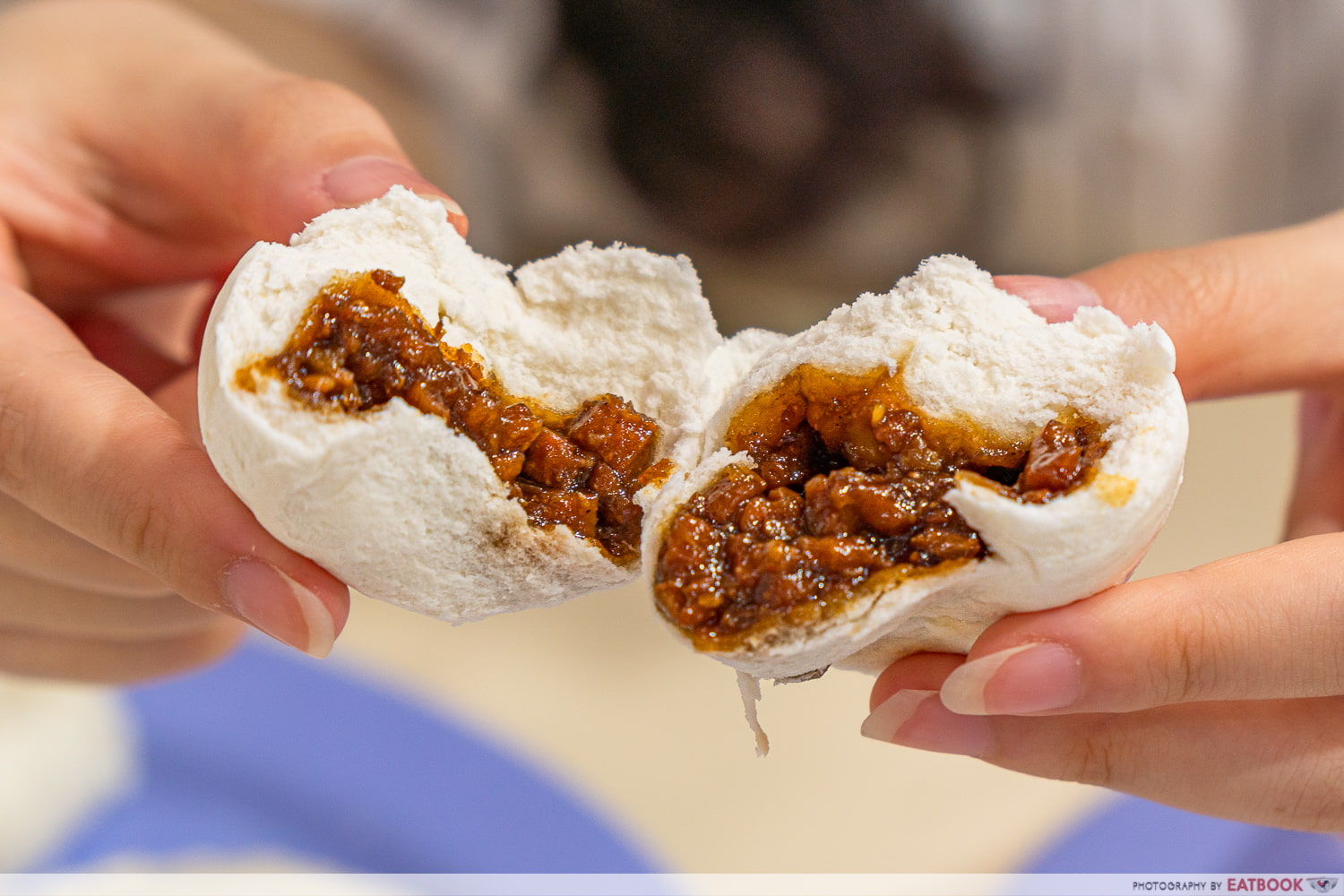 The sticky house-made filling was generous with the savoury-sweet sauce and minced pork bits. I felt that the meat was a little tough to chew, but overall palatable.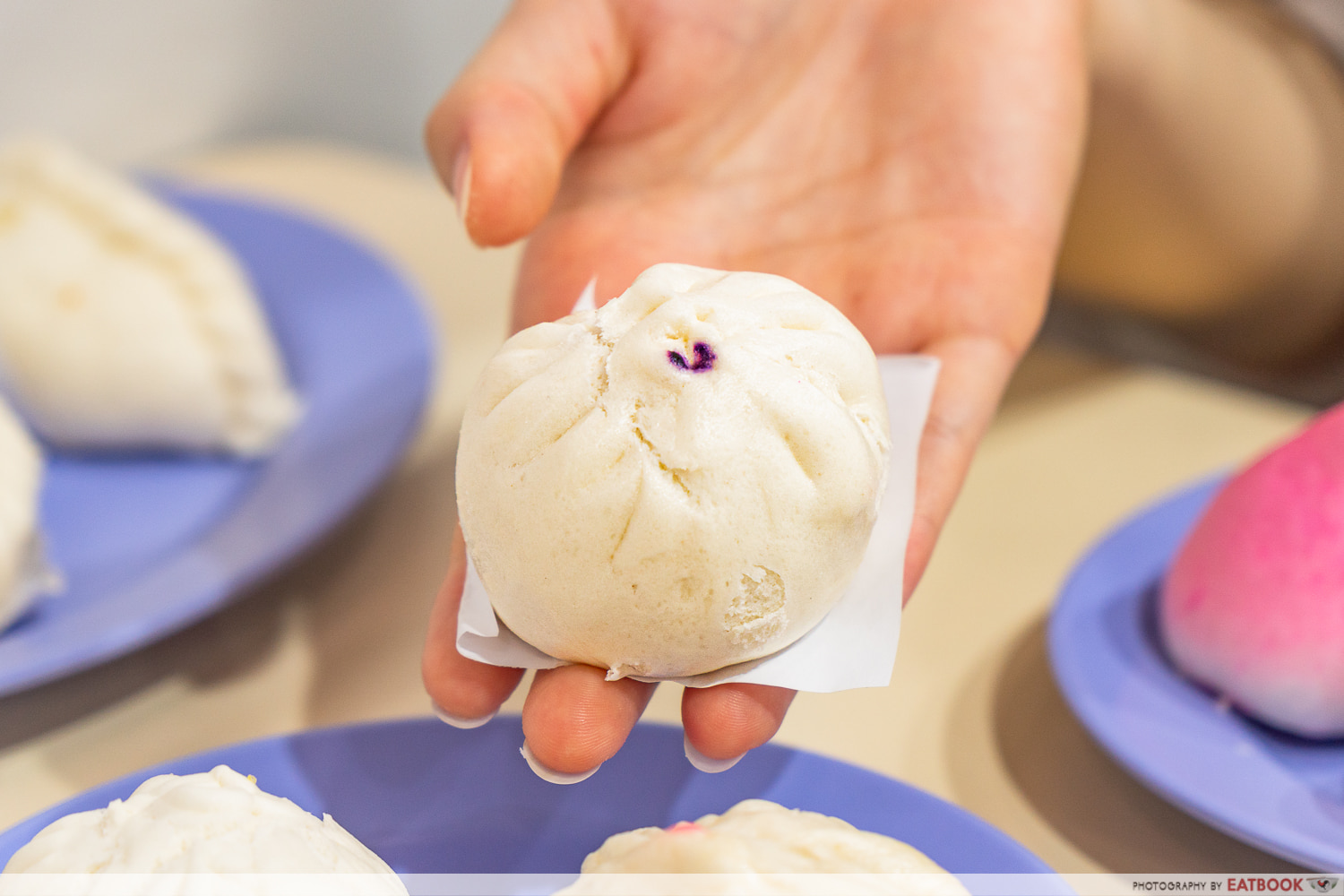 Much more interesting was their orh nee bao AKA Yam Paste Bao ($1.10). Marked with a small purple dot on top, I was a little apprehensive about this bao as I generally dislike yams, but this turned out to be a favourite of mine.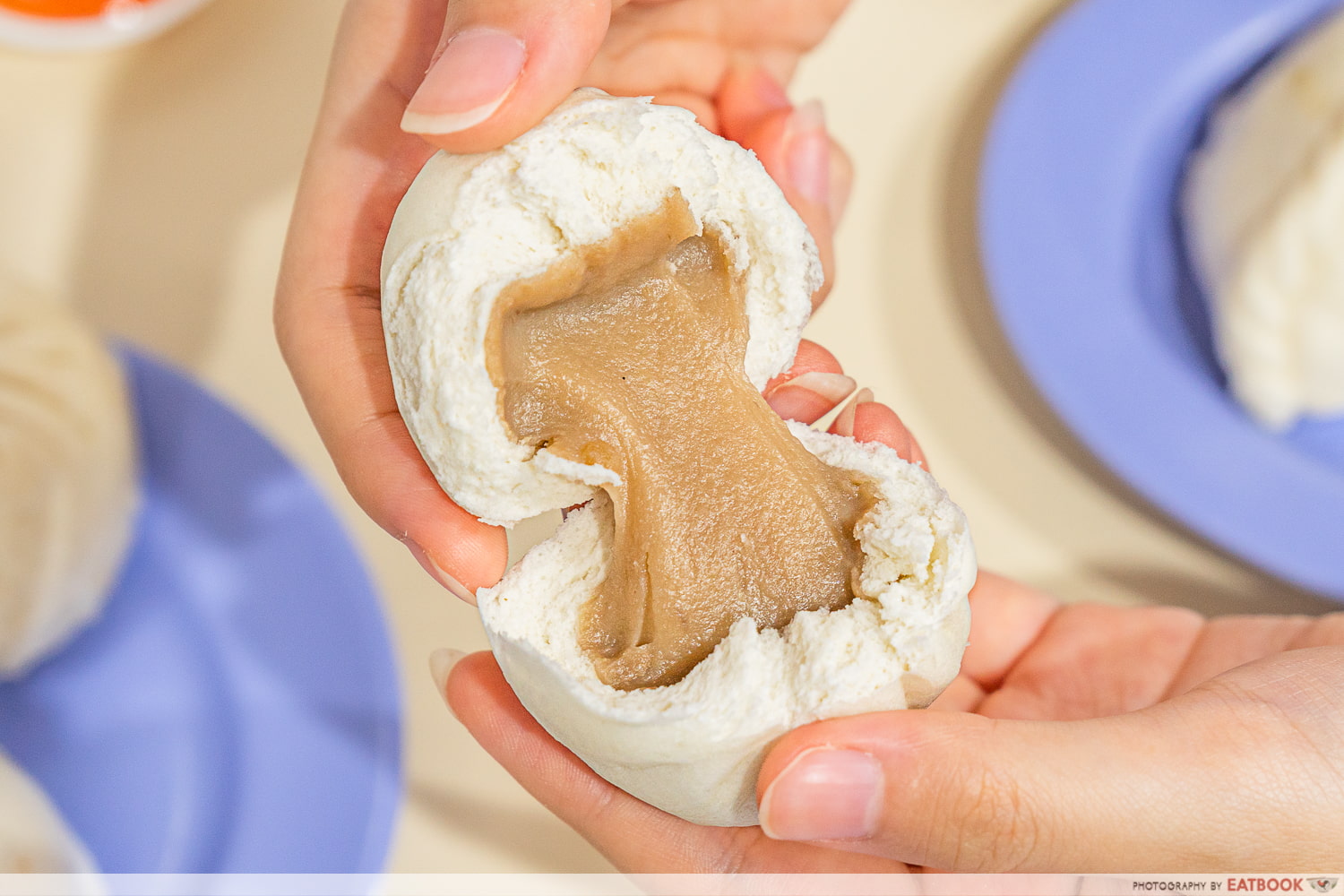 The smooth yam paste gave off a faint, earthy smell, and the thick filling paired incredibly well with the fluffy, warm bun. I was surprised at how much I liked the mild orh nee flavour that was not overly cloying or sweet, and actually went back and bought myself some more.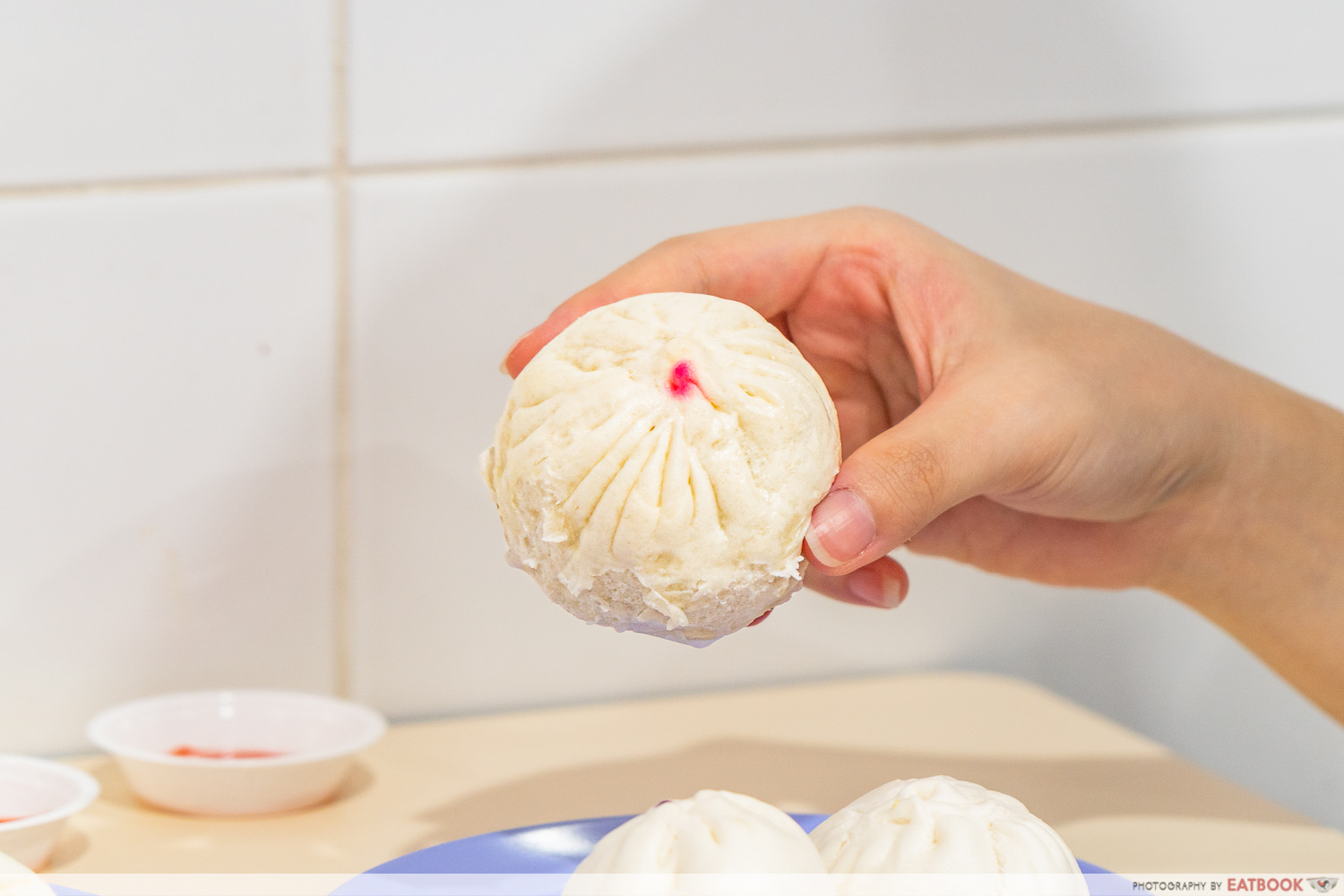 Another favourite of mine was the Glutinous Rice Pork Bao ($1.30), which was essentially a lor mai gai in a bao. My friend also found this to be his favourite bao from the store, saying that being able to eat lor mai gai on the go in bite-sized portions was incredibly convenient and even genius.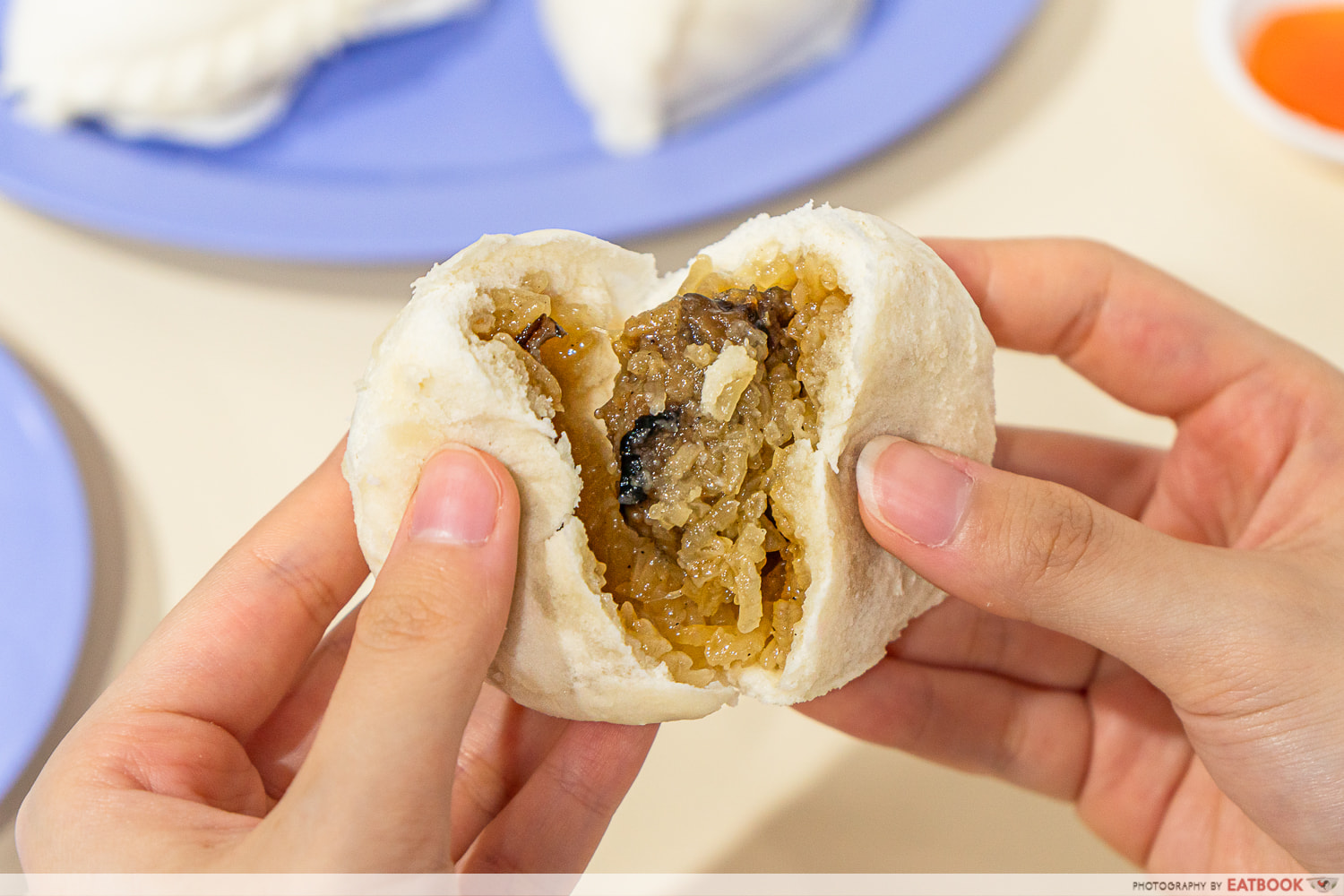 We really liked how the savoury, sticky lor mai gai filling was generous with ingredients such as mushroom and chicken. The glutinous rice was not only well seasoned, but also provided a great contrast to the mild sweetness of the bun itself, while not being as messy to eat or as cloying as regular lor mai gai could be.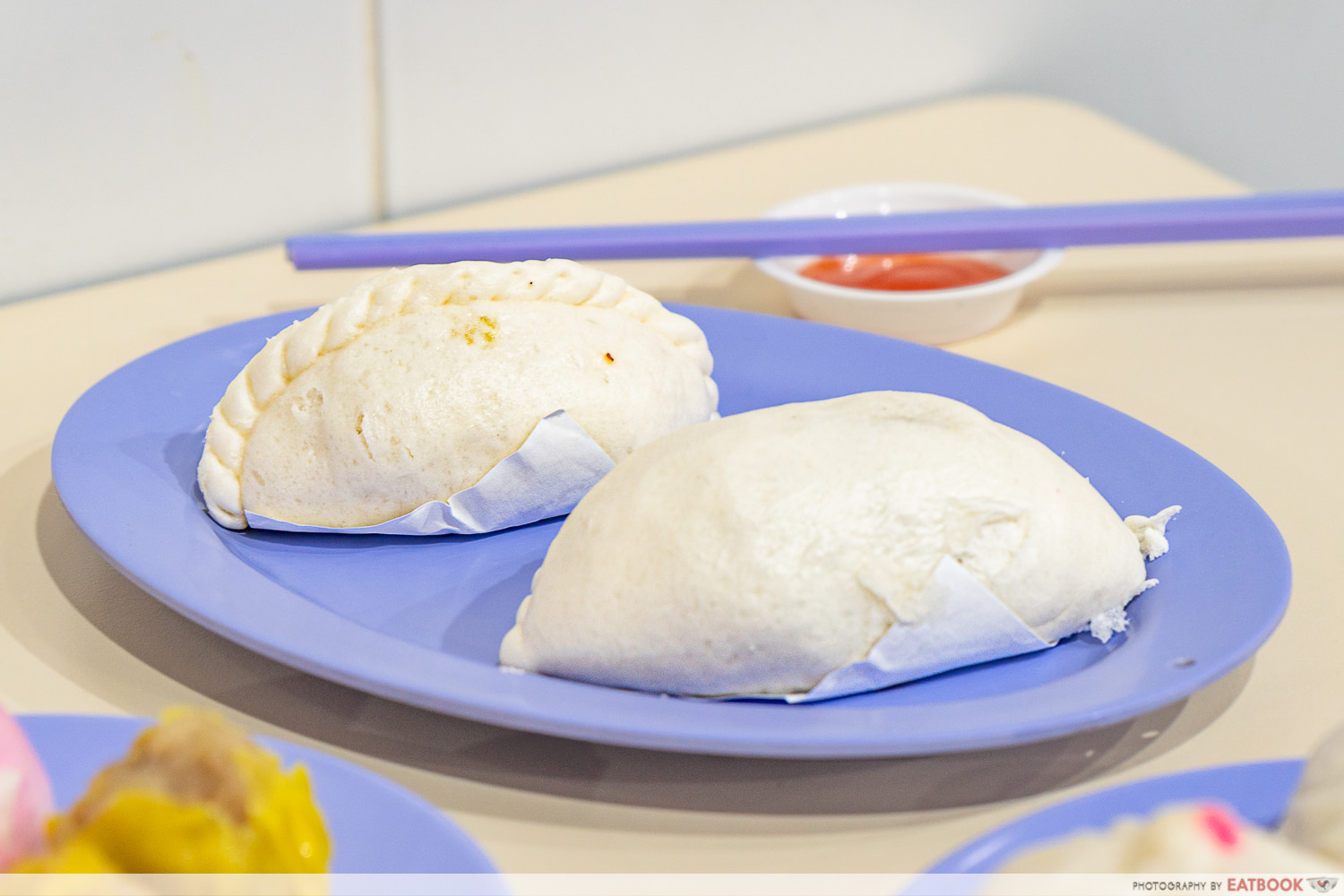 Moving on to the three curry puff-shaped bao, these were large, heavy buns with a unique look and fillings inside. But other than the otah bao that had a pink dot on it, it was hard to figure out what type of bao the other two were without the auntie pointing it out to us.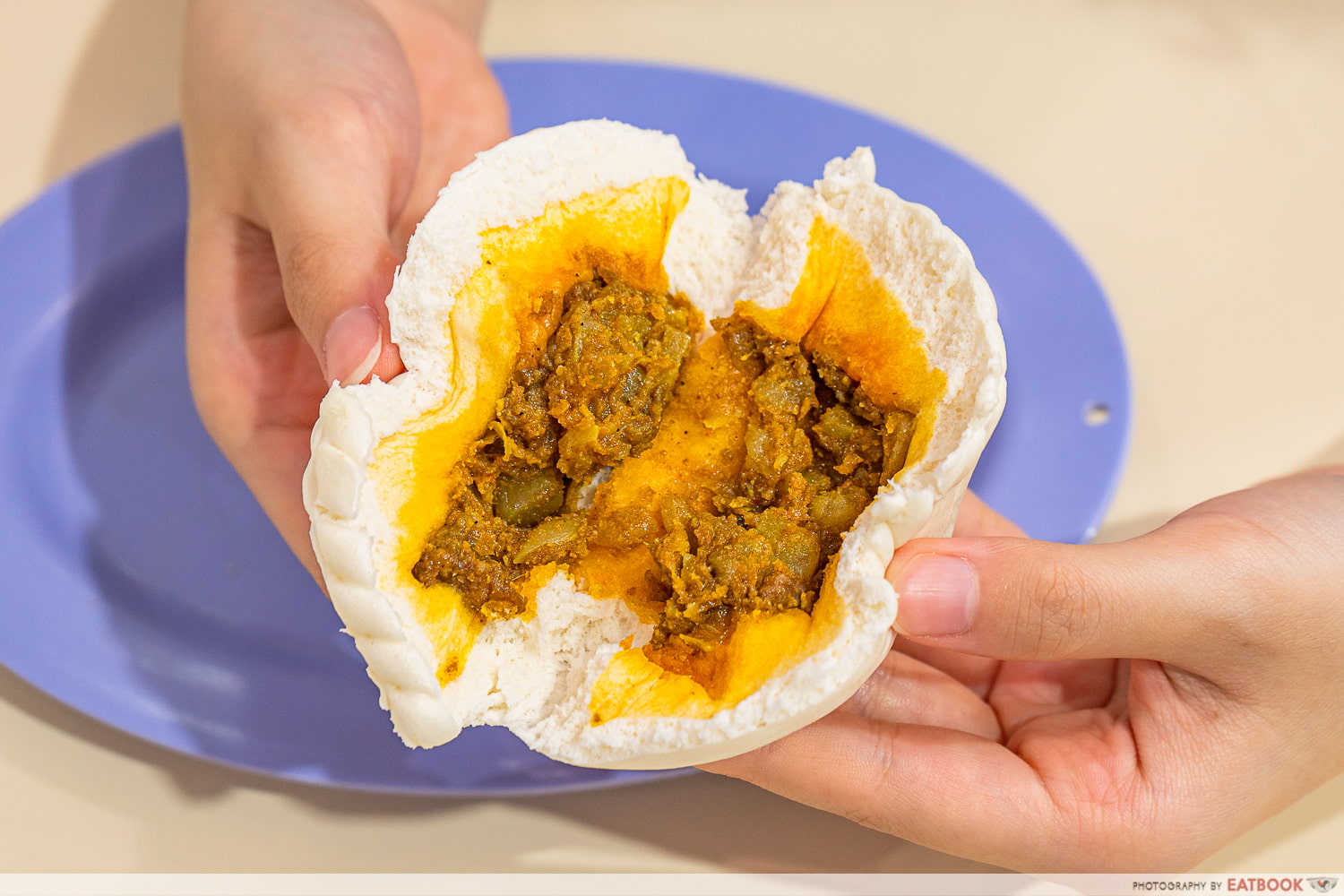 We split the Curry Chicken Bao ($1.40) to reveal the housemade chicken curry paste that had coloured the inside a vibrant orange. Interspersed with chunks of soft potato and chicken, the mildly spicy paste had the strong aroma and taste of tamarind and curry powder.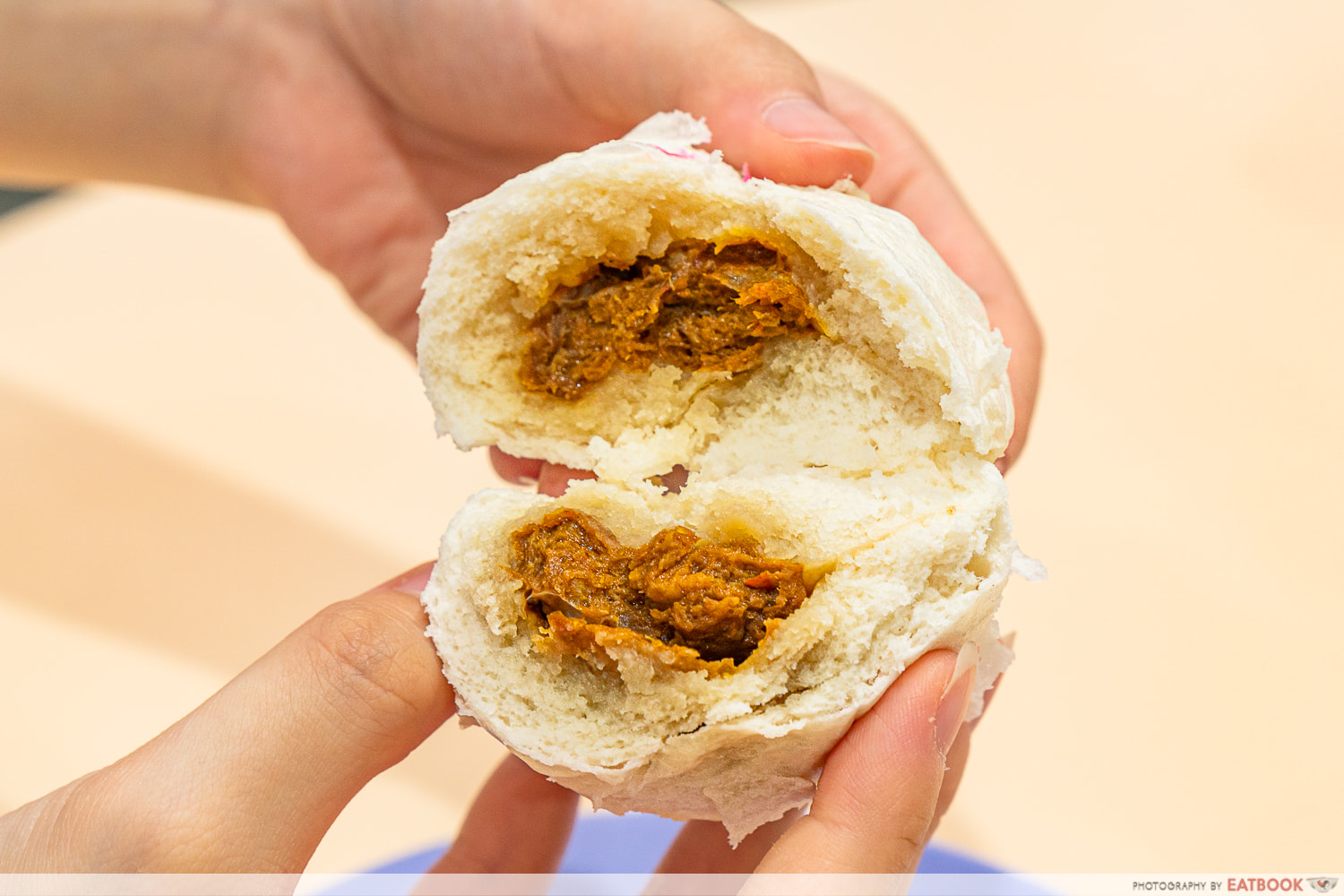 Tearing in half the Otah Bao ($1.40) revealed a thin layer of otah that was seasoned with fragrant spices and thankfully not fishy. We quite liked the taste of this unique filling, but did think that the bao-to-filling ratio in this one could be better balanced.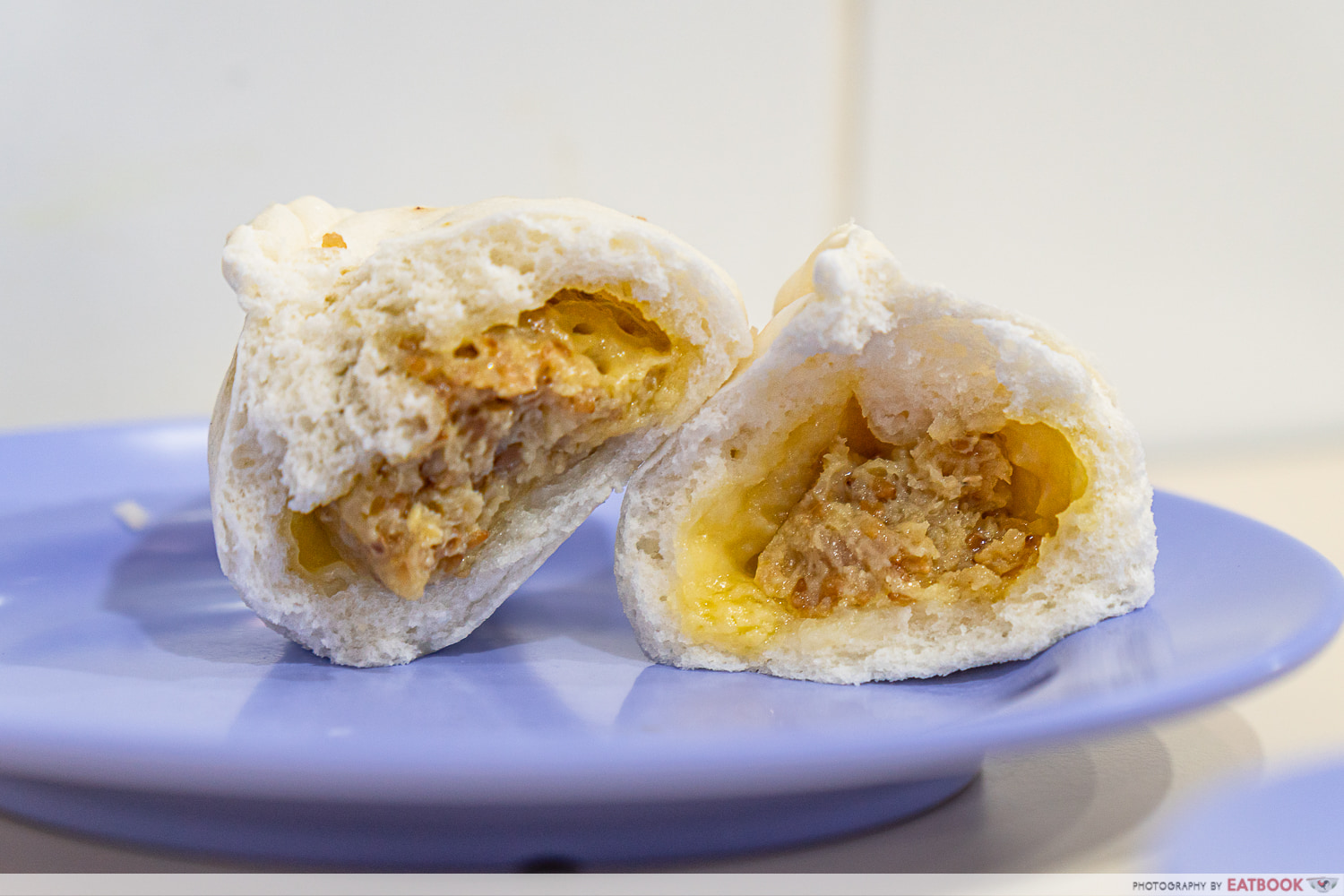 On the other hand, the cheesy interior of the Chicken Cheese Bao ($1.20) had hardened up by the time we tore it open, making the texture of the cold filling unpalatable to us. Interestingly there were sesame seeds scattered throughout the filling, rendering it a little crunchy and bitter as we chewed through it.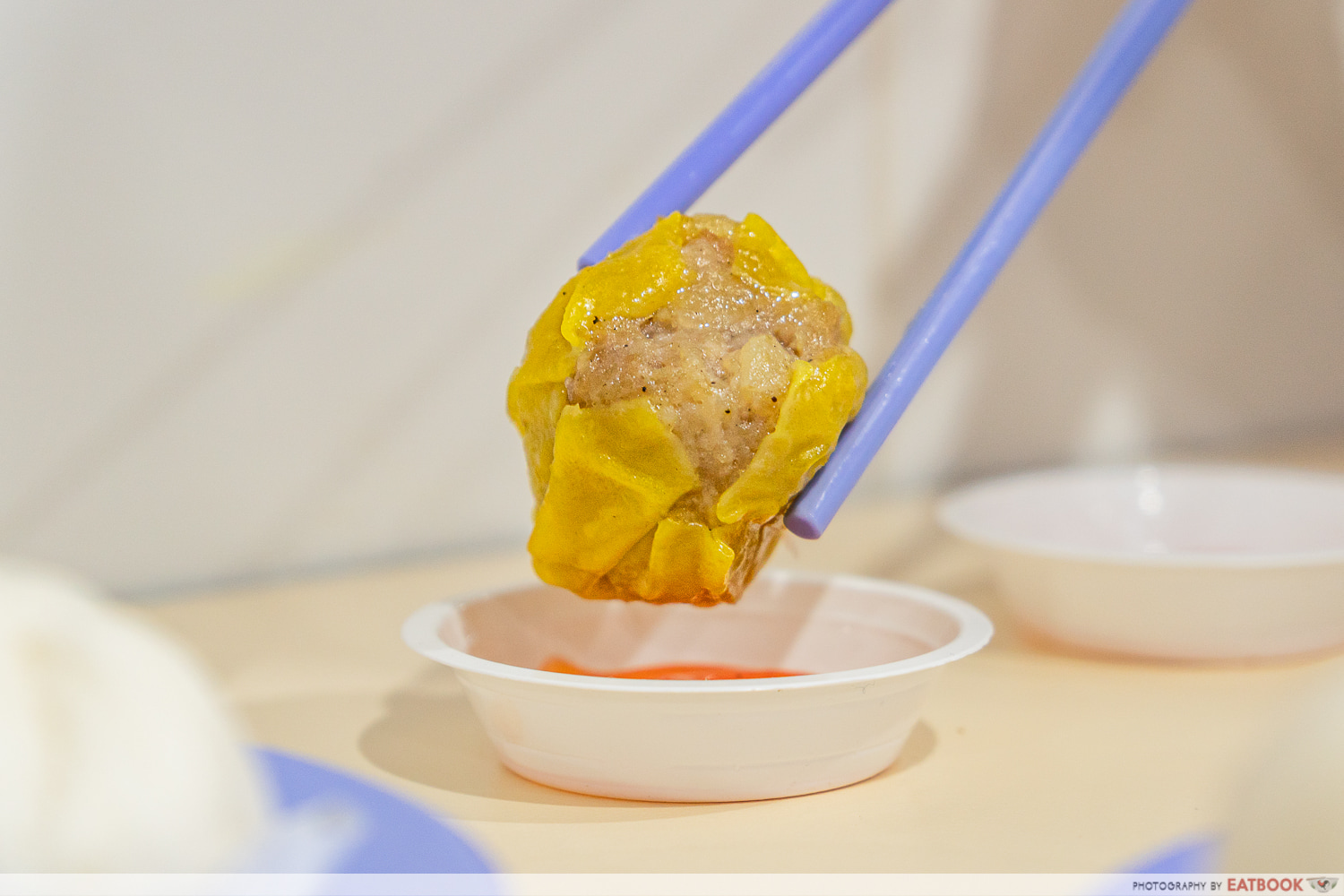 Finally, we also decided to get two Siew Mai ($1) that, while not the prettiest, were bigger and meatier than your average dim sum restaurants'. Best of all, the marinated meat was not too salty and had a tender texture. 
This New Cafe Has Handmade Bao With Chilli Crab, Ice Cream Mantou And More
Ambience at Ru Fa Bao Dian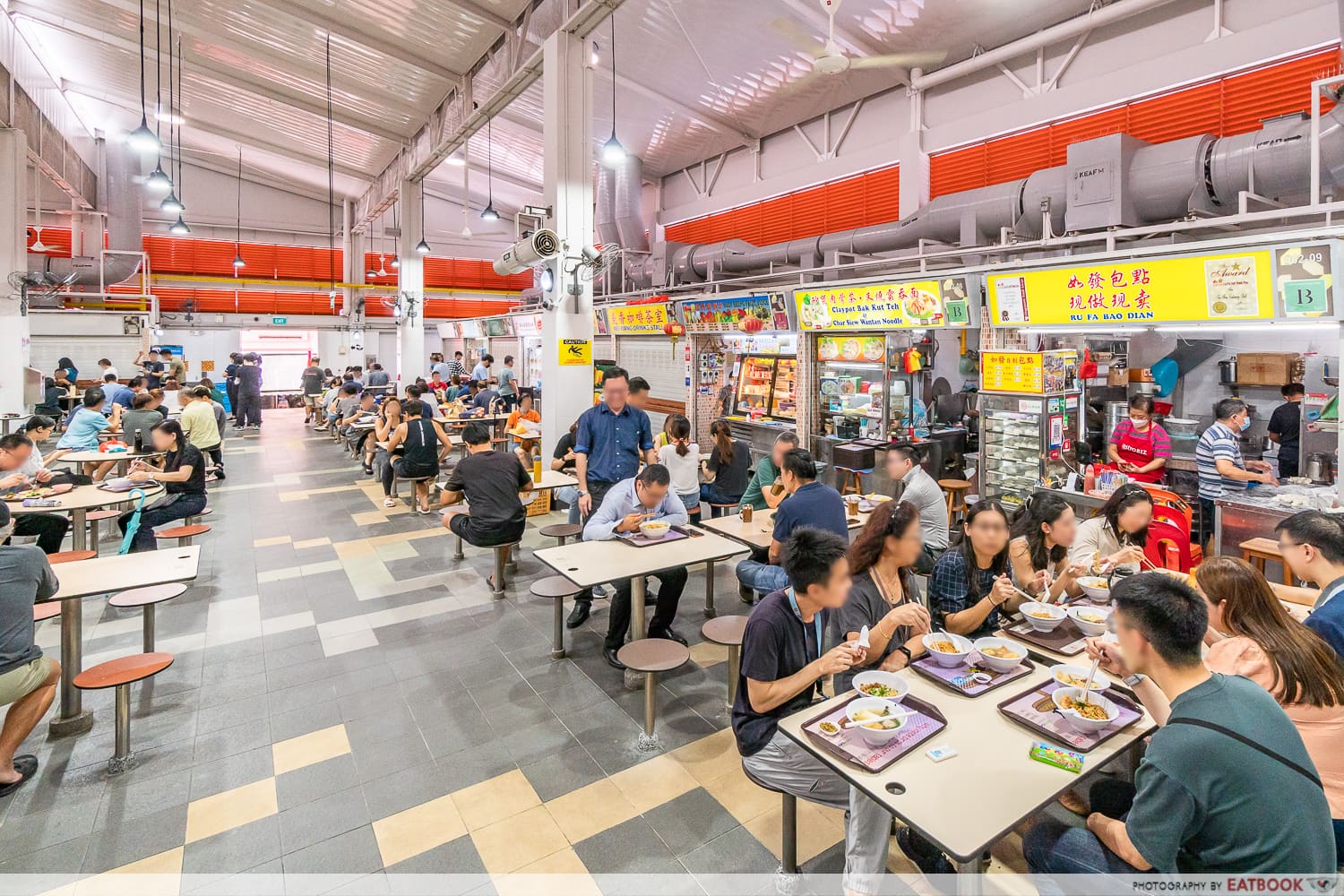 Ru Fa Bao Dian is located in a corner to the back of Holland Drive Market and Food Centre. The centre itself is a nine-minute walk away from Holland Village MRT Station, and the stall is open from morning to mid-afternoon. '
We recommend coming here for breakfast or to takeaway as during lunchtime, the place gets rather crowded with office workers and elderly patrons, making it hard to find a free table.  
The verdict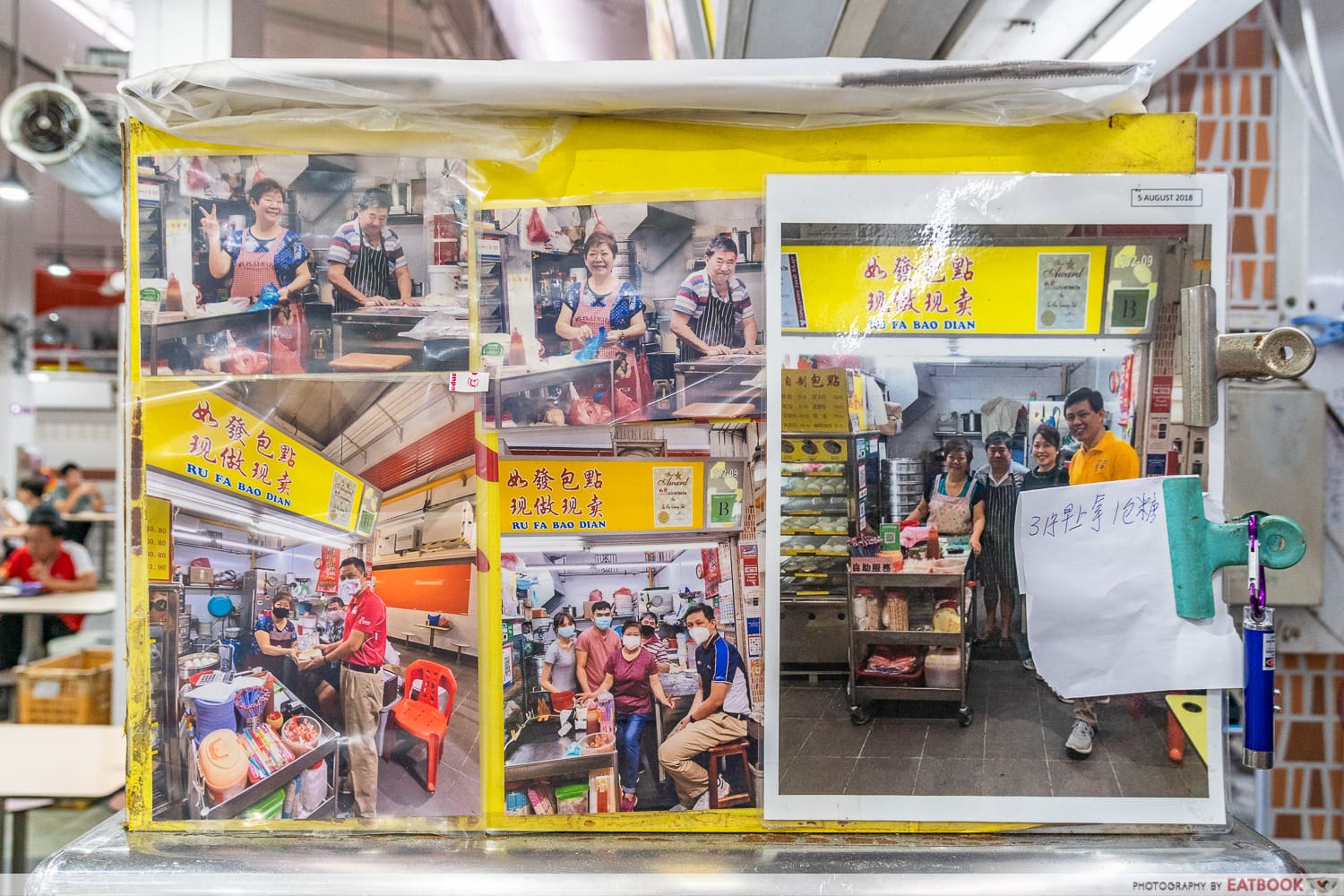 With the quality and range of flavours available at such an affordable price point, Ru Fa Bao Dian's handmade bao are definitely a must-try in this hawker centre! We were so impressed with what we tried, we polished off every last bao we bought and came back to dabao some more.  
For more unique bao, check out House of Bao's chilli crab bao burgers in Alexandra Central Mall, or popular new hawker bakery Butter Town in the same hawker centre. 
Address: 44 Holland Drive, #02-09, Holland Drive Market & Food Centre, Singapore 270004
Opening hours: Tue-Sun 6:30am to 3pm 
Ru Fa Bao Dian is not a halal-certified eatery.
Butter Town Review: Sesame Mochi Shio Pan And Sourdough Bakes By Young Hawkers In HV
Photos taken by Aldrich Tan
This was an independent visit by Eatbook.sg 
Ru Fa Bao Dian Review: Cheap Curry Puff-Shaped Bao In HV
Ru Fa Bao Dian Review: Cheap Curry Puff-Shaped Bao In HV -

8/10
Summary
Pros: 
– Affordable prices
– Very nice hawkers
– Unique handmade bao
Cons:
– chicken cheese bao had an interesting taste
Recommended dishes: Glutinous Chicken Bao ($1.40), Yam Bao ($1.90)
Opening hours: Tue-Sun 6:30am to 3pm 
Address: 44 Holland Drive, #02-09, Holland Drive Market & Food Centre, Singapore 270004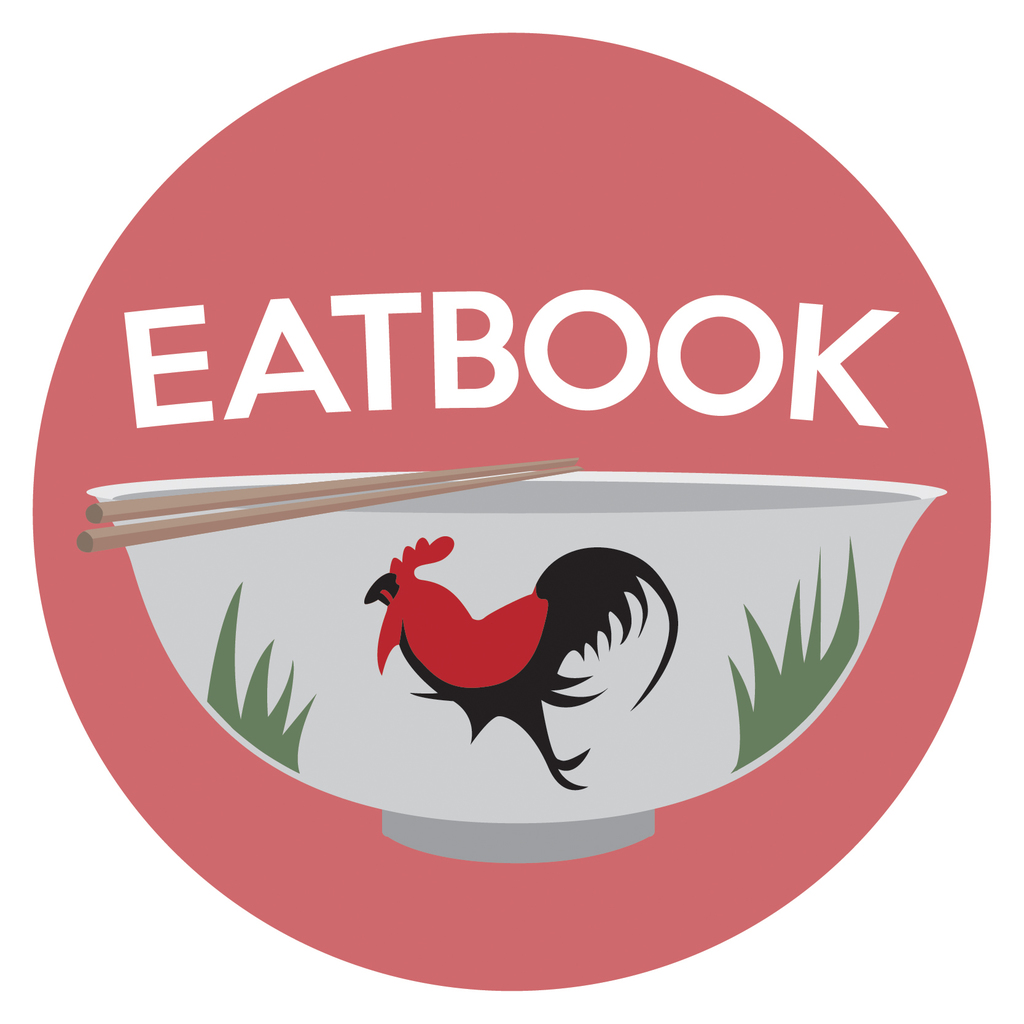 Drop us your email so you won't miss the latest news.