Ah Tas Muffins has freshly baked muffins at Old Airport Road Food Centre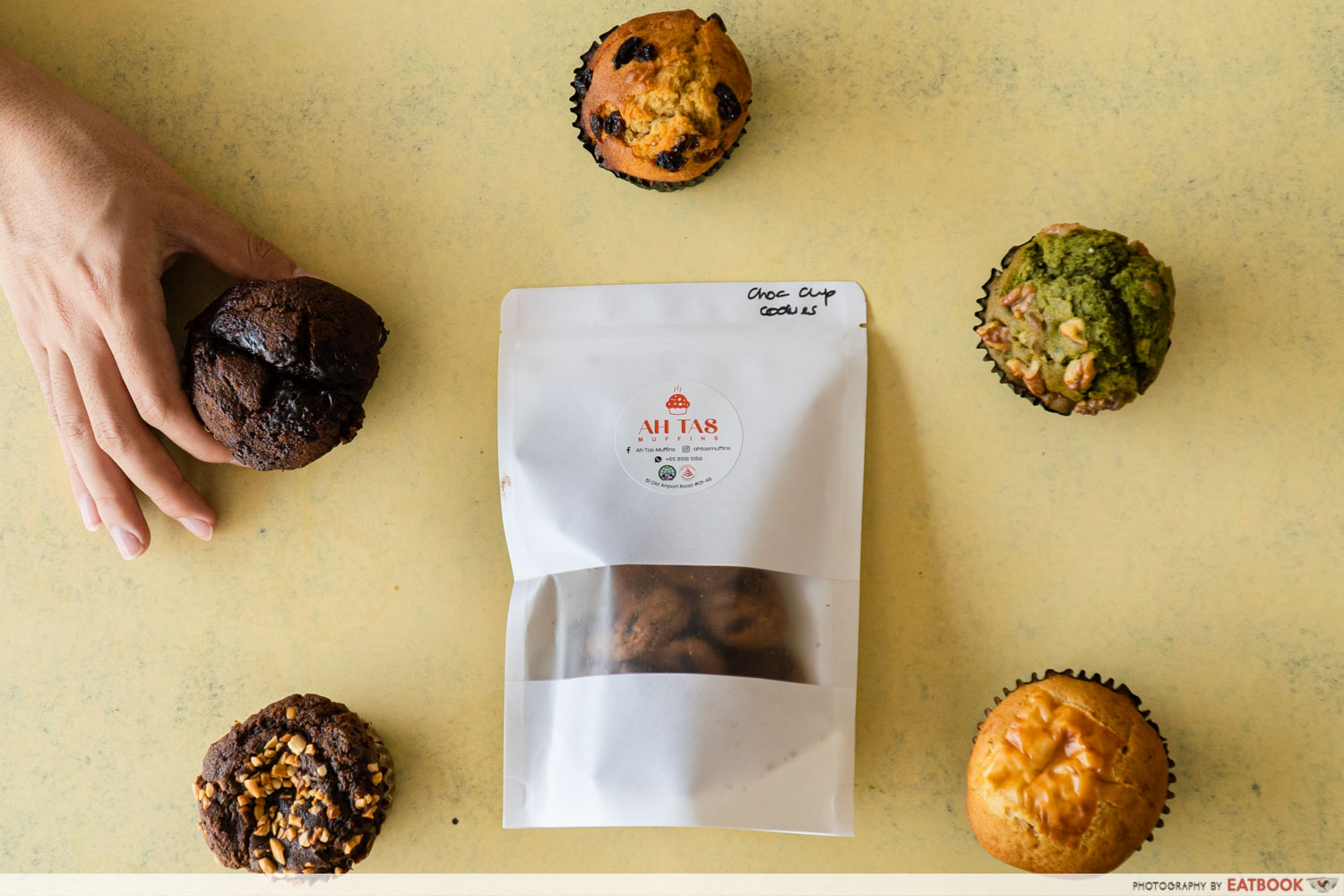 I spent most of my secondary school days near Old Airport Road Food Centre, so in my opinion, it is one of the best hawker centres in Singapore. Apart from popular stalls such as Nam Sing Hokkien Mee, Western Barbecue, and Xin Mei Xiang Lor Mee, just take a deeper walk into the hawker centre and you'll uncover a trove of hidden food gems within. One of the latest stalls that we found during our latest visit there was Ah Tas Muffins.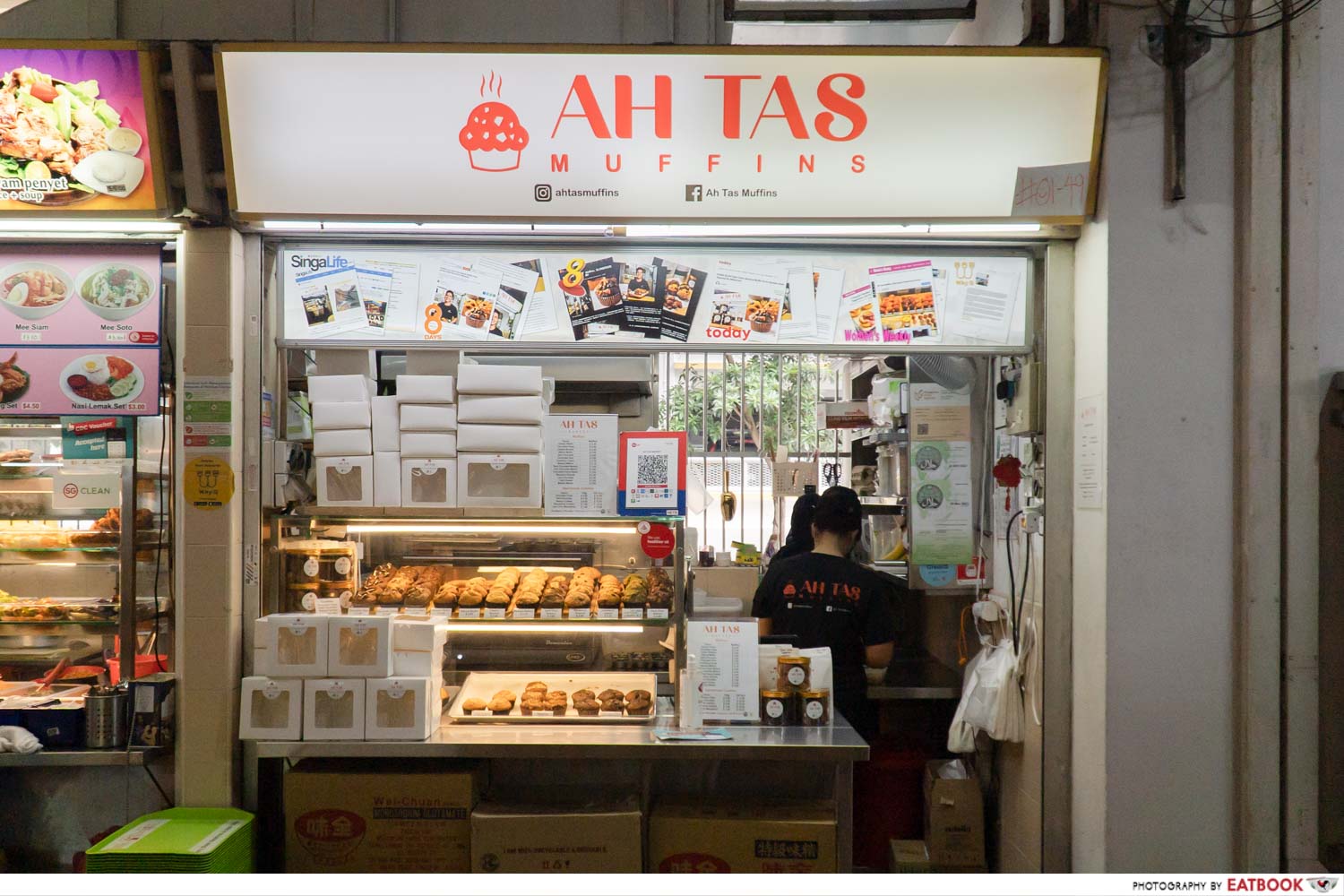 Ah Tas Muffins is a bakery founded by David Lim, who used to work in the corporate sector before setting up his own hawker stall. David has had a passion for baking since he was young and taught himself the craft when he was 14, learning from recipe books and television shows. Through multiple trials and gathering feedback from family and friends, he developed his own recipes and created his own muffins.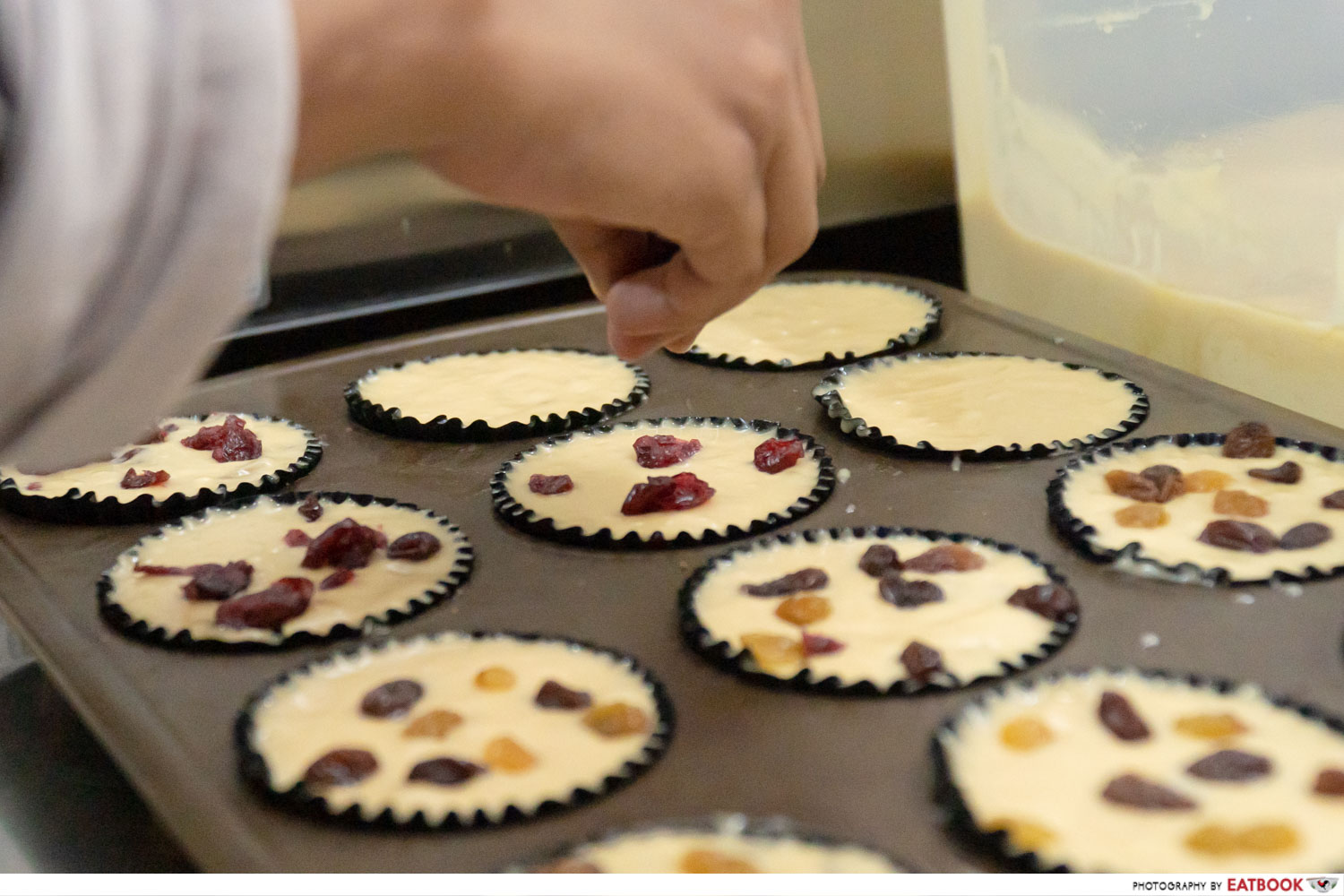 Although we did not have the chance to meet David during our visit, the staff shared some interesting nuggets about Ah Tas Muffins with us. The name is a play on the Malay word 'atas', reflecting their commitment to maintaining high standards for their muffins. To achieve this, they source their ingredients from specific suppliers worldwide, including butter from Denmark, milk from Germany, sugar from Mauritius, and macadamia nuts from South Africa.
Western Barbecue Review: Old-School Hainanese Western Food With Famous Garlic Sauce By Second-Gen Hawkers
Food at Ah Tas Muffins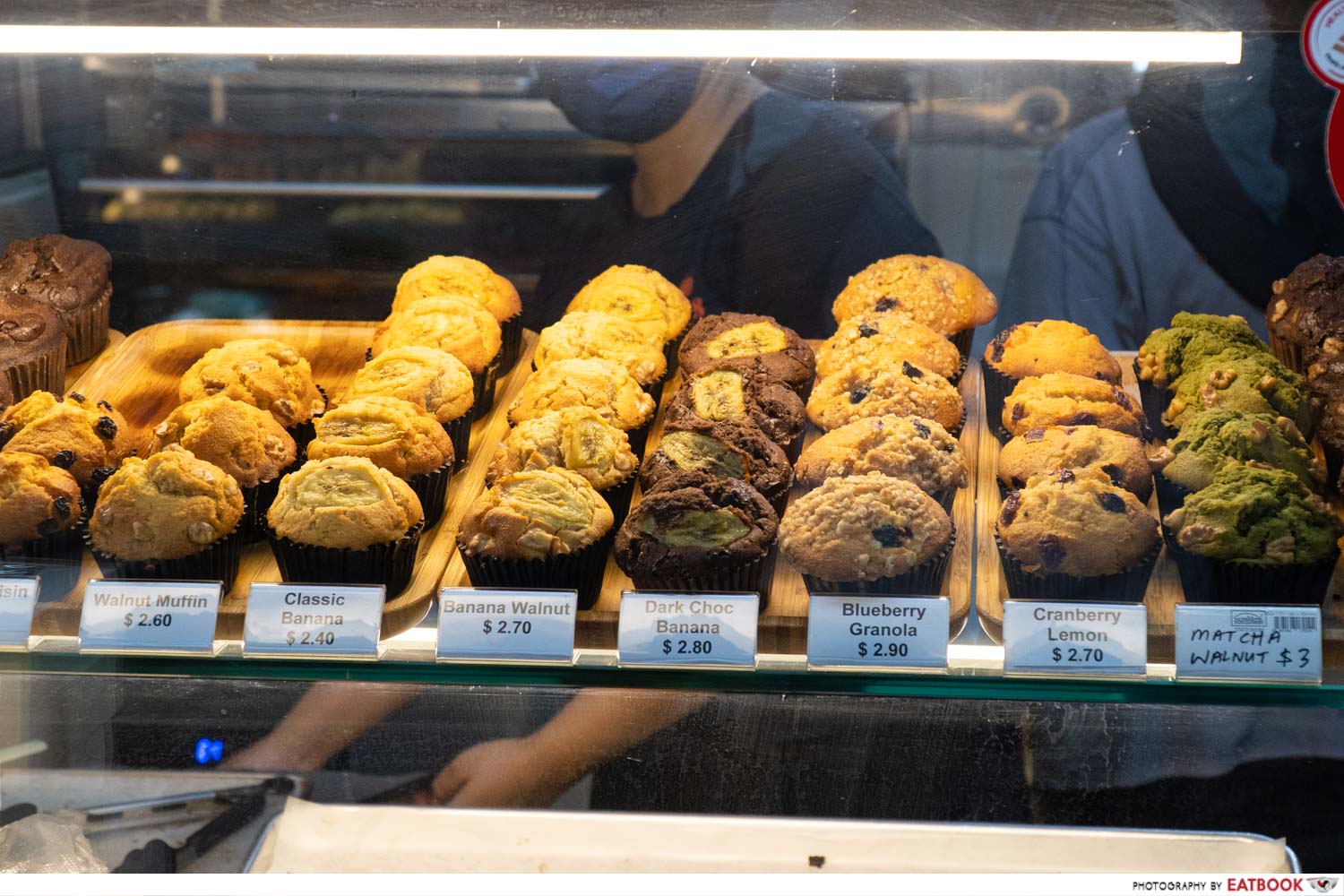 Ah Tas Muffins offers muffins in a whopping 15 flavours, with some flavours that are only available seasonally.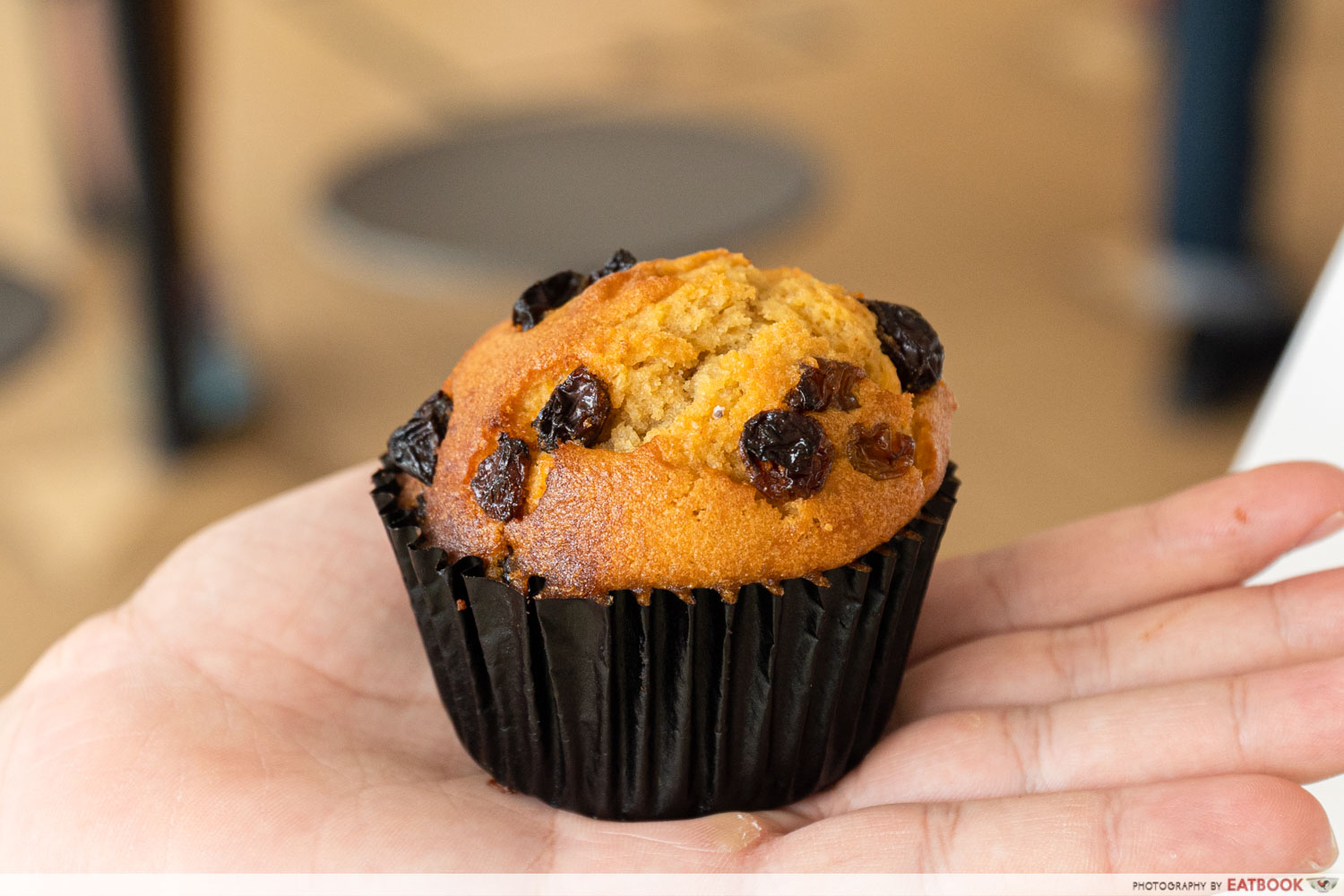 We started with the Classic Raisin ($2.20). I am particular about what makes a good muffin—it should be moist, fluffy, and dense enough without being overly crumbly. Here, I was pleased to find that this muffin ticked all these boxes. The raisins within the muffin were soft and juicy, adding a pop of sweetness to each bite. However, I found myself wishing there were more raisins in the muffin, as I often had bites of plain muffin without any raisins.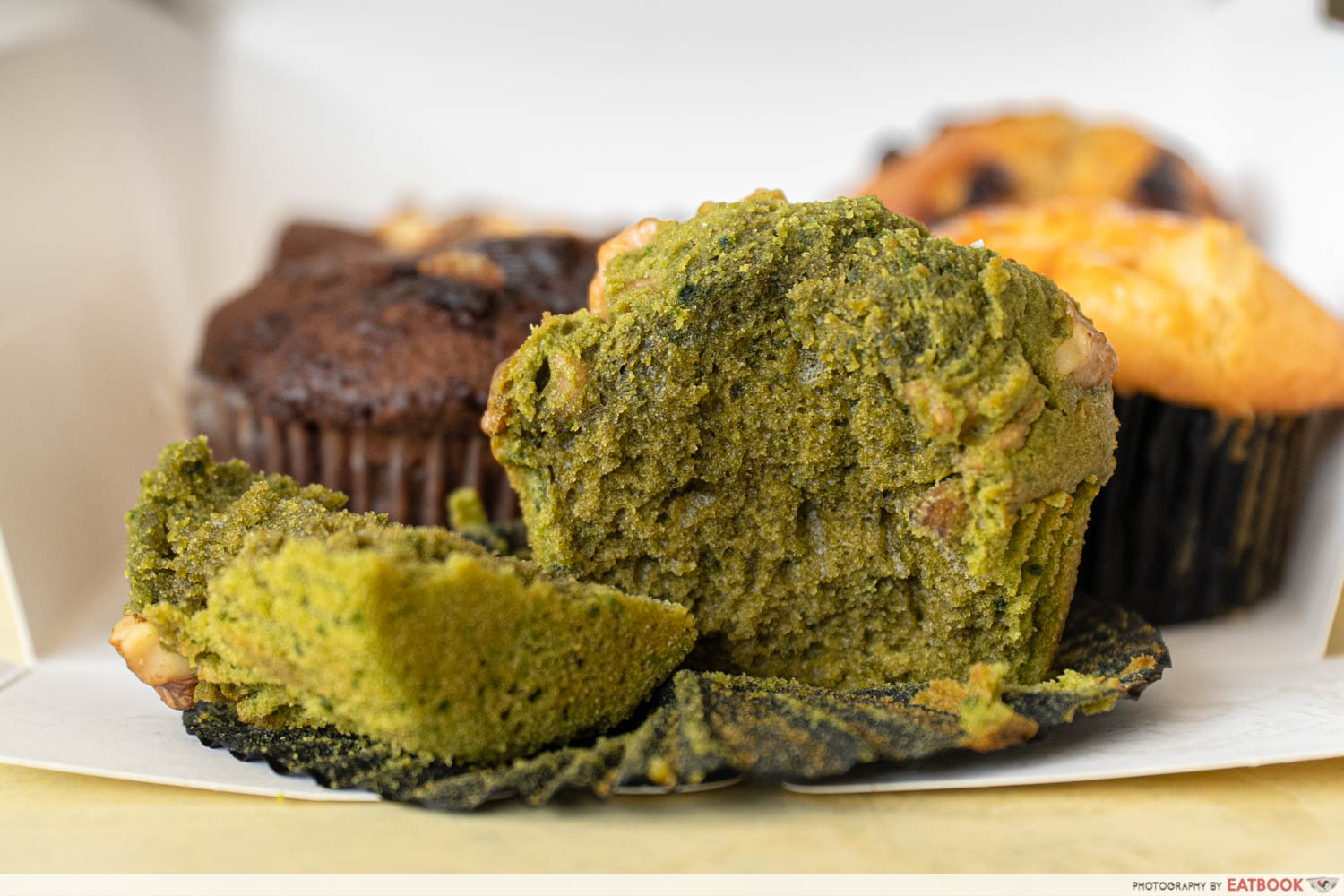 As a matcha lover, I was excited to try the Matcha Walnut ($3). From the first bite, the earthy matcha notes were prominent, and well-balanced by the light buttery flavour of the muffin. The walnuts scattered on top complemented it all by providing a satisfying crunch in every bite.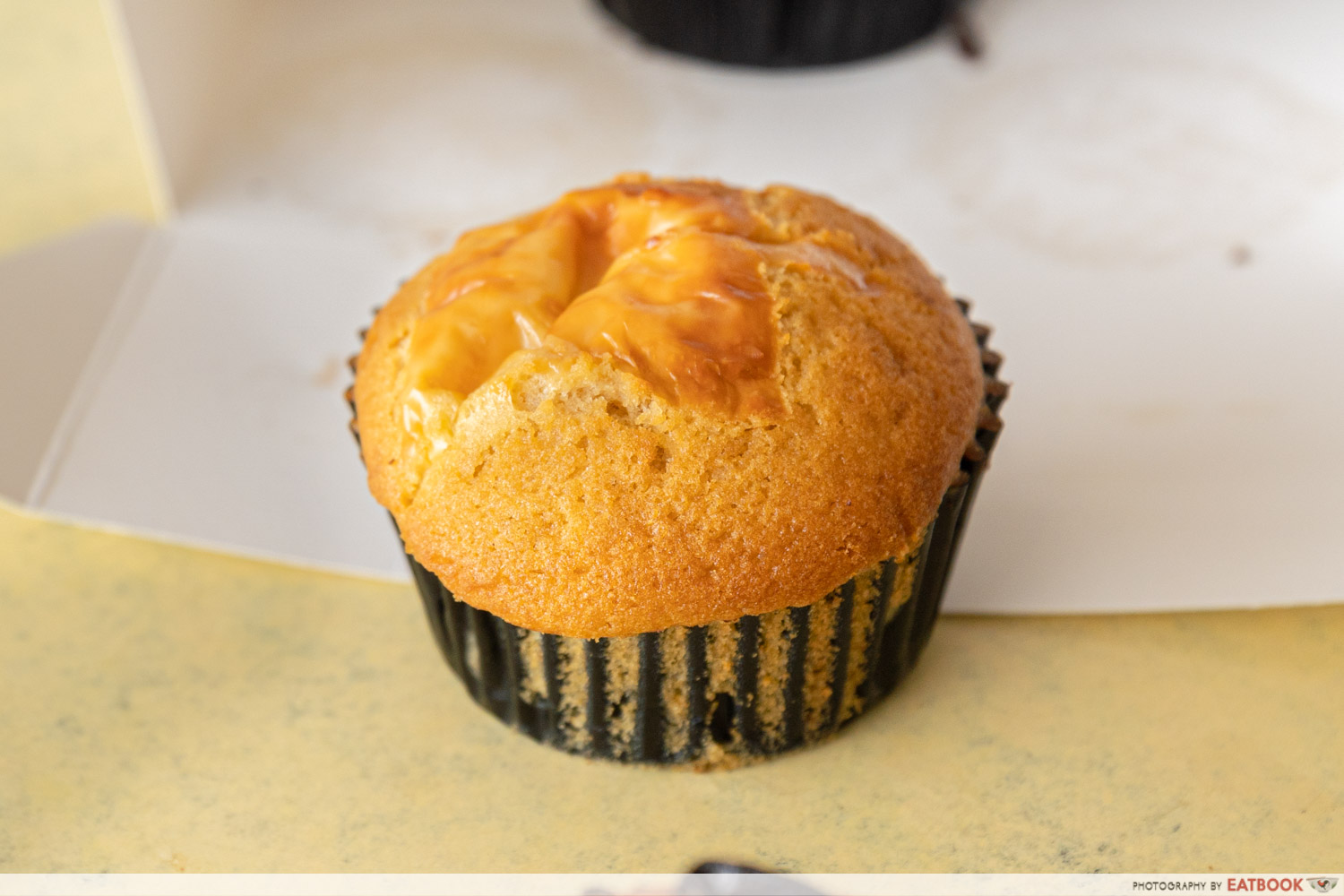 Moving on, we tried their Triple Cheese ($2.90), studded with a mixture of cheese, including cheddar, mozzarella, and an undisclosed European cheese.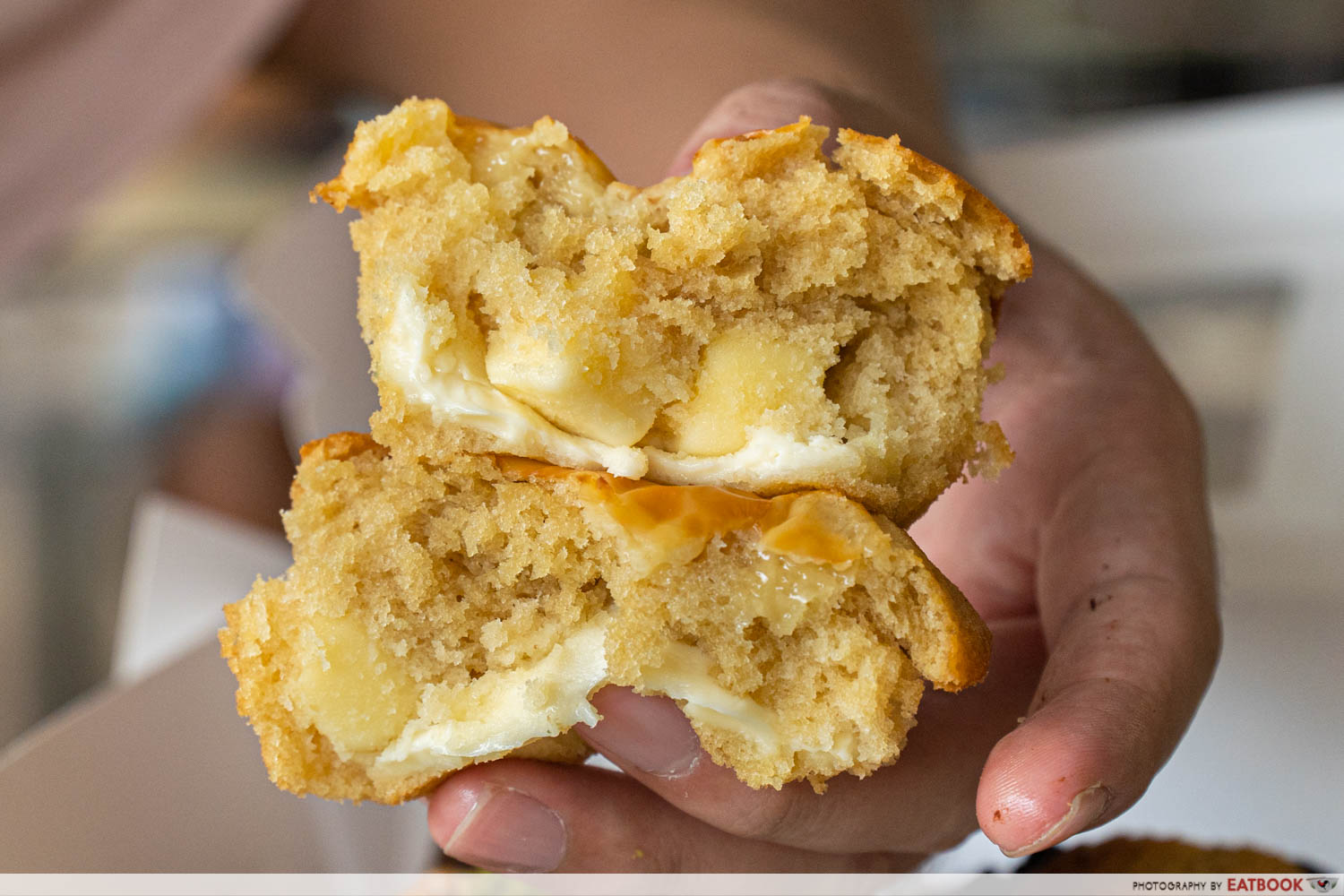 While we were initially disappointed that it didn't have the gooey, stringy cheese pull we were looking forward to, we were pleased to find that they didn't stinge on the additions. The cheese flavour was prominent in every bite, which makes this muffin a nice savoury option.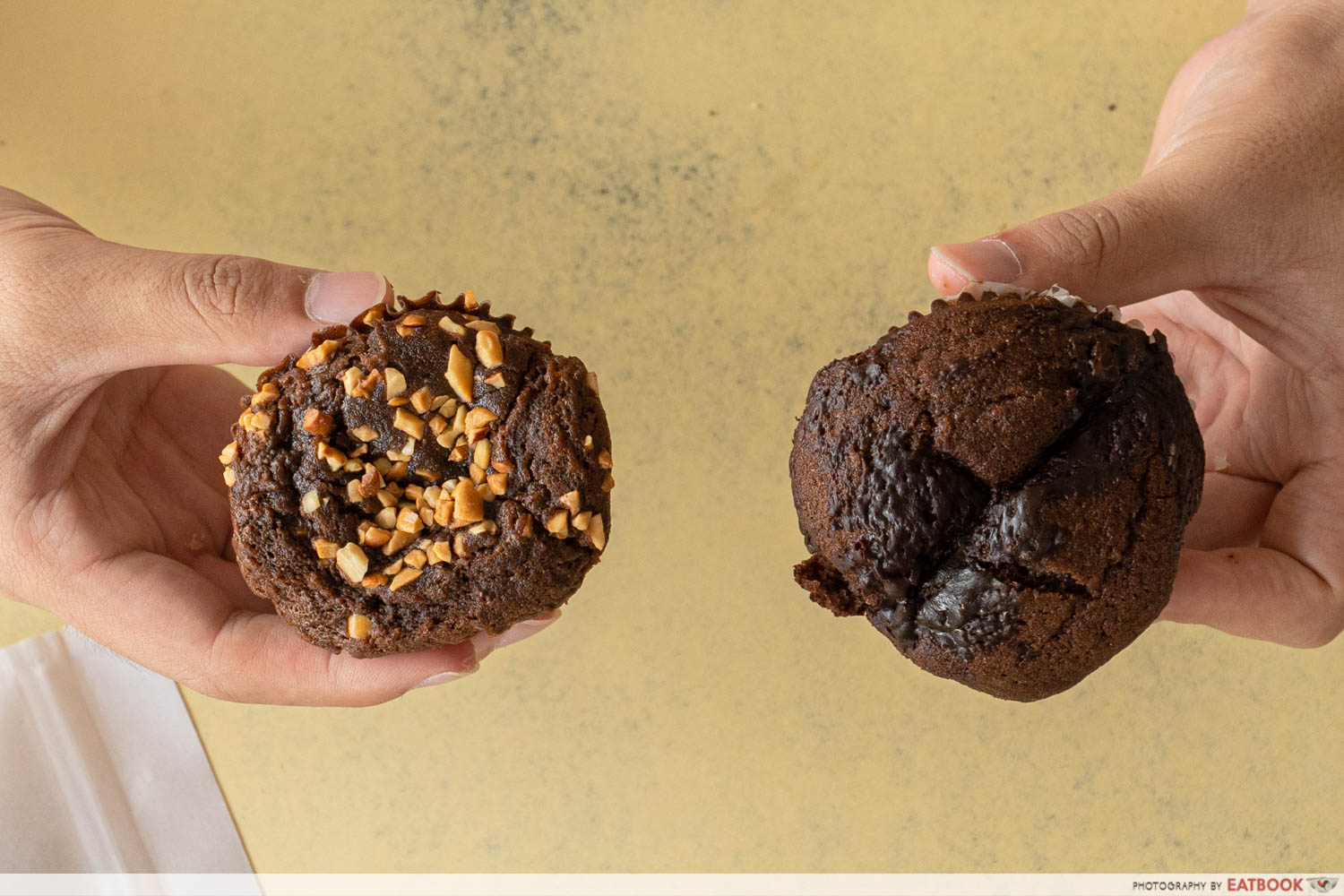 For the chocolate fanatics out there, you'll be pleased to know that they offer a variety here, including Chocolate Oreo ($2.60), Chocolate Banana ($2.90), Chocolate Peanut Butter ($2.90) and more.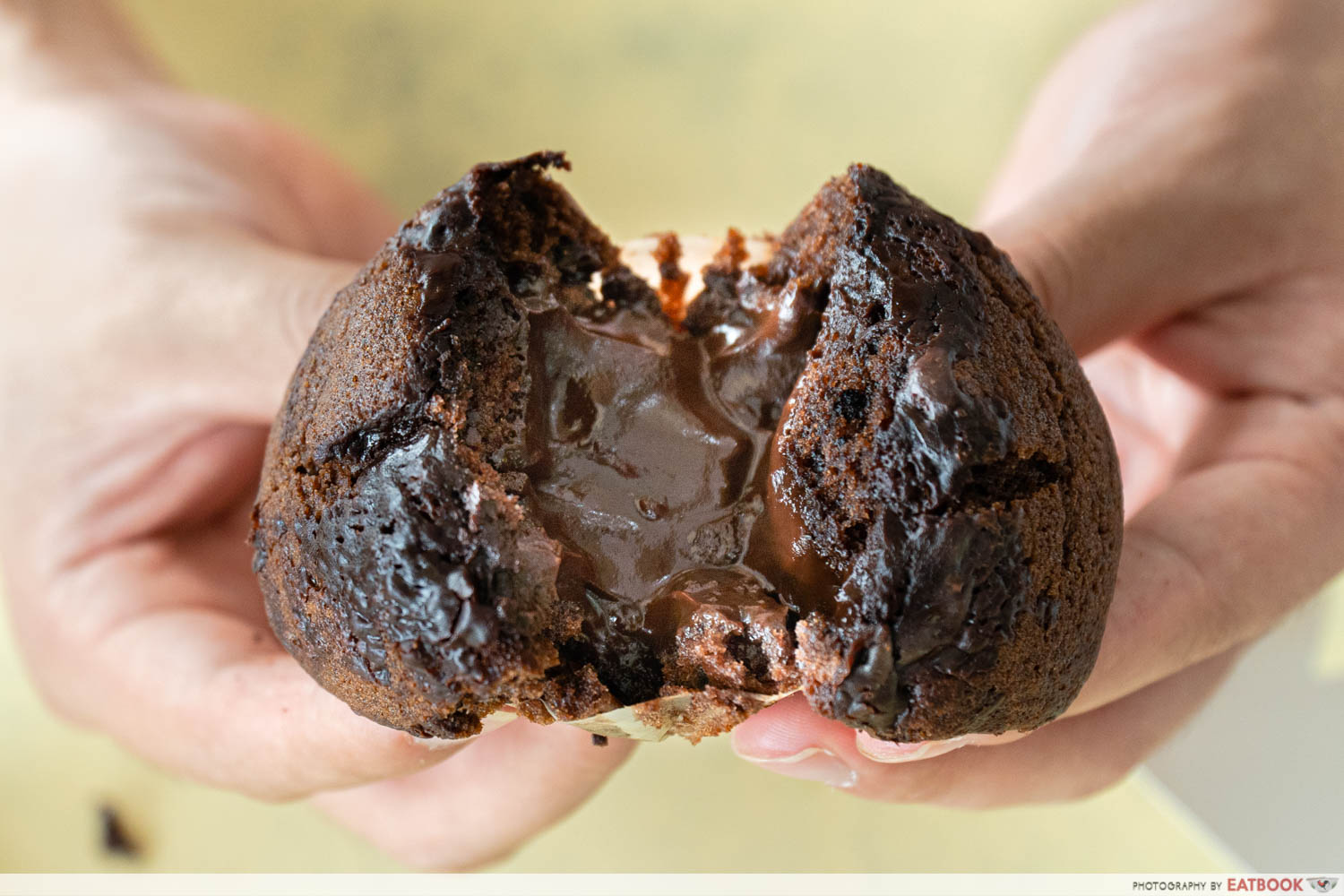 We decided to settle on their Lava Chocolate ($2.90). Tearing the muffin apart revealed a rich, decadent chocolate ganache that oozed out. One common issue with sweet fillings is that they can be too sweet or cloying, but I was pleased to find that the molten chocolate ganache in this muffin was only moderately sweet. Despite the generous amount of rich ganache within, it paired well with the muffin and made for an addictive treat.
One of the latest flavours on their menu is the Hazelnut Praline ($3.90). This muffin is filled with a rich, caramelised hazelnut ganache that will satisfy your sweet tooth. The combination of fluffy, dense chocolate muffin and creamy hazelnut filling reminded me of a gourmet version of a Kinder Bueno.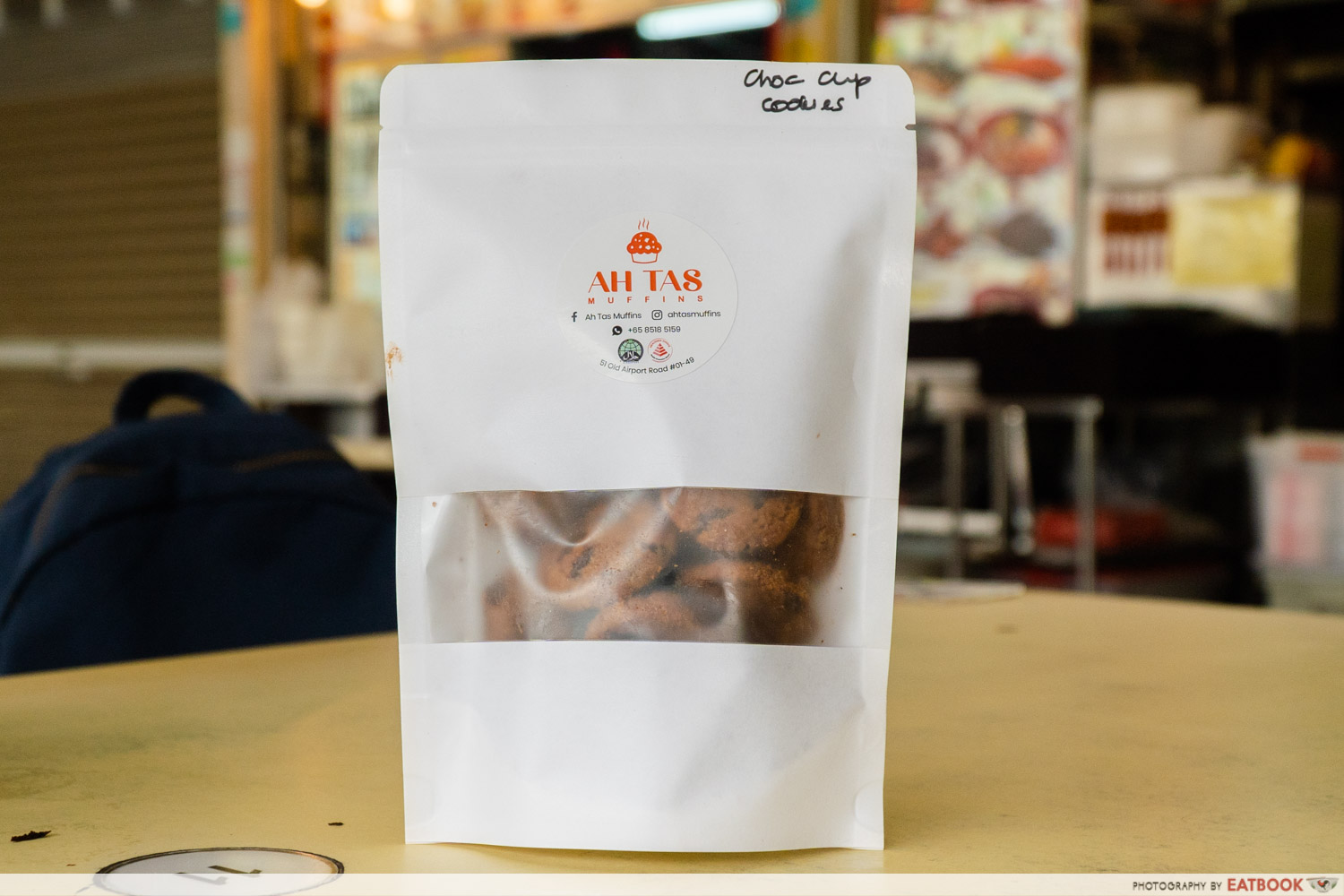 Apart from their muffins, Ah Tas Muffins also have handmade cookies, which come in a variety of flavours such as Chocolate Chips ($5.80), Walnut Cookies ($6.80), and even Macadamia Cookies ($7.80). All their cookies are also freshly baked in-house daily too.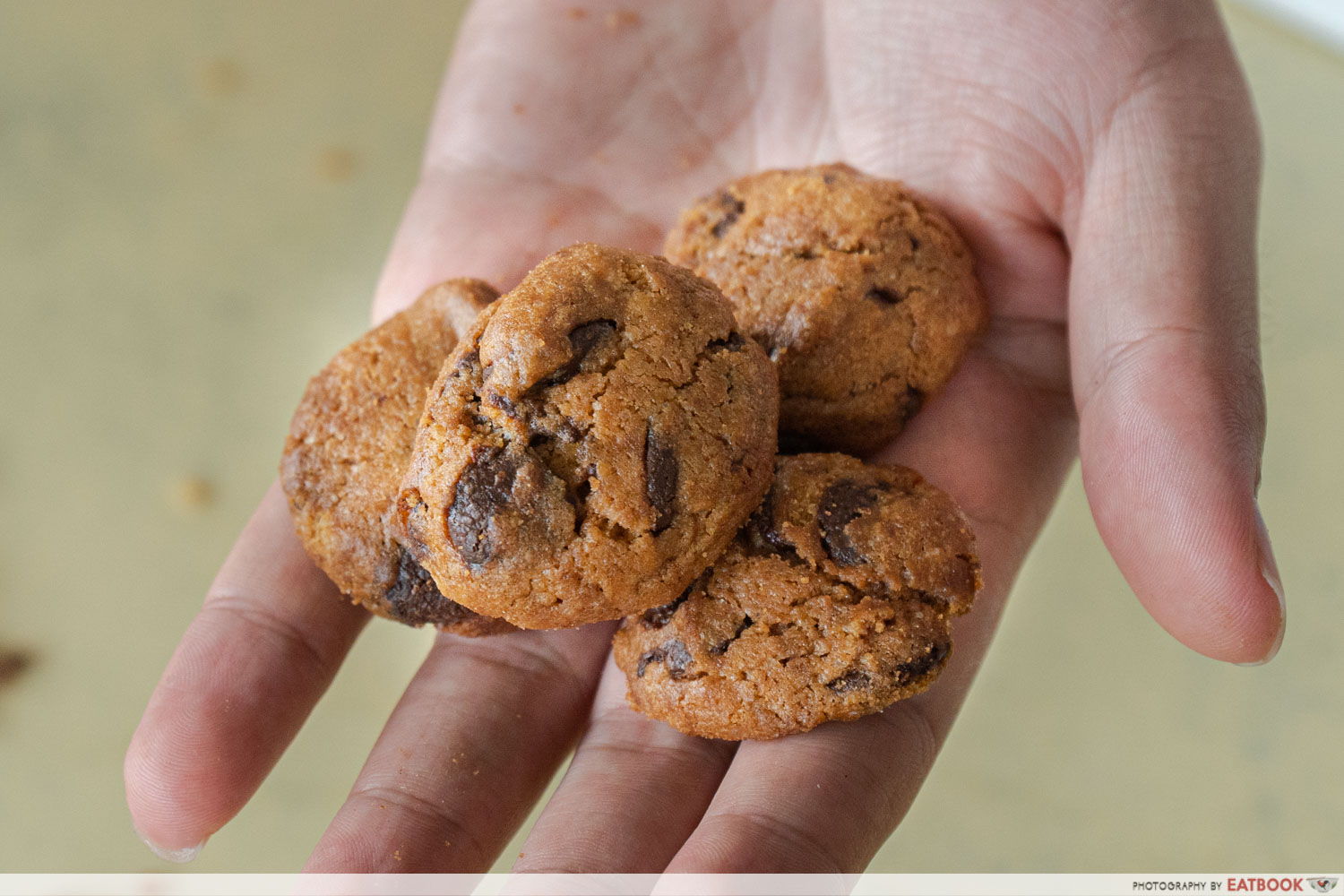 We tried the Chocolate Chips cookies during our visit. These bite-sized snacks were light and crunchy, and filled with just the right amount of chocolate chips. These cookies are comparable to Famous Amos Chocolate Chips cookies and overall, I had no complaints about them.
Ambience at Ah Tas Muffins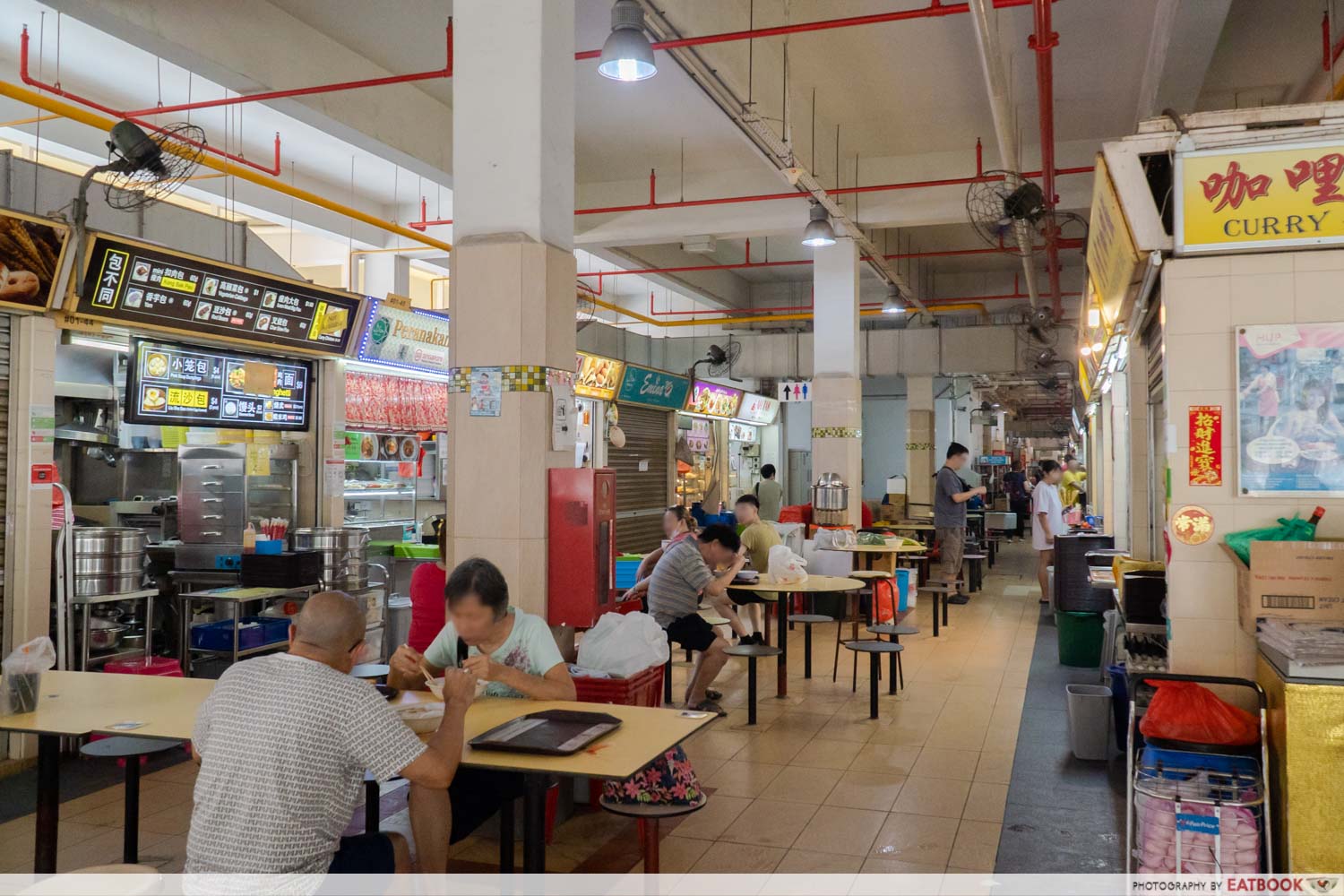 Ah Tas Muffins is located at Old Airport Road Food Centre, home to many famous hawker stores as well. The hawker centre is generally spacious with many seats, but it can get especially packed during lunch hours. To avoid the crowd, you might want to take away your muffins as most of their customers do. We suggest getting there early in the day to ensure you get your pick of the litter, as some of their more popular flavours tend to sell out quickly.
Ah Tas Muffins is a five-minute walk from Dakota MRT Station. 
The verdict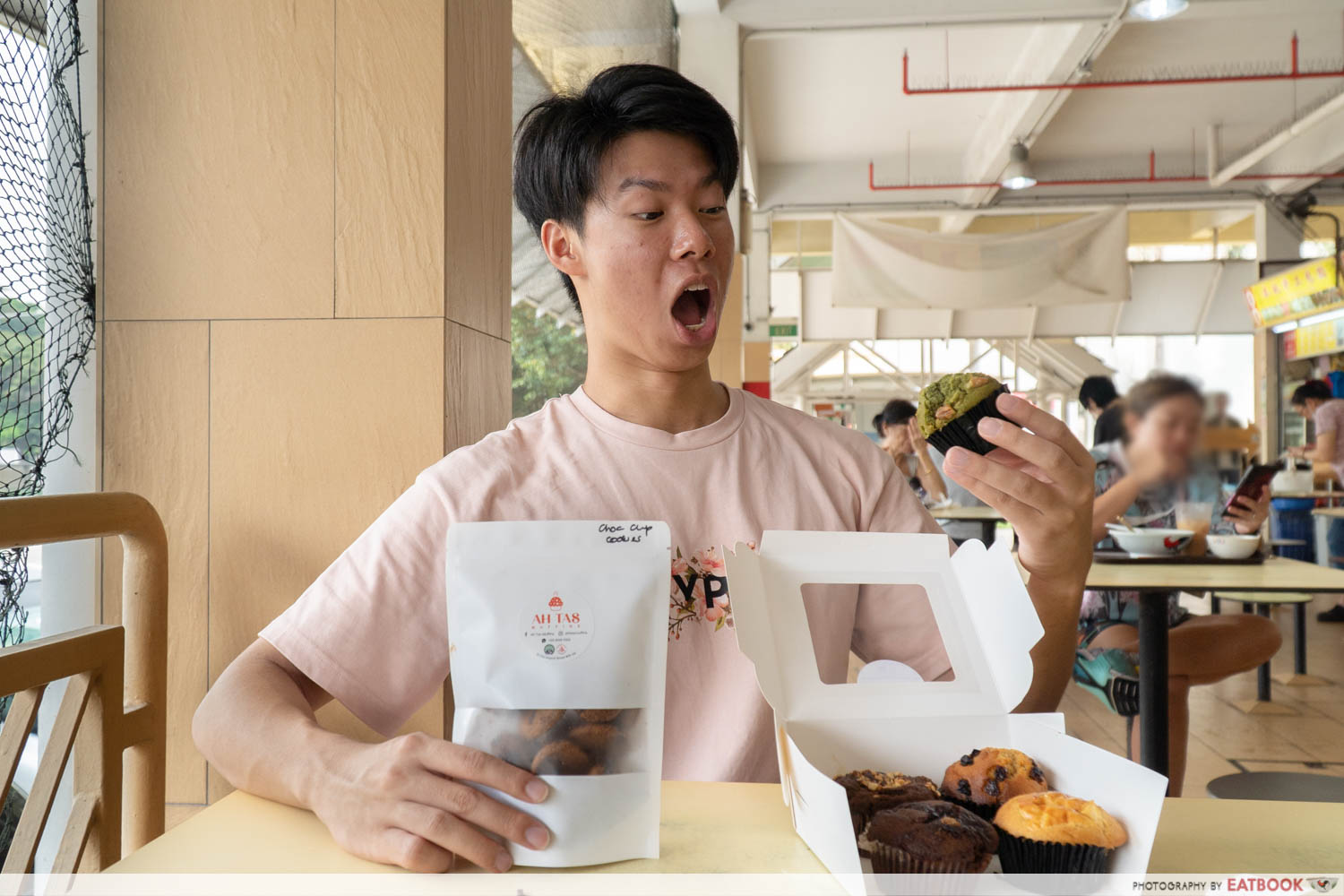 All in all, our experience at Ah Tas Muffins was an enjoyable one. While their muffins were not out-of-this-world extraordinary, they were nonetheless well-executed and reasonably priced for a hawker centre. We only managed to try a few of their muffins, so we'll probably be back to try their other flavours. If you're in search of some good muffins to treat yourself with, this stall is worth a visit. 
For more food recommendations in the hawker centre, read our Old Airport Road Food Centre guide. Alternatively, for more hawker bakes, check out Cat In The Hat, which has a selection of bakes ranging from tarts, madeleines, financiers, to scones.
Address: 51 Old Airport Road, #01-49, Old Airport Road Food Centre, Singapore 390051
Opening hours: Mon-Sat 9am to 3pm (or sold out)
Website
Ah Tas Muffins is a halal-certified eatery.
25 Old Airport Road Food Centre Stalls To Eat At—Wagyu Beef Noodles, Famous Hokkien Mee And More
Pictures taken by Rifdi Syahir.
This was an independent visit by Eatbook.sg
Ah Tas Muffins Review: Lava Chocolate Muffins From $2.20 at Old Airport Road Food Centre
Ah Tas Muffins Review: Lava Chocolate Muffins From $2.20 at Old Airport Road Food Centre -

7.5/10
Summary
Pros
– Affordably priced muffins
– Muffins baked with premium ingredients
Cons
– There could be more raisins in the Classic Raisin muffin
Recommended dishes: Lava Chocolate ($2.90), Matcha Walnut ($3), Chocolate Chip Cookies ($5.80)
Opening hours: Mon-Sat 9am to 3pm (or sold out)
Address: 51 Old Airport Road, #01-49, Old Airport Road Food Centre, Singapore 390051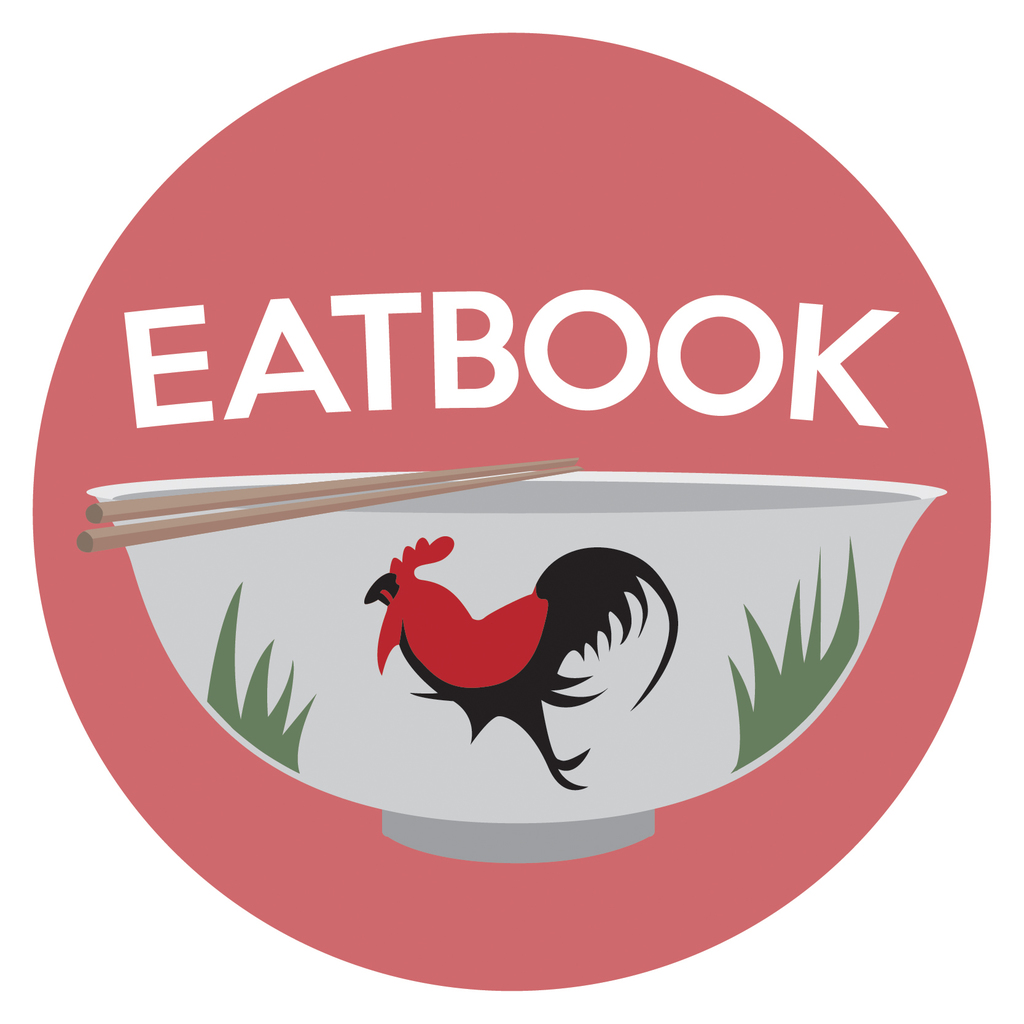 Drop us your email so you won't miss the latest news.