You Xiang Teochew Noodles has cheap and popular noodle dishes in Bukit Panjang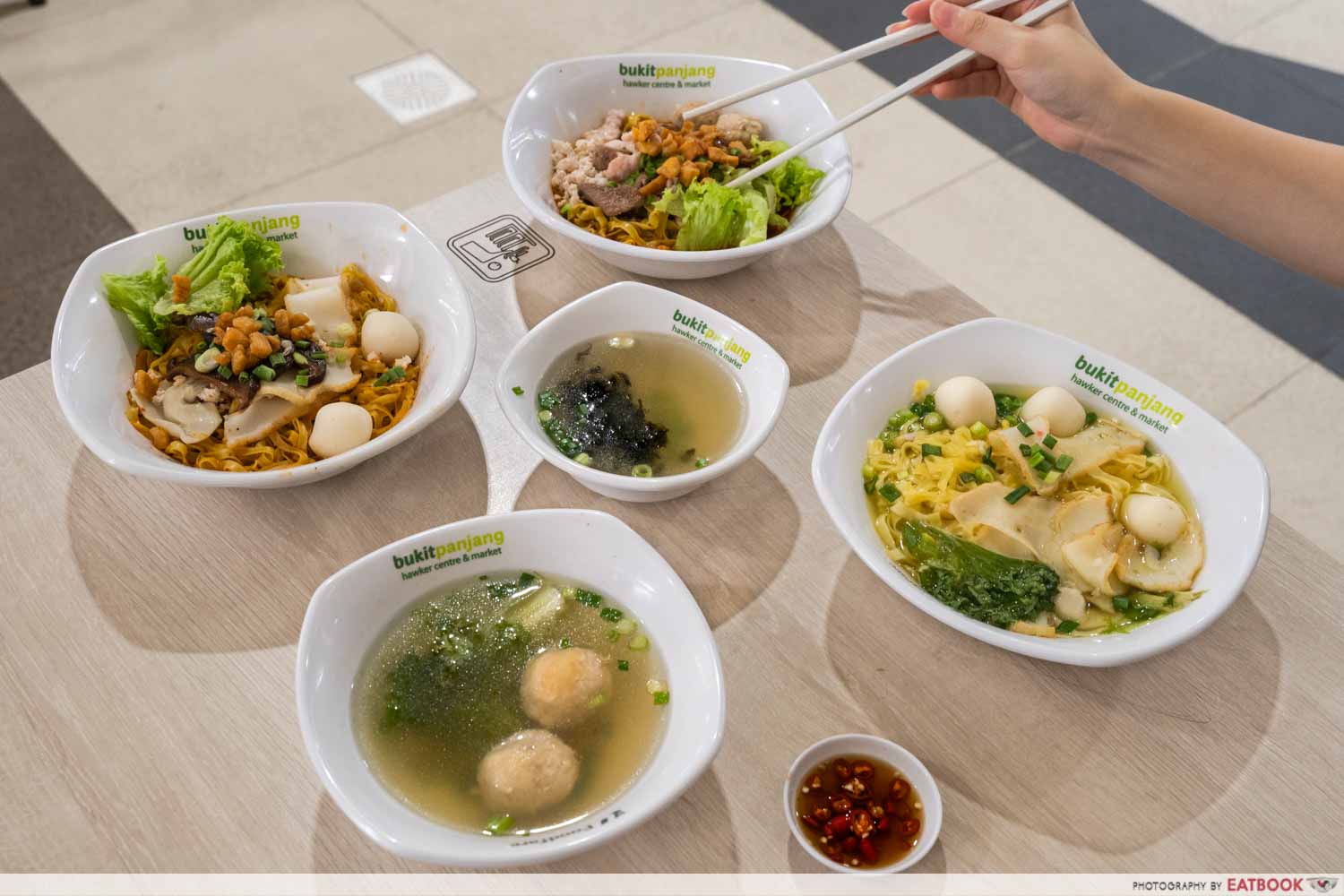 For me, learning that You Xiang Teochew Noodles was in Bukit Panjang Hawker Centre was the cherry on top of the fact that they serve up affordable, filling bowls of bak chor mee (BCM), fishball noodles, and other classic noodle faves of mine. I'm rather vocal about my willingness to travel for good food, but I can't deny that the promise of good, tasteful noods in my area made me a lot more excited to check this stall out than usual. 
You Xiang Teochew Noodles has been around since 1985, and is run by a team of friendly hawkers who were really nice about my embarrassing attempt at ordering in a horrendous mishmash of Mandarin, dialect, and numbers. They used to operate out of a kampong in Potong Pasir, before moving to Bukit Panjang where they can attest to having one of the longest queues in this hawker centre every morning. 
Food at You Xiang Teochew Noodle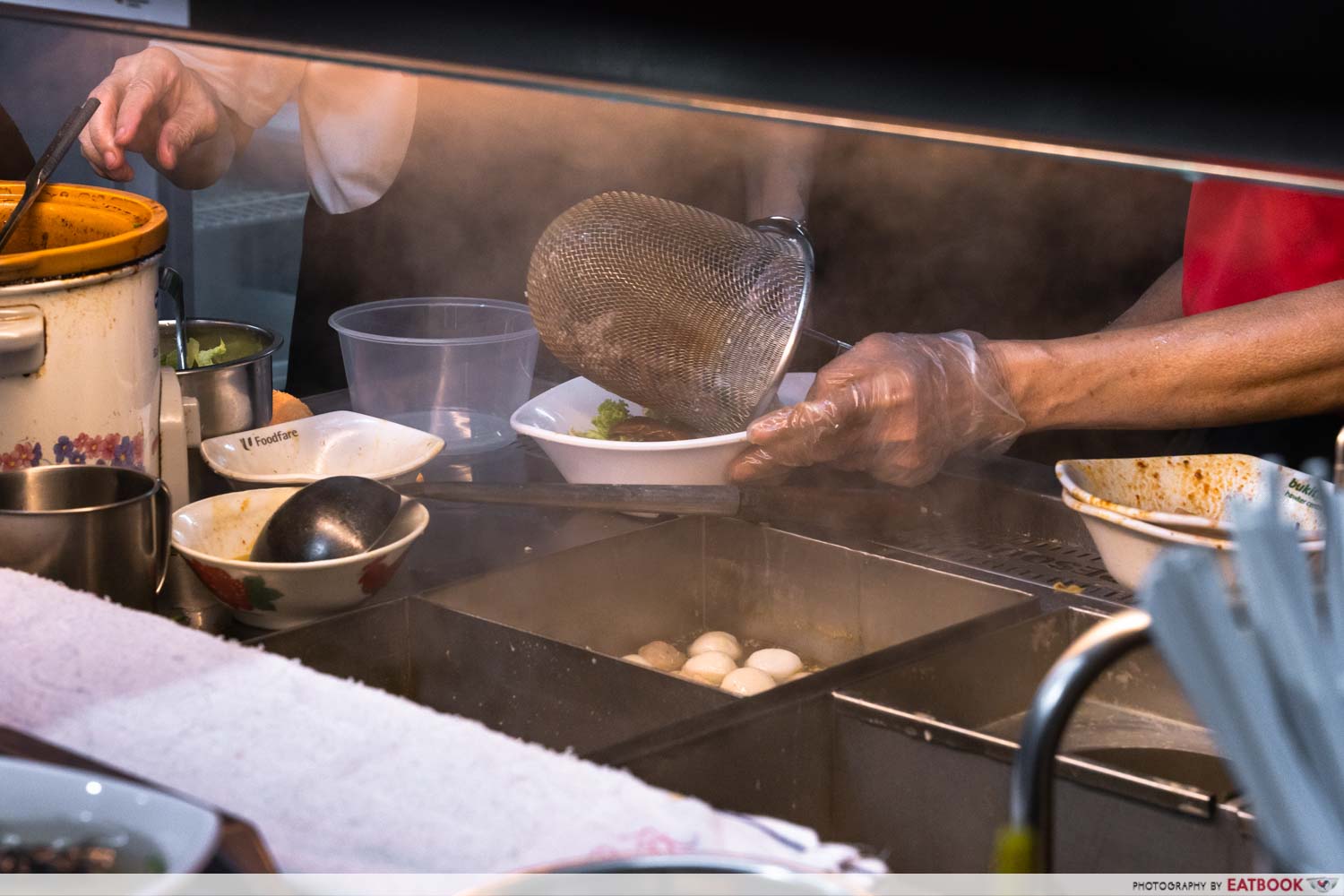 If the long queue here hadn't already tipped us off that we were in for a good time, watching the hawkers prepare each order did. Nearly 40 years worth of skill and efficiency were on show here, and my poor friend had to endure my increasingly hangry nature as I watched each fresh bowl of noodles be made.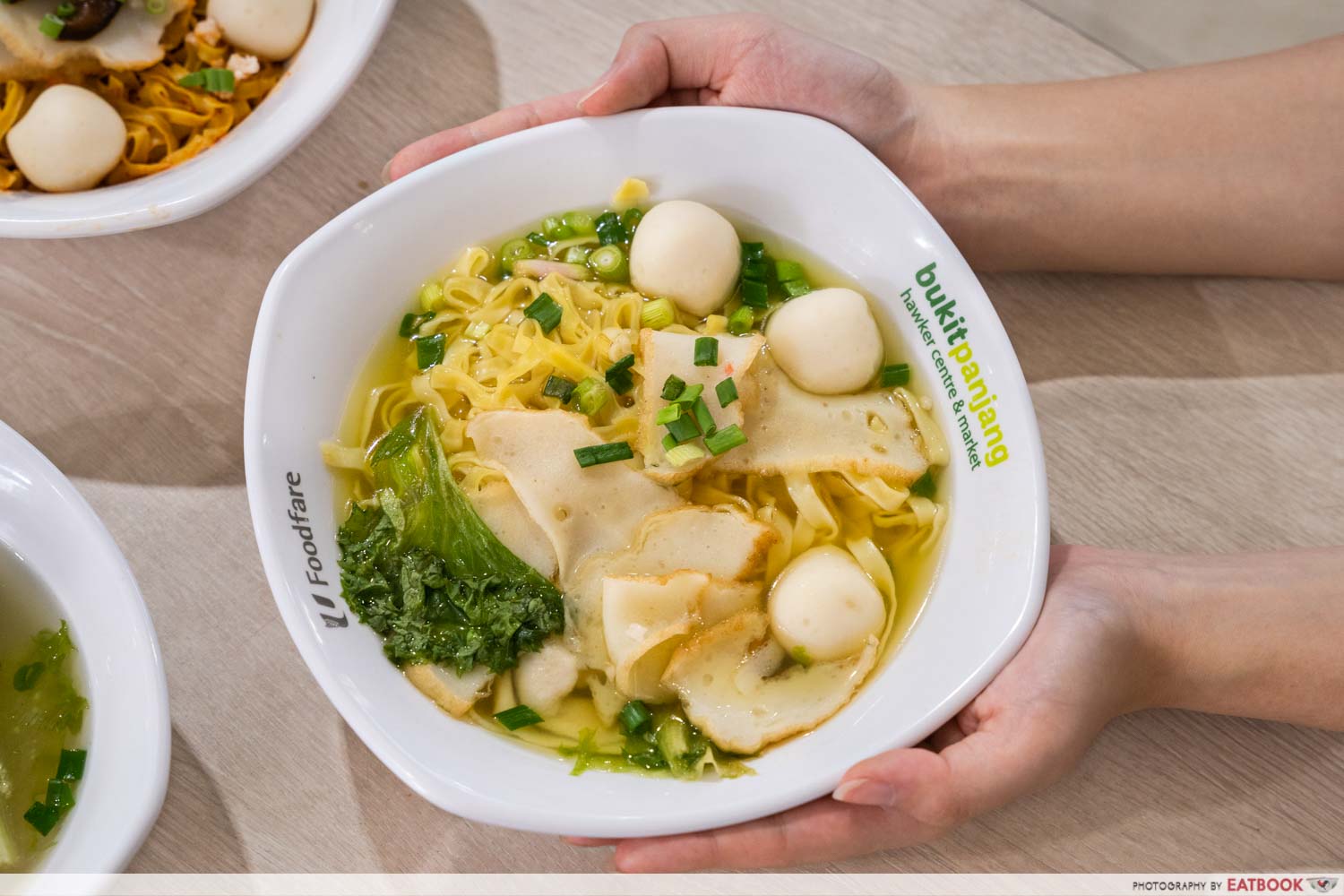 You Xiang started out selling prawn mee and fishball noodles, so we decided to try a bowl of Fishball Noodles with soup and mee pok. For a dish called fishball noodles, the amount of fishballs might be eyebrow raising, but at the extremely affordable price of $2.70, it's hard to complain, especially when it's also true to the display picture.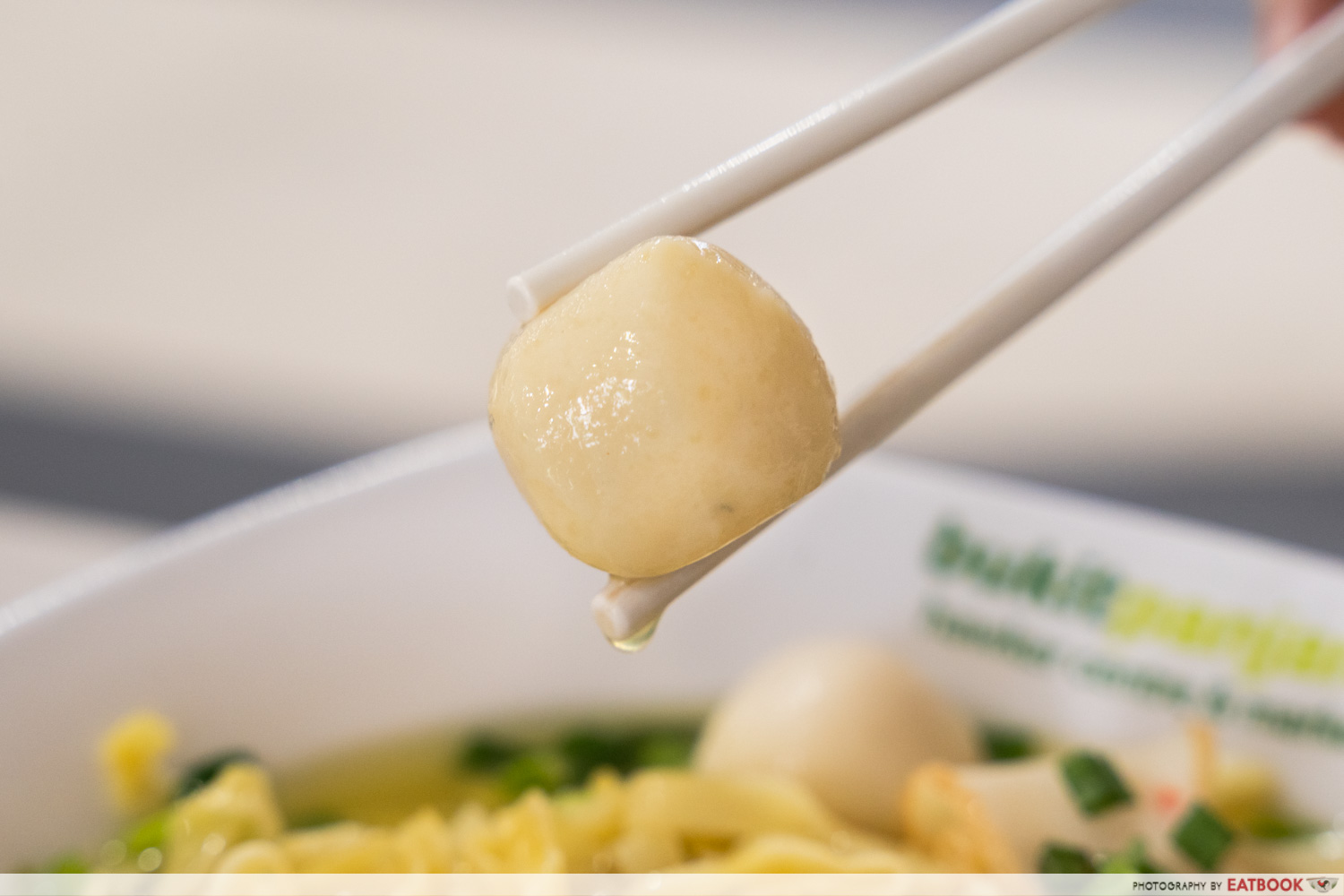 The fishballs here were small, but bouncy and fresh. There were also many thin fish cake slices and a fish dumpling included in this dish, so despite the small amount of fishballs, you aren't left wanting for more liao in any case.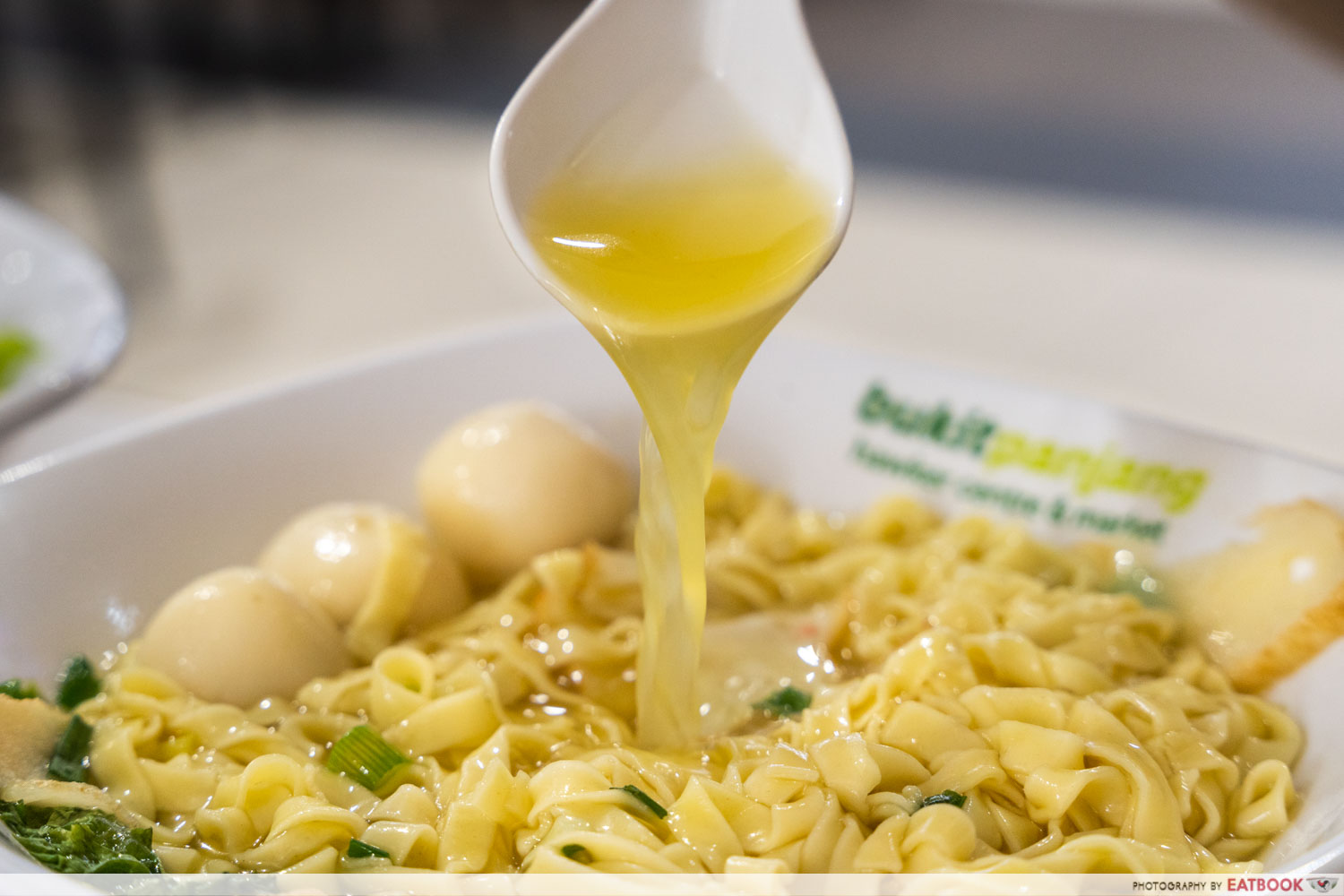 Making this an easy dish to slurp down was the simple and clean soup, which had a fragrant, savoury-sweet bodied flavour to it. Our mee pok noodles did not hold up well in our soup and turned soggy easily though, so you probably should be more careful than I was when choosing your noodle type.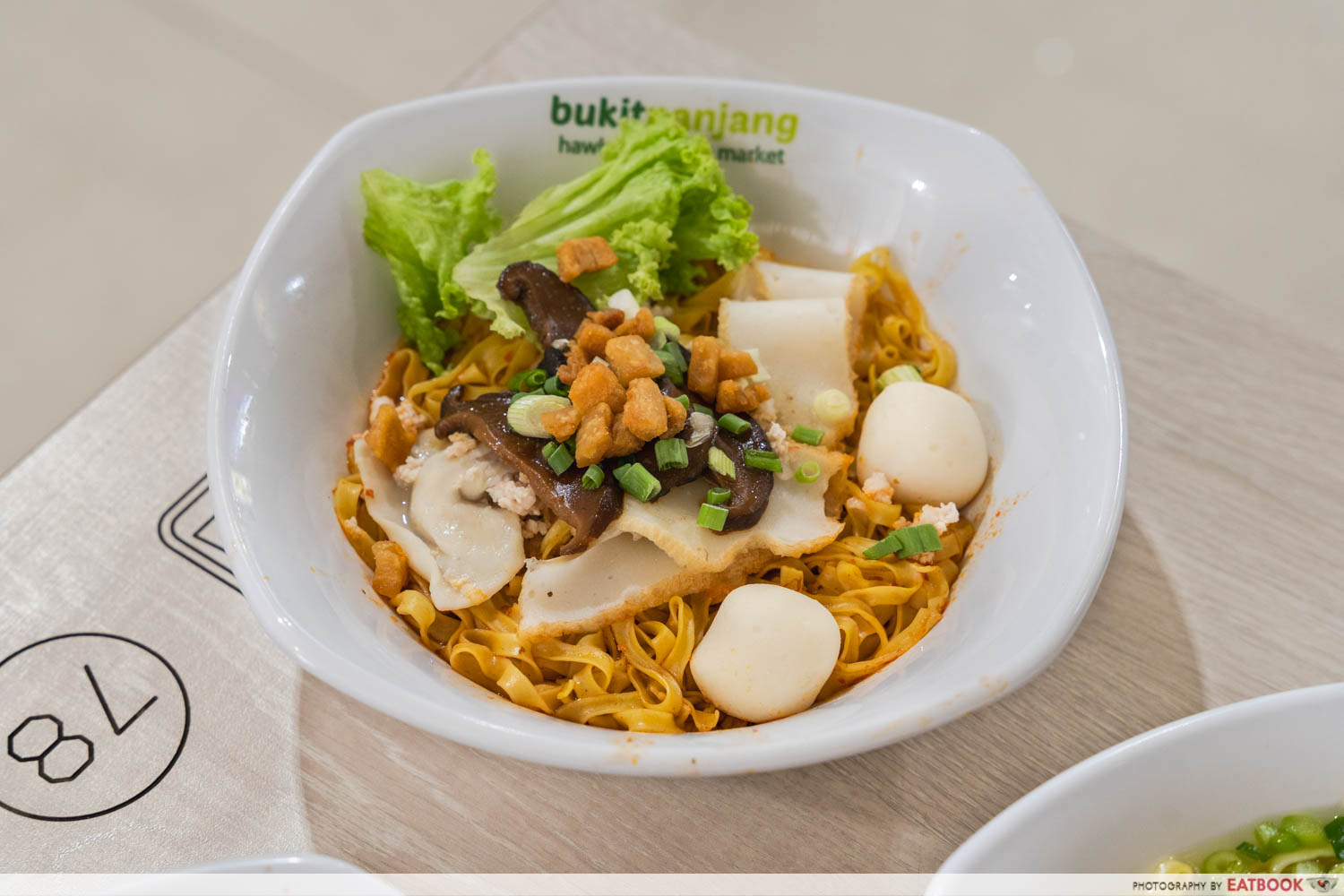 The Fishball Minced Meat Noodles ($3.50) were a cross between the fishball noodles and BCM, with the same added liao as the fishball noodles but also added mushroom and minced meat on top. We got this bowl spicy and dry with a small bowl of seaweed soup on the side.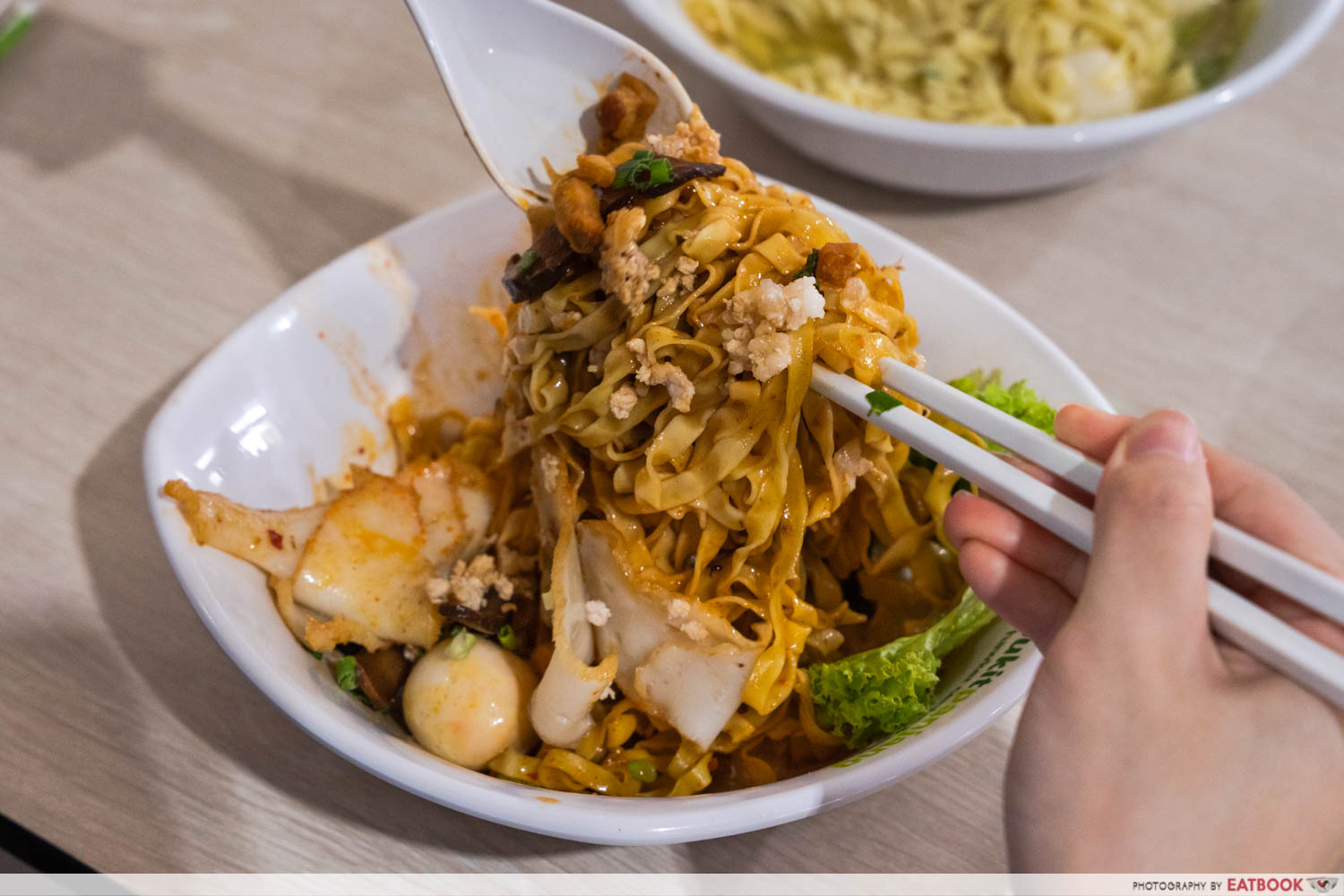 Mixing up the ingredients and coating the springy noodles in the generous amount of spicy sauce made for an amazing mouthfeel, with a mix of tastes and textures from the coarse minced meat, smooth mee pok, sweet fishball, mushroom, and fishcake with every bite.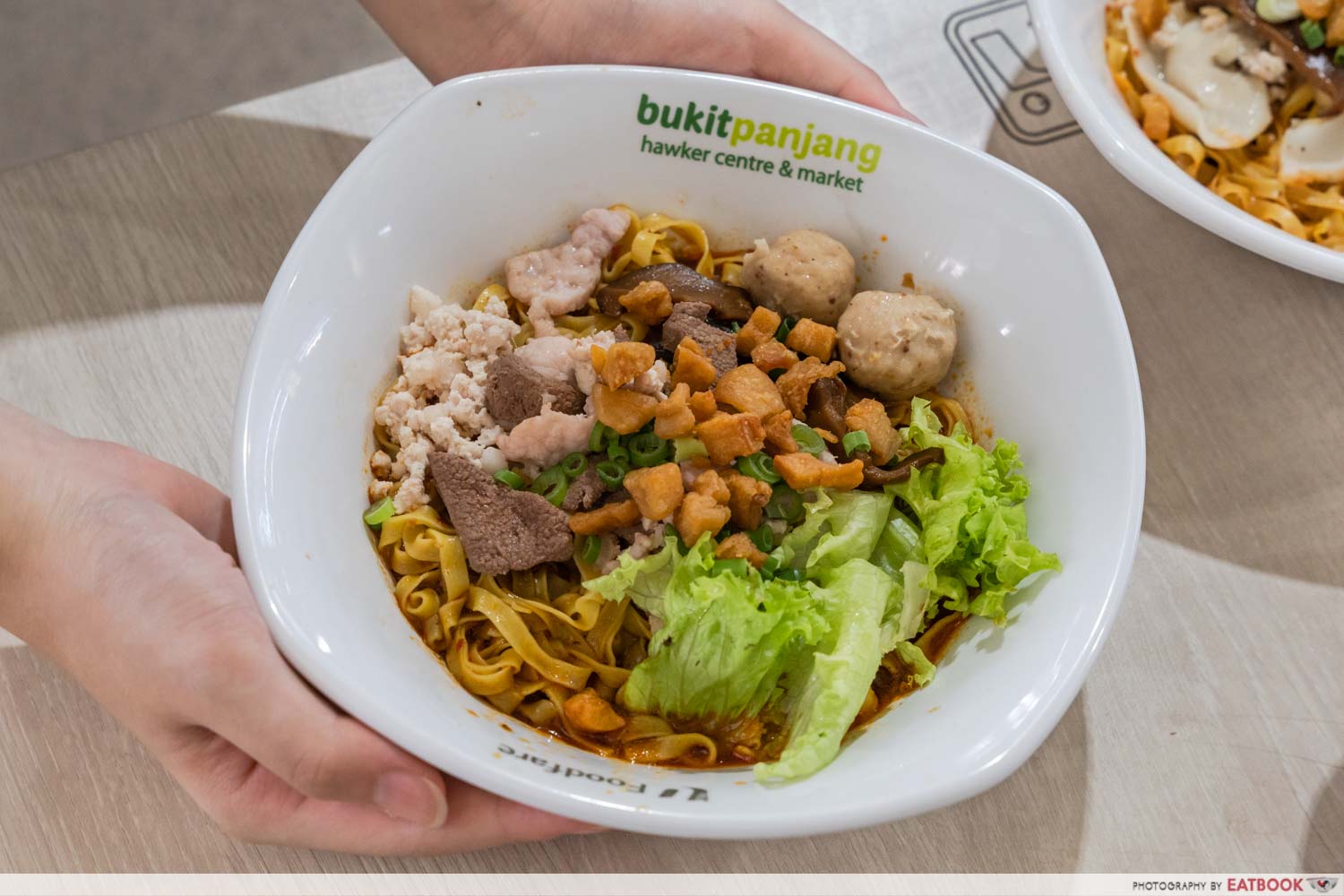 You Xiang's version of bak chor mee was labelled Mush'rm Minced Meat Noodles ($3.50) on their menu, and is the stall's most popular dish on the menu. A hearty, loaded bowl of meatballs, minced pork, mushroom, and pig liver slices, the meatballs in this dish were slightly saltier but chewy, while the liver slices were tender, though they had a slight porky smell to it.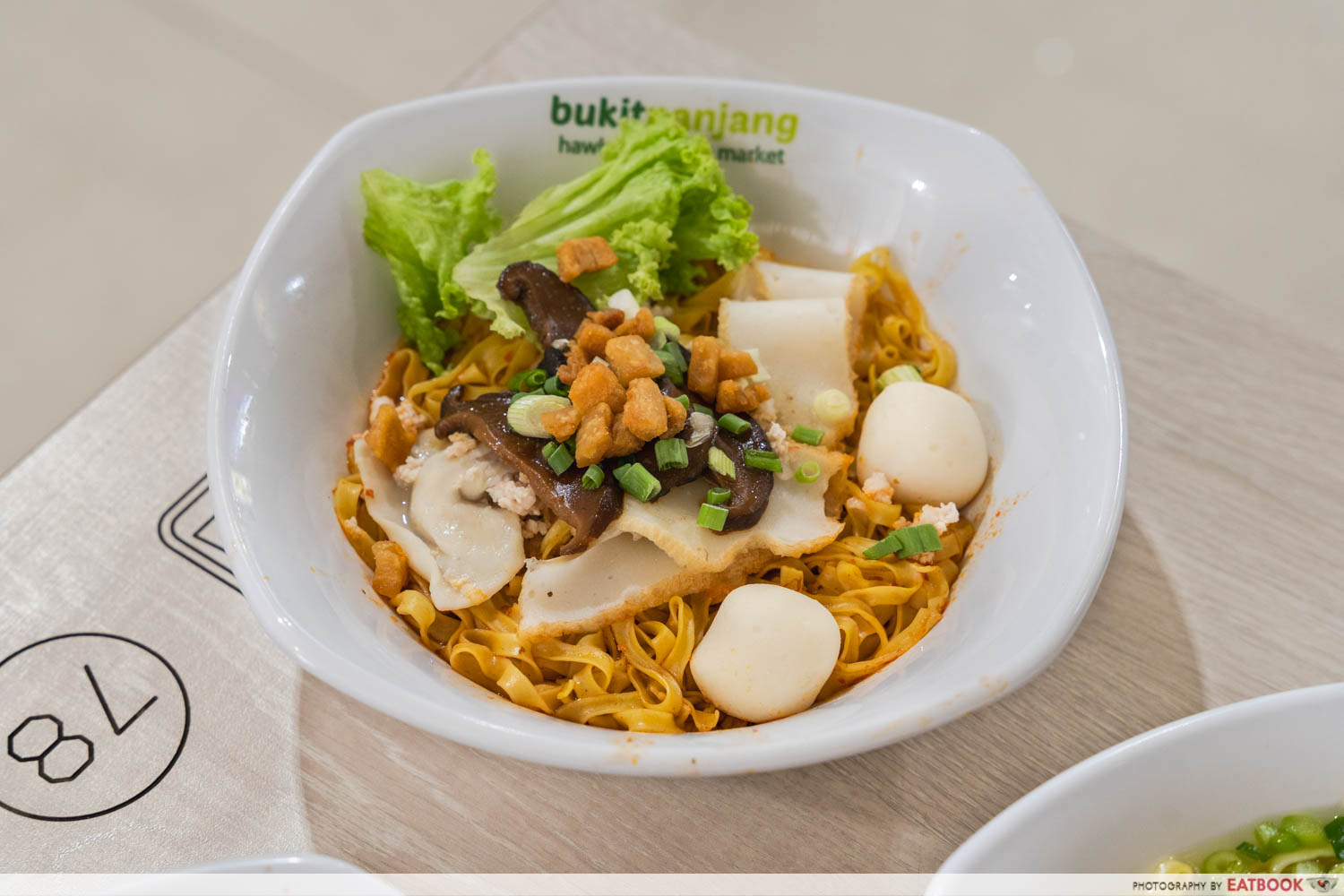 If you'd noticed, I didn't mention the pork lard in the list of ingredients, and that was because You Xiang doesn't include it in their noodle bowls! They have a metal bowl filled with freshly fried, golden brown pork lard available alongside their other condiments, and you are invited to add as much as you'd like. We recommend adding lots for extra richness and a crispy addition to your meal.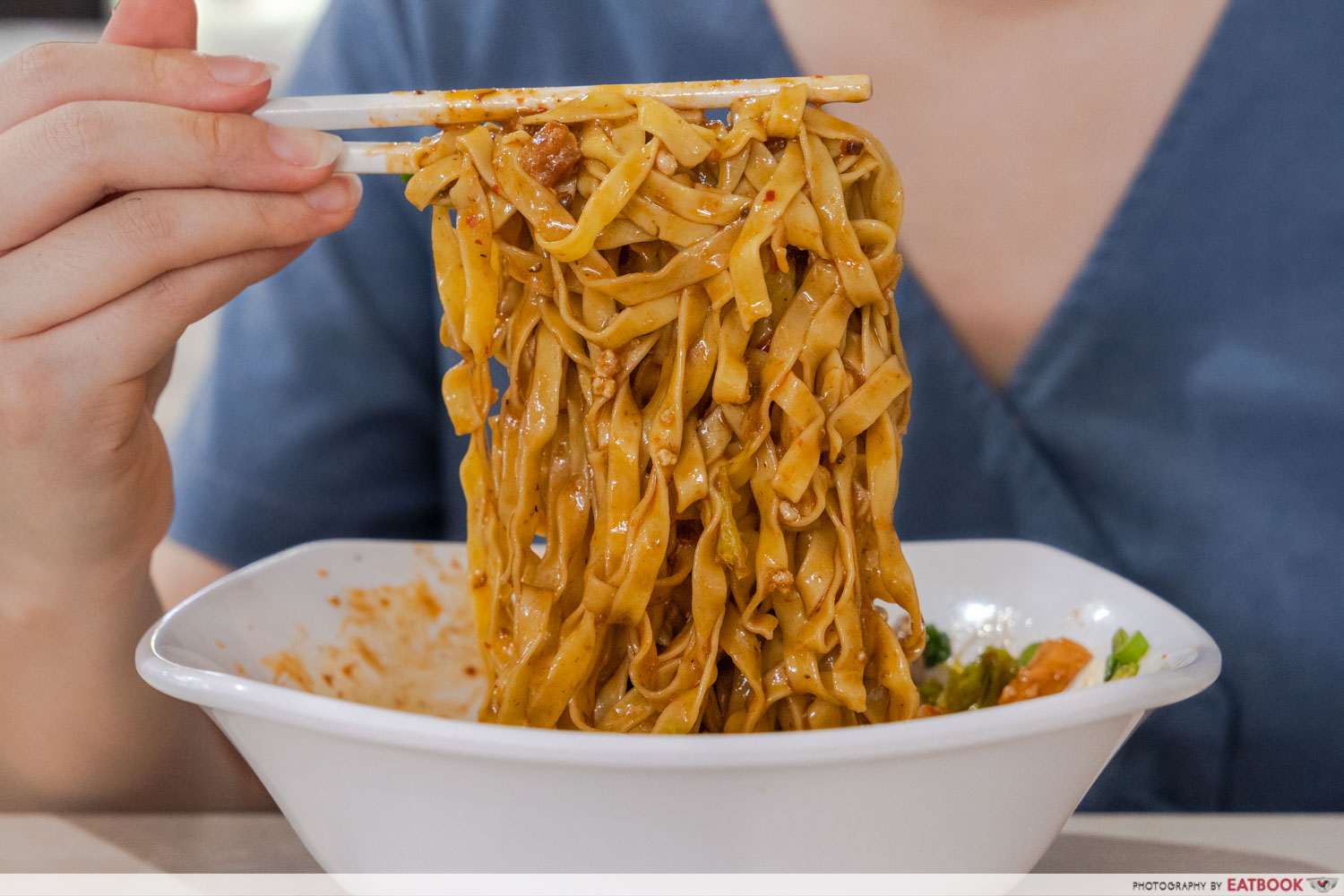 I also accidentally asked for this bowl to be extra hot, which resulted in a much redder tint and spicier aroma compared to the other dishes we got. This turned out to be a blessing in disguise, as we felt that the added sweet sambal actually gave the dish a depth of flavour instead of overpowering it. However, it did seem kind of a shame that you had to intentionally ask for extra spice for this dish to truly pop.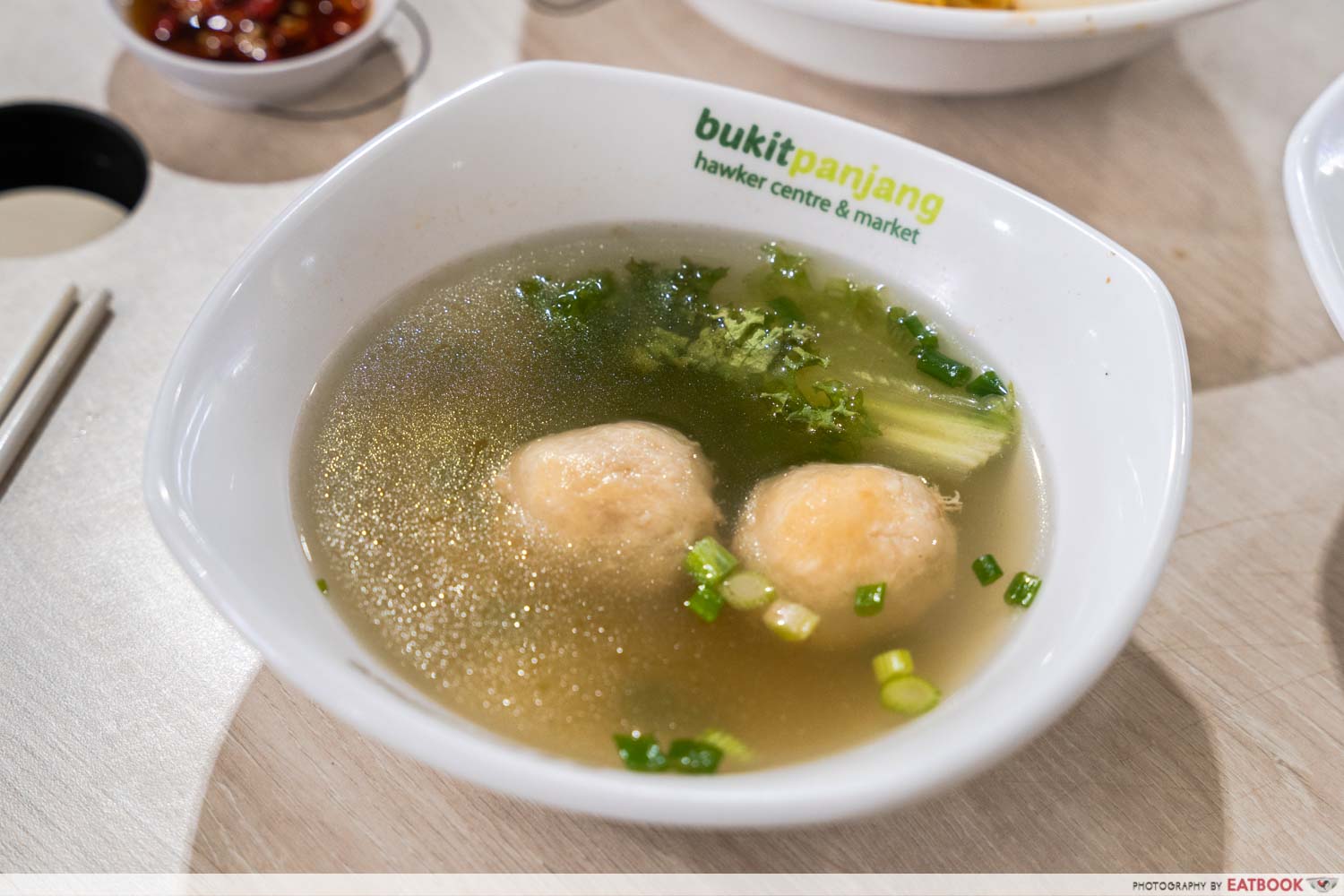 Last of all, we decided to try the stall's speciality dish, Taiwan Meatballs ($1.20), which consisted of two large, handmade meatballs in a small bowl of soup.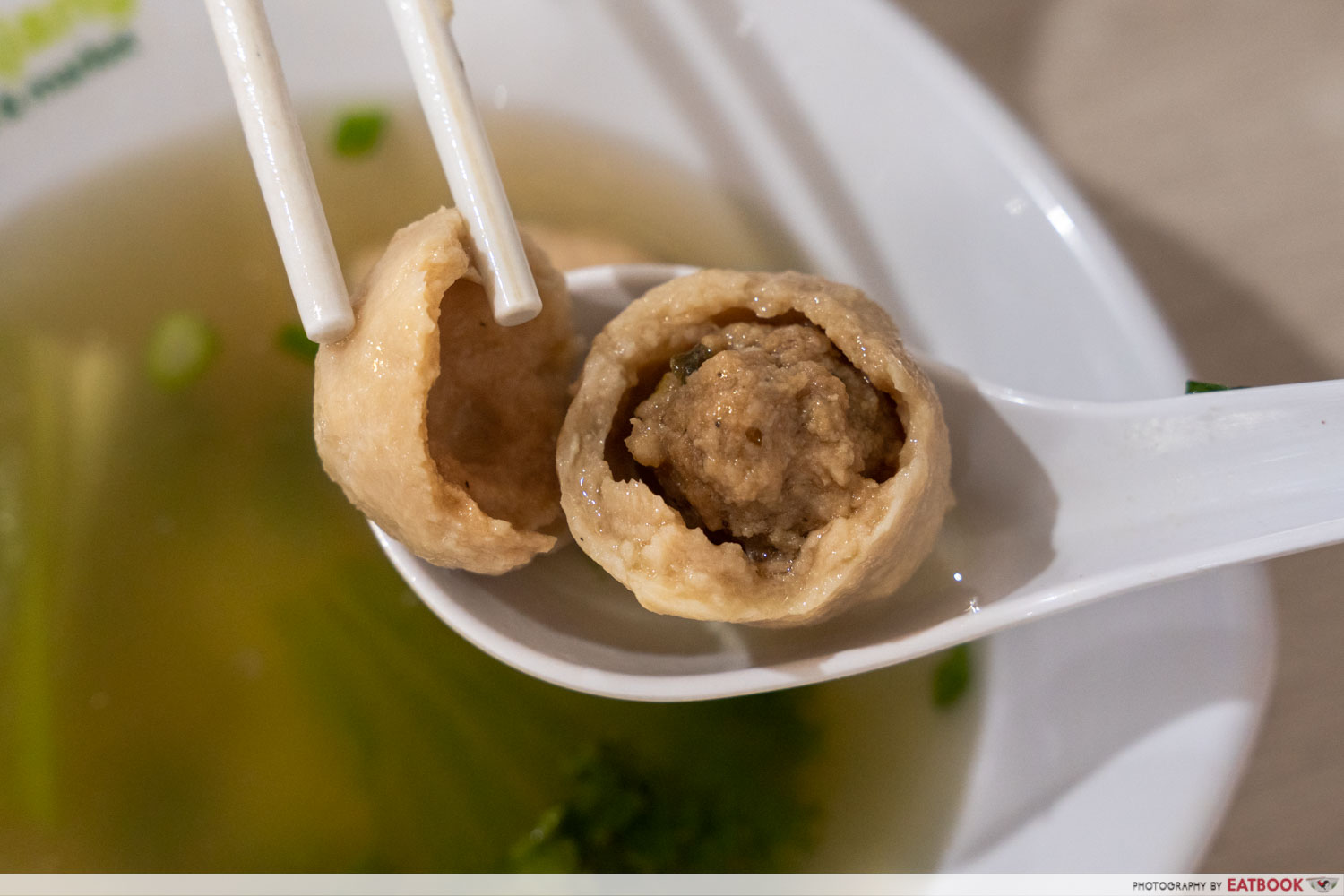 There are two layers to the meatball: the outer layer was made of the same stuff as the meatball in the BCM, and the insides were a marinated minced meat filling. Out of all the balls we tried, this was our favourite due to its uniqueness and the savoury, juicy minced pork filling.  
Xiang Xiang Traditional Bak Chor Mee Review: BCM With Intestines And Collagen Soup In Kallang
Ambience at You Xiang Teochew Noodle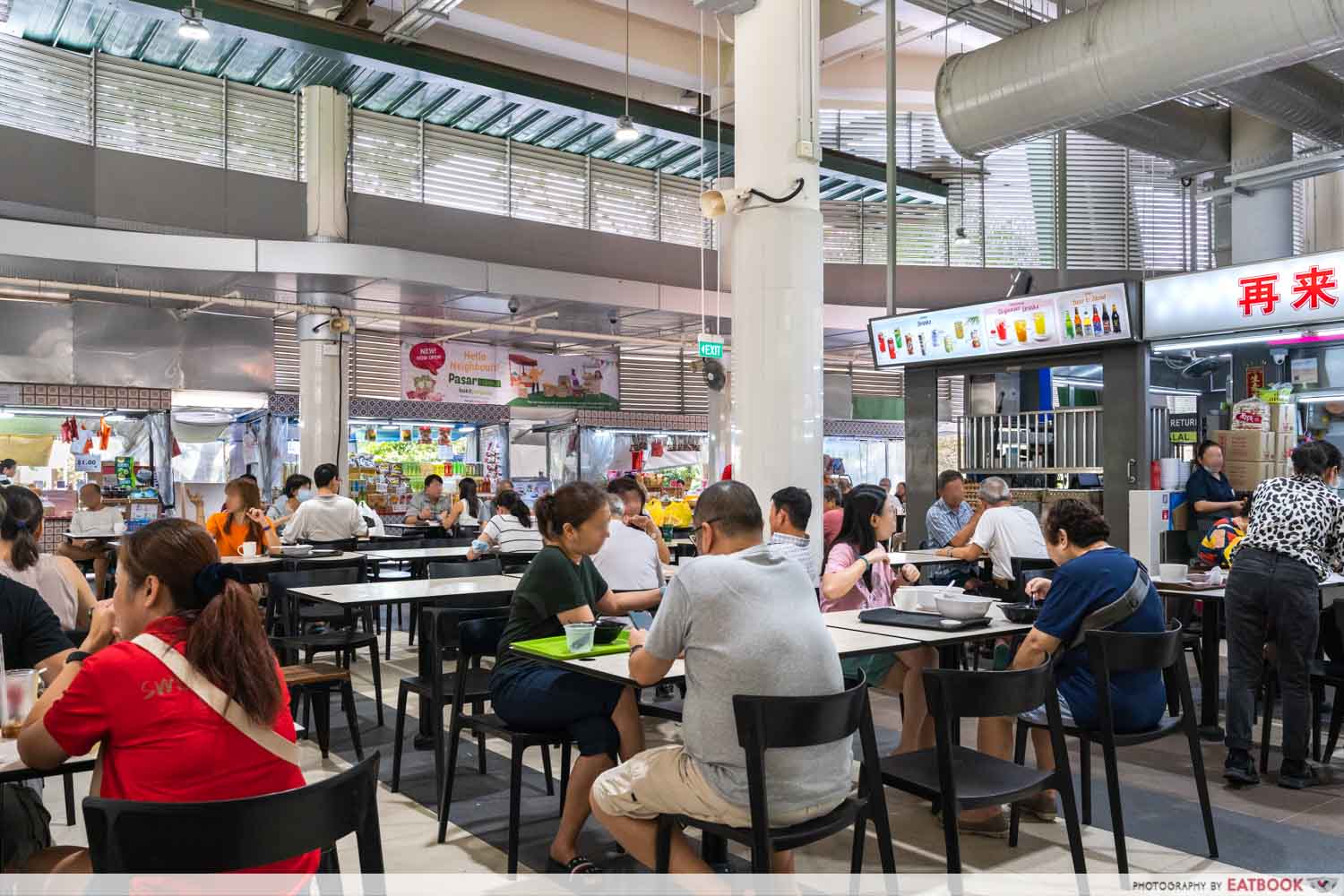 You Xiang Teochew Noodles is easily located in Bukit Panjang Hawker Centre by searching for the one stall with a seemingly never ending queue. The hawker centre itself is a relatively new building with high ceilings, good lightning, and strong ventilation due to the powerful ceiling fans. It can get crowded especially around noon, but we were able to find a table relatively quickly with little fuss. 
This hawker centre is a short 2 minute walk from Pending LRT Station, which you can get to via changing at Bukit Panjang MRT Station. 
The verdict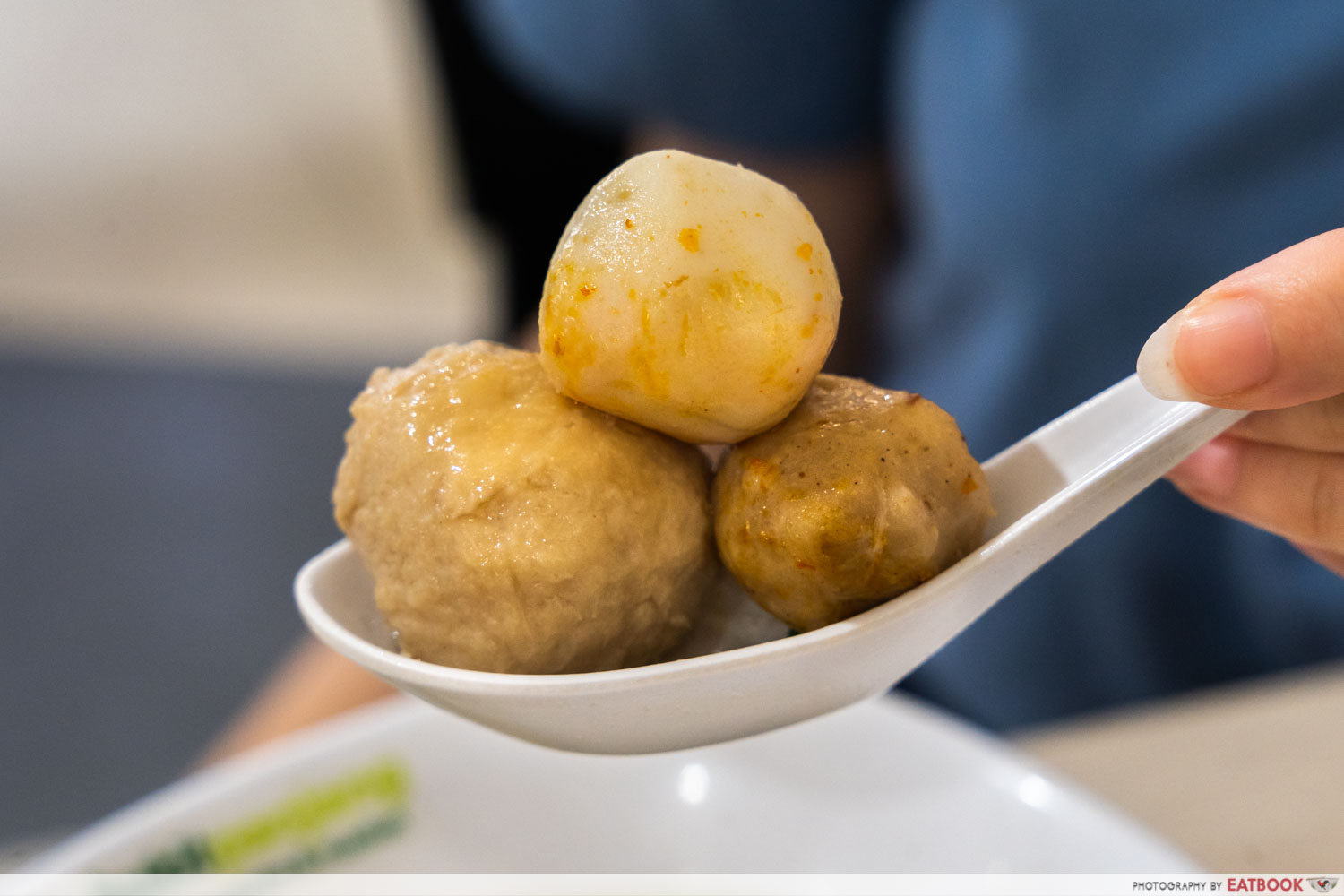 These were some really delicious, saucy noods at extremely affordable prices. In particular, I loved the extra spicy BCM, and thought that the simple, comforting bowl of fishball noodle soup was a value-for-money dish that was perfect for the rainy weather we had on the day we stopped by. I'll definitely come back, not just because it's in my neighbourhood, but because that was genuinely one of the better bowls of BCM I had in recent memory. 
For more good noods, check out our Xiang Xiang Traditional Bak Chor Mee Review. Alternatively, read our Bukit Panjang food guide to the best spots for lunch in the area.
Address: 2 Bukit Panjang Ring Road, #01-13, Bukit Panjang Hawker Centre, Singapore 679947
Opening hours: Daily 9am to 8:30pm
Website
You Xiang Teochew Noodles is not a halal-certified eatery.
12 Best Bukit Panjang Food Places For Halal Beef Noodles, Cheap Lor Mee And More
Photos taken by Tan Jia Hui
This was an independent visit by Eatbook.sg 
You Xiang Teochew Noodle Review: Long Queue $2.70 Fishball Noodles In Bukit Panjang
You Xiang Teochew Noodle Review: Long Queue $2.70 Fishball Noodles In Bukit Panjang   -

7.5/10
Summary
Pros
– QQ noodles
– Affordable
– Free flow crispy Pork Lard
Cons
– Have to ask for extra spicy if you want a really memorable bowl of noodles
– Long queue
Recommended dishes: Mush'rm Minced Meat Noodles ($3.50), Taiwan Meatballs ($1.20)
Opening hours: Mon-Fri 11am to 8pm, Sat 10am to 3pm
Address: 2 Bukit Panjang Ring Road, #01-13, Bukit Panjang Hawker Centre, Singapore 679947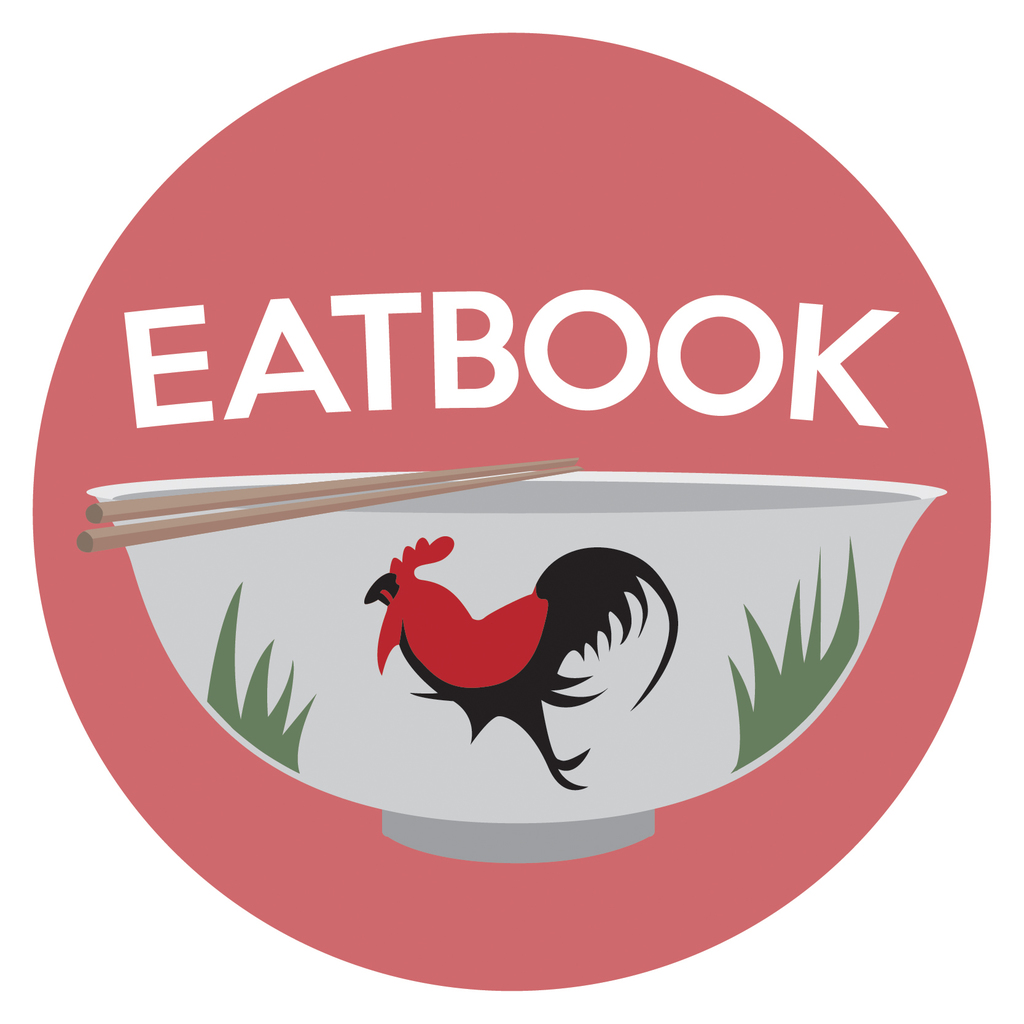 Drop us your email so you won't miss the latest news.