88 Pocha has Korean street food in Holland Village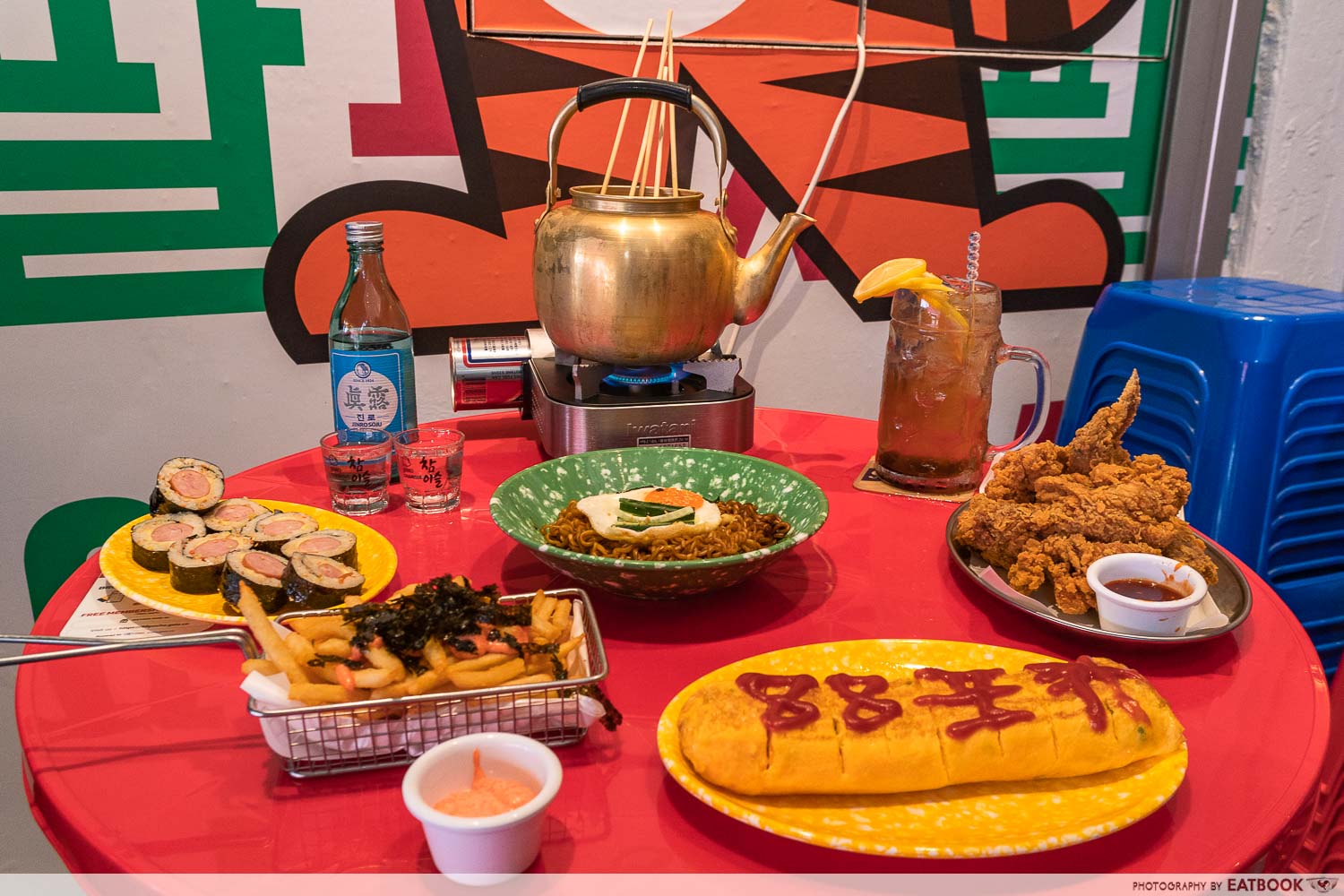 If you haven't heard of 88 Pocha, it's a new Korean eatery in Holland Village with red and blue plastic tables everywhere and a huge spread of Korean street food on offer—it mimics a Korean street stall, AKA pojangmacha.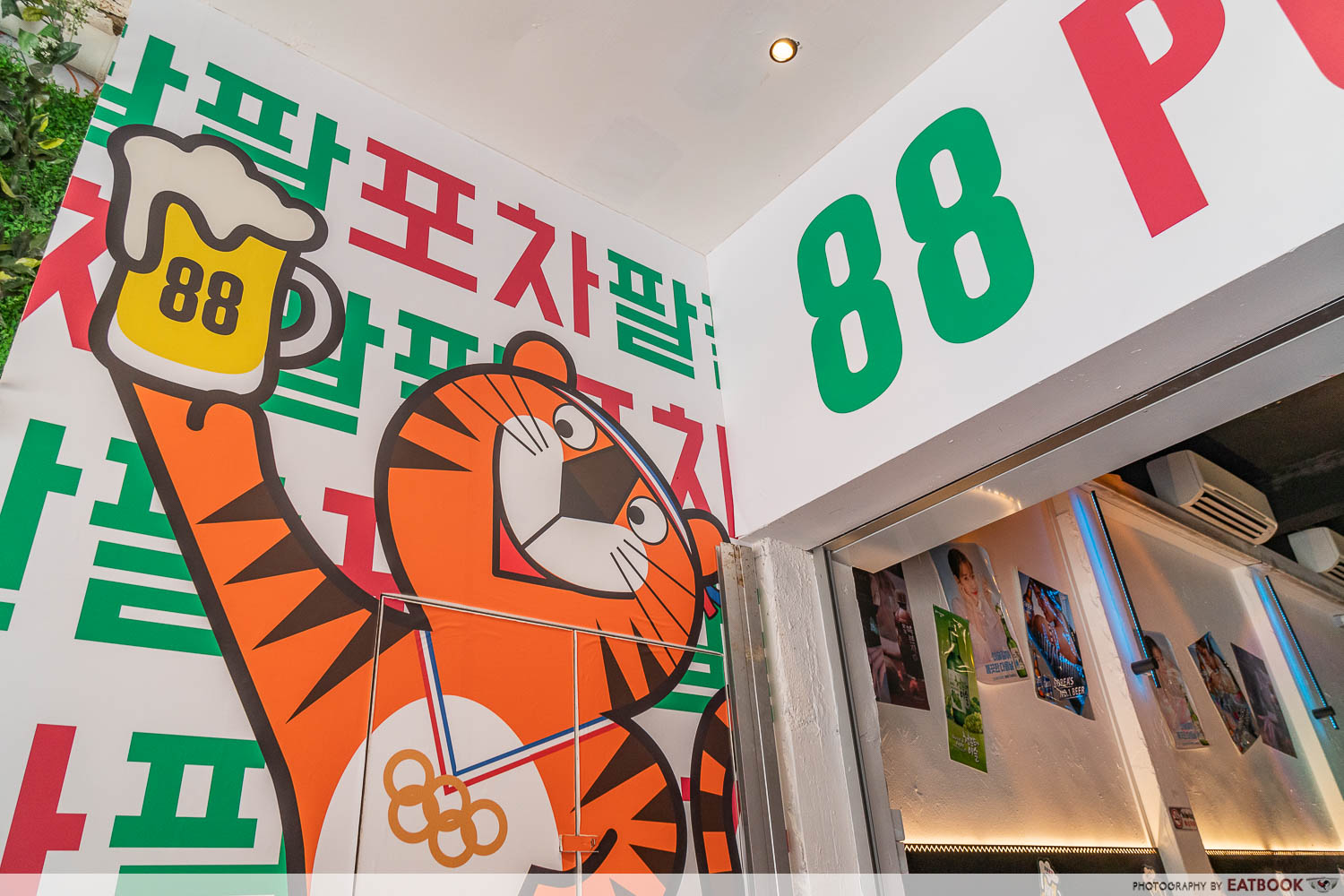 That explains the 'Pocha' in the name, but not the '88'. My colleague was convinced that it was a reference to the hit K-drama series Reply 1988, and somehow persuaded me to dress up like a 90s Korean teenager here for his tiktok. Turns out, the 88 was specifically a homage to the 1988 Seoul Olympics, which explains the looming presence of official Olympics mascot Hodori on the wall, but meant that I was both overdressed for our climate and also tragically not on theme. 
JIN Kimchi Express Review: Legit Korean Food Below $10 And Premium Banchan In Sengkang
Food at 88 Pocha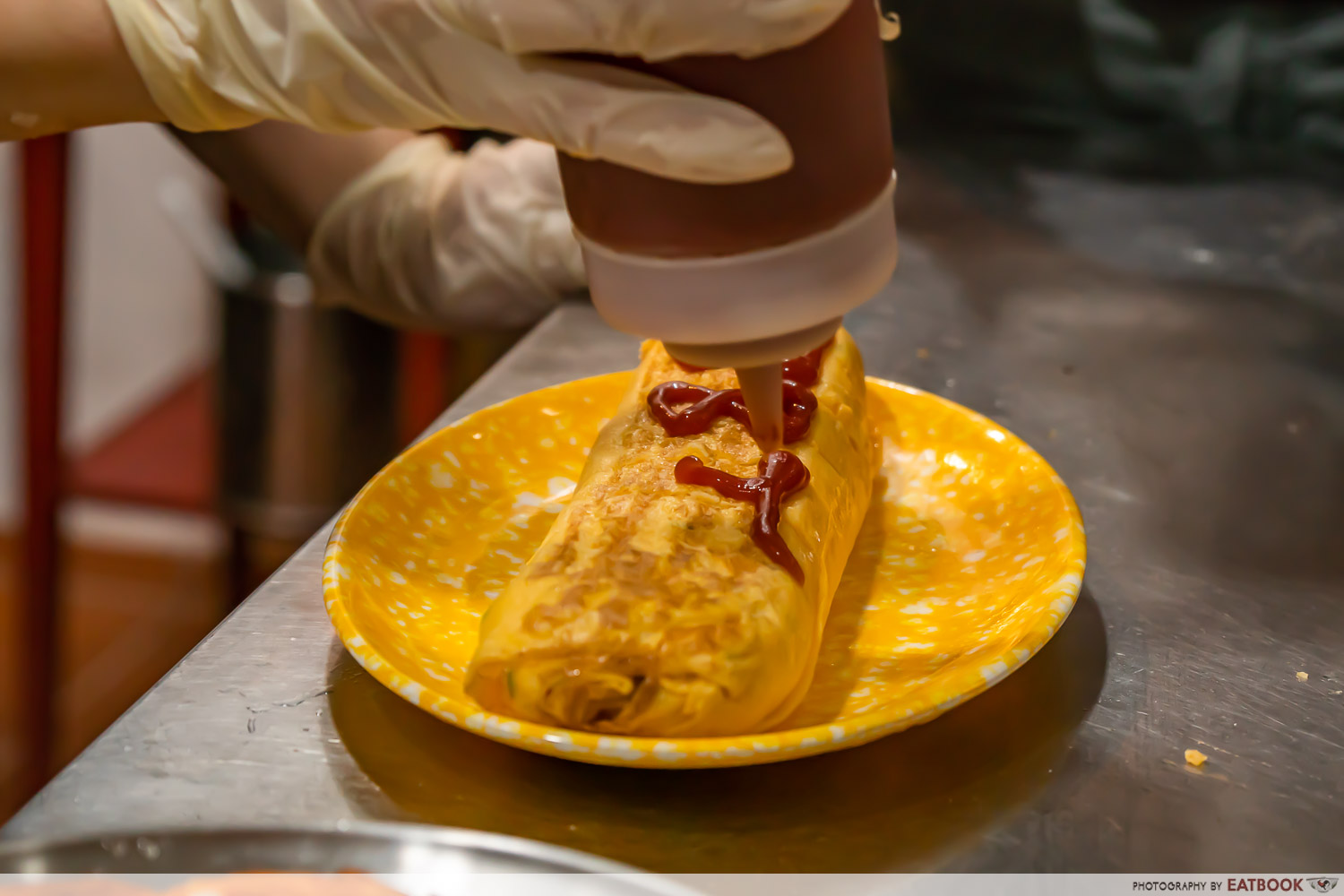 88 Pocha offers classic Korean street food, though some dishes on its menu are given a twist or catered towards more local tastes. It may also tickle you to know that the prices of everything on the menu end in '88'.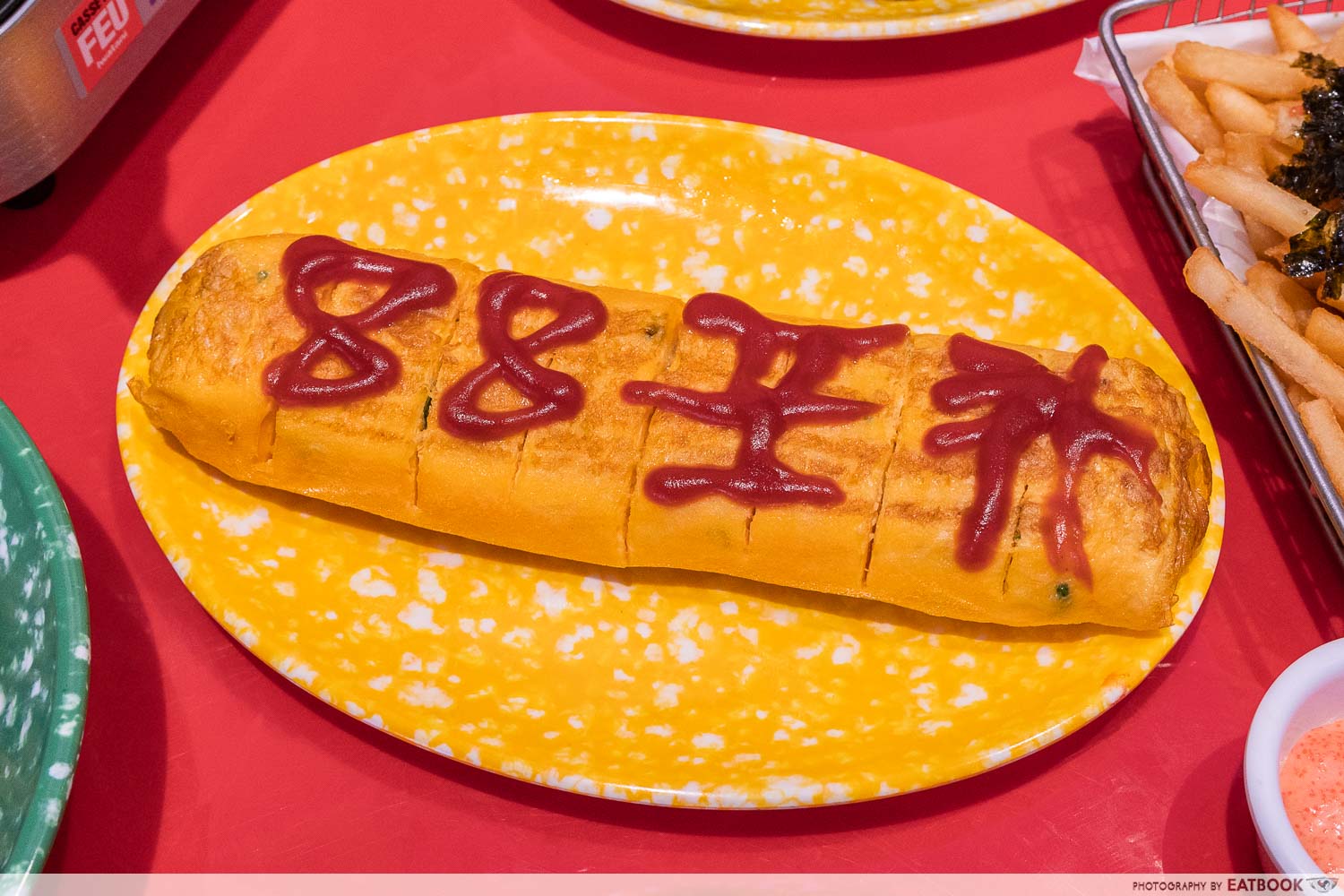 To start, the Tuna Cheese King Egg Roll ($15.88) came with the stall's Korean name written on the hefty roll in ketchup. You know, for when you forgot that you were at 88 Pocha in Singapore and not in Korea. 
My colleague felt that the tuna to egg ratio was skewed in the egg's favour, but, as someone who isn't a fan of the canned tuna paste, it worked out for me that the thick fluffy omelette roll was the main star here. Other than the sheer size of this omelette though, I didn't feel it was spectacular. There also wasn't a discernible taste of cheese to be found.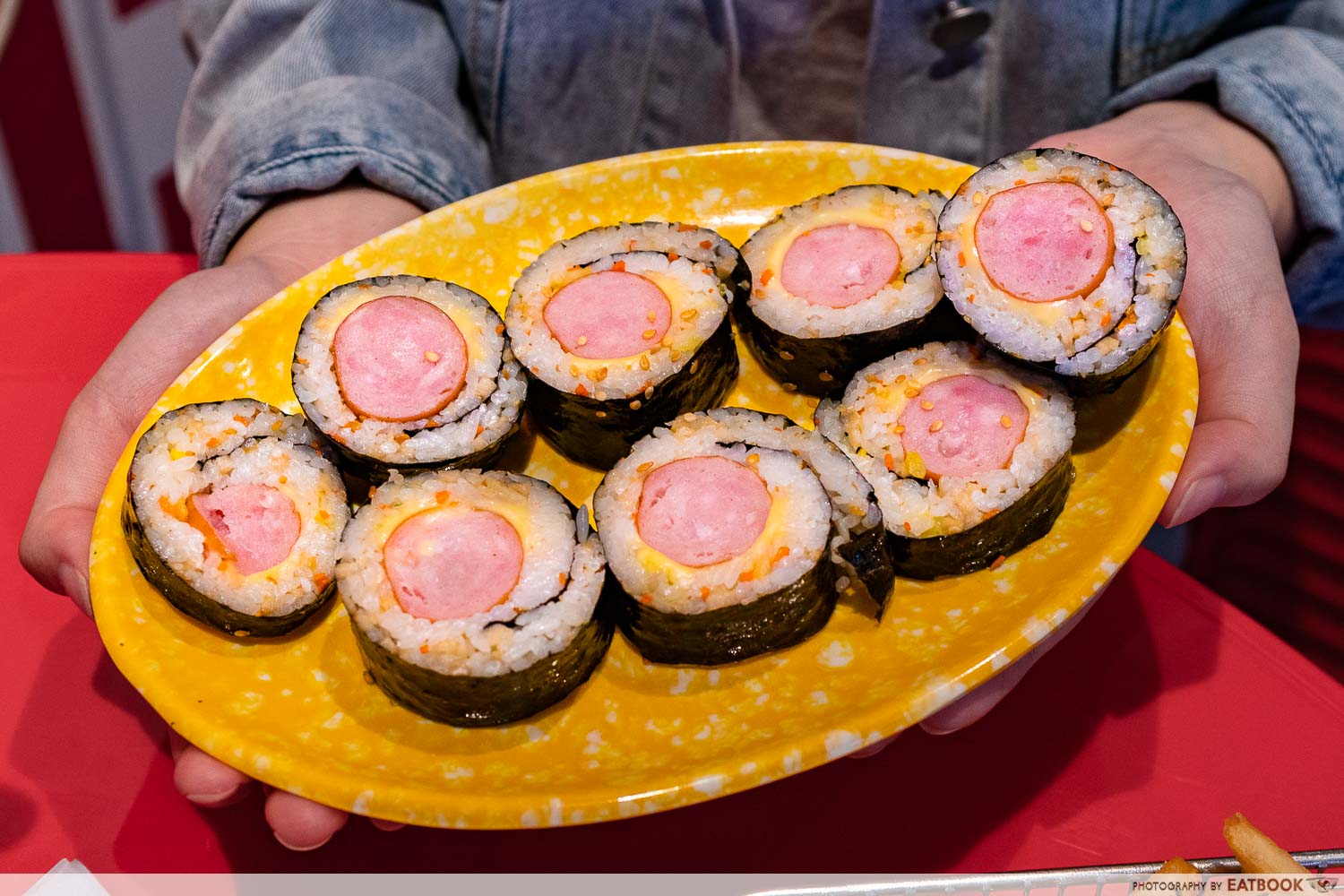 The next dish was a simple gimbap made of sausage, rice, and seaweed with a sprinkle of sesame seeds. It wasn't in the name, but there was a more noticeable amount of cheese in the Sausage Gimbap ($11.88) than the cheese omelette.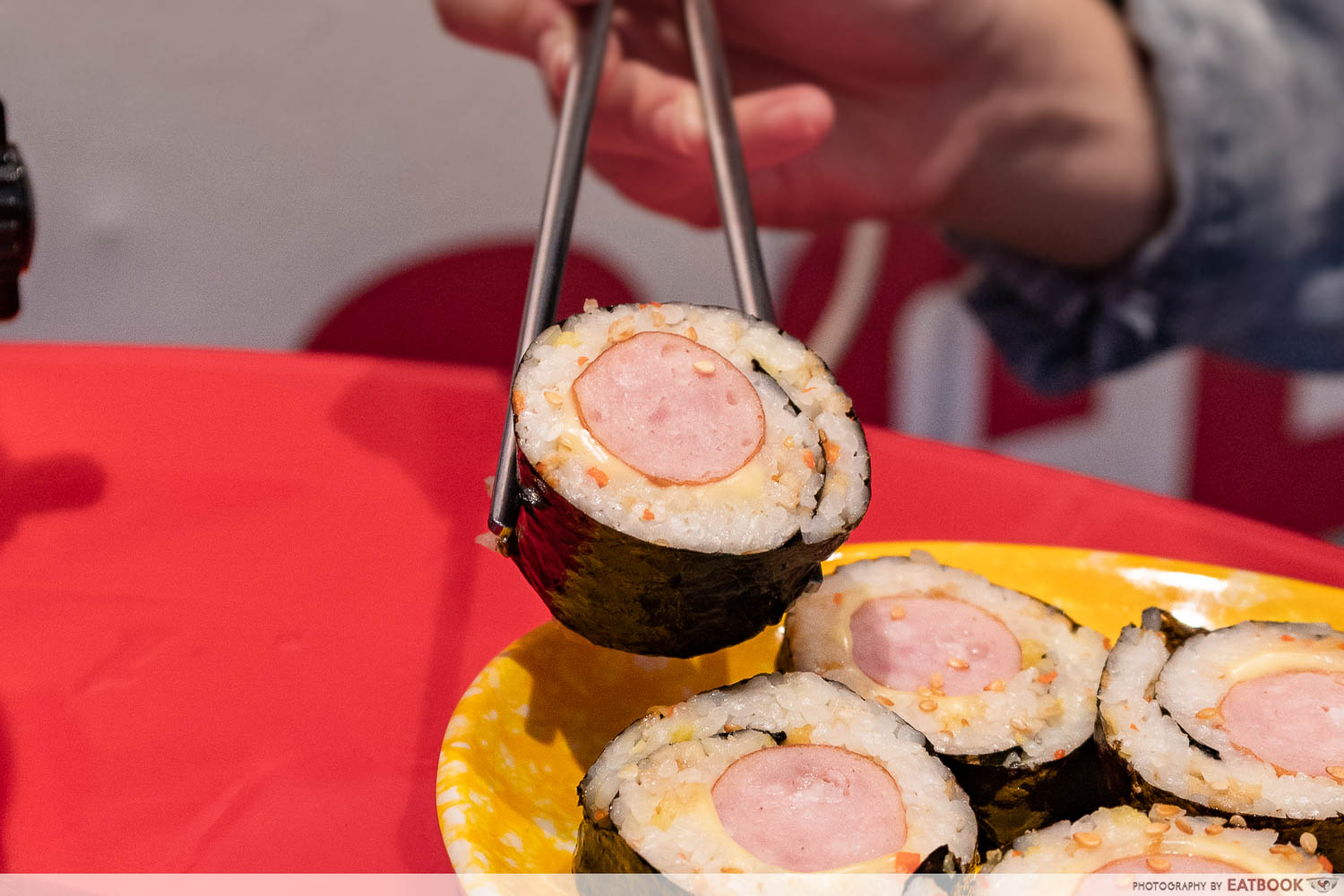 The cheese and massive sausage made this a nice savoury snack, though the rice could stand to be softer. You do get a pretty huge roll and I liked it better than the omelette, but I think there were definitely more interesting things available here at the same price.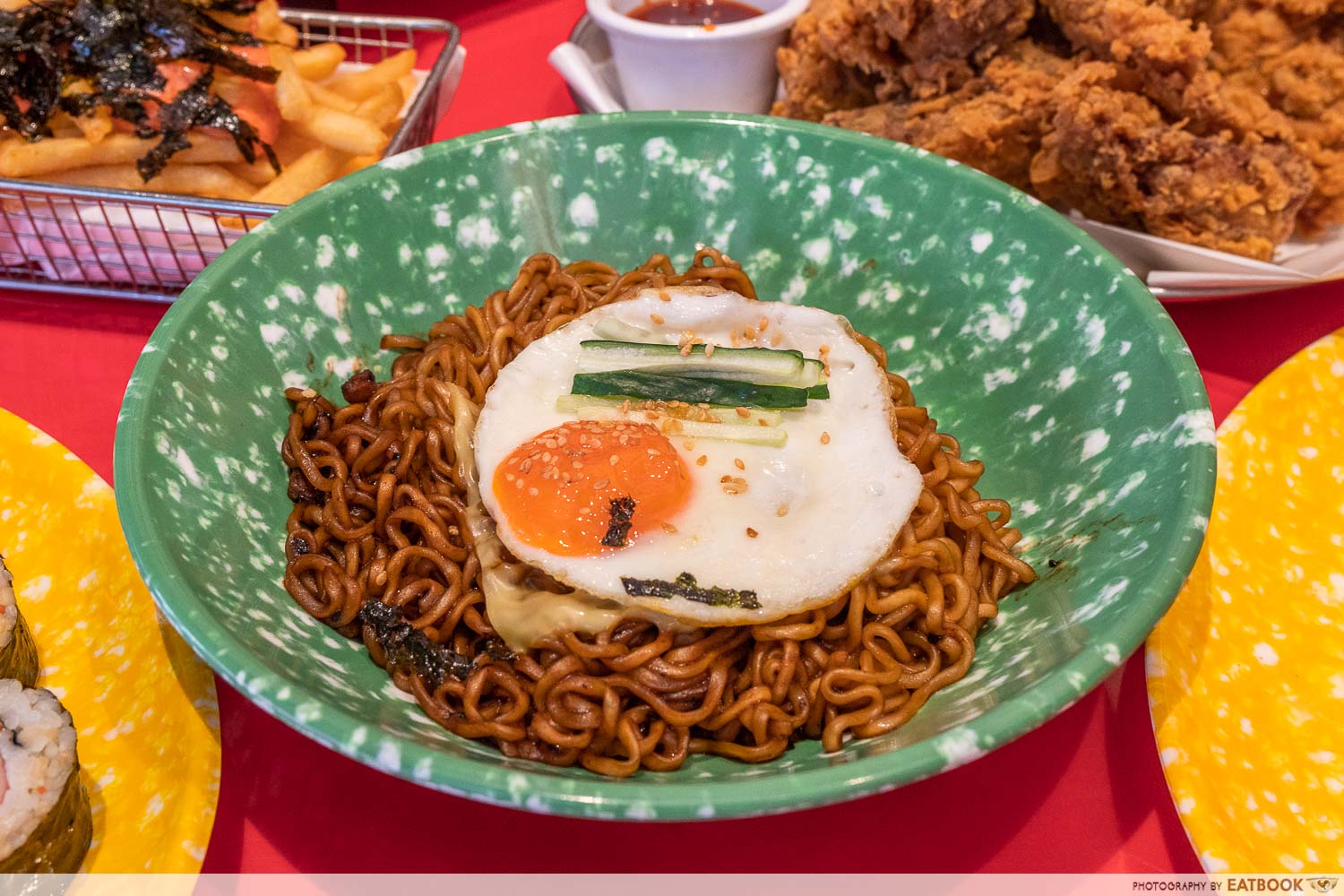 The Truffle Jjajang Ramyeon ($11.88), which consisted of ramyeon noodles tossed in truffle oil and black bean sauce, with a fried egg and a little cheese, was the same price as the gimbap. I was really excited to try this because jjajangmyeon is my go-to Korean dish.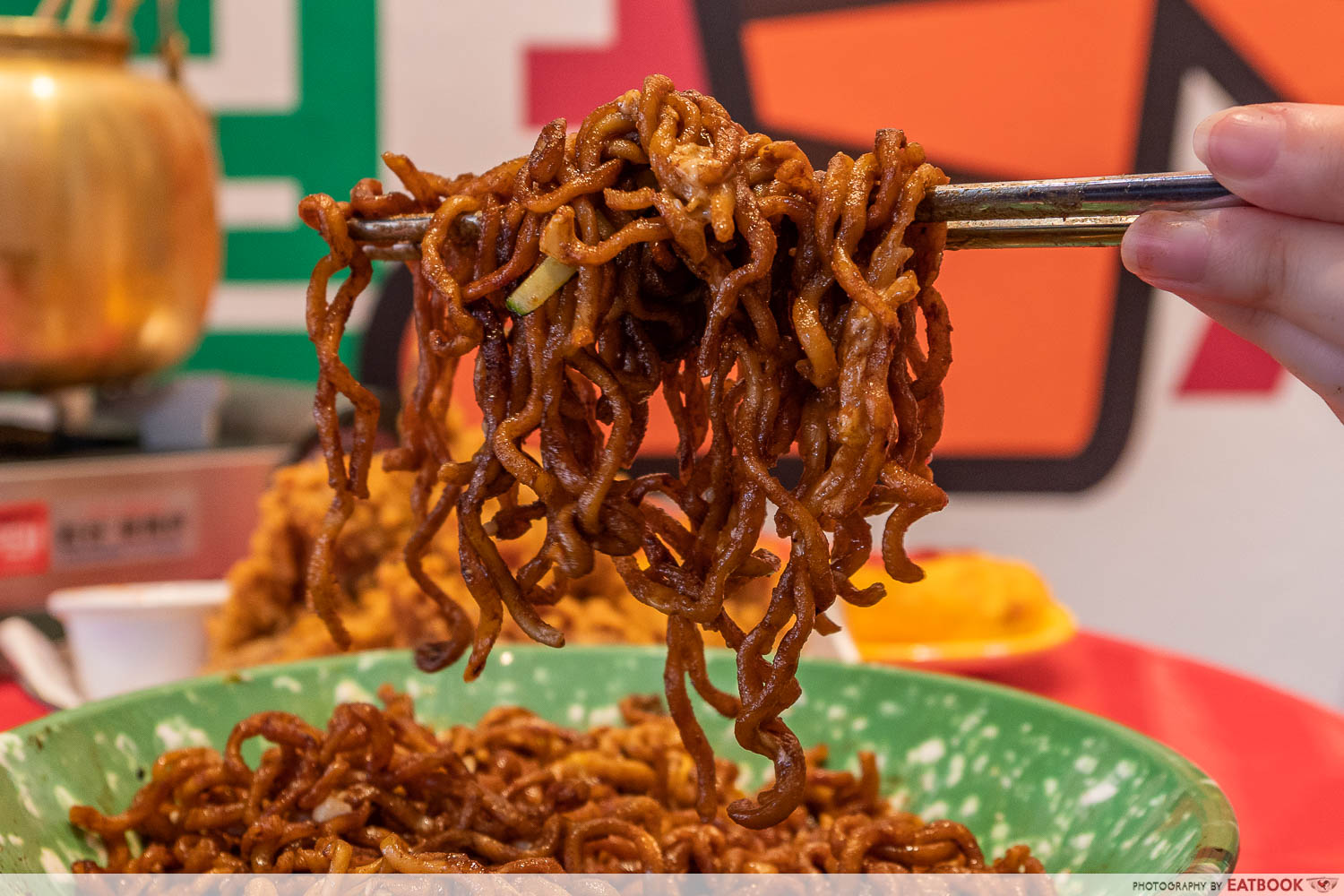 The truffle aroma was apparent as it was brought to our table, but it wasn't overpowering in the dish itself. However, I wanted more flavour. Specifically, I wished it leaned further into the jjajangmyeon territory, as it was a little too dry and missing the copious amounts of gloopy, savoury black bean sauce that makes jjanjangmyeon noods messy, slurpable, and most importantly, jjang.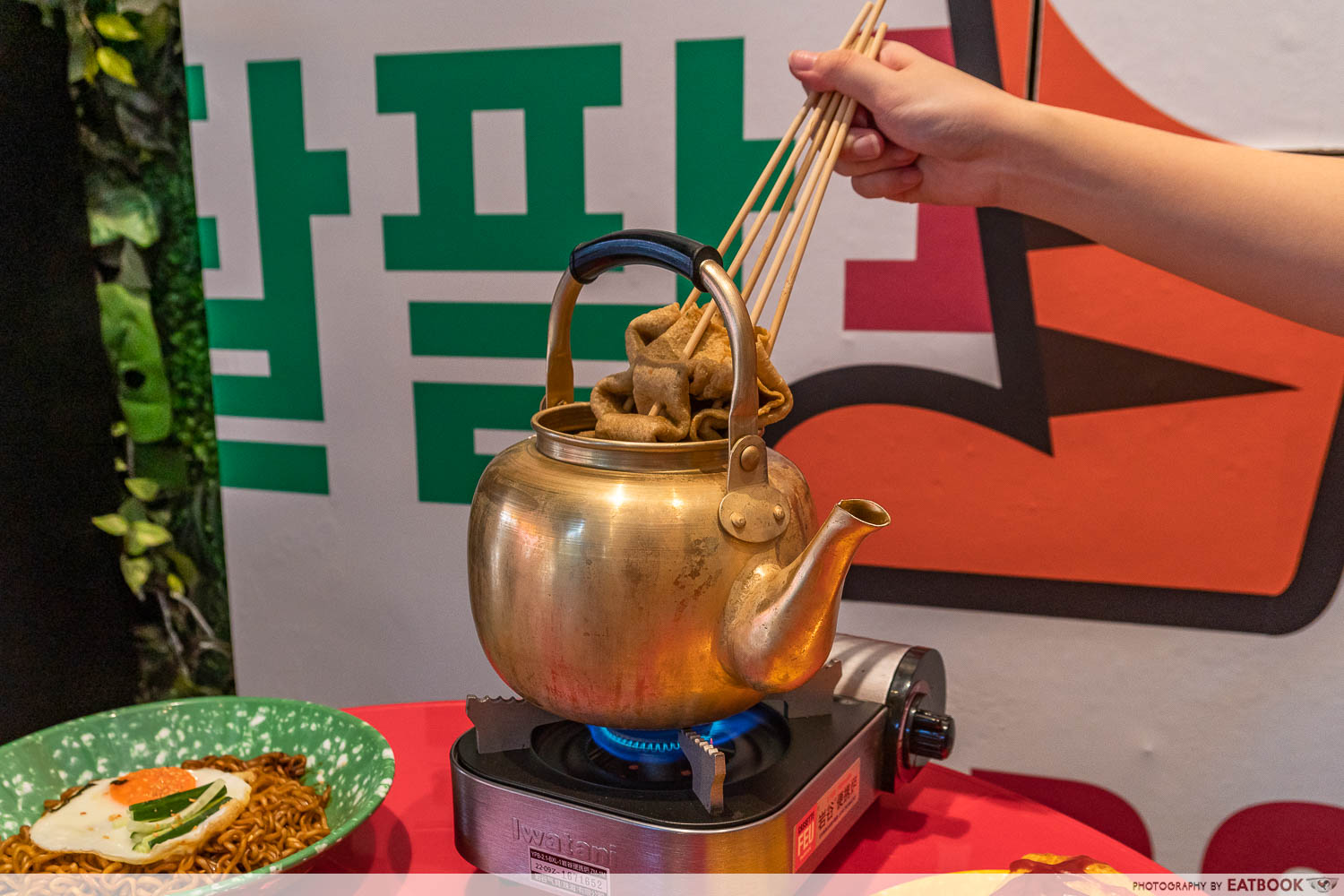 Odengguk is a comfort food in Korea, where snacking on the fishcake and drinking the hot broth after some soju is the perfect way to warm up in winter. 88 Pocha serves their Odeng Soup ($18.88) in a traditional Korean nickel kettle, set up on a portable burner so you can always have hot soup. 
While simple, this is my favourite dish out of all the ones we'd eaten. I loved pouring out and sipping the peppery broth after tearing bites off the soup-soaked fishcake skewers. They give you five skewers in each kettle which I would happily hoard to myself, but I suppose it's meant more for sharing with friends as you sit around and chat.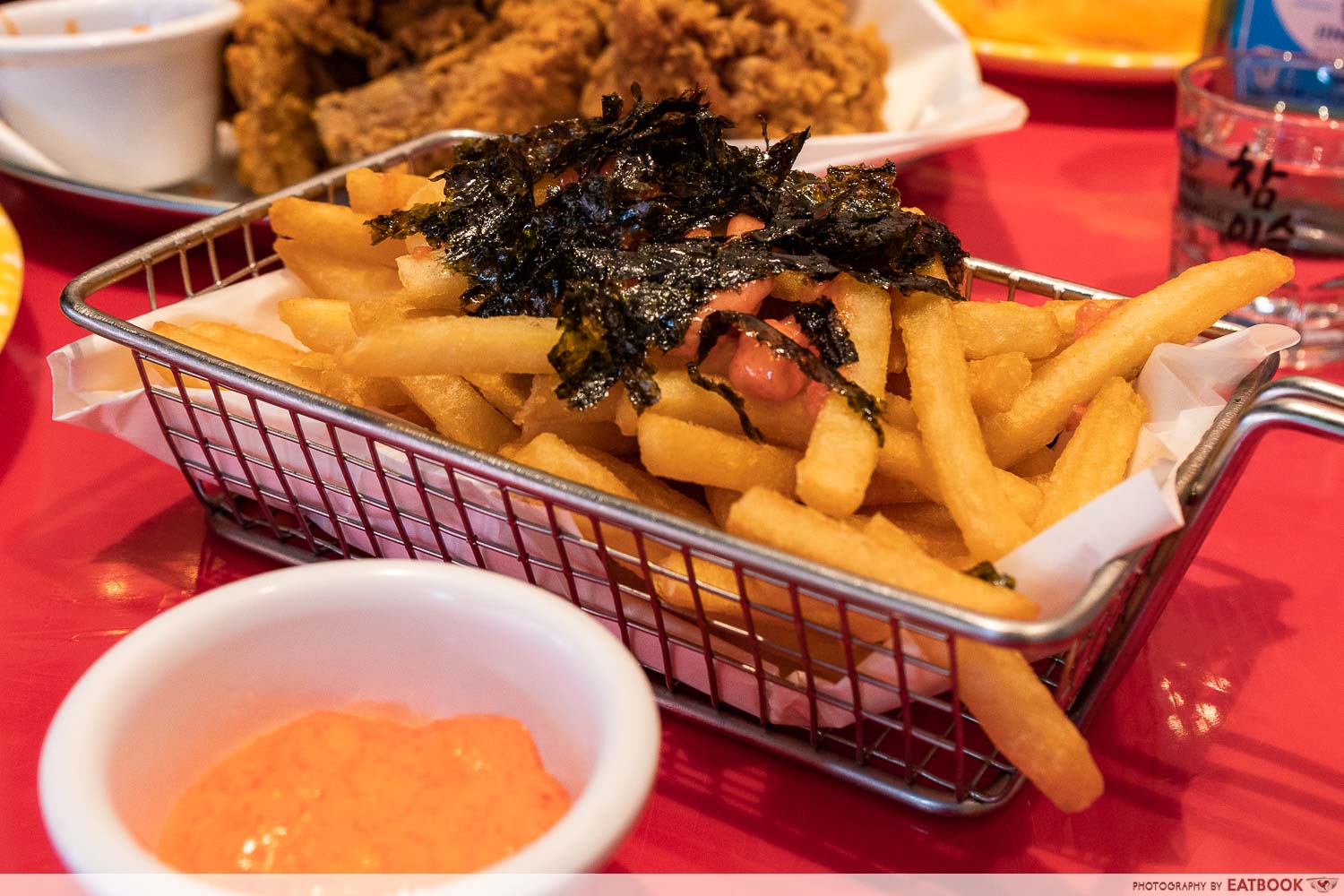 Hopping onto the mentaiko trend, 88 Pocha also offers Mentaiko Fries ($8.88). Along with a little dollop of mentaiko sauce on top, the fries came with crunchy, flaky seaweed and a generous saucer of more mentaiko sauce.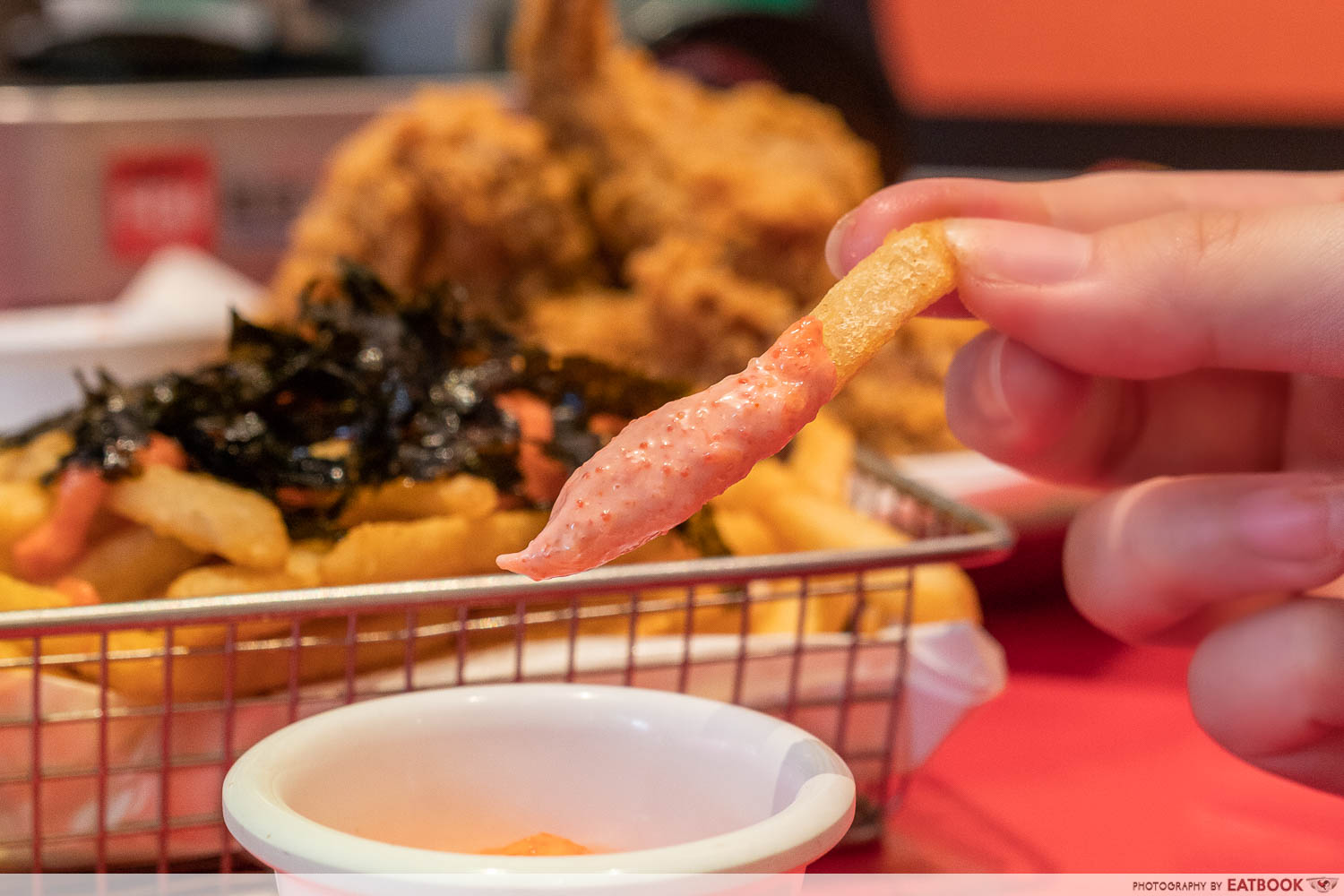 I was weary of mentaiko now that it's everywhere these days, but it's trendy for a good reason. While basic, the umami mentaiko sauce and savoury seaweed flakes gave this dish an addictive quality that had us constantly reaching for another fry to snack on as we waited for the rest of our dishes. 
Fried Chicken (Half) ($15.88) was on the menu, so of course we got it. It's served as six large pieces of Korean fried chicken, battered to crisp perfection with a tangy, slightly spicy tomato sauce on the side for dipping.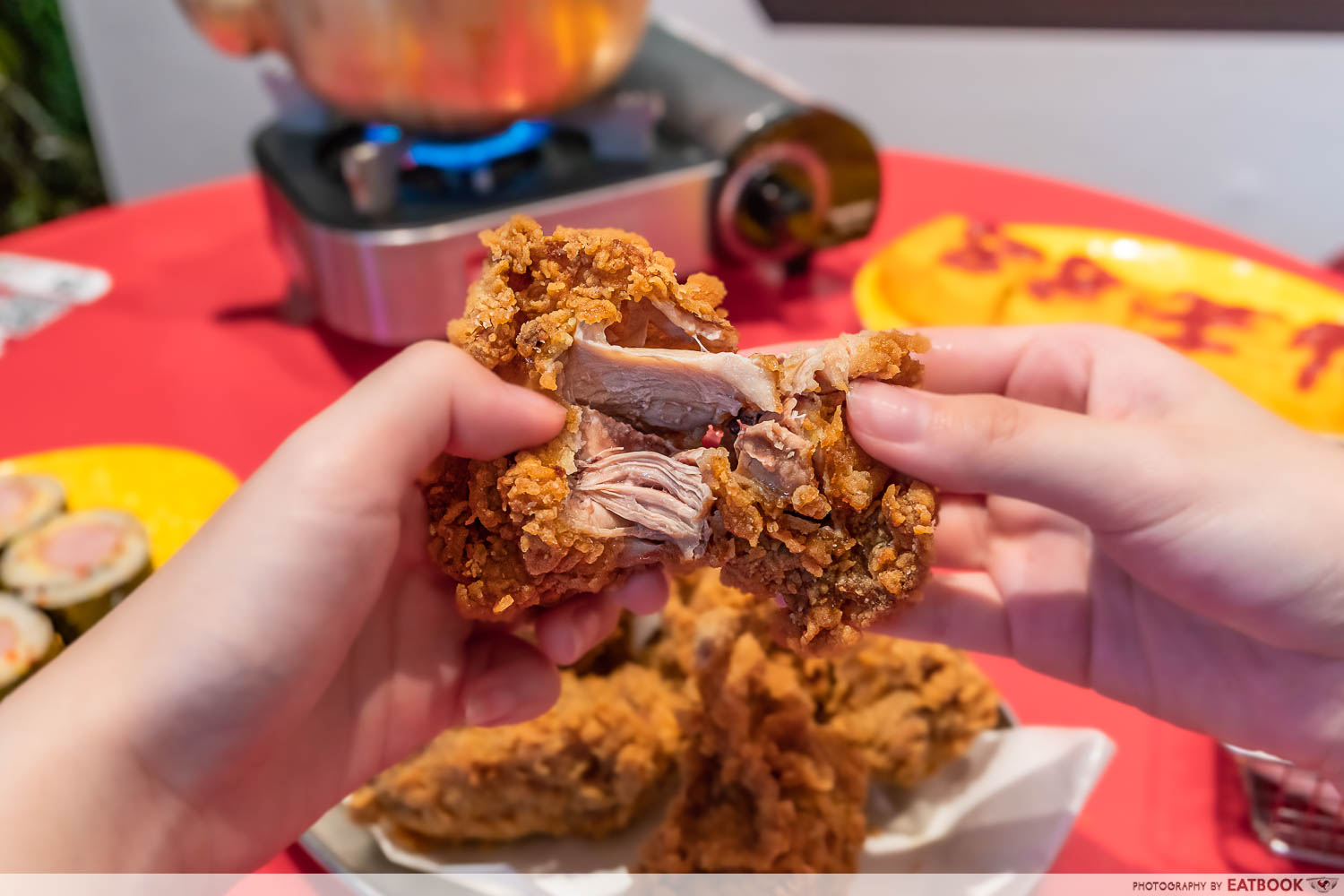 These were some really meaty, tender chunks of chicken, with a golden brown, savoury skin that crackled as you tore into it. I wouldn't blame you if you licked your fingers after you were done.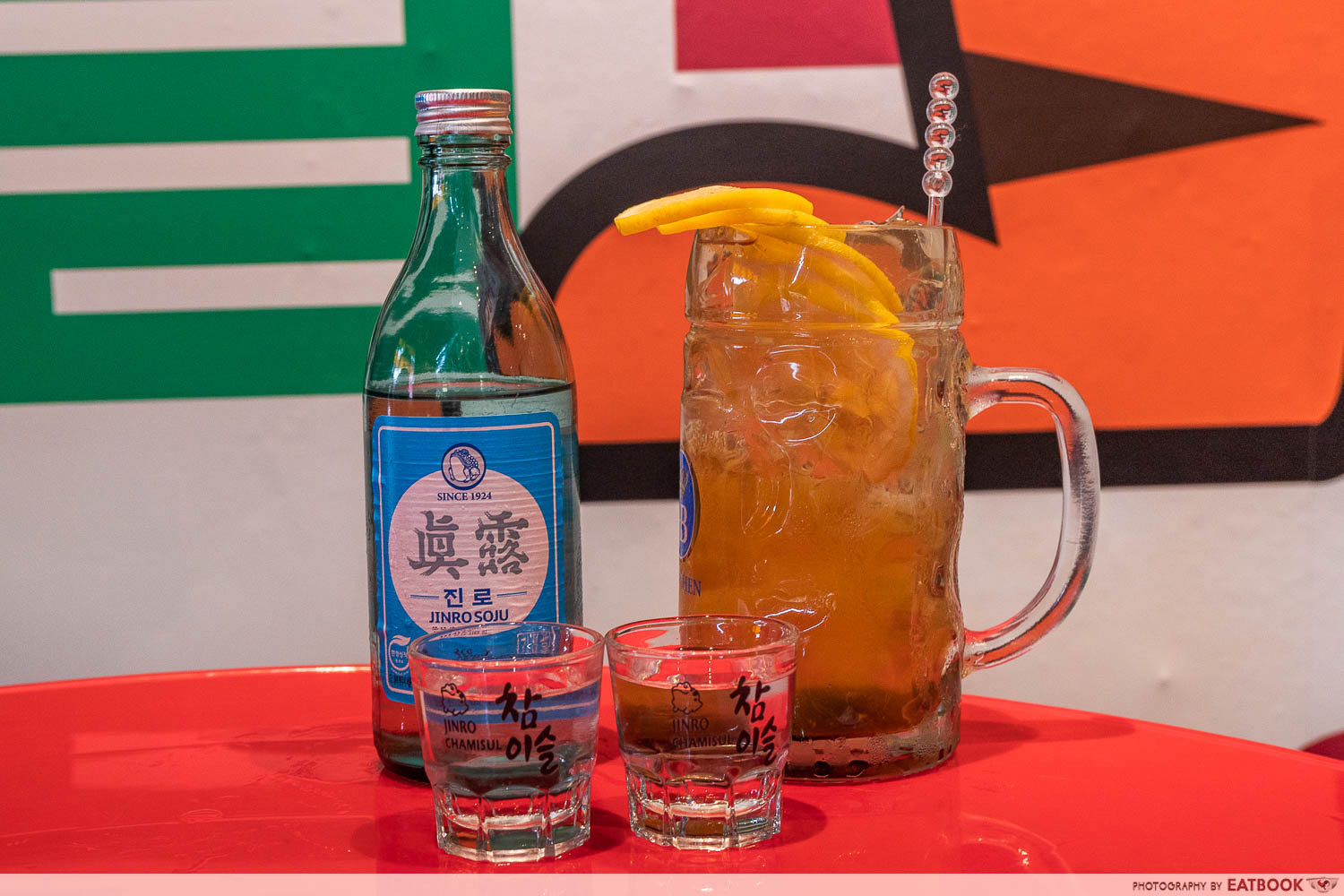 It's not a true pojangmacha experience if alcohol isn't involved. The Jinro Is Back Soju ($18.88) is the Jinro's take on traditional soju, with a clean, well-rounded taste and retro blue bottles being a call-back to soju of the 70s for that extra nostalgia factor. 
There's also 88 Pocha's take on the Earl Grey Highball ($18.88), a layered drink with a stack of lemon slices threatening to fall out of the mug. Personally, I couldn't really taste any Earl grey, but fans of iced lemon tea will be pretty happy.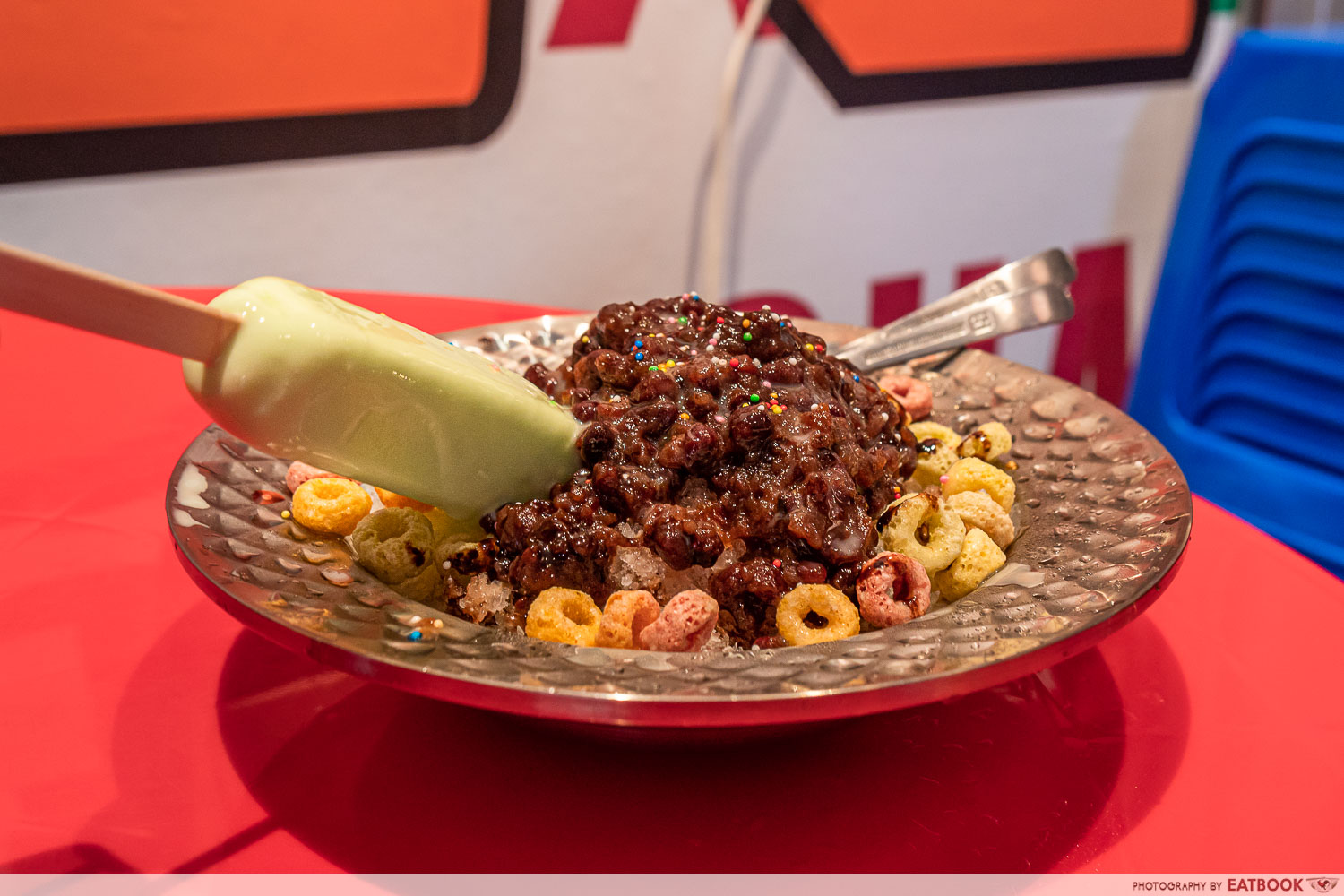 To finish, we got some Red Bean Bingsu ($12.88) to cool off, which was made colourful by a heap of red bean, Froot Loops, rainbow dot sprinkles, and melon-flavoured Melona. It melted very quickly, but after mixing it all up we got a nice, subtle melon flavour in the bingsu. It was very sweet, but get this if you like lots of different textures in each mouthful. 
Ambience at 88 Pocha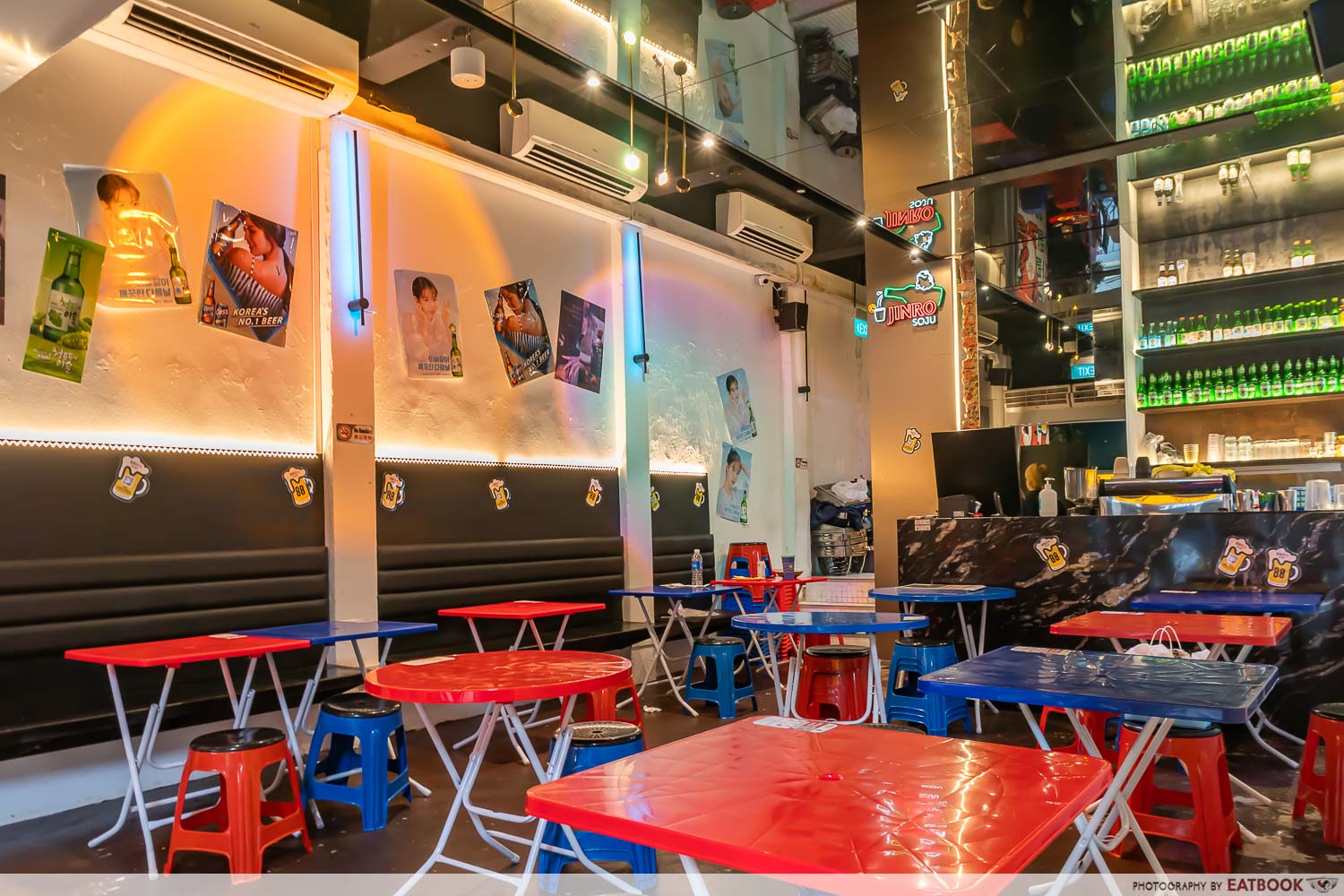 There are two seating sections within 88 Pocha. Outside, the giant mural of Hodori raises a beer to your brave choice to join him outside in the heat. Maybe dressing like an olympic athlete, or like you're about to join my colleague Jing En on his jogs through Singapore's many parks would help in the hot, humid weather. It's probably better to sit here at night.
Alternatively, you'll find that most customers chose to sit inside during the day, basking in the dim ambience and air-conditioning. Either way, you'll be seated at a red or blue plastic table, reminiscent of real Korean pojangmacha tables with the latest K-pop tracks in the background.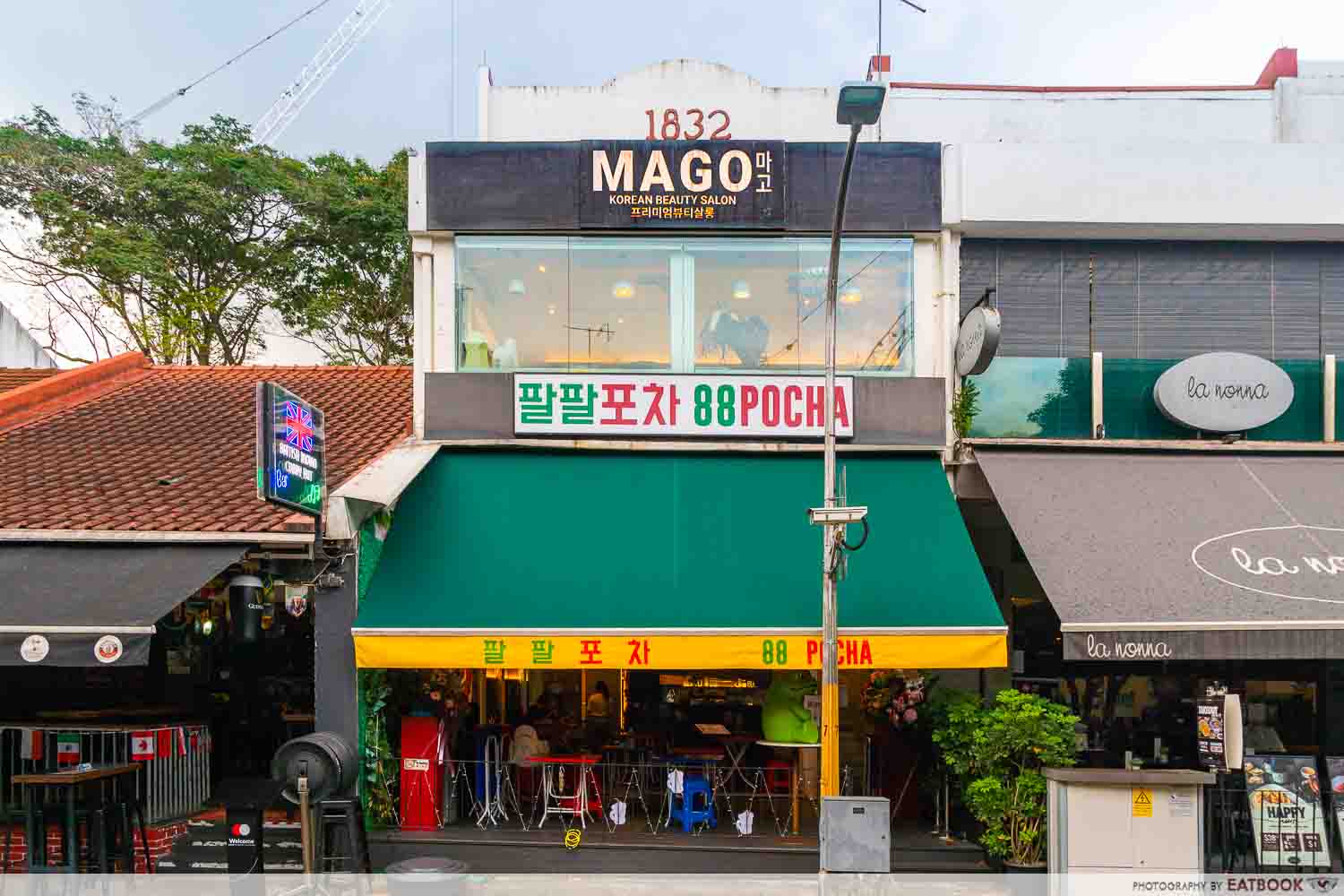 Located in one of the many commercial shophouses along Lorang Mambong, 88 Pocha is a short five minute walk from Holland Village MRT Station, making it rather convenient to get to. 
The verdict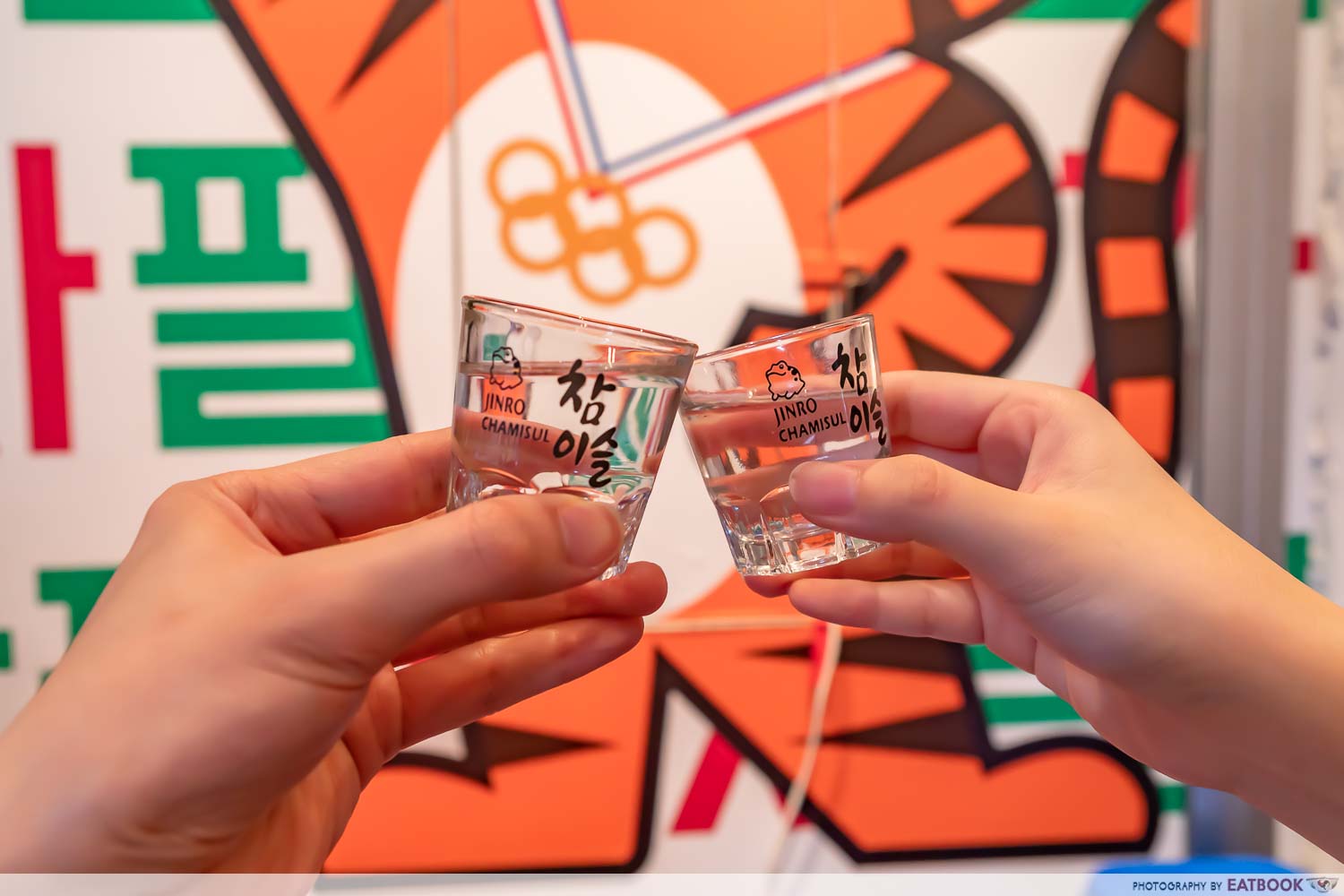 Overall, the food we had wasn't bad, with some great dishes and the rest having room for improvement, and I wouldn't mind coming back to 88 Pocha. I wouldn't call it a true blue Korean pojangmacha experience, but bring along some friends to share snacks and soju with over the latest tea and you wouldn't be too far off the mark!
For more Korean food, check out our guide to the best Korean restaurants in Singapore, and read our JIN Kimchi Express review for legit Korean fare under $10.
Address: 26A Lorong Mambong, Singapore 277685
Opening hours: Mon-Fri 11:30am to 3pm, 5:30pm to 12am, Sat-Sun 11:30am to 12am
Tel: 6235 9950
Website
88 Pocha is not a halal-certified eatery.
JIN Kimchi Express Review: Legit Korean Food Below $10 And Premium Banchan In Sengkang
Photos taken by Aldrich Tan
This was a media tasting at 88 Pocha.
88 Pocha Review: New Pojangmacha-style Eatery With Korean Fried Chicken, Truffle Jjajangmyeon And More In Holland Village
88 Pocha Review: New Pojangmacha-style Eatery With Korean Fried Chicken, Truffle Jjajangmyeon And More In Holland Village -

7.5/10
Summary
Pros
– Good soup
– Unique vibes
– Friendly and helpful staff

Cons
– Some dishes were just meh
– Food can take a while to arrive
Recommended dishes: Odeng Soup ($24), Fried Chicken (Half) ($15.88)
Opening hours: Mon-Fri 11:30am to 3pm, 5:30pm to 12am, Sat-Sun 11:30am to 12am
Address: 26A Lorong Mambong, Singapore 277685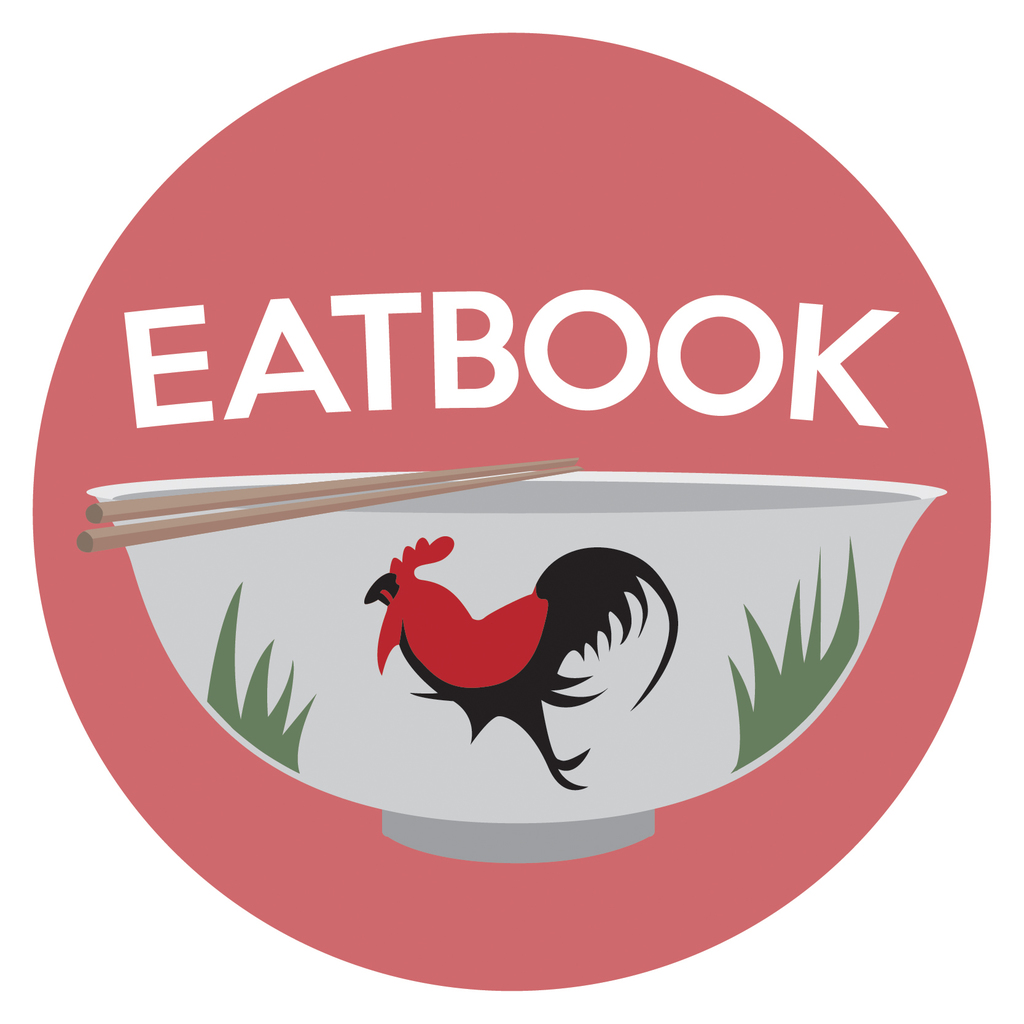 Drop us your email so you won't miss the latest news.