Korean fast food at Hongdae Oppa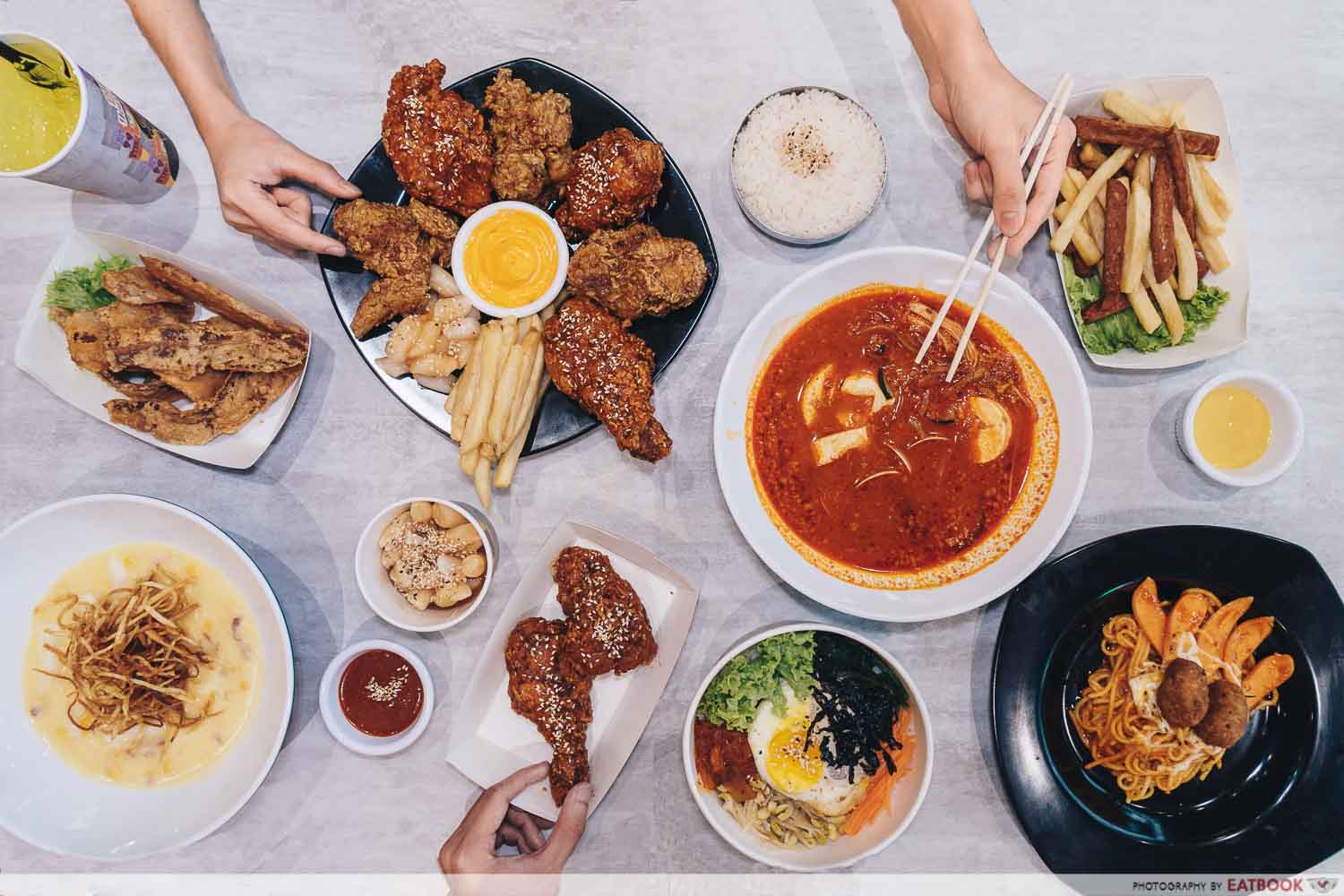 I'm always down for Korean food, thanks to the mukbang videos that I binge-watch on a daily basis. For those who relate, you should know how much the food whets your appetite. If you're a Westie who loves Korean food the same way, add Hongdae Oppa to your go-to list whenever those cravings hit hard. The Jurong Point urban Korean eatery prides itself on wallet-friendly bites starting at just $3.90.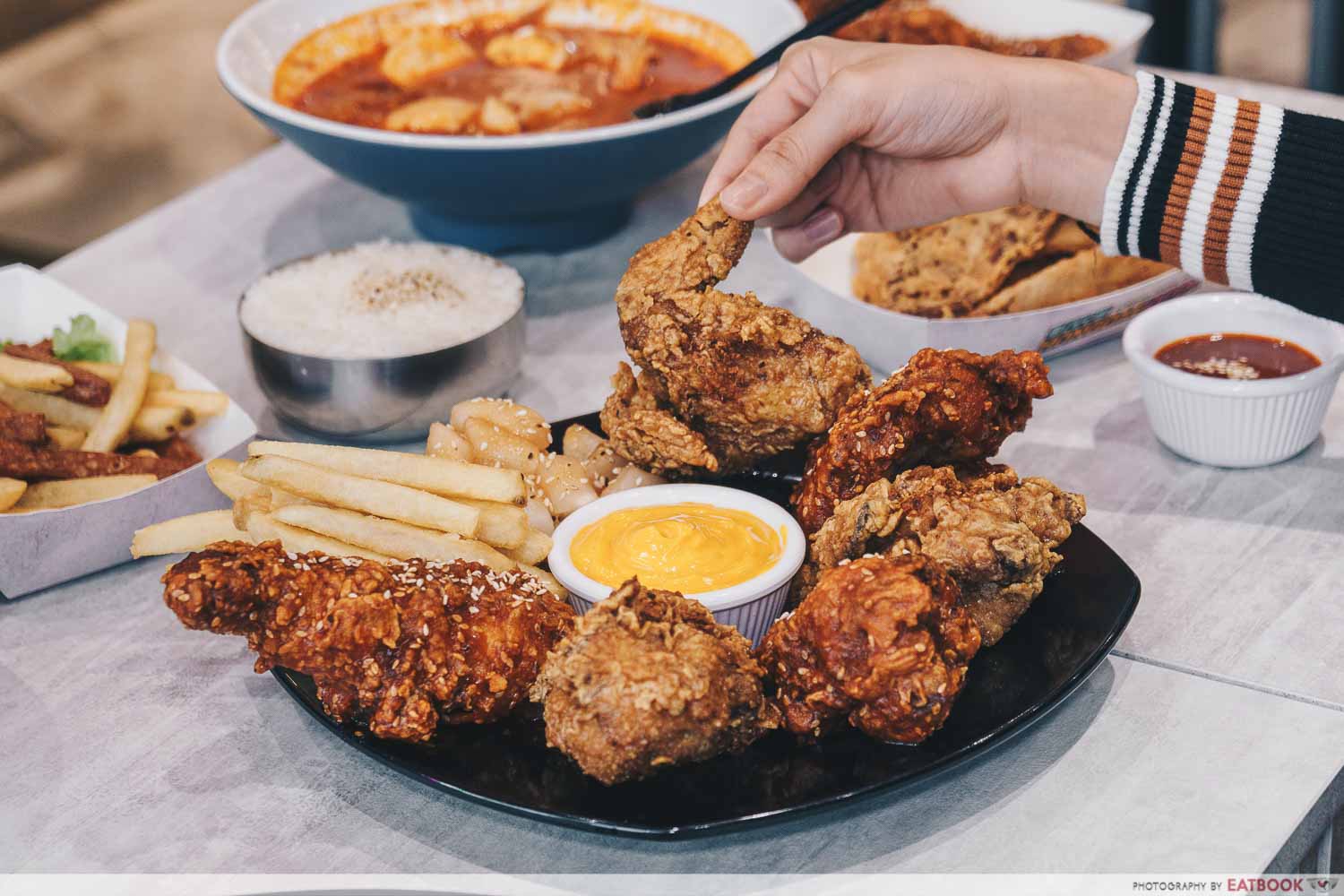 I'm a sucker for Korean fried chicken, so when they served the Oppa Cheesy Chix ($25.90), I couldn't wait to tuck in. This dish includes six pieces of Oppa's Chix doused in two sauces of your choice, as well as two side dishes─Little Tteok and Fries. With such a substantial portion, it's definitely a great sharing platter to get with your friends.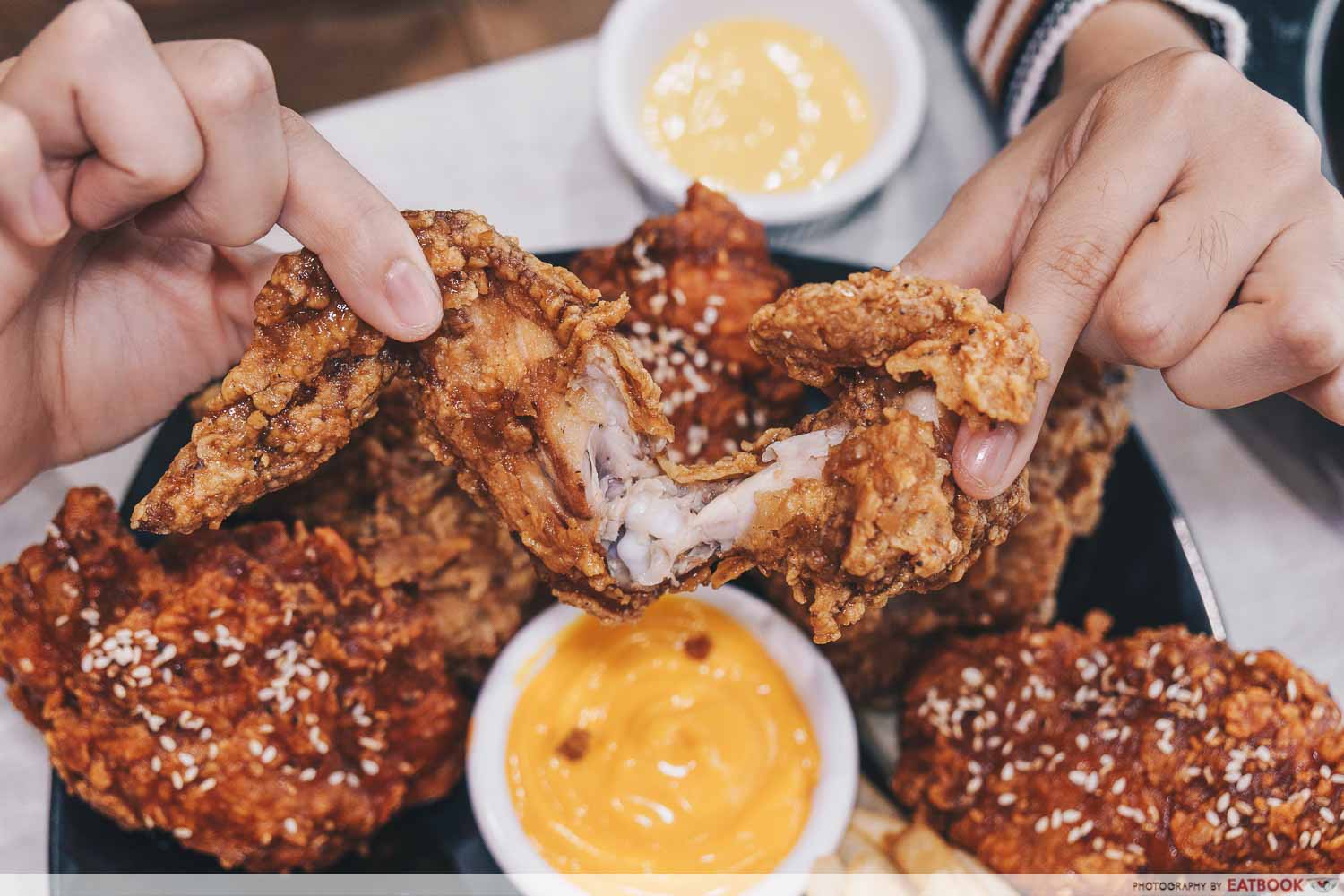 They don't skimp on both the size and quality of the chicken. The Soy Garlic fried chicken was flat-out tasty, and the sweet and savoury balance of it was on point. The chicken pieces were meaty and juicy, which wasn't surprising considering Hongdae Oppa uses 100% fresh chicken. I liked the fact that they were seasoned all the way through instead of just the exterior.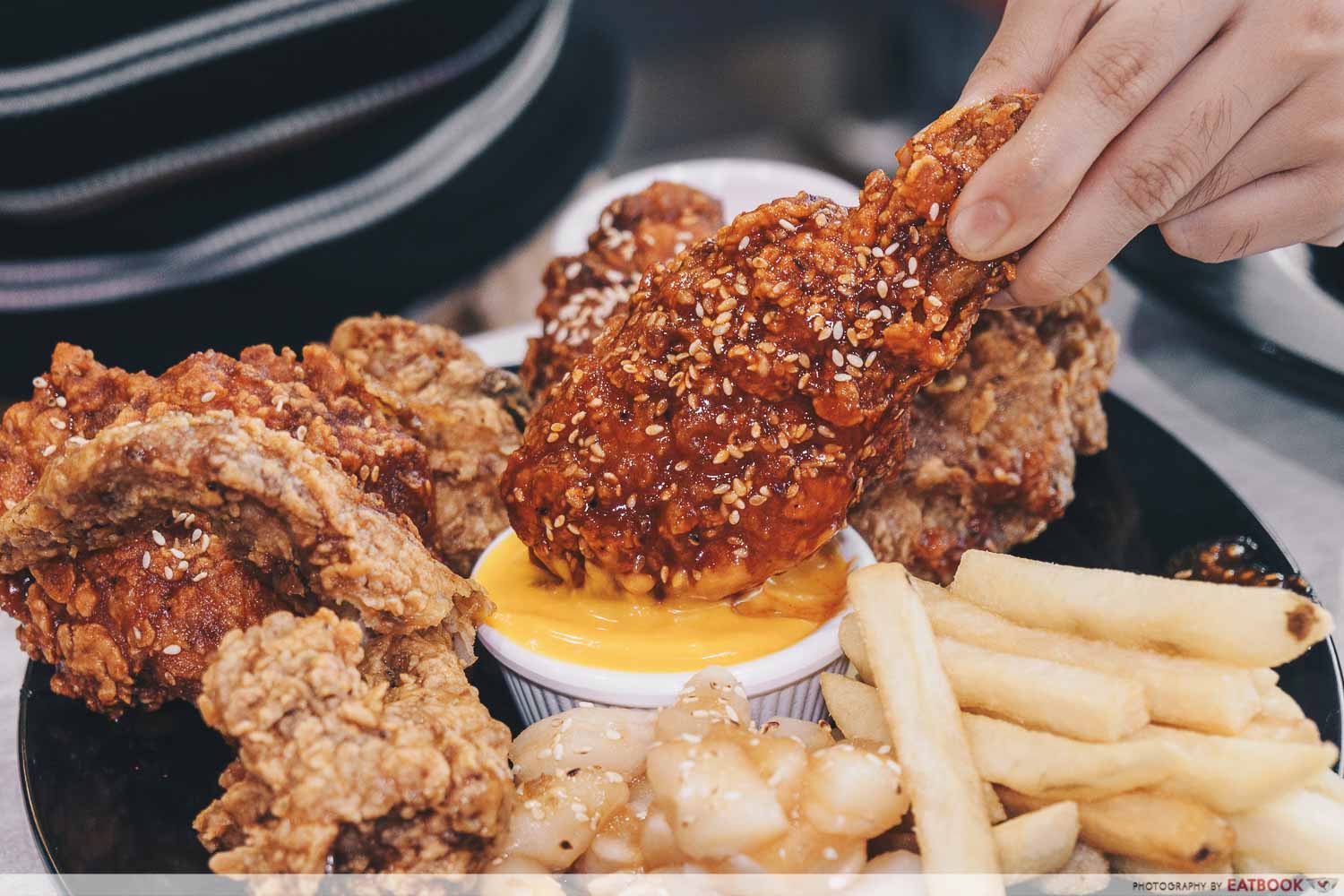 The other must-try sauce recommended to us was their homemade Gochujang, that had sweet, peppery and spicy notes. Don't forget to dunk it in the concentrated savoury cheese dip that's served with the dish. Don't hold back on the cheese sauce, because it is free-flow.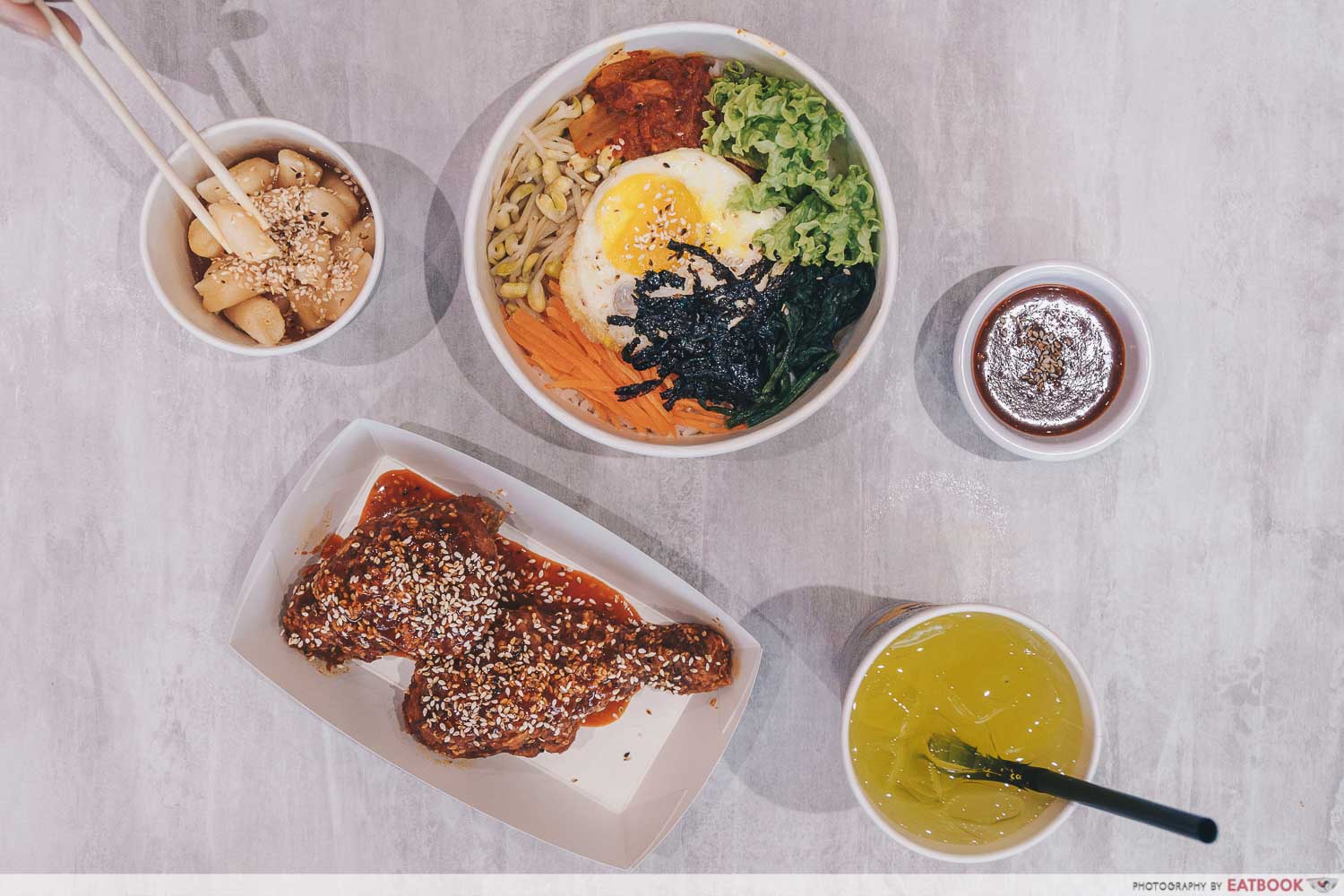 Hongdae Oppa offers a couple of set meal options for you to get a bigger bang for your buck. We tried the Kombo D Set Meal ($14.90), which consists of two pieces of fried chicken, bibimbap, a drink, as well as Little Tteoks, which is their specialty side dish.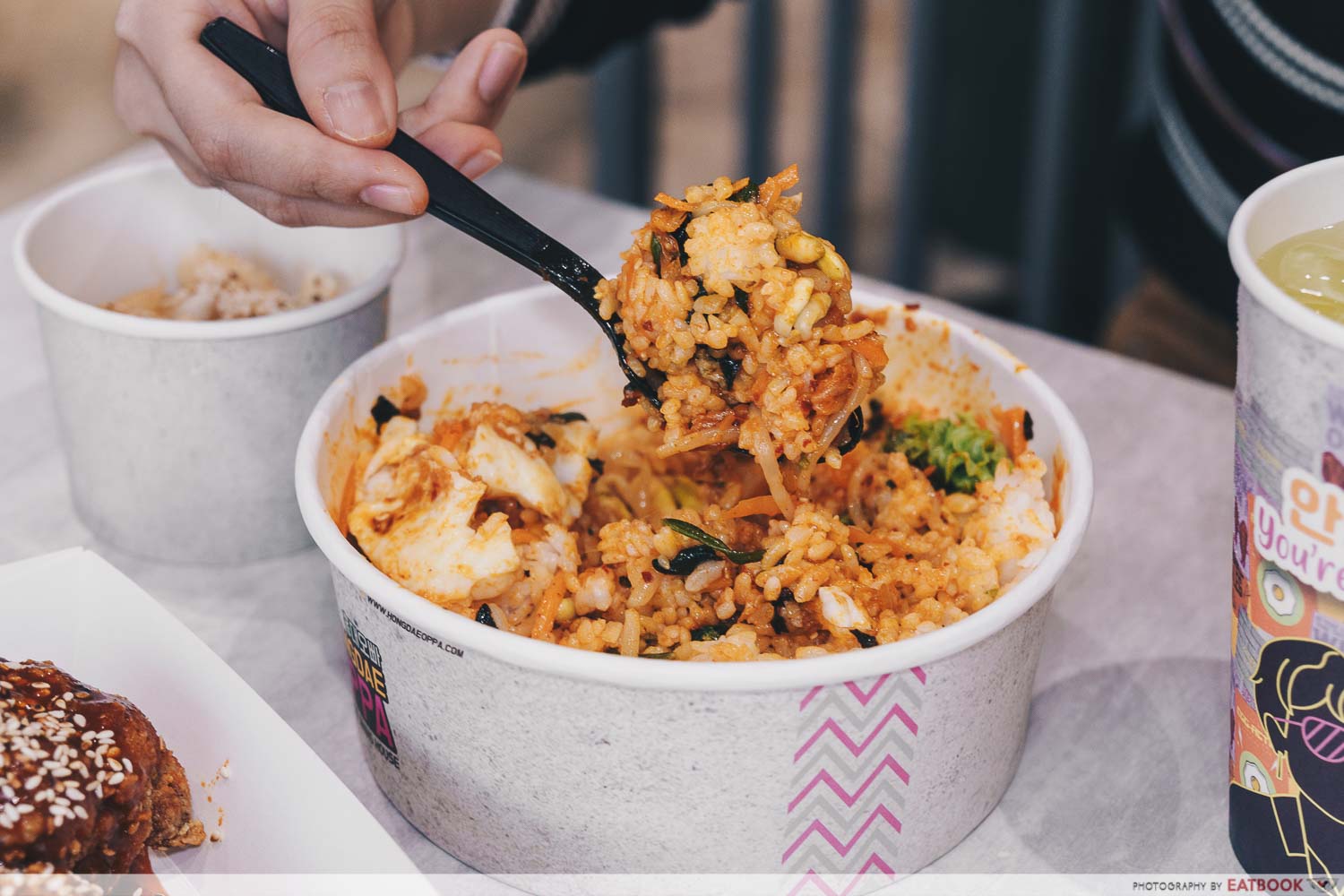 The rice carried the flavours of their bibimbap sauce. The taste was pretty mild, but this could be easily remedied by adding more sauce into the mix. I enjoyed the hints of sweetness and tanginess, as well as the crunch from the beansprouts, spinach and kimchi in the rice bowl. 
Most tteok dishes are gochujang-based, like tteokbokki. However, Hongdae Oppa creates their own special version coined as Little Tteoks ($3.90), where they use honey in place of gochujang. The sweet honey taste was not too overpowering and in fact, it was slightly addictive. The tteok pieces also had a pleasant bite to it, though I recommend not letting it sit for too long otherwise it will dry out a little.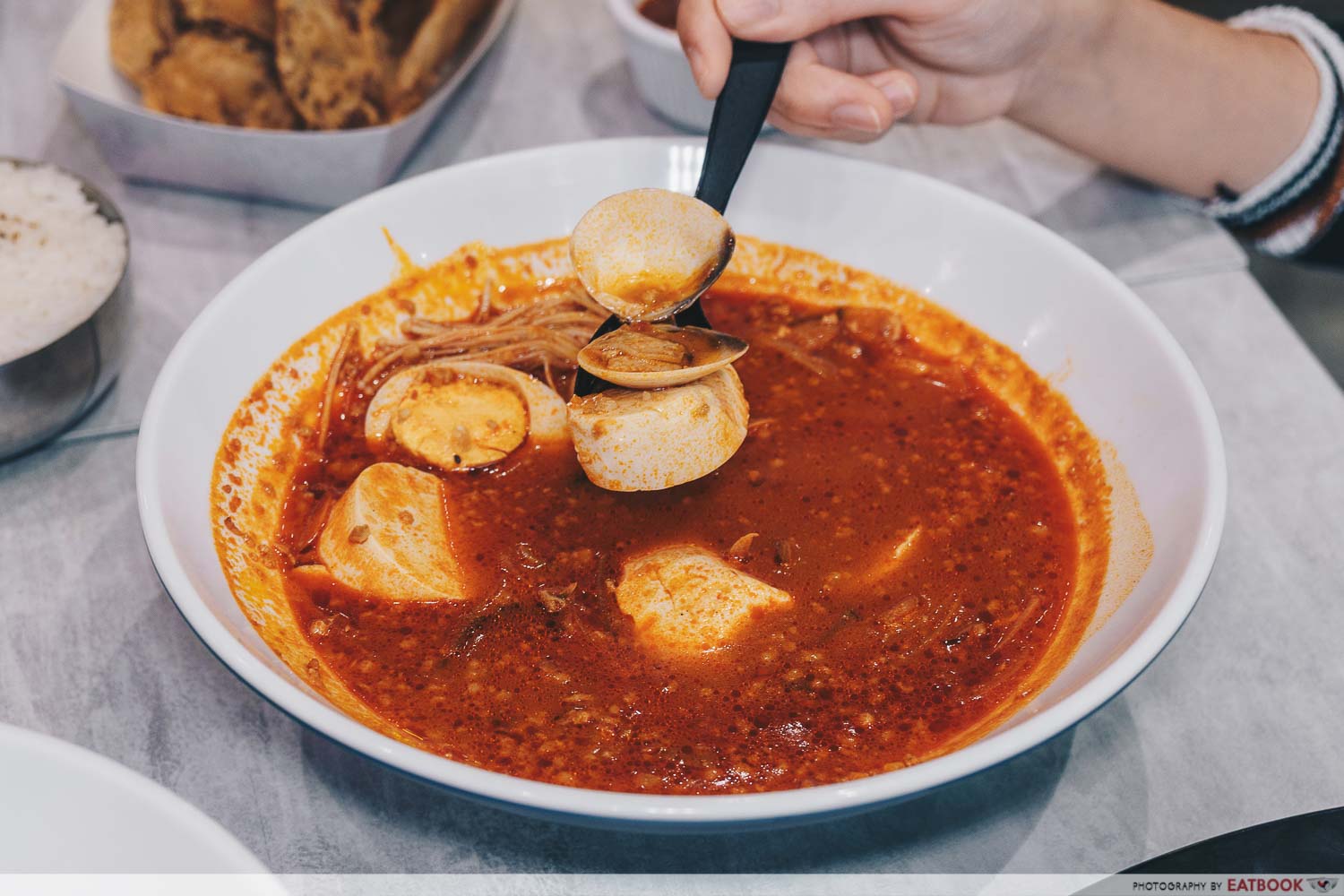 There are four Korean stews to choose from, but as a big seafood fan, I had to go with the Tofu Clam Jjigae ($13.90) that came with a bowl of steamed rice. The stew had a subtle seafoody taste, along with a tanginess that reminded me of kimchi. Even though I would love for it to have more depth in flavour, it was still a decent bowl of soup.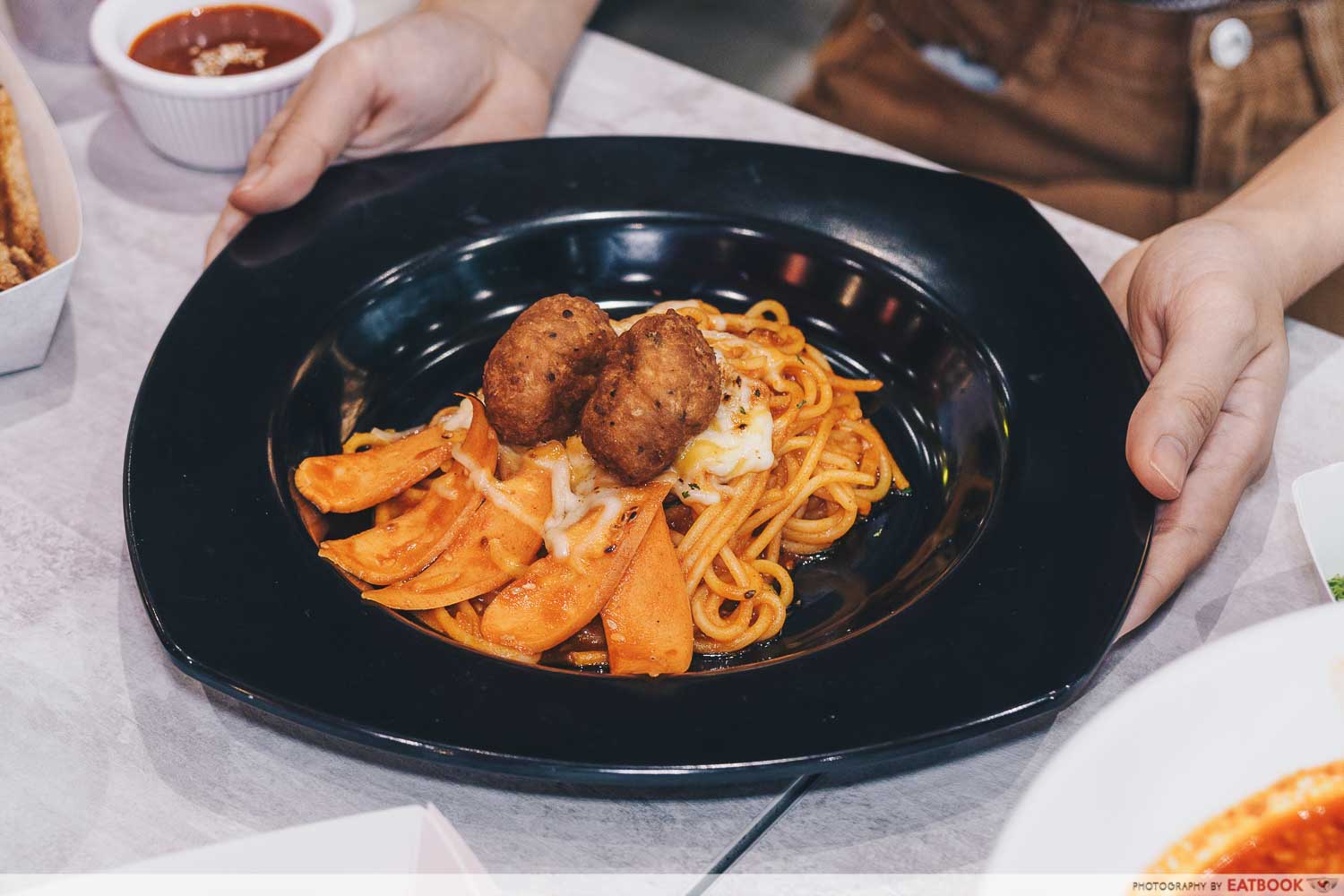 They also serve fusion dishes like their Signature Gochujang Tomato Cream Pasta ($7.90). It does seem slightly gimmicky, but flavours truly work. The tartness of the tomato was balanced with the gochujang, making the pasta really appetising.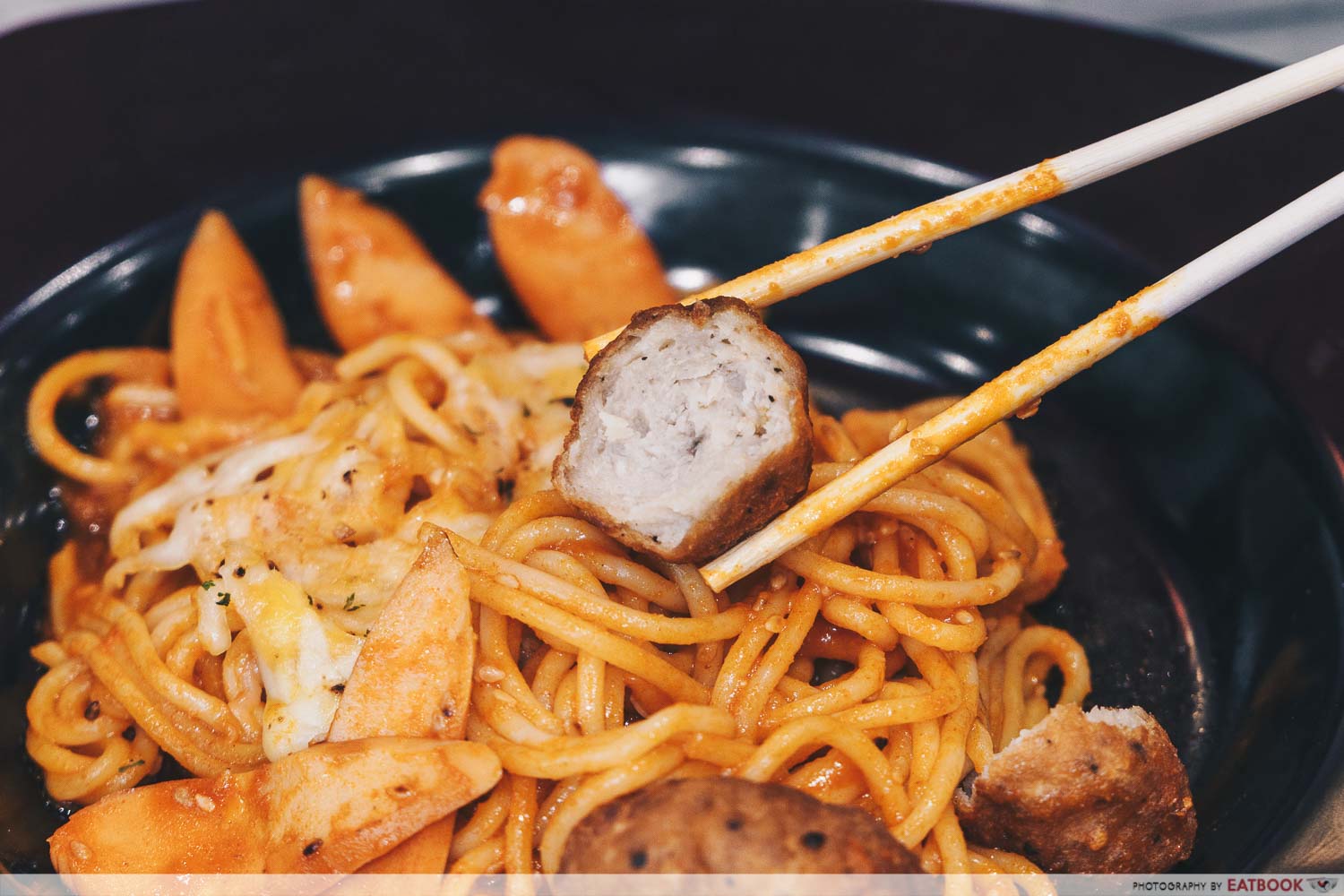 The meatballs were a tad dry, but regardless, it's excusable when eaten with the sauce and noodles.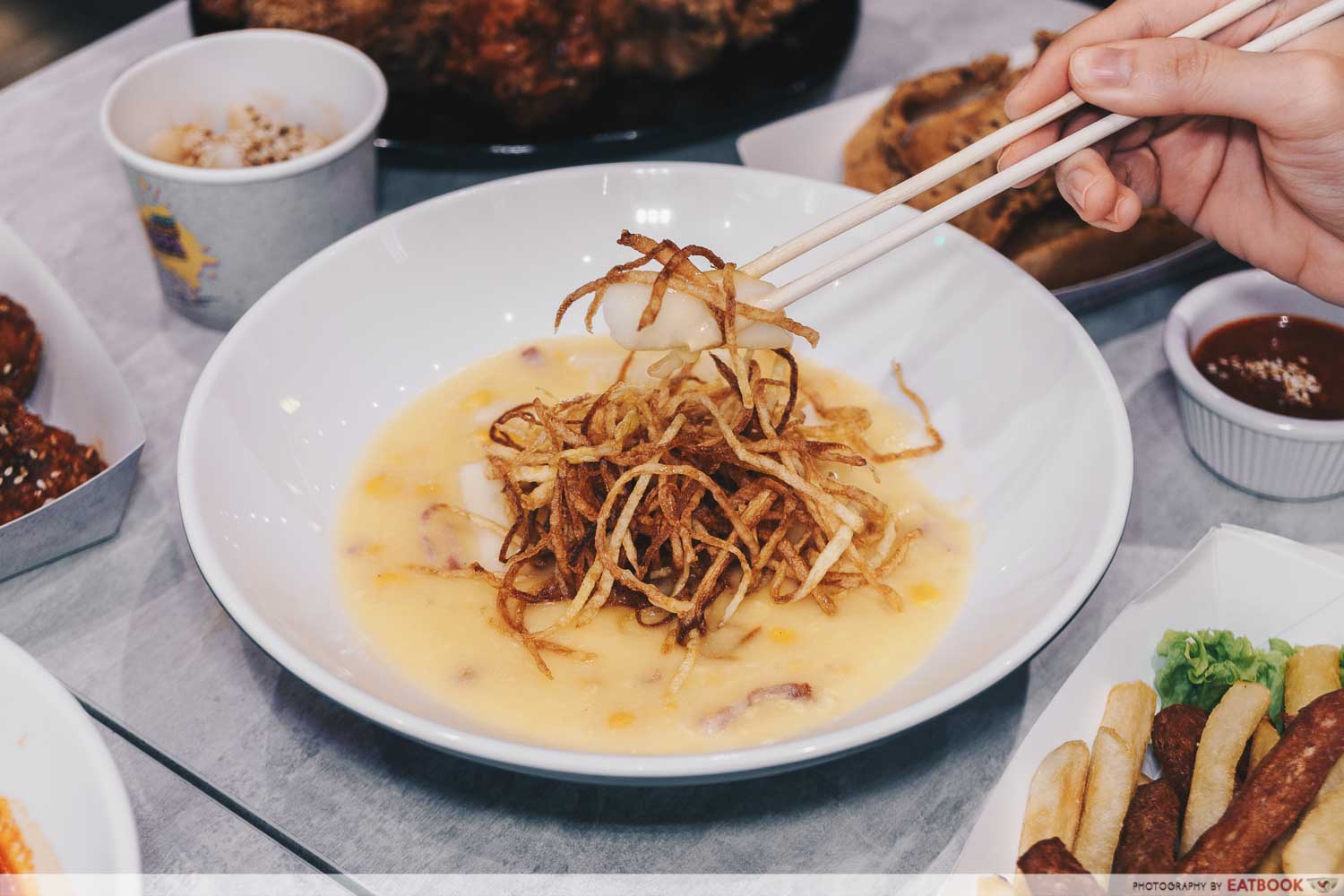 This would be my favourite dish at Hongdae Oppa. At first glance, the Tteok Carbonara ($11.90) seemed like it would be too jelak for my liking. However, one mouthful was all it took to refute my initial judgement. 
The creamy sauce had taken on the savouriness of the deep-fried potato strips that topped the dish. You can truly taste each element in the sauce, such as the sweet corn and smoky bacon. Besides that, they really nailed the texture of the rice cakes, since it was chewy but not too hard.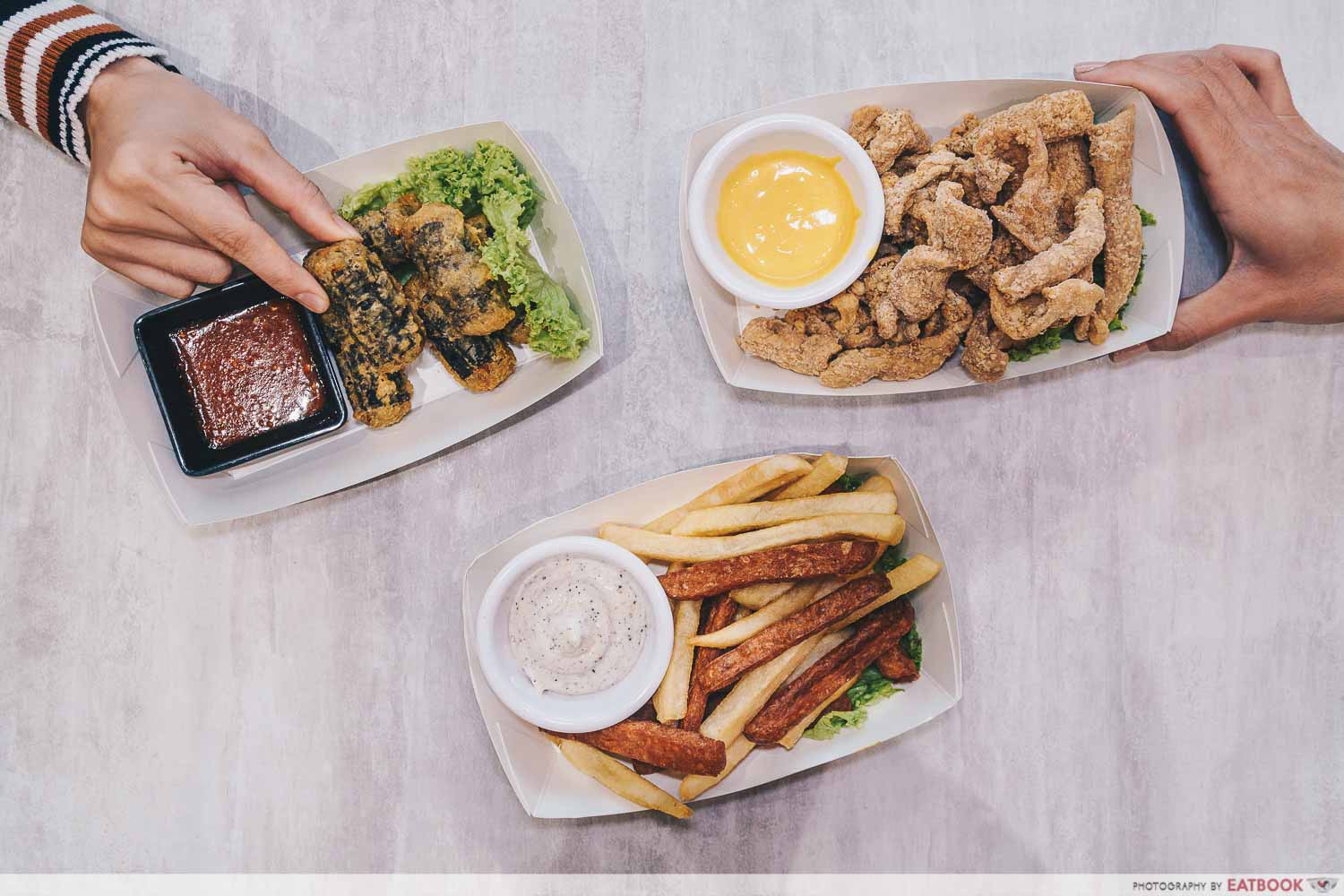 You can enjoy Korean street food at a bargain here, since their side dishes start from $3.90. This includes the Fried Seaweed Roll with Bibimbap Sauce ($3.90). With a crisp exterior, each seaweed roll was filled with glass noodles so you can expect a soft, chewy centre.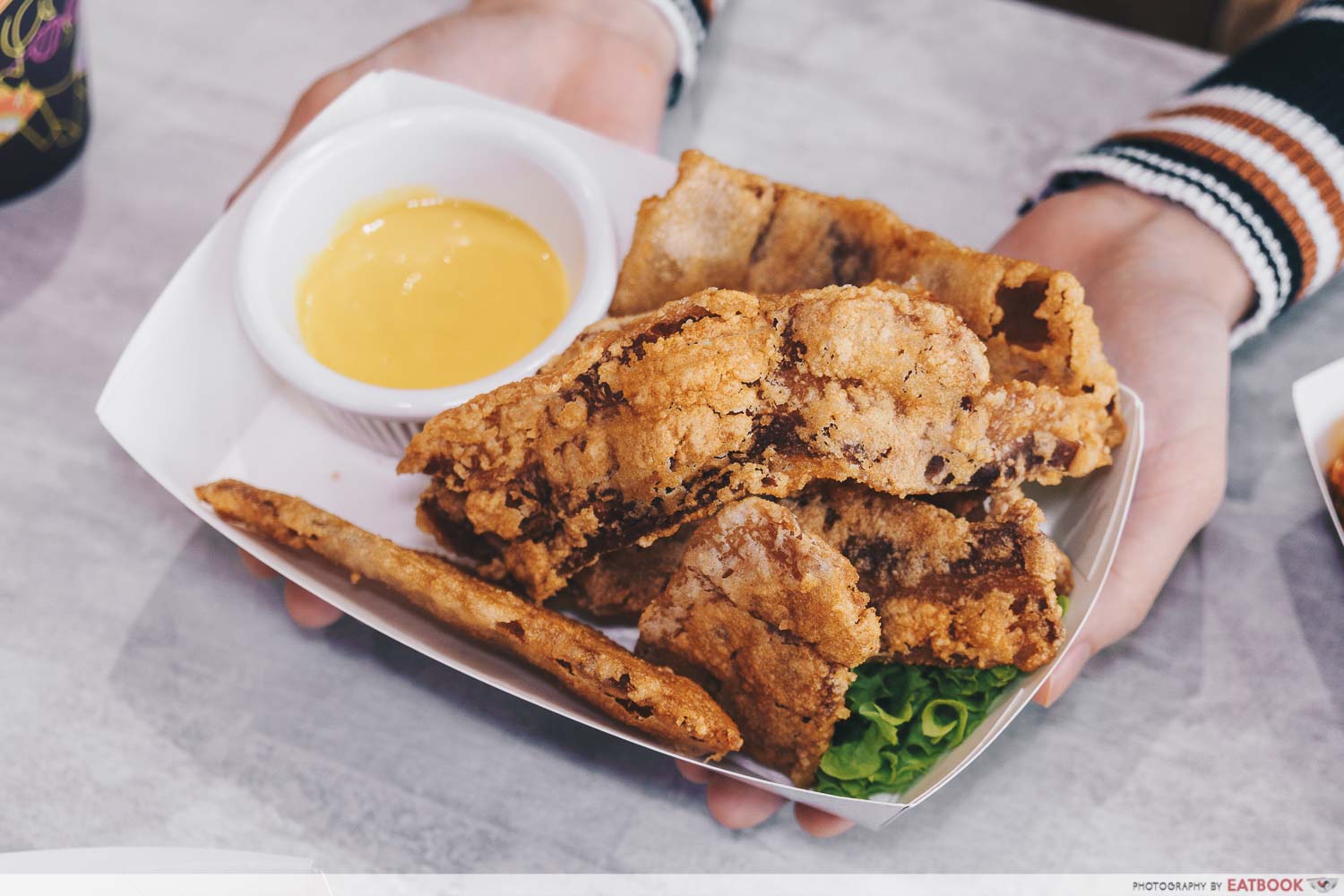 Besides that, you can also enjoy the SPAM X FRIES with Garlic Mayo ($5.90) and the Crispy Pork Belly with Honey Mustard Sauce ($7.90).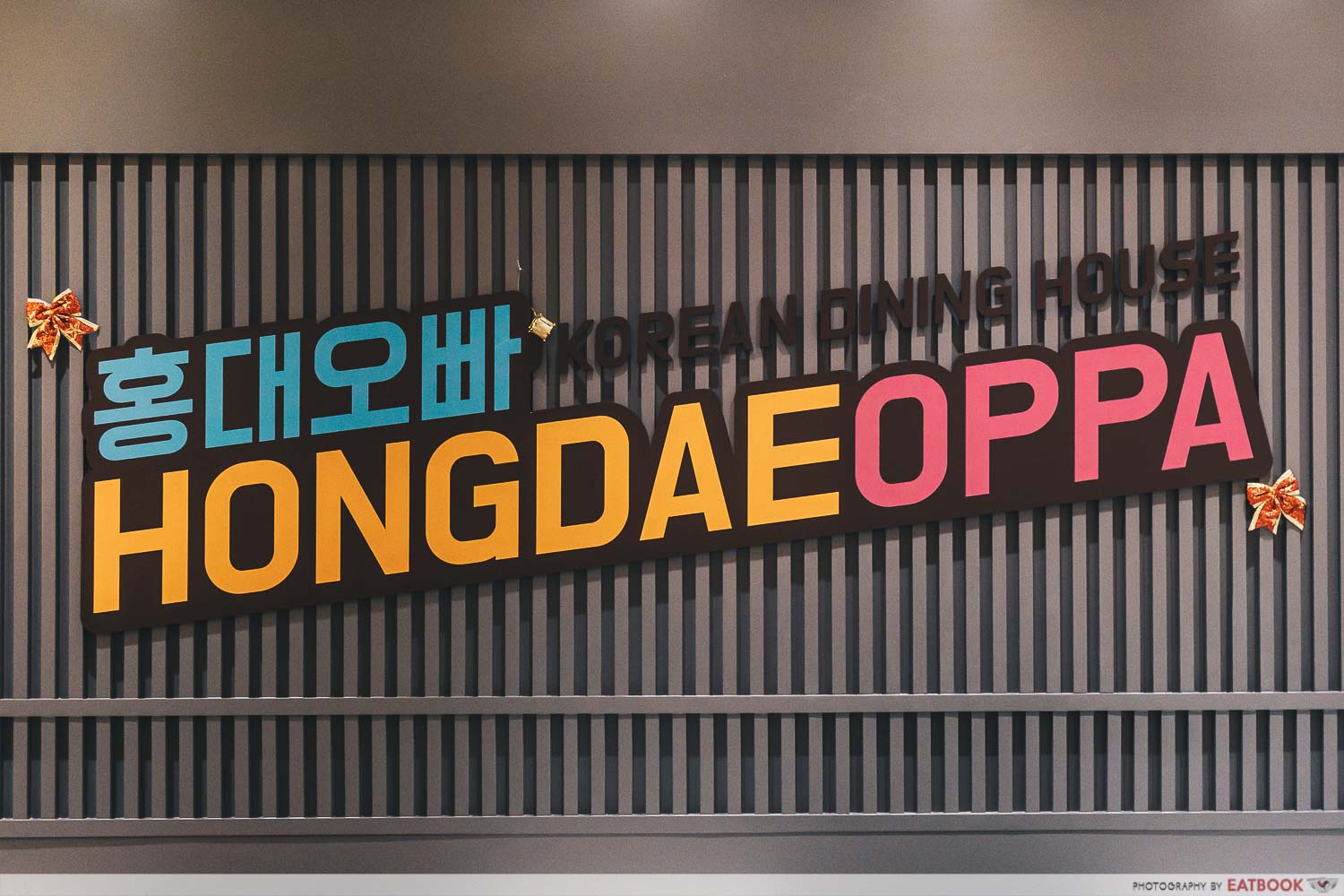 Located at Level 3 of JP2, you can't miss the store, with its brightly-lit signboard and colourful interior. It's a comfortable space and it seems like a great place to hang for lunch or dinner with your friends.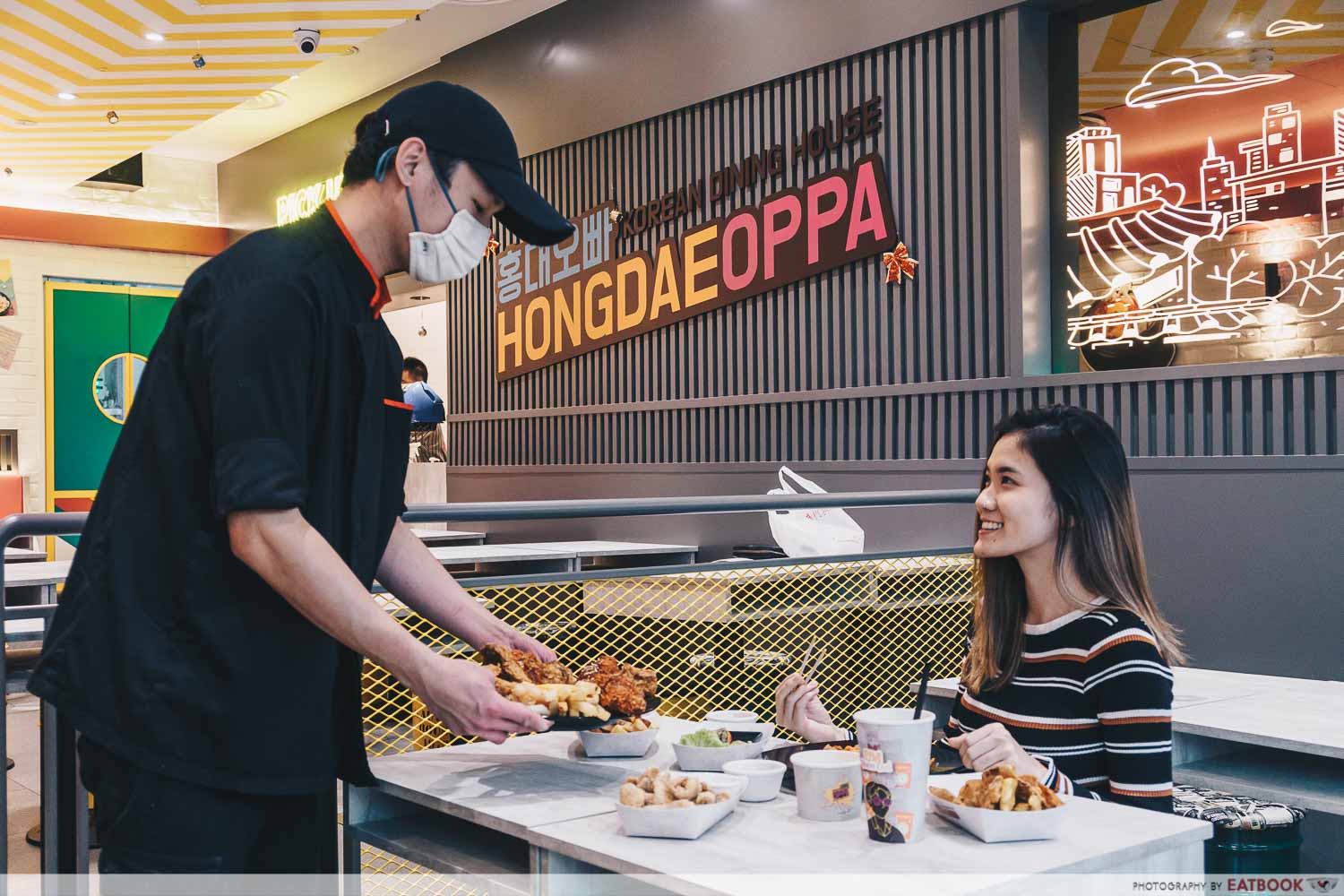 What's more, the restaurant plays top K-pop hits on the background, which added more vibrancy to the setting.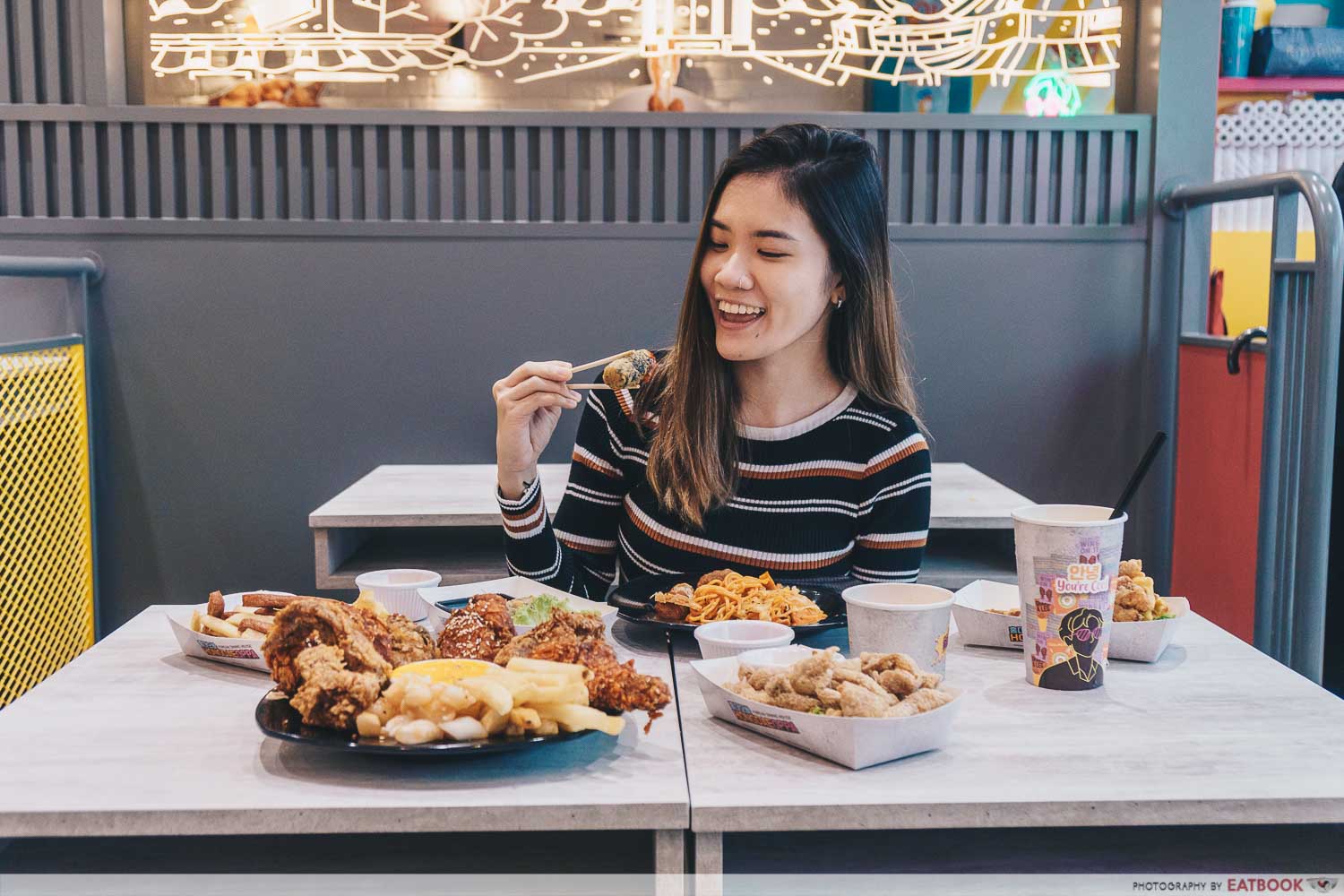 With its extensive variety, affordable prices and decent quality, you should consider Hongdae Oppa for your next Korean meal. On top of that, Hongdae Oppa is having a FLASH & REDEEM promotion, where you can enjoy 1-For-1 Kombo Set Meal exclusively at the Jurong Point outlet from 18 January to 19 February 2021.
All you need to do is flash this post or our Facebook video upon ordering to redeem this valuable deal. Note that this discount is applicable for all Oppa Kombo except Keopeul Kombo, and the promotion is valid only between 11am to 6pm from Monday to Friday, limited to one redemption per table, per bill. Also, the free item has to be of equivalent or lower value. Terms and conditions apply.
Address: 63 Jurong West Central 3, #03-56, Jurong Point JP2, Singapore 648331
Opening hours: Daily 10:30am to 10pm
Tel: 9169 5817
Website
Hongdae Oppa is not a halal-certified eatery.
Photos taken by Photos taken by Muhammad Hafiq.
This post is brought to you by Hongdae Oppa.