---
Ramen delivery services during Circuit Breaker
---
One of the first things I'll eat in a proper restaurant once this Circuit Breaker period ends is definitely ramen. We're blessed with a diversity of instant noodles options in our supermarkets, but there's something about thin, bouncy ramen noodles slurped from a bowl of warm pork bone broth that instant alternatives just can't replicate. That's why we've collated a list of Japanese noodle joints in Singapore offering ramen delivery services across the island, for you to satisfy the cravings in the safety of your home.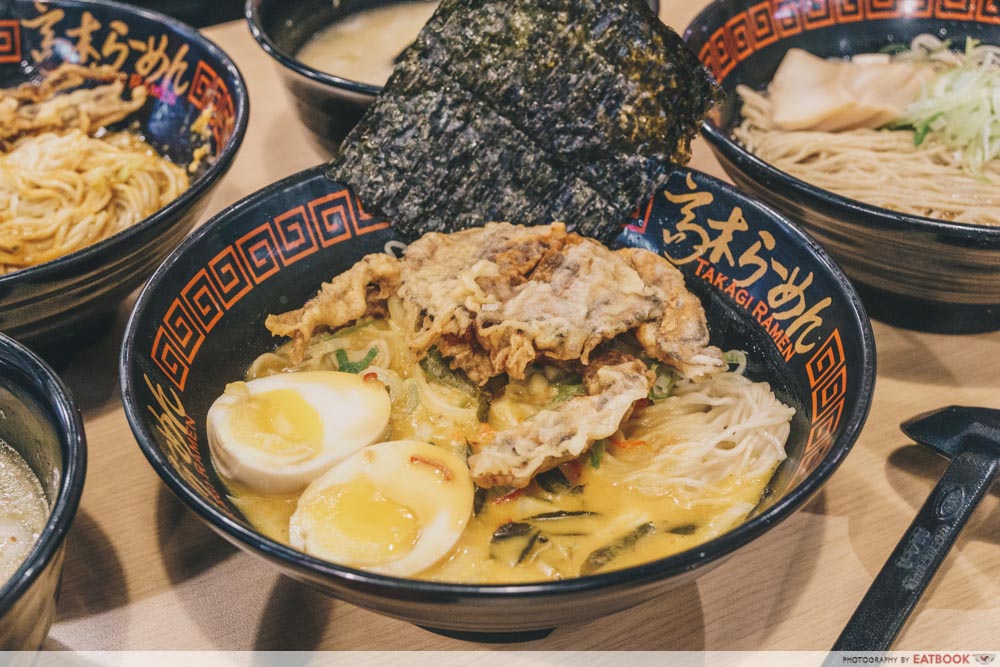 1. Enishi 
Awarded with a Michelin Bib Gourmand in 2016, Enishi only has two outlets in the world—one in Singapore and another in Kobe, Japan. The unique ramen joint has a rather simple menu consisting of only two dishes: Dan Dan Noodles ($17.90+), a Sichuan-style dry noodles with a Japanese spin, and Japanese Dashi Noodle ($17.90+), which is made with the classic Japanese dashi stock. 
There's no minimum order, but their flat delivery charge is $12. For free delivery, put in an order of at least $50. 
WhatsApp 9098 9409 to order.
Enishi Review: Hidden Michelin Bib Gourmand Ramen Joint From Japan Found At Tanjong Pagar
2. Goshin Ramen
Goshin Ramen is a halal-certified ramen restaurant offering seafood-based noodle dishes and selections that have a Singaporean twist. From their list of seafood offerings, the Daikairo Ramen ($16.80+) comes with large and succulent tiger prawns. If you enjoy dry ramen, the Ramen Reebus ($16.50) incorporates the flavours of mee rebus into the noodle dish. 
They deliver island-wide with a minimum order of $40 and delivery charge of $4.99. If you order over $80 worth of dishes, delivery is free. 
3. Ramen Keisuke
The popular Japanese restaurants chain, Keisuke, offers delivery services from many of their Ramen Keisuke outlets. From their Tonkotsu King and Lobster King restaurants, the original Tonkotsu Ramen ($11+), along with two of its spicy variants, are available for delivery. In classic Keisuke fashion, you'll get to customise your ramen bowl with toppings such as pork chashu and flavoured egg.
There is no minimum order and delivery is free from all operating outlets. They deliver within three kilometers of their restaurants, from 11am to 11pm daily. You'll have to contact the outlet to place your order. 
Check out their website for more information.
4. Kamo Soba Keisuke
Under the same family of restaurants, Kamo Soba Keisuke at Holland Village is well-known for pioneering its duck ramen dishes in Singapore. Their delivery menu includes the same tonkotsu-based noodles, along with the Kame Maze Soba ($19+) which is a dry ramen dish topped with slices of premium fatty duck. 
Call 6463 4344 to order.
Check out their website for more information.
5. The Ramen Stall
Another popular, halal-certified ramen stop is The Ramen Stall which serves a range of traditional Japanese dishes from yakisoba to sushi and ramen dishes. Their noodles menu includes a robust and hearty Beef Ramen ($13.90), and a spicy Volcano Ramen ($11.90) that has customisable spice levels. 
From 11am to 10:30pm daily, they offer free island-wide delivery for a minimum order of $50. If you live near their restaurant at North Bridge Road, you can choose to pick up your food instead, and enjoy 20% off your order.  
WhatsApp 8733 0425 or call 6655 0800 to order.
The Ramen Stall menu and website
6. Takagi Ramen
With ramen prices starting from $6.90 nett and free noodle top-ups, Takagi Ramen is the go-to joint for affordable ramen. The Awabi Shoyu Ramen ($7.80) has a broth blend of pork essence and shoyu, giving the dish undertones of sweetness. Get the speciality Butashoga Ramen ($11.90) which comes with creamy tonkotsu broth and aromatic ginger-braised pork.
Free island-wide delivery is available for orders above $50.
Takagi Ramen Review: Salted Egg Yolk and Chilli Crab Ramen From $10.90 Nett
7. Brothers Ramen
This ramen stop in the CBD is a popular haunt for Japanese people living in Singapore. They sell a variety of different ramen including vegetarian, seafood, and pork belly ramen dishes. The affectionately named Brothers Ramen ($12.90) comes topped with pork chashu, chicken chashu, and chicken wontons. For an extra portion of protein, get the Supermen ($16.90) which comes with more chashu and egg.
They deliver island-wide through KLOOK with a flat delivery fee of $4. Order before 9:30am to receive your meal by lunchtime, and before 3:30pm for dinner orders. 
8. Ramen Taisho
Opened by a passionate chef duo that studied ramen-making in Japan, Ramen Taisho is a humble hawker stall selling restaurant-quality ramen. Their Black Garlic Tonkotsu Ramen ($9.80) is a crowd favourite, made using a rich tonkotsu broth base spiked with concentrated black garlic oil. Among their other fusion creations is the Sambal Tonkotsu Ramen ($7.80) which marries the familiar sambal aroma with their creamy soup base. 
They offer island-wide delivery at a flat delivery fee of $2, using the promotional code '2FLAT' at checkout. Minimum order is $38 for delivery.
Ramen Taisho Review: Salted Egg Yolk And Black Garlic Ramen At Maxwell Food Centre
9. Donburi King
This Japanese rice bowl specialist sells a sizable range of Japanese dishes, including ramen. The Iberico Pork Slice Yakiniku Miso Ramen ($18+) comes with fatty slices of the high-quality pork laid on a bed of bouncy noodles and sweet miso soup. If you're ordering from Donburi King, don't miss out on getting one of their over-the-top donburi bowls too.
Free delivery is available for orders above $100, otherwise, a $5+ delivery fee applies with a minimum order of $60. 
WhatsApp 9823 6393 to order.
Find out more on their Facebook page.
10. Kanada-Ya
Kanada-Ya joined the list of world famous Japanese chain restaurants opening in Singapore with its new outlet at Paya Lebar Quarter. The Kotteri Tonkotsu Ramen Special ($18.90+) is made with the stall's signature 18-hour bone broth and comes with a generous portion of fatty belly chashu. 
From now till 4th May 2020, the restaurant has free islandwide delivery for orders above $55.
Kanada-Ya: Famous Ramen Restaurant From Fukuoka Opens With 100% Cash Rebate From 13 To 15 Dec 2019
11. Tsuta
As the world's first Michelin-starred ramen restaurant, Tsuta's impressive reputation precedes it. The secret behind their signature broth is their dashi stock which they use in all their ramen bowls. Thankfully, their internationally recognised noodles aren't priced too extravagantly. Currently they have a 1-for-1 ramen promotion for the Shoyu Soba, Shio Soba, and Miso Soba, all priced at $18. 
Put in a $60 order to enjoy free delivery. Otherwise, a delivery fee is calculated based on your location.  
Tsuta Review: World's First Michelin-Starred Ramen Shop Opens In Orchard Road
12. The Ramen House
Selling ramen, sushi, donburi, curry rice, and even charcoal-grilled Japanese fare, The Ramen House offers an impressive range of affordable Japanese food for delivery. An item worth trying is the unique Kimchi Minced Pork Ramen ($12.90) which combines both Korean and Japanese flavours. 
From 11am to 10:30pm daily, they offer free island-wide delivery for a minimum order of $50.  If you live near their restaurant at Rochor, you can choose to pick up your food instead and enjoy 20% off your order.
WhatsApp or call 8733 0426 to order.
Find out more on their website.
13. Megumi Japanese Restaurant
Megumi Japanese Restaurant sells a variety of Japanese food options including sushi, tempura, bento sets, donburi, and different types of noodle dishes. Their Kaisen Ramen ($19.80) sports a milk-based stock that's infused with seafood flavours, complete with shellfish as toppings. The appropriately named Shiok Ramen ($13.80) comes with a fiery spicy soup base.
You'll need to order a minimum of $50 for delivery, and above $80 to enjoy free delivery. Otherwise, a flat delivery fee of $5 applies. 
Megumi Japanese Restaurant order form
14. Sakae Sushi
There's no need for an introduction to this recognisable Japanese chain. Besides sushi, the restaurant also sells ramen, udon, and cold soba noodles. All their ramen dishes use a shio, or salt, stock for its soup, and each of them comes topped with chicken, seafood, or beef. 
Free delivery is available for orders above $80, otherwise, delivery charges are calculated based on your location.
Use the promotional code "SAKAE10OFF" to take 10% off online orders.
15. IPPUDO
Serving a Hakata-style Tonkotsu ramen, IPPUDO has joined the ramen delivery line up with their newly launched islandwide delivery service. For a full, hearty meal, grab one of IPPUDO's combo meals that come with a bowl of hot ramen as well as two side dishes. Besides noodles, they also sell wholesome donburi bowls such as the Chashu Don ($9) and Karaage Don ($9).
A minimum order of $50 applies, and there is a delivery fee of $7 for destinations within a 10km distance, and a flat fee of $10 for destinations further than 10km.