Kure Menya has ramen made with halal ingredients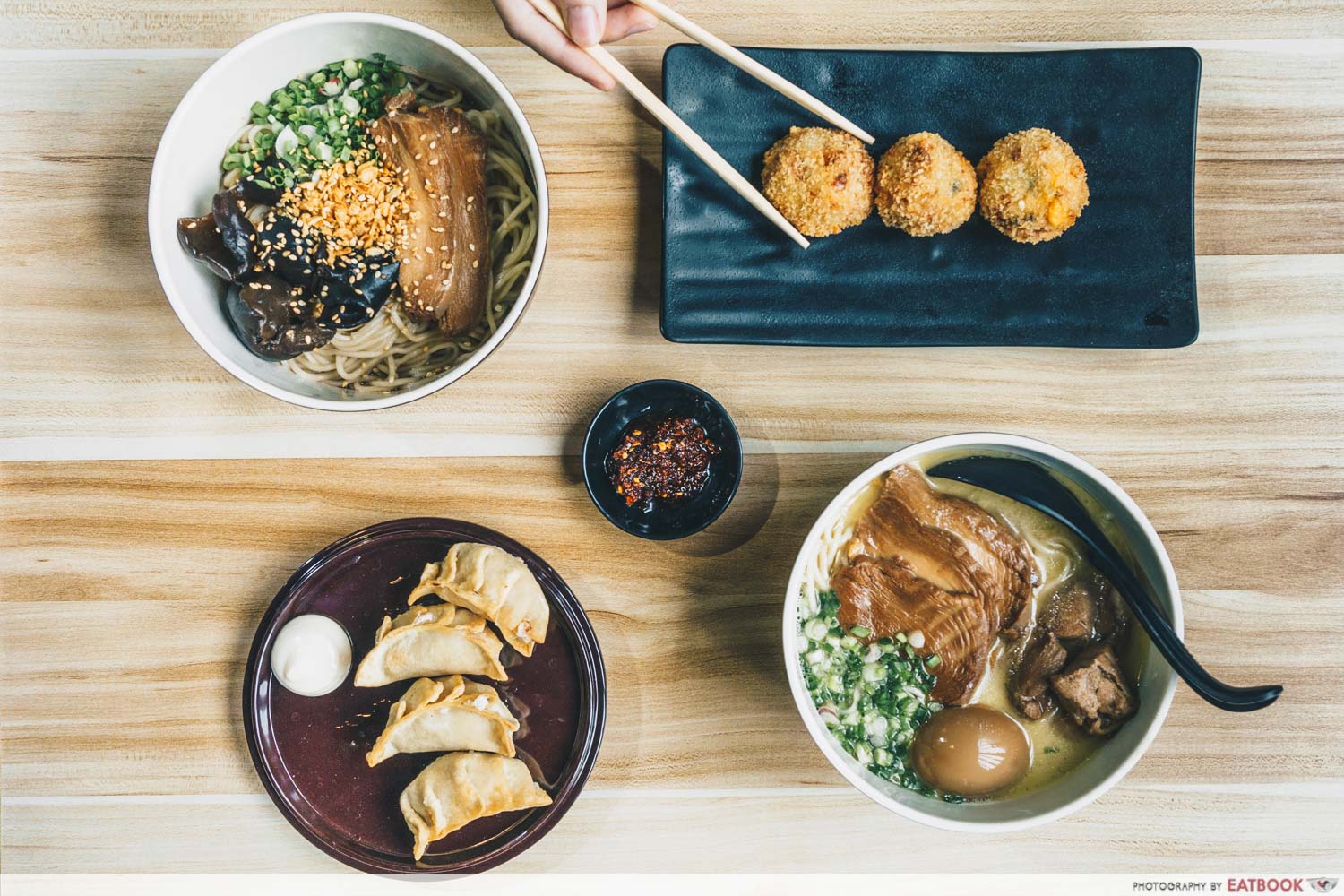 Japanese restaurants are a dime a dozen, especially in the CBD. Yet, Kure Menya distinguishes itself from the rest by offering Japanese food that's prepared with a fusion of cooking techniques across different cuisines. 
15 Cheap Japanese Food Joints Under $10 Serving Halal Beef Bowls And Salted Egg Ramen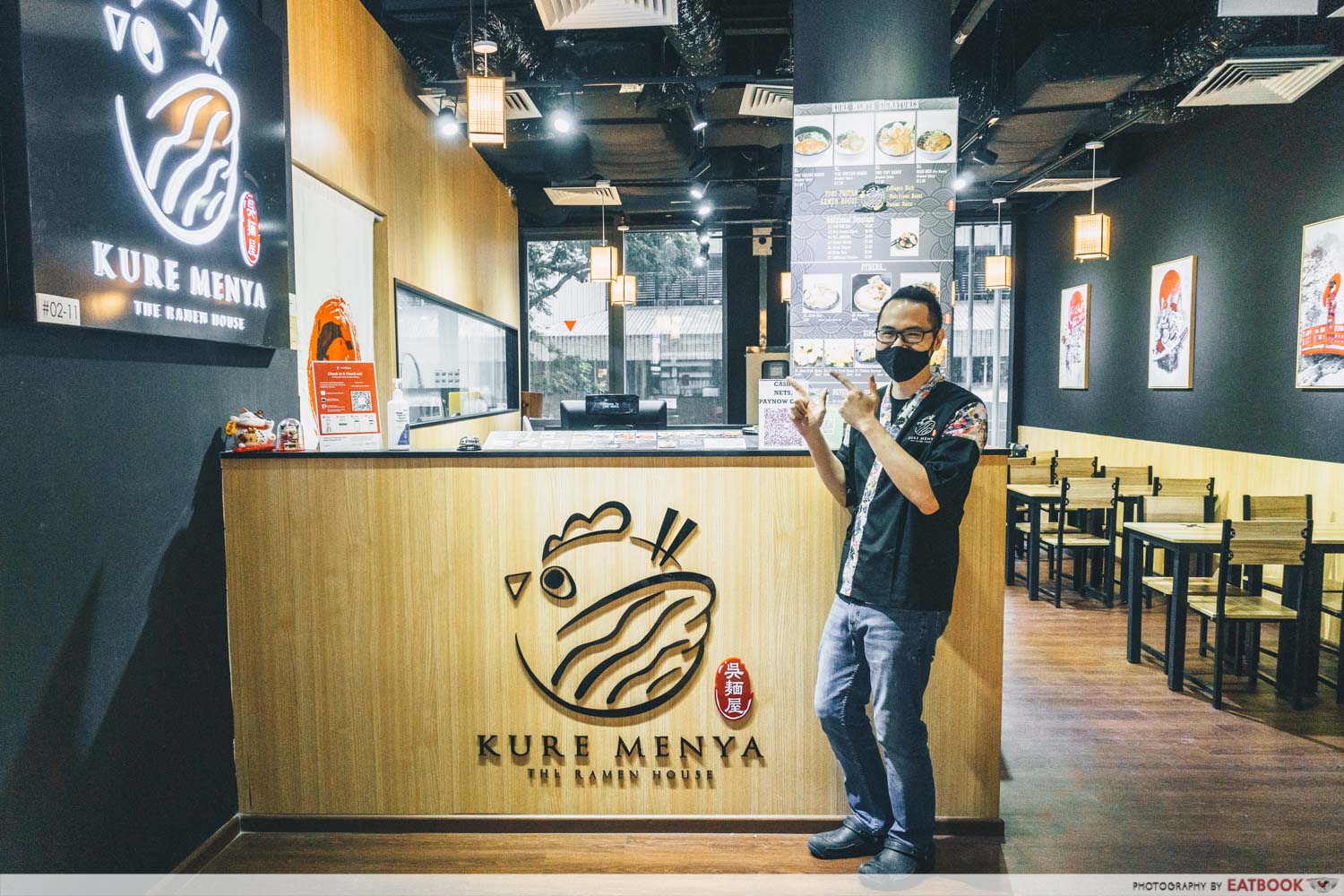 Chef Boon loves eating ramen, which explains why he decided to open his very own ramen joint in 2018. Despite having a background in psychology and marketing, he dived into the F&B landscape, working diligently for mostly Japanese restaurants for four years. His final stop before opening Kure Menya was at a zi char stall, where he learnt to master wok-kissed Chinese dishes.
Chef Boon's creations are a testimony to the skills and experiences he has accumulated over the years. He uses a combination of techniques from Japanese, Chinese and even Western cuisines to achieve desired flavours and textures in his dishes. 
Food at Kure Menya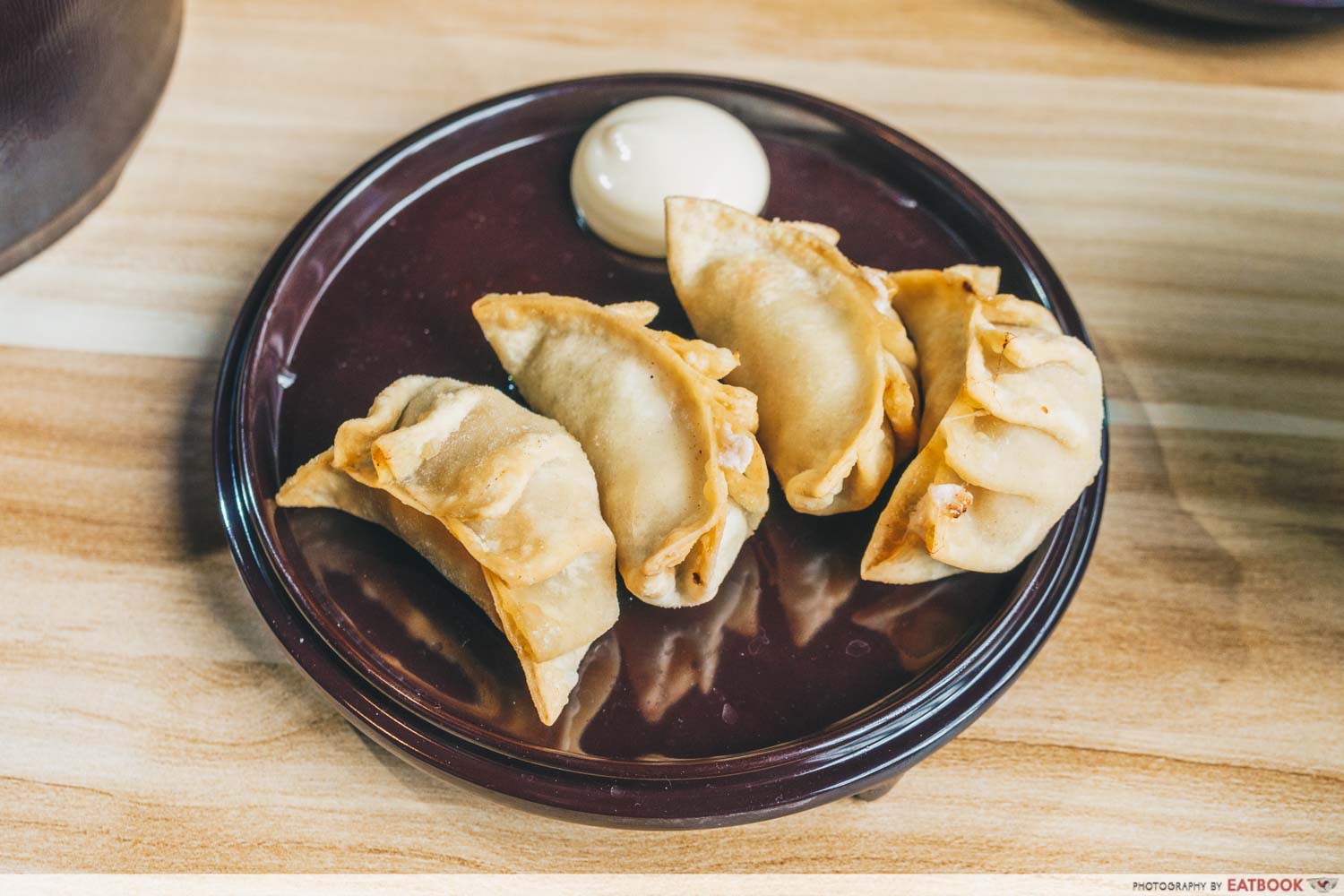 The Deep Fried Gyoza ($5.50) came with four hefty pieces. They were stuffed with juicy minced chicken along with cabbage, spring onions, ginger and garlic. These mouthwatering dumplings were encased in a crispy exterior all around, as opposed to the regular gyoza where you'd get a chewy dumpling skin with just a crunchy bottom. I personally would've loved the gyoza skin to be much crispier though.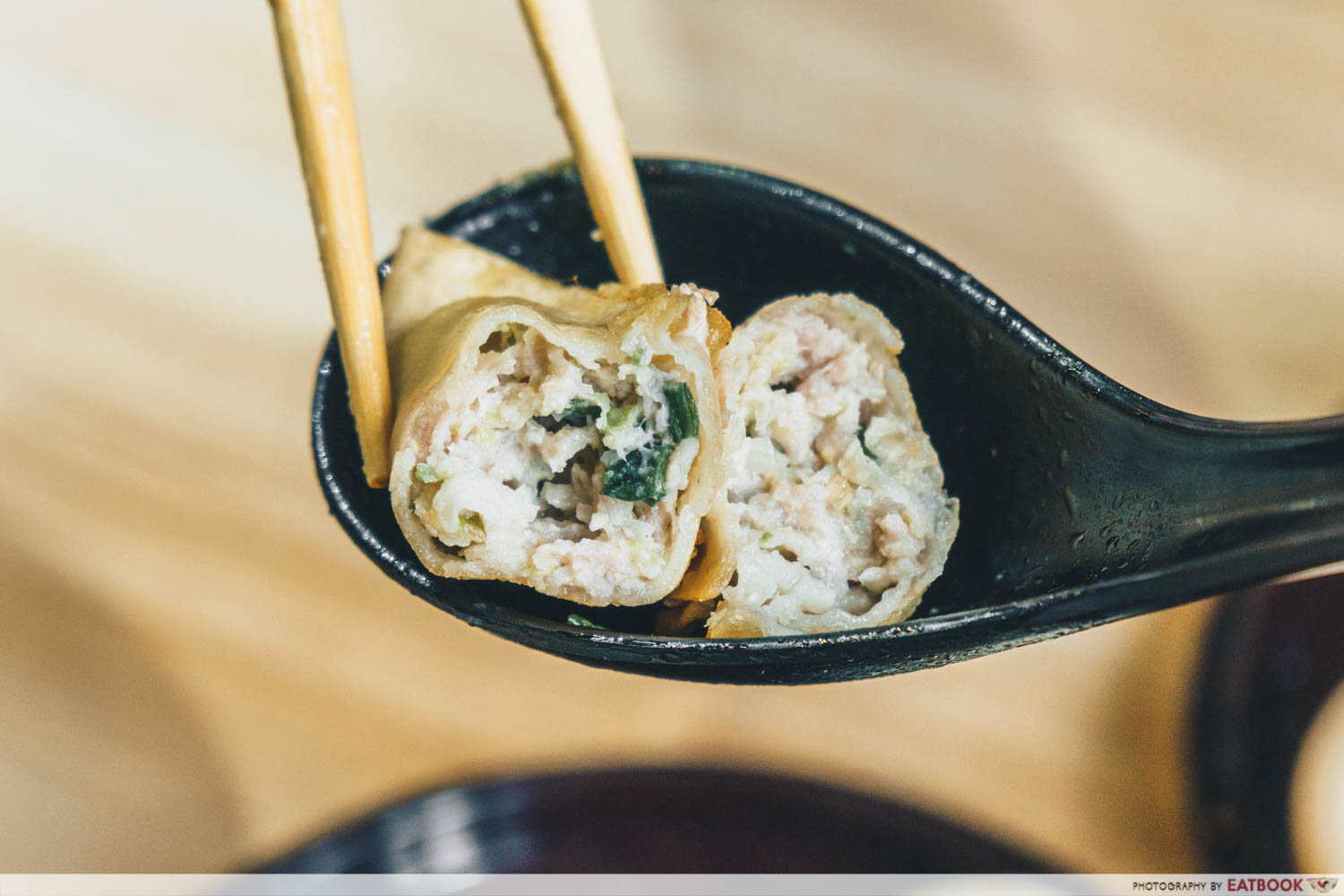 The minced meat was decently seasoned and had a delicious meatiness to it. Traditionally, gyoza is eaten with a soy vinegar sauce. However, Chef Boon serves it with a dollop of mayonnaise, which reminded me of zi char dishes like the stuffed you tiao and fried wontons that are accompanied with a mayo dip. The rich, tangy mayo complemented the flavours of the gyoza.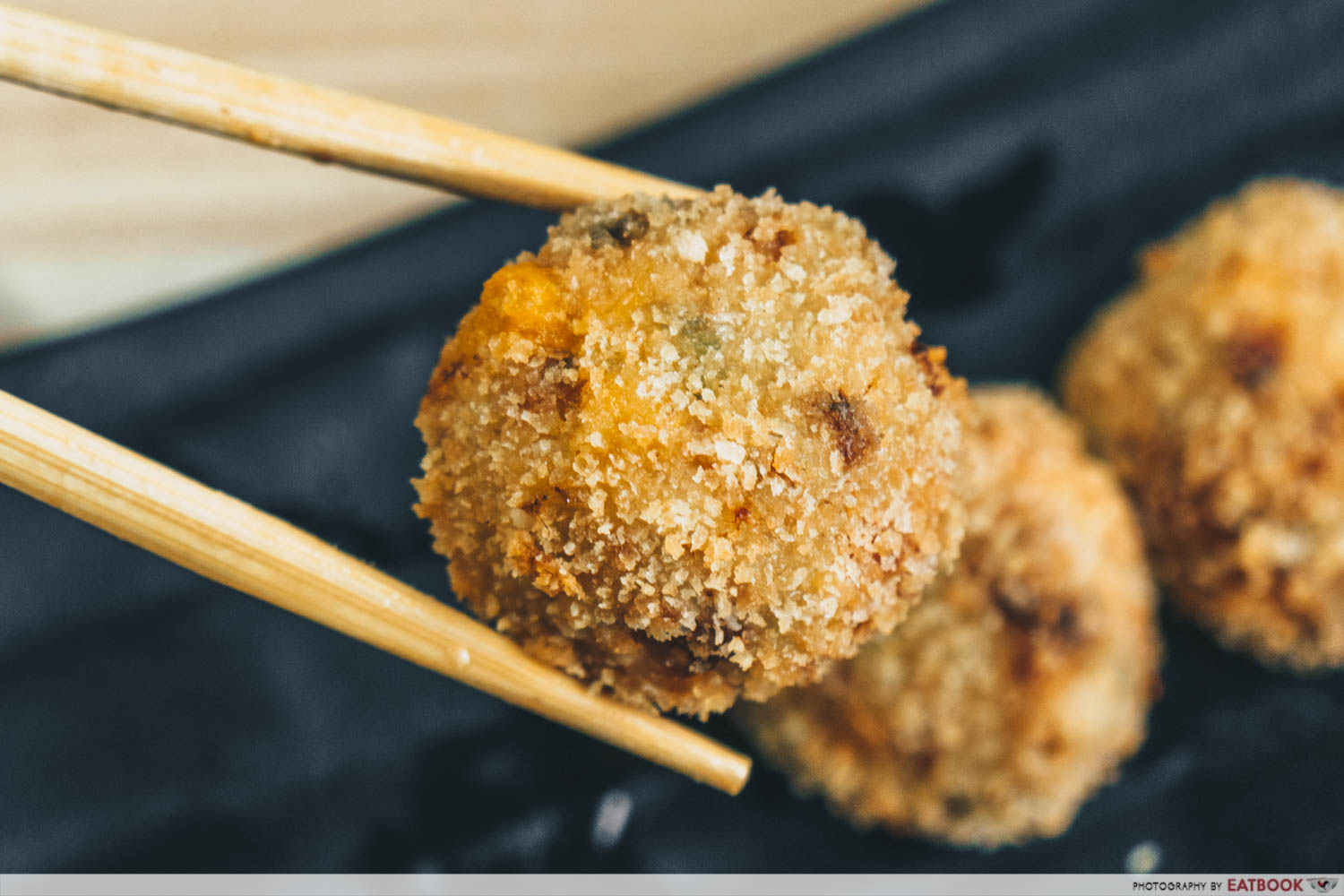 Opt for the Tori Nacho Bomb ($6.80) if you're a cheese lover like me. As given away by its name, you can expect an explosion of lava-like nacho cheese once you bite into each deep-fried chicken ball.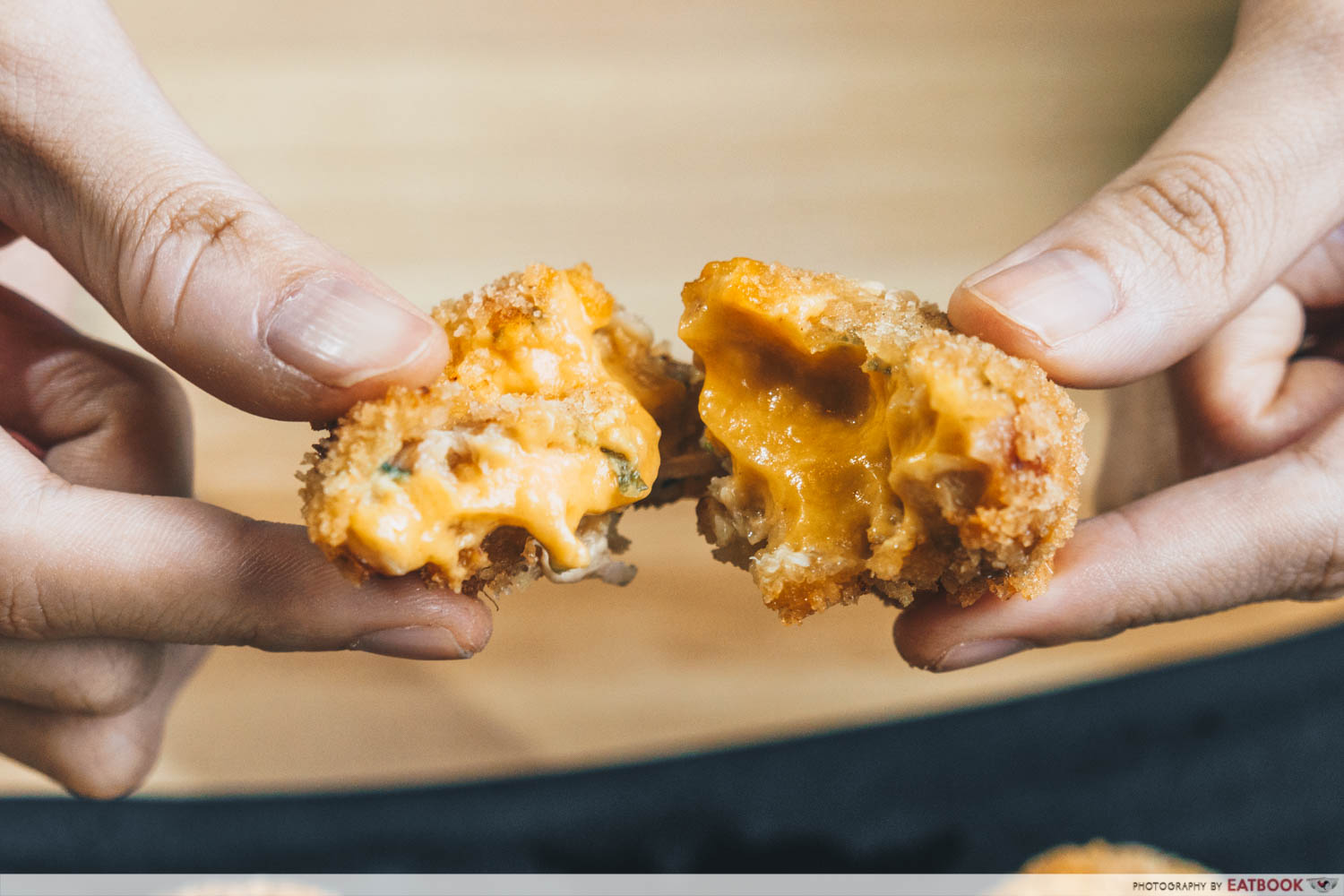 I could tell Chef Boon refrained from adding a thick layer of minced meat when forming the meatballs. Otherwise, it would've overshadowed the mellow nacho cheese filling.  With a thin layer of meat, the savoury cheese flavour was further enhanced.
The crumb coating was crisp and fragrant, though a little too salty for my palate. Overall, it was still an enjoyable side dish.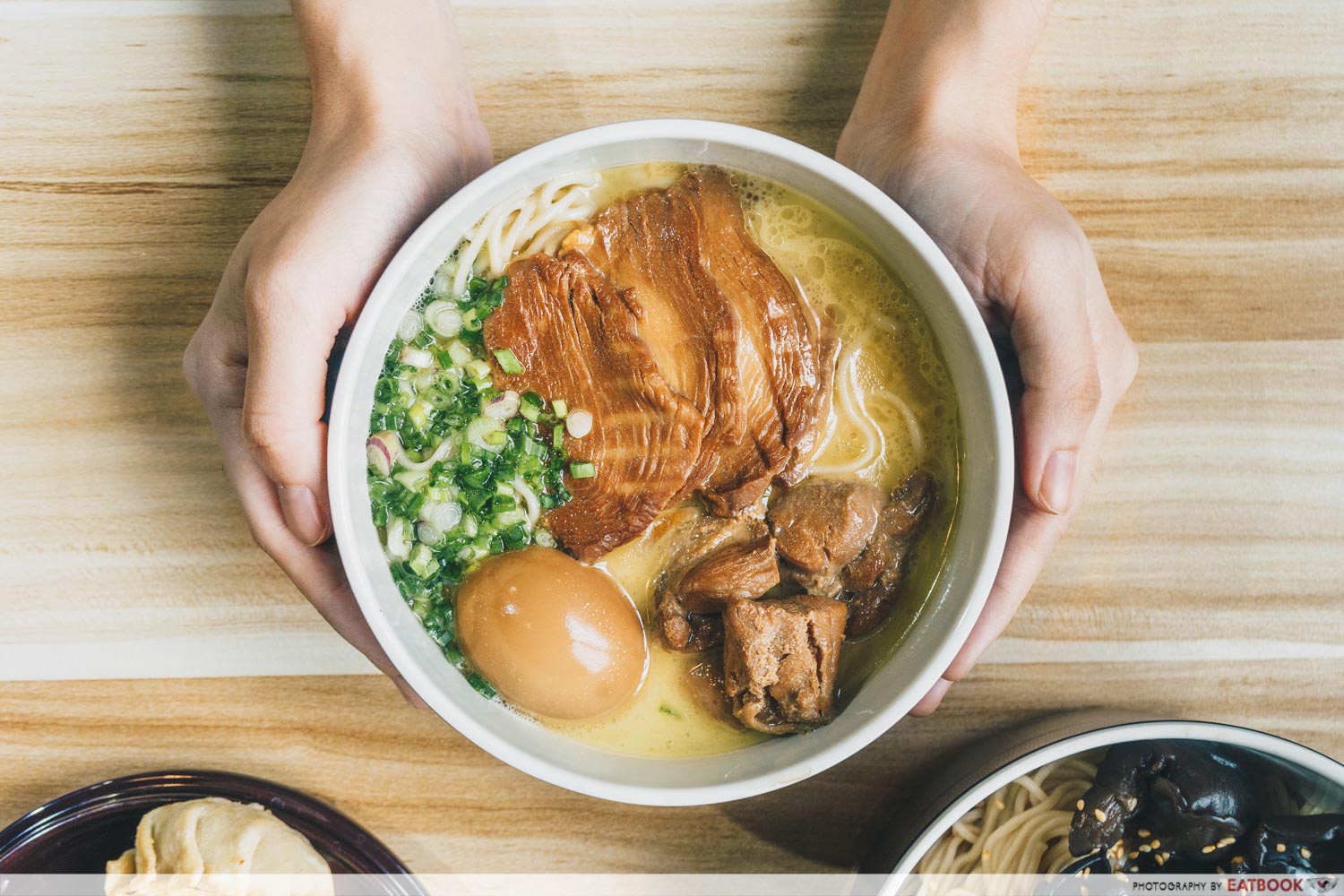 As most Japanese ramen are pork-based, I was curious to know how Chef Boon managed to attain a tonkotsu-like broth without the use of pork. The Tori Fest Ramen ($17.50) consisted of sliced chicken breast, chunks of chicken thigh, a whole ramen egg, noodles and spring onions.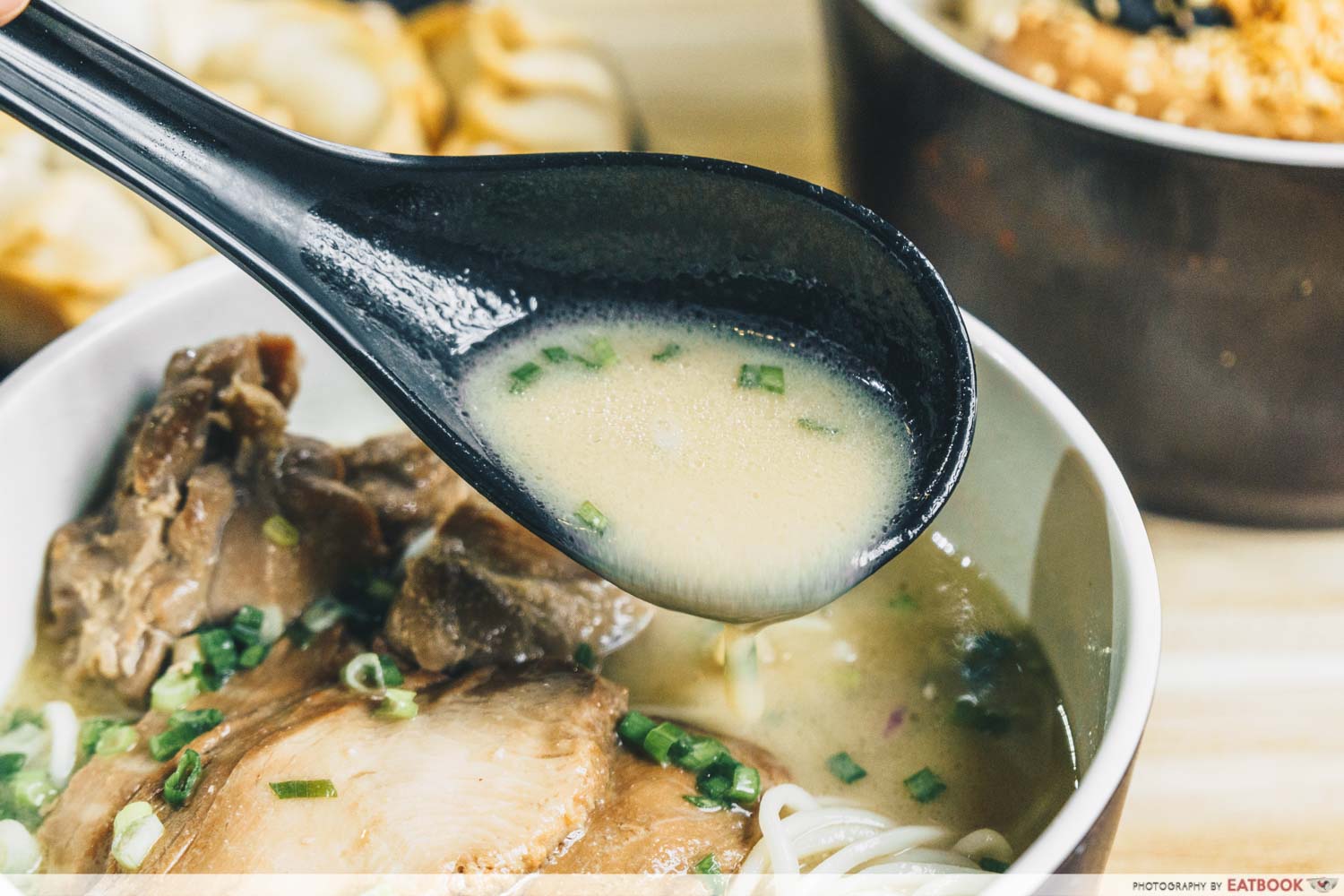 The broth was meticulously boiled with chicken bones for eight hours to extract every last bit of flavour. This resulted in a thick and condensed soup that was incredibly hearty, though much lighter in flavour compared to the regular pork bone broth. The coincidental rainy weather made this piping hot bowl even more satisfying.
I was intrigued by the similar flavour profiles between this collagen-rich chicken broth and the regular tonkotsu broth. Chef Boon mentioned that the reason for this is because he seasons the broth with flavoured oil and tare sauce, which is a common base for most ramen. 
The noodles were springy and chewy as well.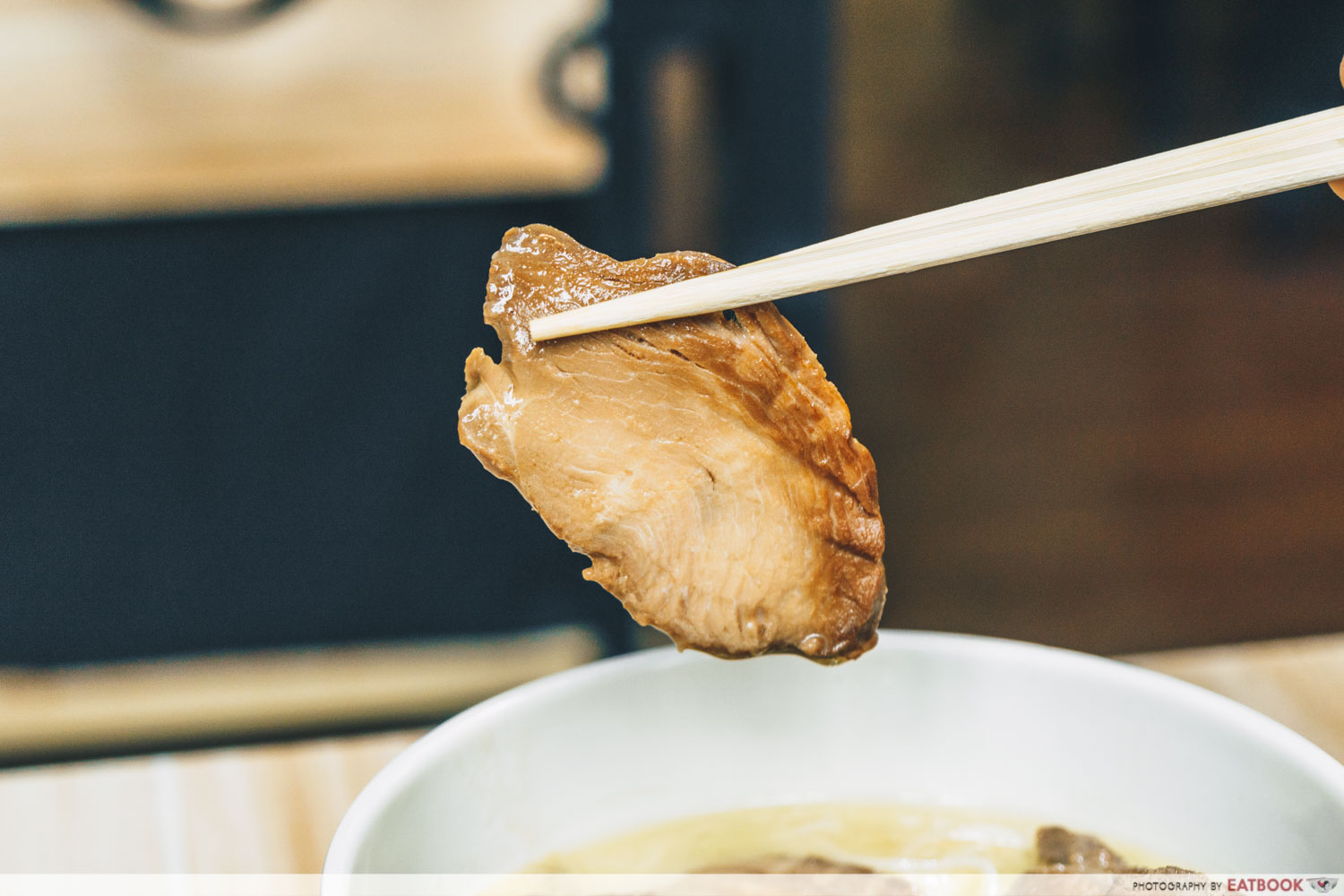 The star of the dish definitely was the chicken breast. In order to mimic the melt-in-your-mouth texture of the chashu in most ramen, Chef Boon relied on an ageing process for the chicken breast that takes up to 48 hours per batch. On top of that, the meat was marinated in an American-style barbecue dressing to give it a sweet and salty flavour. The reward for this intensely long and dedicated process was a flavoursome and moist chicken breast.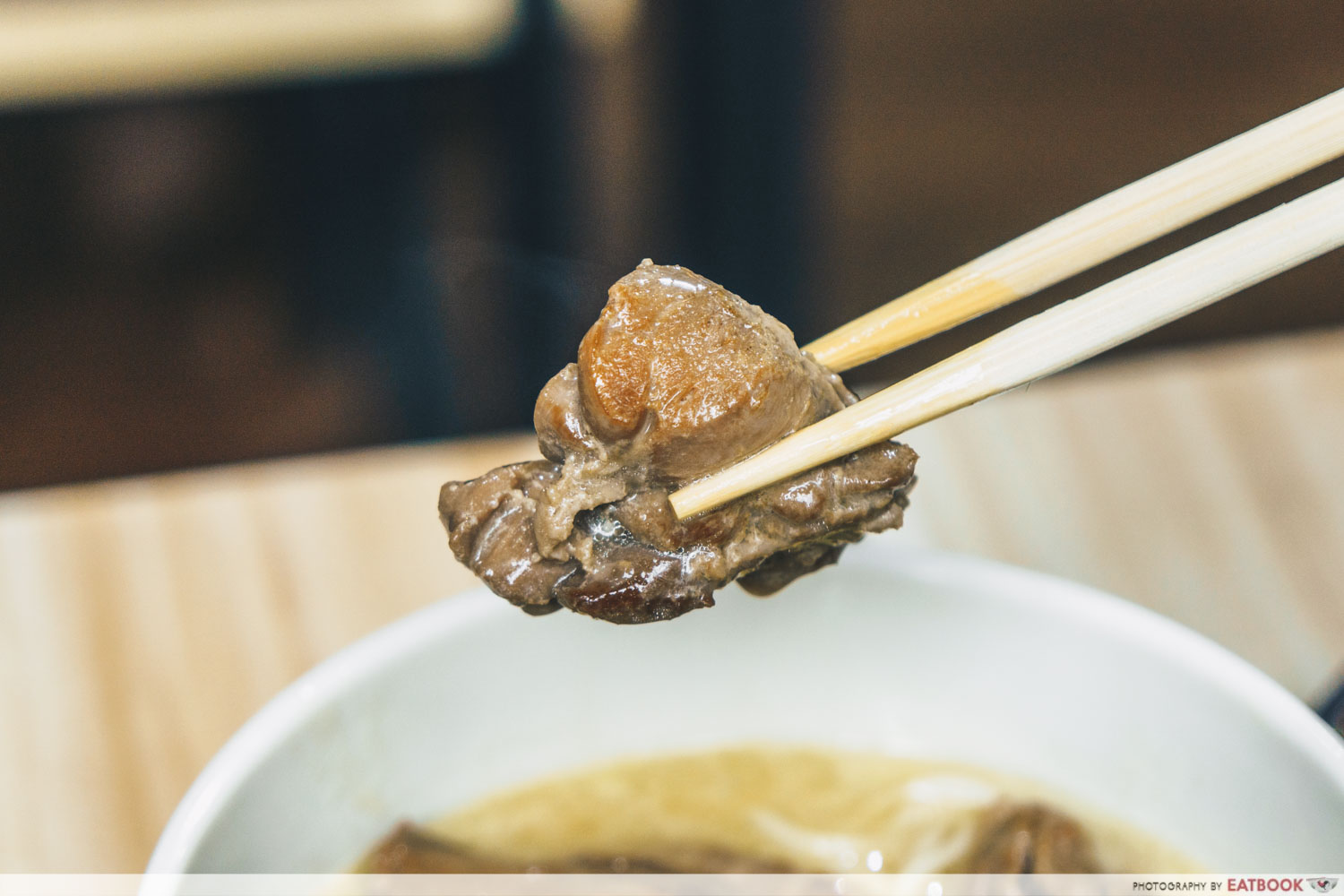 The chunks of chicken thigh were tender and full of flavour as well. As dark meat is naturally juicier than cuts like chicken breast, the chicken chunks did not have to go through the tenderising as mentioned above.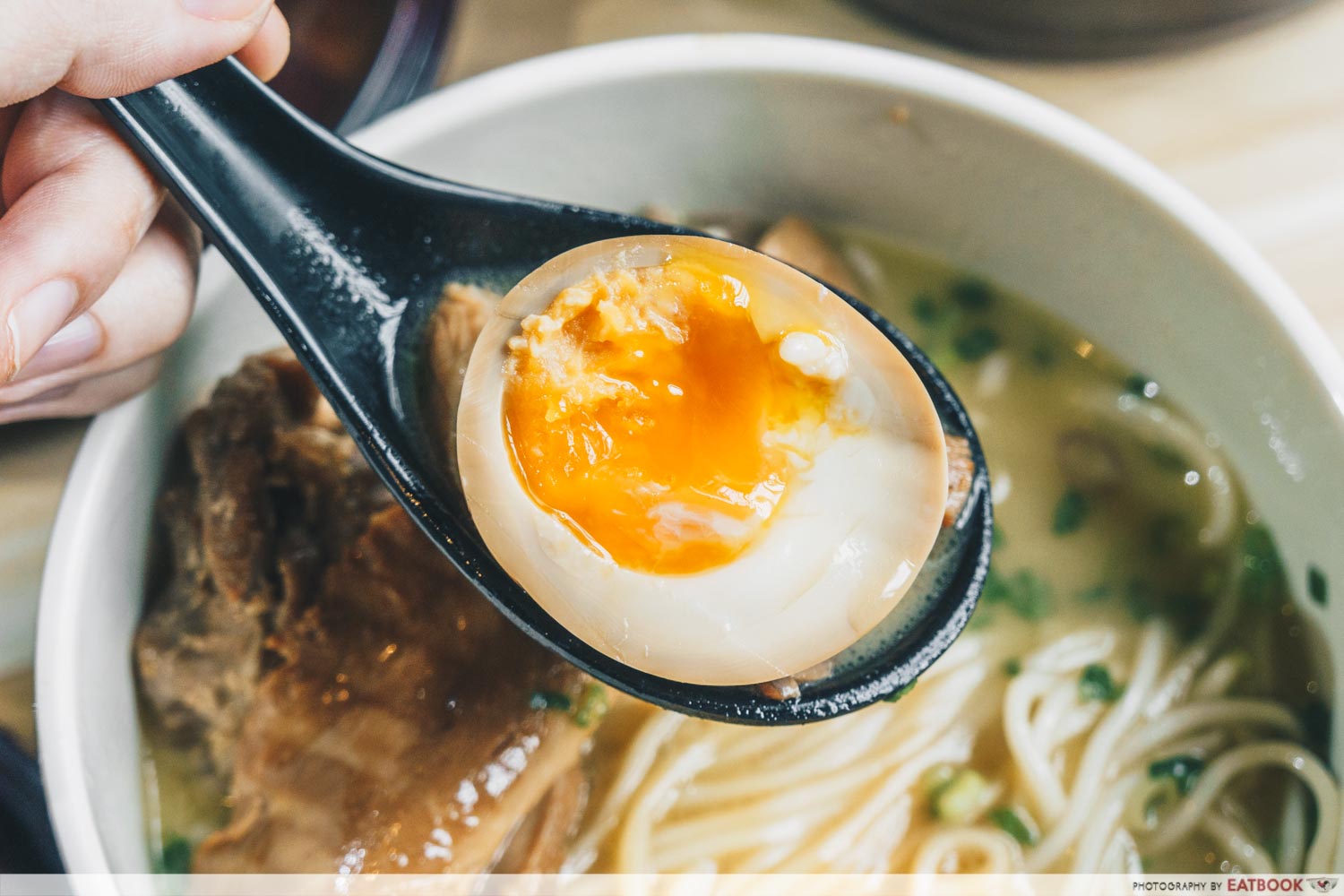 Ramen wouldn't be ramen without its marinated eggs. The egg was like a cherry on top, with its gooey custard-like yolk. 
Despite having various influences from a blend of cuisines, the elements in the Tori Fest Ramen worked harmoniously well together.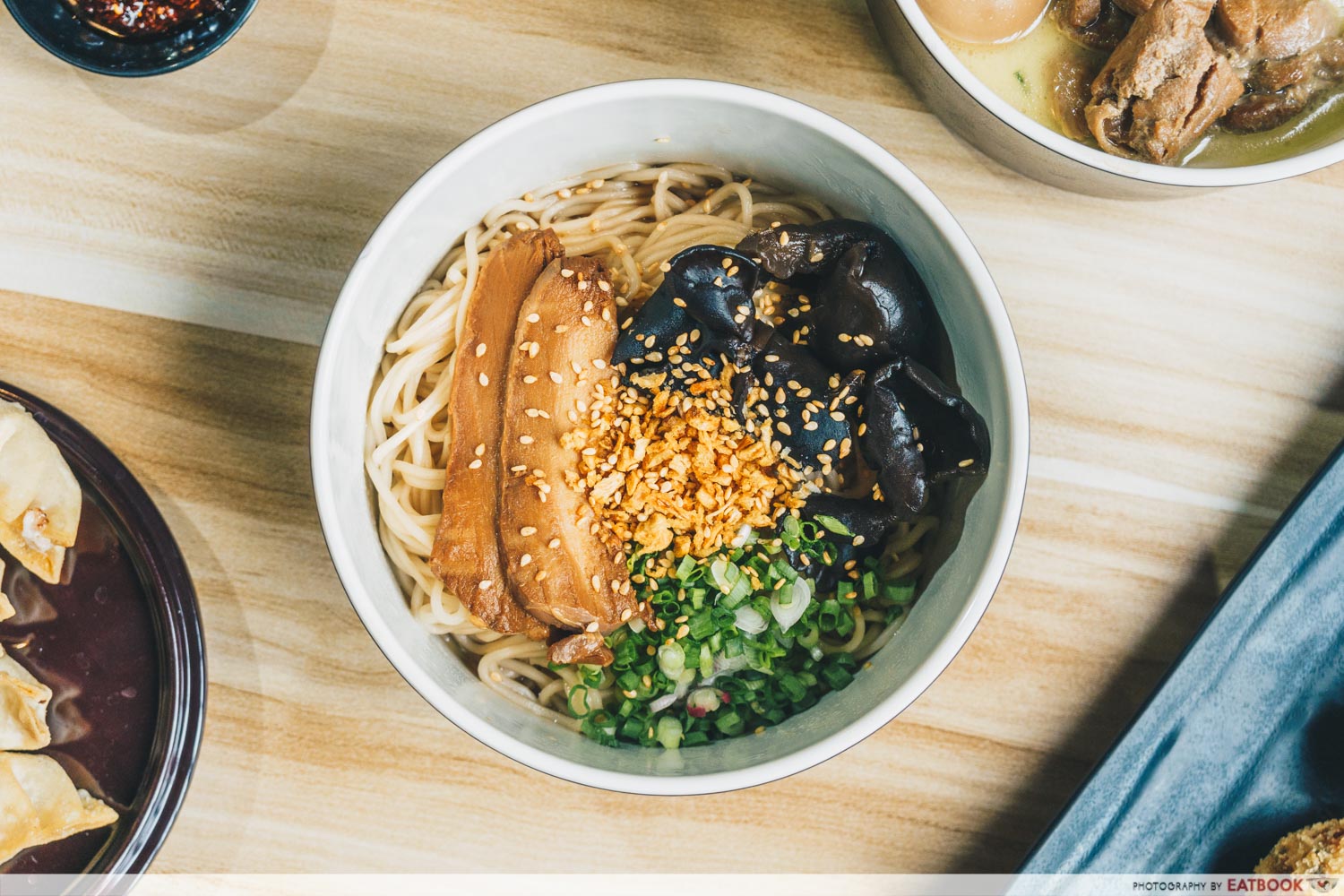 The Maze-men Dry Ramen ($11.90) had noodles, black fungus, the same chicken breast slices, and was topped with spring onions and fried garlic.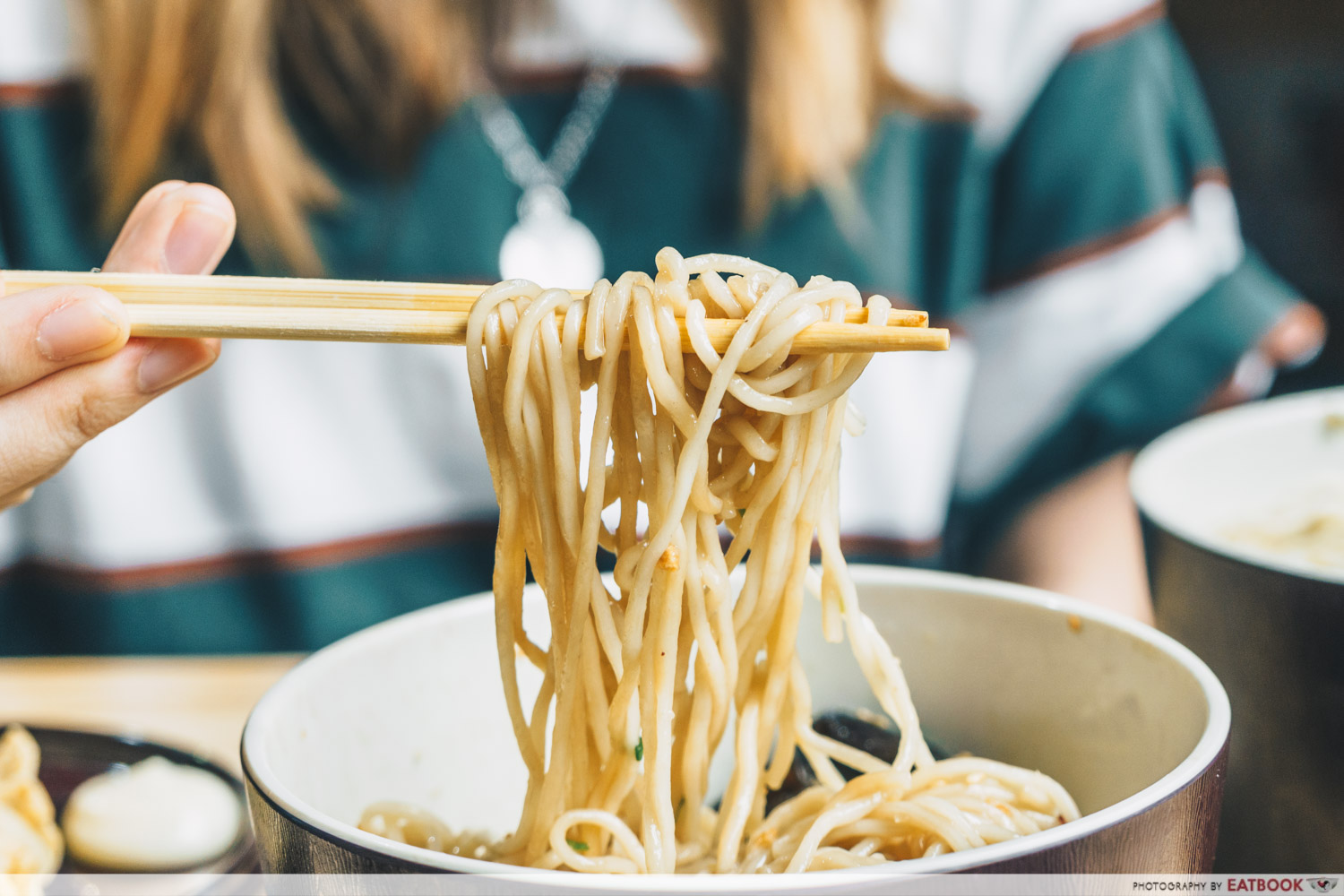 The noodles were tossed in a soy vinegar dressing, with hints of aromatic sesame oil. I couldn't stop slurping this salty, tangy and garlicky ramen.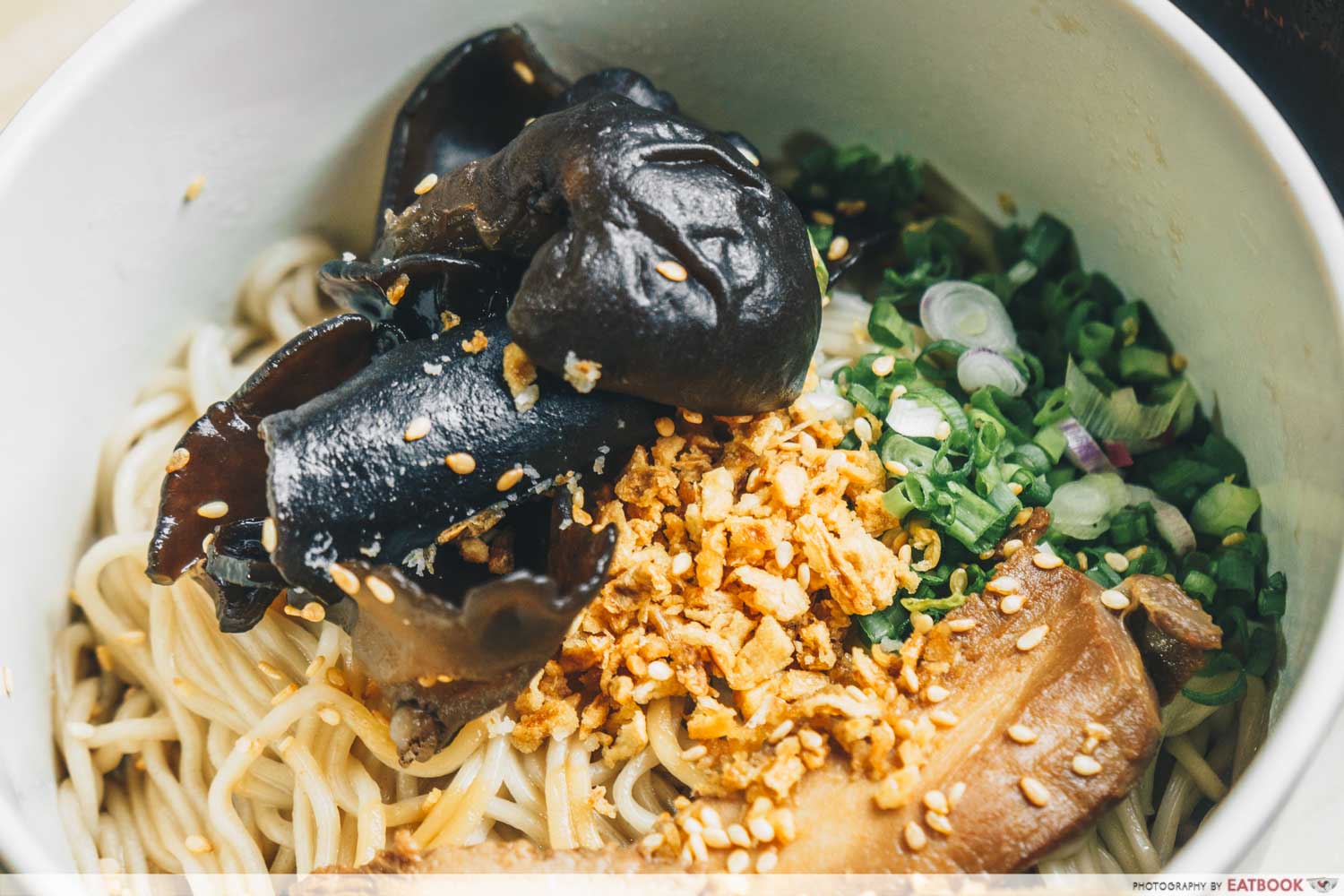 Even though the black fungus was a little tasteless, it provided a nice crunch.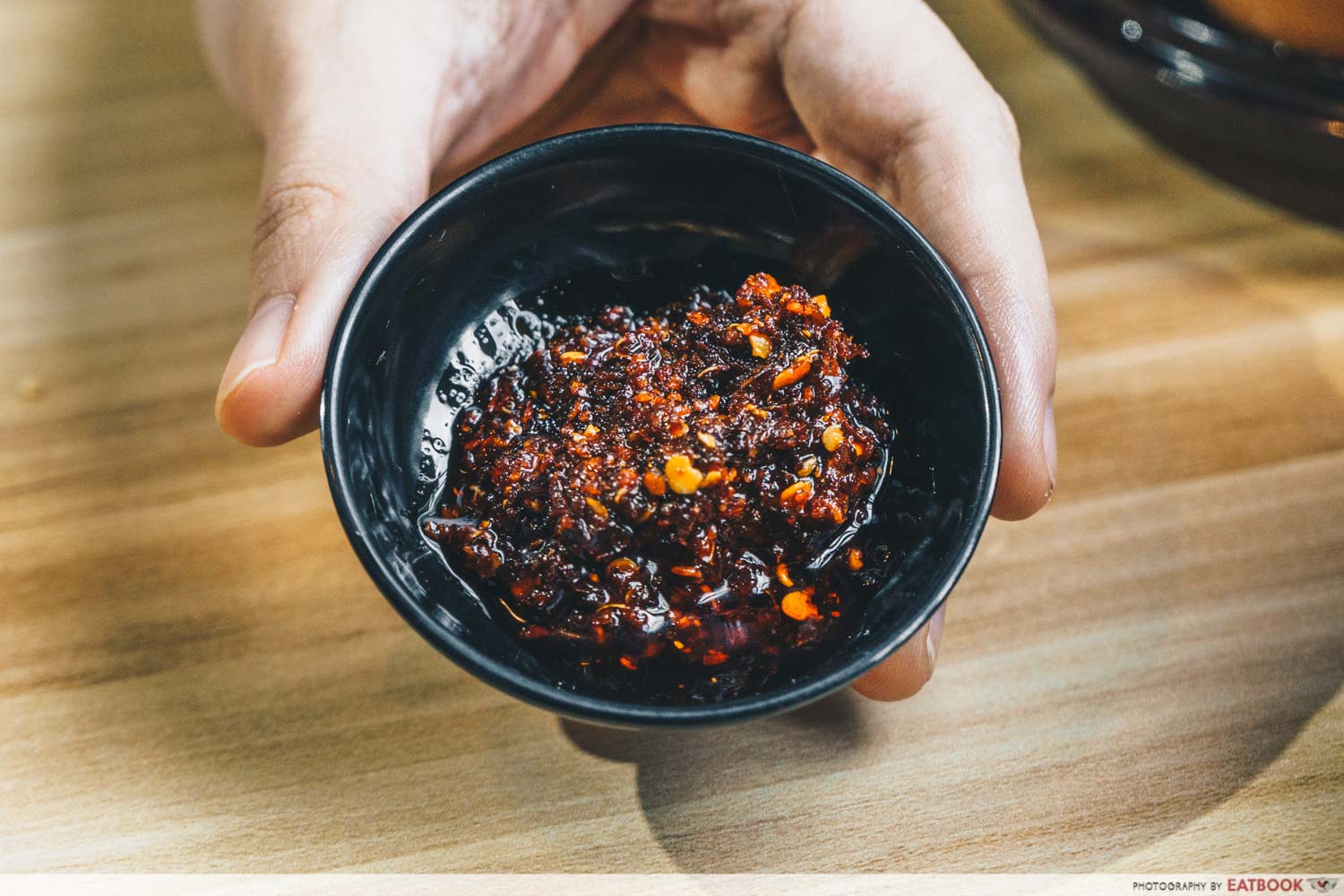 Chef Boon makes his own Sichuan-style chilli inspired by one of his stints at a Sichuan restaurant. Predominantly made with dried chilli, this condiment had a fiery kick with a slight numbing effect on my palate. Unfortunately, the flavours were a little clashing when eaten with the side dishes and ramen.
Though Kure Menya is not officially halal-certified just yet, they do not use pork or lard in their cooking, and instead rely on halal ingredients only to prepare its menu.
Ambience at Kure Menya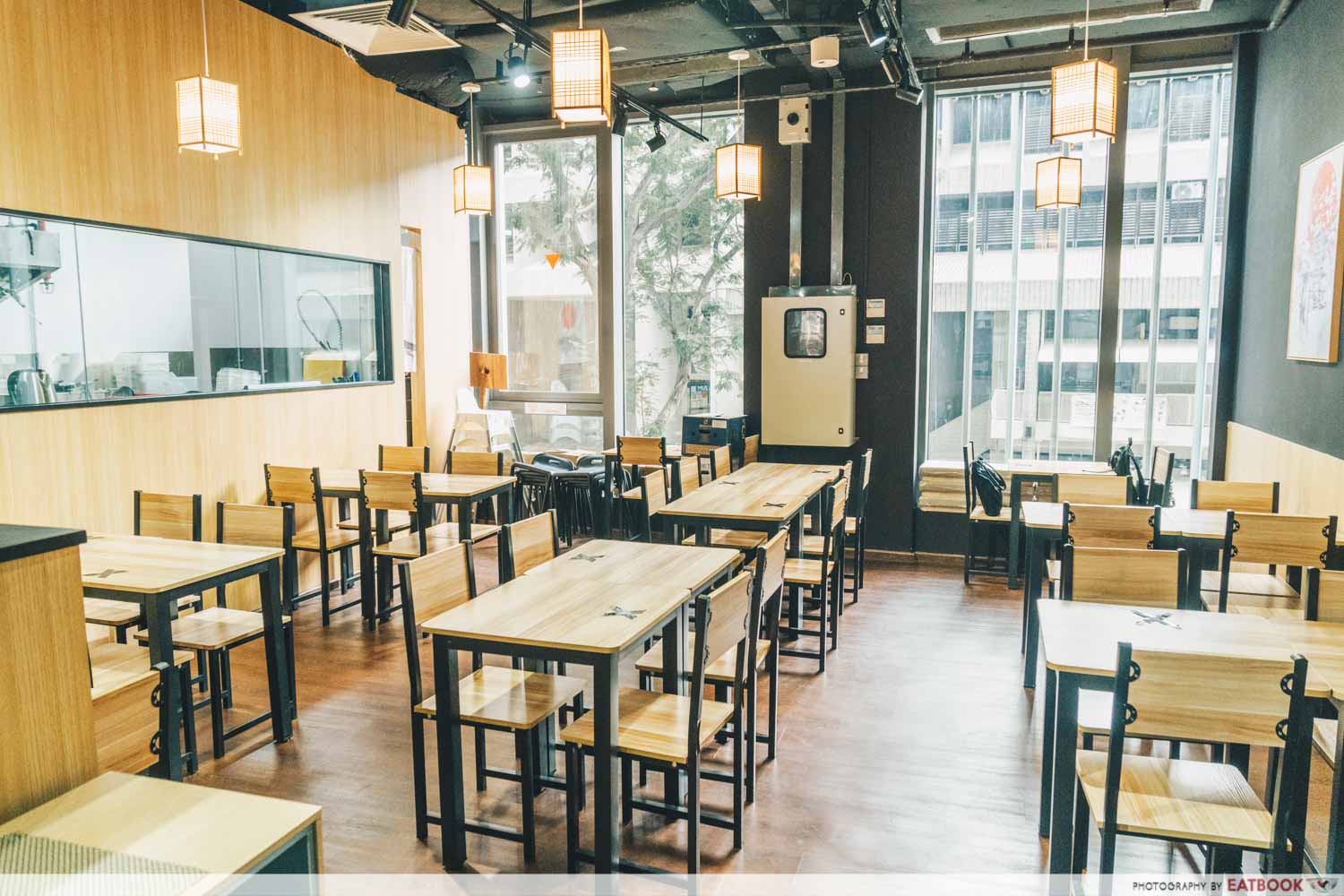 Kure Menya is nestled in a corner of Frasers Tower and it's only a stone's throw from Tanjong Pagar MRT. The timber-clad walls and simple furnishing created a comfortable zen-like space. While you're there, peek through the elongated window to catch Chef Boon in action! 
The verdict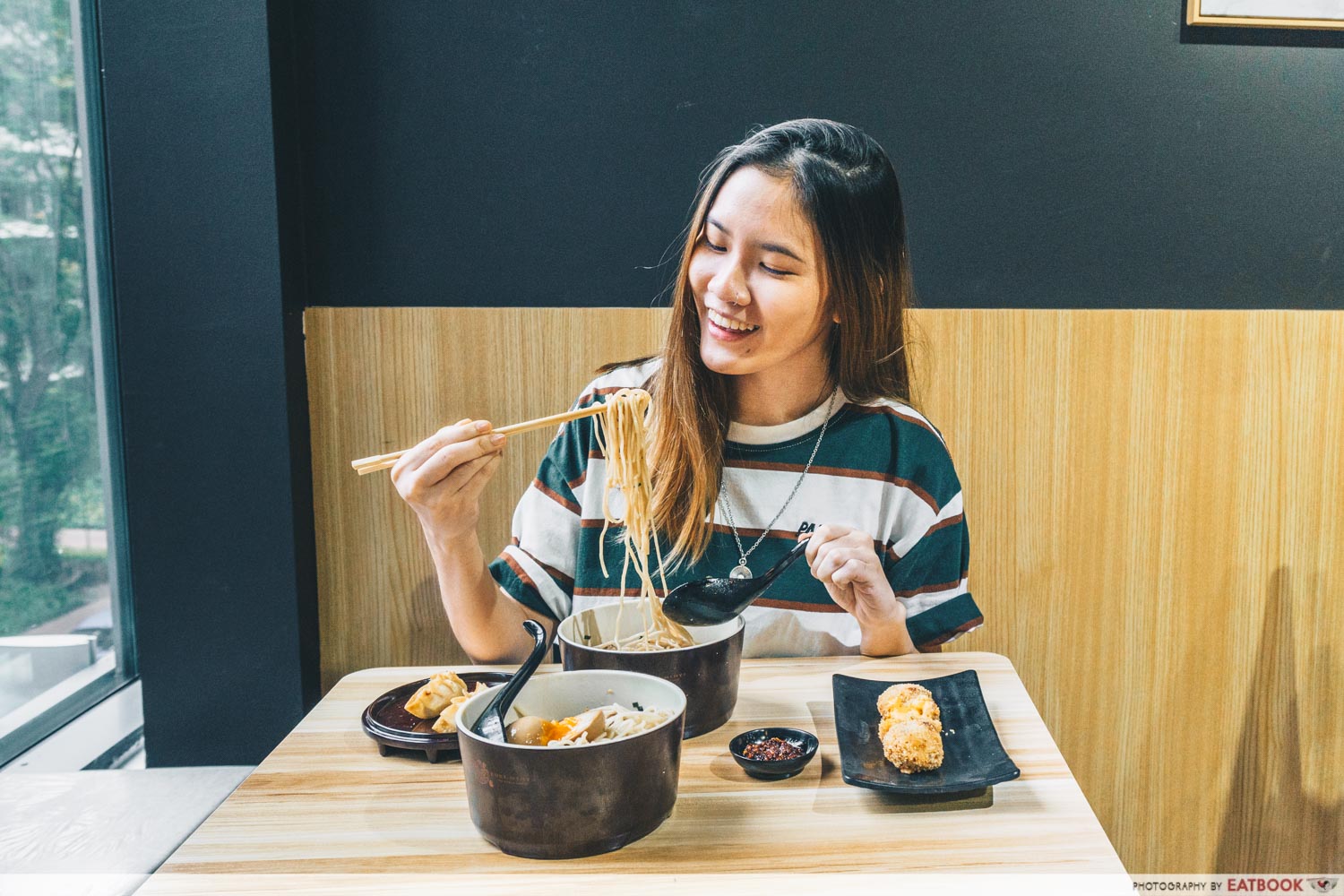 Even though Chef Boon switches up traditional recipes by using different cultural techniques and flavours, he still captured the essence of Japanese cuisine in his dishes. While the side dishes were a little lacking, I thoroughly enjoyed the ramen options as the flavours and textures were well above average. You should definitely consider this if you're in the vicinity and in need of a comforting ramen bowl. 
Enishi Review: Hidden Michelin Bib Gourmand Ramen Joint From Japan Found At Tanjong Pagar
Check out our review on Enishi ─ a hidden Michelin Bib Gourmand ramen joint in Tanjong Pagar. Alternatively, watch an episode of Eatbook's Food Guide, where we share three halal Japanese eateries in Singapore.
Address: 182 Cecil Street, #02-11, Frasers Tower, Singapore 069547
Opening hours: Daily 11am to 10pm
Website
Kure Menya is not a halal-certified restaurant.
Photos taken by Hay Thi.
This was a media tasting at Kure Menya.
Summary
Pros
– Moist and tender chicken
– Delicious chicken broth
– Springy noodles
Cons
– Sides were average
– Chilli sauce doesn't really go well with the other dishes 
Recommended Dishes: Tori Fest Ramen ($17.50), Maze-men Dry Ramen ($11.90)
Opening hours: Daily 11am to 10pm 
Address: 182 Cecil Street, #02-11, Frasers Tower, Singapore 069547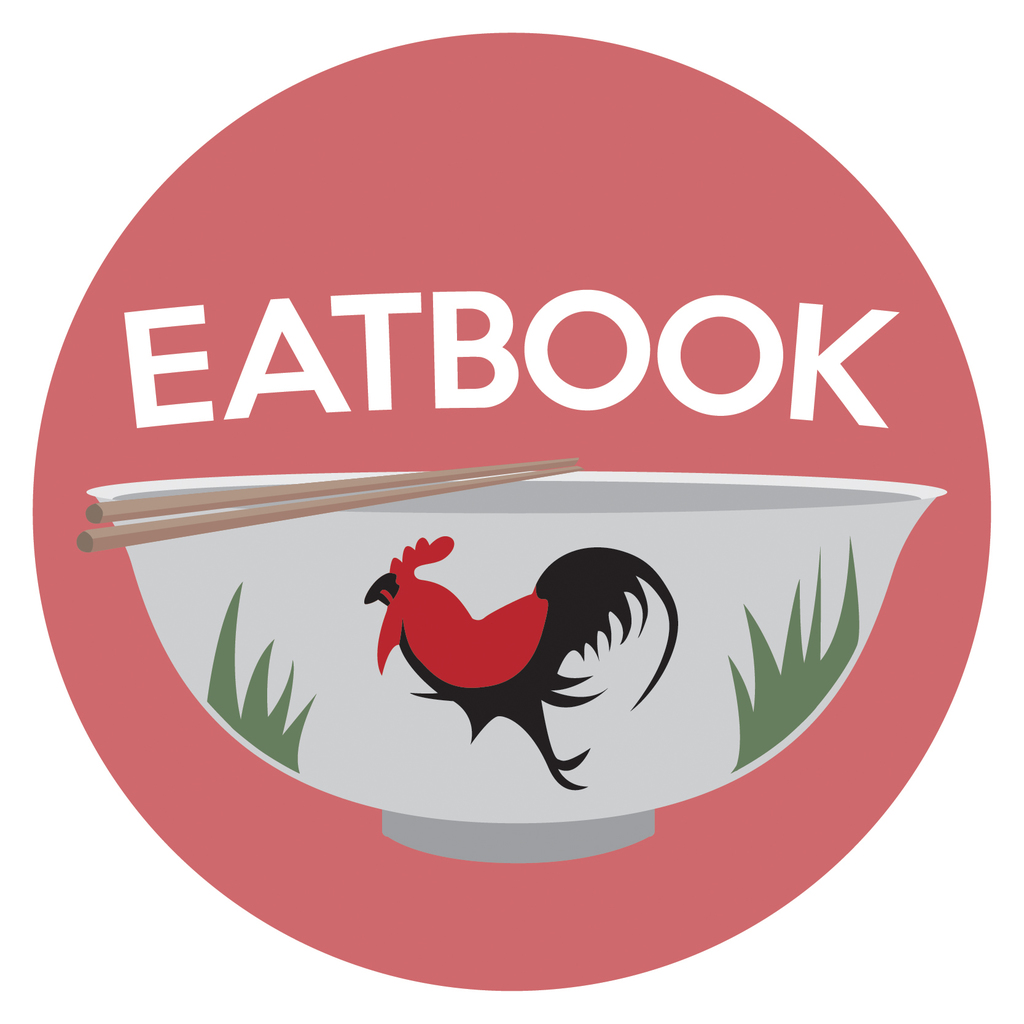 Drop us your email so you won't miss the latest news.