Enishi at International Plaza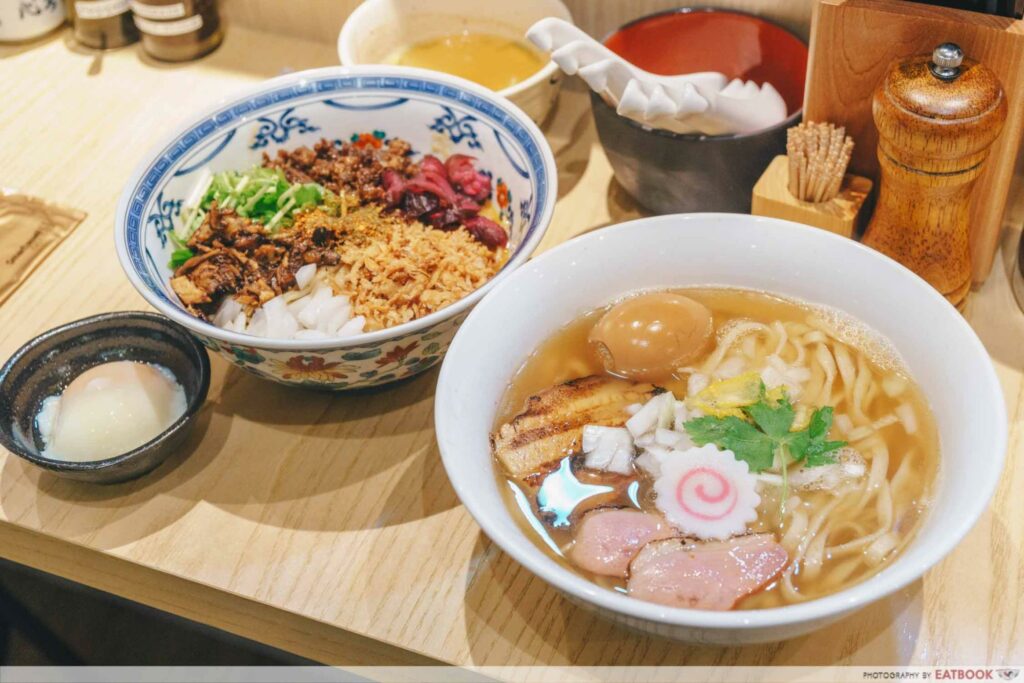 It's not hard to run into popular overseas chain stores in Singapore. All it takes is an ambitious group of entrepreneurs to splash some cash, and you'll see the latest foreign sensation from Japan or Taiwan sprouting up in a glitzy mall a couple of months later. Opened earlier this year, Enishi might sound like any other foreign concept store that has entered our shores. For starters, they use ingredients that are sourced directly from Japan. It's also nice that they've been internationally recognised with a Michelin Bib Gourmand in the 2016 Hyogo Michelin guide.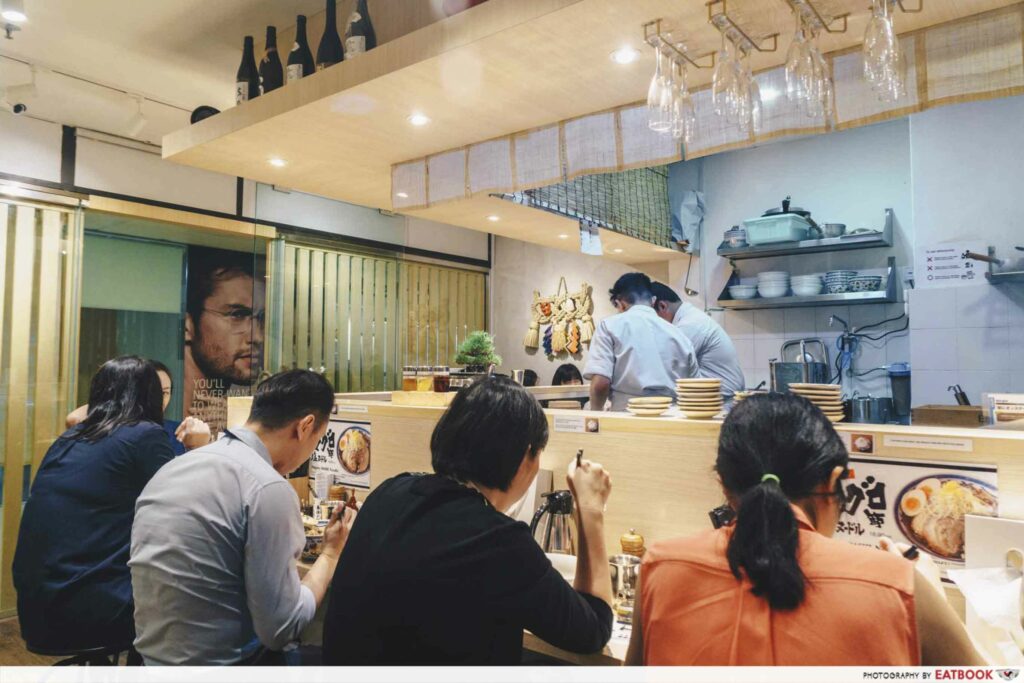 What sets this hole-in-the-wall joint apart from other big foreign chain stores, such as Afuri and Five Guys, is how it's managed. You'll only find two Enishi restaurants in the world—one in Kobe, Japan, and another in Singapore. This means that this store receives the same TLC as its famous Japanese counterpart. 
Food at Enishi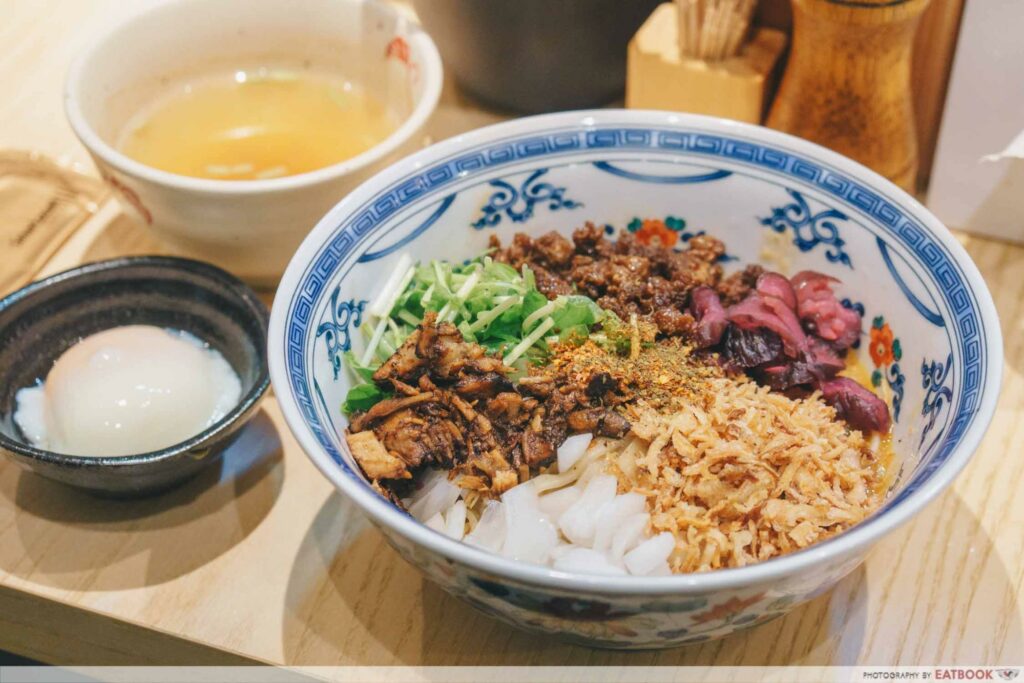 There are only two items on the menu: Dan Dan Noodles ($17.90+) and Japanese Dashi Noodle ($17.90+). 
Enishi does not serve up any of the rich and soupy Hakata-style ramen that dominates the menus of noodle houses here. Instead, this eatery is renowned for its signature dan dan mian. Commonly found in Chinese restaurants, these classic Sichuan noodles are given a unique Japanese spin here.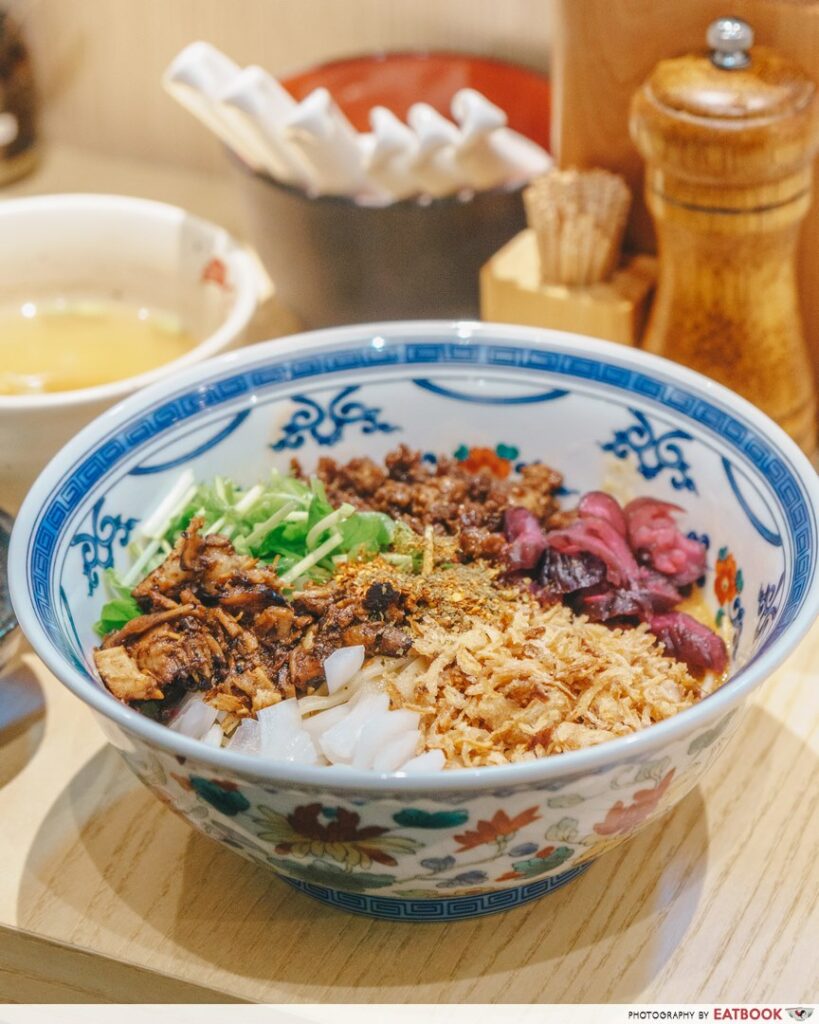 The Dan Dan Noodles ($17.90+) was a real treat for the eyes. A total of six items filled up the bowl, giving a bright burst of both colours and textures. The ingredients include shredded chashu, minced pork, white diced onions, fried onions, pickles, and mizuna. An onsen egg was also given on the side.

Having the right amount of spiciness can be quite a delicate thing to achieve, and it's nice that they offered a varied selection of spice and mala levels for all taste buds.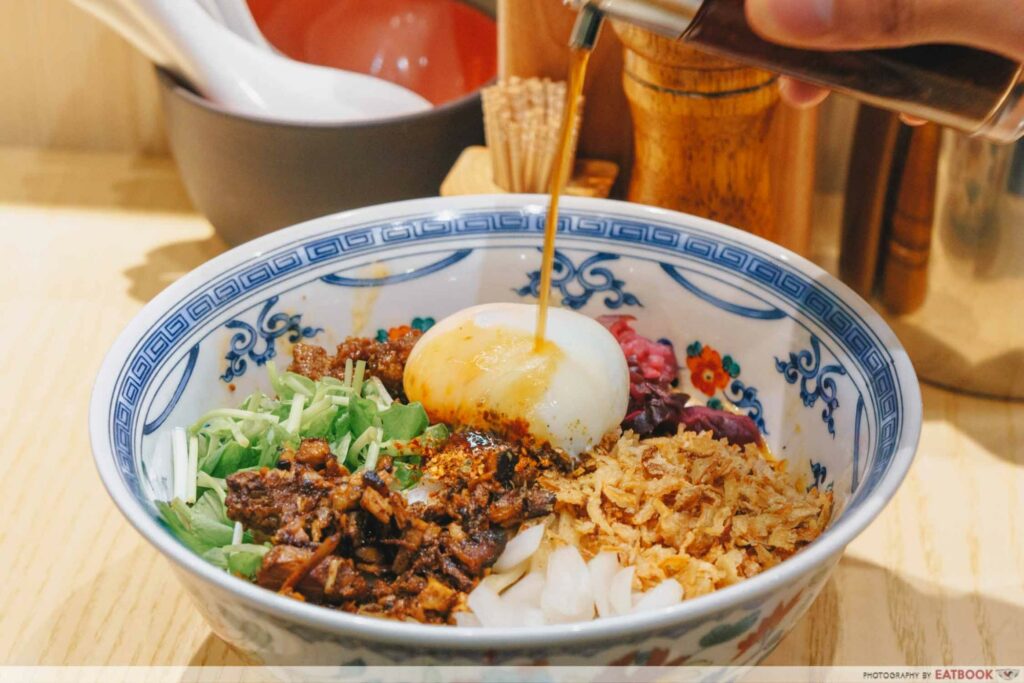 Three specially made vinegar are also given on the side. Spicy Vinegar gave a slight tickle of spice, and Orange Vinegar provided a hint of acidity. However, it was a little hard to detect anything other than a mellow tinge of sourness from the Kelp Vinegar. I would advise going easy on the vinegar. It's easy to go overboard when mixing in a bit of everything and this might lead to an overly sour bowl of perfectly edible noodles.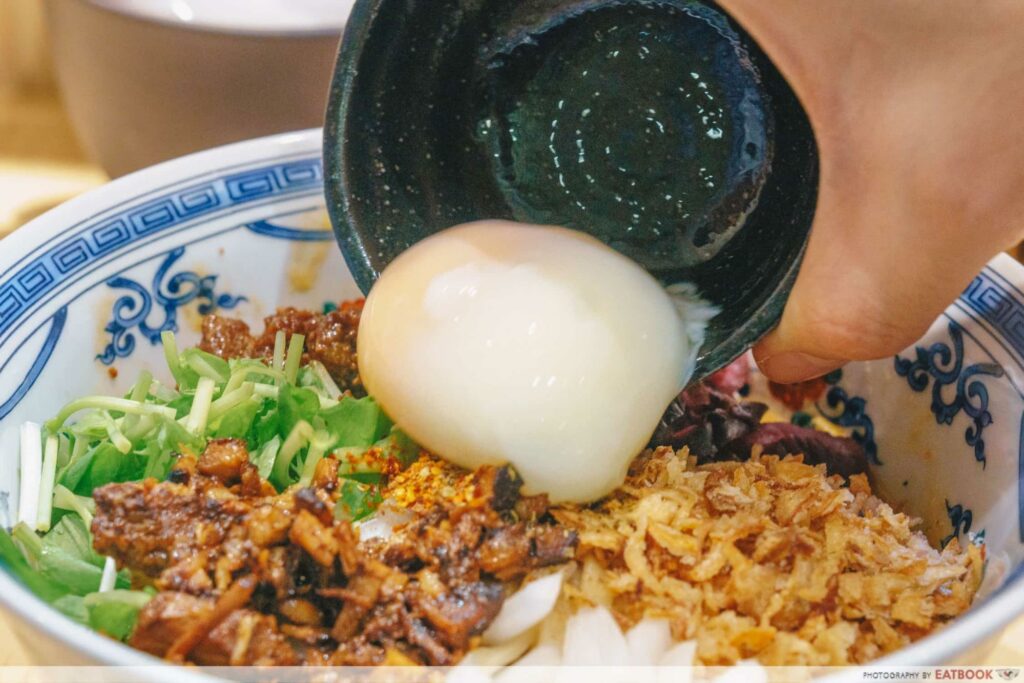 If you're a first time visitor, you'll be given a laminated card that explains how to enjoy the ramen. Take a picture of the noodles within 20 seconds, mix them from the bottom for exactly five times, before adding the onsen egg, a dash of dashi stock, and pouring over a dab of flavoured vinegar.

After visiting several times, my favourite way of eating these noodles is to pour the egg over, splash some dashi stock and a slight kiss of spicy vinegar before giving everything a long and thorough mix.
What sets this dish apart from the other dry ramen players is its sheer ingenuity. Somehow, each ingredient offered something different to this dish while also complementing each other.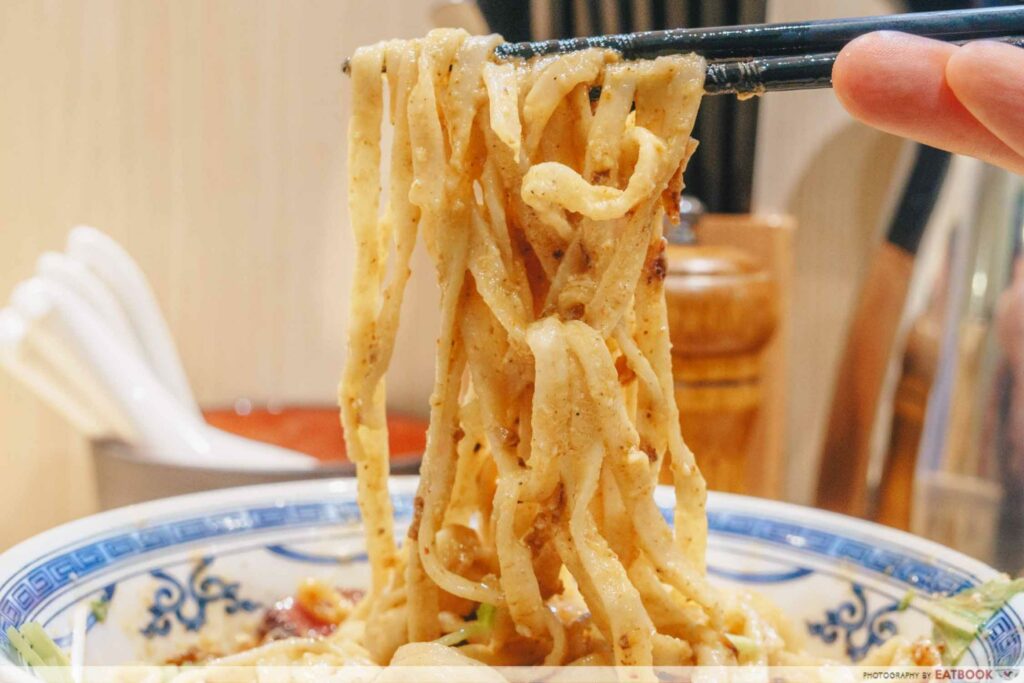 The noodles were significantly thicker than the usual ramen variant, reminding us closely of mee pok instead. These thicker noodles seemed to do the trick in soaking up the flavourful sauces better and giving more flavour with each bite.
They were also cooked to the right consistency, resulting in a firm al dente texture that wasn't overly mushy.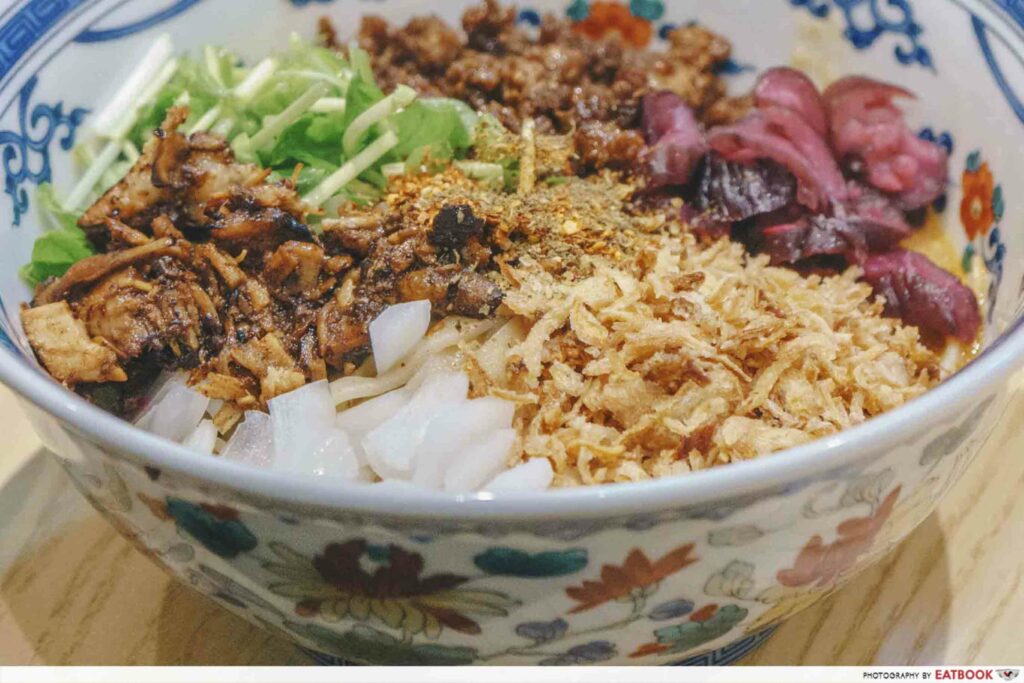 It's difficult to determine what my favourite component in this dish was. But if I could choose one, it would have to be the white diced onions. These raw Japanese onions gave an amazing punch of sweetness with every bite. It also came with a much-welcomed crunch for some variance in texture as well.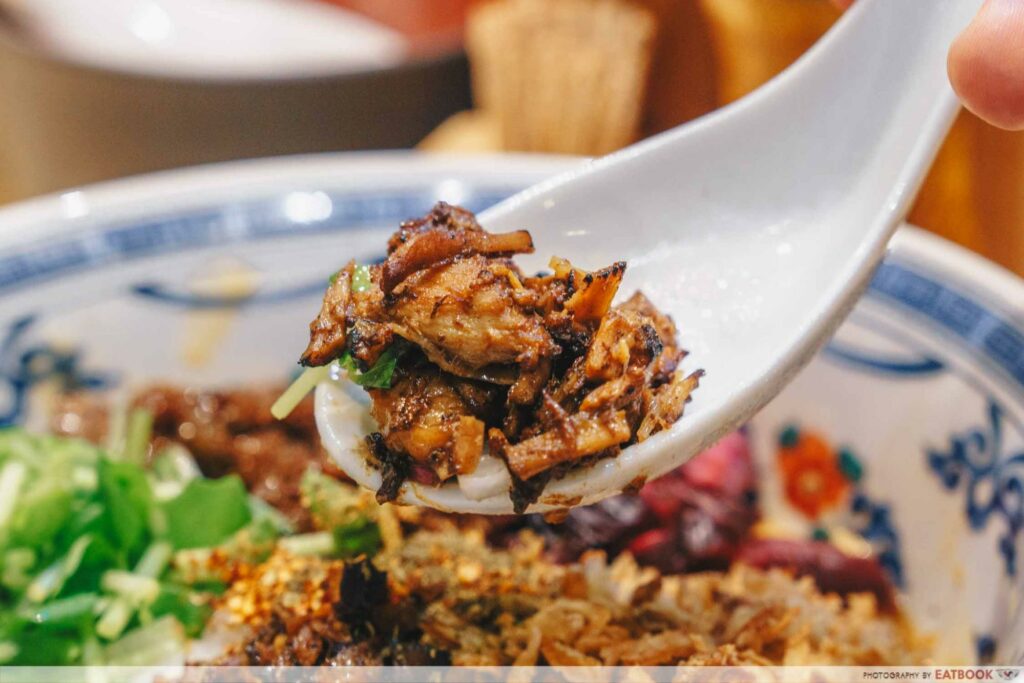 Minced meat and chashu made up the protein options in this dish and they're no slouch either. The minced meat was cooked in earthy spices that gave a breath of spiciness to this dish, while also injecting a kick of nuttiness.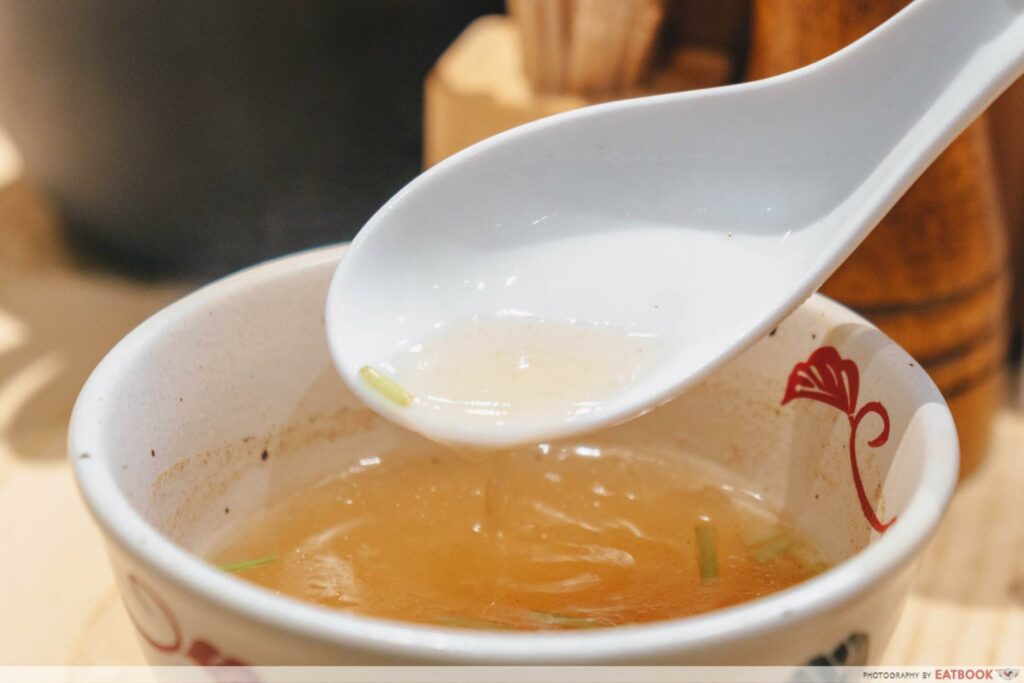 It's always easy to overlook the accompanying soup in dry noodles. But the dashi-based soup here is an impressive one. Instead of putting in the usual dried bonito flakes, Enishi uses flying fish as its main flavouring component. This gives it a less fishy taste, but a richer and more refined flavour. This umami-laced soup left a slight coating on my tongue, with every mouthful making it simply irresistible.
Looking back at this dish, it's amazing to see how sweet, salty, sour, and spicy flavours lend their brilliance here. And in true Japanese fashion, there was a refined elegance that did not cross the fine line of being too overly assertive in flavours.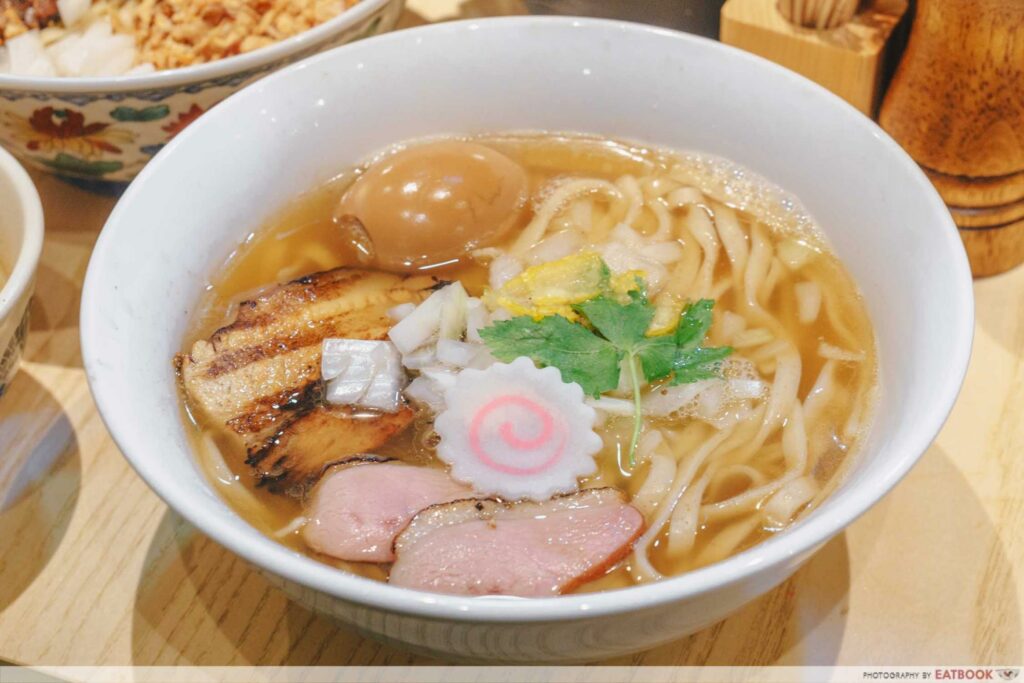 Those looking for soup options will also take comfort in their Japanese Dashi Noodle ($17.90+). There are significantly lesser items here as compared to its dry noodle counterpart, but you'll still find a slight variation of the dashi-based soup and, of course, white diced onions as well.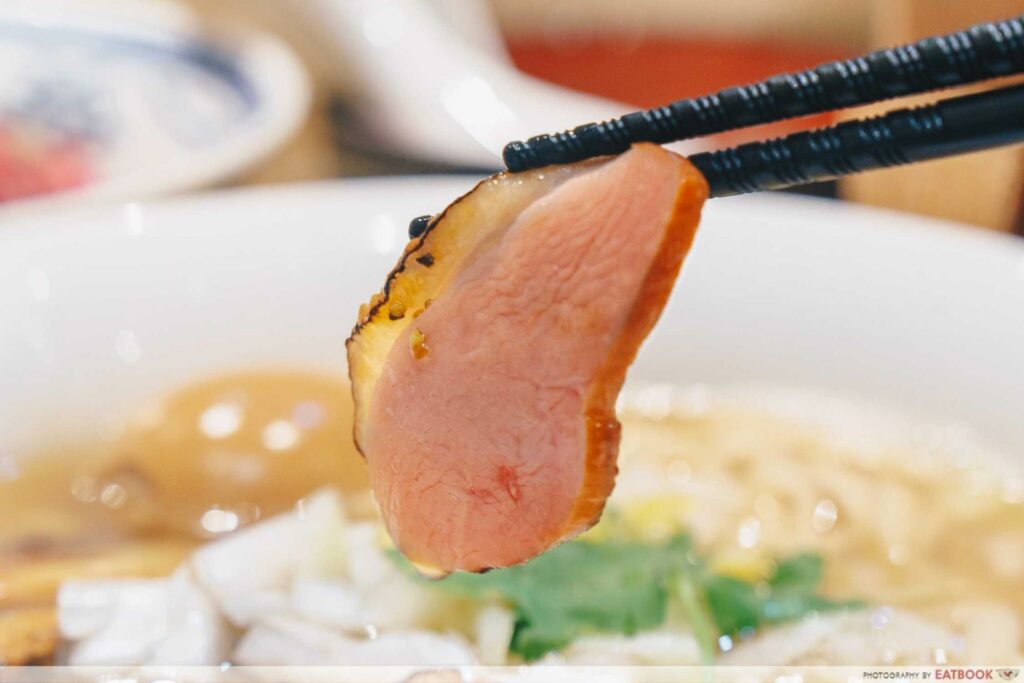 It's not often that smoked duck appears at a ramen joint. Slices of smoked duck breast and a small piece of chashu gave a meaty boost to this dish. Aside from being tender, there wasn't much to shout about this poultry.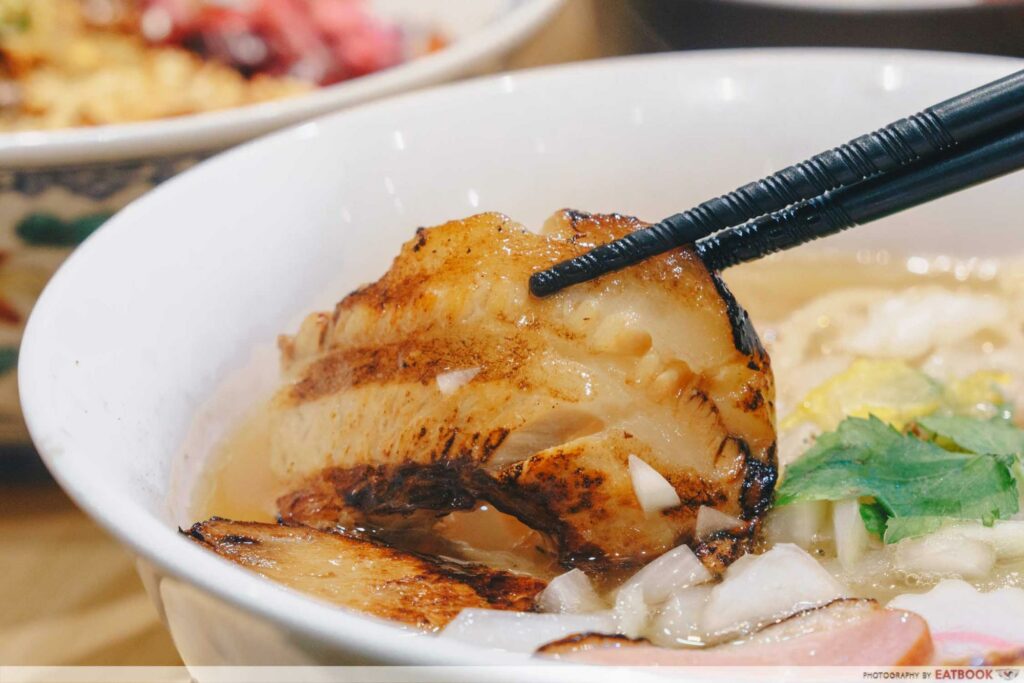 I preferred the chashu, which was streaked with a generous layer of fats and nicely torched before serving. I would go out on a limb here and say that a thicker slab of chashu—and not the duck—would have been much more welcomed here.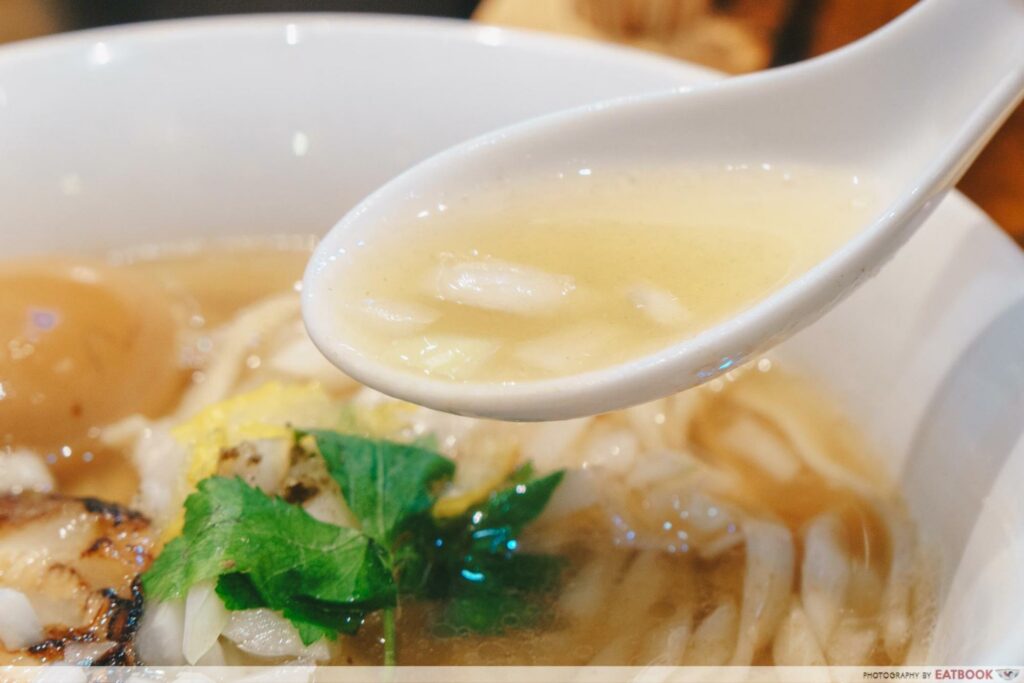 The dashi broth was clean tasting and had a slight tinge of sweetness from the kelp used. Yuzu slices were also included, giving an interesting bit of sharpness that brought this dish to life. I would think that this dish is great for someone nursing a cold. 
While the dashi noodles were good in their own right, both my dining companion and I felt that it was missing a certain X factor that the dan dan noodles so brilliantly had. The latter was addictive, delicious, and good enough to eat for every meal of our lives.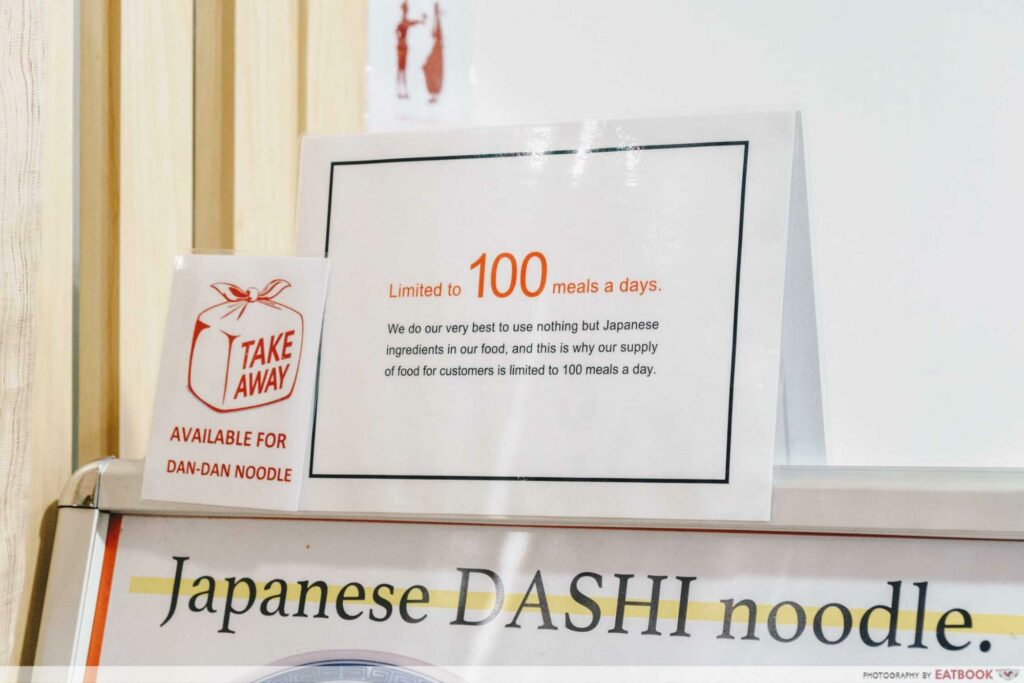 It's worth noting that the restaurant only sells up to 100 bowls a day. Once they've hit this amount, they'll close up for the day. I remember visiting the store at 8:30pm, only to find that they've sold out everything. 
Ambience at Enishi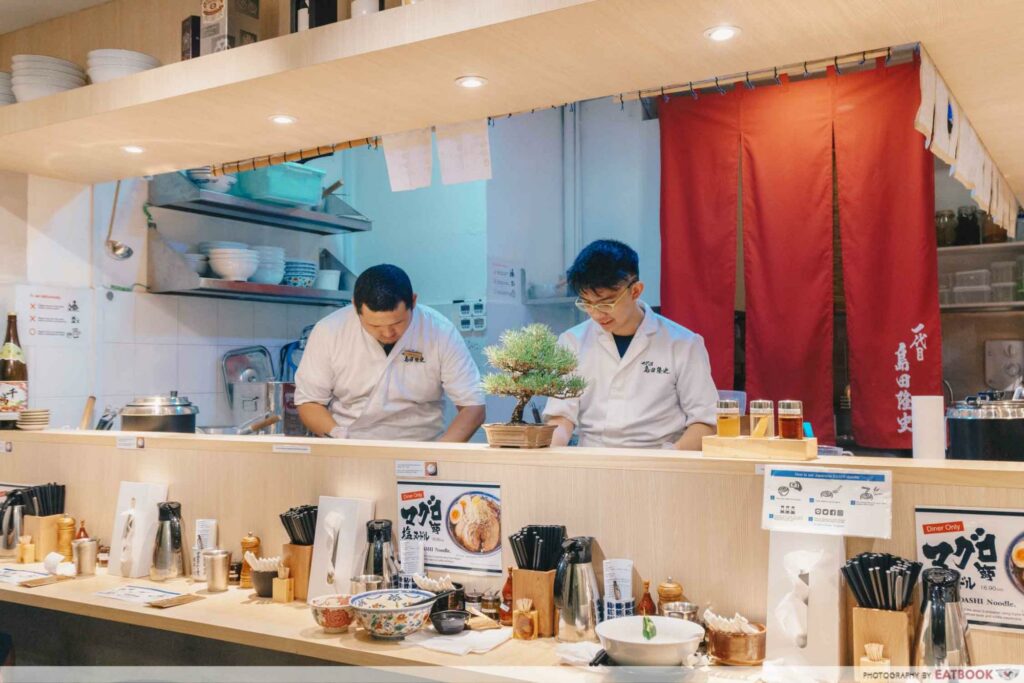 This 12-seater restaurant has only bar seats available and oozes an authentic Japanese charm. It reminds me of sushi and ramen experiences in Japan where guests get to catch the chefs in action.

Decked out with tons of wood accents, the zen decor emitted a relaxing vibe. Service was fast and efficient, and the staff were always on hand to help with any questions we had. 
Waiting time can stretch to up to 40 minutes during lunch hours. I've visited during both lunch and dinner sessions, and can attest that there's no wait in the evenings. 
The verdict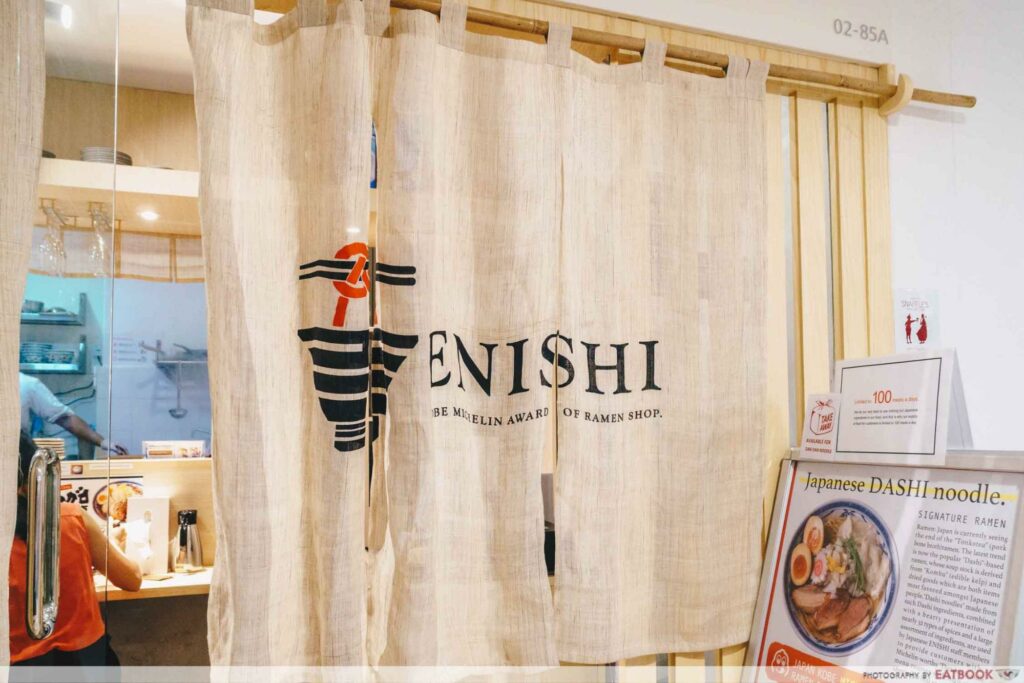 On paper, it's easy to dismiss Enishi as another foreign restaurant that tastes nothing like the real McCoy. But step into this remarkably quaint store and you'll be impressed with its authentic and satisfying ramen experience that would rival any store in Japan. 
Prices here are noticeably higher than the ones on the market, but the quality is justifiable. Serving up a mean bowl of noodles and displaying excellent hospitality in a beautiful setting, Enishi looks set to being a special place for ramen lovers in Singapore.
Address: 10 Anson Road, #02-85A, International Plaza, Singapore 079903
Opening hours: Mon-Fri 11am to 3pm, 6pm to 10pm (last order at 9:30pm), Sat 11am to 3pm
Website
Enishi is not a halal-certified eatery
Photos taken by Reynard Lee.
This is an independent review by Eatbook.sg
Summary
Pros
– Well-executed dan dan mian
– Central location
– Relaxing ambience 
Cons
– Slightly expensive
– Dashi noodles were a little lacklustre
Recommended dishes: Dan Dan Noodles ($17.90+)
Opening hours: Mon-Fri 11am to 3pm, 6pm to 10pm (last order at 9:30pm), Sat 11am to 3pm
Address: 10 Anson Road, #02-85A, International Plaza, Singapore 079903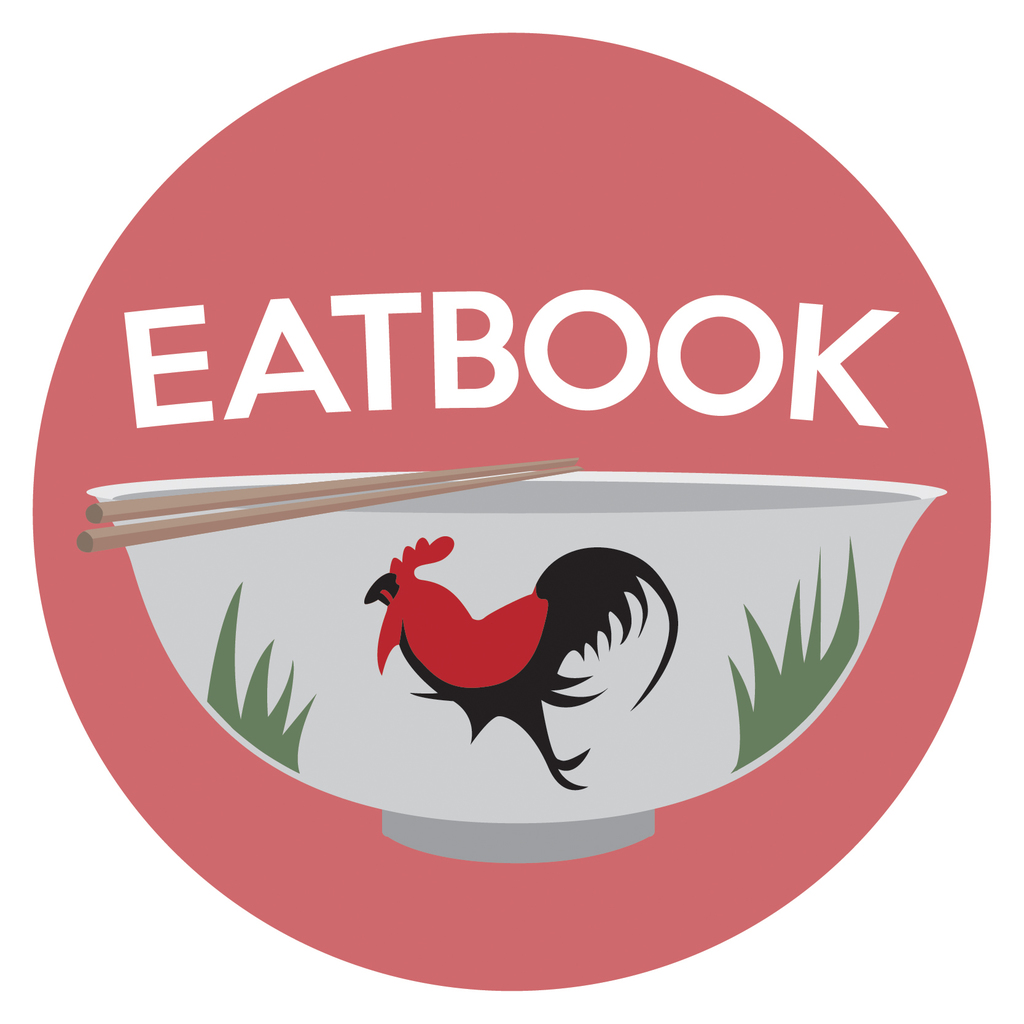 Drop us your email so you won't miss the latest news.