Menya Kanae in Novena has Hokkaido-style prawn ramen
My ears perked up when I heard that there was a new prawn-based ramen in town, because the closure of Keisuke's prawn concept was a tragedy to me. Menya Kanae joins the crustacean ramen game on 15 October with their Hokkaido-style prawn ramen.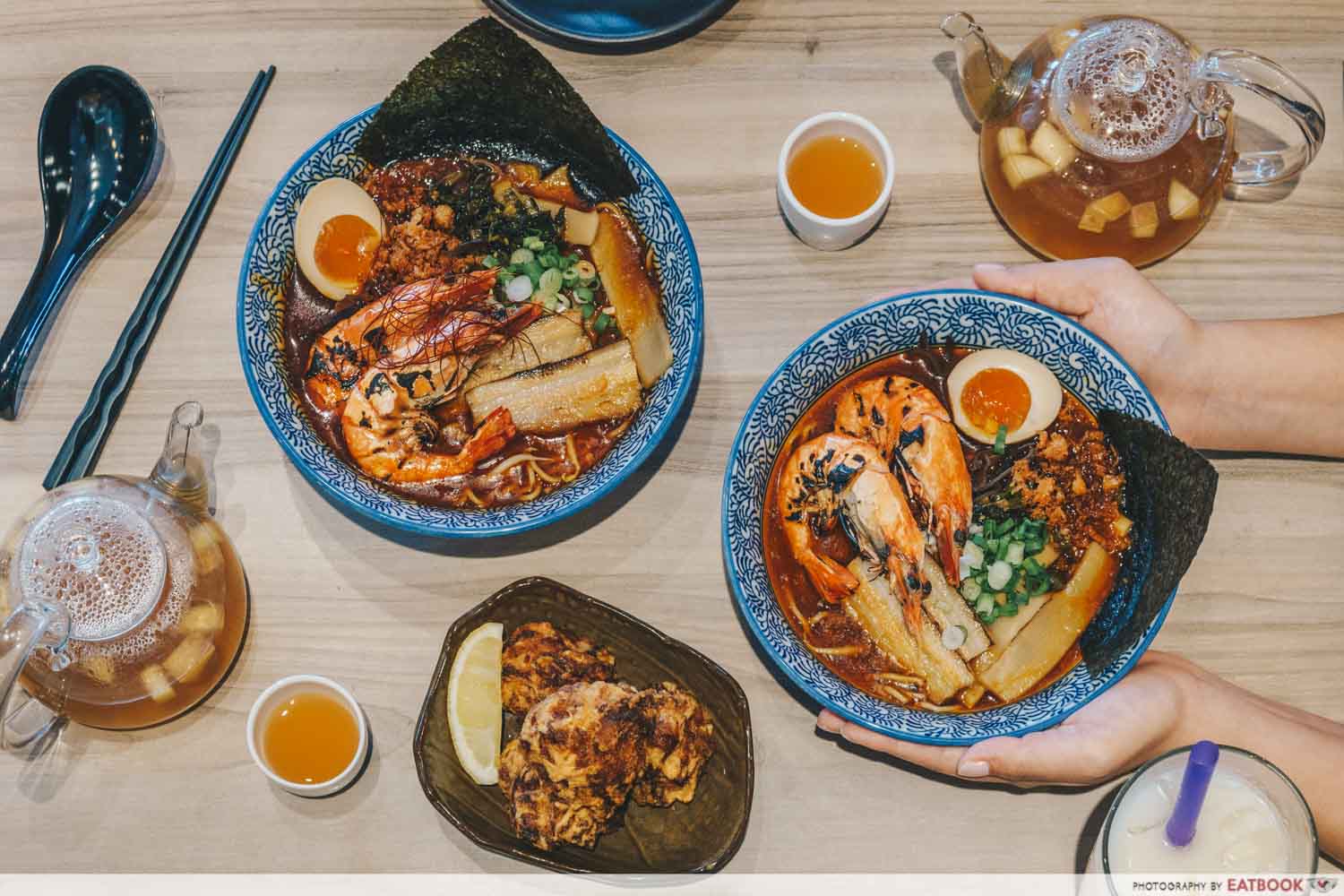 Located at Novena Regency, the eatery spices things up with a prawn sandwich, izakaya nibbles and fried chicken on waffles on the menu too.
Food at Menya Kanae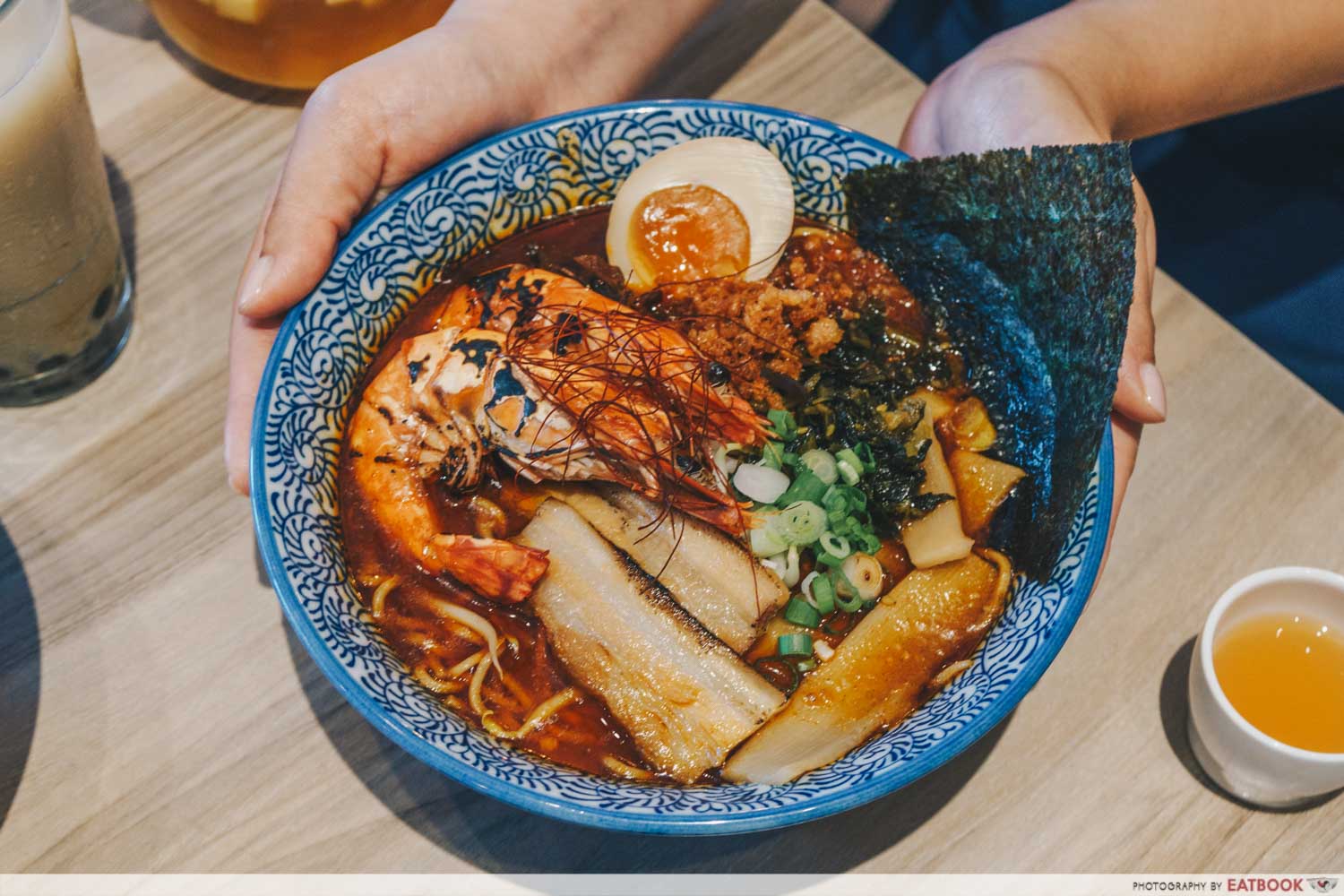 Let's first begin with the broth at Menya Kanae. We tried it mixed with Menya Kanae's Original Red Spicy Paste in the Spicy Tokusei Sapporo Ebi Tonkotsu Ramen ($19.80), which comes with all the toppings available.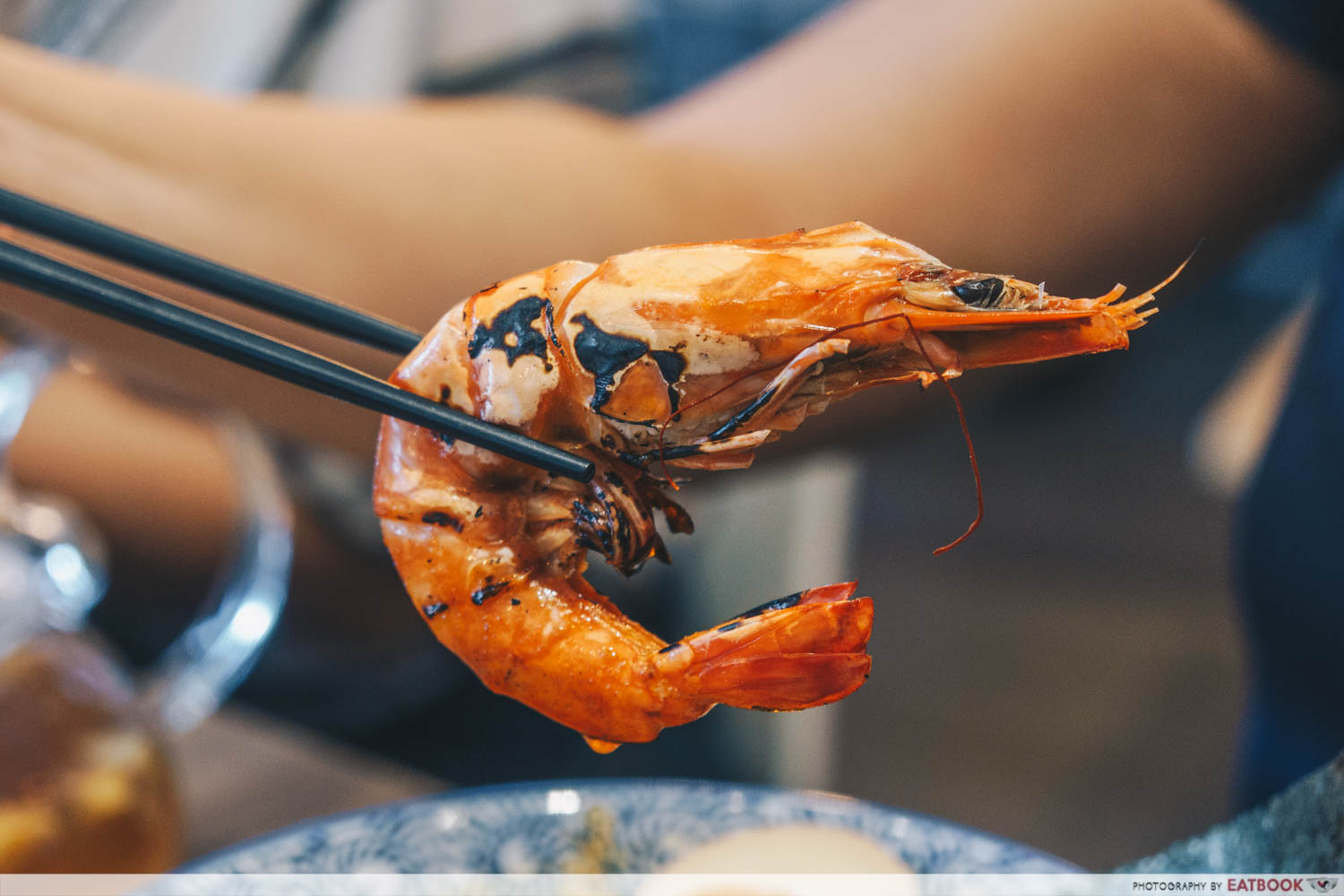 We were impressed with the presentation of chargrilled prawns, amongst other toppings like sakura ebi tempura flakes, pickled vegetables, chashu, chilli strings and half a molten ajitama egg.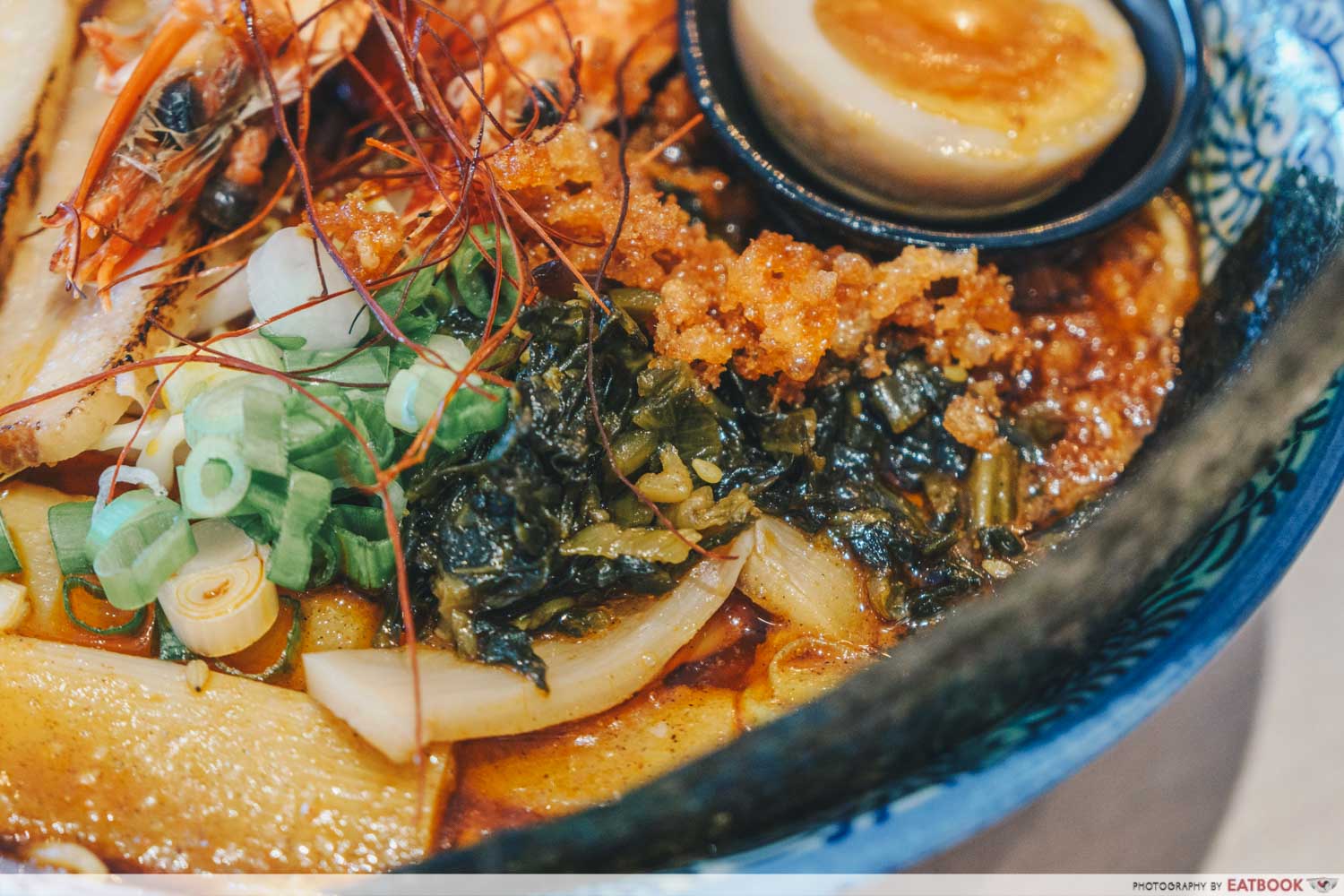 There was also a layer of red prawn oil that covered the bowl, which screamed "FLAVOUR!" at me.
Kazoku Japanese Cuisine Review: Cheap And Good Mentaiko Salmon Don And Chirashi At Novena
Unfortunately, while the soup was robust and mildly spicy, my dining companion and I both felt that the spicy miso overpowered the prawn stock which we were here to try.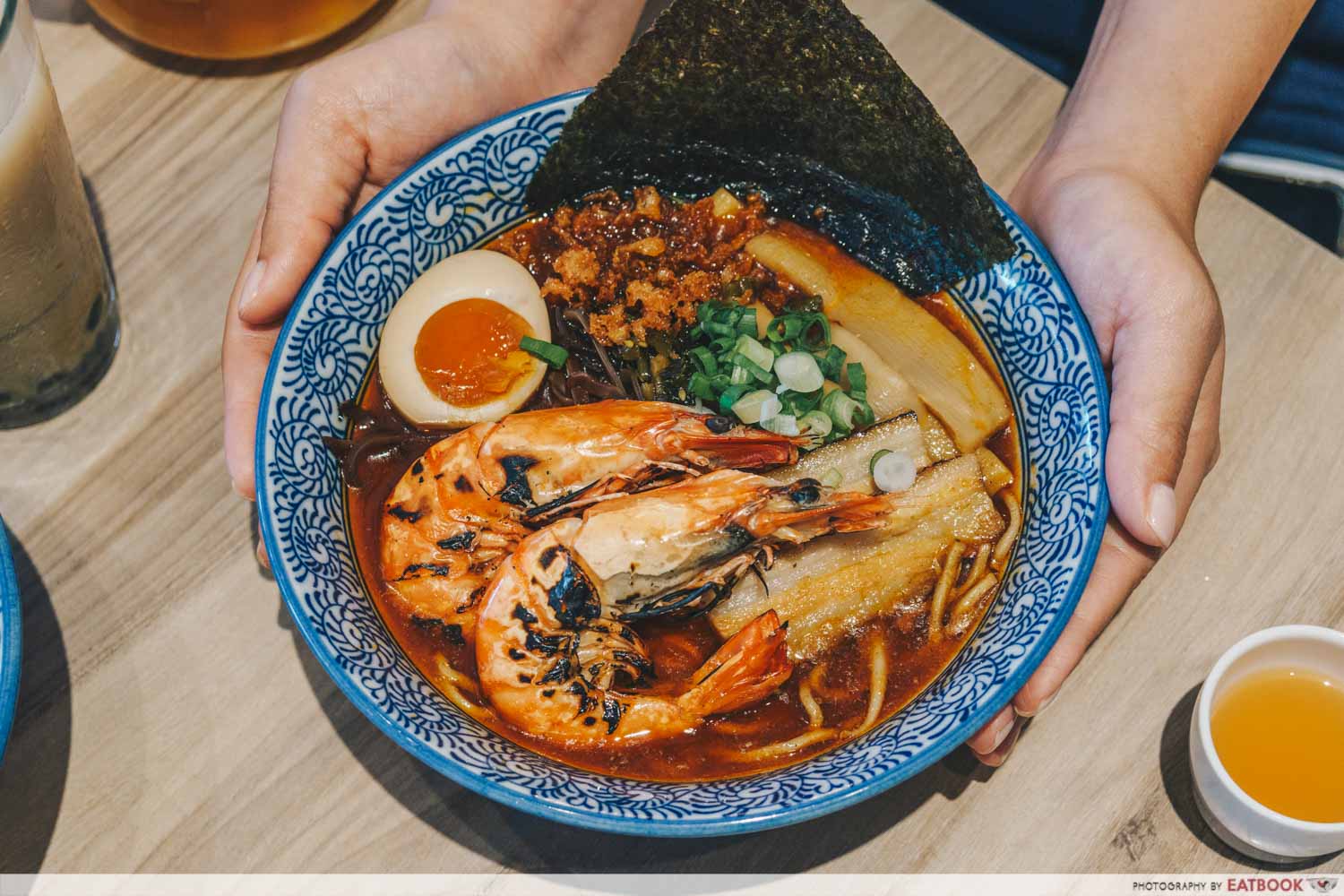 With a sip of tea to cleanse our palate, we reverted to the non-spicy Tokusei Sapporo Ebi Tonkotsu Ramen ($19.80).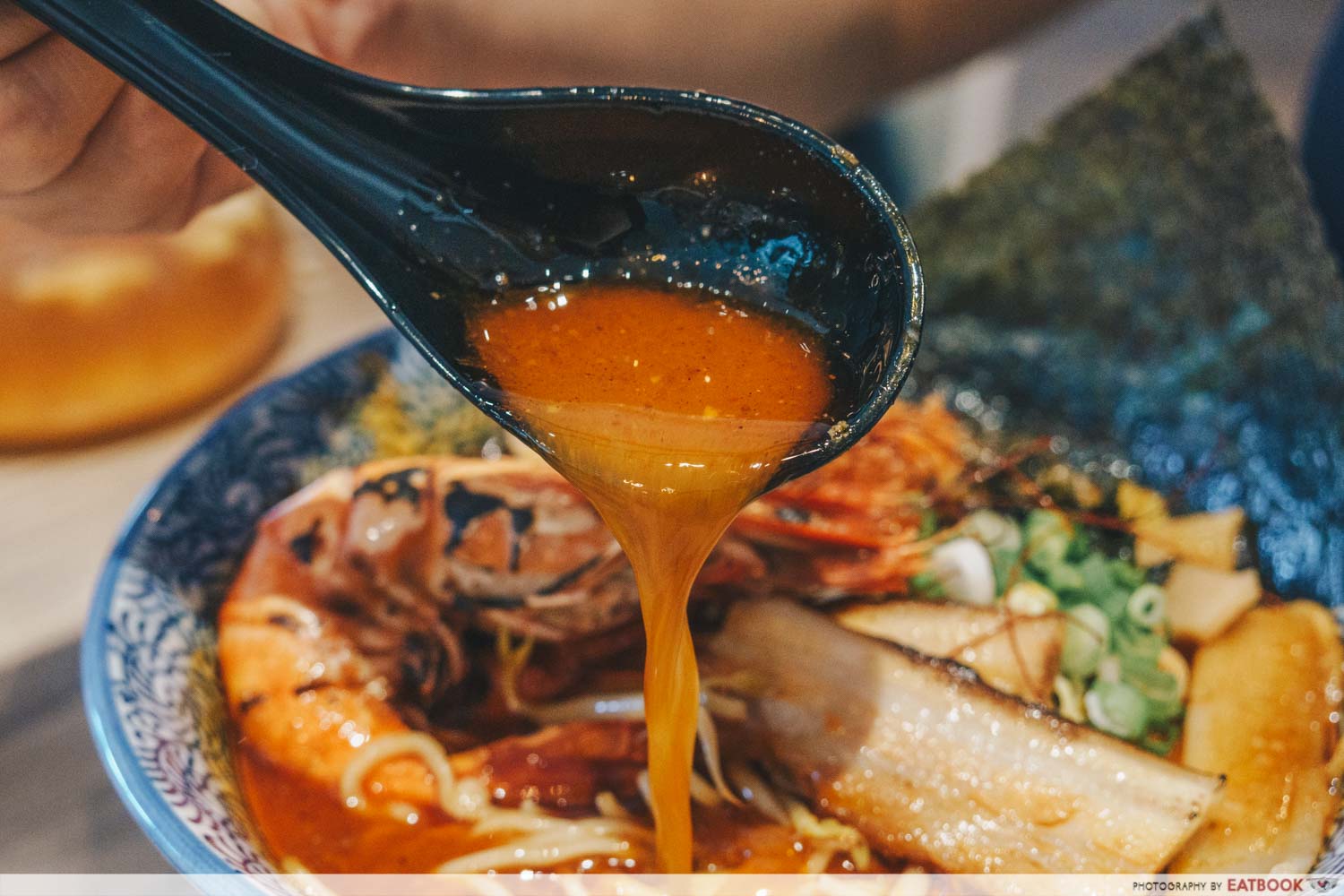 Here, we were able to savour the true tastes of Menya Kanae's signature ebi tonkotsu broth, made with a base of pork bone broth, and fortified with blended big prawns, lobster bisque and a seafood sauce that's imported specifically from Japan.
Boiled for four hours, this soup is a creamy, next-level upgrade on your average hei mee soup. It pairs well with the thinner ramen noodles, and I especially enjoyed it with the pickled vegetables and sakura ebi tempura flakes. These provided textural contrast, and prevented the soup from getting too jelak.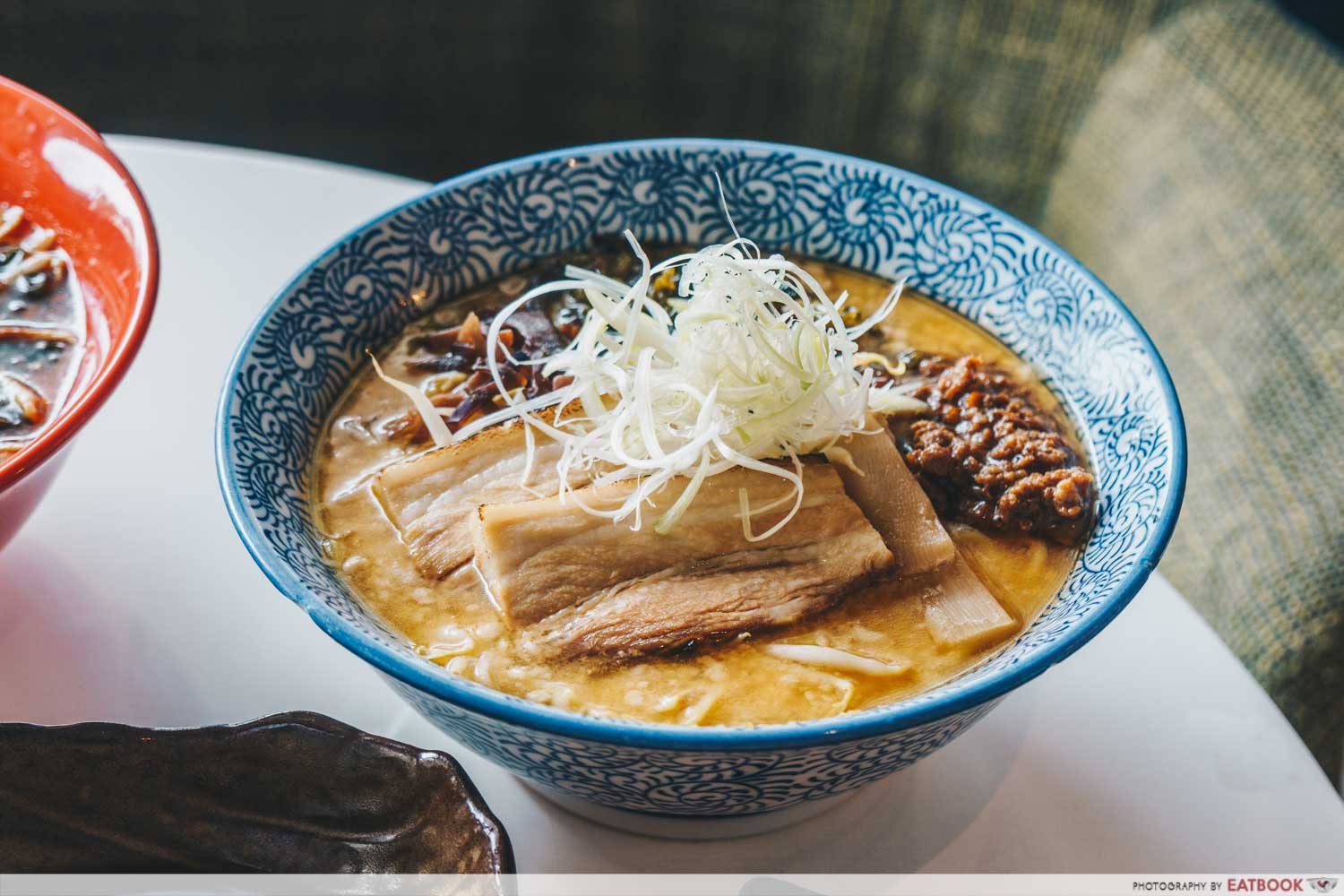 If you're there but don't wish to have prawn ramen, I'd recommend the Hokkaido Tonkotsu Miso Ramen ($12.80), which has a luscious, rich miso soup with springy yellow Hokkaido-style ramen noodles.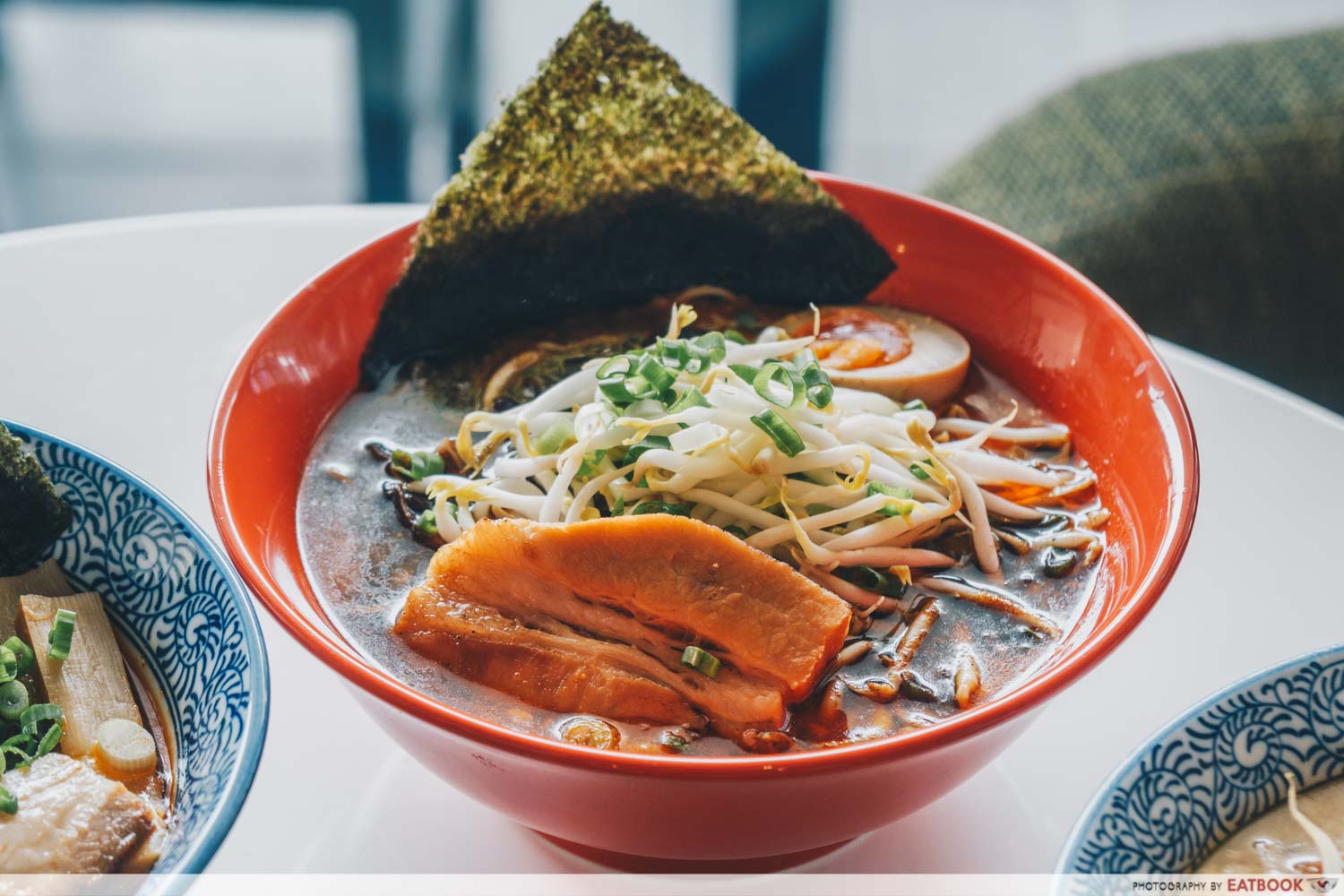 Or you can try the Birikara The Spiciest Miso Ramen ($16.80), made with two special blends of Red Spicy Miso Paste imported from Hokkaido, and topped with black garlic oil. My dining companion and I found this to be underwhelming, and peppery rather than spicy.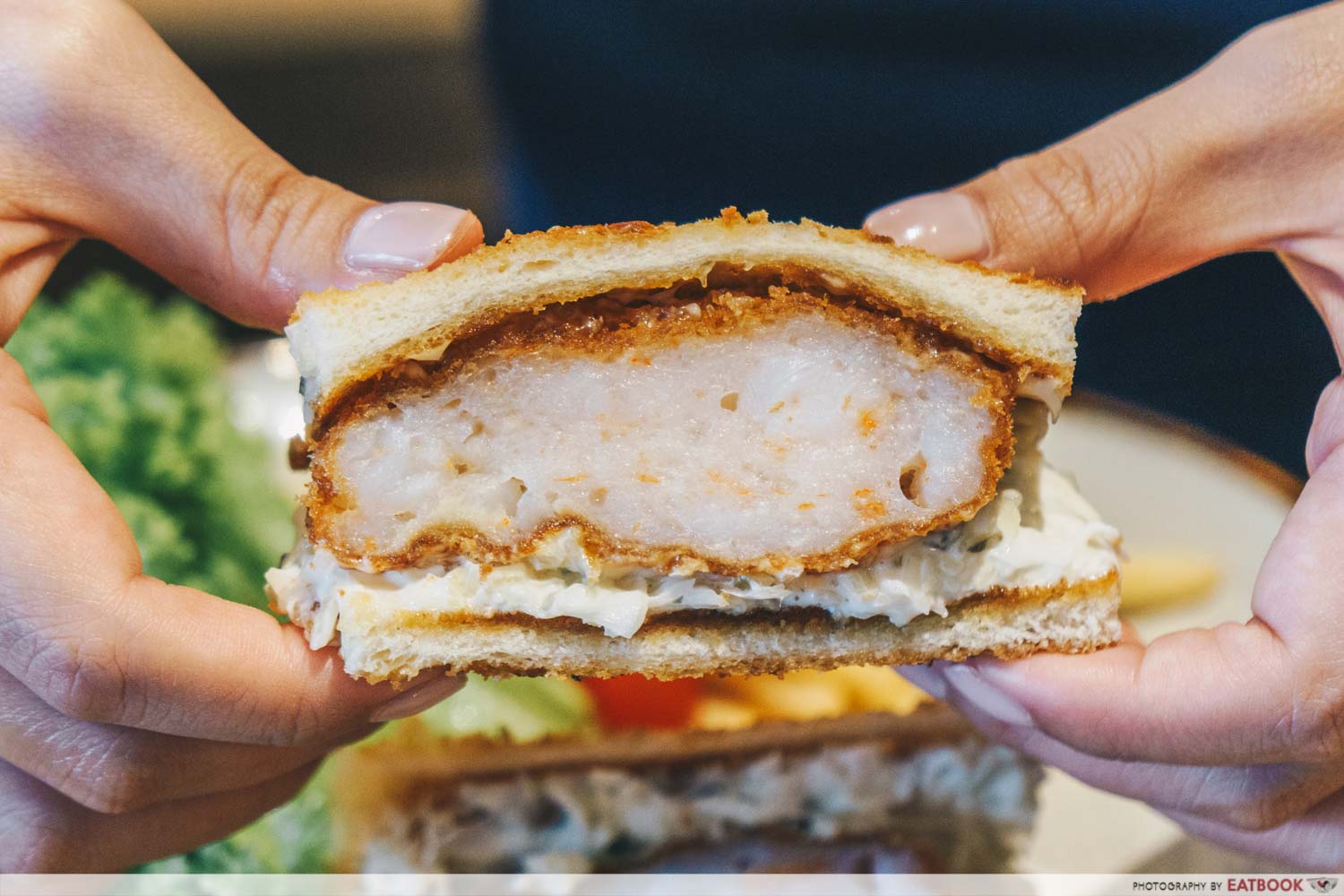 The Signature Handmade Ebi Tartar Sando ($14.80) features a thick prawn patty made with 100% prawn paste and chunks of prawn. Lightly seasoned and thinly coated in panko, the natural sweetness of the prawns was evident, but I found it was too much paste, and too few prawn chunks. My dining companion also found the bread slightly over-toasted.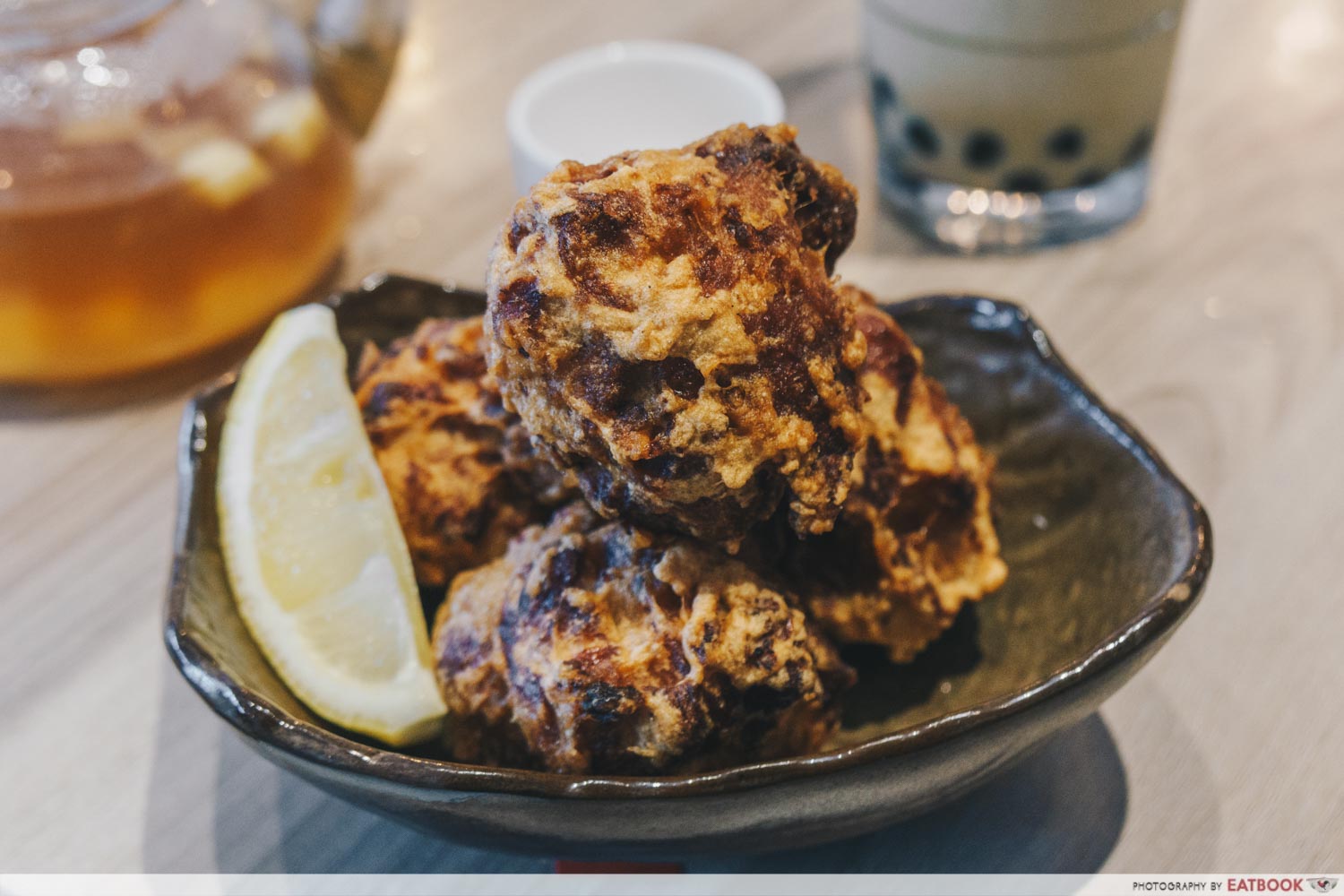 At $6.20 for four huge balls of karaage, the Tori Zangi Karaage is worth the order. Each ball of karaage is made with a whole chicken thigh roughly the size of a billiard ball. We didn't get to try it, but you can have them with Waffles ($15.80) too.
Ambience at Menya Kanae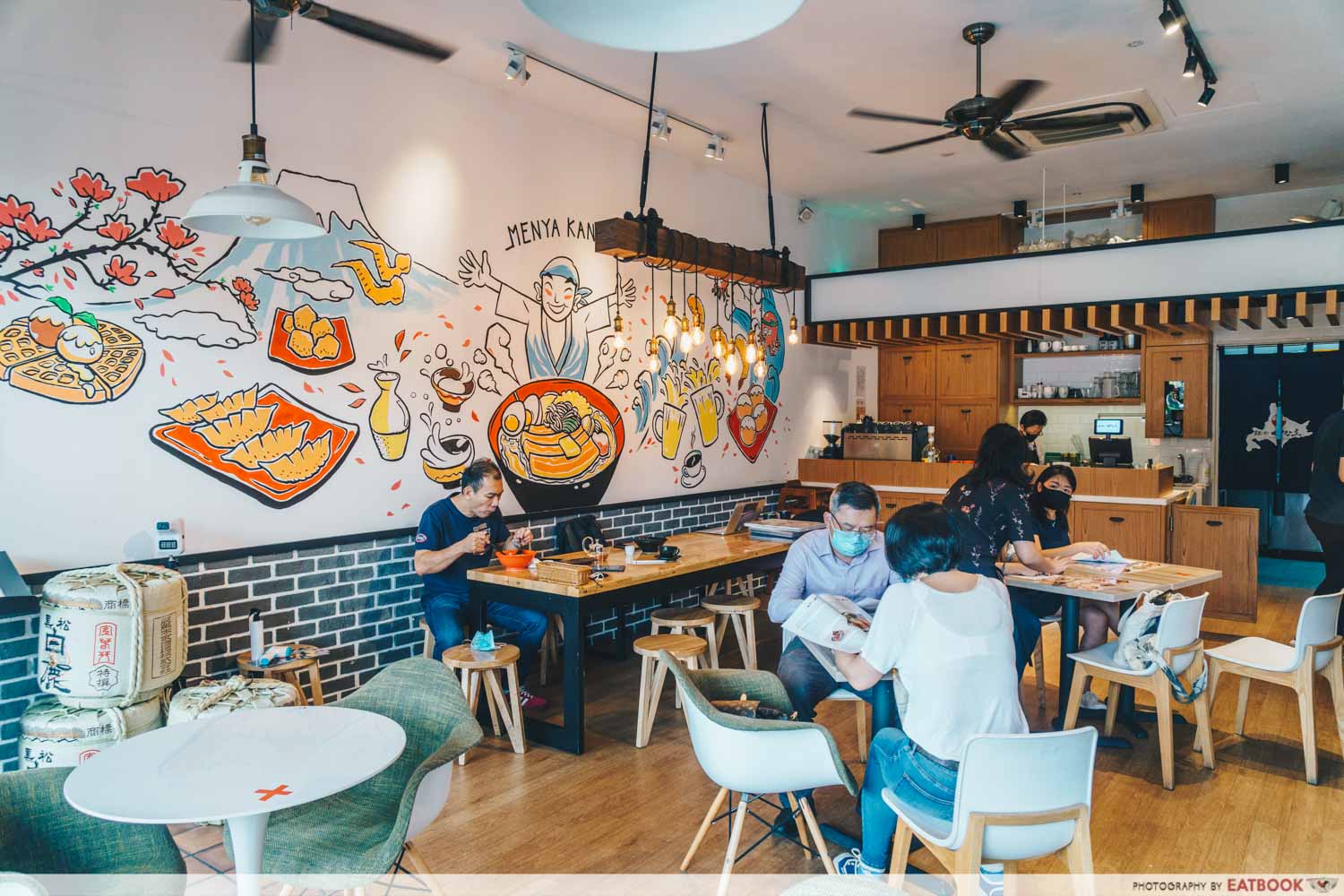 The shop space at Menya Kanae is cosy. The restaurant also has a colourful mural wall that brightens up the area. Outdoor seating at high tables is also available in the evening when Menya Kanae takes on an izakaya vibe with a view of the main road and Novena Church opposite.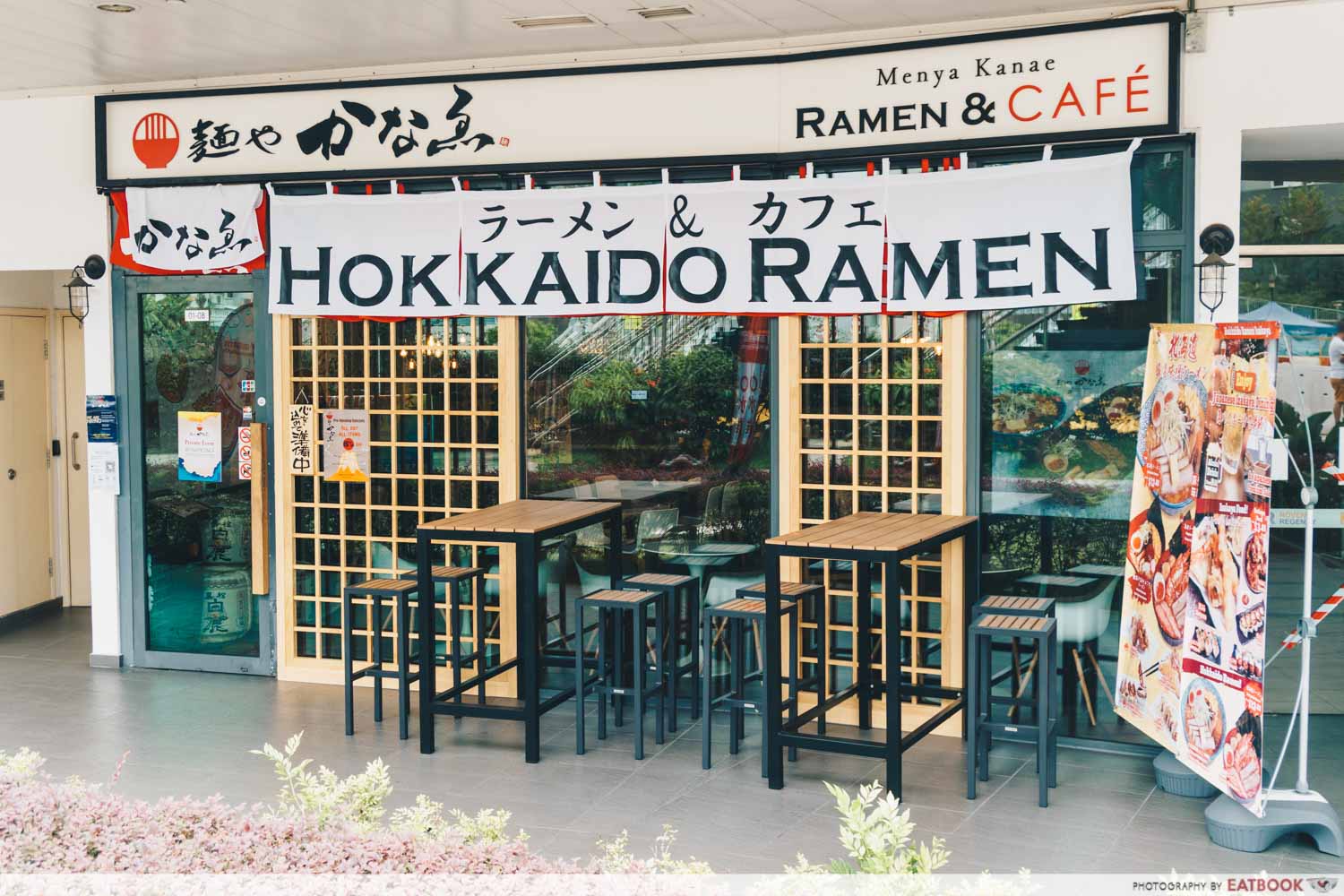 Transport wise, Menya Kanae is conveniently located just across the street from Exit B at Novena MRT station, and there is underground parking right behind the row of shops. 
The verdict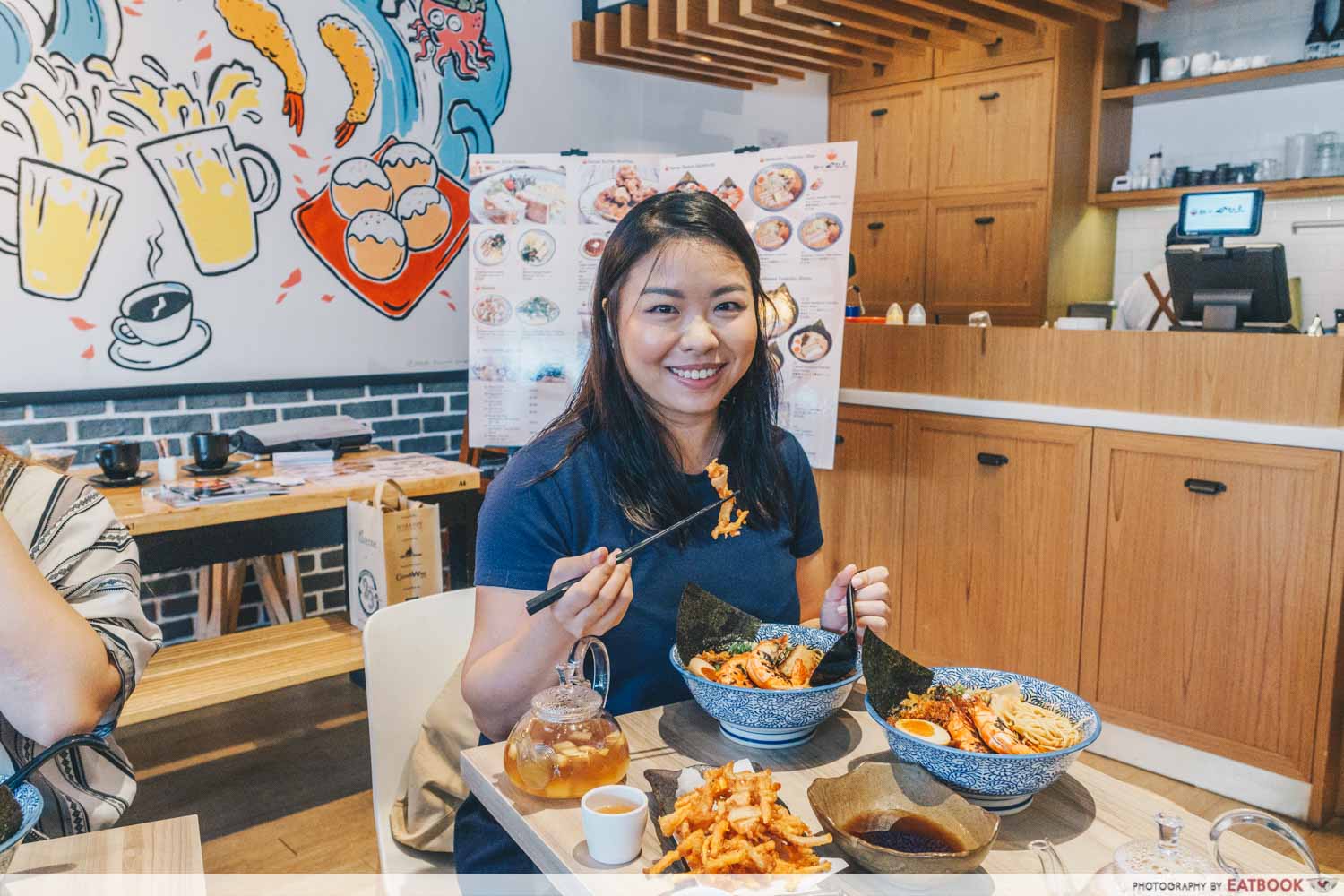 There were some hits and misses on the menu at Menya Kanae, but credit must be given where it's due. Although the Signature Handmade Ebi Tartar Sando could be improved, it has to be said that the prawns used were fresh and sweet, and the tartare was well-balanced. We would definitely return for the Tokusei Sapporo Ebi Tonkotsu Ramen, and the Tori Zangi Karaage.
20 Prawn Mee And Seafood Soup Stalls In Singapore For XXL Hae Mee, Lobster Noodles And More
It's not exactly cheap if you compare it to hei mee, but if you pit it against another bowl of ramen, I would say the Ebi Tonkotsu ramen holds its own. There are also cheaper options that come with fewer toppings, like the Sapporo Ebi Chashu Ramen ($14.80).
I may be biased because I do have a weakness for fried chicken and a good bowl of rich prawn broth, so in my books, Menya Kanae did well.
As part of their opening promotion, Menya Kanae is offering 1-for-1 on their Kanae Ramen Signatures from 16 to 18 October! With this promotion, the lower-priced ramen will be free. There is also a $5 Sapporo Beer promotion from 19 October to 30 November, available from 5pm daily.
Ramen Keisuke Niku King Review: New Keisuke Outlet Has Tonkotsu Ramen Overloaded With Chashu
Since you're in Novena, you could also check out Kazoku Japanese Cuisine, which serves cheap and good mentaiko salmon don and chirashi.
Address: 275 Thomson Road, #01-08, Novena Regency, Singapore 307645
Opening hours: Daily 11am to 9:30pm
Tel: 6261 6205
Website
Menya Kanae is not a halal-certified eatery.
Photos taken by Hay Thi.
This was a media tasting at Menya Kanae.
Summary
Pros
– Robust prawn tonkotsu broth
– Fresh prawns
– Good portions
Cons
– Spicy ramen is not very spicy
– Ebi sando has too much prawn paste
Recommended dishes: Tokusei Sapporo Ebi Tonkotsu Ramen ($19.80), Tori Zangi Karaage ($6.20)
Opening hours: Daily 11am to 9:30pm
Address: 275 Thomson Road, #01-08, Novena Regency, Singapore 307645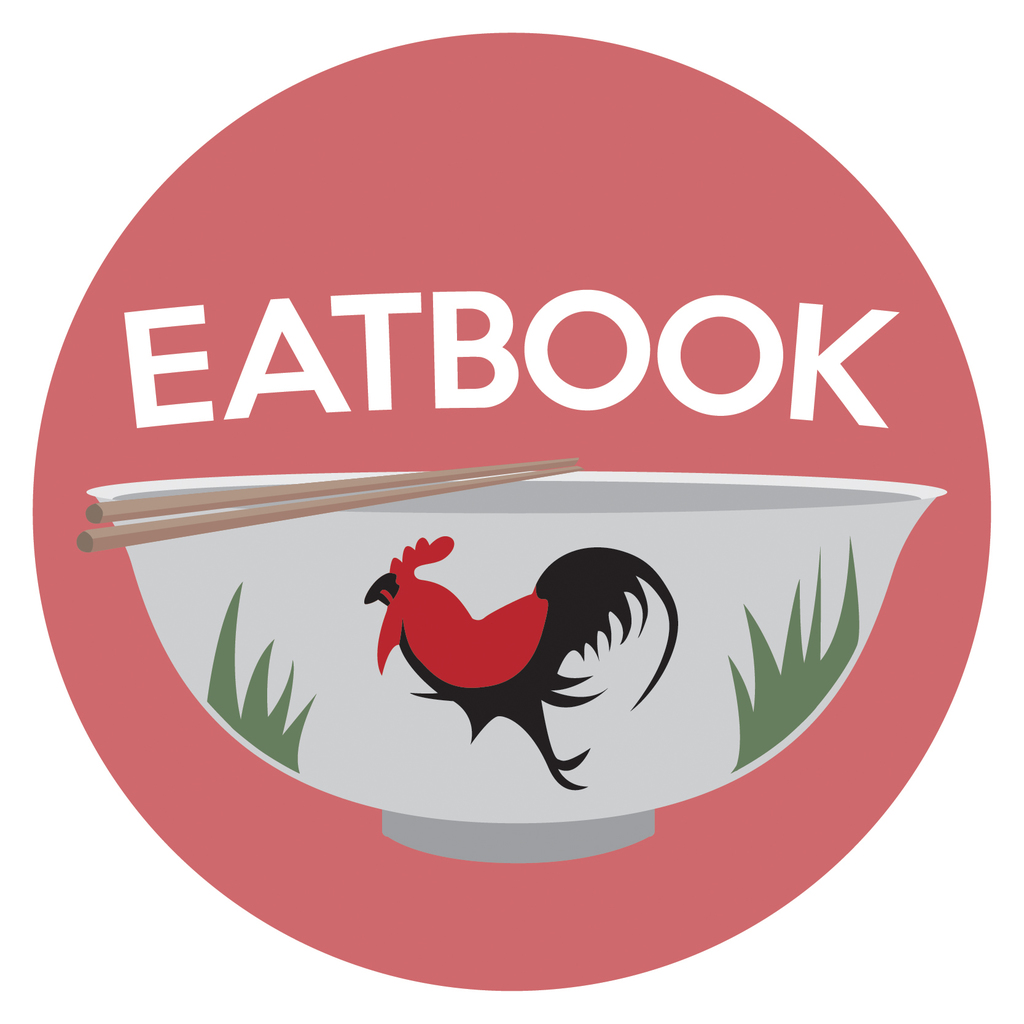 Drop us your email so you won't miss the latest news.