ATO ramen at Marymount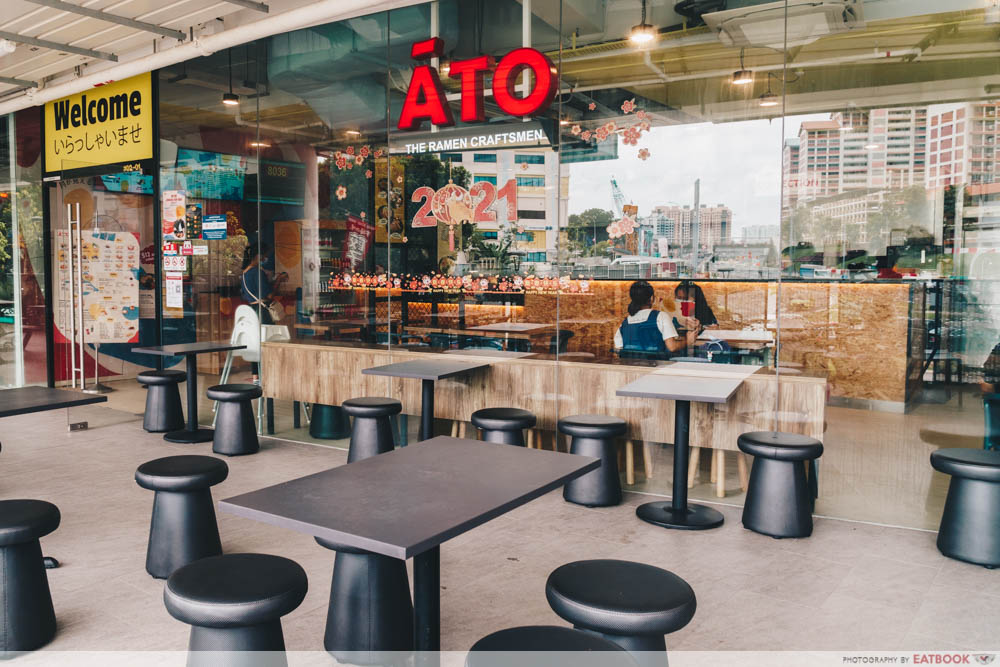 While I previously found ramen to be a splurge, cheap joints like Takagi Ramen and Suparakki Ramen have successfully changed my mind. Joining the list is ATO, with three outlets in Singapore popping up since their opening in 2019. My dining companion and I visited the one at Marymount Community Centre, eager to find if these bowls of ramen are as delicious as they are cheap.
Food at ATO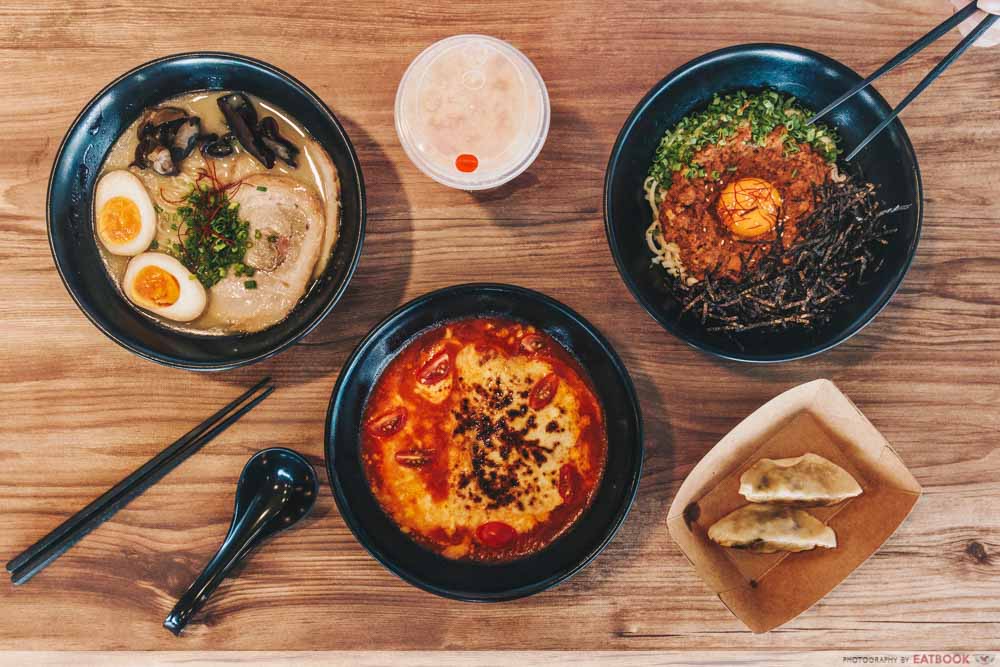 Though we only ordered ramen, ATO also serves up rice dishes, sides, drinks, and desserts.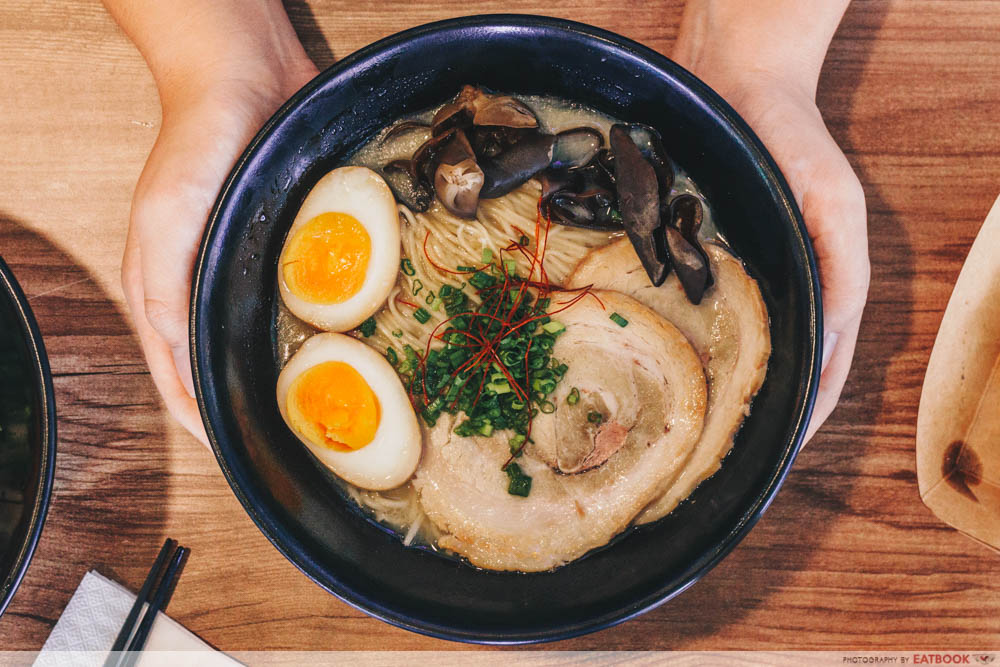 We started with their Signature Tonkotsu ($9.90). It came complete with chashu, black fungus, spring onions, and an ajitama egg.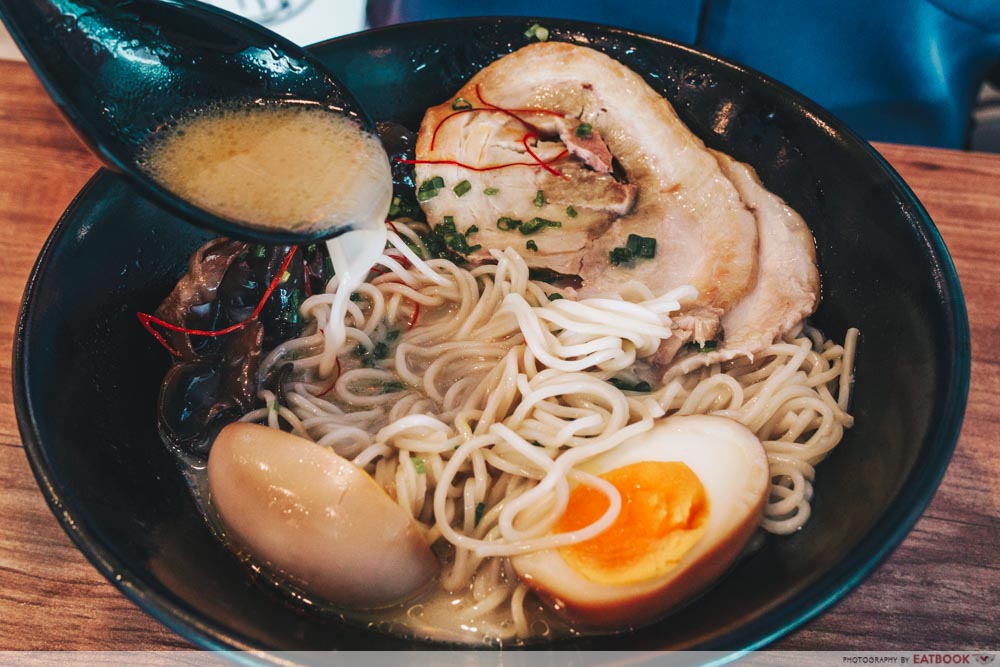 I didn't find the broth full-bodied enough despite it being boiled for eight to ten hours. I found that it lacked the richness that is characteristic of a good tonkotsu. Still, where most tonkotsu ramen in Singapore cost upwards of $15, this was forgivable at the price point.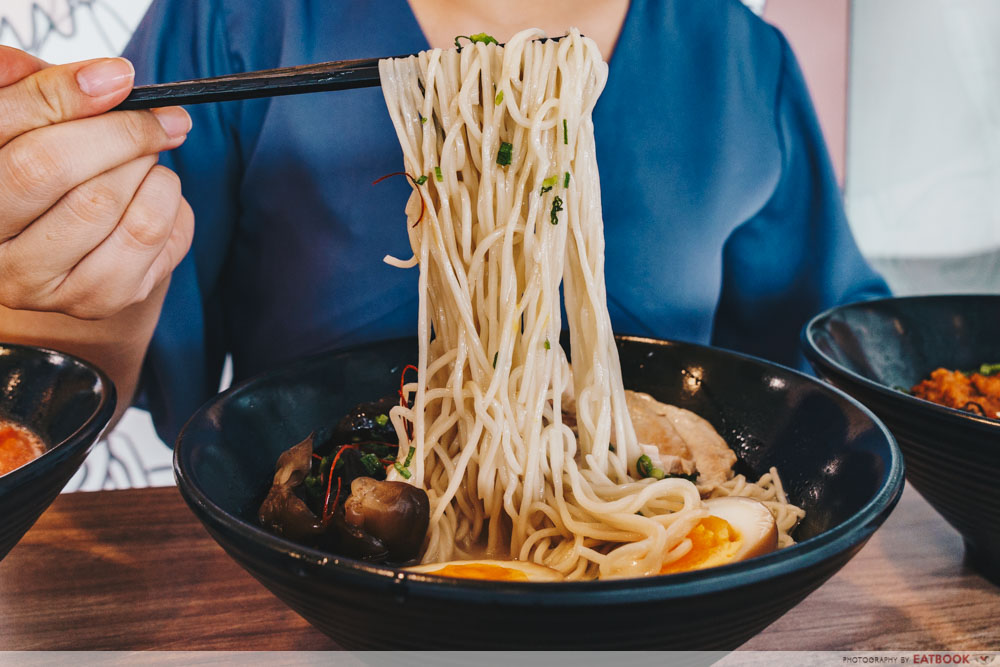 I enjoyed the thin and springy noodles, which remained firm despite absorbing the broth.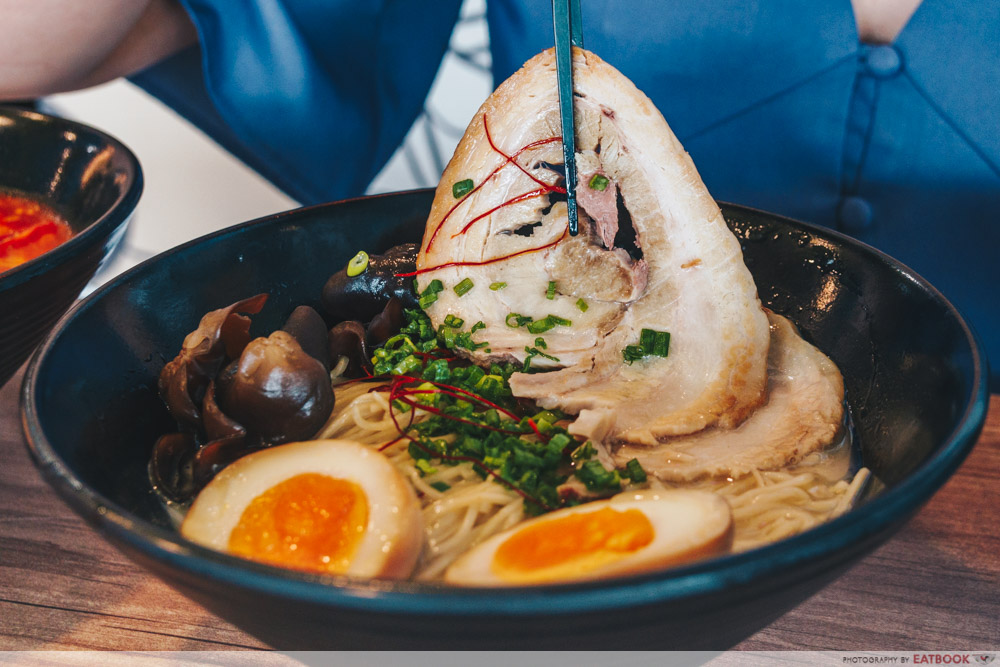 The chashu came in two generous slices. They weren't melt-in-your-mouth, but still tender and laced with chewy fat, enhancing the dish.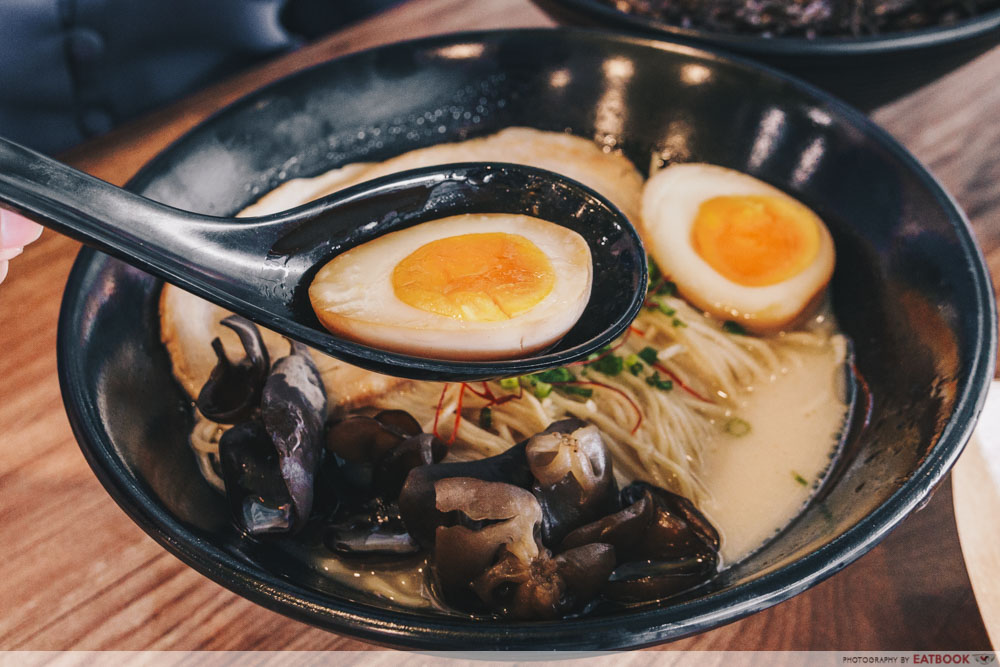 Here at ATO, they give a full ajitama egg with your order of ramen. This was a pleasant surprise, since other more expensive ramen joints only serve half an egg, or require an additional top-up. However, I could not taste the marinade in the egg, and the yolk was slightly overcooked with a jammy texture.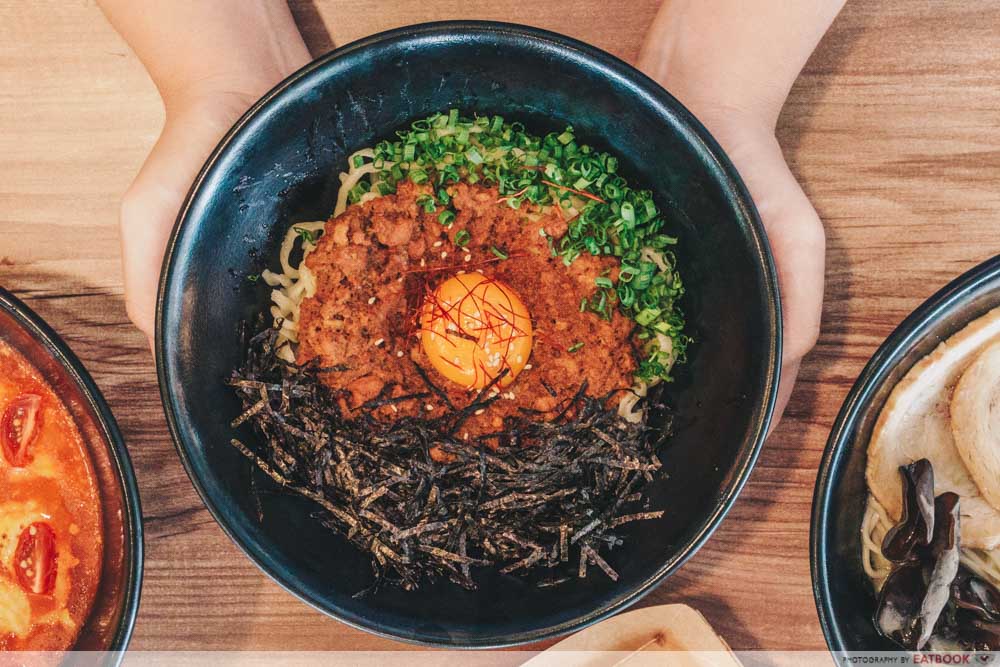 Next, we got the Dry Minced Pork Ramen ($6.90), one of the cheapest ramen on the menu. Reminiscent of mazesoba, a raw egg yolk sat atop minced pork and ramen noodles, surrounded by spring onions and seaweed.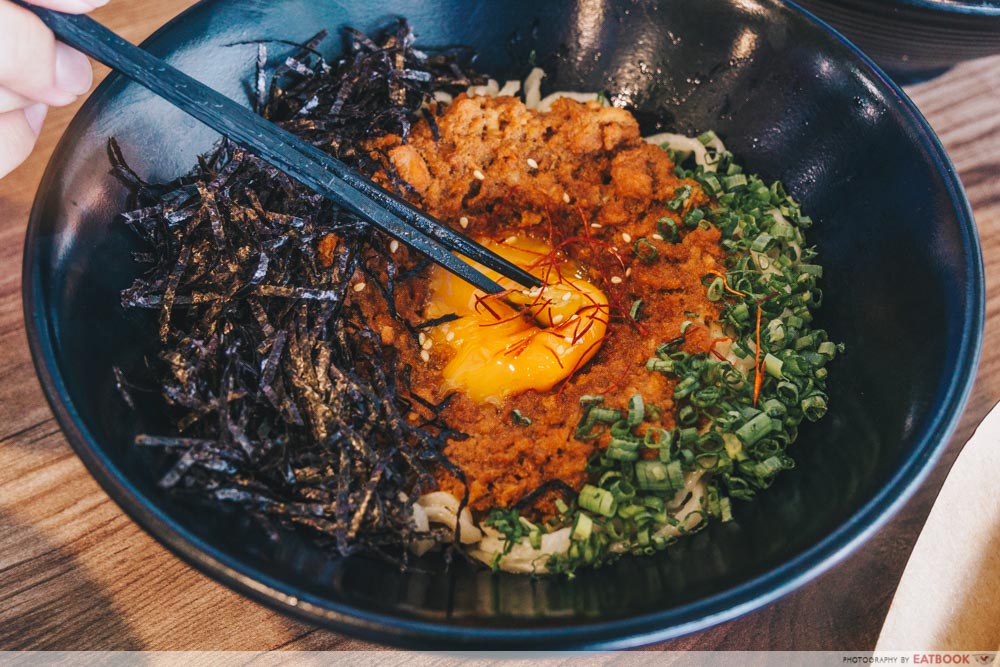 The minced pork was savoury-sweet, coated with creamy egg yolk to create a medley of flavours. The noodles used here were thicker than in the tonkotsu, with a QQ texture that complemented the minced pork. The spring onions and seaweed also added crunch, and helped cut through the heaviness of the dish.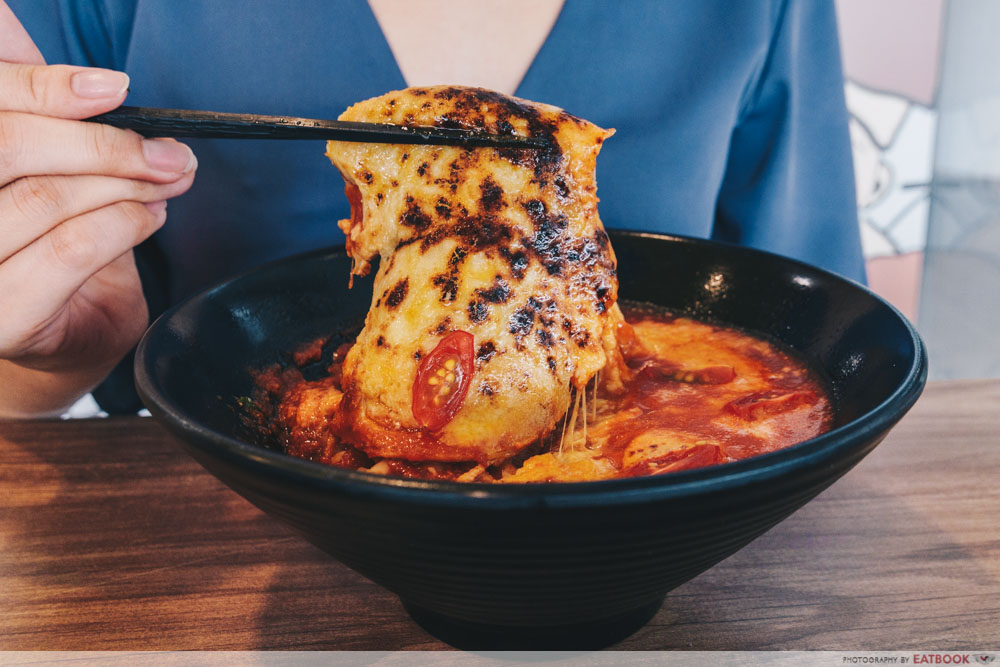 Our last dish was the Tomato Cheese Ramen ($11.80), consisting of ramen noodles blanketed in tomato sauce, topped with chashu, cherry tomatoes, and torched cheese. The dish reminded me of baked spaghetti.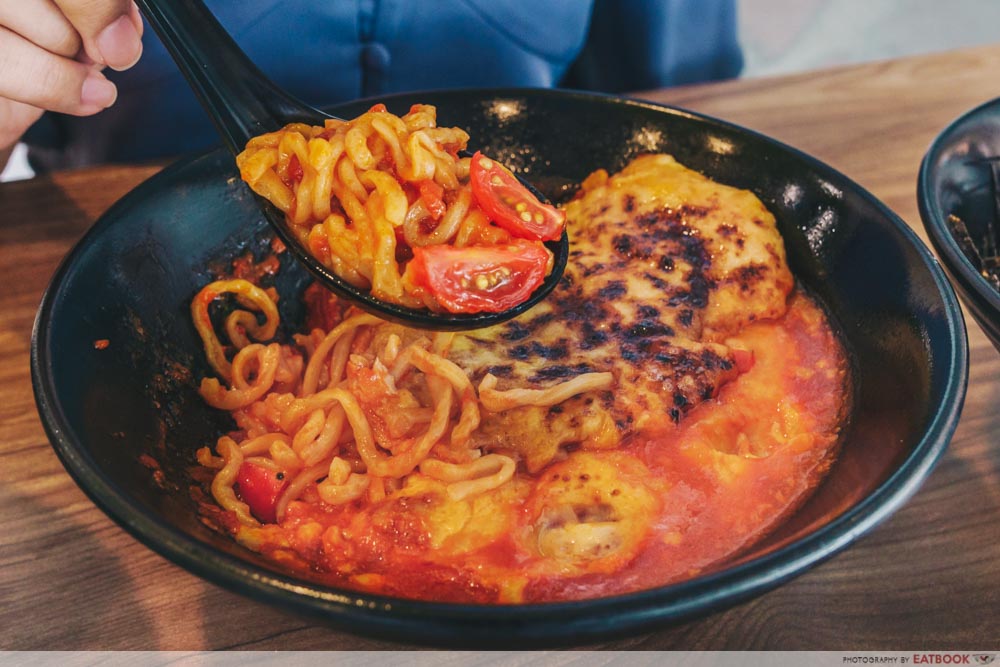 I was disappointed by the gravy—it was flat and tasted like they had dumped a can of tomato sauce on the ramen. It might have been better if they had cooked some of their tonkotsu broth into this. The thick slab of melted cheese made the dish even more jelak. This was mildly relieved by the addition of fresh cherry tomatoes, which helped balance the dish with some bursts of natural sweetness.
This bowl of ramen featured the same thick noodles as the Dry Minced Pork Ramen, which held up well against the cloying gravy.
Ambience at ATO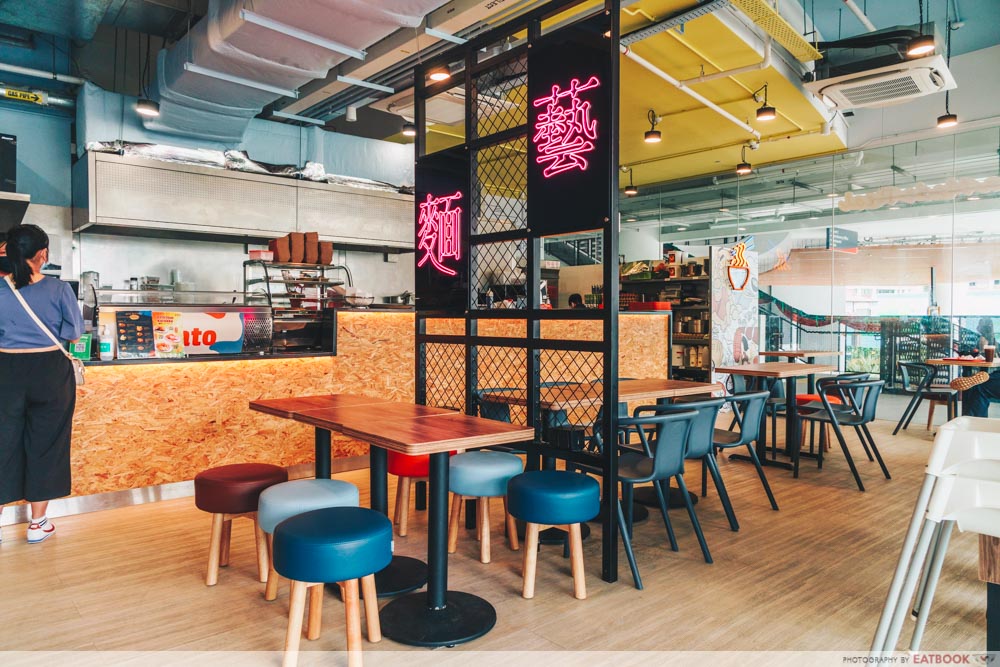 Decked in hues of brown, ATO looks modern, elevated with neon lights and cute graphics. With a school just next door, the eatery sees many students ambling in, filling the space with their noise and laughter. It gets busy in the mid-afternoon, and evening, when school knocks off for the day, so I would recommend avoiding these hours. There are also outdoor seats available for more airy feels.
The location is not the most convenient though, wedged between Marymount and Bishan MRT Stations, and requiring a five-to-ten minute bus ride from each.
The verdict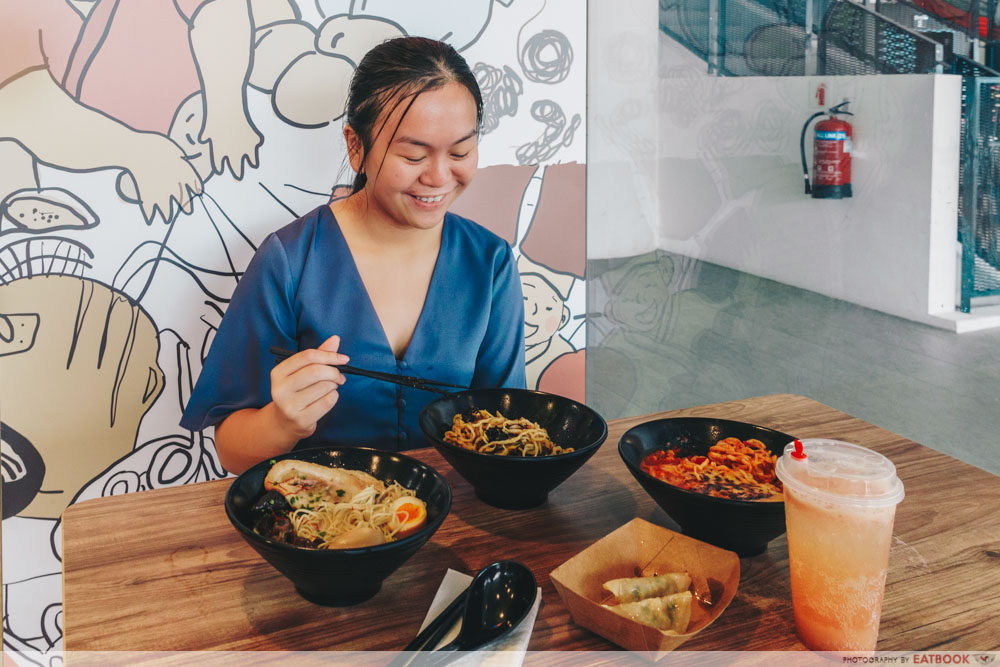 Having a bowl of ramen for $6.90 is almost unheard of, and for that, I'll have to commend ATO and their extremely affordable prices. Though the food has room for improvement, I still enjoyed the flavourful dry minced pork ramen. Head down if you're in the area, and in the mood for ramen that won't leave a hole in your wallet.
For more ramen options, read our Menbaka Ramen review, the famous fire ramen from Kyoto that landed on our shores to eight-hour queues last year. Alternatively, check out our Menya Kanae review for Hokkaido prawn ramen and chicken karaage waffles.
Address: 191 Sin Ming Avenue, #02-01, Marymount Community Centre, Singapore 575738
Opening hours: Daily 9am to 9pm
Tel: 6920 1587
Website
ATO is not a halal-certified eatery.
Menya Kanae Review: Hokkaido Prawn Ramen And Chicken Karaage Waffles In Novena
Photos taken by Syamira Rohaizad.
This is an independent review by Eatbook.sg.
ATO Ramen Review: Mazesoba And Tomato Cheese Ramen From $6.90 At Marymount
Summary
Pros
– Affordably priced
– Dry minced pork ramen was flavourful
Cons
– Tomato cheese ramen was too jelak
– Tonkotsu broth can be richer
Recommended dishes: Dry Minced Pork Ramen ($6.90)
Opening hours: Daily 9am to 9pm
Address: 191 Sin Ming Avenue, #02-01, Marymount Community Centre, Singapore 575738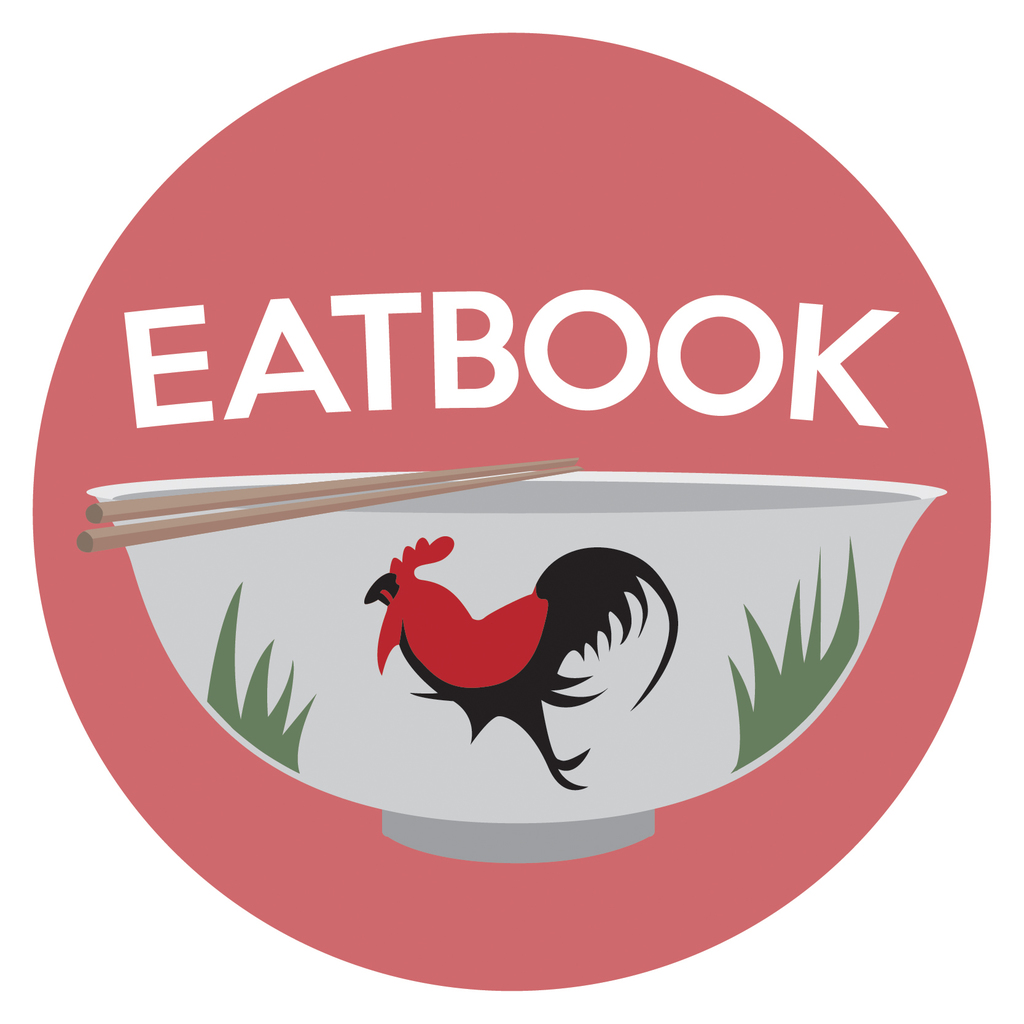 Drop us your email so you won't miss the latest news.