Fire Ramen at Menbaka
Update: The 1-for-1 promotion is now over.
At precisely 3:40pm on 24 November, Menbaka Kyoto Fire Ramen will see the opening of its first ever overseas outlet. This ramen import at Cineleisure Orchard joins the likes of Keisuke, Hototogisu, Afuri and Ippudo in Singapore.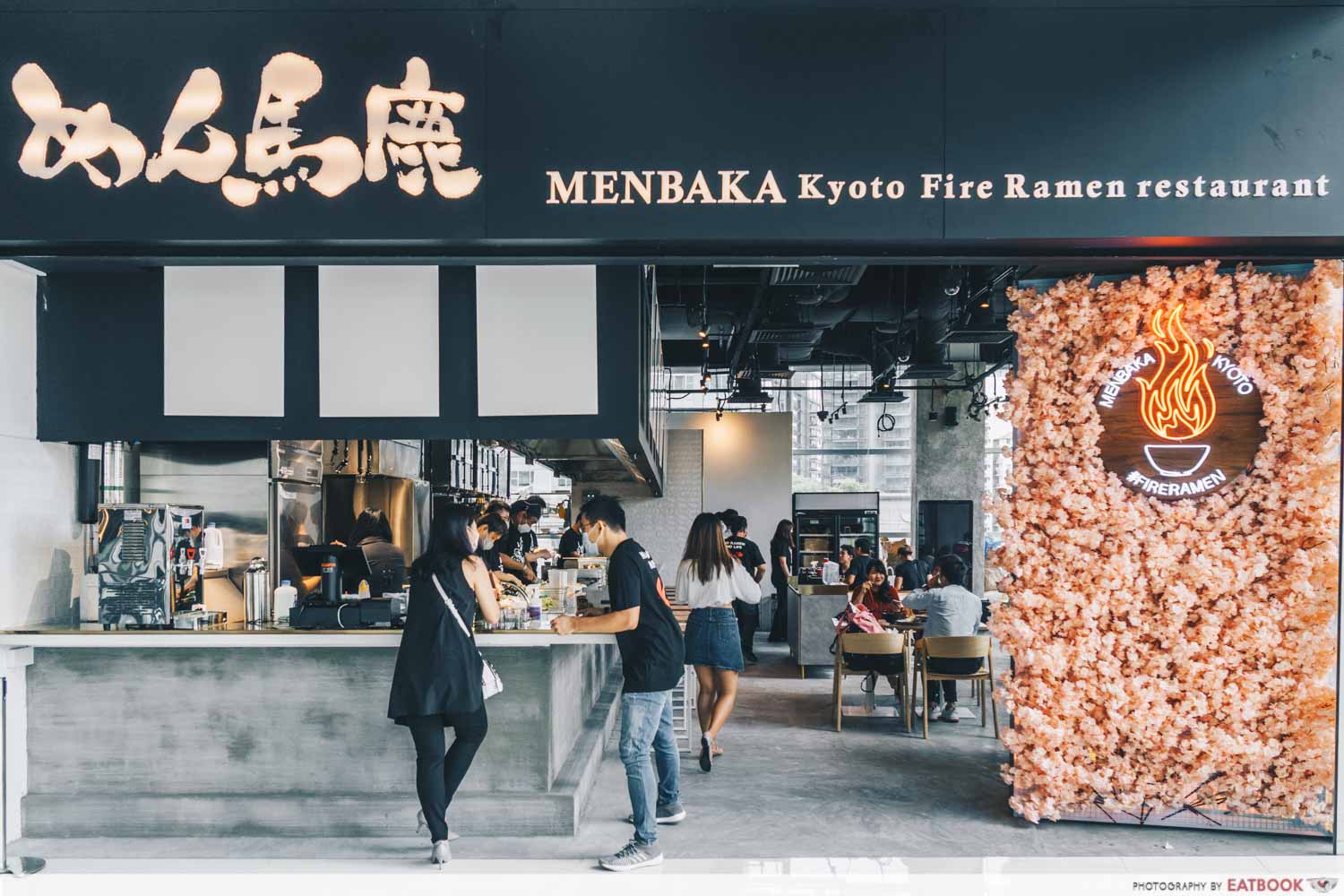 Founder Masamichi Miyazawa first opened Menbaka in 1984 in Kyoto, Japan, before passing the reins to his son. Shin Miyazawa, who runs Menbaka today, left his corporate job in real estate to help his father with the ramen diner.
Menbaka first gained fame in Kyoto for its dramatic bowls of ramen that are literally set on fire before diners' eyes. Another standout point is how the bowls capture the essence of negi, without the raw taste that many dislike.
I approached this tasting with mixed feelings, because of the mountain of negi (spring onions) that tops each bowl of ramen at Menbaka. Yet, I couldn't pass up the opportunity to experience the fiery spectacle in person.
Food at Menbaka Ramen
For safety measures, you have to surrender your phone to Chef before the pyrotechnics. He'll mount it on a selfie stick across from the counter, and hit 'Record' on your behalf, to catch your reaction to the flames on camera.
What was most entertaining was the flipcards of warnings you're presented with, ahead of the theatrics.
''Don't run away. Because your seat will be oily then." Yes, sir.
"Don't scream. Don't make a fuss." Yes, sir.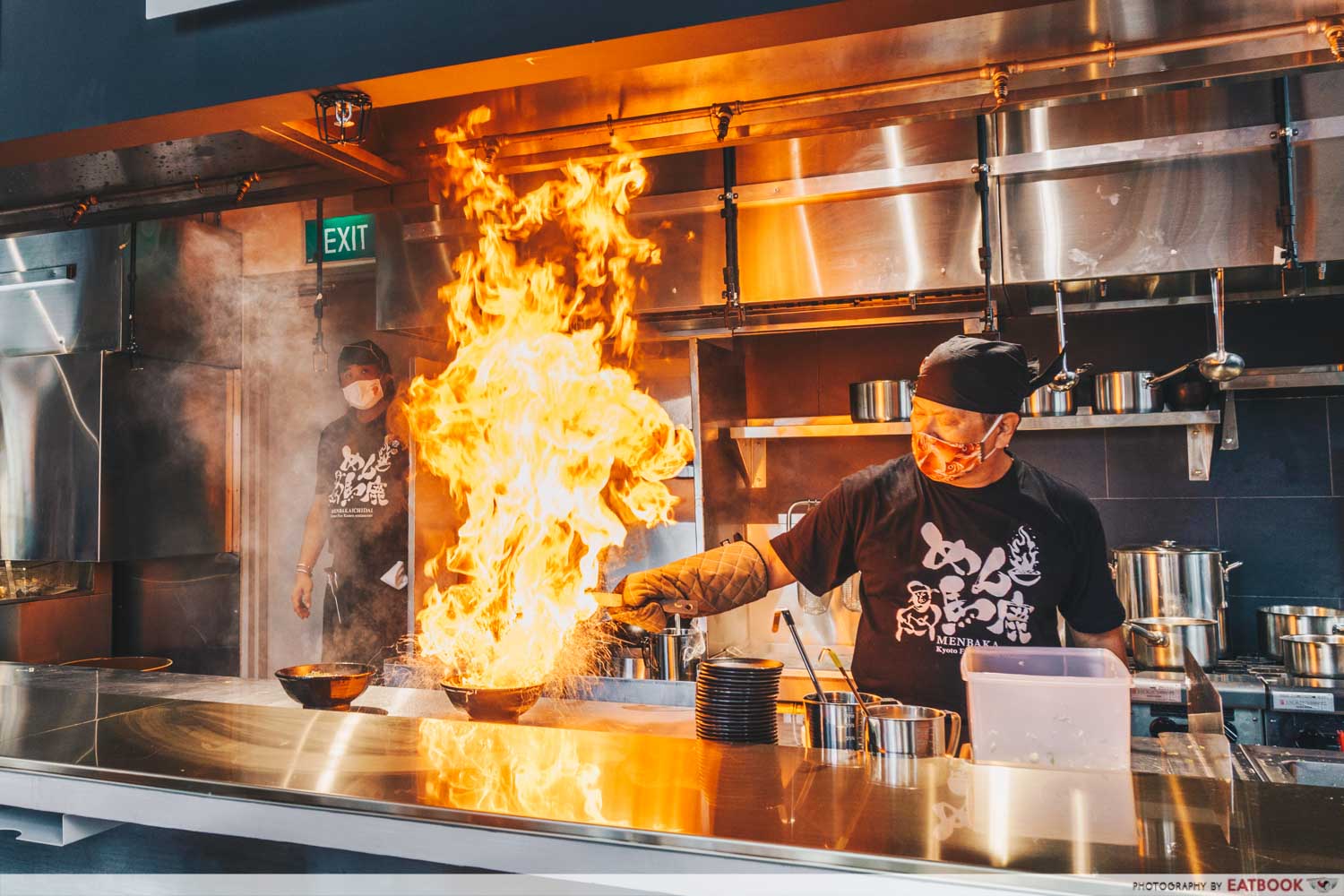 I honestly feared a little for my safety. The flames blazed sky high, hot oil splattered everywhere, and I was hit by a tsunami of heat when the burning negi oil was poured into the bowl.
I'm happy to report that all's well. The scalding oil achieved two purposes. First, it provided delightful notes of charred scallions, and second, removed the taste of raw negi.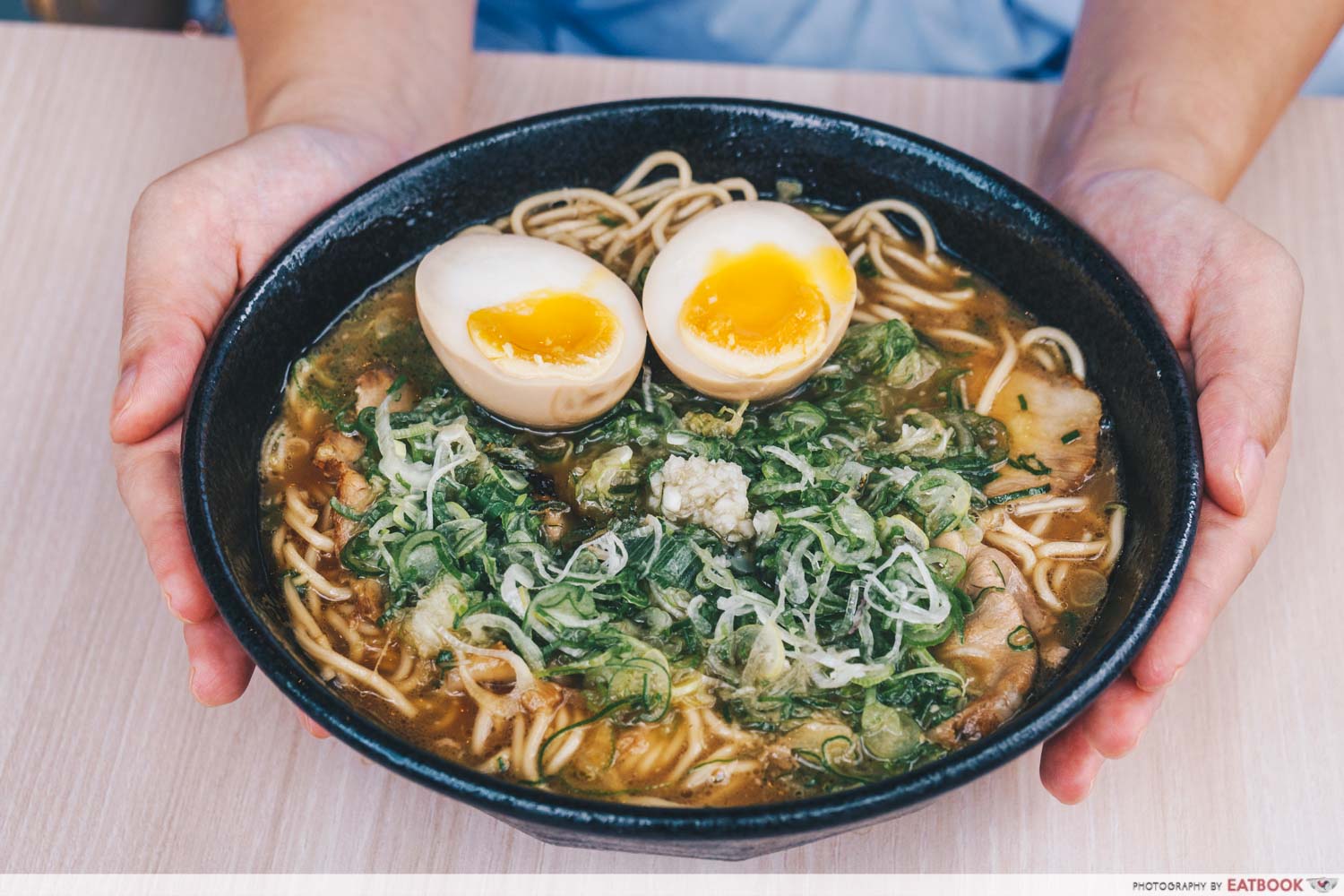 The signature bowl of Shoyu Fire Ramen ($17.90++) at Menbaka features soup made with a 220-year old blend of shoyu specially imported from Japan. The chicken-based broth is also stewed with two different dried fish shavings: katsuobushi and sababushi, to form a smoky, umami broth.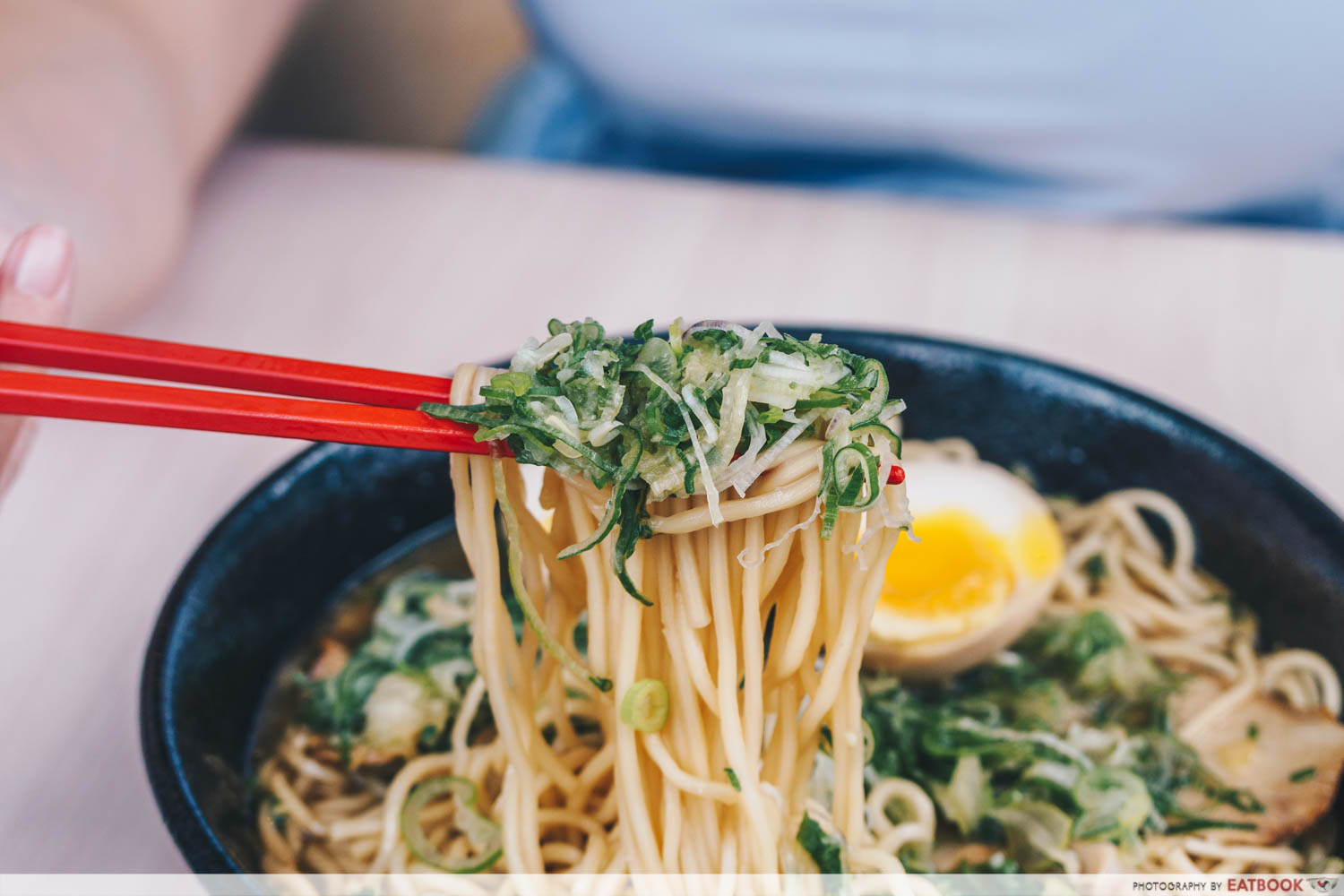 Menbaka's custom-made ramen stands out for its unique texture. It's a straight-cut, neutral-tasting noodle that's slightly firm to the bite. As a result, it soaks up the flavour of the soups wonderfully. It's worth noting that the ramen gets soggy quickly, so it's not a bowl to chitchat over.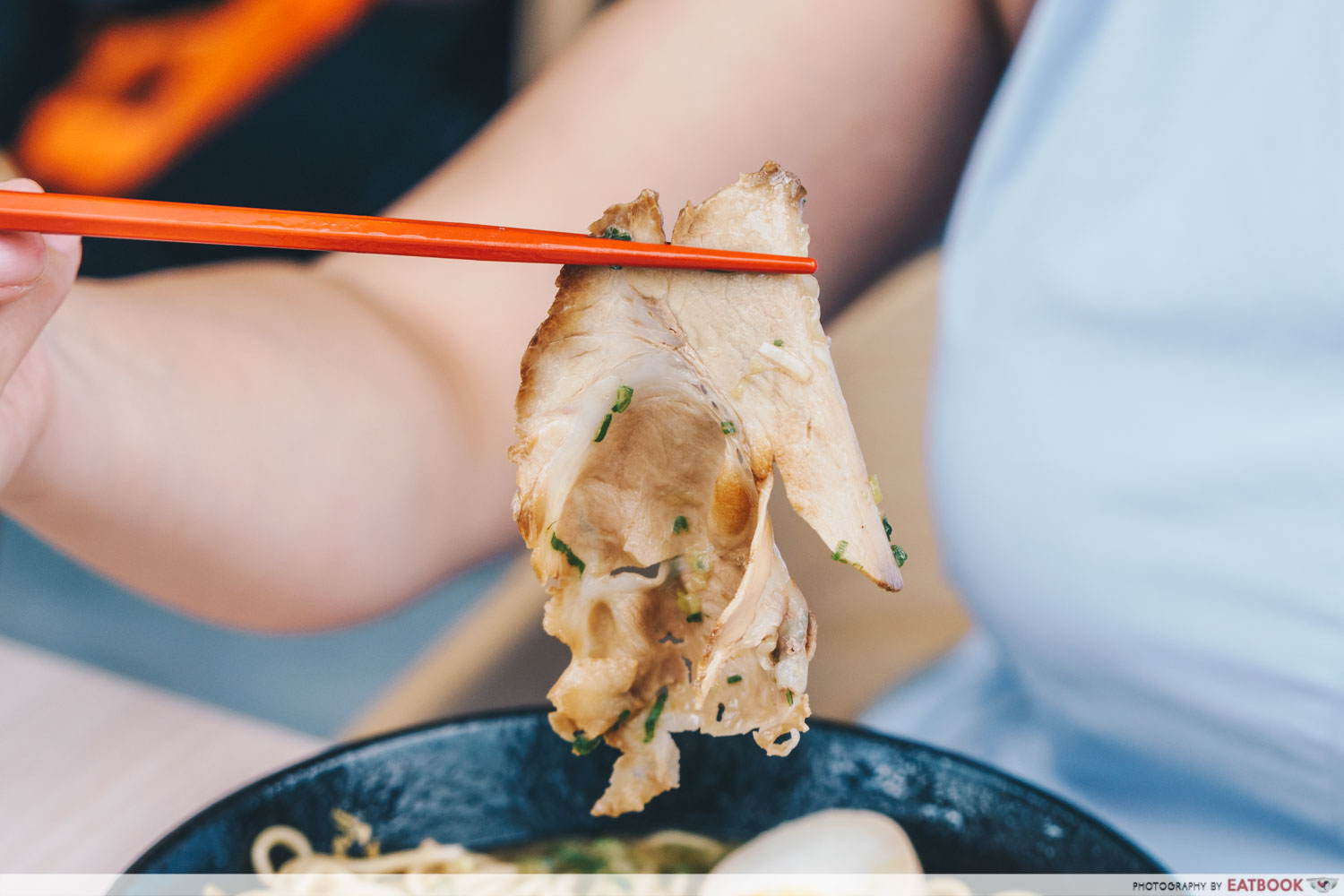 I'd recommend adding an Ajitama Egg ($2.50++), because Menbaka's is delightfully wobbly within. Or make it two add-ons for $5++, and choose from a selection including Charred Butter Corn ($3++), and extra Chashu ($3.50++).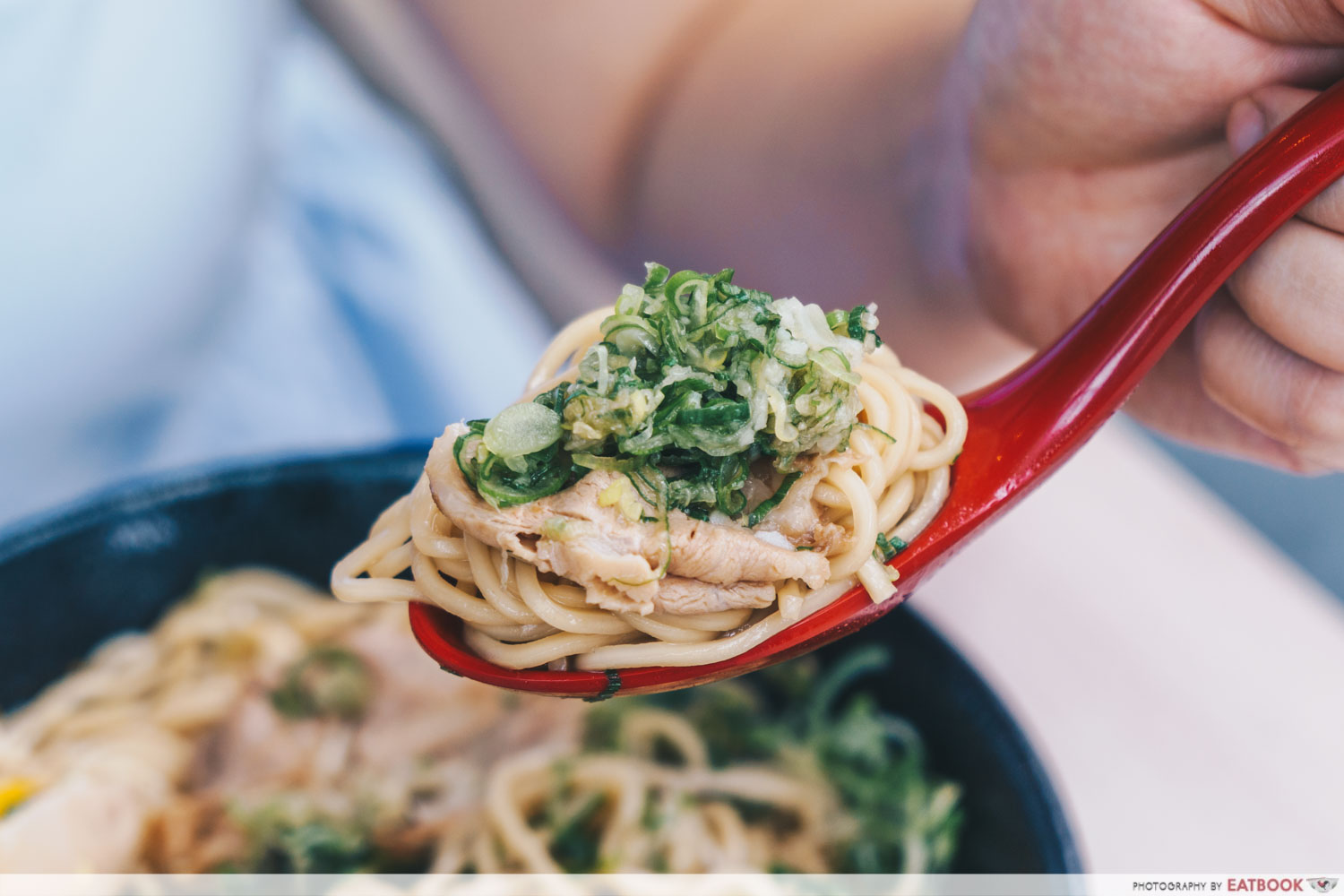 Besides the signature, there's also a Tonkotsu Fire Ramen ($18.90++) and Vegetarian Fire Ramen ($16.90++).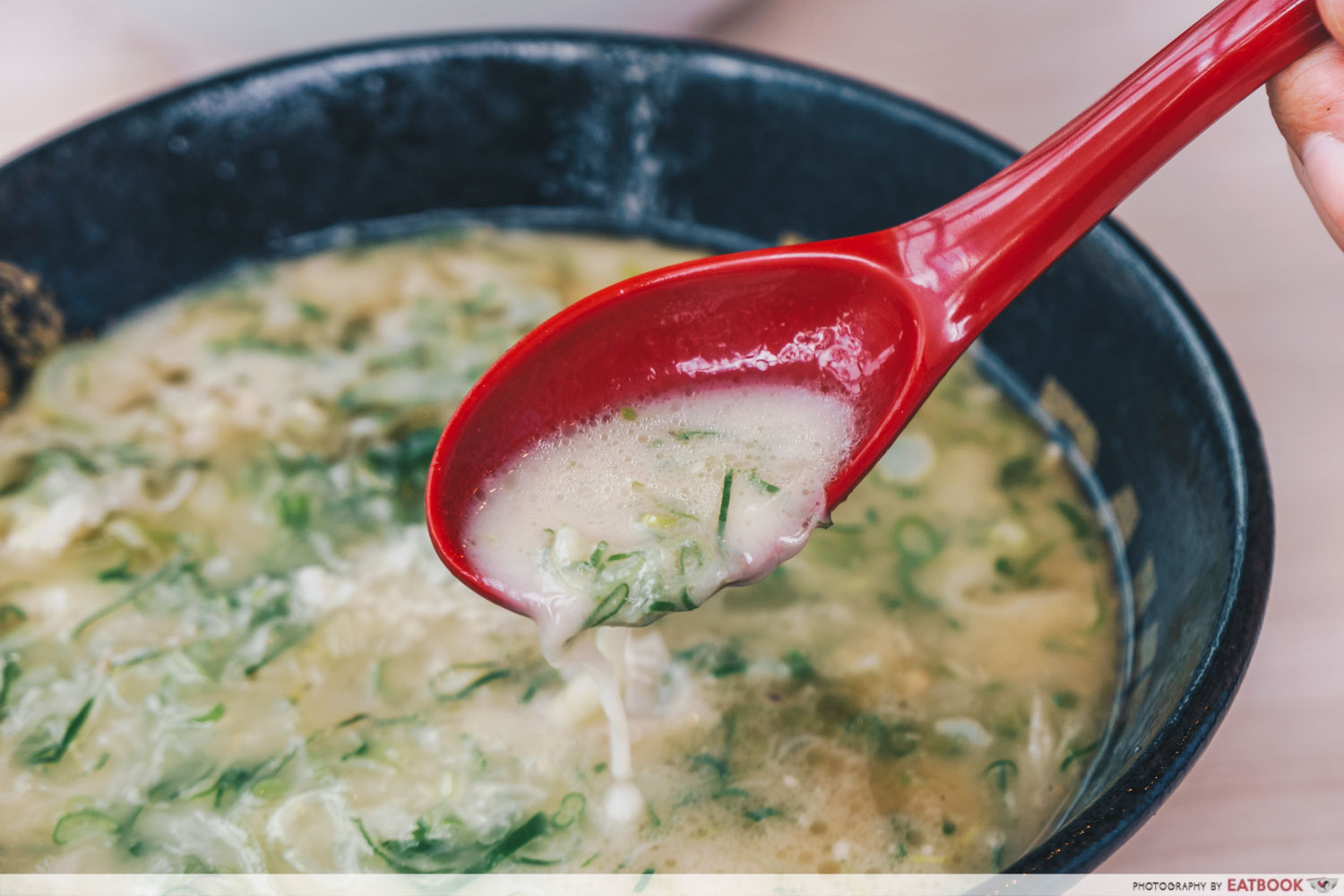 The former is a Singapore exclusive, a milky pork bone broth that was tasty, but didn't blow us away as much as the signature Shoyu. We also felt that the pleasant taste of charred negi was overwhelmed by the tonkotsu.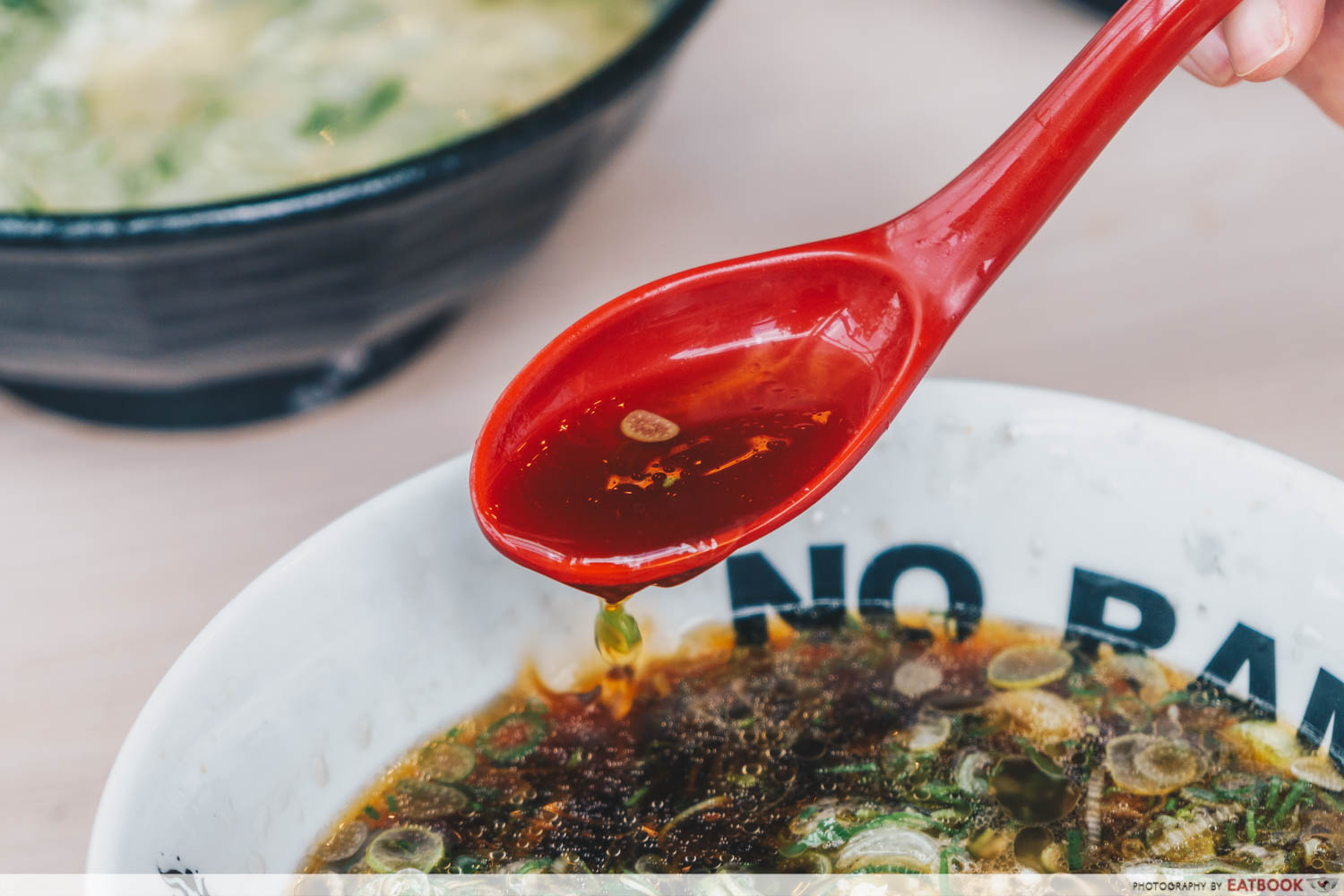 On the other hand, we found the clear vegetable broth clean-tasting, with a very slight herbaceous note. This melded with the slightly smoky taste of the negi that had, literally, been set on fire.
While the eggy Kyoto Menbaka Fried Rice ($9.90++) appeared to be a popular choice with others, I found it to be underwhelming after having the ramen.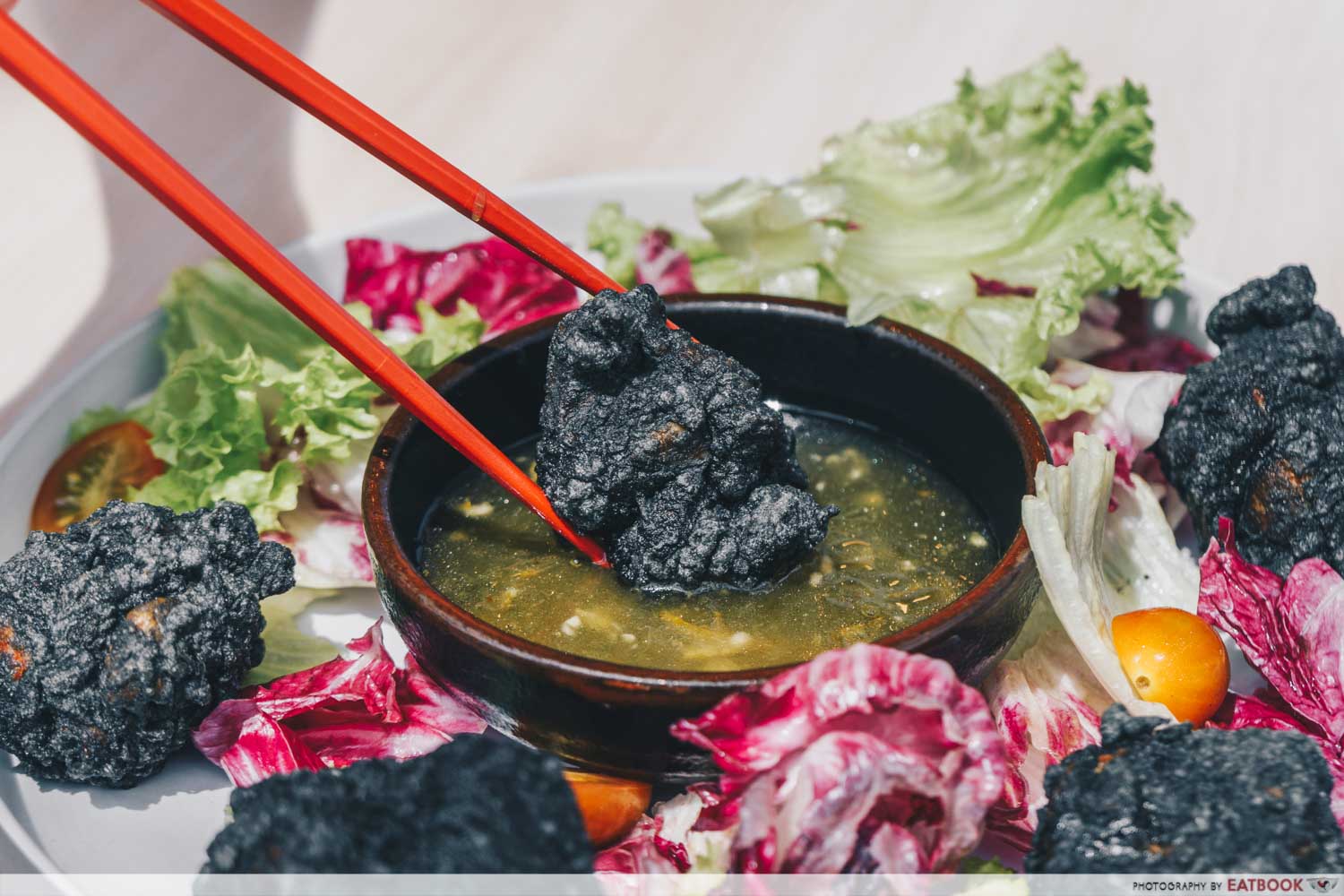 Similarly, the duo of karaage salads: Crispy Karaage ($13.90++) and Crispy Charcoal Karaage ($14.90++) were saved by the yuzu and sesame dressings. These featured well-balanced flavours that complemented the fresh salad and chicken.
Flipper's Review: Popular Cafe From Japan Arrives With Matcha And Eggs Benedict Souffle Pancakes
We found the yuzu to be fresh, without being overly tangy. The sesame, however, surprised us with hints of sweetness, a tinge of what tasted like wasabi, and a sour edge, probably from Worchestershire sauce.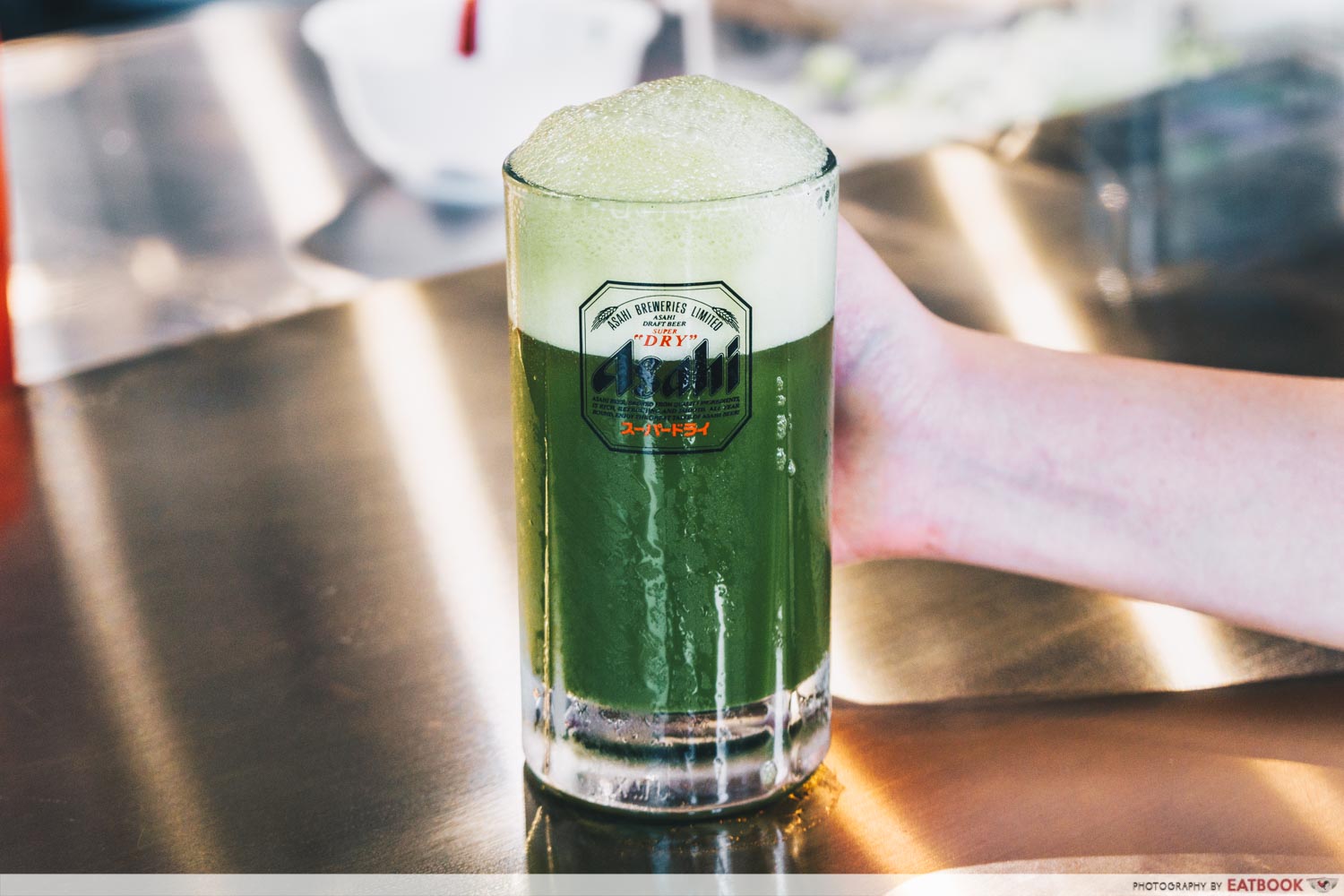 We both loved the Kyoto Matcha Beer ($12). It's Asahi on tap, whisked with a syrup made with premium Uji matcha. The drink is sweet, fizzy, and dangerously addictive. 
Ambience at Menbaka Ramen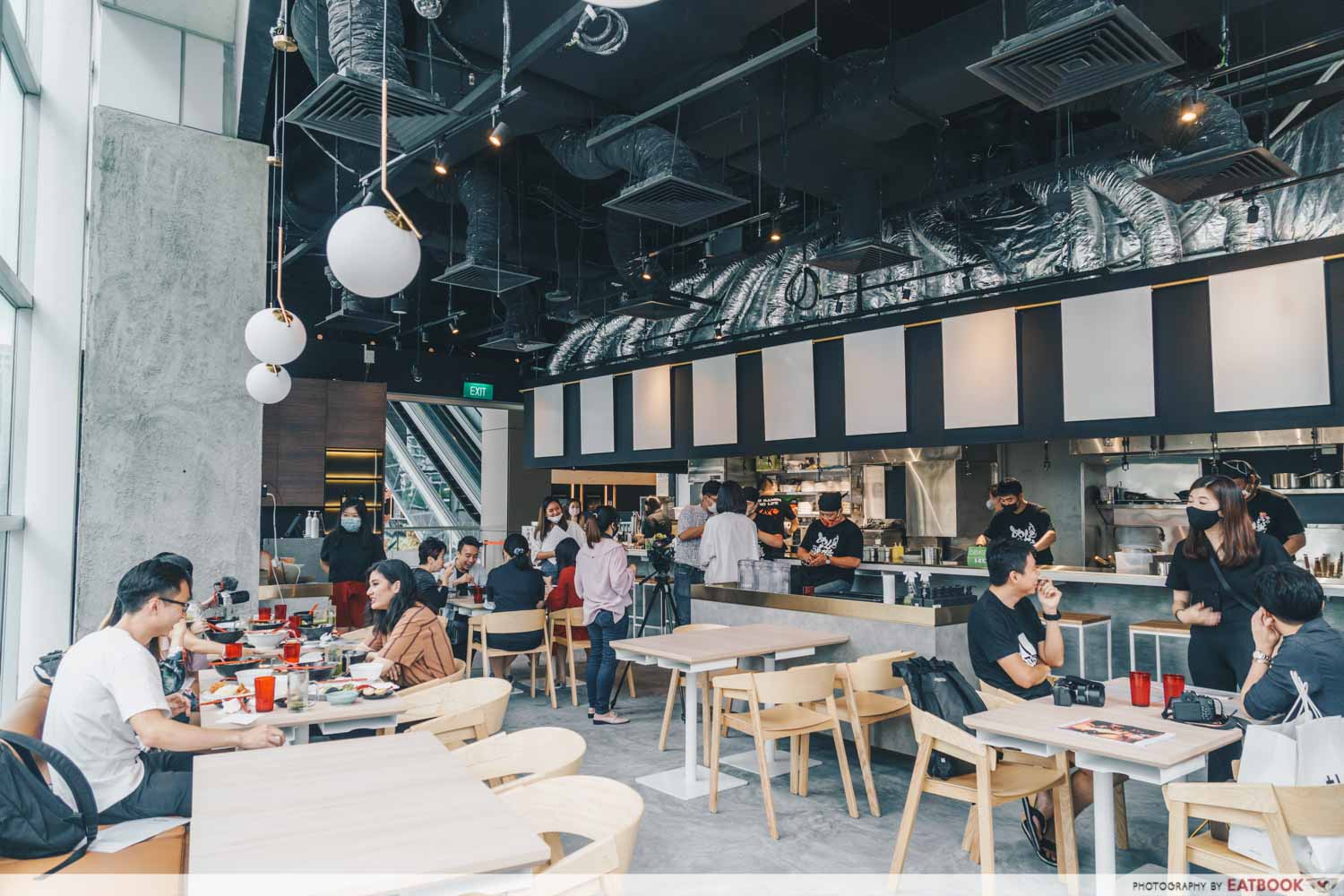 Menbaka is situated in a gorgeous unit on the fifth floor of Cineleisure Orchard, smack between Orchard and Somerset MRT stations. The space is flanked by full height glass windows that offer a view of the busy intersection below. However, this also means you're hit by the heat on two sides: from the kitchen, and magnified through the glass. 
When we were there, the building's central air conditioning system was rather weak, although it got significantly cooler when it turned cloudy outside. 
The verdict
The negi-hater in me doubted myself today, because I left thinking to myself that I'd come back for more negi-topped ramen, and the Matcha Beer.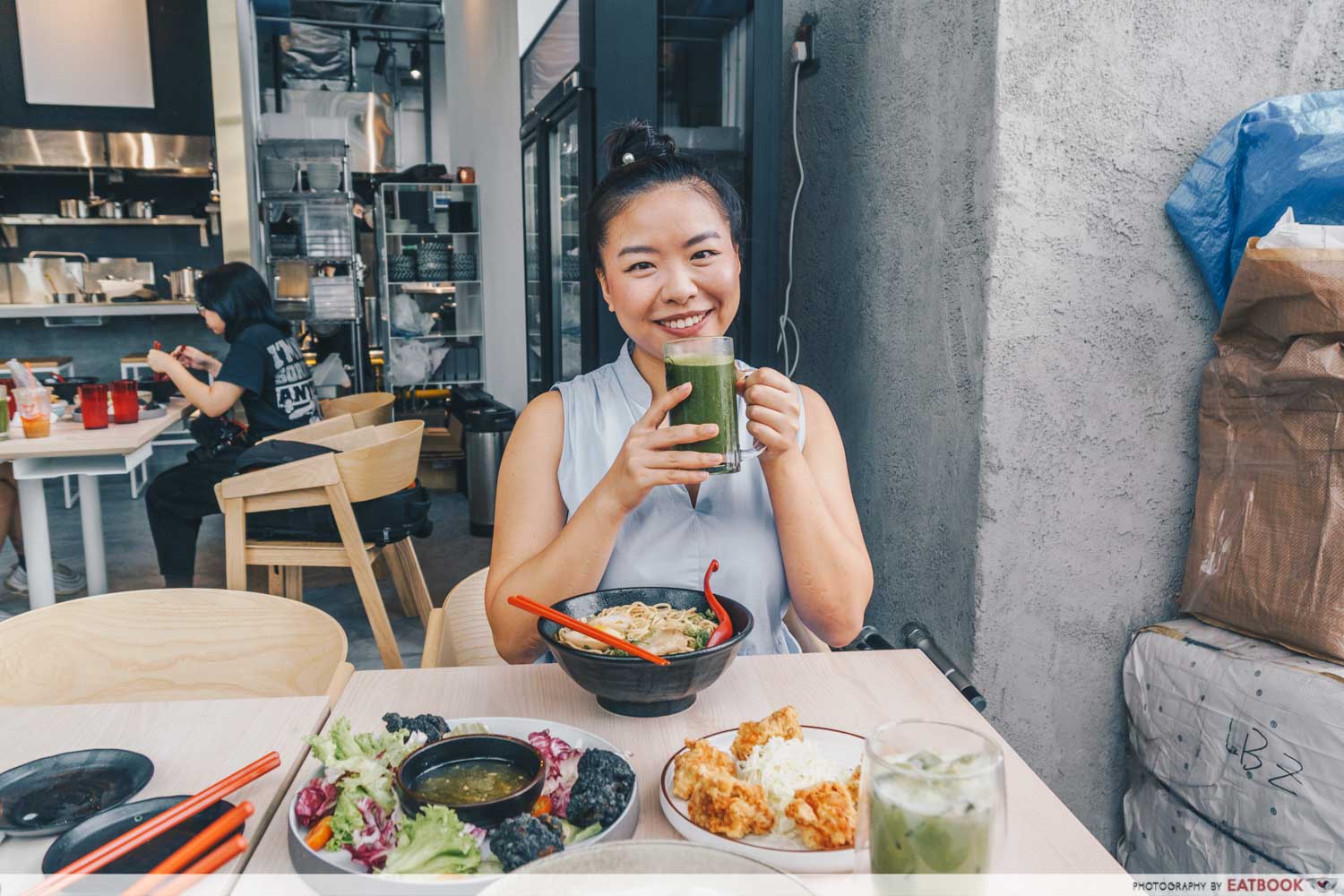 Menbaka is, after all, known for its Fire Ramen, with brownie points for the fire show, so the other menu items are secondary.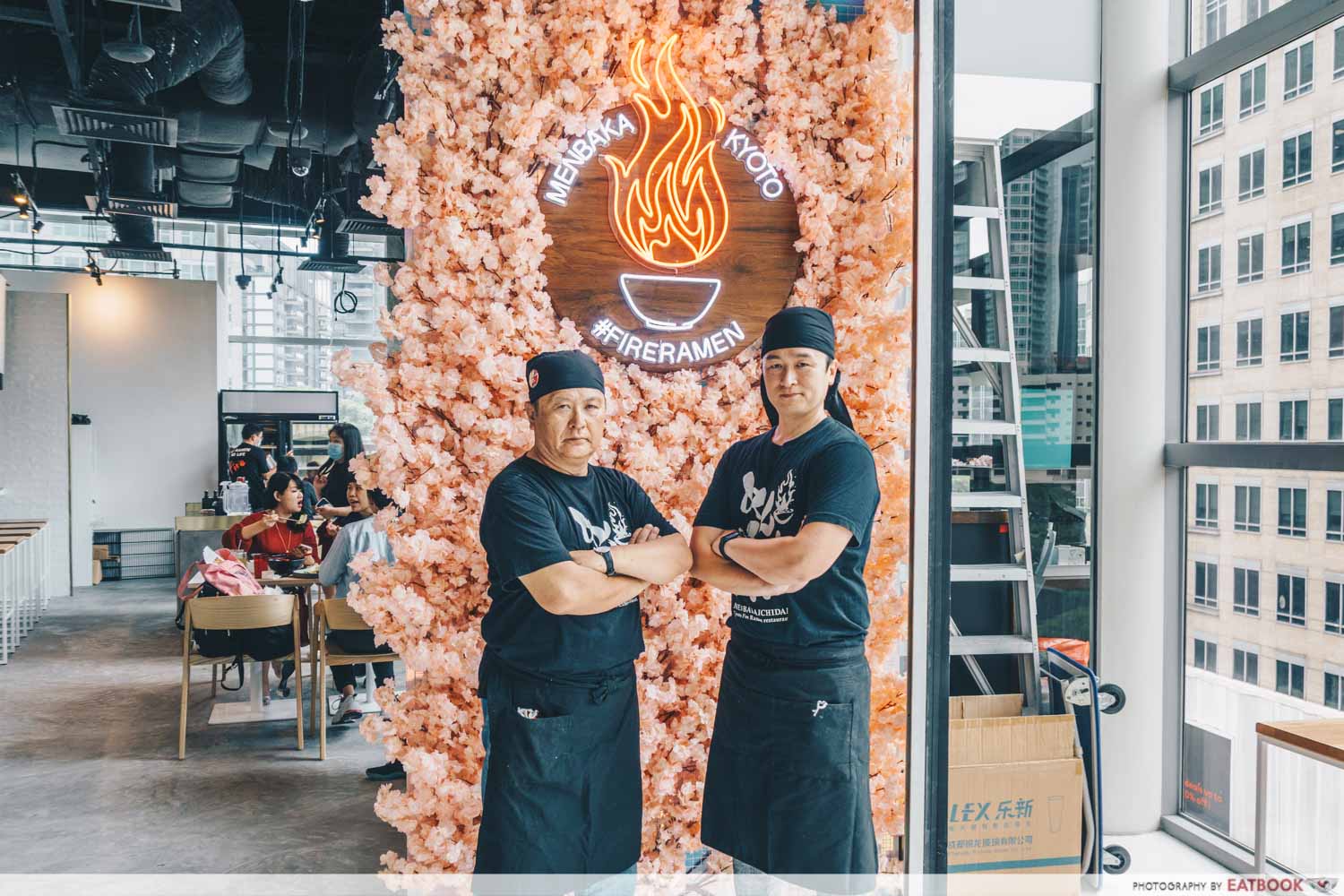 Catch Miyazawa-san, both father and son, in the kitchen this November before they fly home! 
Also, expect changes to the ingredients in the bowls of ramen, as Menbaka continues to sort out sourcing issues in the weeks to come. 
From 27 to 29 November, enjoy a 1-for-1 promotion on all fire ramen at Menbaka! Do note that the lower-priced ramen will be free of charge. 
Since you're here, have some souffle pancakes at Flipper's, another famous Japanese name. Otherwise, you could head to Orchard Central for Tempura Tendon Tenya!
Tempura Tendon Tenya Review: Famous Japanese Tempura Don Under $15 In Orchard Central
Address: 8 Grange Road, #05-03, Cineleisure Orchard, Singapore 239695
Opening hours: Mon-Thurs 12pm to 3pm, 5pm to 9pm, Fri-Sat 11:30am to 3:30pm, 4:30pm to 10pm, Sun 11:30am to 3:30pm, 4:30pm to 9pm
Tel: 9459 9926
Website
Menbaka is not a halal-certified eatery.
Photos taken by Hay Thi.
This was a media tasting at Menbaka Kyoto Fire Ramen.
Menbaka Fire Ramen Review: Famous Kyoto Fire Ramen Comes To Singapore At Cineleisure
Menbaka Fire Ramen Review: Famous Kyoto Fire Ramen Comes To Singapore At Cineleisure -

8/10
Summary
Pros
– Centrally, conveniently located
– Fire show is a wow factor
– Unique, delicious ramen
Cons
– Sides were not so impressive
Recommended dishes: Shoyu Fire Ramen ($17.90), Ajitama Egg ($2.50), Authentic Kyoto Matcha Beer ($12)
Opening hours:Mon-Thurs 12pm to 3pm, 5pm to 9pm, Fri-Sat 11:30am to 3:30pm, 4:30pm to 10pm, Sun 11:30am to 3:30pm, 4:30pm to 9pm
Address: 8 Grange Road, #05-03, Cineleisure Orchard, Singapore 239695